*FYI - this post may affiliate links, which means we earn a commission (at no extra cost to you) if you purchase from them. Also, as an Amazon Associate I earn from qualifying purchases. For the full scoop on what this means, feel free to check out our Privacy Policy and Disclosure.
---
Besides suddenly developing a thing for redheads and dudes in beanies, one natural side effect of binge-watching Riverdale on Netflix is of course wondering to yourself: "Where is Riverdale?" Could this charming yet broody iteration of Anytown, USA actually be a real-life place that you can visit?
Well, here's some good news: you really can visit Riverdale in real life! The bad news? It's not exactly called Riverdale, but we'll get to that later.
So, if you're ever wondered to yourself "where is Riverdale filmed?", stay tuned… This article will show you step by step how to find Riverdale in real life, from the actual filming locations of Pop's to the interiors and exteriors of Riverdale High, all the way to the scenic (but broody) Sweetwater River where Jason Blossom met his demise.
So, get ready: here is your ultimate Riverdale filming locations guide! Written by a local (of where they film, anyway).
Save this post for later on Pinterest: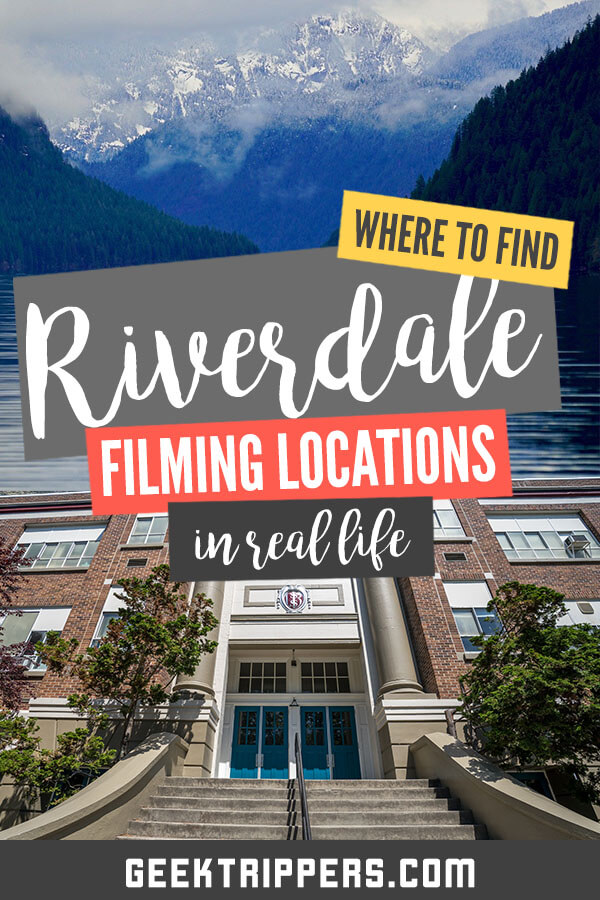 First: Is Riverdale a Real Place?
There are dozens of real life towns named Riverdale all across the US, ranging from Riverdale, Texas (one of Texas' many adorable small towns), all the way to Riverdale, California. However, fans may be sad to discover that the Riverdale showcased in the show (and the original comics) is fictional.
Based on various pieces of evidence though, we can conclude that the TV-series Riverdale is located in New York just like the comic book Riverdale.
For example, "Rockland County" (a country on the west side of the Hudson in New York state) is mentioned in the pilot twice: once when Betty calls Archie the Robert Frost of Rockland County, and again when Josie is telling a story about her win at the Rockland County Battle of the Bands. A few plot points (no spoilers!) also heavily imply that Riverdale is close to Canada, so this all checks out.
If you want more proof though, this Reddit user has compiled plenty of compelling evidence concluding that Riverdale is in New York, including the fact that there is another town in Rockland County named Ramapo, which in the local Lenape language means "sweet water". They cite another instance when Jughead is pictured on a bus bound for "Mamaroneck", which is another town in New York.
Overall, all this evidence put together pretty much confirms that Riverdale is in fact a small town in New York… although we'd say most of its appeal is the fact that it could be anywhere!
PS: Looking for more Riverdale goodness? Click here to read our roundup of the best quotes in Riverdale history!
Riverdale Filming Locations: a Full List!
Harbor Springs, Michigan
We'll start with one Riverdale filming location that isn't actually a filming location, in that no actors ever filmed there… BUT it's important to include because it's the town most of us probably associate with the image of Riverdale, and that's Harbor Springs, Michigan, the little lakeside town used as the establishing shot for Riverdale.
Yup, this is the town that you see in literally the first few frames of the show!
NOTE: Eagle-eyed TV junkies might also notice that it looks eerily similar to another small town full of teen drama and murder – Rosewood from Pretty Little Liars!
Lord Byng Secondary in Vancouver, BC (AKA the Exterior of Riverdale High)
Address: 3939 W 16th Ave, Vancouver, BC V6R 2C9
The iconic brick exterior of Riverdale High that's used so often in the show for establishing shots is a real life high school in Vancouver known as Lord Byng Secondary.
Once again, fans of Pretty Little Liars might recognize THIS exterior too as Rosewood High! That's because once upon a time, Vancouver was where they filmed the show's pilot episode. And while 99% of PLL was later shot in Burbank, California, some relics of the pilot remain throughout the series, like establishing shots of Lord Byng Secondary, AKA Riverdale High, AKA Rosedale High… are you keeping up?
Fun fact: Lord Byng Secondary has one rather famous figure among their alumni that most geektrippers well know well – the wonderful Cobie Smulders, AKA Robin from How I Met Your Mother and Maria Hill in the MCU.
Point Grey Secondary, John Oliver Secondary, and Burnaby Mountain Secondary in British Columbia Canada (AKA the Interiors of Riverdale High)
The primary interior filming location for Riverdale High is Point Grey Secondary, as evidenced by multiple Twitter sightings (like here, here, and here) and many reports by local news outlets like this one.
That's not all of course! The real life location of Riverdale High is actually spread across multiple different schools in the Lower Mainland. The cast have also been spotted filming at John Oliver Secondary in Vancouver throughout the past few seasons (see some production photos here, here, and most recently here).
More specifically, based on our sleuthing, it seems like the school's "Barn" building (formerly home to the John Oliver Mini School) was used for filming scenes of the Riverdale High gym. You can click here to see some cute photos taken of the set all dressed up with Riverdale Bulldogs goodness. These photos also suggest that the Season 3 medieval prom was filmed at John Oliver as well.
Lastly, local sources also point to Burnaby Mountain Secondary (in Burnaby, BC) as another Riverdale High filming location, but it seems like this might have only been early on in the show as the only reports we could find were for the pilot and we haven't been able to find many sightings or production photos to back this claim.
Bear Creek Park in Surrey, BC (AKA Riverdale High's Football Field)
By now, we already know that Riverdale High is actually a mish mash of four different schools, so why not add another spot to the mix?
Well here we go: Bear Creek Park in Surrey, BC was used to film some football field scenes in Season 2. Click here to see the filming notice and click here to see some behind the scenes Riverdale set photos from this shoot!
Rocko's Family Diner in Mission, BC (AKA Pop's Chock'lit Shoppe in the 1st Episode)
Address: 32786 Lougheed Hwy, Mission, BC V2V 1A7, Canada
Hoping to find Pop's from Riverdale in real life and gorge on some thick milkshakes while you're at it? Luckily, you can! Also known as Rocko's 24 Hour Diner, this famous old-school diner in Mission, BC was the setting for Pop's in the 1st episode of Riverdale, AKA the place where we first see Jughead's angsty laptop writing for the first time.
And while they did eventually build a special set for Pop's (no doubt inspired by Rocko's) at their Riverdale studio in North Langley (source), heading to Rocko's is still a pretty sweet way to get alllll the Riverdale vibes in real life without getting arrested for trespassing the official set… Cheers to that!
Fort Langley, BC (AKA the Cutest Parts of Riverdale)
Fort Langley is this super adorable village-like town in BC with a population of just under 3500 and a charming aesthetic filled with heritage homes and antique shops. Little wonder why it was used SO much for the very first establishing shots of Riverdale, you know, in the 1st episode when Jughead is moodily narrating and introducing his beloved town? If not, this clip should refresh your memory.
Anyways, if you want to experience the quaintest parts of Riverdale filming locations in real life, you need to add Fort Langley to your list.
Here are some important spots around Fort Langley that you will undoubtedly recognize:
Glover Road: Many of the Riverdale spots in Fort Langley are on this street, and random parts of the street are used for establishing shots
The Fort Gallery: As seen in the first episode, this adorable art gallery stands in for the Riverdale Register
Fort Langley Train Station: As seen in the first episode, this old timey train station is shown to be the Riverdale Train Station
Fort Langley Cemetery: As seen in the first episode, this cemetery is the one that's shown to be Riverdale's
Maria's Gelato: It looks pretty different in the show, but add a coat of red paint and some grungy graffiti overtop Maria's Gelato and you get MLJ Comics from Riverdale
Fort Langley Community Hall: This cute yellow building is the real-life stand-in for Riverdale Town Hall, site of the magical Riverdale Jubilee among other big scenes. You might also recognize it from Once Upon a Time!
Fort Langley Marina Park: This park isn't super distinctive but it's a confirmed filming location (see here for proof) and is seen in a few a episodes
Jacob Haldi Bridge: This is the bridge that the Southsiders can be seen crossing in the season finale of Season 2. Here's also a fun photo of a Riverdale sign on that bridge, although we highly doubt it would be there unless they were filming
St George's Anglican Church: You see this church (and its entire street actually) in the emotional Season 4 premiere when Archie and Veronica return to Riverdale and there's the very very very very emotional welcome back for Fred. Literally cried while typing that. Wow.
Mission, BC (AKA More Riverdale Exteriors)
Here are some Mission spots that are shown in Riverdale:
Mission Post Office: This red brick post office is used to stand in for the Riverdale Sheriff's Office. The exact address is 33191 1 Ave, Mission, BC V2V 1G0, Canada
Jack Poole Harbourside Park: This riverside area is where the set for Fred's Construction Office was built. It's no longer there but it's still a nice area
Twilight Drive-In (AKA Jughead's workplace/home, the Twilight Drive-In)
Address: 3350 260 St, Aldergrove, BC V4W 2B1, Canada
Not a lot of things needed to be changed for the Twilight Drive-In's appearance on Riverdale… in fact, they even kept its name the same! That's right – poor Jughead's beloved drive-in movie theatre is actually a real place, and one of the few remaining drive-in movie theatres left in Canada. So, if you're hoping to experience Riverdale in real life, you can actually book yourself a feature or two in this awesome classic spot.
Yes, this institution is so beloved, its Riverdale appearance even made local news!
Alice Lake and Alouette Lake, AKA Sweet Water River
The gorgeous scenery of Sweetwater River makes a pretty atmospheric backdrop for um… murder, but you can actually enjoy these lovely landscapes without murder… which would be nice.
For the Sweetwater River scenes in Riverdale, they made use of a few different filming locations in BC, including Alice Lake near Squamish, BC and Alouette Lake in Maple Ridge.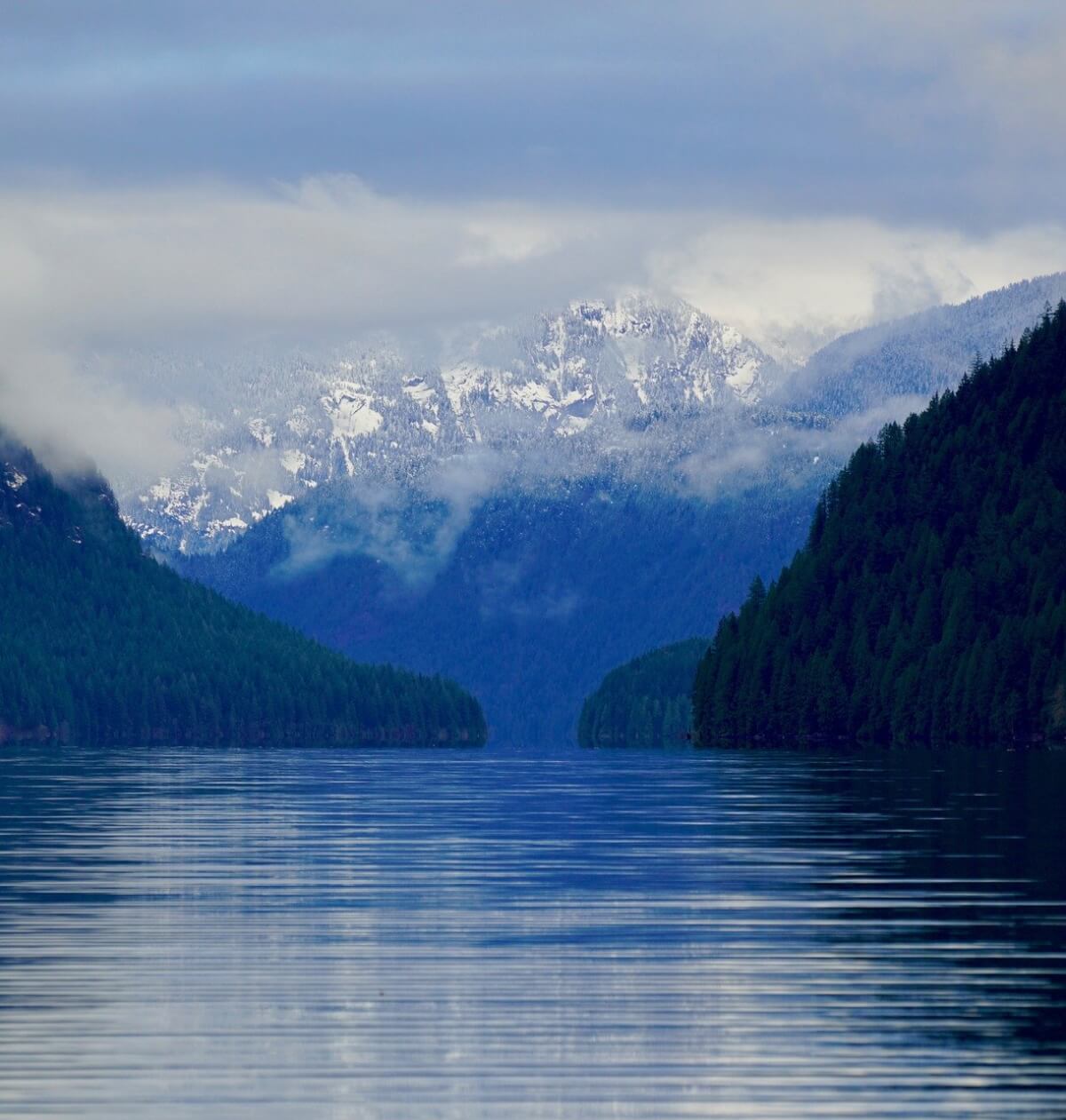 Gabby's Country Cabaret in Langley, BC (AKA the Whyte Wyrm)
Address: 20297 Fraser Hwy, Langley City, BC V3A 4E7, Canada
If you're hunting for serpents (or just looking to grab a drink Riverdale-style), then the Gabby's Country Cabaret in Langley is where you want to go to recreate your own Whyte Wyrm experience.
Archie and Jughead even once came out to surprise fans with lots of selfies and hugs after filming… we know because it made the local news!
NOTE: This has unfortunately been such a well-known Riverdale filming location that Cole Sprouse has been mobbed a few times here by fans. Photos here.
2037 East 3rd Avenue in Vancouver, BC (AKA Archie's House)
If you're looking for Archie Andrews' address in real life, then you should know that Archie's adorable house in Riverdale is located in Vancouver, at a private property located on 2037 East 3rd Avenue.
111 Queens Ave in New Westminster, BC (AKA Betty's House)
And while Archie and Betty are portrayed as neighbours, the truth is a rather different because Betty's picture-perfect white house is actually located in New Westminster, a little distance away from Archie's. You can find this house at 111 Queens Ave in New Westminster, BC.
The Permanent in Vancouver, BC (AKA the Pembrooke)
And if you're looking for the Lodges, Veronica's classy and elegant digs can be found in the center of downtown Vancouver. The real-life stand-in for the Pembrooke is known as the Permanent and (quite fittingly) is a glamorous former bank building that is a prized event venue these days.
Copperstone Mansion, Cecil Green Park House & Minnekhada Lodge, AKA the Blossom Mansion
To play the role of home to Riverdale's elite, the production designers of Riverdale had to pull together bits of a few different properties. The main one is the Copperstone Mansion in Langley, BC, which is definitely the site of Cheryl's epic pool party at the start of Season 3. You can snoop on some photos of the gorgeous property here.
Speaking of gorgeous properties, another spot used to film the Riverdale Blossom Mansion was the Cecil Green Park House. We see this property in Season 1 Episode 1 during Cheryl's afterparty. Based on some snooping around (and comparing fireplace tiles!) it seems very clear that this scene was shot in the Boardroom, with plenty of set dressing of course to set the mood.
Lastly, a few different sources say that the Minnekhada Lodge was used for the Blossom Mansion as well, and while the dark wood interior of the lodge definitely has Blossom mansion vibes, we're not 100% sure which scenes filmed here specifically.
6742 224 Street, Langley BC (AKA Thistle House)
Cheryl gets some sweet new digs in Season 2 at Thistle House, which is actually a real-life home in Langley, BC. If it looks at all familiar to you, that's likely because this beautiful house has had its fair share of TV appearances over the years, in Arrow, Legends of Tomorrow, Vampire Diaries, and very recently, To All the Boys: PS I Still Love You.
James Kennedy Elementary School in Langley, BC (AKA Southside High)
The exterior shots of Southside High were filmed at the James Kennedy Elementary School in Langley. Here's a photo of the filming notice and here are some sweet photos of the cast taking time out of filming to meet fans!
Riverview Mental Hospital in Coquitlam, BC (AKA the Sisters of Quiet Mercy)
This mildly creepy former mental hospital in Coquitlam is a filming production favourite, thanks largely to its… well, perfect creepy atmosphere.
In Riverdale, this large hospital complex is used for a few different spots, including the Sisters of Quiet Mercy and (based on this adorable blog from a cast driver in Vancouver), we can assume the Riverdale Hospital building is on these grounds as well, repurposed from a previous set used in Wayward Pines Academy.
Barnet Marine Park (AKA the Site of the Wedding Dream Sequence)
I'm sure you all know the one we're talking about, the certain sequence involving kilts and utmost dreaminess? You can click here for some set photos to jog your memory.
Well, if you want to create this wedding scene for yourself, the lush venue for it is just a park in real life – Barnet Marine Park in Burnaby, BC.
City Centre Motor Hotel in Vancouver, BC (AKA Mustang's Motel)
As you might recall in Season 1, Episode 8, Jughead & Co. (led by Joaquin) go to a sketchy motel to find a Serpent named Mustang. While we wouldn't really advise staying there, you should know that this motel is a real place located pretty close to downtown Vancouver! It's called the City Centre Motel, and is used in a lot of different filming productions thanks to its unique look.
Park Theatre in Vancouver, BC (AKA the Bijou)
Riverdale's local theatre (and preferred date night spot) is a charming real-life theatre that you can find in Vancouver known as Park Theatre. We see the B-Gang coming here to Watch Love, Simon in Season 2, a very random product placement thanks to the fact that Greg Berlanti (executive producer of Riverdale) actually directed this movie.
Click here for some set photos from this spot.
Vancouver Art Gallery (AKA the Courthouse in Season 3)
Vancouver's Art Gallery in the heart of the downtown core is not only one of the biggest public art museums in Canada, it also used to house the province's courts. Of course, this made it a natural fit for the courthouse scenes in Season 3. Click here to see some behind the scenes set photos from this shoot.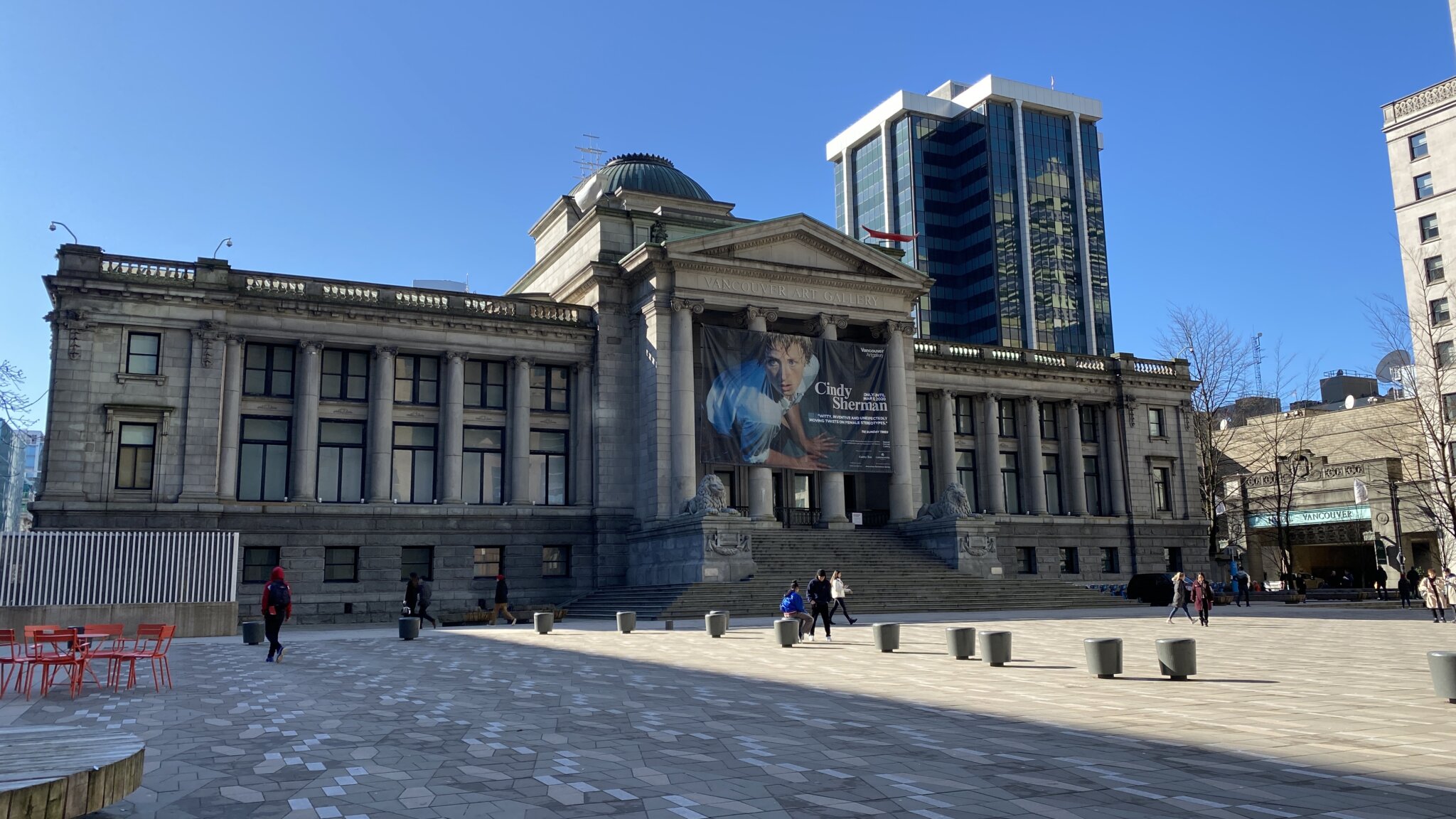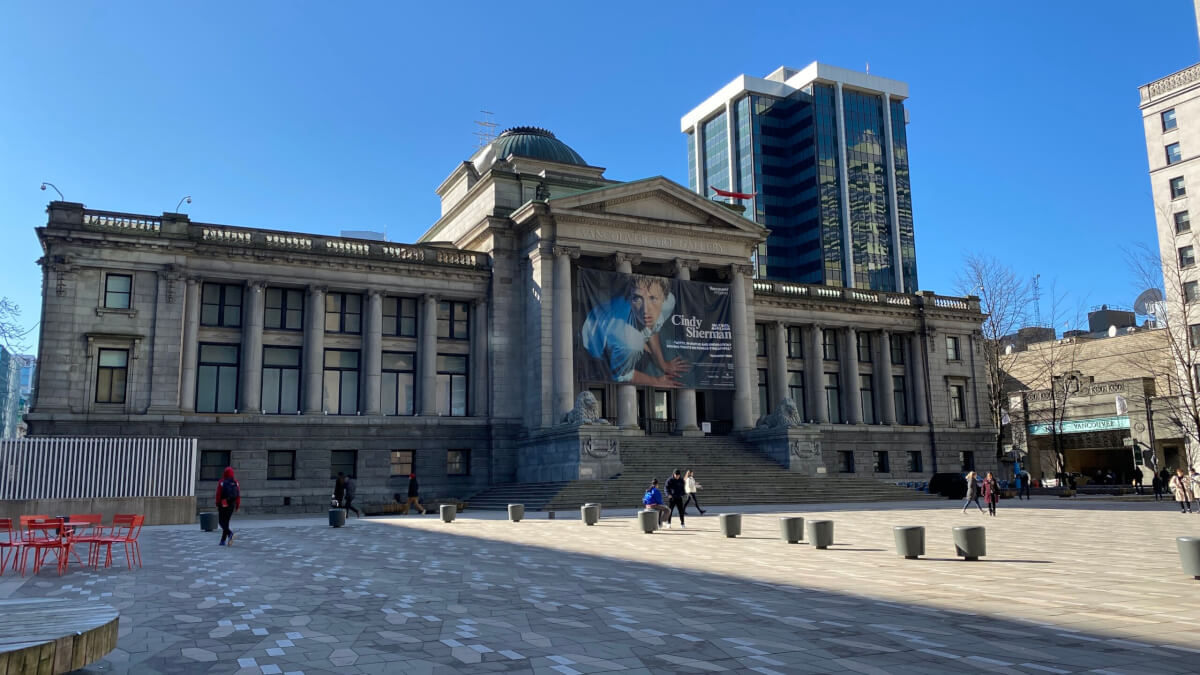 Maple Ridge, BC (AKA Random Spots Here and There)
Maple Ridge is a city northeast of Vancouver that the Riverdale crew dabbles in for filming purposes. Besides Alouette Lake which we mentioned above as one of the real life locations of Sweetwater River, here are a few spots in Maple Ridge that are Riverdale filming locations:
Iron Mountain Store: This is the creepy little spot where we see Jughead and Farmer McGinty (weird dead deer tarp guy) filling up gas in Season 2 Episode 7. The exact address for this Riverdale filming location is 28568 Dewdney Trunk Rd, Maple Ridge, BC V2W 1M1, Canada
The ACT Arts Centre: This fine arts center was a filming spot according to Twitter reports back in early 2018. Based on the timing and this photo though, it looks likely they filmed the Heathers musical bits here in Season 3 Episode 16
Bella Vita Restaurant: We still aren't 100% sure which scenes filmed here but you can click here to see the filming notice
Fairweather Lodge on Bowen Island, BC (AKA the Lodge Lodge)
The rustic Lodge Lodge on Shadow Lake where Archie, Veronica, Betty and Jughead have their couples' retreat gone awry is a real life chalet on the beautiful Bowen Island in British Columbia.
Located about 3km west of mainland BC, Bowen Island is a great day trip from Vancouver, well worth taking if you do have some time between chasing all these Riverdale filming locations. The views (as Veronica would say) are breath-taking!
Minnekhada Regional Park
This is a confirmed Riverdale filming location for Season 3 based on this filming announcement here.
And while we know that the Minnekhada Lodge has subbed in as parts of the Blossom Mansion in the past, the timing suggests more scenes filmed here besides that. The precise scenes that took place here though are unclear… maybe Sweetwater Swimming Hole? Or any of the times when the crew are shuffling around dark forests? There's a bizarre amount of scenes like that.
Pennyblack Tattoo and Art in Vancouver, BC
Address: 438 Richards St, Vancouver, BC V6B 2Z4, Canada
Based on this filming notice here, we know that that the Pennyblack Tattoo parlour in Vancouver was involved in some filming in the summer of 2017, but the precise scene is one we're still not sure of. Let us know in the comments if you think you know the one!
Williams Park in Langley, BC (AKA Pickens Park)
The wholesome Pickens Day celebrations in Pickens Park (Season 2) were shot in a park in Langley, BC known as Williams Park. While there won't be all those cute giant teddy bears and balloons on a regular day, it's still an atmospheric little spot! Click here for set photos.
St. Francis of Assissi Church in Vancouver, BC (AKA Veronica's Confirmation Church)
Address: 2025 Napier St, Vancouver, BC V5L 2N8, Canada
The pretty church where Veronica has her confirmation ceremony in Season 2 is actually a church in Vancouver known as St. Francis of Assissi Church. Click here to see some behind the scenes set photos.
Port Moody Station Museum in Port Moody, BC (AKA the Riverdale Bus Station)
Address: 2734 Murray St, Port Moody, BC V3H 1X2, Canada
The Riverdale bus station where broody Season 1 Jughead tries to leave town is not actually a bus station in real life, but a museum. If you're looking for the vintage charm of this bus station though, you'll find it at the Port Moody Station Museum.
Here are some photos from filming.
Delta Post Office in Delta, BC (AKA the Sheriff's Office/Site of the Riverdale Rumble)
Address: 5010 48 Ave, Delta, BC V4K 1V8, Canada
While the Mission Post Office stood in as the exterior of the Riverdale Sheriff's Office in the first episode, they later relocated to the Delta Post Office in Delta for some filming in Season 2, particularly for the huge Riverdale Rumble scenes. This involved a daytime stunt rehearsal overlooked by hundreds of fans (click here to see).
You can also click here to see plenty of set photos from the local newspaper.
Mountain View Cemetery (AKA Riverdale Cemetery)
Last but not least, while the Fort Langley cemetery is shown in the first establishing shots of Riverdale, a prominent funeral scene in season 2 filmed elsewhere at Mountain View Cemetery in Vancouver. Other scenes from the season 2 finale were also shot here. (Sorry for being vague, we're just trying to avoid spoilers!)
Click here for some sneaky photos from set.
Other Riverdale Filming Locations
We've tried our best to compile a comprehensive list of where to find Riverdale in real life, but let us know in the comments if you have any tips on spots that we missed!
We're curious about the Sweetwater Swimming Hole in particular… tracking that one has been tough!
Anyways, we hope you enjoyed this thorough guide to finding Riverdale filming locations. Thanks for reading, geektrippers.
Want more Riverdale goodness?
All our BEST Riverdale posts: