*FYI - this post may affiliate links, which means we earn a commission (at no extra cost to you) if you purchase from them. Also, as an Amazon Associate I earn from qualifying purchases. For the full scoop on what this means, feel free to check out our Privacy Policy and Disclosure.
---
If you've ever wished you could visit Wakanda in real life, this article's for you, because today, we're breaking down everything you need to know about the magical land of Wakanda, from where it is, where to find its real life counterparts and of course, where you can ride some rhinos into battle for yourself.
Just kidding about that last one… we know nothing about combat rhinos.
BUT we do know plenty about where to find the most wonderful filming locations from Black Panther to help you plan your own personal trip to Wakanda.
So, let's get to it – a list of the best Black Panther filming locations used to represent glorious Wakanda.
Save this post for later on Pinterest: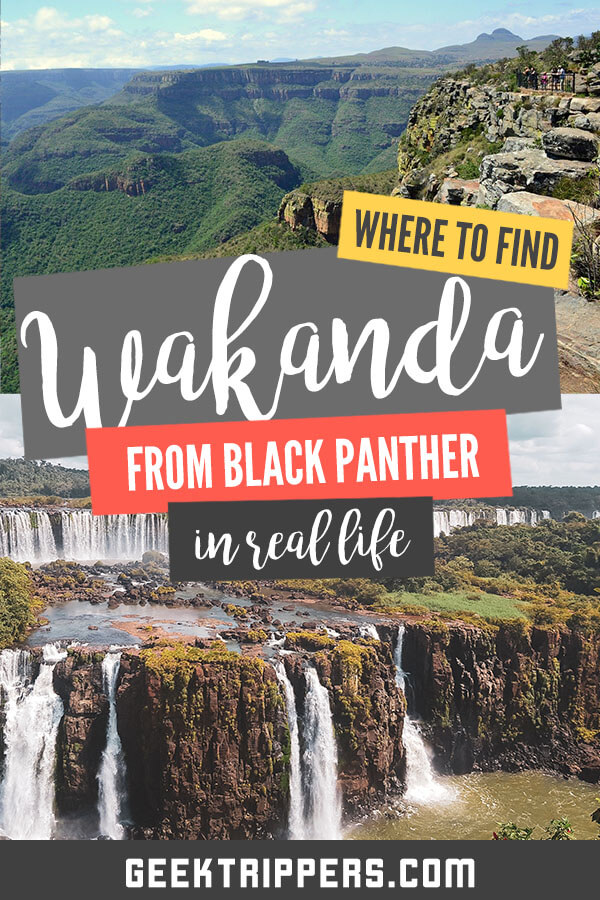 First: Is Wakanda a Real Place on Earth?
Despite the fact that Atlanta Airport did (really) once jokingly display departures for Wakanda (see here), we are sad to report that just like other popular Marvel locations like New Asgard or Madripoor, Wakanda is not in fact a real life place…..
Unless they are doing a fantastic job at keeping it a secret, in which case we absolutely applaud their "so overt it's covert" approach.
But just because Wakanda itself is a fictional place doesn't mean you can't experience its rich beauty in real life!
Luckily for us, a lot of Wakandan cultures and landscapes take their influence from real life places, so you'll have no trouble filling that wanderlusty gap in your heart left behind by Black Panther!
Where is Wakanda Then (In the Comics and Movies)?
The exact location of Wakanda has varied throughout the years in the comics, but there's one indisputable constant: Wakanda is located in East Africa.
After getting its first comic book mention in 1966 (in the Fantastic Four!), Wakanda's exact location has shifted a bit over the years.
According to the Wakanda Wiki here, some maps have placed Wakanda in northeastern Africa near Somalia, Kenya and Ethiopia, whereas other maps have placed Wakanda between Sudan and the Democratic Republic of the Congo, or even at the exact location of Burundi.
In the MCU specifically though, we can peg Wakanda's location in Africa to its position in the Marvel Atlas 2 published in 2008, at the north end of Lake Turkana (bordered by South Sudan, Uganda, Kenya and Ethiopia).
Hopefully that answers your question regarding where Wakanda is located!
Wakanda Filming Locations (AKA The Parts of Wakanda You CAN Visit in Real Life)
Luckily for us eager geektrippers, many of the glorious landscapes featured in Black Panther are real places that you can visit.
From the jaw-dropping Warrior Falls to the spectacular mountainscapes of Wakanda, there are a lot of gems from the movies that you can see for yourself… even if they're not actually known as Wakanda in real life.
So, here is a guide to prominent Black Panther Wakanda spots you can actually visit for yourself:
Iguazu Falls, AKA Warrior Falls
We'll start with one of the most epic venues in Wakanda that you can actually visit, the incredible Warrior Falls (AKA THE Black Panther Waterfall).
This is of course the place where T'Challa had his ascension to the throne ceremony and messy duel with M'Baku (and later Killmonger) … also where we got to see the glory of Wakanda's diverse tribes for the first time!
And while the African continent has its fair share of glorious waterfalls, these spectacular Wakandan waterfalls in particular can actually be found in South America.
Yup, that's right – Warrior Falls in real life is actually Iguazu Falls, a giant waterfall system belonging to the Iguazu River found on the border of Argentina and Brazil.
These extensive falls are comprised of almost 300 separate waterfalls, and form a J-shaped curve that is 2.7km wide.
In terms of filming though, the close-up shots were (unsurprisingly) done on a soundstage in Georgia.
I mean… you can't exactly shoot an epic fight scene at one of the busiest tourist attractions in the world, right?
But here's a final fun fact for you: according to this interview with Hannah Beachler, the Production Designer for Black Panther, the close-up rock formations and set design were inspired by Oribi Gorge and Lehr's Waterfall in South Africa, so those are some more spots to add to your Wakanda bucket list!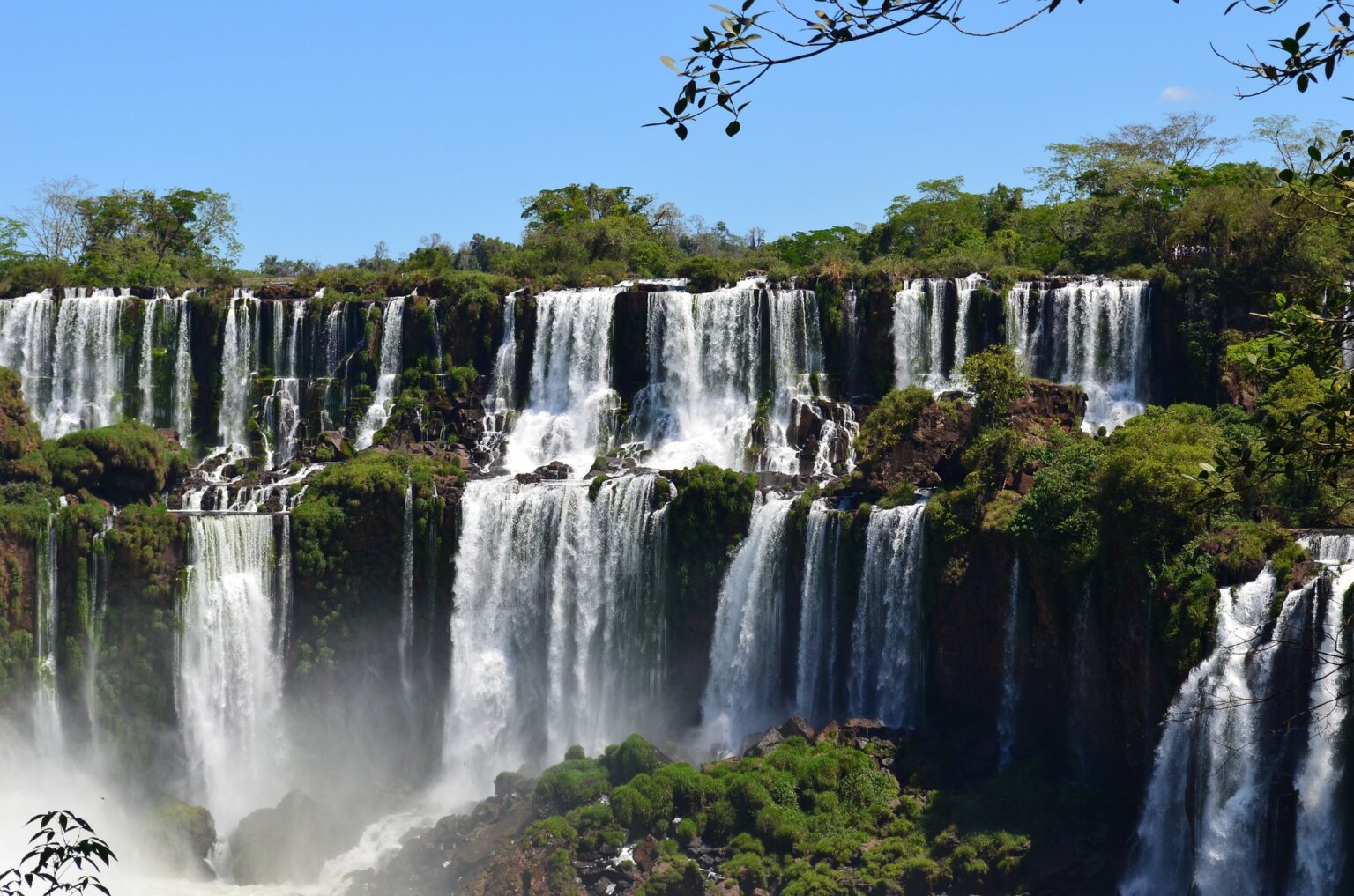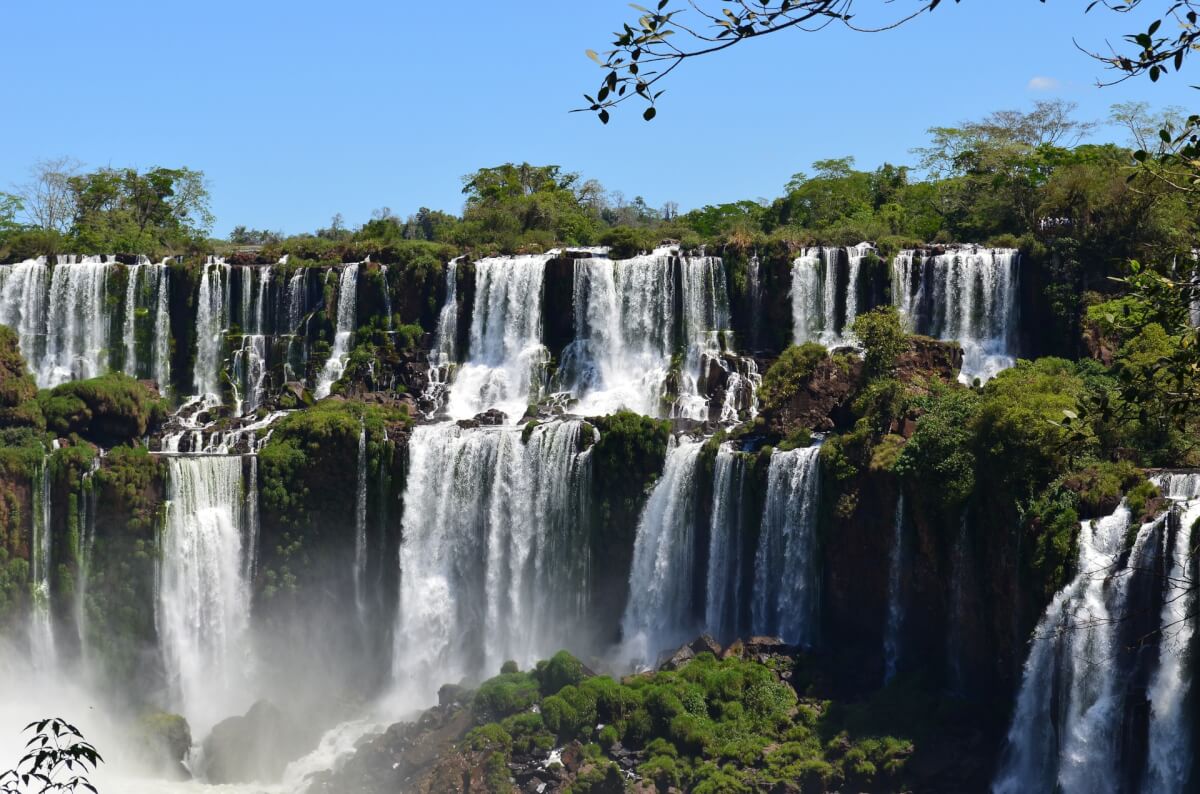 Victoria Falls, AKA Warrior Falls from the Spaceship POV
Okay, so speaking of waterfalls, you should know that footage from an African waterfall system did feature in the movie as well, even though the glimpse you get is brief!
Yup – the Black Panther waterfalls we see from the POV of the spaceship just before T'Challa's throne ceremony is actually the majestic Victoria Falls in Zambia, as confirmed by the UK-based production company Marzano Films who handled all of the aerial filming for Black Panther.
They mention filming in this Zambian hotspot in their blog post here. This filming location was confirmed by another Zambian newspaper here.
Of course, we also see snippets of the Zambezi River along the border of Zambia and Zimbabwe in these clips as well.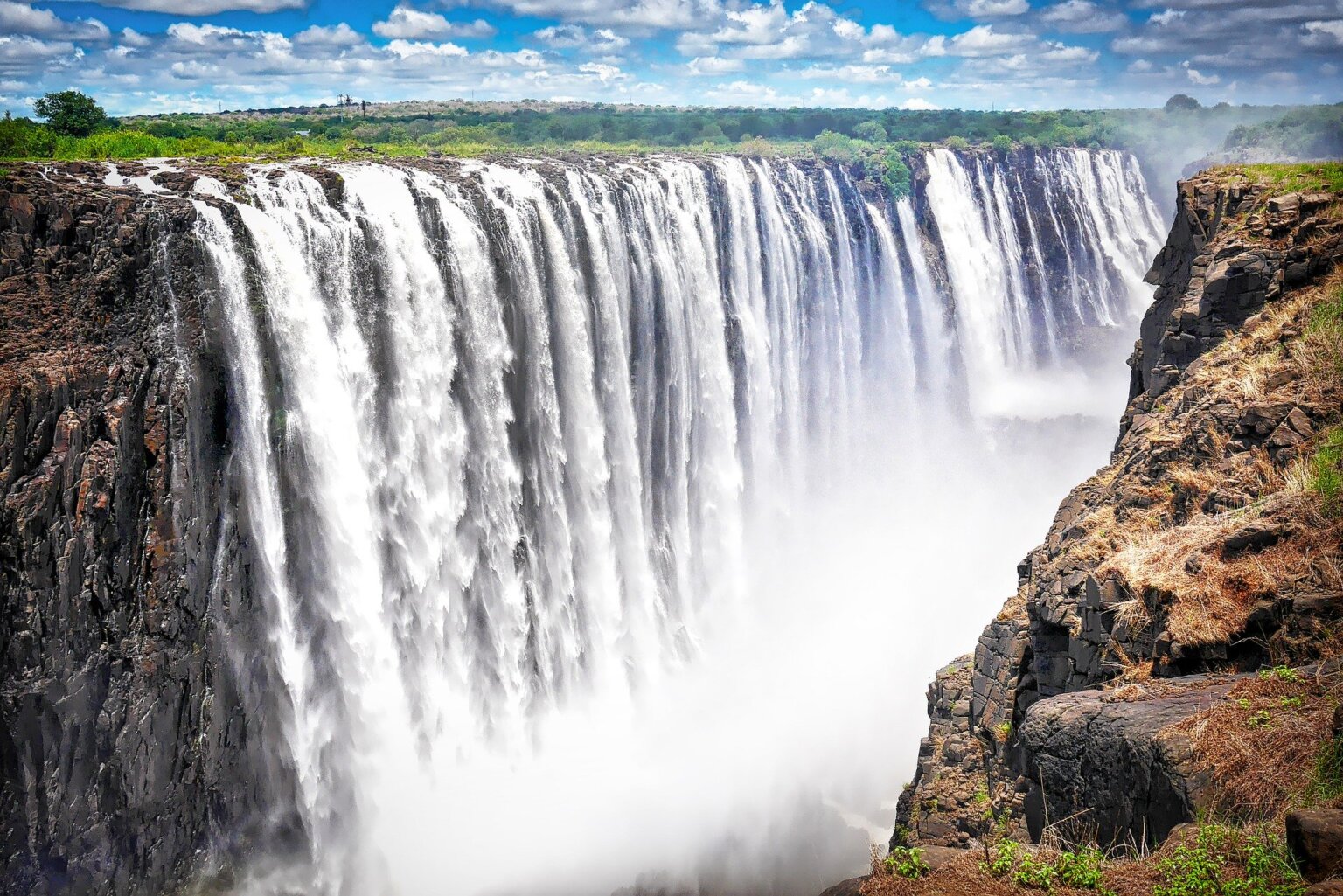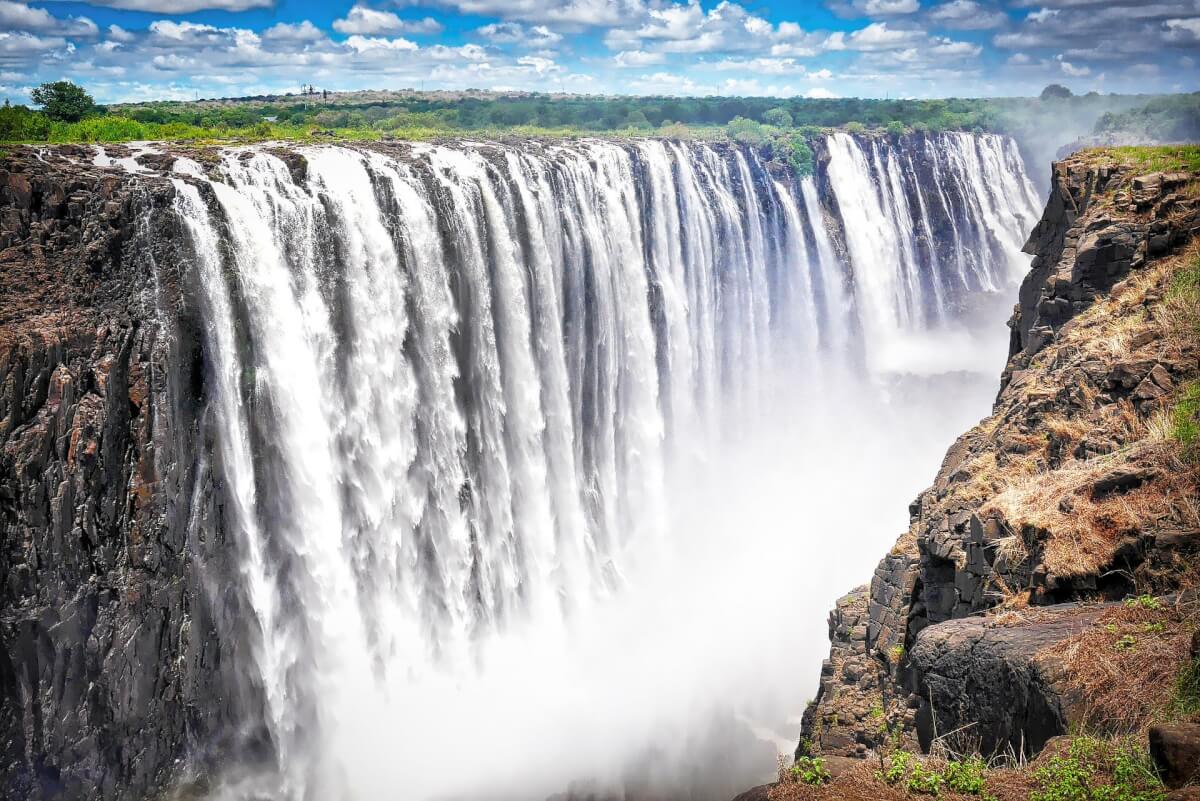 Various Spots in Uganda, AKA Some of Wakanda's Wonderful Landscapes
Alright, now let's move onto landscapes! After all, how can we forget those gorgeous landscapes that T'Challa, Nakia, and Okoye zip through in their spaceship on their return home at the beginning of the movie? These, to us, were some of the most iconic filming locations for Black Panther period.
Well, as confirmed by the aerial filming squad here, aerial footage was used from a few different African countries, including Uganda, South Africa, Zambia, and Zimbabwe to set the scene for Wakanda,
According to this interview with one of the film's visual effects supervisors, filming took place in Uganda over 10 days. Three Ugandan spots in particular are cited as being featured in the film:
The Bwindi Impenetrable National Park in Southwest Uganda: home to lush jungles and giant gorillas
The Rwenzori Mountains National Park: an expansive 1,000 km2 wonderland of waterfalls, lakes and of course, mountains
Lake Bunyonyi: one of the deepest lakes in Africa, dotted with dozens of mysterious islands
One quick google of these Wakanda filming locations and they'll instantly look familiar.
For example, Lake Bunyonyi looks a lot like some of the shots we see just before the whole ascension to the throne ceremony at the waterfall…
And while we can't confirm it 100% as a Black Panther filming location, the Rwenzori Mountains National Park also look a lot like the mountainous, foggy establishing shot we see before we see T'Challa's lil trip to the Anecestral Plane.
Of course, needless to say, the magical Ancestral Plane was mainly the work of some gorgeous aurora borealinspired CGI. You can see some cool behind the scenes shots of the set-up here.

Golden Gate National Park, AKA Some of MORE of Wakanda's Wonderful Landscapes
The gorgeous Golden Gate National Park in South Africa was another stand-in for Wakanda in aerial shots, and although plentiful CGI was used to add miscellaneous spaceships and the like, the sweeping mountainscapes of this national park are a must-visit for any geektrippers hoping to visit Wakanda in real life.
In fact, we speculate some of the very first establishing shots of Wakanda were filmed here… you know, when the text "WAKANDA" appears on screen for the first time. What do you guys think?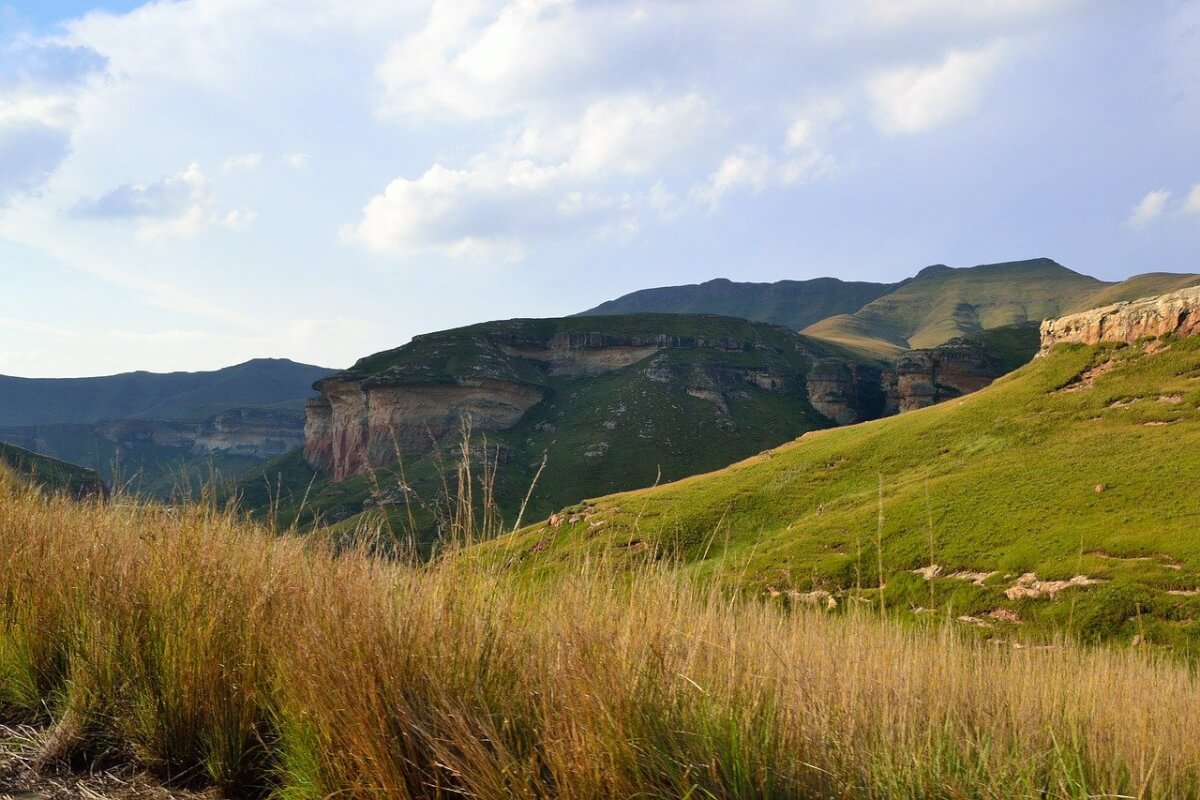 Blyde River Canyon Nature Reserve, AKA T'Challa and Nakia's Little Spot
As confirmed in this interview with the film's production designer, the spectacular backdrop to T'Challa and Nakia's heart to heart after T'Challa discovers his father's past umm… indiscretions, is the the gorgeous Blyde River Canyon Nature Reserve in South Africa.
Yup, the distinctive Three Rondavels of the park can even be seen if you look close enough!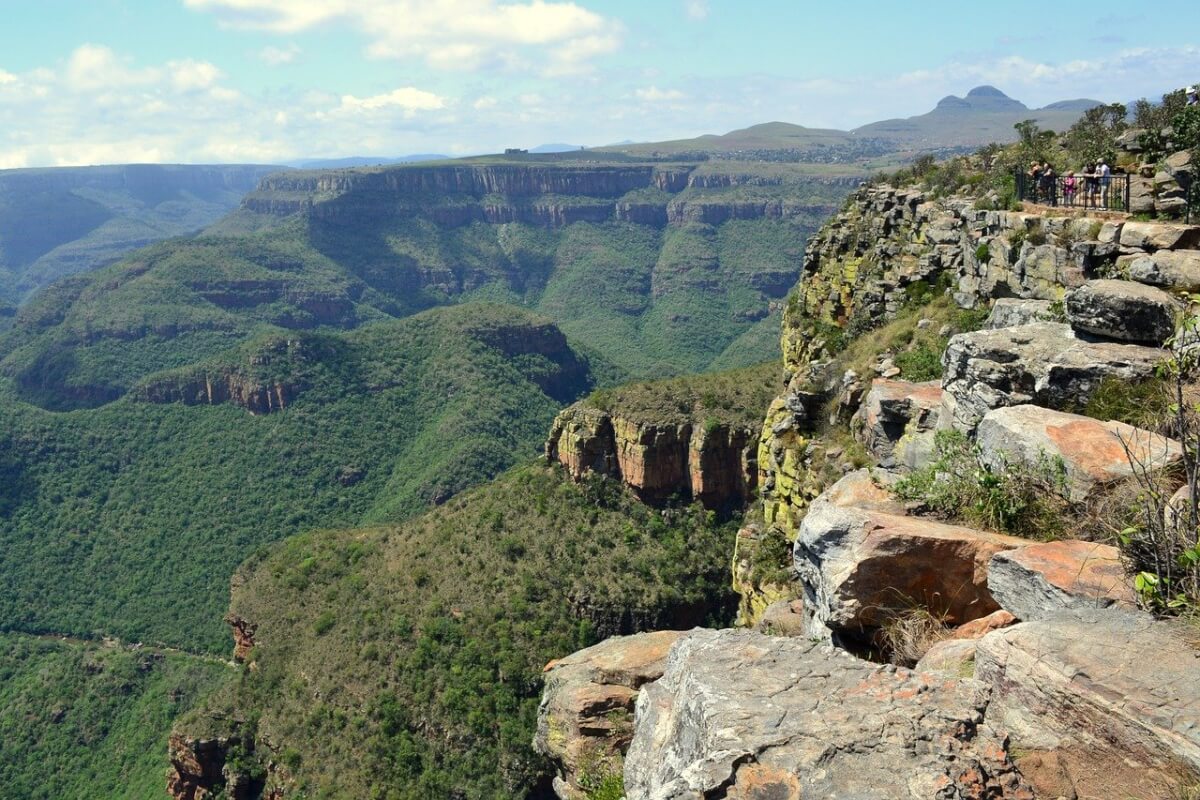 Honourable Mention: Lesotho
Lastly, while it never actually appeared in the film, it's important to mention Lesotho, which director Ryan Coogler has cited many times as an influence for his vision of Wakanda (like here).
Lesotho is a mountainous micro-country surrounded by South Africa, and one quick Google will show you an uncanny resemblance to the Wakandan landscapes we learned to love through the movie.
Beyond just landscapes though, we do spot some classically Lesothan blanket cloaks worn by the Basotho people in the scene just before T'Challa, Nakia and Okoye enter Wakanda… it's quick but tough to miss!
Just keep an eye out for the tribespeople spotted riding horses in the wide shot before they pass through Wakanda's holographic shield.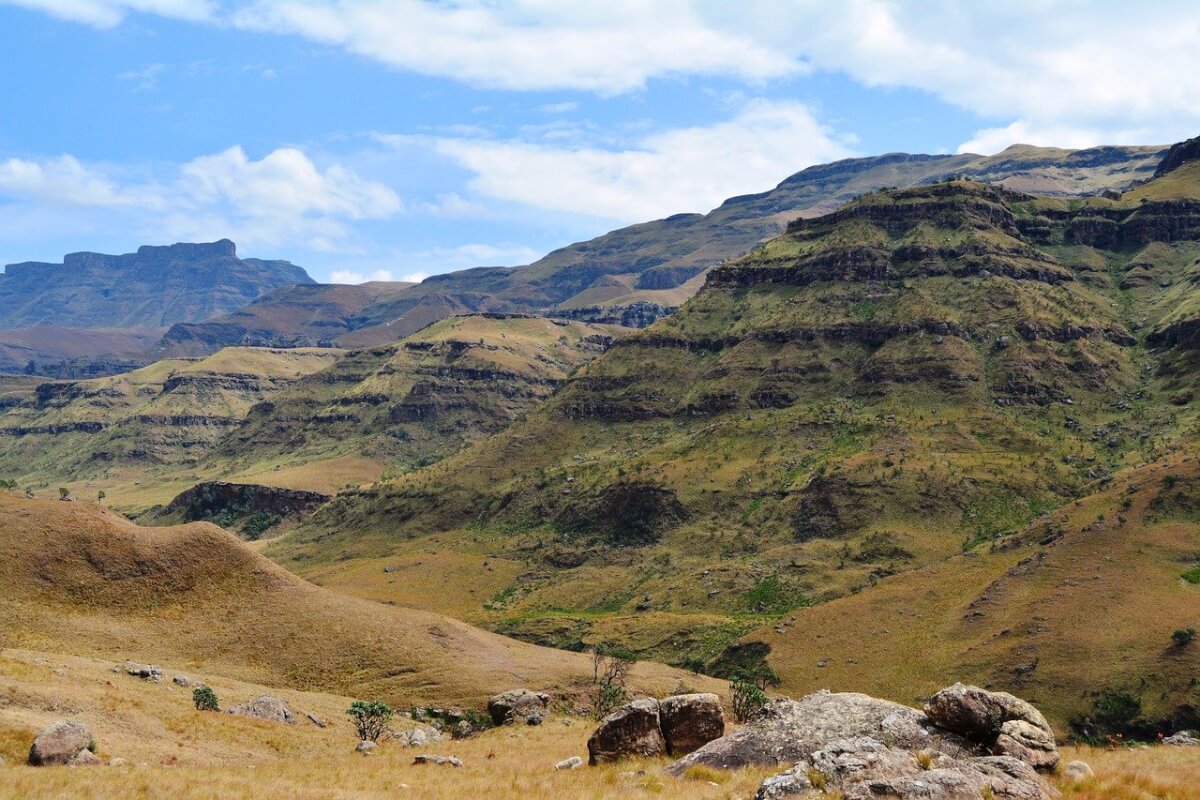 Other Wakanda Locations You Might Be Wondering About
Step Town
We know, the Step Town district of Wakanda's Golden City looked like a cool place to visit, but sadly, Step Town was all just a set built in Atlanta (source).
… but hey, Atlanta is nice too?
For consolation Step Town vibes, you might want to consider checking out the South African city of Johannesburg (or Jo'burg, as the cool kids say).
This thriving city was supposedly an inspiration for Step Town according to this interview.
The Jabari Land
And what about the Jabari Land's real life location? Where was that filmed?
We can't lie – the icy mountains scenes taking place in Wakanda's Jabari Land were some of our favourites in the entire movie, so we wouldn't blame you for being curious…
Sadly, we have to be the bearer of bad news and let you know that these landscapes were completely created in CGI, which is at least pretty impressive if you think about it.
Don't worry though, you can click here for some cool progress shots to see how they made it all happen.
NOTE: According to this interview, we know that the snowy peaks idea was very much inspired by the Drankensberg Mountains in South Africa.
… And Those Random Fields?
Okay, I think it's safe to assume very few of you were wondering about Wakanda's random fields, but we pride ourselves on being thorough so here we go.
Bouckaert Farms in Georgia is famously where they shot the epic battle scenes for End Game, but it was also here that they filmed several Wakanda scenes for Black Panther as well, although plenty of CGI was definitely involved in bringing everything to life.
Nearby, at Browns Lake is also where they filmed the post-credits scene with Bucky waking up and looking wistfully over the water.
Other Black Panther Filming Locations
Besides Wakanda of course, there were several other places depicted in Black Panther, including Oakland and Atlanta in the US and Butan in South Korea. Let us know in the comments if you'd like to see a full list of Black Panther filming locations just like this one.
We hope you enjoyed this guide to finding Wakanda Filming Locations in Real Life!
Again, let us know in the comments if you have any questions. Wakanda forever!