*FYI - this post may affiliate links, which means we earn a commission (at no extra cost to you) if you purchase from them. Also, as an Amazon Associate I earn from qualifying purchases. For the full scoop on what this means, feel free to check out our Privacy Policy and Disclosure.
---
It goes without saying that FINALLY seeing Avengers: Endgame gave us all a LOT of feelings….
And amidst the excitement, the sadness, the fangirl shrieks and sobs, one unexpected feeling was also ignited: WANDERLUST!
After all, there were some truly visually stunning moments and locations in this film, one of them of course being New Asgard, scenic home to the Asgardians, Thick Thor, and Corg's iconic pineapple shirt.
So, if you're one of those eager geektrippers who found themselves wondering "where is New Asgard in real life….. and is it possible to visit?", this article is for you!
You might also be interested in our article about the real-life location of Wakanda here.
So, Where is New Asgard?
Sadly, just like other fictional Marvel locations like Wakanda, Madripoor, and Ta-Lo, no actual town by the name of New Asgard exists… but the beautiful scenery and location does!
Filming took place in the beautiful fishing village of St Abbs in Eastern Scotland for six weeks during the production of Avengers: Endgame.
While in the story, New Asgard is actually meant to be in Norway, the actual landscapes and town featured in the film were Scottish rather than Norweigan, with plenty of CGI added to enhance the locations.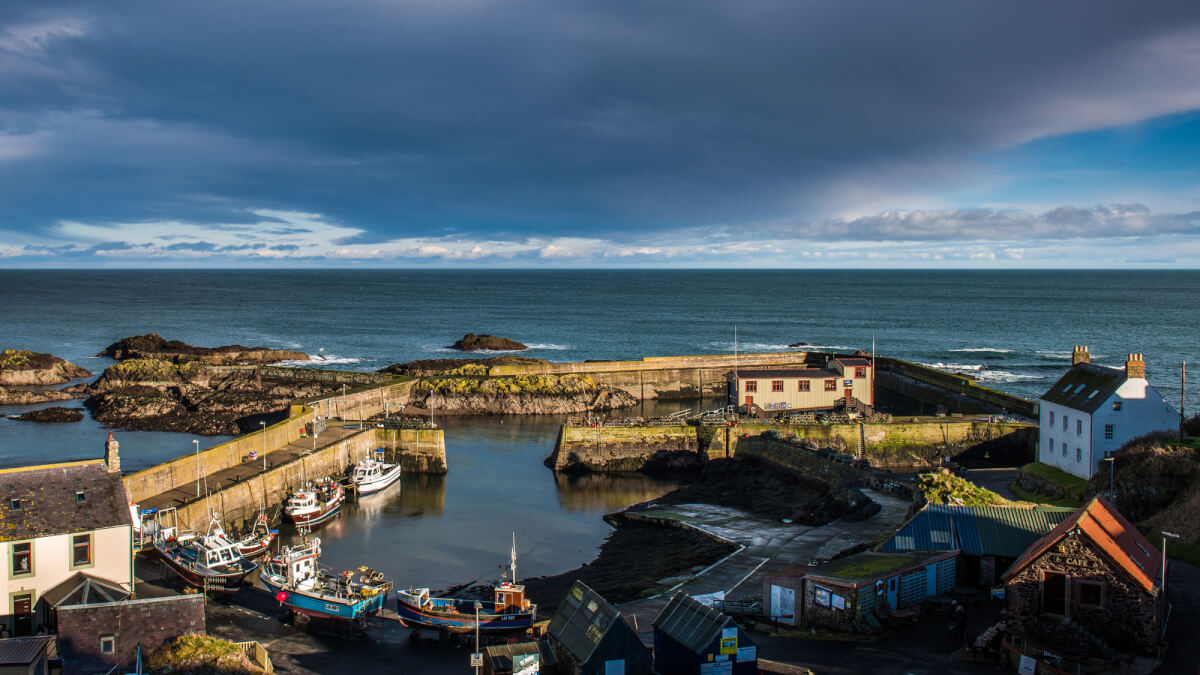 Things to do in New Asgard (AKA St Abbs)
Geektrippers should know that while St Abbs is an (admittedly) very quaint and serene little fishing village, at the end of the day, it's still a fishing village first and foremost!
At the moment, no big touristic attractions can be found in the area, but there's still a few noteworthy activities including taking a stroll along the scenic harbour, visiting the St Abbs Nature Reserve which has plenty of picturesque walking paths, and munching on some crab sandwiches, a local specialty!
New Asgard as St Abb's Twin Village
Looking for a fun Geektripper fan moment though?
Interest has spiked so much in this little village that they've decided to immortalize their Avengers cameo with an official sign saying that St Abb's is "twinned" with New Asgard! 😉
"Twin" towns and villages are very common across the UK, so this little sign is a fun addition to the village landscape, giving eager Geektrippers like us a fun photo opp to pose with.
View this post on Instagram
How to Visit New Asgard in Real Life
So, hoping to plan your own visit to New Asgard? Here's how.
New Asgard, AKA "St Abbs" is located on the Southeast coast of Scotland. Due to its remote nature, it's not the most convenient place to get to, but there are nonetheless options whether you come by car, bus, train or plane! Here are directions courtesy of the official St Abbs website:
Visiting New Asgard (AKA St Abbs) by Car: St Abbs is roughly 4 miles from the A1 and plenty of signage will point you in the right direction/tell you the correct exit to take.
Visiting New Asgard (AKA St Abbs) by Bus: St Abbs can be reached with the Borders 235 bus 'Berwick – St Abbs'. Click here for timetables: https://www.bordersbuses.co.uk/timetables
Visiting New Asgard (AKA St Abbs) By Train: The closest station is Berwick-Upon-Tweed, located 14 miles away. From here, you can take a taxi from the station or the the number 235 bus to St Abbs.
Visiting New Asgard (AKA St Abbs) by Plane: The two closest airports to St Abbs are Scotland's Edinburgh Airport (60 miles away) and England's Newcastle International Airport (75 miles away).
Click here to learn more from the official St Abbs Visitor Centre website!