*FYI - this post may affiliate links, which means we earn a commission (at no extra cost to you) if you purchase from them. Also, as an Amazon Associate I earn from qualifying purchases. For the full scoop on what this means, feel free to check out our Privacy Policy and Disclosure.
---
The Marvel Cinematic Universe has brought us plenty of incredible fictional destinations over the years, from Wakanda and Madripoor to New Asgard.
… But when we finally watched Shang-Chi and The Legend of The Ten Rings, well, let's just say our jaws dropped to the floor when we saw Ta-Lo for the first time.
And we figured we weren't alone in wanting to visit Ta-Lo in real life.
After all, who wouldn't want to frolic is a lush meadow full of dragon-horses and nine-tailed foxes?
Well, if that sounds like your dream trip, in this post, we'll be covering everything you've been wondering about visiting Ta-Lo in real life, from the actual filming locations they used to destinations around the world with Ta-Lo vibes.
We hope you find it useful!
First: Where Did They Film Ta-Lo Scenes in Real Life?
If you're looking for the actual filming location of Ta-Lo, unfortunately you'll be disappointed!
That's because the real life location of the Ta-Lo scenes from Shang-Chi looks nothing like in the movie, where it was glammed up tenfold thanks to the magic of CGI.
According to this interview with Sue Chan, Shang-Chi's production designer, Ta-Lo was a special set built on a hillside outside Sydney Australia at Prospect Reservoir.
As she says in the interview, "It was basically just an empty field and we built the entire village there and it was surrounded by a bluescreen… We built the bamboo dome. We built all the buildings, we built the temple. We probably used all the bamboo in all of Australia."
So, Ta-Lo's real life location is Prospect Reservoir in Sydney… and while it actually is the city's largest reservoir, it's not really a must-visit on its own.
But if you're looking for places to travel to that LOOK like Ta-Lo, there are several gorgeous options. We outline them below.
Real Life Locations That Look Like Ta-Lo from Shang-Chi
Wondering which travel destinations will remind you of Ta-Lo? Here are some ideas!
Guilin and Lijiang River National Park, China
The distinctive mountains surrounding Ta-Lo were (like many of Shang-Chi's landscapes) the clever work of CGI, but if you want to see some of those uniquely curvy mountains in real life, one of the best places to do that is the Guilin and Lijiang River National Park in China.
This spectacular park is known for its magical karst mountains, which look quite similar to the CGI mountains seen around Ta-Lo, and while it's a river and not a lake, the vivid hues of the Li River are definitely reminiscent of the lake by Ta-Lo.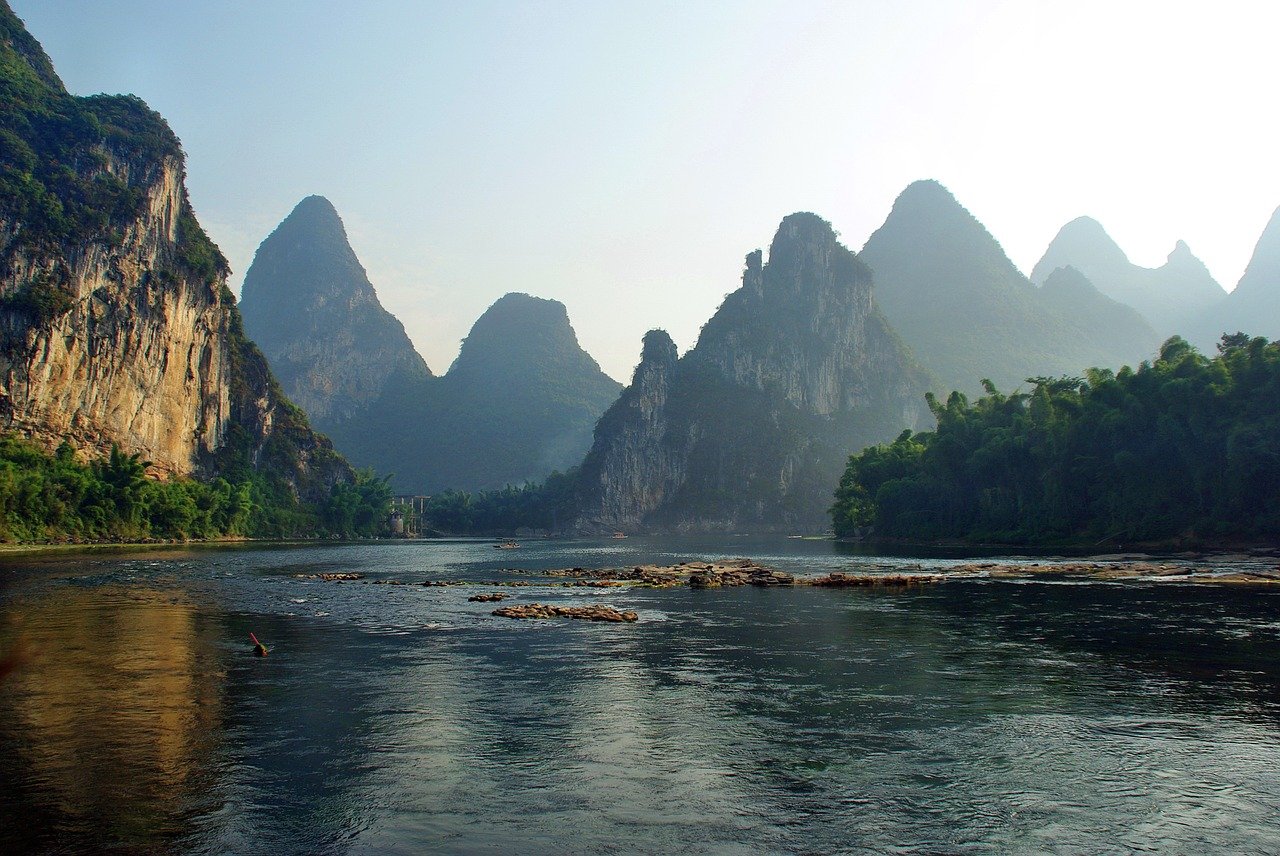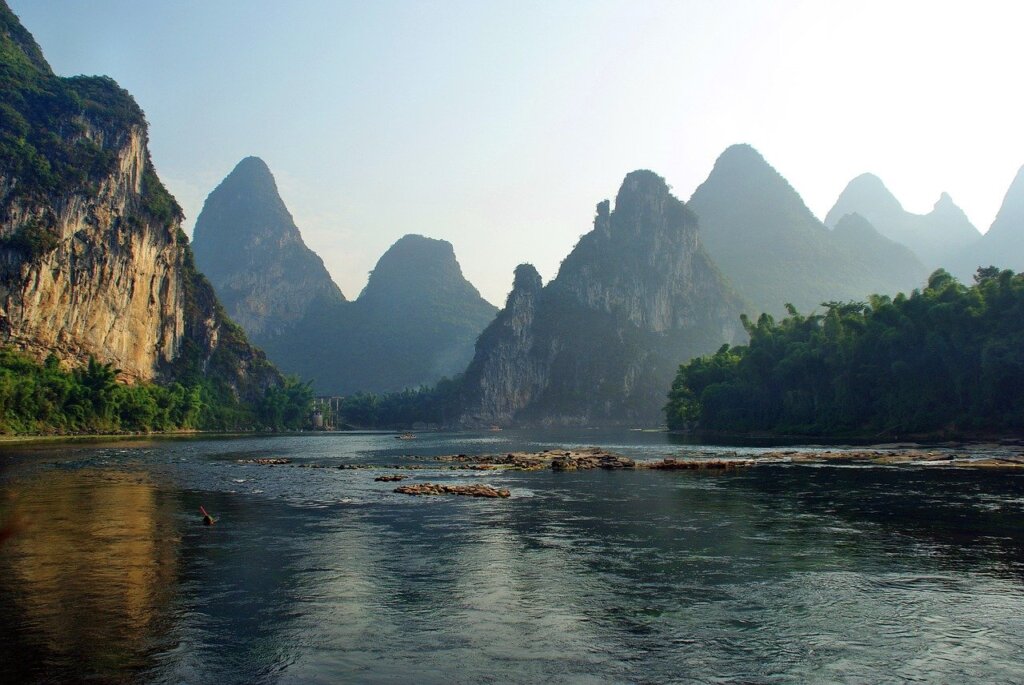 Hengdian World, China
Hengdian World Studios is the world's largest film studio, and while it wasn't an actual filming location for Shang-Chi, there are parts of this attraction that nonetheless bear resemblance to Ta-Lo.
The Qing Ming Shang He Tu scenic area and New Yuanmingyuan replica for example are both waterside structures that will transport you to a whole new world (and time), with Ta-Lo esque vibes.
And for GeekTrippers eager to step into other historic Chinese landscapes, this park is also home to a full-sized replica of the Qin Imperial Palace, among other sets used in famous movies like Crouching Tiger, Hidden Dragon, Hero, The Forbidden Kingdom and the latest live action Mulan.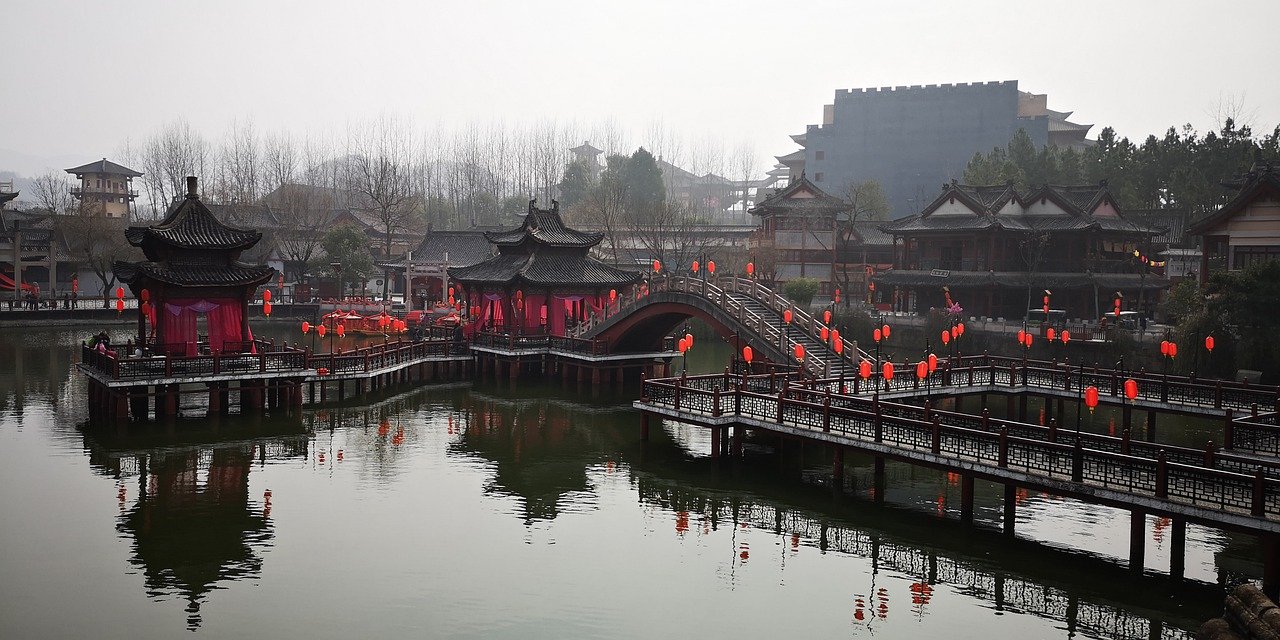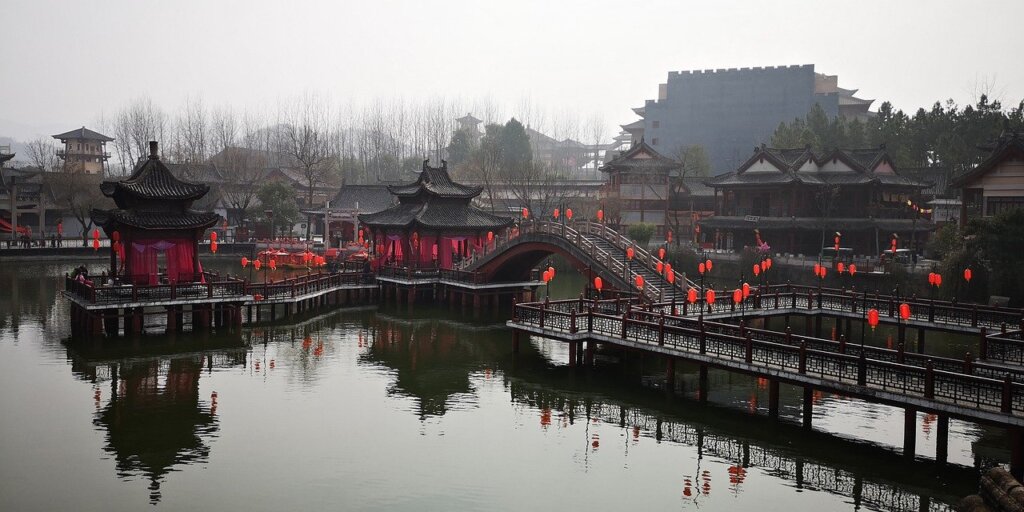 Arashiyama Bamboo Grove, Japan
If you're looking for a bamboo forest like the one they drive through to find Ta-Lo, then one of the most famous tourist destinations in the world to get a similar experience is Arashiyama Bamboo Grove, located just outside of Kyoto.
Spanning 16 square kilometres, this forest is packed with towering stalks of (mainly) Moso bamboo. And if you're worried about having no Morris to guide you – don't fret! The forest is full of walkable pathways for visitors to enjoy.
And on a very optimistic note, the bamboo here is (highly) unlikely to eat you.
Naena Falls, Japan
While there's no magical Moon Gate that brings you to another dimension, the beautiful Naena Falls in Myoko, Japan have a similar mystical appeal as the waterfall they drive through in Shang-Chi.
Here, you'll find water gushing down a steep 55m basalt cliff, making it a lot larger and more powerful than the serene waterfall-portal we see in the movie.
Nonetheless, especially in Autumn, you'll definitely get (pre) Ta-Lo vibes here.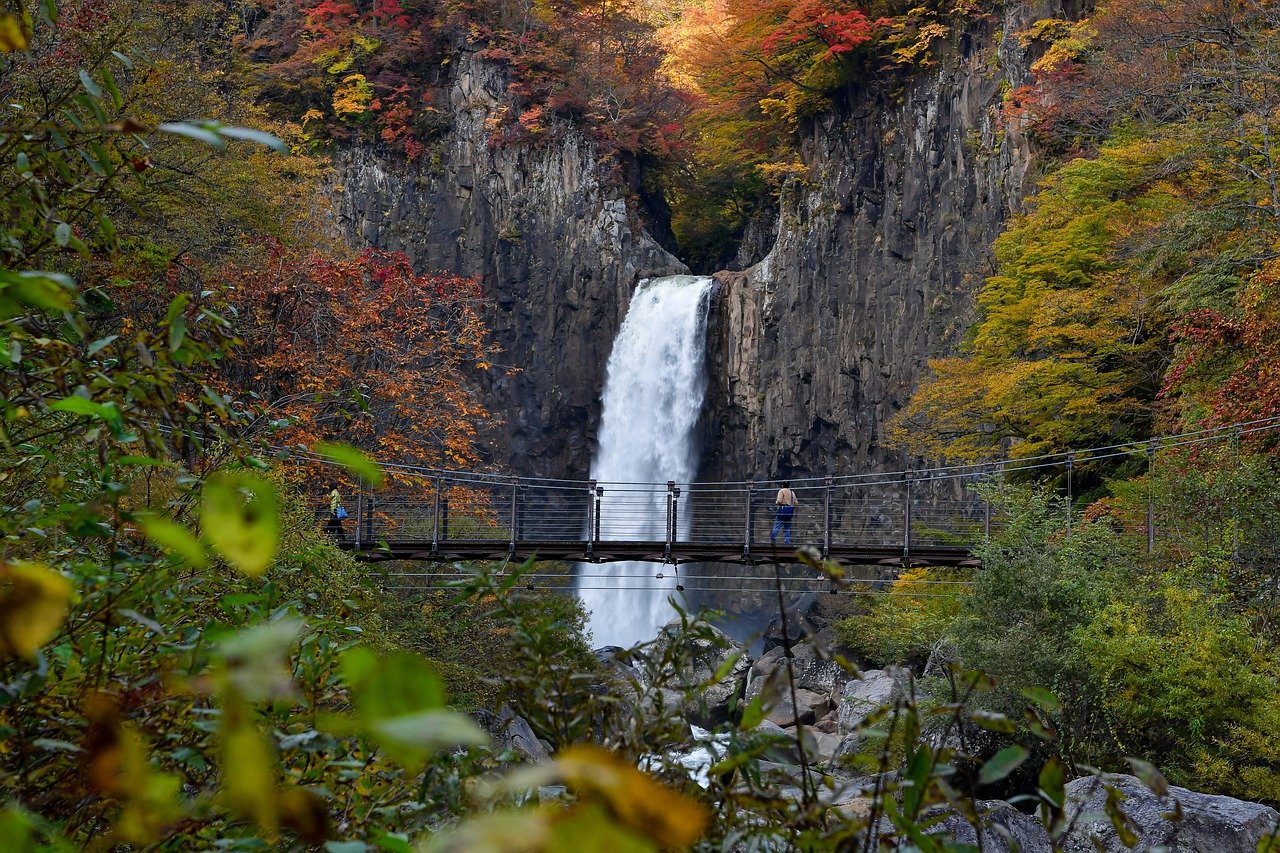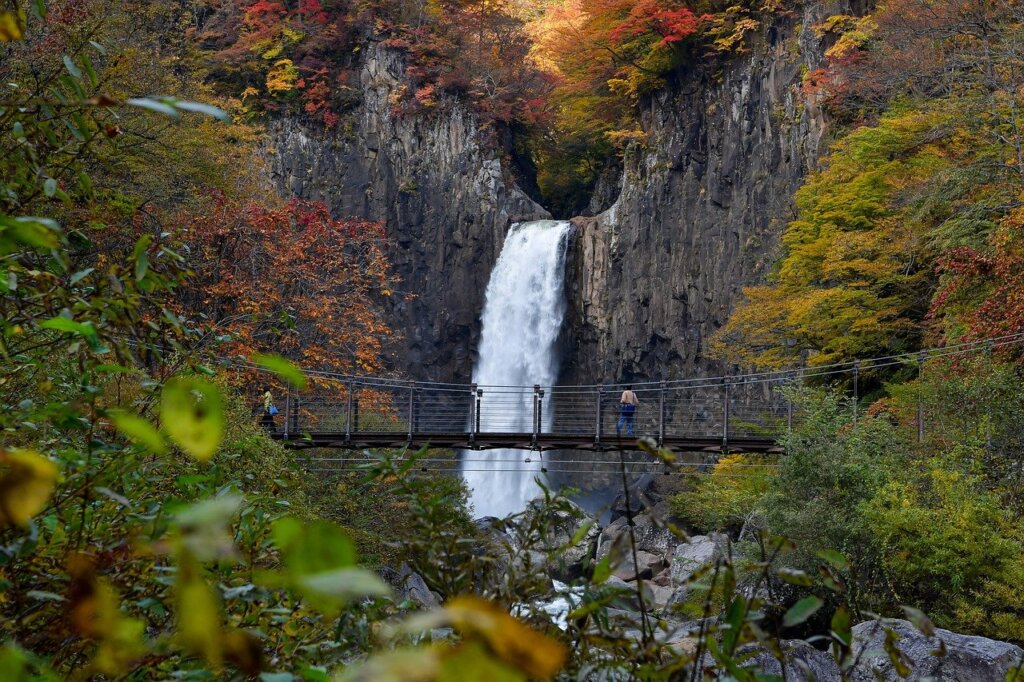 Glow Worm Tunnel at Wollemi National Park, Australia
And while you might struggle to find a real life Moon Gate that will bring you across dimensions, a cool real life alternative to the Moon Gate in Shang-Chi is the Glow Worm Tunnel at Wollemi National Park in Australia.
What's so special about this abandoned railway tunnel? Well, it's filled with bioluminescent glowworms that mimic the glowy blue water magic of the portal!
While you can't drive through it, it is a popular route to do on foot, so be sure to put this on your itinerary the next time you visit New South Wales.
Tegallalang Rice Terrace, Indonesia
Terraced rice fields are a common sight across East Asia, and (apart from the whole epic mystical creatures and cotton candy-esque cherry blossoms), many do look quite similar to the ones pictured in Ta-Lo.
While you'll be able to find many gorgeous terraced rice fields across Asia, one especially famous one is the Tegallalang Rice Terrace near Bali, Indonesia. It has become such a tourist draw in fact that they offer a ton of additional activities, from ziplining to large swing photo opps.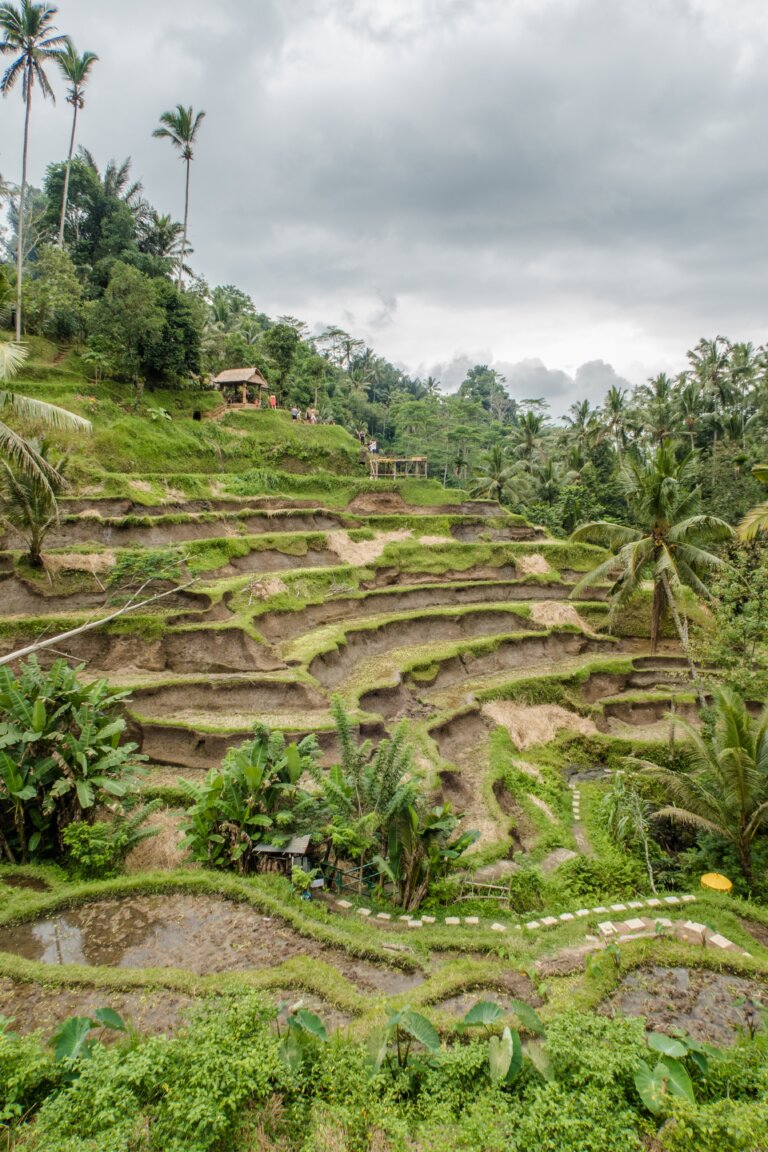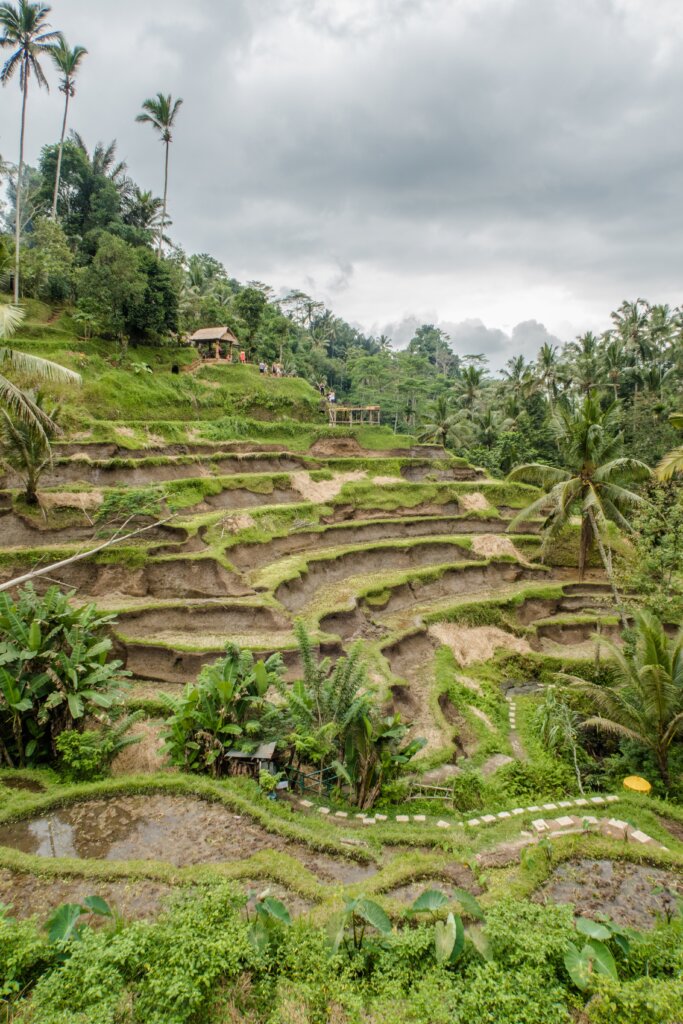 We Hope You Enjoyed This Guide to Finding Ta-Lo in Real Life!
Let us know in the comments if you think there are any other destinations you think we should add to our list.