*FYI - this post may affiliate links, which means we earn a commission (at no extra cost to you) if you purchase from them. Also, as an Amazon Associate I earn from qualifying purchases. For the full scoop on what this means, feel free to check out our Privacy Policy and Disclosure.
---
Psst… hosting a Wandavision watch party or date night? Click here for some really fun ideas.
The release of WandaVision on Disney+ in January 2021 has left eager Marvel fans in puddles of drool.
After all – it's different, it's mysterious, and it's SO what we needed to kick this year off right.
But where was WandaVision filmed? While watching the show (which consists of 9 episodes total), this is one question that might cross many viewers' minds.
So, whether you're looking for Wanda and Vision's 'WandaVision' house, or seeking out the location of Westview in real life, this article is here to provide you with THE most thorough roundup of WandaVision filming locations, filled with fun facts and behind the scenes info.
Get ready to geek out! And be sure to check out our favorite WandaVision lines here, along with some funny Marvel-themed pickup lines here for another fun read.
SPOILERS AHEAD: We recommend only reading this article if you are currently caught up with WandaVision. While listing off WandaVision locations, we'll of course have to briefly touch on scenes that filmed there, so be warned that there might be light spoilers ahead.
Save this post for later on Pinterest: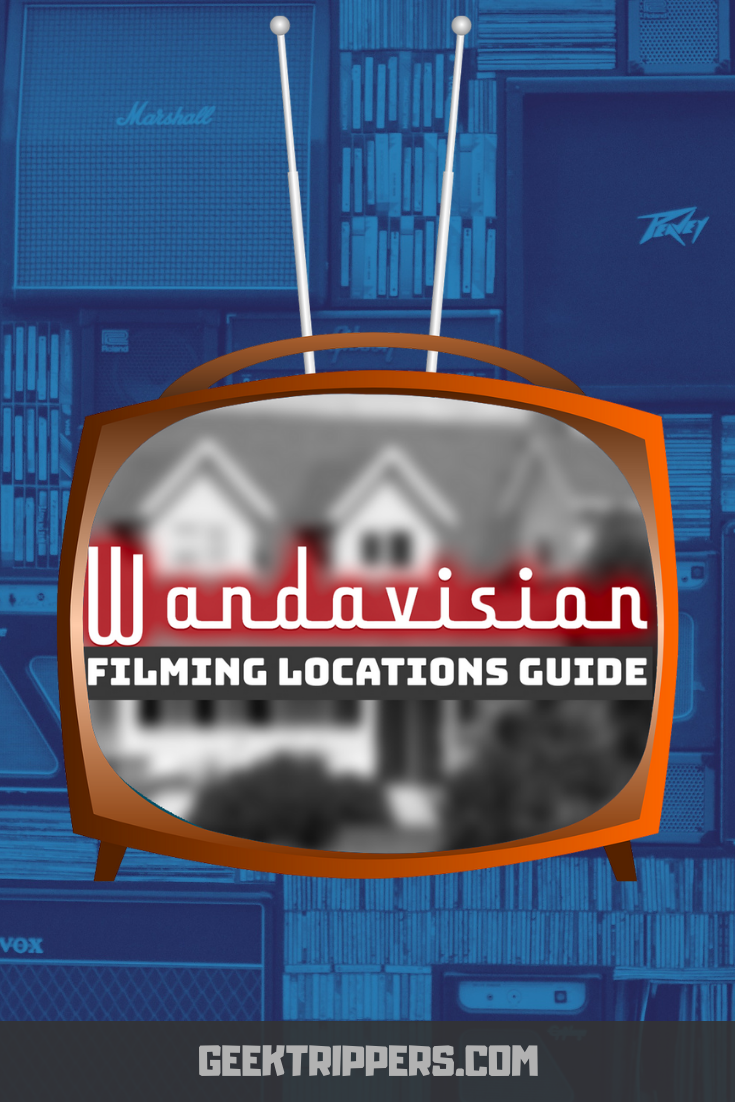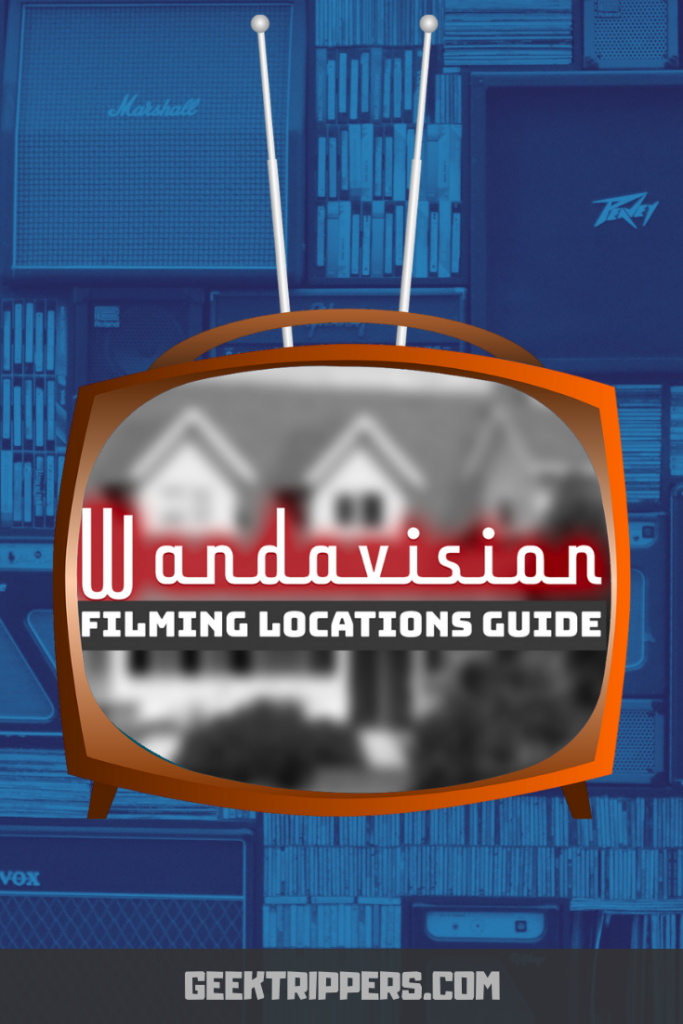 First – A Brief Summary of WandaVision Filming History
Unfortunately for eager Geektrippers, most WandaVision filming locations are not open to the public, and therefore not easy to visit.
That's because WandaVision filming primarily took place in-studio or on backlots, like at Trilith Studios (formerly known as Pinewood Atlanta Studios) in Atlanta, Georgia, Warner Bros. Ranch in Burbank, California, and Golden Oak Ranch in New Hall, California.
Before we hop into the locations though, let's briefly chat about WandaVision's production timeline.
Similar to Loki and the Falcon and the Winter Soldier, as you might have expected due to its delayed release, production wasn't without its difficulties, given the 2020 impact of the virus that shall not be named.
According to sources on Twitter, WandaVision filming was scheduled to take place in Atlanta from November 2019 to March 2020.
Set photos like these were leaked as early as August 2019, showing set design was underway.
According to this interview with WandaVision Matt Shakman however, only 2/3 were filmed before production was forced to shut down in mid-March 2020.
Luckily, production had just wrapped in Atlanta (click here for a cute pic from the wrap party!), and so they were already moving onto a different 'phase' of filming anyway, with almost everything set to be filmed on backlots in LA.
Filming then resumed after a few months break and continued into late October 2020, as evidenced by this Tweet.
FUN FACT: According to EW, the first episode, "Filmed Before a Live Studio Audience" WAS filmed before a live studio audience (who were subject to strict NDAs of course). Crew members apparently even came to set in 50s clothing with period lenses/lighting to achieve the vintage flair of a classic mid-century sitcom. You can see more BTS in this video below.
A Full List of WandaVision Filming Locations
Now, let's get into the real life locations that you see in WandaVision! Remember, most of these WandaVision locations aren't ones you can easily visit in real life, but in case you're curious…
Wanda and Vision's House in Westview
Real Life Location: Warner Bros. Ranch in Burbank, California
The iconic WandaVision house goes through a few aesthetic changes throughout the show, but the setting remains the same.
You can find the house on Blondie St. at Warner Bros' Ranch in Burbank, California, a set with plenty of sitcom history.
Over the years, iconic programs like Bewitched, I Dream of Jeannie and the Patridge Family have filmed there.
According to this interview with Hollywood Reporter, director Matt Shakman immediately had this street in mind when deciding where to place Wanda and Vision's house.
The reason? He had skateboarded past it everyday on his lunch break while filming The Ten of Us on Warner Bros. Ranch.
In the interview, Shakman explained "I wanted to put Wanda and Vision's house there. I wanted it to be there among the ghosts of sitcoms past. I wanted it to have that DNA and that weird kind of tension between fake and real".
Wanda and Vision's house (first seen in Episode 1 of WandaVision, "Filmed Before a Live Studio Audience") can be seen below, although with a few tweaks, including magically erasing the second floor and adding the 2800 house number Easter Egg, which is a nod to the MCU being Earth-2800 in Marvel's multiverse:
NOTE: Remember, the look of the house changes throughout the show so by Episode 3 "Now in Color", both floors of the house can be seen in all its beautiful (colorful) glory, along with a paint job.
FUN FACT: According to this interview, WandaVision actors enjoyed a week of sitcom boot camp prior to filming, during which they watched episodes of classic sitcoms to get a feel for the spirit of each era.
Other Houses in Westview
Real Life Location: Warner Bros. Ranch in Burbank, California
Unsurprisingly, most other outdoor facades of Westview's 'suburbia' bliss were also filmed on Blondie St.
For example, here is the house seen in the background at the start of the very first episode, when Wanda and Vision drive in and wave hello to Westview's mailman.
You also see this house prominently as they pull their car in, and in Episode 2 "Don't Touch That Dial" where it stands in for Dottie's.
Here is the house seen in Episode 2 "Don't Touch That Dial" across the road… although you'll notice there's no rose bushes!
And here is the exterior of Agnes' house as seen in Episode 7 "Breaking the Fourth Wall":
All these locations are of course seen very clearly in the final fight scenes of Episode 9 "The Series Finale", and in the epic intro video for Agatha.
Visions' Workplace – the Computational Services Inc. Building
Real Life Location: Disney's Golden Oak Ranch Business District
To find Vision's office, you'll need to head to a different ranch back lot, namely Disney's Golden Oak Ranch.
You can see plenty of photos on the official Golden Oak Ranch website here, but the brick facade of Vision's (vague) company, Computational Services Inc., is found in Block A.
The parts recognizable in WandaVision can be seen clearly in this photo here.
The Westview Swim Club (The Women's Gathering Pool Area)
Real Life Location: Warner Bros. Ranch in Burbank, California
When Wanda joins up with her fellow neighbourhood ladies in Episode 2 "Don't Touch That Dial", we see them gathered for a nice chat by a pool. That pool is very close to all the other Westview locations we've explored so far on the Warner Bros. Ranch.
Here is the pool area, although you can see they really fancied it up for WandaVision:
SUPER FUN FACT: This pool area is only steps away from the iconic fountain from the opening scene of Friends:
Westview Public Library
Real Life Location: Disney Ranch (AKA Golden Oak Ranch)
Where is the library that Vision heads to in Episode 2, "Don't Touch That Dial"? The facade of that is actually a set located on a different ranch – the Golden Oak Ranch where Vision's office is also located.
How do we know for sure? Based on photos here, that building seems to be in Block C of the ranch, and a (since deleted) post by WandaVision producer Dylan Klumph confirms this location for Westview Library.
Agora vai? Parece que as gravações de #WandaVision foram 100% encerradas essa semana.

Novas imagens do produtor Dylan Klumph tiradas no rancho cinematográfico da Disney mostra uma "Biblioteca Publica de Westview", nome de uma das cidades fictícias da série. pic.twitter.com/JIx99N9igq

— Marvel News (@BRMarvelNews) November 3, 2020
Westview Town Square
Real Life Location: Disney Ranch (AKA Golden Oak Ranch) Business District
Eagle-eyed WandaVision fans might notice the library above in the establishing shot for the Westview Town Square, where the Talent Show in Episode 2, "Don't Touch That Dial" takes place. Well, if you spotted that, you are correct!
Other areas in the Golden Oak Ranch Business District backlot were used to represent Westview's town square. Click here to scope out photos.
We also see many of these facades in the Episode 3 "Now in Color" intro sequence, in fabulous color, as well as in Episode 8, when Wanda drives into Westview for the first time, and throughout Episode 9's epic fight sequences.
S.W.O.R.D. Camp
Real Life Location: Atlanta
The S.W.O.R.D Camp is another prominent WandaVision location where most of the best action/answers take place. While this set is (really) just a field, according to this post, it's a muddy one!
We aren't sure of the exact geographical location of this spot, but based on many posts via Atlanta_Filming on Instagram, we can infer that they filmed it in Atlanta, likely close to the Trilith Studios (formerly known as Pinewood Atlanta Studios).
It's also likely that this is around the empty green space where they filmed the circus scenes in Episode 7.
BEHIND THE SCENES: These photos posted in January 2020 seem to depict the S.W.O.R.D. Responsive Base outside of Westview.
The Hospital
Real Life Location: *Southern Regional Medical Centre
*We are not 100% sure of this location, but according to Atlanta Magazine, signs for WandaVision were spotted at the Southern Regional Medical Centre in Riverdale, Georgia.
Based on the fact that WandaVision allegedly filmed at this medical centre, we are connecting the dots a bit and assuming that the hospital scenes are what filmed here. We even took a quick look at the official hospital YouTube channel and can see that the color schemes of both are definitely very similar.
If you can confirm or deny, or have further info, then feel free to chime in in the comments!
S.W.O.R.D. Headquarters
Real Life Location: George World Congress Centre
The glossy, futuristic and *high security* HQ of S.W.O.R.D. can be found at the Georgia World Congress Centre in Atlanta.
This was confirmed via the official Georgia World Congress Centre Twitter account here.
We see this spot very clearly in Episode 4 and then again in Episode 8, during one of Wanda's "reruns". The parking lot of the congress centre can also be seen quite clearly in the scene where Wanda drives off.
The Outskirts of Westview
Real Life Location: Williamson, Georgia
In Episode 6, "All-New Halloween Spooktacular!", we are introduced to more of Westview, specifically the outskirts where we see Vision roaming around on Halloween.
While most of Westview's main scenes in the early episodes were filmed on backlots and sets in California, these Westview scenes from Episode 6 were actually filmed in Williamson, Georgia.
The street that we see Vision walking down near the start of the episode is Rolling Hill Drive. Here it is without all the Halloween costumes and decorations:
Here is the house where Vision sees the poor woman hanging up a Halloween decoration as a tear rolls down her cheek:
And when Vision flies up to get a view over Westview, it's Highpoint Crescent you're seeing:
And here is the intersection where Vision stops Agnes.
We hear Wanda warn the twins earlier in the episode to not go past Ellis Ave, but in real life this street is known as Williamson Zebulon Road. Rolling Hill Drive stays the same though:
We can consider this intersection the edge of Westview, as it's also where Vision walks off, as you can see from this angle here:
The Coronet (Westview Movie Theater)
Real Life Location: Disney's Golden Oak Ranch Business District
Later in Wandavision Episode 6, "All-New Halloween Spooktacular!", we see Wanda, Pietro and the twins outside of Westview's movie theater, the Coronet. If you're wondering where to find the Coronet in real life, it's actually located on a backlot, Disney's Golden Oak Ranch to be precise – the same one as many other Westview scenes.
In fact, if you look closely, you can see Vision's office in the background.
You can see photos of it on the official Golden Oak Ranch website here, in Block A.
PS: Did you notice that the movies being shown at the Coronet are The Incredibles and The Parent Trap? One about a family with superpowers, and the other about twins? Sounds a bit familiar…
Welcome to New Jersey Sign
Real Life Location: Interstate 95 North at Exit 1: NJ 29 – Trenton / Lambertville
After Wanda leaves S.W.OR.D headquarters, we see her drive off to Westview. The Welcome to New Jersey sign that's pictured through an aerial shot is on the I-95 North at Exit 1.
According to AA Roads however, this stretch was re-named I-295 a few years ago due to some re-alignment.
You can see a photo of this exact point here.
Other WandaVision Locations We're Not 100% Sure Of
Of course, this article is still missing a few important WandaVision filming locations. If you can help us out (the more precise the better), then please let us know in the comments!
The Location of the Welcome to Westview Sign
Real Life Location: Somewhere in Atlanta
While we're quite positive this sign doesn't exist in real life, we are still curious about the exact whereabouts of this iconic road, which we see several times in WandaVision.
Based on these behind the scenes photos, we know that this area is somewhere in Atlanta, but precisely where still alludes us.
Westview's Doctor's House
Based on the fact that most Westview homes were filmed on Blondie St at the Warner Bros. Ranch, we assume the local doctor's house is located on this street as well although we haven't been able to find an exact match.
Let us know in the comments if you have any insight on this!
Wanda's Lakeside Retreat
In the very final post-credit scene in Wandavision Episode 9, we see Wanda calmly making some tea in her lakeside escape in the mountains.
Well, if you're anything like us, your first thought was "where the heck is that gorgeous lake?" and then maybe "omg is Wanda astral projecting???"
No official location has been confirmed, so we put our detective hats on and have summarized all our findings/theories in this post all about the lake house in WandaVision Episode 9's post-credits.
BUT, in case you're curious, our best guess is that the scene was made up of stock clips from a few different locations (notice the fades).
Of all the lakes we studied, the closest match we could find was Upper Kananaskis Lake in Alberta, Canada. What do you think?
Again, our full guide to the WandaVision lake house here explains more clearly all the different fan theories, including where this lake house is situated in the MCU!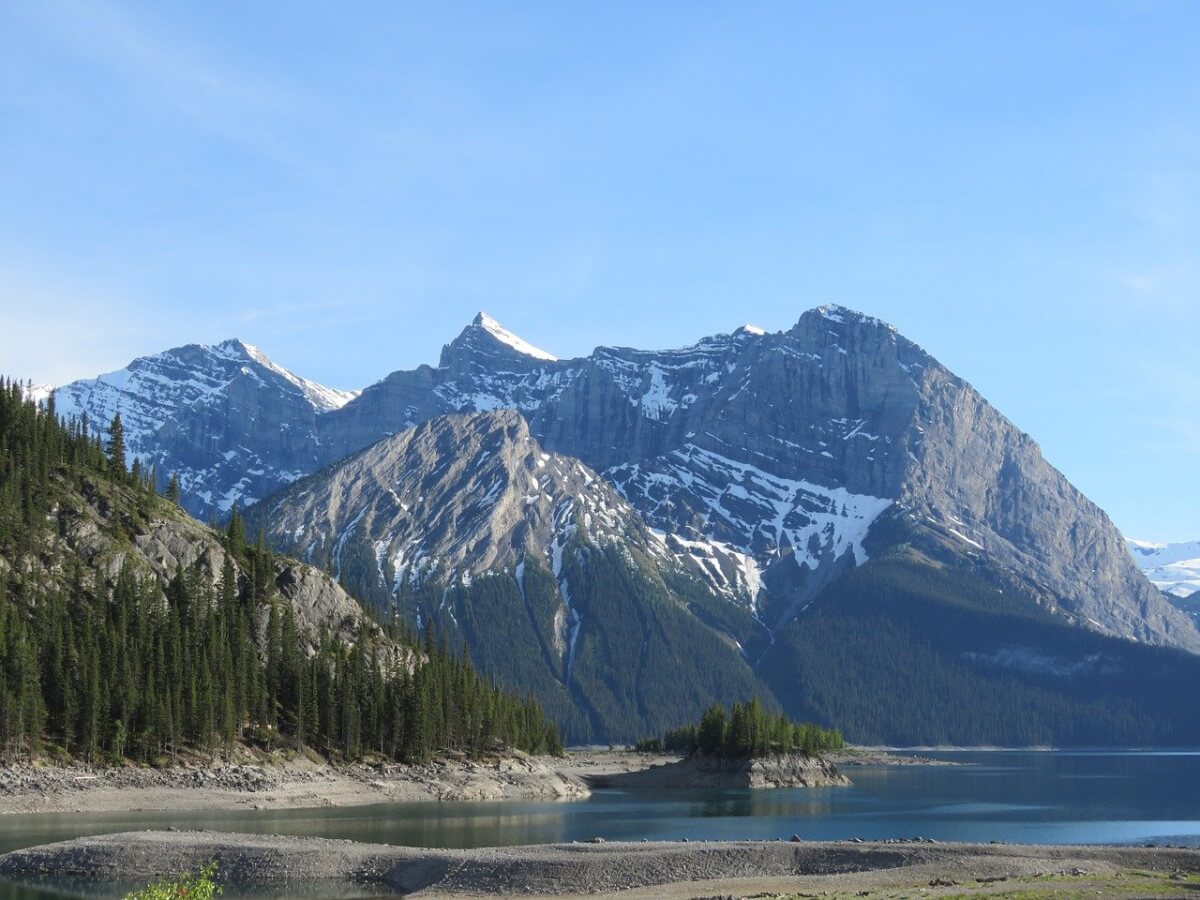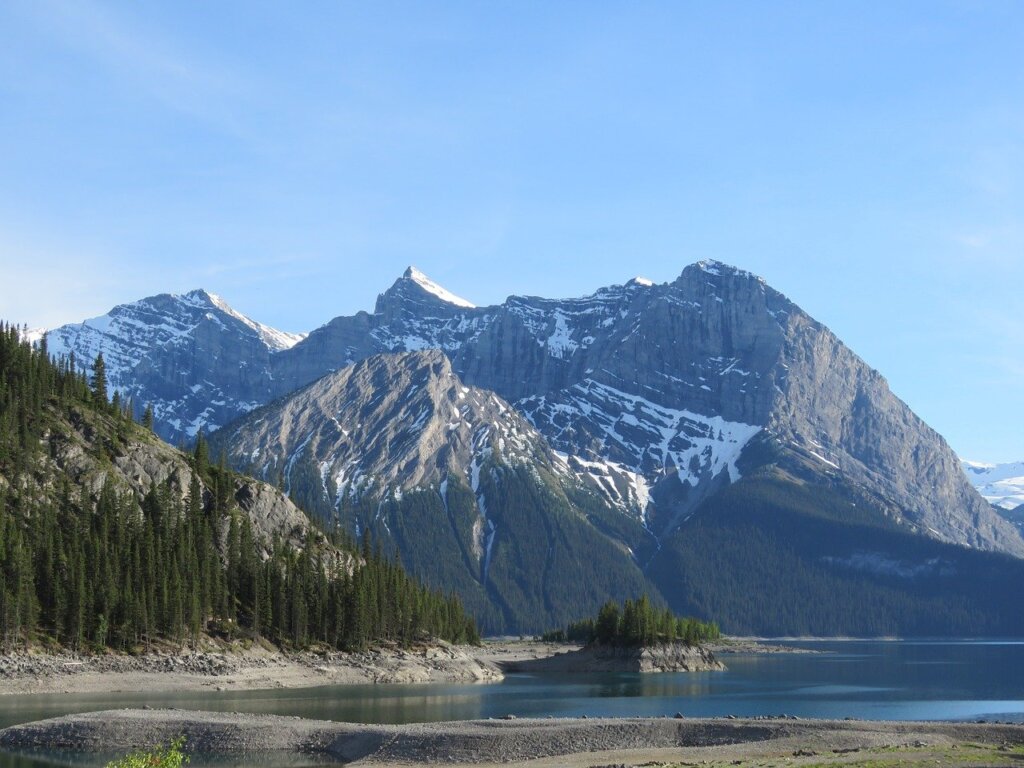 Potential Other WandaVision Filming Locations
Last but not least, in our research, we found some supposed filming locations that we haven't been able to pinpoint clearly in the show.
We'll include them below, bearing in mind however that none of these are 100% confirmed filming locations.
This House
Based on Twitter speculation, this may be Agnes' house (perhaps interiors?)
Vídeo do local de gravações de 'WandaVision' divulgado pelo @AtlantaFilming no Instagram. pic.twitter.com/yNOwO42GkR

— marvel gifs (@marveIverso) December 12, 2019
A School in Starrs Mill
According to Atlanta Magazine, WandaVision did some filming at a Starrs Mill school in December, further confirmed by this tweet.
Oak Hill Baptist Church
Lastly, based on this post from Atlanta Filming, it seems like the WandaVision crews were set up at Oak Hill Baptist Church in Williamson, Georgia.
Do you have any WandaVision Filming Locations for Us to Add?
Let us know in the comments! We'll try to update this post ASAP as the season goes on, so we would appreciate any further tips or leads.