*FYI - this post may affiliate links, which means we earn a commission (at no extra cost to you) if you purchase from them. Also, as an Amazon Associate I earn from qualifying purchases. For the full scoop on what this means, feel free to check out our Privacy Policy and Disclosure.
---
[Spoilers below] The Queen's Gambit, AKA the world's most-watched limited series on Netflix, has become a worldwide phenomenon since its release (while skyrocketing interest in chess sets along the way).
And since we KNOW you're dying to find out where every single scene was filmed, we've assembled this ultimate guide of Queen's Gambit filming locations just for you.
That's right – we've done all the elusive researching, Google Mapping, Pinteresting, and more in order to pinpoint the exact areas that The Queen's Gambit was filmed… all so you can just sit back, enjoy, and save these on your devices for your next trip!
Save this post for later on Pinterest: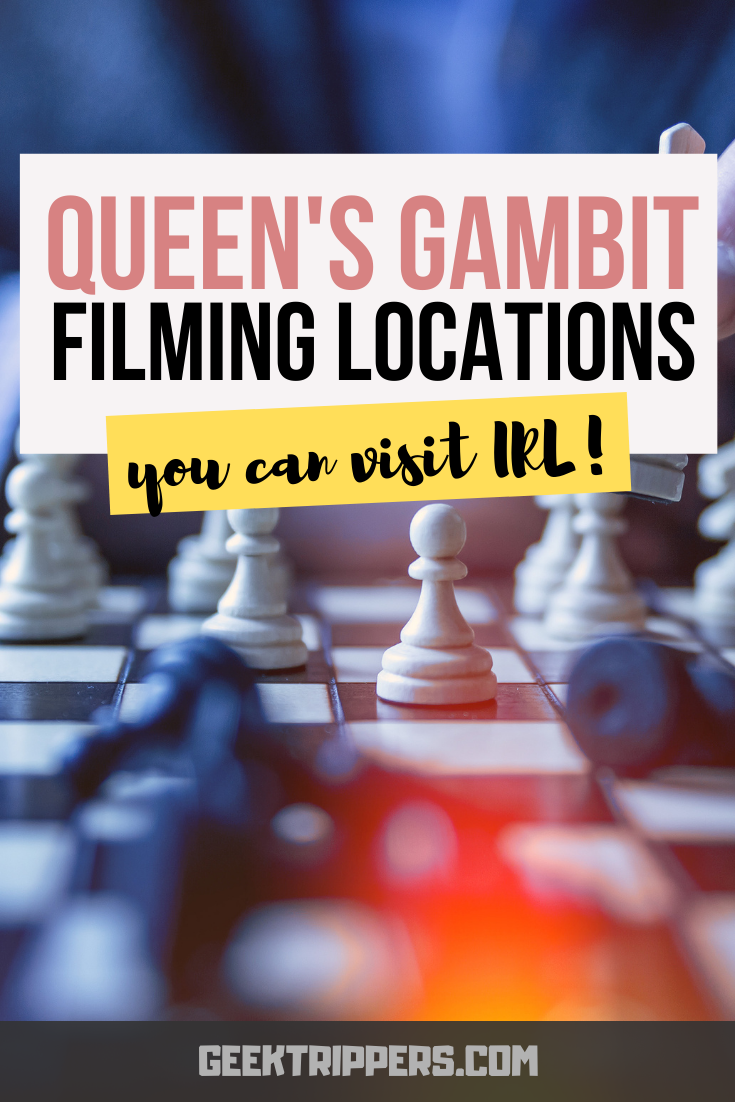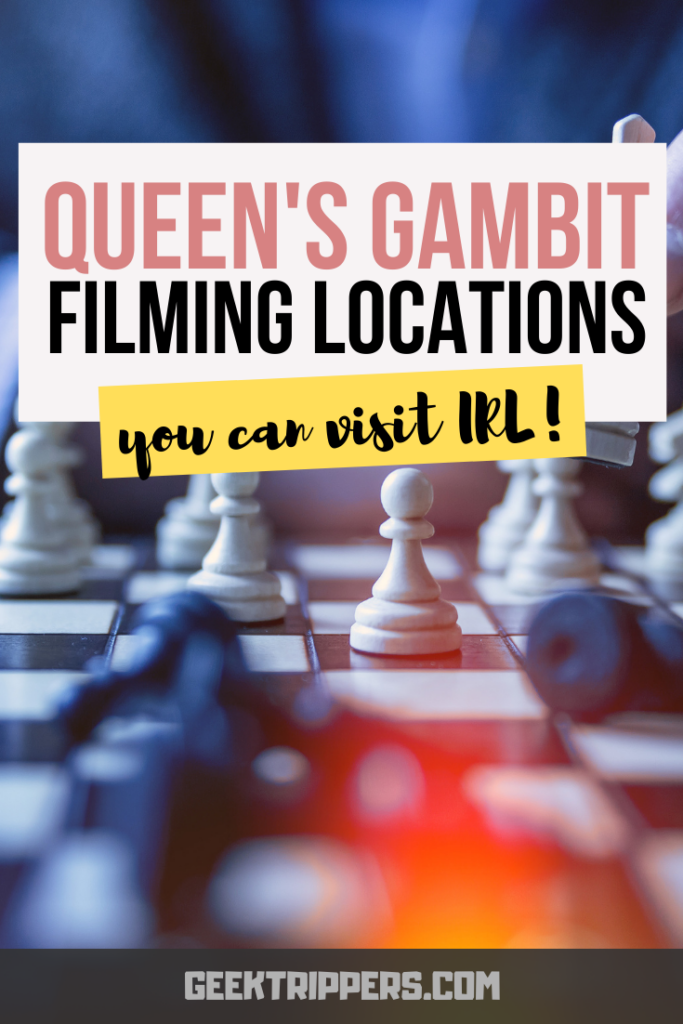 An Overview of Filming for The Queen's Gambit
The bulk of the show is set in Lexington, Kentucky, but interestingly enough, nothing was actually filmed there. Talk about movie magic!
Likewise, despite the pivotal last scenes of the miniseries taking place in Paris and Moscow, nothing was actually filmed in either of those cities.
Okay, so where was The Queen's Gambit actually filmed? Most of the series was shot in Berlin, along with a few scenes in Ontario, Canada (source: IMDB). The official filming dates are listed on IMDB as August – December 2019.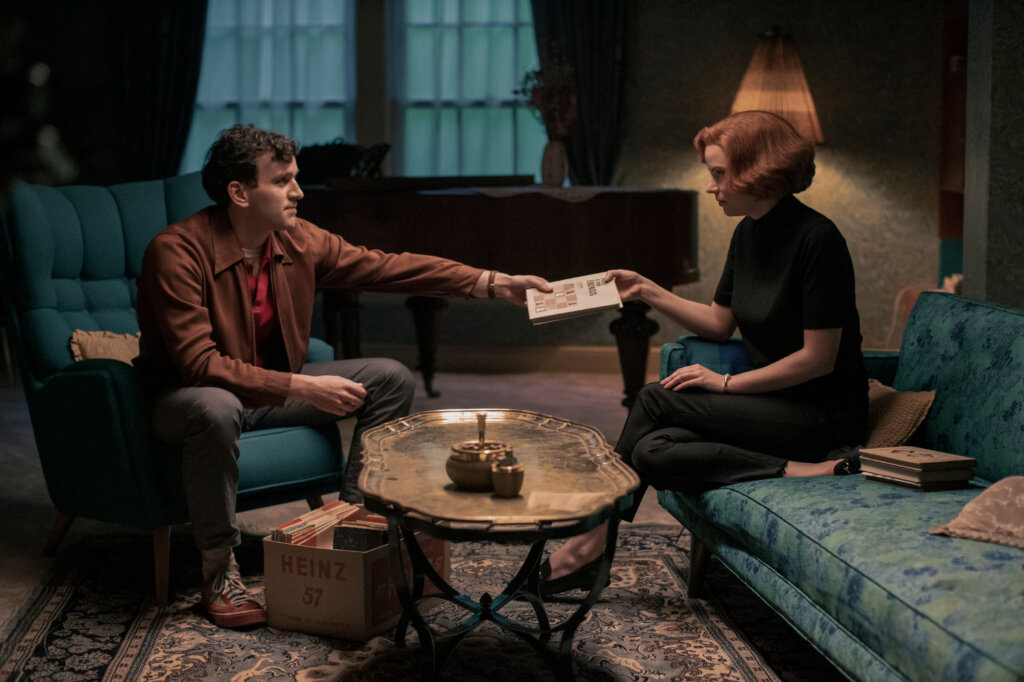 According to Architectural Digest, Berlin was primarily used because its interiors could stand in for numerous cities that the show was set in (i.e. Las Vegas, Cincinnati, Mexico City, Moscow, Paris).
Trivia: Several professional players were used throughout the show to consult actors and help choreograph exact moves of games. Bruce Pandolfini (Mr. Spencer) was one of the chess advisors. Most of the actors, including Anya Taylor-Joy (Beth), didn't know how to play chess, but rather, they memorised every single exact move of each piece for every scene.
As for most of the wallpapers seen in the show, whether in Beth's Kentucky home or at one of her many chess tournaments – they are actually vintage wallpapers painted with multiple coats of varnish to appear more worn and aged, as seen below (source: Architectural Digest).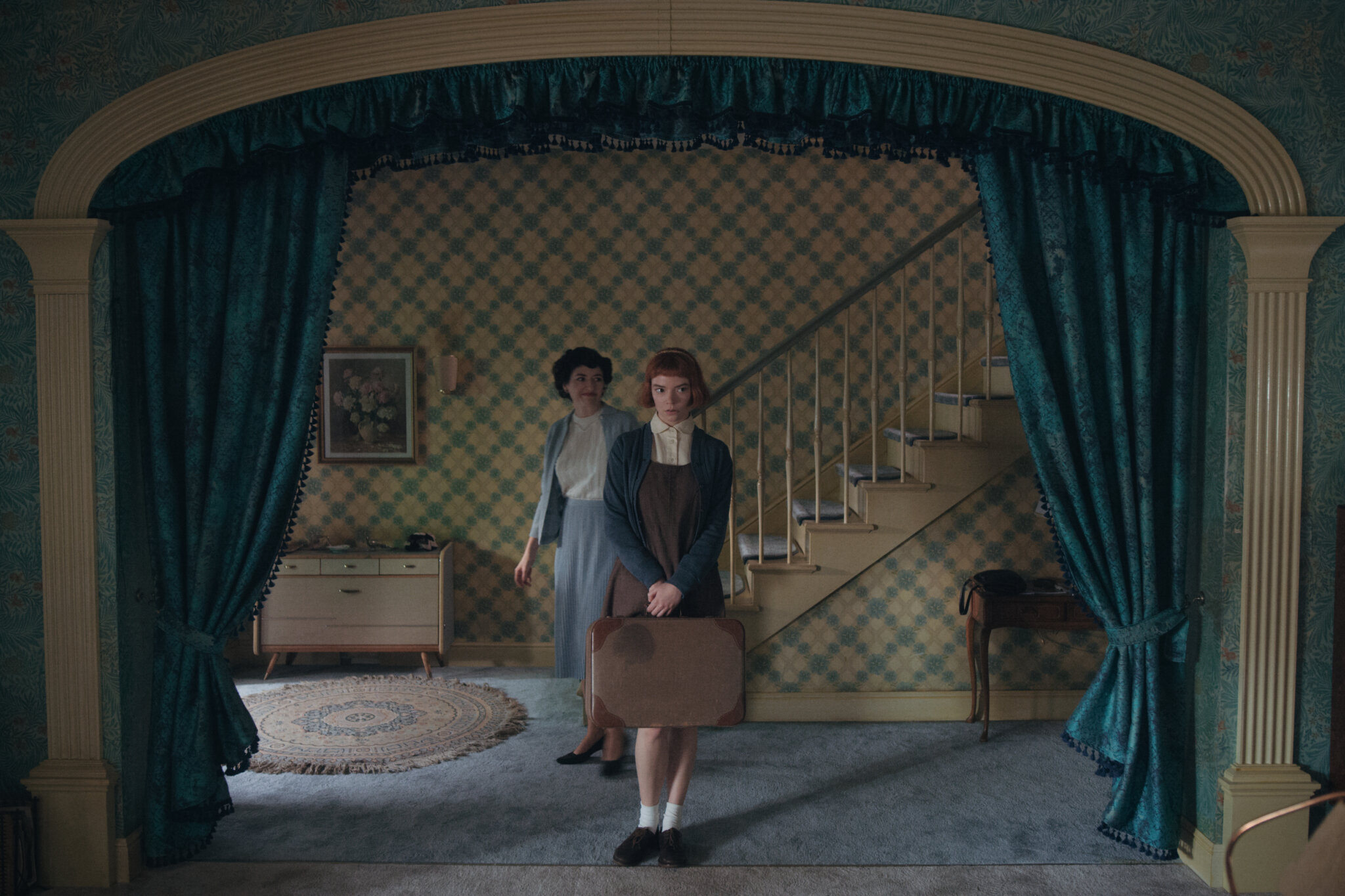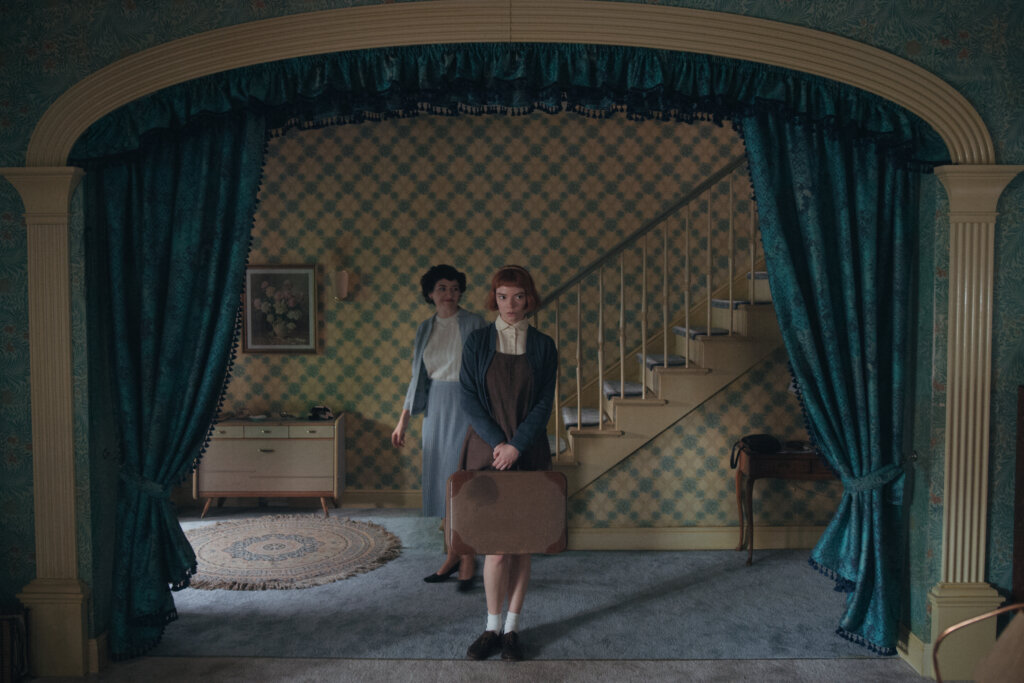 Fandoms collide! Did you know that Jacob Fortune Lloyd (Townes) also had a small part as a Sith Fleet Officer in The Rise of Skywalker?! Check out this Wookieepedia page for a photo!
Crazily enough, it took writer and producer Allan Scott about 30 years (!!) to finally start production on this show. He rewrote the story nine times and approached many studios, each of which rejected the show on the basis that they believed "no one would be interested in chess."
The joke's on them, right?!
In November 2020, 62 million Netflix subscribers tuned in to the show, thus holding the title as the most-watched limited series in the world. We can only imagine that the numbers have been growing steadily since then, especially since most of the show's interest has been spread via word of mouth and social media.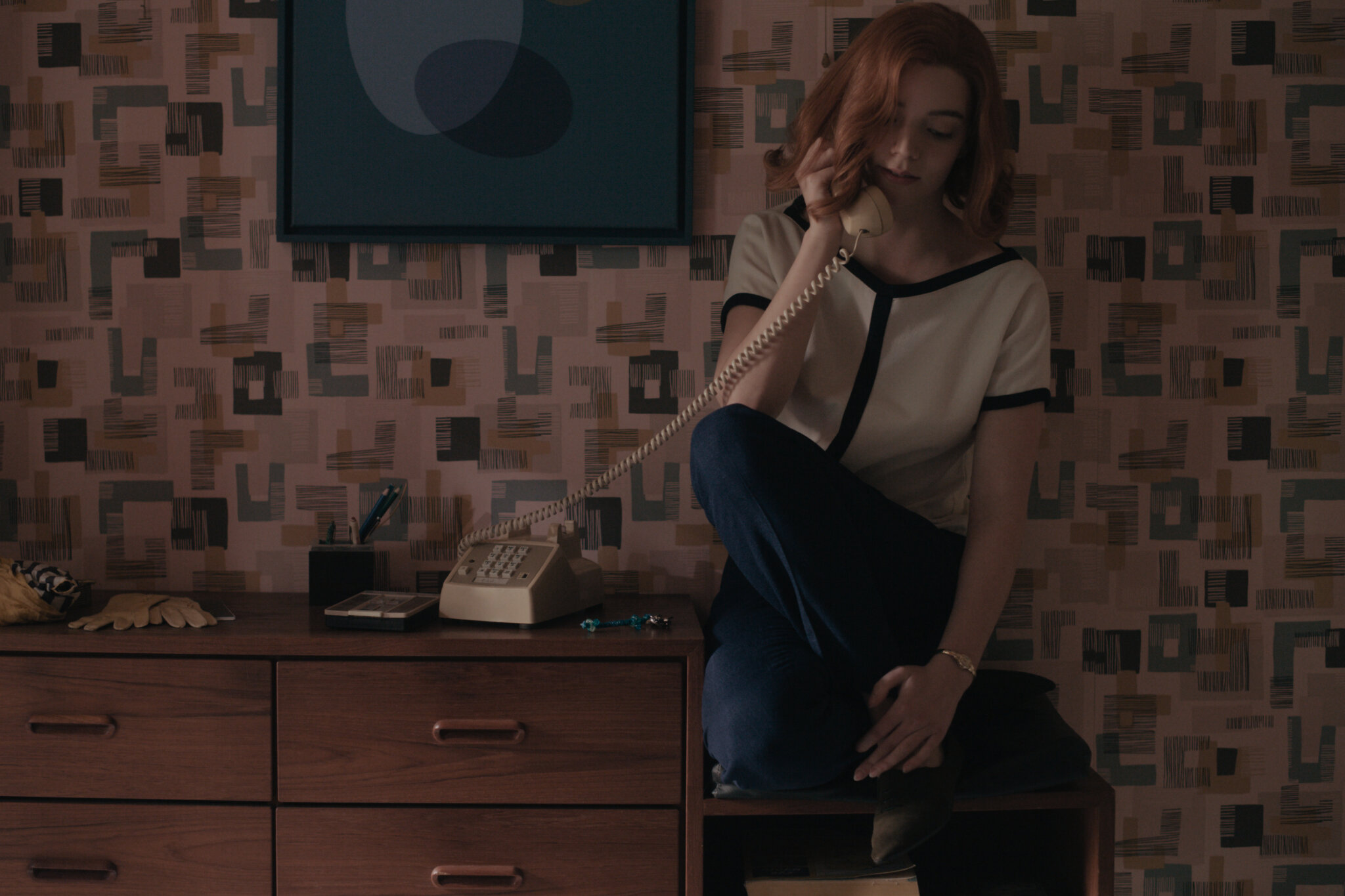 Season 1 (most likely the first and last season) contains seven episodes, which correspond to the seven squares that a pawn occupies from the starting square until it can be promoted to a queen. This parallels Beth's own life, when she completes her journey from pawn to queen in the final episode.
Did you know? Heath Ledger was working on an adaption of a script for The Queen's Gambit before his death in 2008. He envisioned Ellen Page (now known as Elliot Page) as Beth Harmon.
For a behind-the-scenes look at filming the show, check out this official video from Netflix:
The Queen's Gambit Filming Locations: A Full List!
While Beth is taken on a rollercoaster of travel escapades around the world for various chess tournaments, as we mentioned, most of the show was actually shot in Berlin. We've categorised specific locations within Berlin below, so you can have a divine self-guided Queen's Gambit walking tour of all things related to Beth and co.!
Berlin, Germany
Since the production, set, costume, and props designers were all German, it only made sense to bring the production of the show to Germany itself.
Scott Frank, the show's creator and director, even said, "Uli Hanisch [Production Designer] is a genius. I came to Berlin since I wanted to work with him."
Each tournament involved set designs of various hotel rooms and lobbies, restaurants, airplanes, ballrooms, etc. in order to craft the atmosphere perfectly. In the behind-the-scenes special, Hanisch mentions that it was their aim to "repeat, but to make [each set] different" at the same time.
We've plowed through all forms of social media and Google Maps to ensure that every Berlin location in the show has been accurately reported below. Enjoy!
Schulzendorf Castle (AKA Methuen Home)
Dorfstraße 15C, 15732, Schulzendorf
Who knew that the dark academia-esque Christian girls' orphanage (Methuen Home) was actually a castle in Germany?
This old mansion actually dates back to 1889 and is located in the Brandenburg district of Dahme-Spreewald, just on the edge of Berlin.
The only part of the castle that was digitally reworked for Methuen Home was the Renaissance-esque tower, which evoked medieval Europe vibes rather than the intended orphanage.
Humana Secondhand & Vintage Store (AKA Ben Snyder's)
Frankfurter Tor 3, 10243
This vintage store, located on Karl Marx Allee at Frankfurter Tor, is where Alma Wheatley buys Beth's first clothes (set in Kentucky, as Ben Snyder's) in Episode 3 of the Queen's Gambit.
The store makes a common appearance throughout the rest of the season's episodes as well. See this Reddit thread for a reference photo from the show, and check out all of these fun glimpses into the store.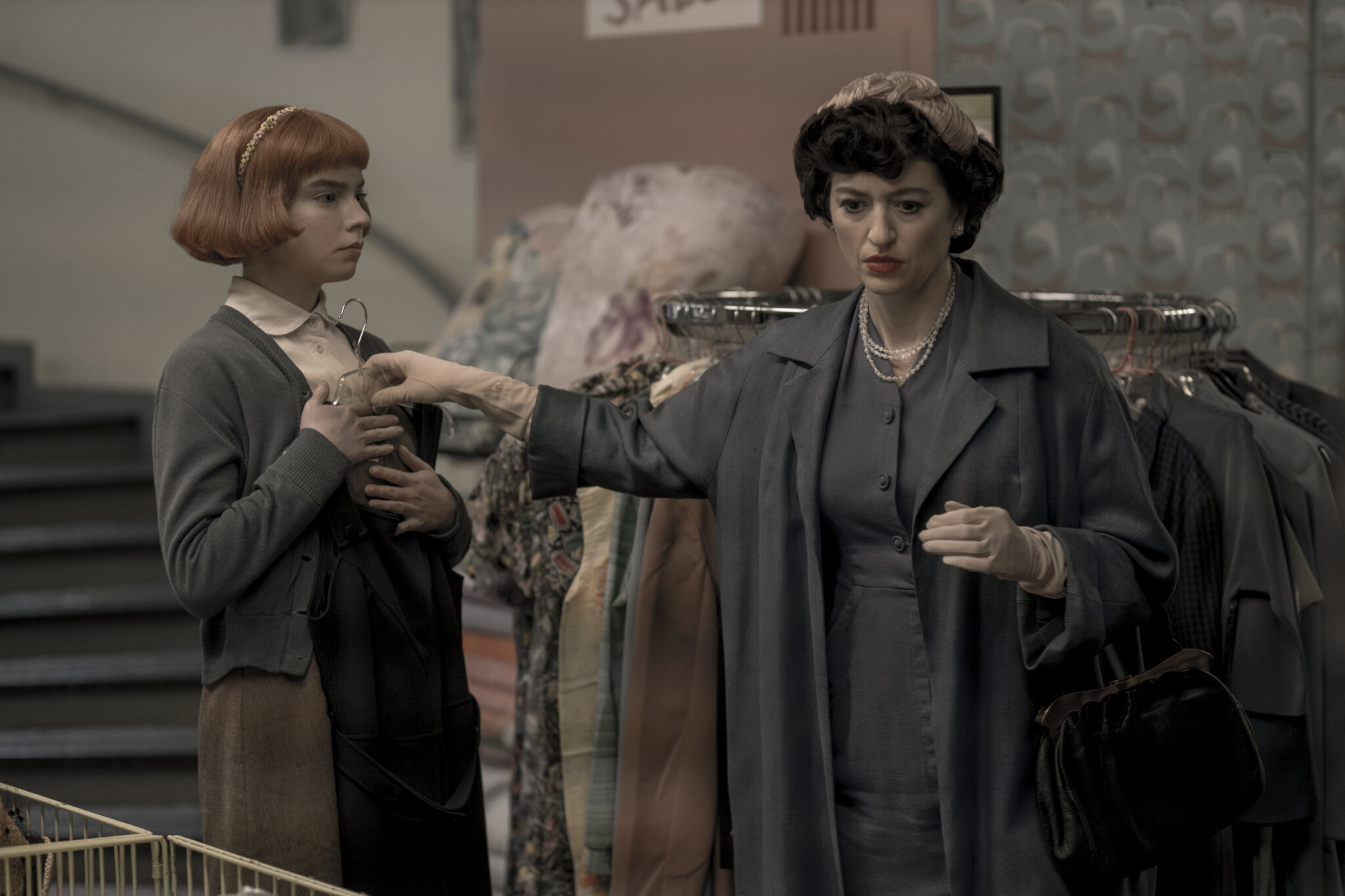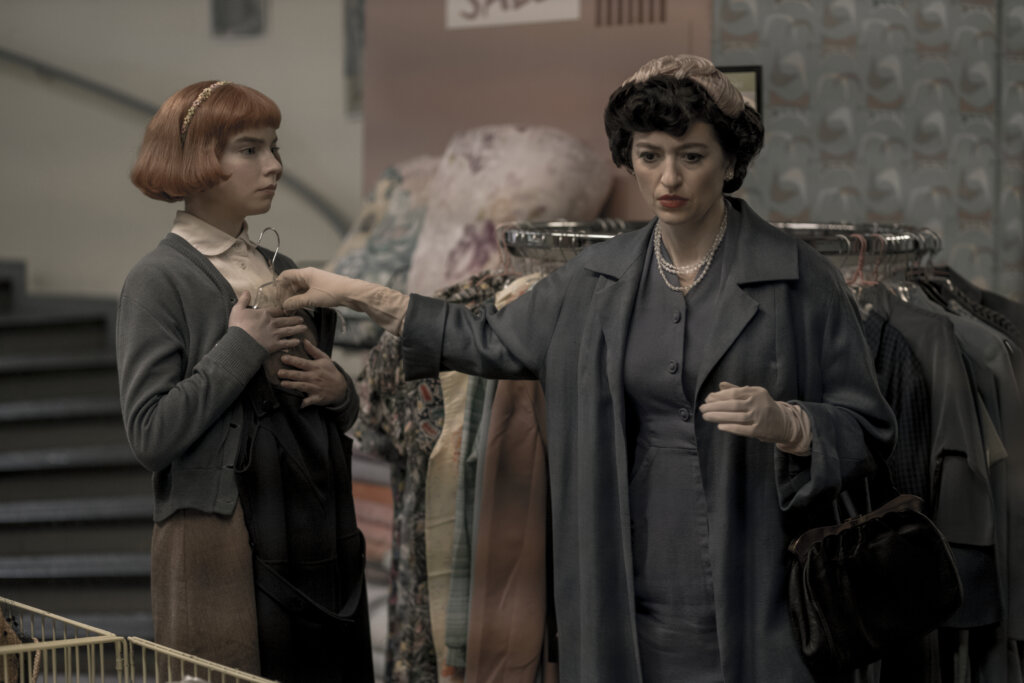 NOTE: The exterior shots of the shop were actually shot in Toronto, but the interior of it was all filmed in Humana. It's known as one of the best vintage shops in all of Europe – and there's also one in London (although they didn't film there).
Stralau Village Church (AKA the Lutheran Church in Kentucky)
Stralau Village Church, Tunnelstraße 5-11, 10245
In the early episodes of Beth's backstory, you may have spotted this iconic church (it looks just like Hagrid's Hut). It's Stralau Village Church (Dorfkirche Stralau), nestled along the peninsula.
The church dates back to the 15th century, where it was restored extensively before WWII.
Siethener See (AKA Beth's Mobile Home, the Lake)
Siethener See, Juetchendorfer Chaussee, 14974
This location isn't actually in Berlin– it's in the village of Siethen (about an hour's drive from Berlin). However, the general area was used for several flashback scenes when young Beth is with her (biological) mother in their Kentucky mobile home.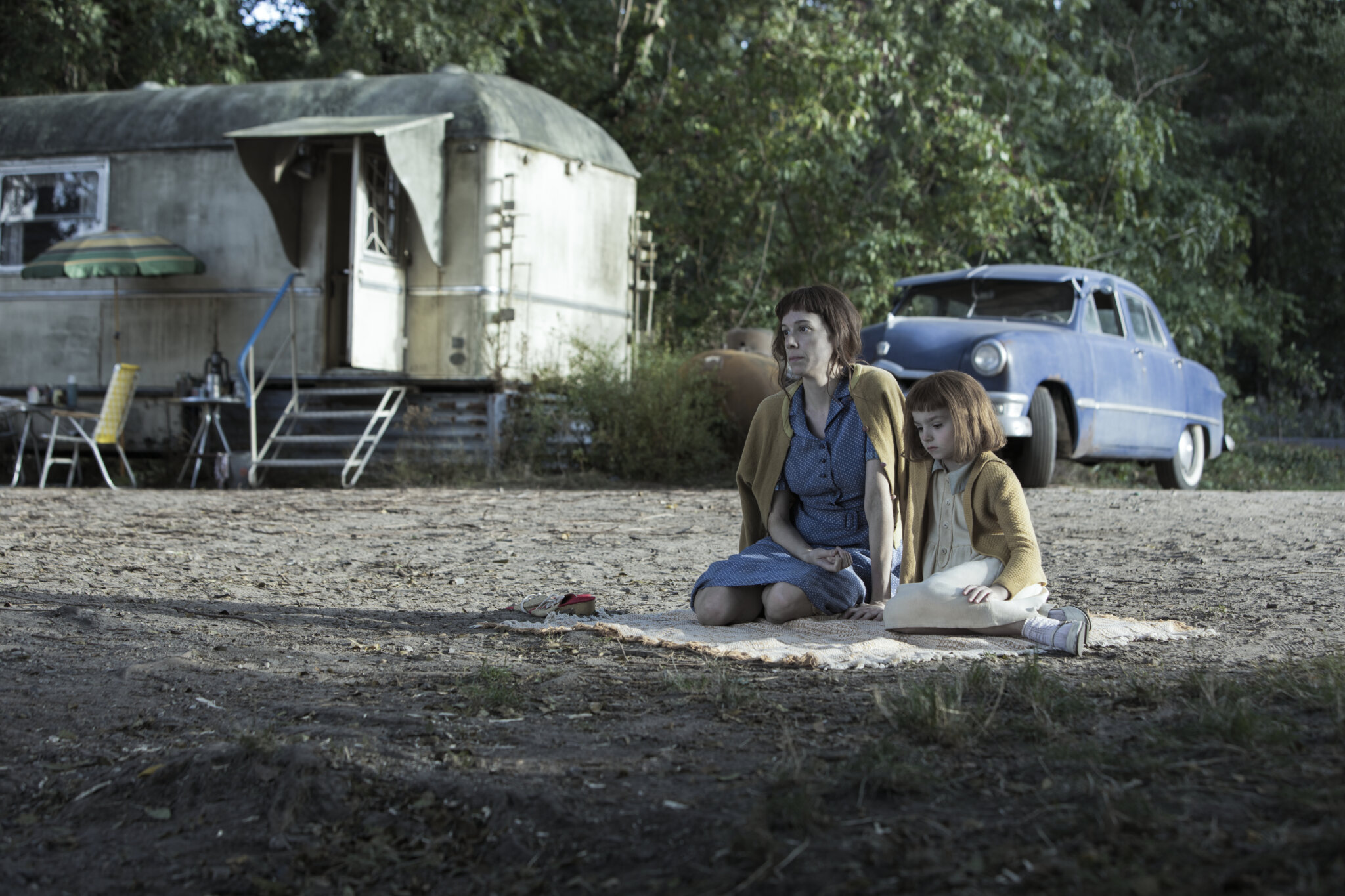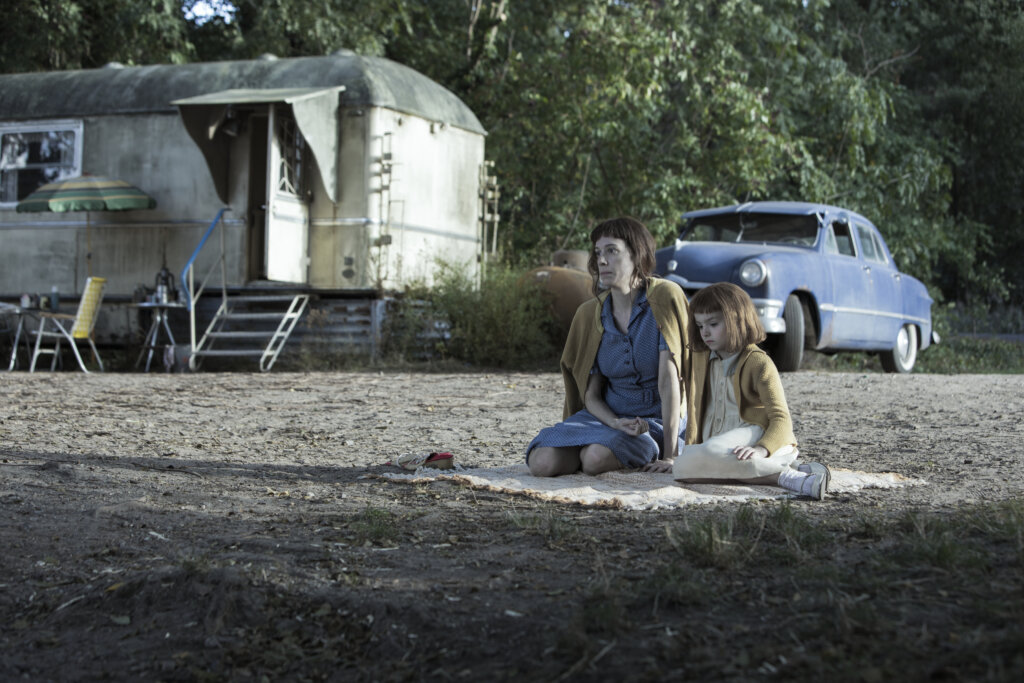 Siethener See is a picturesque lake, ideal for shooting the scene where Beth's mother swims in the lake (episode 3). It was also cited as being the "Kentucky road" (but not the scene of the car crash – filming for that scene took place in Canada).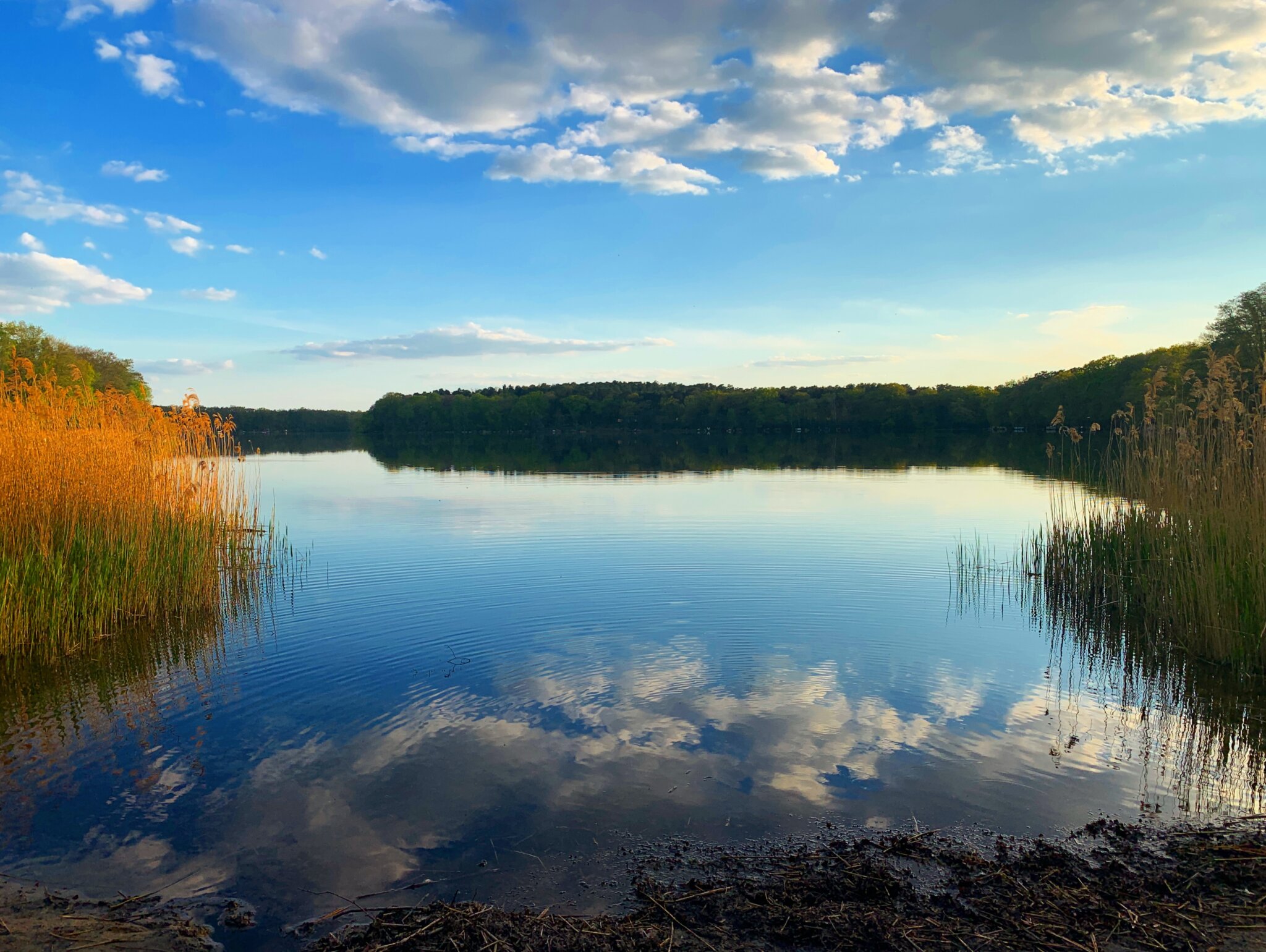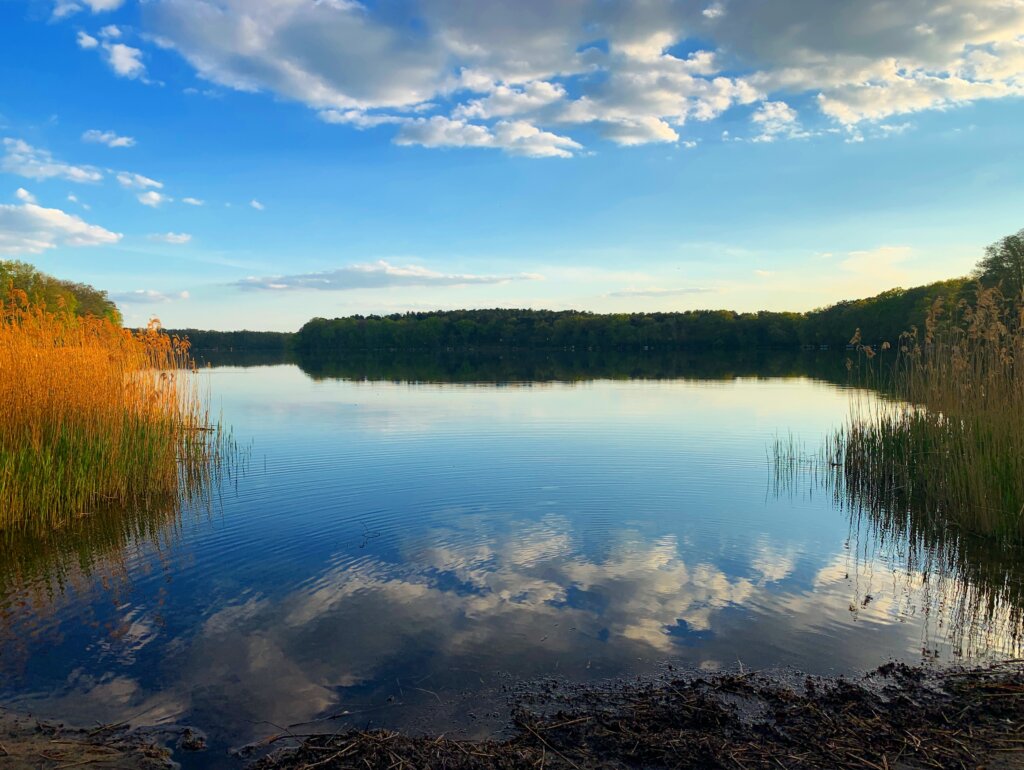 Rias Bar (AKA Beth and Mrs. Wheatley Grab Drinks in Cincinnati)
Manteuffelstraße 100, 10997
In episode 3, during Beth and Mrs. Wheatley's trip to Cincinnati, they grab drinks (and dinner) at a particular bar. This is Rias Bar, nestled on the corner of Manteuffelstraße in Berlin.
According to its Google description, it's a "cozy, dimly-lit setting for classic & innovative cocktails, plus wine & draft beer."
Not too shabby for 1960s Ohio, ay?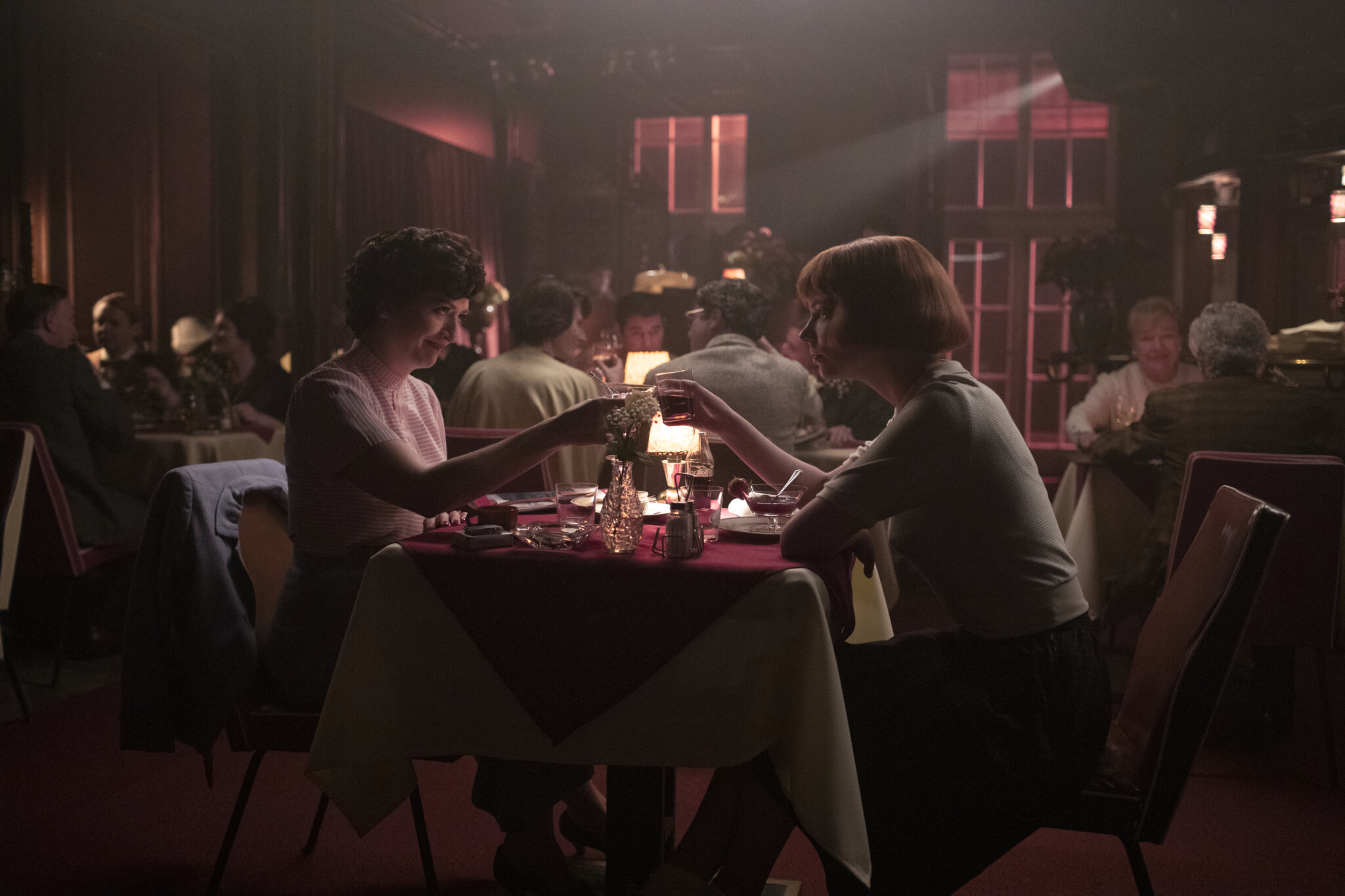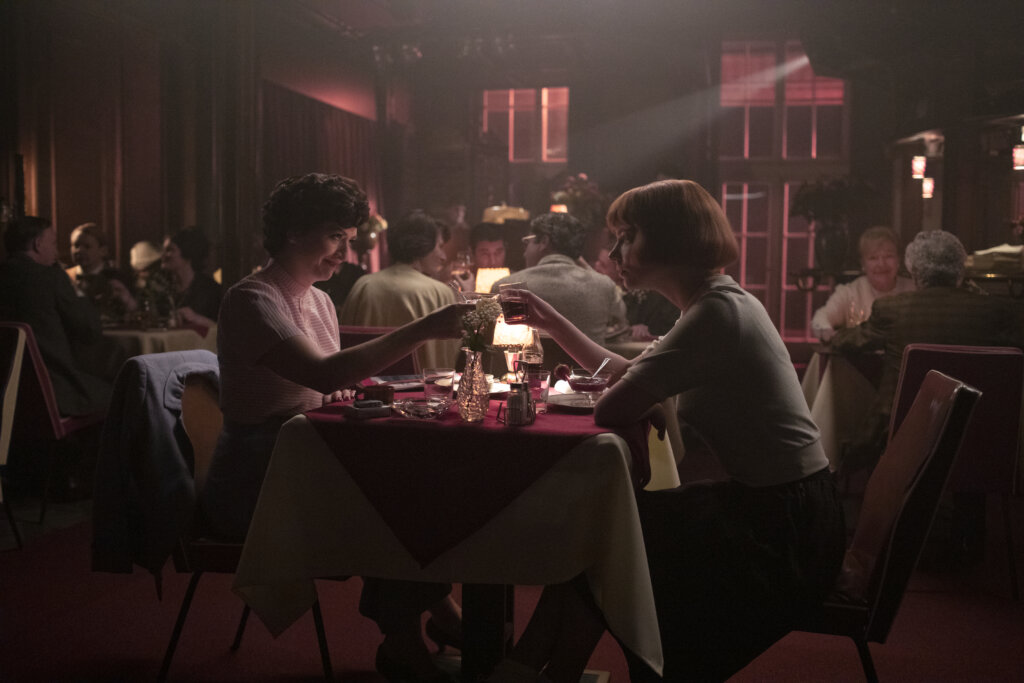 Restaurant Zenner (AKA Toby's Restaurant)
Restaurant Zenner, Alt-Treptow 14-17, 12435
This particular location pops up in episode 5 of the Queen's Gambit. This traditional restaurant is housed in a neoclassical building from 1822 (remodeled after WWII), and its beer garden is one of Berlin's largest (it seats 1500+ people!).
Max Taut School (AKA Henry Clay High School)
Fischerstrasse 36, Rummelsburg
This school in Berlin-Rummelsburg was used to film scenes in Henry Clay High School. While there is actually a real-life Henry Clay High School in Lexington, remember that none of the show was actually shot in Kentucky.
Ah, movie magic!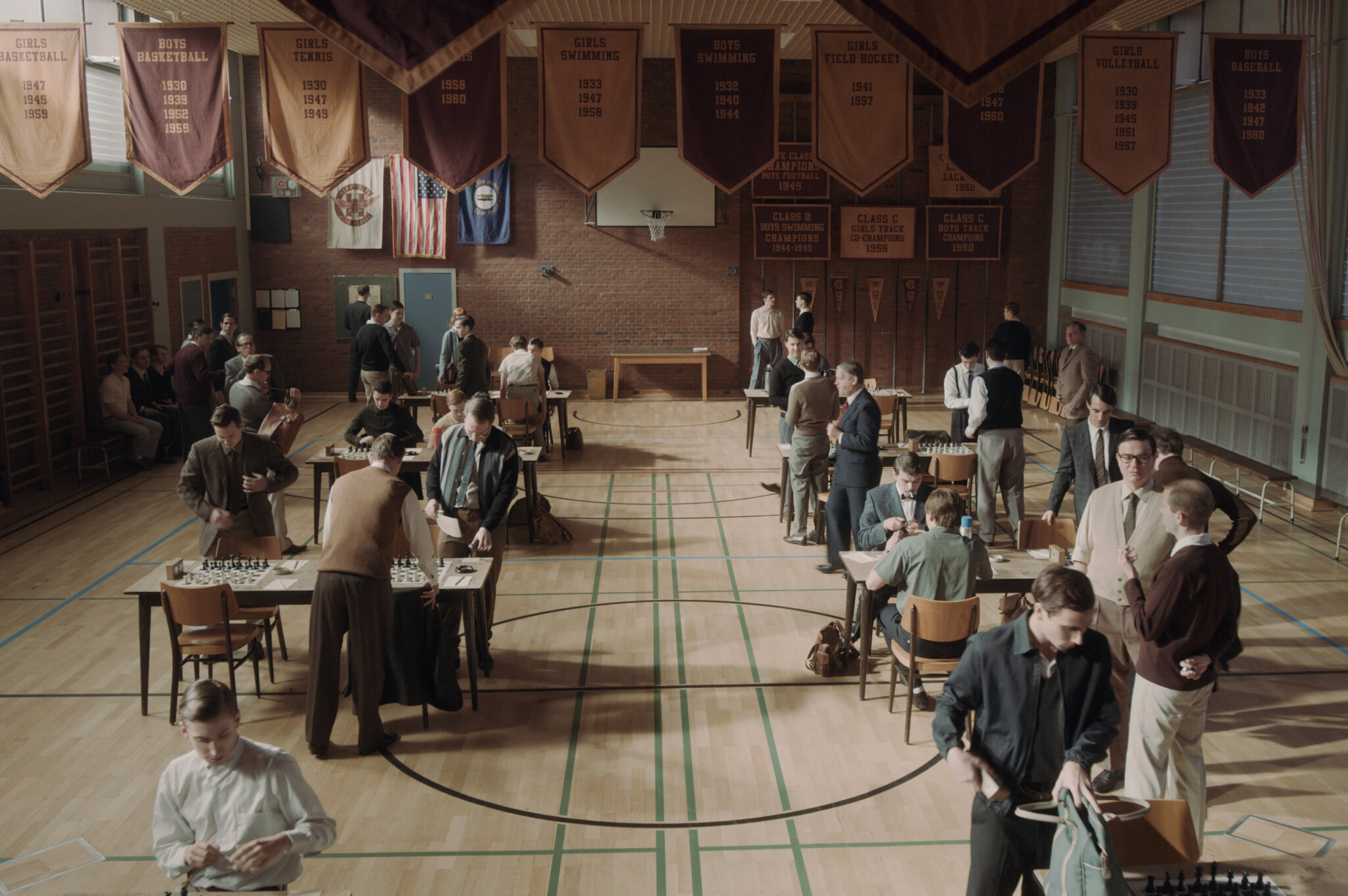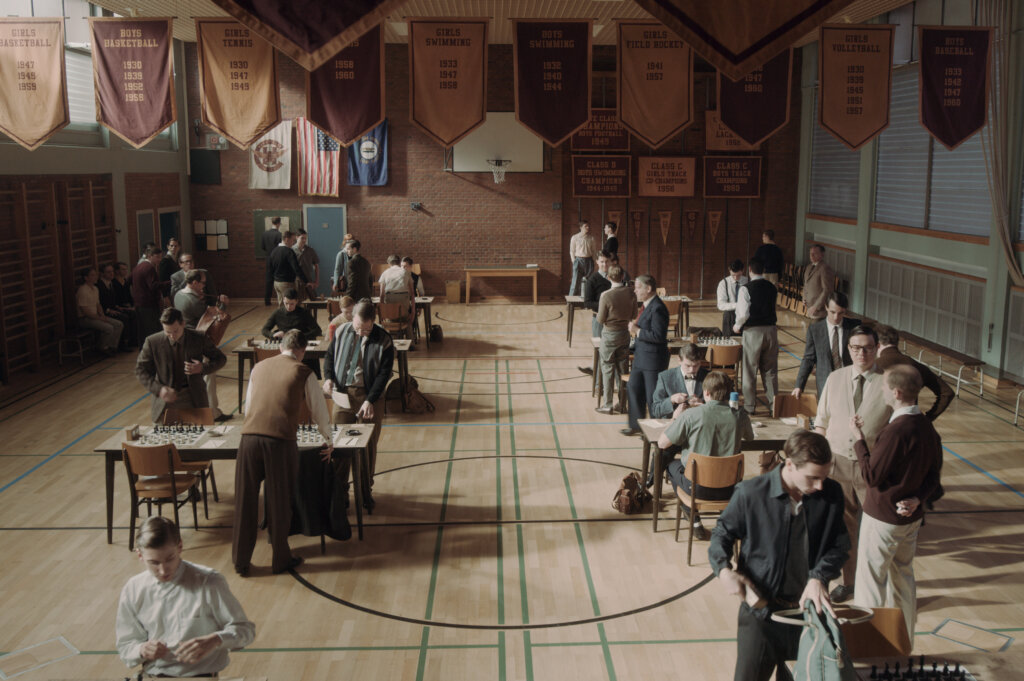 The school was built in 1927-1932 by German architect Max Taut and was one of the largest schools in the Weimar Republic. Keen German eyes were quick to spot the school straight away in Reddit threads.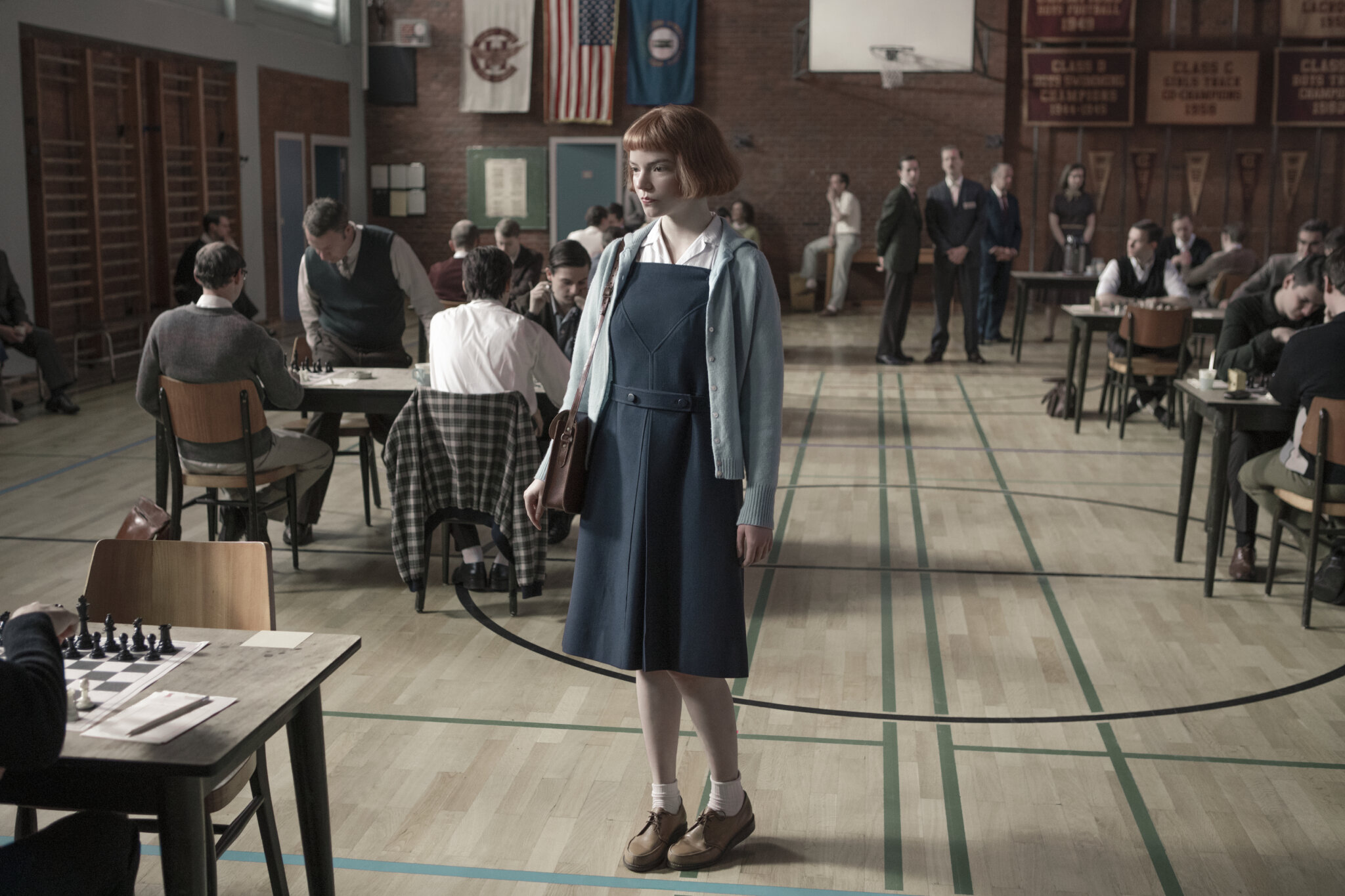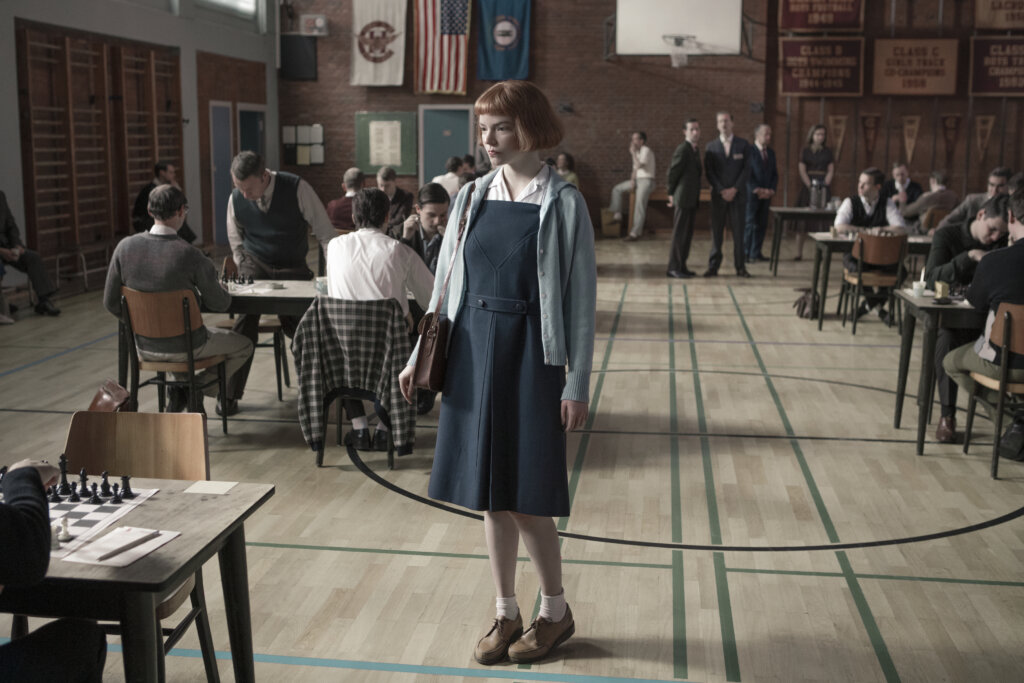 Schweizerhof Grundschule, Leo-Baeck-Straße 28-30, 14167
This school was also cited as being used for Henry Clay High School scenes. We're not sure if it was used for exterior or interior scenes (or both), but both this school and Max Taut School (mentioned above) are only 34 min. apart in driving distance (1 hr. by train), so it's still doable if you're a huge chess or Queen's Gambit fanatic and want to see every possible film location!
Hoffmann-von-Fallersleben Grundschule (AKA Junior College and Russian Classroom)
Hoffmann-von-Fallersleben Grundschule, Ziekowstraße 80-88, 13509
This elementary school in Berlin stands in as Beth's junior college, as well as a Russian classroom – so it effectively doubles as Kentucky and Russia!
This Residential Building (AKA Various Scenes in Kentucky)
Former Heinrich-von-Kleist High School, Levetzowstraße 5, 10555
This residential building housing a few apartments used to be Henrich-von-Kleist High School in Berlin. According to IMDB, it was used for a few scenes depicting Beth's youth (Eileen & Barbara's apartment, Lexington scenes, Duncan High School, and the classrooms/girls ward in Metheun Home).
This same location was apparently also used for some exterior shots of Benny's NYC apartment.
Spandau Town Hall (AKA Location of the Cincinnati Tournament)
Carl-Schurz-Straße 2-6, Spandau
When Beth jets off to Cincinnati with Mrs. Wheatley, the hotel lobby scenes were filmed in the stunningly gorgeous Spandau Town Hall.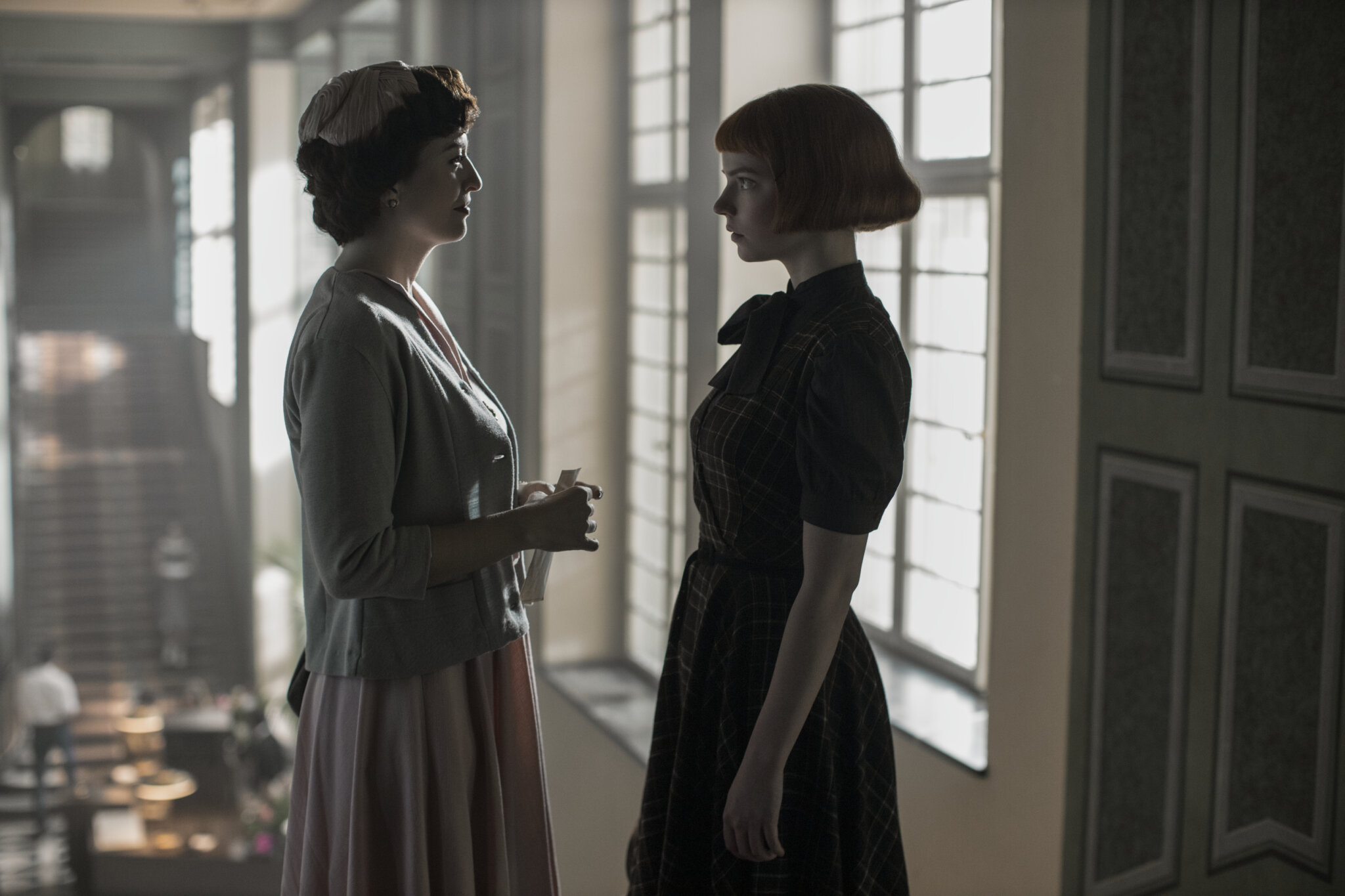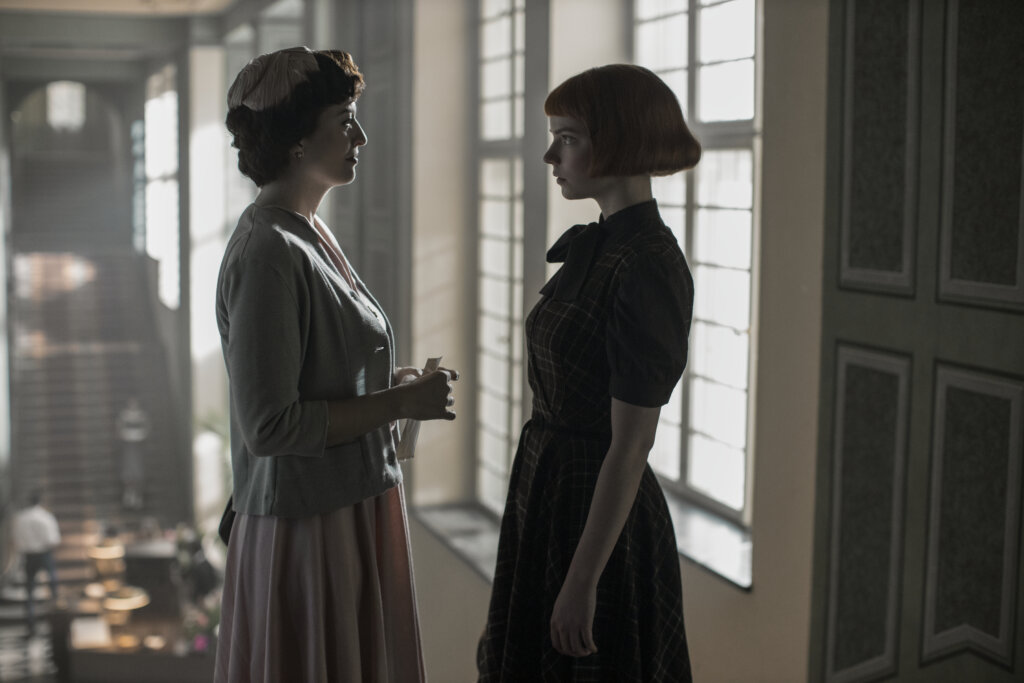 Check out the official city site for this landmark here. It's most famous for its 80-metre clock tower and annual Spandauer Christmas market.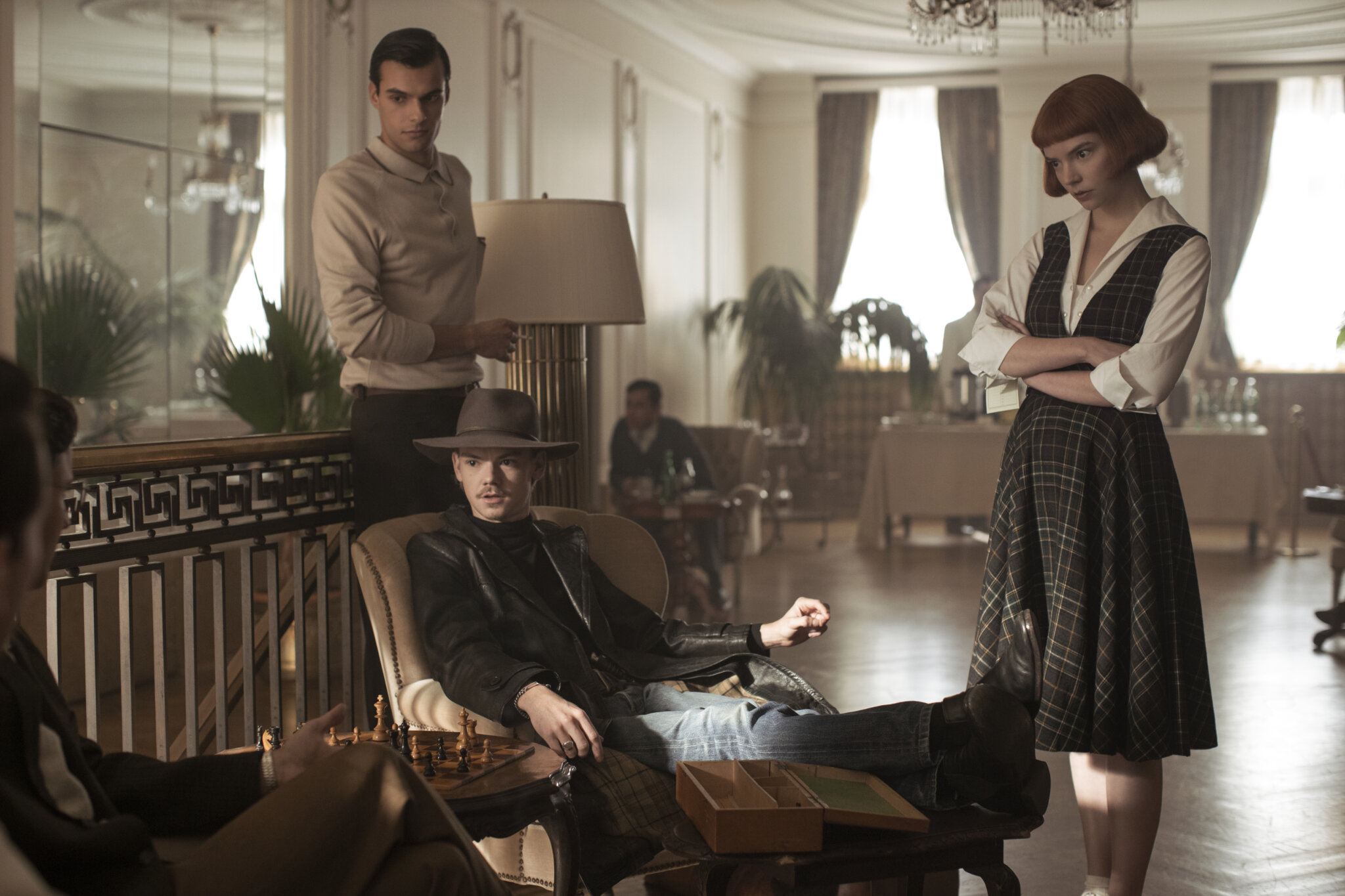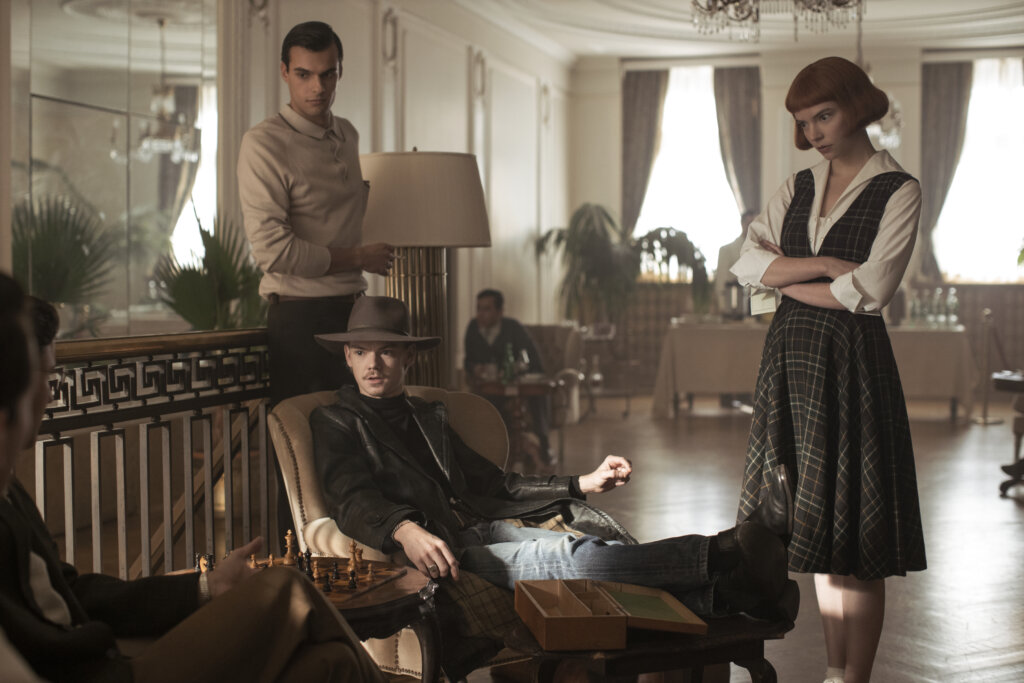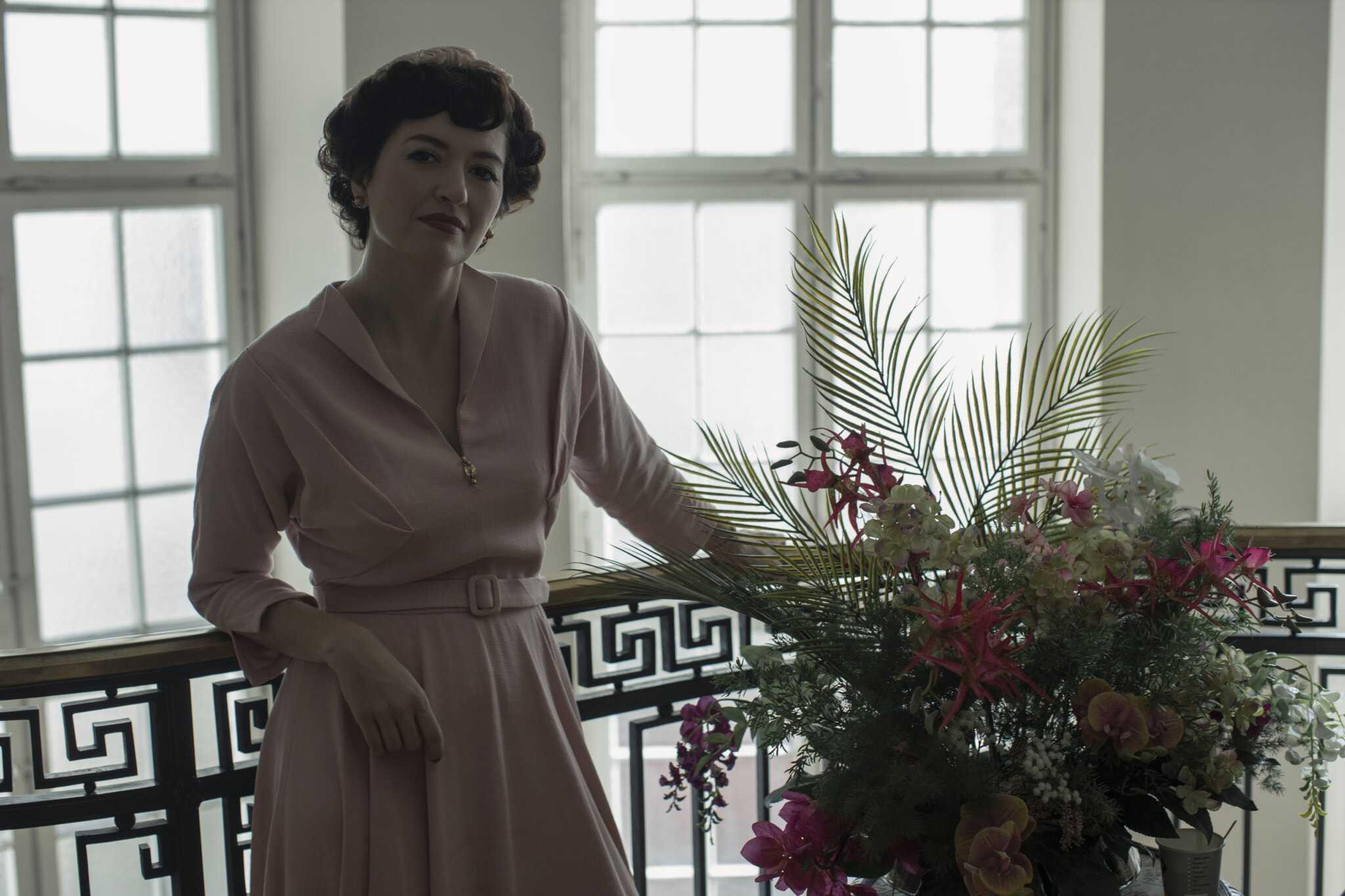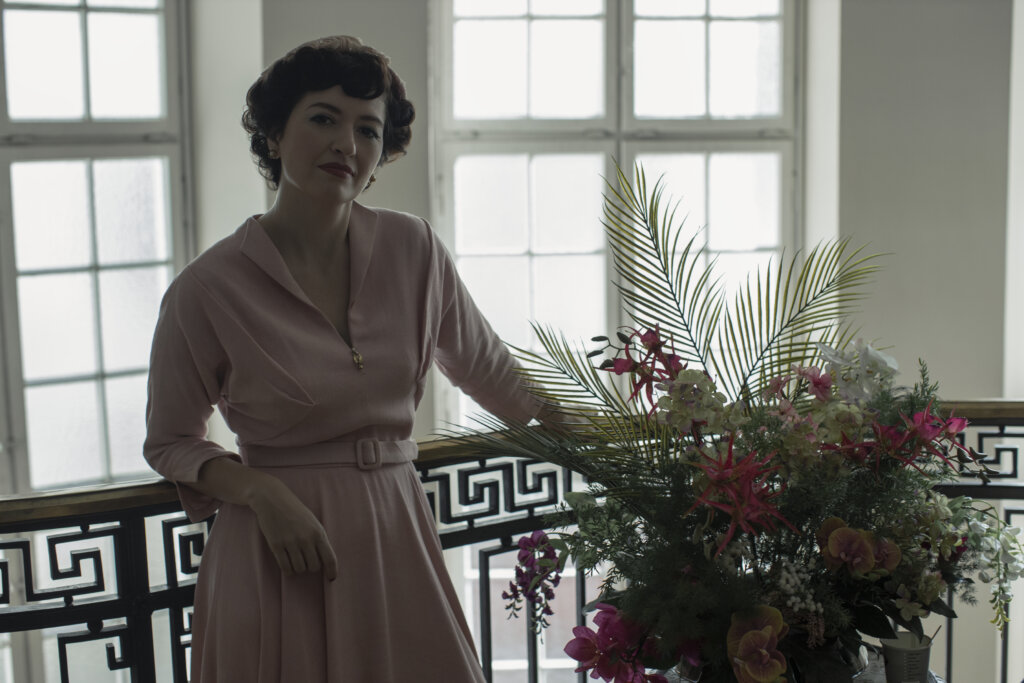 Upon entering the building, it's likely that you'll be in awe of the marble portal – which was Beth's exact reaction in episode 3. This main floor was used to film various scenes in Cincinnati (i.e. Gibson Hotel's lobby and reception area, coffee shop).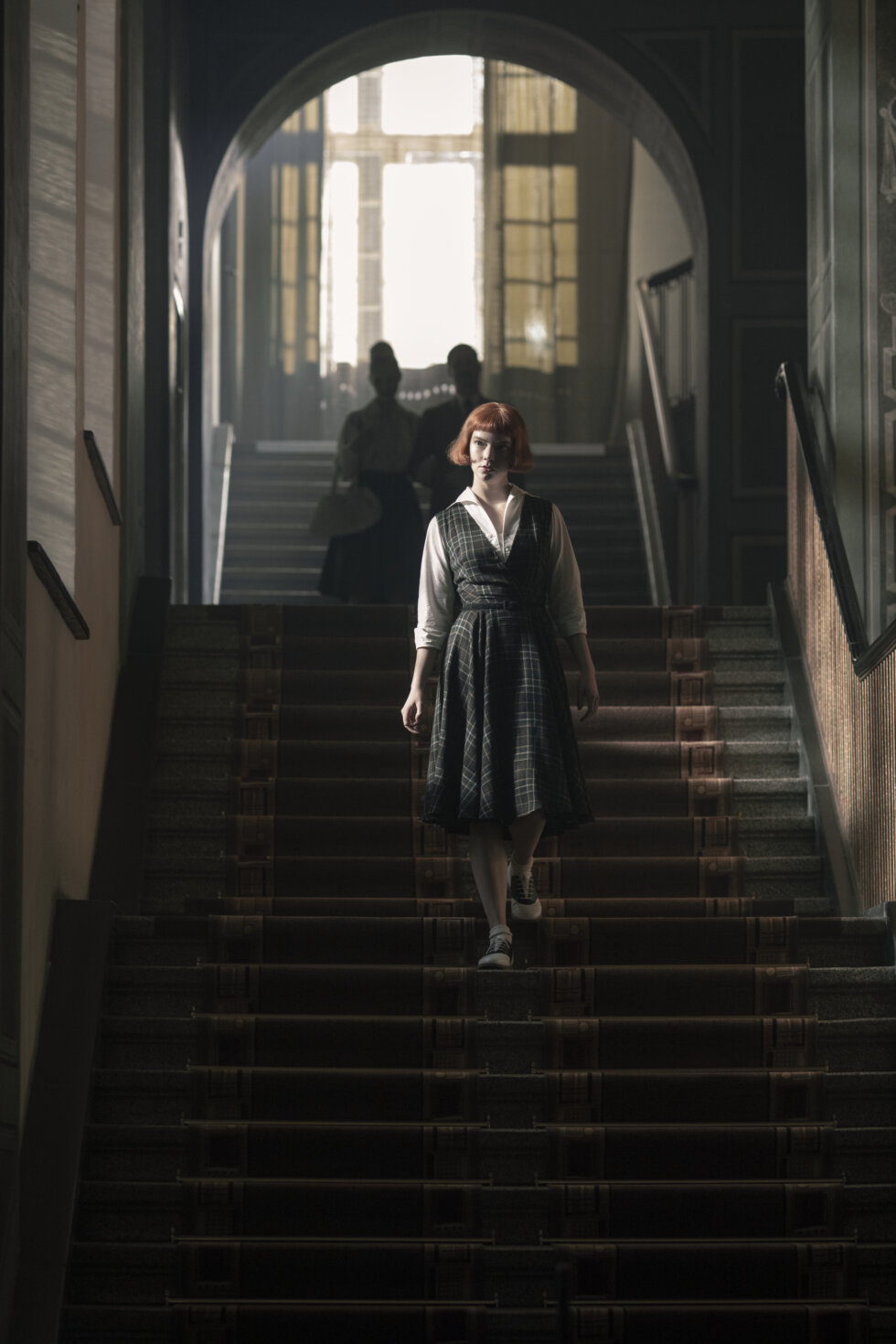 Meistersaal (AKA Gibson Hotel, Cincinnati Tournament)
Köthener Str. 38, 10963
When Beth enters the Gibson Hotel in Cincinnati, this is beautiful restored Neoclassical hall is actually the Meistersaal, a former chamber music hall.
It has now been renamed Studio 2 and is most famous for becoming the headquarters of Hansa recording studios, which has been used by artists such as David Bowie, Depeche Mode, Iggy Pop, Jon Bon Jovi, Nick Cave, etc. This is also a historic hall which serves as a popular events venue throughout the year.
Palais am Funkturm (AKA Location of the Vegas Tournament)
Hammarskjöldpl., 14055
This iconic 1950s era ballroom and event space was turned into Hotel Mariposa in Las Vegas (a.k.a. where Townes invites Beth into his room, and also where Beth is defeated by Benny).
It's fitting that this exhibition complex was chosen for the Vegas tournament, especially since the largest ballroom in Berlin is in this exact venue (complete with an extendable staircase and an adjustable chandelier – we're getting major Harry Potter vibes here!).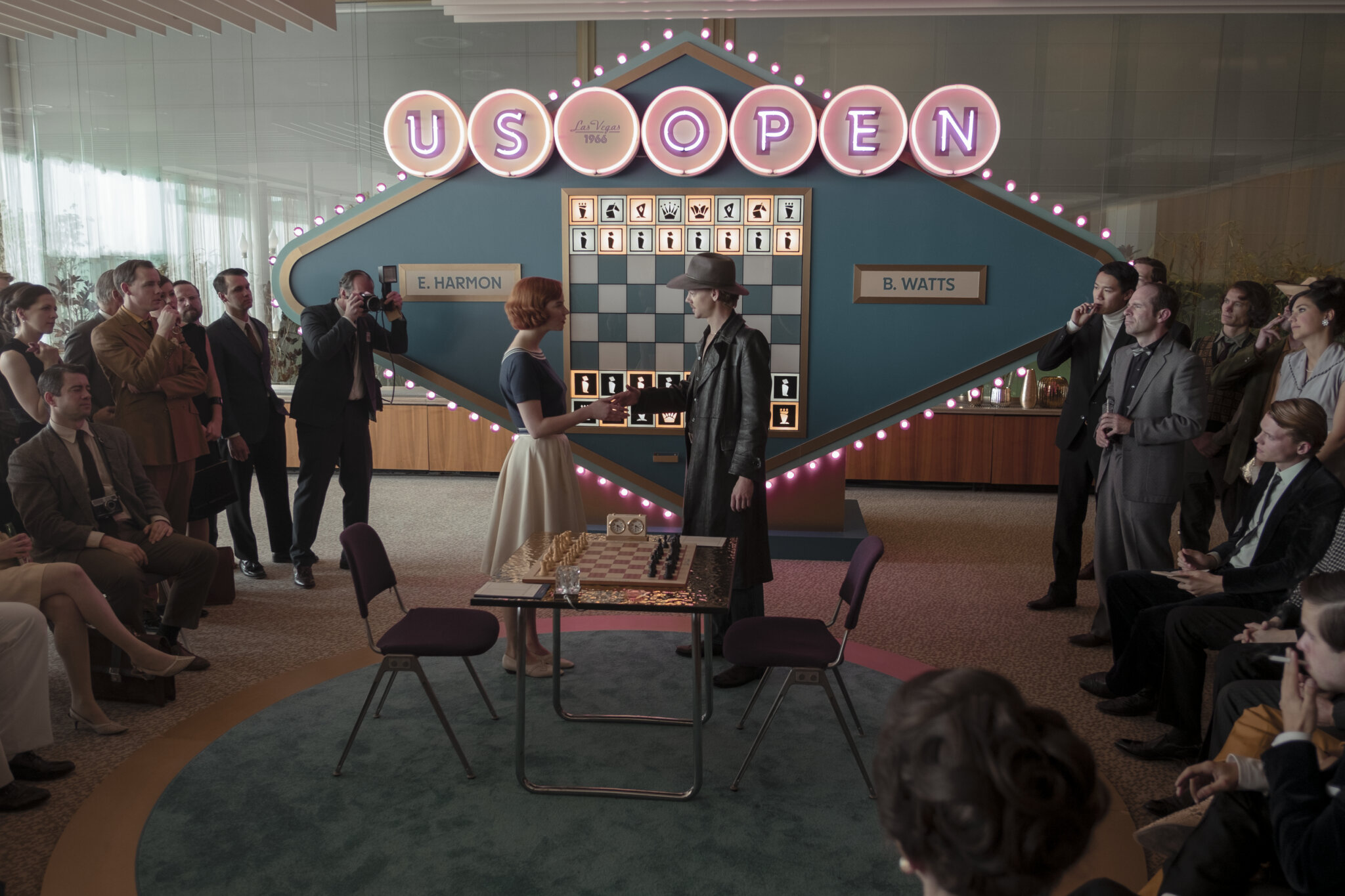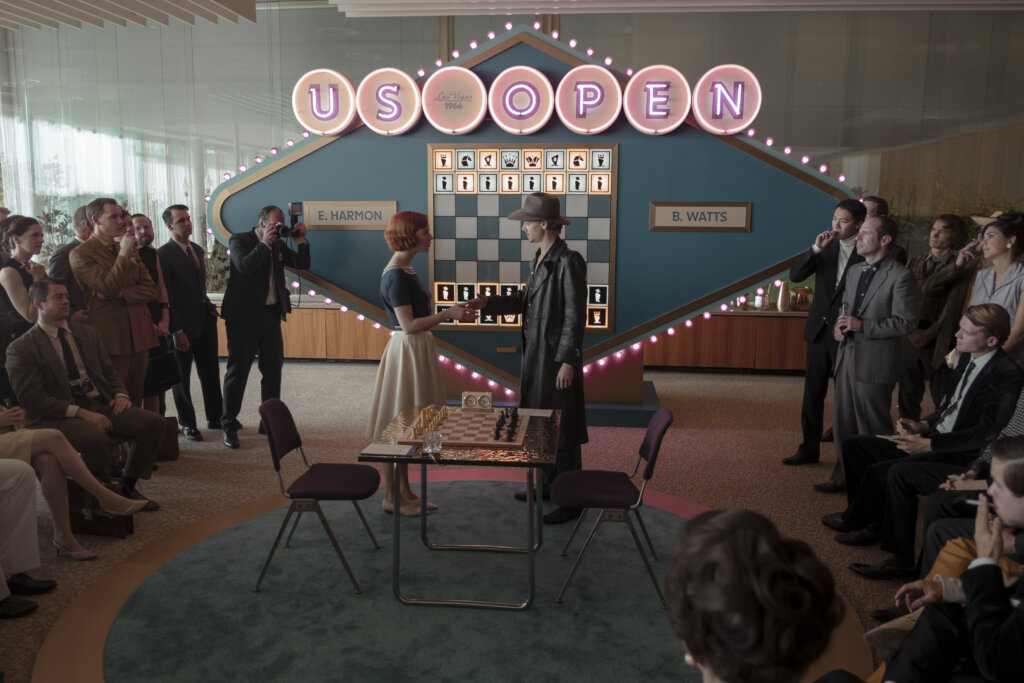 And before you ask how they turned Germany into 1950s Las Vegas, just note that palm trees were set up and another building was digitally added to the exterior shots.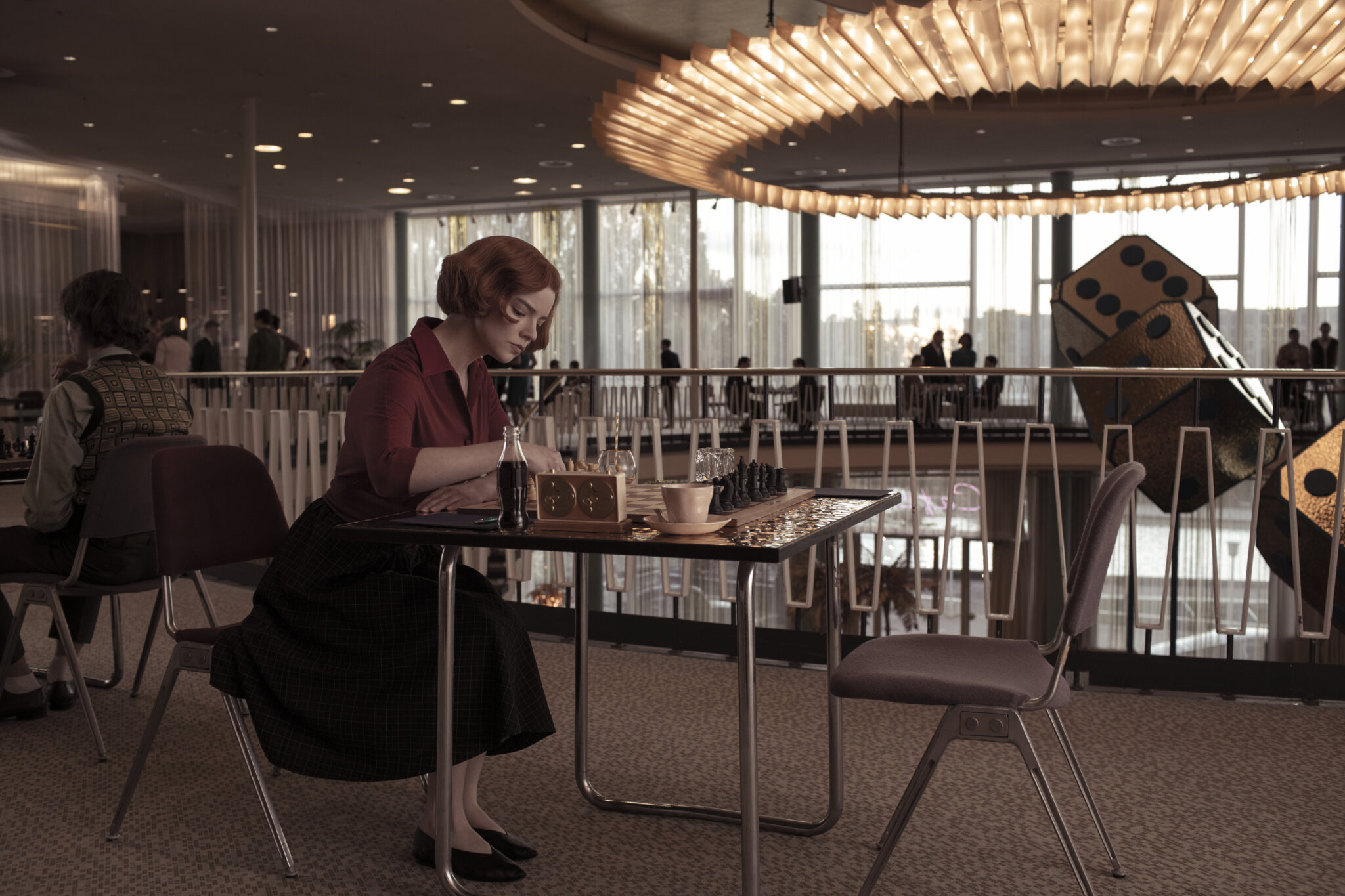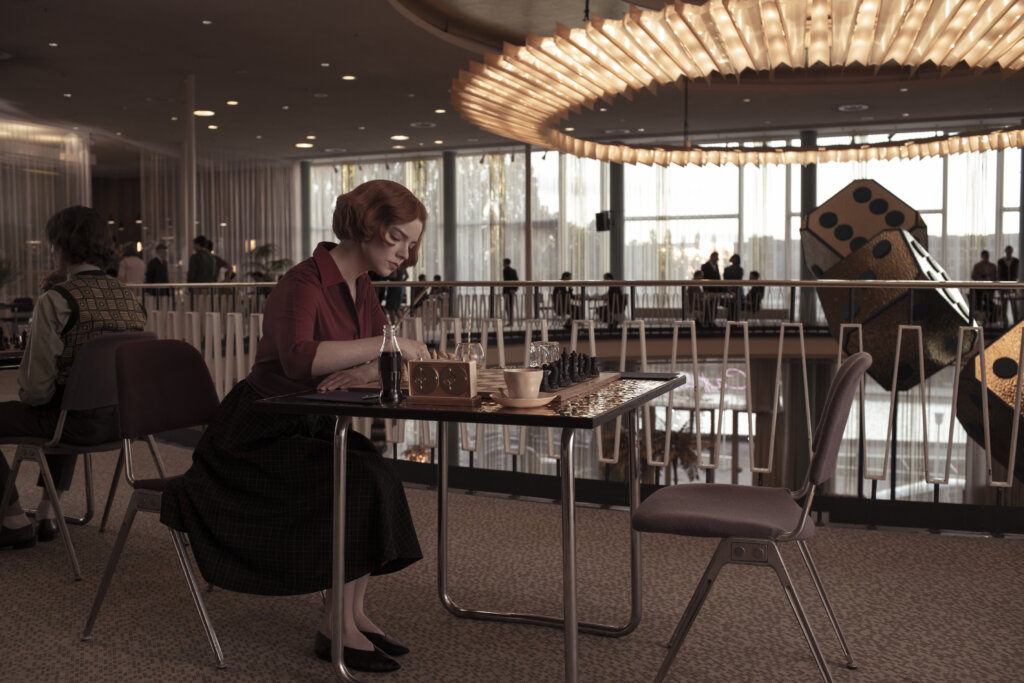 Who knew that a conference center could be seamlessly morphed into a lavish Vegas hotel?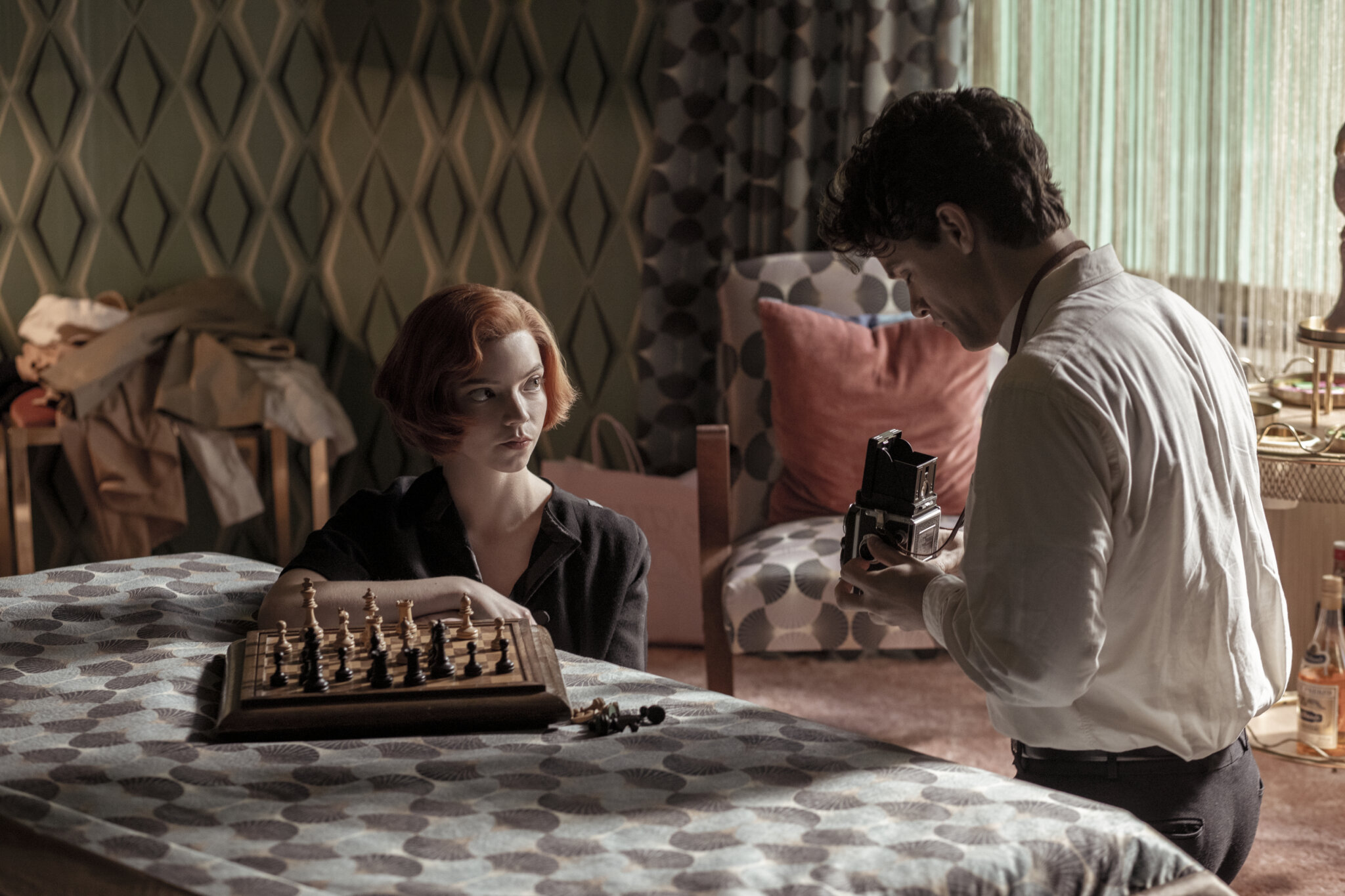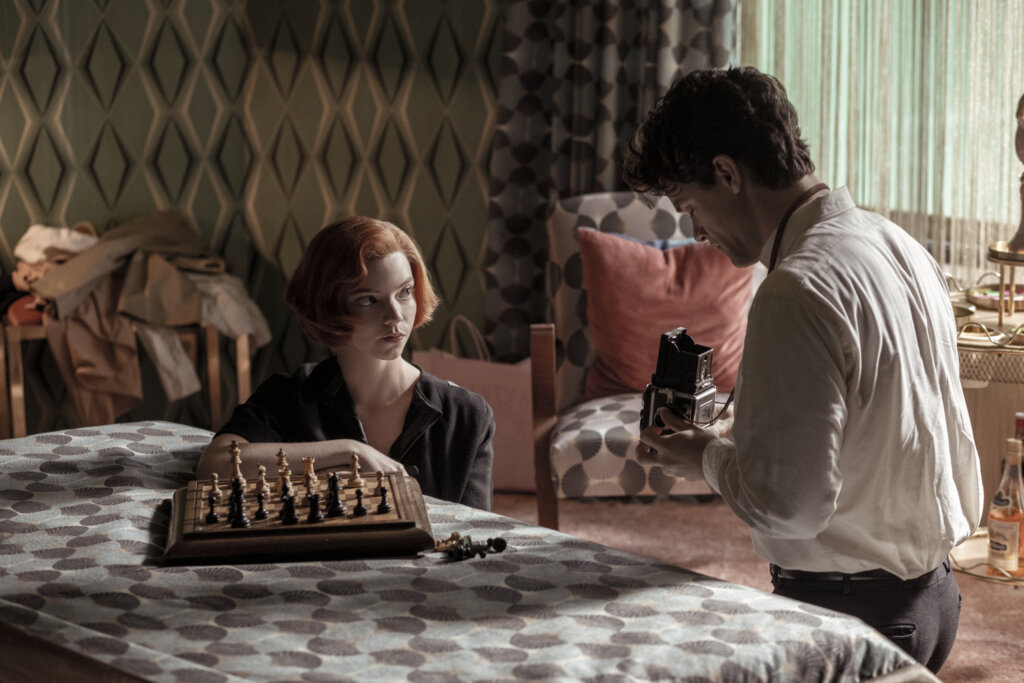 CCC Studios (AKA Wheatley House and Other Interior Rooms)
CCC Studios, Kleine Eiswerderstraße 16, 13599
When actual locations in Berlin weren't used, some interior sets were built inside CCC Studios.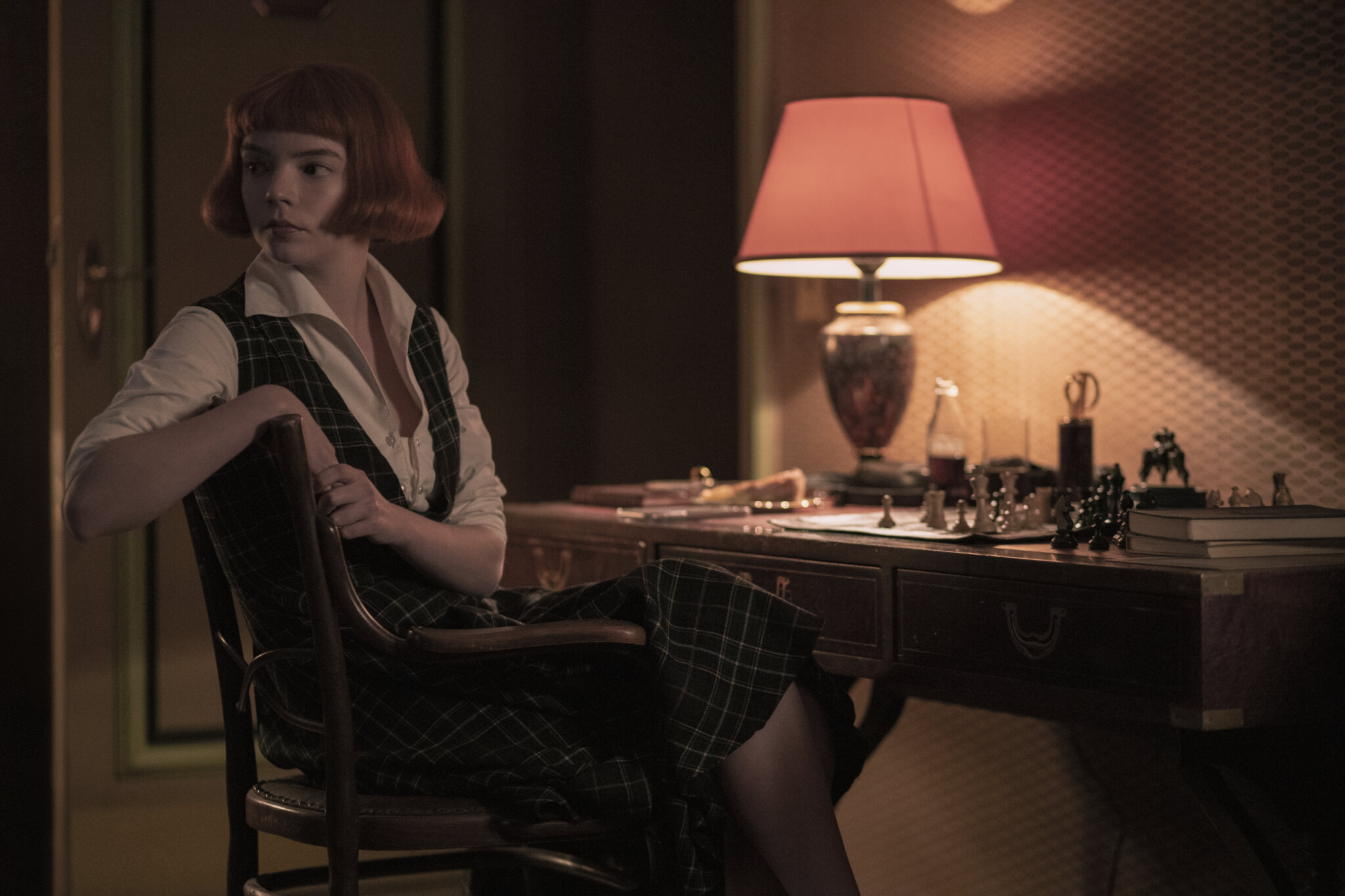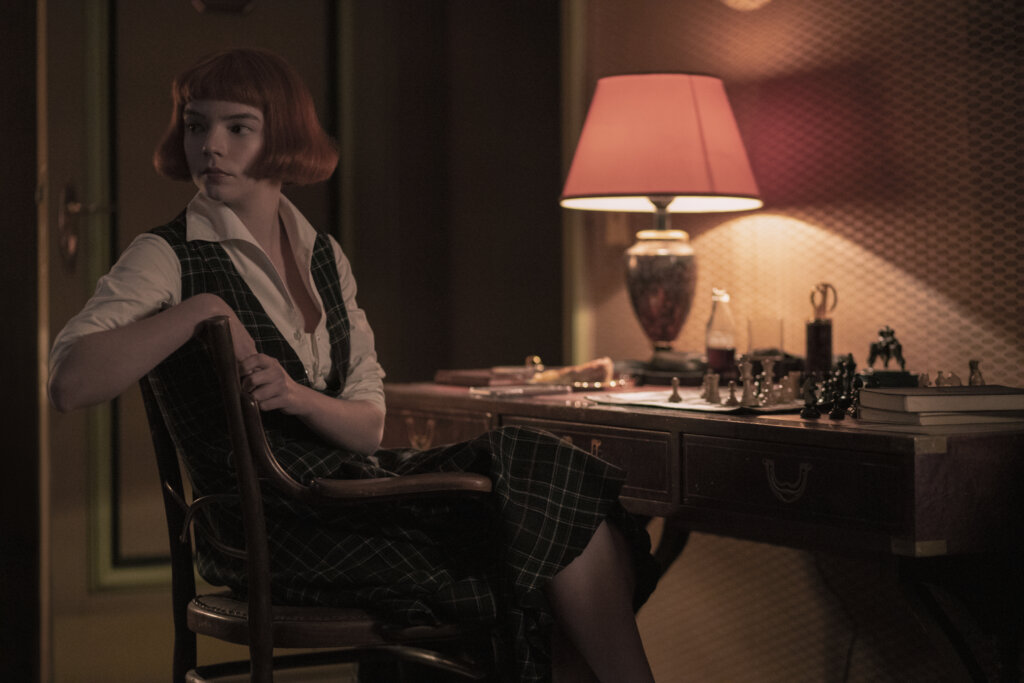 Itching to know which scenes in particular were filmed in this studio?
According to IMDB, these included the Wheatley house, airplane scenes (seen below), the payphone scene where Harry calls Beth, the hotel room in Mexico (seen below), Beth's room (seen below), and Townes' room.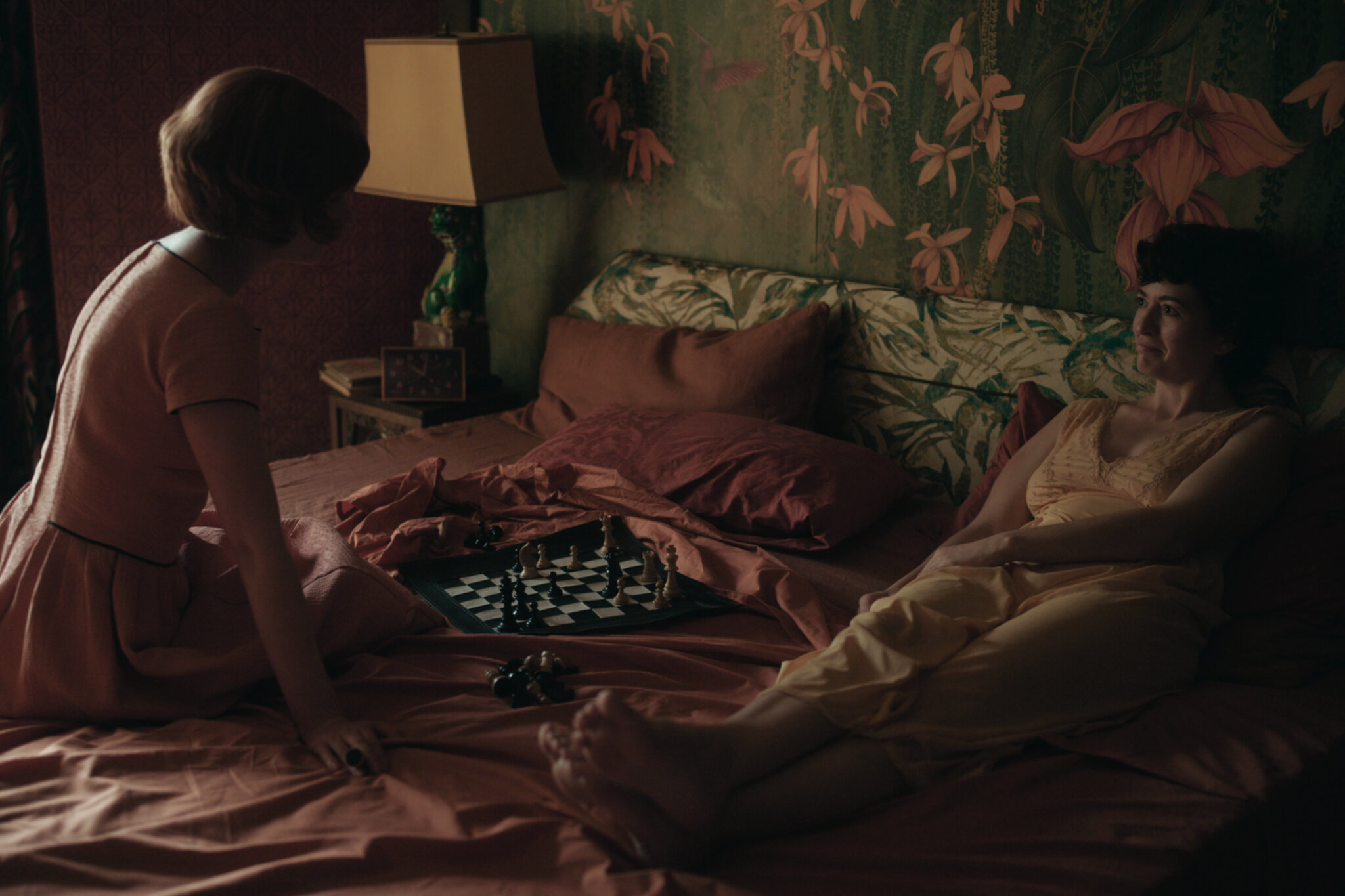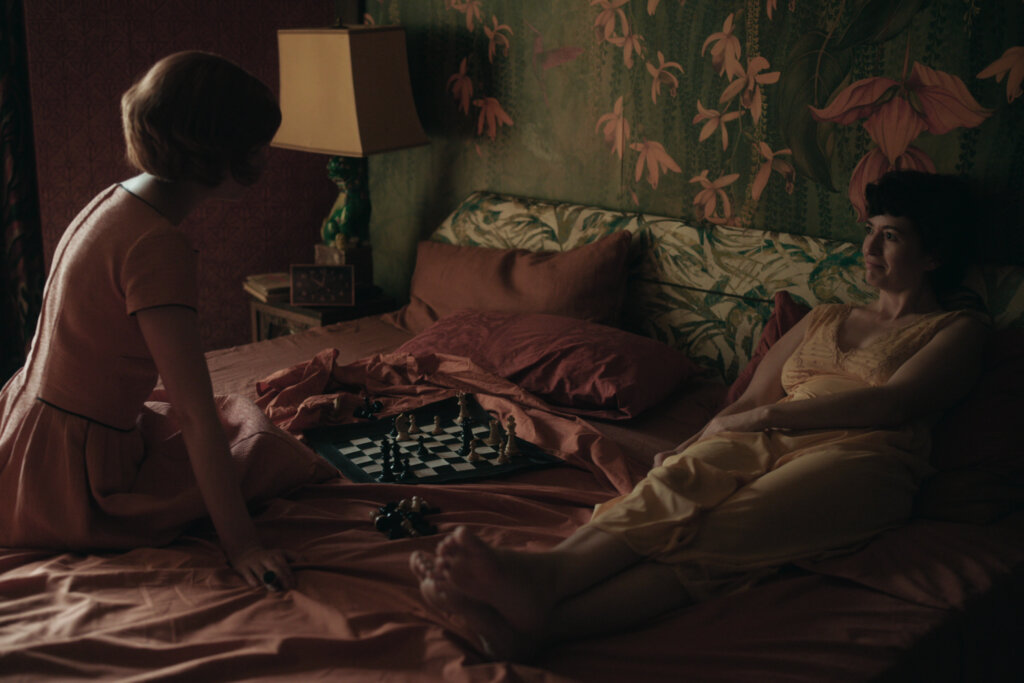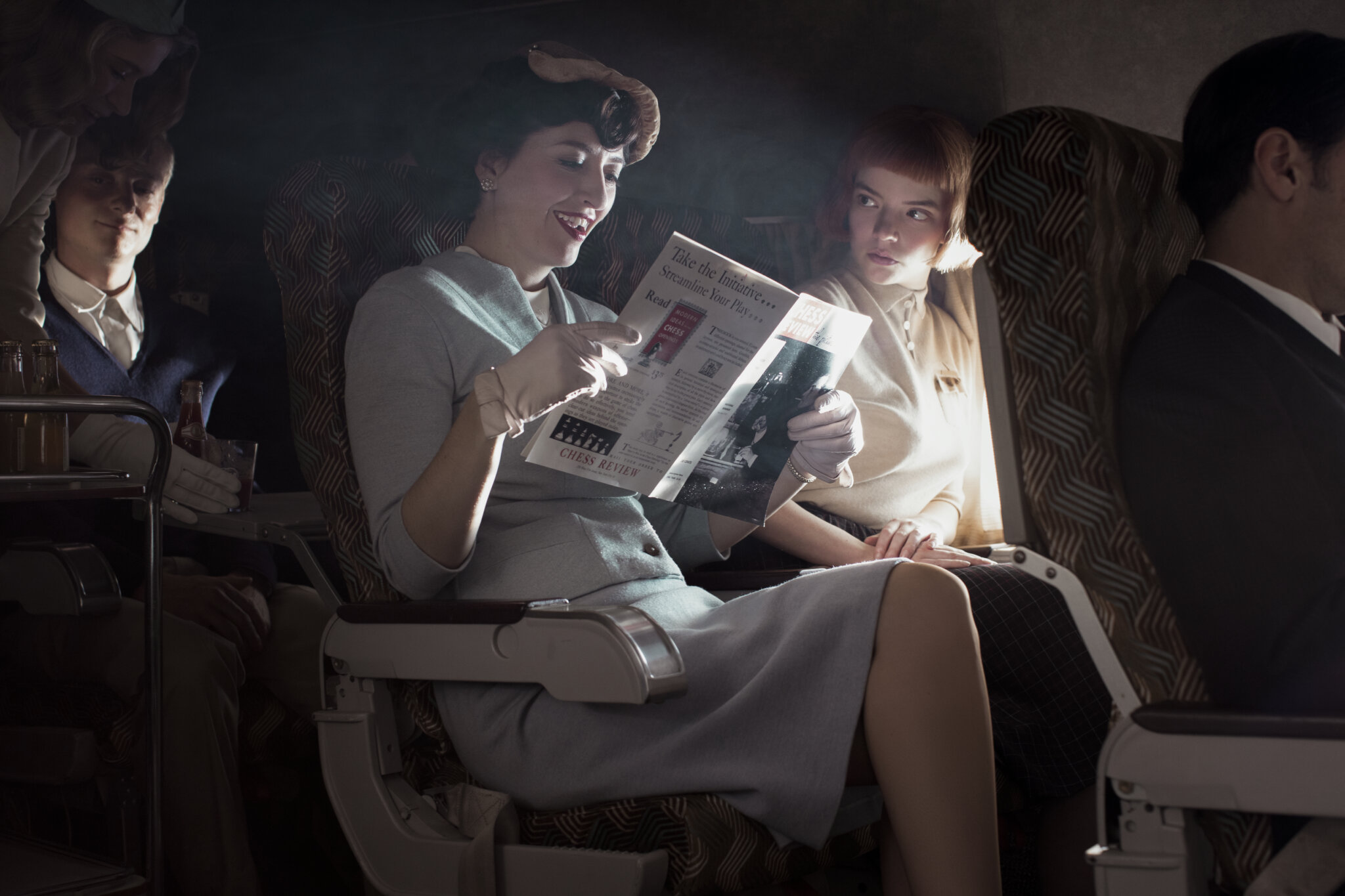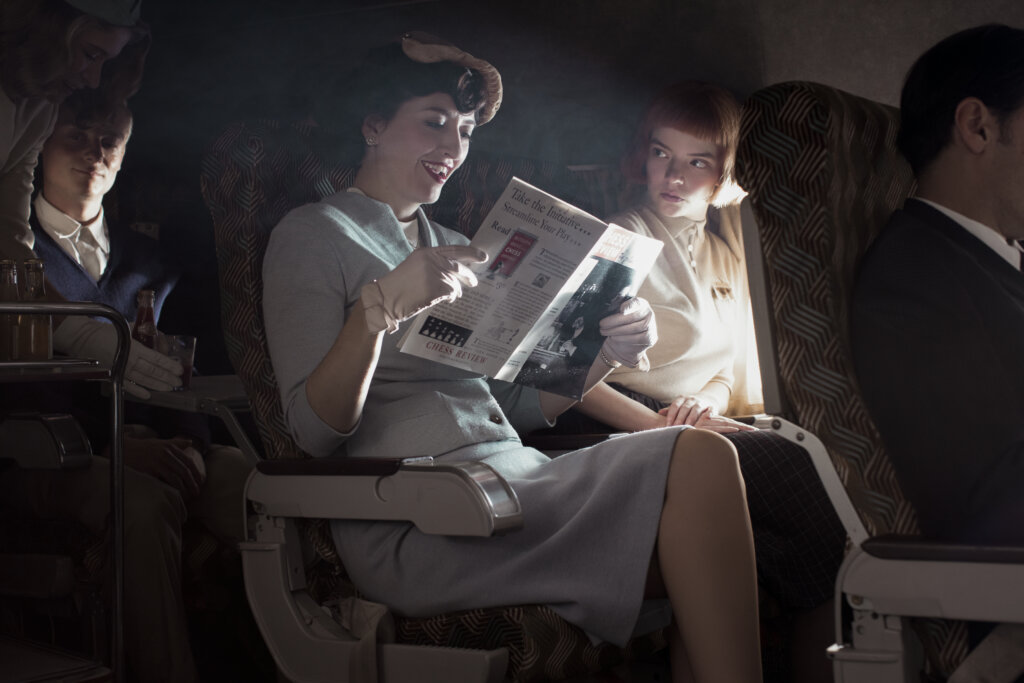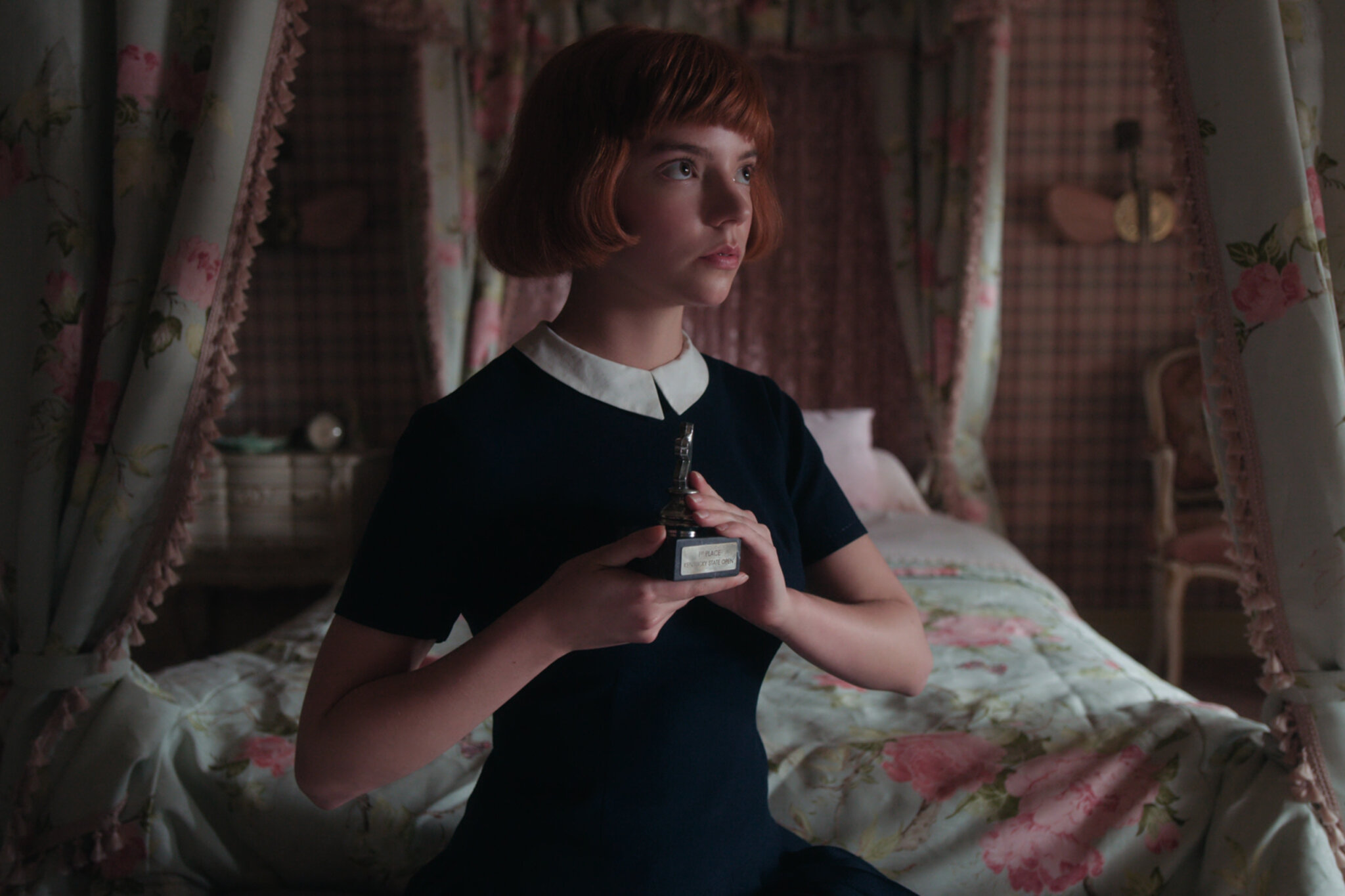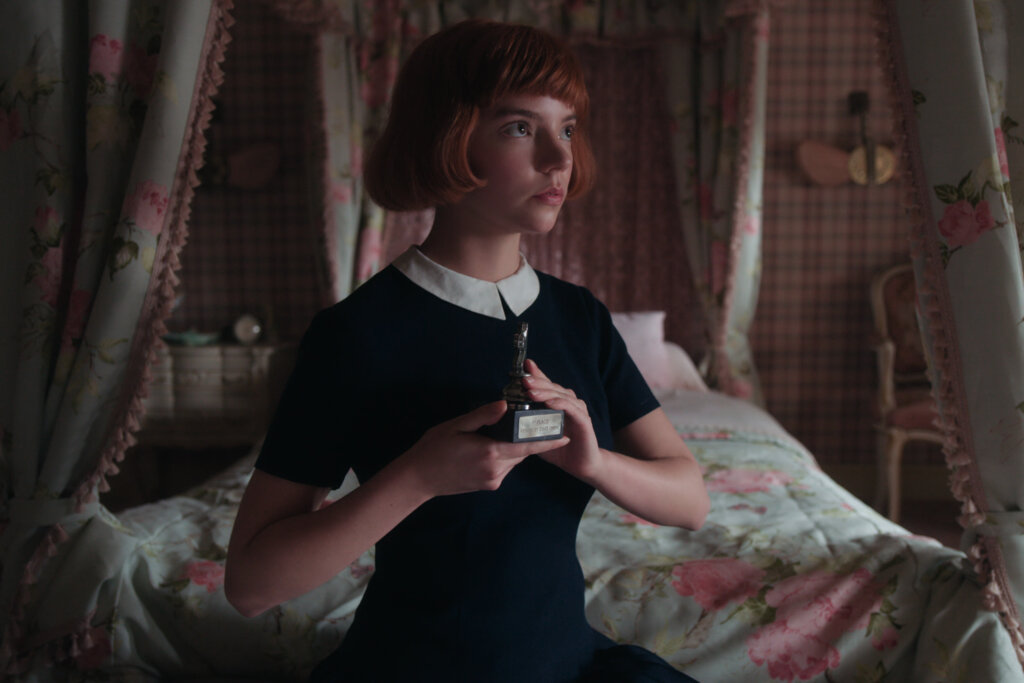 Friedrichstadt-Palast (AKA Aztec Palace Hotel)
Friedrichstraße 107, 10117
In episode 4 of The Queen's Gambit (when we see Aztec Palace Hotel in Mexico), we see the incredible Friedrichstadt-Palast in Berlin.
This historical building was erected in 1984 and has been listed since 2020. It also has roots as a circus, variety theater, and a playhouse.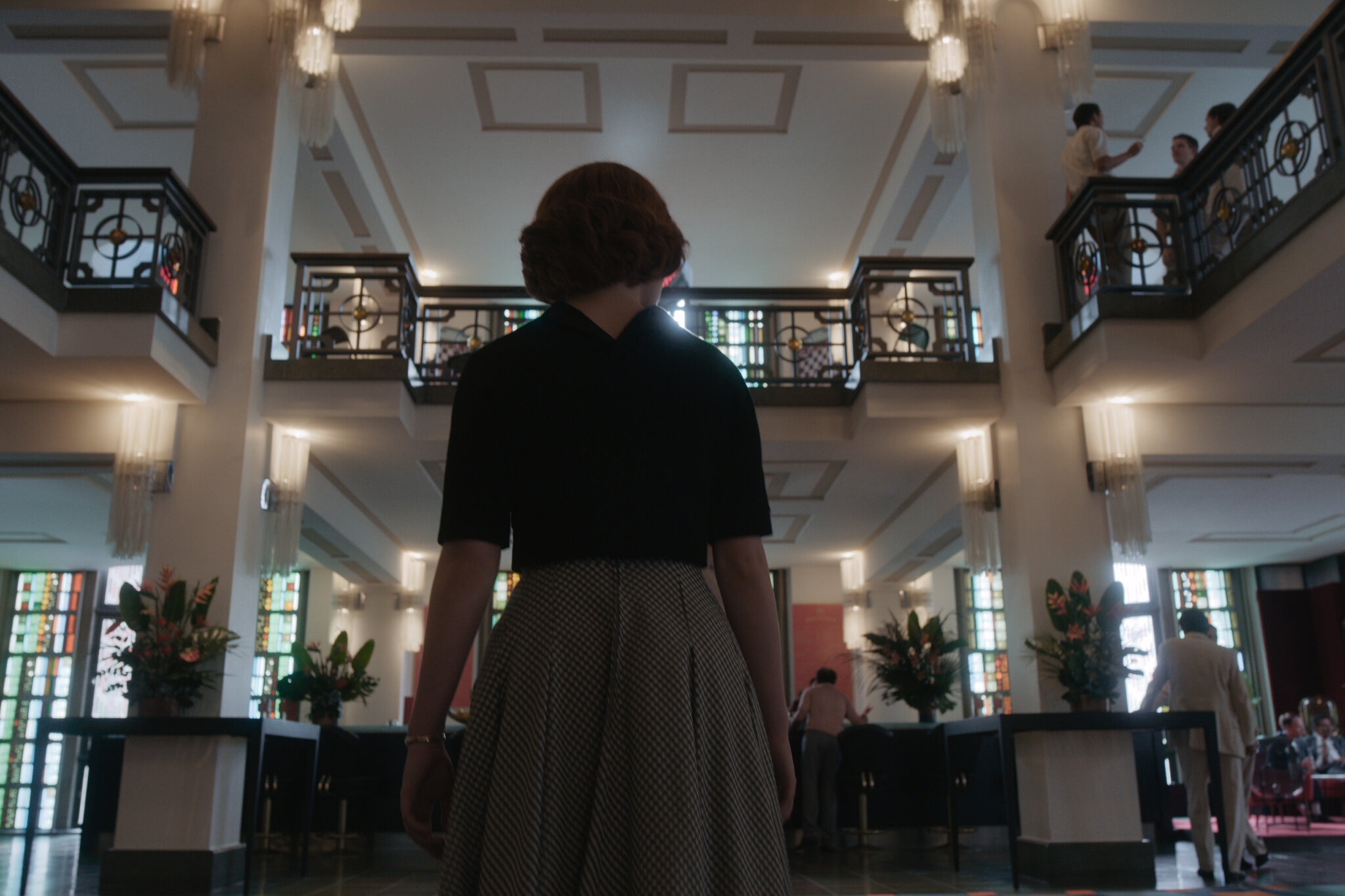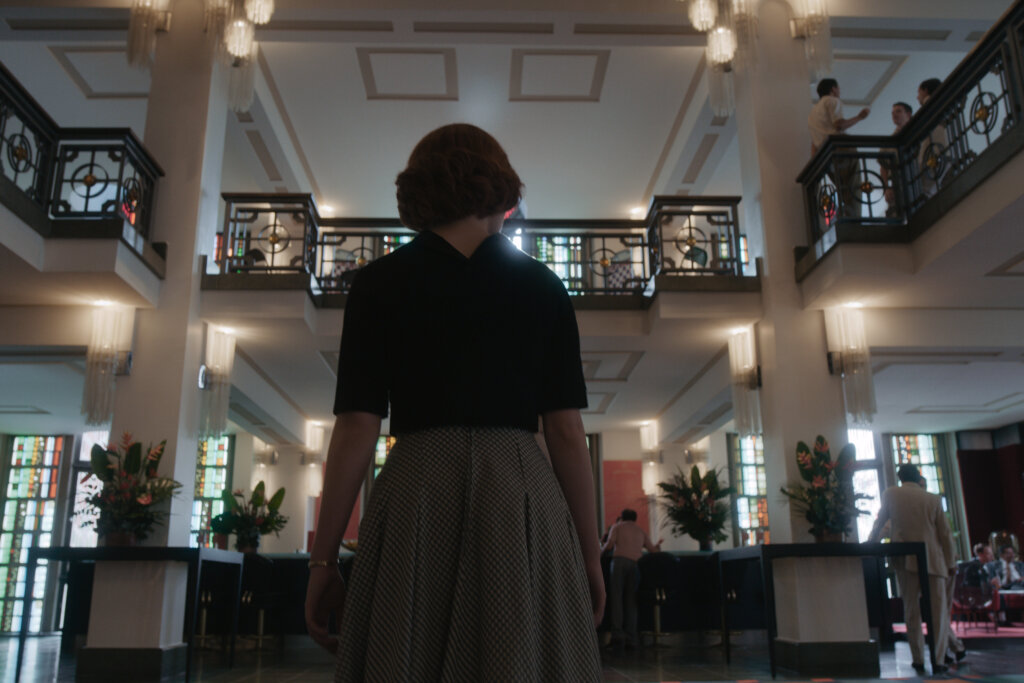 Whoa!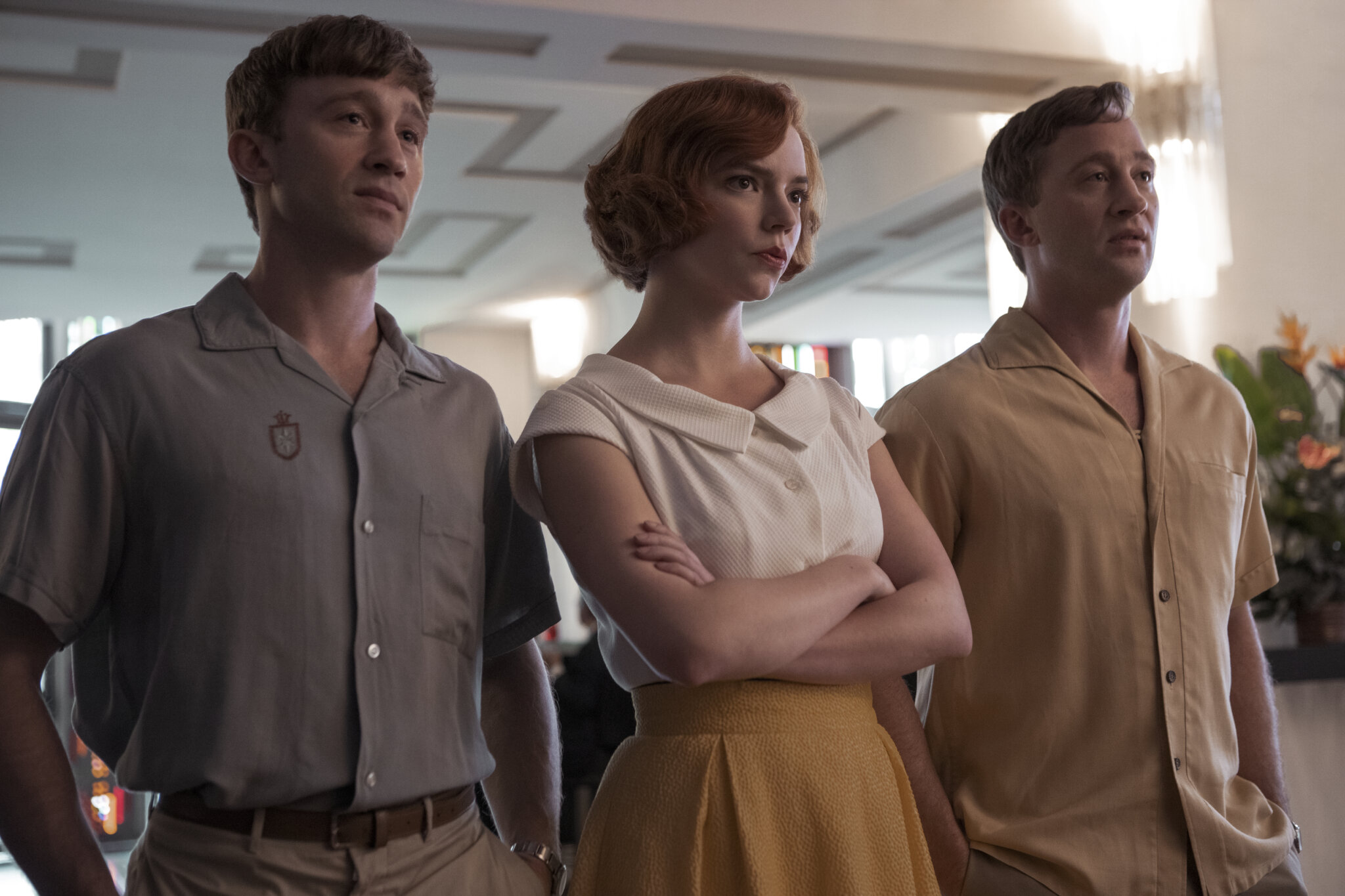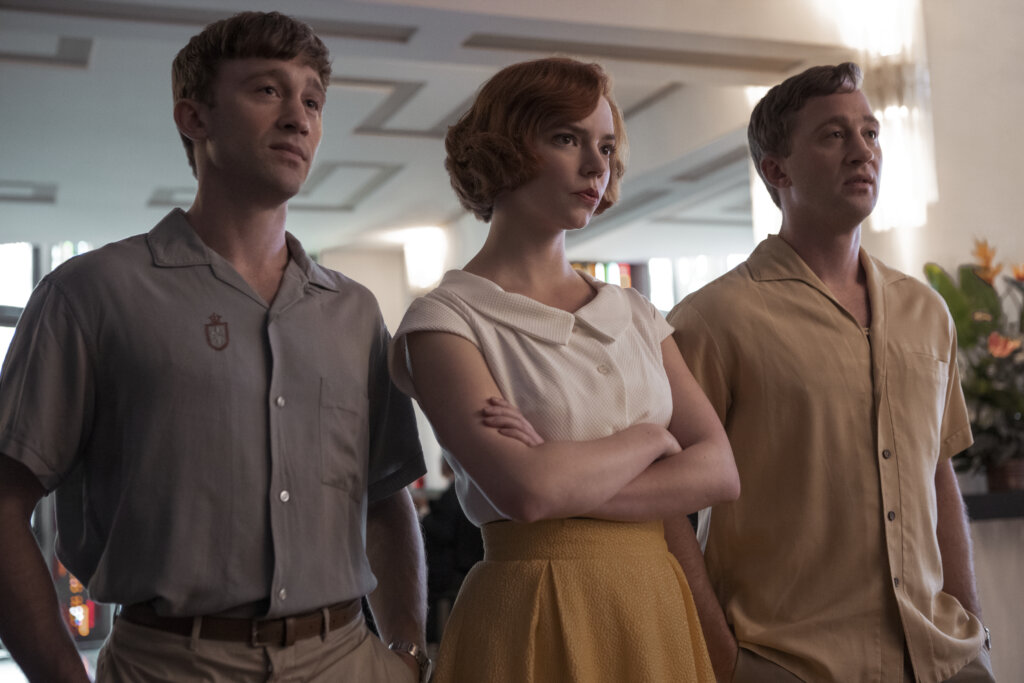 This is where Beth meets Georgi (and later distracts him in her yellow Elizabeth Taylor-esque top worn purposely. We're telling you, the thought in the costume design is unreal!).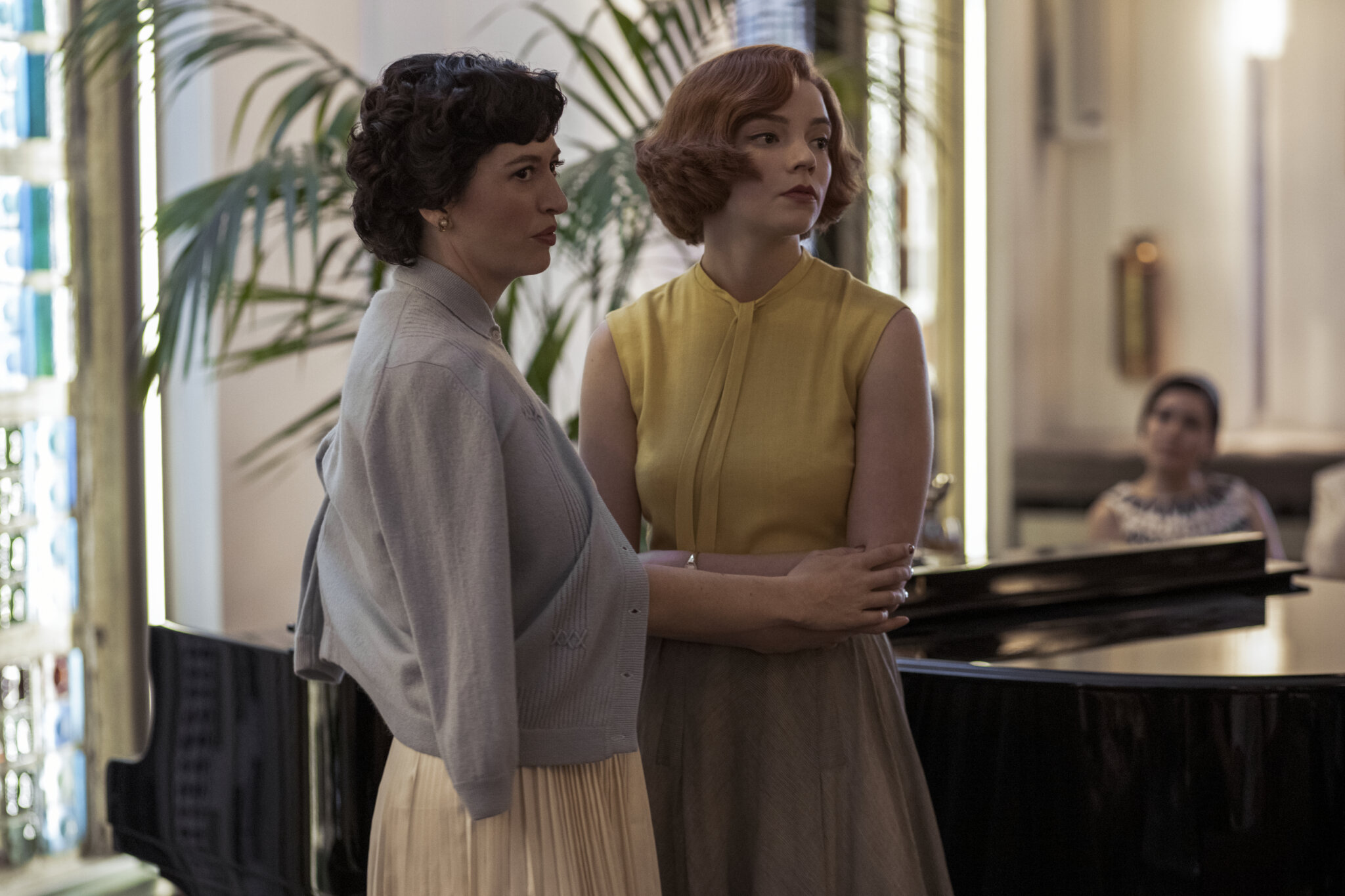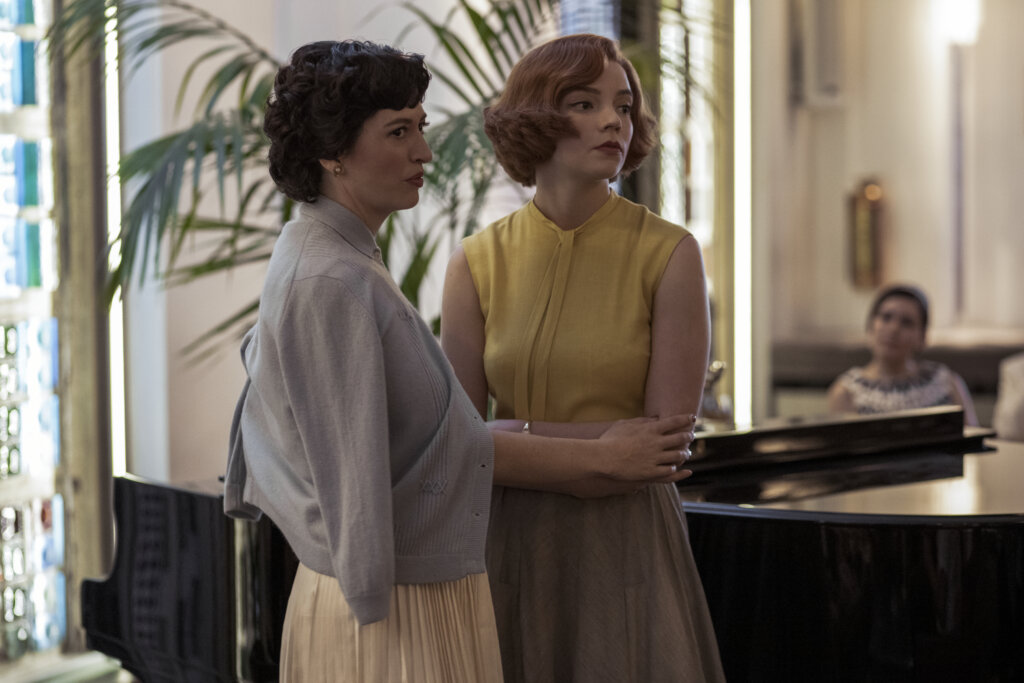 The stained glass windows are all standing as is – no CGI was required to enhance these scenes. Palast Berlin, a popular theatrical show that dates back to the early and mid-20th century, is also housed within this iconic palace.
The newest part of this building (in which scenes from the Mexican hotel were filmed) was built in 1985.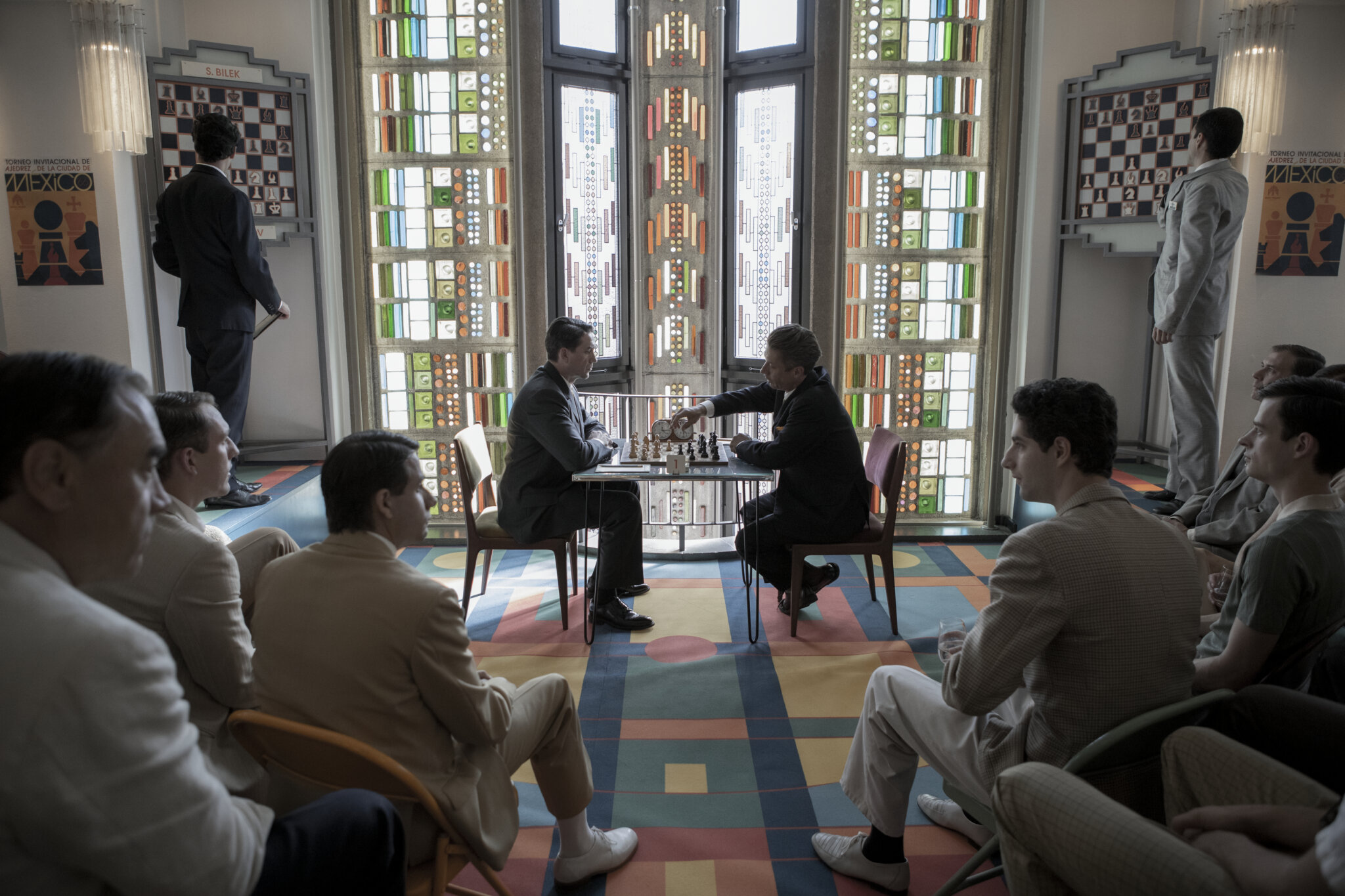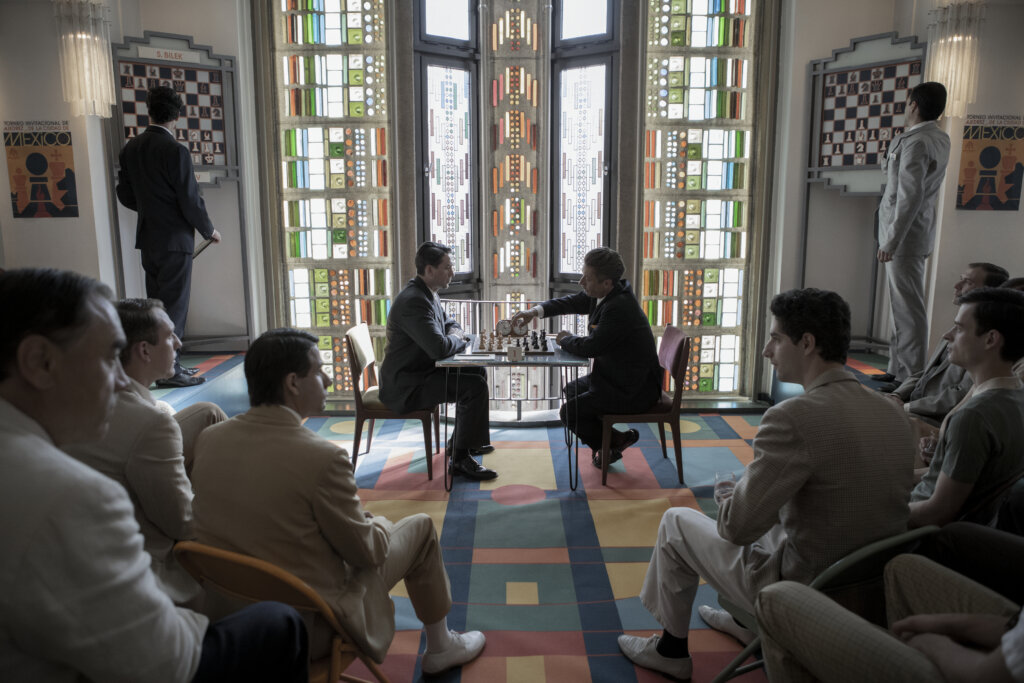 This is what the exterior looks like if you find yourself outside Friedrichstraße. It's pretty easy to spot!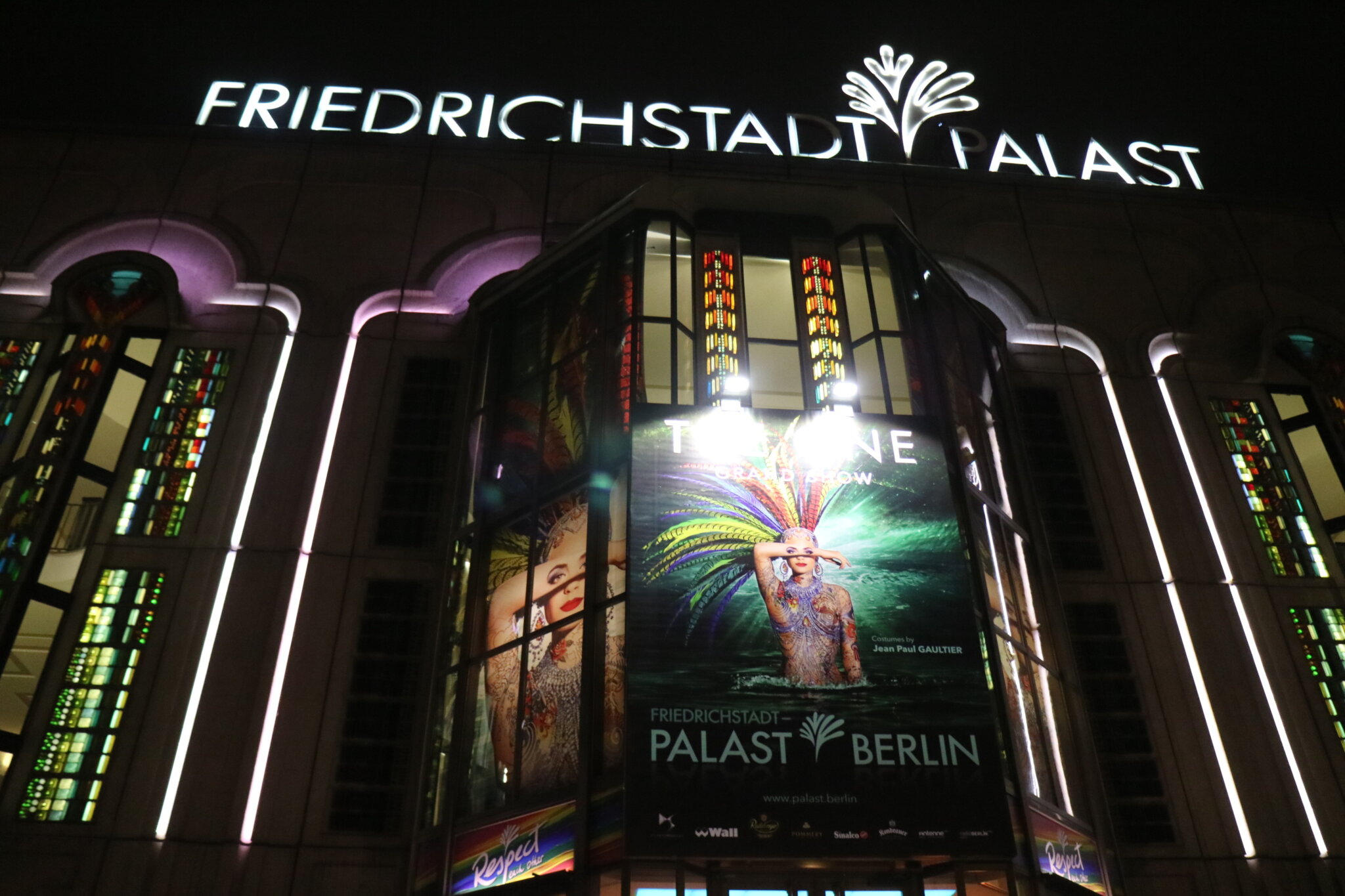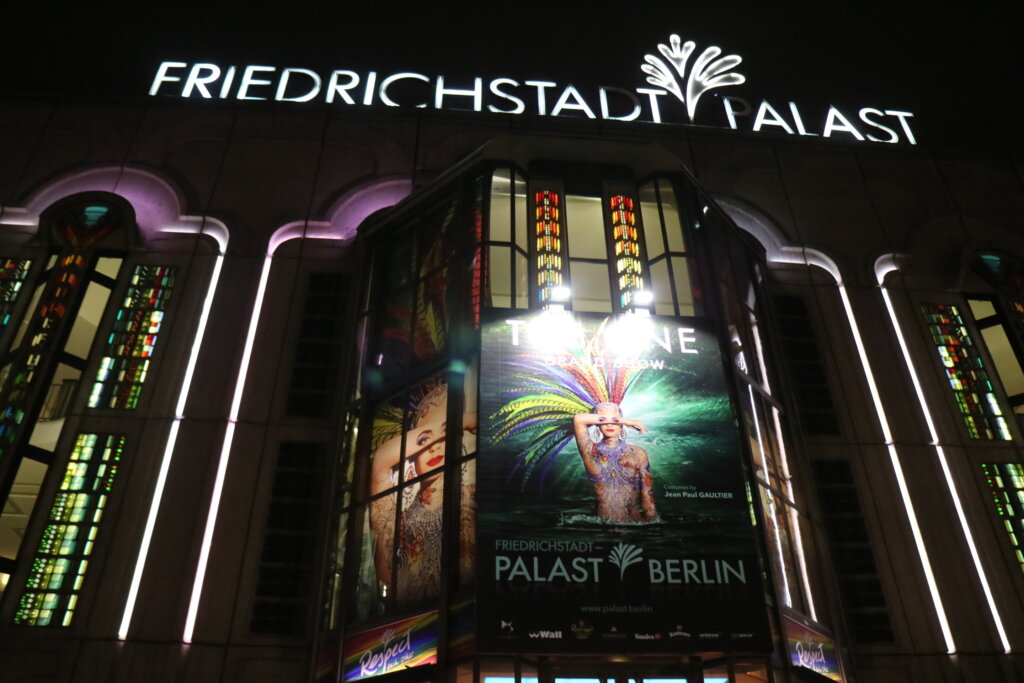 Pan Am Lounge (AKA Mexican Restaurant)
Budapester Straße 43, 10787
In episode 4 of the Queen's Gambit, an irritated Beth is seen crossing her arms and glaring at her mom (with her Mexican bae) in a buzzworthy location, which happens to be one of Berlin's hippest nightlife spots.
Pan Am Lounge was perfect for recreating a 60s retro vibe (even the website is sleek and modern).
The lounge used to house Pan American World Airways, but now exists as a penthouse on Breitscheidplatz to the west of Berlin for keen partygoers.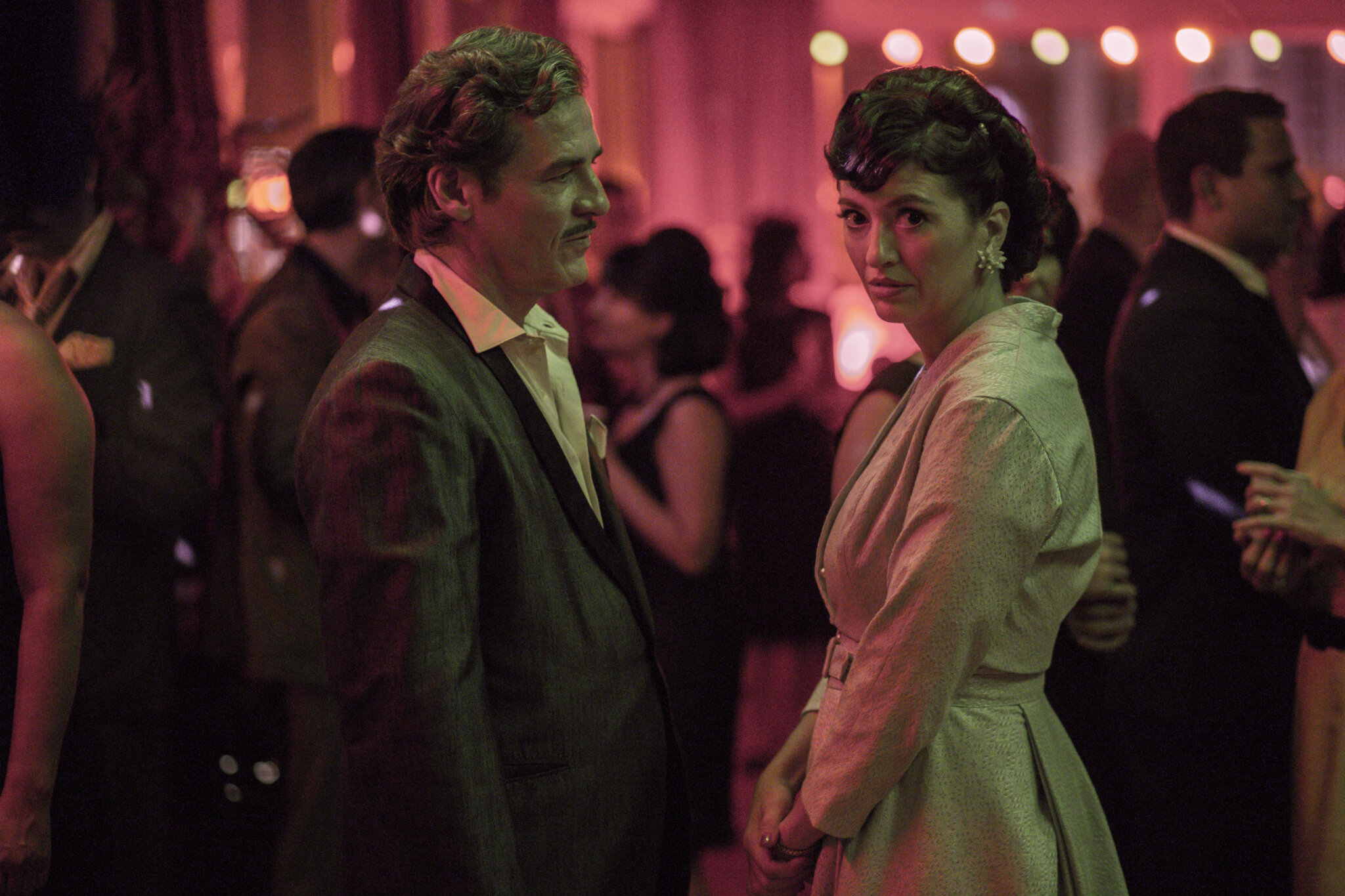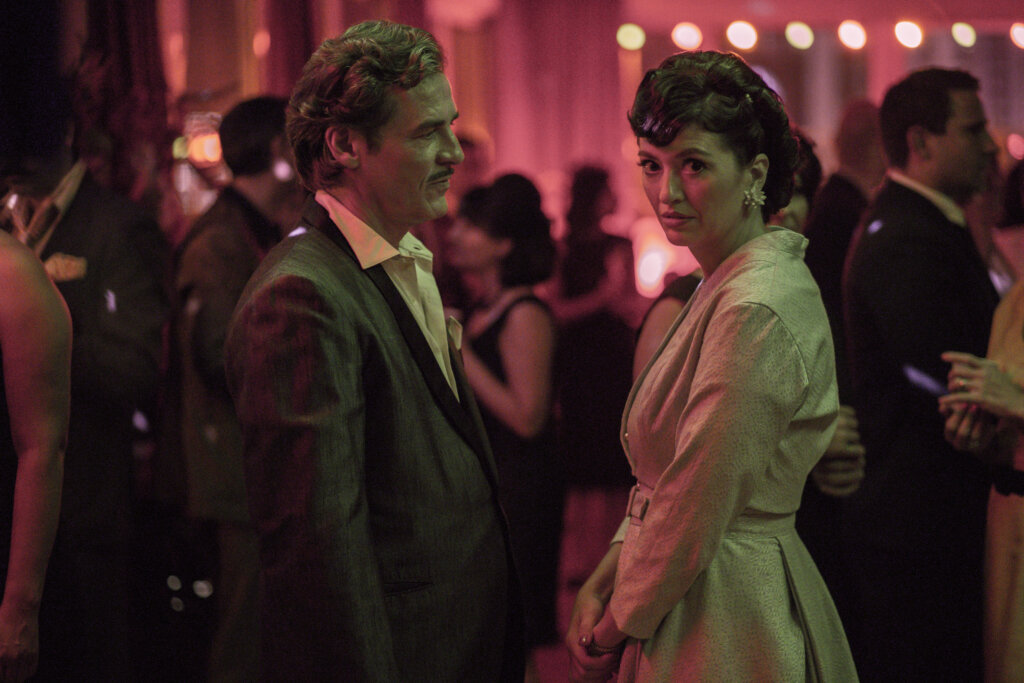 Haubentaucher Bar (AKA Mexico City Hotel)
Haubentaucher, Revaler Straße 99, 10245
Looking for the Aztec Palace hotel's pool area? Well, that's in Berlin too.
Haubentaucher is a fun bar with an outdoor cabana type flair.
This was a fitting film location for the "Aztec Palace Hotel pool" that Beth and her mom stay at (fans will recognize the pool as the one that Beth and the twins swam in and sat around).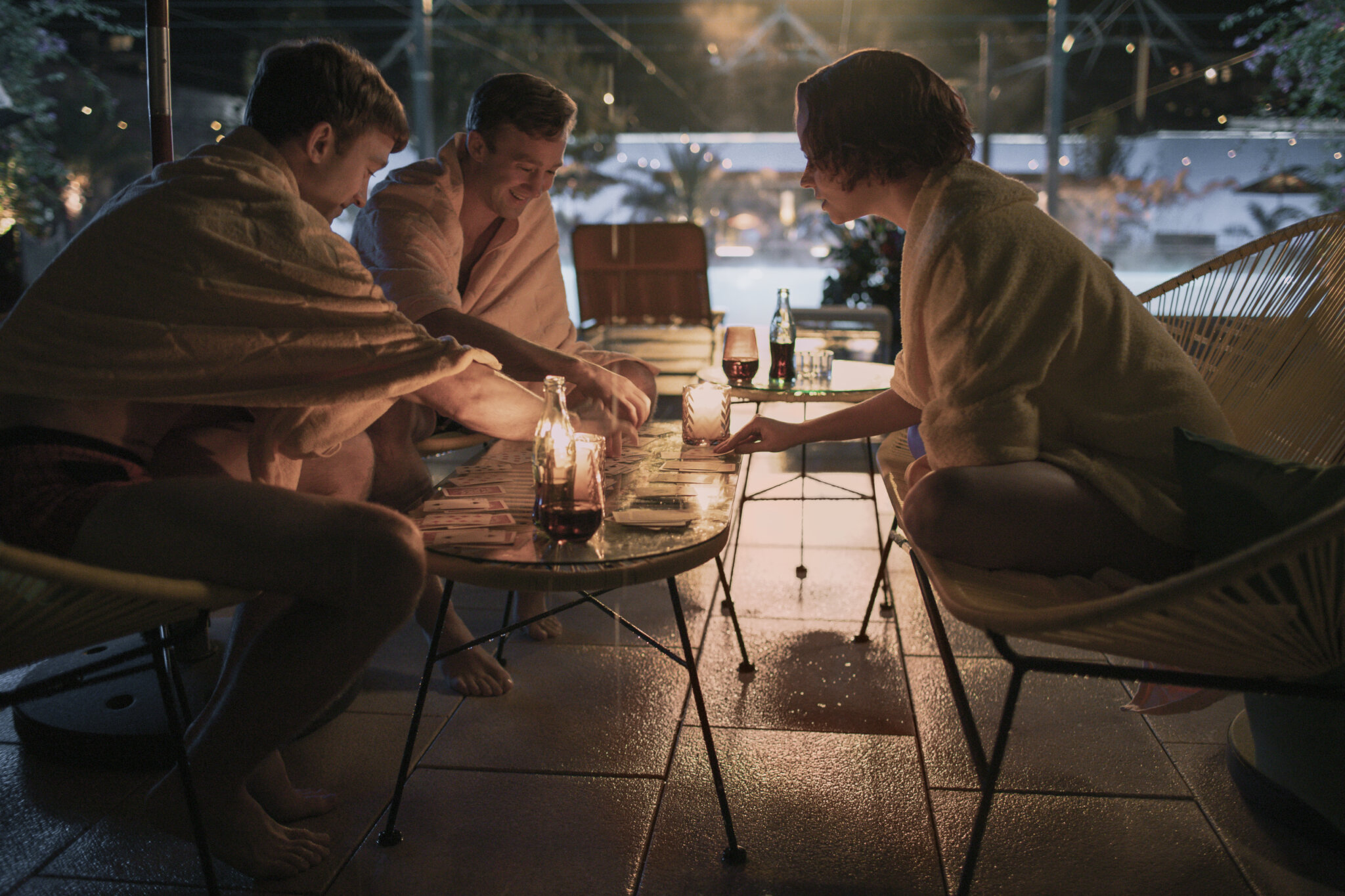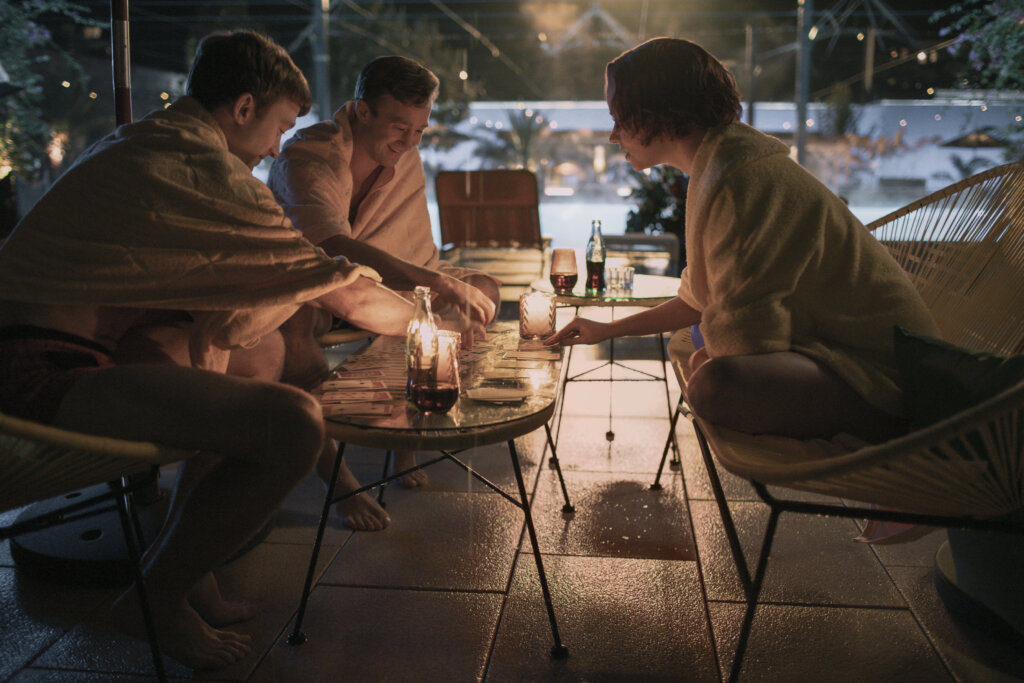 Berlin Zoo (AKA Mexico City Zoo)
Zoologischer Garten Berlin, Hardenbergplatz 8, 10787
When Beth sees Borgov with his family at the zoo in Mexico City, these scenes were actually shot in Berlin Zoo. This is the oldest zoo (built in 1844) in Germany, which covers 35 hectares and houses over 20,200 animals.
Its tagline is "the most species-rich zoo worldwide," which definitely entices visitors from all parts of the globe.
Robert-Koch-Forum (AKA Mexico City Farmacia & Various Other Locations)
Robert-Koch-Forum, Dorotheenstraße 94-96, 10117
The Robert-Koch-Forum in Berlin consists of a complex of Classicist buildings, Google translated as the Natural Sciences and Medical Institute of the Royal University of Berlin.
According to IMDB, it is seen several times throughout the Queen's Gambit, most notably as the pharmacy in Mexico City from episode 4, as well as shots of Fairfield High School, interior classrooms, cafeteria, and corridor shots, the Moscow dining room scene, and interior shots of Beth's room.
NOTE: This building is not open to the public, so I guess we'll never know where all the exact filming locations are… unless we magically get an invite to wander the inside of these halls for ourselves!
Evangelical University Berlin (AKA Location of the U.S. Championship)
Teltower Damm 118-122, Zehlendorf
In episode 5, when Beth faces off again with Benny, Evangelical University Berlin serves as the lecture hall where the U.S. Championship in Ohio plays out.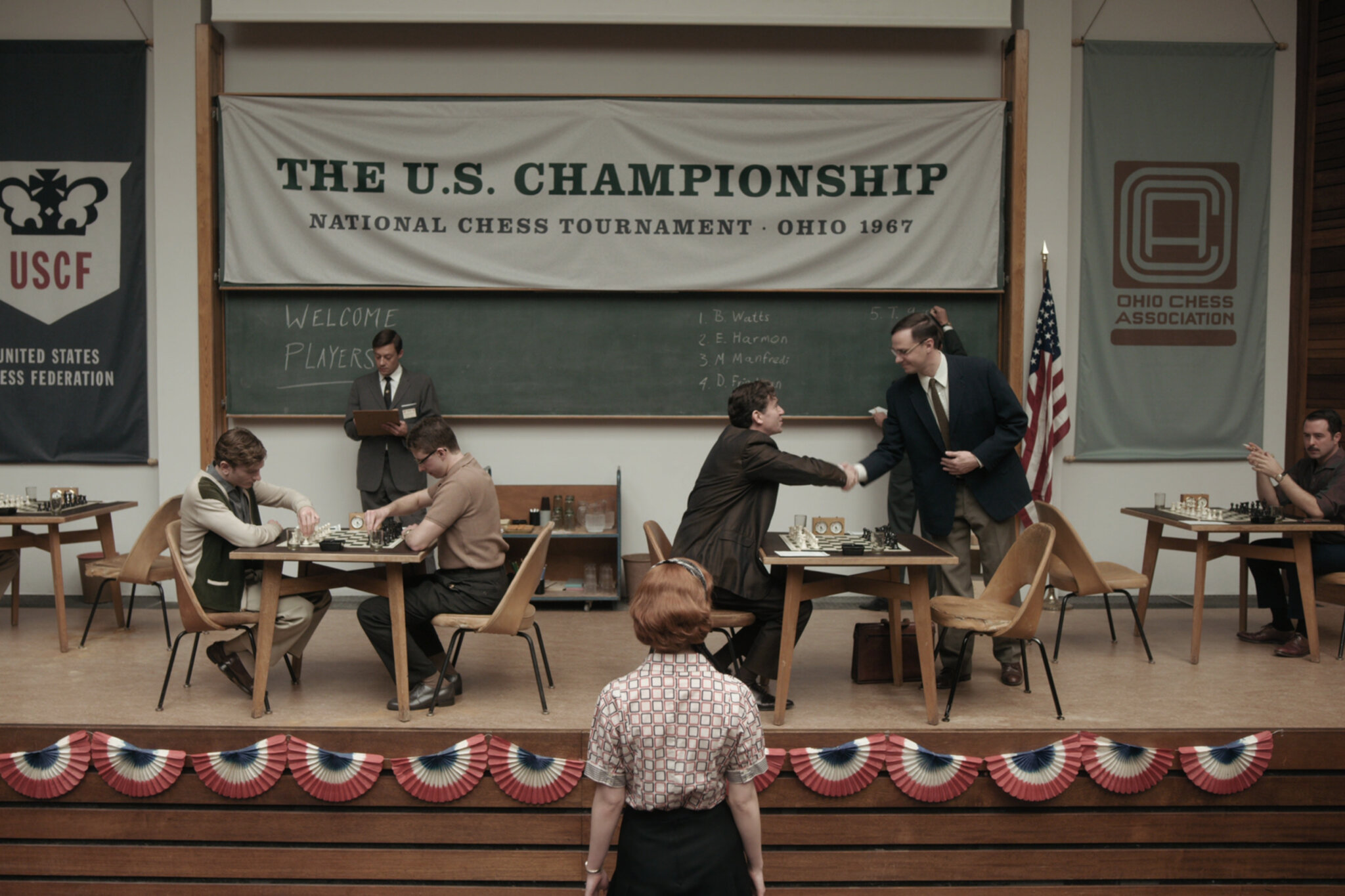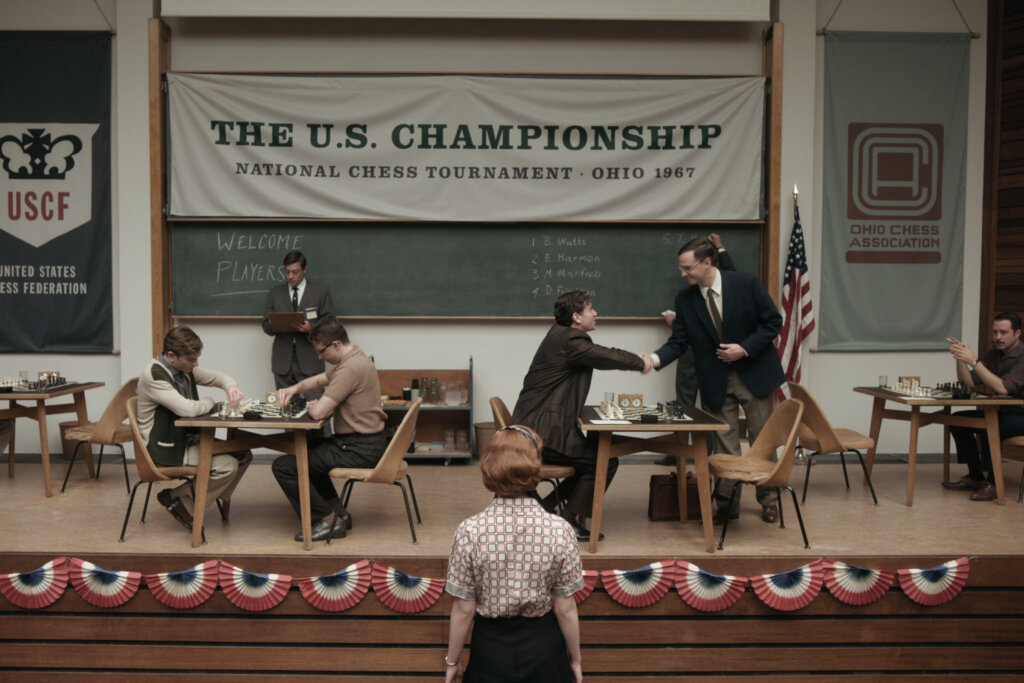 Fun fact: This is actually one of the oldest training centers for social professions in Germany, having been open for 115+ years. It serves as a training, service, and research institution for health and social companies, as well as for church organizations.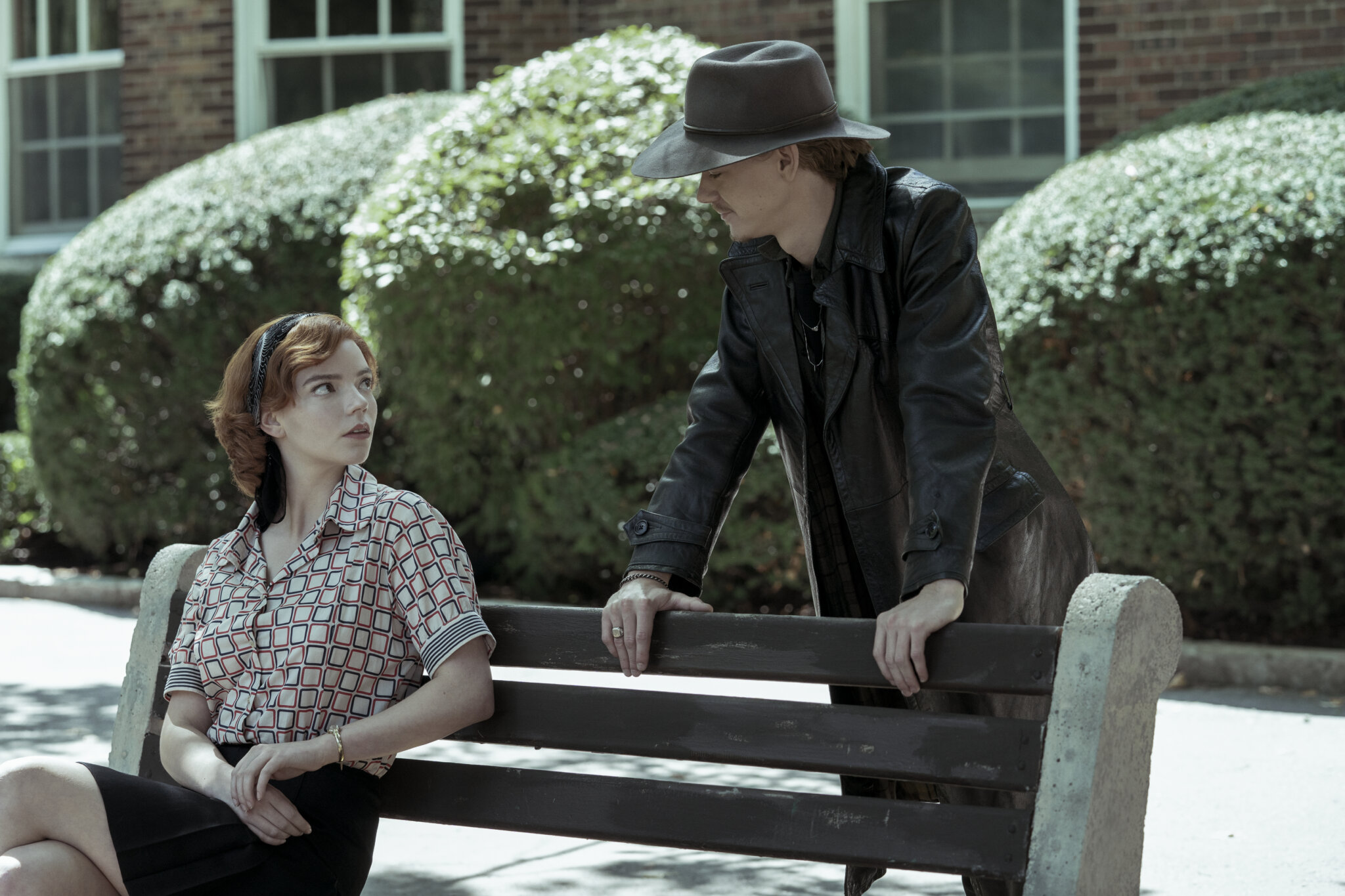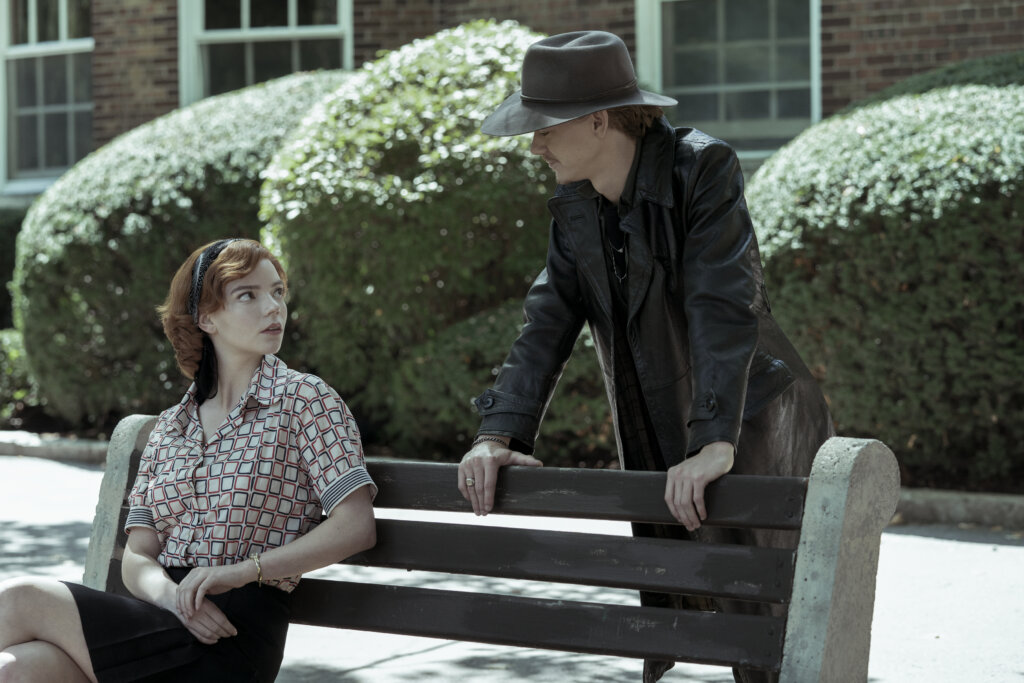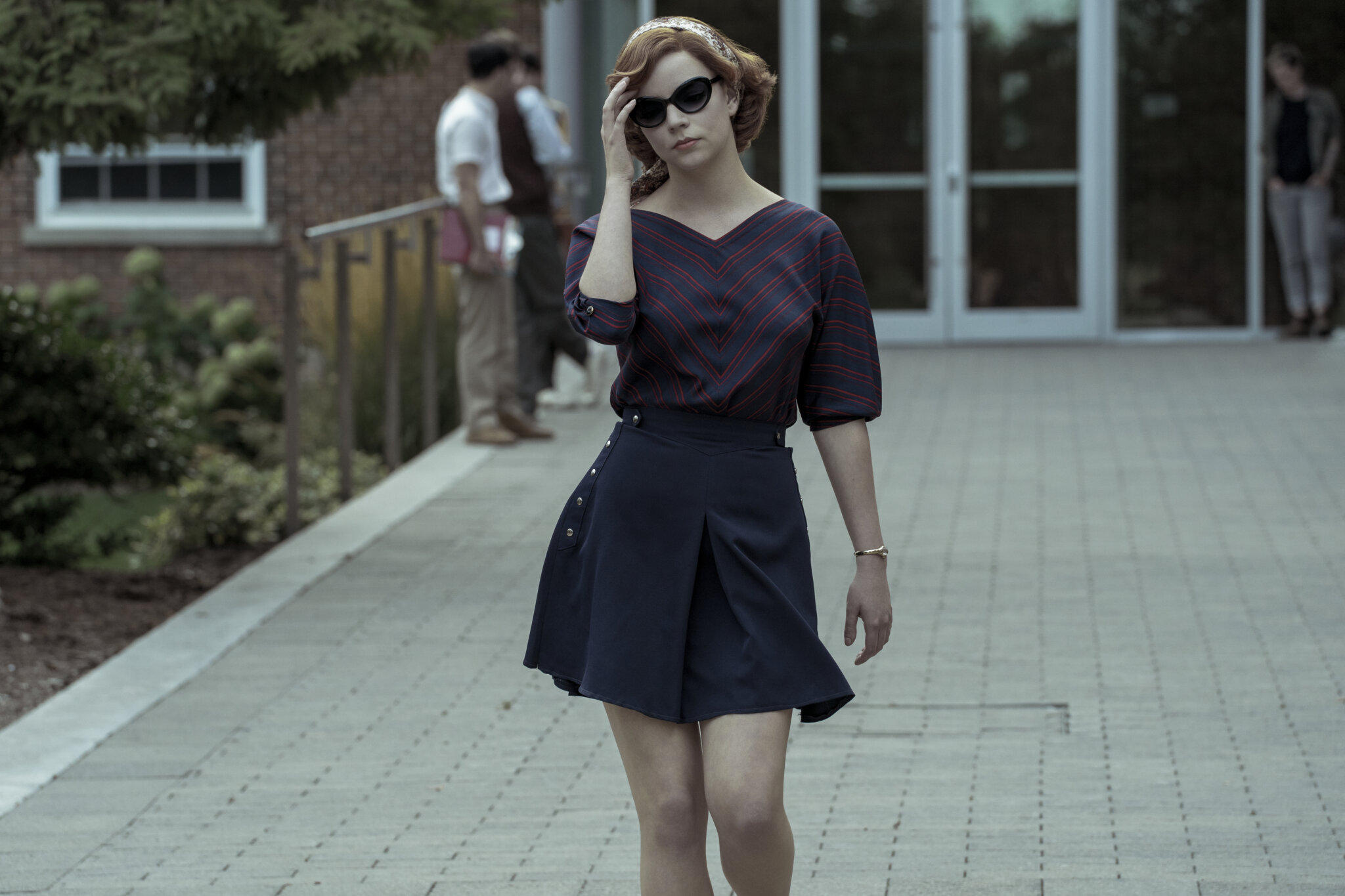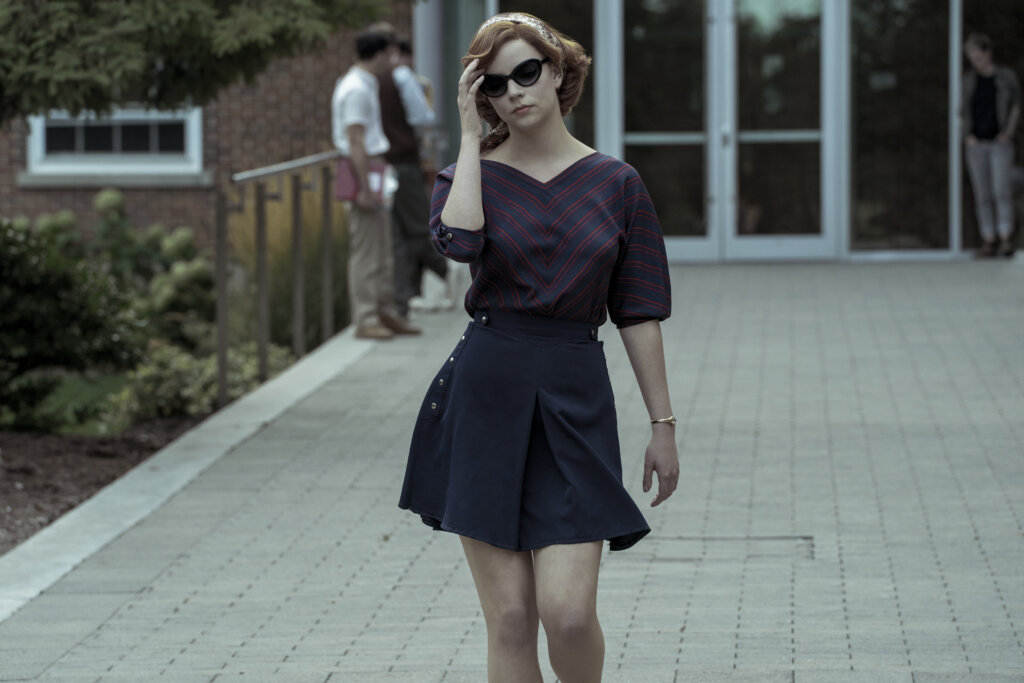 Villa Delvenakiotis (AKA Scenes in Lexington; Margaret's Home)
Villa Delvenakiotis, Wildpfad 7, 14193
According to IMDB, this particularly large Victorian-style residential home was apparently used for shots of Lexington, including Margaret's home (where the Apple Pie pledge party took place in episode 3).
NOTE: We assume any shots here would have been interiors, as the exterior shot of Margaret's home is here in Canada, as confirmed by Dirt. We've included both addresses for comprehensiveness, as always.
S-Bahnbogen at Unterbaumstraße (AKA New York and Repair Shop)
S-Bahnbogen 267, Unterbaumstraße 11, 10117
We're including this location for the sake of comprehensiveness since IMDB lists it as being a location for New York (and a repair shop).
BUT because this area is quite generic, we're having trouble pinpointing when exactly this spot featured in the show. If you have any idea, let us know in the comments!
Uschi Nation (AKA the East Village Bar in New York)
Uschi Nation, Reichenberger Straße 111, 10999
In The Queen's Gambit episode 6, Beth gets to experience New York for the first time – and this particular bar, Uschi Nation, is the one that Benny frequents.
Bode Museum (AKA Paris Tournament)
Am Kupfergraben
Here's a location that Berliners would recognise in a heartbeat: Bode Museum on Museum Island. This iconic museum was used in episode 6, when Beth goes to Paris.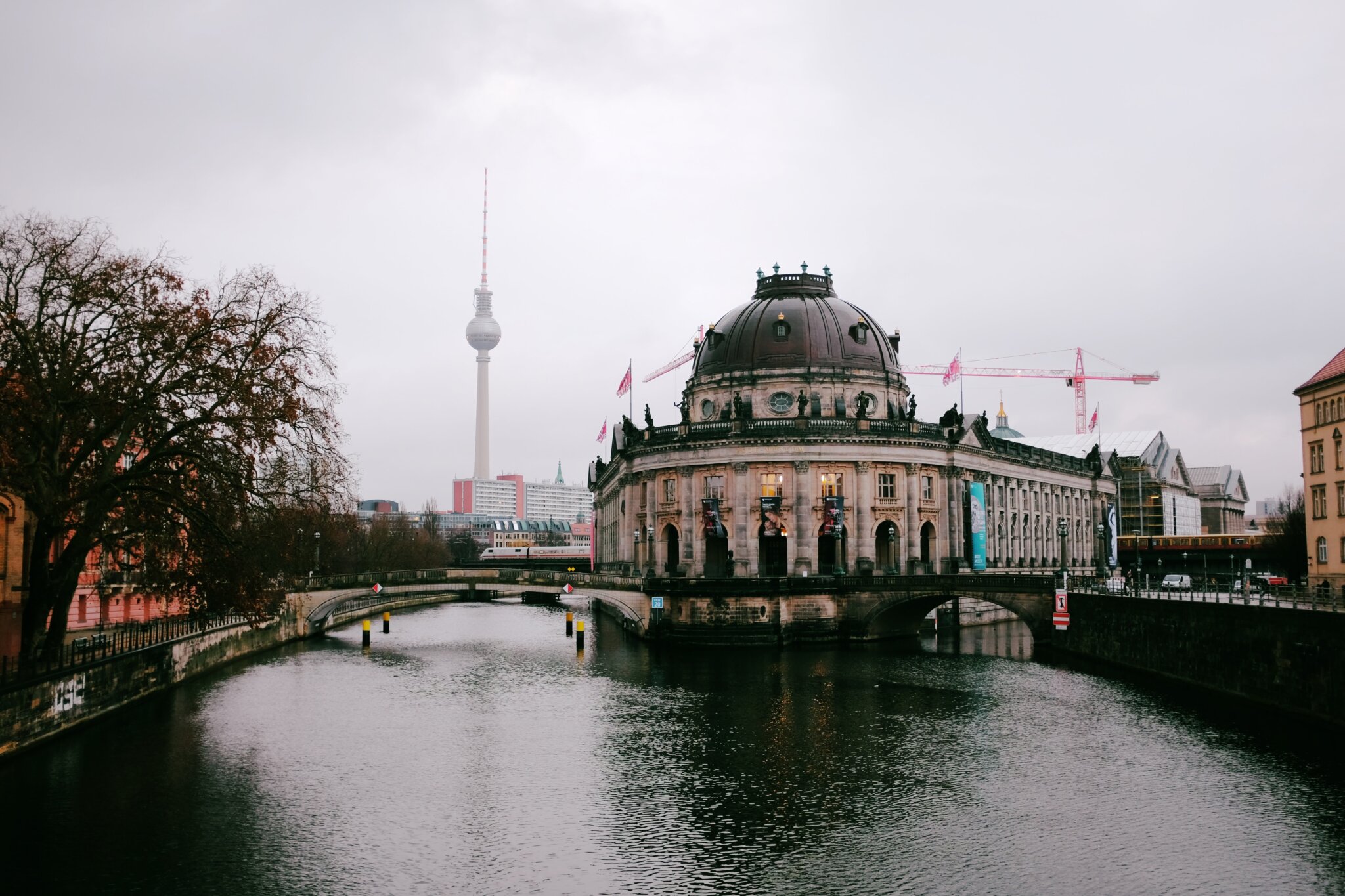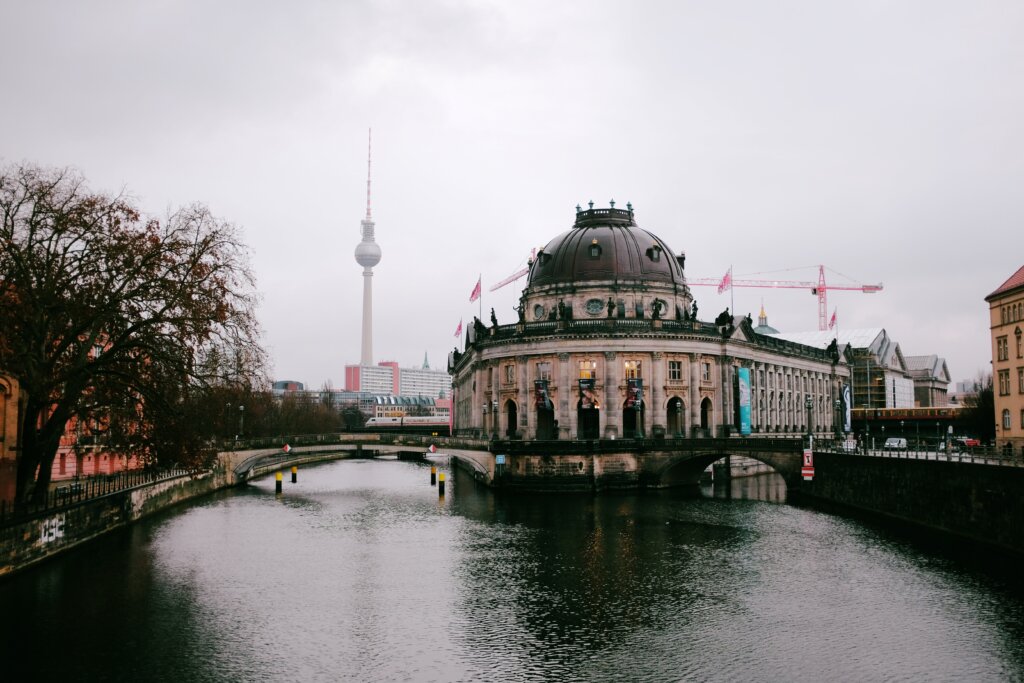 You'll easily recognize the statue of Friedrich Wilhelm I in the entrance hall, which was used for shots of the indoor Parisian cafe where Beth gets asked for her autograph by a waiter.
Bode Museum is a beautiful gallery with plenty of historical artifacts, Byzantine art, sculptures, medals, and coins. For a virtual tour of the museum, check out the YouTube video below and see if you can recognize any locations for yourself!
Haus Cumberland (AKA Location of the Paris Tournament)
Kurfürstendamm 194, im Haus Cumberland, 10707
In the Queen's Gambit episode 6, Paris (1967) ended up being set in Berlin (2019) for the pivotal Parisian tournament that kicks off the show (and also reappears in episode 6).
The crew did such a great job with cinematography, lighting, and set design, it was easy to feel as if we'd been transported back to the '60s.
Haus Cumberland, a grand hotel built in the early 1920s, was turned into the luxurious Parisian hotel that was used for the Paris tournament in Queen's Gambit. If it looks familiar, that might be because this grandiose hotel also appeared in The Bourne Supremacy.
Up until late 2019, the hotel housed Cafe Grosz, which was where most of the Paris tournament scenes were filmed. While you might not be able to visit this cafe anymore, we're still including it below.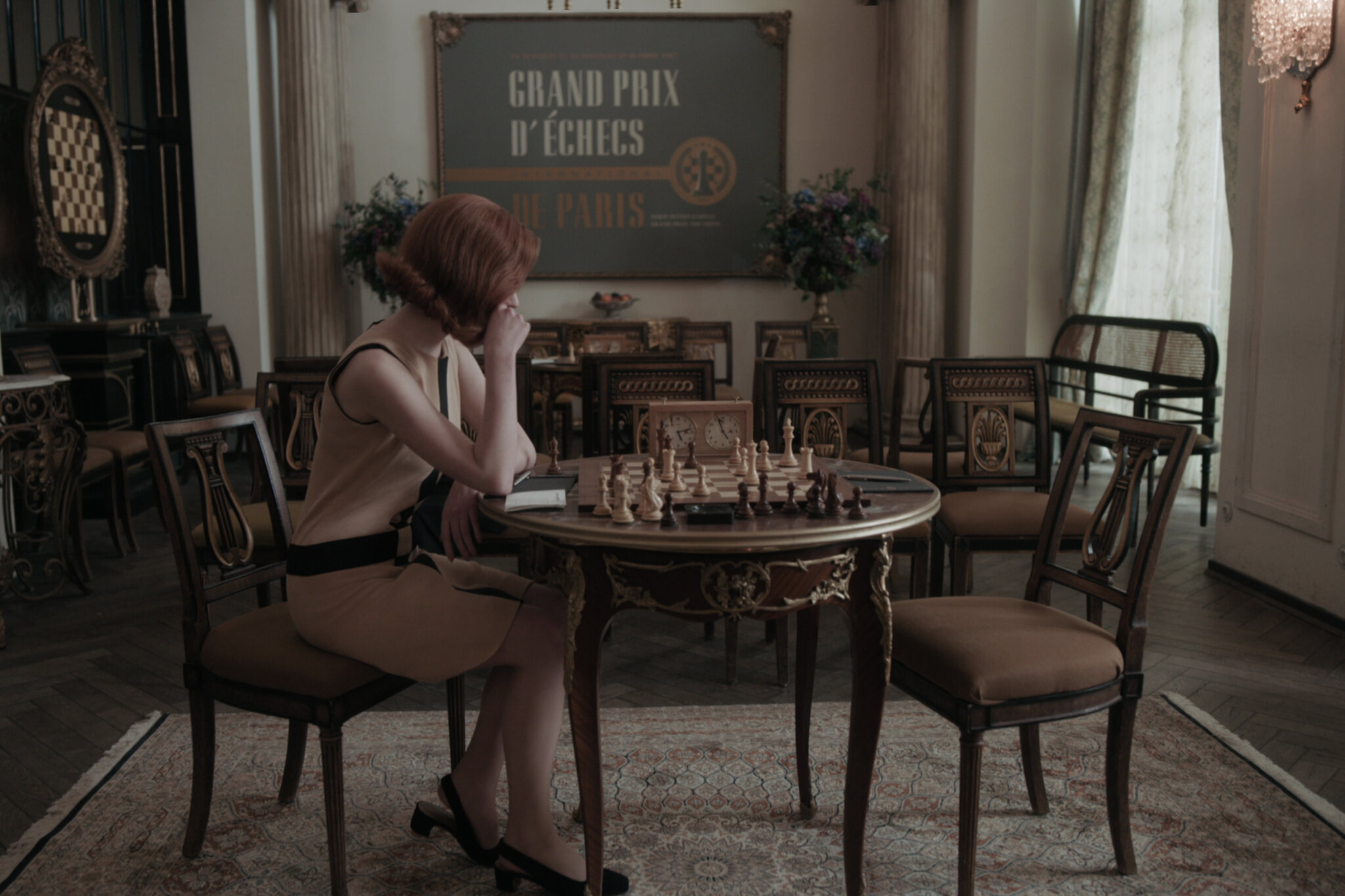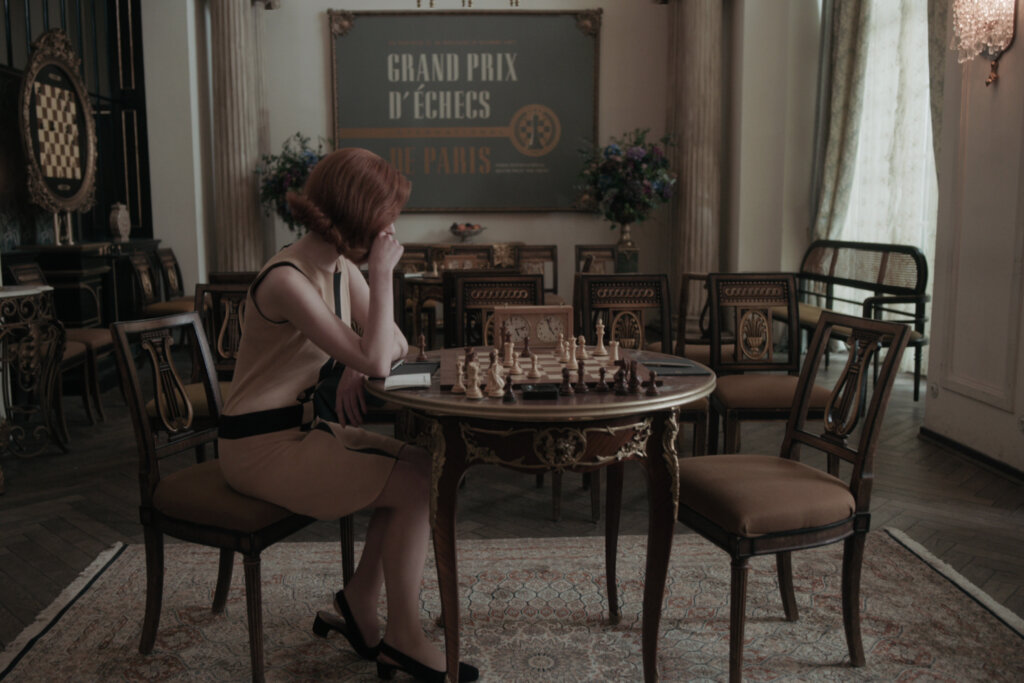 Cafe Grosz (AKA Paris Tournament Hall, Hotel Lobby, and Streets in Paris)
Cafe Grosz, Kurfuerstendamm 193-194, 10707
As mentioned above, Cafe Grosz may be permanently closed, but we're including it since it was on the ground floor of Haus Cumberland, which doubled as the Paris Tournament Hall (as well as interior shots of the ballroom, hotel lobby, and bar).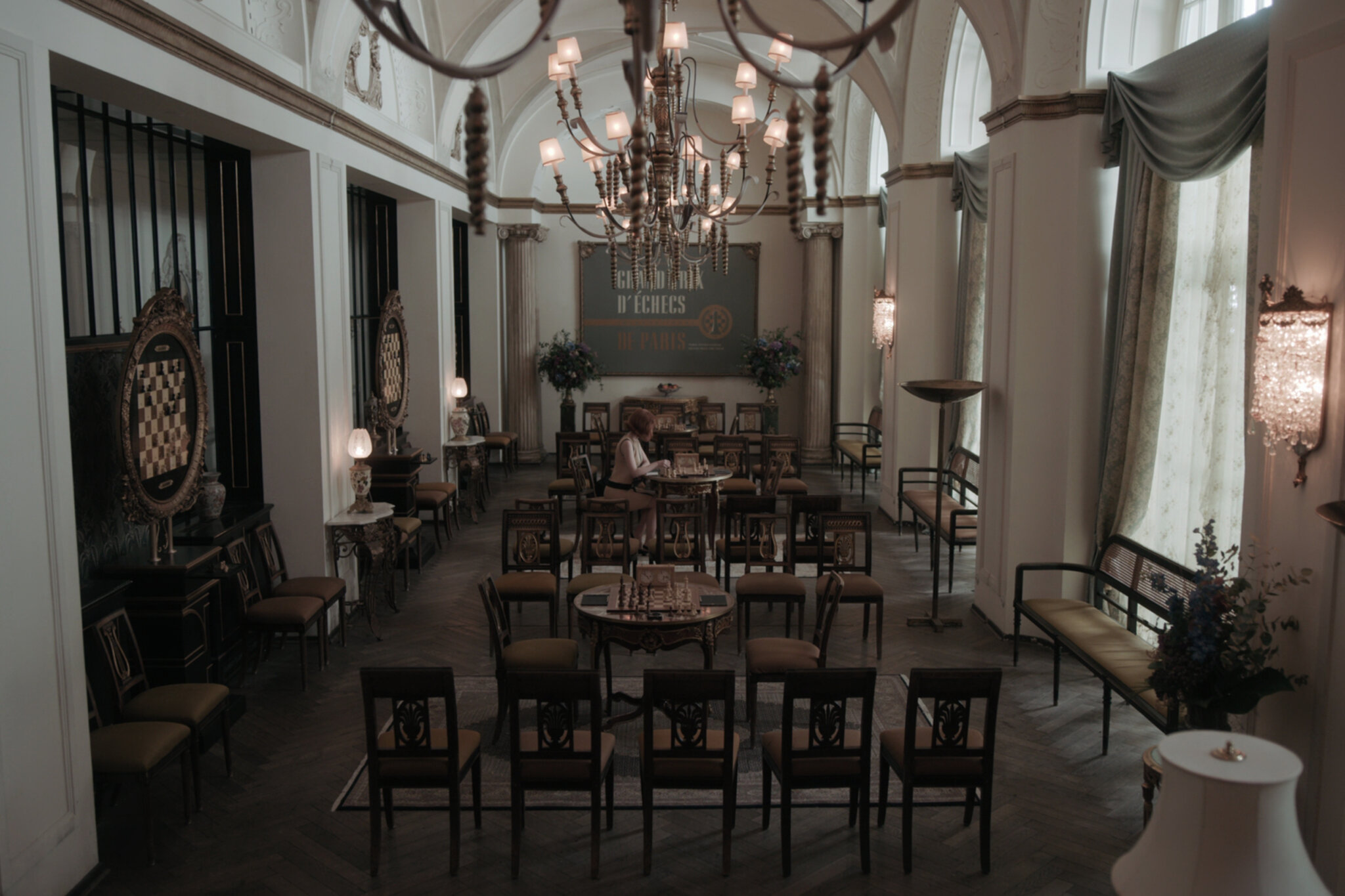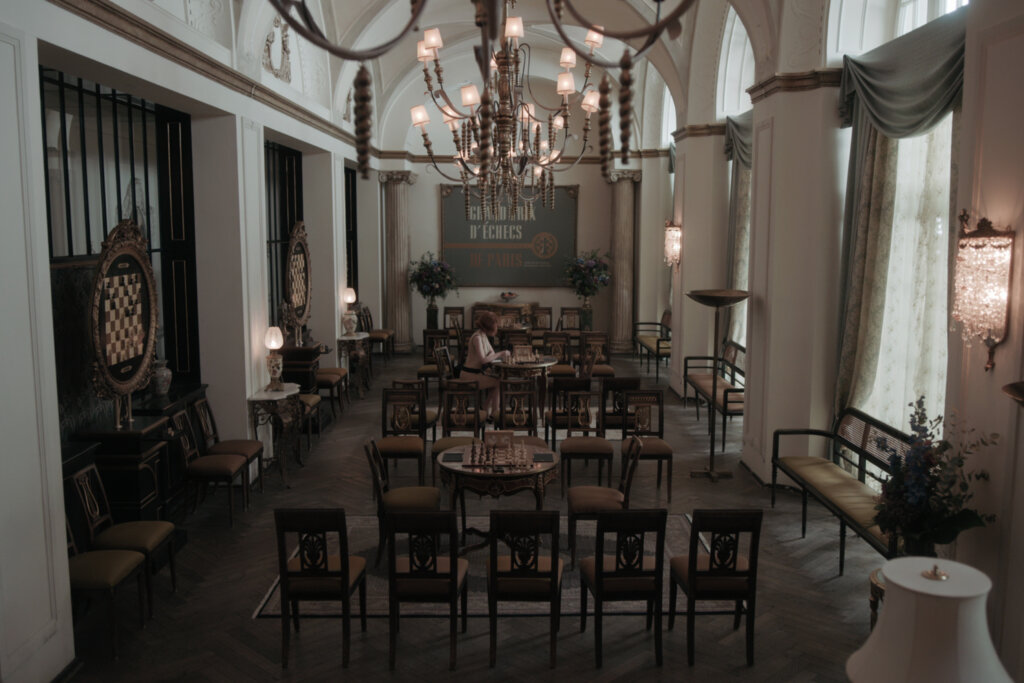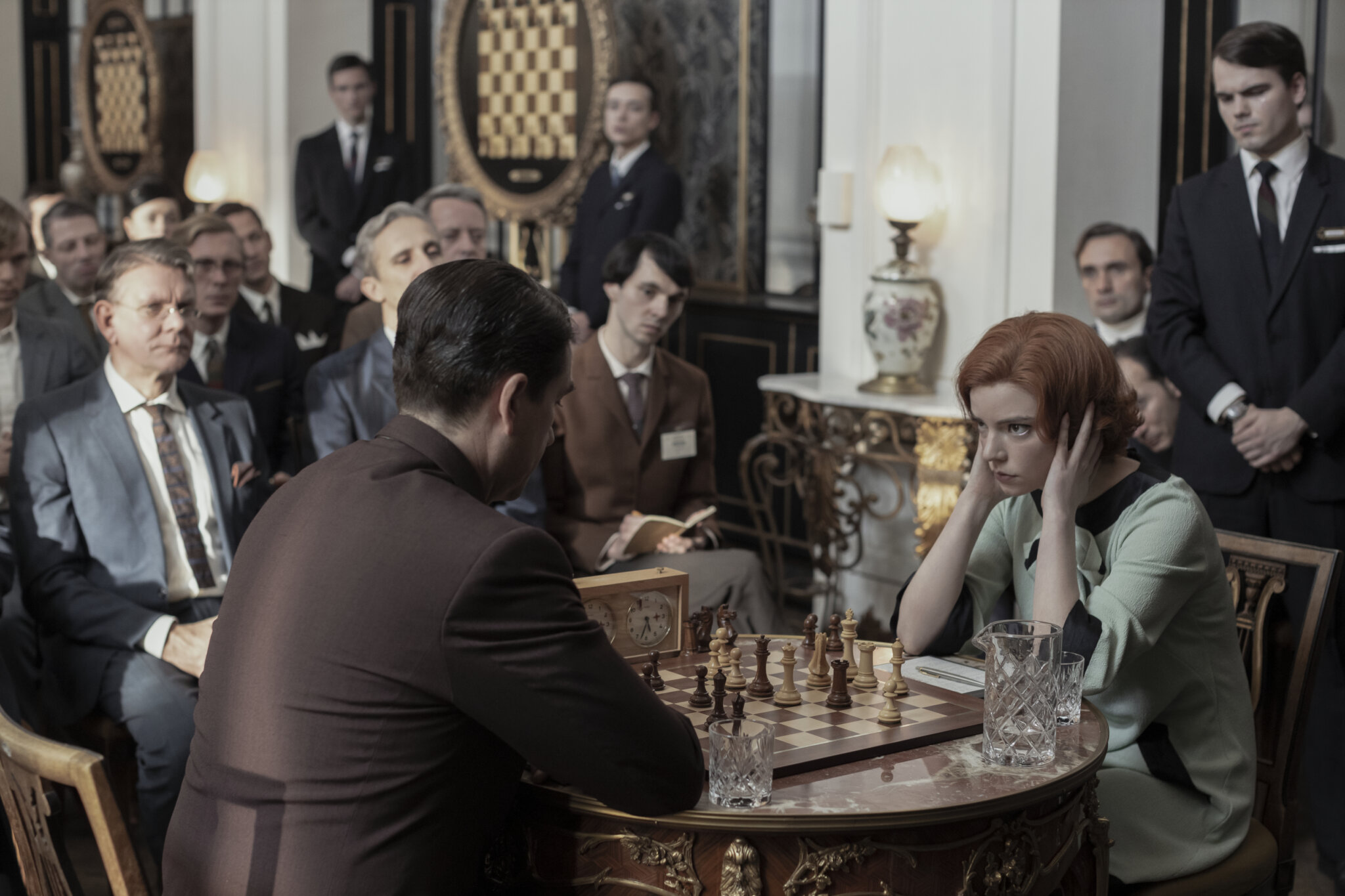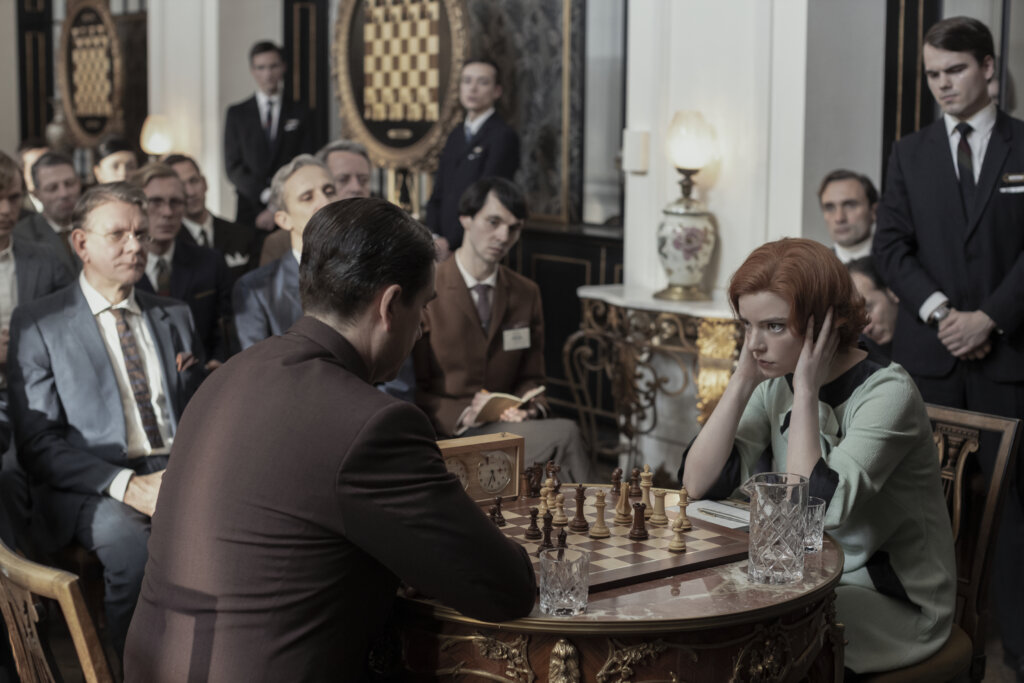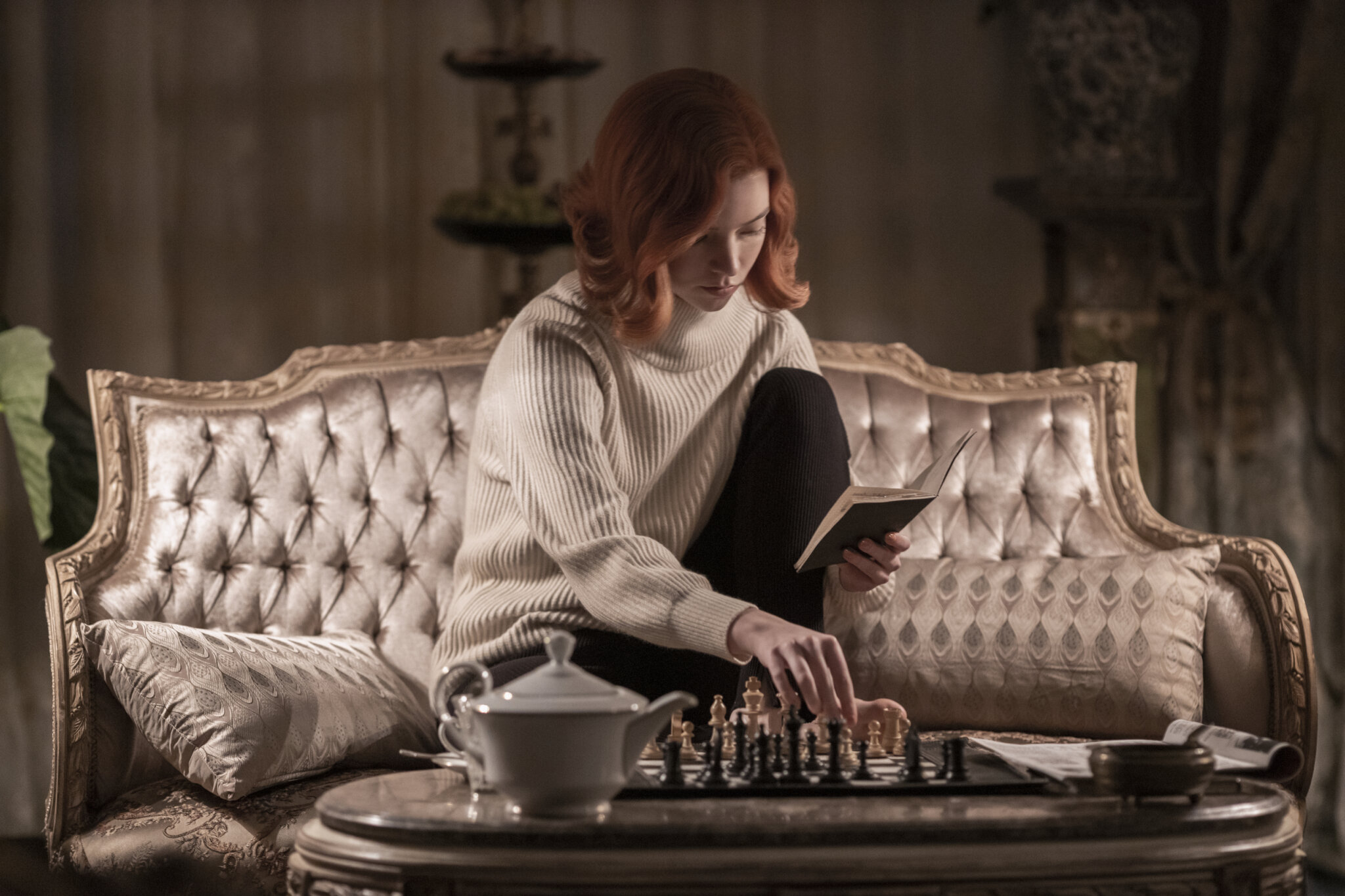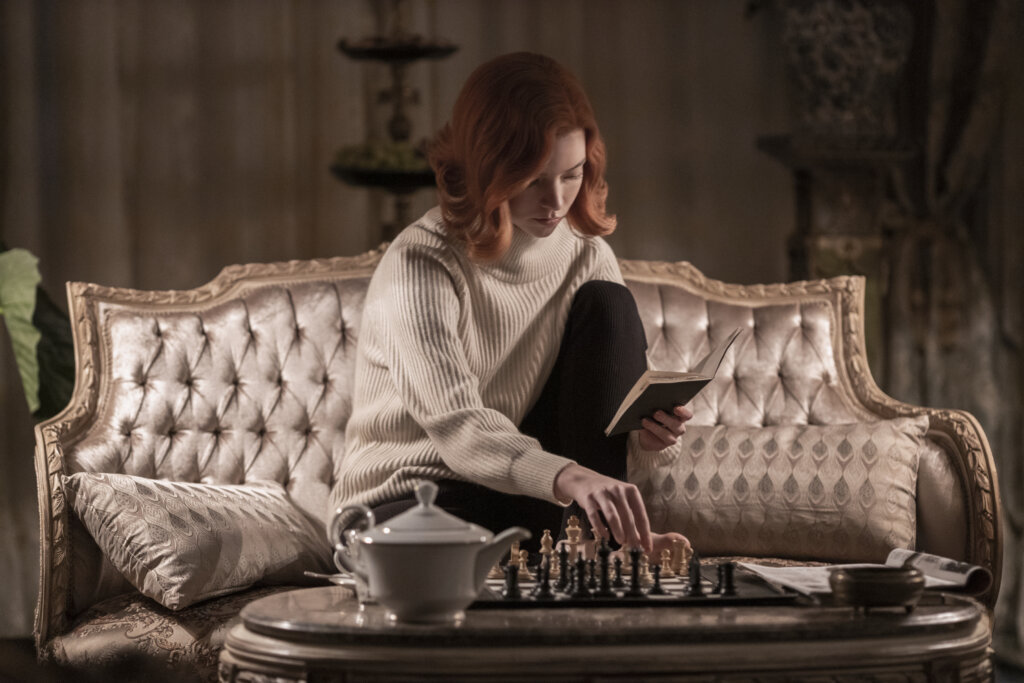 When we see Beth fulfilling her shopping desires in that pretty pink peacoat (episode 6), she's not walking through Paris – these streets are actually this area in Berlin!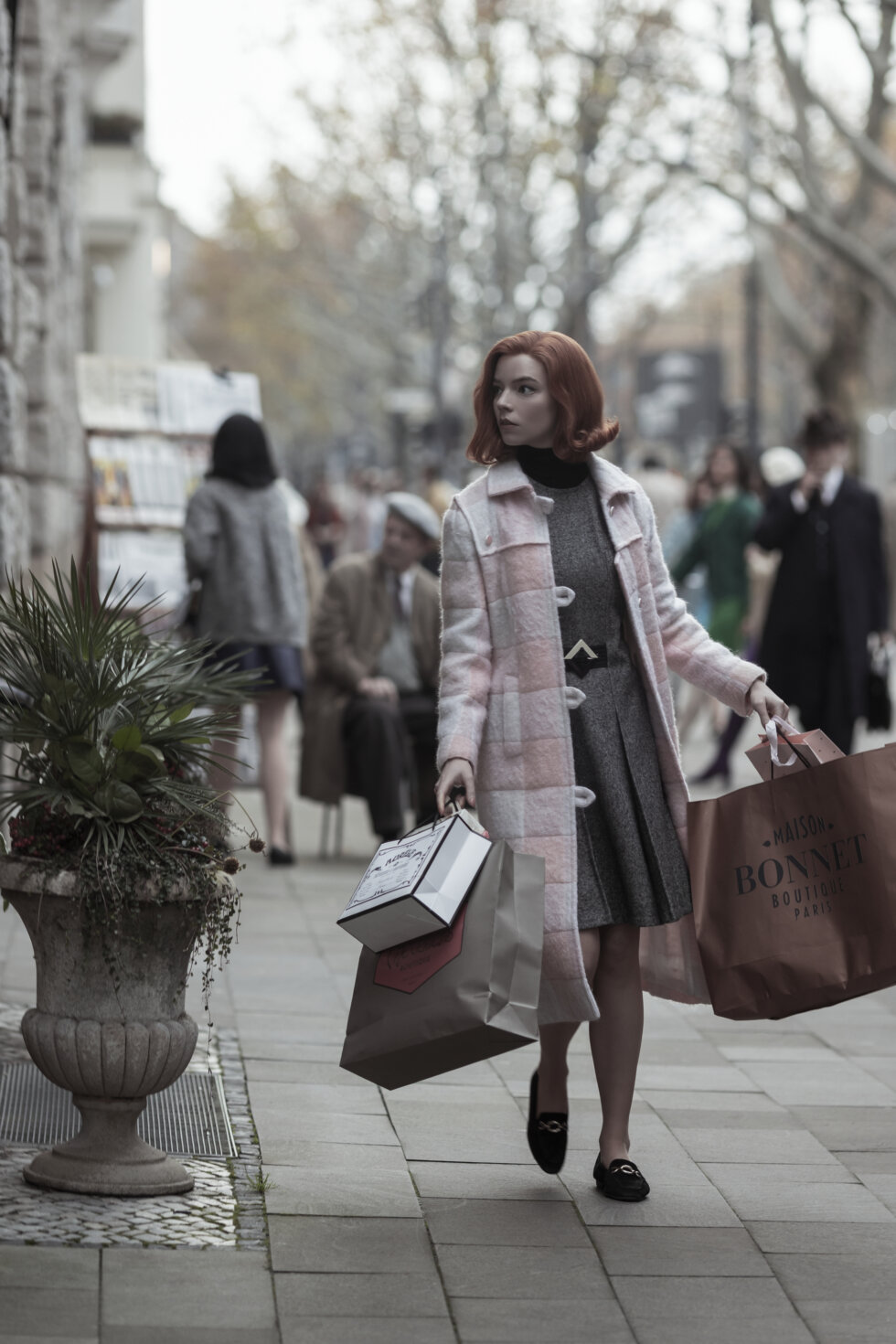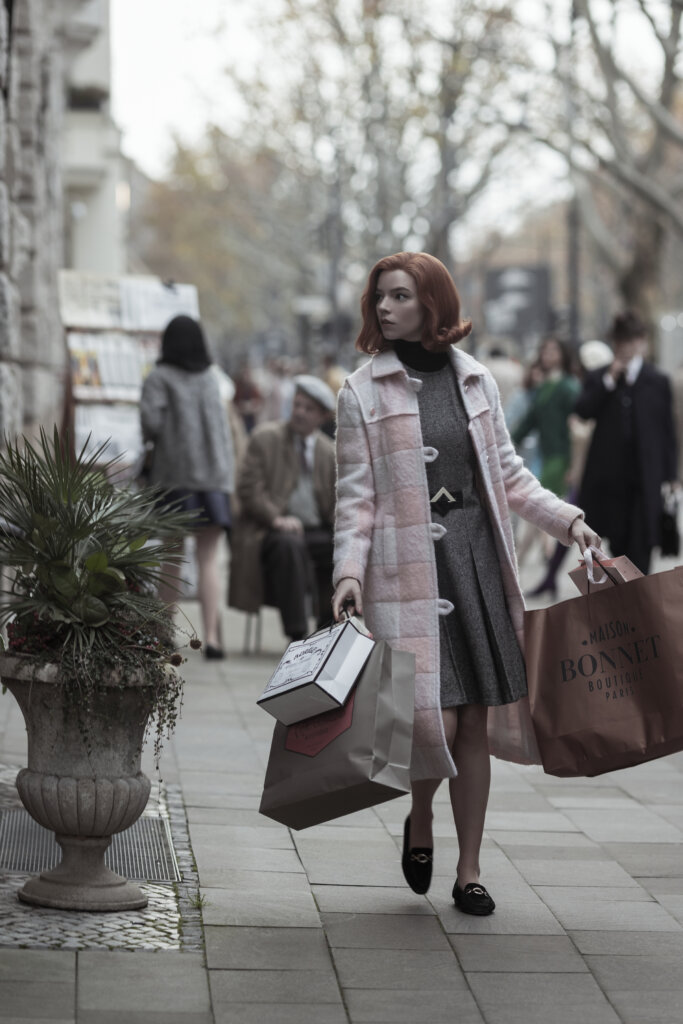 Check out the Google Maps street view below:
Squash 2000 (Paramount Fitness; AKA the Squash Court with Beth and Jolene)
Squash 2000, Persiusstraße 7A, 10245
Many fans might not realize that the squash court was, indeed, actually a real-life squash court! When you see Beth and Jolene face off for a friendly game of squash, this was actually filmed in a squash court in Berlin.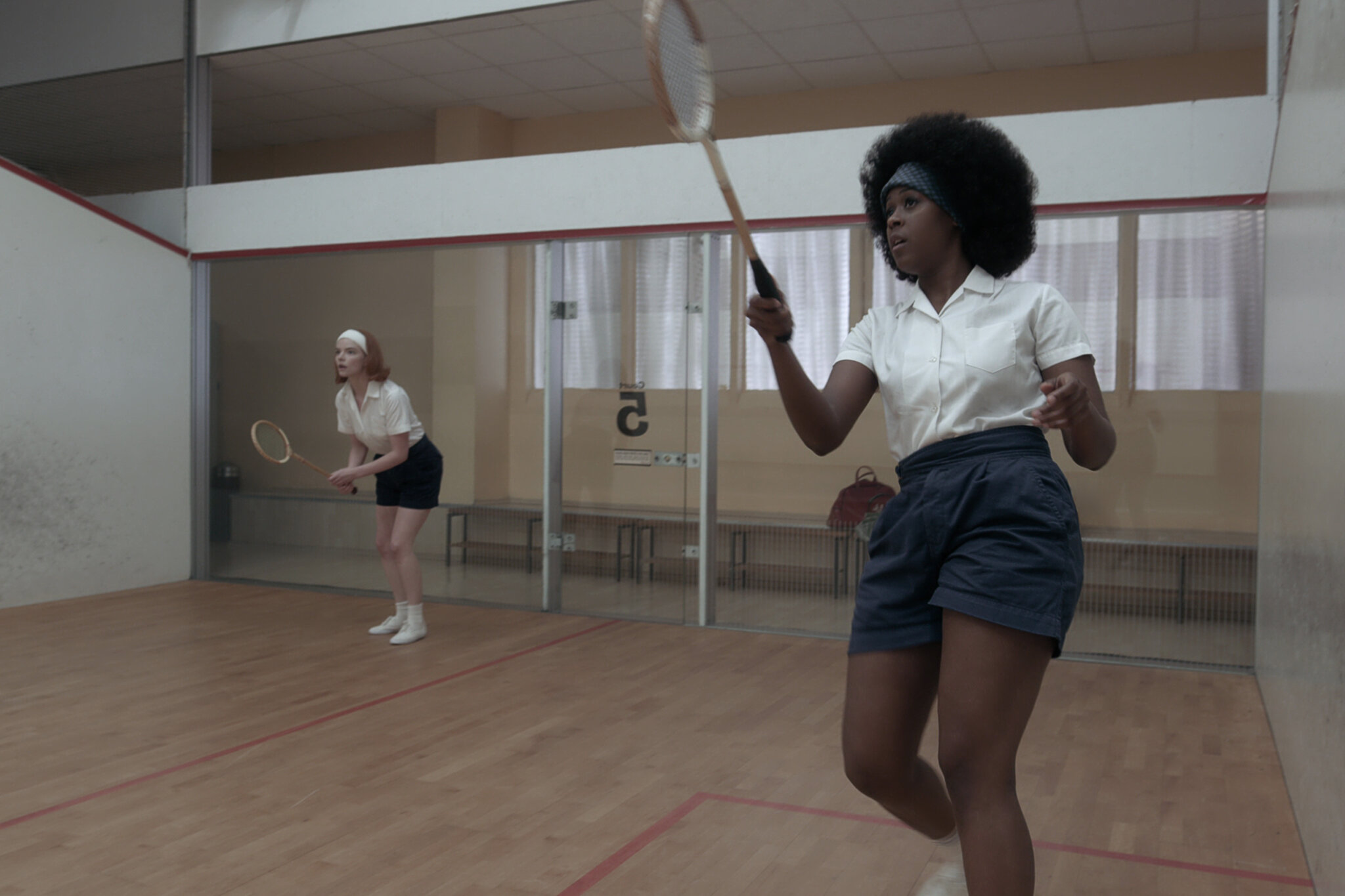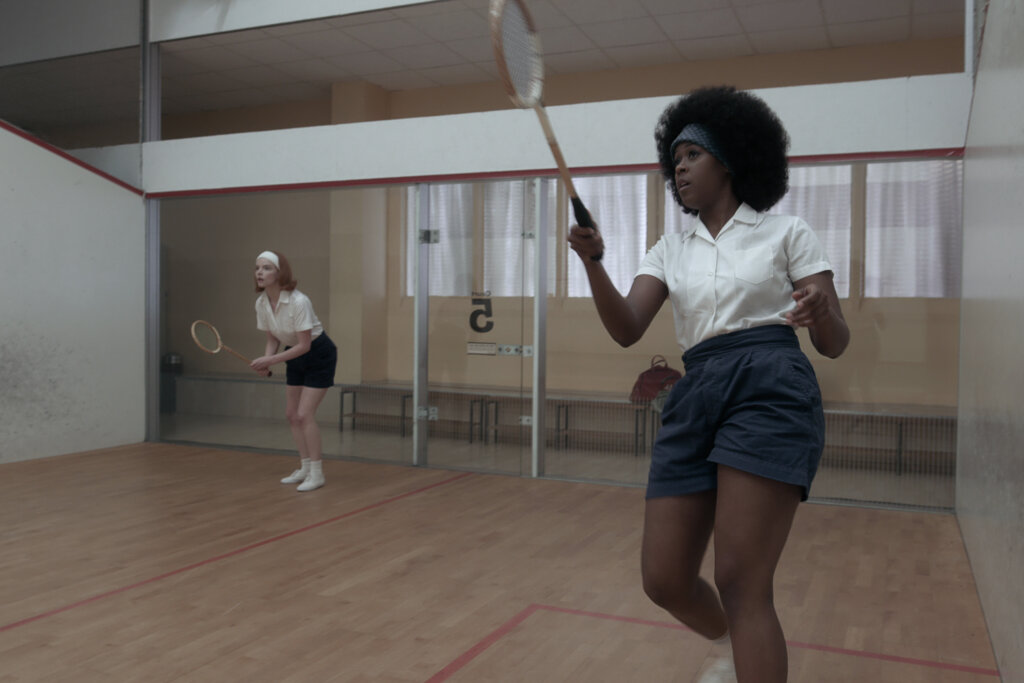 The show's creator, Frank Scott, said one of his favorite scenes to shoot was this one, since it essentially exhibited the authenticity of their longstanding friendship (although both actresses admitted they were scared about this scene since they didn't know how to play squash).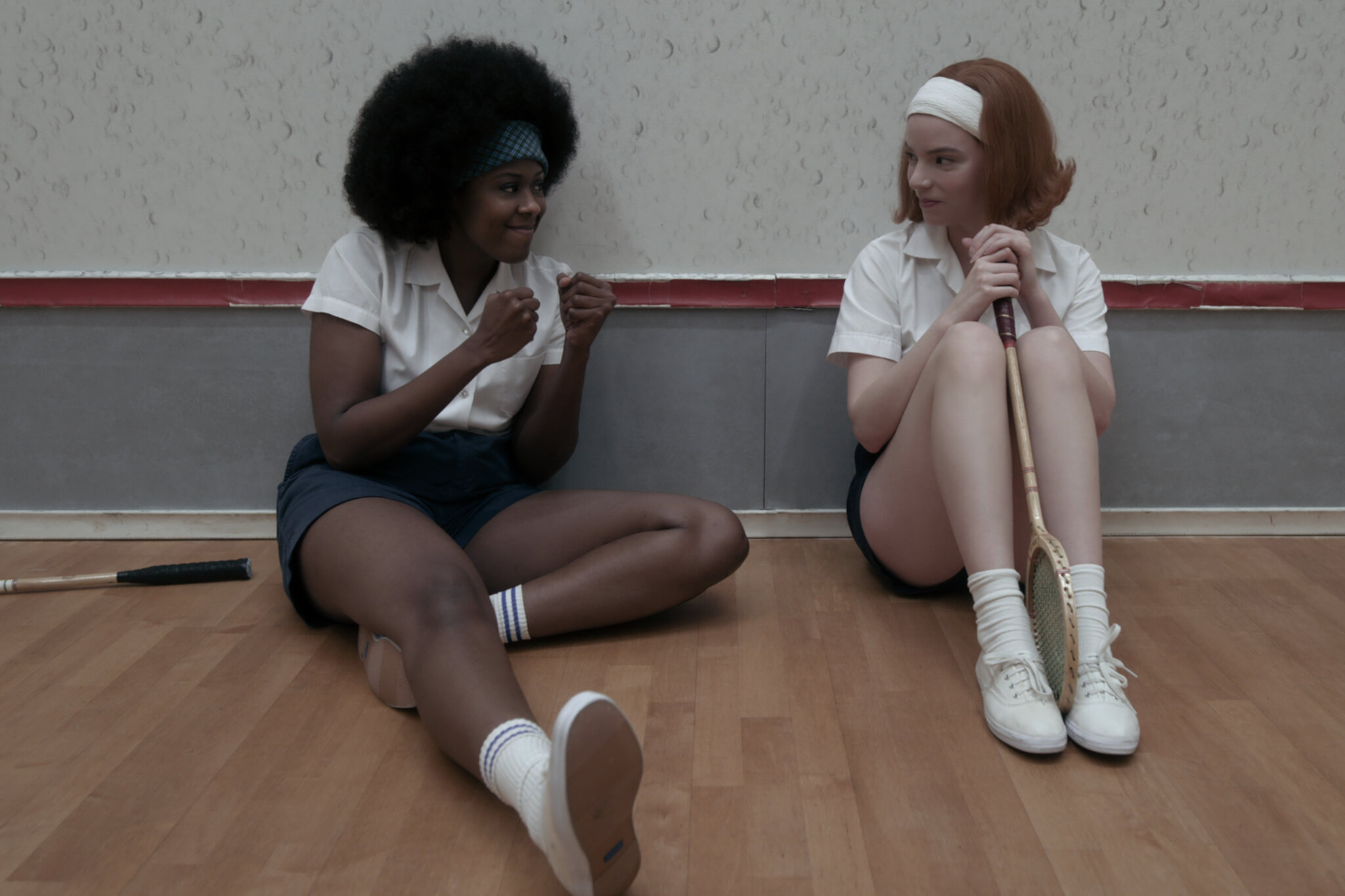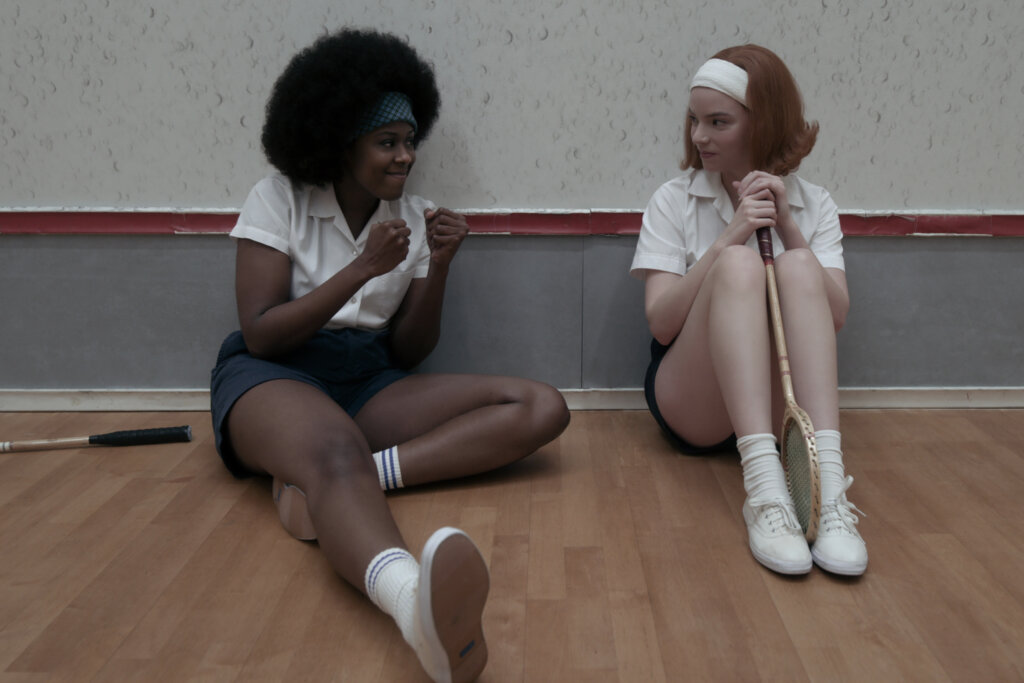 Kino International (AKA Moscow Hotel)
Karl-Marx-Allee 33, Mitte
Kino International (Panorama Bar, in particular, a 60s bar in a movie theater) served as the Russian restaurant where the two military men toast to Beth – and also where she declines alcohol.
The venue is recognizable instantly with its floor-to-ceiling windows.
On the same street (Karl-Marx-Allee), a block of flats is shown as the Moscow hotel. This long street actually runs from the infamous Alexanderplatz via Strausberger Platz to Frankfurter Tor (which turns into Frankfurter Allee).
These apartments are distinguished by a mix of socialist classicism and the Prussian school of Karl-Friedrich Schinkel.
"Every time I came to a new set, I was completely blown away by how it looked."
– Anya Taylor-Joy
Rathaus Schöneberg (AKA Moscow Hotel and Various Moscow Interior Shots)
Rathaus Schöneberg, Am Rathaus 2, 10825
Rathaus Schöneberg was also used for some shots of the hotel in Moscow and its interior (the hallway, Beth's hotel room and the school library).
With splendid architecture, this German building was an early 20th-century city hall, as well as a famed site of John F. Kennedy's 1963 speech.
On weekends, it used to be a flea market!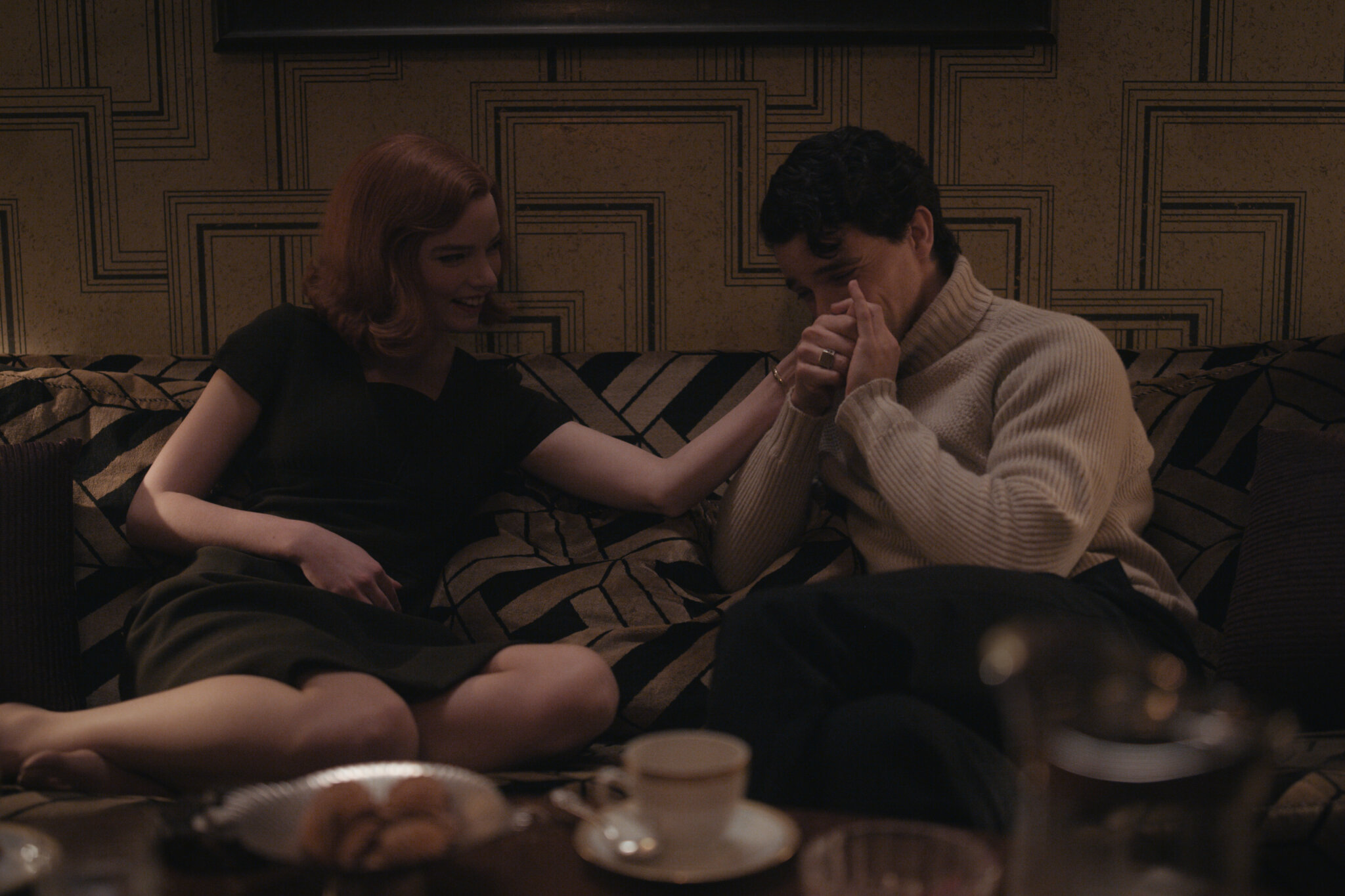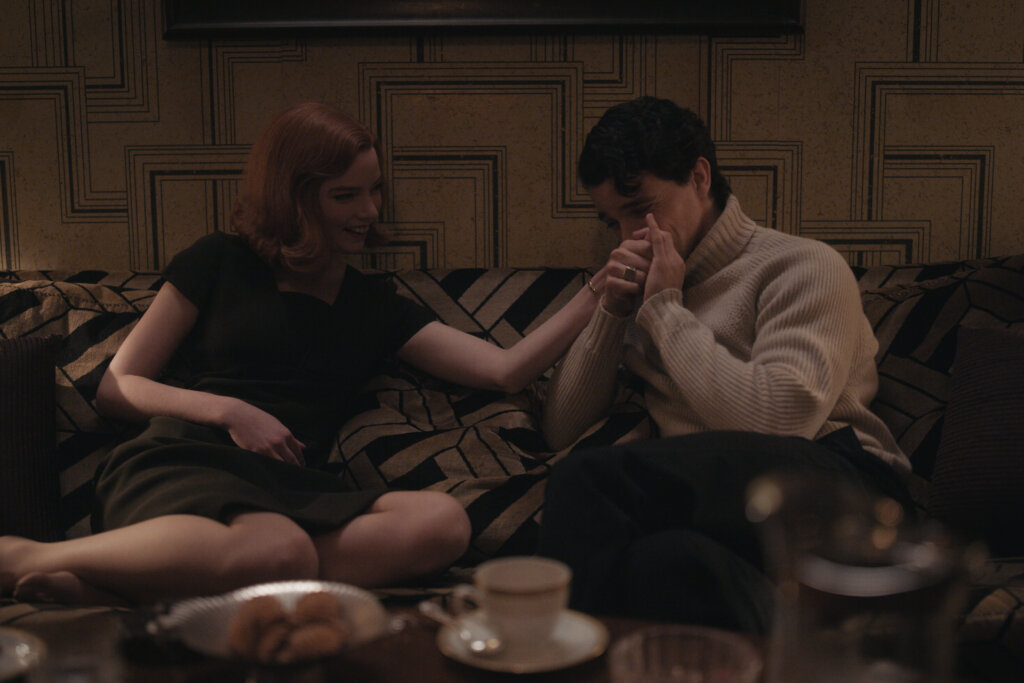 Most eagle-eyed Queen's Gambit fans will recognize it just by taking a peek at this Google Maps view of the interior:
Bärensaal of the Altes Stadthaus (AKA Location of Moscow Tournament)
Klosterstraße 47, 10179
The Queen's Gambit penultimate tournament in Moscow was filmed in Berlin, as well.
The crew did a fantastic job of evoking the dark atmosphere of the Russian capital, especially in the interior shots.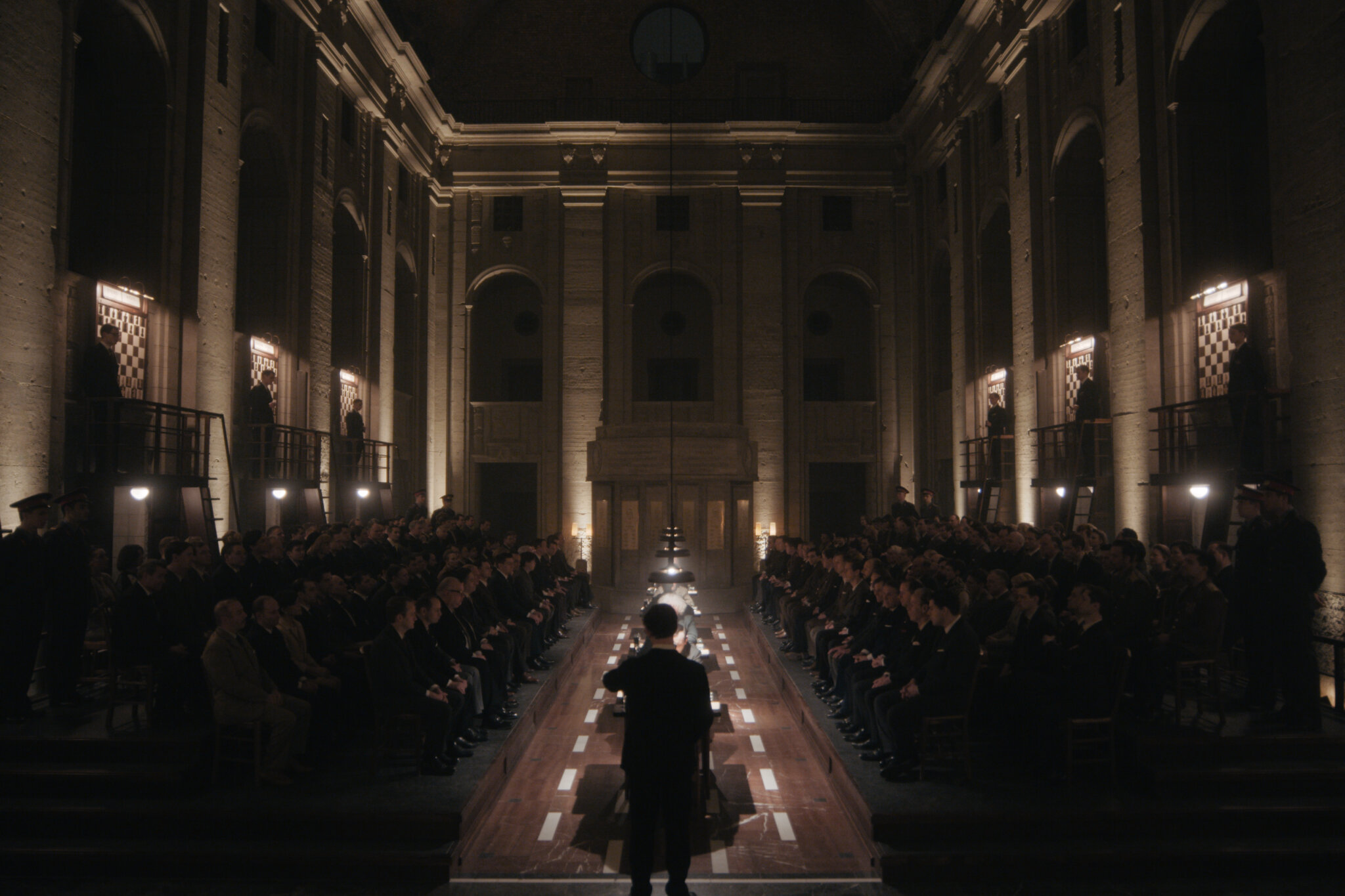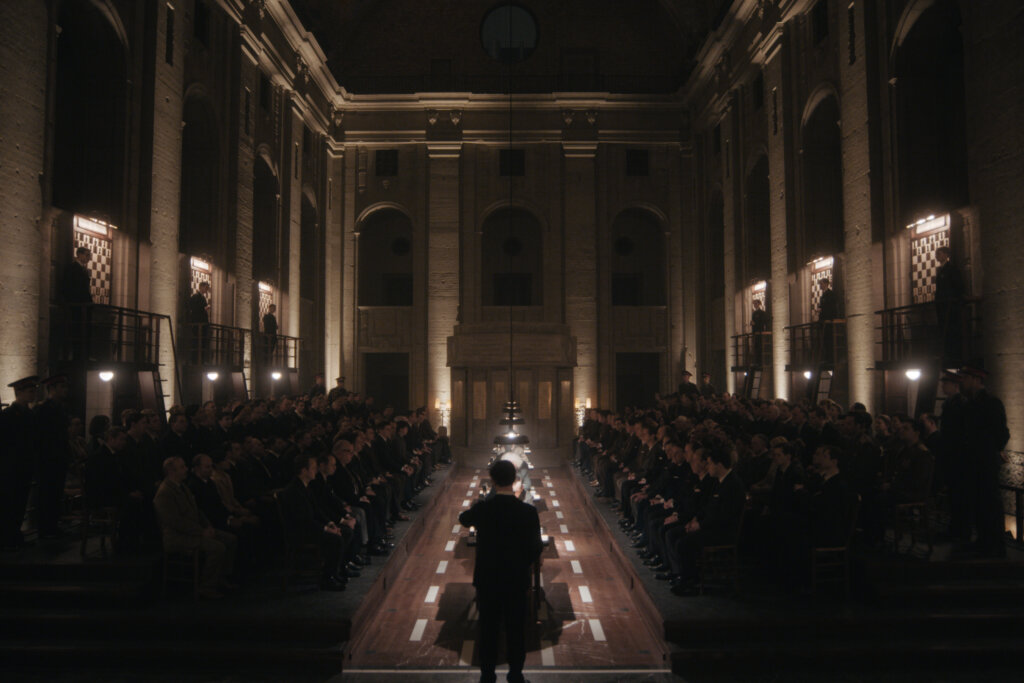 But where is this location in real life?
Well, it's none other than the Bear Chamber (Bärensaal) of the Old City Hall (Altes Stadthaus), which serves as a representative administration building that houses the Senate, and was built between 1902 and 1911.
It also serves as an event and wedding venue.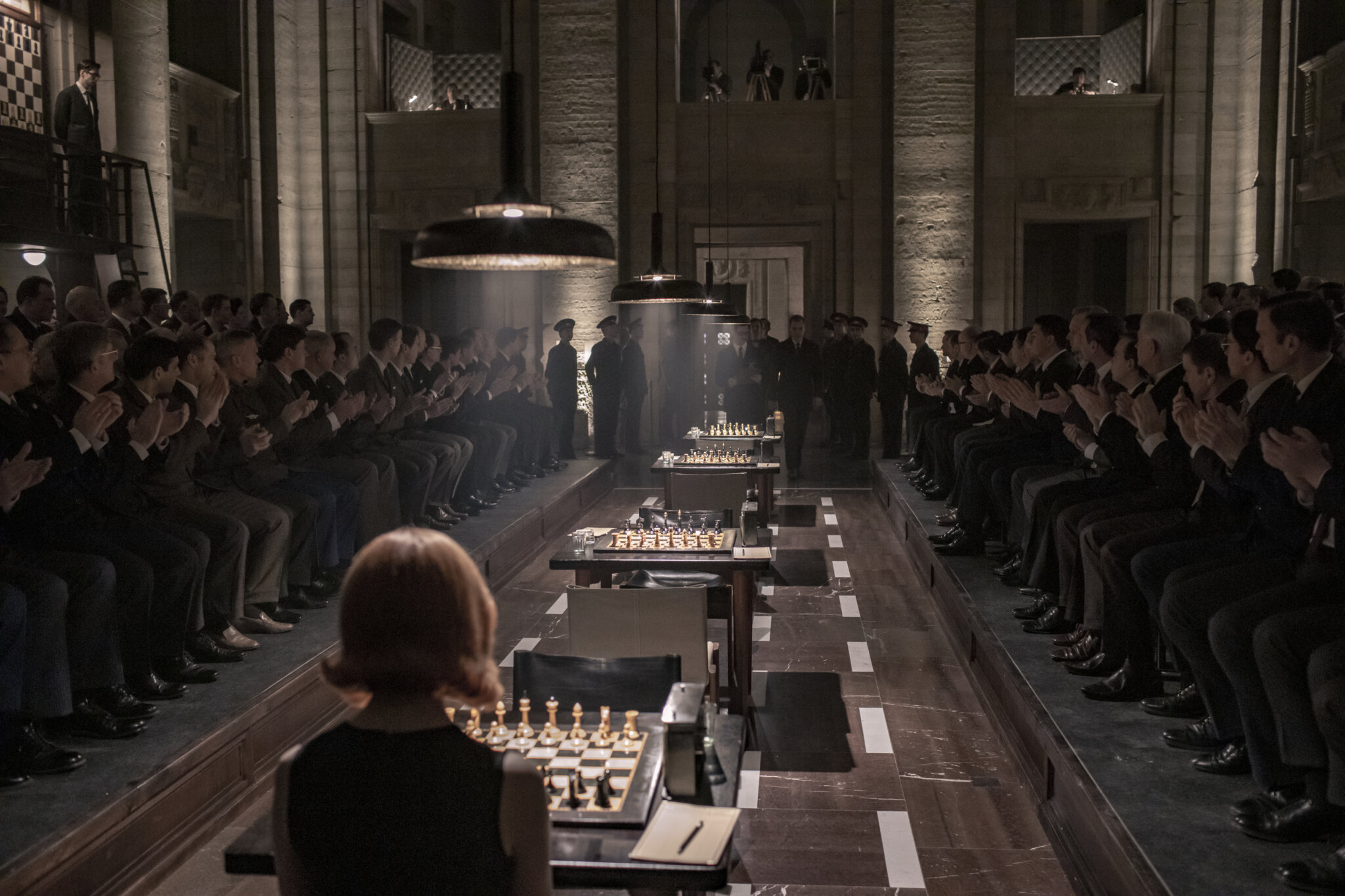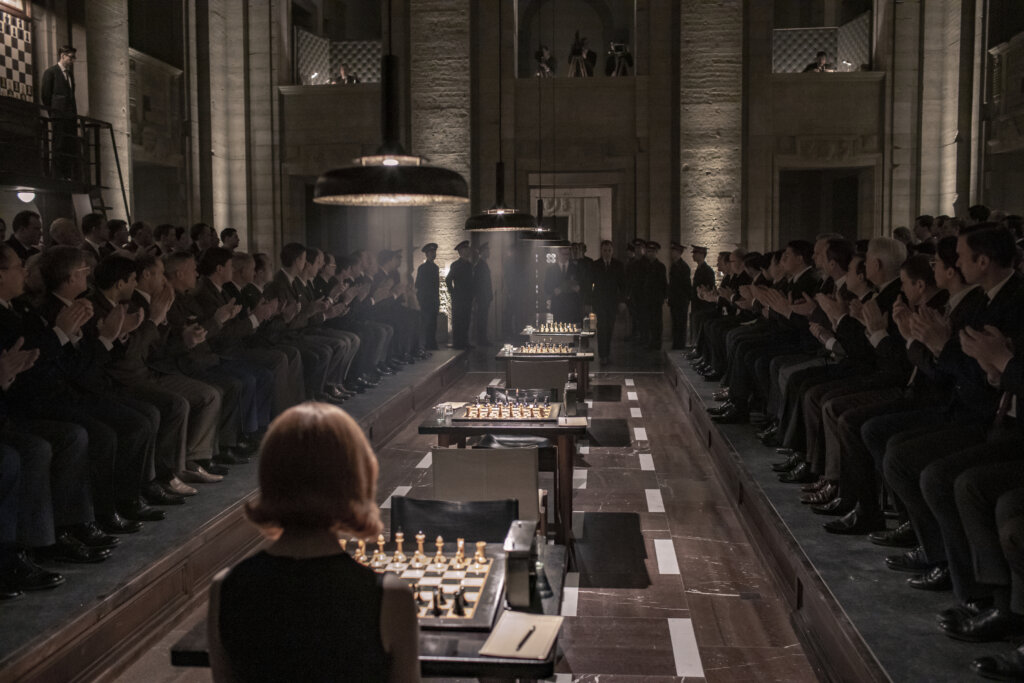 Rose Garden in Karl-Marx-Allee (AKA the Park in Moscow at the End)
Karl-Marx-Allee 103, Friedrichshain
The iconic last scene where Beth, symbolically clad all in white as the victorious queen, walks the streets of Moscow, was filmed in a rose garden on Karl-Marx-Allee.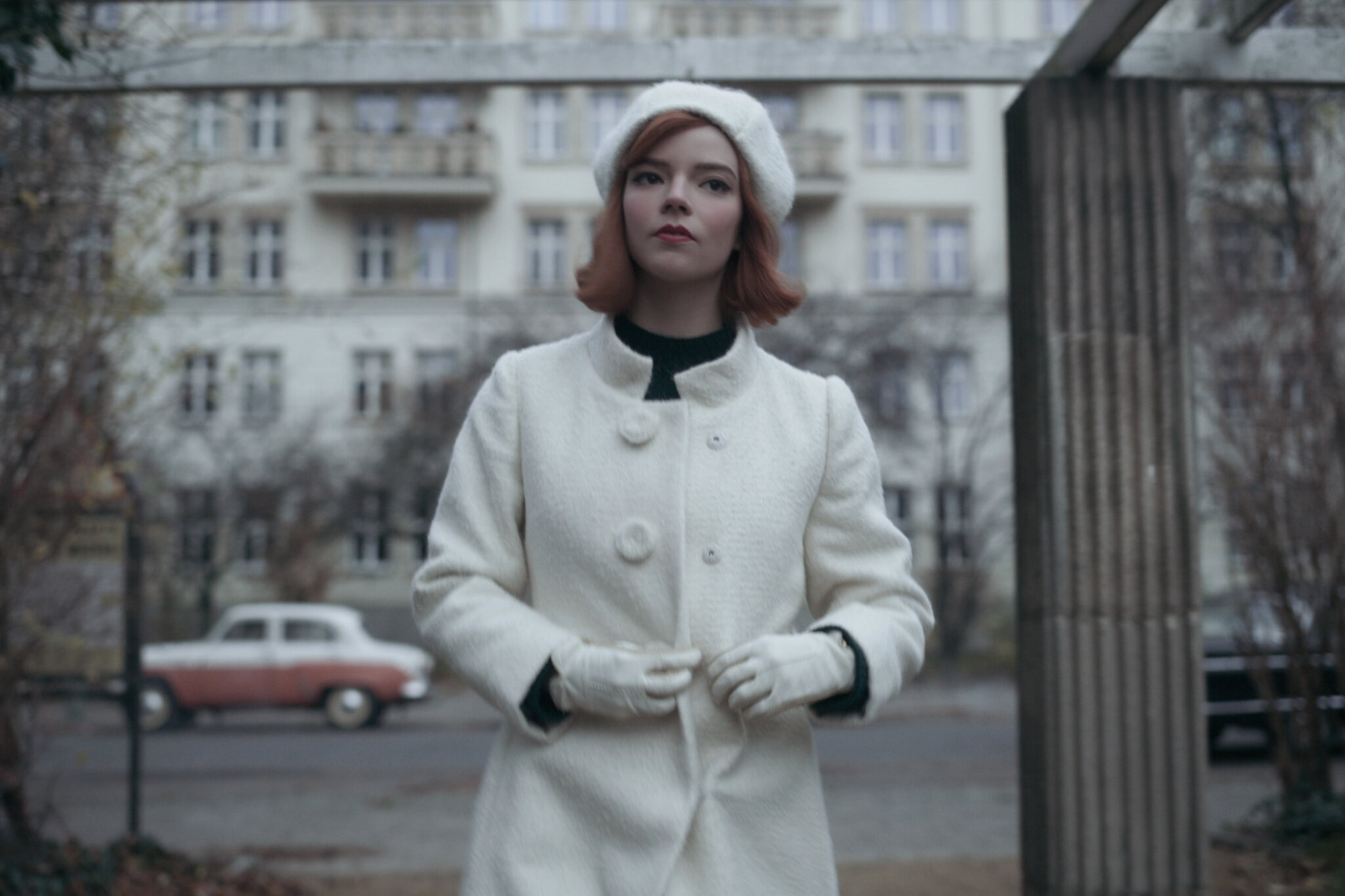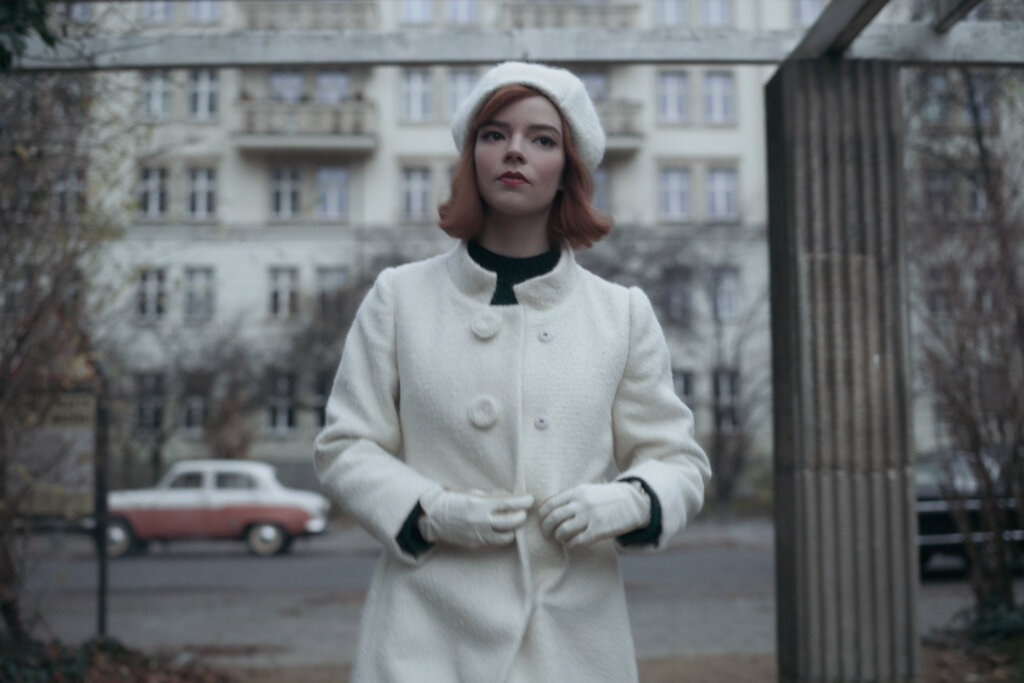 Sidenote: Did you notice that THREE Queen's Gambit scenes were filmed on this street? Best to bookmark this for your future photoshoots! This street has heavy Stalin vibes in east Berlin and serves as the perfect stand-in for Russia.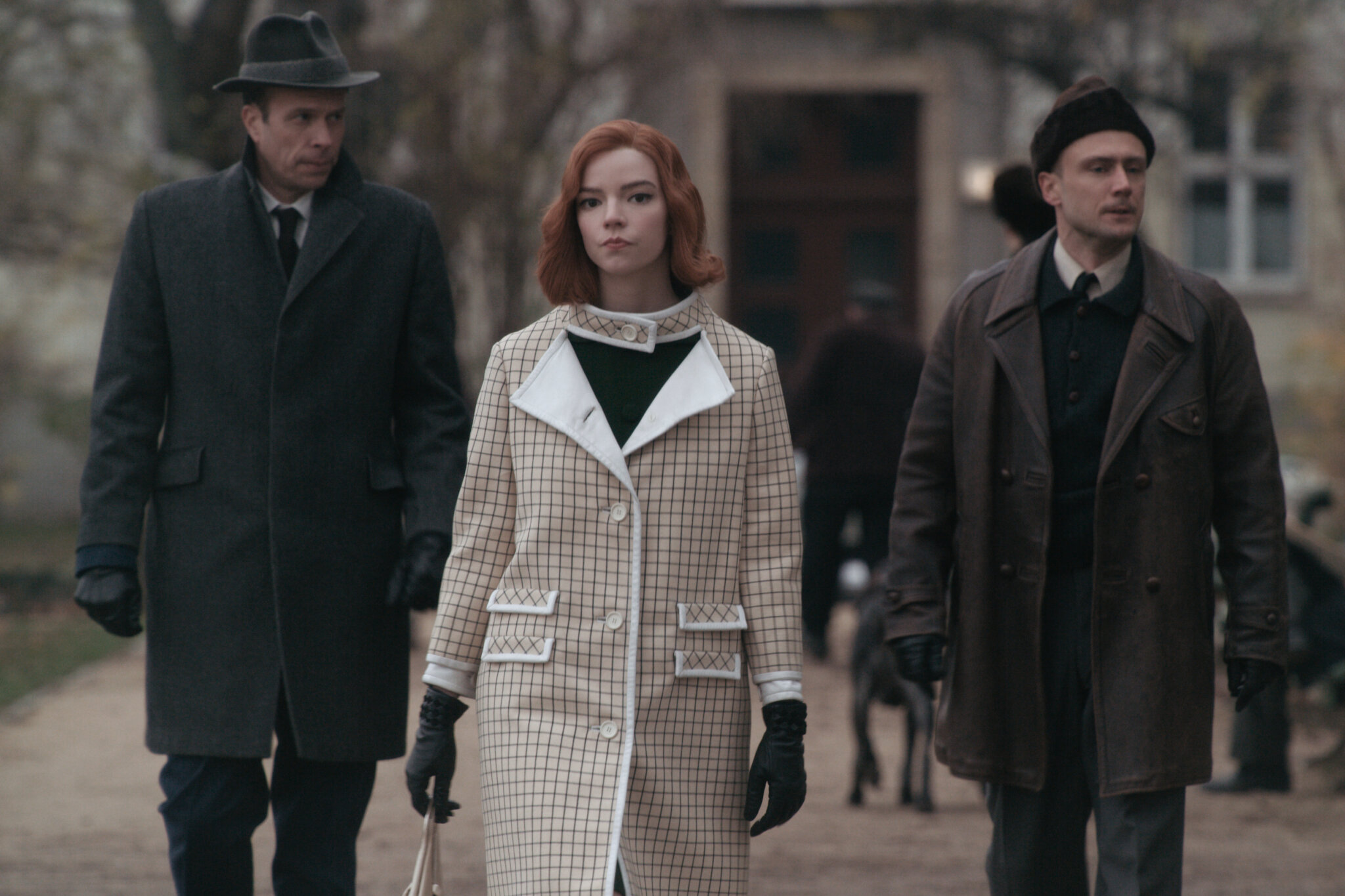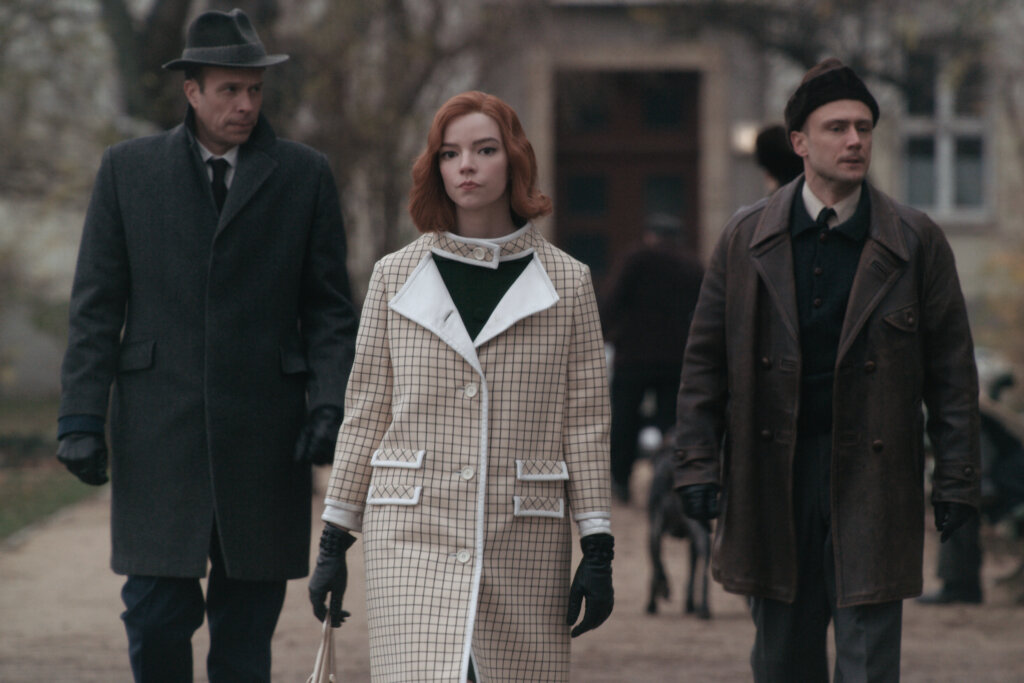 This particular rose garden is housed in a park in Freidrichshain, which was created in the 1950s.
A delightful fact: The chess park, where Beth is congratulated by hoards of Russian men, is actually where people play chess on a daily basis in Berlin!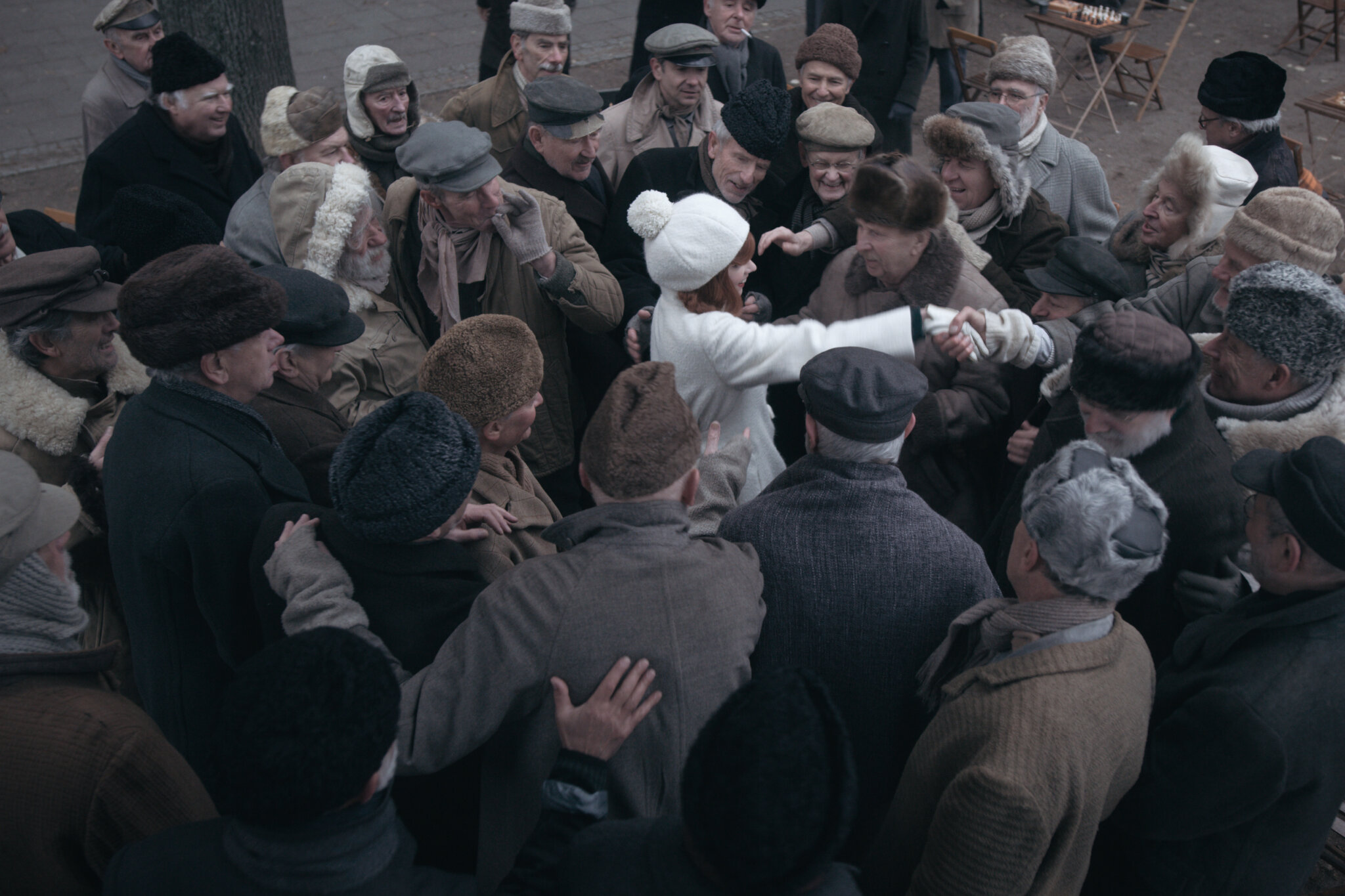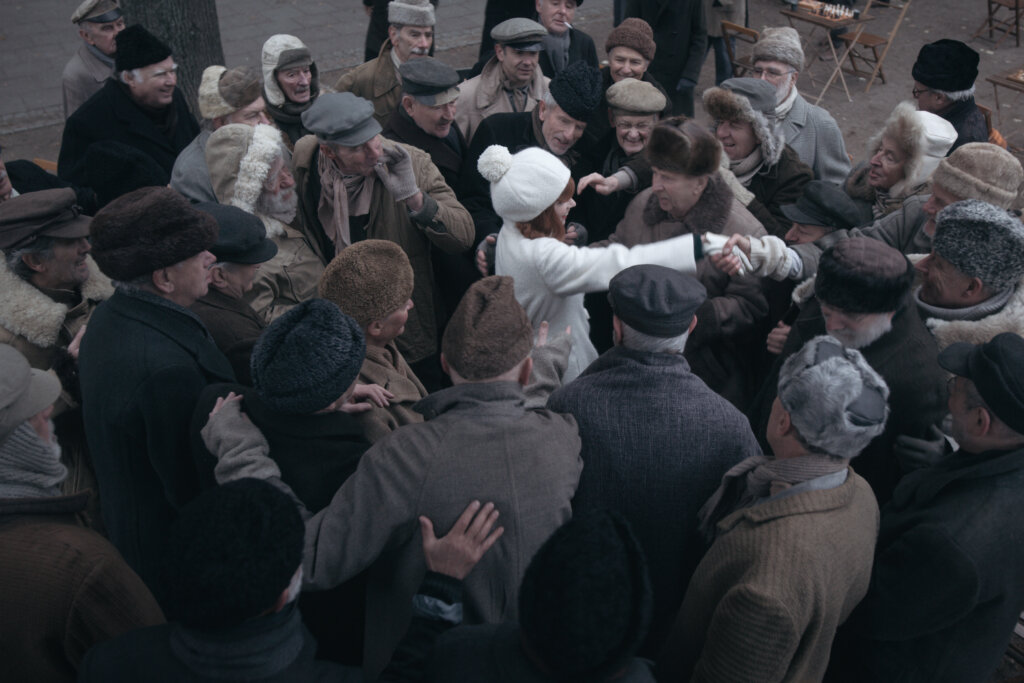 Trivia: While the show isn't based on a true story, it has been said that Beth Harmon bears many similarities to real-life chess prodigy, Bobby Fischer (who, ironically enough, was quite dismissive of women).
We uncovered this Reddit thread which shows a photo of this final scene location IRL. Movie magic at its finest, right? Looks like Moscow to us!
If you're looking for a complete breakdown of the Berlin locations, this website does a great job (although you'll need to translate the article to English, unless you read fluent German).
Ontario, Canada
Other than Germany, the only other country that the show was filmed in was Canada. Most of the interior home scenes were filmed in just a few days in Cambridge, as well as a few other outdoor scenes (of flashbacks to Beth's childhood in Kentucky) throughout neighbouring suburbs.
Since everything was filmed in private residential homes, most of these locations are unfortunately off-limits. The good news? You can still hit up all of these locations within a day and gaze longingly out the window, since they're all quite close together.
Cambridge, Ontario
According to the official city of Cambridge website, interior and exterior scenes of Beth's home (set in Kentucky) were filmed in private residences on Aug. 30 and 31, 2019.
Exact addresses for these Ontario filming locations have been compiled by Dirt, and you can also check out this helpful thread on Reddit here.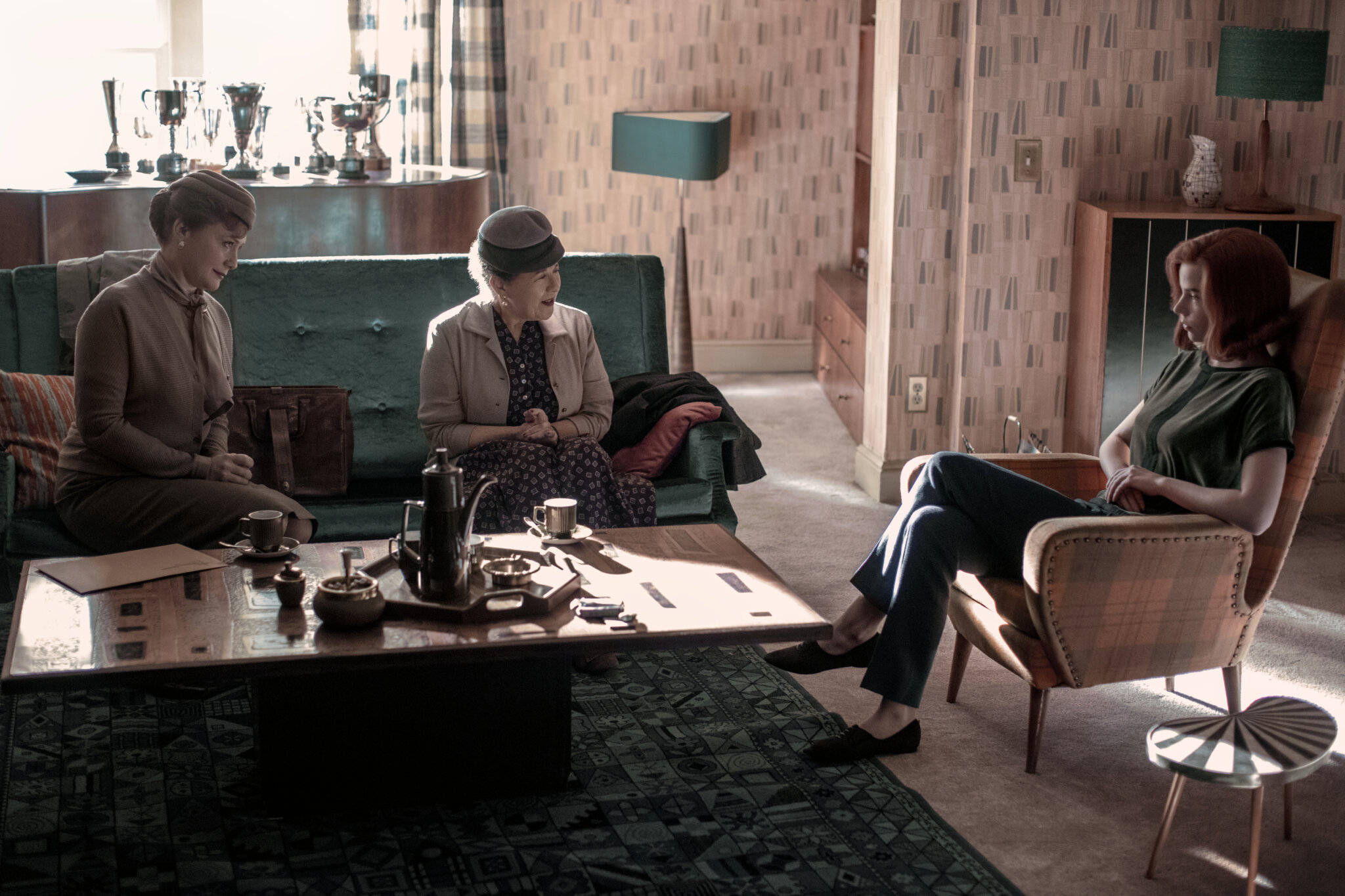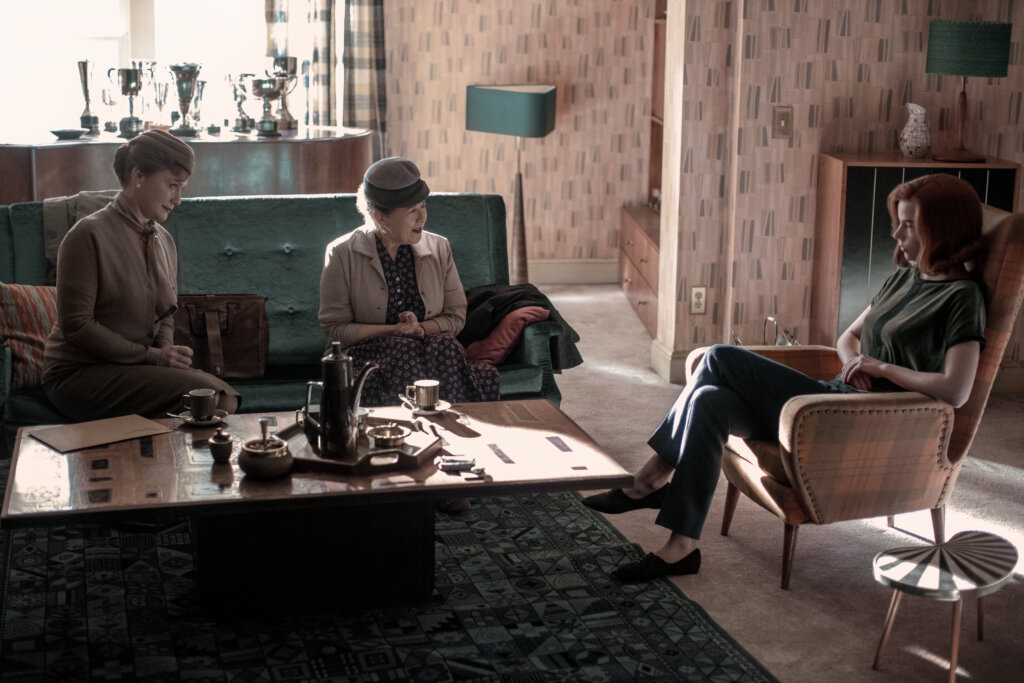 Beth's Home
15 Brant Rd. S.
Yes, Beth's home actually exists IRL!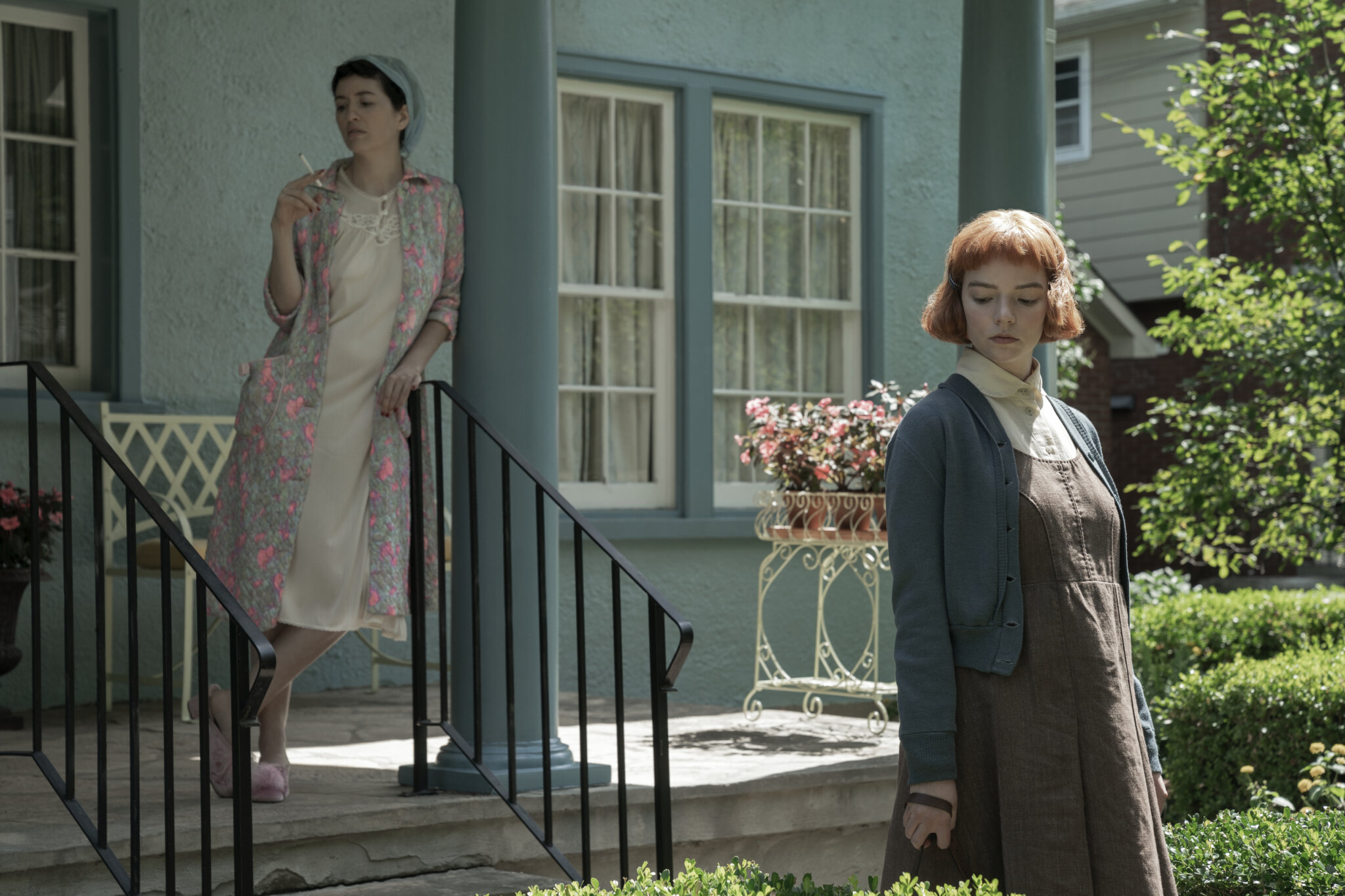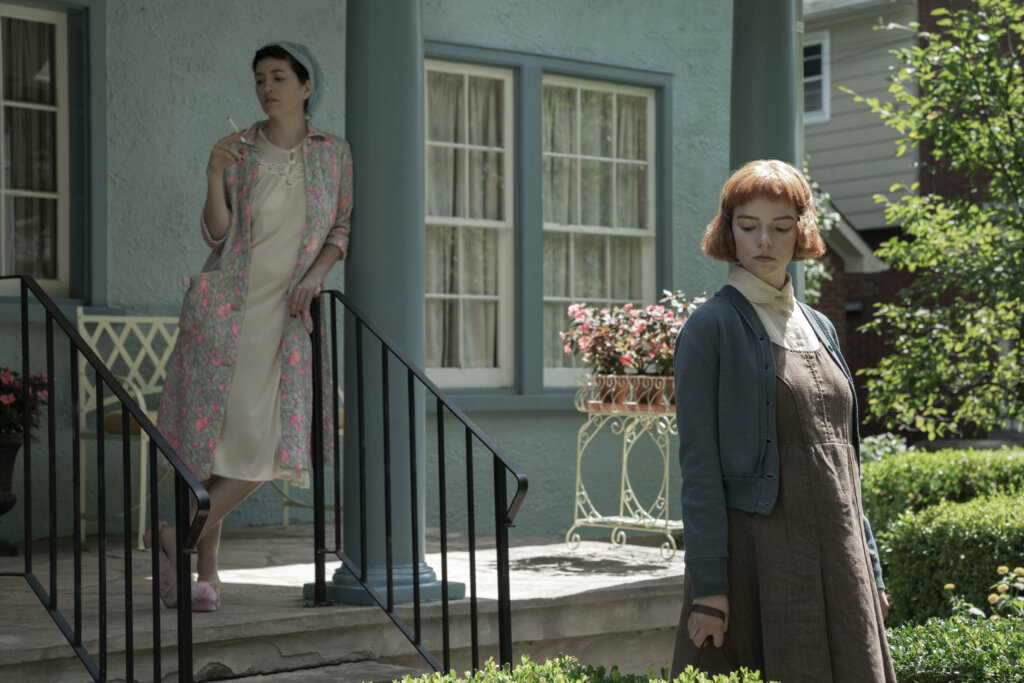 While you can't go inside (unless you want to be jailed for trespassing), the exterior should be enough to cure your fandom excitement.
Also, the interior of the home wasn't used – those scenes were all customised soundstage sets built by a set decorator and designer in Berlin.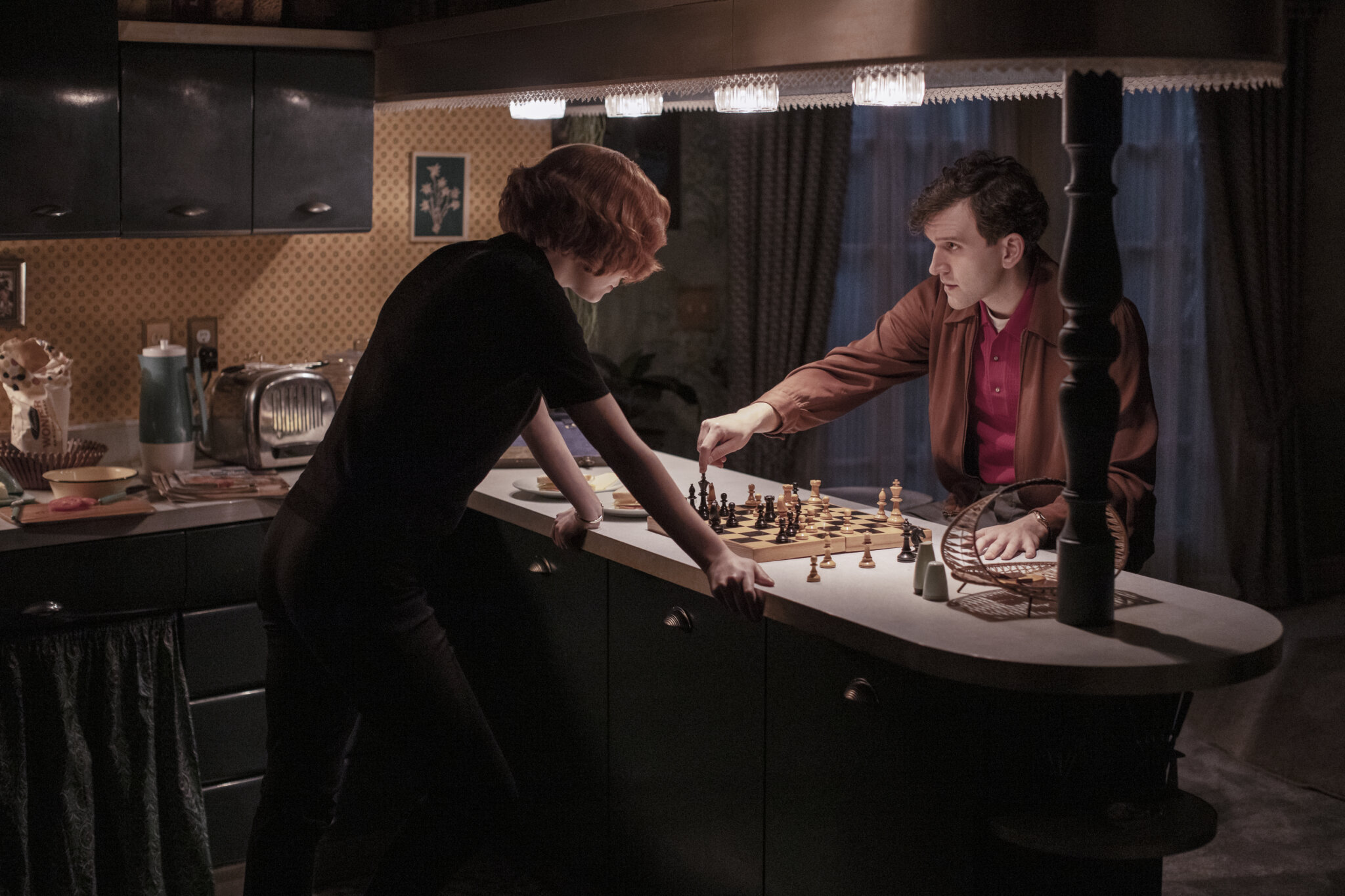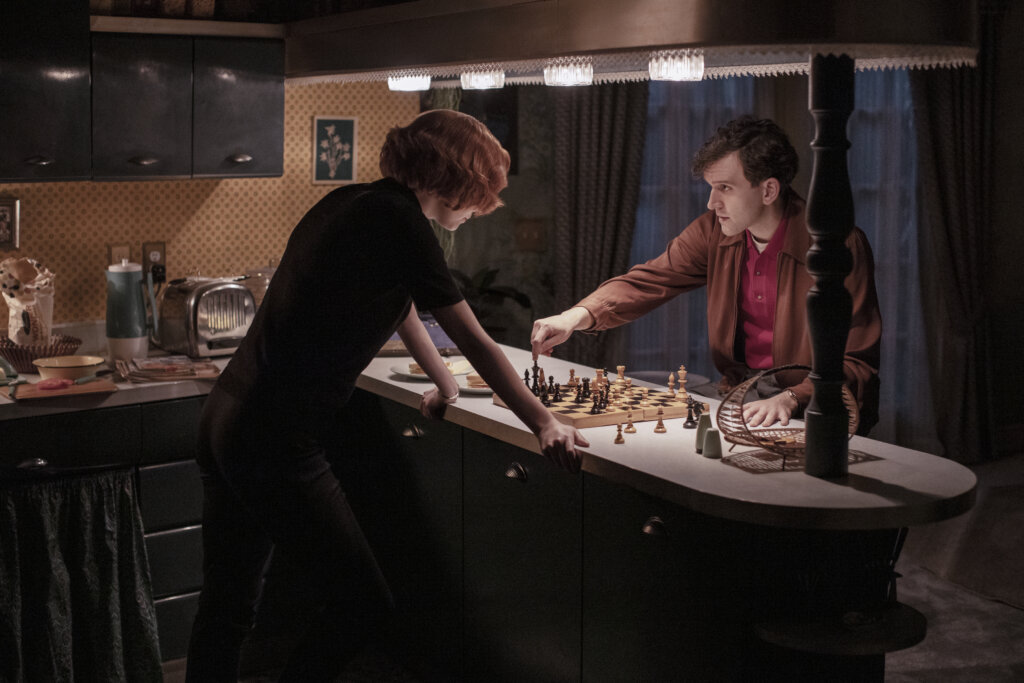 The bright Barbie-esque colours of the wallpapers throughout the house truly look like an homage to Umbridge (from Harry Potter), but like everything else in the show, the color schemes were all used purposely.
Little Rouge Creek Bridge (AKA the Car Crash)
Meadowvale Rd, Scarborough, Ontario M1B 5W4
According to IMDB, the pivotal car crash scene from The Queen's Gambit was filmed on Meadowvale Road, on Little Rouge Creek Bridge (an 83-ft. long bridge) in Scarborough. Check out the street view below:
Apple Pie Pledge Party
93 Salisbury Ave.
In episode 3, Beth attends an "Apple Pie" pledge party at her classmate Margaret's home, which is the exact address above.
NOTE: This is just around the corner from the set for Beth's home.
Bradley's Pharmacy (Hamilton, Canada)
Corner of Walnut and King Streets
Bradley's Pharmacy in Kentucky was actually a set built on the corner of Walnut and King St. in Hamilton (a Toronto suburb, only 45 min. drive from Cambridge).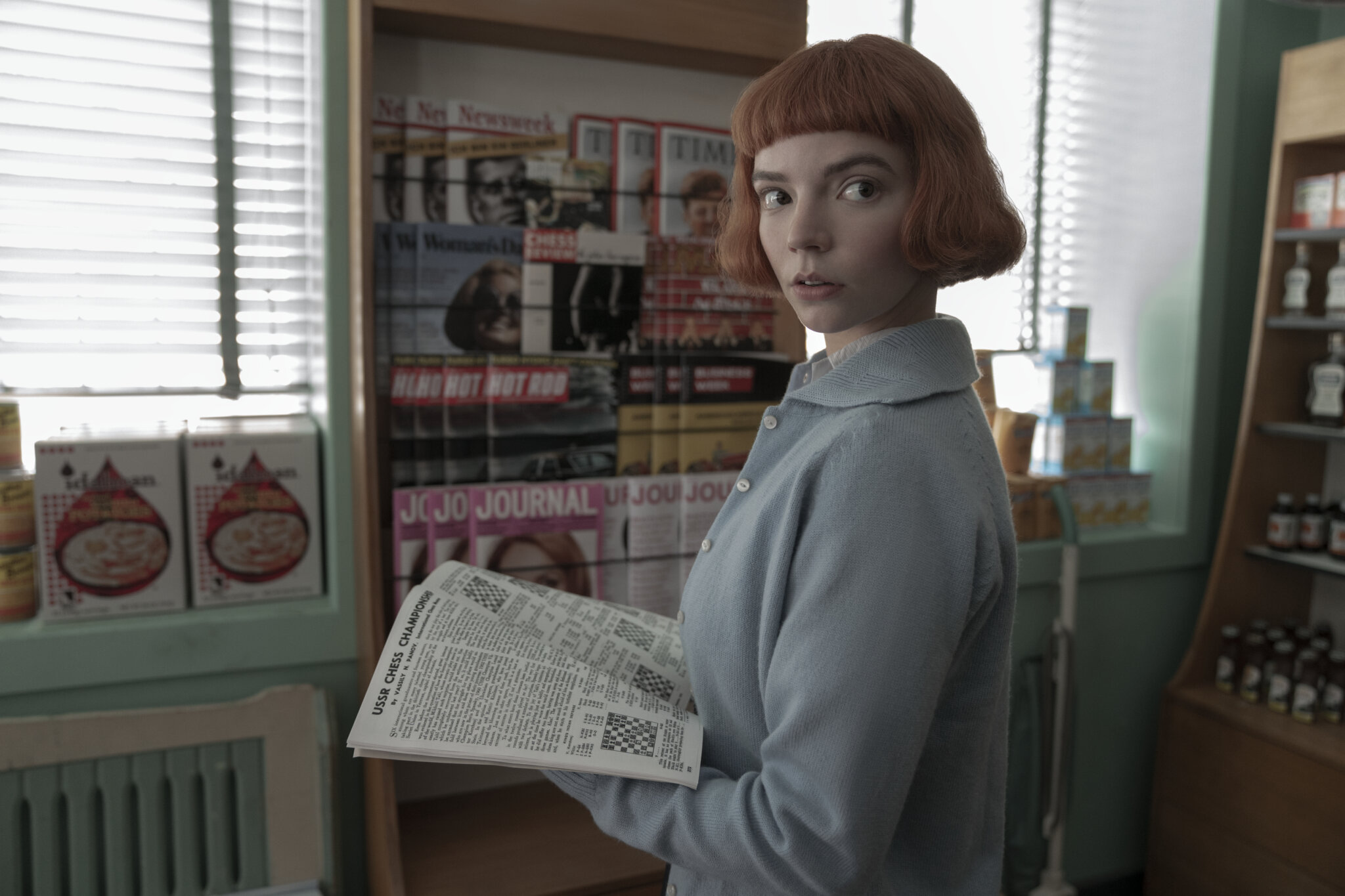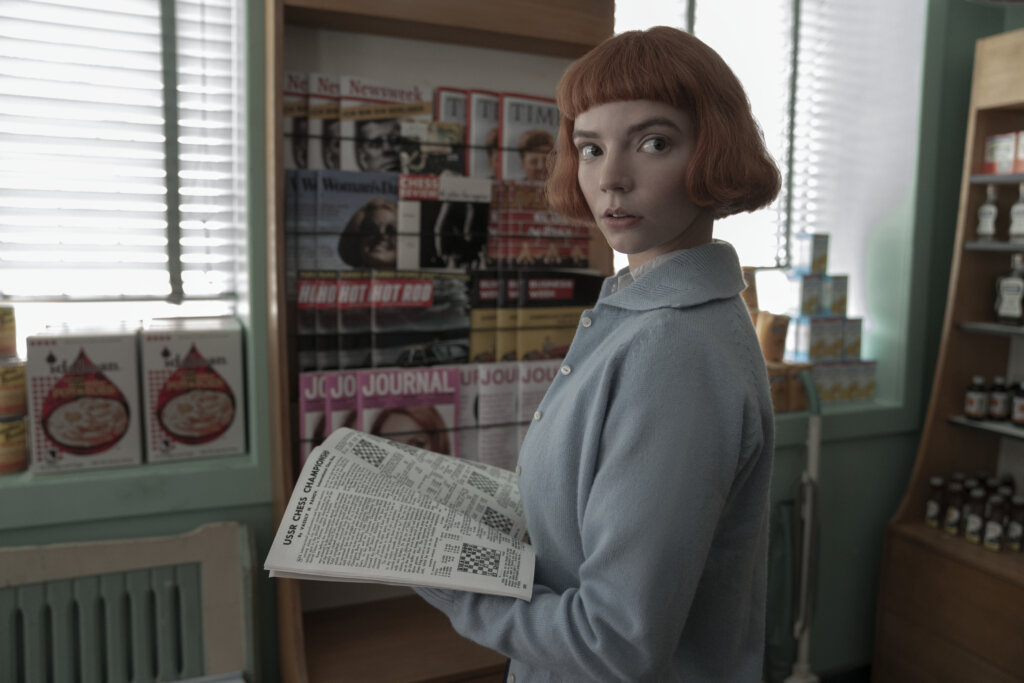 To create the feel of a 1960s pharmacy, the crew used products that had vintage branding (i.e. Morton Salt, Lea & Perrins Worcestershire sauce), but most items were handmade by set designers.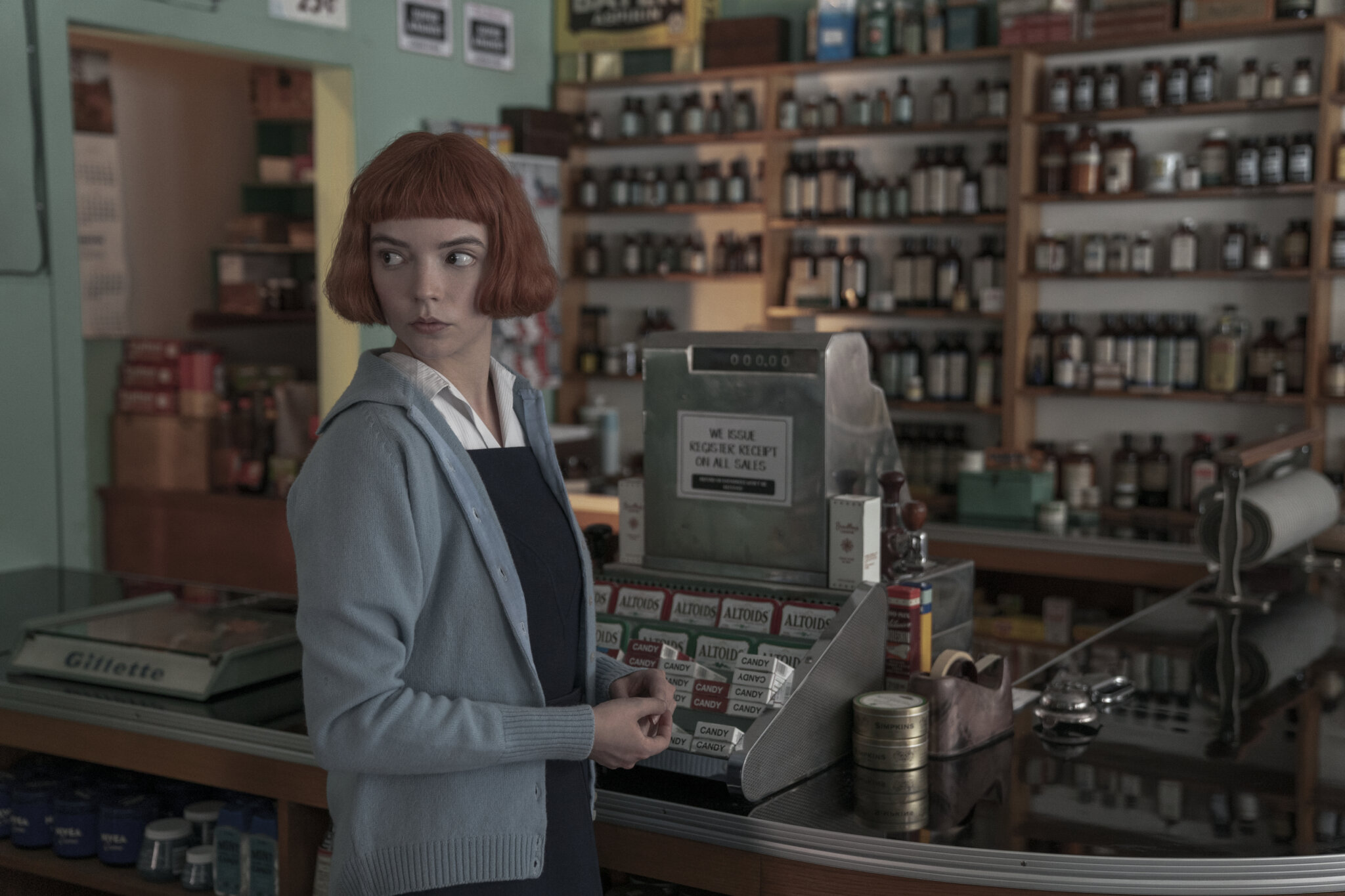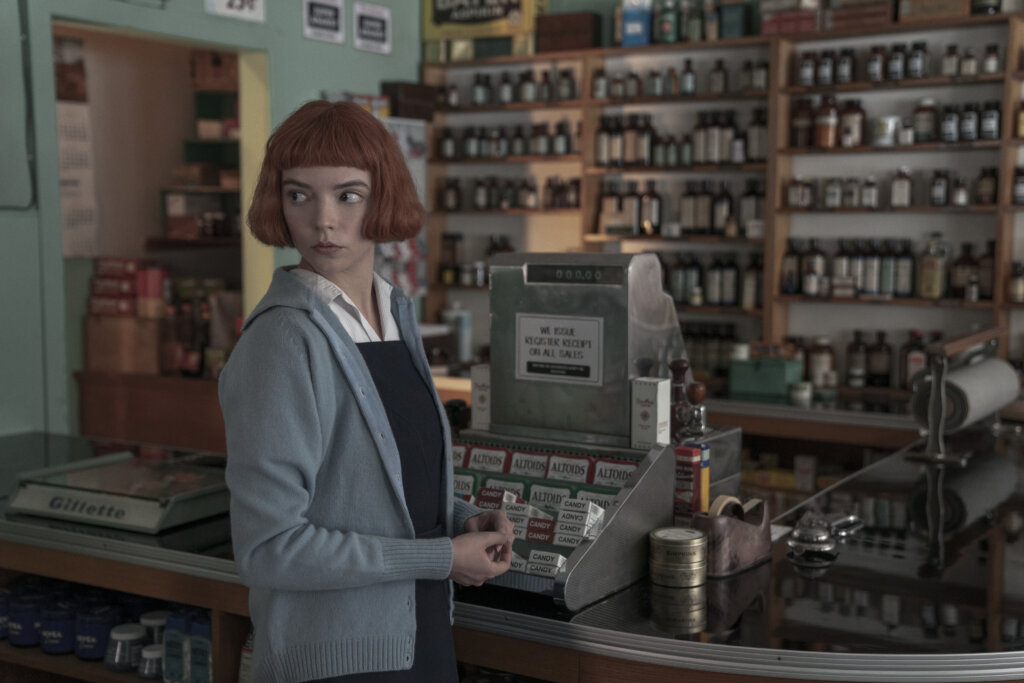 Using the guesswork of Google Maps, we may have pinpointed the general area of this pharmacy – see below to judge for yourself:
Where Alice Confronts Paul
16 Blenheim Rd.
In the seventh and final episode, Beth's mother (Alice) is shown confronting and arguing with Paul (Beth's father). This Victorian-esque residence is the above address, and can be seen here:
If you're looking for a map with specific photos and coordinates, check out this one from City of Cambridge (Canada) that does an impressive job of organizing nearly every show and movie filmed in this region.
Toronto, Canada (AKA Benny's Apartment)
St. Joseph St.
Benny's NY apartment exterior was entirely shot in Toronto, on St. Joseph St (see the map below).
To create a space suitable for Benny's personality, Hanisch designed a basement apartment that fit the vibe of a New York "bare bones" lifestyle.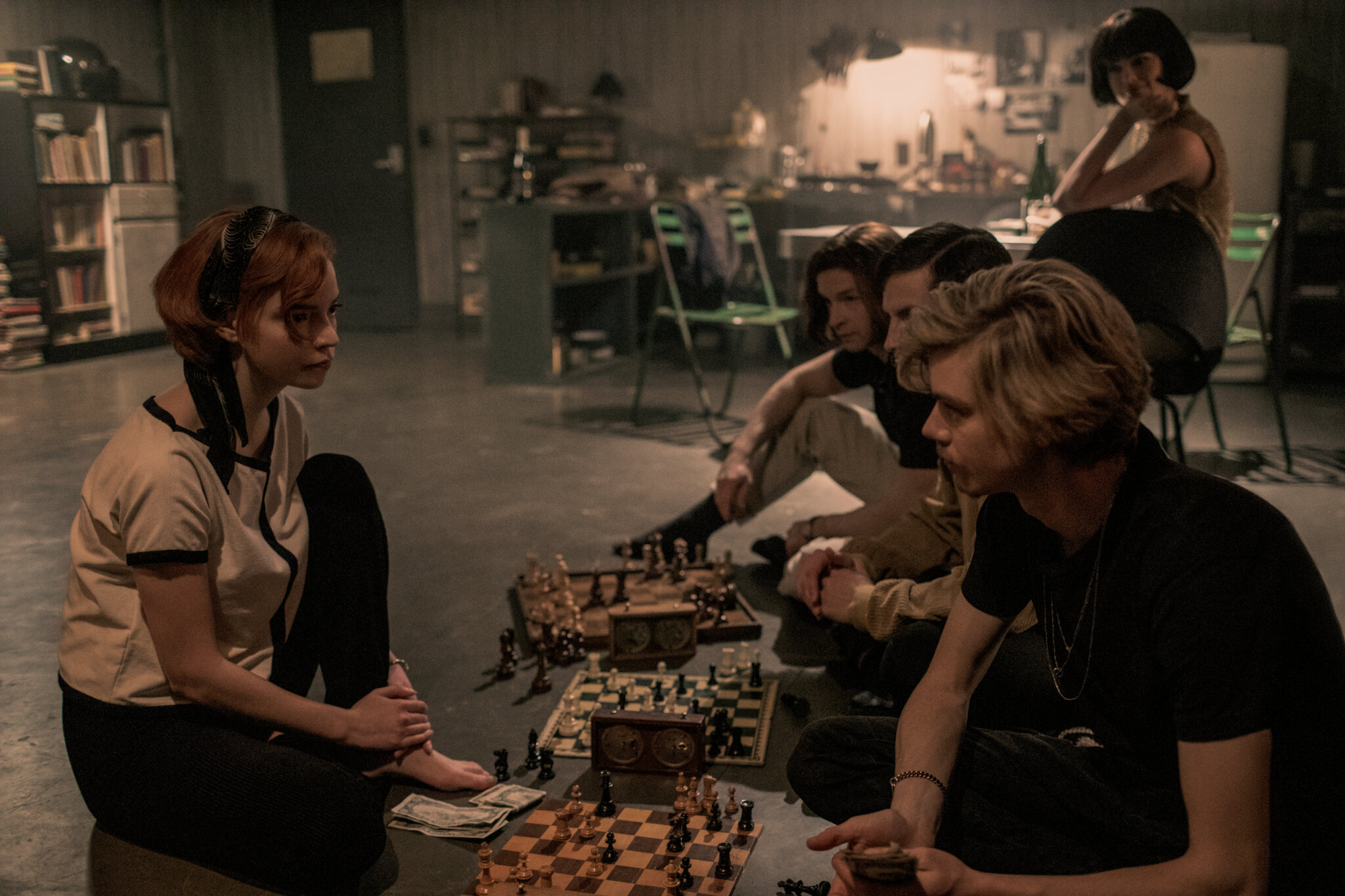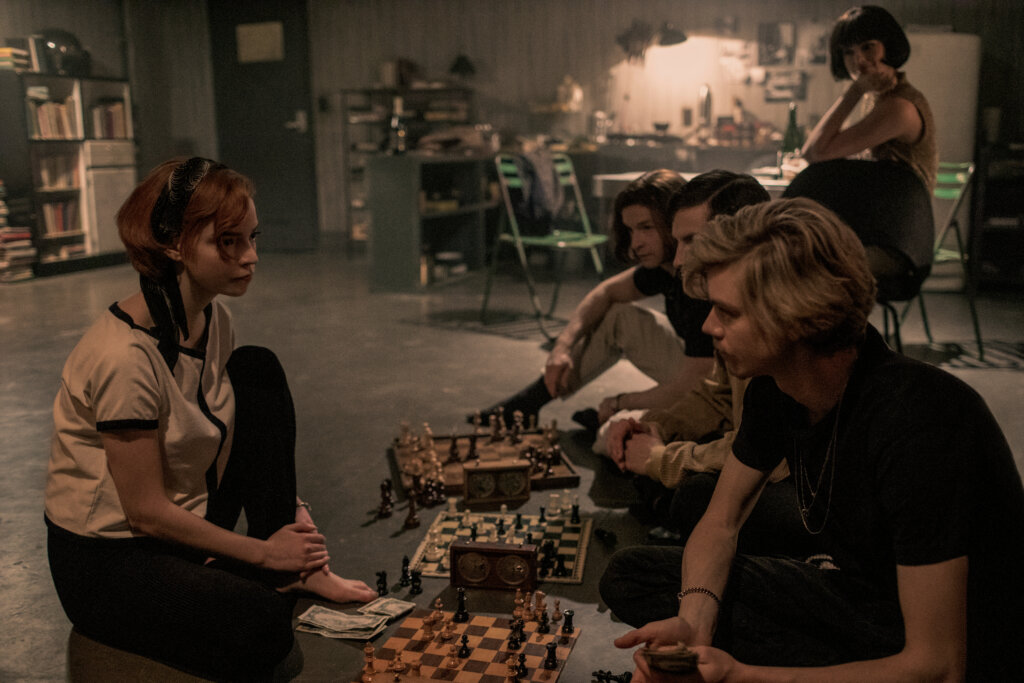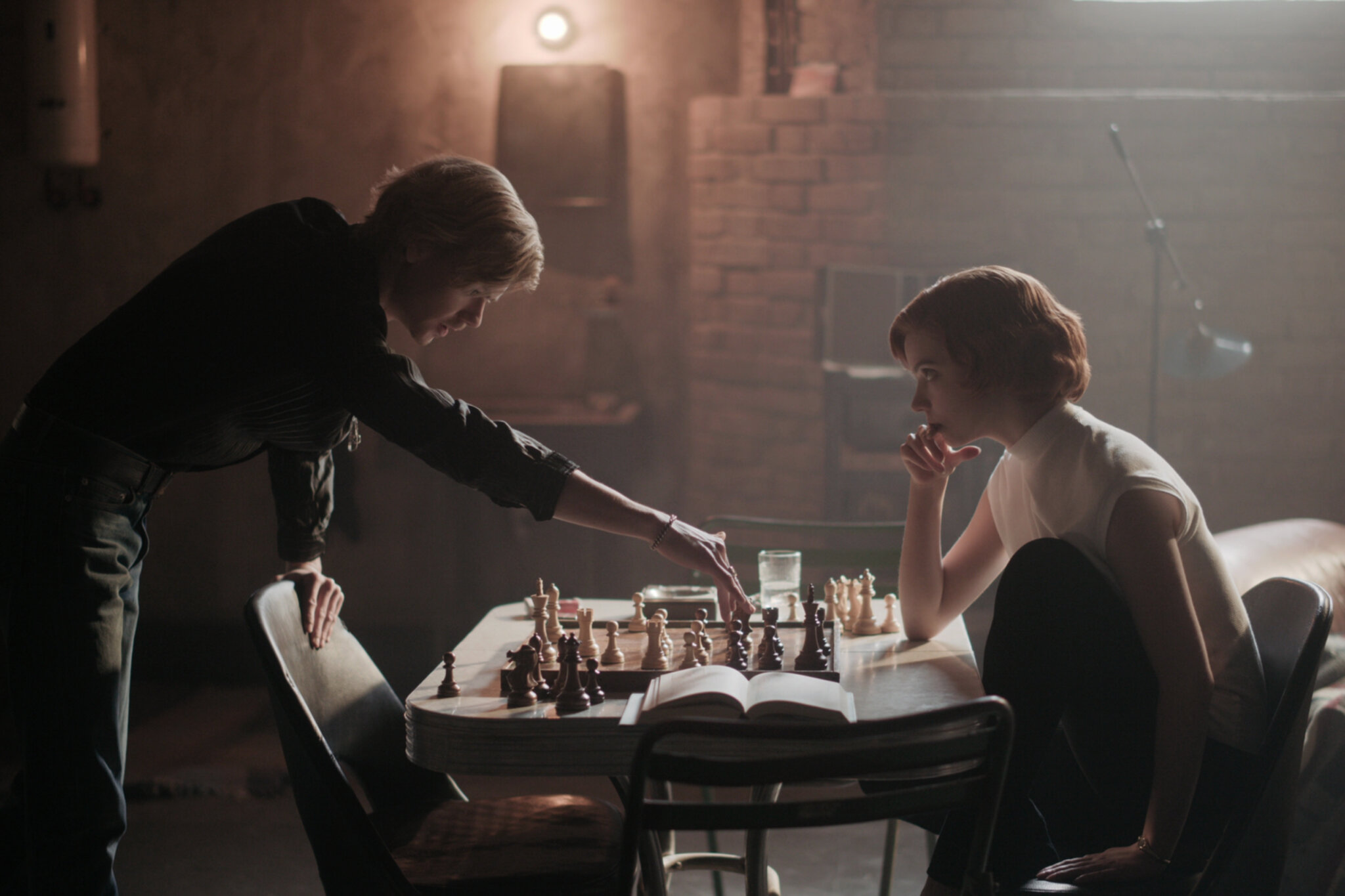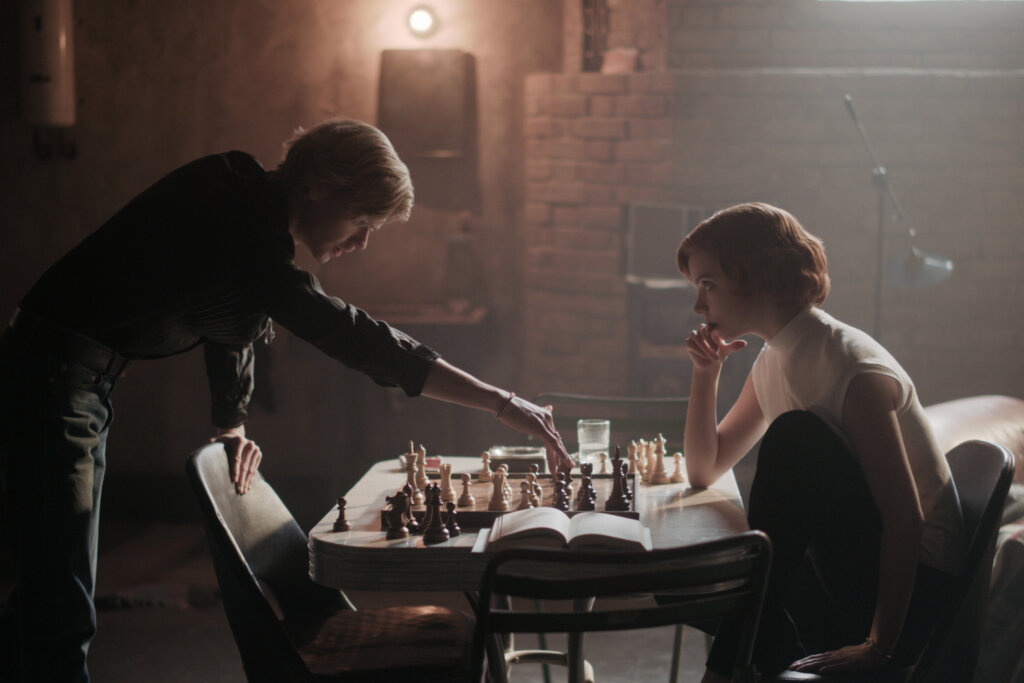 In the last episode, when Benny and his pals rally together and call Beth to strategize how to defeat Borgov, we see another glimpse of his apartment (below). The muted colors of his living quarters purposely stand in stark contrast to the bright, colorful hues of Beth's home.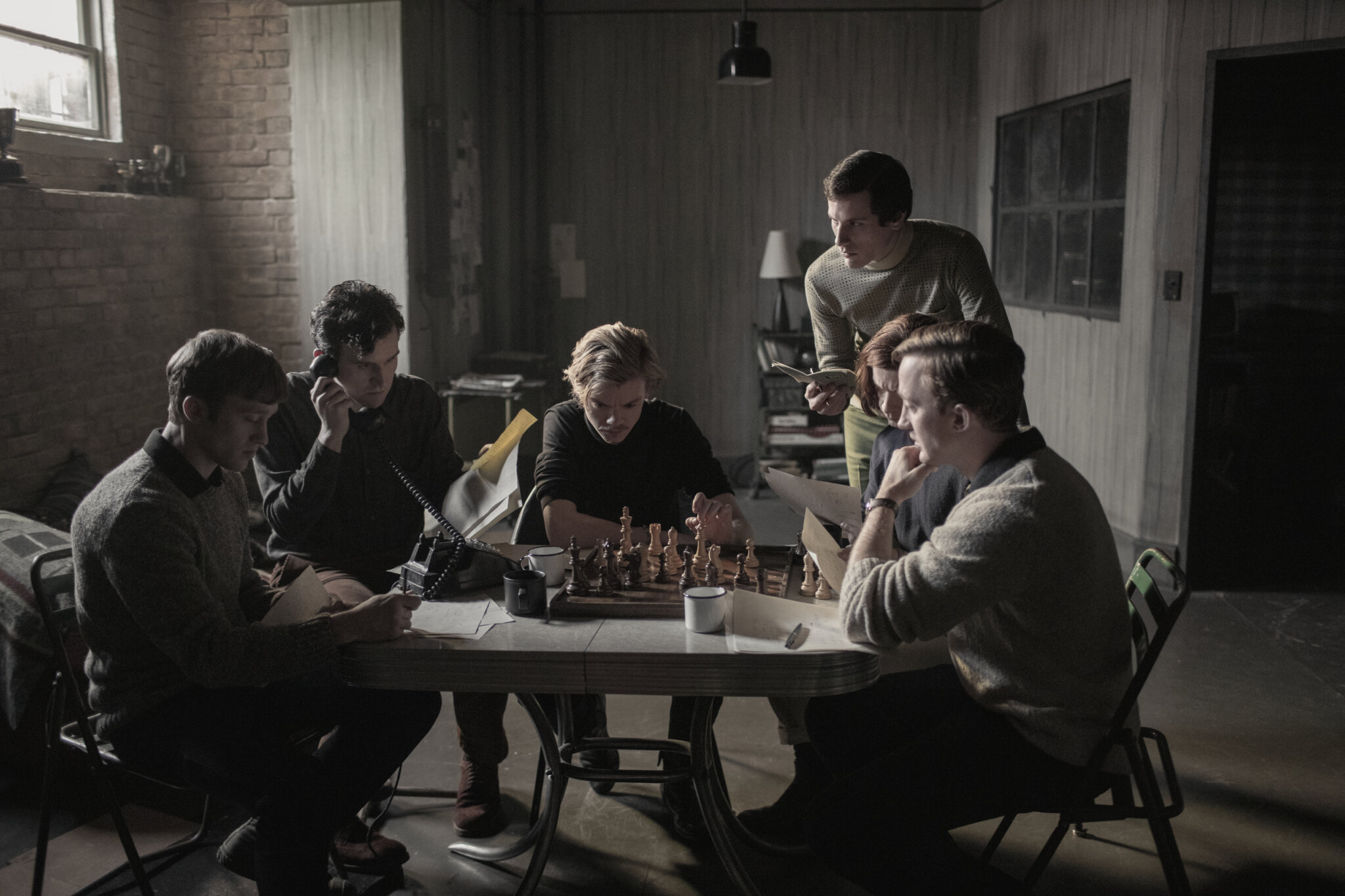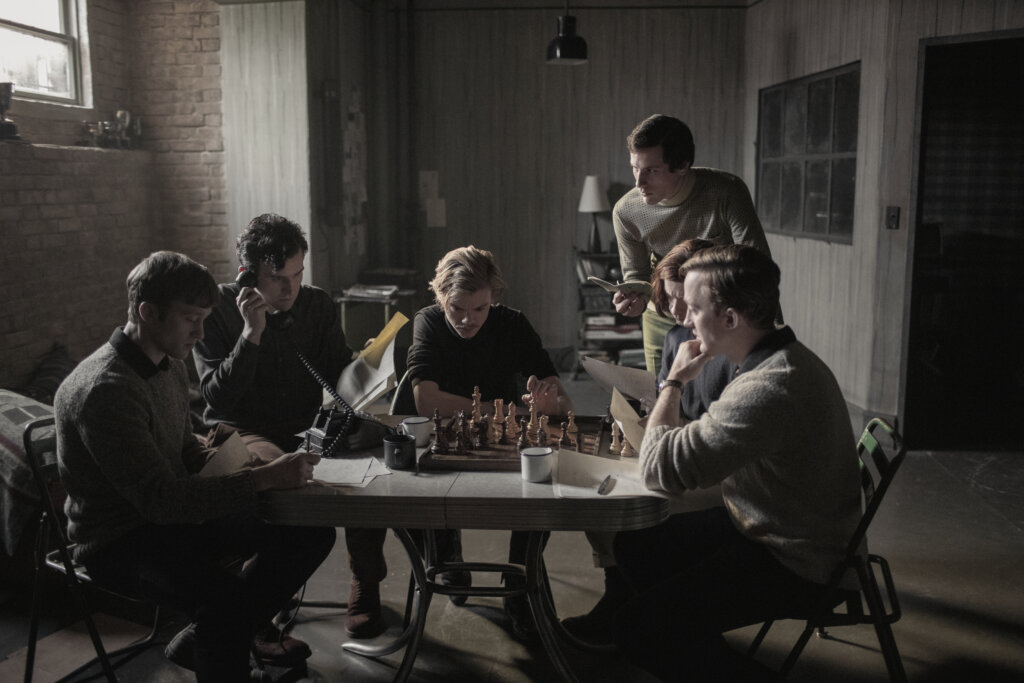 It's all in the details: About the last scene, costume designer Gabriele Binder said, "The idea, of course, is to convey that she is now the queen on the chessboard and the chessboard itself is the world." For more "Easter eggs" and hidden references throughout the show, check out this video here and some more facts about filming here.
We Hope You Enjoyed Our Guide to ALL The Queen's Gambit Filming Locations!
Did we miss any? Drop a comment if you have any feedback, or if you've been to some (or all) of these locations IRL!
Looking for more filming locations of Netflix series? Check out our full guide on real-life Emily in Paris locations – we discuss EVERY detail!