*FYI - this post may affiliate links, which means we earn a commission (at no extra cost to you) if you purchase from them. Also, as an Amazon Associate I earn from qualifying purchases. For the full scoop on what this means, feel free to check out our Privacy Policy and Disclosure.
---
Have you been enjoying our whirlwind tour of Disney castles around the world?
Whimsical, magical, and beautiful, Disney castles are the centerpiece of each Disney Park. And each has its own personality and style. But there is one that follows the adage "mimicry is the sincerest form of flattery."
Cinderella Castle at Tokyo Disneyland stands almost 7,3000 miles away from her sister in Walt Disney World.
For The Walt Disney Company's first international foray, sticking with Cinderella's tried and true signature turrets might have been a good choice.
Almost an exact replica, Tokyo Disneyland's version of Cinderella Castle differs in a few key ways.
Read on to learn more about the first international Disney castle!
PS: If you haven't been following our Disney castle series, be sure to check out the other Disney castles around the world, like…
A Brief History of Cinderella Castle at Tokyo Disneyland
While building Tokyo Disneyland, Masatomo Takahashi, then-president of The Oriental Land Company, said, "Don't compromise. Create the real thing."
Takahashi understood the magnitude of creating the first international Disney Park. And he was not phased when the construction of Tokyo Disneyland swelled past the estimated budget.
My husband and I visited Tokyo Disneyland and Tokyo DisneySea while we were living abroad, and it was apparent that no expense was spared on the parks or Castle.
Tokyo Disneyland opened in 1983, with Cinderella Castle poised as the centerpiece. The Imagineers replicated the wizardry of forced perspective—a means to create the illusion that the castle is larger than its actual size.
To achieve this, the first level of the structure is built to scale, while each level above is built at a fraction of scale.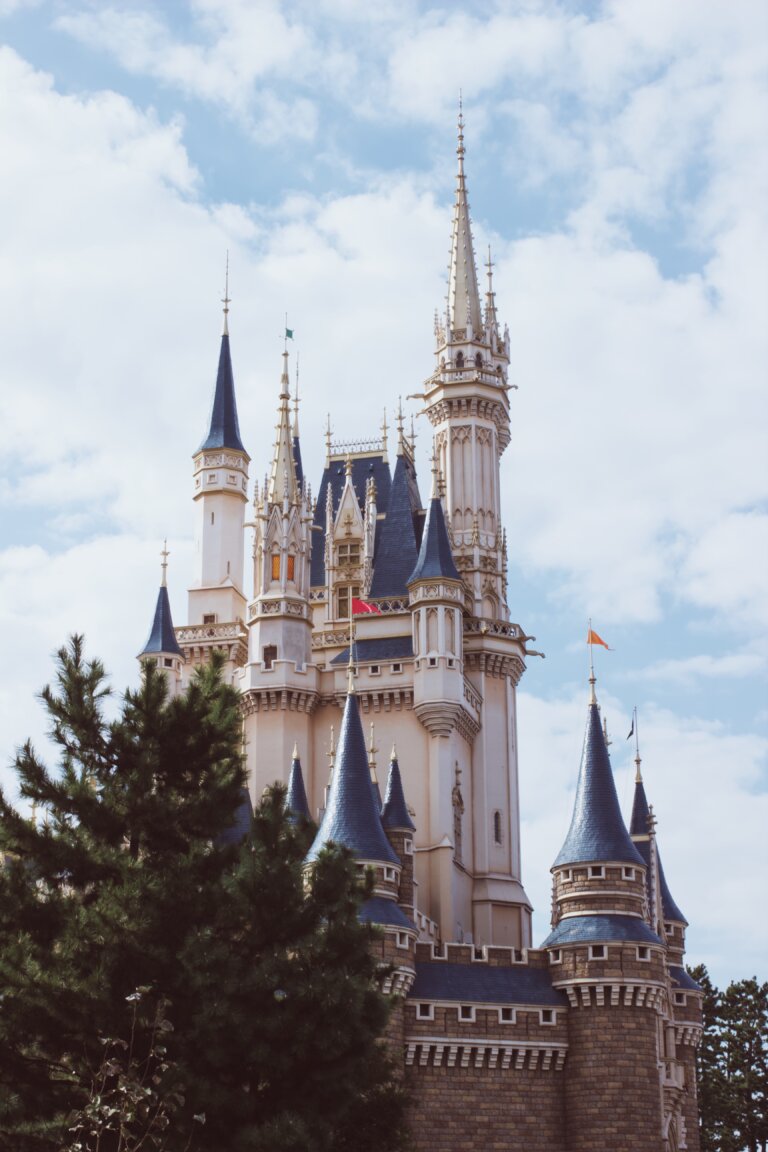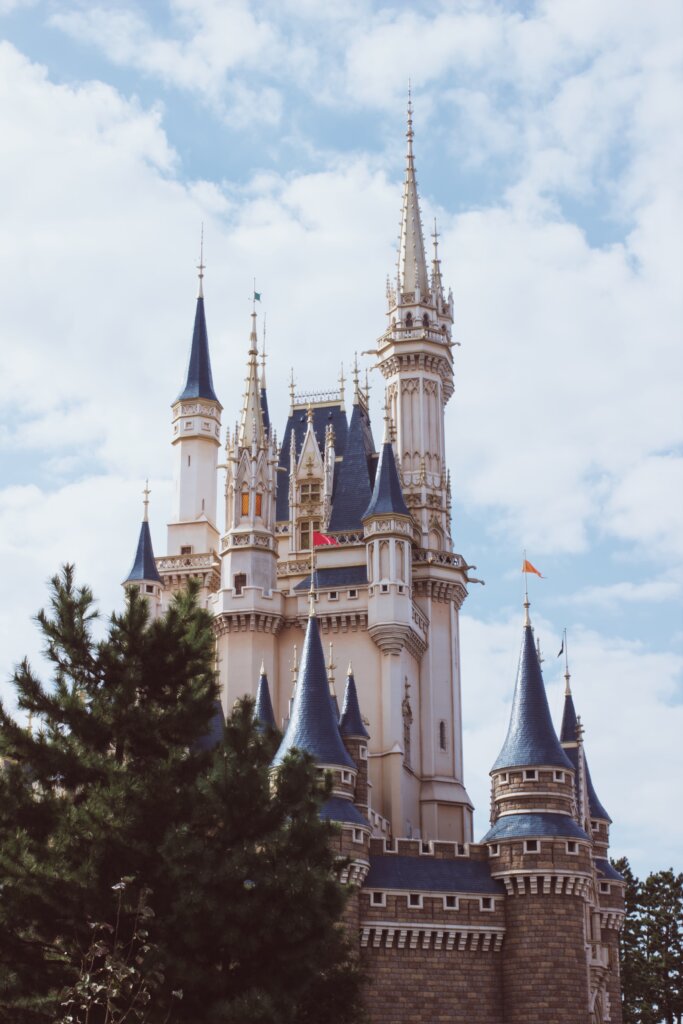 The Architecture & Design of Cinderella Castle at Tokyo Disneyland
Like many Disney castles, Cinderella Castle is based on several real castles. Some of the more well-known locations you can visit IRL. Popular destinations include Versailles and Neuschwanstein Castle.
Though she dons magical touches (like a clock that is always just a stroke before midnight) and fairytale-like colors (like that signature blue), architects place Cinderella Castle in the late Gothic time period, due to its many arches and beautiful stained glass windows.
While the two Cinderella Castles appear rather similar, there are differences between the castles in Florida and Tokyo…21 feet to be exact. While Cinderella Castle in Orlando stands at 189 feet, Tokyo's castle clocks in at 168.
And it isn't a trick of the light—the façade may appear a little different as well. While both castles began their existence painted the same color, each has received makeovers over the years.
In 2006, Tokyo's Cinderella Castle was repainted to feature gold trimmings, a different shade of blue, and a pink tint to her turrets. Orlando's Cinderella Castle, not to be out done, has since received her own facelift in anticipation of Walt Disney World's 50thanniversary.
But do not be fooled by common place appearance…it is not what is outside, but what is inside that counts. Unlike the Cindy at WDW, Tokyo's castle has a featured walk-through attraction which tells the story of Cinderella and welcomes Guests to the castle.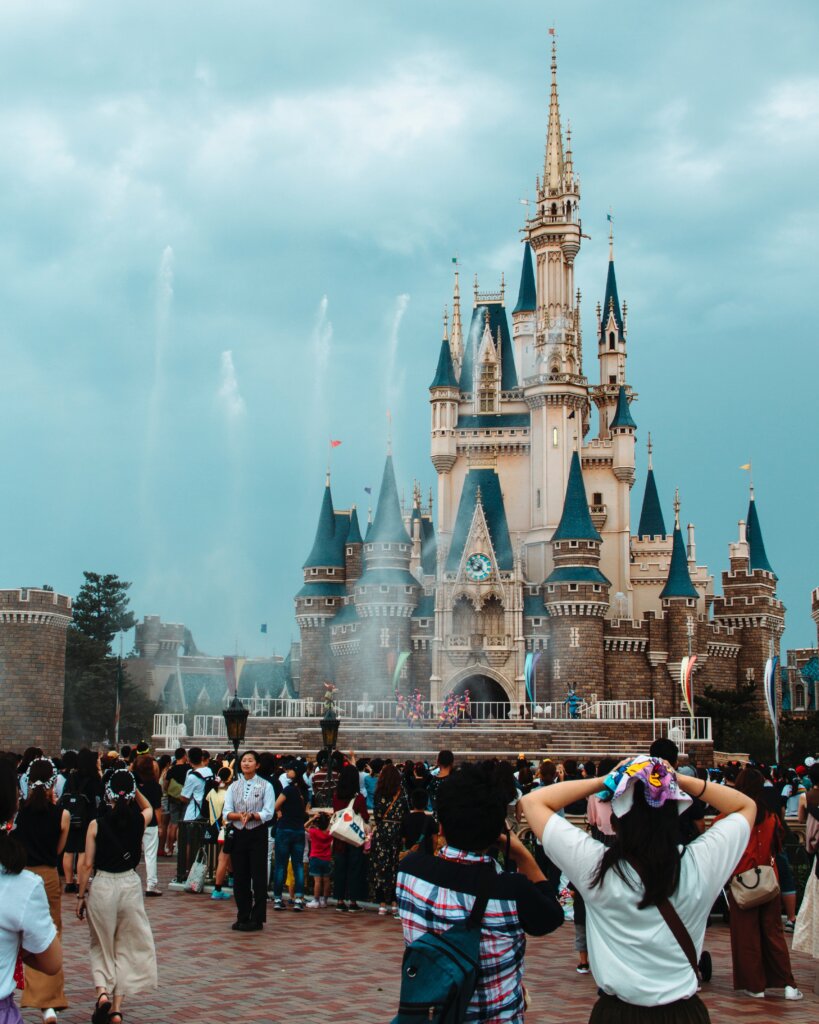 Additional Fun Facts About Cinderella Castle at Tokyo Disneyland
Tokyo Disneyland's Cinderella Castle is the tallest structure in the entire park.
Cinderella isn't the only star of the show—between Tokyo Disneyland and Tokyo DisneySea, you can visit Belle and Ariel's castles as well!
If you go inside Cinderella Castle and visit the Grand Hall, take a close look for special paintings along the wall. A photo with a flash might reveal a magical message!
Don't let the photos confuse you! Some photos show Cinderella Castle covered in snow—which leads many to gape in awe that Orlando ever gets cold enough for frozen fractals. But this is a tell-tale sign you are viewing Tokyo's castle, which is in a slightly cooler climate than tropical Florida.
For Tokyo Disneyland's 35th anniversary, Cinderella Castle got her very own nighttime show, complete with water fountains, to mark the occasion.
We hope you enjoyed this guide to Cinderella Castle at Tokyo Disneyland
Thank you for joining us on this special tour of Cinderella Castle in Tokyo Disneyland! Be sure to check out the articles on all the Disney castles around the world.