*FYI - this post may affiliate links, which means we earn a commission (at no extra cost to you) if you purchase from them. Also, as an Amazon Associate I earn from qualifying purchases. For the full scoop on what this means, feel free to check out our Privacy Policy and Disclosure.
---
The sun never sets on a Disney castle. From whimsical to impressive, the spires and turrets of Disney's fantastical castles greet Guests around the world 24 hours a day.
When I started working for The Walt Disney Company (TWDC) almost a decade ago, I made an off-handed comment that it would be really cool to have a photo in front of every Disney castle.
Fast forward to this year, and I accomplished a bucket list item that I had never even written on my bucket list. I joined the "Castle Club," by visiting every. Single. One.
That's 10 castles (ooh, bet you're wondering which ones you're missing!) across three continents built over the course of 65 years. And I can personally tell you, they are each magical in their own way.
Read on for some interesting facts and some insider stories about some of the world's most beautiful icons.
Save this post for later on Pinterest: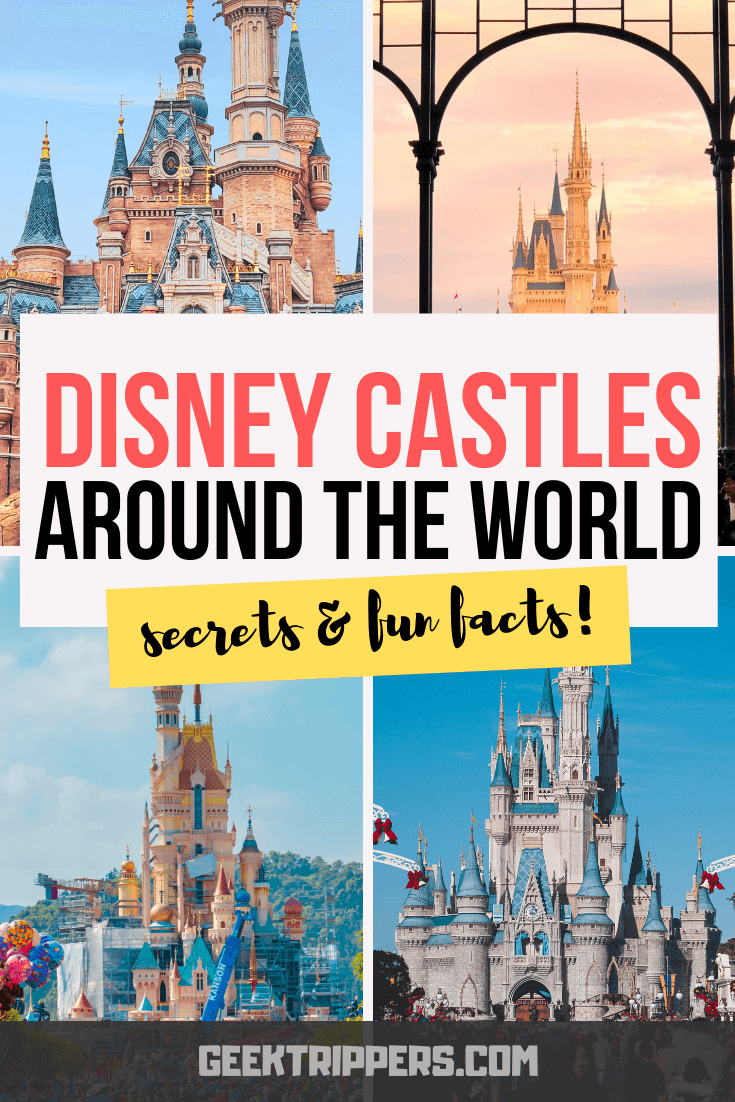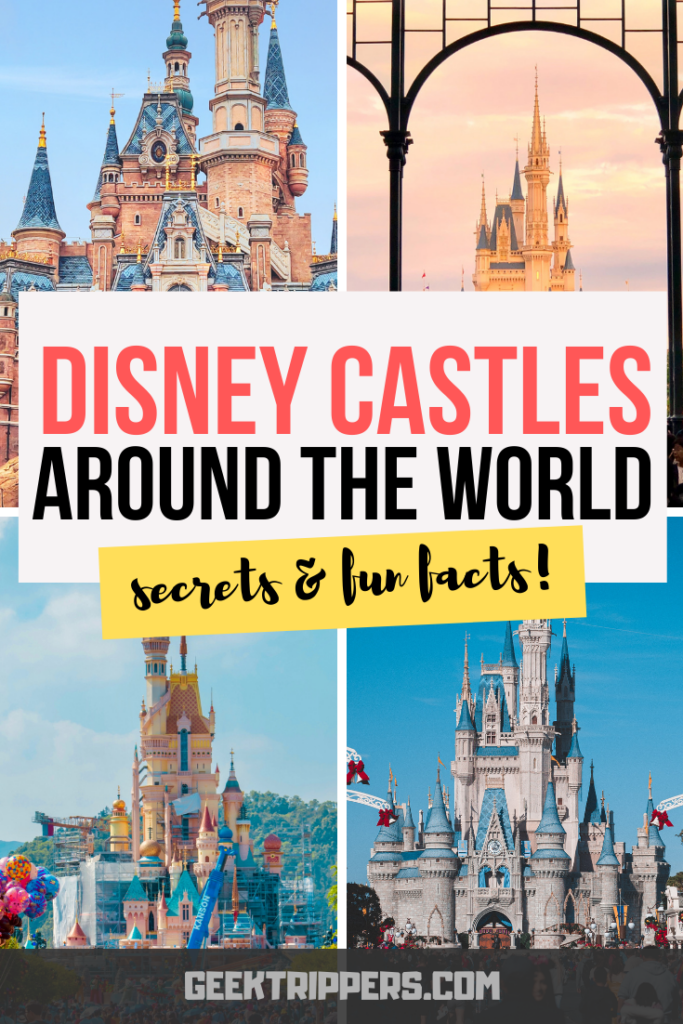 Cinderella Castle, Walt Disney World
Built in 1971, 189 ft.
Named one of the top 100 buildings in Florida by The Florida Association of the American Institute of Architects (well, that's a mouthful!), Cinderella Castle has earned the title "iconic."
Walt Disney World has also been my home park for years, so I am also a bit partial.
Cinderella Castle draws its inspiration from historical castles that you can visit IRL.
The most well-known is Neuschwanstein Castle in Germany. But Imagineers also drew inspiration from Alcazar de Segovia, a castle in Spain.
At 189 feet, Cinderella Castle looks imposing, thanks to the magic of forced perspective. The top levels are built at a third of the scale as the foundation, to create the appearance of grandeur.
As if she wasn't already beautiful, this year, Cinderella Castle got a makeover. The façade was painted in brighter jewel tones in honor of the animated film's 70th anniversary. It has been received with mixed reviews, but I personally love it!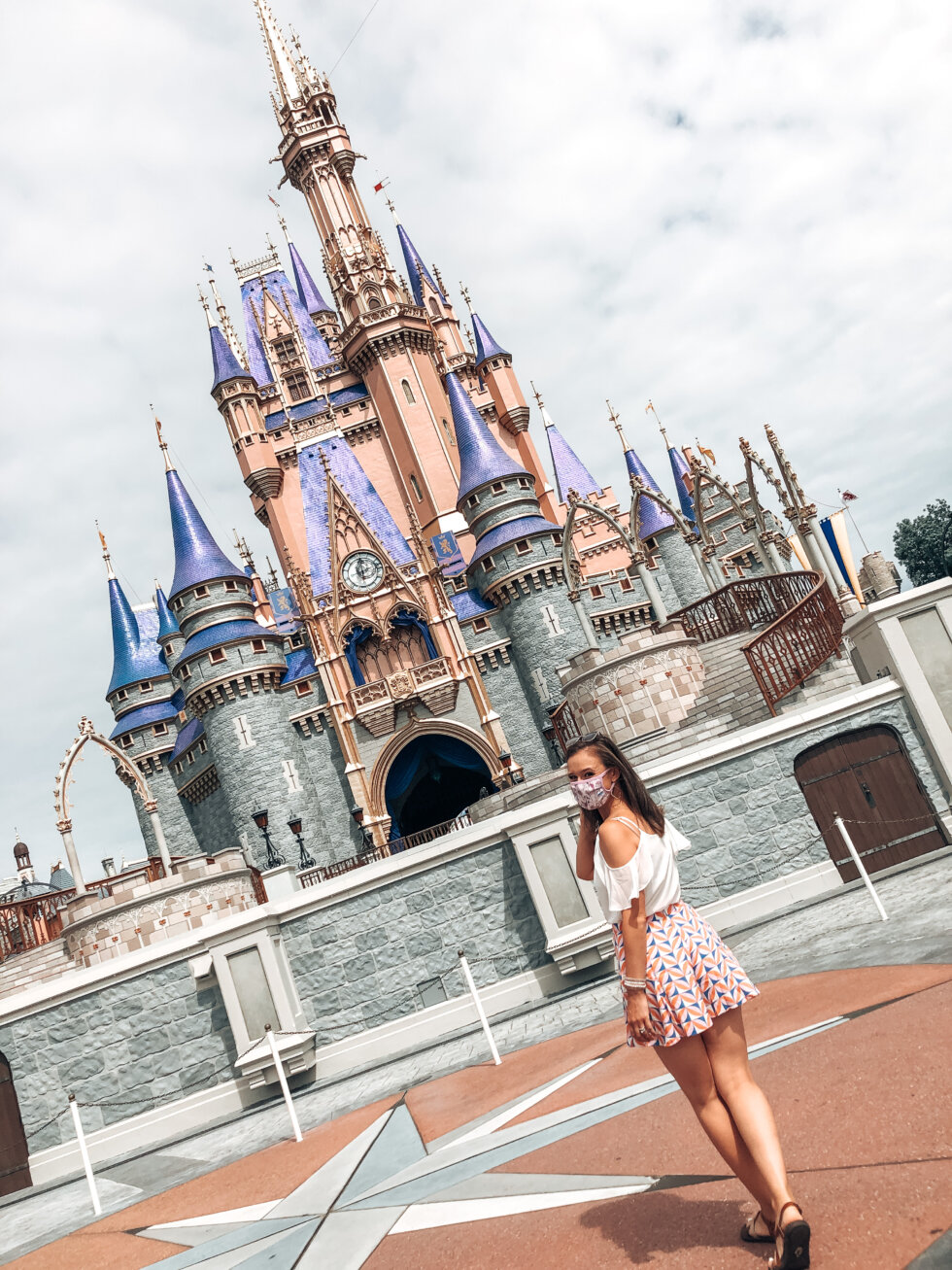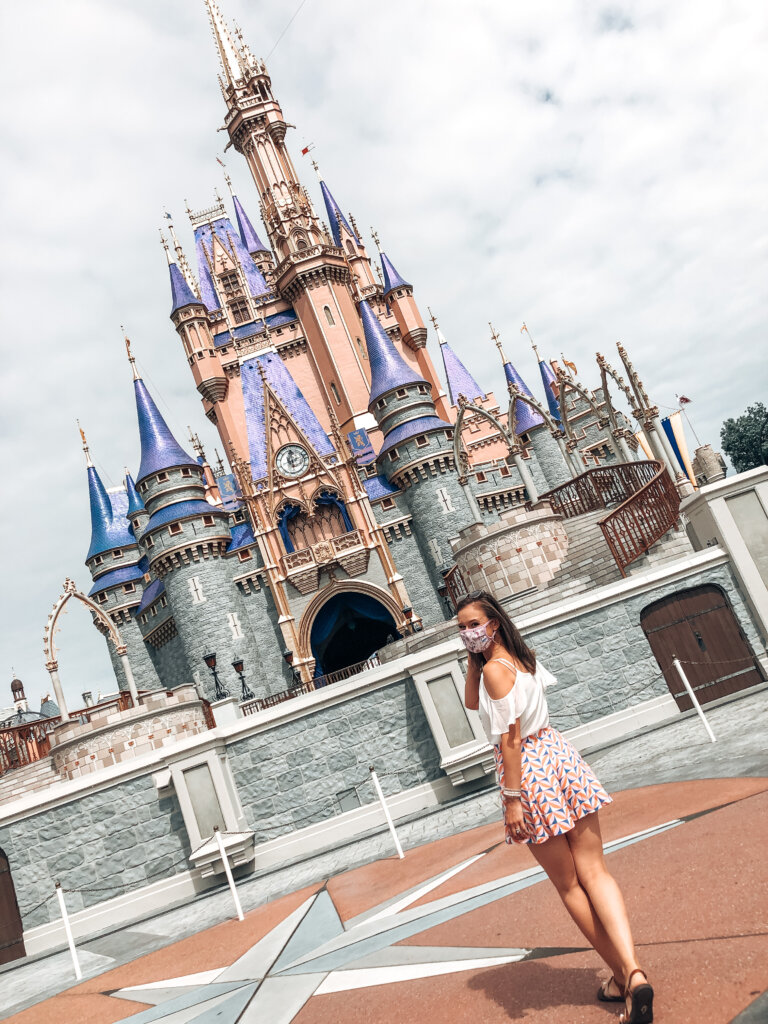 Why 189 feet you might wonder? Why not a clean 190? Florida aviation law requires a red beacon placed on any building taller than 190 feet (changed to 200 feet in later years). A blinking red light would certainly not make sense on a magical medieval castle.
The drawbridge is only for show and cannot be raised or lowered.
There are 27 towers on the castle but are numbered 1 through 29. Towers 13 and 17 were never built since they wouldn't have been visible from anywhere in the park
The moat has over 3 million gallons of water.
It may feel like a bit of an uphill climb to get to Cinderella Castle—that's because Magic Kingdom Park is built on the second story. The ground level hosts the famed Utilidors to allow Cast Members to travel under Guests' feet. 
The Dream Suite was constructed during the Year of a Million Dreams in 2007. A secret elevator takes Guests from a concierge room up to the suite, where elegant touches tell the story of Cinderella. You can't purchase a night's stay, it is only given away on rare occasions. 
I think Beast's castle in Fantasyland deserves an honorable mention. The castle itself uses forced perspective to appear like it is perched on a cliff, but you can go inside and dine at Be Our Guest Restaurant in the Garden Room, Ballroom, or West Wing. The castle was inspired by the Chateau De Chambord in Loir-Et-Cher, France.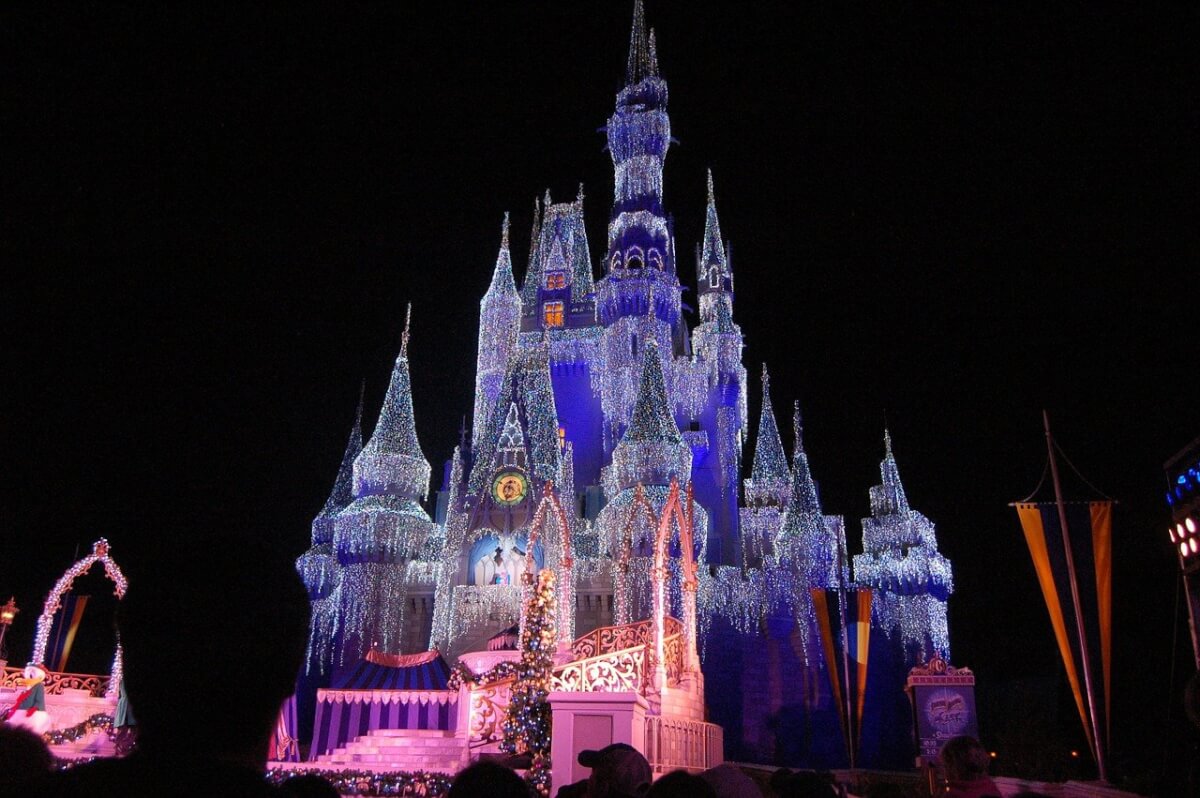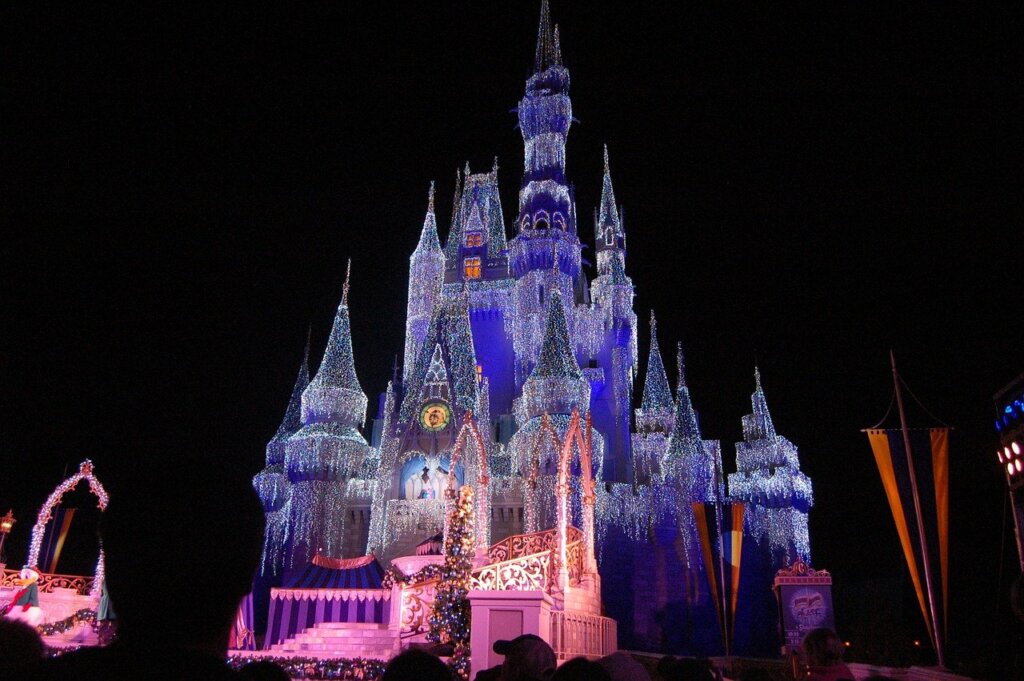 Cinderella Castle, Tokyo Disneyland Resort
Built in 1983, 168 ft.
Almost an exact replica of its sister in the States, Cinderella Castle at Tokyo Disneyland is just a bit shorter—clocking (see what I did there?) in at 168 feet versus Florida's 189.
A notable difference is the walkthrough attraction depicting Cindy's story.
While the park's central castle may be similar to WDW, the newest addition will be excitingly new!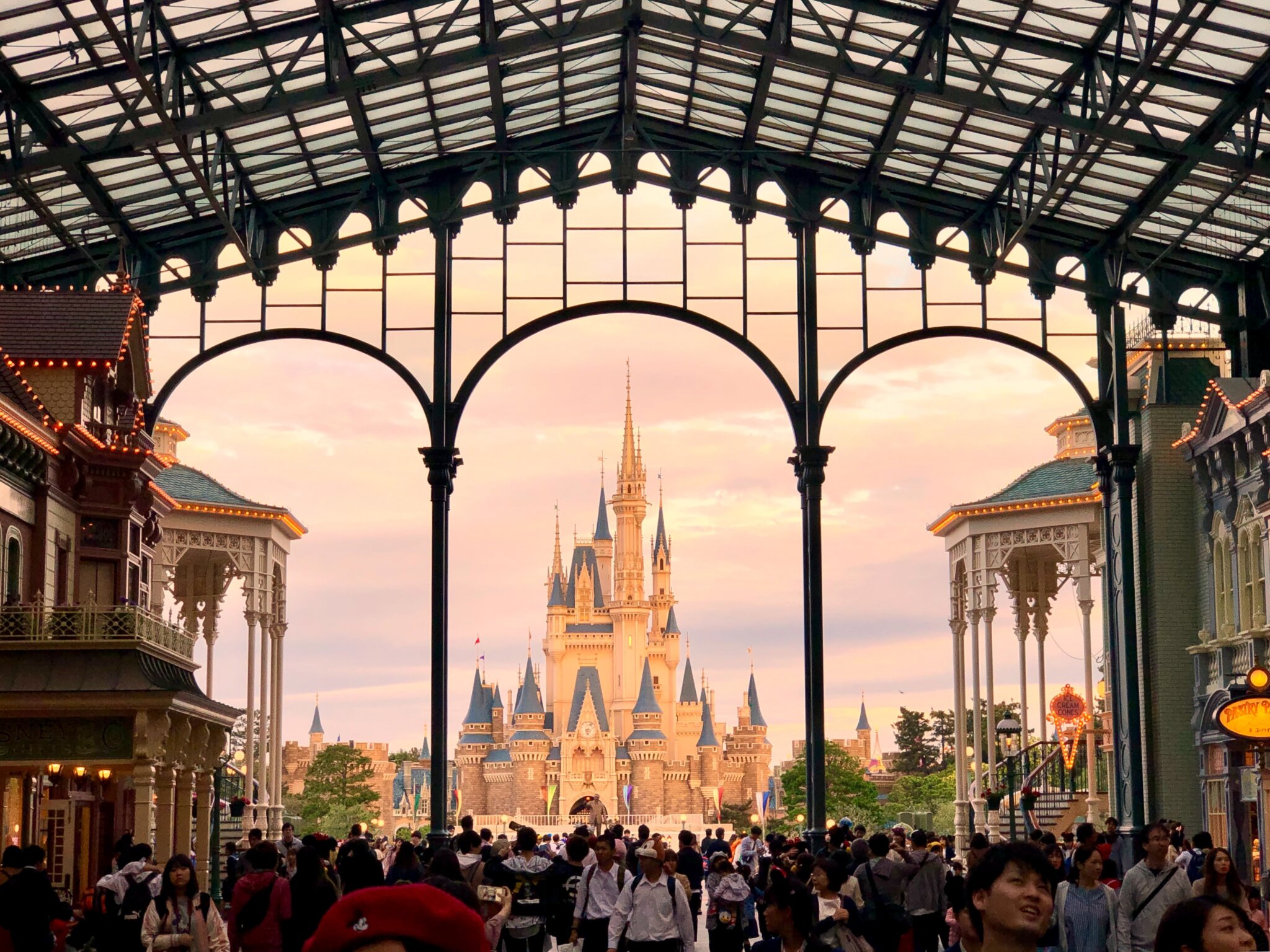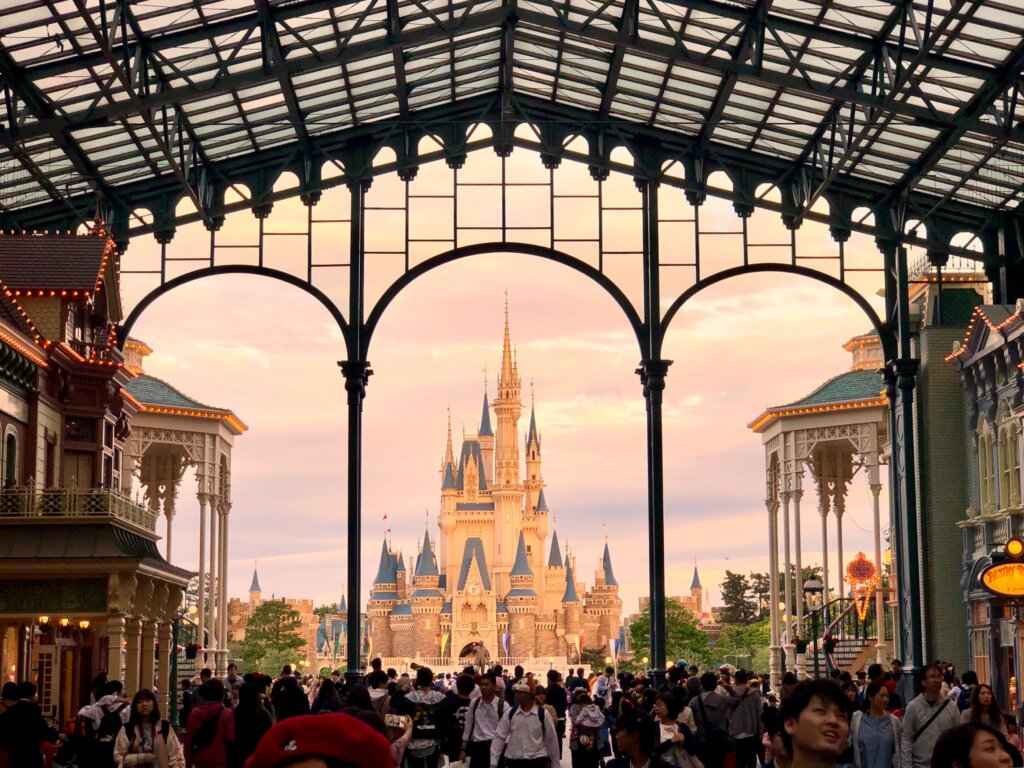 New this year is a full-scale version of Beast's Castle and surrounding land dedicated to the story of Beauty and the Beast. This will be the first time this castle is built to human scale at 108 feet tall and it will house the new Enchanted Tale of Beauty and the Beast attraction.
And if Tokyo Disneyland didn't have enough castles already, park hop over to Tokyo DisneySea, to visit Triton's castle.
I loved the bright colors and under the sea inspired façade. Inside, kids can play at the Mermaid Lagoon…but I'd be lying if I didn't say my husband and I equally enjoyed this technicolored "underwater" play space. One highlight? Seeing Ariel "swim" above you in the live action show.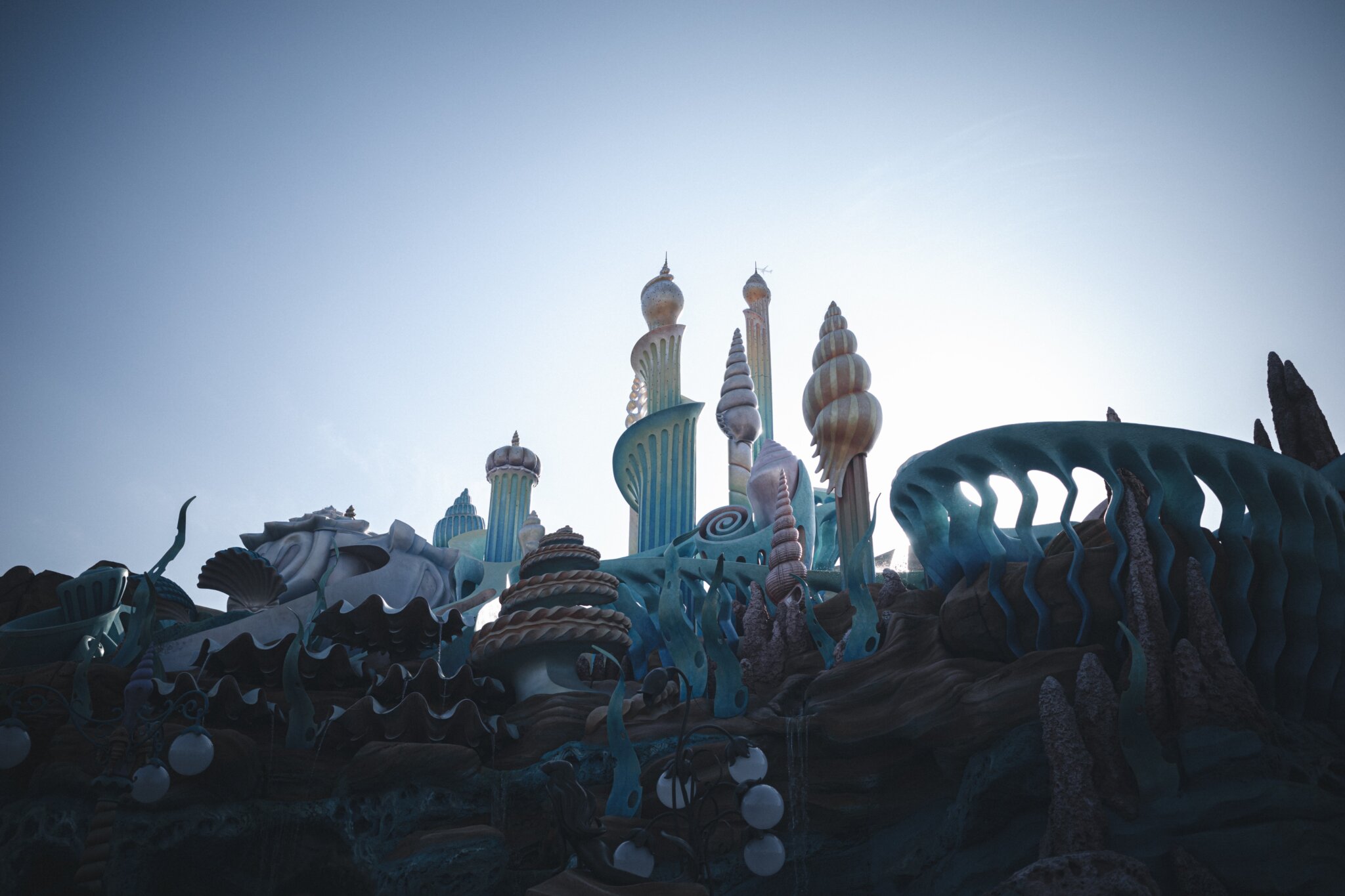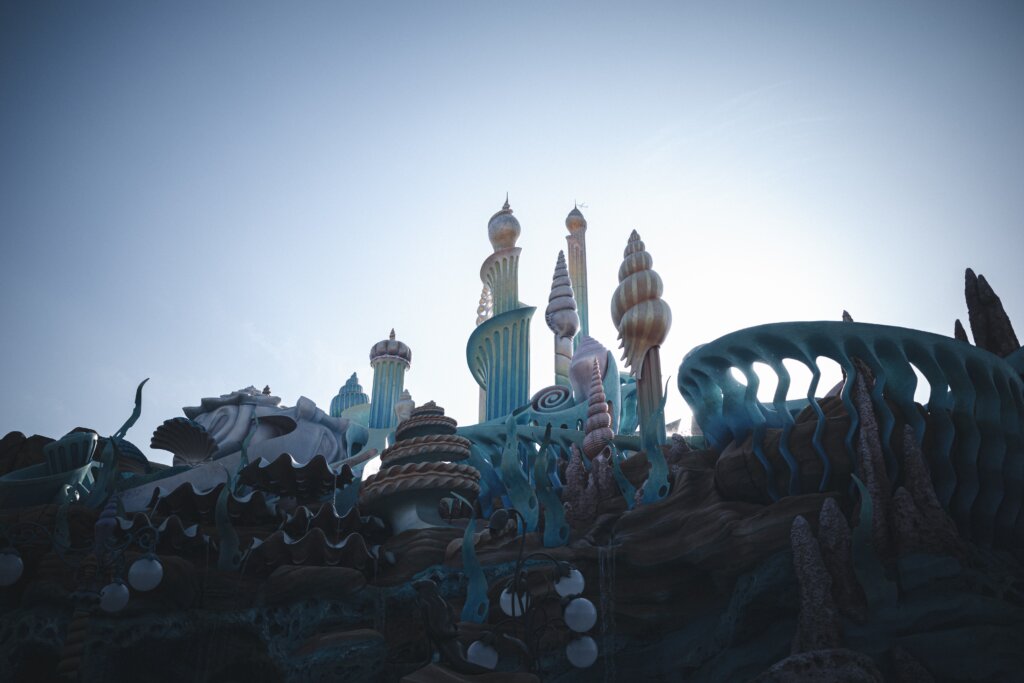 Enchanted Storybook Castle, Shanghai Disneyland Resort
Built in 2016, 197 ft (60m)
Enchanted Storybook Castle holds a special place in my heart since I lived in Shanghai for a year to work with Disney English. The Shanghai Disneyland Resort feels like my secondary "home park" and this castle is DEFINITELY the most impressive (IMHO).
Not only was it the largest castle worldwide at 197 feet (at least, until Hong Kong's remodel is finished), but it is gorgeously intricate. Exploring the facades of the castle can be an attraction in itself and there are SO many photo ops from a variety of angles.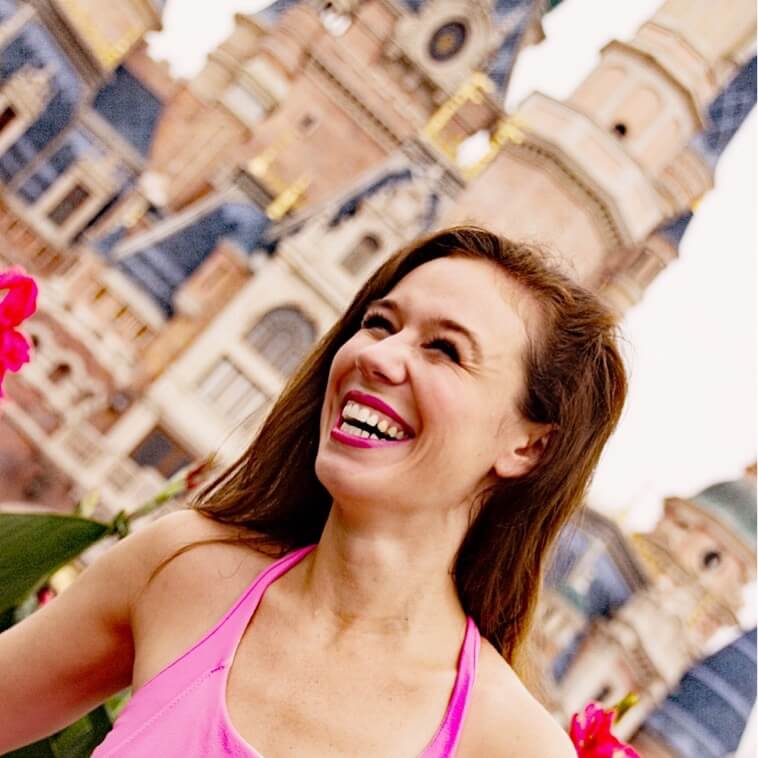 The architecture is done in a classic Renaissance style, but with added Chinese touches. If you look closely, the top of the castle boasts a golden peony, a traditional Chinese flower.
Unlike the other castles, Enchanted Storybook Castle isn't home to a singular princess—instead, it celebrates the stories of all Disney Princesses.
Head into the main hall to see some of the gorgeous mosaics. There are four total; with a different princess representing each season. Tiana from The Princess and the Frog for spring, Rapunzel from Tangled for summer, Merida from Brave for fall, and Elsa from Frozen for (duh) winter.
Imagineers referred to the blending of these elements as "authentically Disney, distinctly Chinese."
The attraction Voyage to the Crystal Grotto is an attraction takes Guests through the castle at its conclusion
Imagineers used 3-D building technology to create early designs of the castle to unprecedented preciseness. They were even recognized by the American Institute of Architects for the technology.
Like many other castles, there is a "Once Upon A Time" Adventure walk-through attraction. In this castle, Snow White is the featured princess.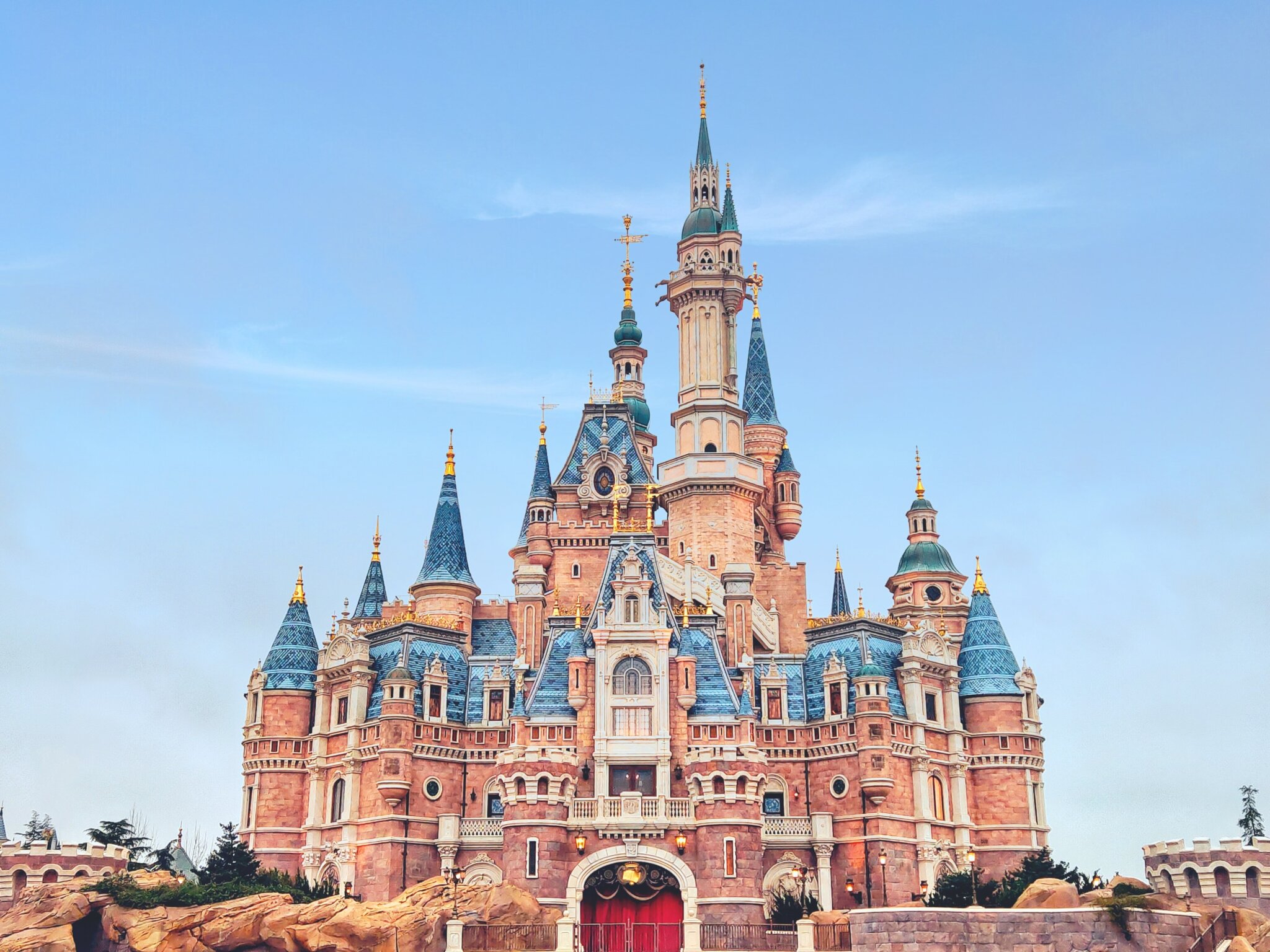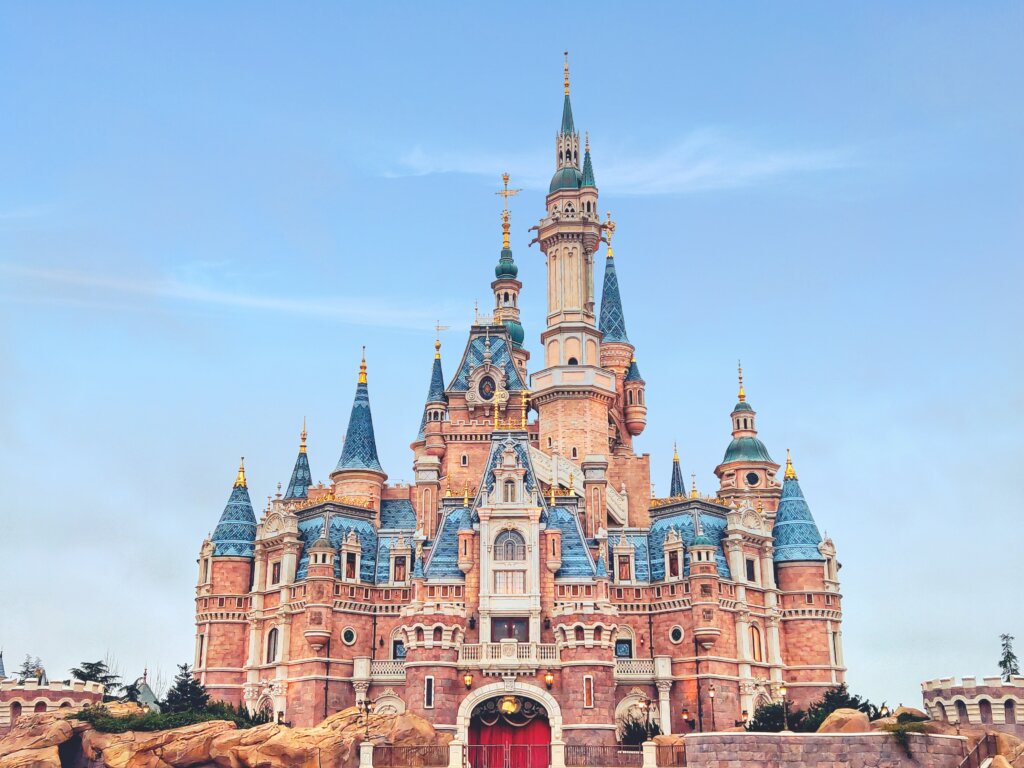 Castle of Magical Dreams, Hong Kong Disneyland
Originally built in 2005, Reimagined 2020, 200 ft
Once completed, the Castle of Magical Dreams will take the crown as tallest Disney castle worldwide, towering over Enchanted Storybook Castle by a mere three feet.
When I visited Hong Kong Disneyland, the castle was a replica of Disneyland's Sleeping Beauty Castle. Its most charming feature was the natural landscape surrounding the castle—beautiful mountains served as the backdrop.
This year, Castle of Magical Dreams will pay homage to fourteen Disney princesses and heroes—including Cinderella, Tiana, Aurora, Moana, Snow White, Mulan, Pocahontas, Ariel, Merida, Belle, Rapunzel, Elsa, and Jasmine. Design elements—including colors, icons, patterns, and uniquely designed towers will represent each story. One of my favorite features is the stained-glass window featuring a symbol for each character.
It is definitely a very unique looking castle (in fact, it kind of reminds me of Mystic Manor, right?). Can you identify each turret and which character it represents?
To celebrate the opening of the newest castle on the block, "magical dream cards" were distributed to Guests and Cast Members. Their dreams and wishes are now stored in a chest that has been placed at the top of the tallest tower of the castle.
The castle stage will debut a daytime and nighttime show, which will include water elements.
Each turret on the castle represents one of the characters mentioned above.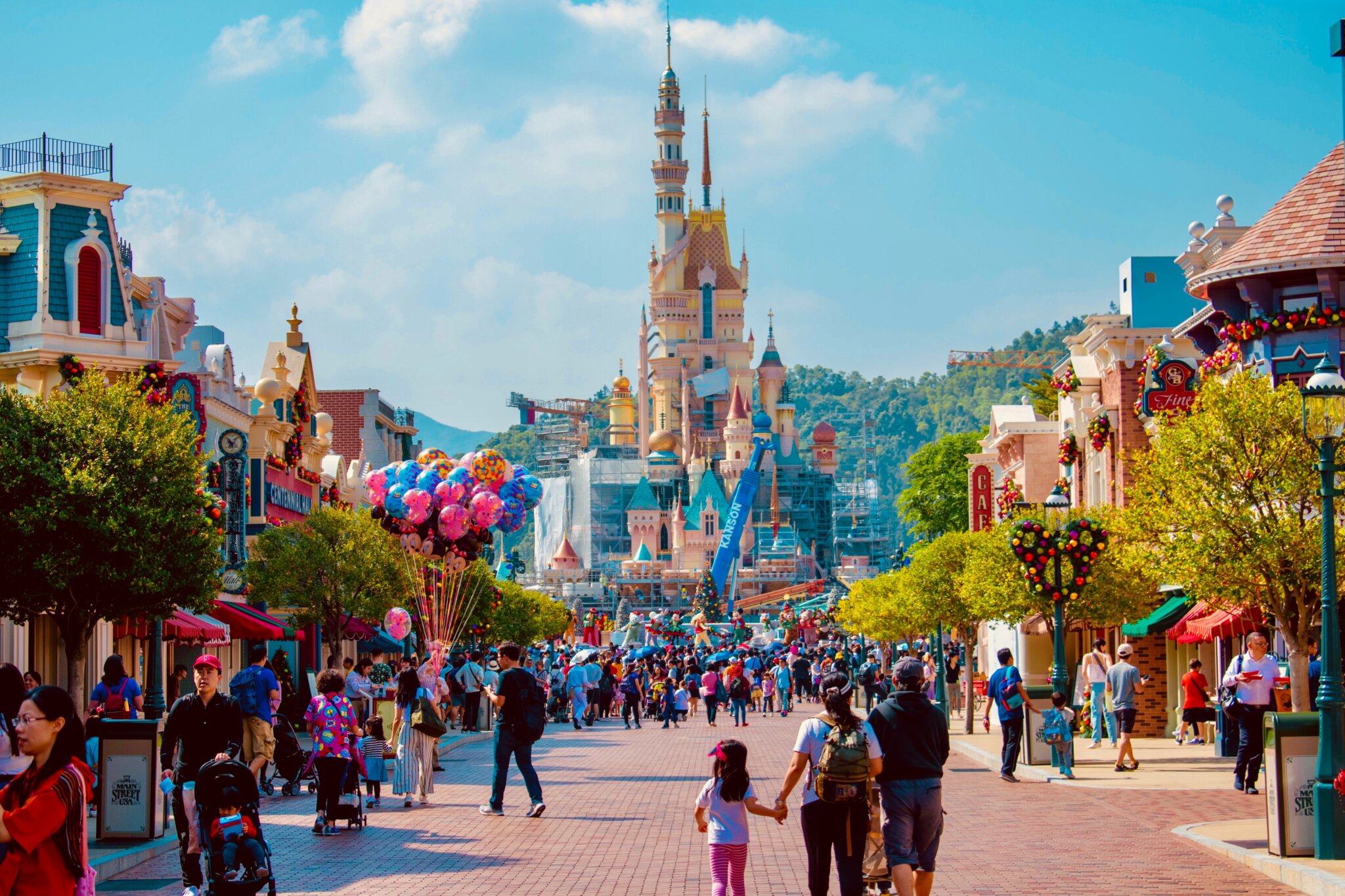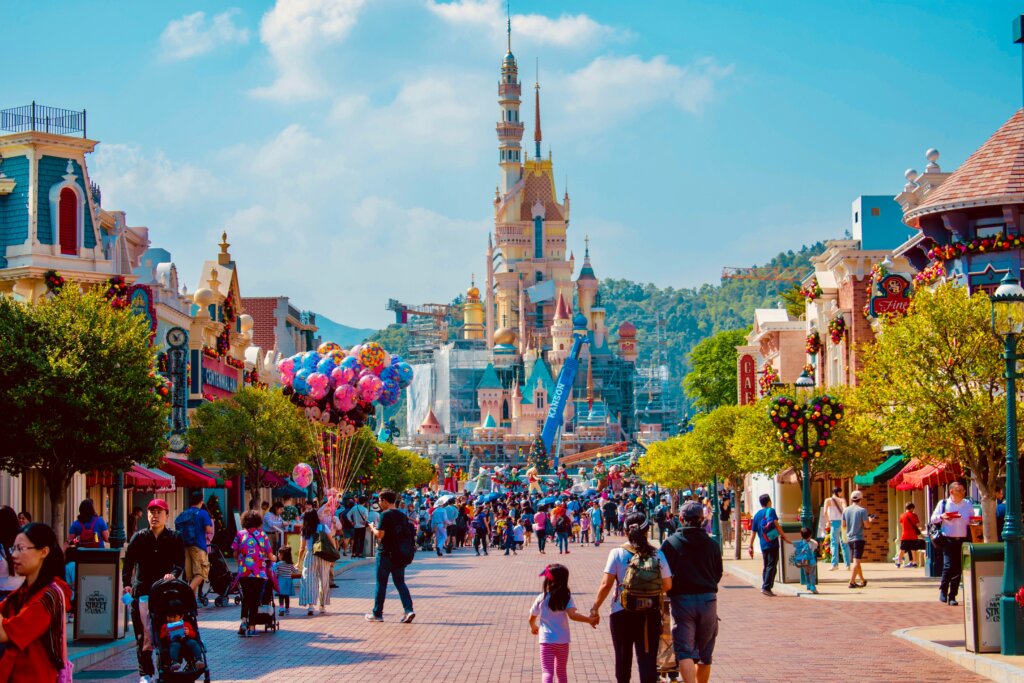 Sleeping Beauty Castle, Disneyland Resort
Built in 1955, 77 ft
After growing up visiting Cinderella Castle at Walt Disney World, when I first saw Sleeping Beauty Castle, I was struck by how tiiiiiiiiiny she is.
After Hong Kong Disneyland's castle reconstruction, Sleeping Beauty Castle will remain the smallest castle worldwide. But she holds the title as the first and the only castle Walt ever visited, since he passed before Cinderella Castle was complete.
The heritage baked into Sleeping Beauty Castle more than makes up for her diminutive size. True Disney fans need to make the pilgrimage to Disneyland to experience Walt's original dream.
The original concept art was created by Herb Ryman, who based the architecture on King Ludwig's Bavarian Castle in Germany.
This castle is also a trendsetter. Walt wanted to incorporate blue into the spires, to match with the sky. He thought it would make the castle appear taller. Ever since, every Disney castle has incorporated blue in its pallet.
As a Disney fanatic, it was an honor to visit Sleeping Beauty Castle and to walk where Walt walked.
Unlike Cinderella Castle, Sleeping Beauty's drawbridge does work—but it's only been publicly lowered twice. For the grand opening in 1955 and for the rededication of Fantasyland in 1983.
The spires on top of the castle are covered with 22k gold leaf.
If you aren't claustrophobic, you can enjoy a walk-through attraction inside the castle featuring Sleeping Beauty's story.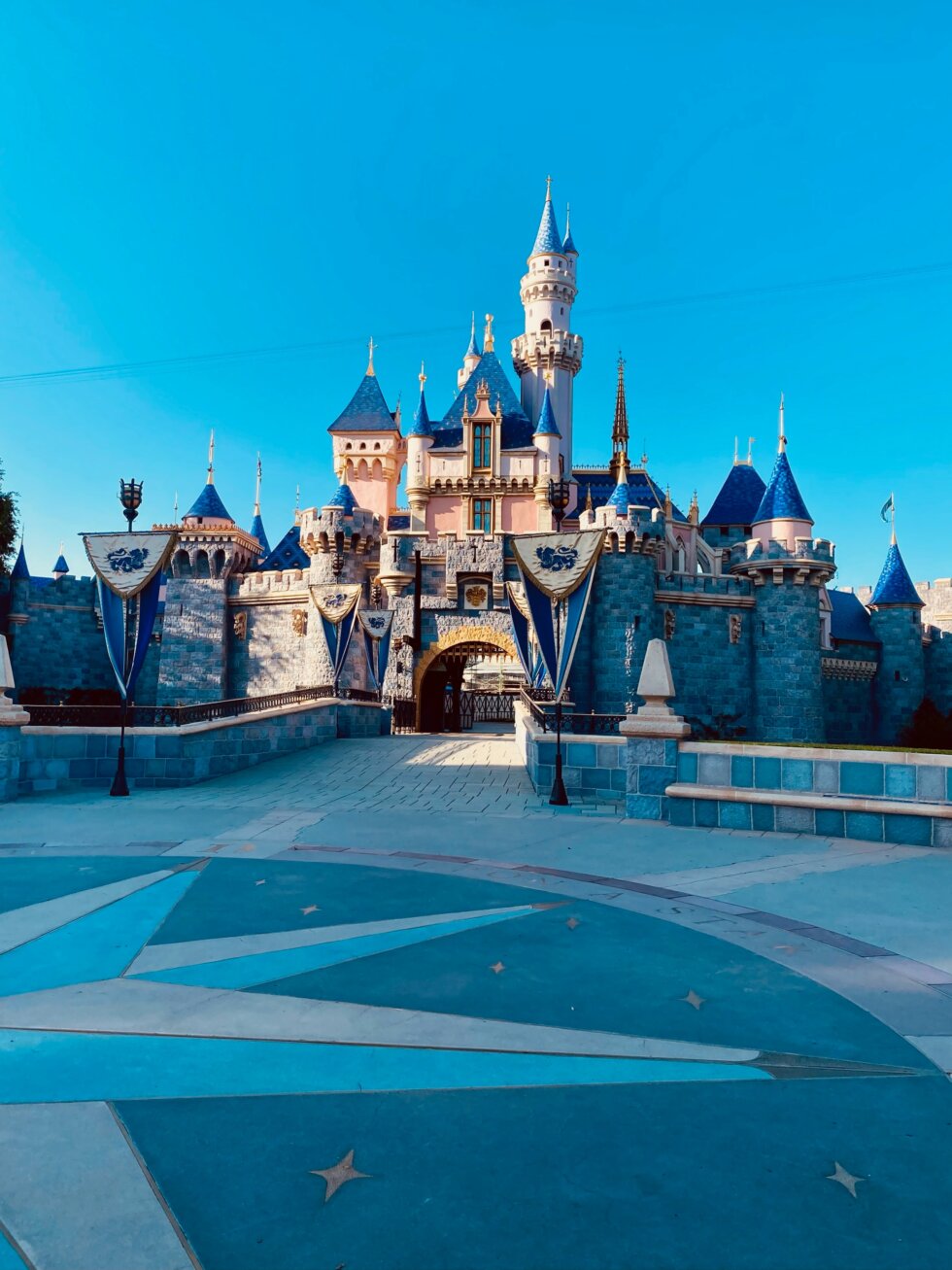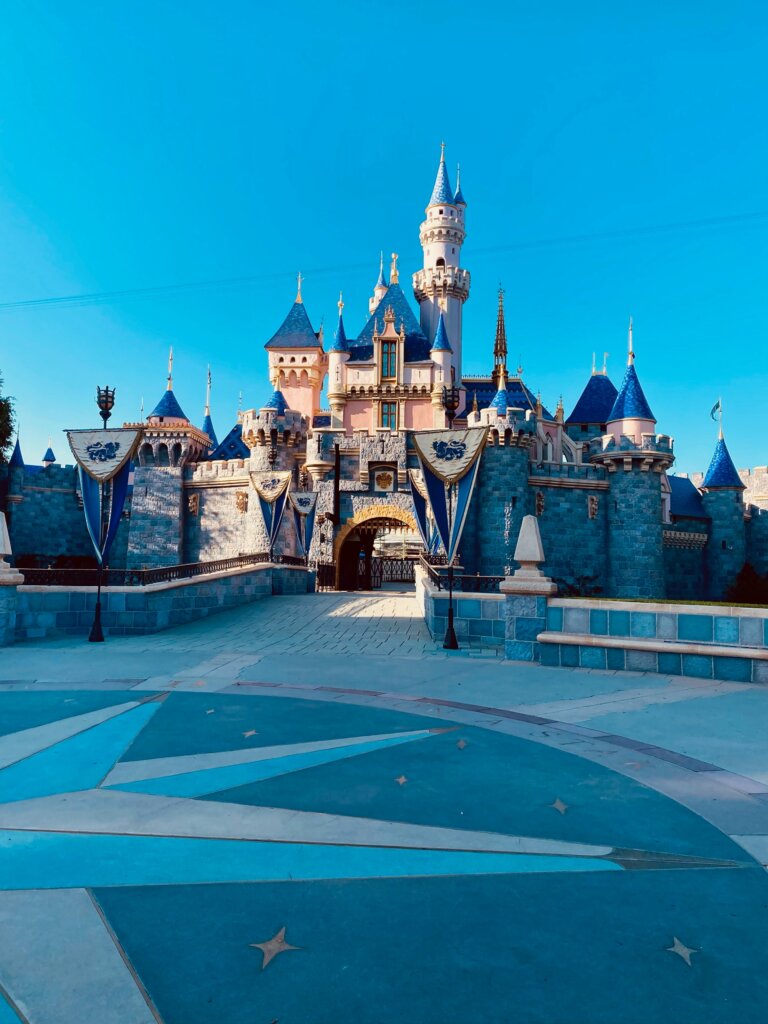 Le Château de la Belle au Bois Dormant, Disneyland Paris
Built in 1992, 160 ft
While this castle name definitely wins biggest tongue twister, this soft pink castle is a fan favorite.
Disneyland Paris was the final castle I visited and rounds out our list. And I agree that she is tres belle. Unlike the United States, Europe has actual castles tourists can visit, so Imagineers knew they had to create something a little more magical for the park.
Tom Morris was the lead Imagineer on the project and he took inspiration from multiple sources, including the Mon Saint-Michel monastery in Normandy. The square trees surrounding the castle were a direct reference to the 1959 Sleeping Beauty film.
The stained-glass windows featured in the gallery were created in London by Peter Chapman, who had worked on the Notre Dame de Paris.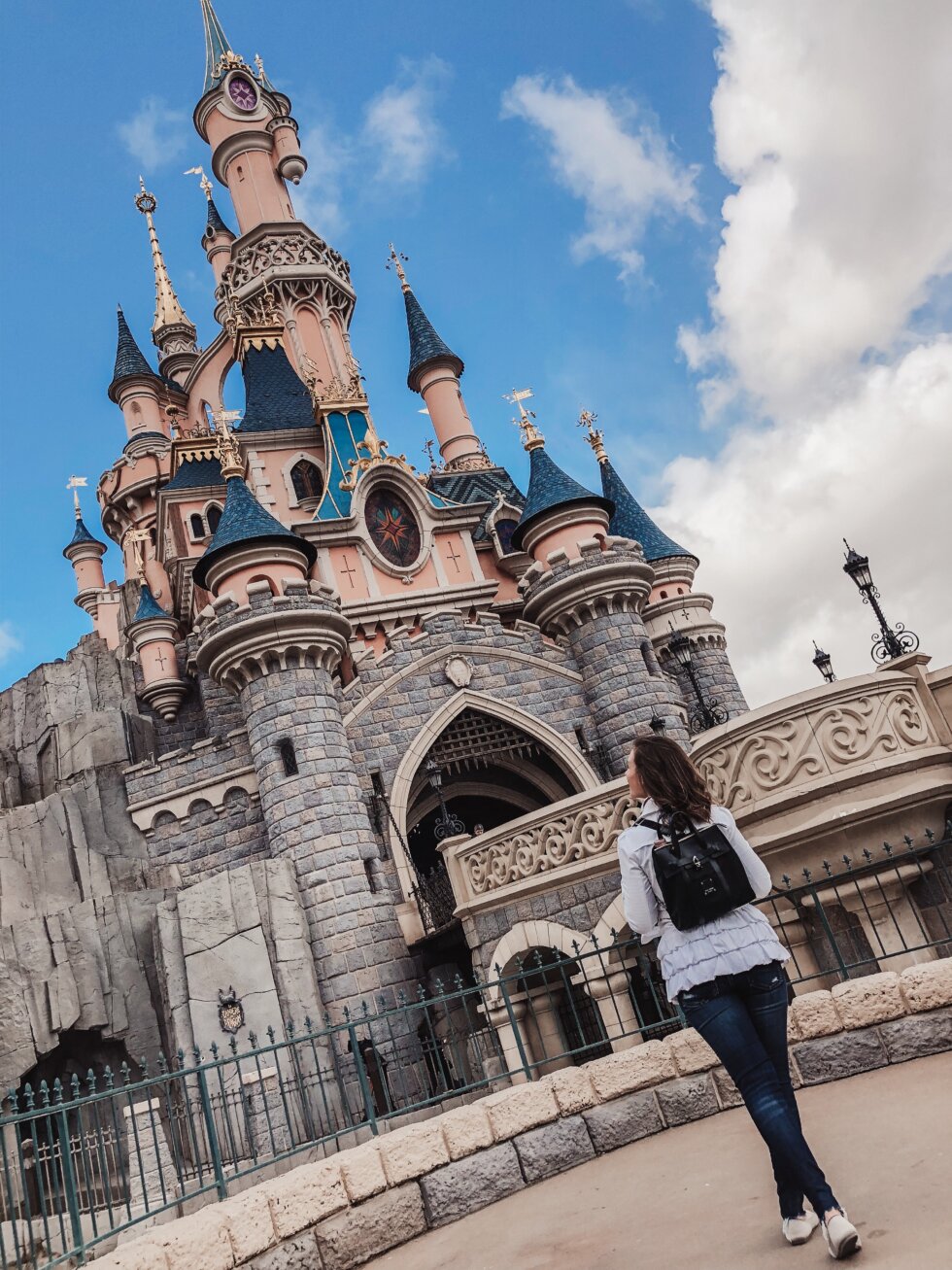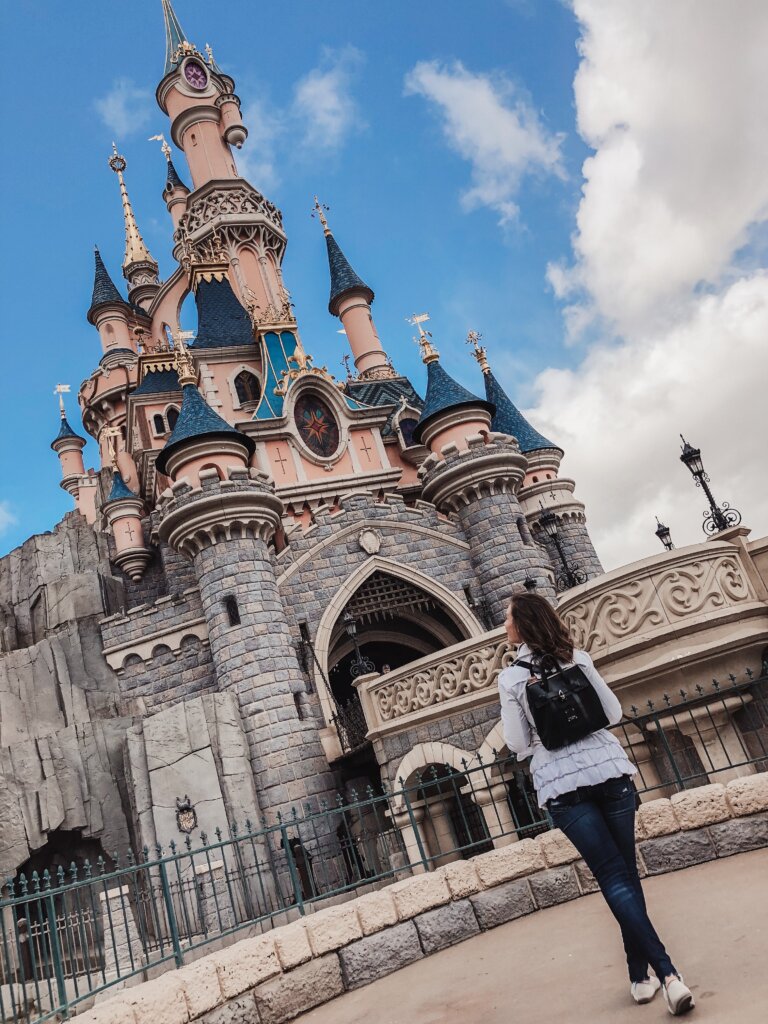 Dainty and chic, Le Chateau de la Belle au Bois Dormant is a must-see if you visit Paris.
Le Chateau de la Belle au Bois Dormant literally translates to "The Castle of the Beauty in the Sleeping Wood."
Le Chateau regularly has more visitors than the Louvre.
Beneath the castle is the park's largest audio-animatronic—an 80 foot long dragon, weighing 5,500 pounds.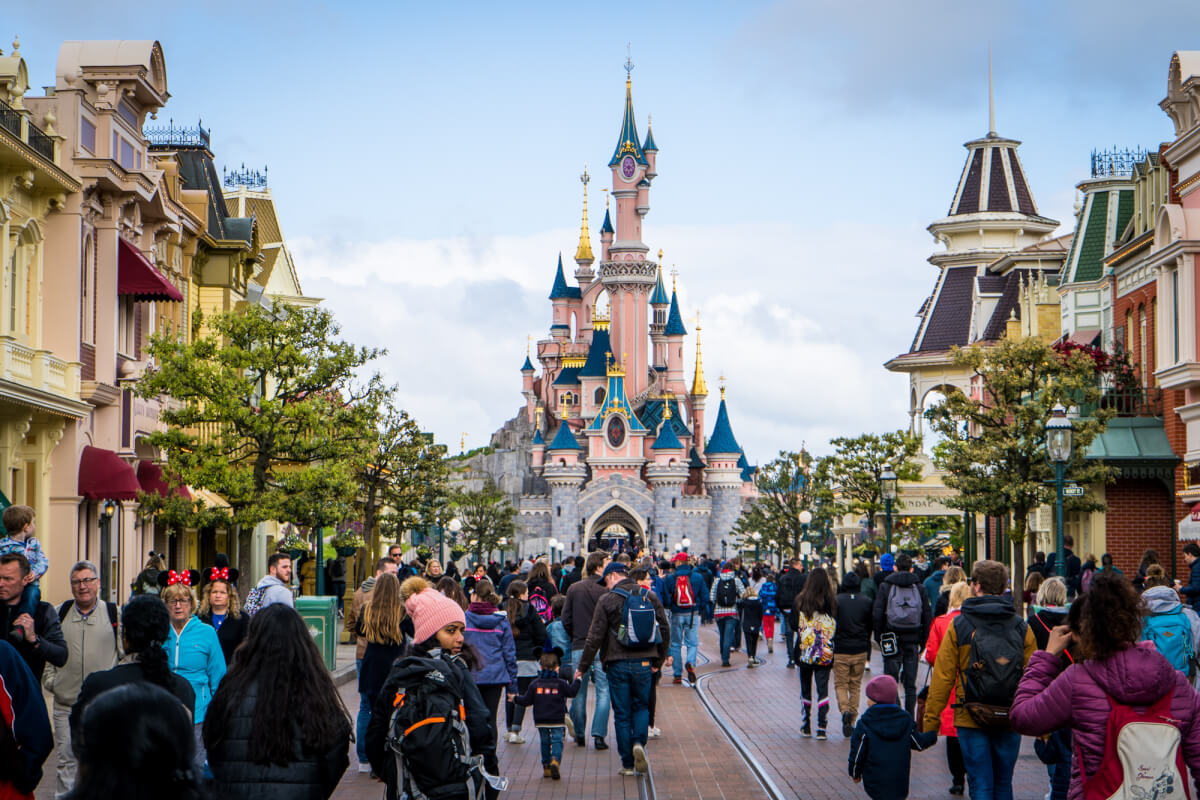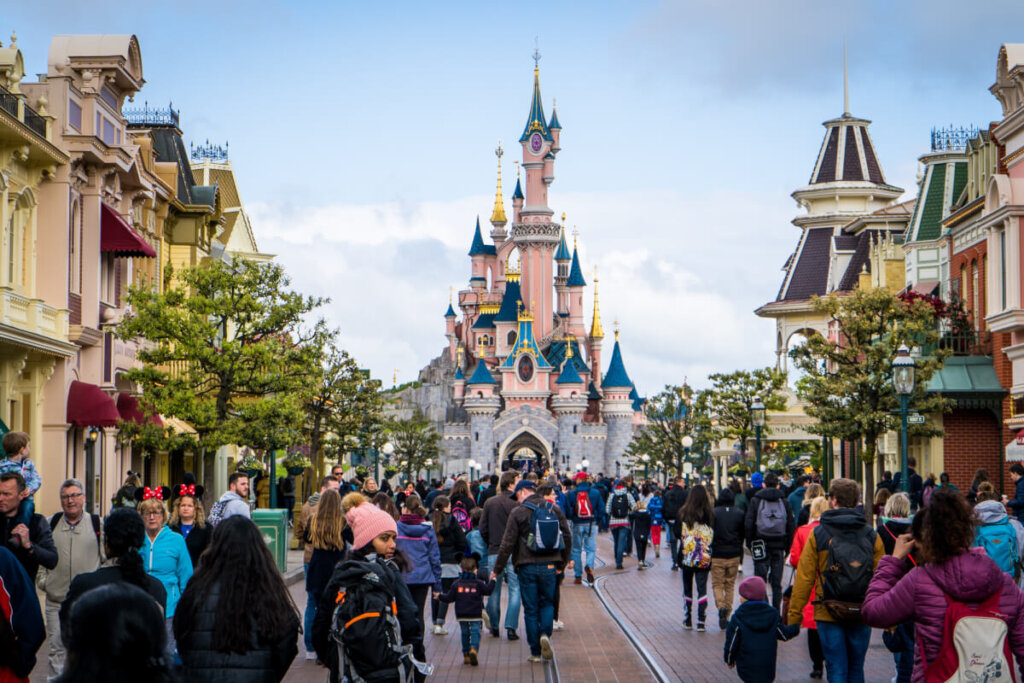 We hope you enjoyed this guide to Disney Castles around the world!
Whew! What a trip around the world—I hope you aren't jet lagged. Thank you for taking this whirlwind, magical excursion to every Disney castle. Are you part of the "Castle Club?" How many castles have YOU been to? Which is your favorite?