*FYI - this post may affiliate links, which means we earn a commission (at no extra cost to you) if you purchase from them. Also, as an Amazon Associate I earn from qualifying purchases. For the full scoop on what this means, feel free to check out our Privacy Policy and Disclosure.
---
Whether Netflix's Bridgerton is your latest guilty pleasure or simply a shameless obsession, one thing is for sure: this Regency Era series is pure eye candy… in several wonderful ways.
One such way is through its dazzling sets and locations – a never-ending parade of sumptuous palaces, stately homes and ballrooms filled with dresses and sideburns.
Well, if you're looking to escape to a real Bridgerton world when the time is right, you're in luck. Many of the Bridgerton filming locations used for Season 1 are in fact places you can visit in real life.
So, in this post, we'll share all the details on how you can visit the Bridgerton House, Featherington House, Clyvedon Castle, and more… After tons of painstaking research, we've assembled the most complete list of Bridgerton locations on the Internet (as well as all the best Bridgerton quotes here). Enjoy!
SPOILER ALERT! While we won't give too many details away, the following post does allude to various scenes and events that take place in Season 1 of Bridgerton, so please only read if you are done the season, or don't mind being spoiled!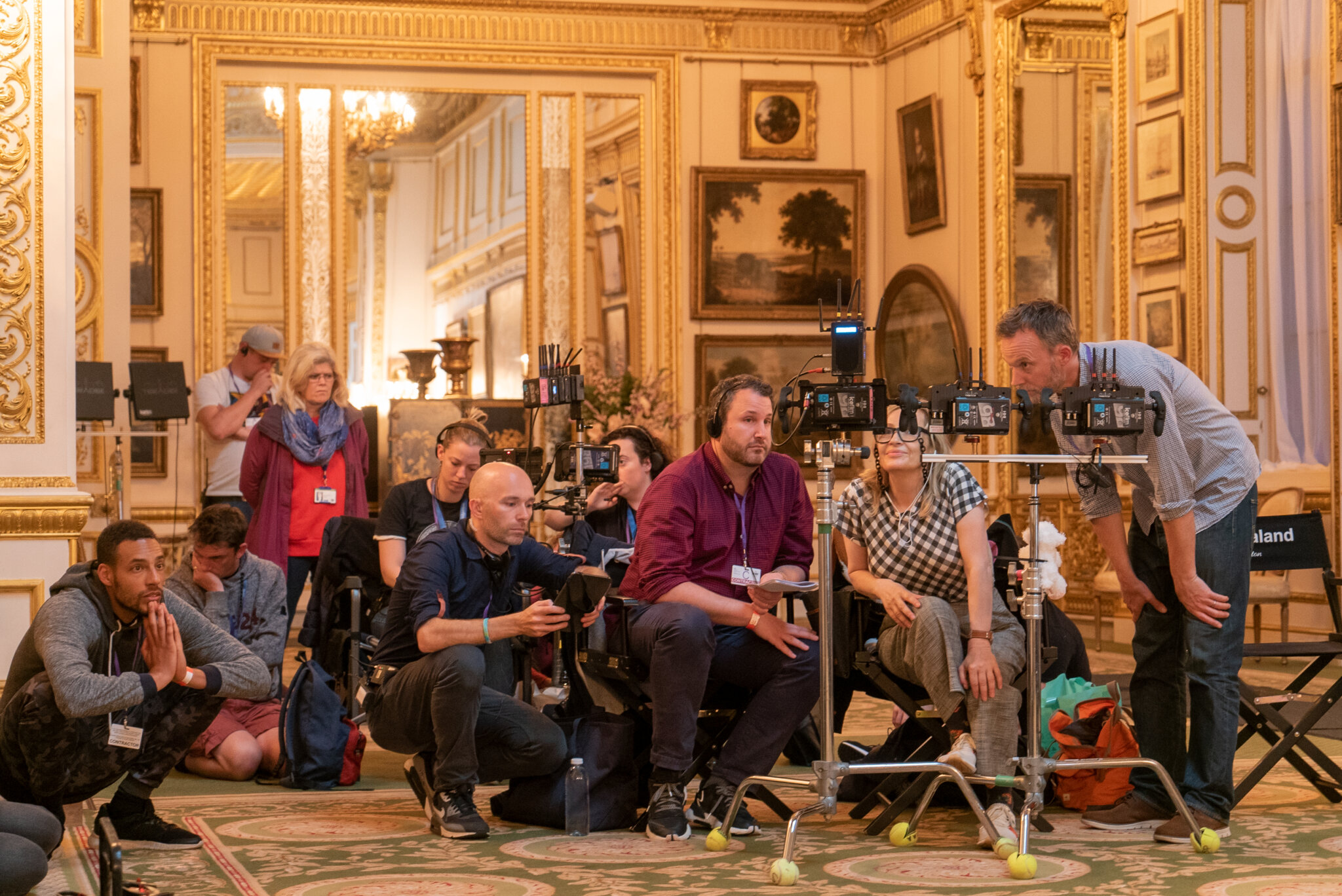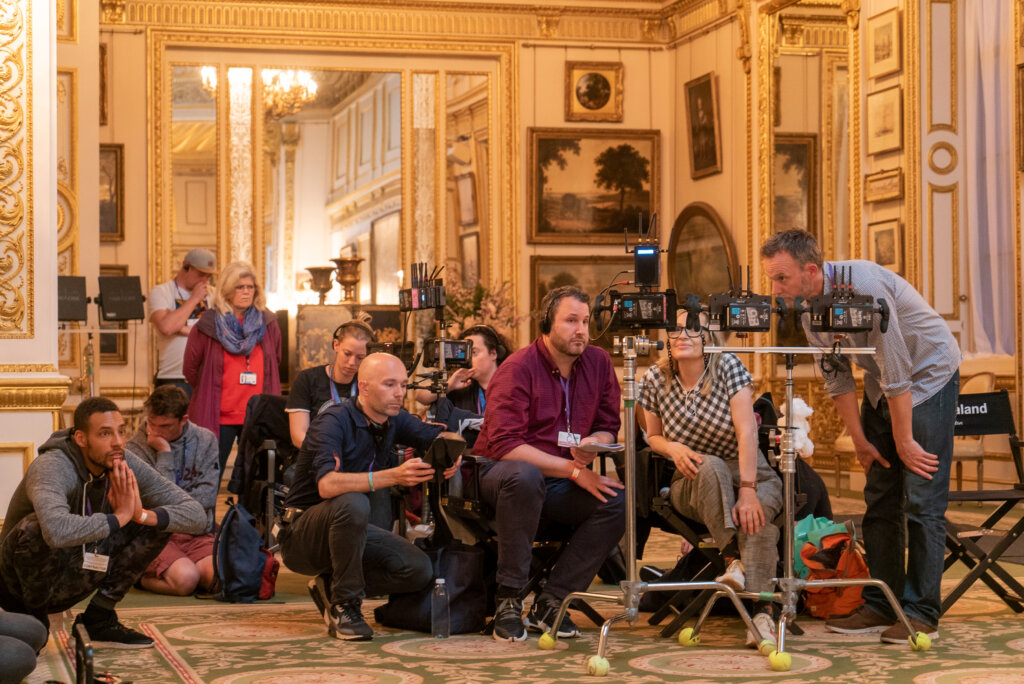 Save this post for later on Pinterest: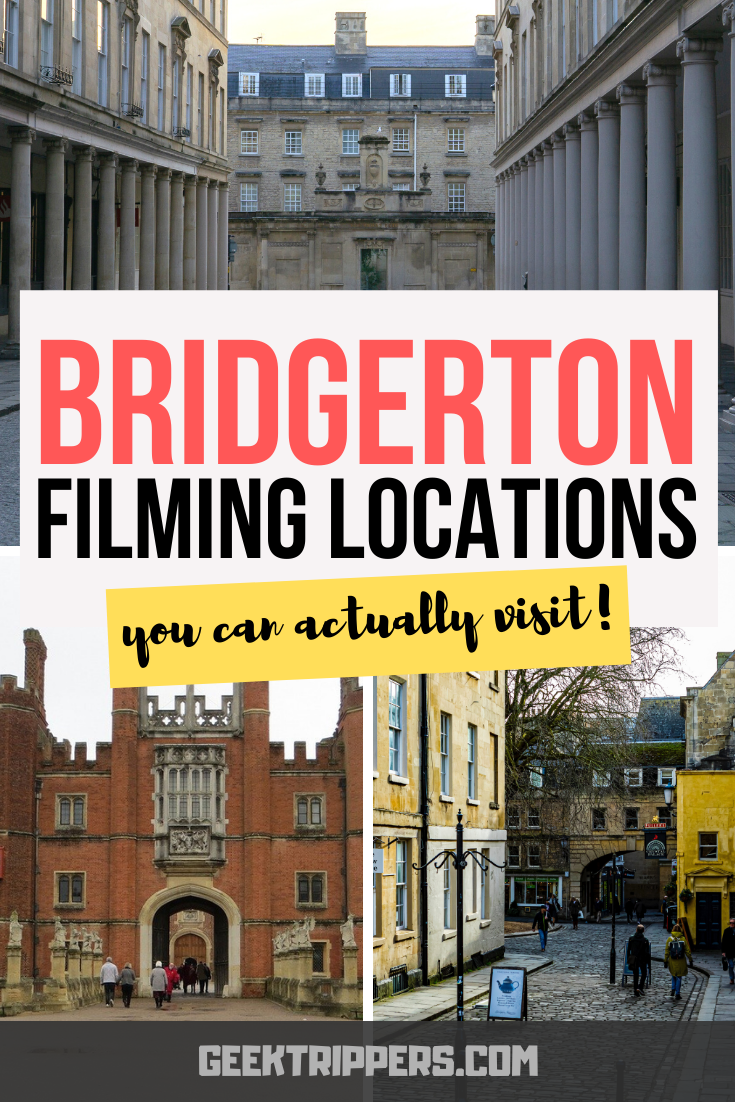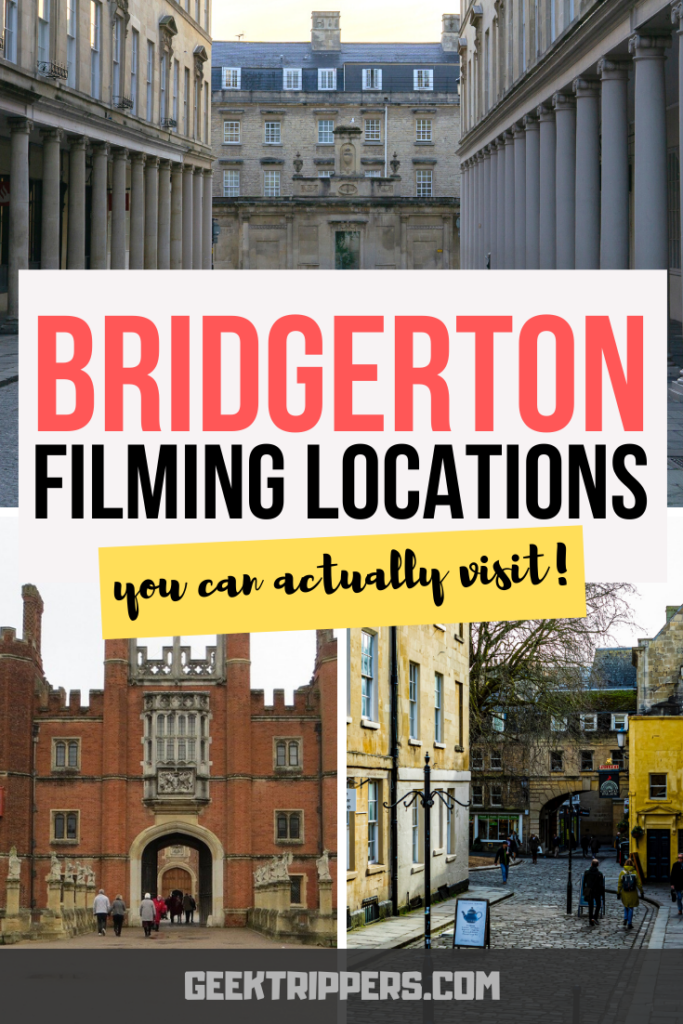 First: Where is Bridgerton Set?
While the events of Bridgerton take place in 1813 London, not all filming took place there. In fact, very little of it did!
Bridgerton was filmed in various locations across west and south England, making use of stately homes, clever CGI, and editing magic to create the surreal beauty of the series.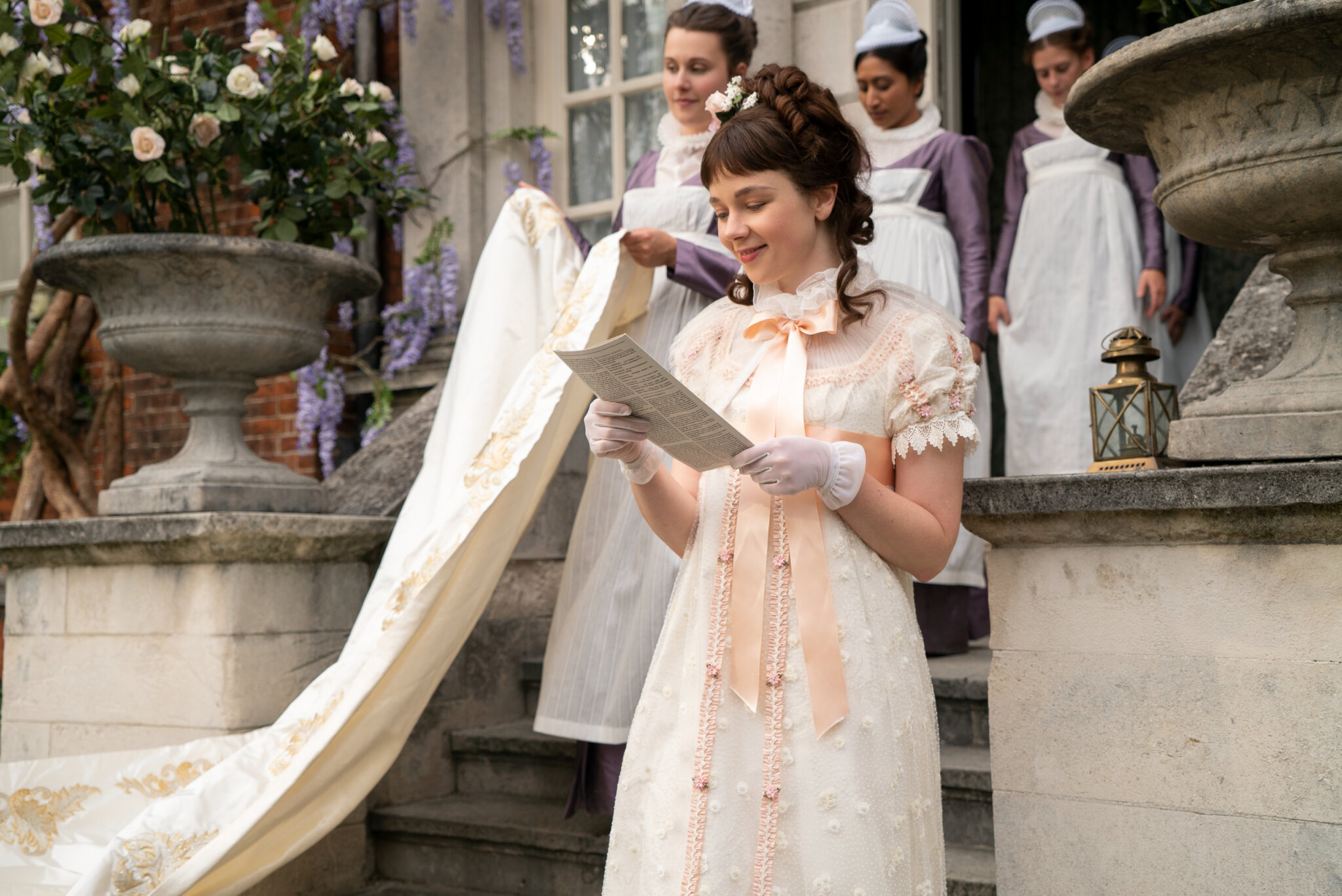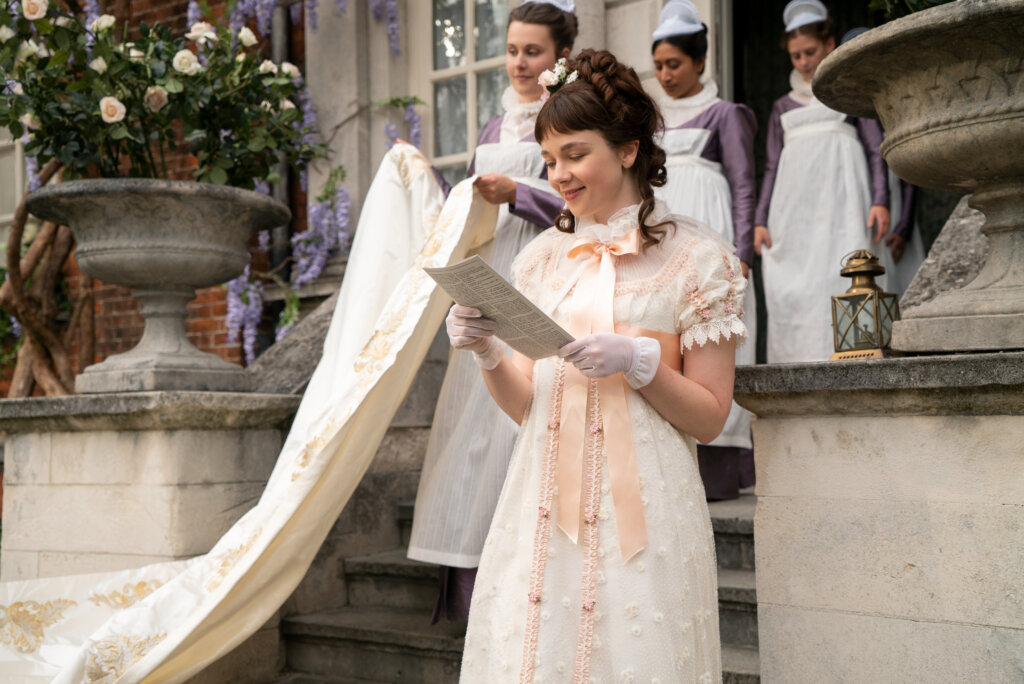 According to this entry on the official Shondaland website, filming took 7 months to complete. If we go by this article on Somerset Live that said filming took place in Bath from Summer 2019 leading up to March 2020, then that means filming wrapped *just* before widespread delays and shutdowns caused by the virus that shall not be named.
And with over 100 practical locations used for the show's first season (plus sets), you could easily create a Bridgerton-themed tour or itinerary if you really wanted to.
So, let's show you how.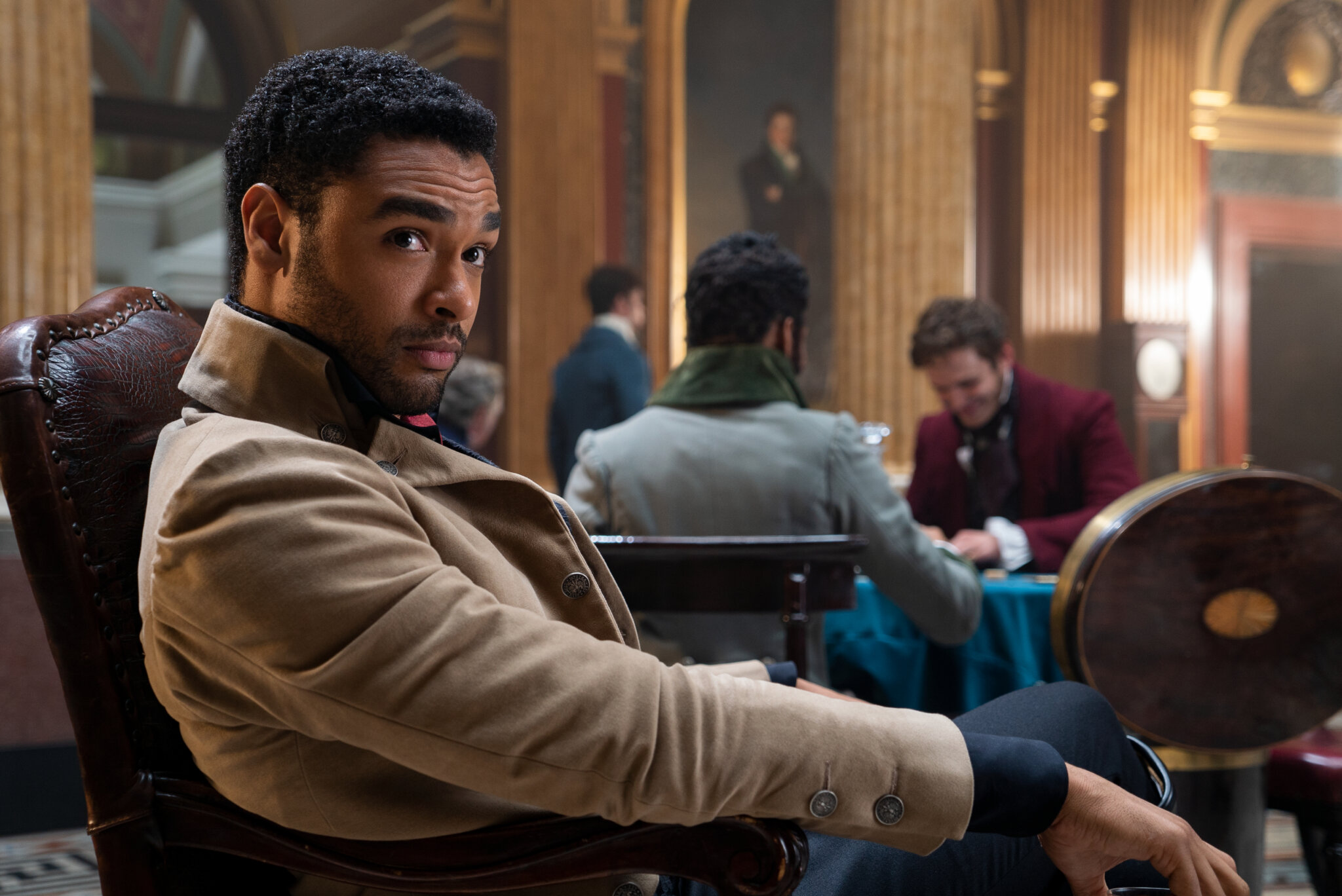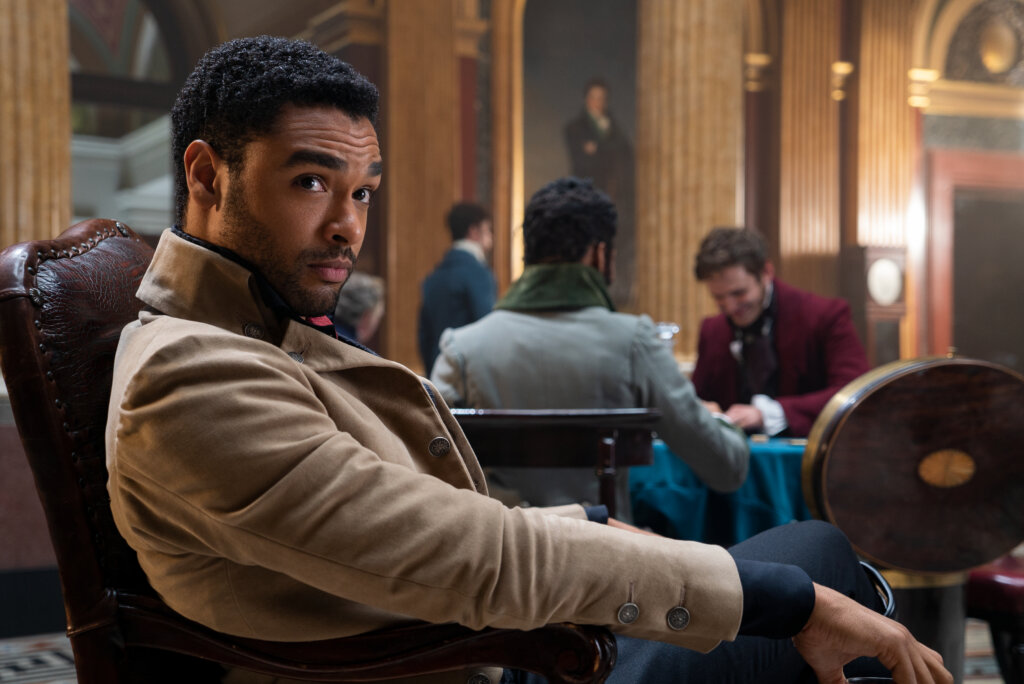 Bridgerton Filming Locations You Can Visit in Real Life
Where can you find Bridgerton's stately homes and locations in real life? Below, you'll find a summary of all the places you can actually find for yourself.
Bridgerton's "London"
As previously mentioned, the series is of course set in London, although much of the "London" we see is actually Bath, a production designer's favourite when it comes to depicting Regency Era scenes thanks to its honey-coloured Georgian architecture and timeless charm.
Here are some key locations in Bath that were used for scenes throughout Bridgerton:
Alfred Street: Seen in one of the first shots of the entire series, here to be precise. While some facades seem to have been fancied up a little bit for filming, you can clearly see the Westbury in the corner, and even the same painting in the window on display!
The Royal Crescent: One of the most glorious backdrops we see throughout the series. Click here to see plenty of fun behind the scenes photos from filming in this area.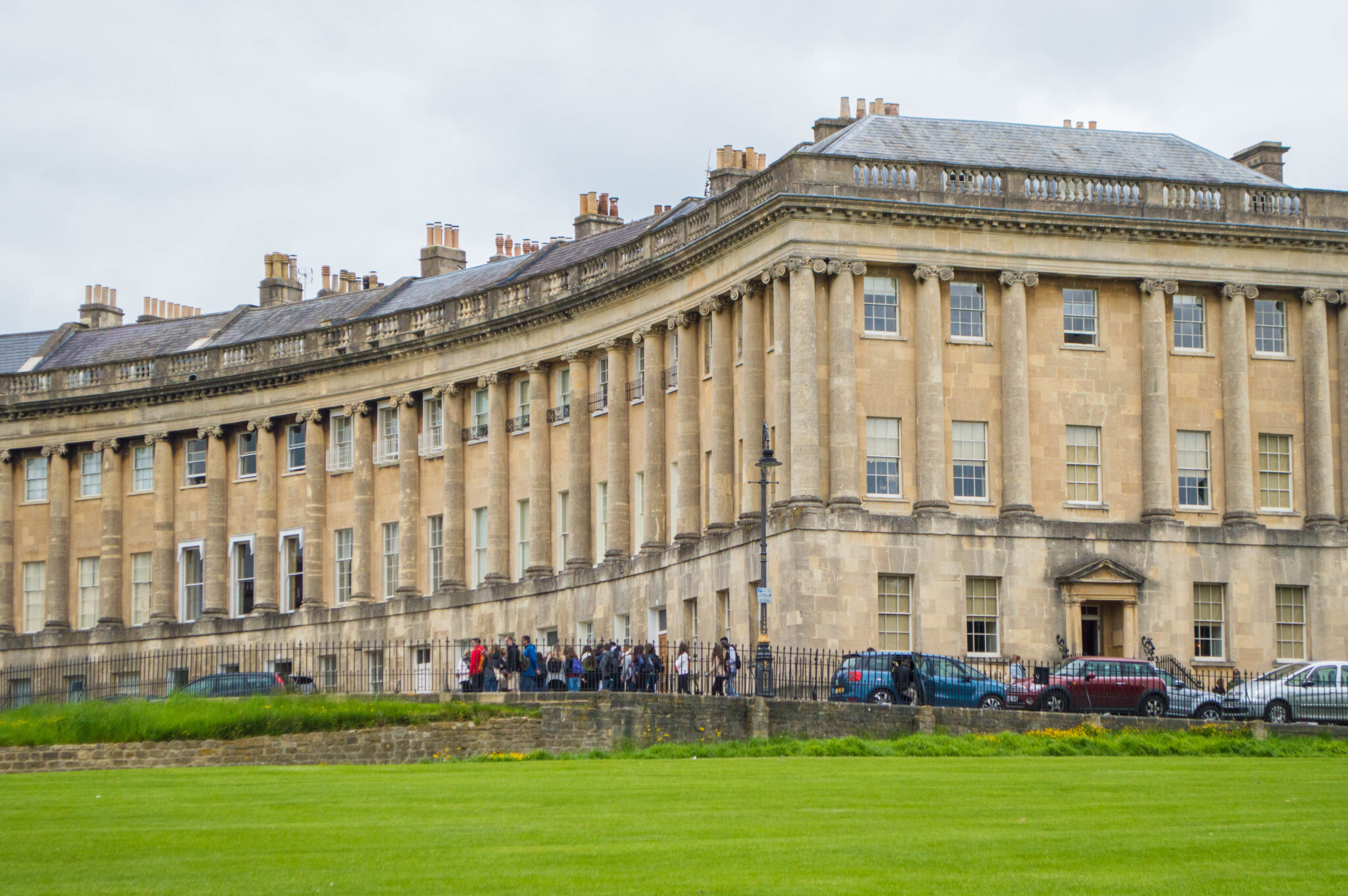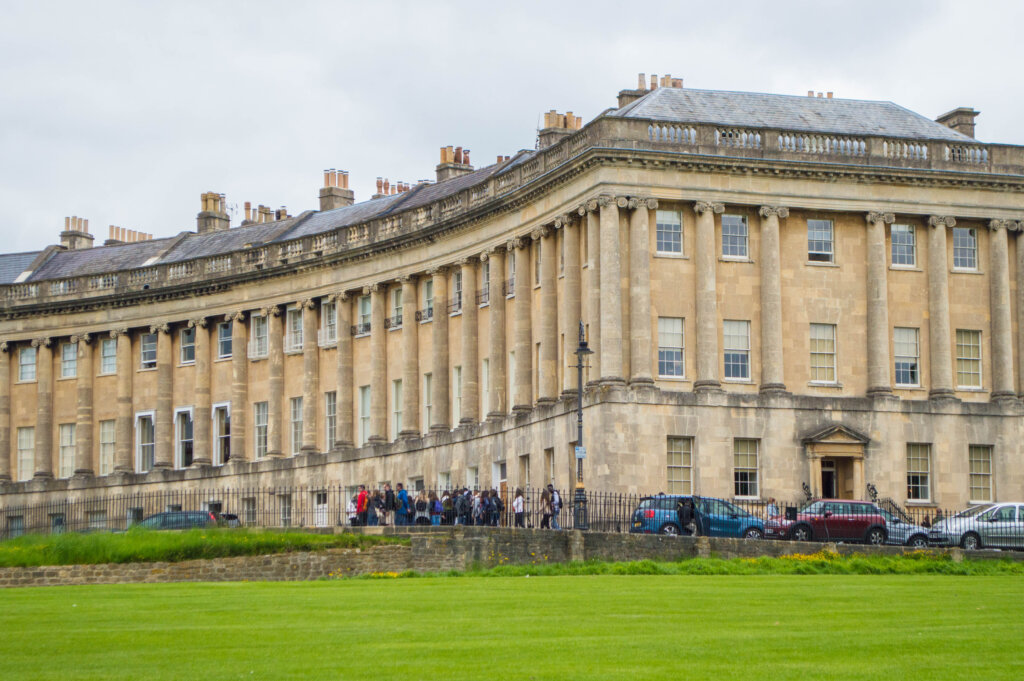 Bath Street: Click here to see the exact location (and how different it looks with garbage bins and trucks in the way!) This location is recycled throughout the series, so keep an eye out for its distinctive columns! This also happens to be the street that Simon rides through when we see him for the first time.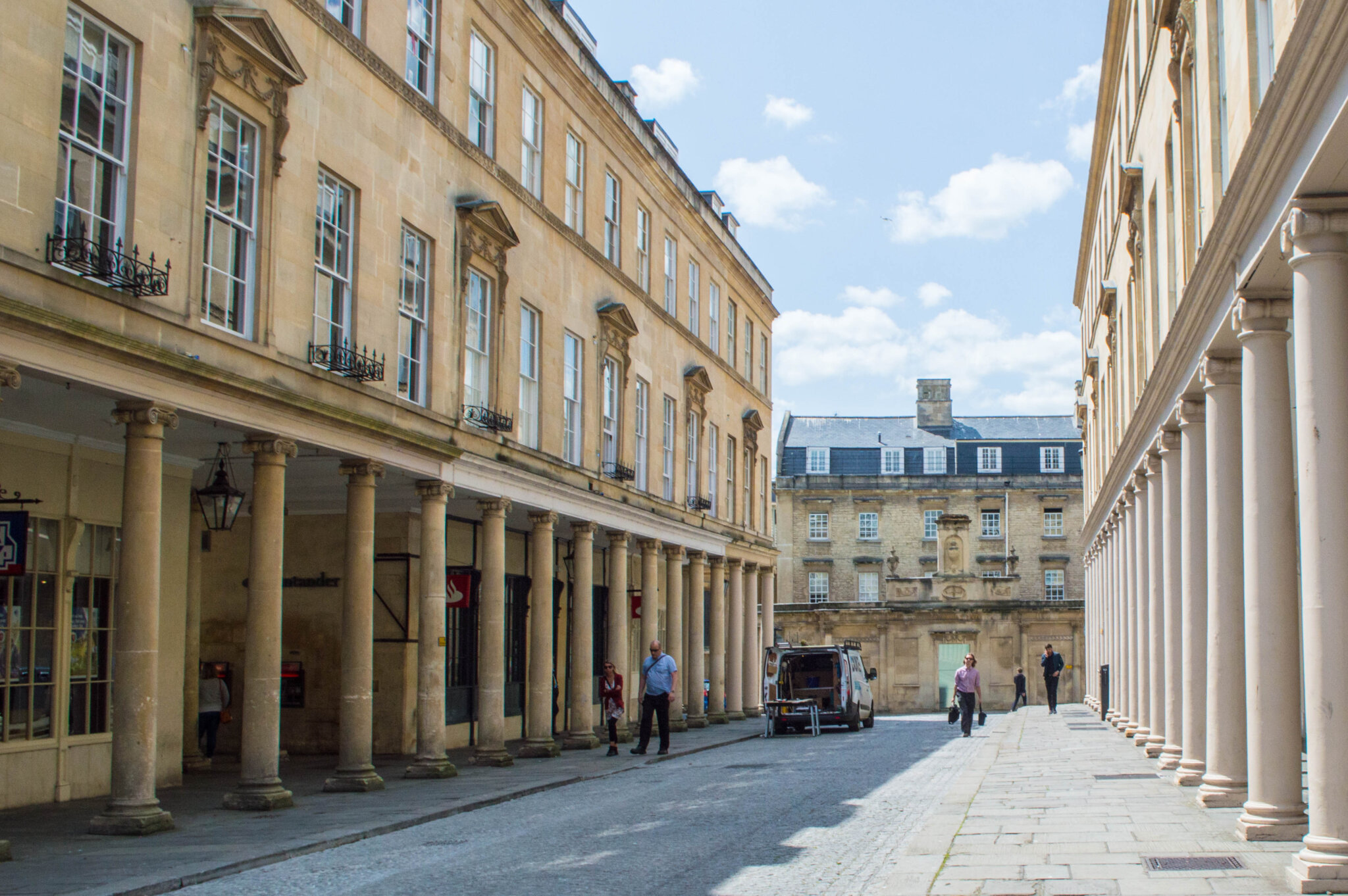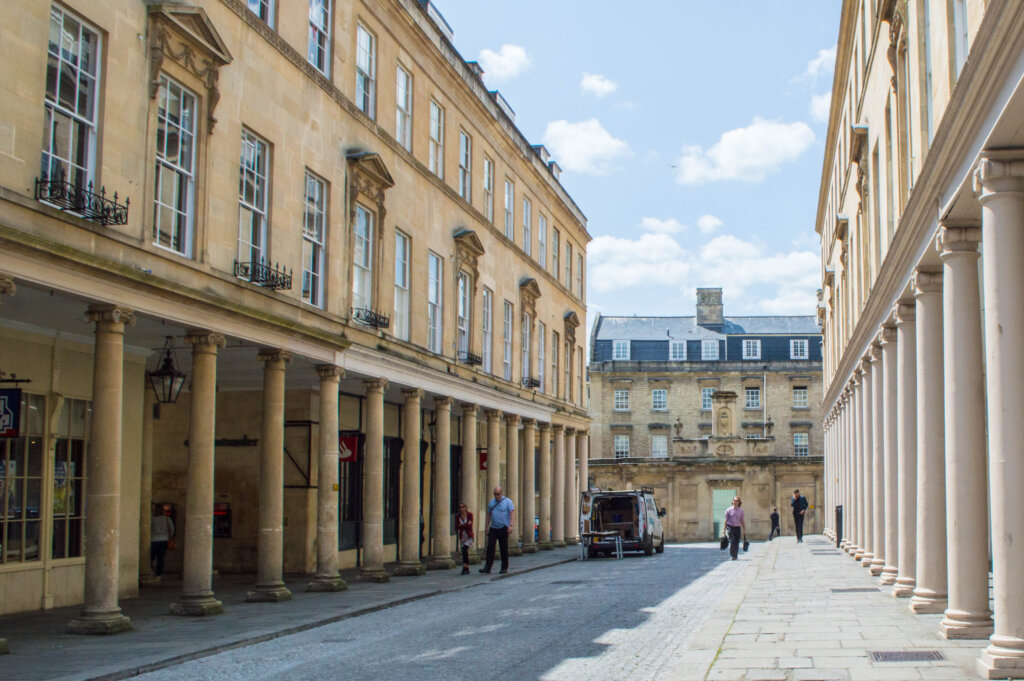 Trim Street: Gunter's Tea Shop is featured in a few episodes, and this facade in real life is found at #12 Trim Street (it is not a tea shop but rather a supply shop) while Lady Dee's is next door, and a regular (non-hat specific) clothing boutique.
Abbey Green: This is where in Episode 4, we see Eloise and Penelope shopping/chatting, with Eloise talking about how amazing it would be to live a life like Lady Whistledown. We also see this area by night in Episode 5, when Will picks up drunk Simon. Lastly, we believe this to also be the location of the flower market in Episode 8.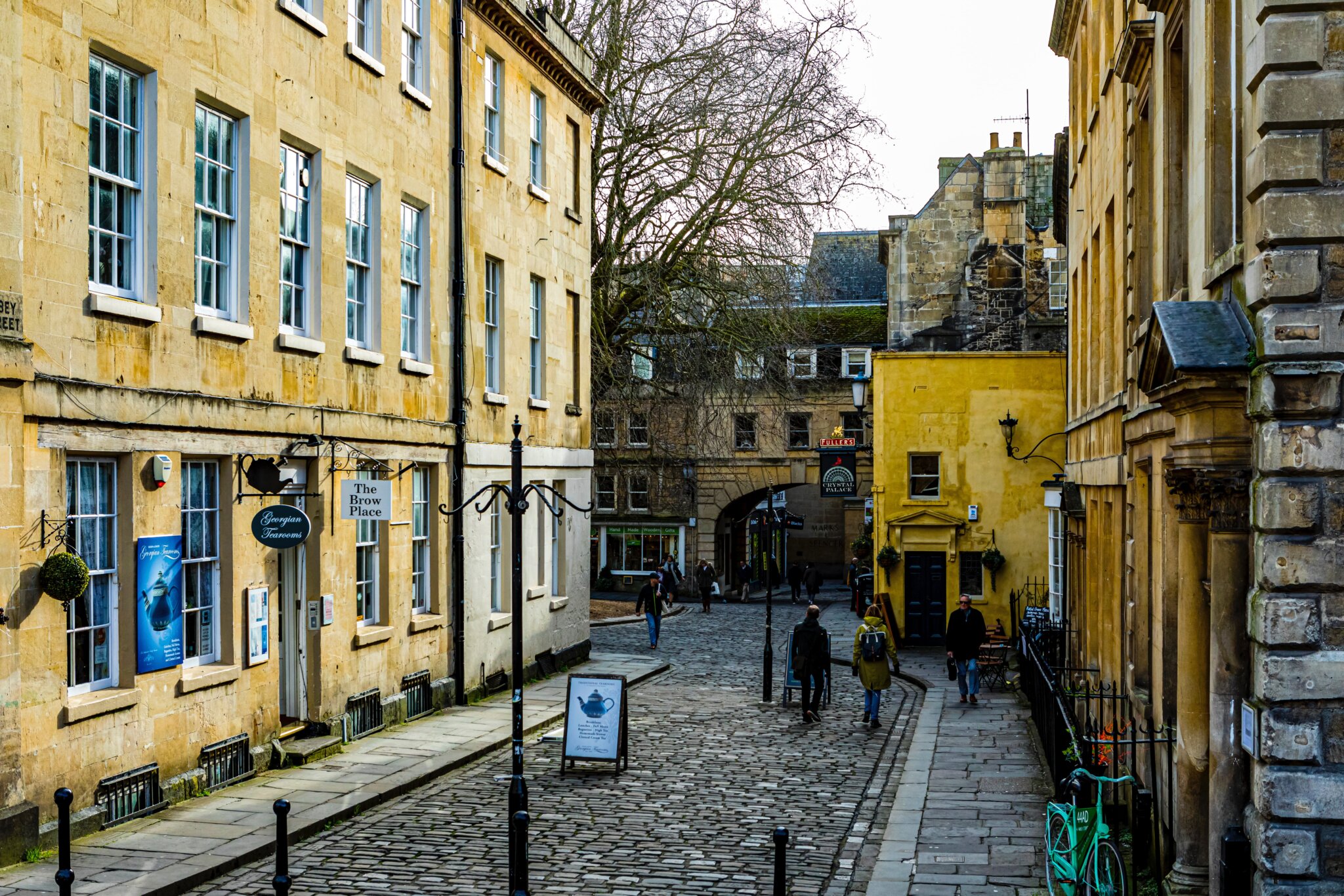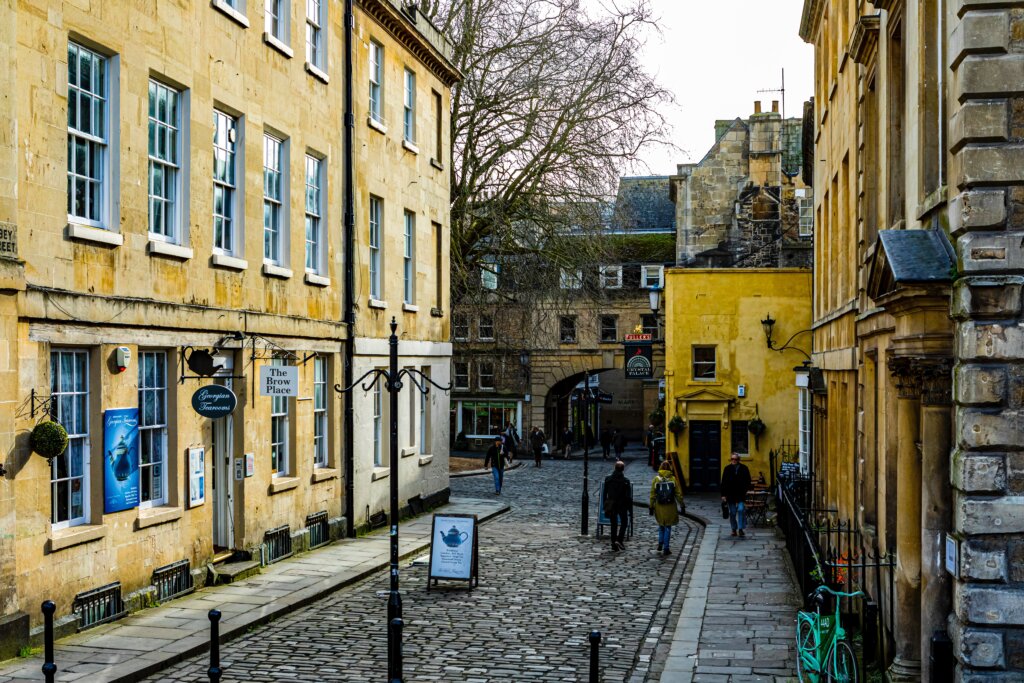 Beauford Square: Here is where we see Anthony and Benedict ride across a beautiful row of dark-doored houses near the end of Episode 4. We also see Eloise and Penelope stroll through here during their conversation about what is going on with Marina in Episode 2.
Random Bridgerton Filming Fact: In Bath, filming was so extensive that some local business owners even demanded compensation for all the lost income caused by crew.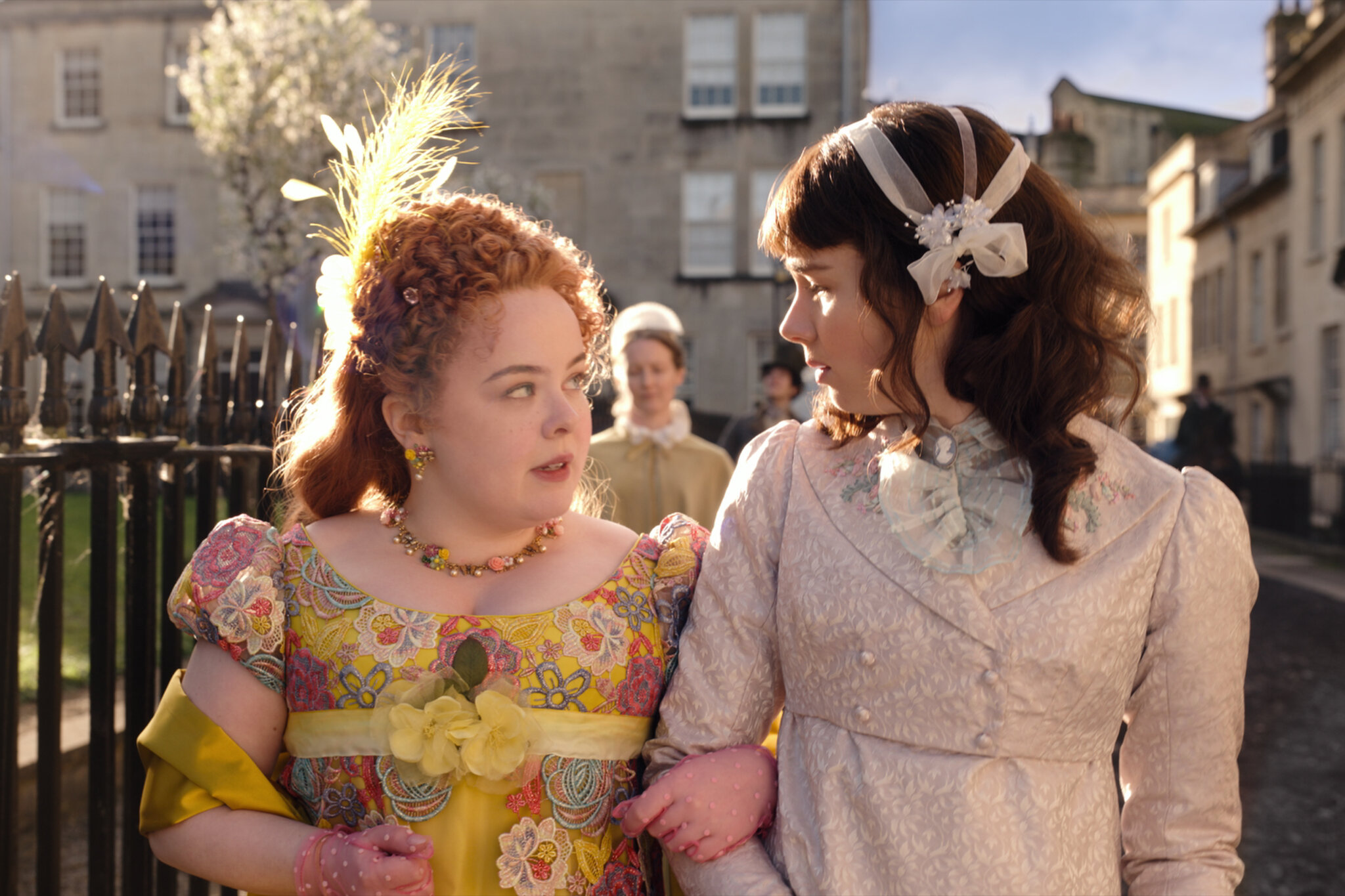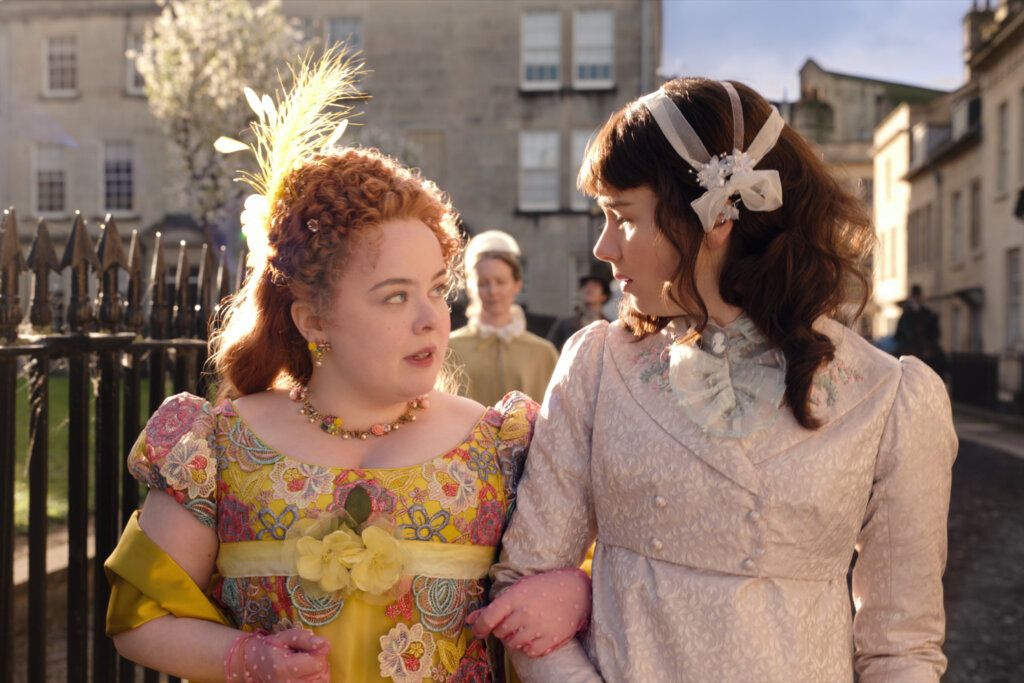 The Bridgerton House
While Lady Whistledown's iconic narration sets the Bridgerton House in Grosvenor Square (found in Mayfair, London), the actual Bridgerton house is a combination of different locations and specially built sets.
The facade of this house (without all the gorgeous wisteria, sadly) can be found in Greenwich, London at the Ranger's House. This property (which is actually a stand alone museum today) was CGI'd into the sprawling square seen in the show.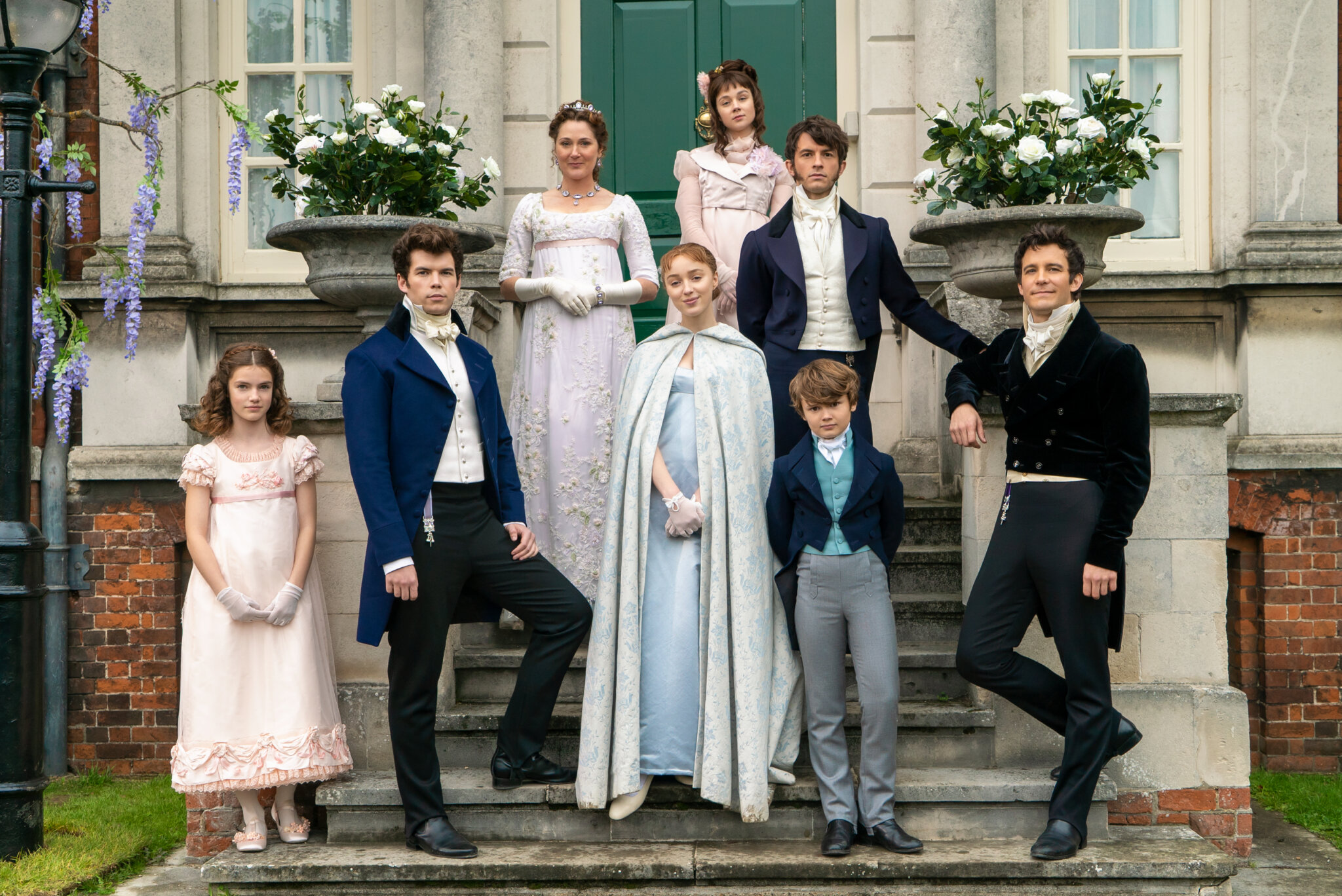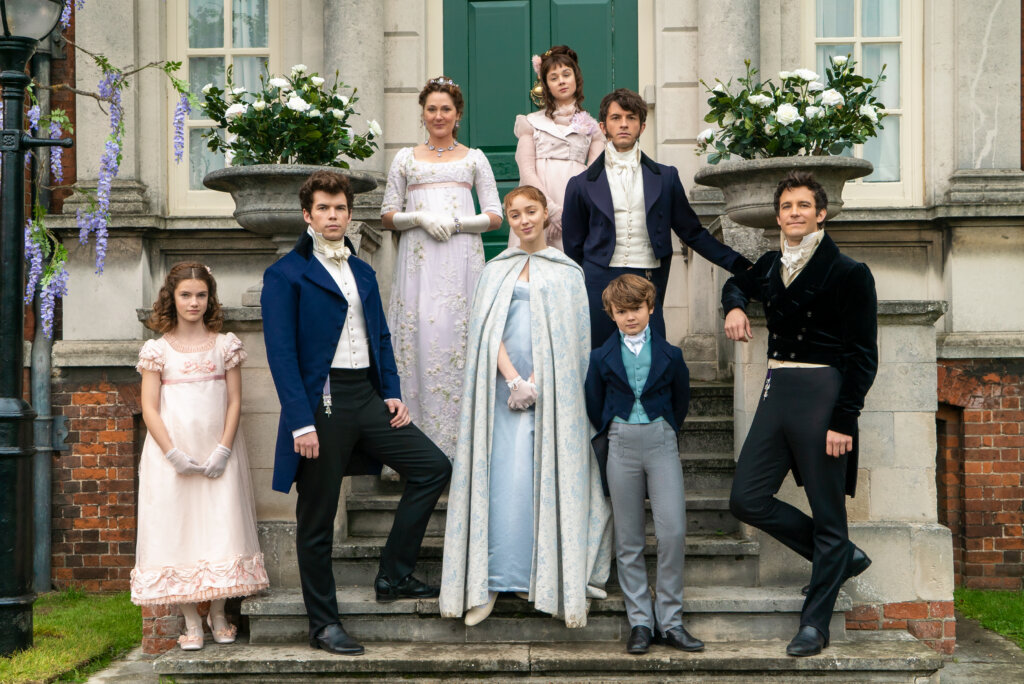 And while many of the interiors were sets built especially for the occasion, many rooms from the Halton House in Buckinghamshire were used to stand in for some iconic Bridgerton rooms (as confirmed by this FB post).
Here are some places at Halton House that feature in the show as the Bridgerton House:
The beautiful Bridgerton staircase, first seen in Episode 1 but shown throughout the series
The salon, which is seen clearly in Episode 5 when Lady Danbury comes over for dinner and in a later party scene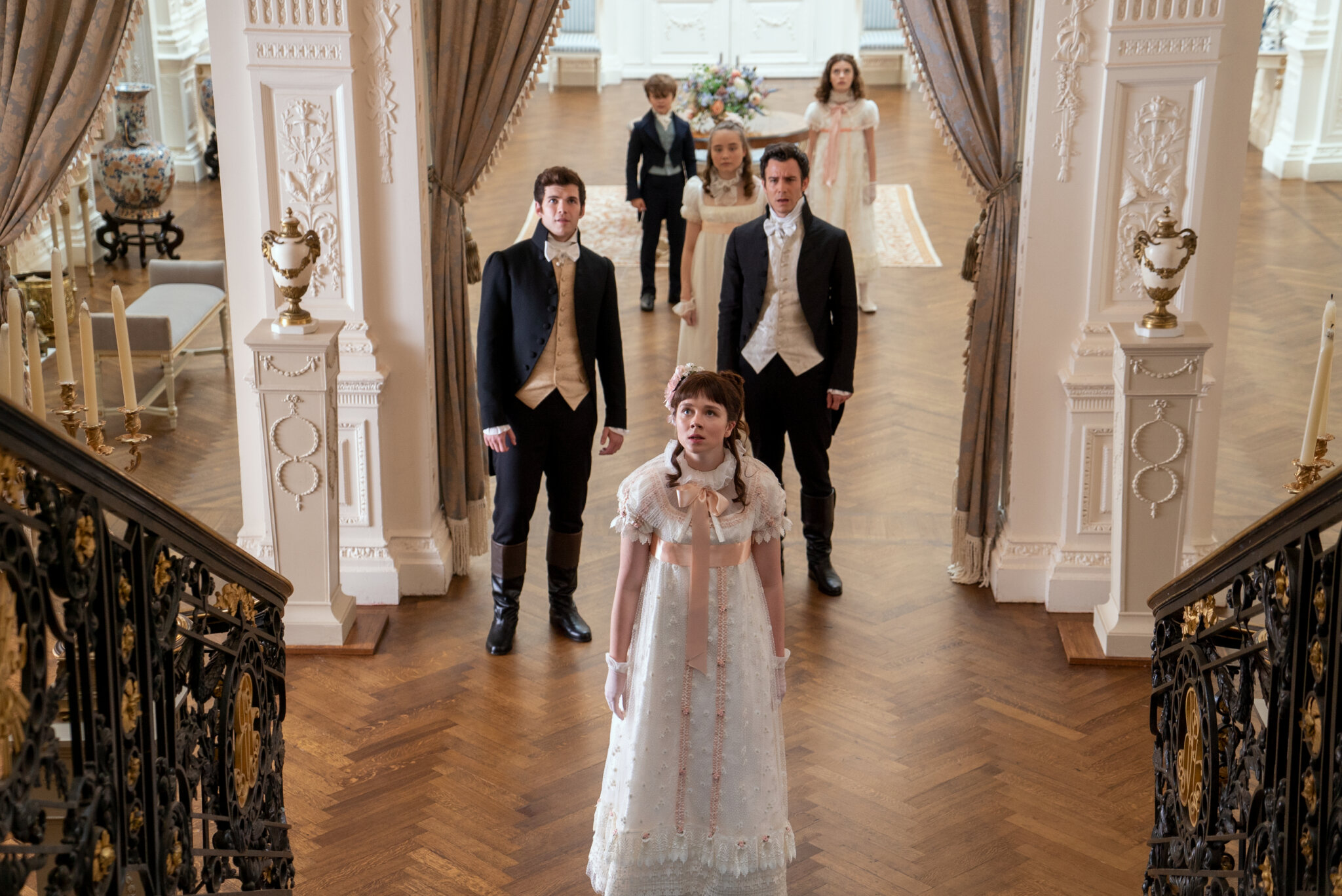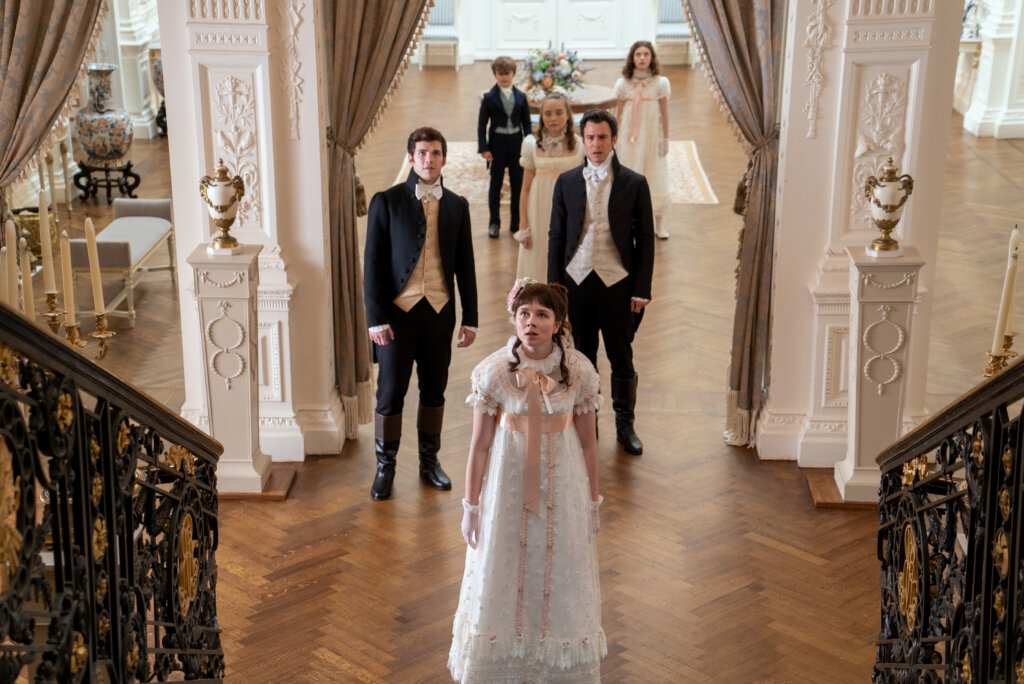 And as for London's real life Grosvenor Square, it is a beautiful sight indeed, but you won't be finding the wisteria-lined Bridgerton house there… Instead. you'll see some gorgeous embassies belonging to Italy, Monaco, and the Canadian High Commission to name a few.
FUN FACT: According to this interview with Bridgerton production designer Will Hughes-Jones, the iconic wisteria seen on the front of the Bridgerton house was indeed artificial, and later re-used for the Queen's garden party.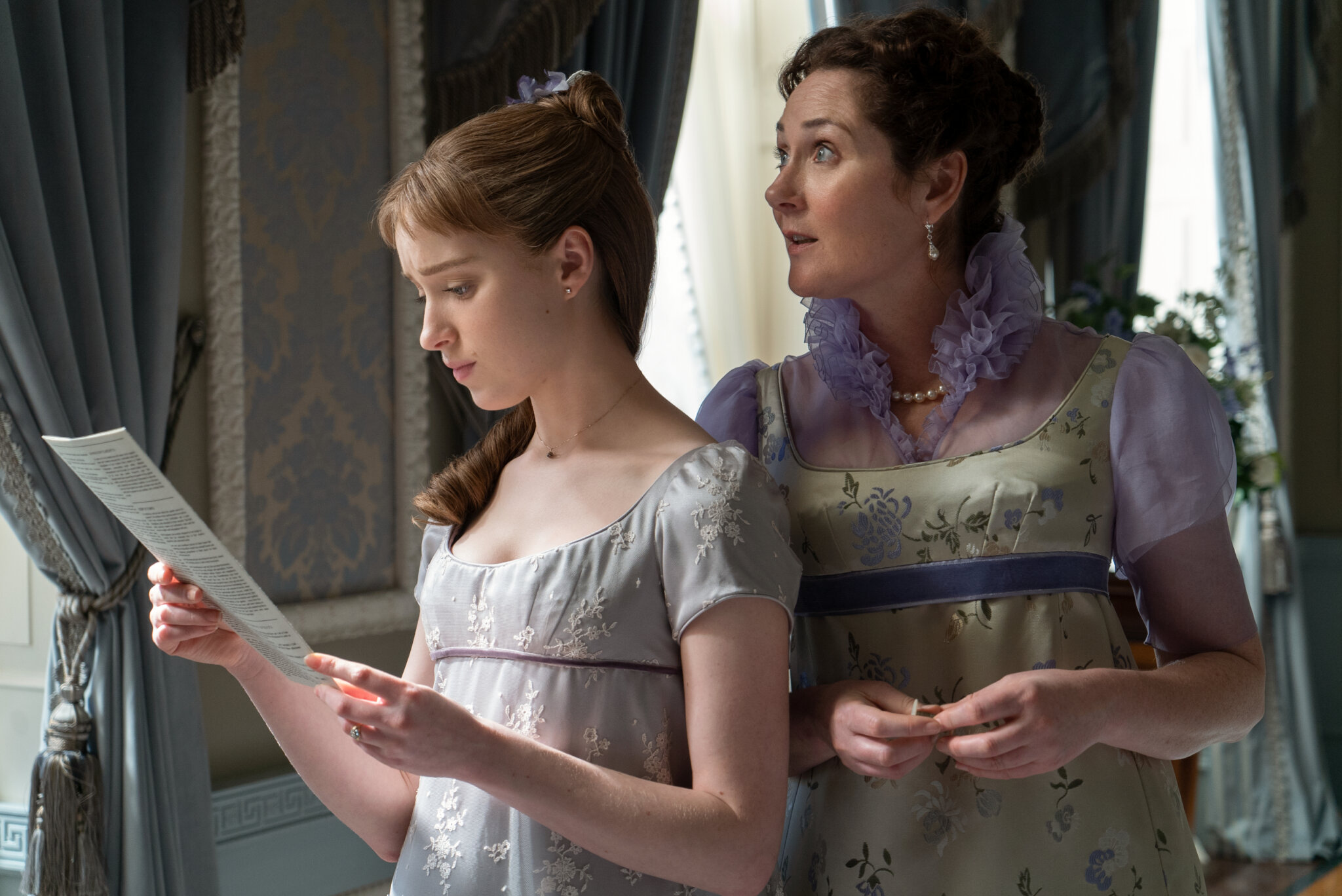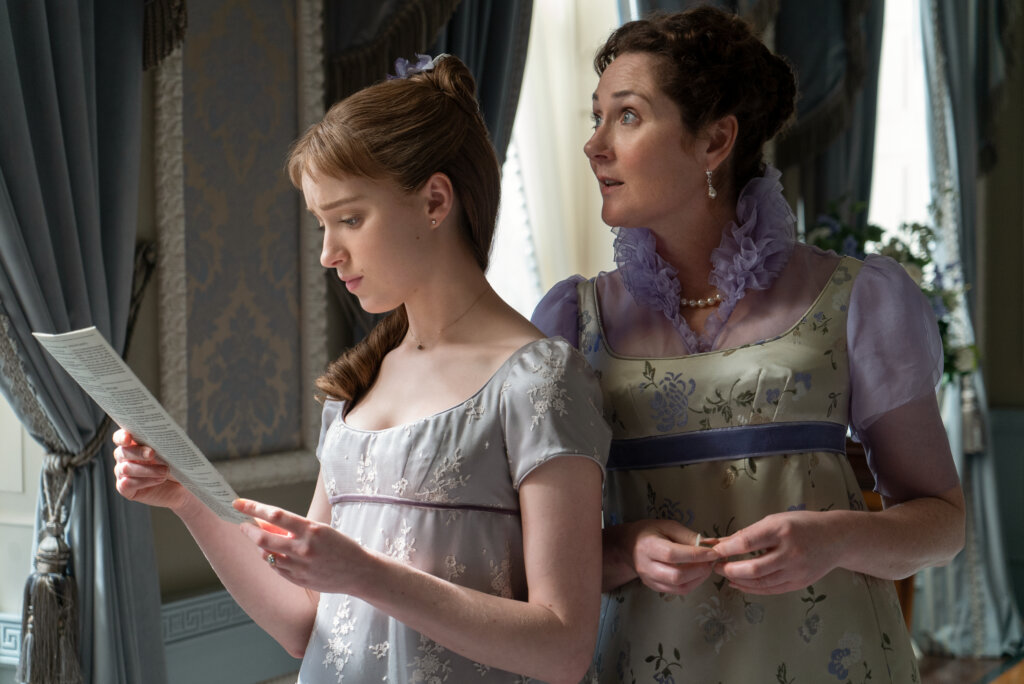 The Featherington House
Just like the Bridgerton house, the Featherington House is composed mainly of specially built sets as you can see in this behind the scenes video.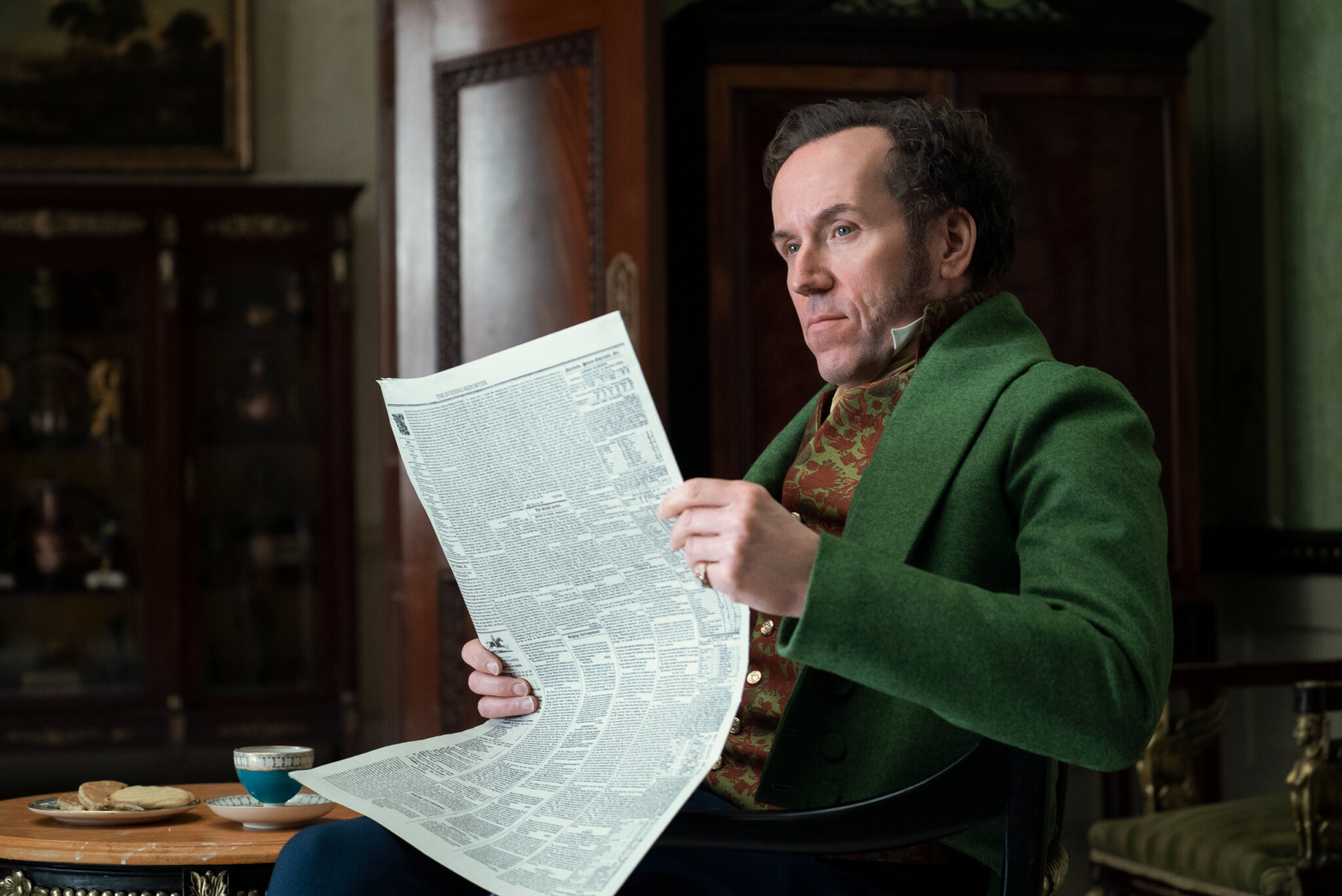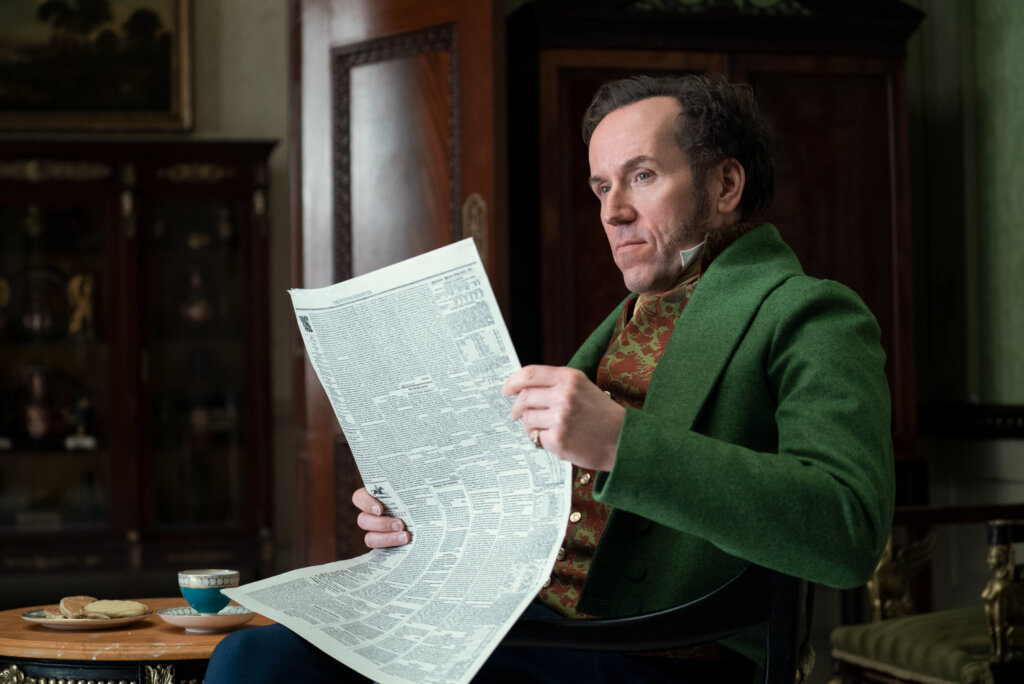 However, its facade can be found in Bath at No. 1 Royal Crescent, a Palladian-style townhouse that has been converted into a museum filled with period room displays and fine art… perfect for living out your own Bridgerton (or Featherington) fantasy!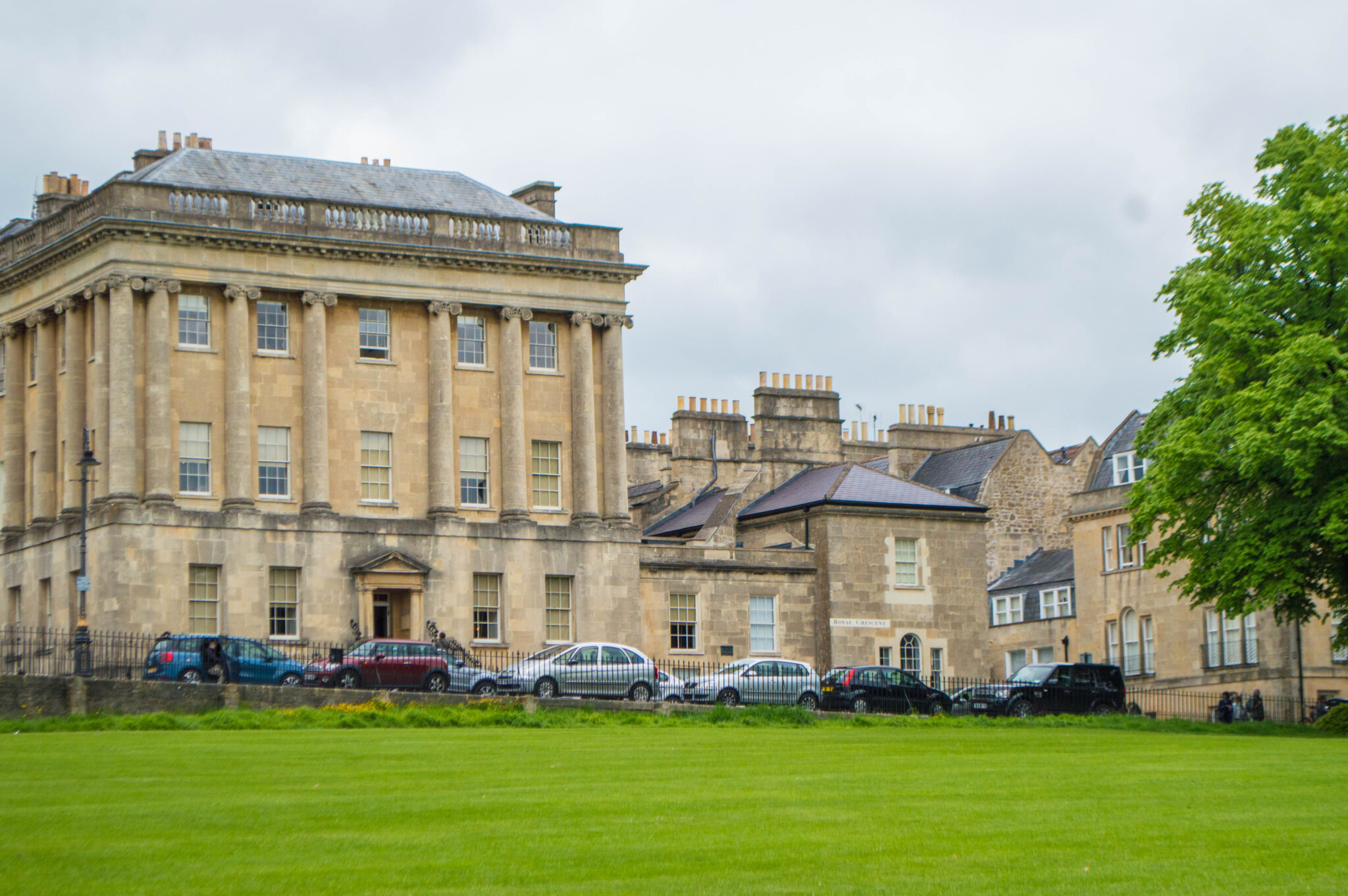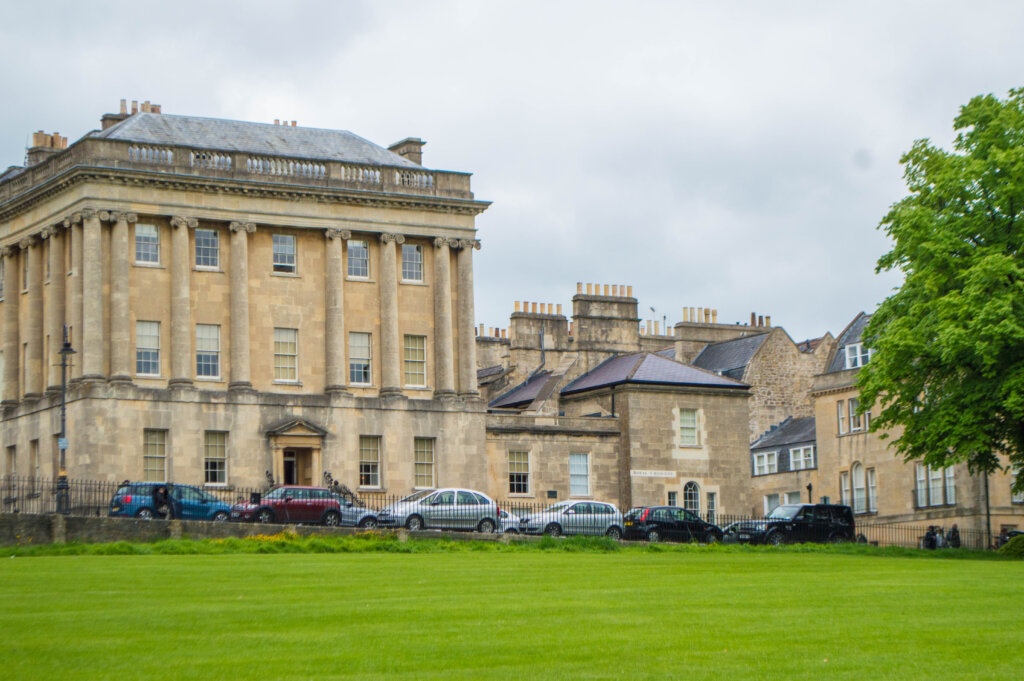 Of course, don't expect this building to look exactly like what you see in Bridgerton. In person, it's quite a bit plainer than what is depicted in the show (click here to see). For the set, they added some ornamental lions, some decorative greenery, and even fancied up the windows as seen in the set photos here.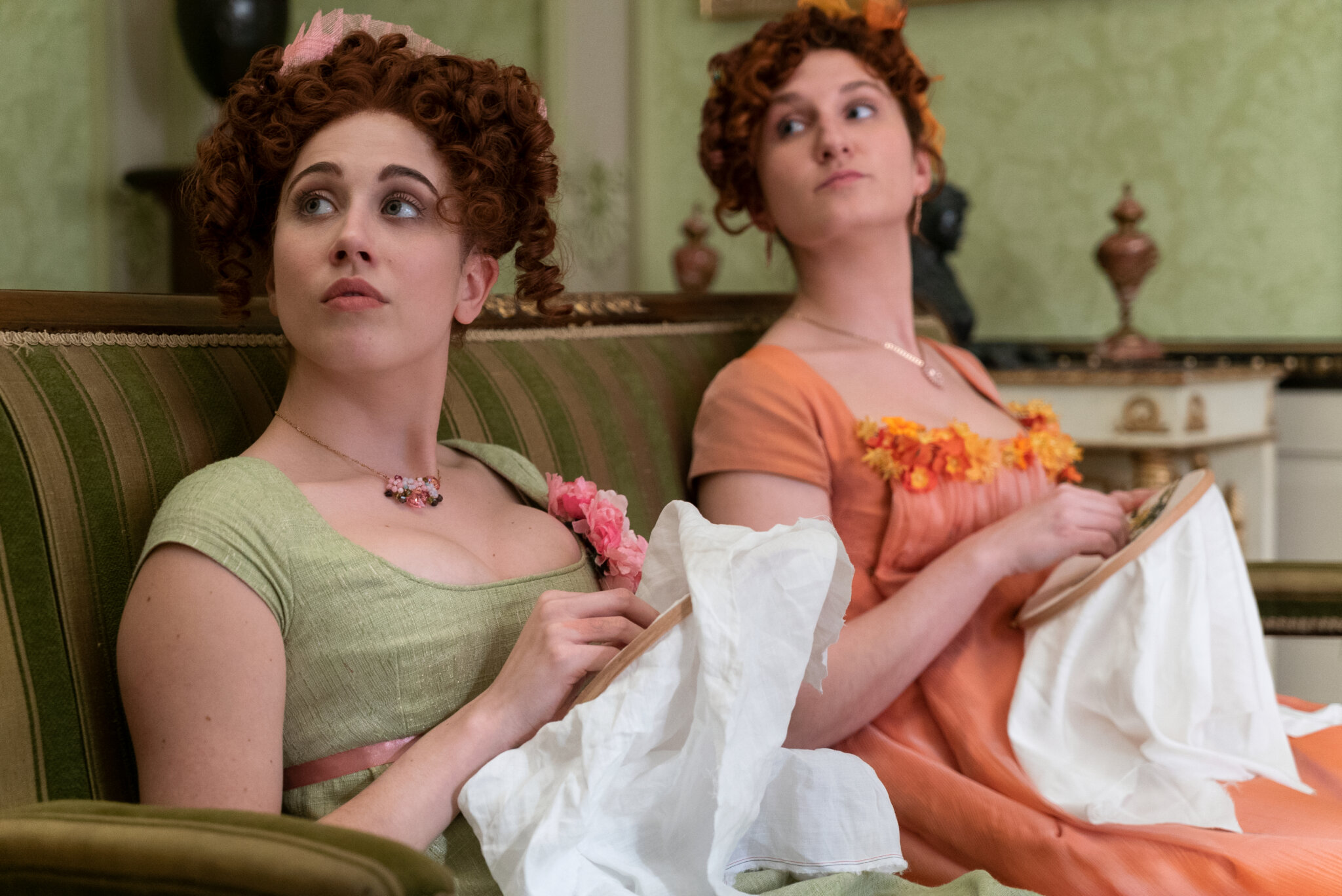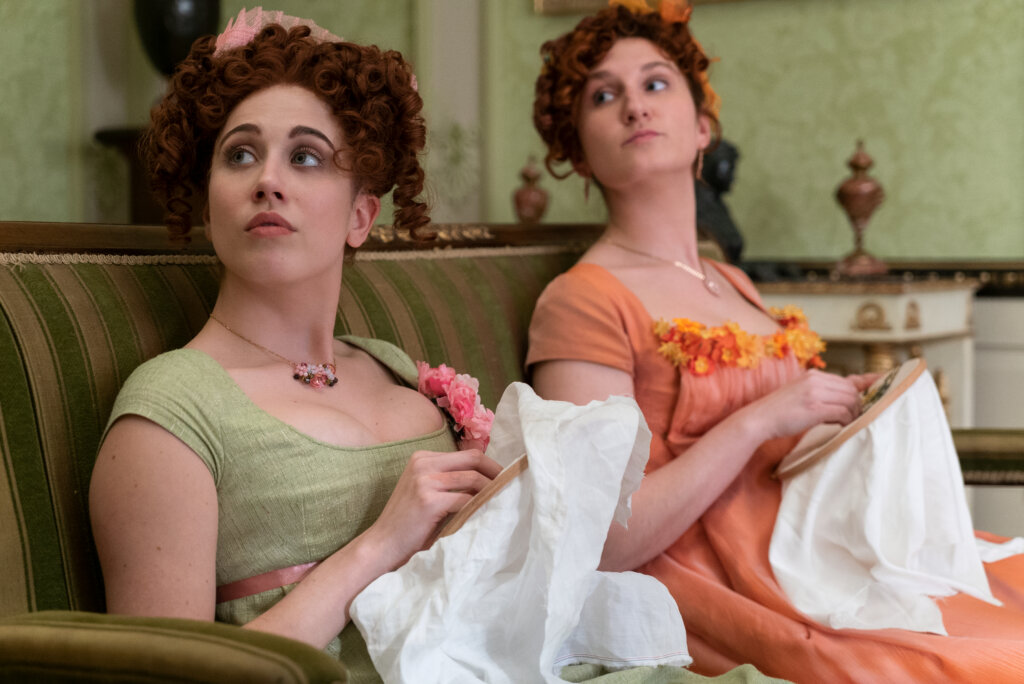 Needless to say, it was production magic that made it seem like the Featheringtons and Bridgertons lived only across the street from each other as well.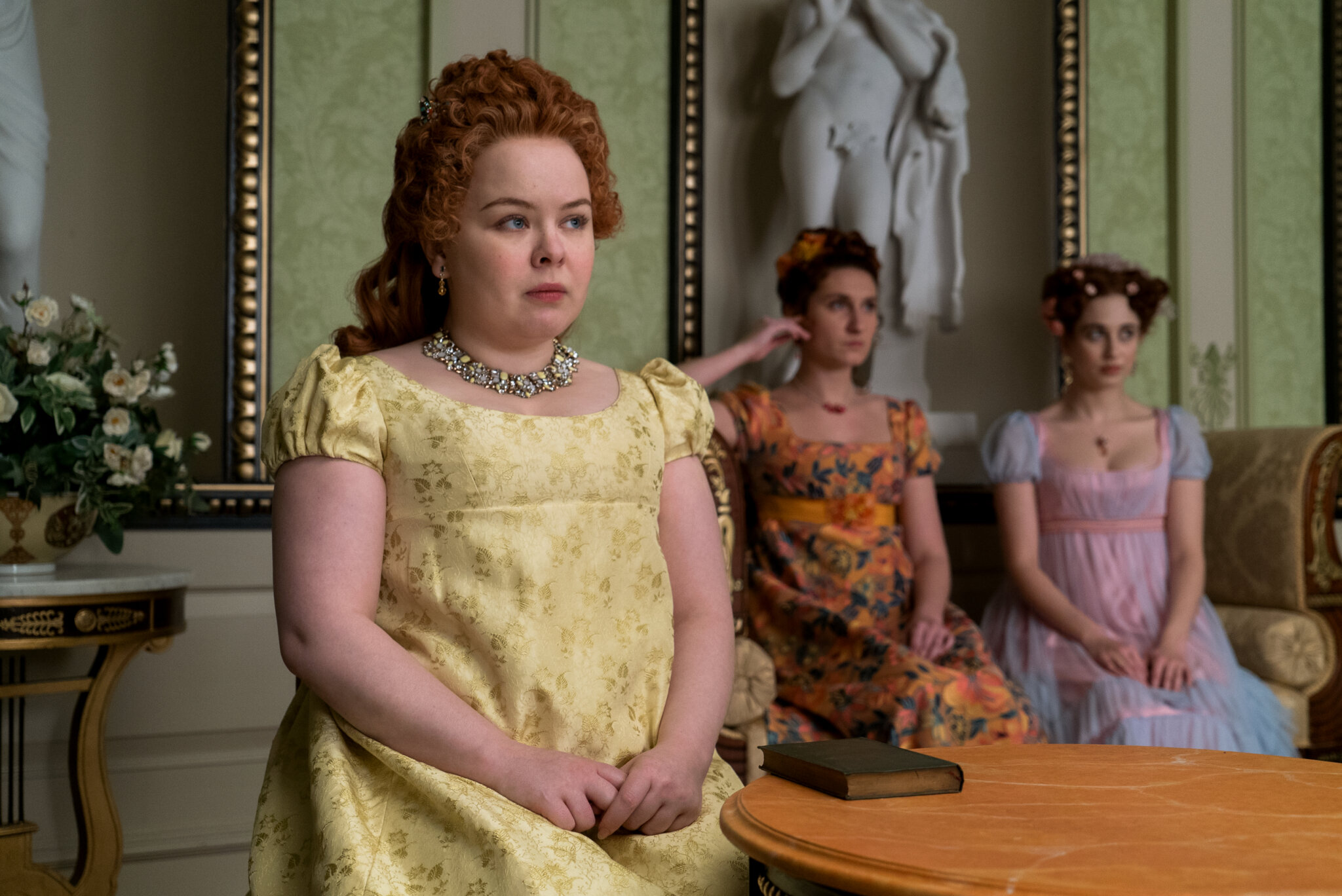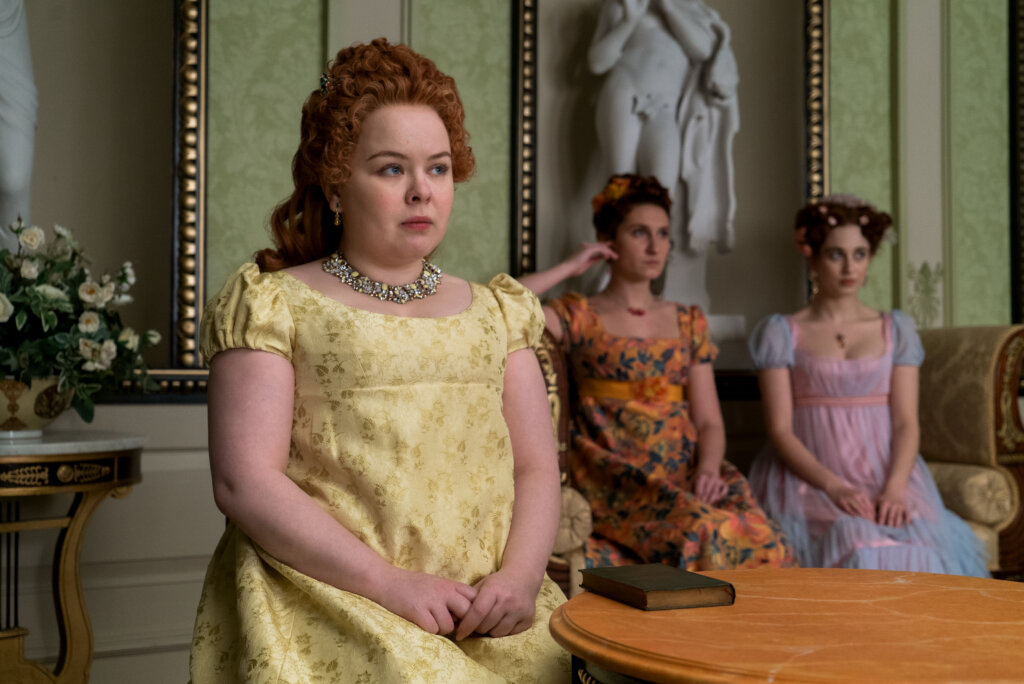 The Queen's Residences (Buckingham Palace – then Known as Buckingham House and St. James Palace)
Fabulous Queen Charlotte is a clear favorite among Bridgerton fans, and the scenes showcasing her royal residences are some of the most gorgeous eye candy in the show.
To portray the Queen's sumptuous quarters, a variety of different locations were used.
In the first episode, when all the carriages arrive to the presentation of the debutantes, the courtyard we're seeing is the iconic red brick facade of the Hampton Court Palace courtyard.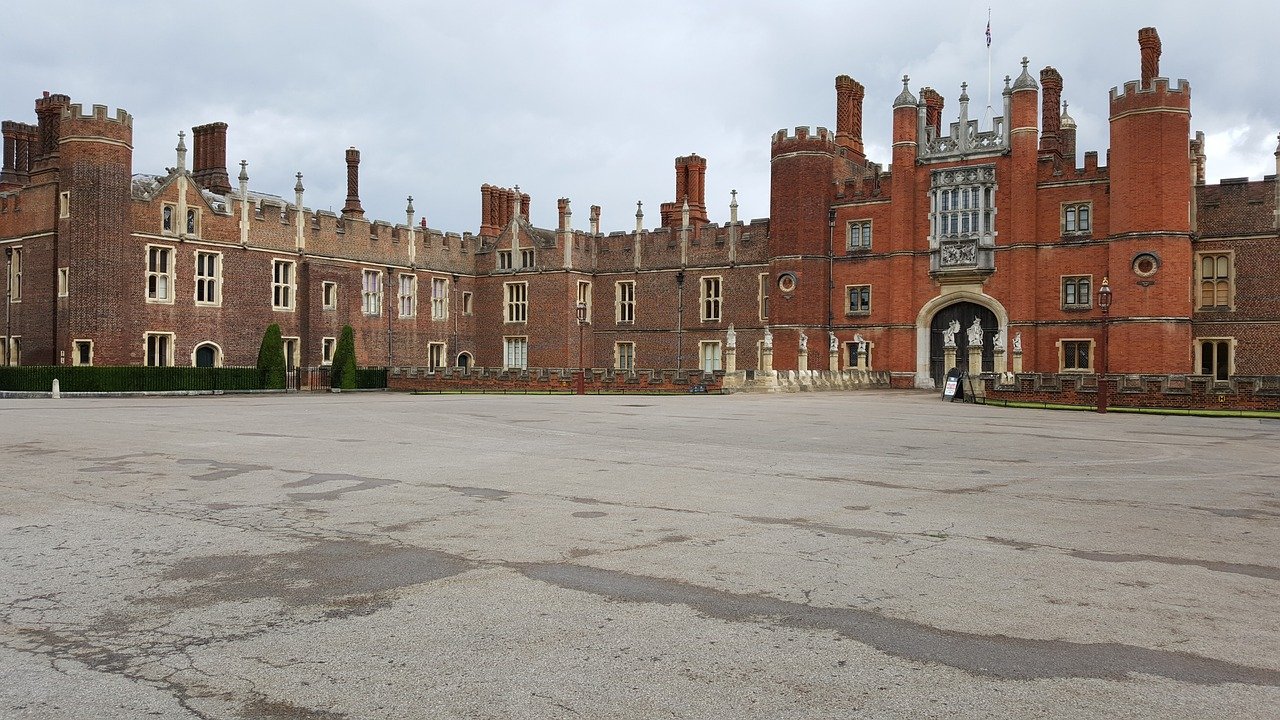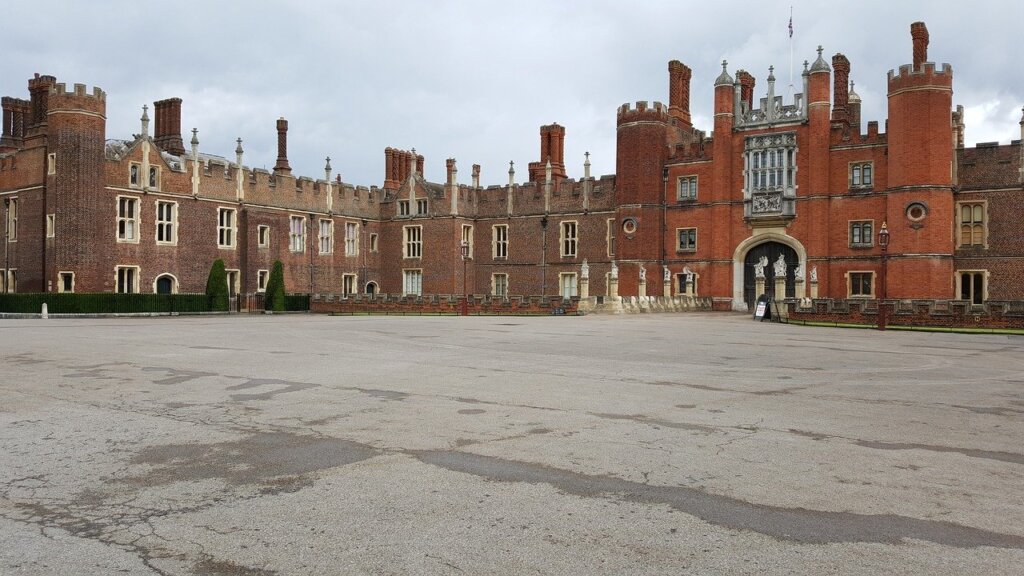 The sumptuous room we see in the next scene (also where we see Queen Charlotte for the first time, surrounded by her waiting ladies and adorable Pomeranians), can actually be found at Wilton House, specifically the Double Cube Room.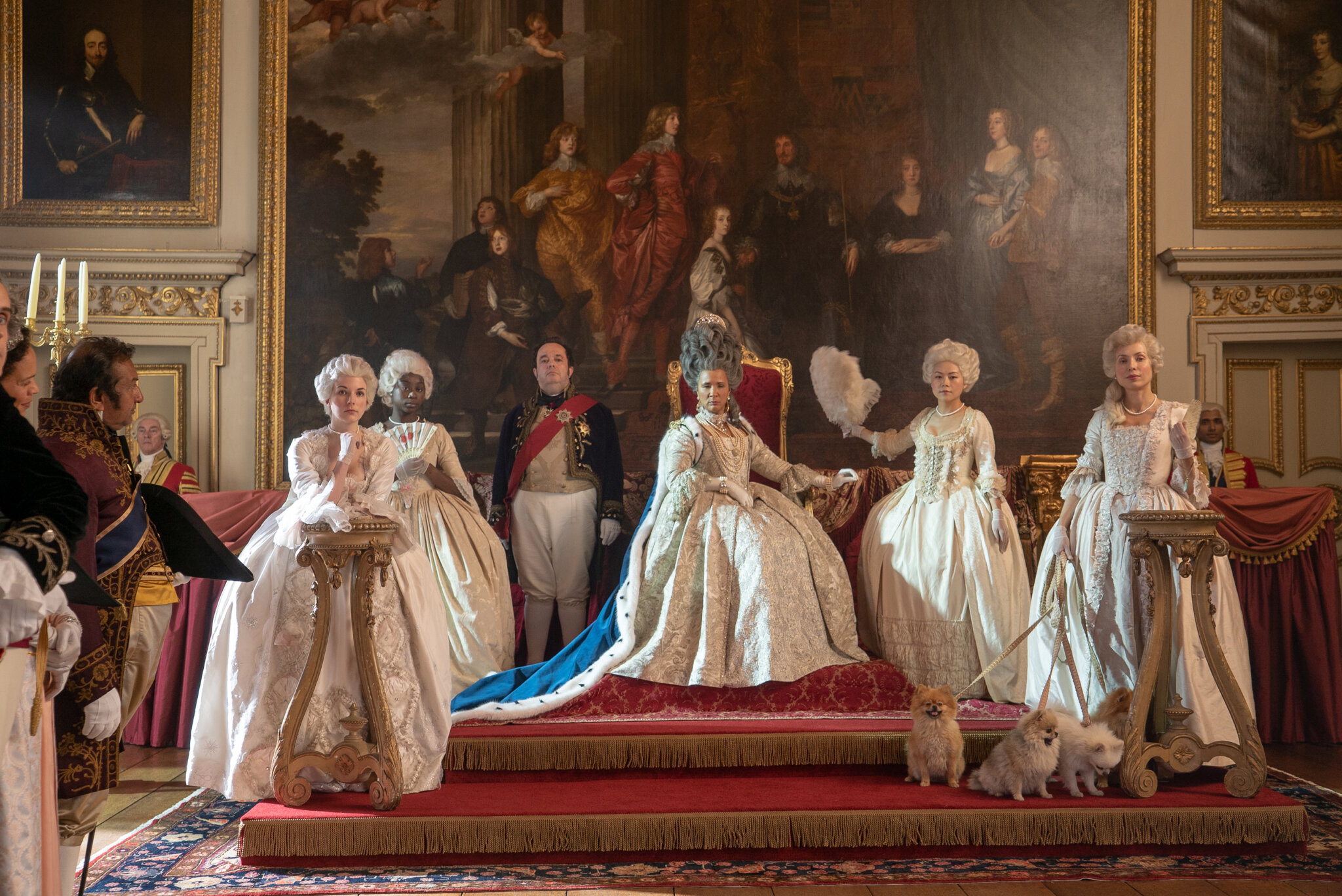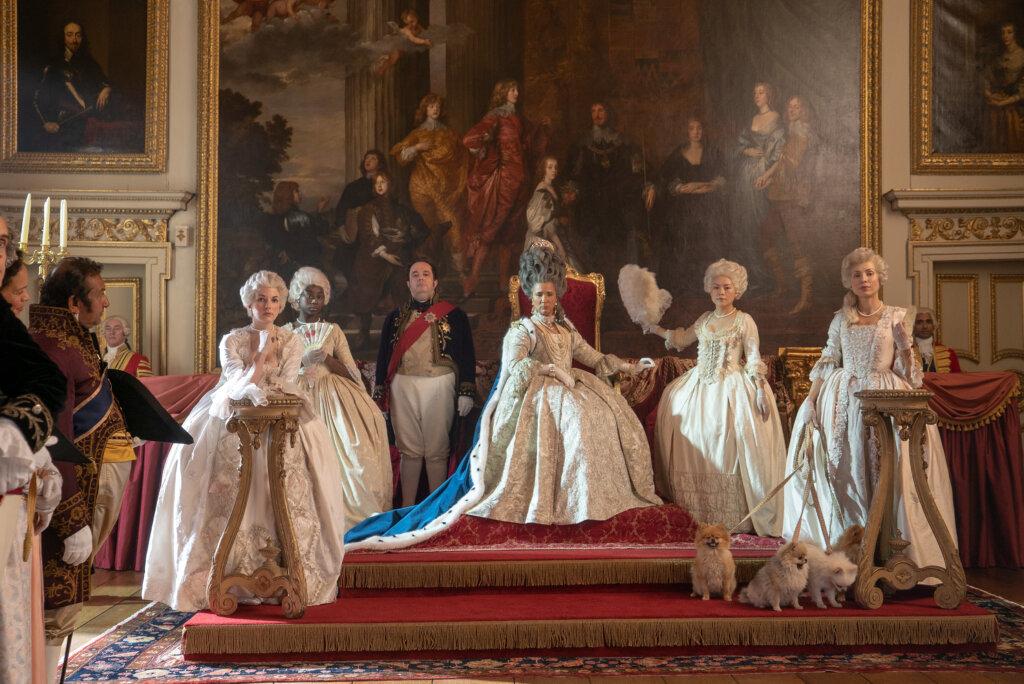 And you might be wondering, if there's a Double Cube Room, is there also a Single Cube Room?
In fact there is, and we see it in Bridgerton a few times – when Queen Charlotte is reading Whistledown in Episode 2 while the contortionist is performing, and when Queen Charlotte is berating her nephew for his missed opportunity in Episode 5. Here's a photo.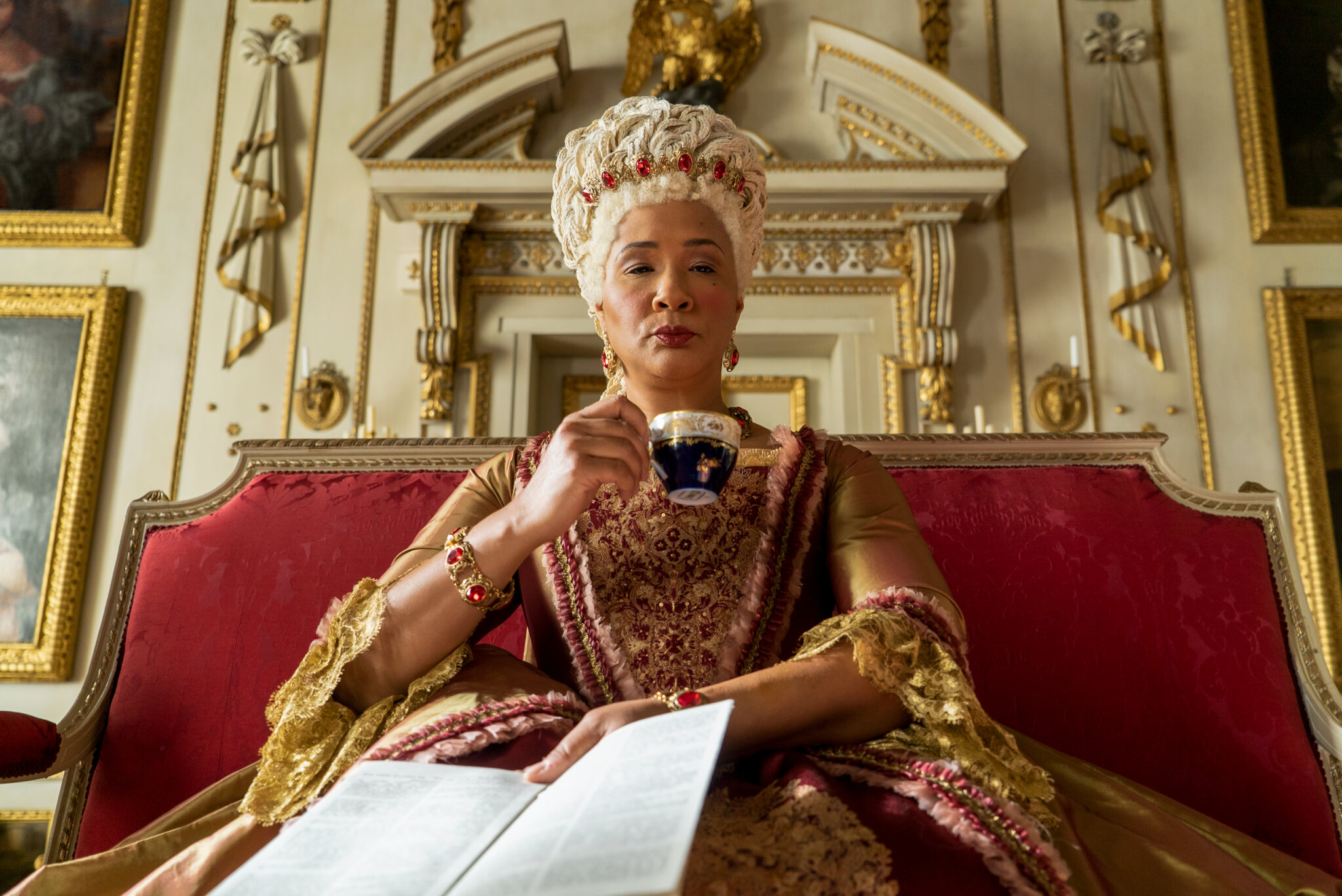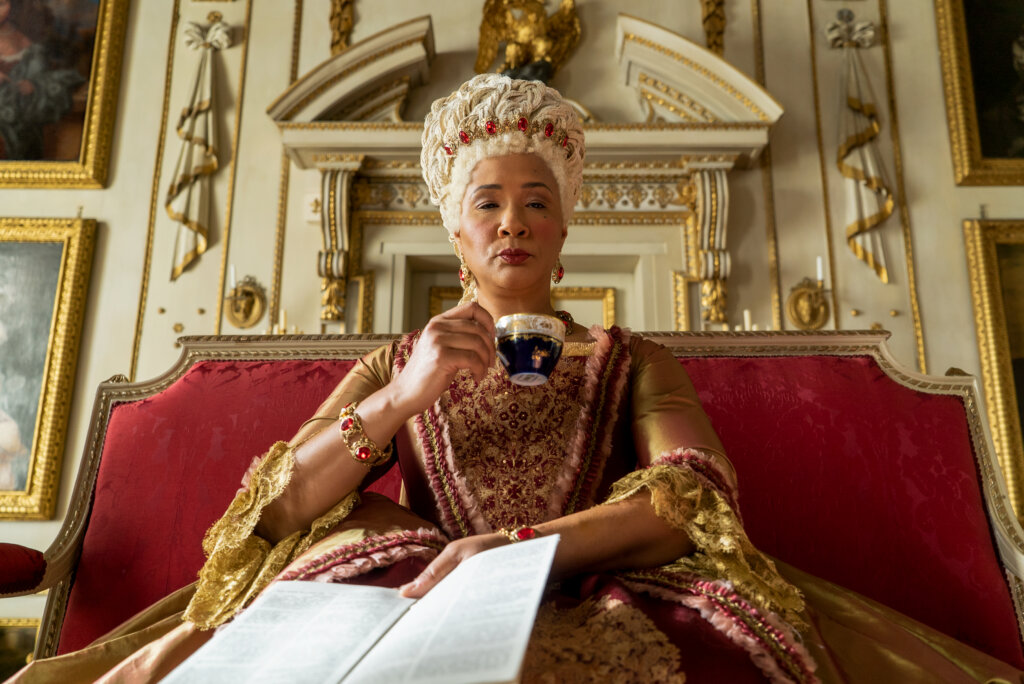 Of course, Wilton House features a lot more in the series, but more on that later.
Another stand-in for the Queen's luscious quarters is Lancaster House. In Episode 2, we see Lady Bridgerton walk through Lancaster House's elegant Long Gallery on her way to see the Queen. This is of course the same room where Simon and Daphne return to speak to the Queen in Episode 5 (and a location seen frequently in the Crown).
The royal tea party itself takes place in the Music Room, which we return to in Episode 4, because it's the place where Friedrich gives Daphne her shiny new bling.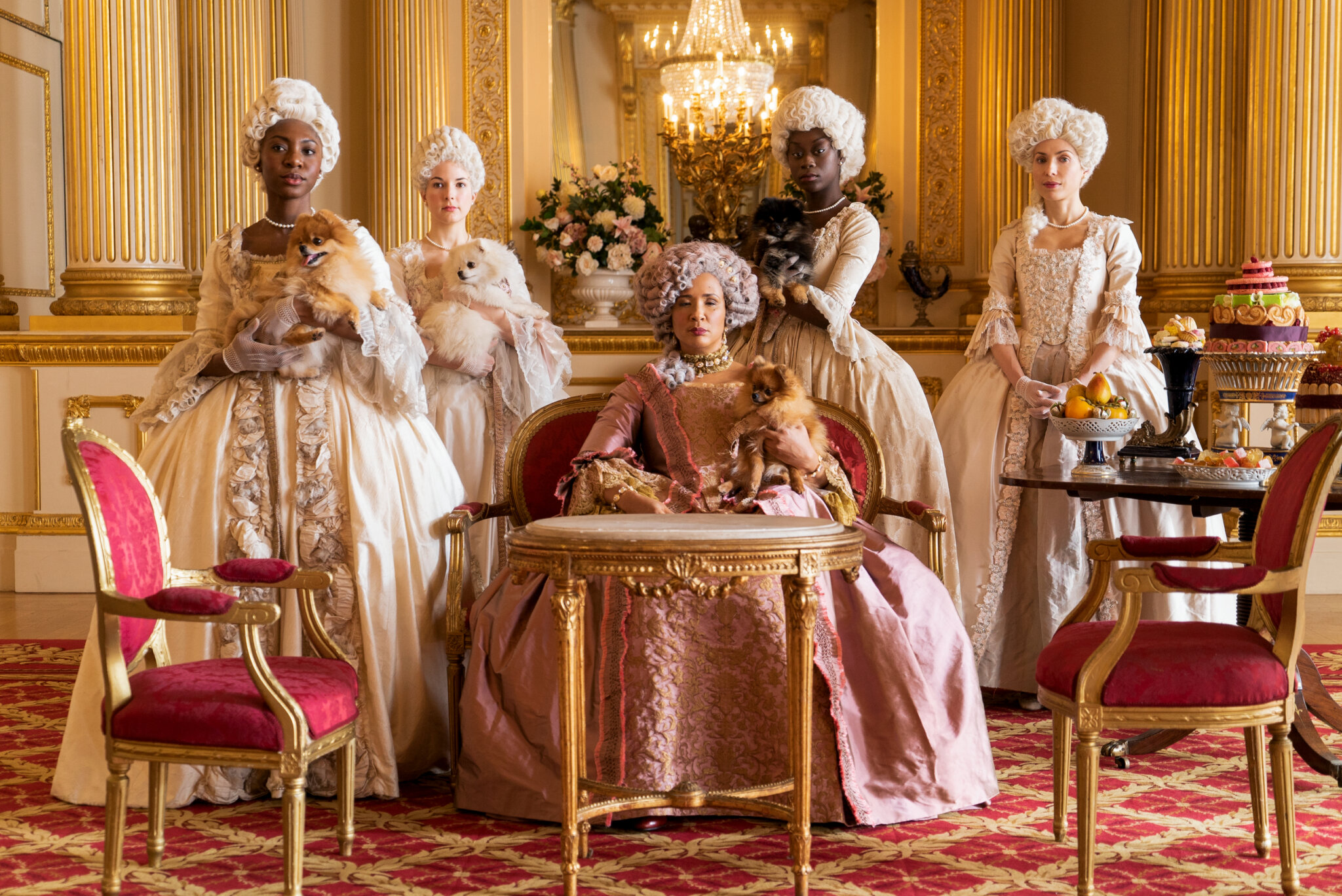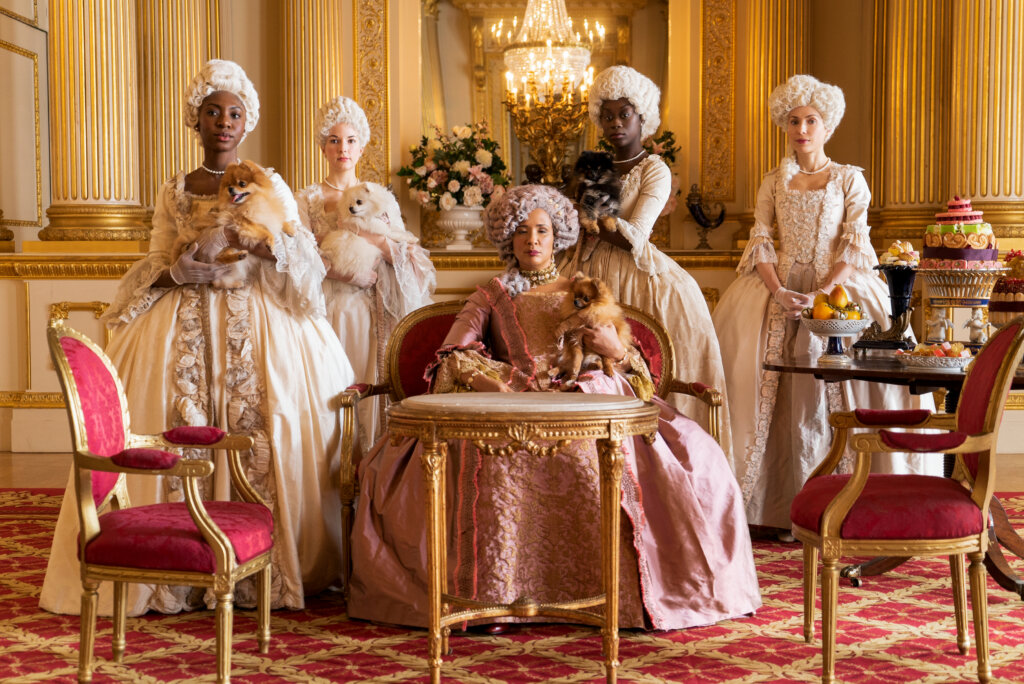 You can see more photos from this gorgeous property here or even find a full virtual tour here.
Finally, a few more royal scenes play out in Episode 5 at Syon House, the London home of the Duke of Northumberland.
Specifically, its Long Gallery is where we see the Queen scurrying down near the start of the episode when she learns of the engagement of the season, and then the State Dining Room where she has her dinner with the King later in the episode.
Lady Danbury's House
Like all homes in the show, Lady Danbury's beautiful property is a combination of various places including the Holburne Museum in Bath, Wilton House in Wiltshire, Badminton House in Gloucestershire, and even the Bath Assembly Rooms.
In Bath, the Holburne Museum (AKA the city's first public art gallery) stands in as the facade of Lady Danbury's beautiful house.
We see this facade for the first time as Lady Danbury exits her carriage while reading Lady Whistledown's gossip of the day, but we get a better glimpse of it when Simon arrives back in town and meets up with Lady Danbury to discuss whether or not he'd be heading to the ball that evening – the season's opening ball which we see later on in the first episode.
Speaking of Lady Danbury's Ball, we've determined after much sleuthing that the real life location of it is actually the Tea Room at Bath Assembly Rooms, known for its beautiful original fireplaces and decadent chandeliers… a perfect venue for meeting your Duke for the first time.
You can click here for a virtual tour, and yes, you can even book it for your own wedding!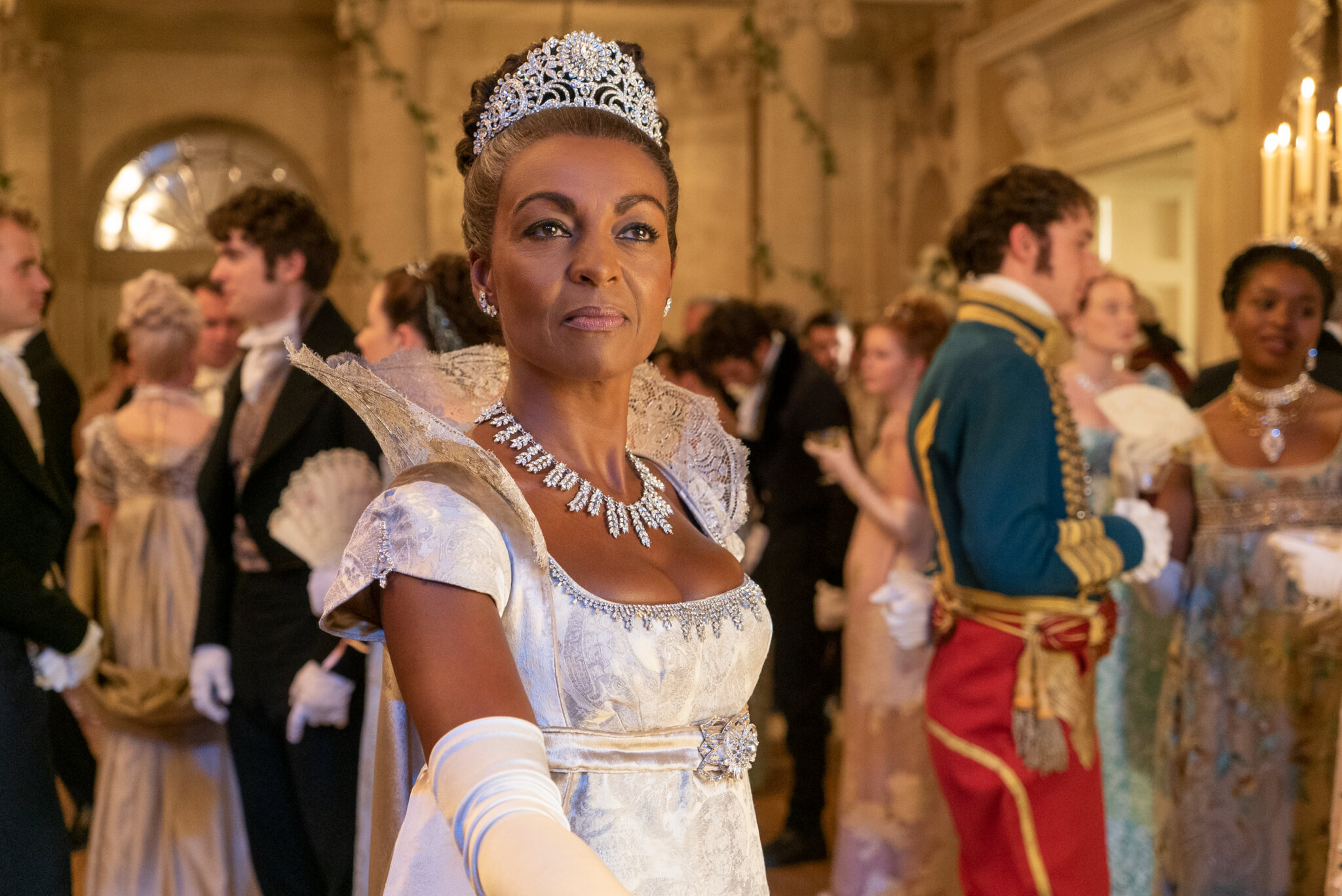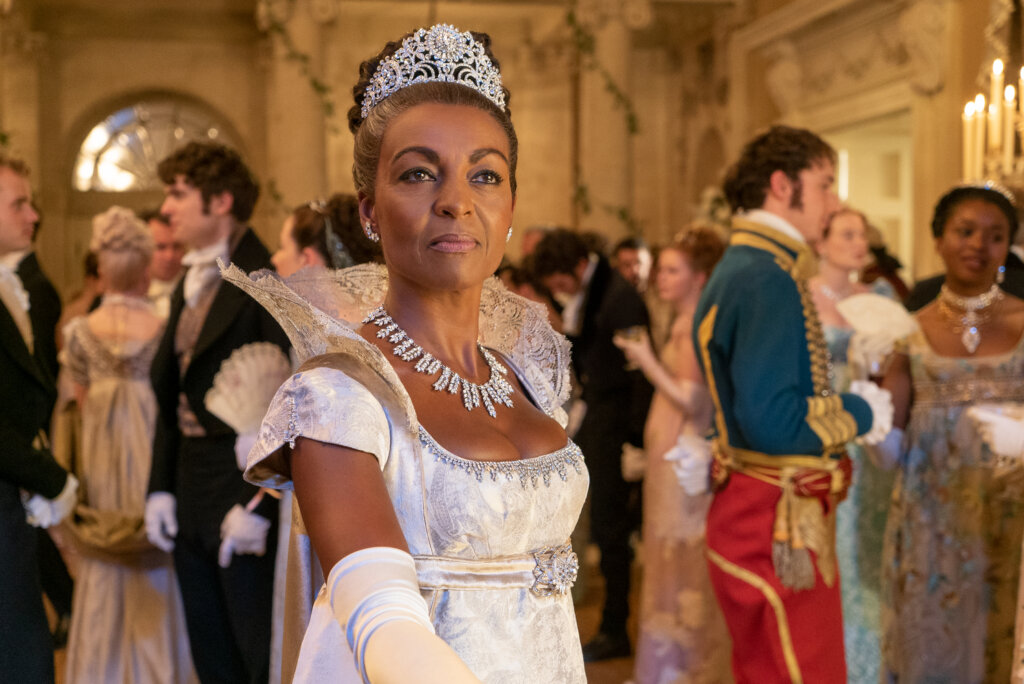 Lastly, many of Lady Danbury's rooms can be found at other stately homes scattered across England.
The Wilton House Library for example is where Lady Danbury is seen smoking and reading Lady Whistledown in Episode 1 after the ball.
And based on comparing photos here of the chandeliers and molding around the doors, the Badminton House Great Drawing Room appears to be the room where Lady Danbury hosts her little "ladies who gamble" evening in Episode 7.
Bridgerton's London Opera House
The opera house is a location seen several times in Bridgerton, from Siena and Anthony's love scene in Episode 1, to other little outings in subsequent episodes.
Well, if you're looking for this opera house in real life, it's actually the Hackney Empire in London, a music hall built in 1901 that is known for its ornate decor.
However, do note that a different location is used to represent the opera house in Episode 7. The one seen in this episode (where Anthony spots Siena in the audience this time) is the Theatre Royal Brighton.
In the scenes just before they take their seats, the opera house 'lobby' is actually Lancaster House, although it is cleverly disguised. Just look at the staircase during Benedict's conversation with Granville though and you'll see it!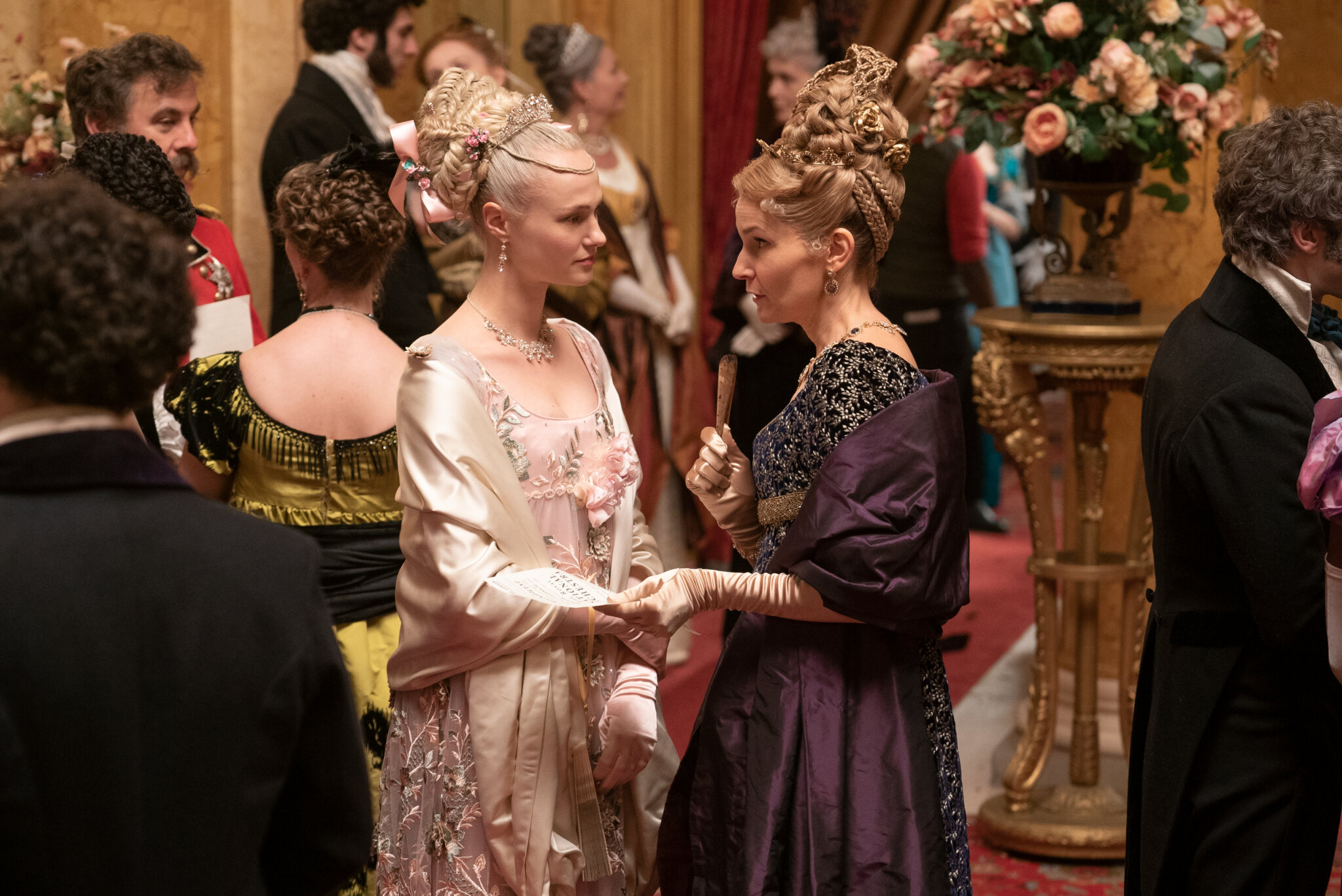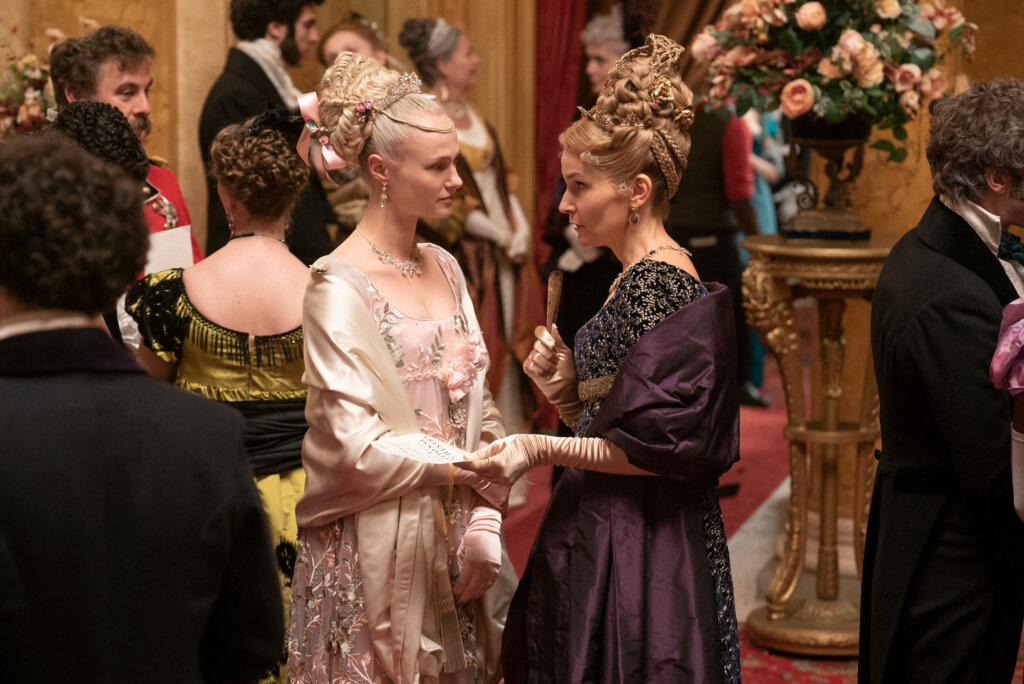 London's Parks and Promenade Grounds
Green spaces feature heavily in Bridgerton, usually as a backdrop to horseback riding or promenading.
These park scenes used a few filming different locations to get the job done.
The most prominent Bridgerton park location would be the Wilton House grounds.
This property's gorgeous Palladian Bridge is seen in the background for a few walks, Whistledown flyer handouts, and Daphne/Anthony's talk about how tough it is for her to be a woman and "worthless" if she cannot find a husband.
According to this interview with Bridgerton's production designer, this part of the property was used to depict "Rotten Row", which was once upon a time a place in Hyde Park where people went to ride, promenade and be seen.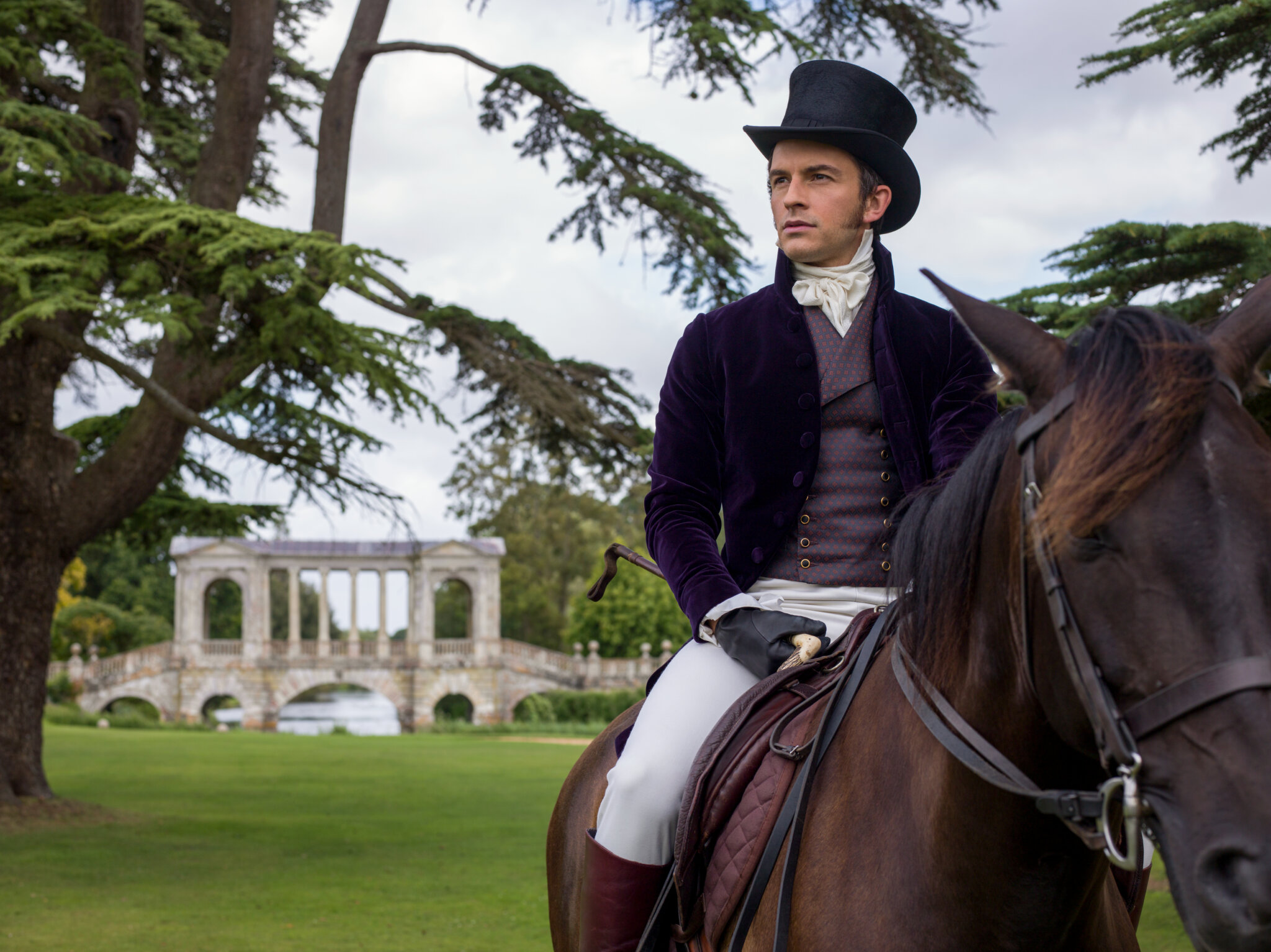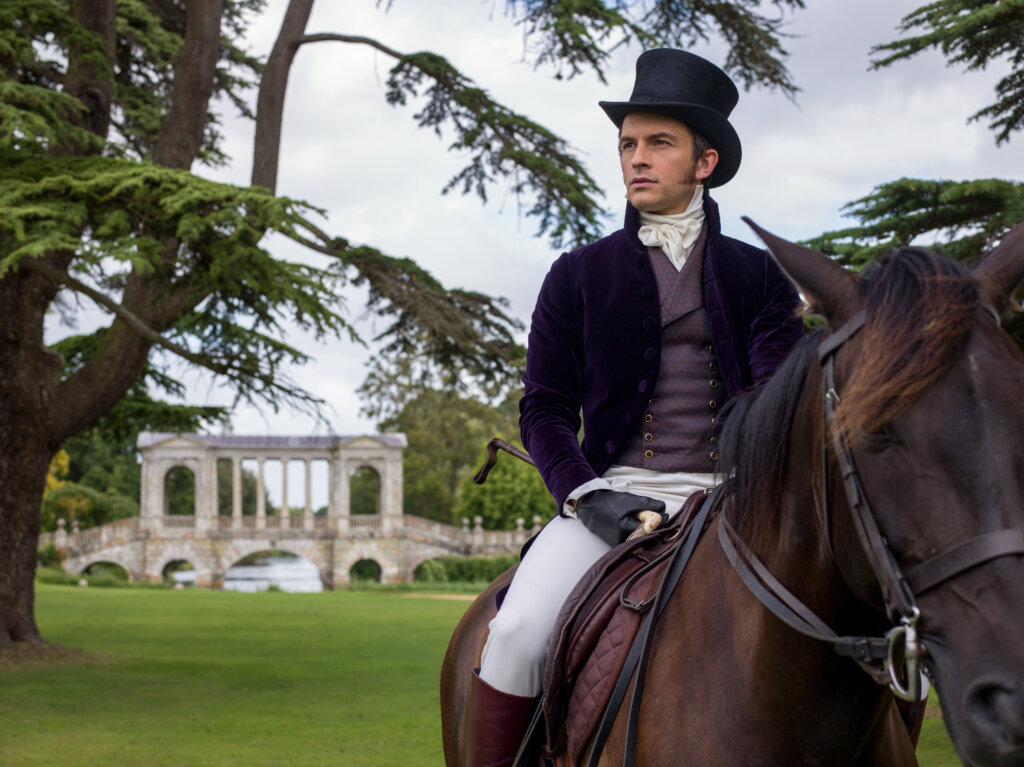 Another park used to represent London's green spaces is Painshill near Cobham, Surrey, precisely around here.
The beautiful park is first seen in Episode 2 where everybody is out and having a good time in nature. You can see the "Chinese" Bridge in the background here very clearly, and that is the same bridge that you also see throughout these scenes in Bridgerton Episode 2.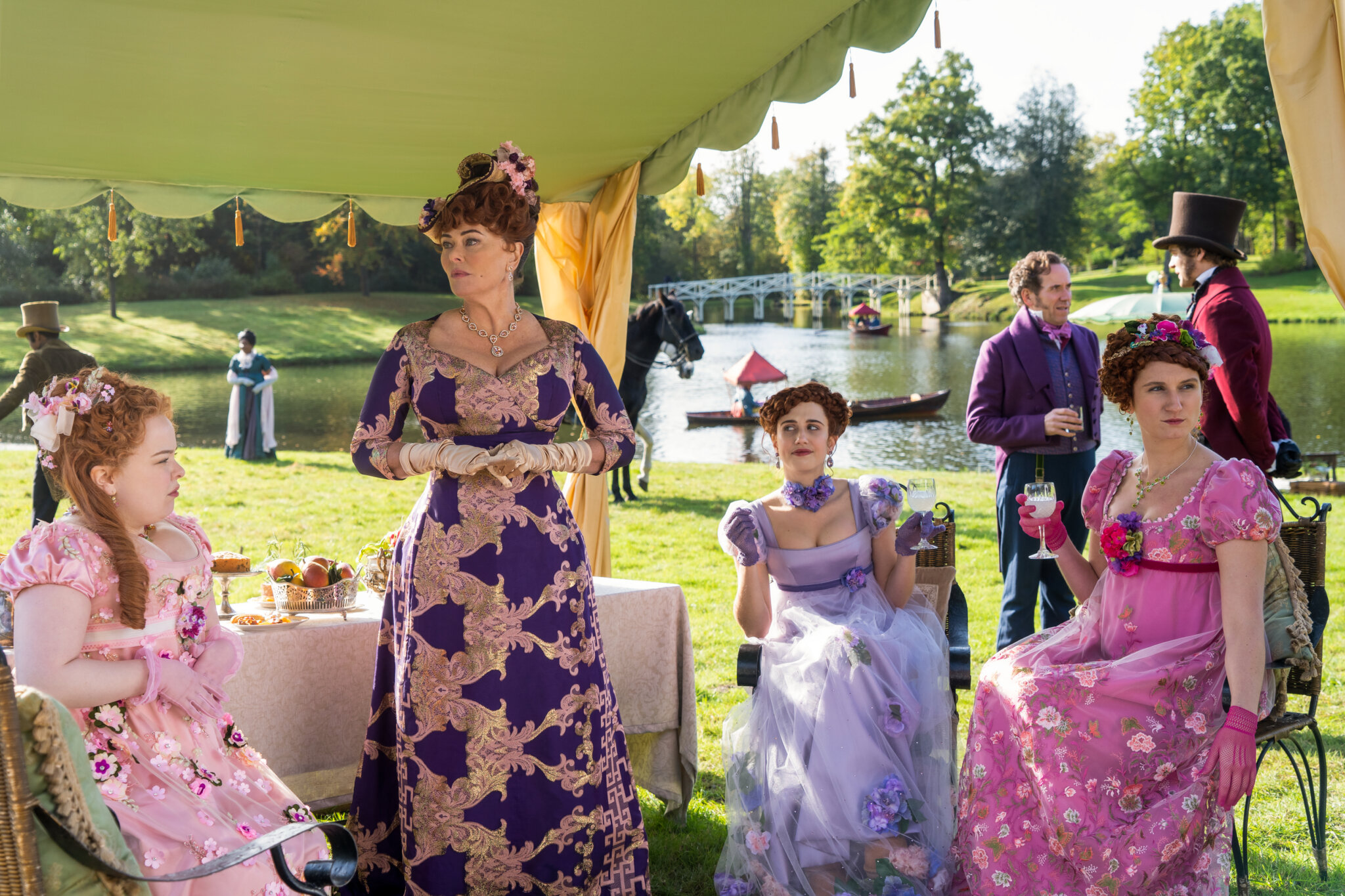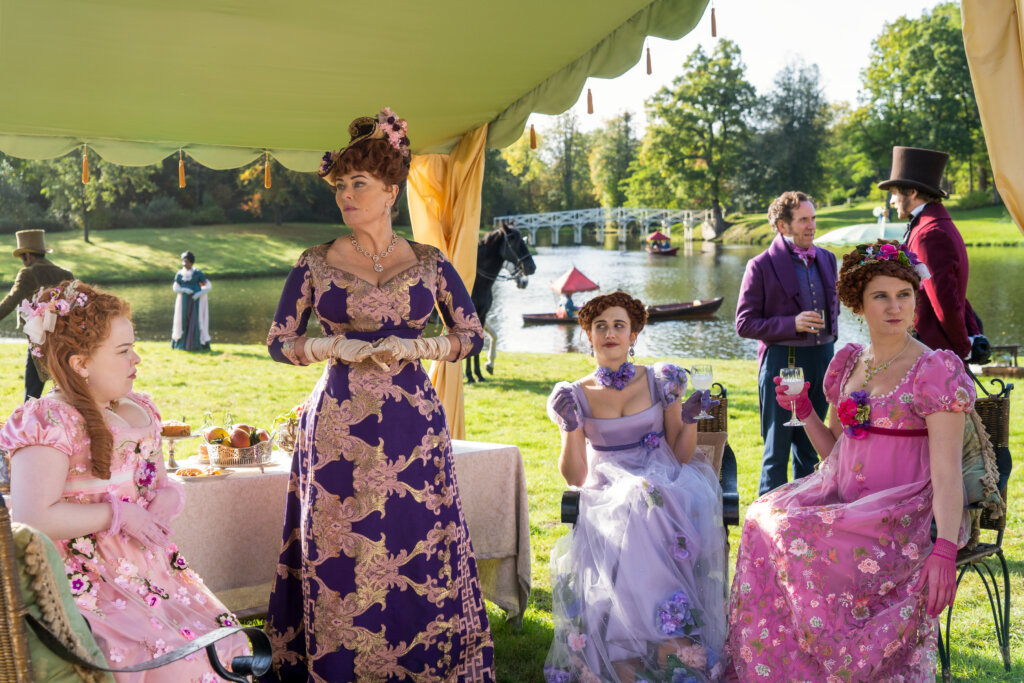 The Hastings House (in London)
If you're curious about finding Simon's house in London for yourself, we can't blame you. That property is absolutely stunning… although it's really a mish mash of some of England's top stately homes.
The facade is Wilton House – specifically the side of the property facing the large fountain and scenic gardens, pictured here. This part of the house is used as an establishing shot many times throughout Bridgerton as the Hastings House.
The Wilton House Cloisters are also seen when Simon preparing to leave in Episode 4 and he sees the painting he had requested at Somerset House.
Another property that was used for filming Hastings House interiors was Badminton House in Gloucestershire.
Specifically, the Great Dining Room is the room where Daphne awkwardly chaperones the tough chat between Colin and Marina in Episode 7, and later where Daphne and Simon are getting their portrait painted. Click here to see a photo of it in real life.
And, based on the unique tiling of the Waiting Room, we believe that this is the room where in Episode 7, Daphne is seen admiring herself in the mirror, imagining a baby bump before Simon interrupts. Click here to see a photo.
Last but not least, bits of the Hastings House can also be found at Syon House. In Episode 8 for instance, we see the beautiful Great Hall (pictured here) where the party prepping is underway.
For other interior scenes of the Hastings House, we believe a private home was used. According to SCMP here, if you're looking for the staircase of the Hastings House where *that* scene in Episode 7 takes place, the location is real but not open to the public.
Since the stairwell is often seen along with other rooms of the Hastings House, we assume some of the rooms we see also belong to this private property, and is therefore not open to the public.
Last but not least, if you're looking for the beautiful courtyard where the final ball of the season takes place, according to SCMP, it was inspired by the inner courtyard of Syon House. If you look at photos here, you can see that the staircases and layout are indeed similar, but not exact, so it's likely this was a specially built set.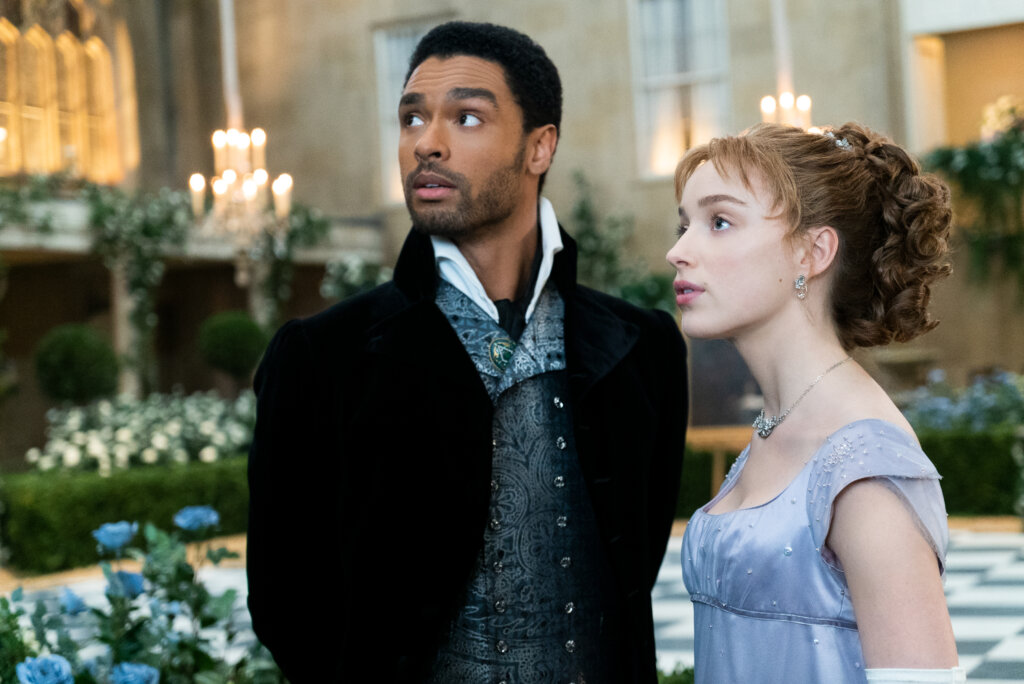 The Gentleman's Club
The Gentleman's Club seen frequently throughout the show is actually made up of various filming locations.
The first time we see the club, the gorgeous venue where Simon and Anthony are seen knocking back drinks and smoking is actually the Reform Club in London. Specifically, the Saloon here is where we see them hanging out for the first time.
You can book a tour of it here.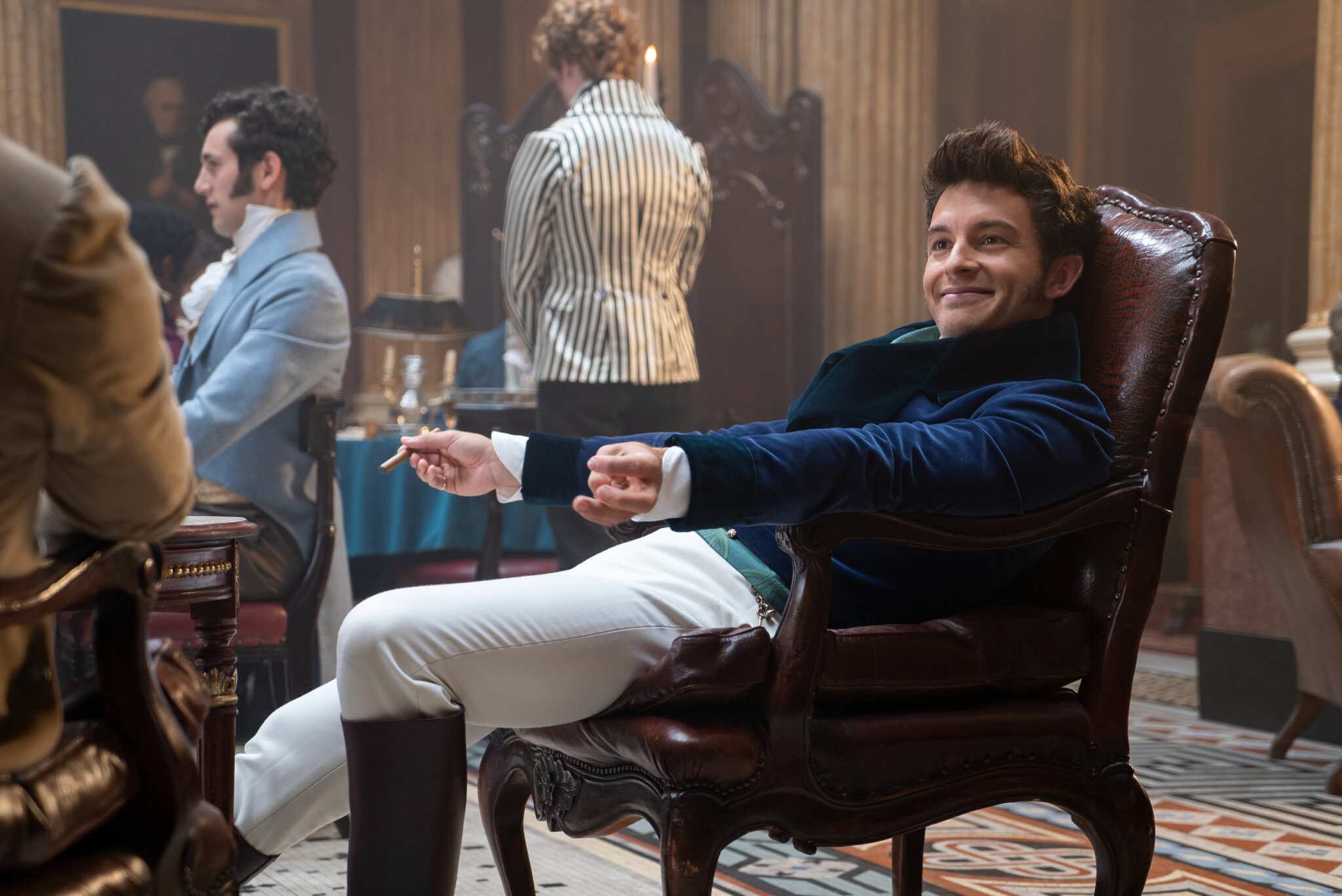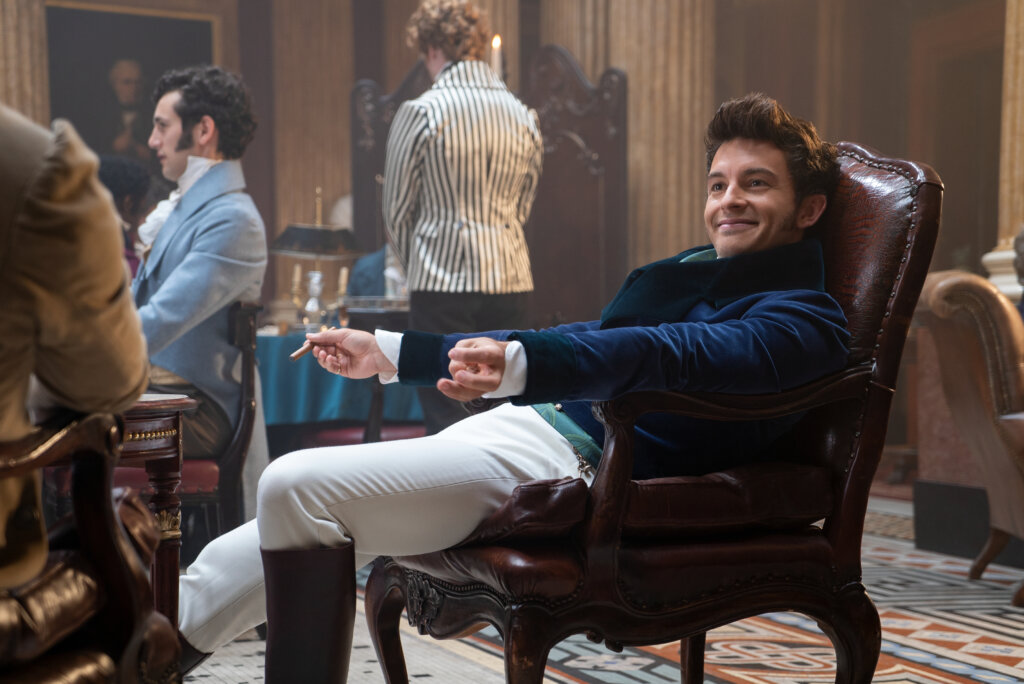 When the club reappears in Episode 3, it does so in a new location, the stunning library in North Mymms Park, as seen in this photo.
And finally, the Hatfield House (specifically the library) also stands in for this Gentleman's Club in Episode 4 (when Benedict chats up Henry Granville) and Episode 7 (when Simon and Anthony have their little brawl).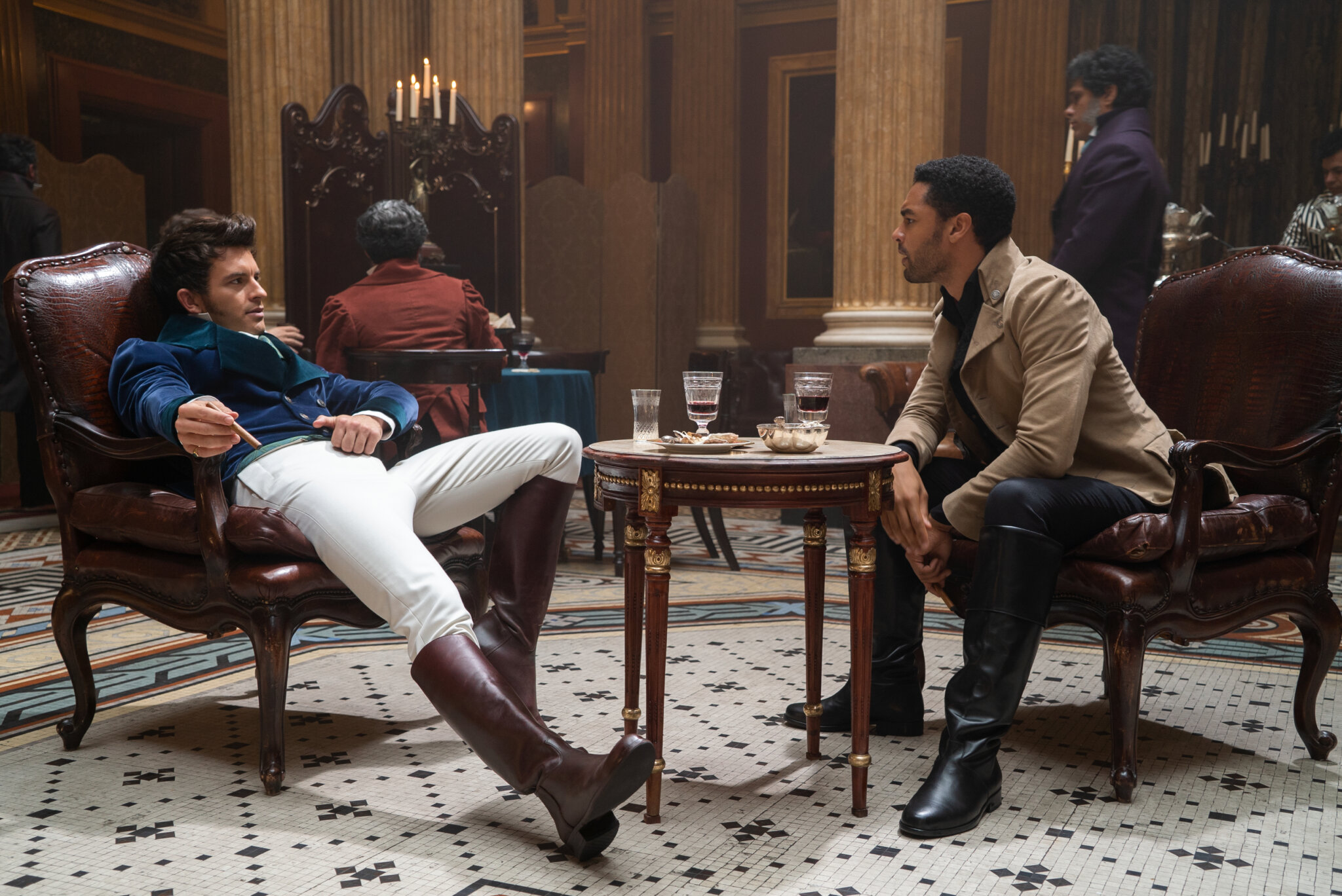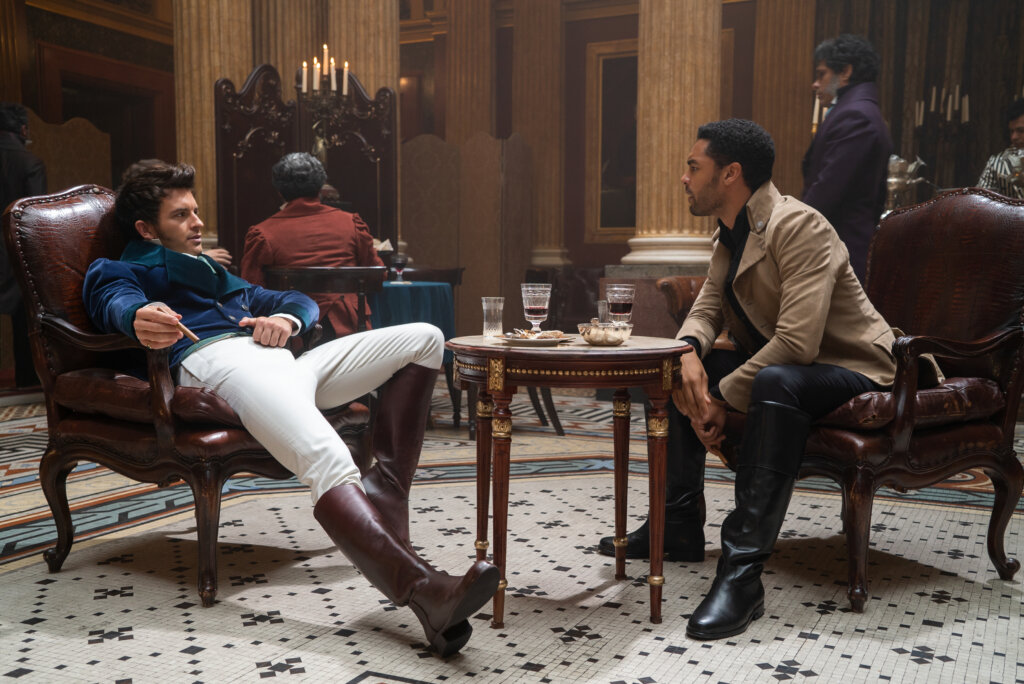 The Vauxhall Gardens (AKA the Bridgerton Outdoor Ball from Episode 1)
Who can forget the amazing ball in Episode 1 that had rowboats, fireworks and endless glittering lights?
Well, this scene is set at the Vauxhall Gardens, one of the most popular party and entertainment venues back in the day.
To recreate the glam and beauty of this location, Bridgerton production designers made use of the Stowe Landscape Gardens, a National Trust property in Buckinghamshire.
Specifically, filming took place at the Temple of Venus. You can click here to watch a cool behind the scenes video of what the setup looked like.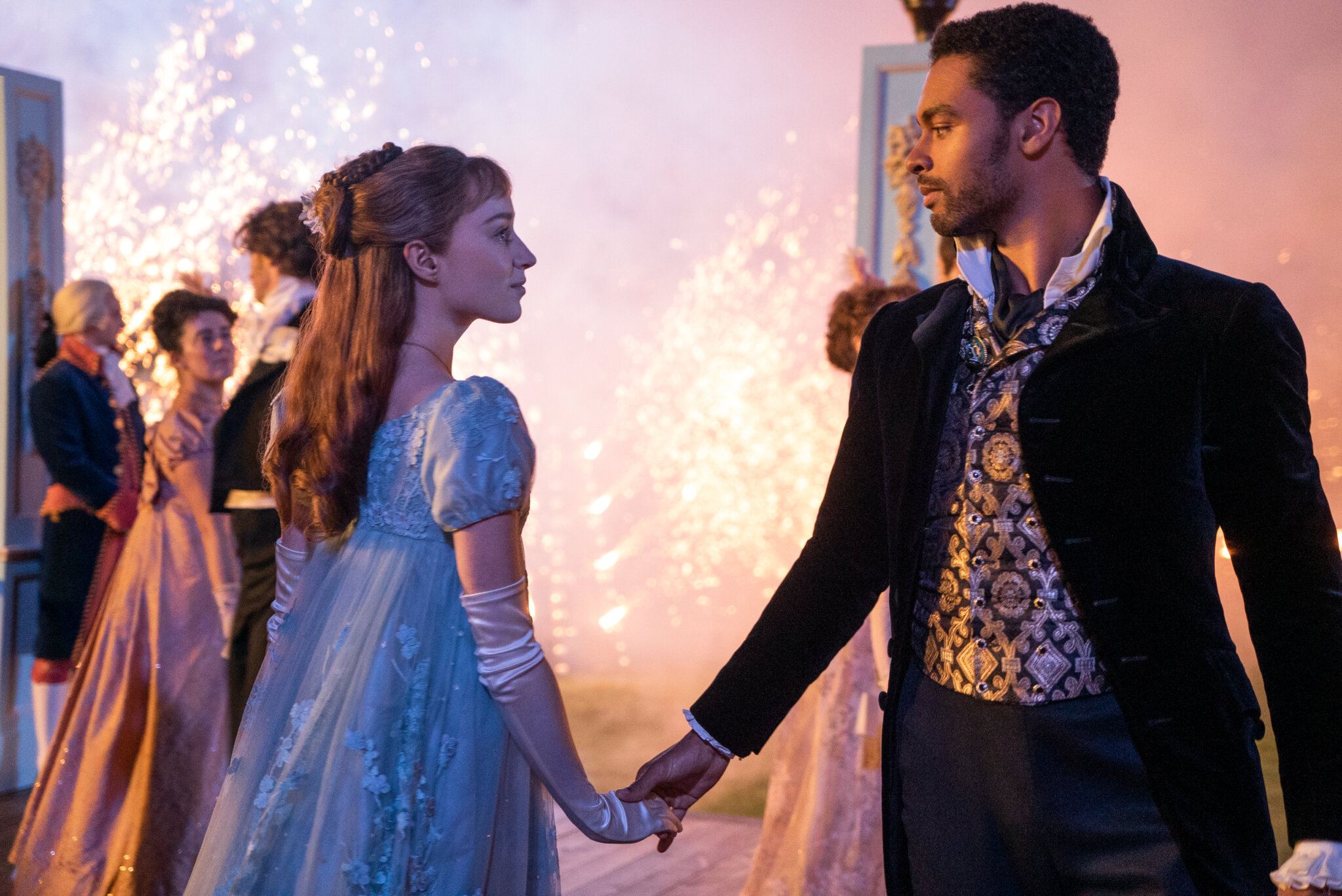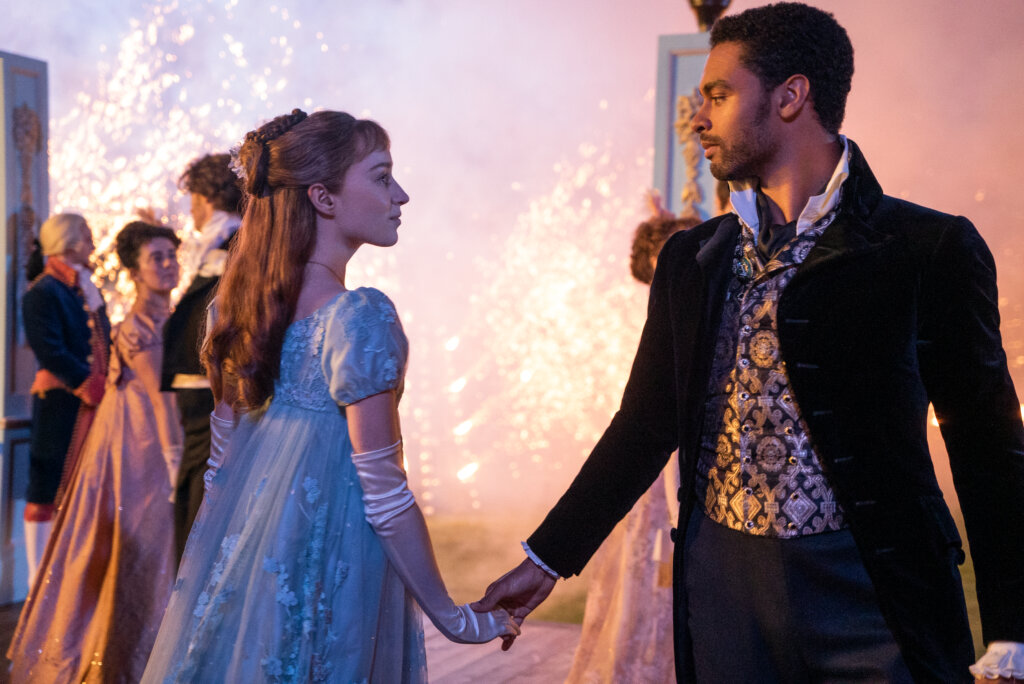 While you won't find an elaborate lighting display or dance floor here in real life, the setting is nonetheless serene and well worth visiting.
And if you're looking for the beautiful garden where Daphne almost gets assaulted by Nigel but she punches him flat out, that appears to have been at the Castle Howard Walled Garden (click here for a photo of the same tree arch/sundial). This is of course also where Simon and Daphne make their agreement!
FUN FACT: According to this interview, 2.5km [1.5 miles] of stringed lighting was used to create the spectacular tree lightbulb canopy seen in that light-up scene.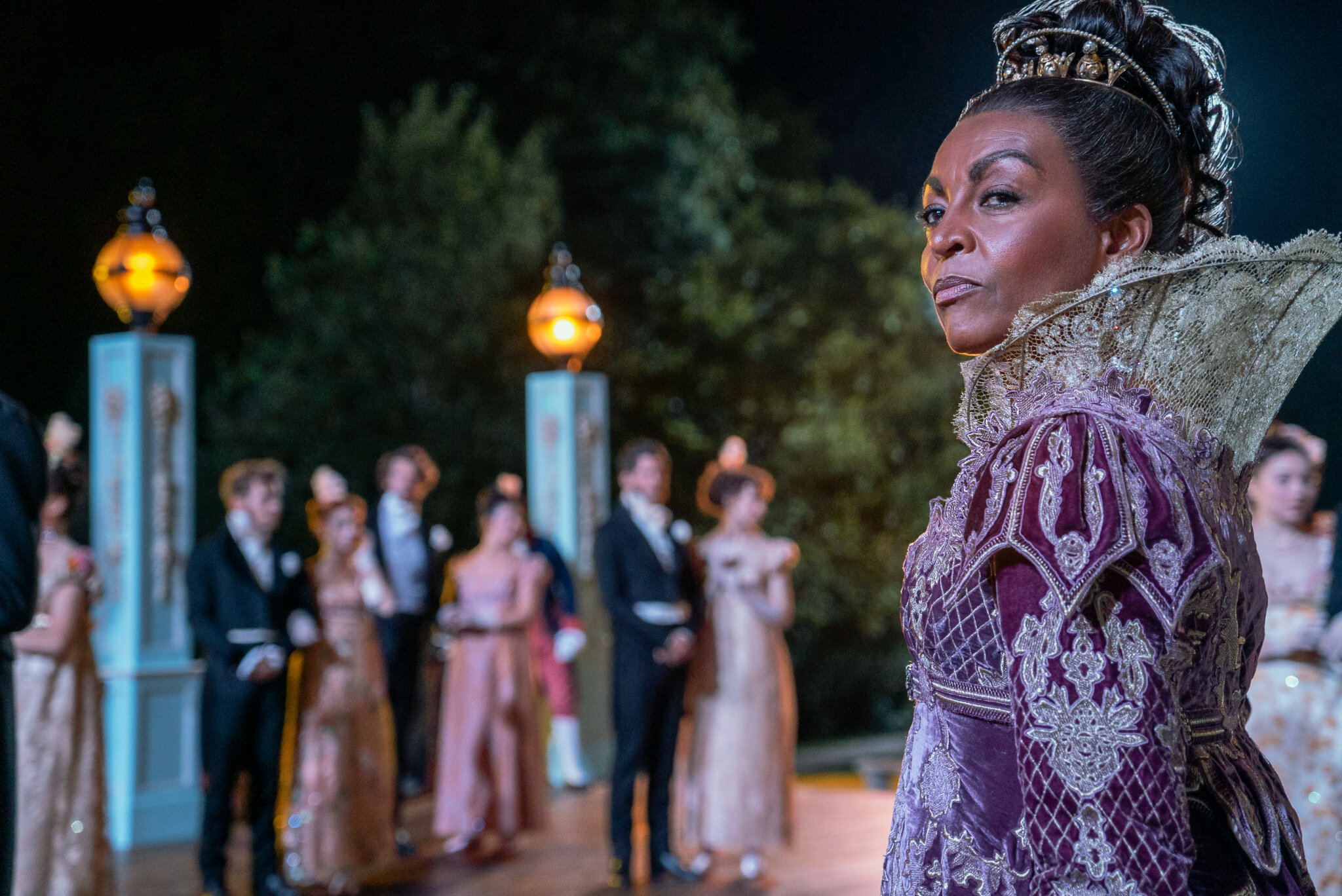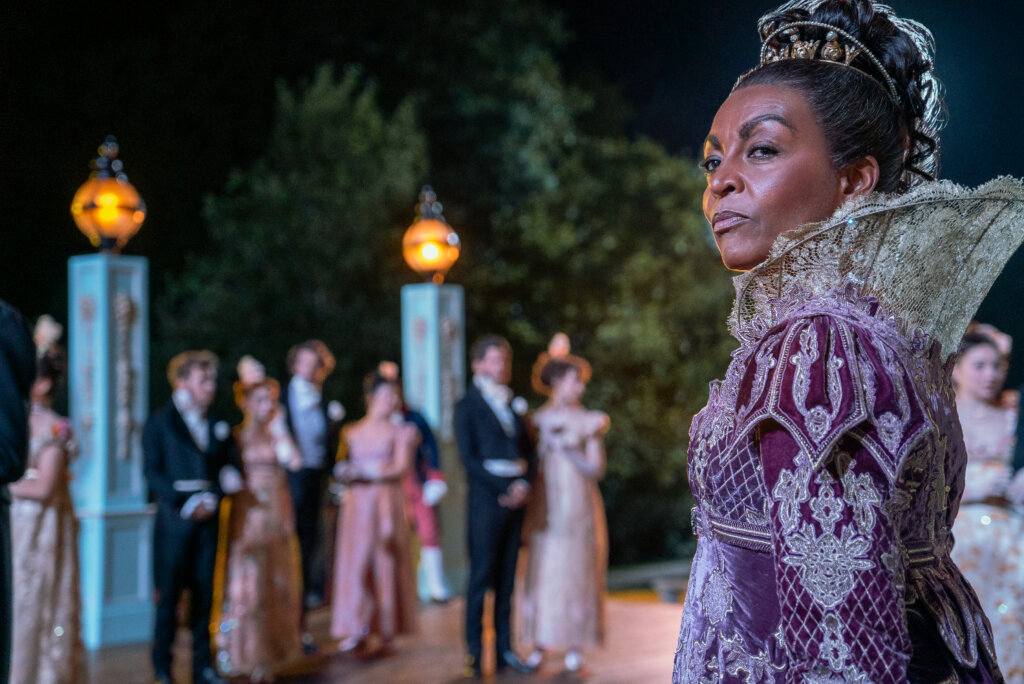 The Slums of London (Ft. Simon's Boxing Hideout and Will's Apartment)
According to Kent Live and the Kent Film Office, many of the scenes around Simon's boxing subplot were filmed at the Historic Dockyard in Chatham, including the room where Simon and Will are seen boxing, Will and Alice's apartment, as well as the venue of Episode 8's big boxing match (the No 3 Slip).
This area was used in Bridgerton to recreate the slum areas of 19th century London, and was therefore also seen in Episode 3 when Lady Featherington brings Marina to see what her future might be if she remains unmarried.
The Crystal Ball in Episode 2
The Crystal Ball takes place in Episode 2 – you'll remember it as the ball that's decorated with *many* crystals and also the one where Simon outs Nigel's sketchy behaviour to Anthony.
The real life location of this ball is Leigh Court, whose Tapestry Room is used in these scenes.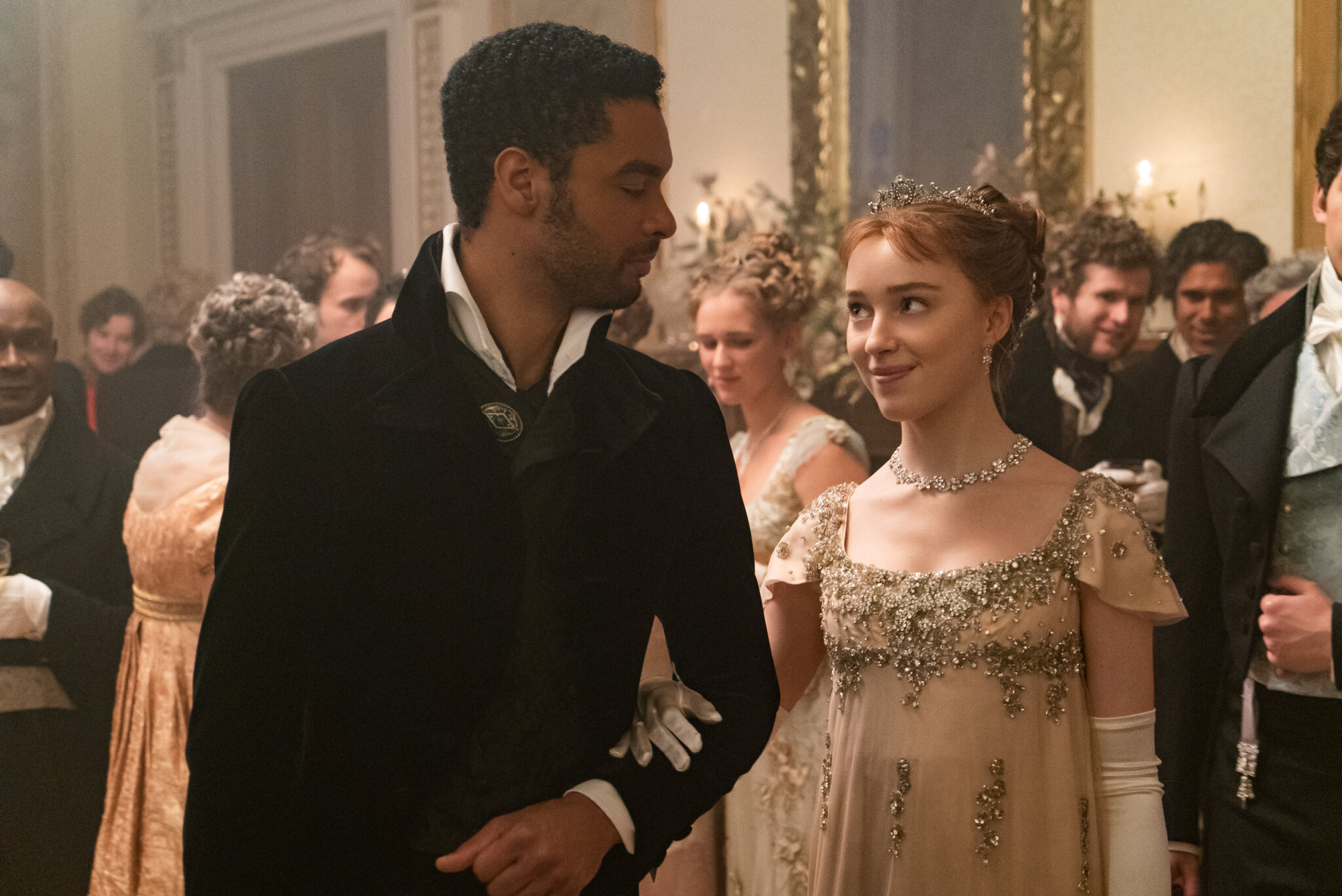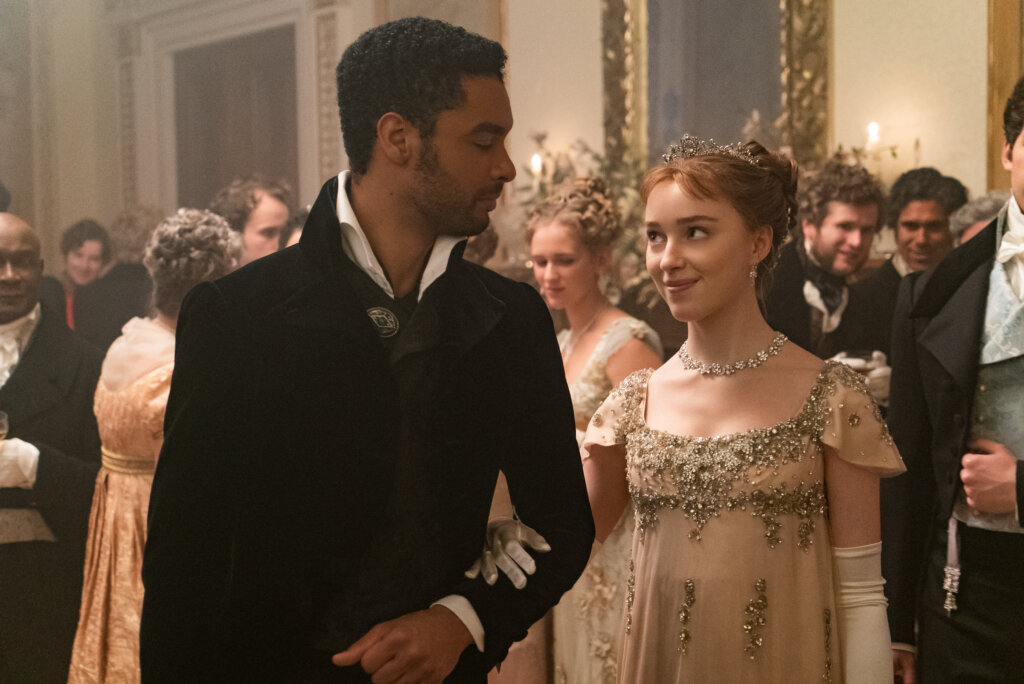 Where Nigel Confronts Simon
The Queen's House (not to be confused with Buckingham Palace) is a former royal residence in Greenwich, London that today is home to a free art museum.
A walkway by the Queen's House here marks the exact spot where Nigel goes to confront Simon after the ball and promptly gets his butt handed to him.
The Ball Location at the End of Episode 2
The picture-perfect mint green walls of the ball taking place at the end of Episode 2 is in fact the Banqueting Hall of Bath's Guildhall in real life.
This is of course the ball where Simon declares that he "will not tolerate a bully" and Daphne declares back that she "will not have this go wrong".
You can click here to see a virtual tour of the space and send in any of your own inquiries about booking!
The Bird Ball in Episode 3
As you'll recall, Leigh Court already made an appearance as the Crystal Ball venue in Episode 2, but we cleverly return here in Episode 3 to use different spaces and give the impression of a different place entirely.
When we see Daphne greet Simon, this is the main entrance and foyer of Leigh Court. They then proceed together into the pretty pink Morning Room and then into the Library where everybody is dancing, and where Daphne eventually meets the Prince.
You can follow their exact footsteps using this virtual tour.
Modiste
Madame LaCroix's Modiste is a location that features many times throughout Bridgerton.
You can find the storefront at 2 Abbey St in Bath.
However, based on this behind the scenes video, we can see they had also recreate the Modiste storefront as a set as well.
BONUS: Siena's house is right next door.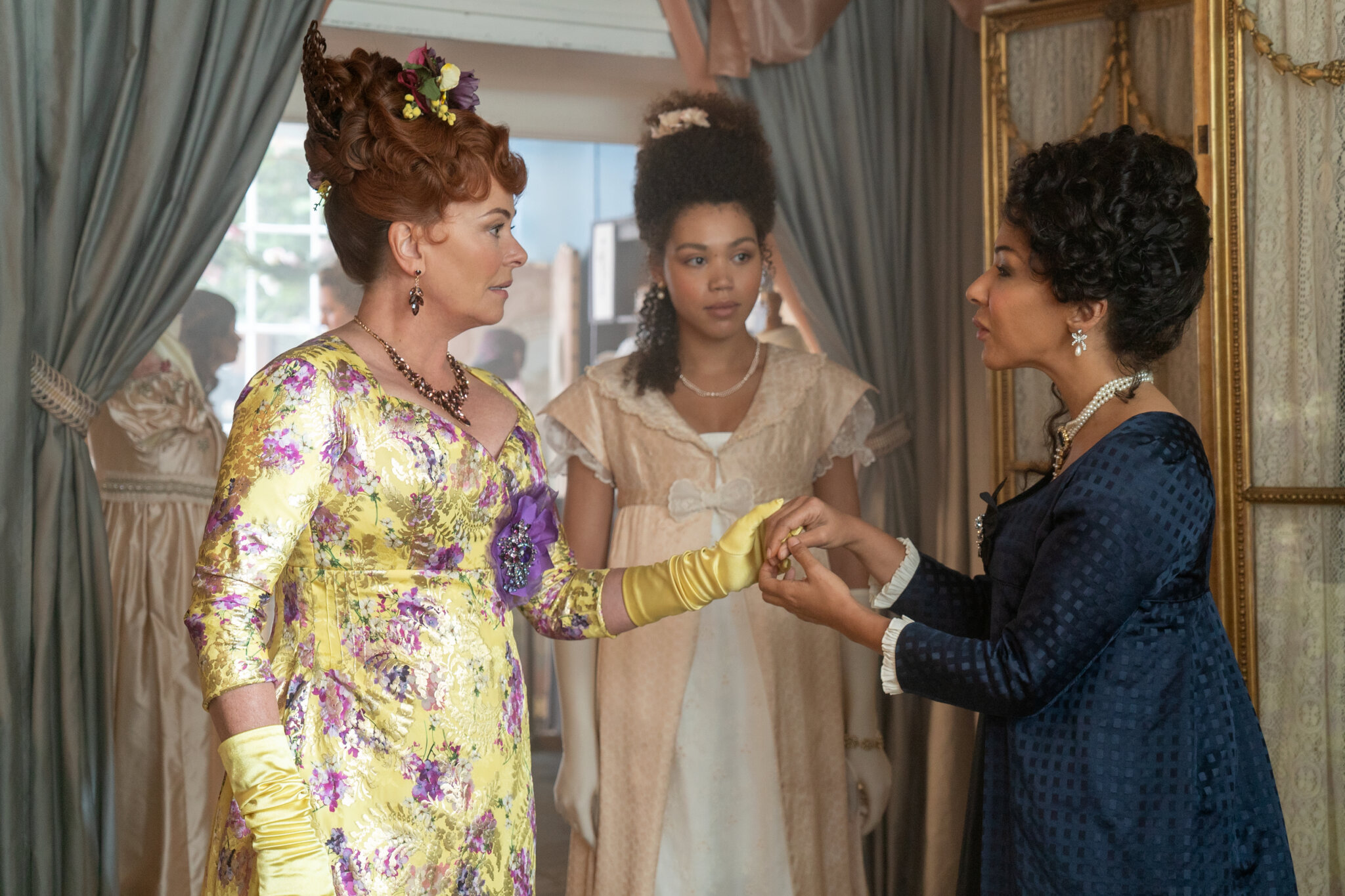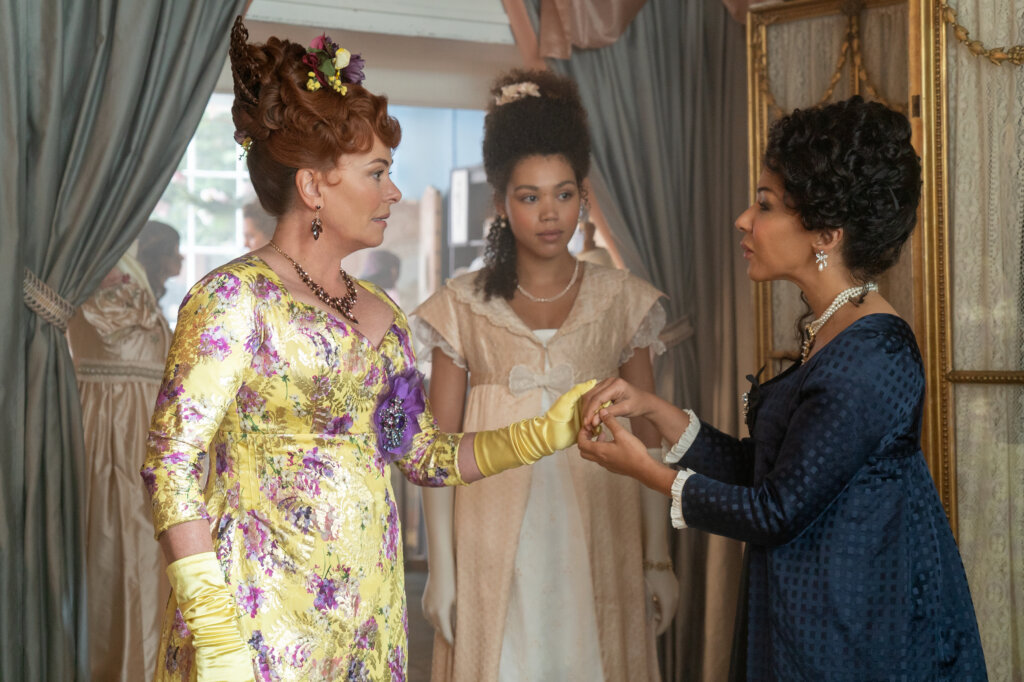 Somerset House
The exterior of Somerset House in Bridgerton is portrayed by the Queen's House in Greenwich, London. We see it in Episode 3, when all the girls are seen fawning over Prince Friedrich.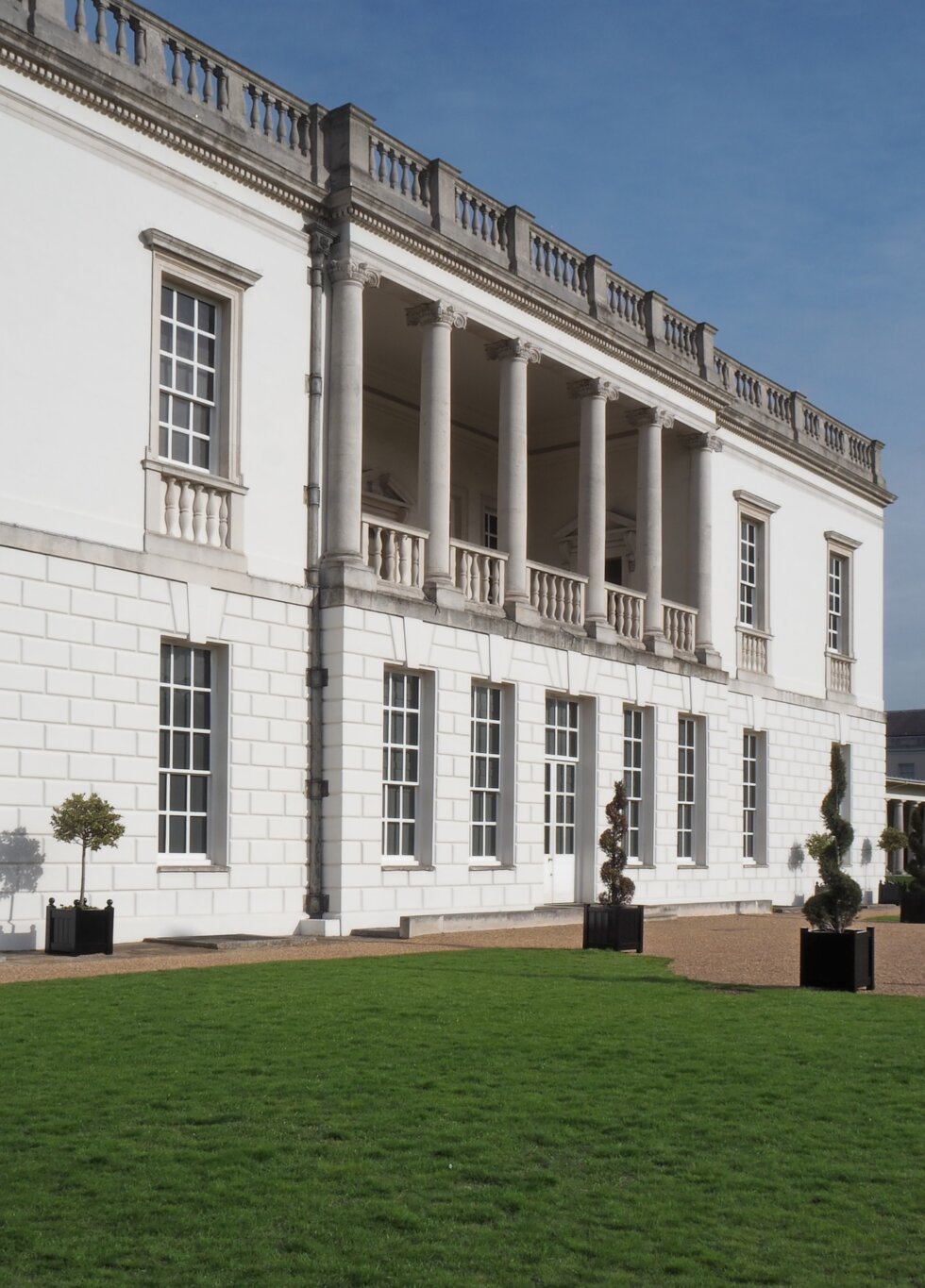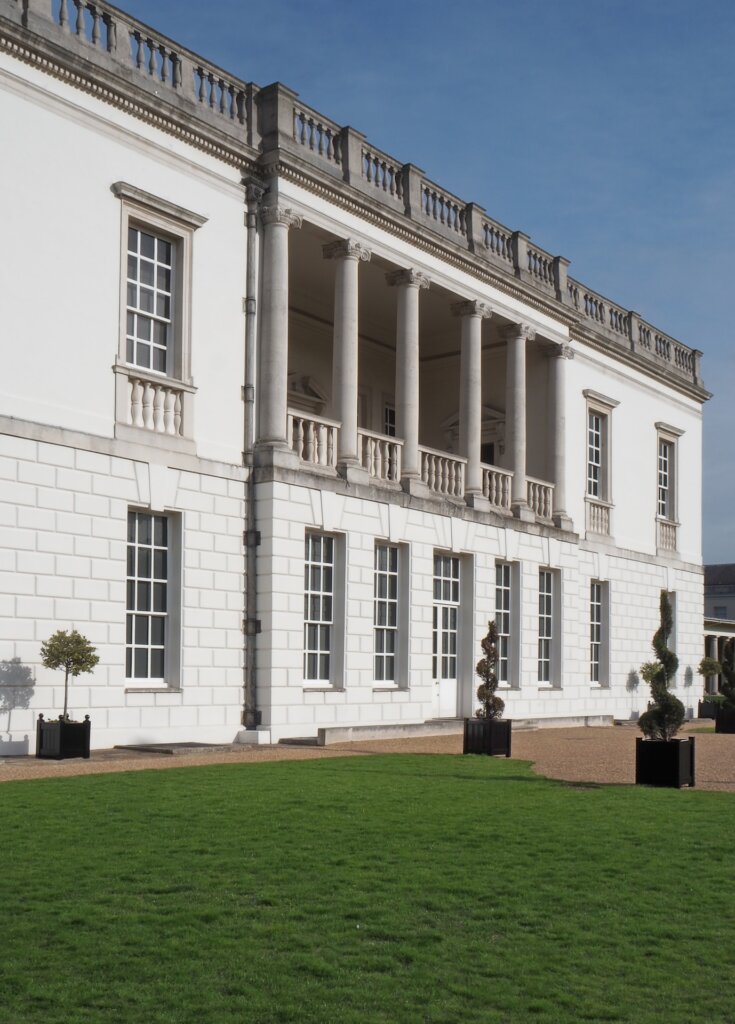 As for the interior shots, this carousel posted on the official Somerley House Instagram page, confirms that the illustrious stand-in for Somerset House in Episode 3 was indeed Somerley House, most prominently the Picture Gallery which is where we see Daphne chatting with Prince Friedrich (and getting distracted) before promptly * almost * holding hands with Simon.
According to the carousel, the scenes following featuring the Queen and Prince Friedrich's elaborate outdoor brunch were also filmed at this location.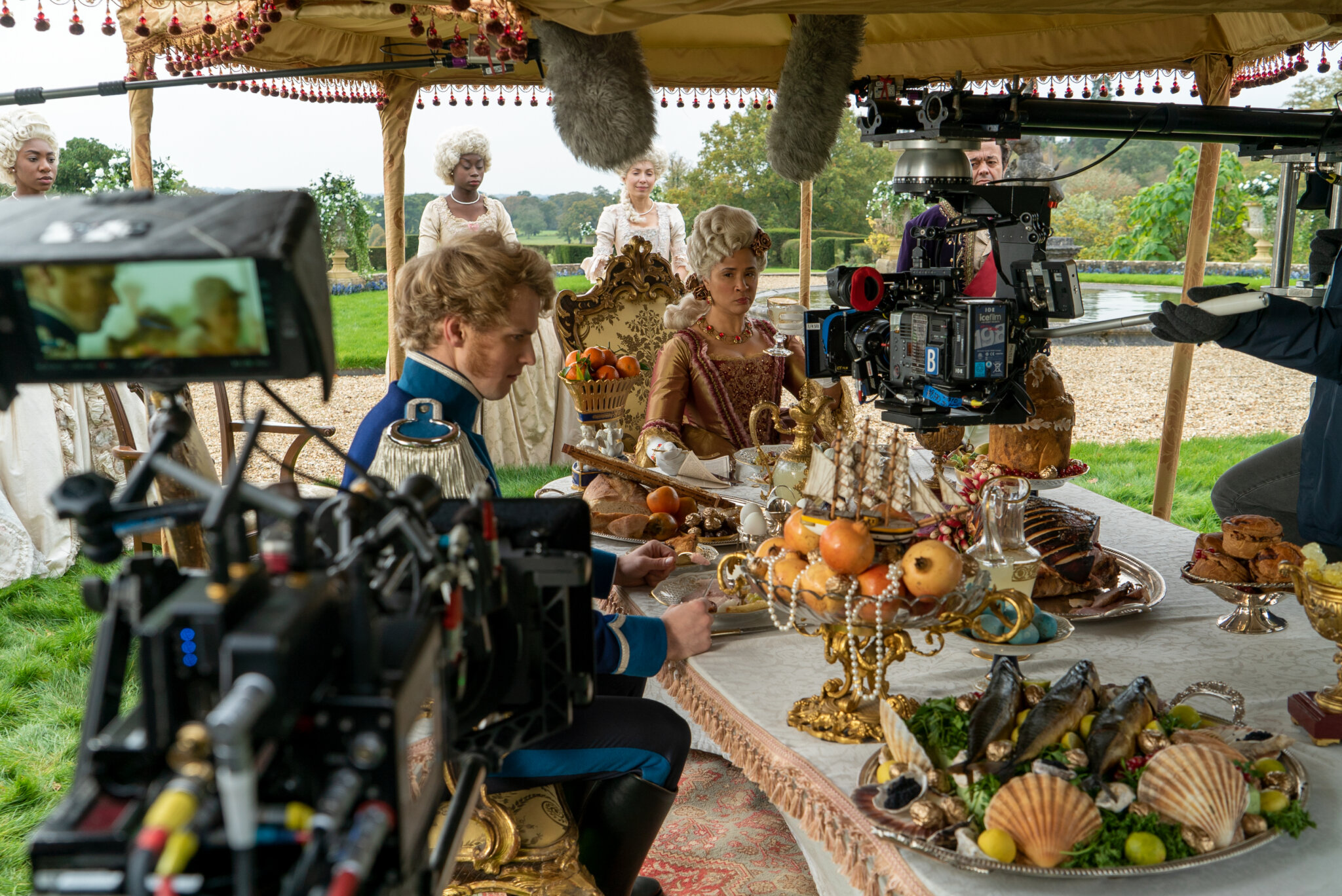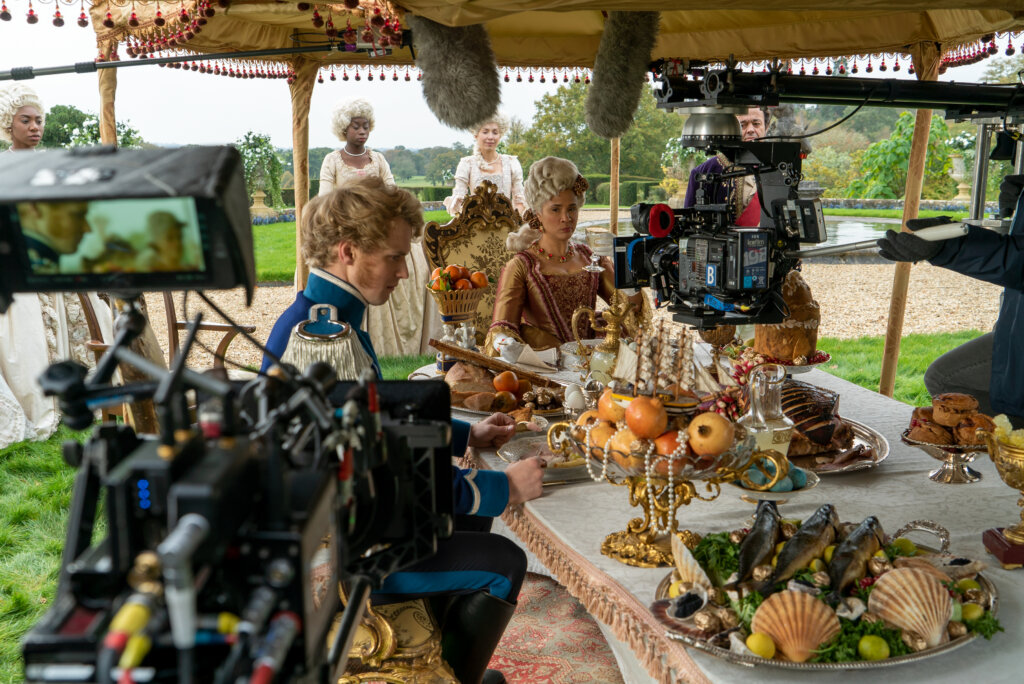 The Ingenue Ball in Episode 3
We'll do one final entry for Leigh Court, whose beautiful Great Hall stands in as the venue for Episode 3's end-of-episode ball where Daphne enjoys many a dance with Prince Friedrich.
This is one of the most beautiful ball scenes in the whole show, with its powder blue walls and gorgeous symmetrical staircases.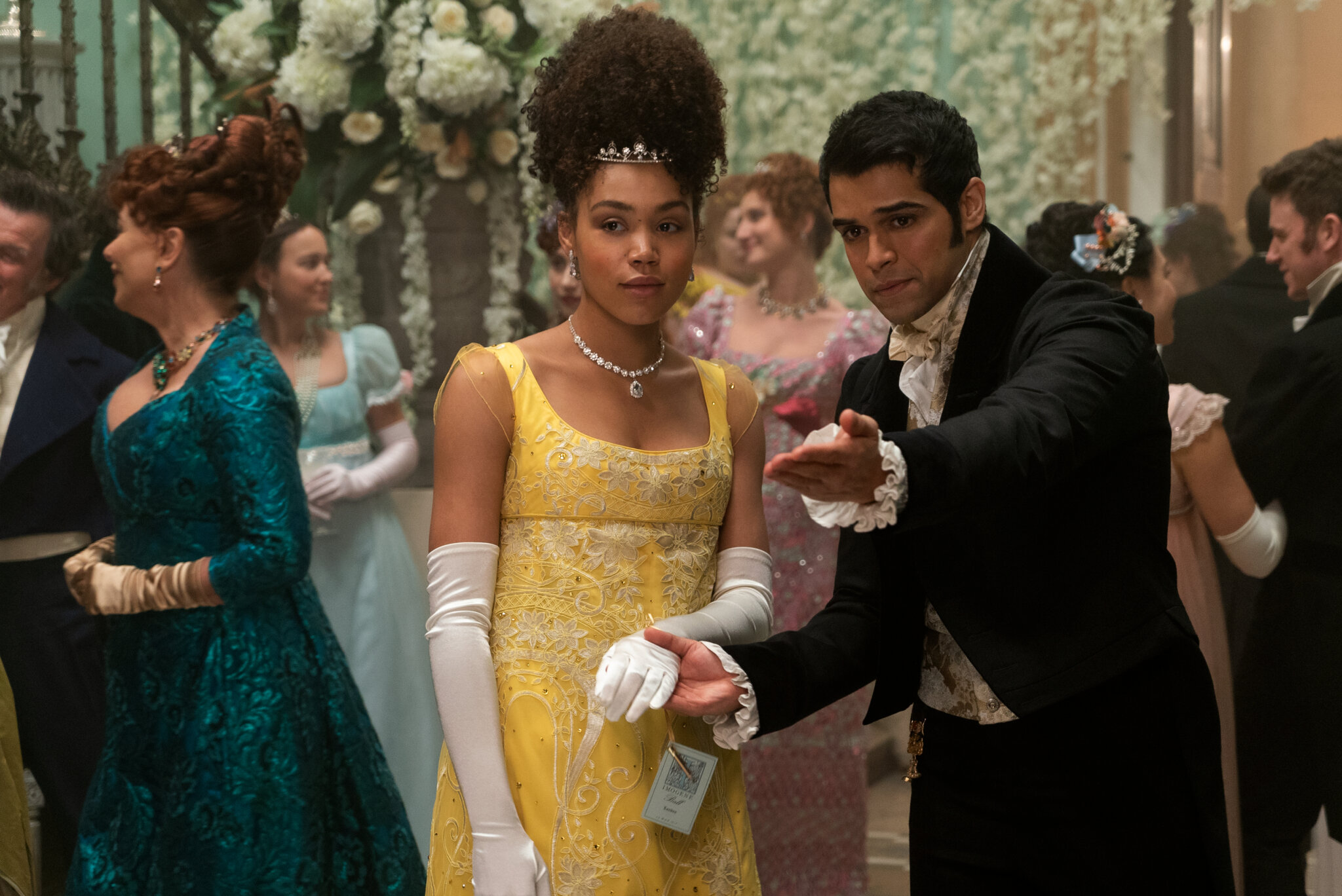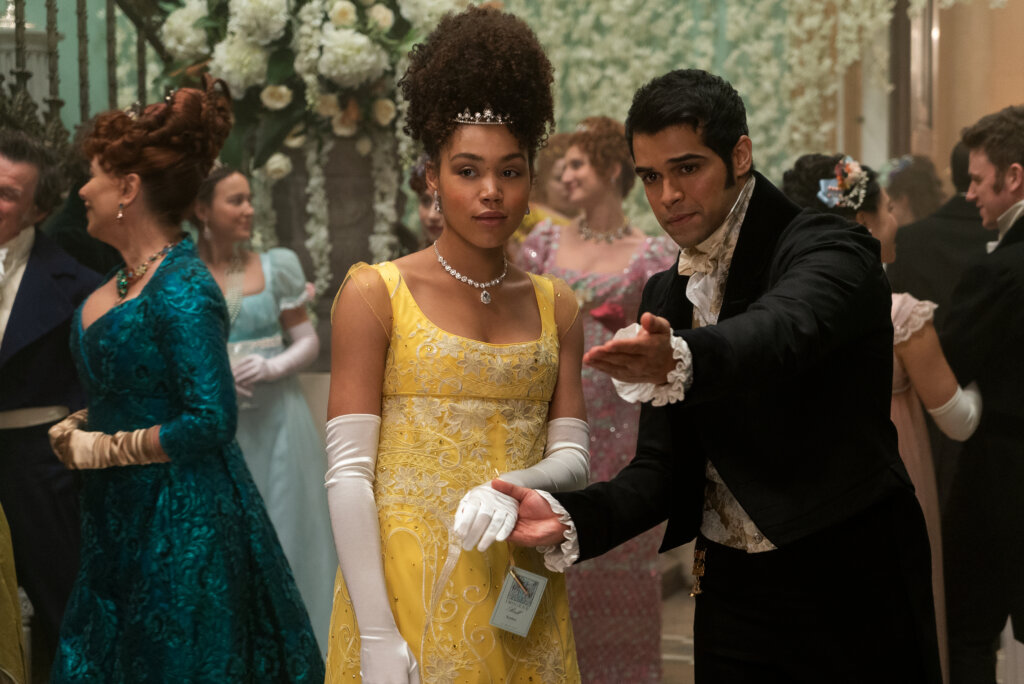 Lady Trowbridge's Ball
In Episode 4, the recently widowed Lady Trowbridge hosts a provocative ball. The real life location of this is Hatfield House in Hertfordshire, which is also used in other Bridgerton scenes.
The gardens where Daphne and Simon have their heated…… discussion outside is also part of this house, as is the library that stands in for parts of the Gentleman's Club.
St George's Church
Some important Bridgerton scenes play out in "St George's Church" in Episode 5 – if you know, you know.
Well, according to Twickenham Nub News, St Mary's Church in Twickenham is actually the real life church that plays this important role.
What do you think – does it look familiar?
The Coaching Inn
As you'll recall in Episode 5, Daphne is surprised to hear they'll be staying at an inn for the evening instead of heading straight to Clyvedon.
And while depicted as a shabby inn in Bridgerton, the real-life location of THAT inn where THAT scene happened is far swankier.
The real life location? Dorney Court, a Tudor Manor home that has been around for over 5 centuries. Based on this Tweet, it was the Drawing Room specifically that most filming took place in.
*waggles eyebrows*
Clyvedon Castle
Ahh – Clyvedon, the stunning country home of Simon and the Hastings household.
While Clyvedon Castle is not a place you can visit in real life, many of its most iconic aspects are indeed open to the public.
Castle Howard for example stands in for both interior and exterior shots of Clyvedon. Specifically, the facade shown at the start of Episode 6 when Daphne and Simon arrive is simply the front entrance of Castle Howard itself.
In terms of interiors, here are some iconic Clyvedon Castle locations that are actually located at Castle Howard:
The Great Hall: This is the first glimpse we get of "Clyvedon's" opulent interior and yes, it's just as wonderful in real life!
The Bedroom: No explanation needed. We can confirm this is at Castle Howard based on these wedding photos taken there where the unique wallpaper is the same
Temple of the Four Winds: This temple can be found on the grounds of Castle Howard, and is seen in Episode 6 during a particularly notorious rain-soaked scene. *Cue Wildest Dreams*
Dairy Pond: This pretty lake on the castle grounds serves as another backdrop for… well, you know
The Hallway: This statue-lined hallway is seen in Episode 6 (pictured here) also belongs to Castle Howard.
Wilton House also supplies a few of the backdrops for Clyvedon. Here they are:
The Dining Room: This room stands in for Clyvedon's Dining Room, where Daphne and Simon have their meals (that is if they don't get distracted by other things)
The Large Smoking Room (photo here): This pretty yellow room acts as one of Simon's offices at Clyvedon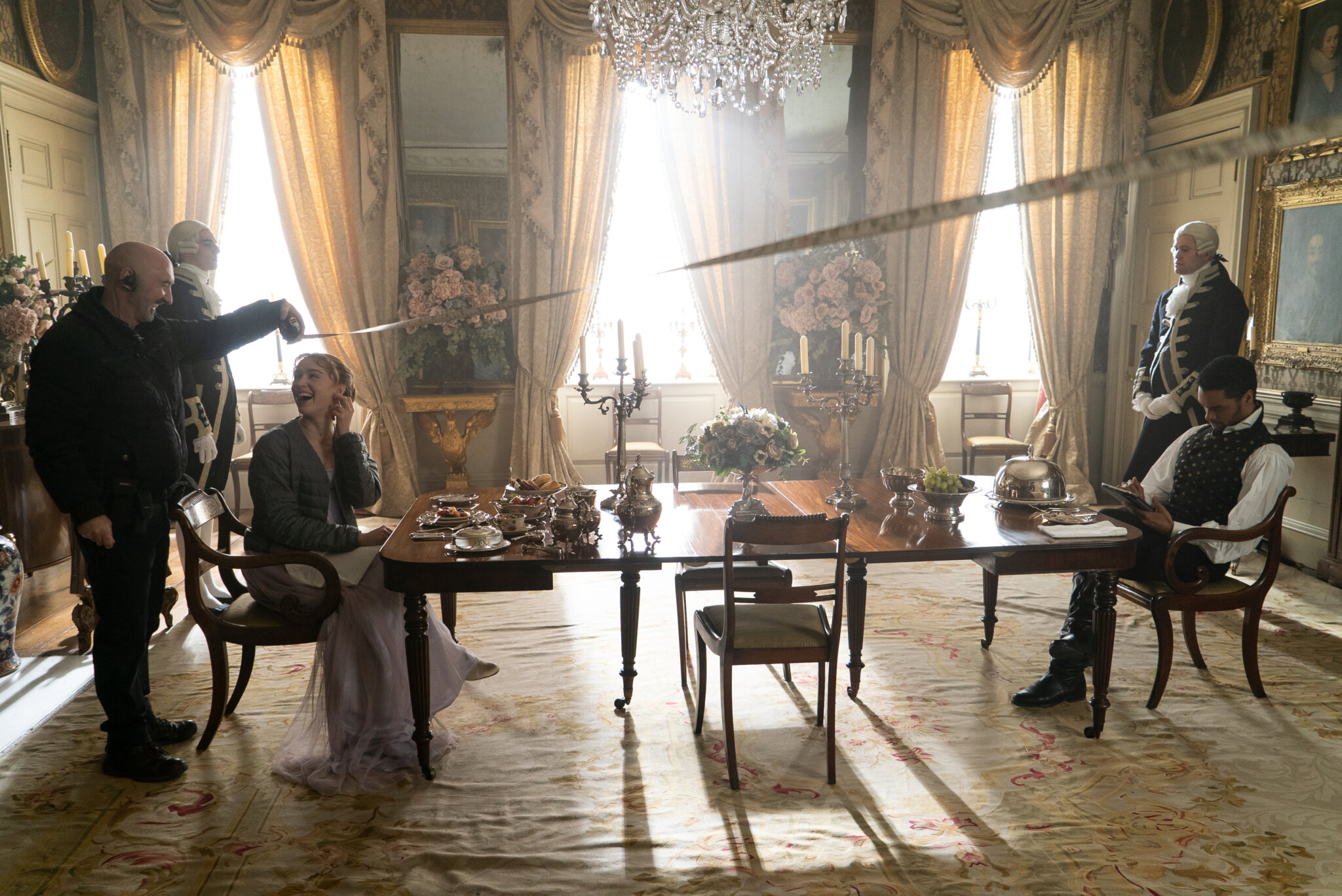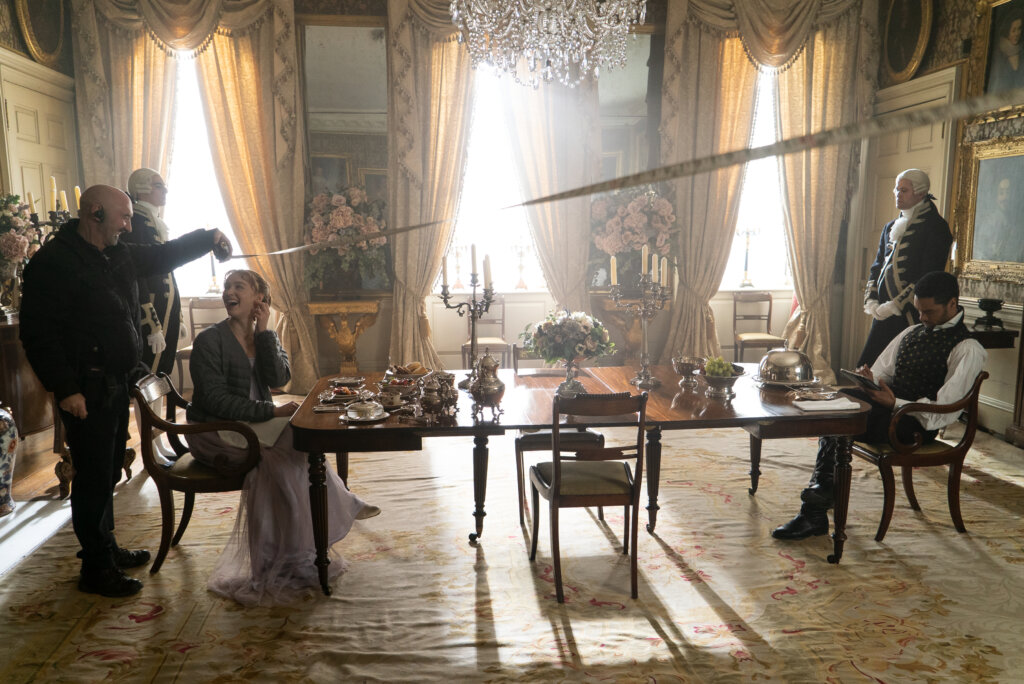 Badminton House in Gloucestershire is another real life Clyvedon Castle location. Here are some of the locations from there that were used in Bridgerton:
The Lawn: At the start of Episode 7, when we have that tense piano/pigeon shooting standoff, we see the Badminton House lawn as pictured here. We believe this is the room where Daphne is playing piano, but it's hard to tell.
The Family Dining Room: In Episode 8, this is where Simon and Daphne are having breakfast and Daphne tells Simon that she's going back to London because Francesca is back from Bath and Simon agrees to join.
Click here to see photos of what Badminton House looks like on the inside.
The Reform Club also makes a special appearance during one of the season's most talked about moments. Yes, THAT iconic library scene in Episode 6 is actually the Reform Club library.
If you look at these photos here, you'll recognize the fireplace and mirror from when Daphne is um… you know.
FUN FACT: According to this interview with Grazia, that very library scene in Episode 6 was the first one Phoebe Dyvenor (who plays Daphne) filmed for the show. IMAGINE THAT.
Clyvedon Village
Once Simon and Daphne move back to Clyvedon, they are seen going into the village a few times, especially Daphne, who tries to hand out bread and honey baskets to very few takers.
Well, according to Filmed in Yorkshire, the village scenes in Bridgerton were filmed in Coneysthorpe, a quiet village in the Ryedale district of North Yorkshire, located close to Castle Howard.
Here is the spot for instance in Episode 7 where Daphne is brooding in the rain after her epiphany:
Bridgerton Locations We're Still Hunting For
Of course, despite all our best efforts, there were still some Bridgerton filming locations that alluded us.
If you have any leads or insider info on where the following scenes were filmed, then please let us know in the comments!
The Duchess' Room first seen in Episode 2: This is where we have that flashback showing Simon being born. This room appears a few more times throughout the season
The Drawing Room first seen in Episode 2: This is where we see young Simon being yelled at by his father
The garden where Eloise and Benedict have their heart to heart on the swings in Episode 2: We speculate this may be the Rose Garden at the Ranger's House in Greenwich (where facade scenes for the Bridgerton house are filmed) but we are not 100% sure
The interior of Gunter's Tea Shop from Episode 3: We see Simon and Daphne having tea in this lovely purple tea house but haven't been able to figure out where it was filmed.
The backstage areas of the Opera House: We often see Siena in the backstage area of the opera house in her dark red dressing room, but we aren't sure where this real life location is
The duel scene location in Episode 4: While it's pretty much just a generic field, we'd still love to know!
Henry Granville's house: We weren't able to find any mention of this online so we would appreciate any leads!
The garden party in Episode 6: As you'll recall, this is where Colin makes his big announcement
Simon's other office in Episode 6: The one where he has been working all day and doesn't realize it's now night and then… you know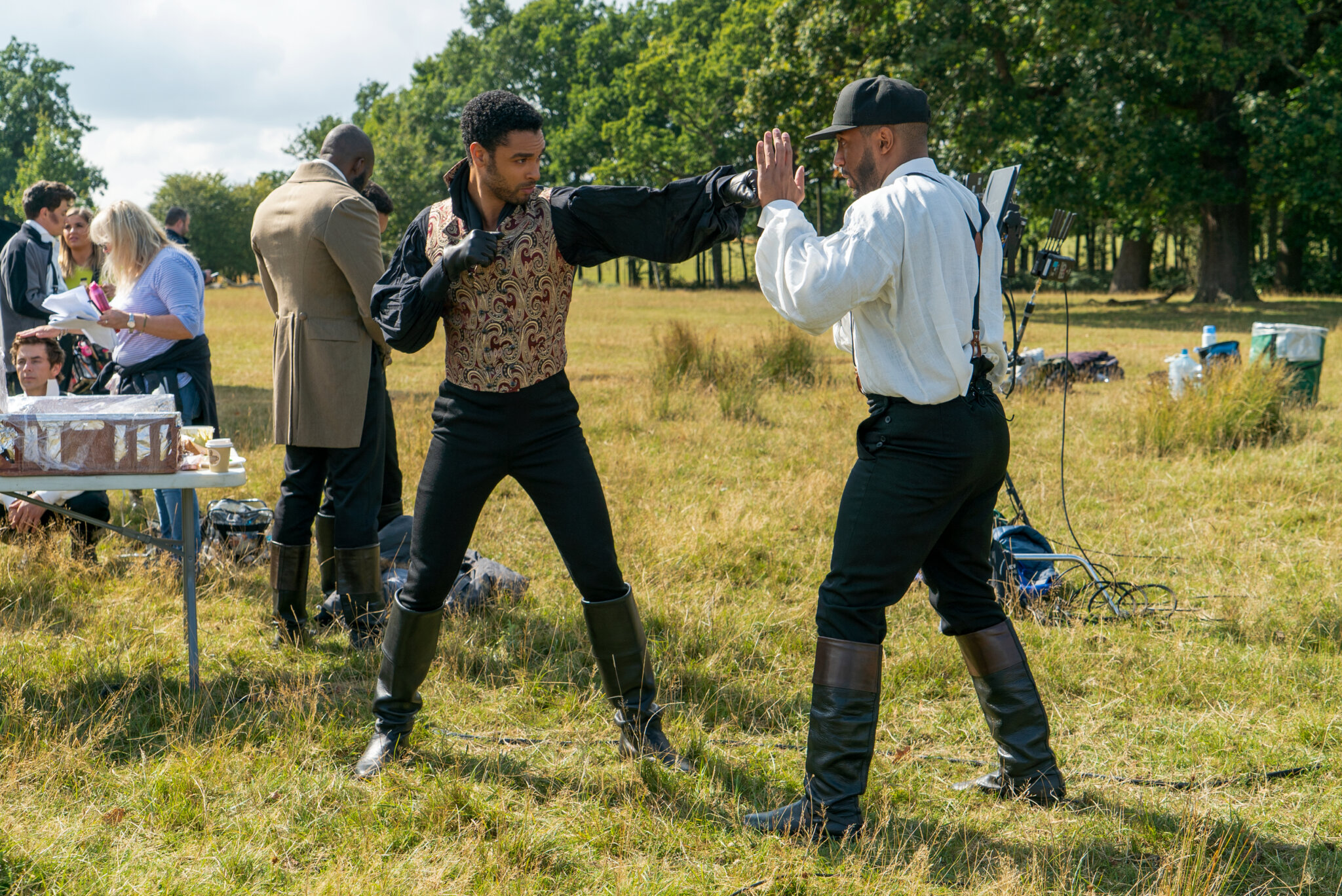 We hope you enjoyed this list of Bridgerton filming locations!
As you can see, we tried to make this Bridgerton location guide as thorough and well-researched as possible.
We hope you found it interesting, and let us know in the comments if you spot any additions or corrections that should be added!
And if you want more Bridgerton fun, check out this post all about the unofficial Bridgerton musical on TikTok here and our roundup of the best Bridgerton quotes here.