*FYI - this post may affiliate links, which means we earn a commission (at no extra cost to you) if you purchase from them. Also, as an Amazon Associate I earn from qualifying purchases. For the full scoop on what this means, feel free to check out our Privacy Policy and Disclosure.
---
When I visited Hong Kong Disneyland back in 2017, it was almost an exact replica of Disneyland's Sleeping Beauty Castle. If it weren't for the sweeping hills surrounding its tiny turrets, I would have thought I was back home in the States.
Fast forward to 2019, and even with the world in disarray, this tiny castle-that-could reinvented herself in time for Hong Kong Disneyland's 15th anniversary. Her transformation marks a Disney parks first—a total Cinderella-style reimagining. Bibbidi bobbidi boo, indeed.
Of course, that means Disney's Imagineers were painstakingly particular from tile to spire.
Let's take a look at this reimagined beauty as she makes her Disney debut—introducing Hong Kong Disneyland's newly crowned jewel…the Castle of Magical Dreams.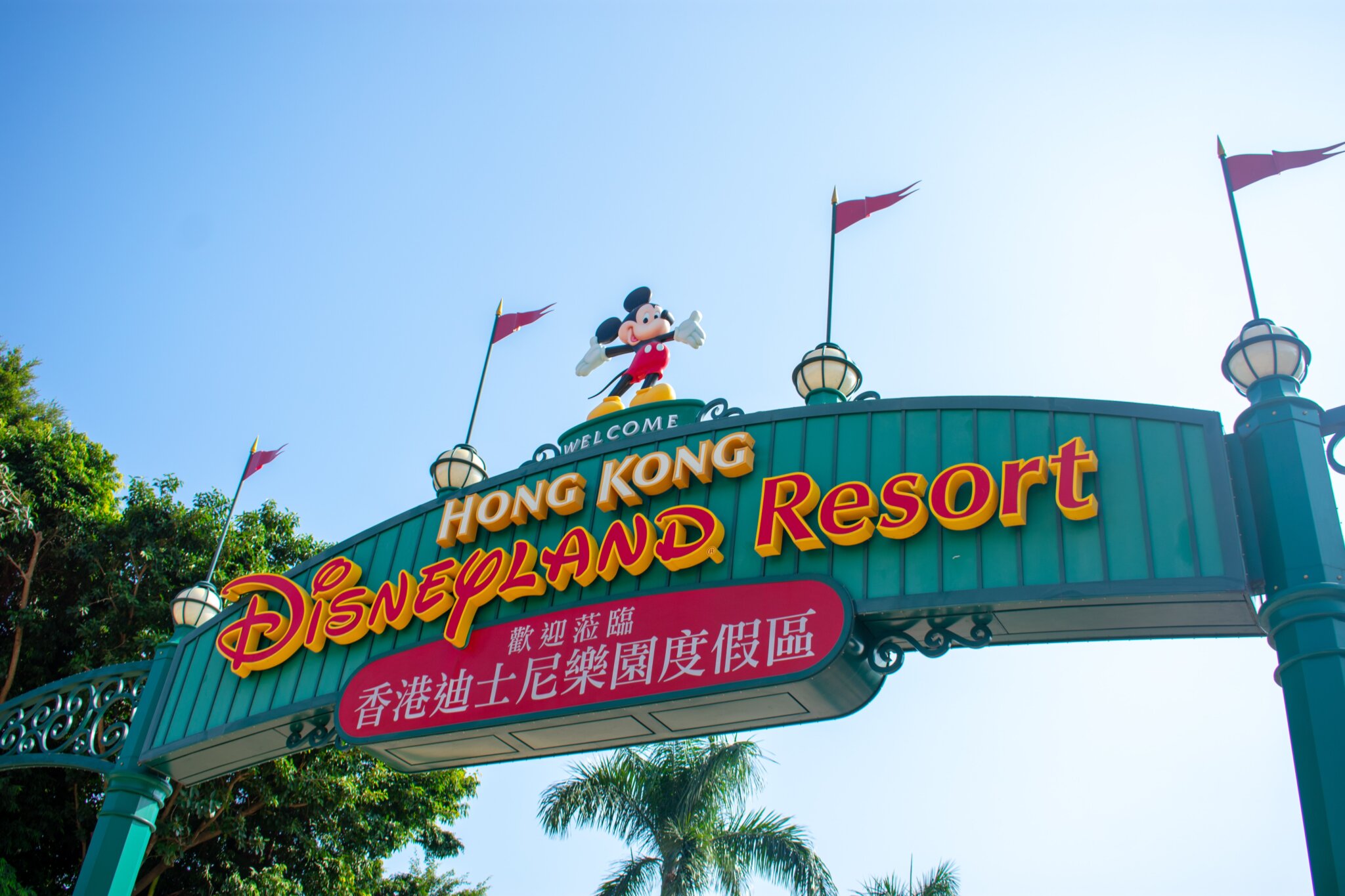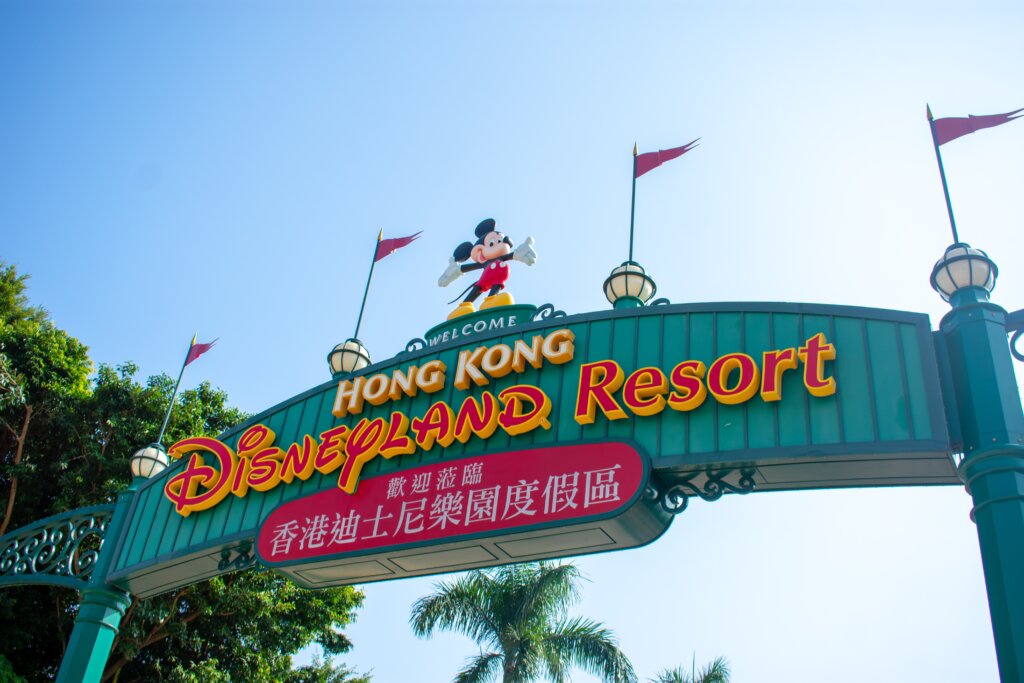 A Historical Reimagining
Hong Kong Disneyland's Sleeping Beauty Castle took her final nap on January 1st, 2018. During her reign, she was an almost mirror image of the OG castle in California, but with subtle color differences and slightly more diminutive in size.
With her reimagining, Castle of Magical Dreams stretches from 77 feet to 167 feet tall and similar to Shanghai Disneyland's Castle, pays homage to more than just one Disney princess.
Though this is her most dramatic makeover, it isn't her first. Hong Kong's castle has a reputation for undergoing a little zhuzhing for her anniversaries.
For her 10th, a new firework show debuted called, "Disney in the Stars." For her 5th, she transformed into Tinkerbelle's Pixie Dusted Castle—complete with a sparkling gold finish. When it comes to milestone celebrations, this lady knows it's important to treat yo'self.
In anticipation of her 15th anniversary, Imagineers wanted to give her a complete makeover. Castle of Magical Dreams was just one piece of a multi-year and multi-billion dollar project in anticipation of the park's anniversary. 
Similar to the construction of Disney's Contemporary Resort at the Walt Disney World Resort in Florida, Castle of Magical Dreams was built using a modular construction approach—meaning she was built in parts off-site and then each part was fit together on site like a magical Lego set.
After a three-year process, the scrims finally came down for day guests on November 21st, 2020.
Architecture: Living with the Land—Infused with Chinese Culture
As a former Disney Cast Member, I have a lot of pride in The Walt Disney Company.
Imagineers go above and beyond simply paying attention to detail. I love how they honor local cultures.
While building Shanghai Disneyland Resort, they referred to their approach as "authentically Disney and distinctly Chinese". Castle of Magical Dreams also pays homage to her local culture. While other Disney castles draw inspiration from European castles, this castle draws architectural inspiration from Europe, China, and Southeast Asia.
According to Imagineer Kelly Willis, "Living in Hong Kong, this is truly an international city made up of a rich fabric of diverse cultures. We wanted to celebrate that notion of diversity and inclusion with our group of strong, courageous, and determined characters through clever and subtle interpretations of color, icons, symbology, patterns, and cultural references."
And for Hong Kong Disneyland, this obsession with detail started with the very materials they used.
The concept of harmony was infused into the elements of metal, wood, water, fire, and earth.
Golden and metallic touches are infused in the décor throughout the structure. Water surrounds the castle, in addition to making a presence during the water show, and pyrotechnics light up the night in the nighttime spectacular.
As for earth, one of my favorite aspects about ye old Hong Kong Disneyland Castle was that it blended into the landscape. She was the only castle with a backdrop of rolling hills unique to her homeland.
Imagineers emphasized the element of earth with the addition of foliage around the castle itself. The team added more shrubbery and trees to keep Castle of Magical Dreams tucked into lush greenery, celebrating her literal roots. They even added artificial greenery to the castle itself, evoking the feeling the castle magically sprung out of the hillside.
Finally, as a Floridian, I appreciate how Imagineers incorporated the element of wood.
Have y'all ever been to Florida? It is hot. And humid. And really really sticky. Not exactly a great place to use wood in your home décor.
Like Florida, Hong Kong is way too humid for real wood. But thanks to the magic of Imagineering, artists specialize in convincing plaster to look like wood. And that is exactly what they did for the wooden elements of the castle, even "weathering" the material to look more realistic.
Magical Design: Turrets on Turrets on Turrets
Hong Kong Disneyland's Castle of Magical Dreams has 13 towers—each uniquely designed to represent its princess or hero.
The thirteen towers pay tribute to Aurora, Mulan, Moana, Ariel, Pocahontas, Tiana, Snow White, Merida, Cinderella, Belle, Rapunzel, Jasmine, and Anna & Elsa. Design elements include specific materials, colors, and symbols to represent each.
The tallest tower pays homage to the castle's original inhabitant—Aurora. The color gradually changes from "make it pink!" to "make it blue!" in honor of her magically changing dress. If you look closely, you can see her crown perched atop the filial.
Mulan's tower draws its inspiration not only from the heroine herself, but from traditional Chinese culture. Embossed cherry blossoms wrap around the tower and elements of jade symbolize success and good luck (not beauty, despite what Mulan's grandma says). Hanging on exclaiming, "my little baby, off to destroy people!" (probably) is Mushu, Mulan's ancestral sidekick.
One of my personal favorite towers (because she's one of my personal favorite princesses) is Belle's. Look closely and you can see symbols representing her favorite hobby stamped along the tower—golden books! Embossed enchanted roses stand out on the dark blue background to represent the Beast's evening jacket. And entwined around the spire is the Enchanted Rose.
If you want an in-depth look at each tower, be sure to check out this article here.
But the symbolism doesn't stop there! If you get a chance to wander the grounds, be sure to look for other subtle nods to the castle's inhabitants.
Additional Fun Facts About the Hong Kong Disneyland Castle
1. In Chinese, the word for the number 13 means "assured growth" or "definitely vibrant." While the number 13 is considered unlucky in Western culture, that isn't the case in Chinese culture, hence why there are 13 towers.
2. You won't see a literal picture or representation of any main characters on the castle itself, but it's pretty easy to pick out which tower represents them based on the colors and design elements. And if that wasn't enough of a hint, each turret is topped with a symbolic icon.
3. Our heroines didn't tackle their journeys alone—they relied on friendships and guidance from their trusty sidekicks. In the rotunda, these helpful friends get their due. Thirteen columns celebrate their loyalty (and sometimes comedic relief).
4. Thirteen flowers symbolizing the various princess adorn the floor in the rotunda and a massive stained-glass window above the rear entryway depicts additional icons celebrating the heroines.
5. In the areas surrounding the castle, murals display the princesses pursuing their passions. Imagineers put extensive research into the historical time periods from which each heroine reigns to guide their interpretations of their leisure activities. When Cinderella wasn't in flight from party pursuers, she could be found flying over her kingdom in a hot air balloon. And Aurora didn't sleep on athletic pursuits—she tried her hand at falconry.
6. As a final nod to the castle's roots, Flora, Fauna, and Merryweather adorn the breezeway, spreading their magic throughout the castle.
We hope you enjoyed this Guide to the Hong Kong Disneyland Castle!
One of my favorite magical tidbits about this castle was that Guests, Cast Members, and community members were included in her grand opening. Each person wrote down their dreams, which were then stored in a chest that is encapsulated in the tallest tower—Aurora's. Mickey Mouse even submitted a wish—wouldn't you love to know what he wrote?
Although I have visited every Disney castle across the world, I have not visited since the newest castle debuted at Hong Kong Disneyland…which means I might need to return to this enchanting park.
Do you have any plans to visit this newly reimagined castle?