*FYI - this post may affiliate links, which means we earn a commission (at no extra cost to you) if you purchase from them. Also, as an Amazon Associate I earn from qualifying purchases. For the full scoop on what this means, feel free to check out our Privacy Policy and Disclosure.
---
First Disney castle in mainland China? Check. First Disney castle to celebrate all the Disney princesses? Check. First Disney castle to incorporate a ride through its chambers? Check.
I consider Shanghai Disneyland my second "home" park, since I lived there for about a year with my husband back in 2017. It's not only home to my favorite Disney attraction worldwide, but to one of Disney's most beautiful icons—Enchanted Storybook Castle.
If you haven't seen Shanghai Disneyland Resort's Enchanted Storybook Castle, I implore you to book tickets right now and hop on a flight to see this incredible work of art. But if that isn't a possibility for you, read on for everything you need to know about Disney's most interactive castle worldwide.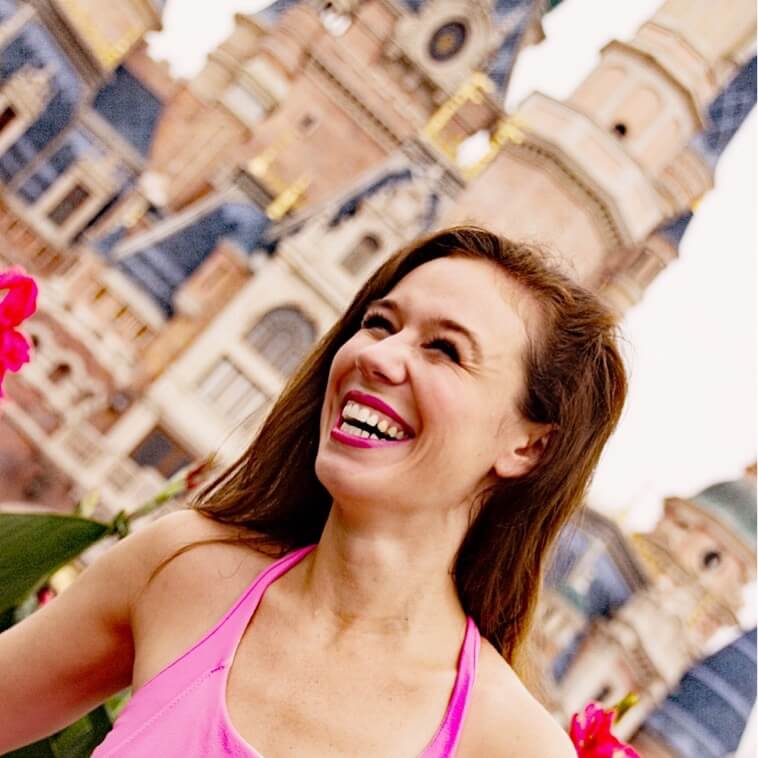 A Brief History of Enchanted Storybook Castle
One of the most ambitious projects of its time, Enchanted Storybook Castle leaned heavily on technology to span the project teams in Glendale, California, and Shanghai, China.
Sure, other castles had walk-throughs—like Sleeping Beauty Castle in Disneyland and Disneyland Paris. Or restaurants—like Cinderella's Royal Table at The Walt Disney World Resort. But Enchanted Storybook Castle was going to have EVERYTHING: stores, a walk through, a restaurant, AND an attraction—a Disney castle first!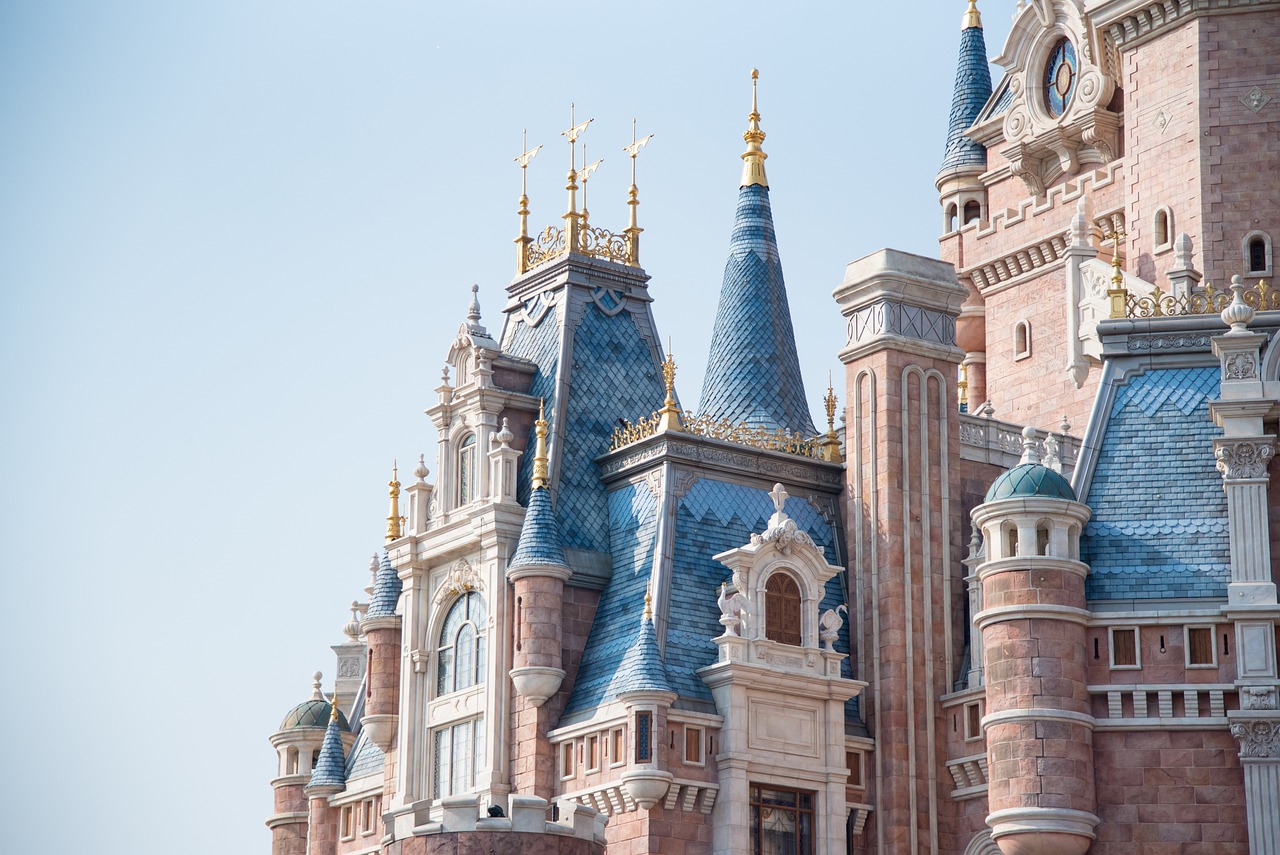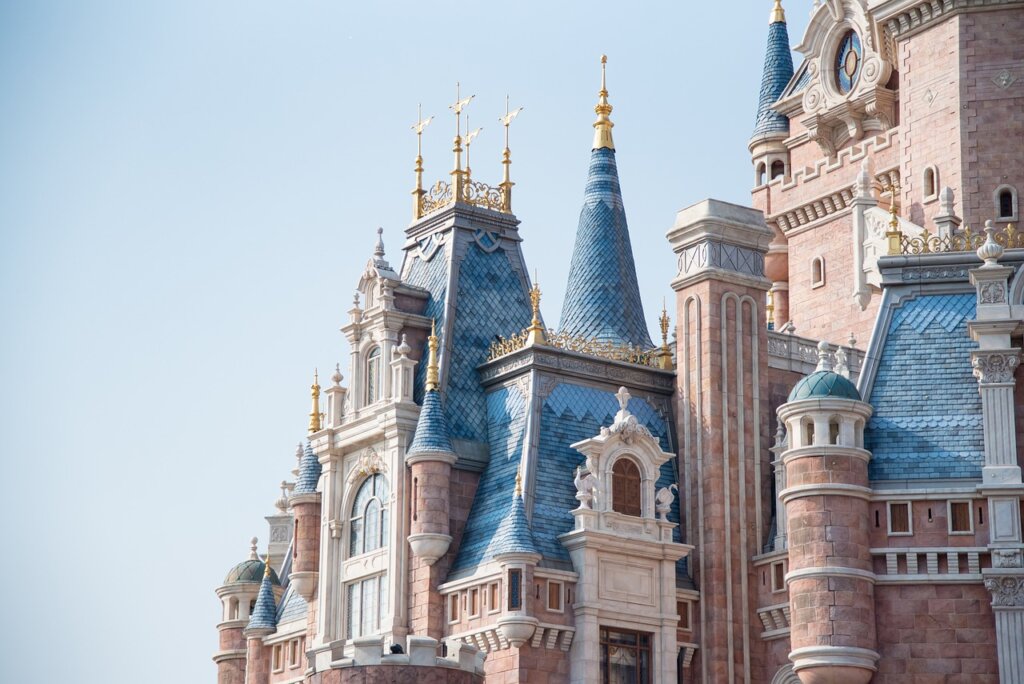 This meant the regular old two-dimensional designs weren't going to work. Imagineers needed to know to the exact bucket of cement how much material they were going to need and how everything would fit together—from a world away.
Over 140 disciplines came together, from architects to designers to engineers, to design the project using a process called Building Information Modeling (BIM). The castle was designed entirely in 3-D and then shared using cloud computing, since the internet in China is a little…unreliable (to which I can attest!).
Not only did this technology push cloud computing to new heights, it won WDI the Technology in Architectural Practice award from The American Institute of Architects (say that three times fast).
The entire process is fascinating and outlined in detail here. Be sure to check it out!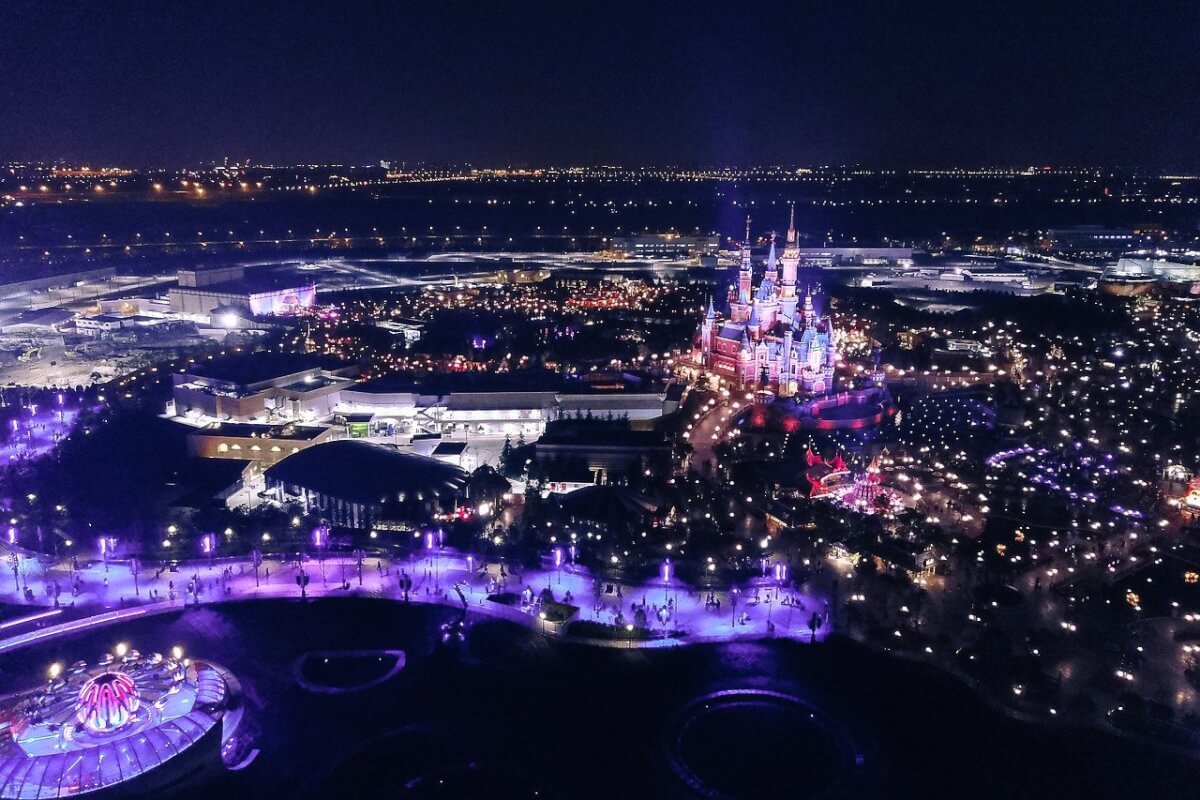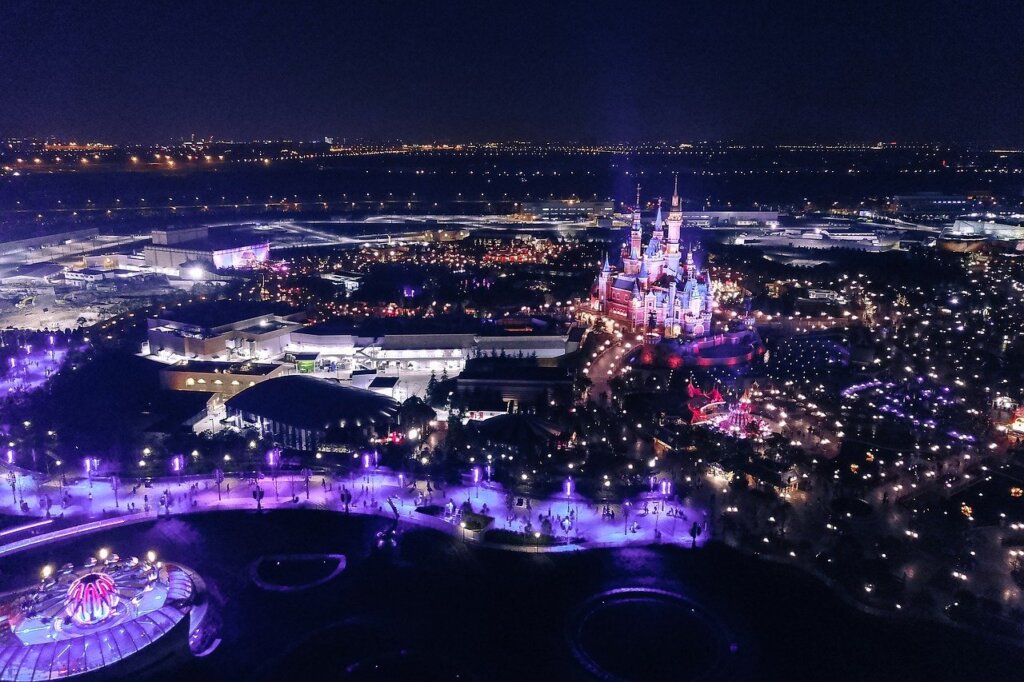 A Tribute to All Princesses: The Architecture & Design of Enchanted Storybook Castle
Unlike its sisters, Enchanted Storybook Castle isn't dedicated to just one princess—instead it celebrates the stories of all Disney princesses.
And until the reimagining of Hong Kong Disneyland's Castle of Magical Dreams, it was the largest Disney castle to date.
Enchanted Storybook Castle is considered a period correct medieval castle based on renaissance architecture, but with distinct Chinese touches. If you look to the tallest tower, you can see a peony—a traditional Chinese symbol.
Most striking about this castle is its beautiful pink façade, reminiscent of the castle in Disneyland Paris.
On clear days (rare in China), the color stands out beautifully against the blue sky. As night falls, a warm light seems to light up the castle from within.
The towers are the striking sky-blue characteristic of Disney castles worldwide, but a few are an oxidized green to add an element of surprise.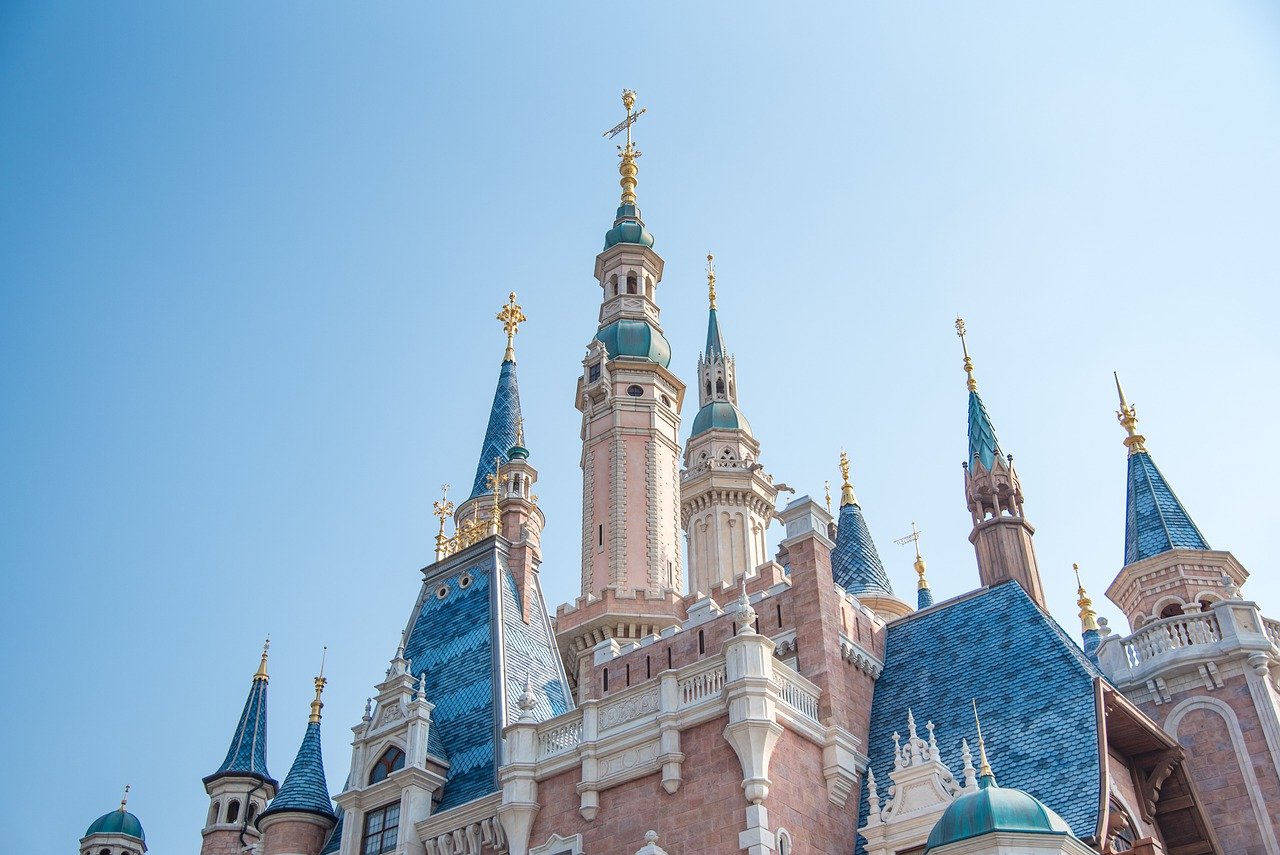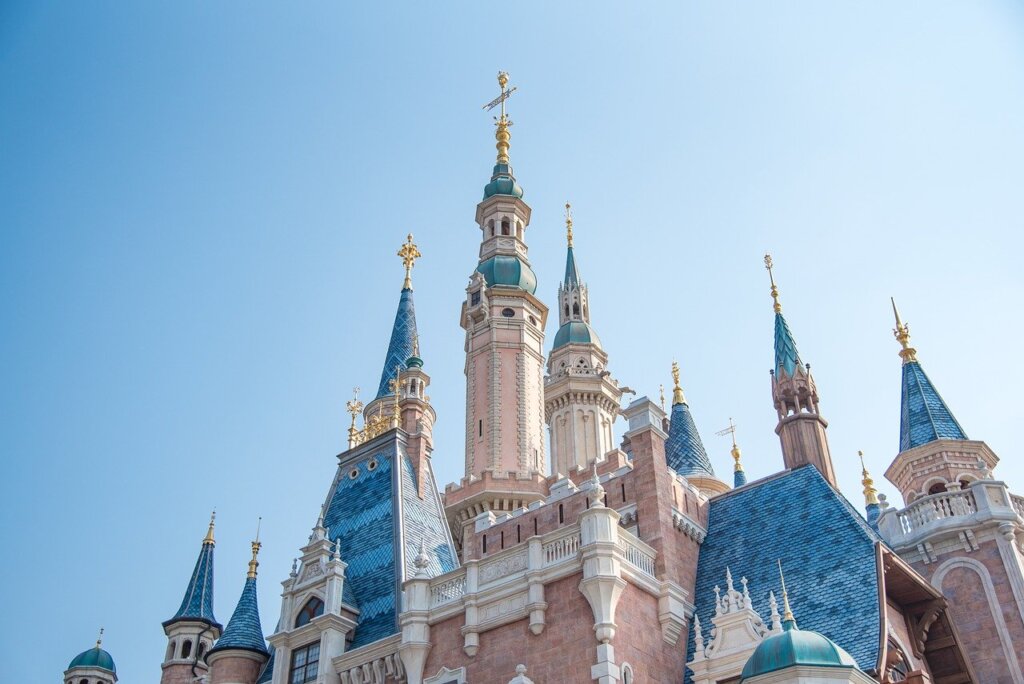 Your first impression when seeing this castle is definitely one of grandeur and imposing size. Some consider it a little boxy, but when you see it in person, she reveals her charms.
I think this castle has some of the best photo opportunities from multiple angles. The back of the castle is just as beautiful and grand as the front. Princesses meet under the eaves and you can snap some photos of the archways. Bridges leading up to the castle on either side are expansive, allowing for some great wide-angle photography opportunities, complete with waterfall elements!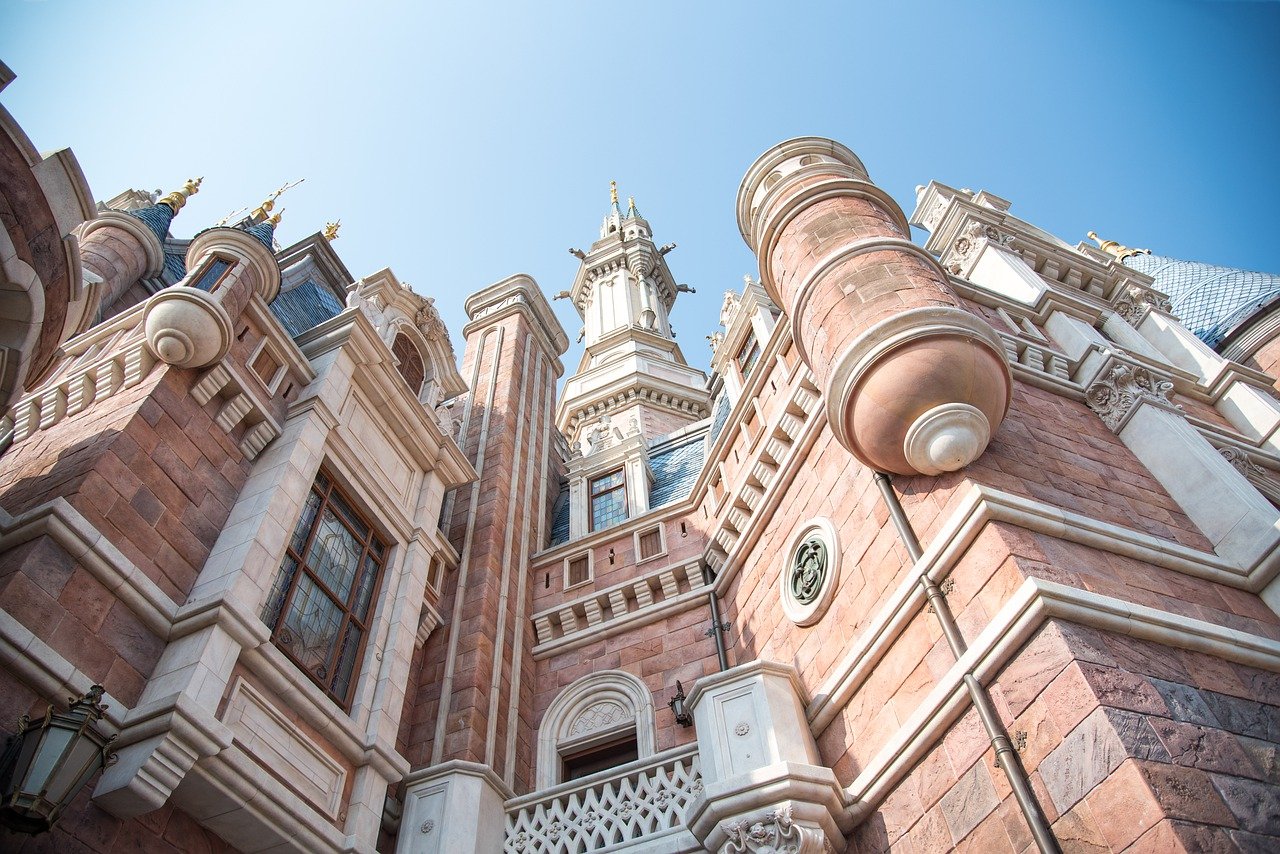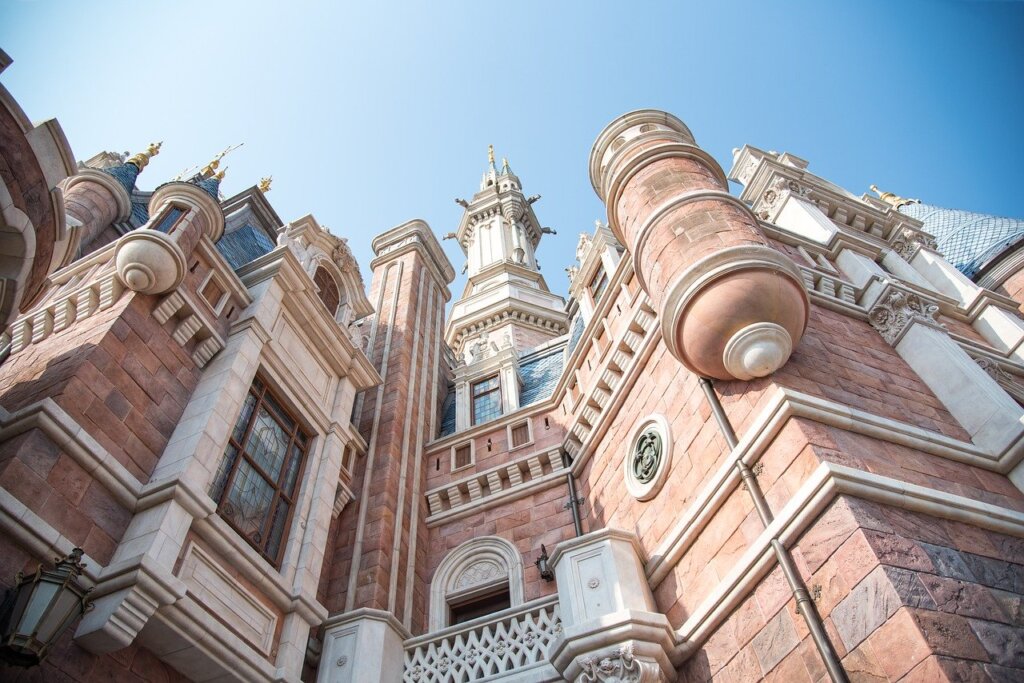 And as gorgeous as this castle presents on the outside, wait until you step inside!
The rotunda has so many beautiful elements to enjoy. Look up to see a dazzling star-studded ceiling, with a massive crystal chandelier illuminating the room. Head into the main hall to see some gorgeous mosaics. There are four total; with a different princess representing each season. Tiana from The Princess and the Frogfor spring, Rapunzel from Tangled for summer, Merida from Brave for fall, and Elsa from Frozen for (duh) winter.
The featured walk-through attraction can be taken at your leisure. Even though it was in Mandarin, I thoroughly enjoyed seeing the story of Snow White, the OG DP, brought to life with interactive technology that was seriously pretty cool.
Additional Fun Facts about Enchanted Storybook Castle
Louder for the People in Back
Have you ever seen a show on a Disney castle stage?
Unlike the rest of the world's Disney castles, Shanghai's is perched up high, surrounded by a built-in amphitheater. This provides a better viewing experience, so everyone can see the stage.
In addition, the castle is built on a hill (which are not very common in Florida), so Guests can see her beauty from all of Fantasyland.
Walking right down the middle of…not Main Street, USA
Any true Disney fan relishes the "reveal" moment when you first enter a Disney park and see its icon.
Unlike the other parks globally, there isn't a Main Street, USA leading directly to the castle.
Vintage Americana doesn't play a starring role in mainland China, so Imagineers paid tribute to the concept of choosing ones' destiny via Mickey Avenue.
Winding streets lead Guests through gardens and shops on their way to Enchanted Storybook Castle.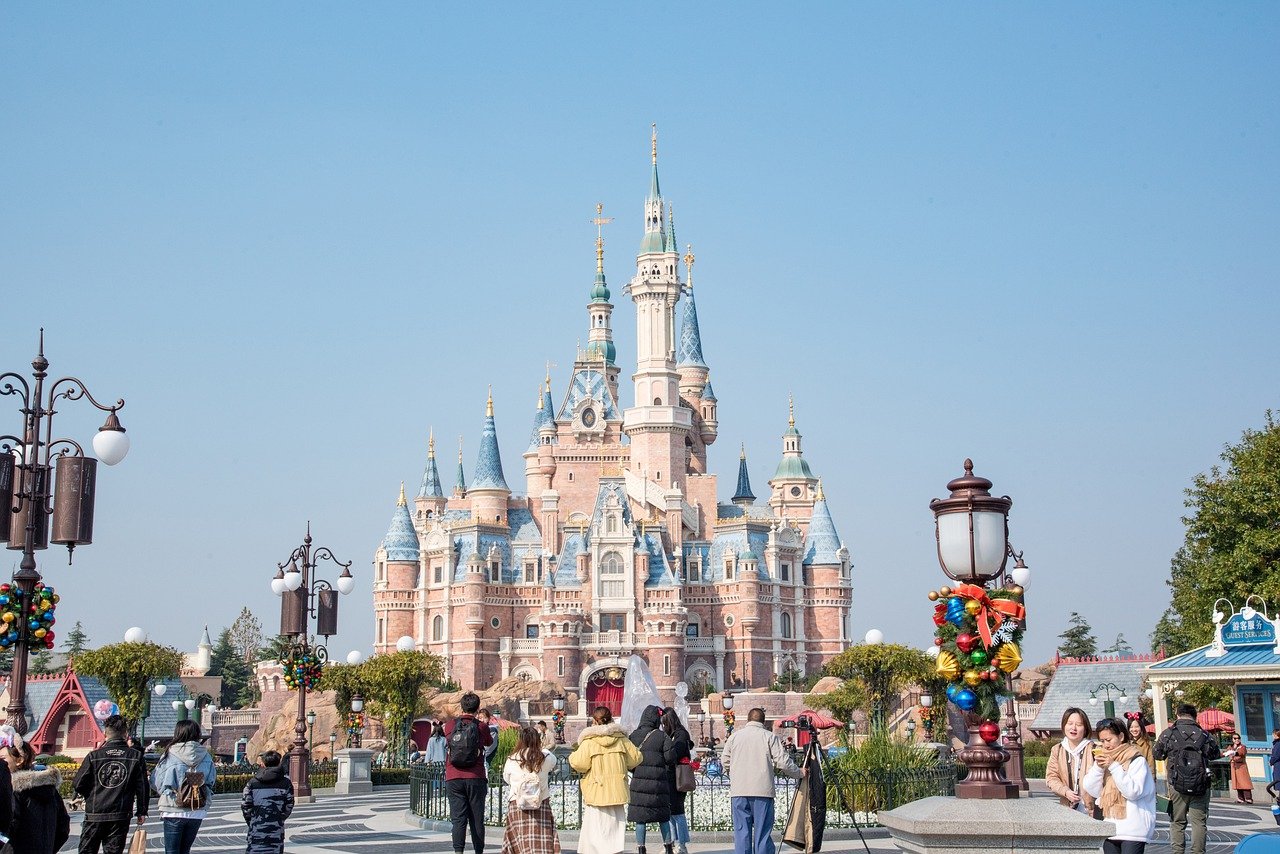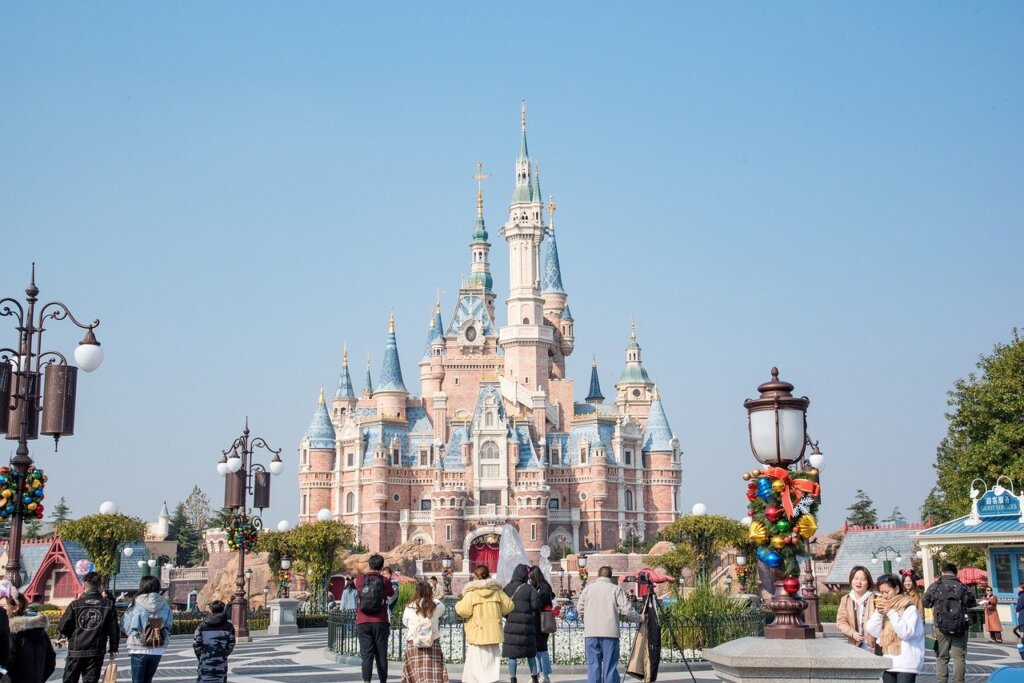 Showing Gratitude
During the COVID19 pandemic, Enchanted Storybook Castle lit up with the words "thank you" splashed across her turrets in multiple languages to celebrate the heroics of medical professionals around the world.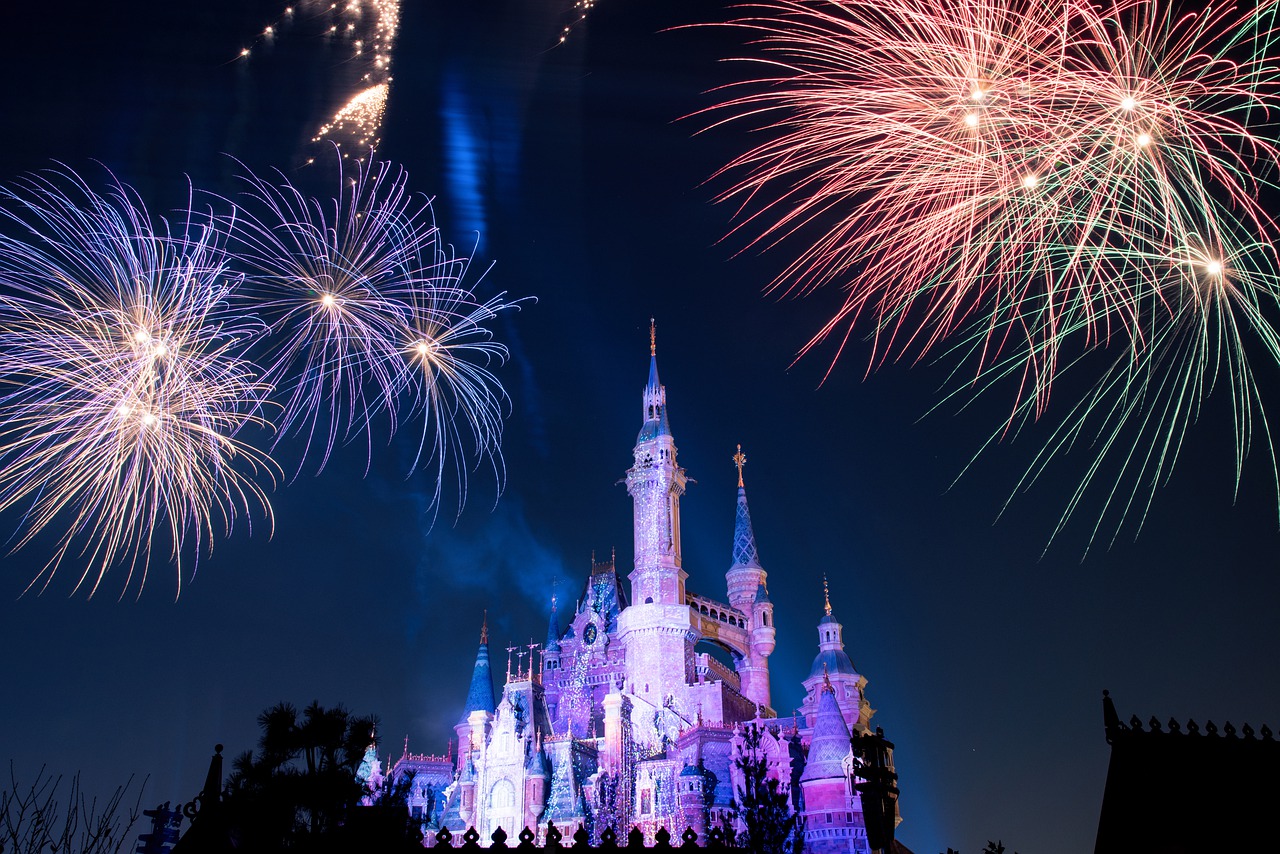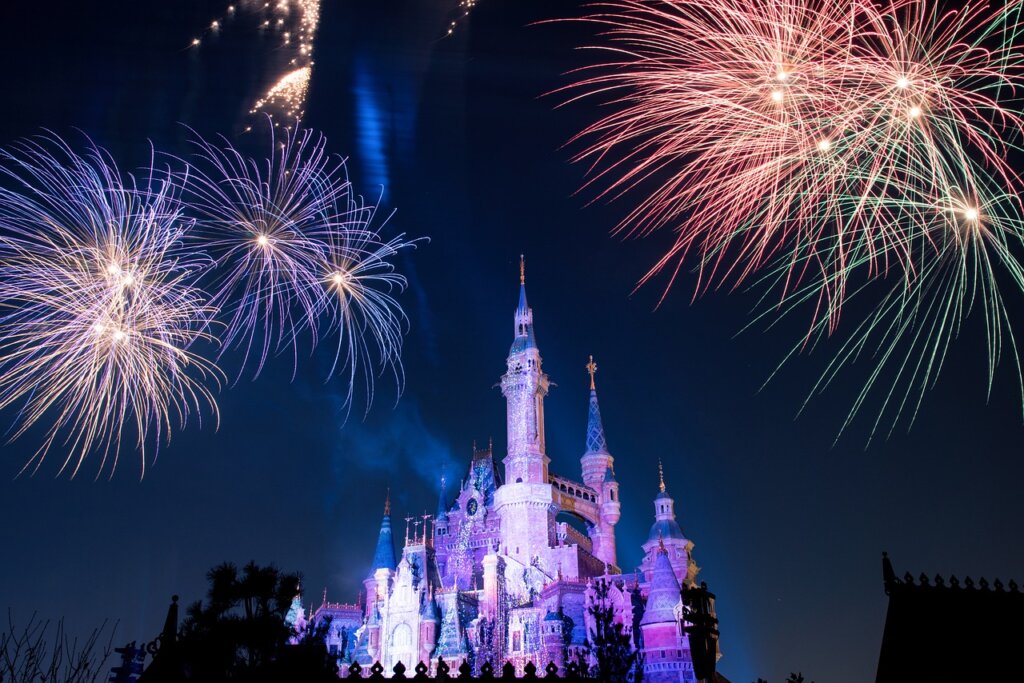 See ya real soon!
I hope you enjoyed this journey to Enchanted Storybook Castle. Like each Disney castle across the globe, it is unique and beautiful. As Shanghai Disneyland expands its park offerings, I hope I have the opportunity to return in the future and see her again!