*FYI - this post may affiliate links, which means we earn a commission (at no extra cost to you) if you purchase from them. Also, as an Amazon Associate I earn from qualifying purchases. For the full scoop on what this means, feel free to check out our Privacy Policy and Disclosure.
---
While the response to Star Wars: Episode VIII – The Last Jedi may have received some 'Luke'warm responses (*cackles at own dad joke*), the impressive scope of the movie's filming process and locations are definitely worth hefty praise.
For starters, The Last Jedi production crew built 125 sets on 14 sound stages at Pinewood Studios (the original script actually started with around 160!). That's more than most seasons of TV shows!
According to creature designer Neal Scanlan, The Last Jedi utilized more practical effects than any other Star Wars film. Around 180–200 creatures were made solely with practical effects, some sadly getting cut for the final edit of the film.
We can only hope they someday release cuts that showcase all these creatures in their glory!
While "Rian Johnson" was trending again in the beginning of quarantine this year, we're here to show you just how much blood, sweat, and tears went into completing The Last Jedi.
With all of The Last Jedi's impressive filming technicalities, we have plenty of fun facts and location info to keep your geek senses tingling. So plop your Porg plushie in your lap as we guide you through an overview of the locations below!
Save this post for later on Pinterest: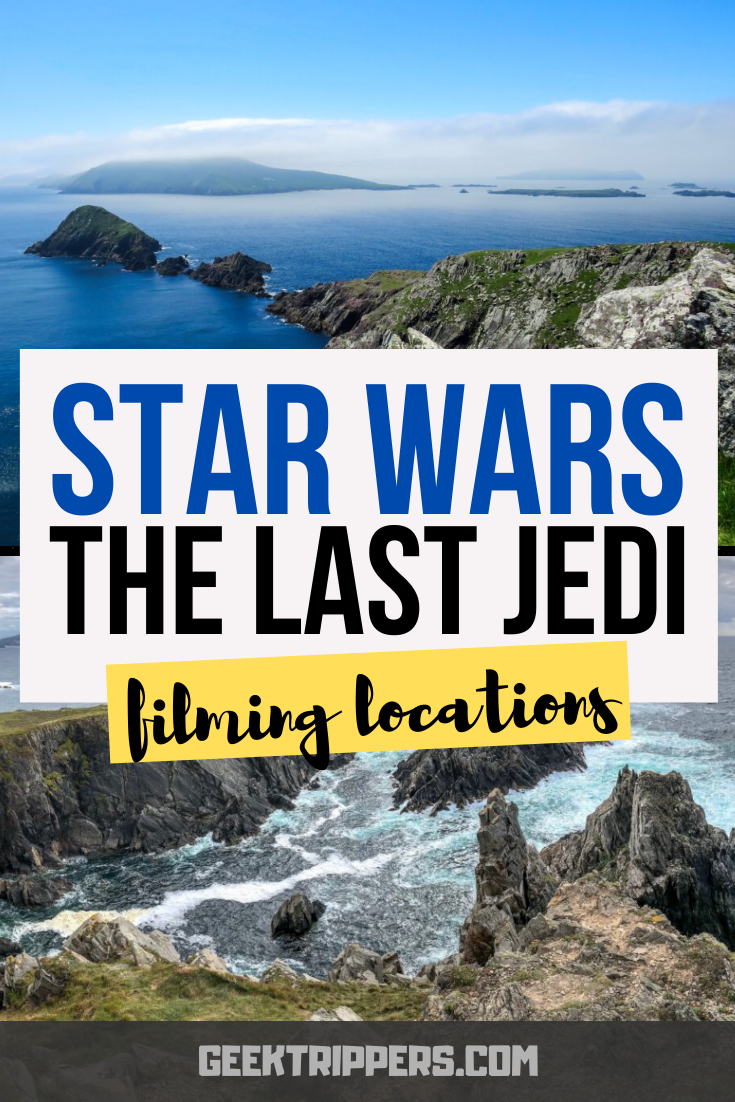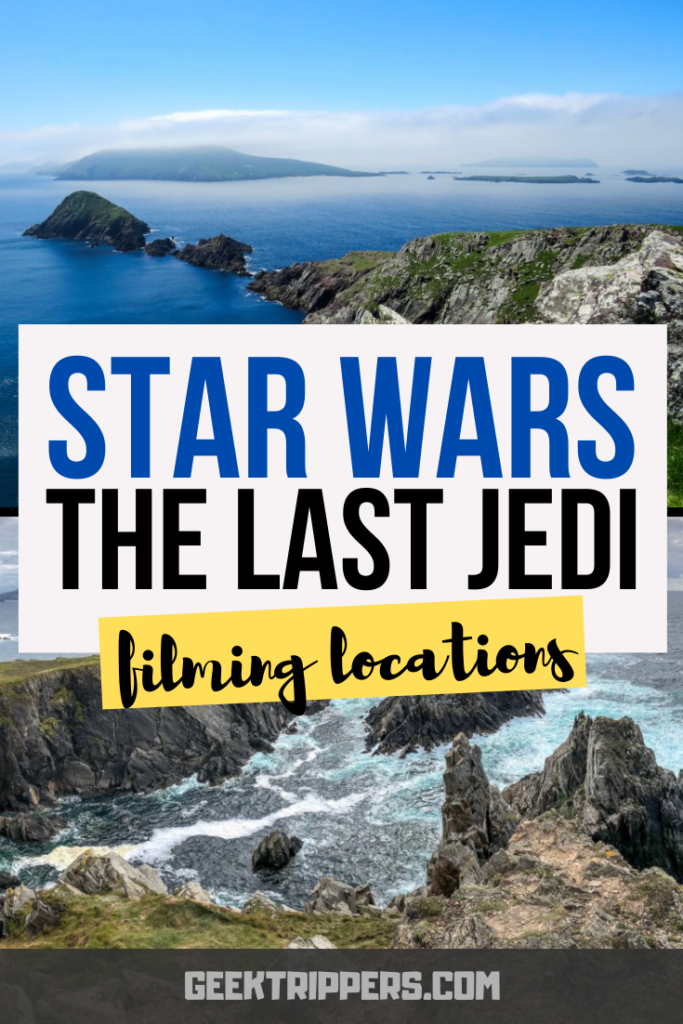 Where was The Last Jedi Filmed? A General Overview
The Last Jedi seemed to entail a lot more work and filming locations than other films in the Star Wars saga. By the end of production, cast and crew had traveled throughout Bolivia, Ireland, Iceland, and England.
Pre-production began in Skellig Michael in September 2015 (they even released a short trailer to announce filming! Squee) and post-production finished in late September 2017.
That's a wild gap of time, especially since this gave the crew far more time to finish this film than The Rise of Skywalker.
Did you know? Disney decided not to use Lucas's story outlines for Episodes VII, VIII, and IX after they purchased Lucasfilm Ltd. However, a few ideas made it in, including his idea for Luke to be living as a recluse and training a female Jedi (yes, girl power!).
As always, every chapter in the space saga had a nickname.
The Last Jedi's production name was Space Bear. For more smiles, check out this exclusive tweet from Joonas Suotamo (Chewie!) on set.
Come along as we happy beep our way our way around the world with BB-8, pinpointing every filming location of The Last Jedi!
The Last Jedi Filming Locations: A Full List!
The Last Jedi was filmed in multiple areas throughout Ireland, as well as in Bolivia, Iceland, and, as always, England. Let's see how many specific locations you can nail.
Ireland
The lush, fertile landscapes of Ireland were revisited in The Last Jedi; only this time, a multitude of locations throughout the country were used!
Director Rian Johnson even admitted that Ireland was his favourite country to film in. Read on as we point out all the specifics.
Skellig Michael (County Kerry)
The Last Jedi picks up right where The Force Awakens left off.
Thus, select cast and crew revisited Skellig Michael to pick up from the cliffhanger. Skellig Michael, a historic UNESCO World Heritage site and bird sanctuary, is one of the most iconic locations of The Force Awakens and The Last Jedi.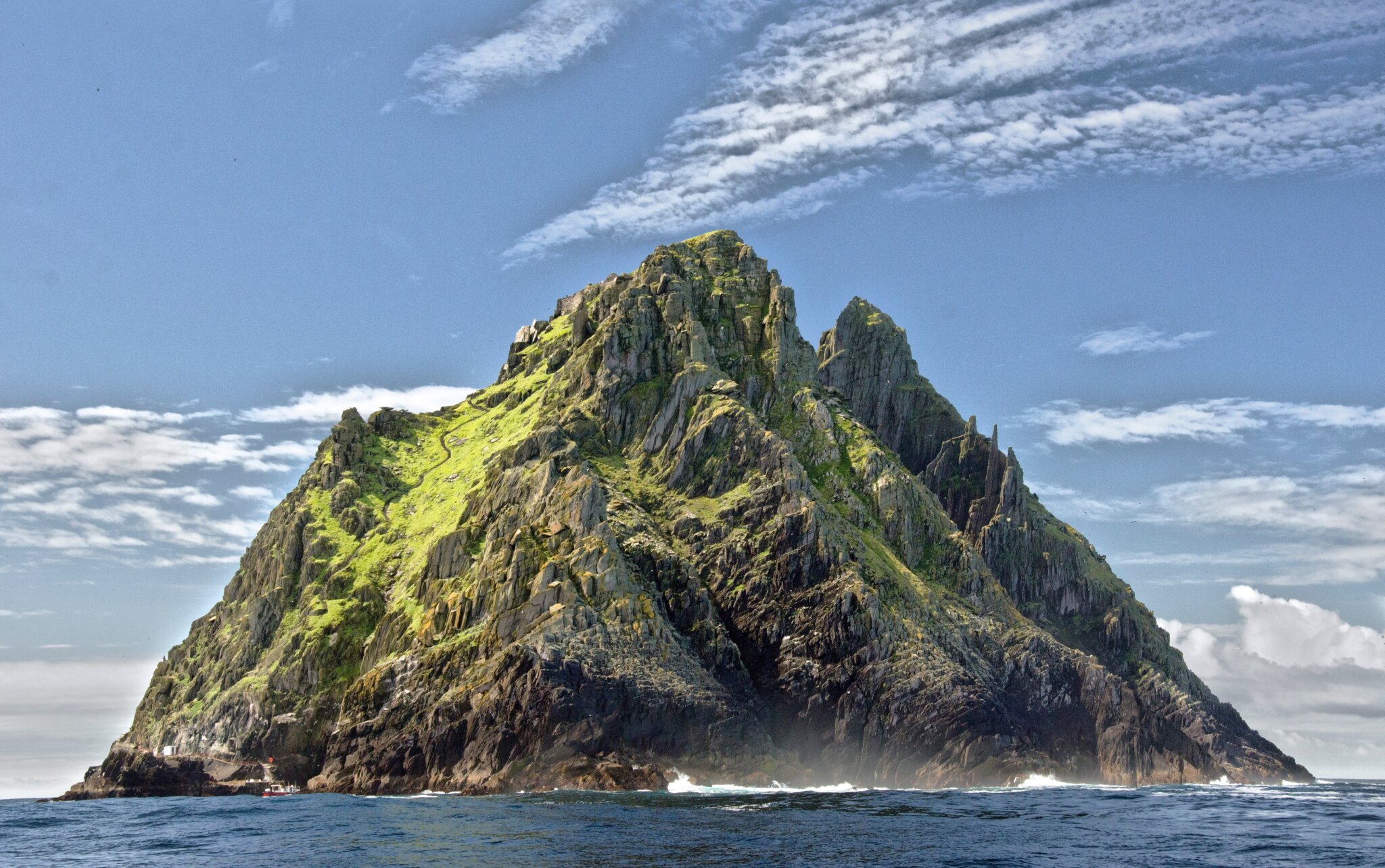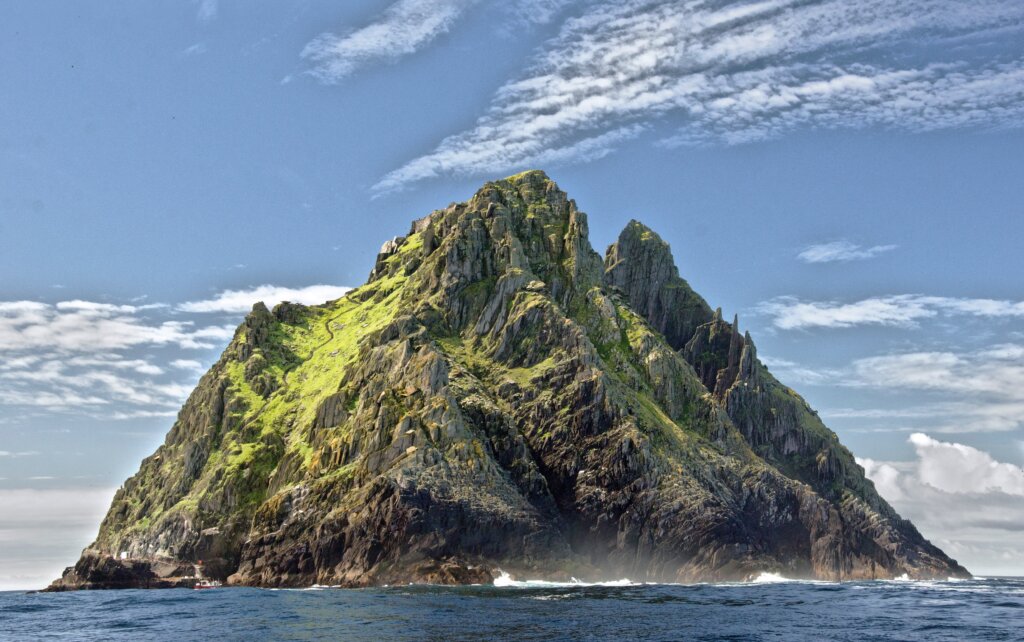 However, this time around, they faced more inclement weather (i.e. thick fog, freezing cold) than the previous visit.
Due to the island being a protected sanctuary and previous filming concerns, a vast majority of the scenes on the island were replicated in Pinewood Studios, then transported back to other parts of Ireland detailed in the following sections.
That's some true filmmaking dedication!
Fun fact: Mark Hamill asked if he could camp on the island since the 600-stair climb was so arduous. Unfortunately, since Skellig Michael is a protected UNESCO site, his wishes weren't granted by Irish authorities. Luke can't get everything he wants!
Believe it or not, The Last Jedi was only filmed for a whopping three days on Skellig Michael as a result of their heavily monitored production.
To see a map of all the locations throughout the Wild Atlantic Way in one space, check out Visit Ireland's detailed page here.
Fun fact: When Rey is practicing with her lightsaber and upsets the Caretakers, that's not any normal rock she accidentally slices in half. It's the Wailing Woman (now known as Rey's Rock), named fittingly by lighthouse keepers since her silhouette reminded them of a lonely figure (source: IMDB).
Keep in mind that any shot that pans over the island is real-life footage of Skellig Michael. None of it is CGI!
Did you know? Porgs were created as digitized forms of puffins, because they were in almost every shot and SFX editors couldn't edit them out.
As with The Force Awakens, nearly every creature that could be CGI were actually done with pure practical effects. Even the Porgs were handled with puppeteers and filmed on location!
Production crew even had to air lift in the humongous thala-siren that Luke gets his green milk from. It was all filmed there, atop Dunmore Head, in real time – and two puppeteers were inside (source: Nerdist)!
Fun fact: If you fancy finding where Luke's spirit once was, head to The Bridge Bar, where Mark Hamill was seen pouring a pint!
According to Nerdist, you can even walk to the exact spot of the sea cow, accessible from Slea Head Beach.
As Amy Ratcliffe notes, take a cut-out of the sea cow's head with you for a top-notch photo – or just pose with your Porg plushie in the same spot!
While you're near Dunmore Head, also check out the coastline below. Be sure to snap a photo so you can edit in the X-Wing, as seen underwater in the film!
Just note that Skellig Michael won't be re-opening until 2021 due to the pandemic, so plan accordingly.
Did you know? There's a third Skellig rock called Lemon Rock, which appeared in Harry Potter and the Half-Blood Prince as the rock that Harry and Dumbledore stand on (source: Let's Go Ireland). We love it when geek worlds are related somehow!
For a detailed synopsis on how you can visit Skellig Michael IRL, check out Earth Trekker's article here.
Remember that if you want to be true geek royalty and see all of The Last Jedi filming locations throughout Ireland, you ought to rent a car, since most of the areas are spread far apart.
Fun fact: When shooting wrapped, Lucasfilm Ltd. took out eight advertisements in local Irish papers to thank everyone for their warm welcome, hospitality, and genuine enthusiasm throughout the duration of filming.
Ceann Sibéal (Sybil Head)
Ceann Sibéal was home to the set of the Jedi temple, but it may not be how you think.
You see, the beehive huts (inhabited by the Caretakers in the film) are actually on Skellig Michael, having been built around the 11th or 12th centuries.
However, the crew couldn't use those for filming, so they replicated them in Pinewood Studios in London – a feat that took almost six weeks (source: Nerdist)!
Did you know? It was Daisy Ridley's idea for Phasma's eye to appear unscarred and human (source: IMDB).
They then transported those sets bit by bit on the cliff of Ceann Sibéal!
People and equipment were ushered back and forth via ferry, and a steel track was needed just to ensure that the huts were mounted in place.
However, filming took place on private property, so unfortunately, you can't visit the actual site without permission of the landowners.
You can still get very close to the actual location, so definitely try and head there regardless!
Fun fact: Cast and crew stayed in the village of Waterville on the Ring of Kerry while filming. If you're feeling really fancy, you can stay at The Butler Arms Hotel just like they did, which overlooks Ballinskillegs Bay.
For fellow geek trippers, take the road to Ballyferriter village and discover Beál Bán beach, a hidden alcove that locals frequent (source: Visit Ireland).
This is also a well-known golf destination, but we'd imagine that you'd be spending all of your time trying to perfect Rey's lightsaber swing rather than golfing!
Dingle Peninsula
Ireland's Dingle Peninsula was voted by National Geographic as one of the most beautiful places in the world.
At one time, it even survived Viking attacks!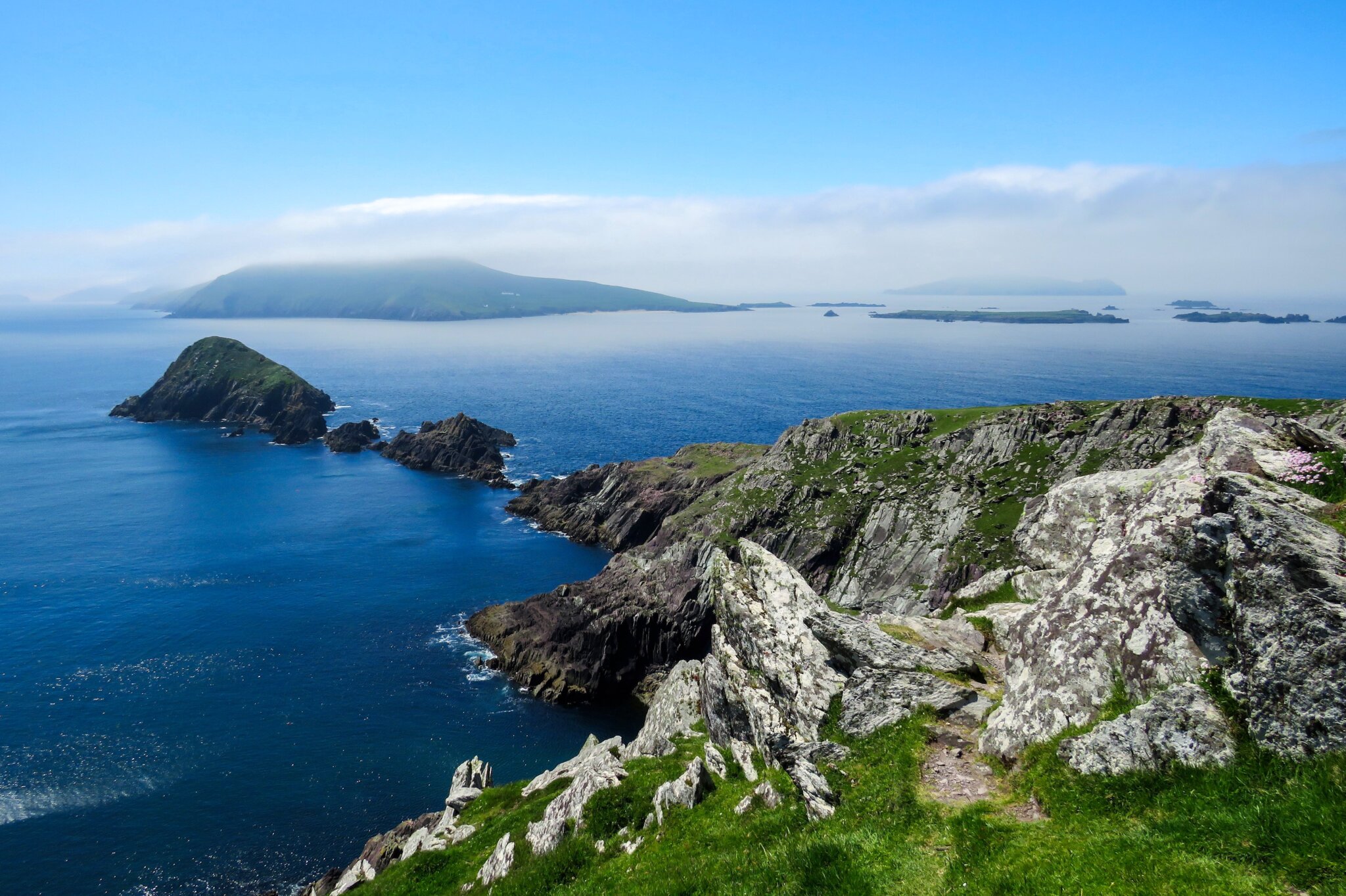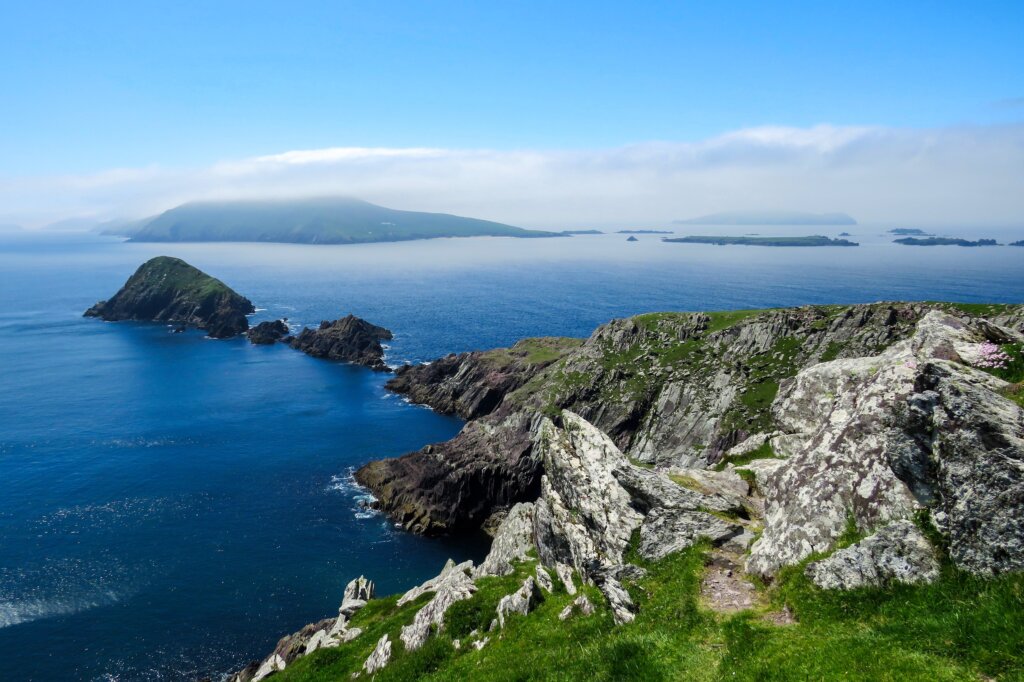 For obvious reasons, we decided it deserved its own section in this article. It could technically be combined with Ceann Sibéal (Sybil Head), which is along the Dingle Peninsula, but we wanted to showcase this special place separately.
Fun fact: Daisy Ridley was seen in Dick Mack's pub in between shooting. Check out this tweet as evidence, and here's another tweet of her dancing and singing!
Along with its picturesque scenery that is almost too perfect to be real, the Dingle Peninsula is known for its famous Bottlenosed dolphin, Fungie!
According to the Irish Times, he's apparently the oldest solitary dolphin on earth (nearly 40 yrs. old, since he was first discovered in 1983) and is a favourite to both locals and tourists with his friendly greetings.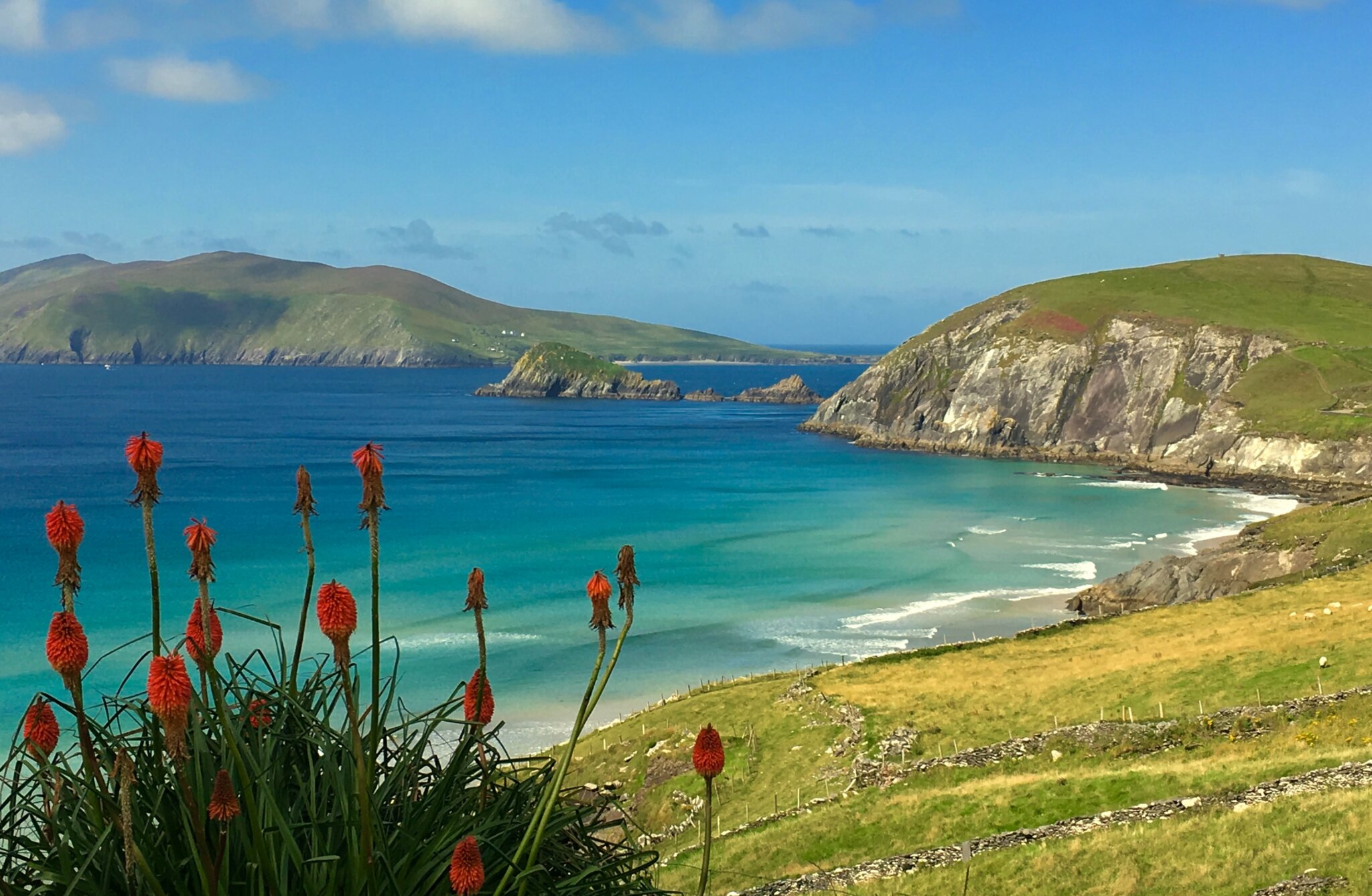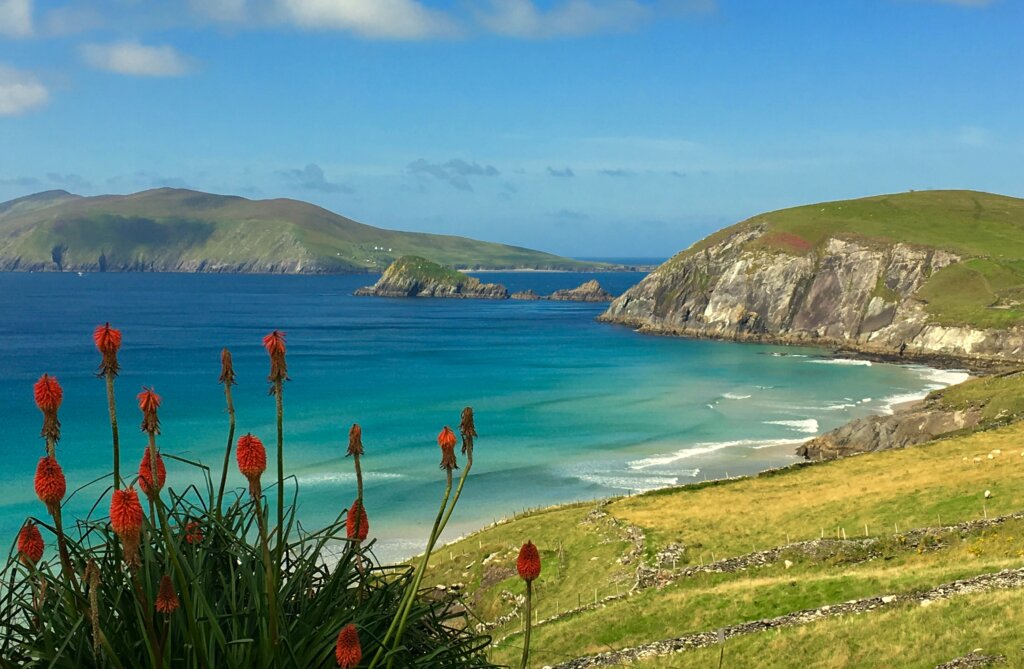 Fun fact: The shot of water splashing off Rey was a practical effect. They simply poured water onto Daisy Ridley and then reversed the shot!
Also, if you're keen on checking out some beehive huts built over 1,400 years ago (not used for filming, but still bloody cool), stop by Hold a Baby Lamb and Beehive Huts (yes, that's their name!) along the peninsula.
Dolphins and baby lambs – what more do you need while scouting out Star Wars locations?!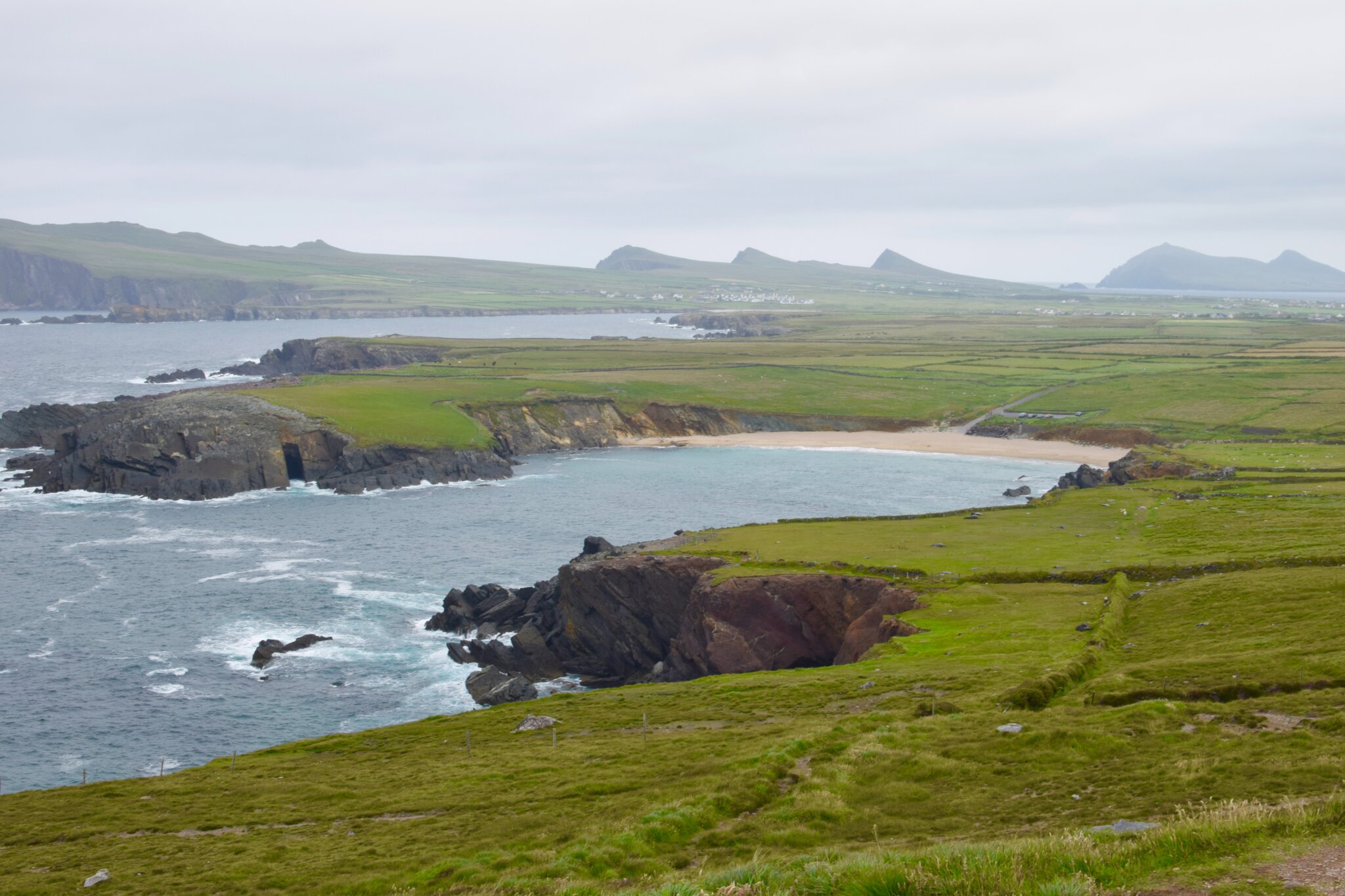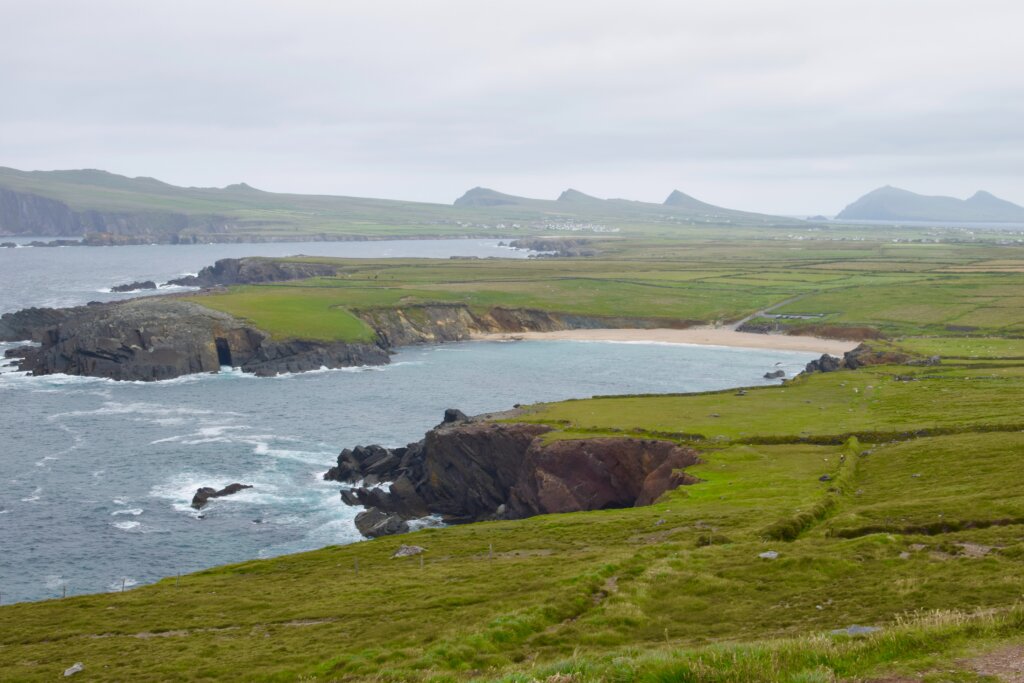 Speaking of huts, did you catch this minor detail? The door to Luke's hut was a salvaged S-wing from an old X-wing! Check out the screencaps here on Reddit.
Here's a tweet from some lucky users who even spotted Daisy while they were filming.
Did you know? The Last Jedi wrap party was held in Foxy John's pub in Dingle, and Daisy Ridley used her bartending roots to help serve cast and crew, as evidenced in these tweets! What a Rey of sunshine.
Loop Head (County Clare)
The dramatic cliffs and seascapes of Loop Head were also used for the scene when Rey is about to fall into the water of the Mirror Cave. Fans were quick to notice this location making an appearance in the scene below:
If you're dedicated enough and find yourself in Ireland, you definitely don't want to miss posing in the same spot of the amphitheater as you see Rey above!
RELATED: Don't miss our article on Game of Thrones filming locations in Northern Ireland!
Loop Head is famous for its lighthouse, as well as several awards of distinction, such as the 2015 Gold Medal at the Irish Responsible Tourism Awards.
Located on the northern side of the River Shannon, Loop Head has become a popular tourist destination in Ireland (source: Tourism Ireland).
Did you know? Adam Driver was also in Ireland, despite Kylo never being in the same location as Rey. Rian Johnson said, "For those force connections, I needed [Adam and Daisy] to talk. Every single time we shot one of their sides, the other person was off camera […] even to the point where Adam flew to Ireland just to be off camera for Daisy's stuff, which was essential because they're such intimate conversations."
You can even spot the "EIRE" sign in the aerial video of Loop Head below, signifying a historic piece of evidence from the aftermath of WWII.
For three days, The Last Jedi crew occupied the Loop Head Lighthouse while filming.
Throughout this time, a Temporary Restricted Area (TRA) was enforced and no drones were allowed to ensure extreme secrecy (source: The Clare Champion).
Fun fact: When Daisy Ridley brought her dad to The Last Jedi set in Ireland, he asked Mark Hamill, "So who do you play, then?" and she wasn't sure if he was joking or not! (source: IMDB)
Brow Head (County Cork)
Brow Head was used for Planet Ahch-To (Gesundheit!), in particular where Luke death-defyingly leaps from a cliff to spear a fish.
Sidenote: That really was Mark Hamill, as shown in the behind-the-scenes feature!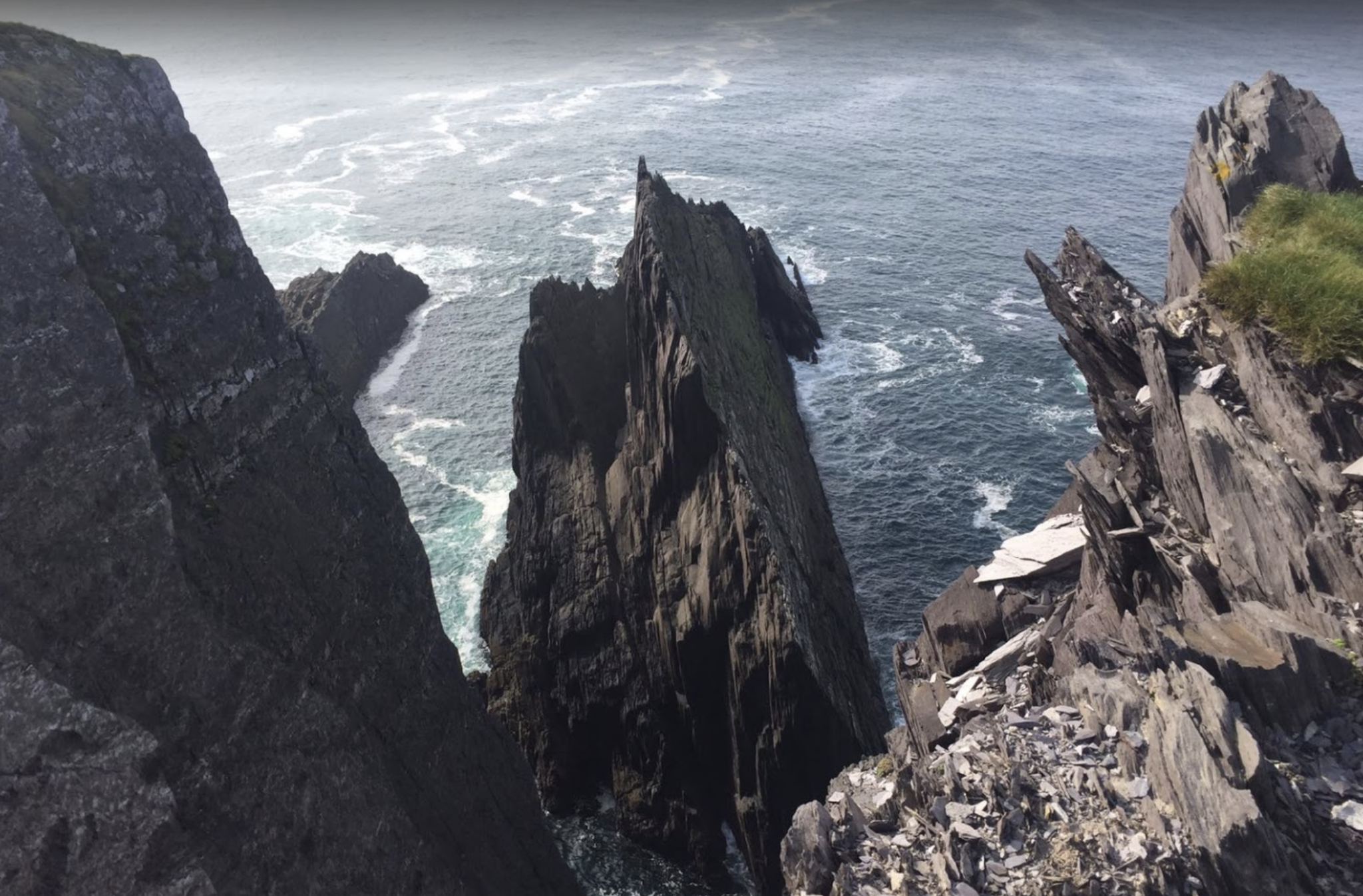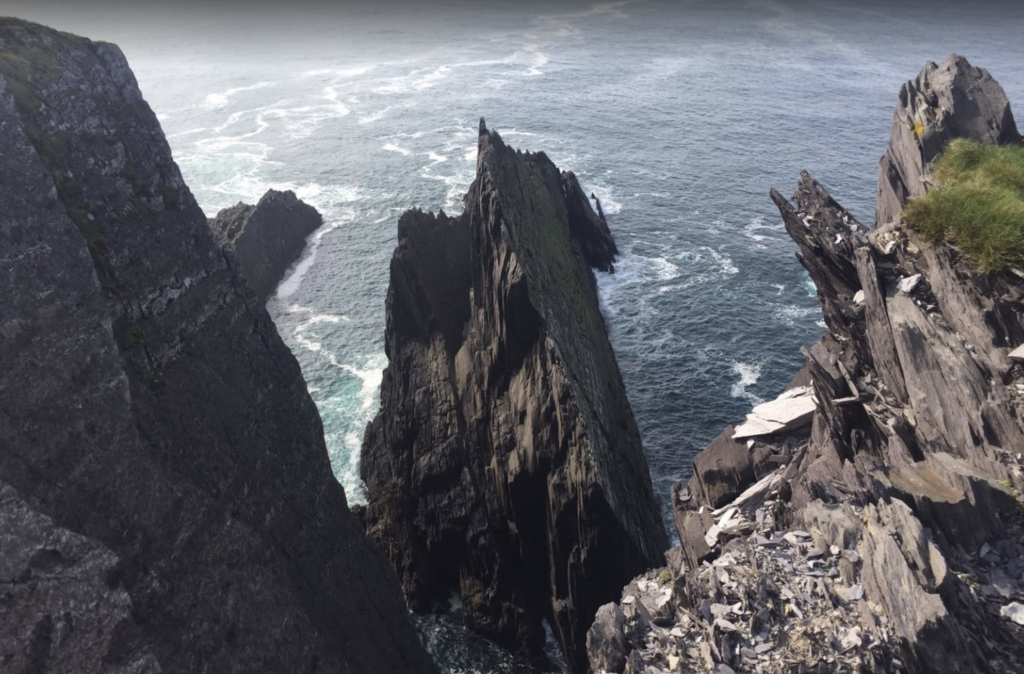 Brow Head, next to the Mizen Head Peninsula, is a photographer's dream.
To get from the visitor center to the actual headland, you cross a height-defying bridge that hovers over the pounding waters below.
However, this is the one time you want to look down, since you might spot seals, dolphins, and humpback whales!
Did you know? Peter Mayhew (Chewie!) even paid a visit to a local school in Brow Head to give "WAGRRRRWWGAHHHHWWWR!" greetings to the kids! Sadly, he only served as a consultant to his replacement, Joonas Suotamo, while filming The Last Jedi due to his health conditions, and later passed away a few months after its release.
Like Skellig Michael, Brow Head is isolated, which made it another perfect filming location for The Last Jedi.
Brow Head is located in the rural townland of Mallavoge, close to Crookhaven, and is the most southerly point of mainland Ireland.
Malin Head (County Donegal)
Ineuran Bay (Malin Head, in particular) was where the Falcon was built and brought over from England in sections (source: BBC News).
Check out this post from a lucky Reddit user who even spotted it from afar!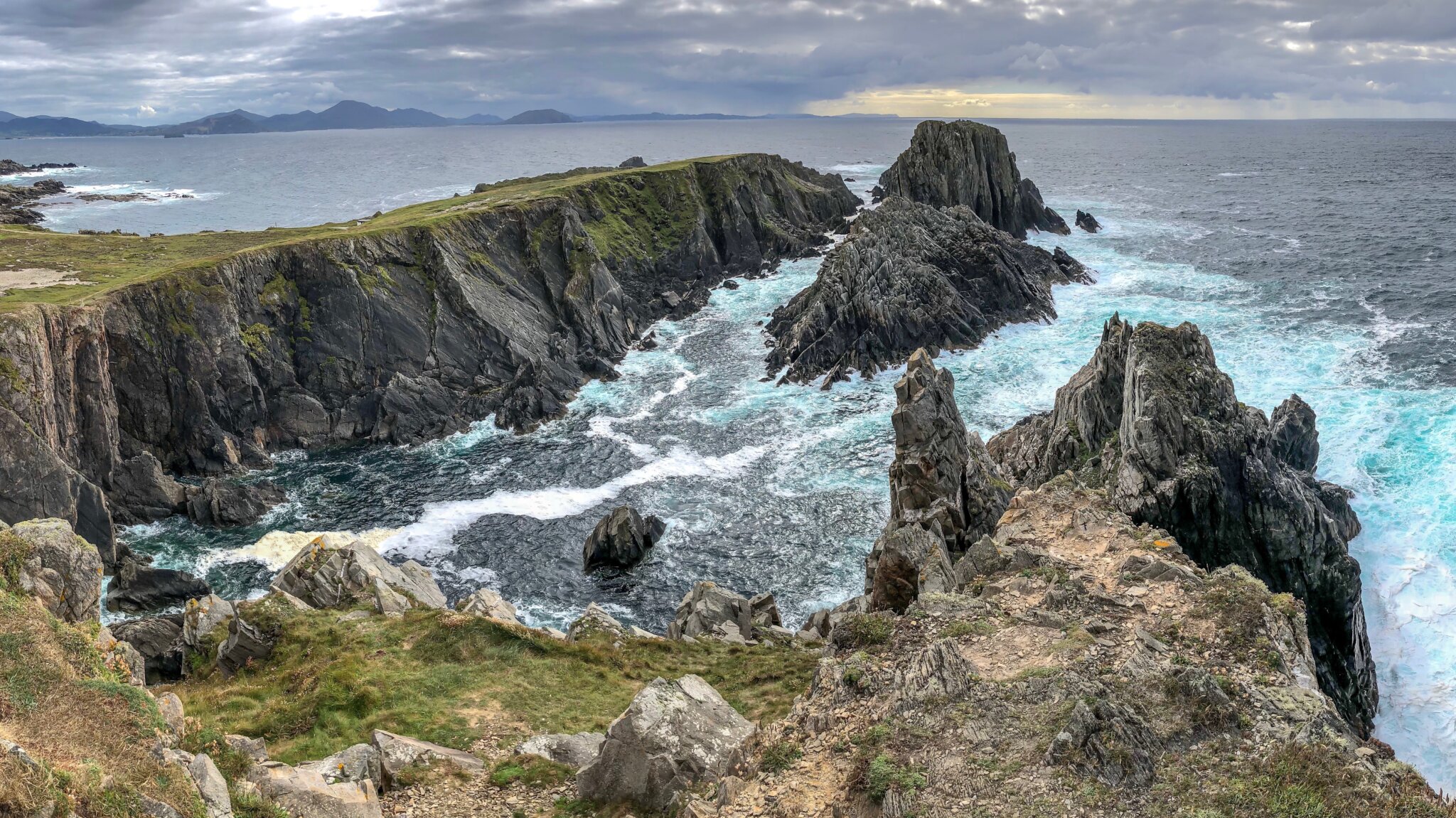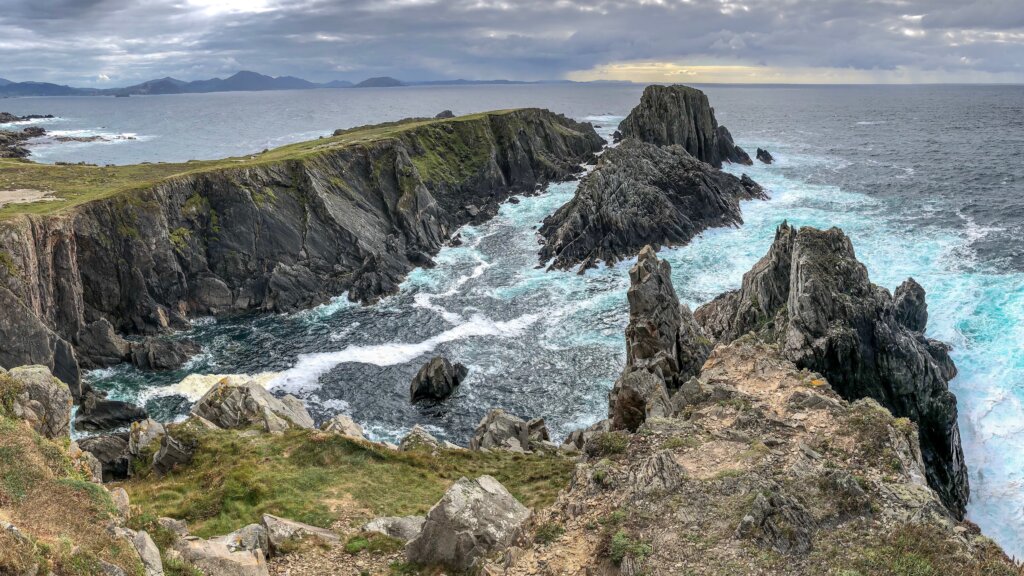 While you can park at the viewpoint parking lot, the exact location where the Falcon was parked in The Last Jedi was on private land.
But no need for despair! It's recommended to take a Malin Head Star Wars tour with Bren Whelan, an Irish Star Wars expert who was responsible for the personal safety of Daisy Ridley and Mark Hamill while filming.
Fun fact: The owner of Farren's Bar, Ireland's most northerly bar in Malin Head, was so stoked about The Last Jedi being filmed here that he had a giant Yoda mural painted on the outside of his pub. Mark Hamill even paid a visit and greeted fans (see the video below)!
If you're extremely lucky, you might even catch the Northern Lights here! Malin Head is the northernmost part of Ireland, so it's very possible to see Aurora Borealis on a clear night.
A bit further from Malin Head, don't miss Esky Bay, which is where Rey ran along the beach. This might be a behind-the-scenes GIF of that scene here.
Fun fact: In April 2019, the R242 coastal road near Malin Head was renamed to "R2-D2" in tribute of the beloved droid!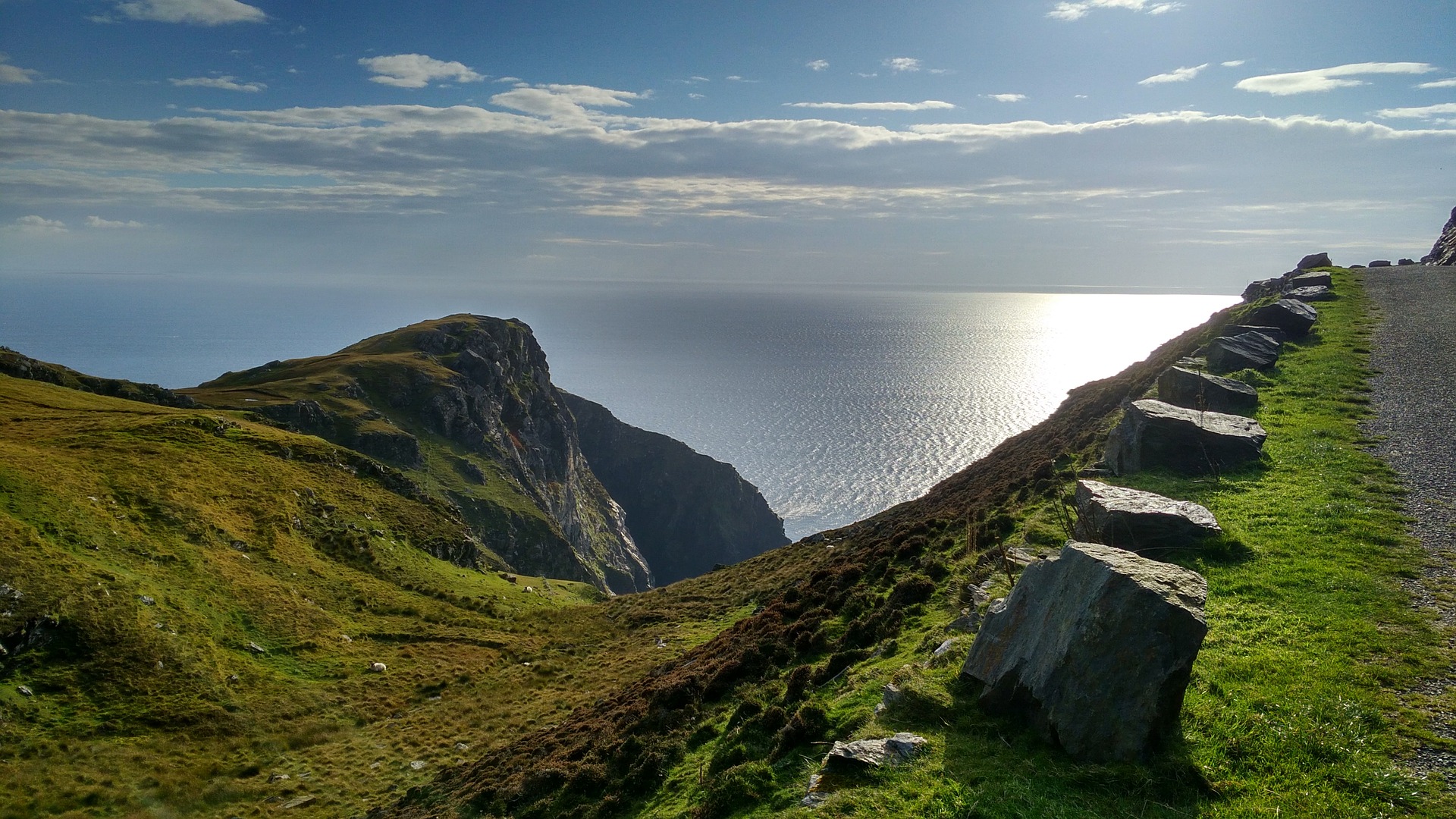 Additionally, if you come across a thatched cottage in Ballyhillin, head inside and look for Mark Hamill's signature in its guest book and lounge in the chair, now known as Skywalker's Armchair.
For full info on Ireland's role in The Last Jedi, check out this lovely landing page here, which even shows screen capped tweets from Rian Johnson and Mark Hamill that prove how much they loved filming in this hospitable country.
Did you know? Domnhall Gleeson (Hux) is an Irish actor, but he adopted an English accent for his role. After all, he probably would have sounded too happy to be a First Order officer with the typical Irish accent!
Bolivia
The Last Jedi marked the first Star Wars film to film in this dramatic location. It's thanks to Bolivia that the film's most epic battle scene was unforgettable!
Salar de Uyuni
The ending battle sequence in Crait was filmed here, when the bright red sand was jutting up beneath Resistance ski speeders.
The juxtaposition of the sheer white against scarlet red debris was truly magnificent, and it's unbelievable that nearly everything was shot on location in Salar de Uyuni!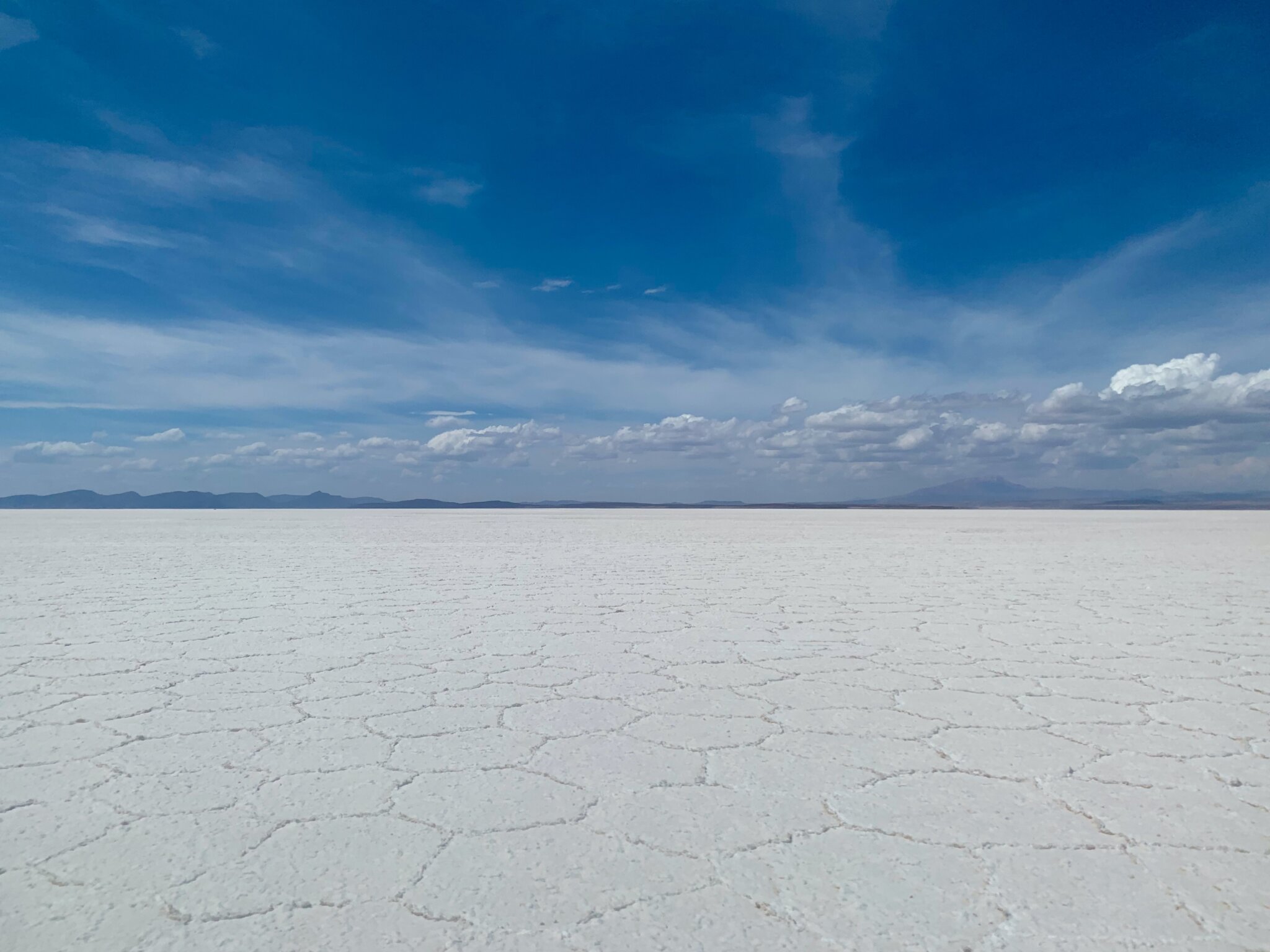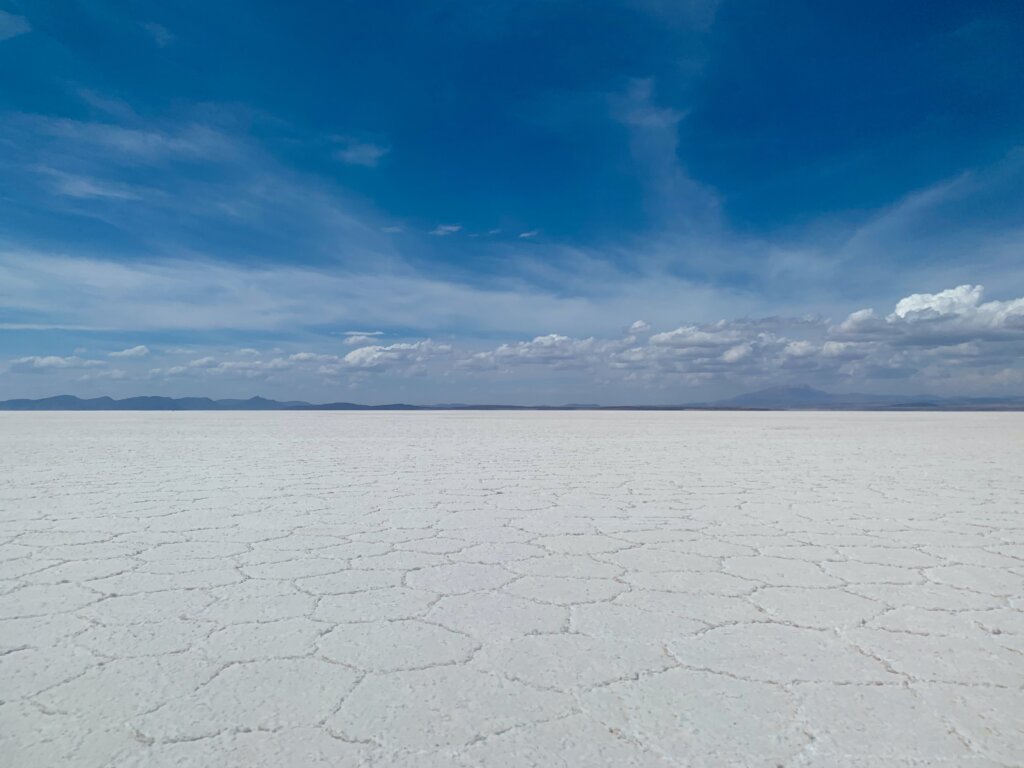 Did you notice? According to IMBD, the shot of Kylo entering the Resistance base on Crait deliberately parallels the shot in Revenge of the Sith where Anakin enters the Jedi temple.
Salar de Uyuni is the world's largest salt flat, a result of evaporated lakes from prehistoric times, located in Daniel Campos Province.
Back in the day, it was a transportation hub for minerals and British engineers, who used trains to transport minerals to ports.
Correction: Some fans thought that the Crait scenes were filmed in the Bonneville Salt Flats in Utah, but this isn't the case. All of the Crait footage was filmed in Bolivia!
If you want to visit, you're in luck! It's truly like walking on another planet, and even features hotels constructed from salt blocks as well as historical trains.
If you visit from December – April, you might even get to see overflowing lakes transform the lakes into a picturesque reflection of the sky (source: National Geographic).
Make sure you do your research before going, since there are three main areas you can start your tour from: Uyuni (Bolivia), San Pedro de Atacama (Chile), or Tupiza (Bolivia).
For a more detailed article, check out Bolivia Hop's recommendations here.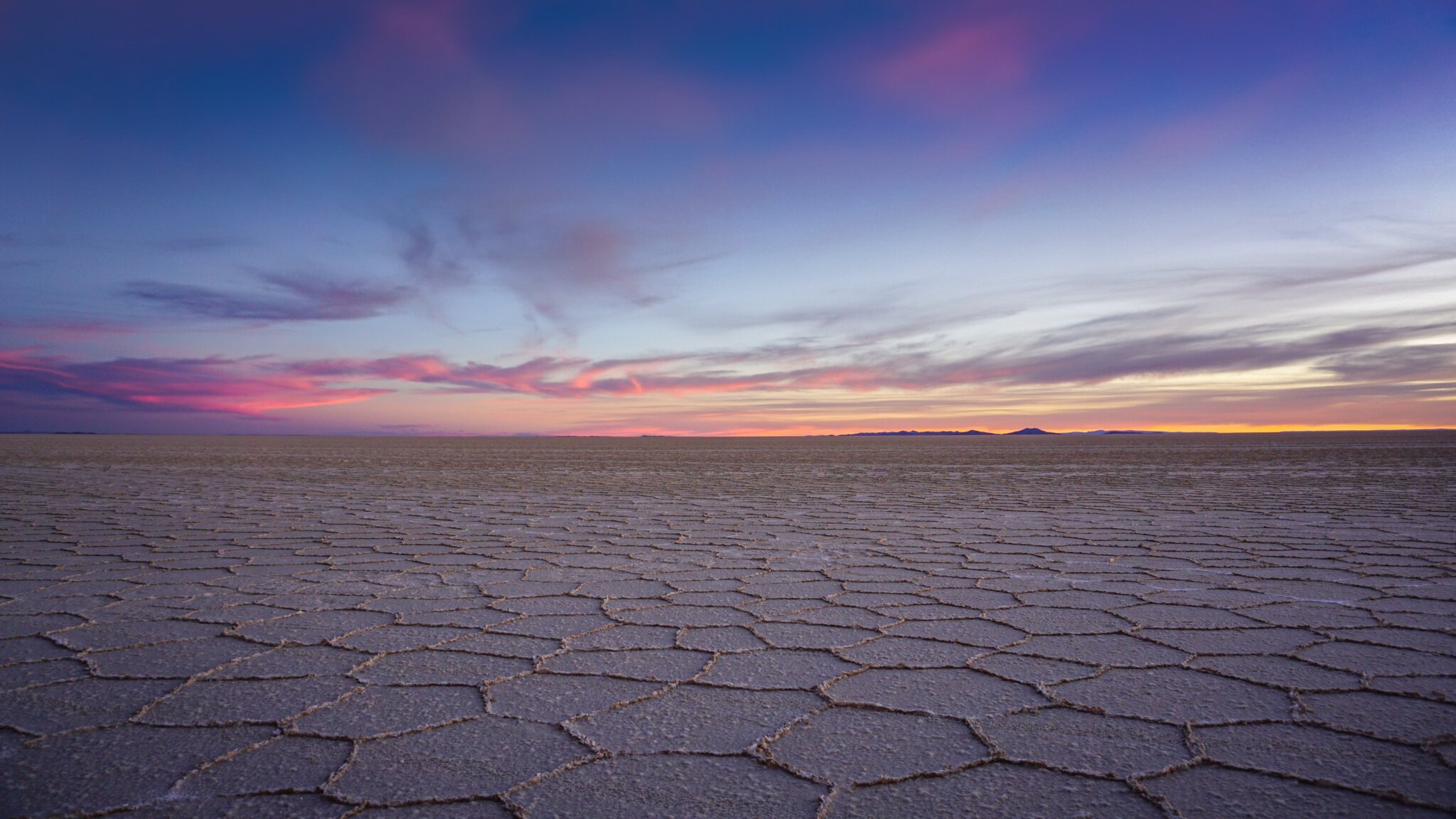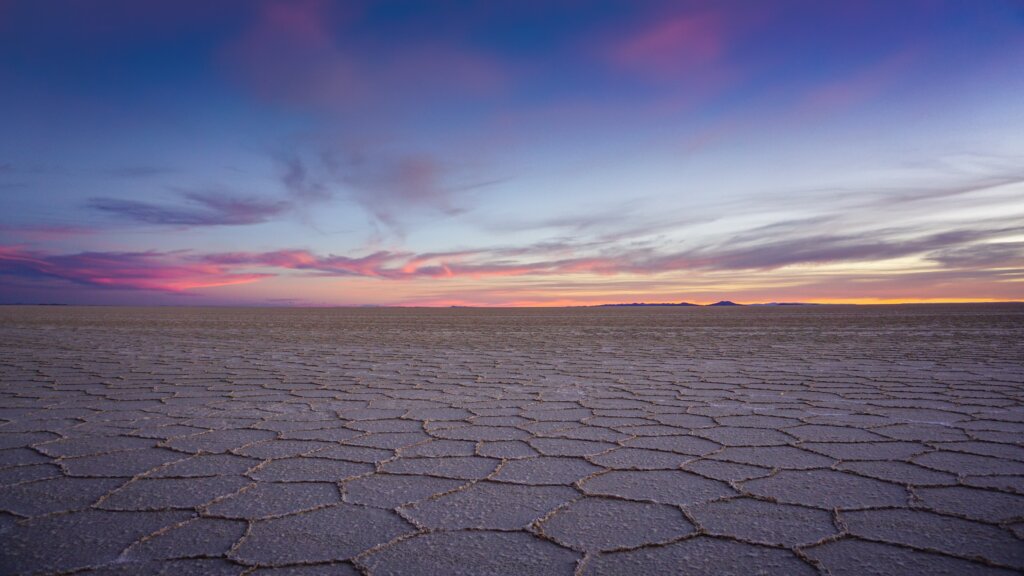 Did you know? The three Resistance fighters who pop up from Crait's trenches are Mark Hamill's children (source: IMDB)!
Croatia
This is also the first Star Wars film to use Croatia as a centerpiece for an iconic scene. Read about Dubrovnik's important role in the film below!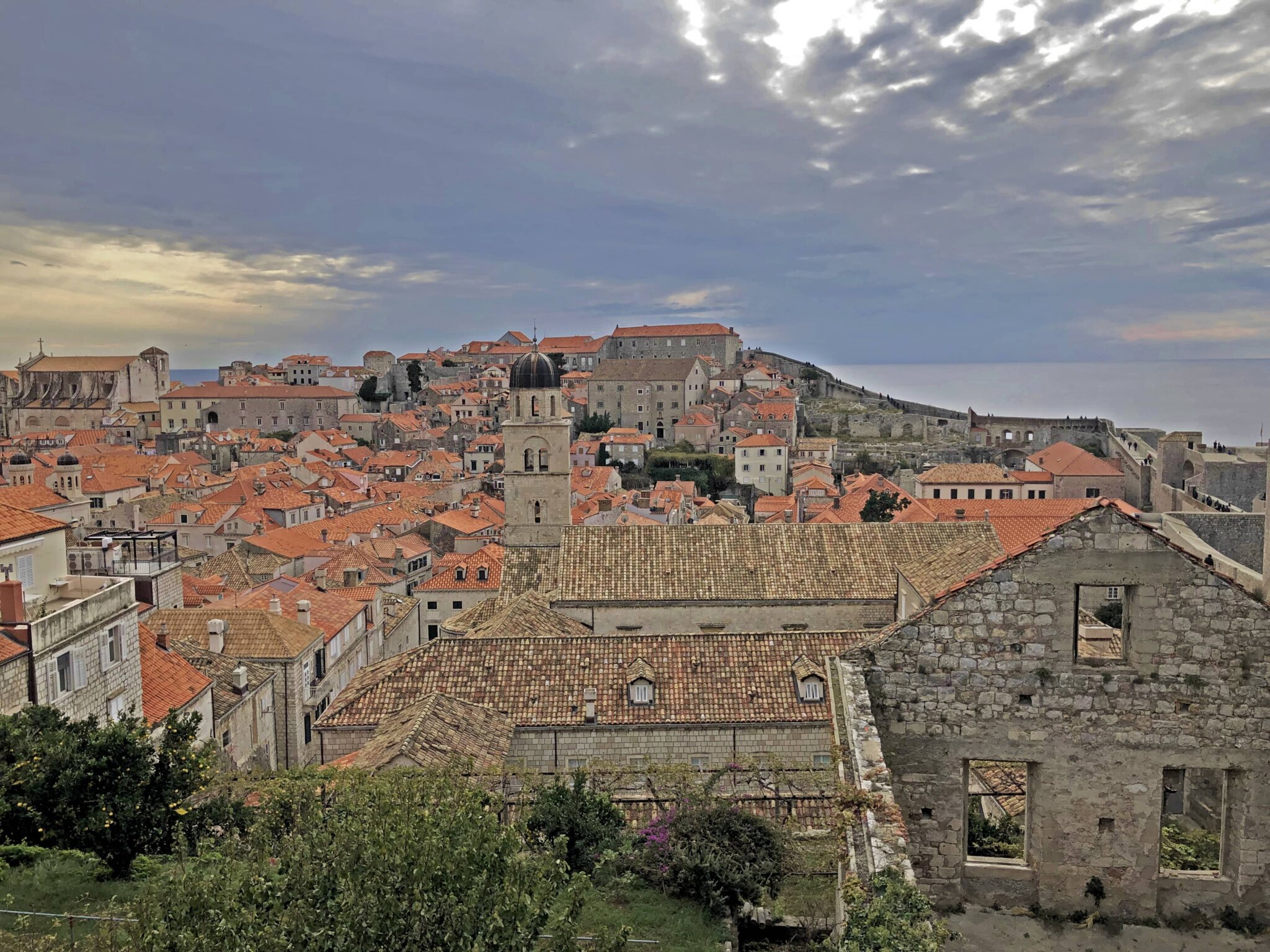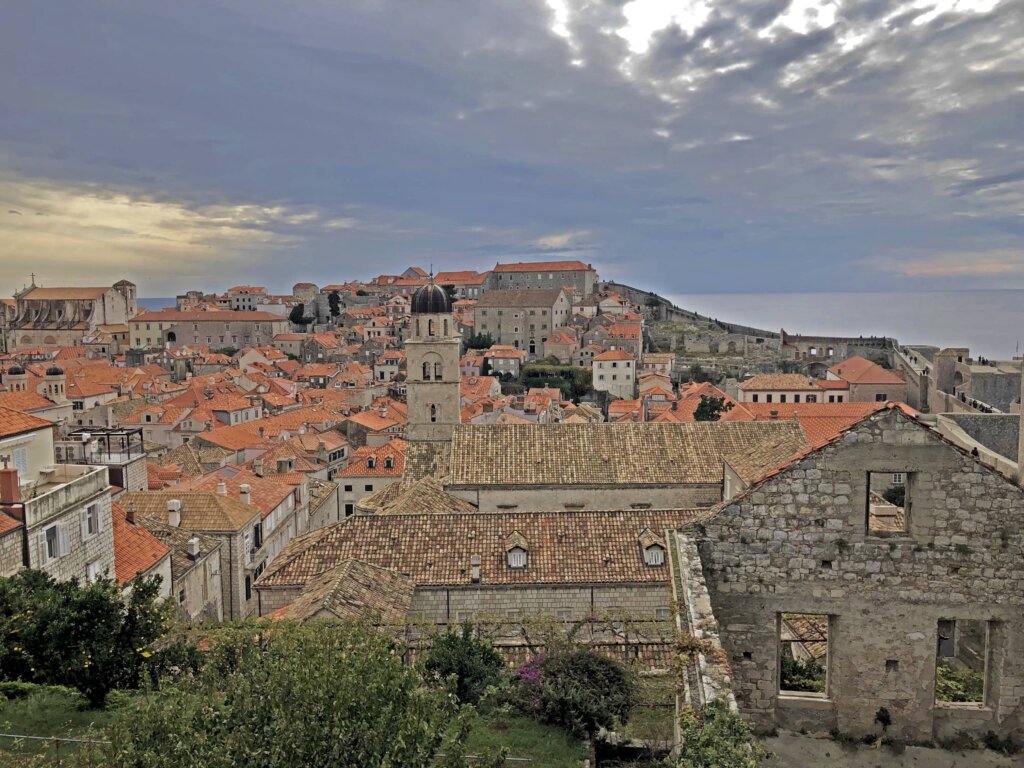 Dubrovnik
Okay, we all know that Dubrovnik is where every Game of Thrones nerd booked flights to as soon as season one premiered years ago.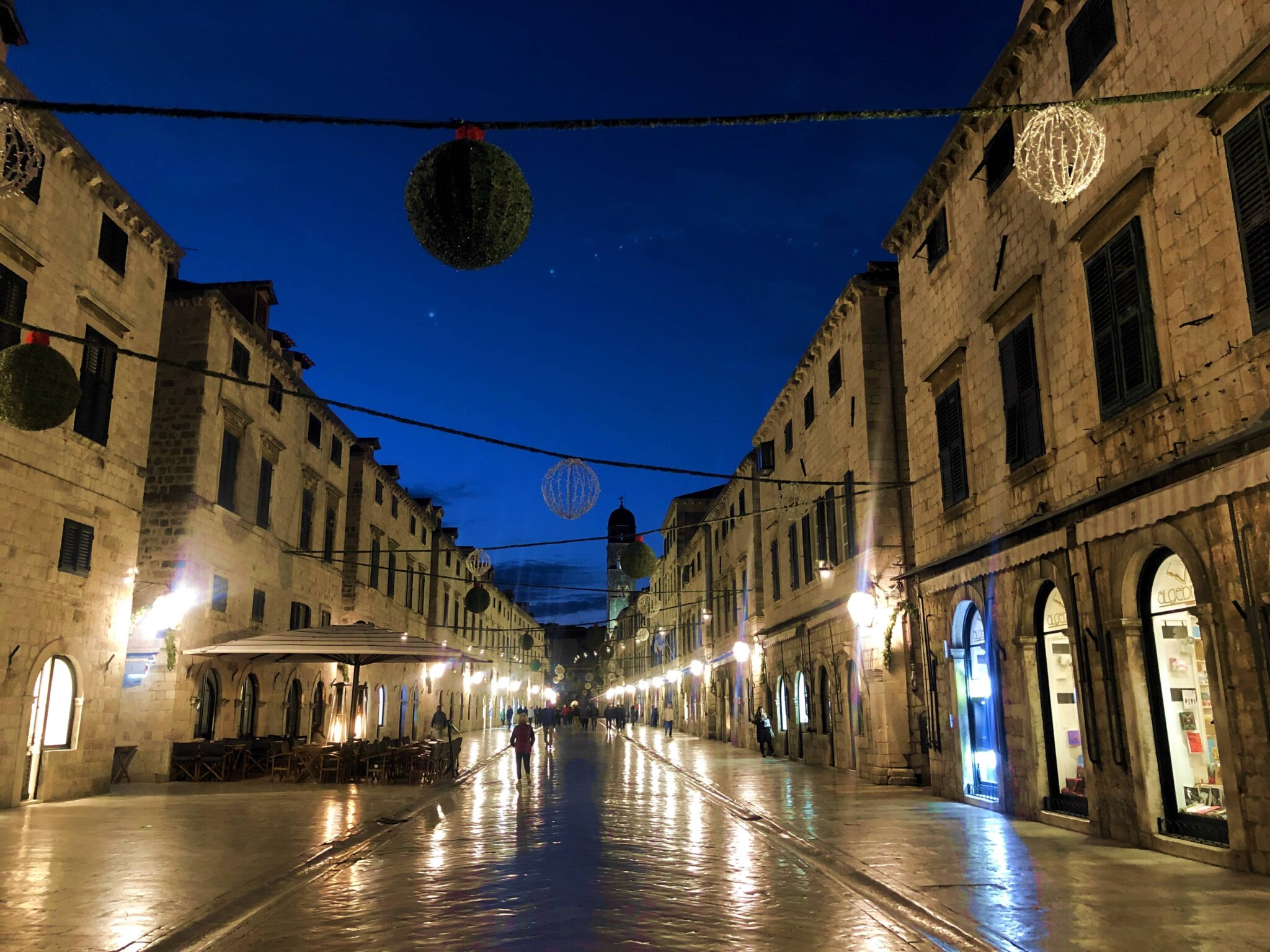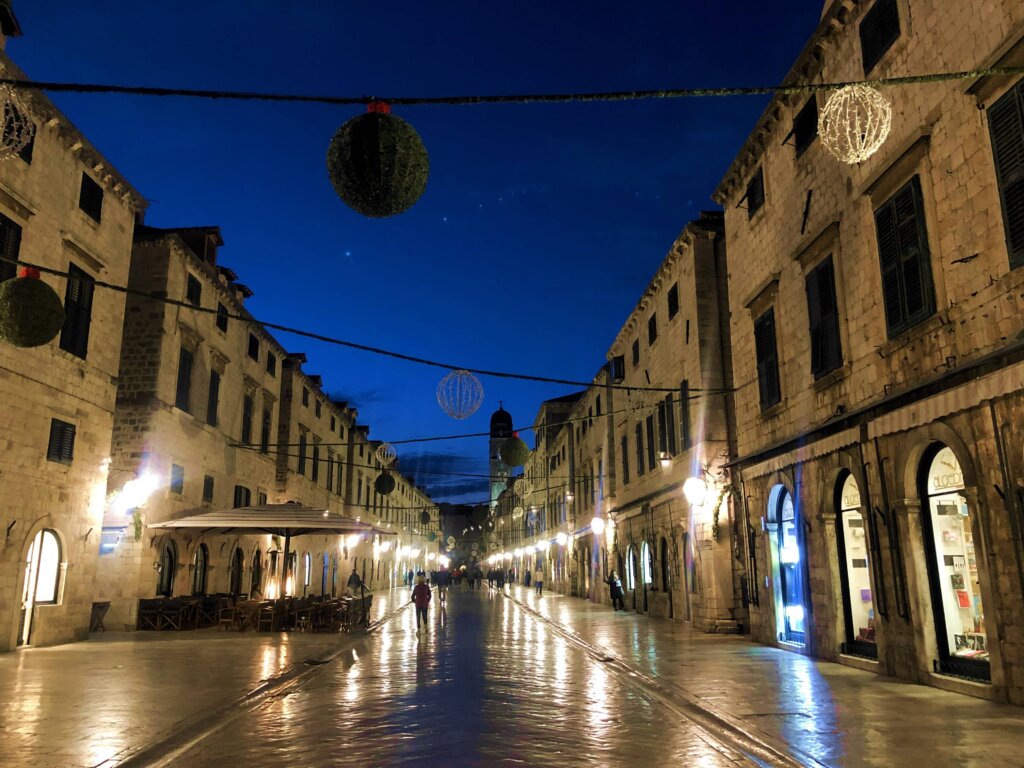 RELATED: Read our article on 11 Game of Thrones castles you can visit IRL!
But did you know that Rian Johnson chose Dubrovnik as the glitzy Canto Bight? Who know that a medieval city could also serve as the inspiration for a glamorous casino city!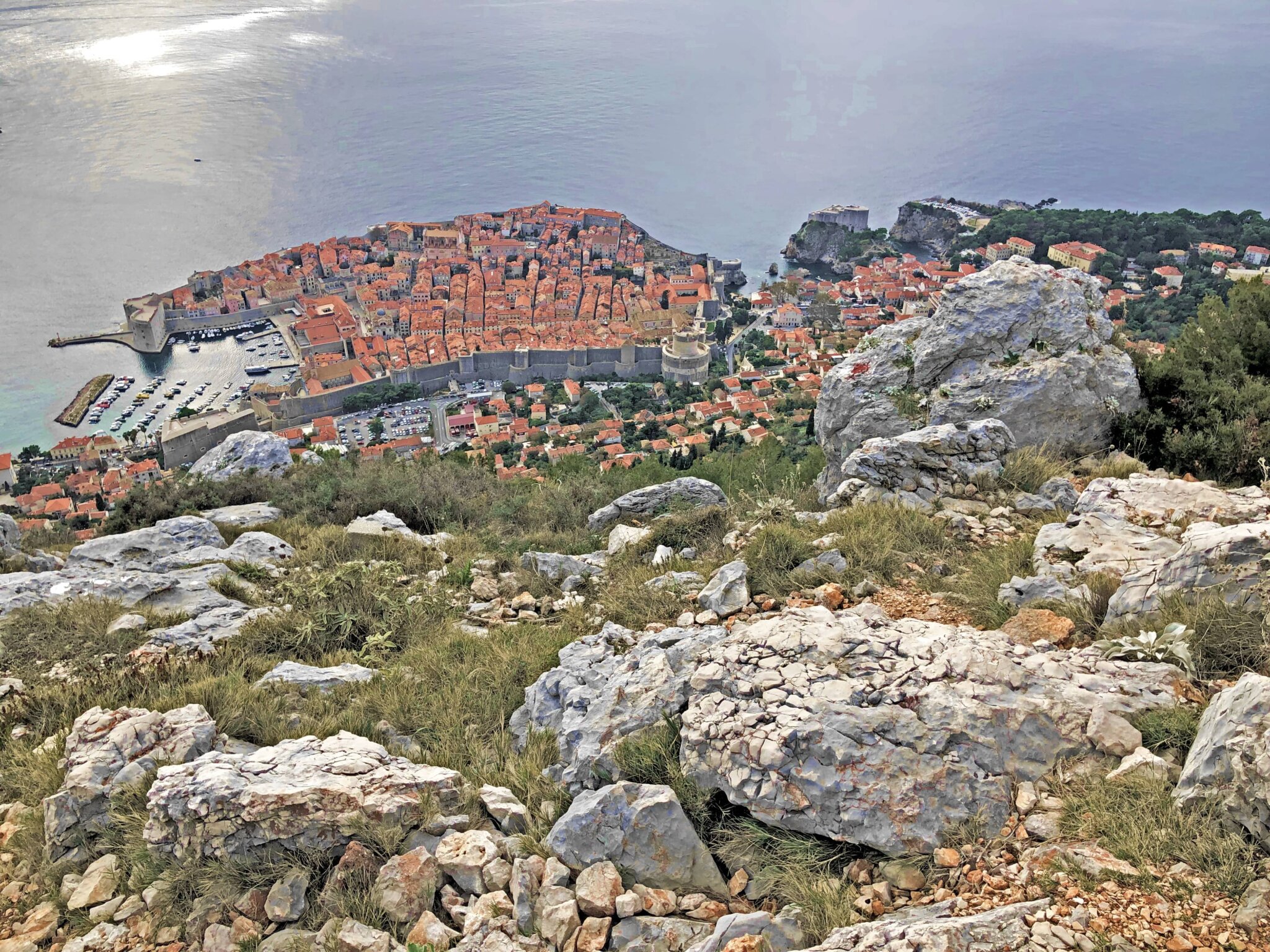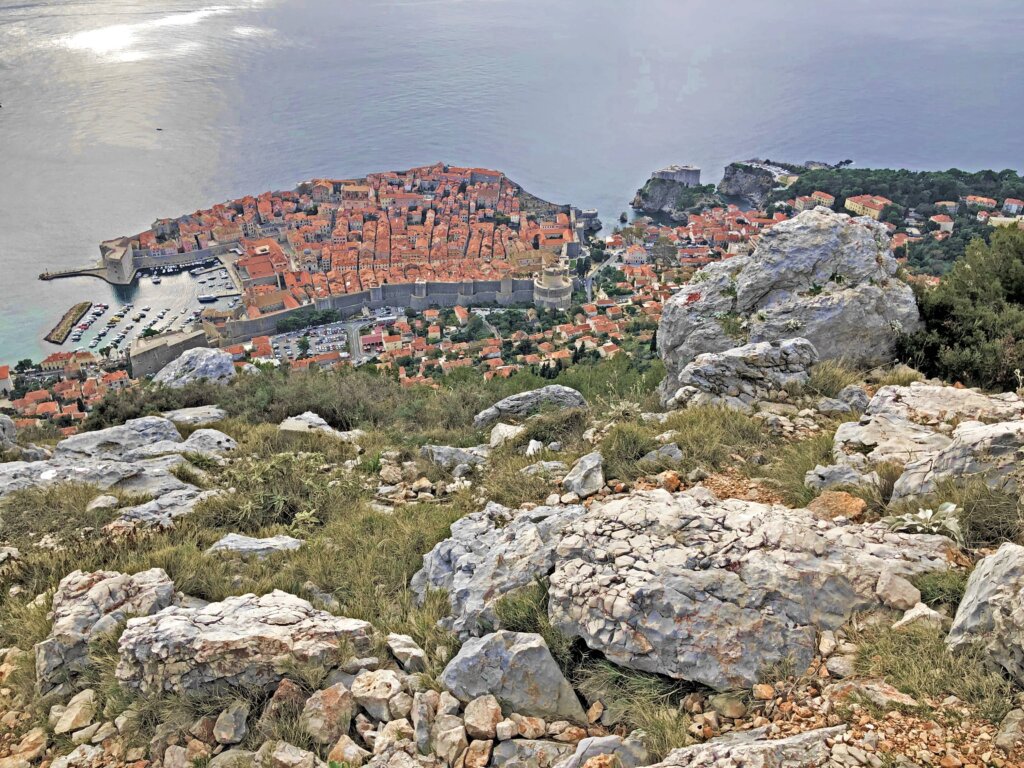 The landscapes of Monaco also reportedly influenced the design of Canto Bight.
The Last Jedi was filmed in three main locations here: Stradun, the main street of Dubrovnik; St Blaise Church; and parts of the Old Town. Together, these three locations depicted this real-life casino city.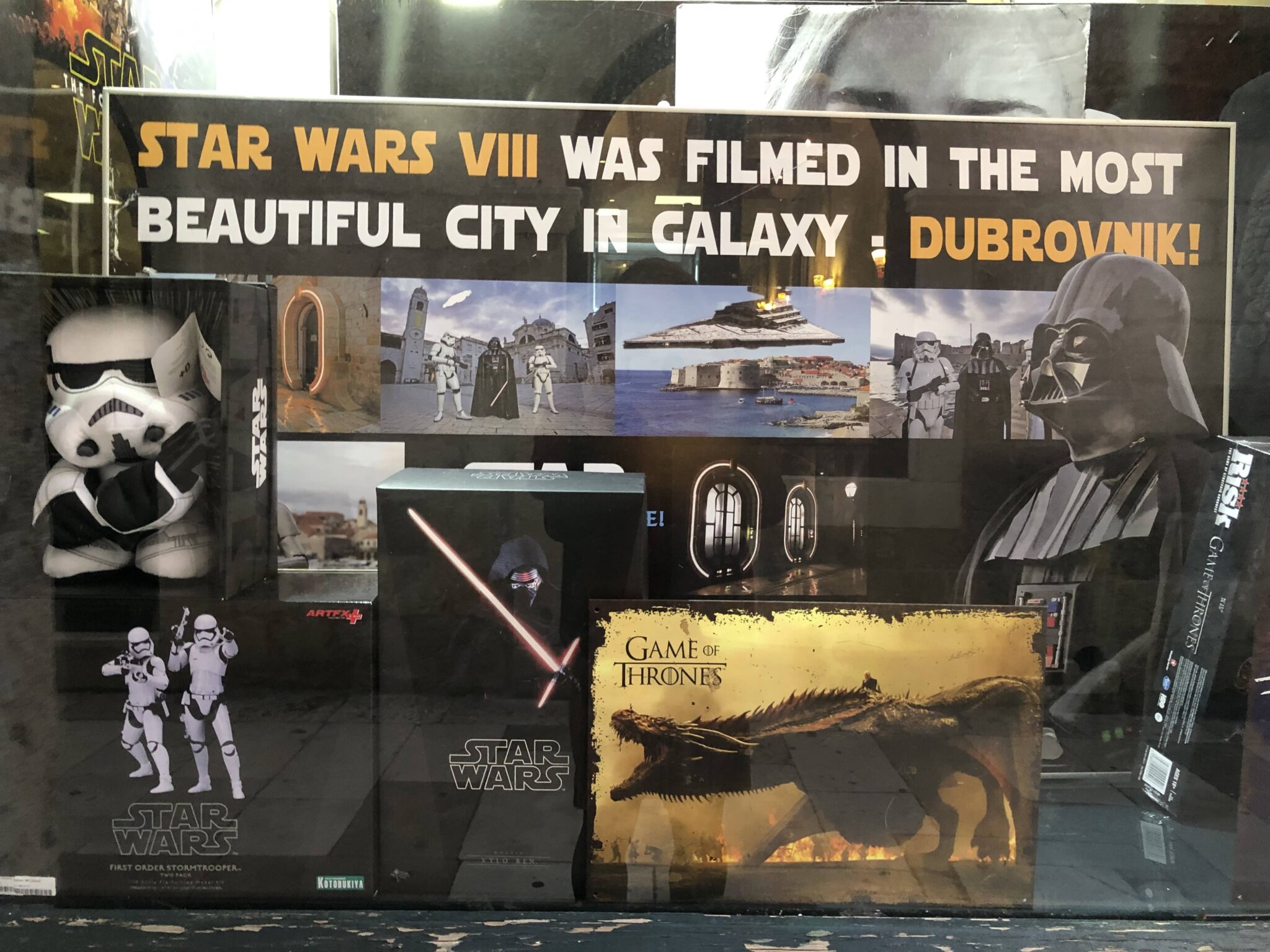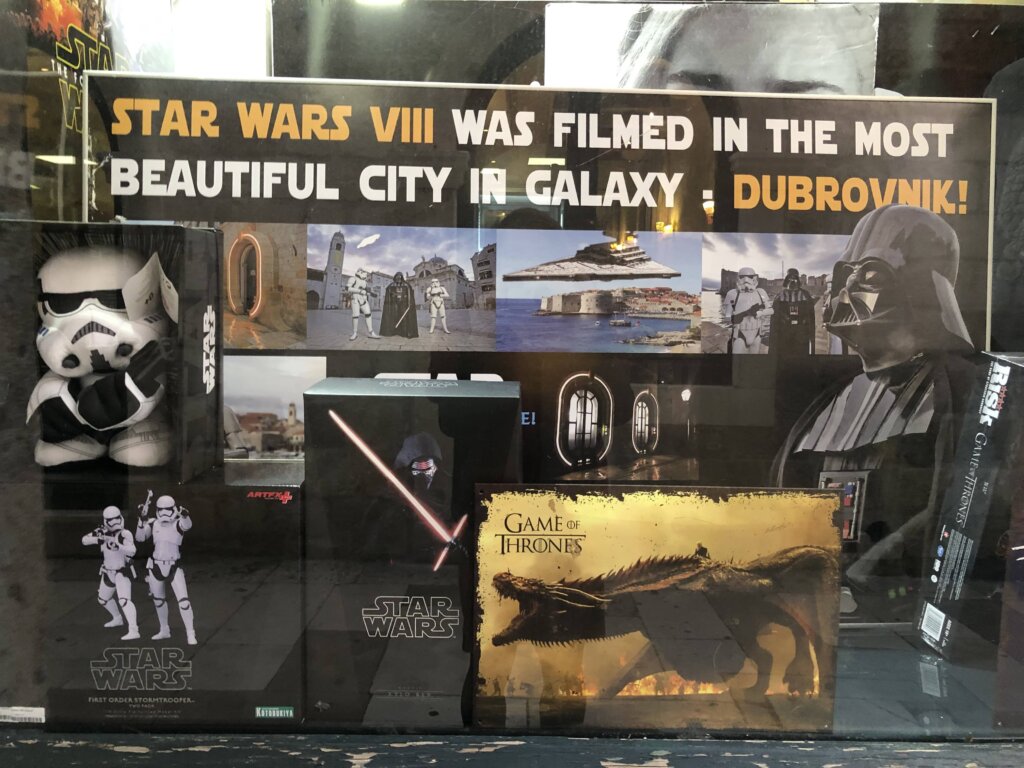 Did you catch that? Carrie Fisher's dog, Gary Fisher, appears in the casino! When Rose and Finn are talking, he's visible on the left side of the screen, beneath the man in the black fez (source: IMDB).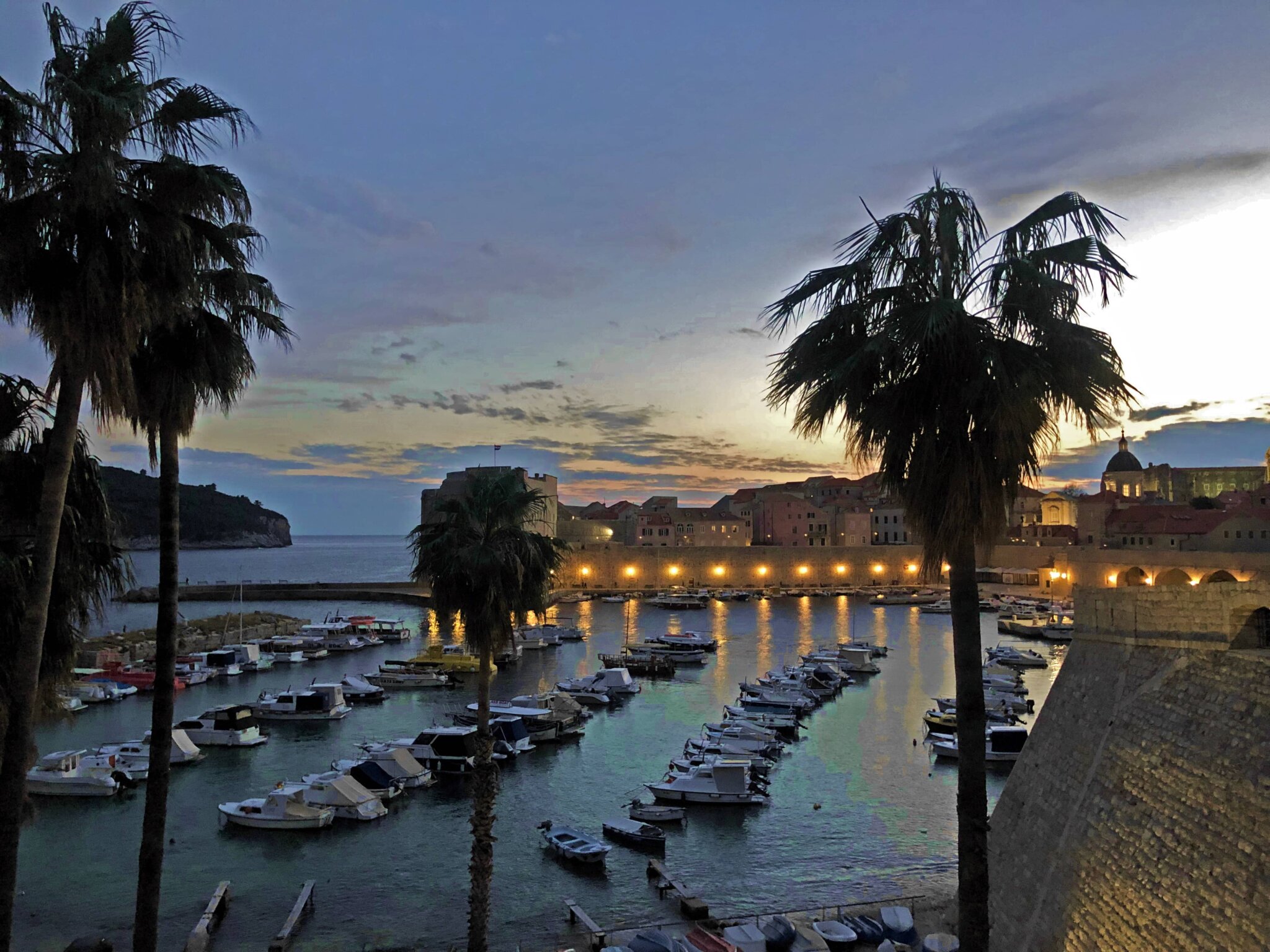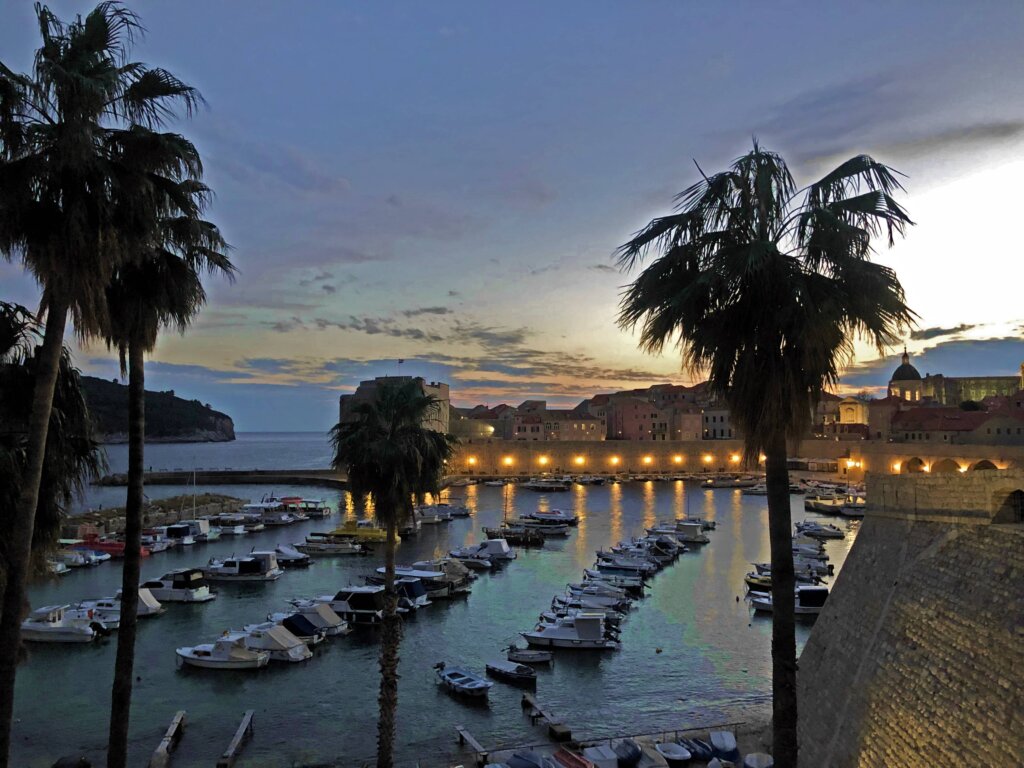 Dubrovnik's main street, the Stradun, is a beautiful limestone-paved street that sparkles like a true diamond in the rough.
You'll often find hordes of tourists here, especially due to its close proximity to the cruise port.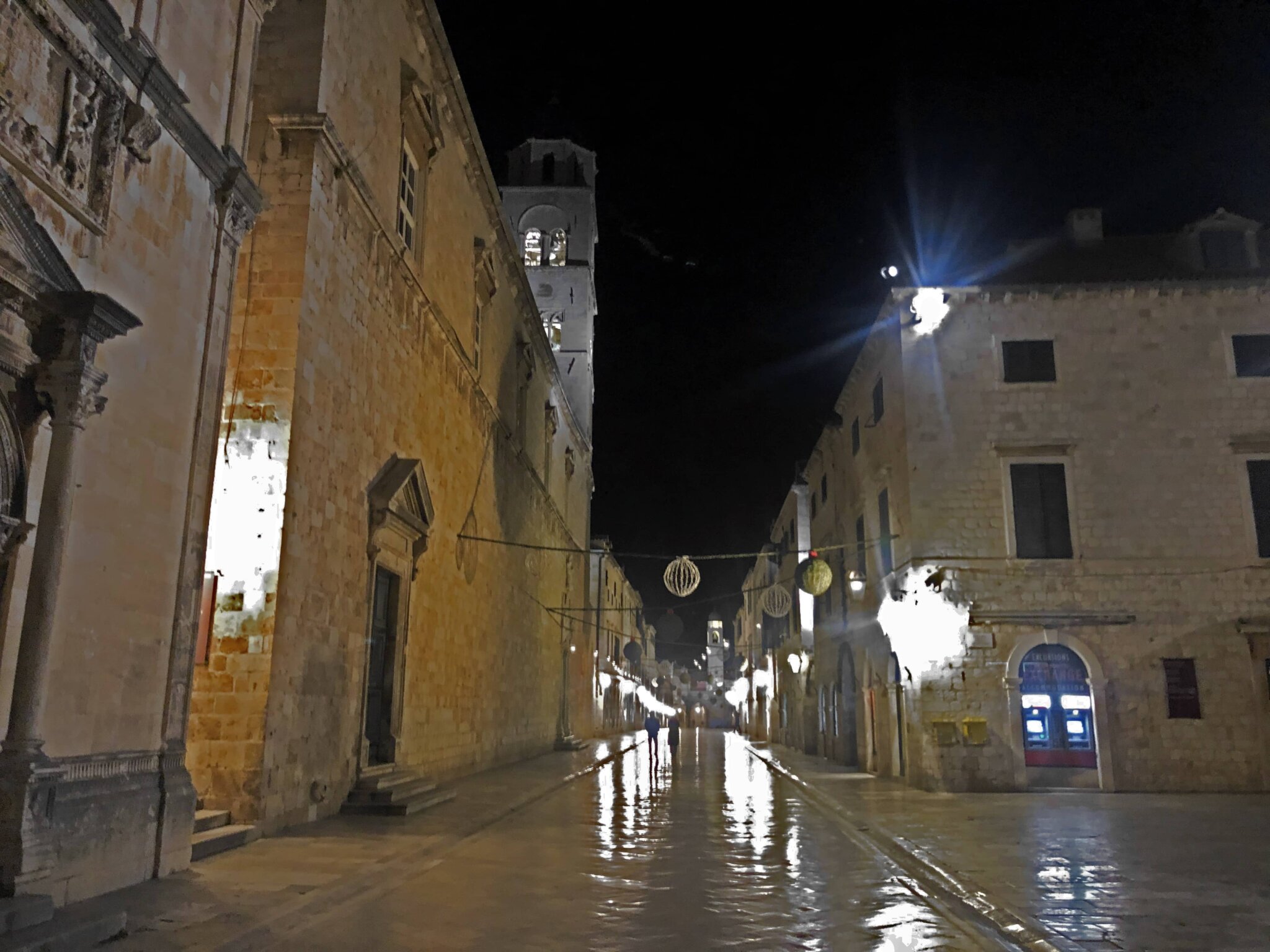 St. Blaise Church was constructed by a Venetian sculptor and architect to honor a bishop associated with the pagan god Veles.
In The Last Jedi, you'll recognize the church and its nearby cathedral being blown to smithereens.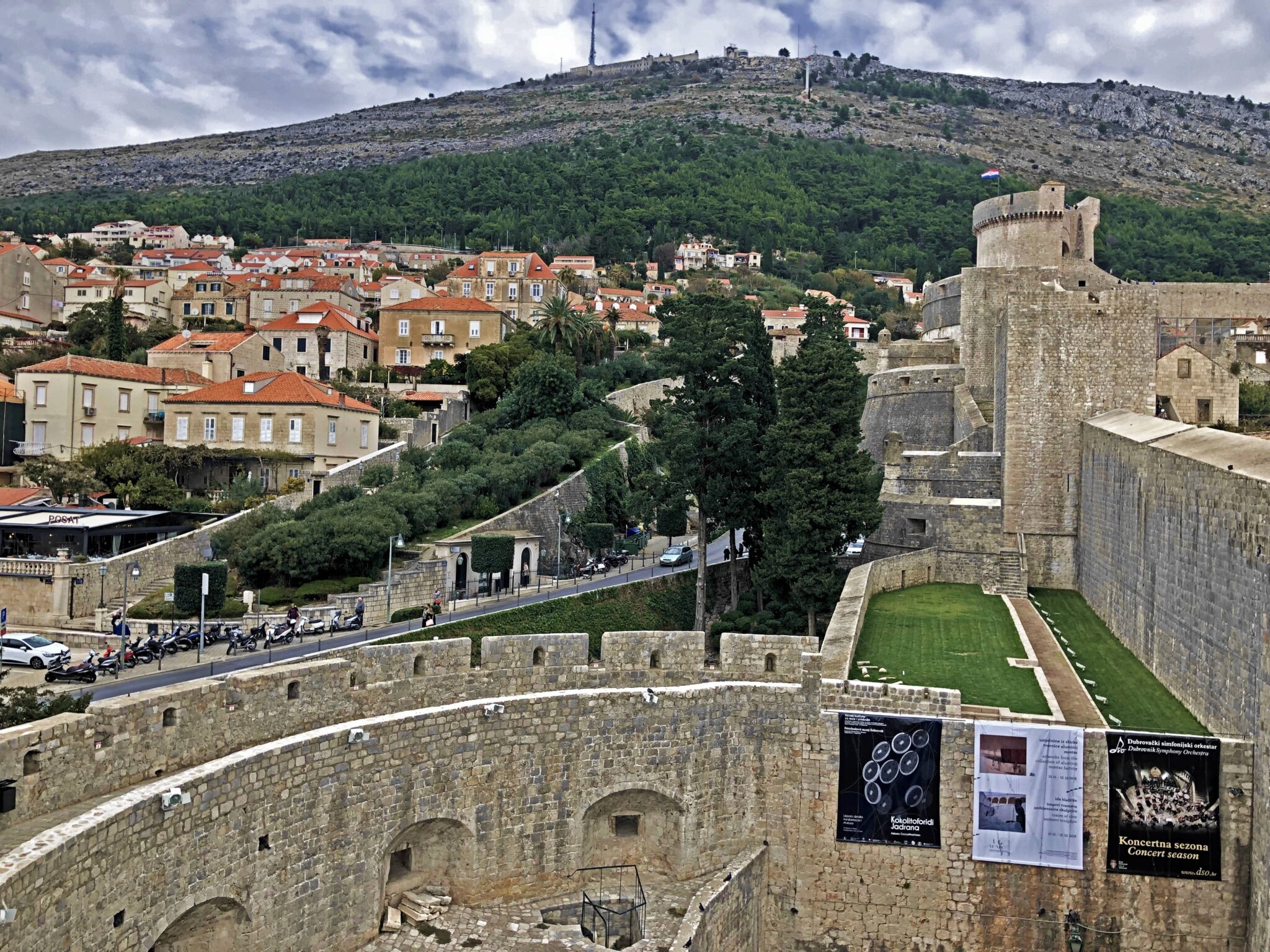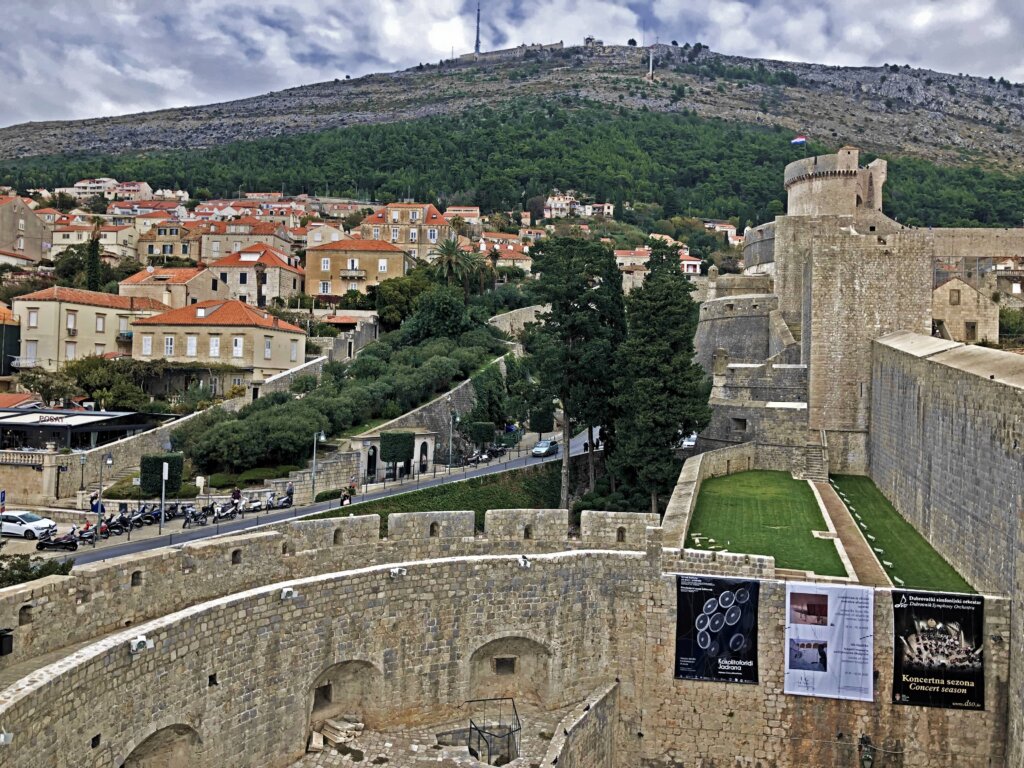 Fun fact: Rian Johnson stomped on Kylo's helmet himself until it was shattered (source: Reddit). Here's a behind-the-scenes tweet before Kylo contemplates destroying it.
Iceland
Much like Rogue One and The Force Awakens, Iceland was also used as a backdrop for some iconic scenes.
Skaftafell (Vatnajökull National Park)
While the front of the Resistance's base was filmed in Bolivia, the back escape through the rocks was filmed over Iceland's stunning glacier, Skaftafell.
This is the iconic scene when Rey provides a means of escape for Finn and his Resistance homies through a little Force magic, master flying, and a miraculous homing beacon.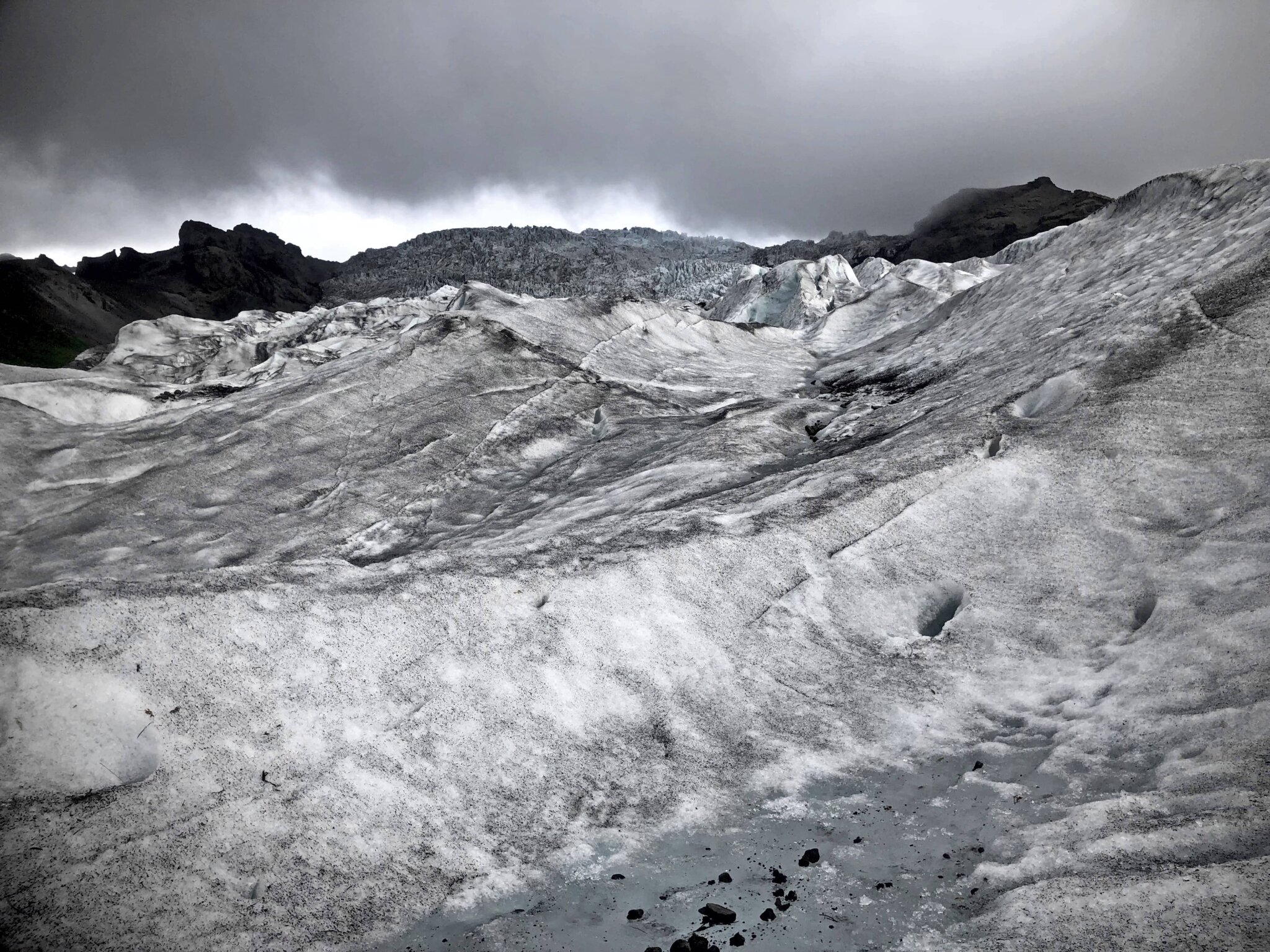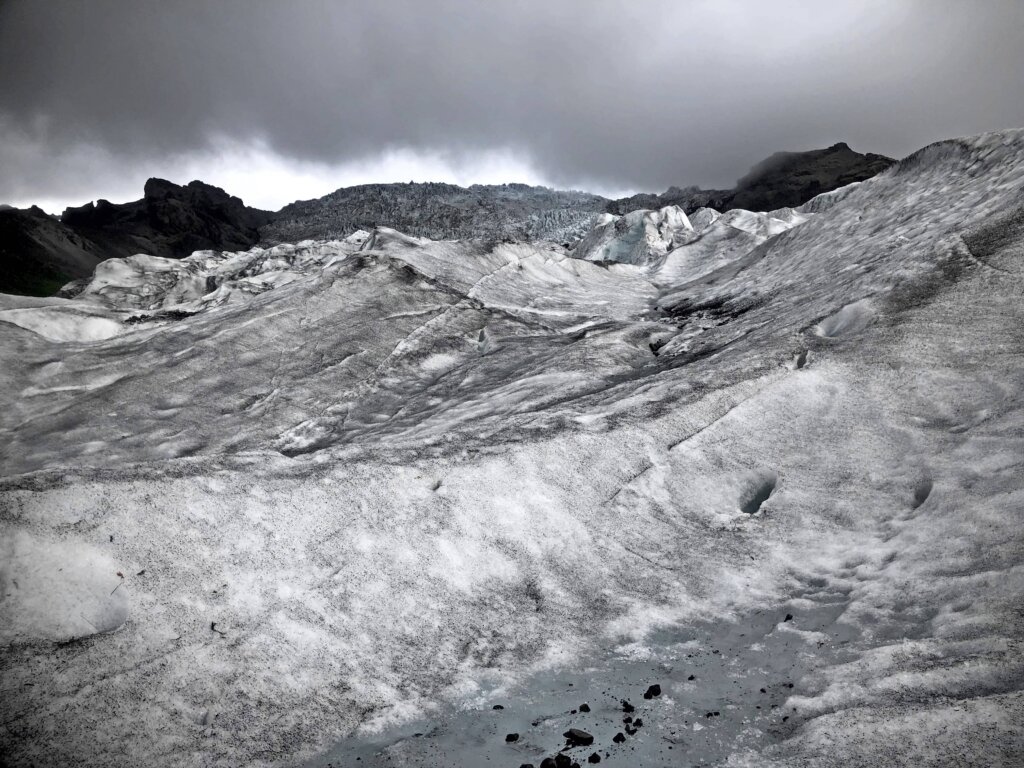 In 2008, Skaftafell National Park joined with Vatnajökull National Park. There are various hiking trails open to the public, the most popular being guided glacier hikes and ice climbs.
For some stunning photos and advice on how to plan a successful hike here, check out this article from Guide to Iceland. Remember to always research and pack accordingly before you embark on a hike like this, since you don't wanna end up seeking shelter in a Tauntaun!
Did you catch that? Rian Johnson's hand was used as a stand-in for Luke's gloved hand when he hands Leia the Falcon dice. He also voiced the alien on the Canto Bight yacht. In case you missed it, Vanity Fair compiled a mega list of The Last Jedi's key cameos.
England
England was also home to most of the pre- and post-production editing, reshoots, and roundtable reads of The Last Jedi. Find out more below.
Pinewood Studios
Pinewood Studios, the iconic home of all Star Wars productions, also housed the 125 sets we mentioned earlier. While no public tours have ever been available, here's a behind-the-scenes photo that the studios posted on Instagram. It's the little things that make our geek hearts happy!
Despite no normal access to the public, Prince Harry and Prince William did manage to visit Pinewood Studios during filming… and they even received a VIP tour from Daisy Ridley herself.
So, if you're royalty, you obviously get a free pass!
Fun fact: Leia's line, "I changed my hair," when she reunites with Luke, was improvised by Carrie Fisher. While our princess sadly passed away before the film was released, every scene (sans stunts) was real footage of her rather than CGI (source: IMDB).
While the vast majority of panoramic scenes were done on location in the various countries mentioned throughout this article, many things weren't possible. For example, they couldn't light a giant tree on fire on location in Skellig Michael!
Instead, the crew built a replica set with a 60-foot model tree and set it on fire (slowly) with various pyrotechnic techniques and 25 separate gas lines. The exterior of the tree was built on a vehicle test course at Longcross Studios.
It apparently took them 30 takes to get the explosion right (source: Business Insider)! Check out some other behind-the-scenes tweets here.
Fun fact: According to this tweet from Rian Johnson, there are seatbelts on the bench for the Holotable, covered in bubble wrap! They've apparently been that way since A New Hope.
No wonder the visual effects team received an Oscar nomination for all their hard work! Check out BBC News' video on the visual effects of The Last Jedi here.
Nearly every other complicated effect that seemed like CGI was indeed just a practical effect created in these studios, such as a rig that spewed out coins from BB-8, the throne room scene (everything except Snoke was practical!), and the bombs falling through the bomber doors (except for the small blue screen in the background) (source: IMDB).
Fun fact: Some pranking went on behind the scenes, such as Kelly Marie Tran's Pokémon GO prank on Rian Johnson. Read about it here!
And then there were other scenes, like the infamous one where Leia slaps Poe, that required about 40 takes to get right. Check out the hilarious blooper reel below:
Lastly, to round things up, check out some rad behind-the-scenes tweets from Star Wars Holocron here, here, and here.
Did you notice? When filming, Laura Dern said, "Pew!" every time she shot her blaster. Although not audible, one such instance even made it into the final cut, in the close-up shot when Holdo is stunning her opponents (around 1:30.
Other Possible Filming Locations
IMDB also cites Los Angeles and New York as possible filming locations, although we didn't find any information to support this (not even after stalking every Google search result and social media page!).
If you happen to know of any filming or reshoots that did happen here, let us know in the comments!
Don't forget to check out our ultimate guide on The Force Awakens filming locations!
Did We Miss Any Key Filming Locations for The Last Jedi?
We hope you enjoyed our ultimate guide to filming locations of The Last Jedi! If you found any errors or noticed that we missed any spots, let us know in the comments below!