*FYI - this post may affiliate links, which means we earn a commission (at no extra cost to you) if you purchase from them. Also, as an Amazon Associate I earn from qualifying purchases. For the full scoop on what this means, feel free to check out our Privacy Policy and Disclosure.
---
Looking for a full list of Game of Thrones locations in Northern Ireland? Read on for a comprehensive roundup that would make any Geektripper weep with joy.
It's no secret that Northern Ireland is a Game of Thrones nerd's dream come true since so many epic parts of the hit series were filmed there.
Now that the show is over *sob*, visiting filming locations may fill the Westeros-sized hole in your heart or at least let you dress up and pretend you're Arya Stark/Robb Stark/Daenerys Targaryen in an iconic spot.
Today we're sharing ALL the Game of Thrones filming locations in Northern Ireland so that you can start planning your own Seven Kingdoms pilgrimage to this beautiful country.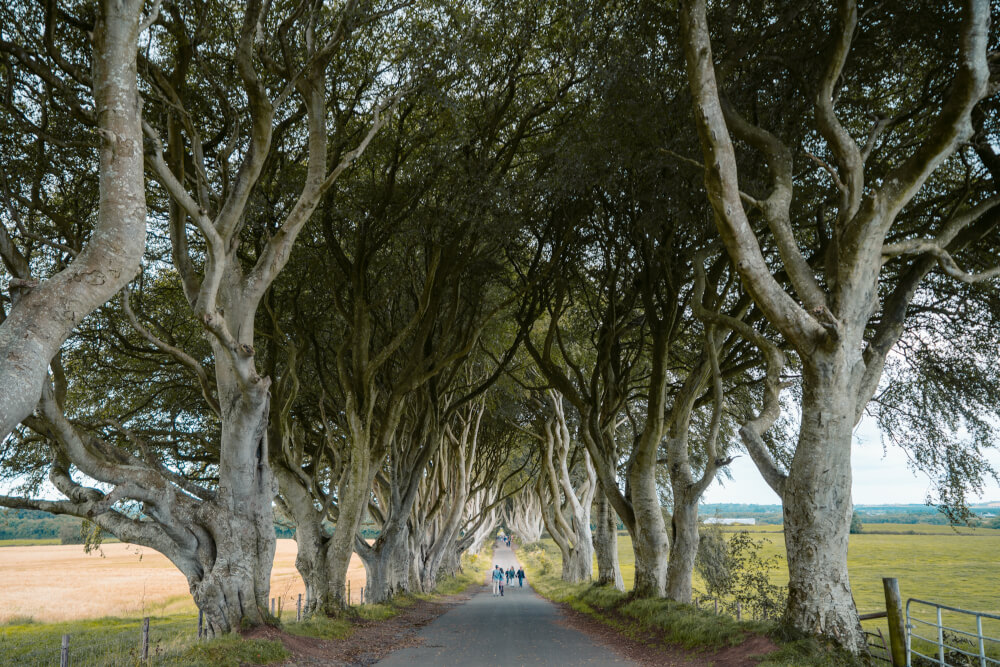 The Kingsroad, AKA the Dark Hedges
You may remember Arya, Gendry, Hot Pie and Lommy escaping King's Landing with Yoren from the Night's Watch.
The road they travel along (the Kingsroad) was filmed at the famous Dark Hedges, a long avenue of beech trees located on Bregagh Road.
Be warned that this is a very popular spot, so if you want a photo without hundreds of other fans, come as early or late in the day as possible.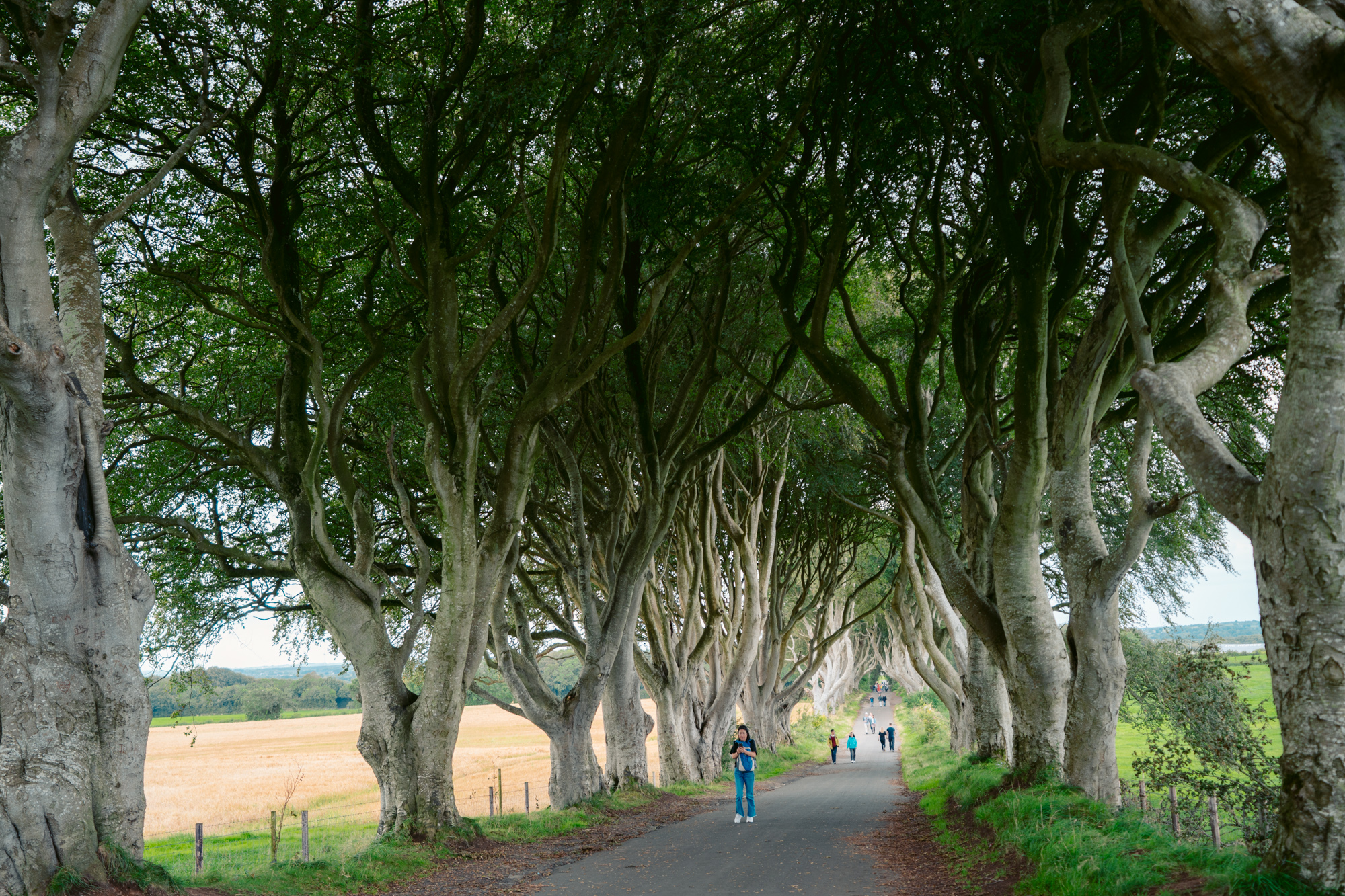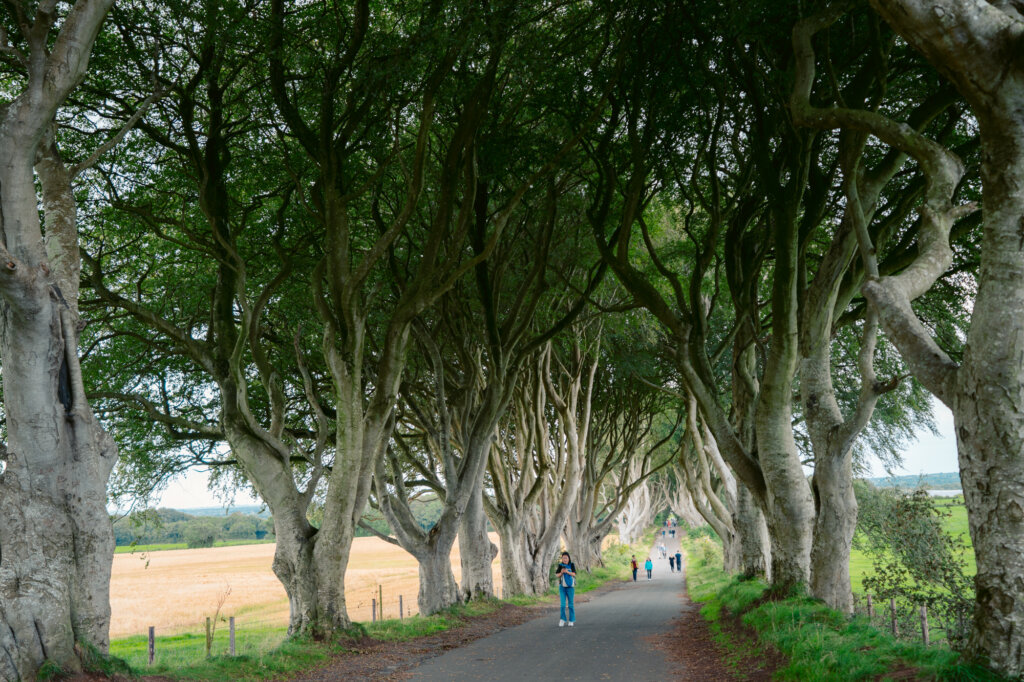 The Iron Islands, AKA Ballintoy Harbour and Beach
When Theon finally returns to his home of the Iron Islands, the main arrival scene was filmed at Ballintoy Harbour, right on the tip of Northern Ireland.
The nearby Ballintoy Beach was also used for filming those scenes of him being 're-baptised' as a follower of the Drowned God.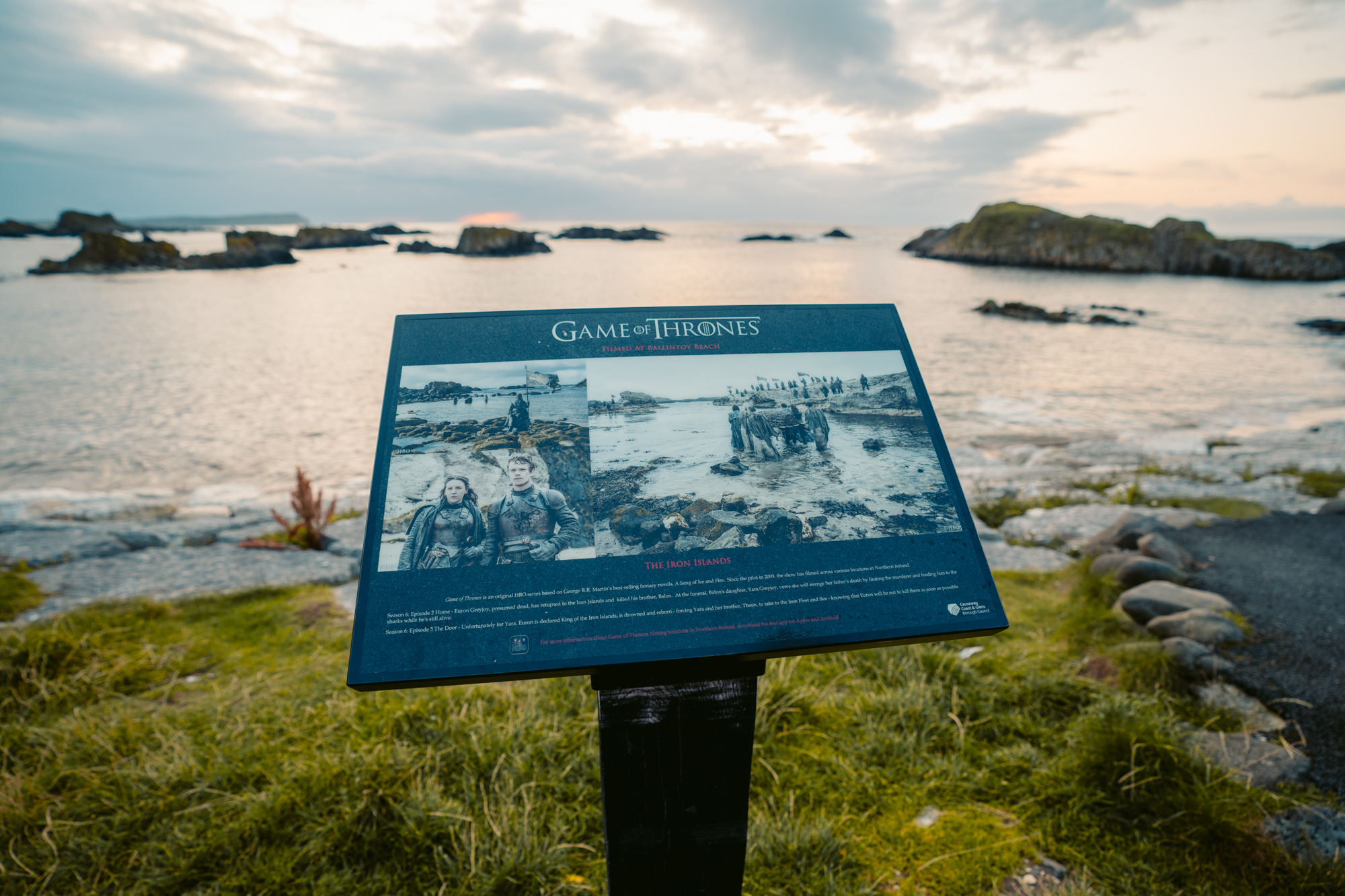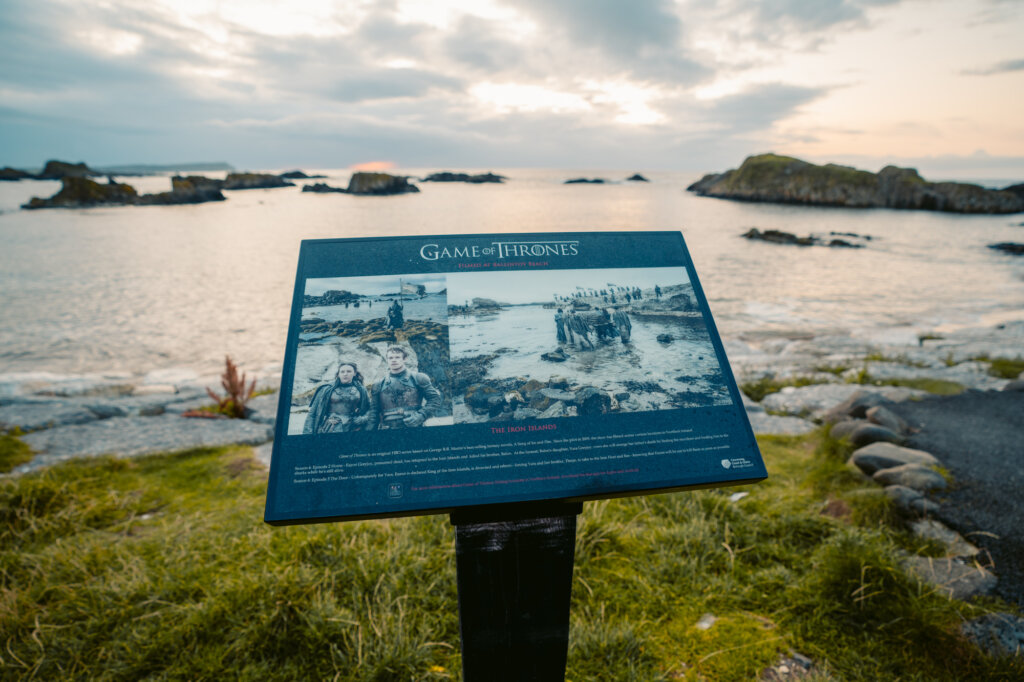 Pyke, AKA Dunluce Castle
Reports are a little hazy on whether Dunluce Castle was actually used for filming the clifftop fortress of Pyke, but we're fairly certain it's true.
The Dunluce Castle ruins would have only needed a bit of CGI to make them look like the seat of House Greyjoy, but in the photo below you can clearly see the resemblance.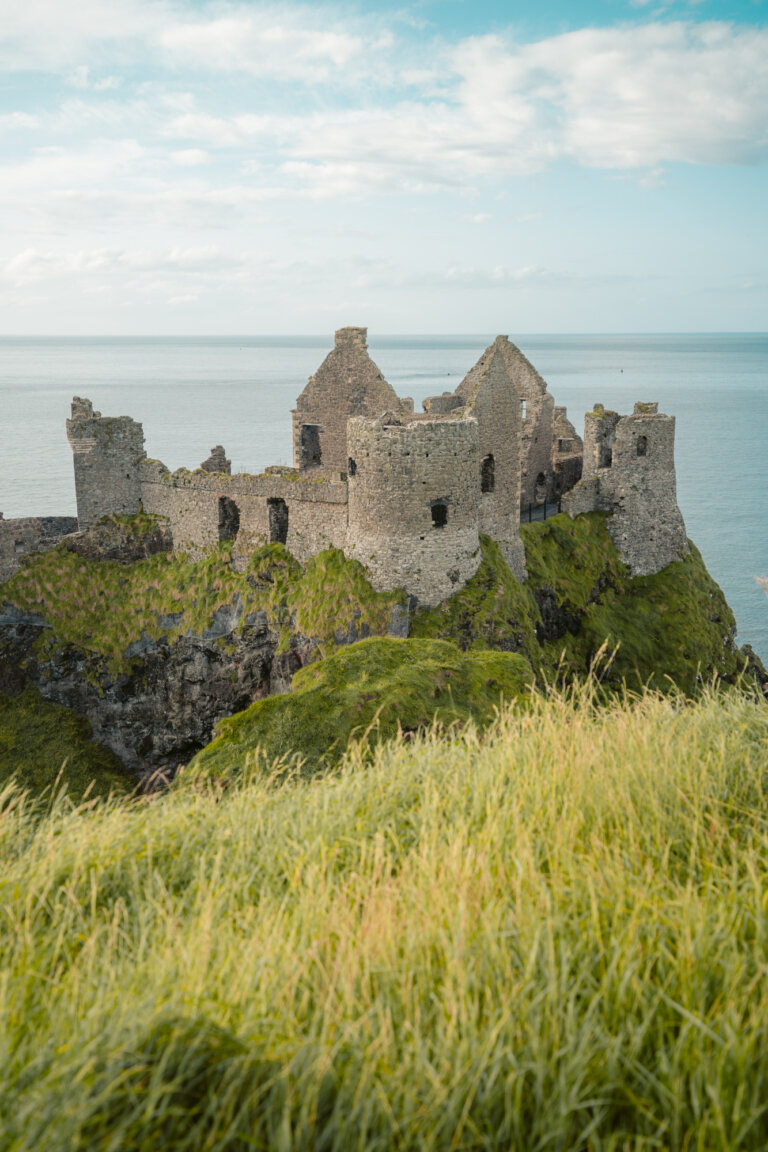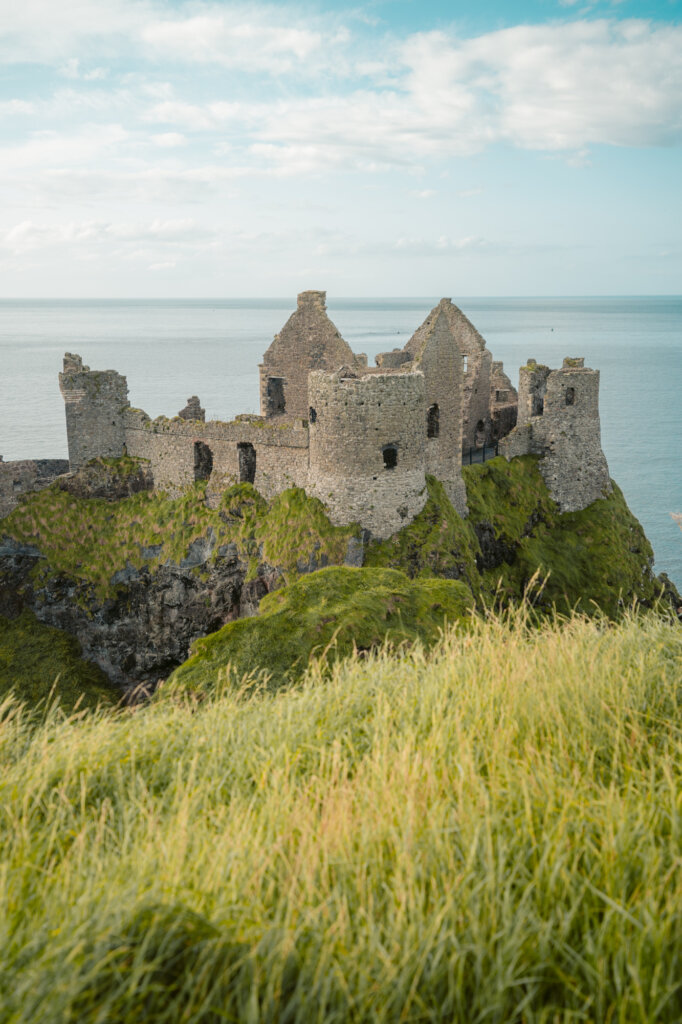 Shadow Monster Cave, AKA Cushendun Caves
We don't know the name of the location in Game of Thrones where Melisandre gave birth in that super creepy cave scene, but we do know it was filmed in the real-life Cushendun Caves.
These caves were also used as the secret under-the castle passage to the Red Keep, where Jaime fights Euron before rushing in to try and save Cersei.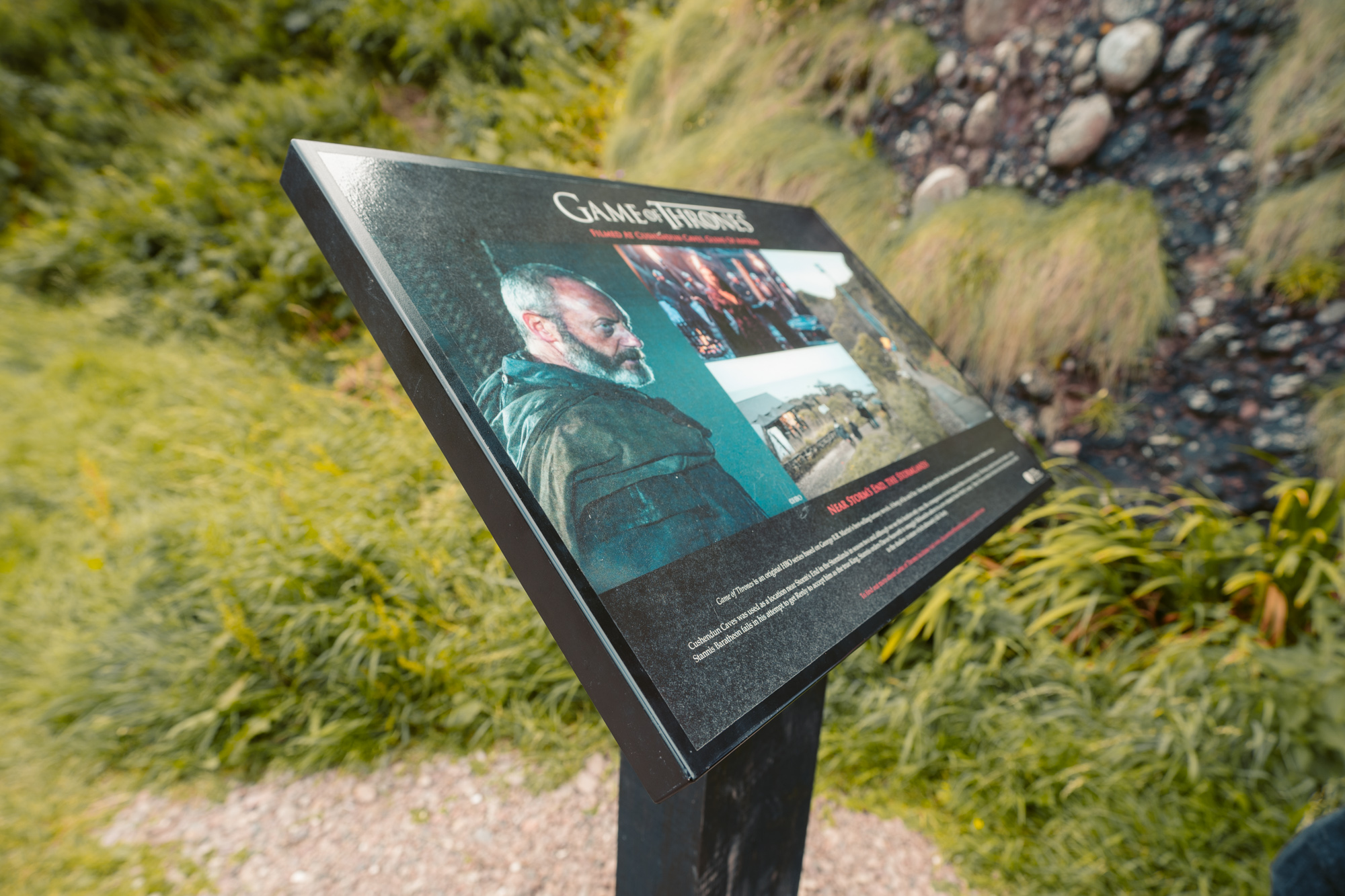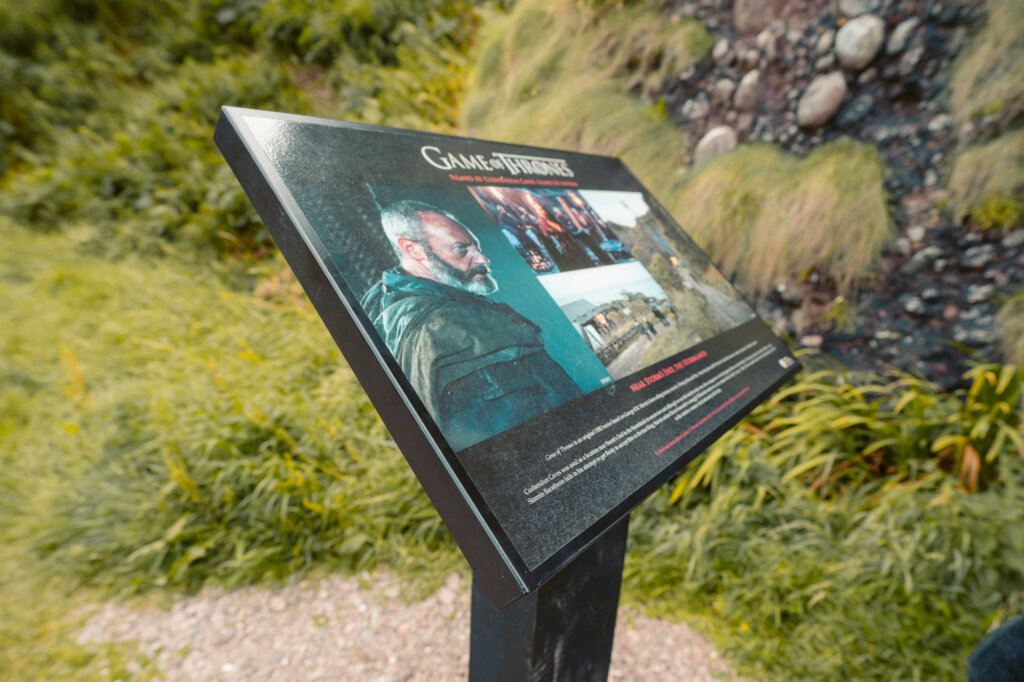 The Dornish Coast, AKA Portstewart Strand
While most of the scenes taking place in Dorne were filmed in Spain, there were a couple that were actually filmed on Northern Ireland's Portstewart Strand.
When Jaime and Bronn first sneak into Dorne and Bronn kills that snake, that was filmed here. The scene where Oberyn's daughters also decide to join in the revenge plot against Myrcella was also filmed here, particularly that epic shot of Ellaria riding her horse along the beach.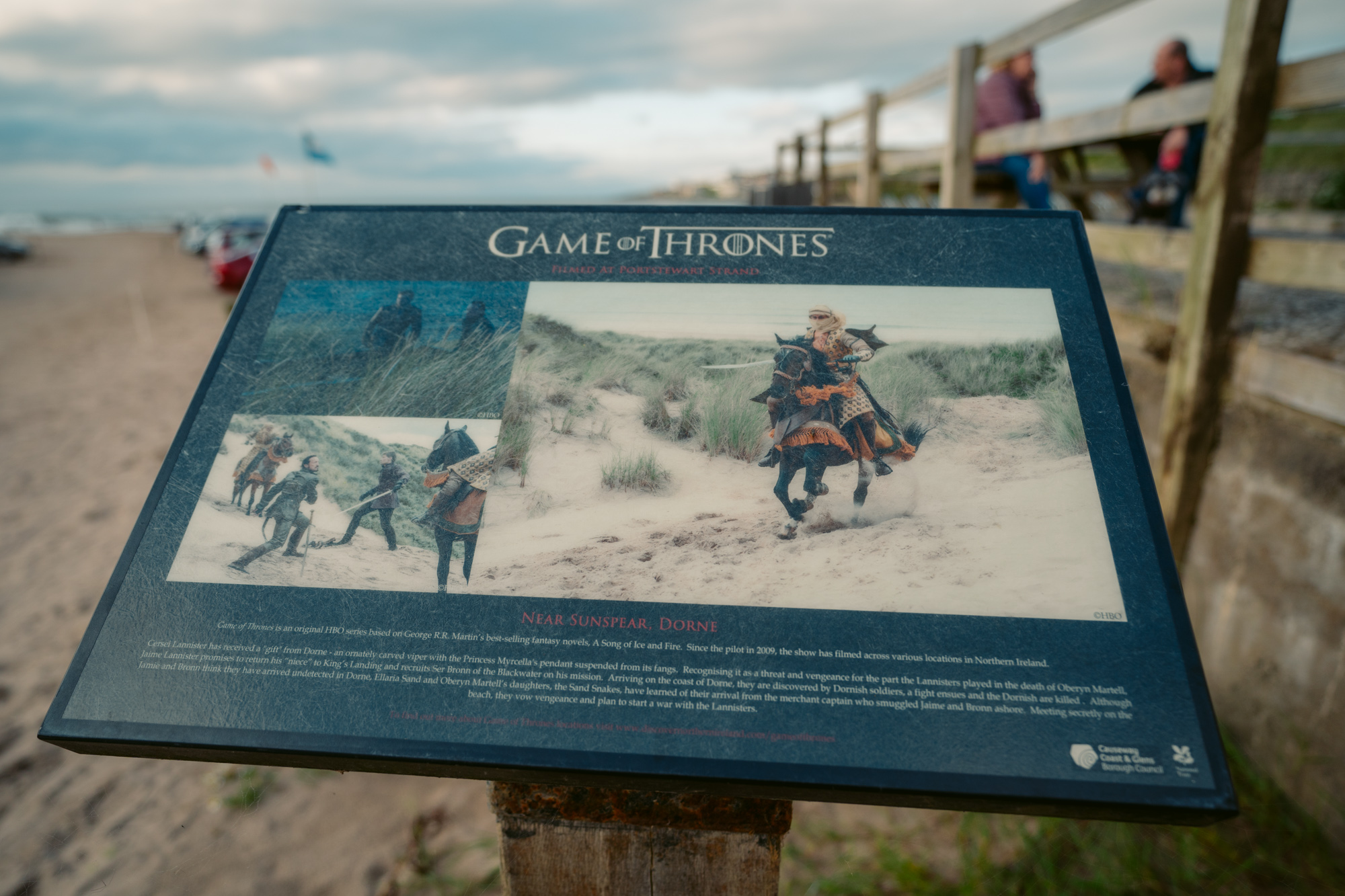 Where Robb Becomes King in the North, AKA Inch Abbey
The location where Robb Stark's army is camped when he and Cat learn of Ned's death was filmed at the Inch Abbey ruins near the town of Downpatrick.
After seeing Robb and Cat react to this devastating news this is also where the incredible moment of Robb's bannermen declaring him "King in the North" takes place, all lit up at night.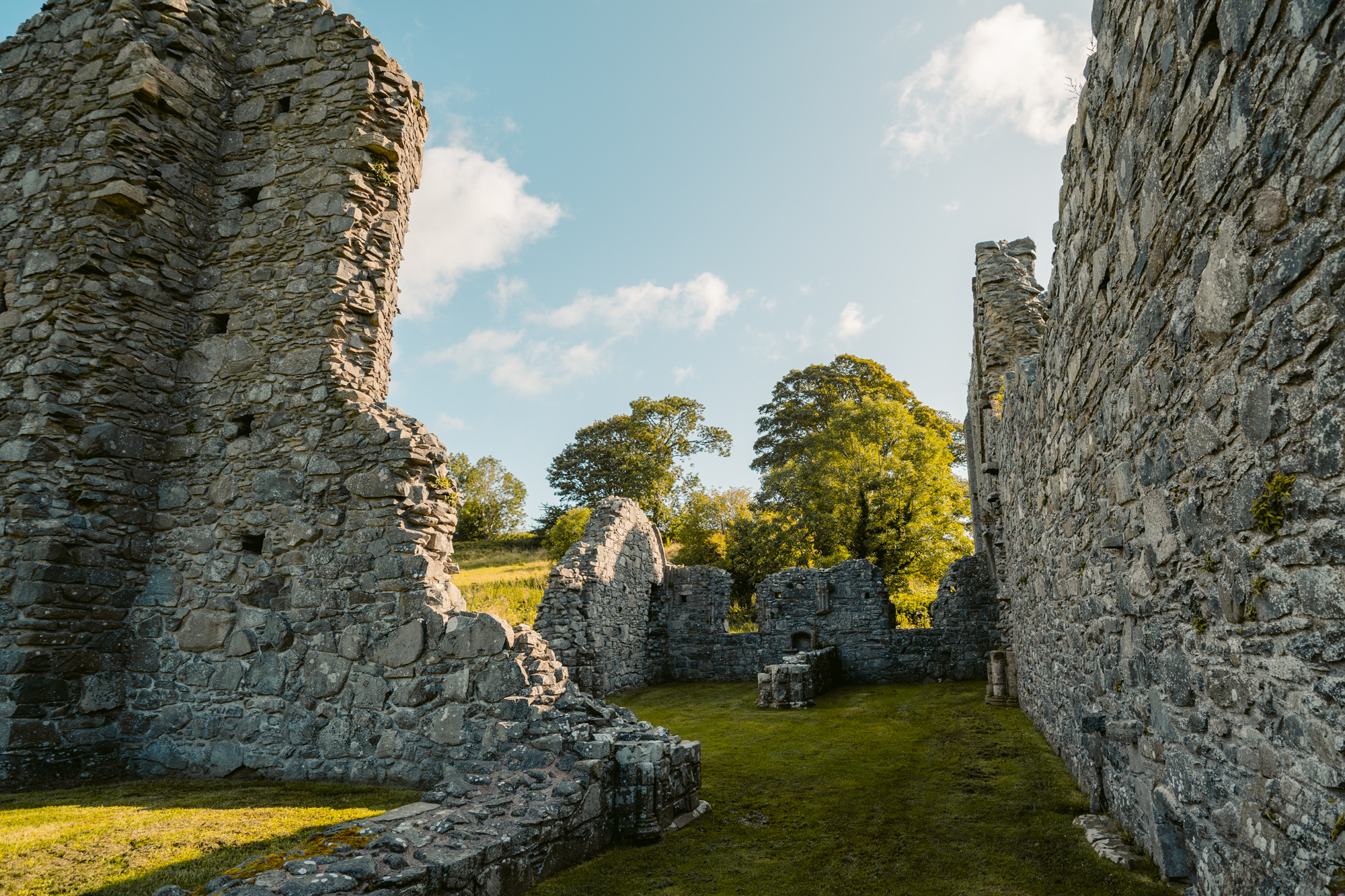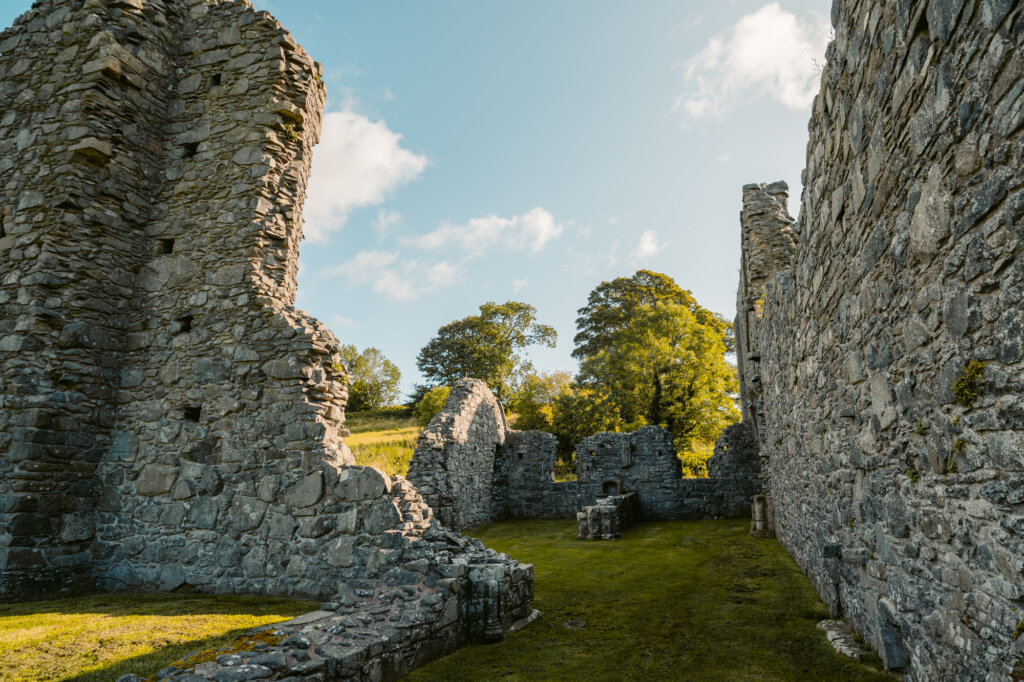 The Haunted Forest and Direwolf Puppy Palooza, AKA Tollymore Forest Park
Who could forget those incredibly creepy first scenes in the first-ever episode of Game of Thrones? While fake snow was added to make it look like it was north of the wall, the location where those Night's Watch dudes find the dismembered corpses of wildlings and one of them (quite understandably) runs for his life, was filmed in Tollymore Forest Park.
This is actually a lovely spot to visit next to the Irish town of Newcastle, plus it was also used for the scene when the Starks found the direwolf pups, awwww!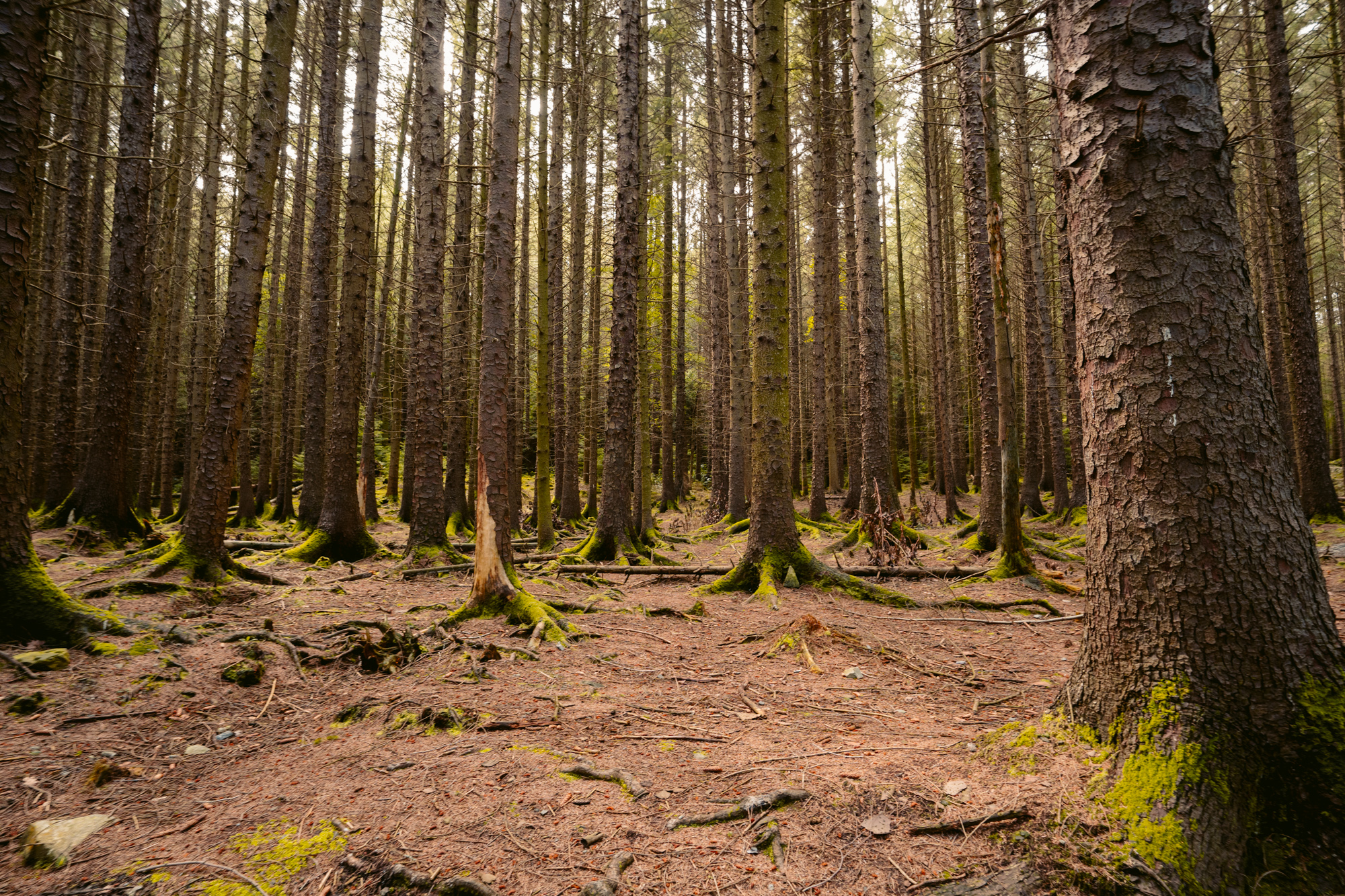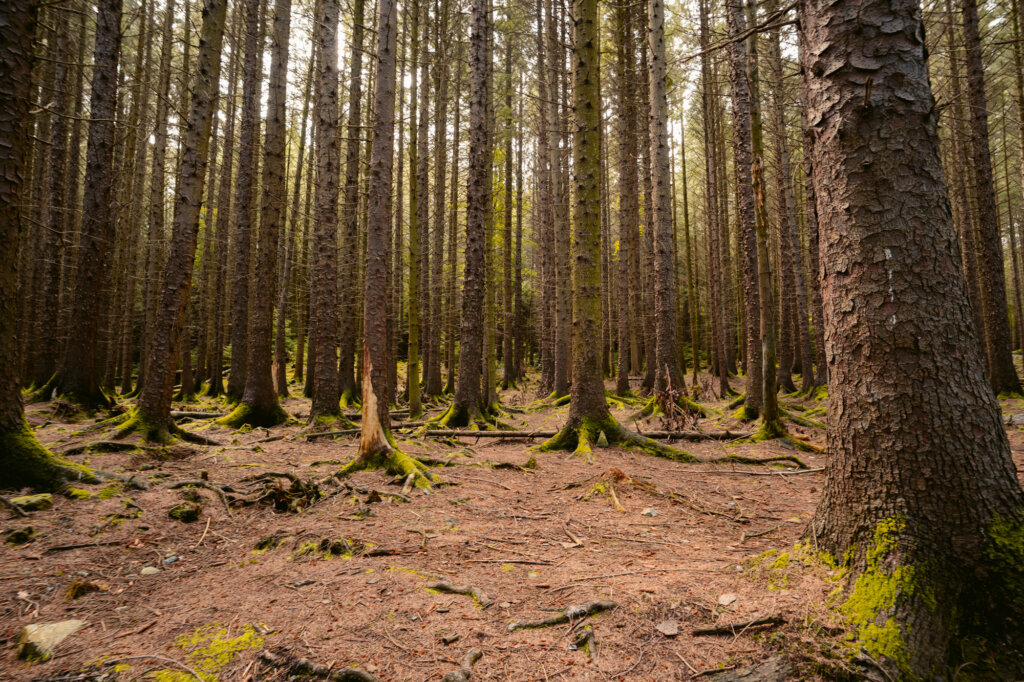 The Twins, AKA Audley Castle
While CGI was used to make one tower into two, Audley's Castle was the filming location used to bring The Twins, seat of House Frey, to life.
Plenty of other scenes were also filmed in the grounds around the tower, but if you want to visit and relive Arya's triumphant revenge on Walder Frey, this is where to come.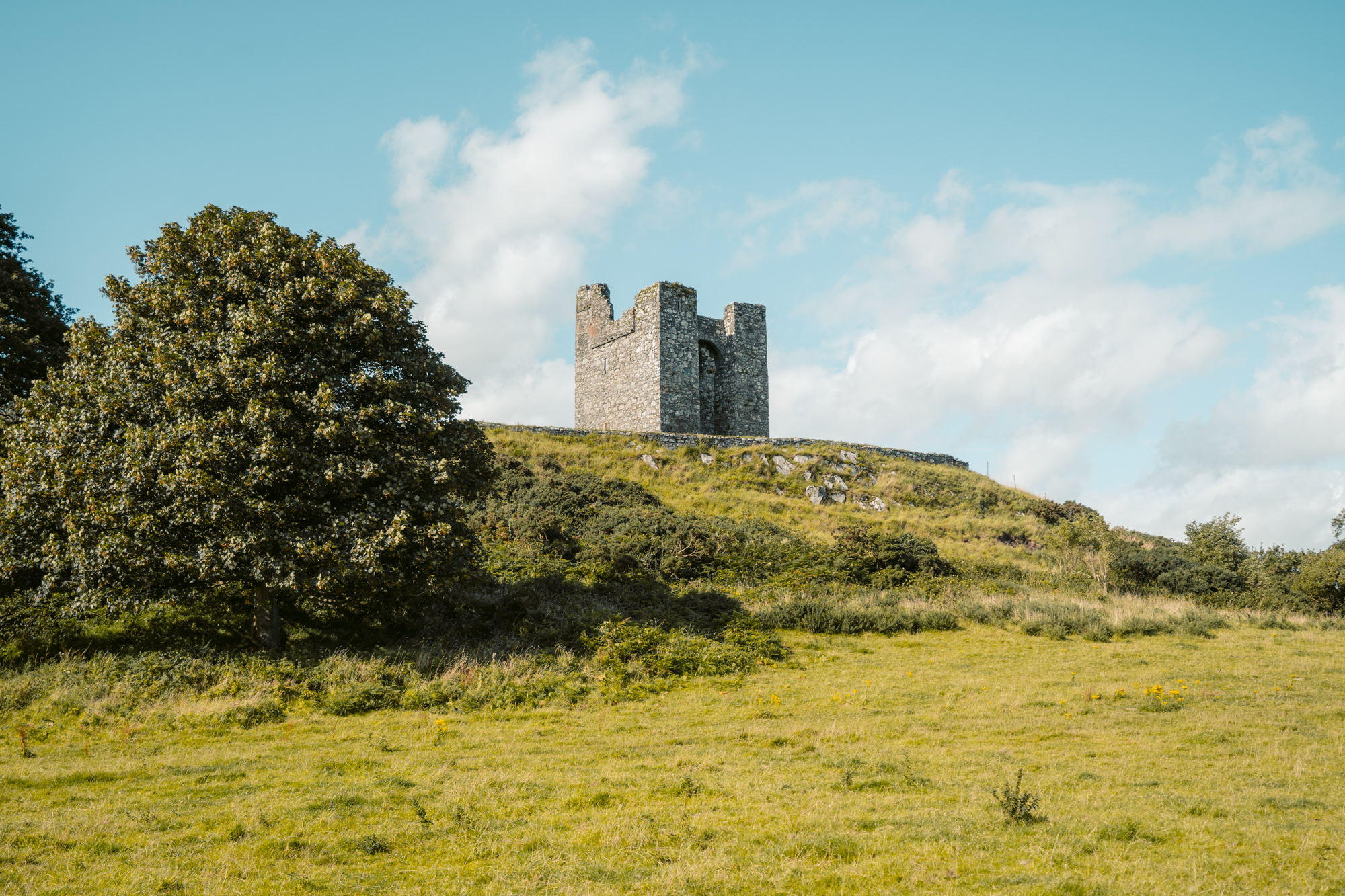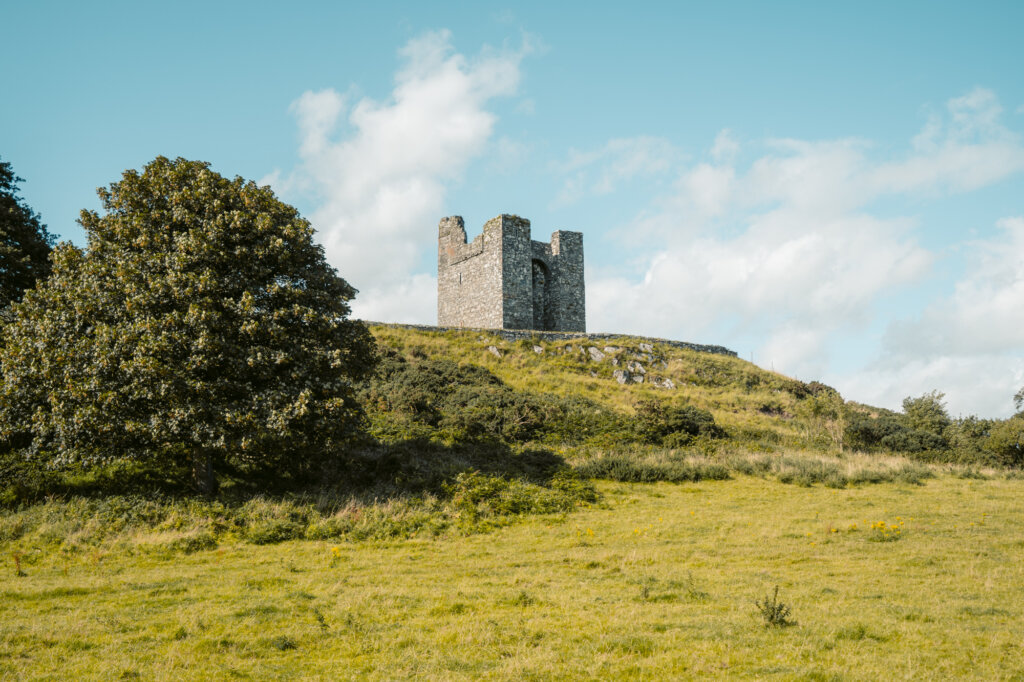 Winterfell, AKA Castle Ward
While a few different locations have been used to bring Winterfell to life, Castle Ward is perhaps the most well-known.
While it doesn't look much like the seat of House Stark from outside, you might recognise many of the interior courtyard scenes as being filmed here, like when Robb and Jon are teaching archery to Bran, or when the whole Stark household lines up to greet King Robert.
You can also take part in some fun Game of Thrones-themed activities like archery and axe-throwing, as well as getting a photo with two of the direwolf puppies, all grown up now!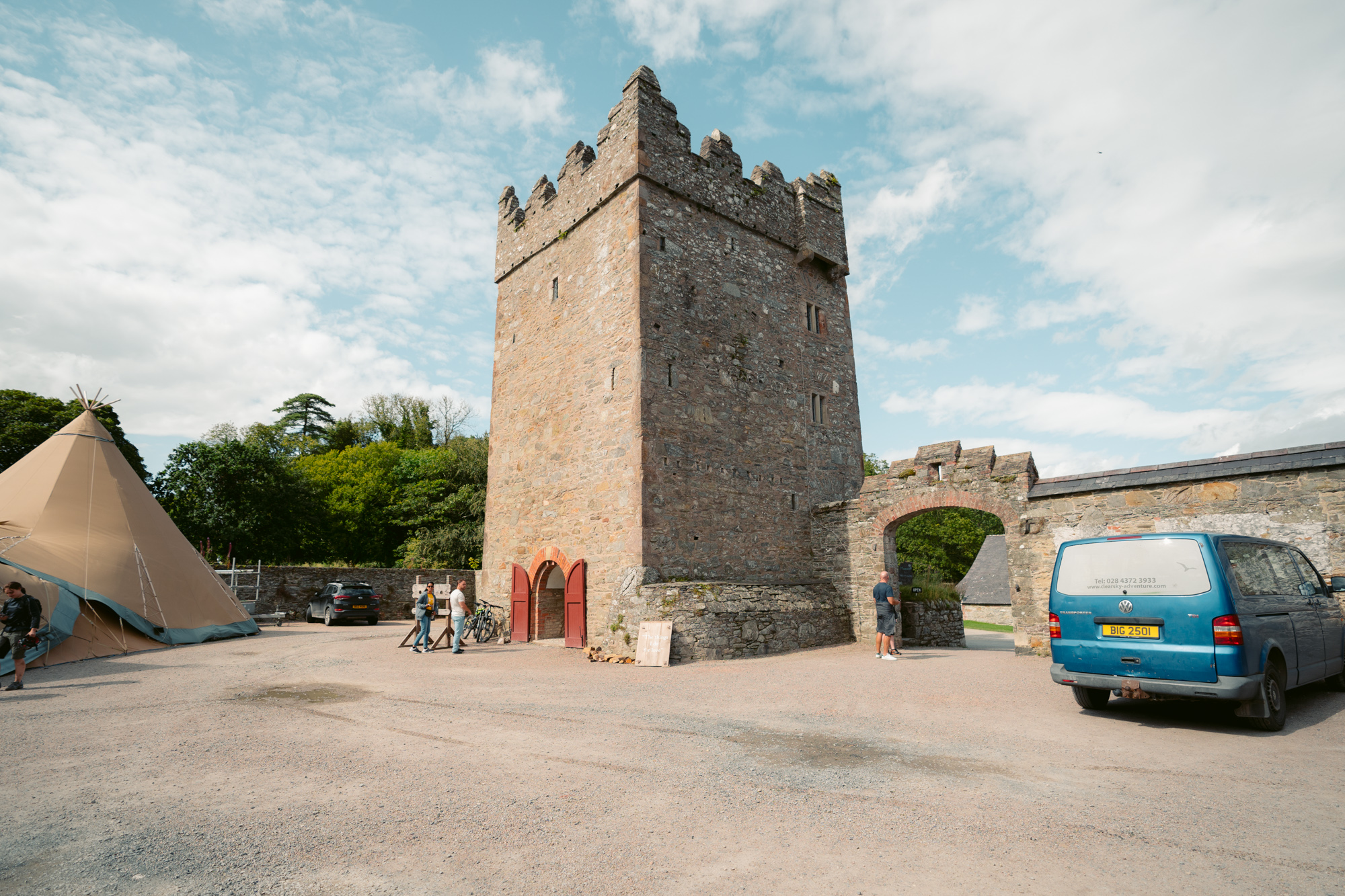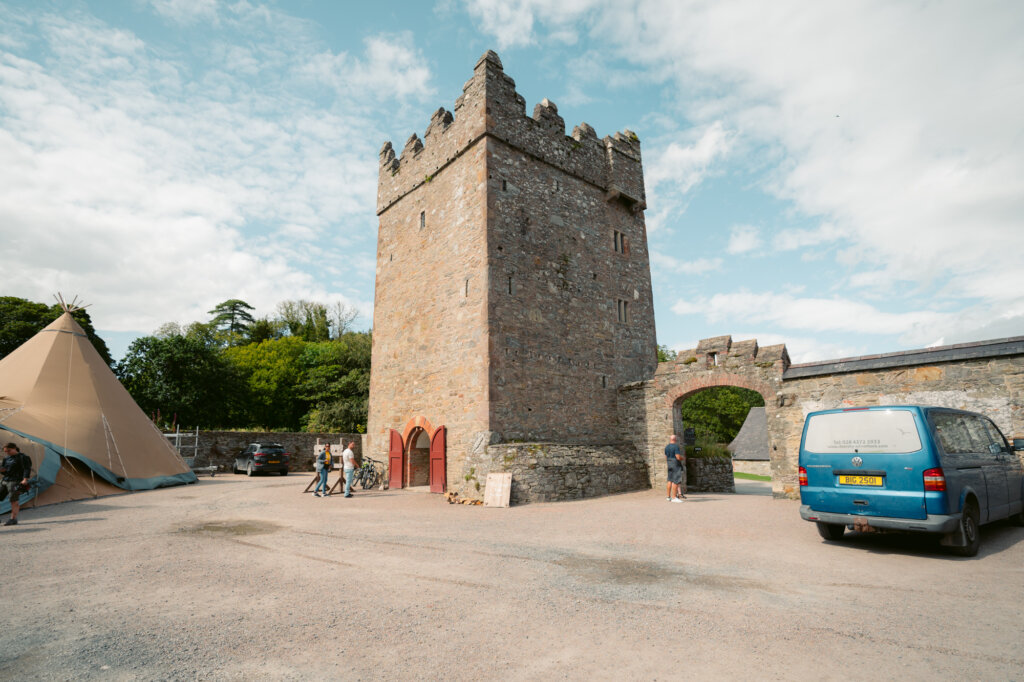 Hideout of the Brotherhood Without Banners, AKA Pollnagollum Cave
When Arya, Gendry and the Hound are captured by the Brotherhood Without Banners, they take them to a cool little hideout located in a cave behind a waterfall.
These scenes were filmed at Pollnagollum Cave, near the Irish border town of Belcoo. You can't actually go inside the cave, but there's a well-marked walking trail through the forest which includes a viewing platform.
Hoster Tully's Funeral Site, AKA Quoile Pondage Nature Reserve
The below scene, where Edmure Tully gets shown up by his uncle The Blackfish, was filmed on a wooden jetty constructed for the show in the Quoile Pondage Nature Reserve which is close to the Inch Abbey filming site.
The wooden jetty is still there but make sure you type in "Quoile River GOT Location" on Google maps or you may not be able to find it.
Dragonstone Beach, AKA Downhill Beach
Who could forget the first time we heard those Dutch r's being delightfully rolled by Carice van Houten saying "the night is dark and full of terrors"?
The first-ever time we see Melisandre is when she's burning statues of the Seven on Dragonstone Beach, and this was actually filmed at Downhill Beach next to the town of Downhill.
Renly's War Camp, AKA Larrybane Chalk Quarry
The location of Renly's war camp, where we see the saucy minx Margaery Tyrell AND the total bamf Brienne of Tarth for the first time, was filmed at Larrybane Chalk Quarry.
Nowadays there's a very nice parking lot with the chalk cliffs behind for you to visit, as well as some gorgeous views out over the ocean.
This is also where poor Renly met his untimely end at the hands of Melisandre's black smoke baby, so you can wipe a tear away as you look at the sea.
Dragonstone's "Brooding Spot", AKA Fair Head
We'll call it the 'Brooding Spot' since this cliffside location on Dragonstone saw a few different characters standing there and brooding, although it's also where Jon gets to pat a dragon for the first time when Daenerys and Drogon get back from turning the Lannister army into ash.
These scenes were filmed at Fair Head, a stunning sea-side location near the town of Ballycastle.
The "Is he a ham?" Spot, AKA Murlough Bay
A few scenes were filmed at Murlough Bay, which is right by Fair Head which isn't too surprising when you compare those beautiful landscapes in the above and below clips.
Our favourite scene filmed here has to be when Renly and Stannis have their meeting to squabble about who is the rightful king now Robert is dead, Cat Stark says she would bang their heads together if they were her sons (lol) and Renly asks if Stannis is a ham when Melisandre says he was 'born amidst salt and smoke'.
The Dothraki Sea, AKA Shillanavogy Valley
At the beginning of Episode 2 "The Night Lands" in season one, we see Daenerys and the Dothraki setting up camp in the grasslands known as the Dothraki Sea.
While many Dothraki scenes were filmed in warmer locations, a few of the ones in season one were actually filmed in the grassy Shillanavogy Valley about 45 minutes north of Belfast.
There's not really much to see here, but maybe you can cosplay Dany in her riding leathers?
Castle Stokeworth, AKA Quintin Castle
The beach where we see Ser Bronn of the Blackwater skipping stones and talking to his betrothed was filmed at Quintin Bay.
Quintin Castle is standing in almost the exact spot where we spot Castle Stokeworth, although it has been very enhanced by CGI.
It's still a pretty castle to visit, although it's only available for private hire if you wanted to see the interiors.
The North, AKA Cairncastle
Ok, obviously more than one place was used when filming scenes in the North, aka the lands ruled over by House Stark. But one of the most famous is, of course, the spot where Ned Stark beheads the Night's Watch deserter and teaches Bran one of his main beliefs "the man who passes the sentence should swing the sword".
That particular scene was filmed in Cairncastle, specifically on some mountains above the village of Cairncastle itself.
Vaes Dothrak, AKA Sandy Brae
Another Dothraki location you might be surprised was filmed in Northern Ireland is Vaes Dothrak, the only city in the Dothraki Sea.
When Khal Drogo brings Daenerys here to meet the Dosh Khaleen you see the Mother of Mountains towering over the city.
These scenes (in the first season at least) were filmed at Sandy Brae in County Down, with the stunning Mourne Mountains in the background.
North of the Wall, AKA Randalstown Forest
In that final scene of Jon, Ghost, Tormund and the wildlings crossing under the wall and back into the 'true' north, we get a glimpse of a forest, after they walk further away from the CGI wall.
This scene was filmed in Randalstown Forest, which isn't far from Shane's Castle, although there's not much that will be instantly recognisable.
Drogon's Nap Spot, AKA Binevenagh Cliffs
After Dany rides Drogon away from the Sons of the Harpy in Meereen we see her deposited in a spot on top of a cliff where Drogon has obviously been spending a lot of time during his AWOL period.
While the pile of scorched bones probably won't be there for you to see, you can admire the stunning views from on top of Binevenagh Mountain, after a bit of a hike of course. This is also a popular spot for paragliding.
Valyria, AKA Toome Canal and Lough Neagh
After Jorah kidnaps Tyrion to take him to Daenerys (who needs flowers when you could get a dwarf?) they take the risky route through the ruins of Old Valyria.
That notable scene where they're attacked by the Stone Men was filmed on Toome Canal in the town of Toomebridge.
While you're there you can also visit the spot where they washed ashore on the edges of the Summer Sea, which was filmed on the edge of Lough Neagh. The Toome Canal flows right into the lake, so you can easily see two locations in one go.
Runestone, AKA Galboly
Runestone is a castle in the Vale of Arryn, and we see it in the background during the cringeworthy scenes of Robin Arryn attempting to learn how to swordfight while Sansa and Littlefinger look on (and try not to laugh).
While you won't see a castle here (that was just CGI) these scenes were filmed around the ruins of Galboly on the north-east coast of Northern Ireland.
Braavos, AKA Carnlough Harbour
While most of the scenes where Arya was in Braavos training to be a Faceless Man (person) were filmed in Girona, Spain, there's one sneaky bit that was actually filmed in Northern Ireland. After Arya is stabbed by the waif and thrown into the canals she later crawls out on some stone steps that can be found in Carnlough Harbour.
Carnlough Harbour is only about ten minutes' drive away from Galboly (above) as well!
Brother Ray's Camp, AKA Sallagh Braes
Sallagh Braes, also not far from Carnlough but south rather than north, is where Ian McShane joined the GoT cast (very briefly) as Brother Ray, the Septon who nursed the Hound back to health after his fight with Brienne.
The spot where they were building a sept (and Brother Ray met his grisly demise, prompting the Hound to go back into the world for revenge) was filmed in the mountainous area known as Sallagh Braes, somewhere off the Sallagh Road
Game of Thrones Locations in Northern Ireland You Can't Really Visit
The next set of locations aren't open to the public (or some not yet!) but we had to include them or this wouldn't really be a FULL list of Game of Thrones filming sites in Northern Ireland now would it?
That being said, if you befriend the right people then who knows, maybe you might get to see some of these spots…
Linen Mill Studios
Plenty of scenes were filmed on-site at the Linen Mill Film and Television Studios, located just outside the town of Banbridge.
This is currently being set up to become a studio tour for Game of Thrones, presumably much like the Warner Bros. Studio Tour in London for Harry Potter! It's set to open in spring 2020, so you WILL be able to visit it soon!
Titanic Studios
The Titanic Studios in Belfast are one of the largest film studios in Europe, so they've been used for plenty of TV shows and movies aside from Game of Thrones.
Located in what used to be the shipyards where the Titanic was built, you can only see them from outside but they're quite close to two of the stained-glass windows on the Glass of Thrones trail as well, so you can snap a selfie outside the studios while seeking out the windows.
Winterfell's Godswood, AKA an Estate in Saintfield
You may not be able to visit this filming location, but a private estate located in Saintfield was apparently used when filming scenes set in Winterfell's Godswood.
According to sources, the estate can be found off the road between Saintfield and Carryduff, but we don't think trespassing would be a very good idea.
The Inn at the Crossroads, AKA Redhall Estate
Pretty much all the scenes which took place at the Inn at the Crossroads (Cat taking Tyrion prisoner and any time Hot Pie showed up with hot pies) were filmed on Redhall Estate.
This is a private estate although you could hire it for a wedding, perhaps a Game of Thrones one featuring lots of hot pies?
Castle Black and The Wall, AKA Magheramorne Quarry
Quite a few scenes were shot in the old limestone quarry in the town of Magheramorne, most notably those taking place at Castle Black.
An exterior set of Castle Black was set up here, with fake snow and white painted quarry walls to look like the ice of The Wall, with the rest added in later with CGI.
There are rumours that this spot might also be part of the legacy project and become a place where you can visit the set, but it's not confirmed yet.
The Crypts of Winterfell, AKA Shane's Castle
While Shane's Castle is a ruin, it's also been used extensively during filming for Game of Thrones. It's only open to visitors during local events, but if you're lucky enough to get to visit, you'll be able to live out any fantasies of visiting the crypts of Winterfell.
Basically, whenever they needed somewhere dark and creepy, they would film here. It's also apparently haunted, so seems fitting!
Winterfell (sort of), AKA Moneyglass Estate
Moneyglass Estate is a large working farm estate, which was used to build full-scale sets of Winterfell, most notably for when they were filming the night battle scenes from the season 8 episode "The Long Night".
Unfortunately, the castle isn't there anymore, so it probably won't be too exciting to just visit the field.
Riverrun, AKA Gosford Castle
You might notice that Gosford Castle is NOT located directly on a river, but with just a little CGI it was easy to turn this castle into Riverrun, the seat of House Tully.
At just an hour from Belfast, it was actually sold in 2019, so perhaps the new owners will open it to the public. We can dream at least.
Around Winterfell, AKA Crossgar
When Theon and Sansa make their bid for freedom from Ramsay Bolton, they flee into the woods around Winterfell.
Their desperate chase was filmed in a forest in Crossgar, which was covered in fake snow, although we're not sure exactly where.
Beyond the Wall, AKA Wolf Hill Quarry
Another quarry, this time just outside Belfast, Wolf Hill Quarry was where they built the icy lake set where Jon and co get stranded after venturing beyond the Wall to catch a wight.
Even just looking at it on Google maps shows how perfect the spot was for that shocking sequence, although you can't just waltz in there, unfortunately.