*FYI - this post may affiliate links, which means we earn a commission (at no extra cost to you) if you purchase from them. Also, as an Amazon Associate I earn from qualifying purchases. For the full scoop on what this means, feel free to check out our Privacy Policy and Disclosure.
---
Rogue One: A Star Wars Story is often considered a fan-favourite, especially for THAT epic final scene (geeks, you know what I'm talking about!). But can you name ALL the locations around the world where Rogue One was filmed?
The cast and crew of Rogue One truly went around the world in order to get picture-perfect footage of new planets and scenes for this much-anticipated prequel.
Many places are even revisited in Star Wars: Episode IX – The Rise of Skywalker (rewatch both to find the similarities)!
So throw on your X-wing helmet and strap yourself in for a wild ride as we navigate you around the world to show you where Rogue One was filmed (and throw in a few tidbits along the way)!
Save this post for later on Pinterest: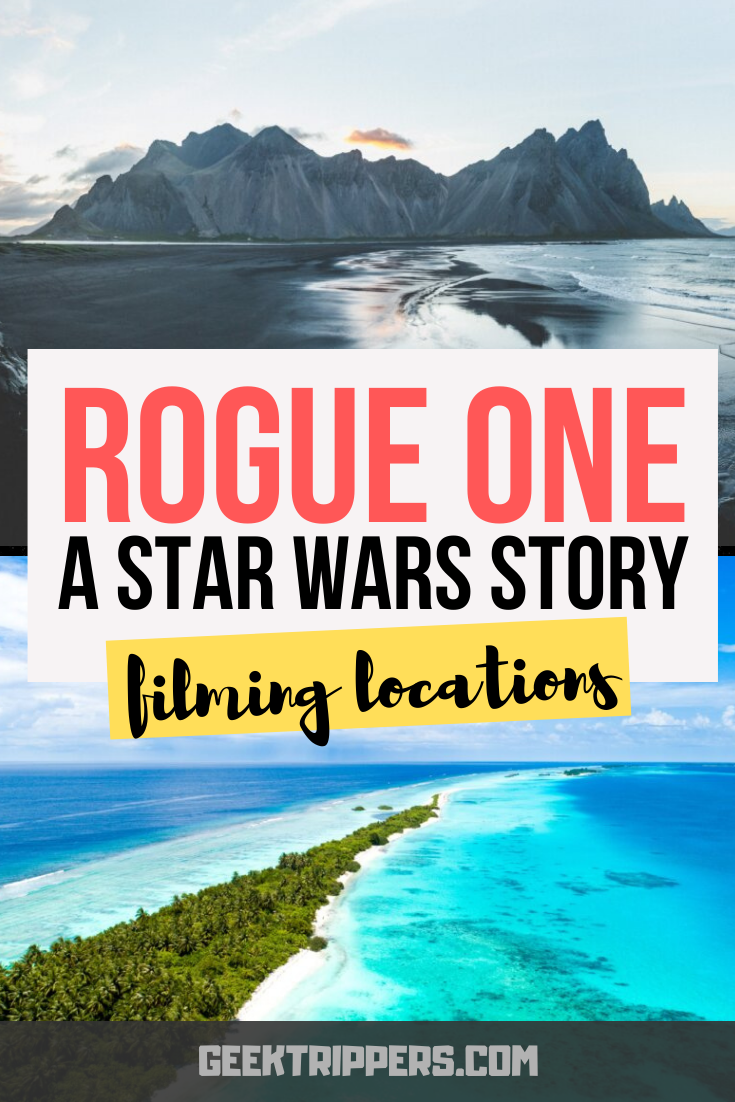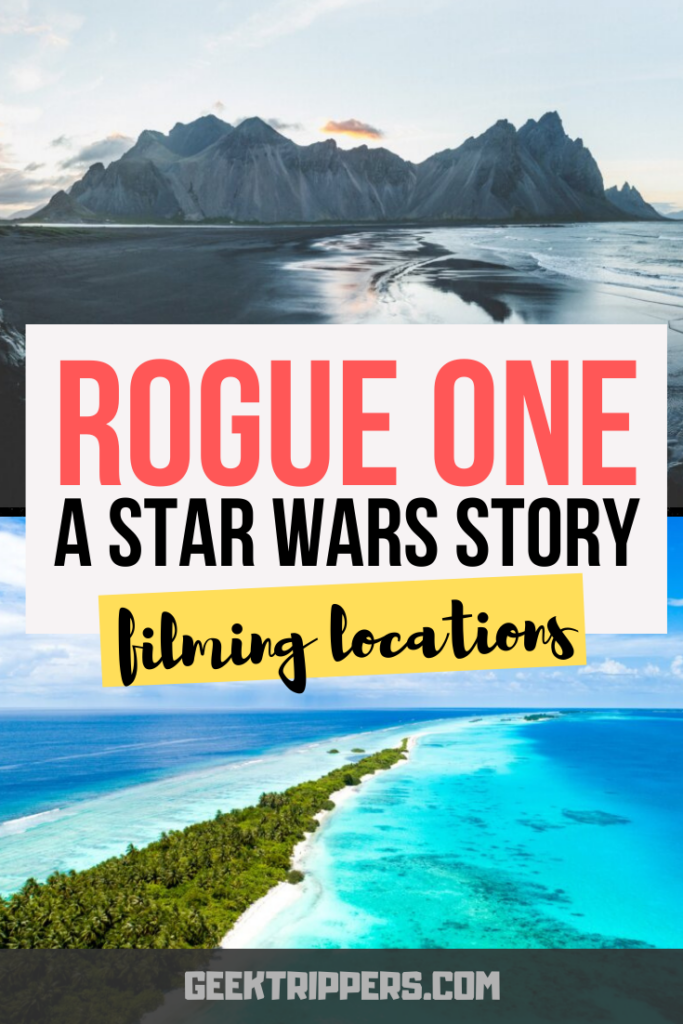 Where was Rogue One Filmed? A General Overview
Rogue One was filmed on location from August 2015 – November 2016 at a variety of locations scattered across the globe, including Iceland, the Maldives, and England.
All the fancy CGI edits and proper post-production for Rogue One happened in England: specifically, Elstree Studios (Hertfordshire) and Pinewood Studios (Buckinghamshire) (source: Making Star Wars).
While we sadly can't visit those locations without an inside source, here's a peek at Pinewood Studios below:
Fun fact: Elstree Studios was used for all of the Star Wars films directed by George Lucas, while Pinewood Studios was used for every film following the 2012 acquisition of Lucasfilm Ltd. by The Walt Disney Company. Thus, England has always been part of Star Wars history!
Of course, the crew's attention to detail even extended beyond finding the perfect filming locations. For example, did you know that the same lens for 1959's Ben Hur was used for Rogue One?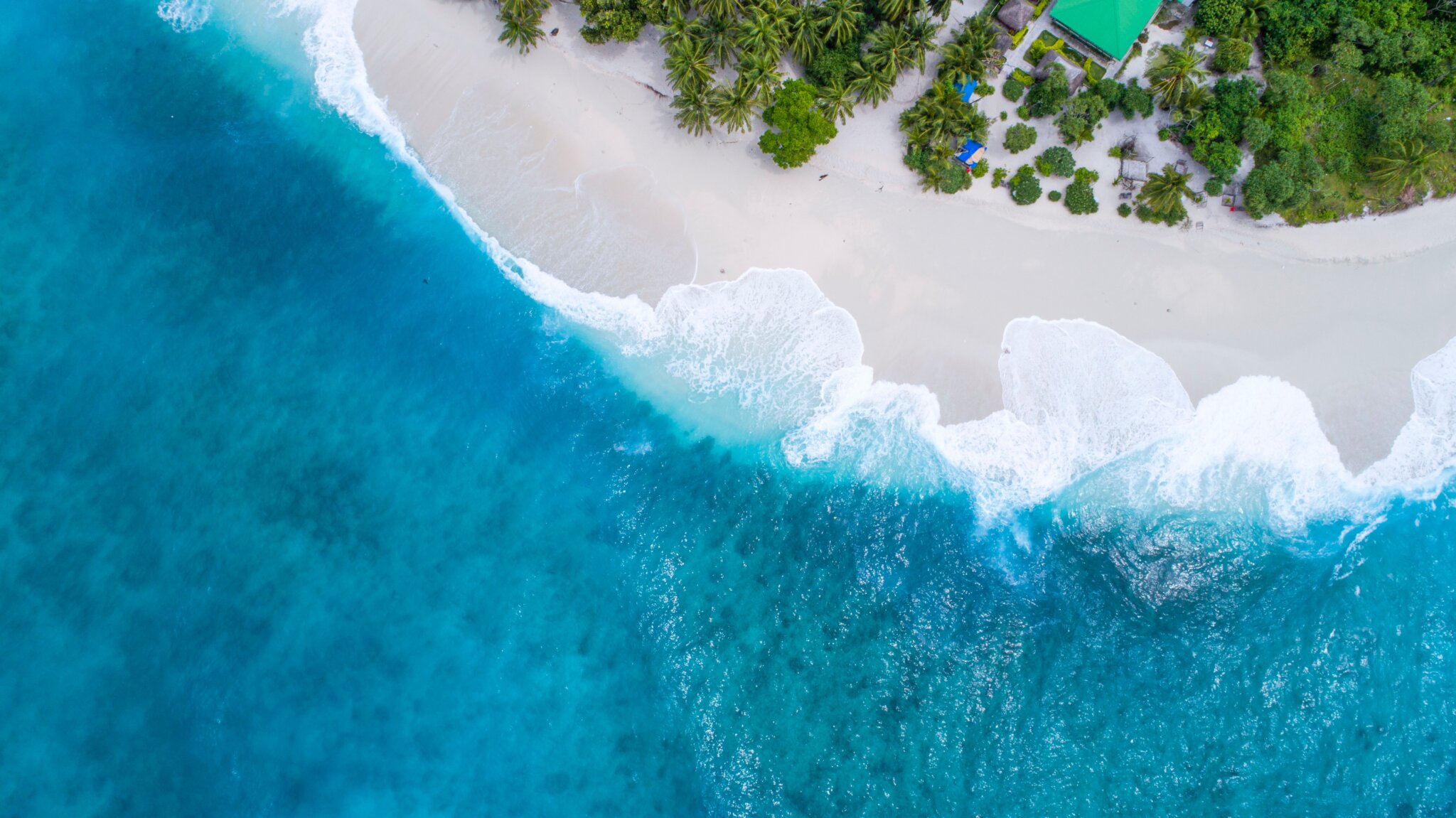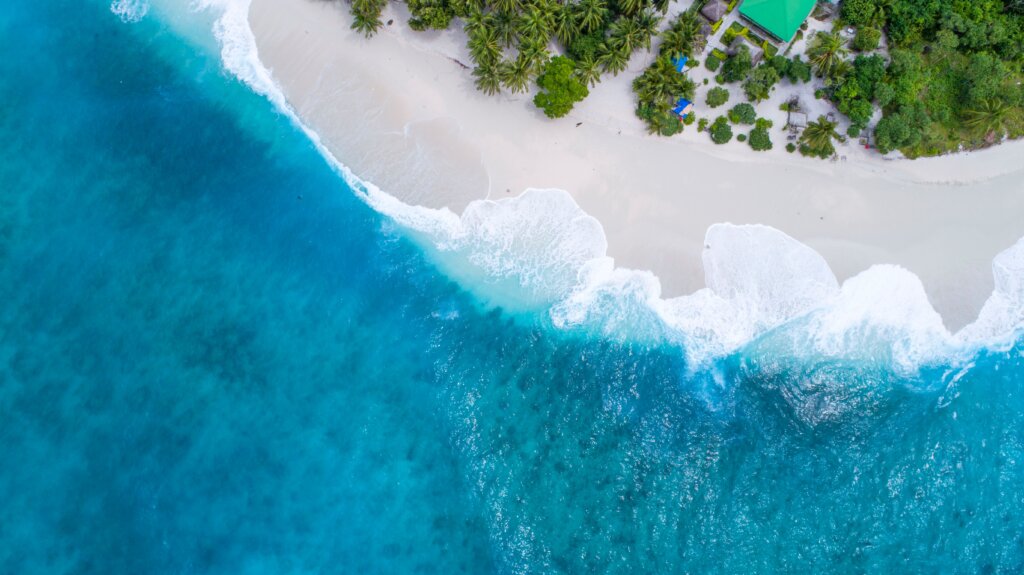 Filmmakers were apparently going for a '70s analog look (especially since the last scene takes place right where A New Hope begins) which is why they opted for this vintage source (source: Fresh Fiction). Way cool, right?
Gareth Edwards, Rogue One's director, even took his geekdom to another level in preparation for the film. He proved he's just like us, Photoshopping actual Star Wars characters into WWII and Vietnam War photography.
He even inserted Rebel helmets on the soldiers and X-Wings in the background in place of fighter jets (source: Indie Wire)!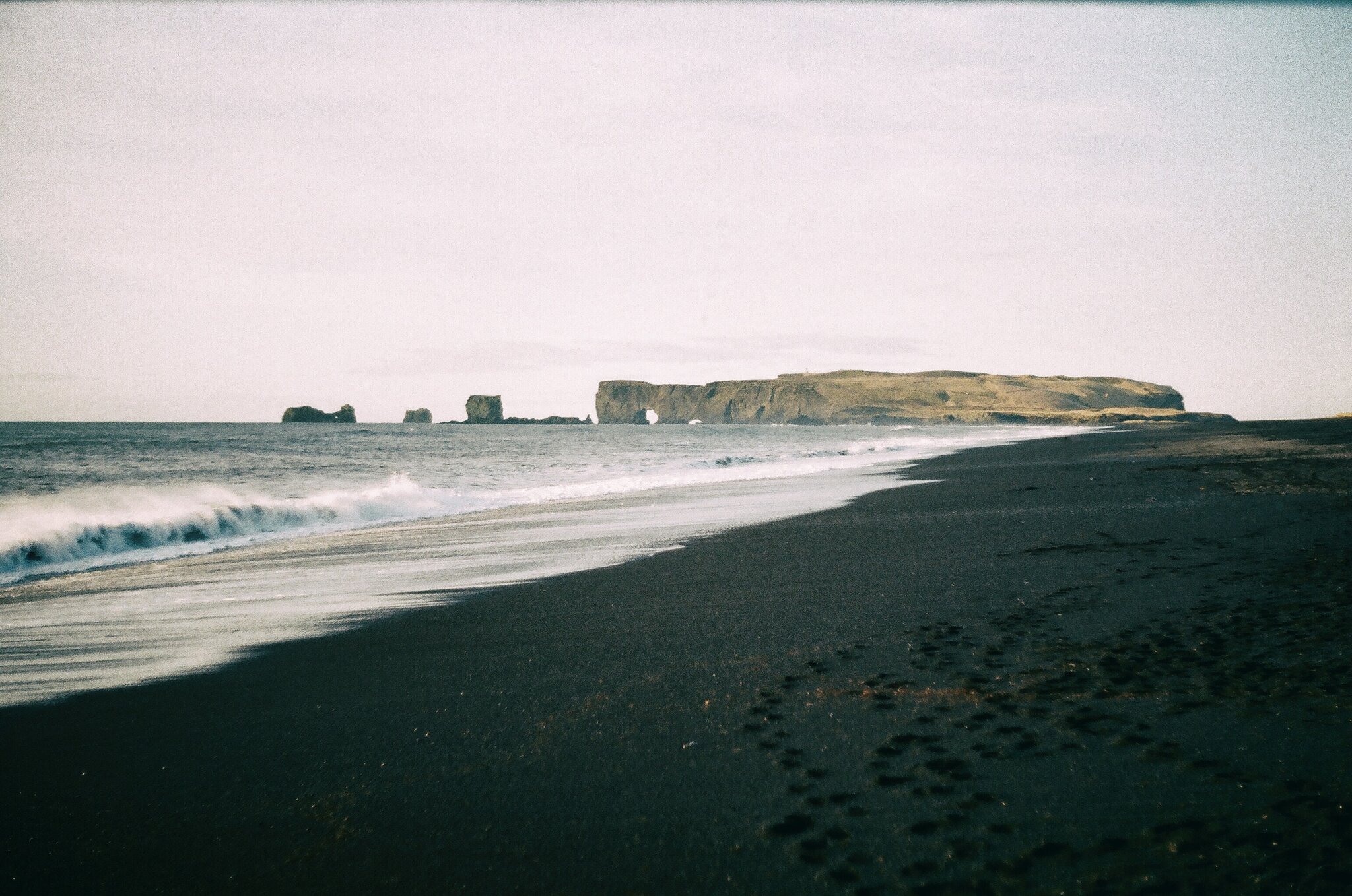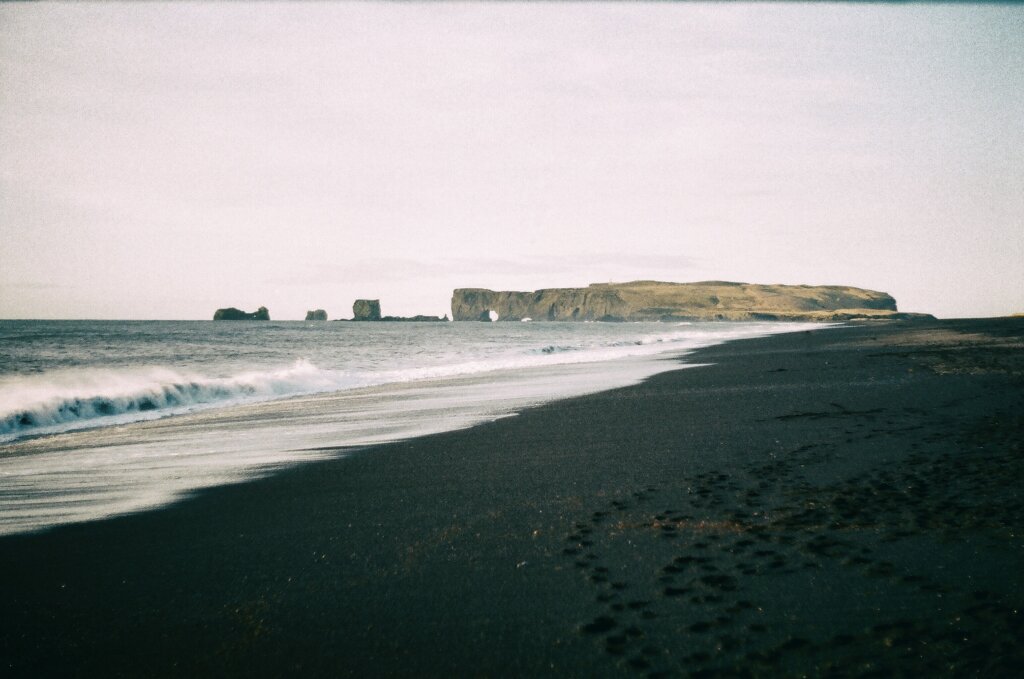 Now that you know a bit more background of Rogue One's production, let's kick that X-Wing in full gear to pinpoint the exact filming locations around the world!
Rogue One Filming Locations: A Full List!
Iceland
Probably the most beautiful of any Star Wars location in filming history, Iceland was used for quite a few of Rogue One's planets.
The country was also used for a few of the snow scenes (Starkiller base) in Star Wars: The Force Awakens.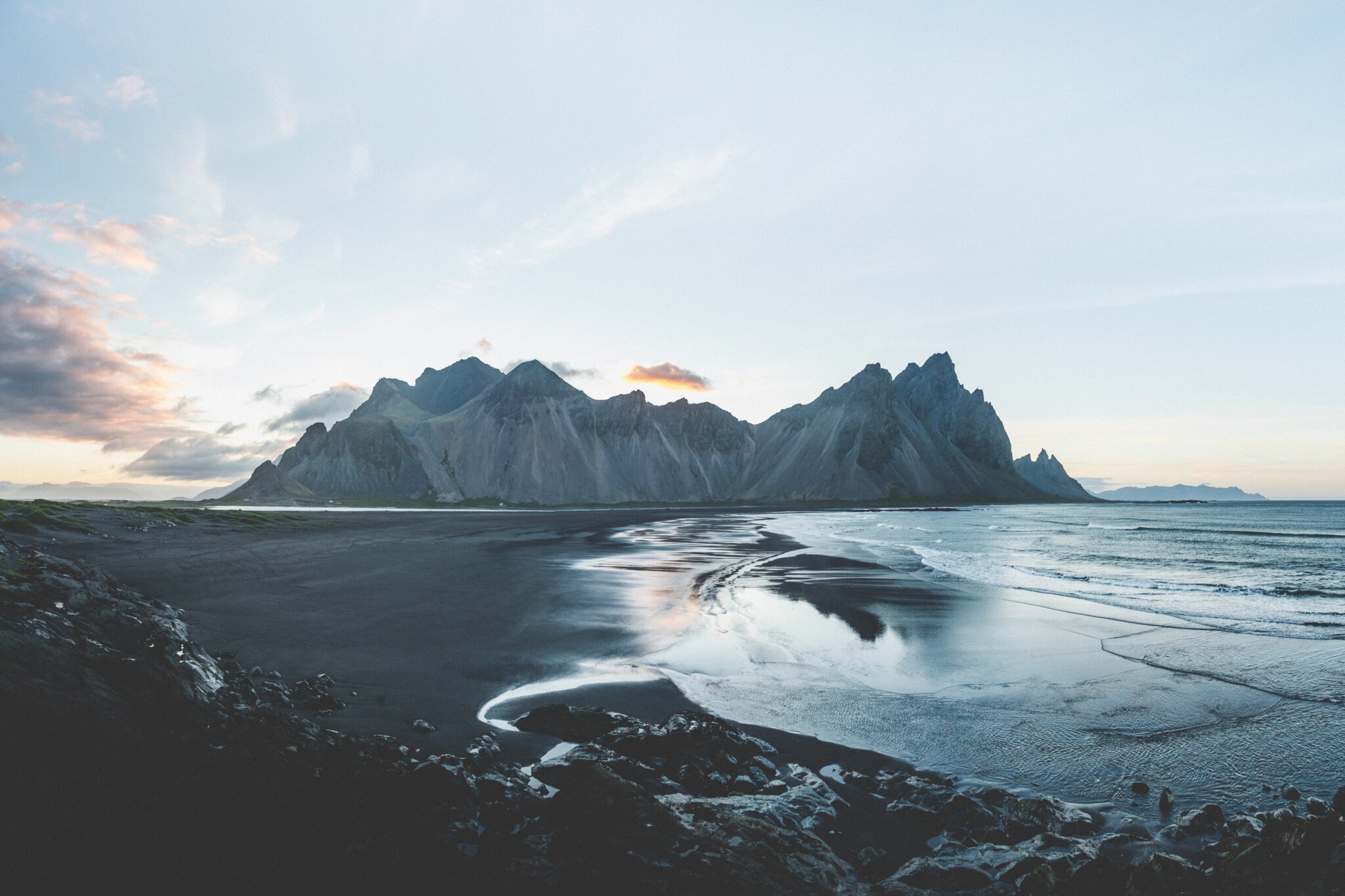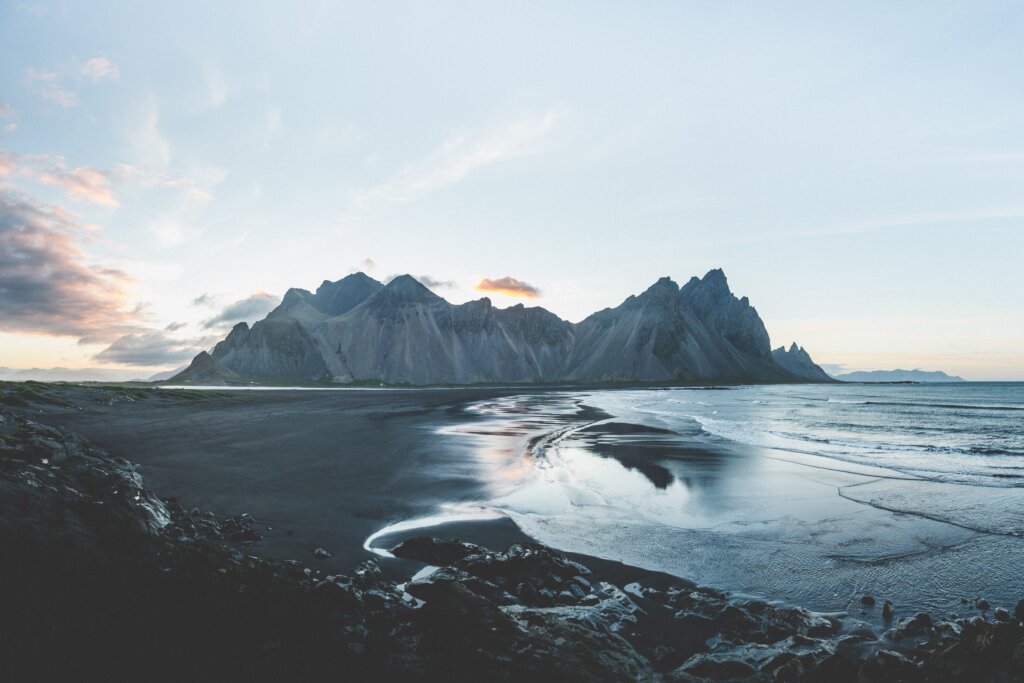 Nearly all of Iceland's municipalities are tongue twisters and nearly impossible to spell out or say perfectly.
Thankfully, the fictitious Rogue One planets that have been brought to life from these places aren't nearly as difficult to pronounce!
We've broken down a few specific locations by region, so you can be prepared to Photoshop your lightsabers into all the right places.
Mýrdalssandur
This famous black sand region with steep cliffs and a bone-chillingly cold climate served as the setting for planet Eadu, the possible home planet of Jyn Erso.
This tweet from Star Wars Holocron shows a behind-the-scenes capture of a Death Trooper on location (um, how cool are these uniforms? They put Stormtroopers to shame!).
In the beginning sequence, look closely at young Jyn – she's holding a Stormtrooper doll! The irony, right?
According to Movie-Locations, Mýrdalssandur Beach is also the location of Lah'mu, a sparsely populated planet in Outer Rim territories, where Galen Erso and his family have hidden (all in the opening scenes again).
PS: In case you're wondering, the black sand seen here was formed due to excess lava flow!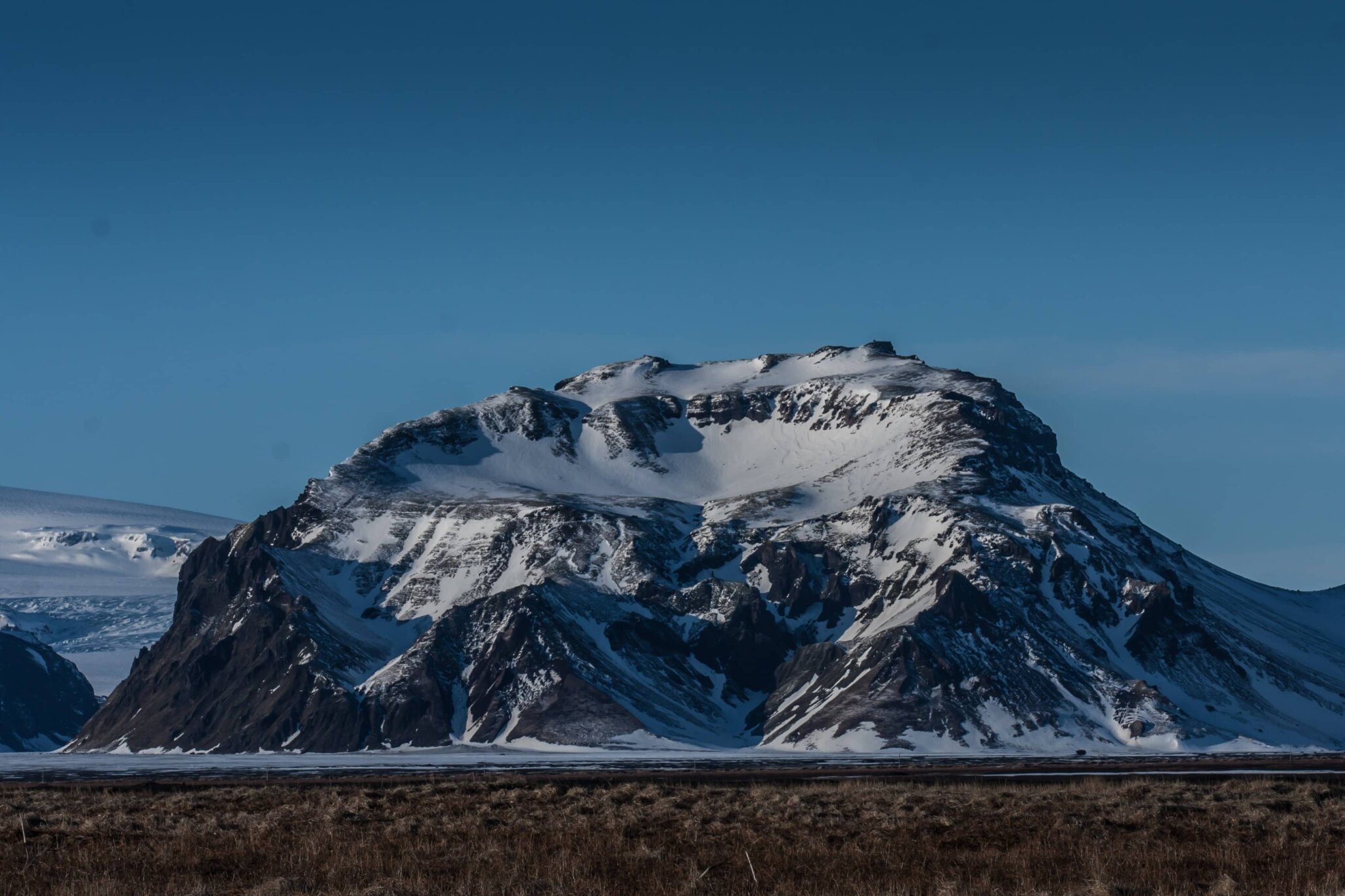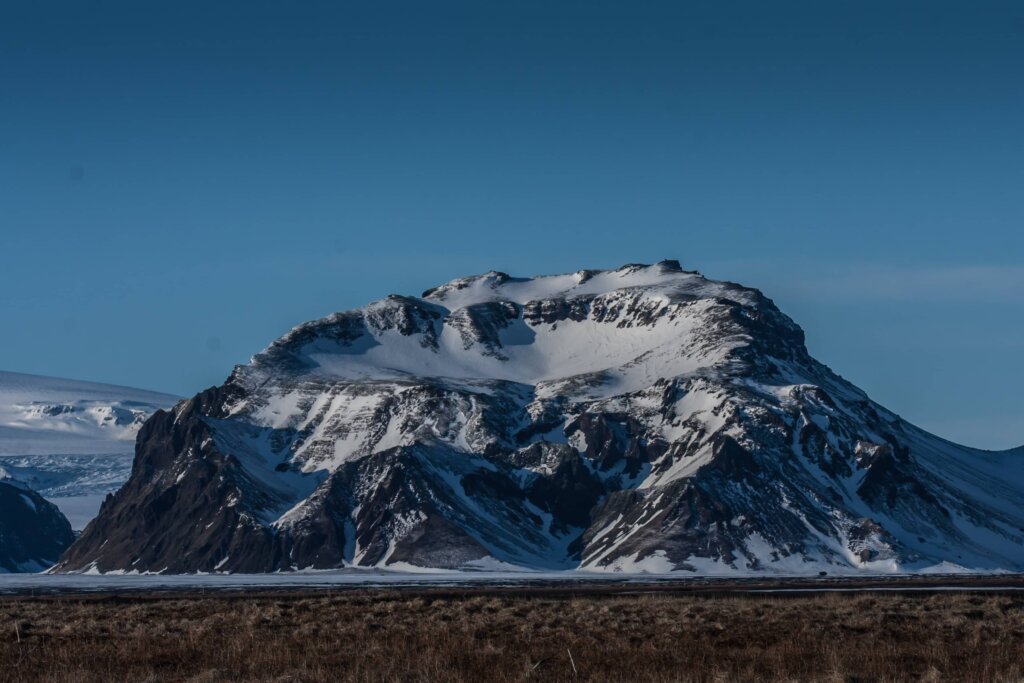 One thing to note: Mýrdalssandur Beach is commonly mistaken as the more famous (and touristy) Reynisfjara Beach. While many sources cite Reynisfjara as a filming location, Guide to Iceland cites that most of the black sand beach scenes in Rogue One were shot in Mýrdalssandur.
The beach, a 20-minute drive east of Southern Iceland's fishing town, Vík í Mýrdal, sits beneath the famous Icelandic mountains, Hafursey and Hjörleifshöfði.
You'll definitely recognise these when you go in person, since the mountains tower over the characters in the opening scenes.
The extreme cold and frequent fog in this particular location made it precarious to film the opening scene (when Krennic approaches Galen).
But if you think that everything was all work and no play, think again! Ben Mendelsohn (Krennic) apparently sang Michael Jackson and songs from "Frozen" on set to get in the spirit (source: Slash Film). We're happy to hear that he's much more lighthearted than his onscreen alter ego!
According to Iceland Closeup, other notable films that have been shot in this famous area of black sand beaches include Star Wars: Episode VII – The Force Awakens, Noah, Oblivion, Prometheus, Star Trek Into Darkness, Thor: The Dark World, and even the world's most illegally downloaded television show in history, Game of Thrones.
Fun fact: Mads Mikkelsen (Galen Erso) is one of the most well-known celebrities in Iceland. While he's Danish, many of his TV shows and films have been very successful in this region, so the crew had to be even more stealthy when filming his scenes (Source: Iceland Closeup).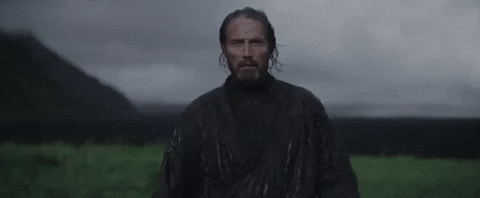 Krafla & Lake Mývatn
The Krafla volcanic crater and nearby Lake Mývatn's rock formations were the basis for the eerie planet of Eadu as well.
NOTE: This location has appeared in several episodes of Game of Thrones, so it has that much more connection to the geek realms!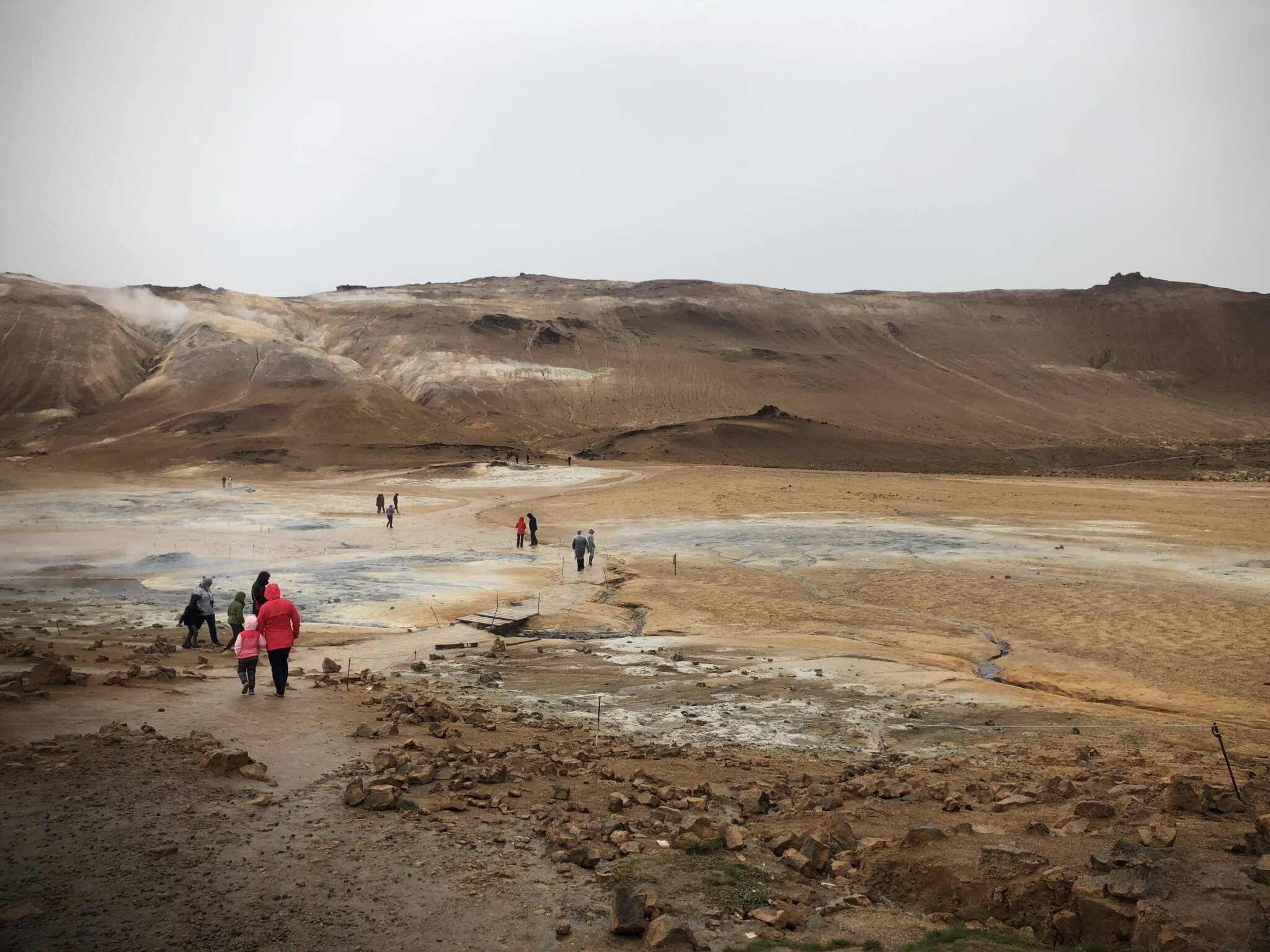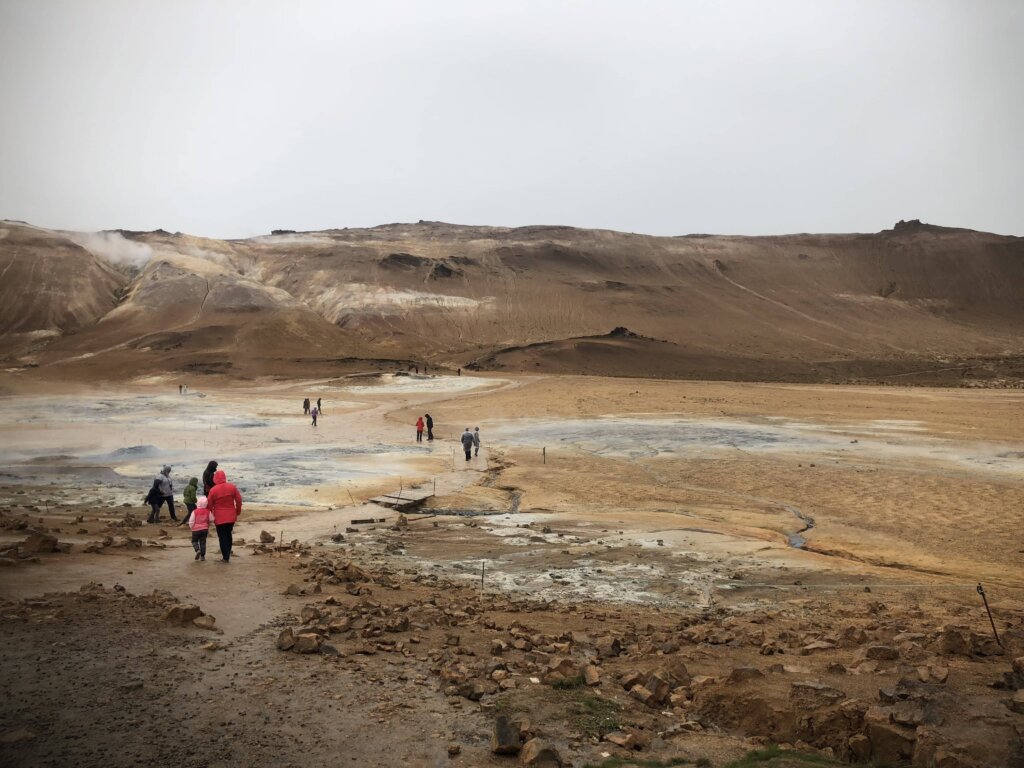 Krafla is a caldera and one of Iceland's most explosive volcanoes (it has erupted 29 times since the country was settled!).
Lake Mývatn (interchangeably referred to as Hverir) is Iceland's fourth largest lake, an area of geothermal activity and volcanic eruption (source: Extreme Iceland).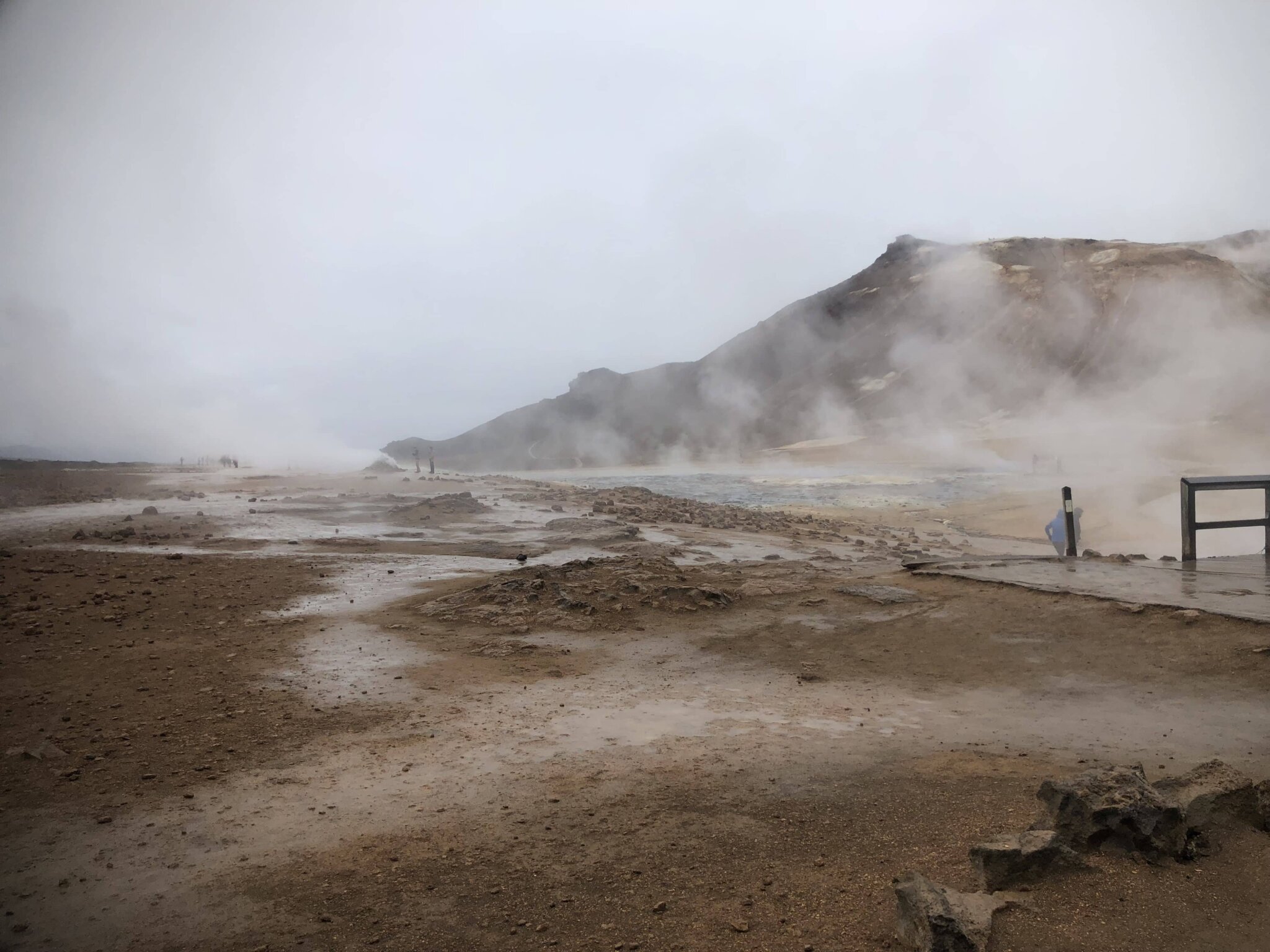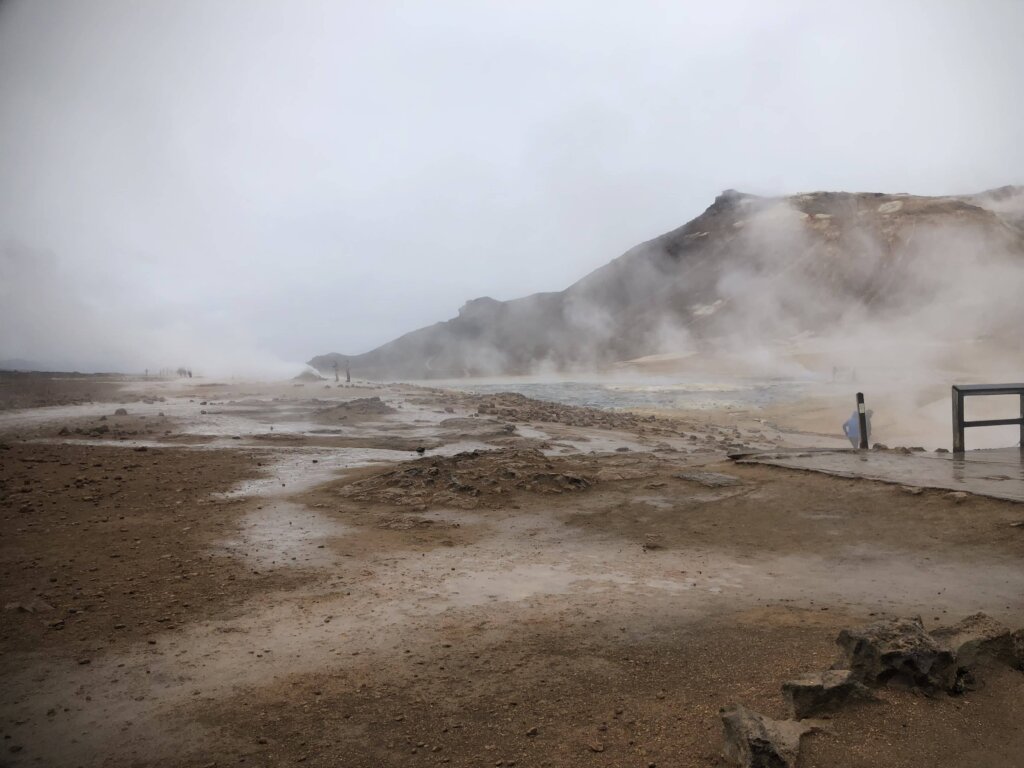 Be aware that both locations look far more beautiful than they smell, though. Appearing almost alien-like, both landscapes have a pungent sulfuric odor that will sting your eyes and nose (even when it's plugged)!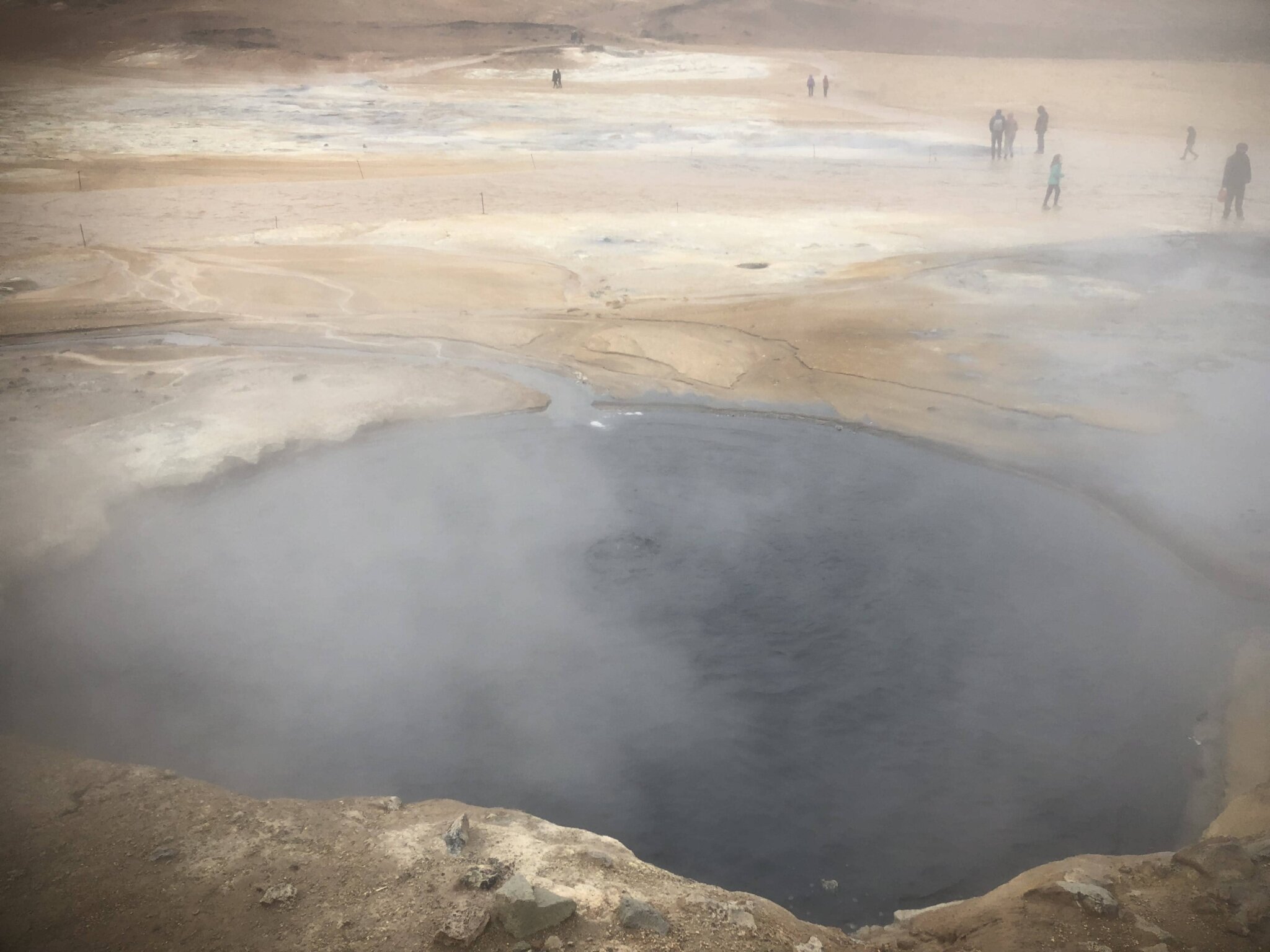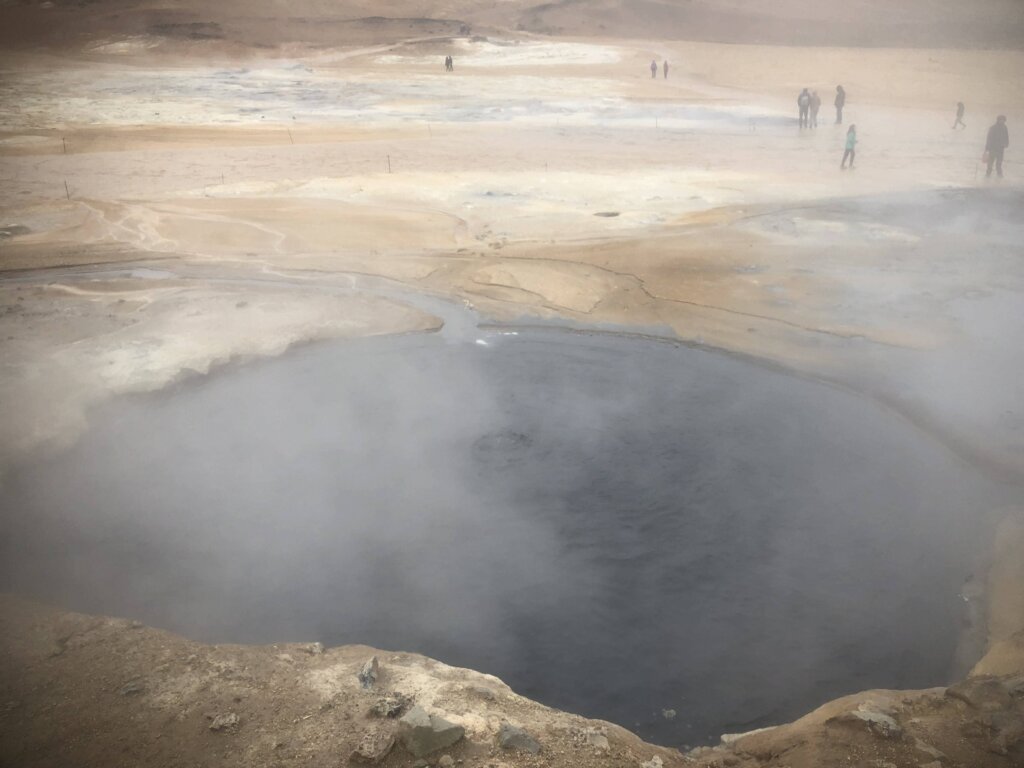 For Game of Thrones geeks: Check out our full list of Game of Thrones locations in Northern Ireland here!
Jordan
Just as director J.J. Abrams did in The Rise of Skywalker, Rogue One director Gareth Edwards used Jordan as the main location for filming sweeping landscapes of a particular planet. Read below for our breakdown of the specifics.
Wadi Rum
Wadi Rum (aka the "Valley of the Moon") was used for Jedha, a holy pilgrimage planet for those who believed in the Force. This is notably where Jyn reunites with Saw Gerrera (Forrest Whitaker).
Here's a tweet showing Alan Tudyk (K-2SO) on location in Jordan.
According to Rogue One director Gareth Edwards, Jedha is "a place where people who believe in the Force would go on a pilgrimage. It was essentially taken over by the Empire. It's an occupied territory… for reasons we probably can't reveal." (source: Star Wars News Net)
Thus, Jordan seemed like the perfect fit to base the Holy Mecca of the Star Wars realm.
With all things in the Star Wars universe, remember that historical context and similar names come into play. Historic Jeddah, gateway to Islamic holy cities Mecca and Medina, has an uncanny similarity in spelling to Rogue One's Jedha planet.
Coincidence? We think not!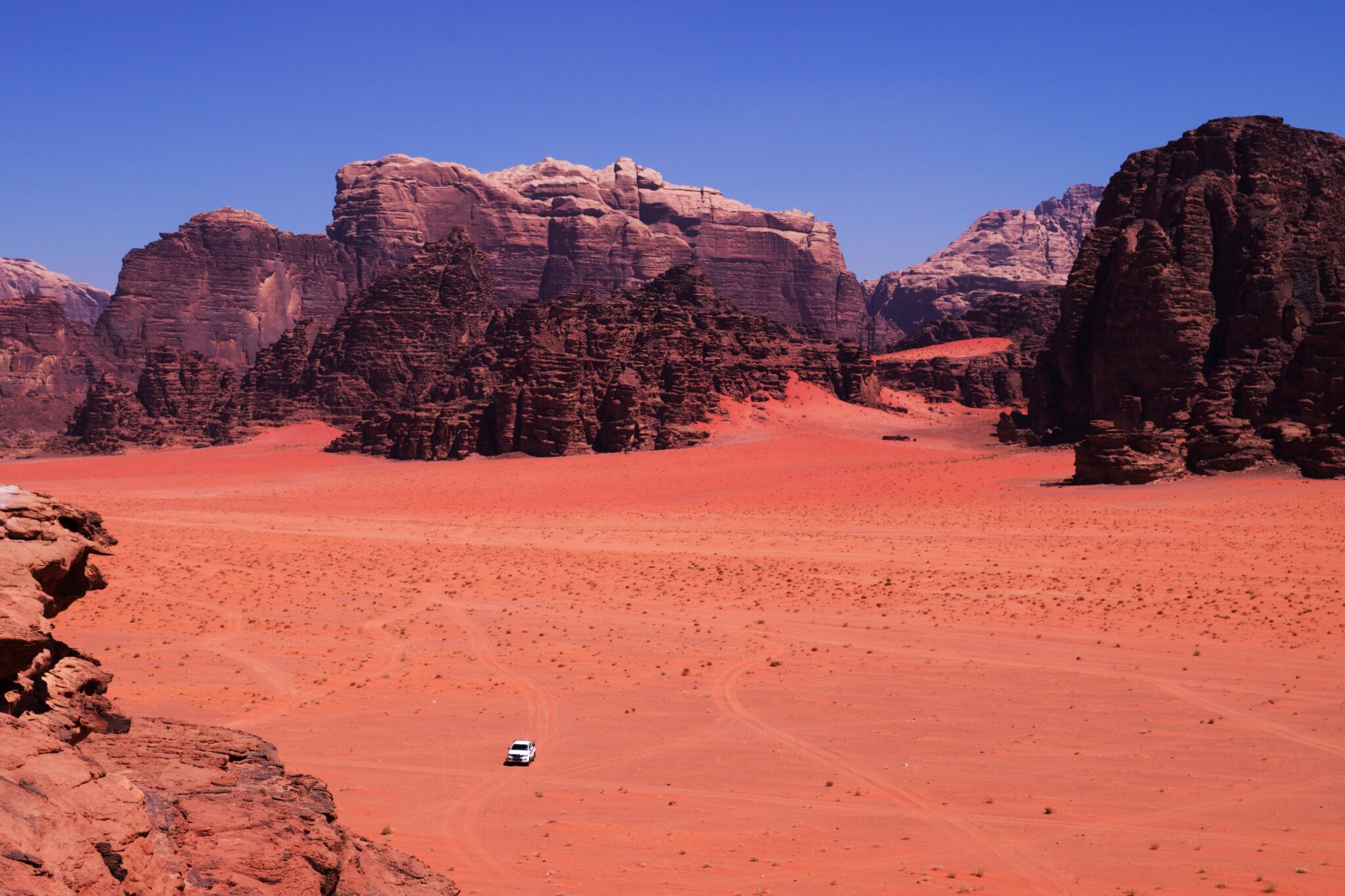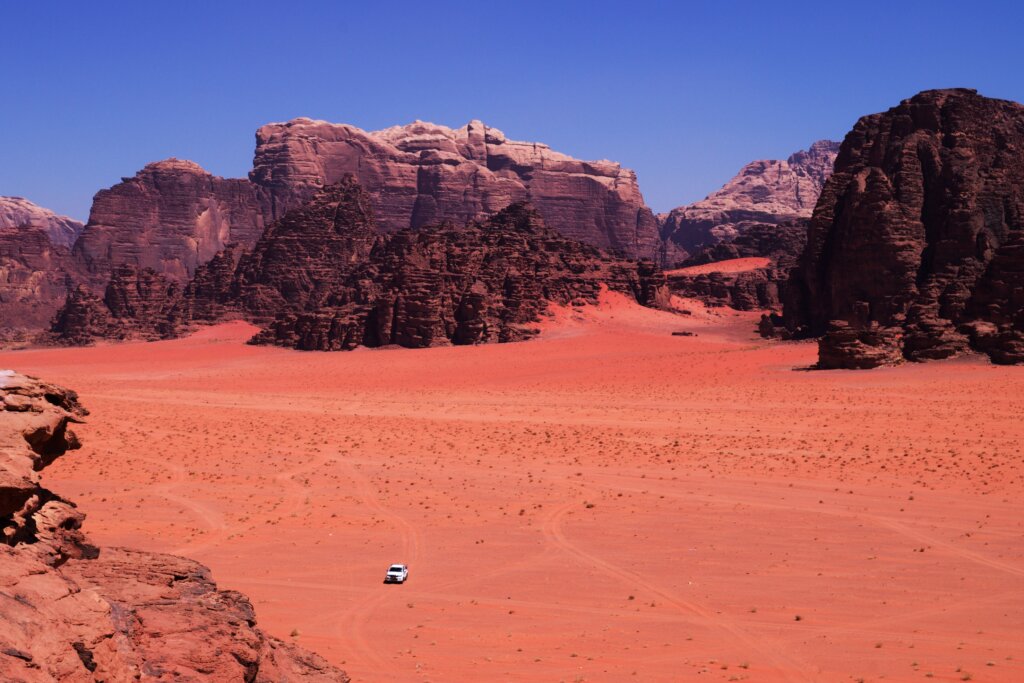 While scanning the Jedha scenes, keep your eyes peeled for Ponda Baba and Evazan! They're the duo we first encounter in A New Hope, when they bully Luke in the Cantina on Tatooine.
Evazan even has similar "watch yourself!" dialogue to his line from A New Hope, which was obviously put in deliberately.
Fun fact: Wadi Rum was also the main filming location for Lawrence of Arabia, The Martian, and the Pasaana scenes from The Rise of Skywalker!
If you're feeling adventurous enough to travel here, Escape recommends staying at Salmon Zwaidh Camp (within the protected Wadi Rum area).
You'll instantly recognize the towering, sandy rock mountains from the film upon arrival. The area has been successful in setting up eco-tourism and luxury camping for all geeks alike to enjoy!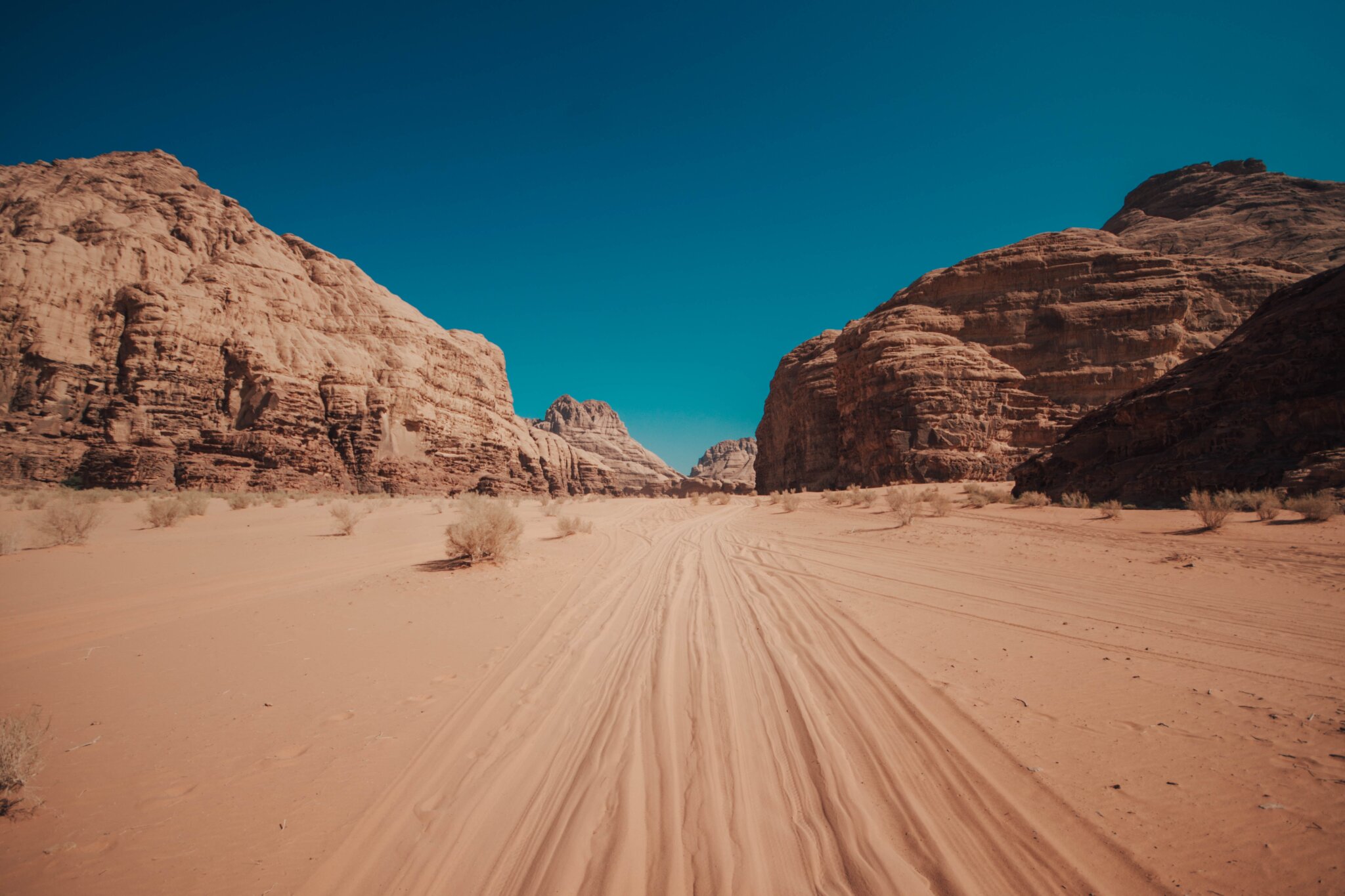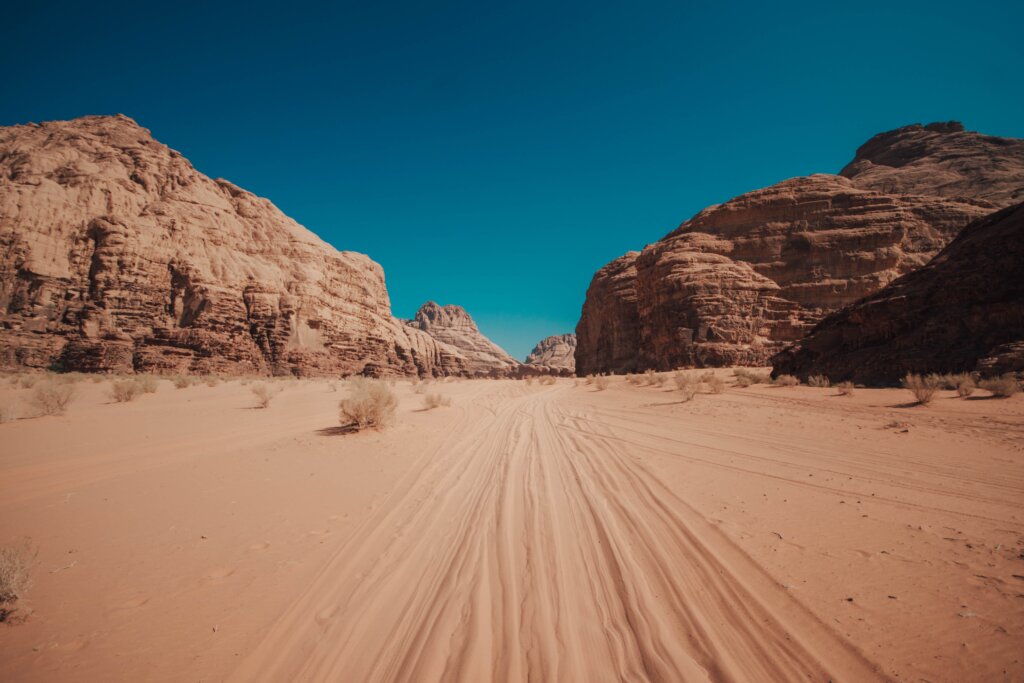 Maldives
Okay, admit it. When the first trailer for Rogue One dropped, we went ballistic when they showed Stormtroopers in freakin' paradise, wading through crystal-clear water.
We definitely rewound the trailer several times just to see that shot again, "OMG!"-ing our way through.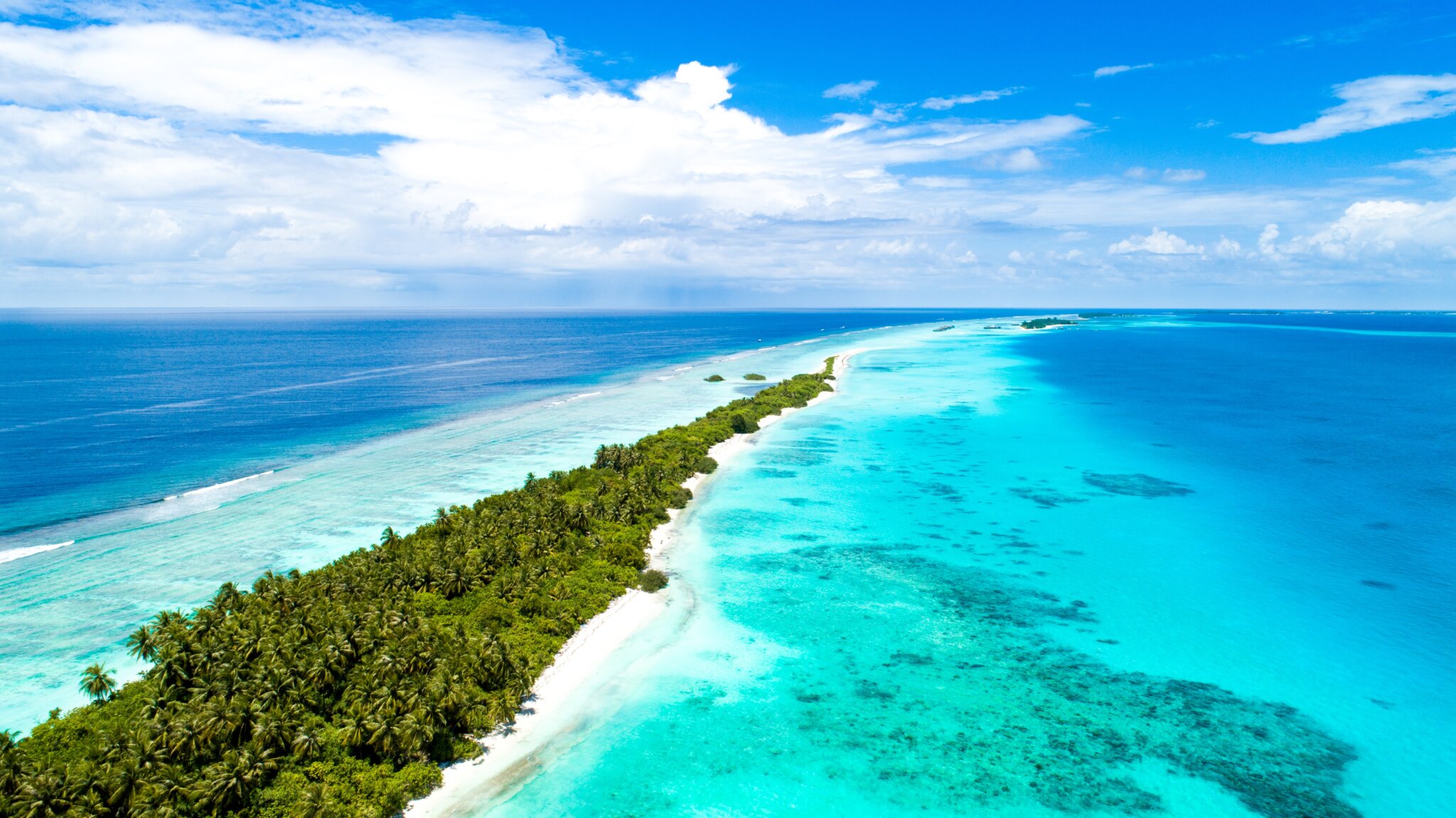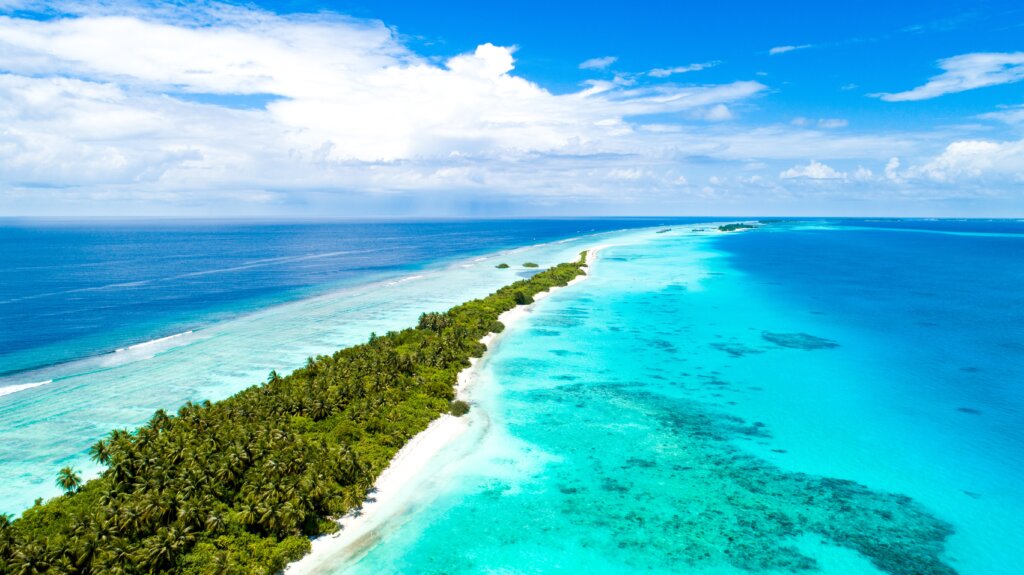 While Scarif ended up being the complete opposite of paradise (oh hello, Death Star, fancy seeing you peeking out of the clouds), the Maldives served as the prime filming location for this planet.
Yes, the filmmakers chose one of the most exotic locations in the world, and rightfully so!
Edwards, Rogue One's director, was quoted as saying that Scarif had to be a "paradise world surrounded by crystal blue waters, palm trees and sandy beaches," which is probably why they chose this stunning location in the first place (source: Dreaming of Maldives).
Local Maldivians even had the opportunity to don Stormtrooper costumes (although they didn't understand the mass appeal of Star Wars at all!).
Fun fact: Some of the original costumes from A New Hope, The Empire Strikes Back, and Return of the Jedi were reused in Rogue One (source: IMDB). Saving money while paying homage to the classics, right?
For some really cool side-by-side comparisons of the film scenes vs. reality, check out this YouTube video edited by two members of the Official 501st Legion:
Also, check out this article from the official Star Wars site detailing how several 501st Garrisons (UK, Australia, Hawaii, Utah, Florida, Dutch) recreated the iconic "Stormtroopers in paradise" image across their respective locations. Now that is a whole new level of dedicated geekdom!
Come along with us as we break down specific filming locations on certain islands from the Maldives below.
Laamu Atoll
Laamu Atoll (one of the Maldives' largest 1,192 islands) was used specifically as Scarif in Rogue One.
Most of the battle scenes for this climactic part of the film were shot here, although the explosions were (obviously) shot 5,550 miles away in England, because they couldn't blow things up in another country (source: CN Traveler).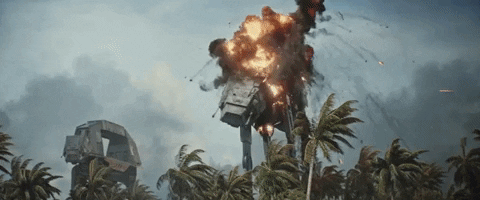 It's not known as a highly touristic island, so those who want to visit and geek out in peace are in luck! For more information, check out Lonely Planet's page here on Laamu Atoll.
Hidden Mickey Alert: Keep your eyes peeled for a Hidden Mickey when a TIE fighter is blown up by an X-Wing – a Reddit user screencapped it here. We'll never know if this was intentional or not, but judging by the amount of Easter eggs, we wouldn't put it past filmmakers!
Kudurah, Kudafushi, and Berasdhoo
The scenes of the Stormtroopers running through crystal-clear water were specifically shot in Kudurah (source: Dreaming of Maldives).
Some of the climactic battle scenes from Rogue One were also filmed on the uninhabited desert island of Berasdhoo.
The island of Gan was used to host the film crew (some of the lead actors supposedly lived on a boat), while Kudafushi was used for a few of the final battle sequences on Scarif (source: Dreaming of Maldives).
England
As mentioned earlier, England has always been a part of Star Wars history in some form. We've separated the prime filming locations in England below.
Canary Wharf Station
Perhaps the most well-known location, London's Canary Wharf tube station was used as a jam-packed chase scene in an Imperial base.
Its distinctly-designed escalators and glass safety doors are evident in a few scenes, especially in the trailer (as seen below).
The scene was shot when the station was closed between midnight and 4 a.m. to ensure the privacy and secrecy of filming.
Who knew that a high-traffic tube station would be related to Star Wars, right?! This is probably the most accessible location out of any other when you're on a geek pilgrimage.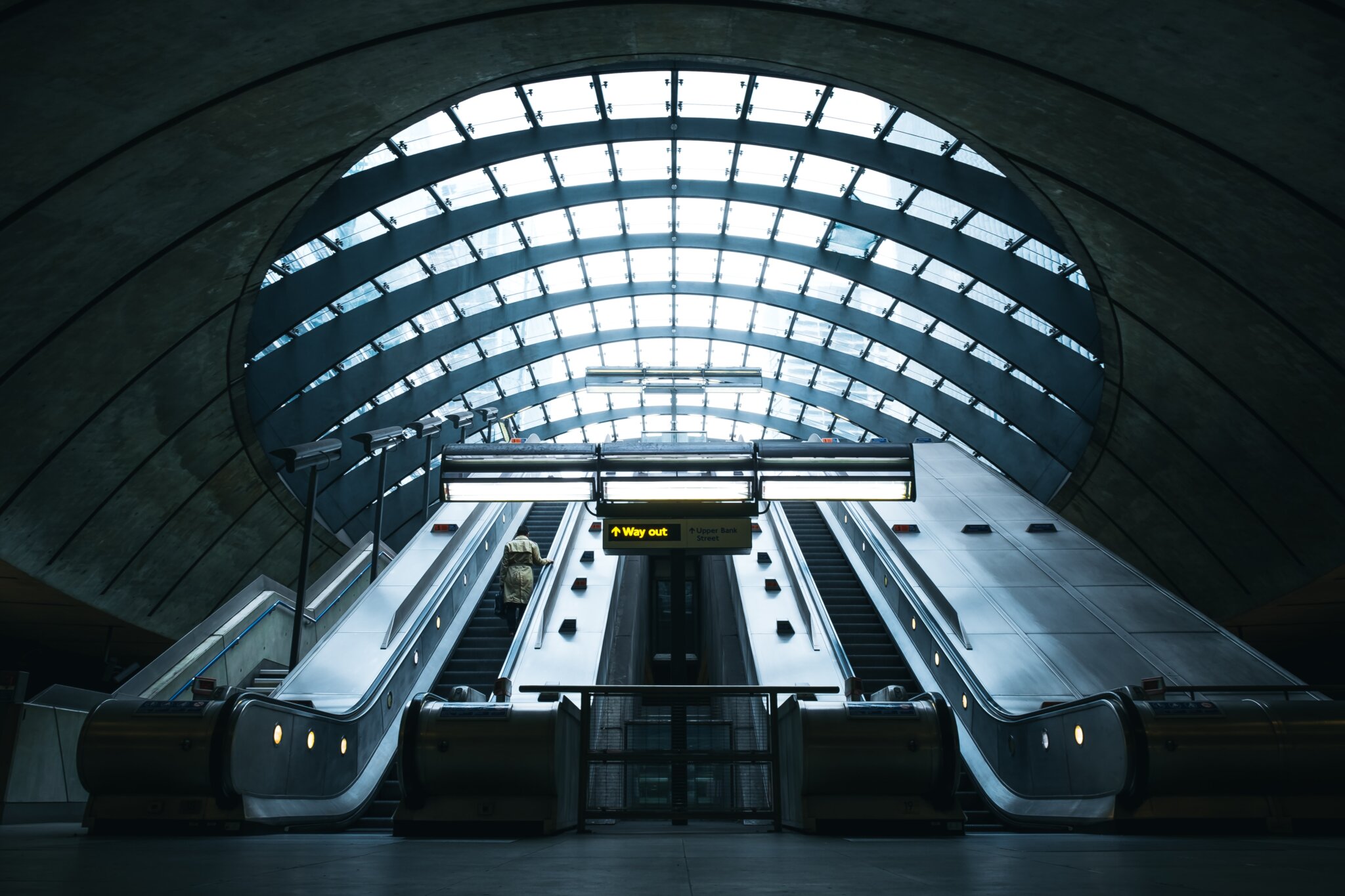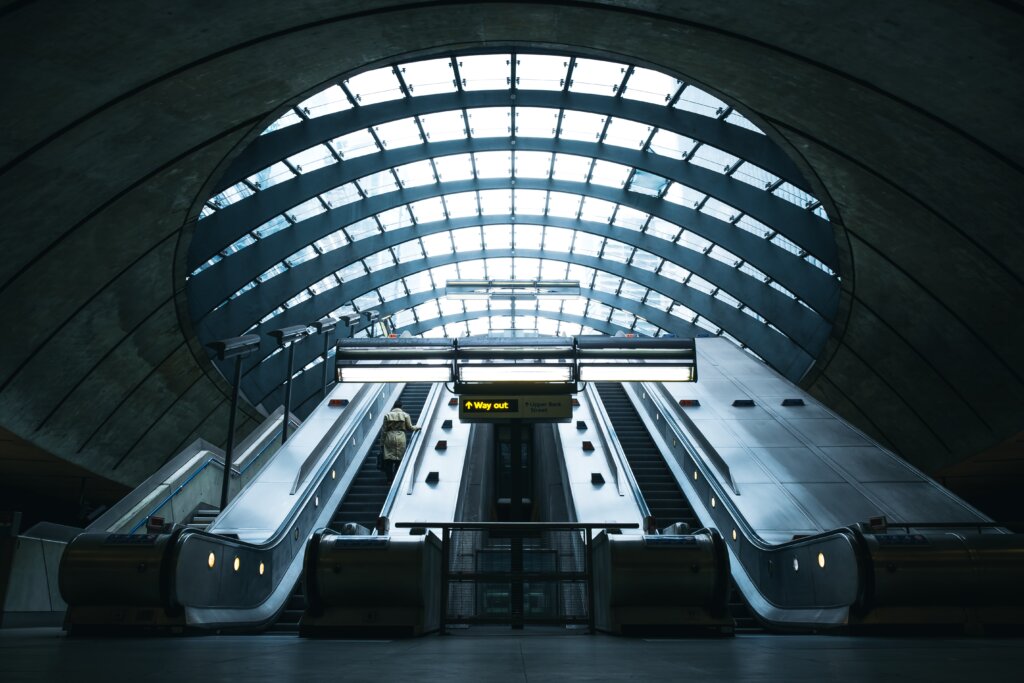 Bravo to this Reddit user who discovered this location before it was even released officially that it was filmed here! That's a dedicated geek right there.
This Reddit user also did another side-by-side comparison, and this tweet even shows Stormtroopers "off duty" at the station.
Canary Wharf tube station is located on the Jubilee line between Canada Water and North Greenwich, a stone's throw away from the infamous O2 arena.
Pinewood Studios
As noted earlier, Pinewood Studios is where almost every Star Wars film has been used for production to some extent.
According to Wookieepedia, the sets for Exegol, Kijimi, Ajan Kloss, and the interior of a Star Destroyer (all from Star Wars: Episode IX – The Rise of Skywalker) were created in Pinewood Studios. That's a lot of cinematic history right there!
Check out another peek of the interior of the studios below:
A tweet from this user shows a behind-the-scenes look at an X-wing on set.
Edwards, Rogue One's director, said, "The whole time we were at Pinewood, I always thought we were doing a small film. It felt very intimate, it could be quite fluid, and it could move around." (source: Pinewood Studios)
According to IMDB, Edwards and his team discovered old film canisters here that contained old, unused footage from A New Hope. Thus, the footage with Red Leader and Gold Leader in Rogue One is actually based on this miraculous find!
Also, it's more than likely that a famous cameo was filmed on this studio lot. Check out this article from Cinema Blend that details the brief cameo from The Last Jedi director Rian Johnson as one of the Death Star technicians.
They actually swapped cameos in each other's respective films, since Edwards also appeared in a scene of The Last Jedi!
Keep your eyes peeled for Edwards himself in the last scene of Rogue One as well (he's the one who launches Tantive IV into space)!
Fun fact: Diego Luna (Cassian) did military training for two weeks in London to get into character.
RAF Bovingdon Airfield
The Royal Air Force (RAF) Bovingdon Airfield was used to film additional scenes of Scarif.
According to Jedi News, these on-set photos from the Mirror UK are specifically from Bovingdon Airfield (not Elstree Studios, as misprinted).
Since crew weren't able to film any explosions on location in the Maldives, most of the Scarif scenes were actually filmed here.
This was where filmmakers painstakingly recreated the Maldives with extreme detail and precision, with the final set measuring about eight acres (that's about eight football fields put together)! (source: Bovingdon Airfield official site)
According to Production Designer Neil Lamont, they had to ship about "2,000 tons of sand in about 200 truckloads, imported over 60 palm trees from Spain, and various greenery from the UK. We also needed to build a beach and the special effects team had the great idea of recycling water from the tank at Pinewood so it wouldn't be wasted." (source: RadioTimes)
The next time you rewatch the Scarif battle scenes, think about how much preparation went into every frame!
They also recycled 800,000 liters of water into a large tank, and SFX supervisor Neil Corbould went through approximately 2,000 bullet hits a day (source: RadioTimes). It's more than likely that the wasted bullets were due to the less-than-ideal aim of Stormtroopers!
Cardington Airfield
The Cardington Airfield hangars in Bedfordshire are particularly iconic, notably for their massive size.
Originally used as the Yavin IV Rebel base in A New Hope, it was revisited this time around for the same base (and later used again for parts of The Rise of Skywalker).
According to Movie-Locations, these hangars are the largest structures of their kind in Europe (imagine five football stadiums meshed together). They were previously used by Christopher Nolan to house the expansive sets for Batman Begins, The Dark Knight, The Dark Knight Rises, and Inception. A full list of updated credits is on the official site.
Fun fact: Rogue One was the very first Star Wars film released that didn't have scrolling text. Were your hawk eyes keen enough to catch that?
While the hangars aren't soundproofed (and thus not a soundstage), they prove extremely useful for building massive sets, as Rogue One needed. Sadly, it doesn't look like public tours are an option (especially since BBC News reported that it was sold in 2018), but there's no harm in hoping that new ownership will cave for us geeks.
With 223,000 sq. feet (5 acres) of total space, the entire complex is over five times the size of the largest soundstage available in Hollywood. It's also almost triple the size of the largest soundstage in the world (Stage 15 at Babelsburg Film Studio in Germany) (source: The Studio Tour).
For a compilation of film screencaps from Rogue One categorised by their respective locations, check out Movie Maps, and a detailed video feature from the official Star Wars channel below:
P.S. Looking for more from the Star Wars geekdom? Don't forget to check out our giant list of the best Star Wars quotes (including ones from Rogue One) here!
Did We Miss Any Key Rogue One Filming Locations?
We hope you enjoyed this geeky guide to all the filming locations used for Rogue One. If there are any locations we missed (or any oops-ies we made), be sure to let us know in the comments!