*FYI - this post may affiliate links, which means we earn a commission (at no extra cost to you) if you purchase from them. Also, as an Amazon Associate I earn from qualifying purchases. For the full scoop on what this means, feel free to check out our Privacy Policy and Disclosure.
---
Star Wars: Episode IX – The Rise of Skywalker may have divided fans across the galaxy, but it still had cool filming locations that left us wanting to jump to Hyperspace in our Millennium Falcons ASAP!
If you're anything like me, you'll want to know every single coordinate of The Rise of Skywalker filming locations.
Never fear, since I've done all the research below so you don't have to, complete with some fun side deets and tidbits!
Save this post for later on Pinterest: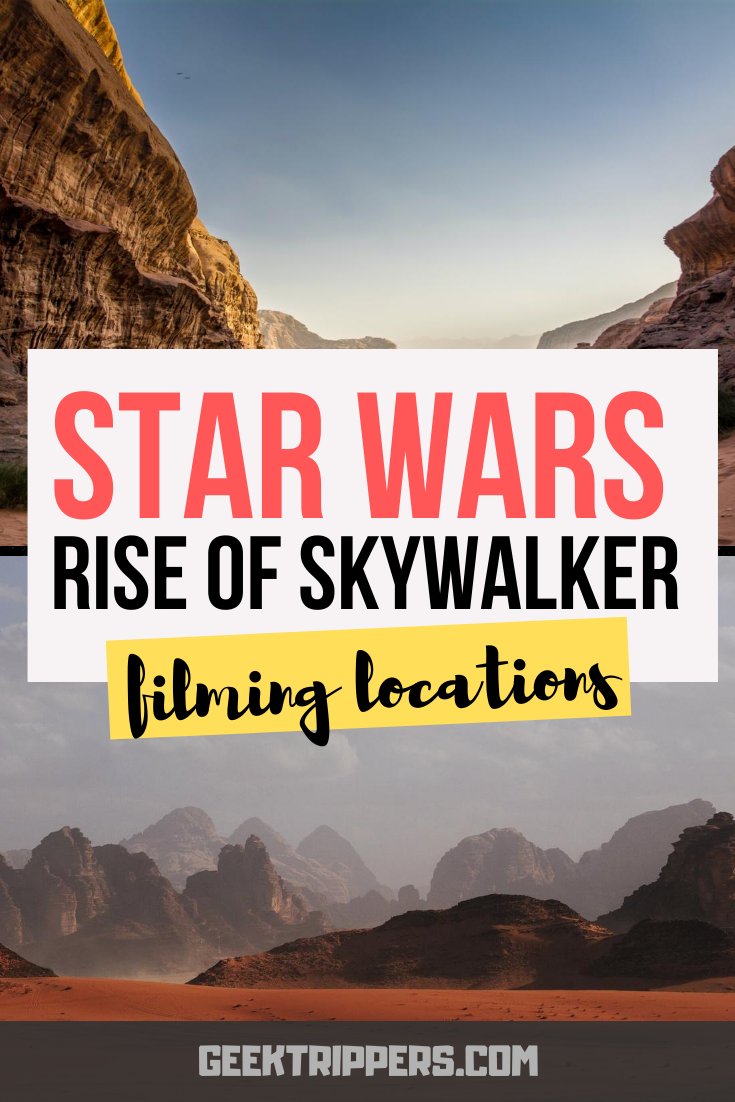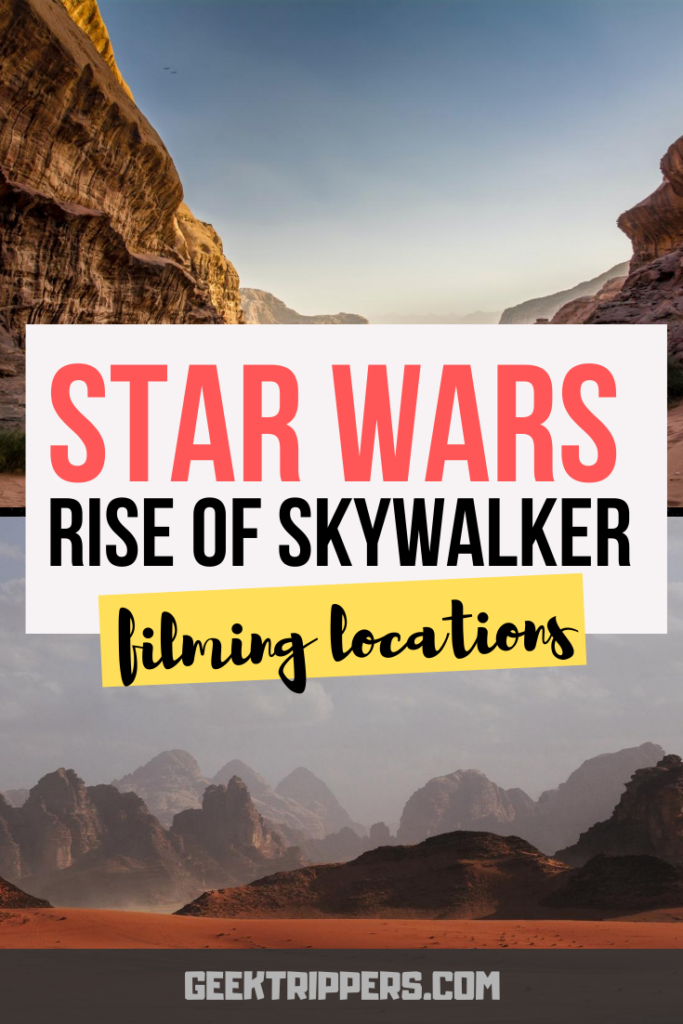 Where was The Rise of Skywalker Filmed? A General Overview
The Rise of Skywalker began filming in August 2018 at Pinewood Studios and wrapped in February 2019 (a mere six months later!).
Because of the tight filming schedule (it was reported that they had three less months than The Last Jedi to complete the film), most of the editing was actually done on set, with director J.J. Abrams viewing and approving the cuts from the editors in live time.
In July 2019, there were about two weeks of reshoots in London with Daisy Ridley, Mark Hamill, and Oscar Isaac – most likely at Pinewood Studios.
While the majority of scenes were shot in studios in England, the cast and crew also traveled to Jordan in order to shoot as much as possible in a real location.
Did you know? According to Oscar Isaac, Abrams allowed more improvisation than in Episodes VII and VIII (source: IndieWire).

This may have been due to an accidental kerfuffle when John Boyega (Finn) left a copy of his script in a hotel room, leading to someone posting it on eBay for £65. Yikes!

Thankfully, a Disney employee identified the script as authentic and got it back before it sold (source: Good Morning America).
Now, let's punch it, Chewie – off to explore every Rise of Skywalker filming location!
The Rise of Skywalker Filming Locations: A Full List!
Compared to other films, The Rise of Skywalker didn't have as many exotic filming locations, but there were some cool ones nonetheless!
Below, we'll break down the specific locations they did film at for The Rise of Skywalker, including Jordan, England, California, and possibly New York.
Jordan
Jordan has long been a production favorite for its epic sandy landscapes. Here is where they filmed in Jordan for The Rise of Skywalker:
Wadi Rum
Does this location sound familiar? It was also used as Jedha in Rogue One!
The smooth, reddish-pink sandy landscapes of Wadi Rum proved to be a perfect centerpiece for the first key battle in The Rise of Skywalker.
Wadi Rum is a protected desert reserve in the southern part of Jordan, notable for its mountains, rock formations, and incredible sunsets, only a two-hour drive from Petra.
It's one of the "holy meccas" of the Star Wars universe, for any geek who is lucky enough to set foot here will inevitably have photoshoot heydays.
Check out The Points Guy's article on why he loved Wadi Rum so much!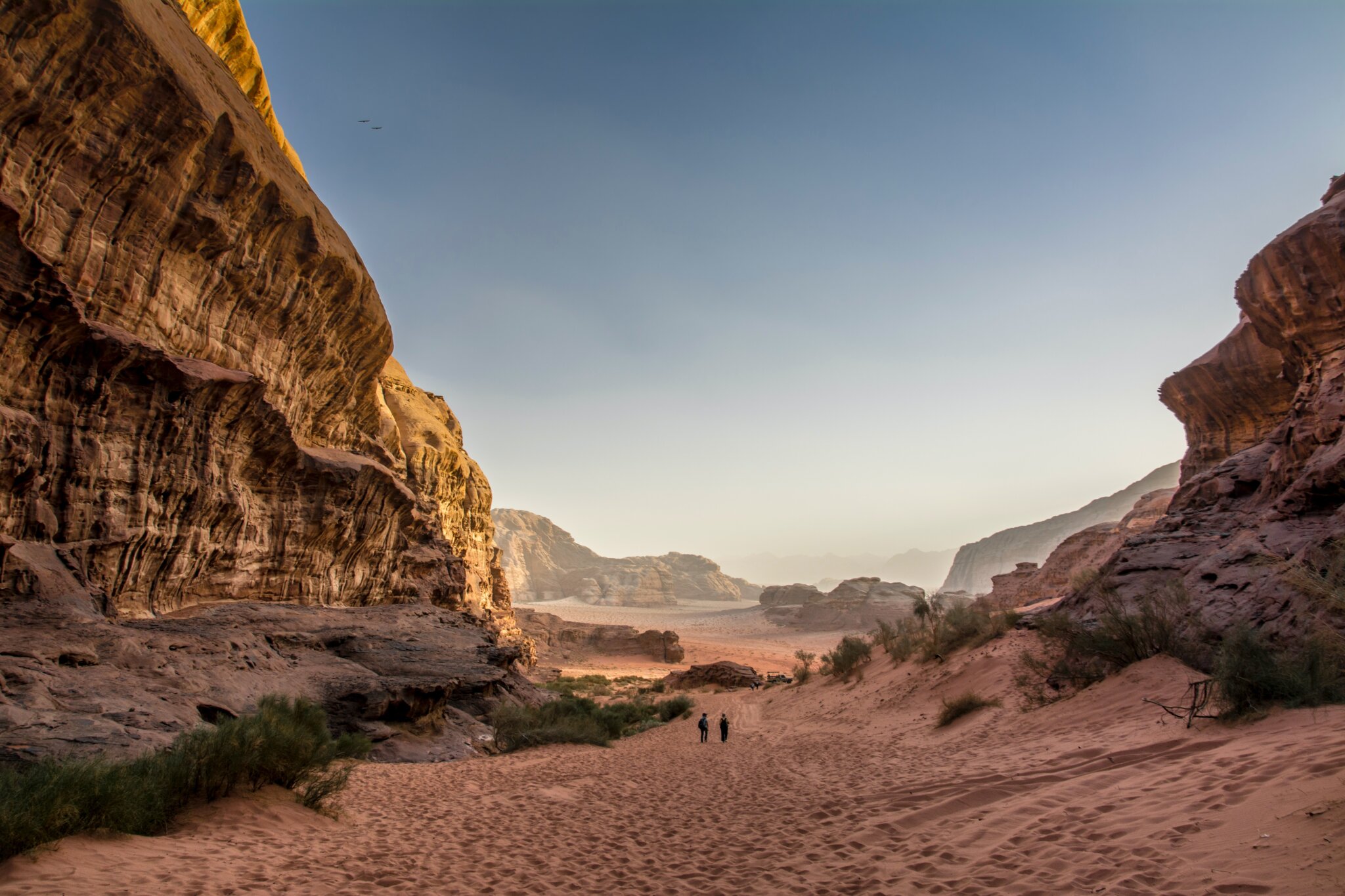 Another upside of filming here was the fact that VFX editors didn't need to spend that much time editing (aside from the complex battle scenes).
According to Roger Guyett (production VFX supervisor), they didn't need to do a lot of alteration to the landscape, since Wadi Rum looked that realistic as Pasaana (source: Befores and Afters).
I mean, just look at the photos – they're breathtaking! Truly Star Wars-esque, am I right?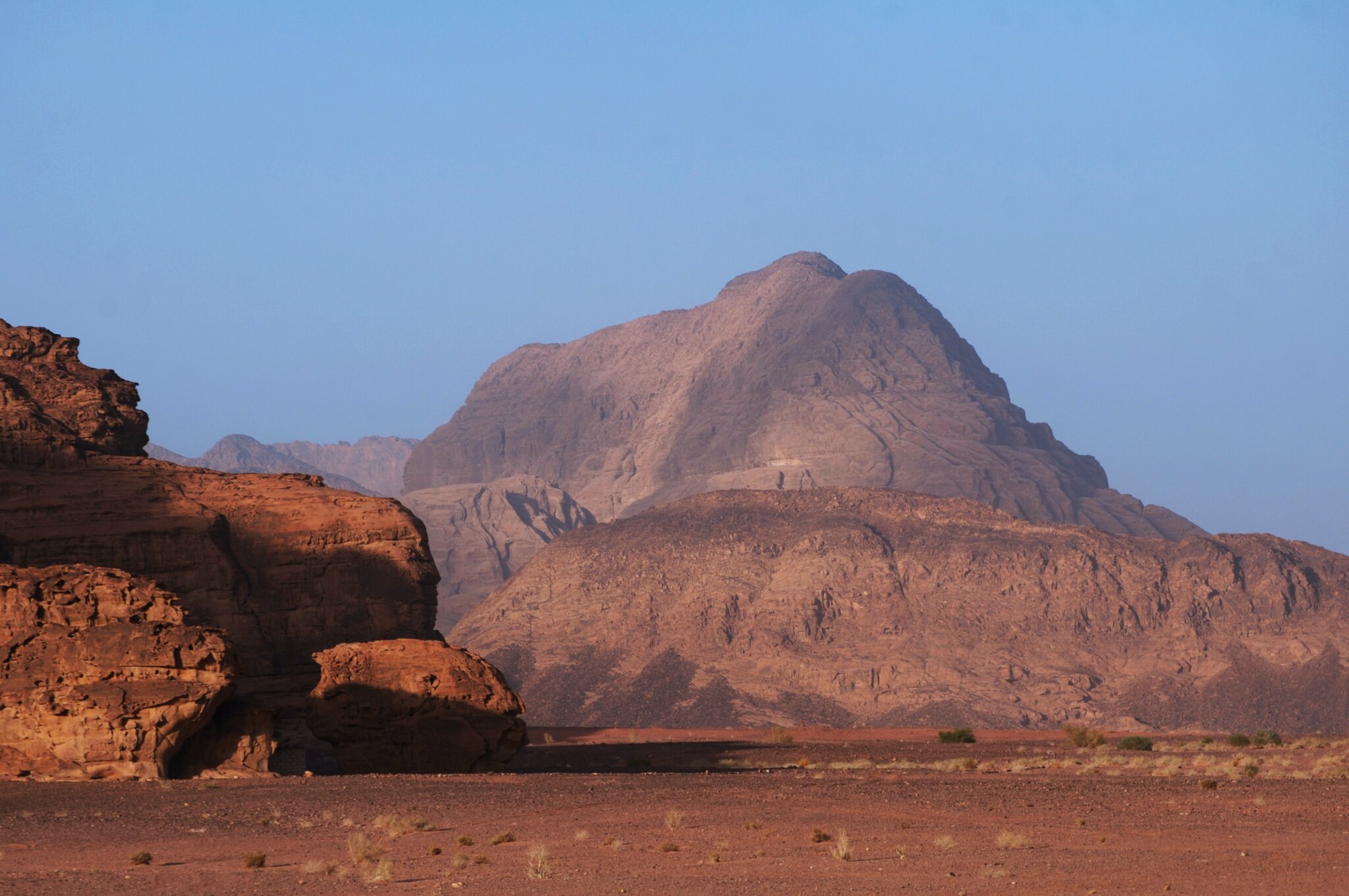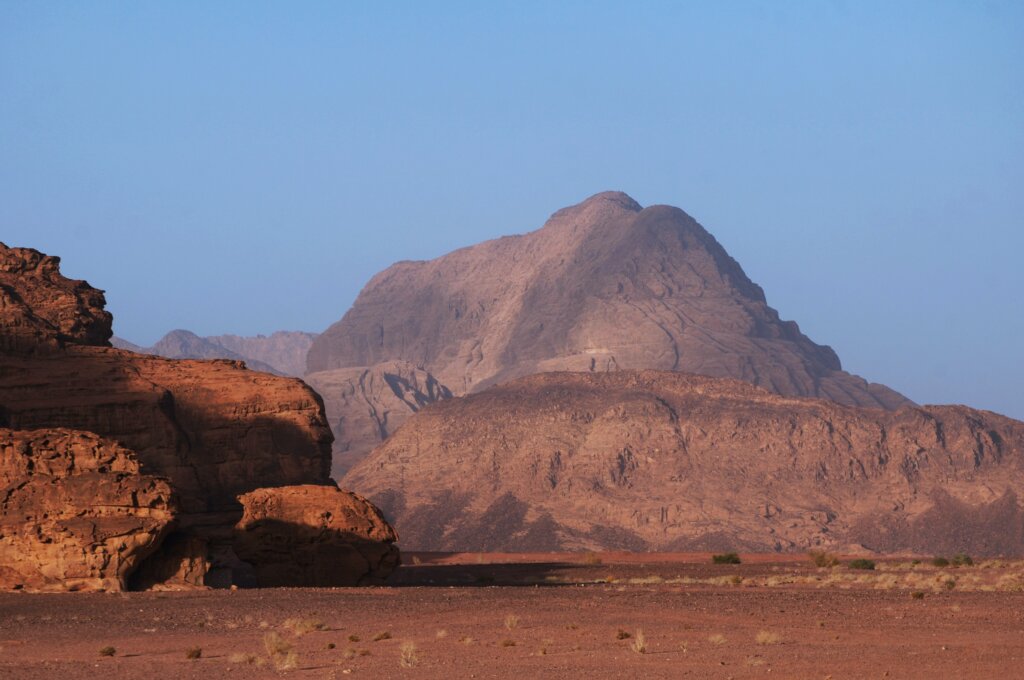 All of the Pasaana scenes were shot in Wadi Rum for about three weeks. This Reddit user was even lucky enough to see cast and crew filming the scene set in Pasaana.
Check out some brief B-roll footage of the speeder chase from Befores & Afters' YouTube channel below:
Another Reddit user showed how the sandcrawler was filmed when Rey returns to Tatooine.
Surprise, it's actually just a miniature model planted in the desert!
And is that a phone we see in the hands of a crew member, perhaps filming with it? Whoa! In an interview with Oscar Isaac, he mentioned that Abrams still utilised green screens while shooting on location here. An interesting concept, but logical nonetheless, right?
When Isaacs asked why they were using green screens in the middle of the desert, Abrams apparently said, "The shots that I make, the way that the actual light is hitting the sand and the way that things move around, if you were designing the whole thing in a computer, you just wouldn't be able to design those imperfections" (source: NME).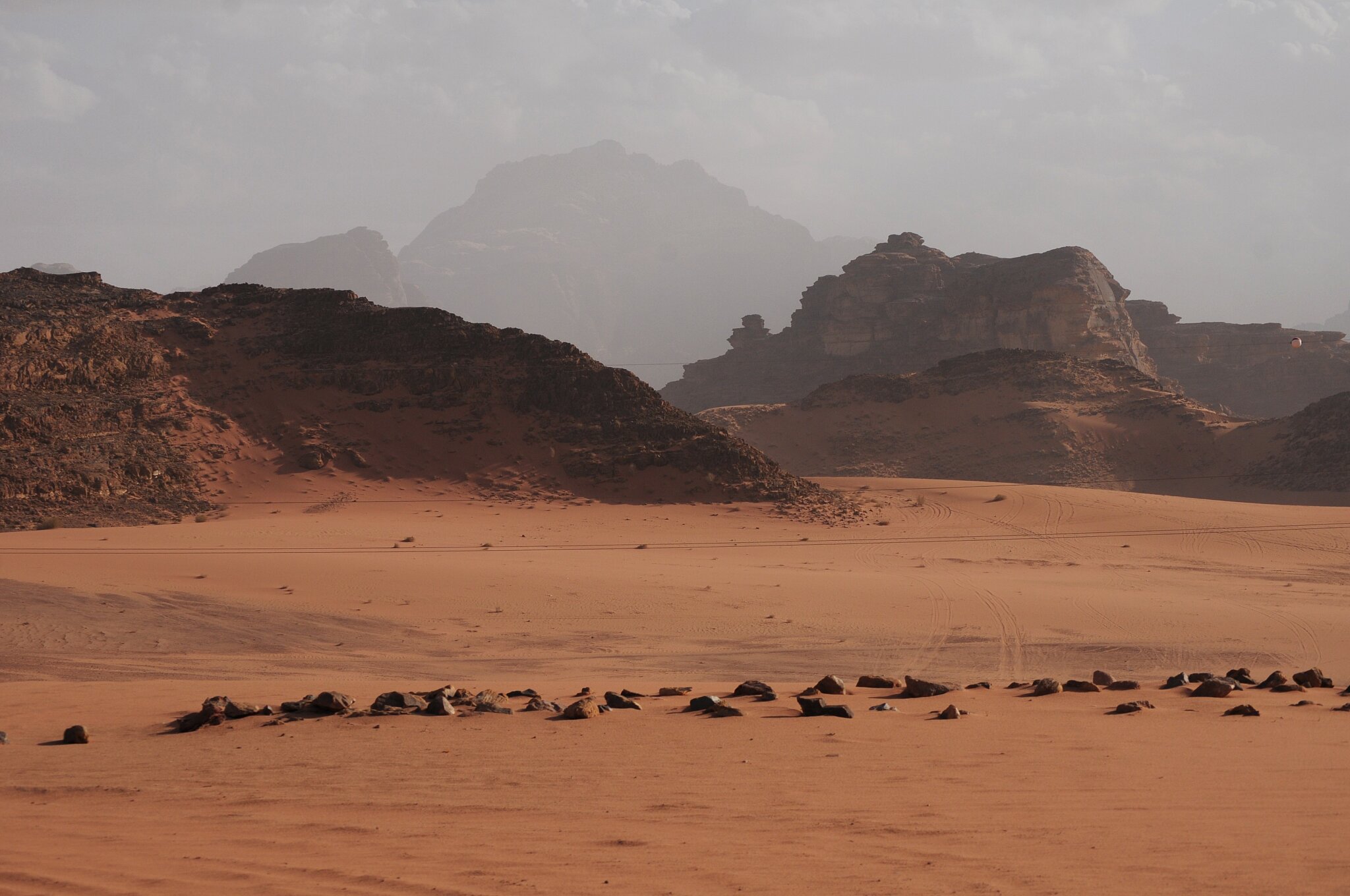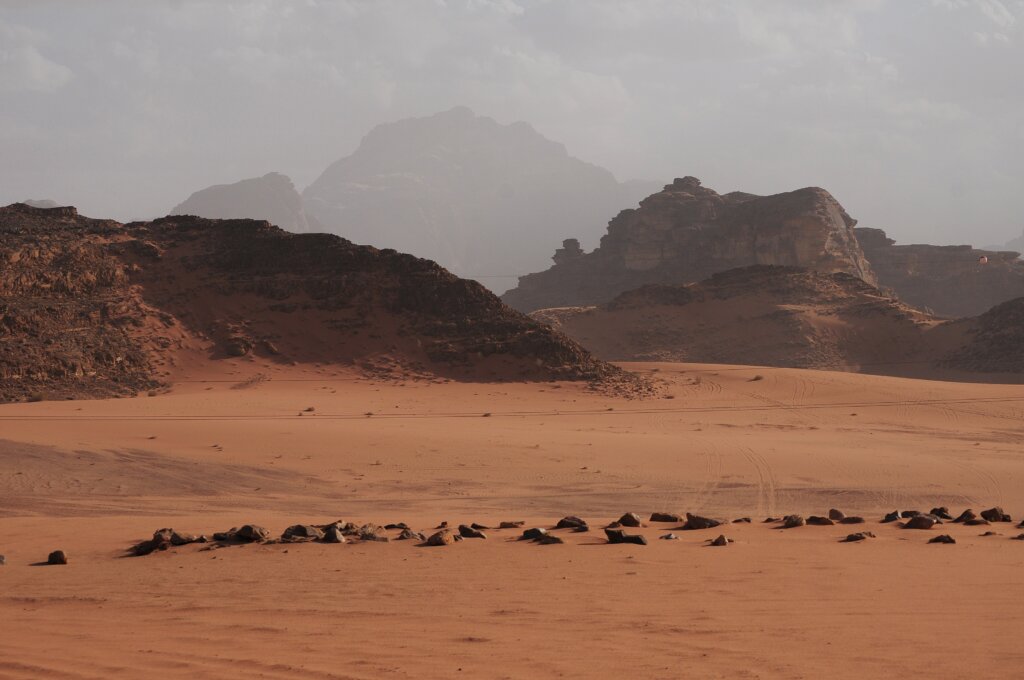 Based on the criticism for the excessive VFX in the prequels, it's no wonder that Abrams decided to give The Rise of Skywalker a more realistic feel by filming on location when possible.
The chase sequence, shown here from Reddit, seemed incredibly complex to film, but it ended up being one of the best scenes in the entire film (and completely believable!).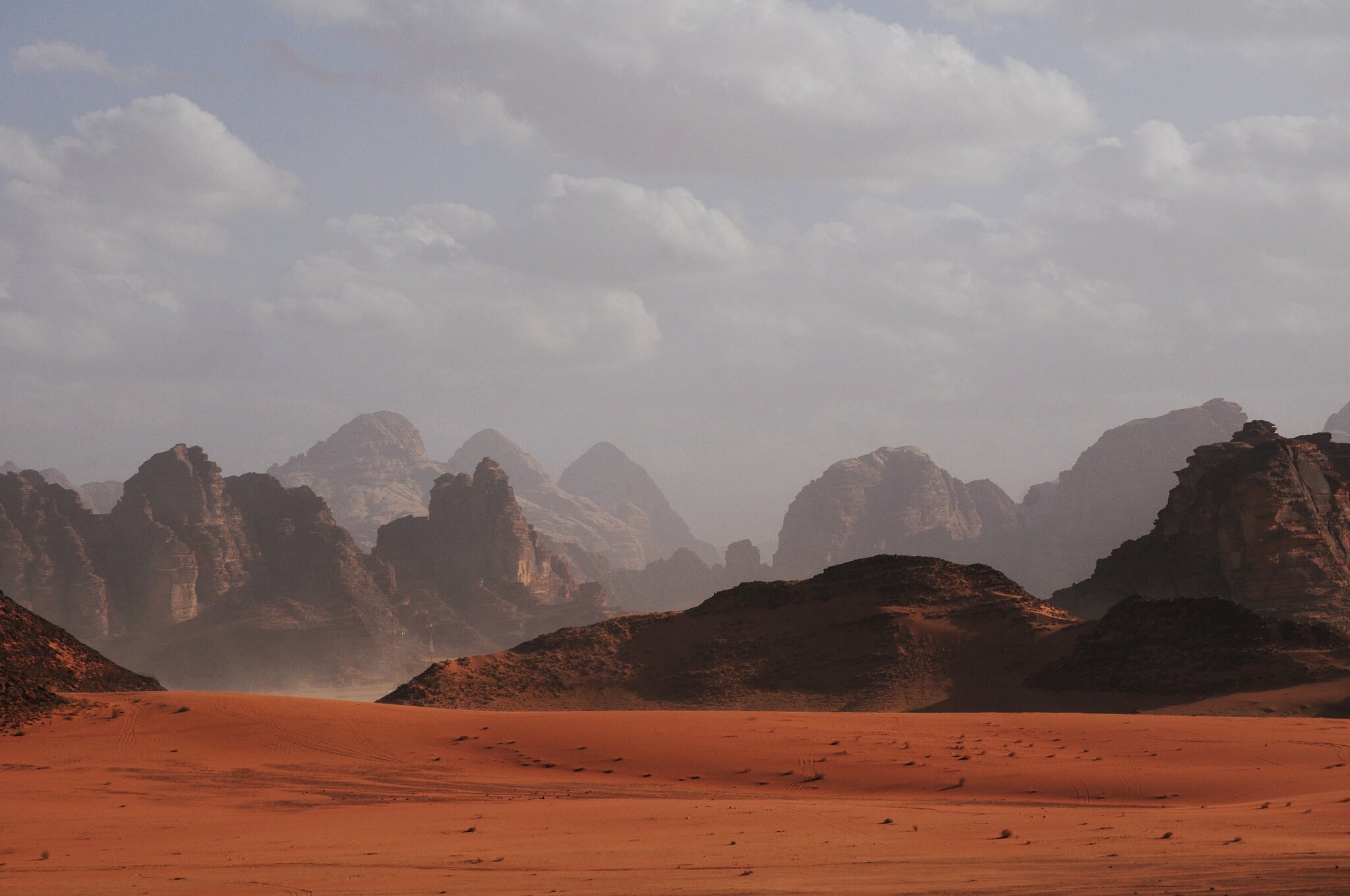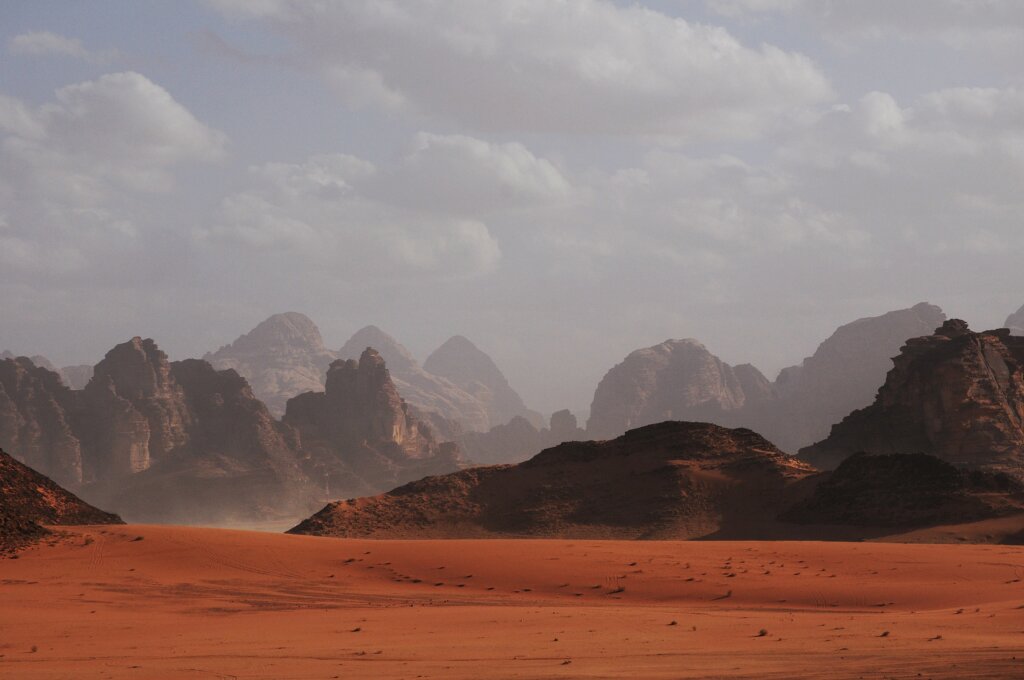 To expand on the complexity of the speeder sequence, according to Dominic Tuohy (SFX supervisor), they built practical speeders (4WD, V8 engine, 500 brake hp) in order to drive effectively on the sand.
Actors started on the speeders, and as they picked up speed, they migrated to the motion rig.
When the characters fly off and are thrown in the air, this all legitimately happened in Wadi Rum!
It's just another practical rig set up as a track rail system with the speeder on it (source: Befores and Afters).
Pretty wild, right? And that's not all – the crew also used several drones (some for filming and others just for photographs) and helicopters in order to make Pasaana seem like it was the most visually realistic place to audiences.
Fun fact: Anakin wouldn't have approved of all the sandstorms here! John Boyega posted a video to his Instagram, showing how he and Oscar Isaac were taking cover under a blanket when filming was halted. Guess it wasn't all fun and games!
Check out some behind-the-scenes photos from a Vanity Fair article and exclusive footage of filming in Wadi Rum below:
For some extra fun stuff, check out Star Wars Holocron's tweet of photos showing Ridley filming the last scene in Wadi Rum as well.
Everything looks so much cooler without a green screen, right?
England
Like most of the films, England was the main area of shooting when it came to blue and green screens. Below, we break down specific filming locations in England.
Black Park Country Park (Buckinghamshire)
There is limited information on this, but some of The Rise of Skywalker's final scenes showing the trio reuniting could have been filmed in Black Park, a nature reserve just outside of London.
According to this tweet, Batman (1989), Doctor Who, Sleepy Hollow, Casino Royale, and Captain America: The First Avenger were also filmed in Black Park. Thus, it's a poppin' place for filmmakers!
This tweet shows a detailed map of possible filming locations in Black Park Country Park, and the user even detailed some edited comparisons here. Now that's what we call a true, dedicated geek!
While Black Park isn't mentioned elsewhere, Making Star Wars also has some photos that prove that filming most likely occurred here.
Pinewood Studios
Along with every other Star Wars film, The Rise of Skywalker utilized Pinewood Studios for several scenes. Some photos are here (source: Making Star Wars).
Some behind the scenes photos were leaked from The Sun, which show the cast on location in England filming a few scenes such as Kef Bir.
Additionally, some scenes from Ajan Kloss (Rey's training in the beginning of the film) were shot here, as were scenes like this and this.
Easter egg: Did you catch the Gonk droids that popped up throughout the film? A Reddit user screencapped a scene where one is visible behind Rey. GONK!
This tweet from Star Wars Holocron also shows some behind-the-scenes photos of Ridley and Driver filming the Kijimi mind-reading scenes, presumably in these studios.
Always the king of oversharing, John Boyega also posted a behind-the-scenes video on his Instagram of horseback riding practice.
The location wasn't revealed, but we can only guess it was near the studios? Only the Force knows!
As you might expect, the tight deadline to finish The Rise of Skywalker meant that everyone worked intense hours at Pinewood Studios to ensure that everything was shot and edited efficiently.
This interview with stunt coordinator Eunice Huthart details the rigorous filming schedules of the cast and crew while in England (source: Film School Rejects).
The infamous Rey/Kylo battle set against crashing waves of Kef Bir was filmed on set in the freezing cold, as water cannons were blasted on Ridley and Driver. The scene took six whole days to film! That's like an eternity to Yoda!
Also, one of the days they filmed was Adam Driver's birthday – the show doesn't stop for anyone!
After all, when it comes to Star Wars, 'water' choice do you have? *insert cheesy laugh*
Cardington Studios
Some scenes from The Rise of Skywalker were also shot at Cardington Studios in Bedfordshire, which is actually a former Royal Air Force hangar. Rogue One had previously used this studio for Yavin IV scenes.
While we don't know which particular scenes were shot here, an English airship historian tweeted this photo upon hearing that they used Shed 2 (source: Star Wars News Net).
Based on the shed's humongous size, we can only conclude that the shed was used to house scenes that took place on larger planets with larger contraptions (i.e. Exegol, Ajan Kloss, Kef Bir).
Easter egg: John Williams, the musical genius behind all the Star Wars soundtracks, had a cameo in The Rise of Skywalker! His character? Oma Tres, an anagram for the word "maestro."

The production design team also included subtle references to all 51 films in which Williams was nominated for Oscars, so we suggest rewatching and trying to name ALL of them! Watch a behind-the-scenes look at his cameo below:
Los Angeles, California
Bad Robot Productions (Santa Monica)
Abrams' production studio, Bad Robot, co-produced The Rise of Skywalker and The Force Awakens (along with Lucasfilm Ltd.).
Thus, a few reshoots were done in these studios because of their green screen capabilities.
However, no official information was released about this (it's just common geek sense), as well as which actors made the trek out to LA just for reshoots.
Did you know? The Bad Robot mascot is technically part of SW canon! If you watched the behind the scenes video for the making of The Rise of Skywalker, you'll spot him in Babu Frik's workshop.

See the tweet here for a screencap, and the full article via Screenrant.
New York
Lastly, there are several sources such as The Cinemaholic that cite New York as another filming location for The Rise of Skywalker, although exact scenes are unclear.
While we can't verify or prove these claims, in the name of comprehensiveness, we've included New York anyway!
If you're a hardcore geek and know what scenes may have been actually filmed in New York (or if they did at all), let us know in the comments.
Did you know? Anthony Daniels (C-3PO) was the only actor to appear in all nine Star Wars films.
For a more detailed look at the visual effects of The Rise of Skywalker, check out ILM's video below:
Did We Miss Any Rise of Skywalker Filming Locations?
We hope you enjoyed our comprehensive guide to all The Rise of Skywalker filming locations. If there are any locations we missed (or any incongruences), let us know in the comments and show us the way, young Padawans!