*FYI - this post may affiliate links, which means we earn a commission (at no extra cost to you) if you purchase from them. Also, as an Amazon Associate I earn from qualifying purchases. For the full scoop on what this means, feel free to check out our Privacy Policy and Disclosure.
---
It's time to wrap up our series of Disney castles around the world by taking it back to the OG—Sleeping Beauty Castle at Disneyland.
My first visit to Sleeping Beauty Castle felt like a pilgrimage. And while the first thing you may notice is her diminutive size, what she lacks in grandeur she makes up in gravitas.
Disneylanders tout their castle as the ONLY castle worldwide Walt actually visited, which means she stands above the rest.
If you want to learn more about the castle that started it all, read on for the inside scoop on Sleeping Beauty Castle!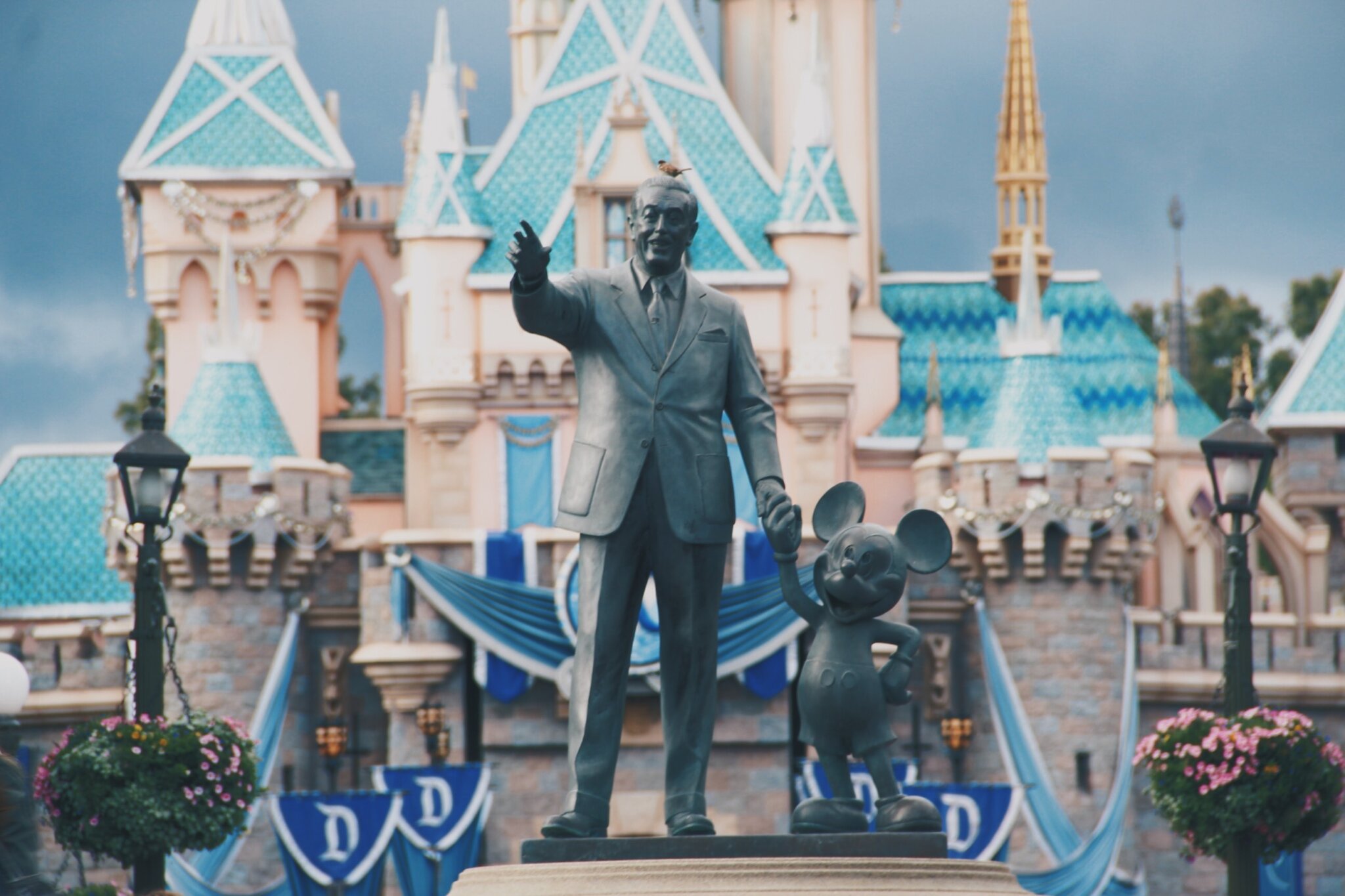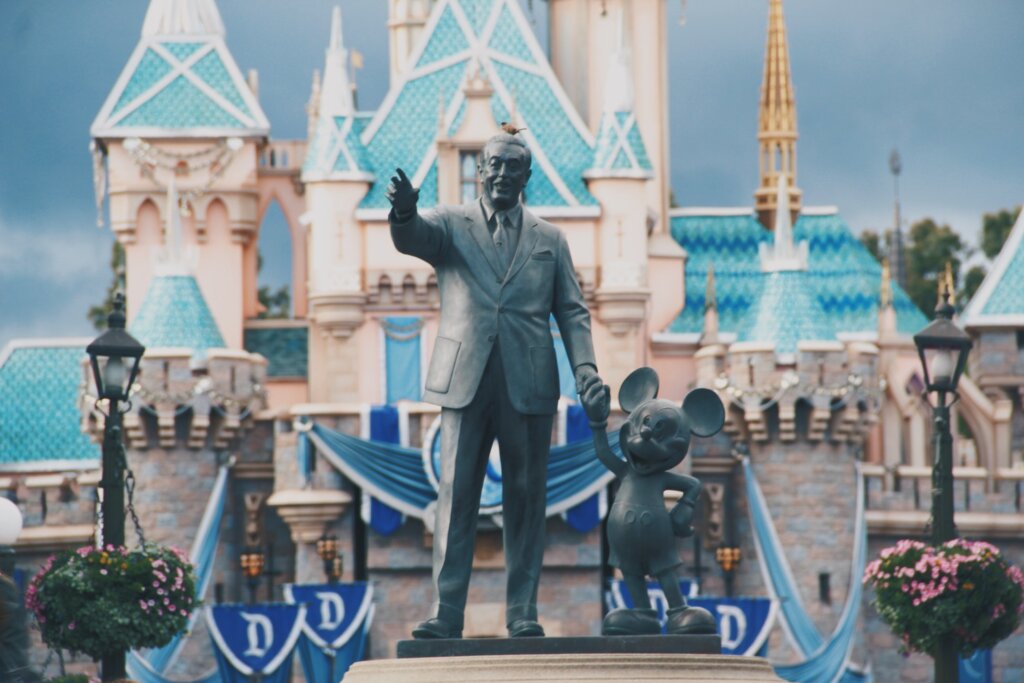 A Brief History of Disneyland's Sleeping Beauty Castle
Before Sleeping Beauty Castle was ever constructed, Walt Disney knew he wanted to create a whimsical place for adults and children to enjoy together.
When he brought his daughters to their local amusement park, he would watch them ride the carousel from his bench and dream of a place that was clean, safe, and fun for families.
On this bench, the concept for Disneyland was born and Sleeping Beauty Castle would become the icon for his dream.
Herb Ryman, Disney Imagineer, recalled the importance of Sleeping Beauty Castle, saying, "the one thing he insisted upon was that there be a very, very conspicuous castle, because the castle is gonna be the symbol of this whole place."
In fact, it was this castle that gave birth to the concept of the "Disney weenie;" an iconic landmark that can be seen from anywhere in the park to orient Guests. Walt gained exposure to the landmark concept during the 1964 World's Fair—when people would regularly meet at the noticeable Tower of the Four Winds.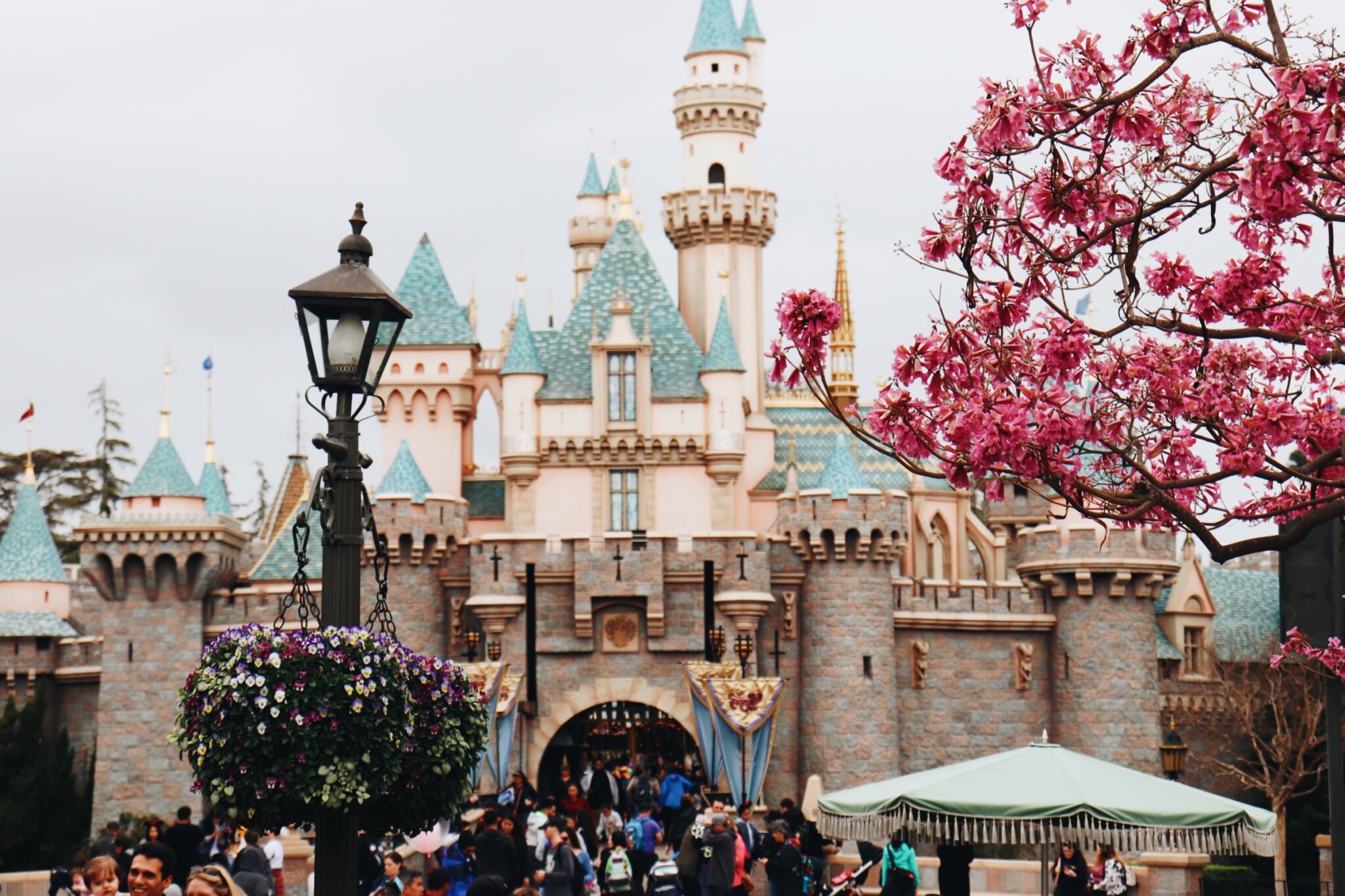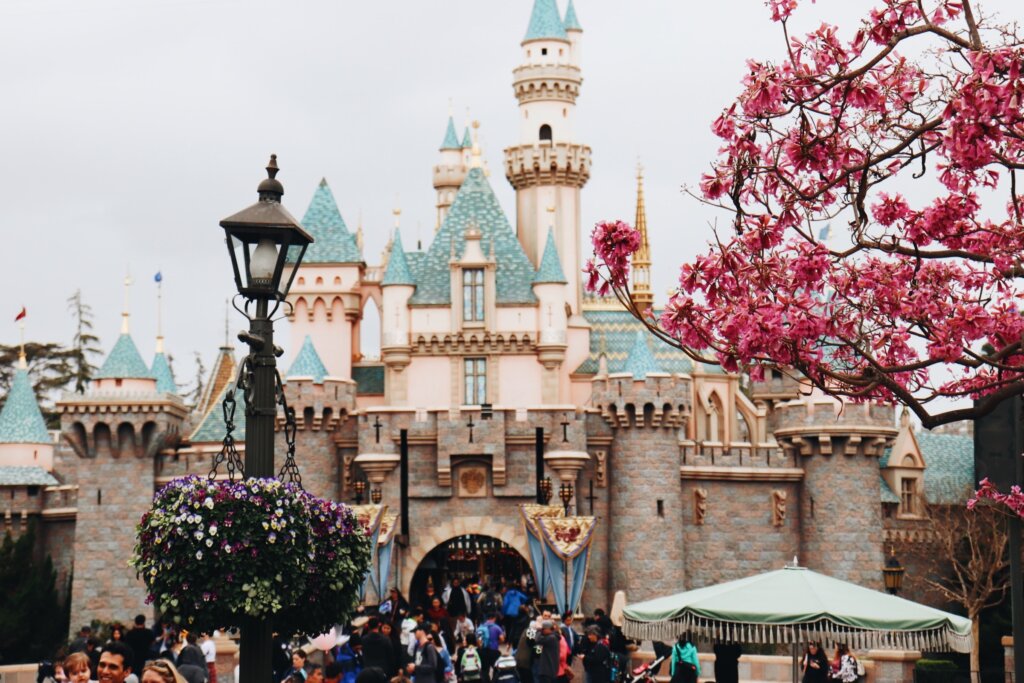 The Architecture & Design of the Sleeping Beauty Castle
After Hong Kong Disneyland's castle reconstruction, Sleeping Beauty Castle will remain the smallest castle worldwide at 77 feet. But she holds the title as the first and the only castle Walt ever visited, since he passed before Disneyworld's Cinderella Castle was complete.
The heritage baked into Sleeping Beauty Castle more than makes up for her diminutive size. True Disney fans need to make the pilgrimage to Disneyland to experience Walt's original dream.
The original concept art was created by Herb Ryman, who based the architecture on King Ludwig II's Neuschwanstein Castle in Germany. Check out our post on Disney-esque castles around the world for more real life castles you need on your bucket list.
This castle is also a trendsetter. Walt wanted to incorporate blue into the spires, to match with the sky. He thought it would make the castle appear taller. Ever since, every Disney castle has incorporated blue in its pallet. 
As a Disney fanatic, it was an honor to visit Sleeping Beauty Castle and to walk where Walt walked.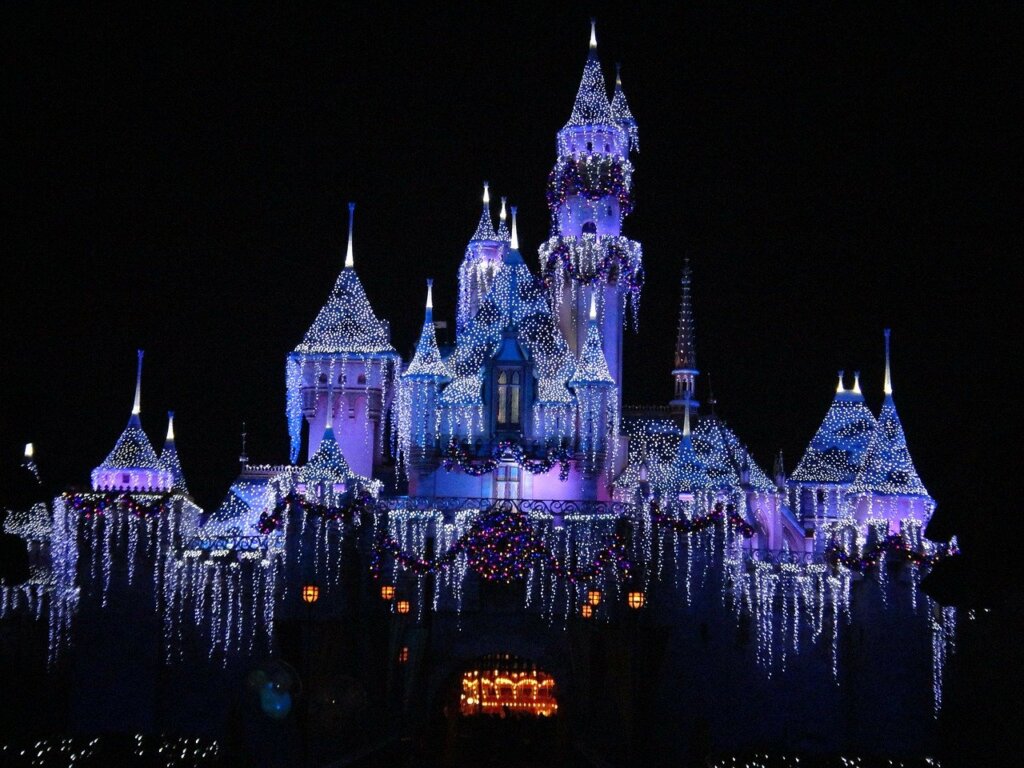 Additional Fun Facts About the Sleeping Beauty Castle
Looking for fun facts about the Sleeping Beauty Castle at the original Disneyland? Here are some of my favorites:
Another Castle, Another Walkthrough
While most Disney castles around the world feature a walk-through experience, Sleeping Beauty Castle was the first. But creating an attraction in the upper level of this pink beauty had not been the original intention.
Leave it to Walt Disney to "plus" up an area he regarded as wasted space, asking his Imagineers to come up with a better use than storage. The team rose to the occasion and created a walk-through attraction featuring scenes from Sleeping Beauty.
If you've been following along in our series, you will notice that this attraction has been replicated around the world, featuring different Disney stories in each castle.
Always Ready for a Party
For the 50th anniversary of Disneyland in 2005, Sleeping Beauty Castle underwent a makeover. For each decade, one of five turrets received a stylized crown to represent the park's history.
During the 60th anniversary, aka the Diamond Celebration, the castle was bejeweled with sparkles and diamonds, one of my personal favorite castle makeovers of all time (for worst: see pink castle cake).
Ahead of Her Time
I believe I've already made the case that Sleeping Beauty Castle is a trendsetter.
But you may even consider her a bit prophetic since Disney's animated film version of Sleeping Beauty hadn't even hit theaters yet. It was in production, but the movie wasn't released until early 1959, over three years after the park had opened.
She Likes Her Bling
I haven't checked myself, but the spires on top of the Sleeping Beauty Castle are supposedly covered with 22k gold leaf!
But She's Functional, Too
Unlike Cinderella Castle, Sleeping Beauty's drawbridge does work—but it's only been publicly lowered twice. For the grand opening in 1955 and for the rededication of Fantasyland in 1983.
We hope you enjoyed this guide to the Sleeping Beauty Castle
She truly a beauty and worth a visit.
By now, you have successfully traveled with us around the entire globe, visiting every Disney park and learning about their whimsical icons! Have you had a favorite? Do you plan on visiting any global parks in the near future?
We'd love to hear from you! Until then, we'll see ya real soon!