*FYI - this post may affiliate links, which means we earn a commission (at no extra cost to you) if you purchase from them. Also, as an Amazon Associate I earn from qualifying purchases. For the full scoop on what this means, feel free to check out our Privacy Policy and Disclosure.
---
For many Geektrippers, Northern Ireland is a true bucket list destination, home to countless Game of Thrones locations (click here for a full list) and a wealth of stunning landscapes straight out of a fantasy land.
But what exactly is there to see in Northern Ireland, and why should you jump to board the next flight, train or dragon to get there?
Without further ado, below you'll find some truly spectacular places to visit in Northern Ireland that ooze magic. Of course, be sure to let us know in the comments what other spots we need to add to the list. Enjoy!
Looking for more Ireland inspo? You might also enjoy our roundup of magical places to visit in the Republic of Ireland! Click here to read it.
Save this post for later on Pinterest: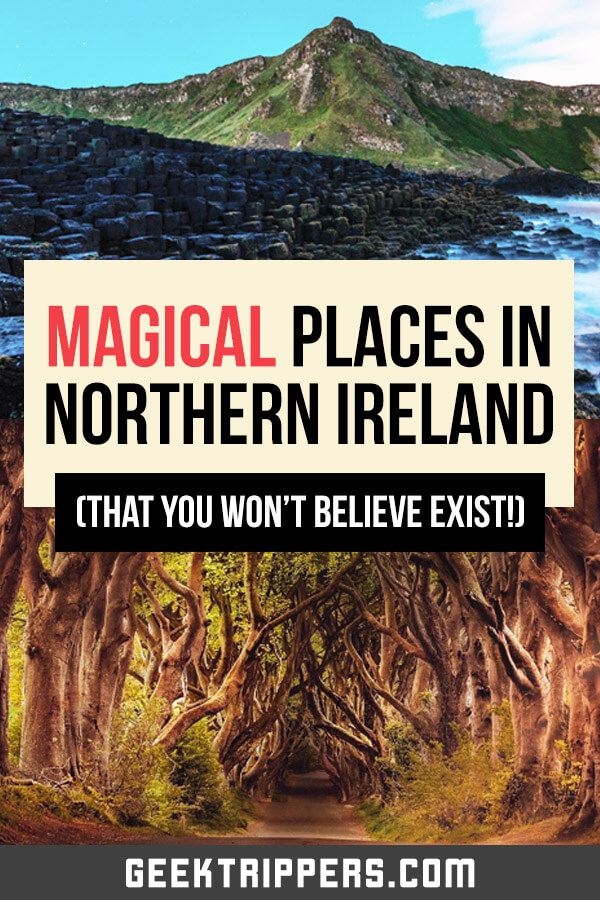 1. Giant's Causeway
We'll begin at one of Northern Ireland's most famous attractions – the Giant's Causeway, perched along the Northern Coast in County Antrim.
Recognized for decades as a UNESCO World Heritage Site and a national nature reserve, this marvel is truly one of those mindblowing sights you need to see to believe. With over 40,000 interlocking basalt columns jutting out against the crashing waves of the sea, this beautiful sight is not only a photogenic wonder, but an attraction steeped in legend.
While many tales swirl around the causeway's mystical origins, the most popular legend pegs it as the remnants of a causeway built by an Irish giant (Finn MacCool) so he could reach and destroy a Scottish foe. Whether you believe this legend or not, it's nonetheless clear that this sight is truly legendary: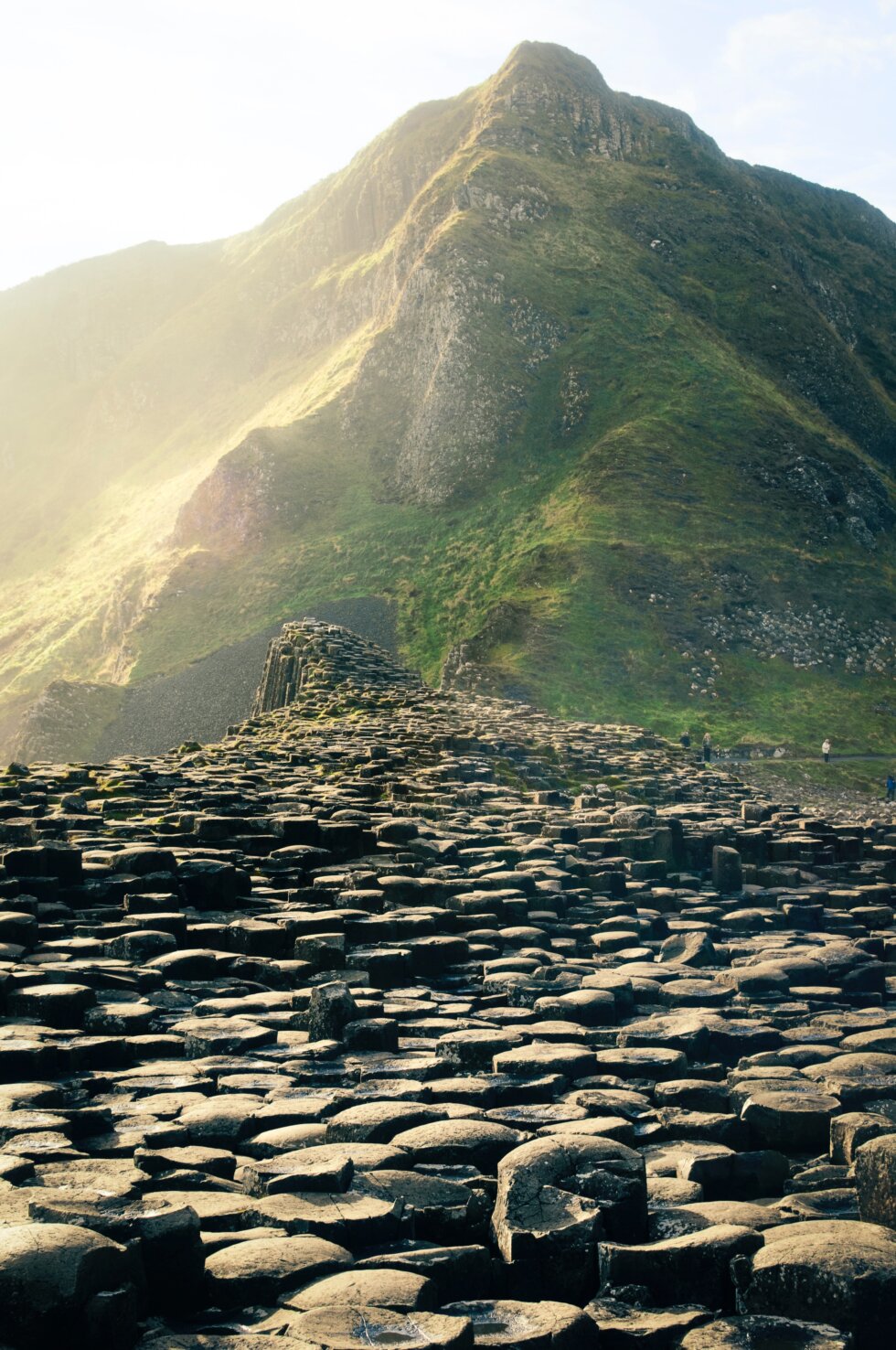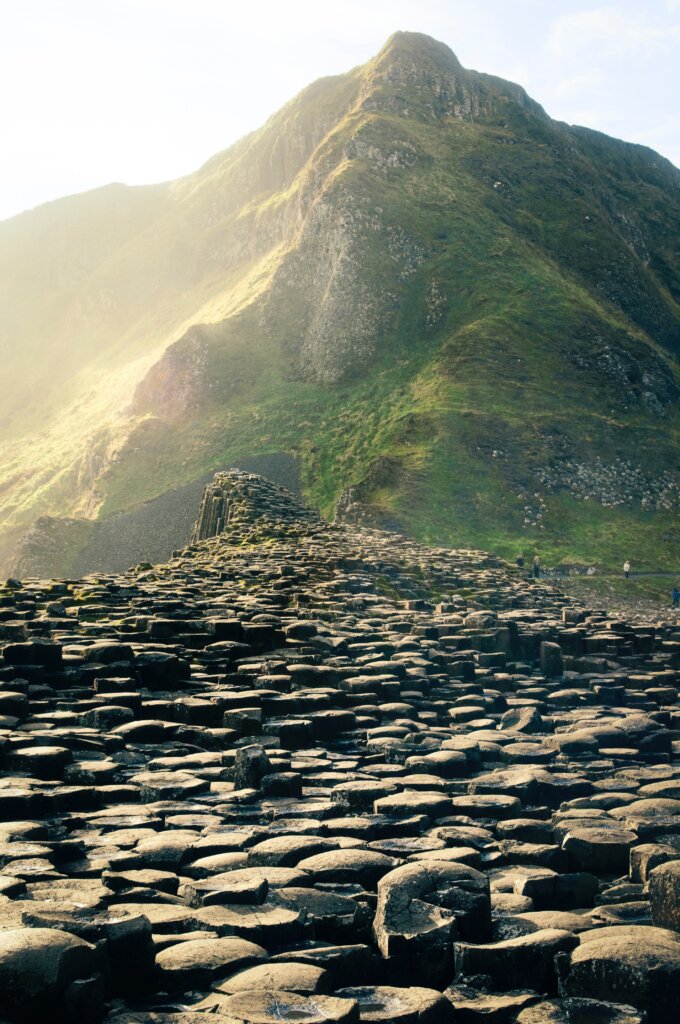 2. Dunluce Castle
Game of Thrones fans will be quick to recognize Dunluce Castle as a clear inspiration for Pyke Castle, but whether you're a GoT fan or not, this castle is a truly magical must-see in Northern Ireland.
This ruined medieval castle was once the seat of Clan McDonnell, and today can be found perched dramatically on a cliff along the Antrim Coast. With a legendary history involving violence, rebellion and banshees to name a few, along with a jaw-dropping unique location, this is one place in Northern Ireland you need to add to your bucket list.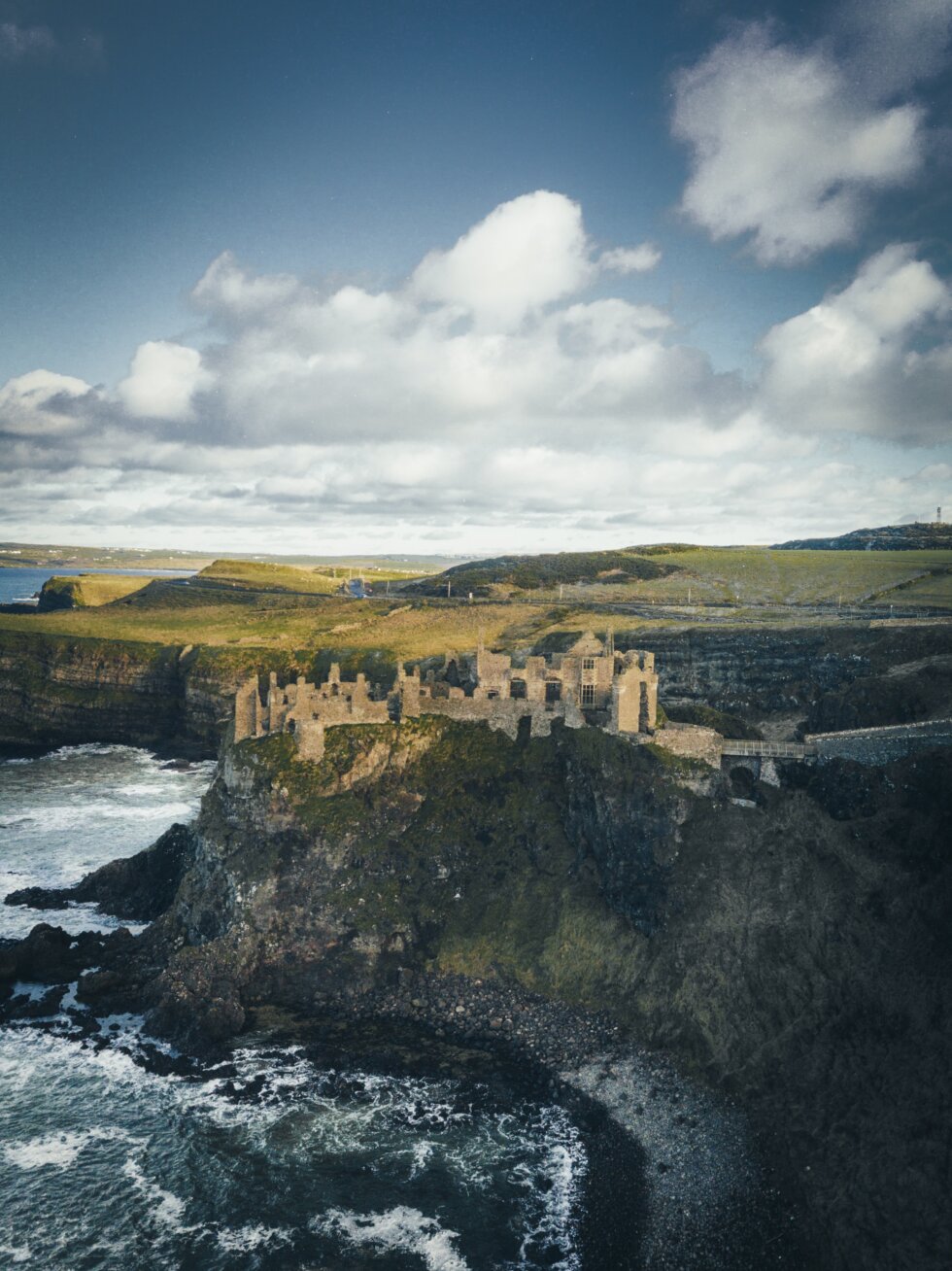 3. Commercial Court in Belfast
While castles and mystical lands can be found in abundance all around Northern Ireland, there are certainly magical little spots to discover in the cities as well… particularly Commercial Court in Belfast.
This beautiful cobblestoned alleyway (found in Belfast's Cathedral Quarter) is a historic marvel that warps you back in time… before promptly getting the party started! While today, Commercial Court is a lively nightlife spot where happy revellers fill every crevice of its narrow lanes, it was once upon a time the heart of Belfast's commercial activities, a legacy that is still honoured today by a variety of bronze panels paying homage to the merchants that were once found here.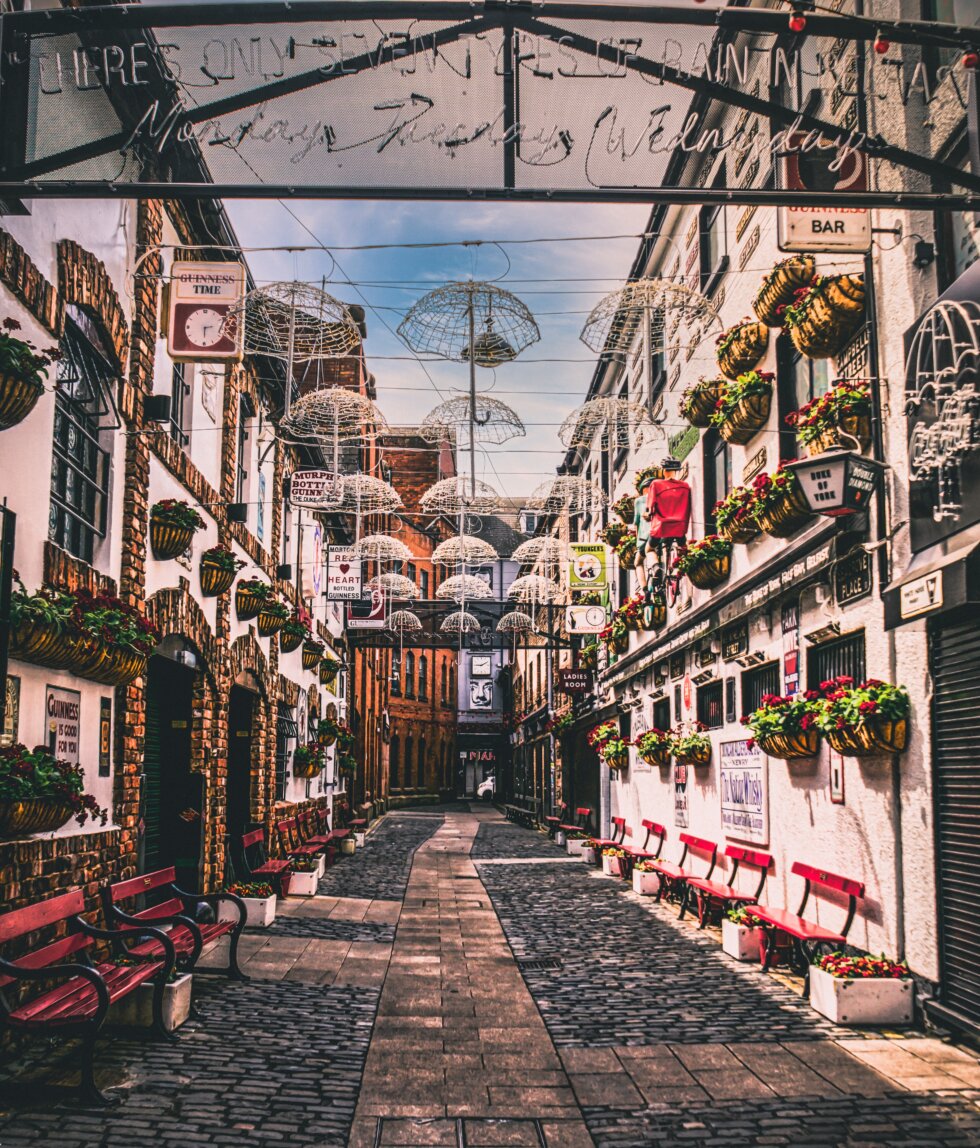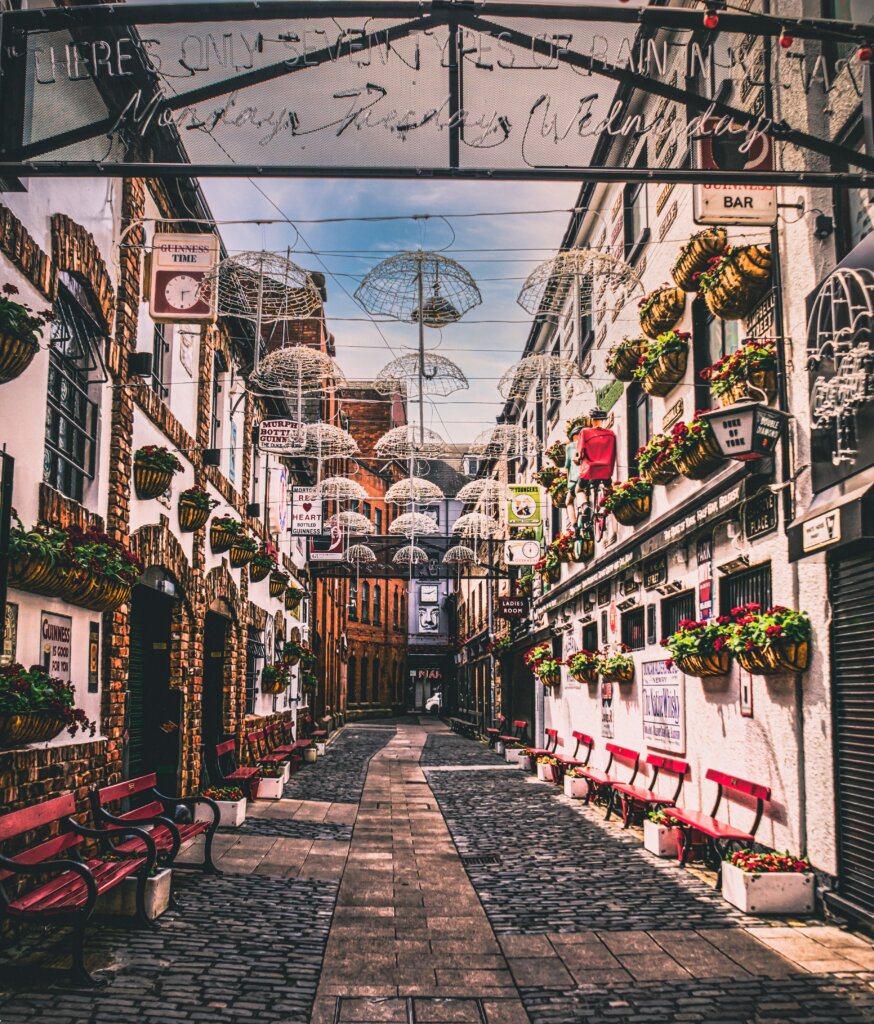 4. Dark Hedges
The Dark Hedges of County Antrim require little introduction – they are after all one of the most iconic sights of Northern Ireland, not to mention a bucket list item for most Game of Thrones fans for their appearance as the King's Road.
This mystical tree tunnel is made up of centuries-old beech trees that curvily drape over the road, creating a truly enchanting path that is a joy marvel at.
And despite their heaving popularity (you'll be hard-pressed to get this sight all to yourself!), the Dark Hedges are still nonetheless one of the most magical places to visit in Northern Ireland, and a real must-see for your NI bucket list!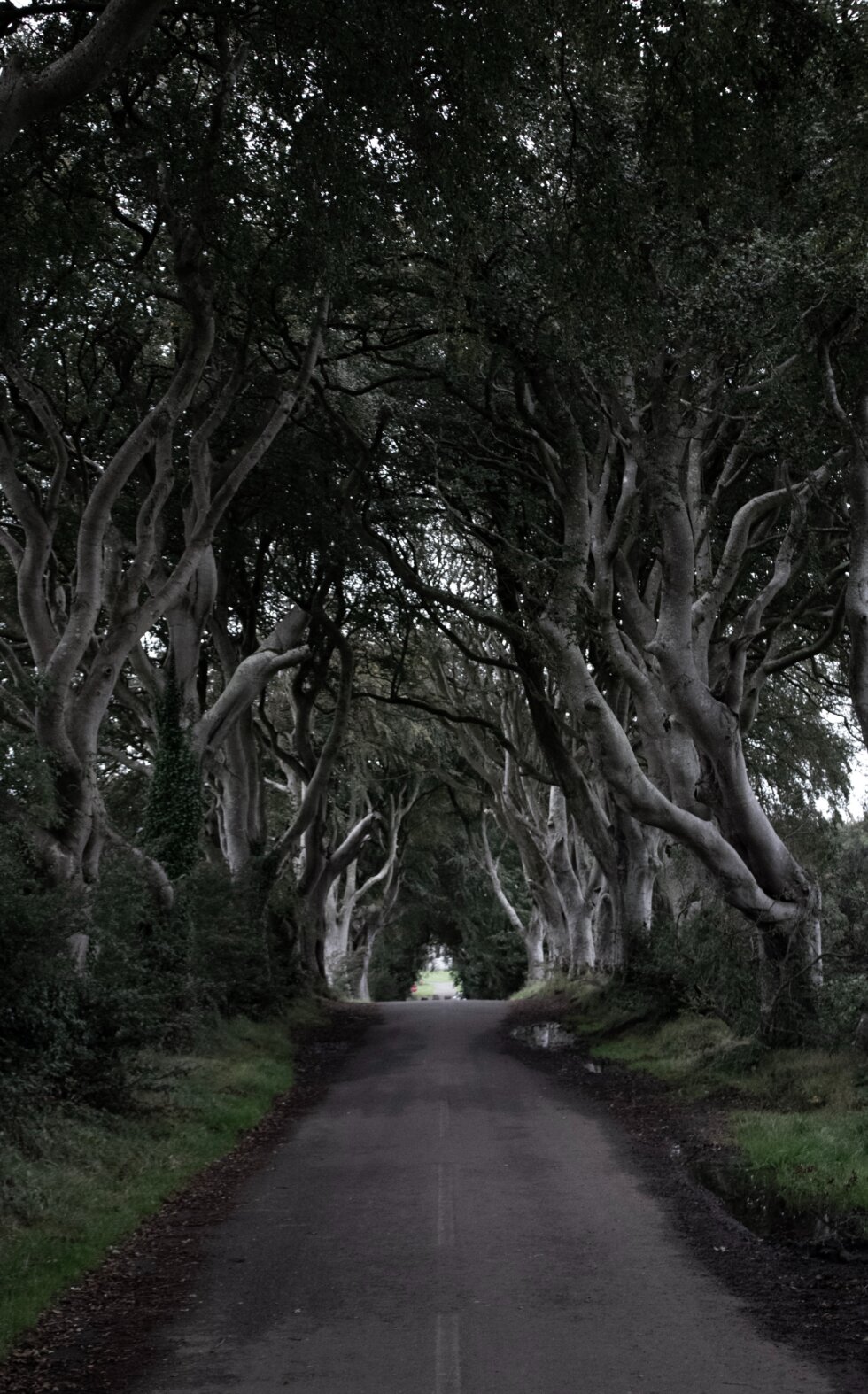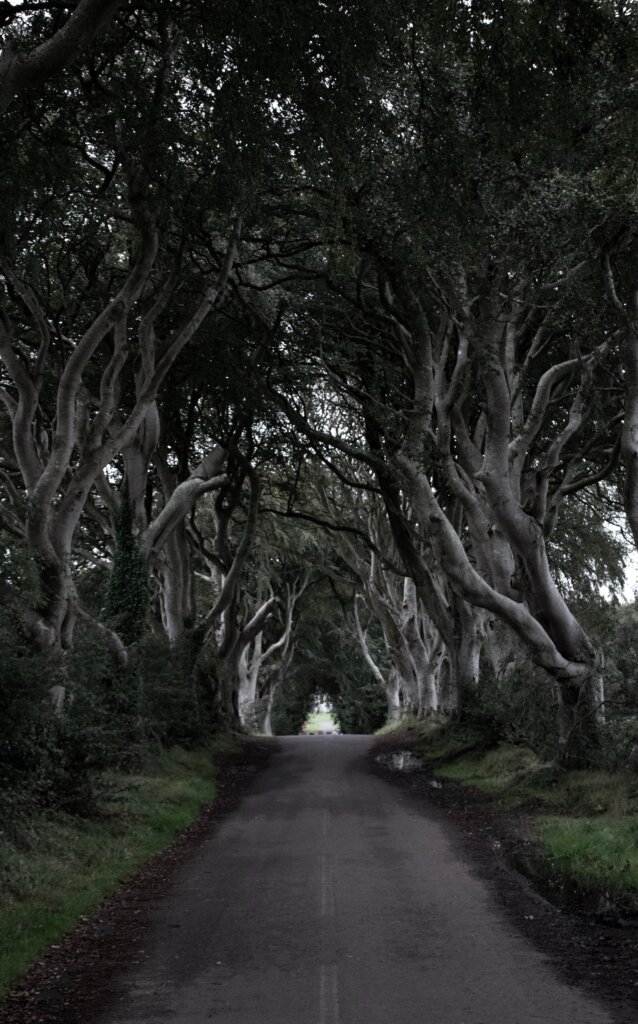 5. Carrick-A-Rede Rope Bridge
Suspended 30m above the scenic waters of County Antrim, you'll find the Carrick-A-Rede Rope Bridge, another magical attraction to behold in Northern Ireland.
Built centuries ago by fishermen, today the bridge (in all its creaky and rickety glory) is a sight open for tourist perusal. Of course, the true beauty of this attraction is not the bridge itself, but rather the impressive location and natural wonders that surround it. This stretch of coastline offers a sublime taste of Northern Ireland's unique beauty, and is a true must-see!
BONUS GEEKTRIPPER TIP: This bridge bears a striking resemblance to the Pyke rope bridge seen in Game of Thrones, and while they didn't actually film here, it's quite likely the bridge was an inspiration for the set… after all, many of Pyke's filming spots can be found nearby.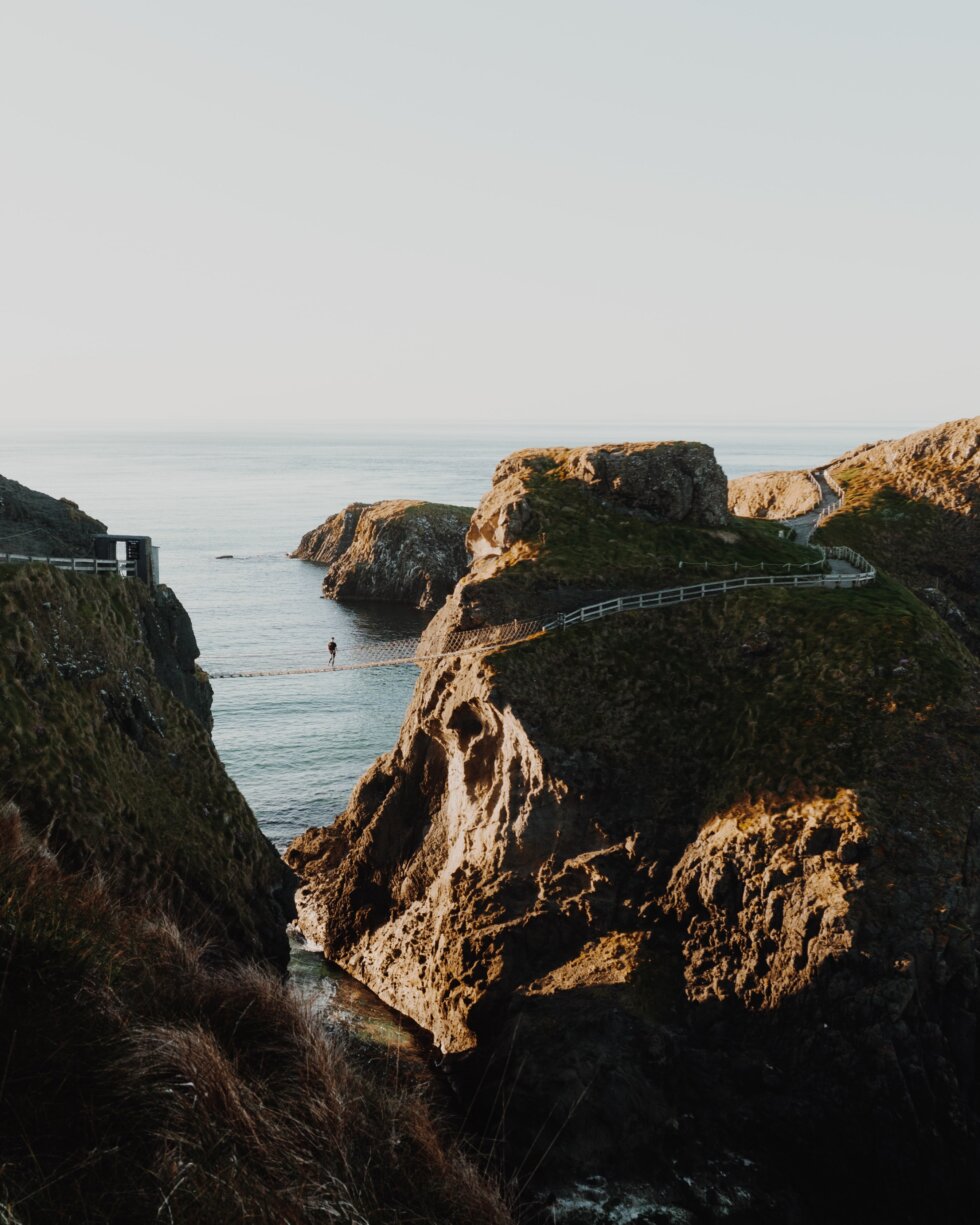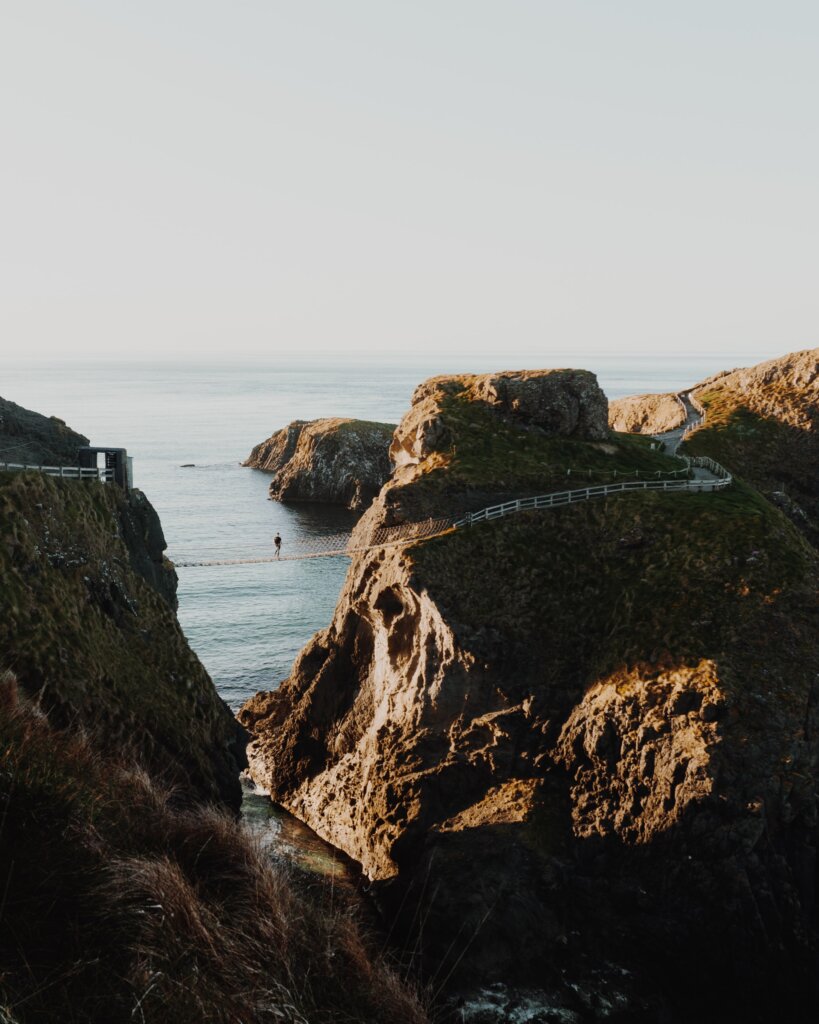 6. The Mourne Mountains
For more awe-inspiring natural beauty in Northern Ireland, look no further than the Mourne Mountains found in County Down.
This granite mountain range is a hiker's paradise, with an endless network of trails that criss-cross stunning landscapes made up of rolling hills, rocky mountains, colourful flora and if you're lucky enough to spot them, plenty of wildlife. Legend has it smugglers once navigated the Mourne Mountains in their quest to bring contraband into the country, and my what a scenic route that must have been!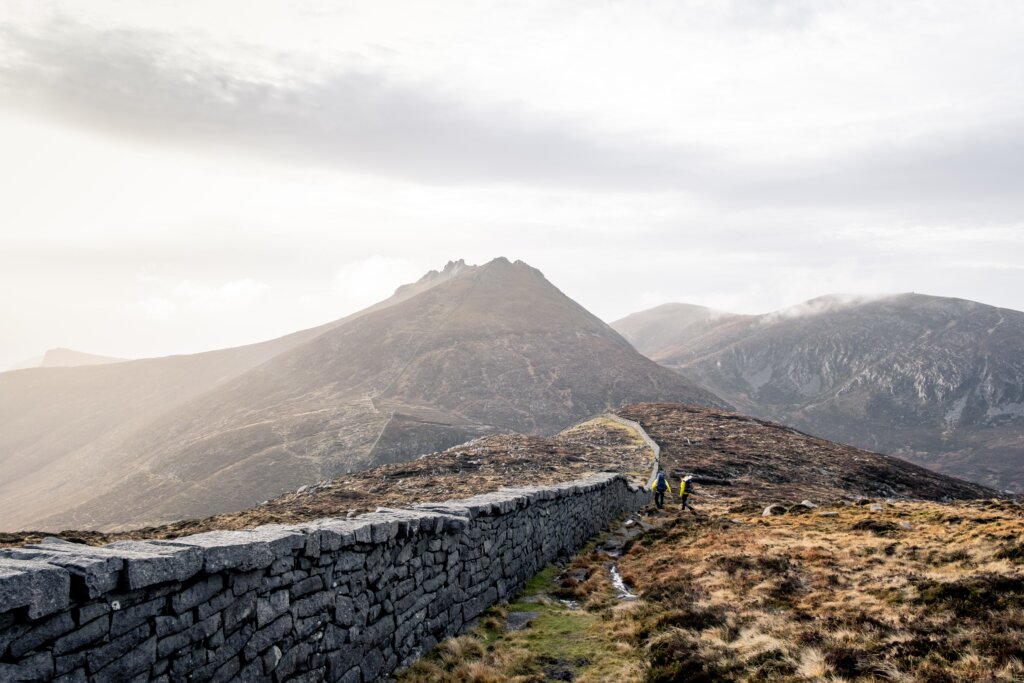 7. Cuilcagh Boardwalk Trail
Boasting Northern Ireland's own Stairway to Heaven, the Cuilcagh Boardwalk Trail in County Fermanagh is another magical must-visit.
This trail, which stretches over miles of expansive blanket bog, allows you to soak in the unmatched natural beauty of the county while following a wooden boardwalk, and of course, climbing a spectacular stairway up to a viewing platform on Cuilcagh Mountain, which will yield marvellous panoramic views like this: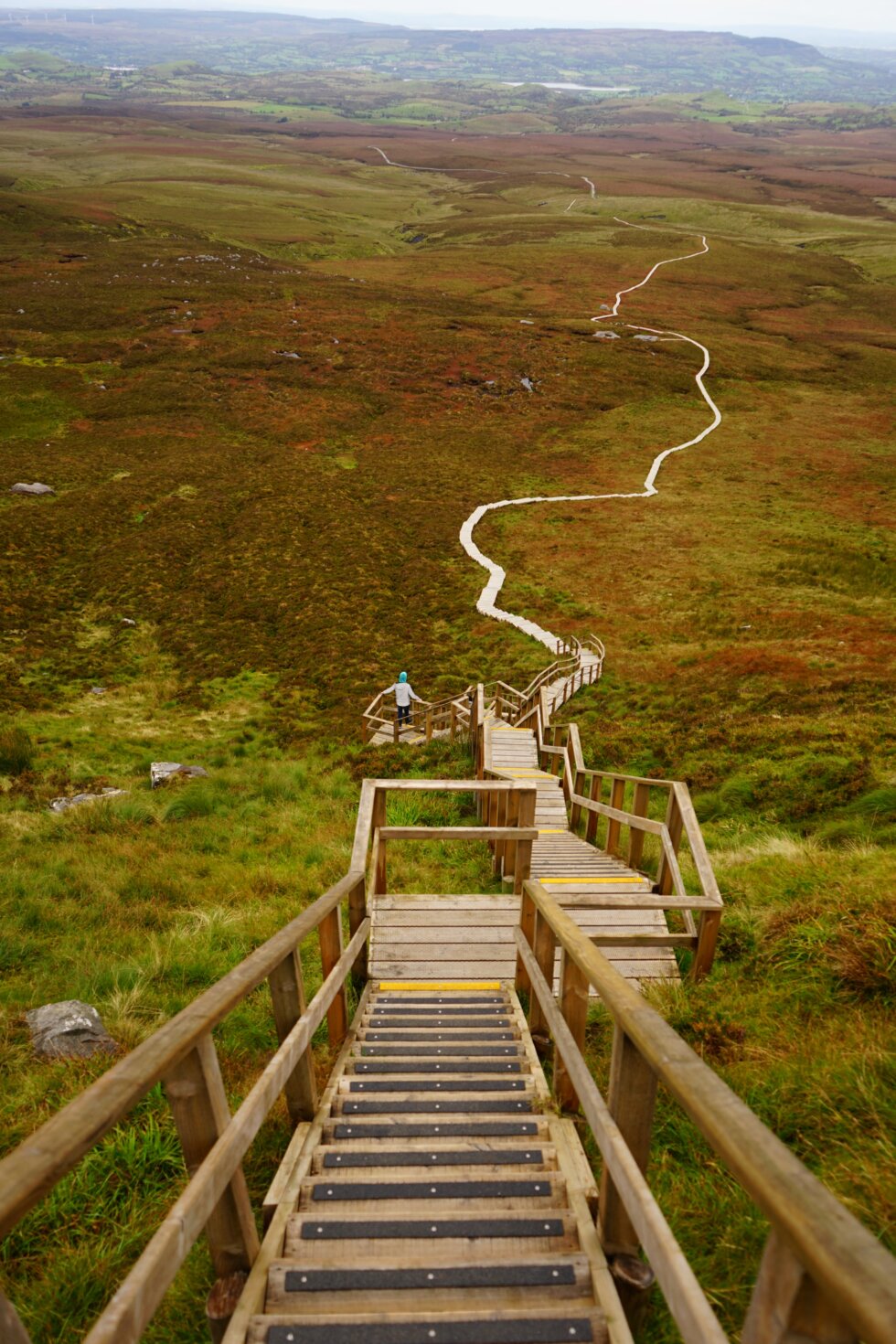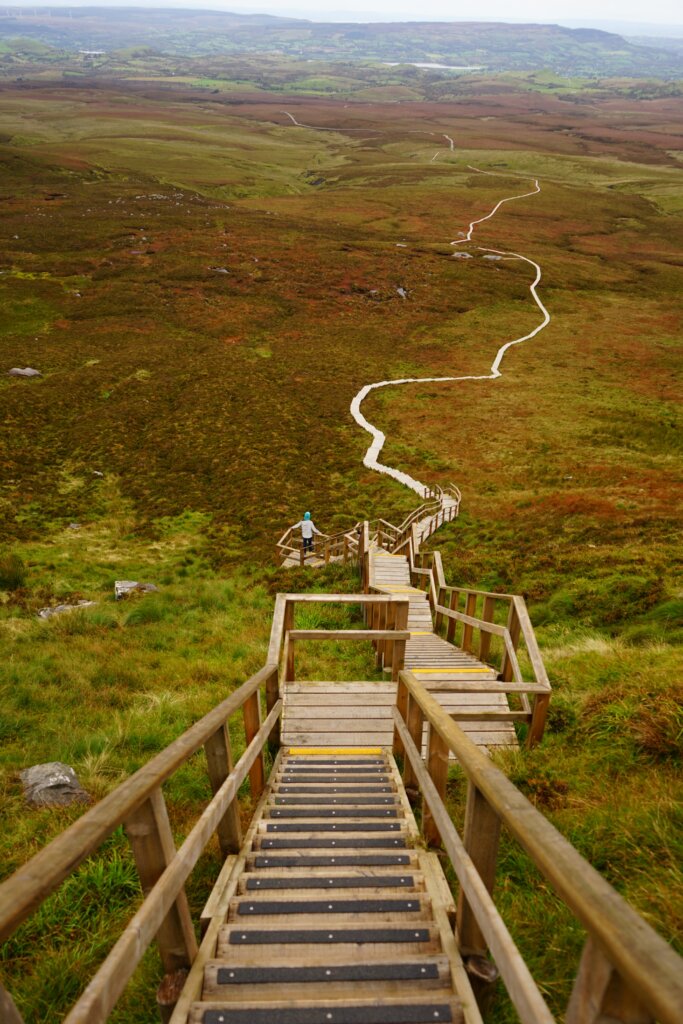 8. Wishing Arch
Wander along the country's Northern Coast and you'll find an abundance of stunning limestone cliffs, which Mother Nature has, over the years, sculpted into a fascinating network of tunnels and rock formations.
The most magical of these formations however may well be the Wishing Arch found in Portrush, a charming seaside resort town. Why is it so magical? Well, we'll let this photo do all the talking: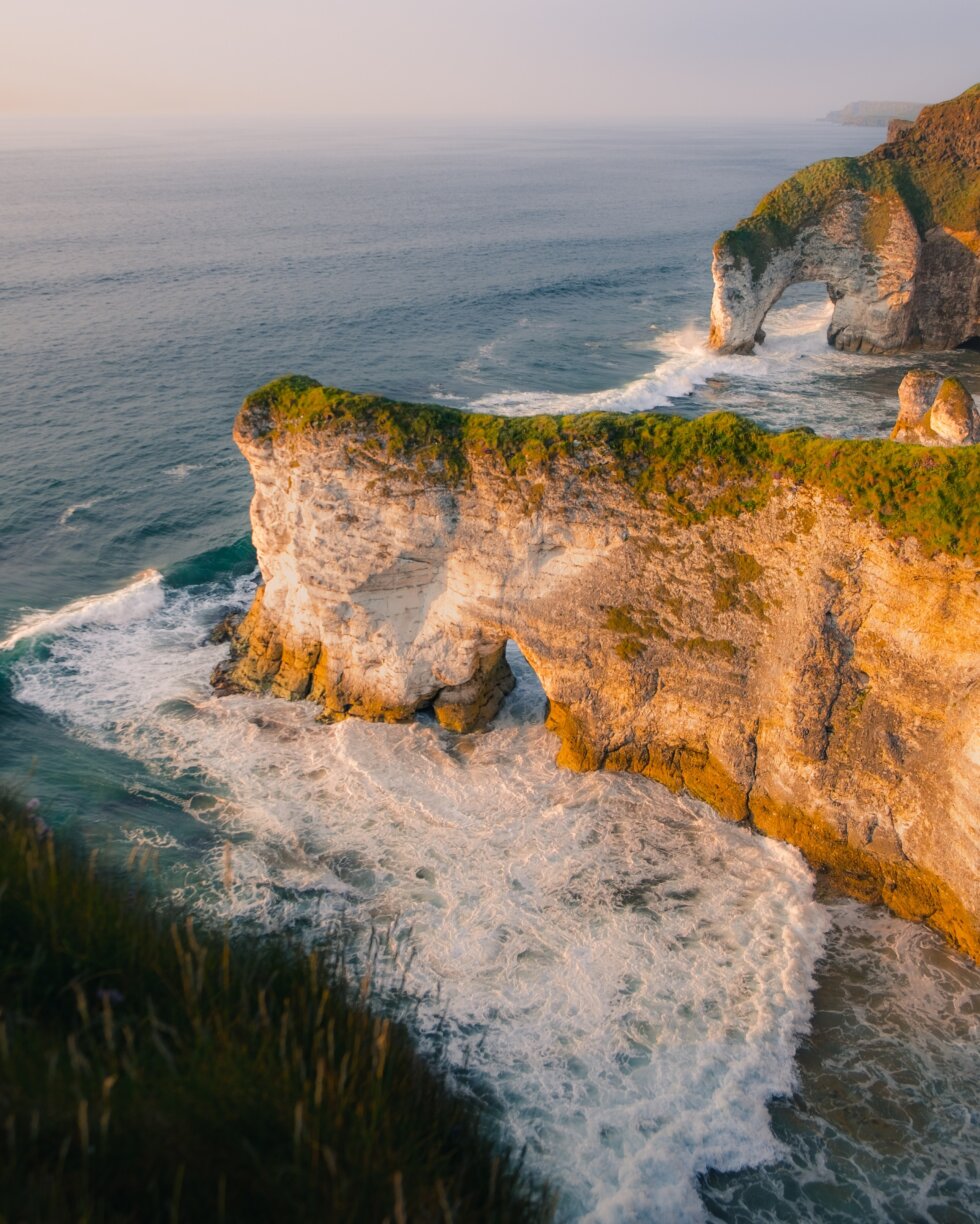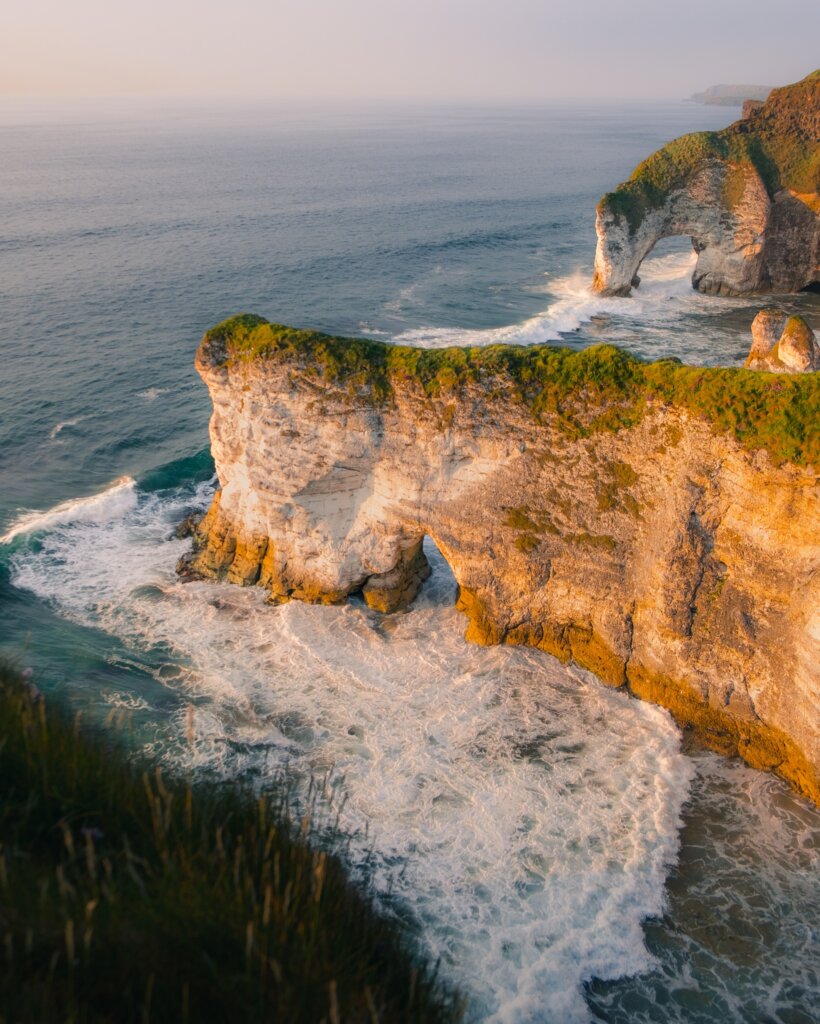 9. Kinbane Castle
Perched on a limestone headland in County Antim, you'll find another one of Northern Ireland's most mystical-looking castles – Kinbane Castle, a set of ruins dating back to the 16th century.
And while little of the castle remains today, it is its surreal natural setting that makes it one of the most magical photo spots to experience in Northern Ireland.
Needless to say, it is especially spectacular at sunset: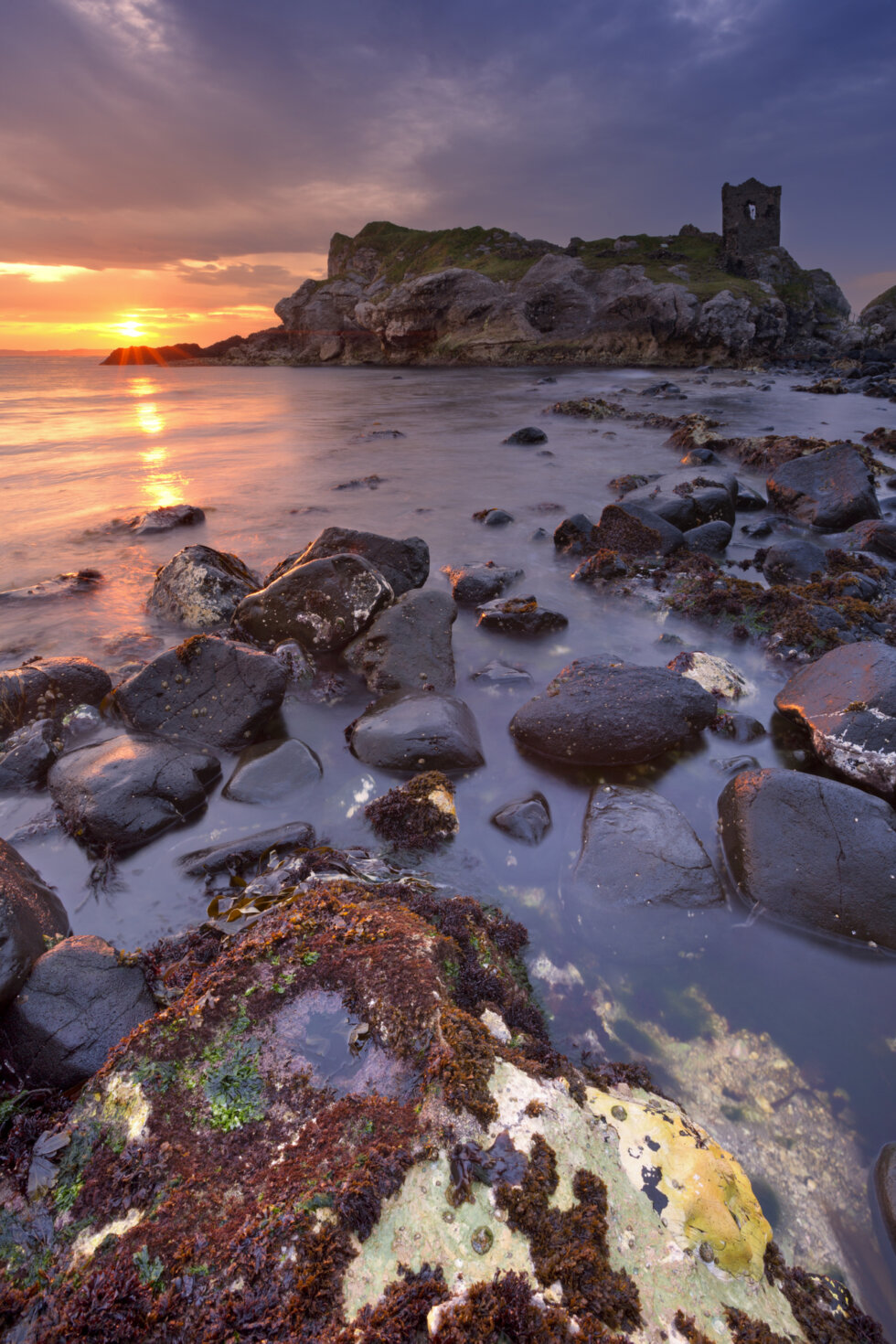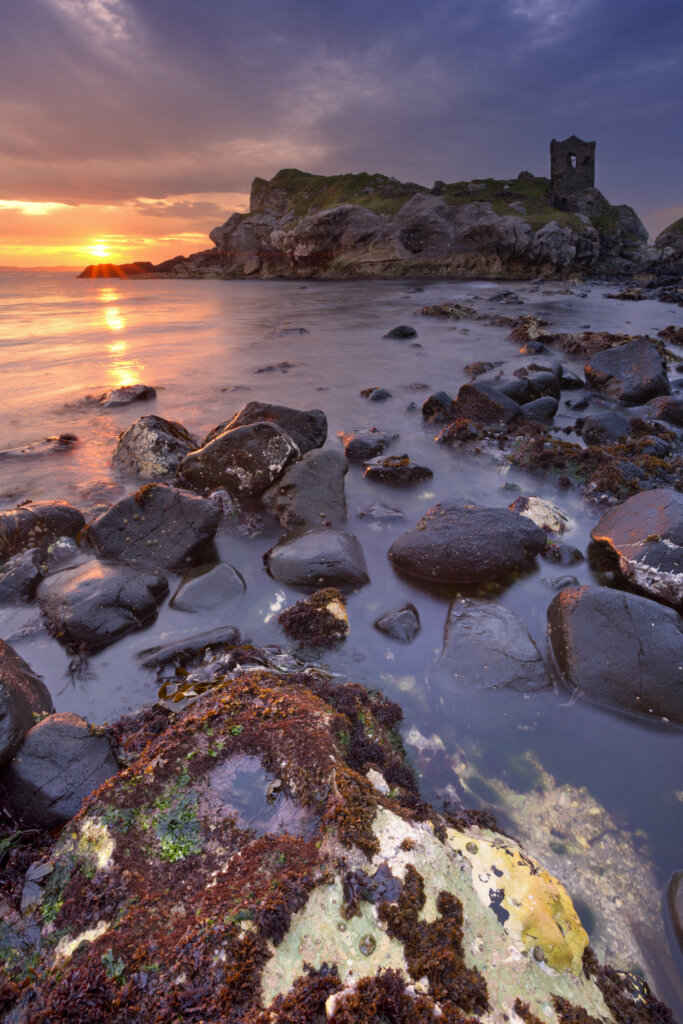 10. Whitehead
Last but not least, when you've tired of immersing yourself in fantasy lands, might we suggest an adorable candy-coloured village to top off your Northern Ireland bucket list?
Whitehead is a little seaside town in County Antrim. While primarily a hotspot for holidaymakers, this cute gem has made our list for one simple reason: the vibrant rainbow houses that dot the town's boardwalk!
If you're not instantly reminded of Skittles, we simply cannot be friends.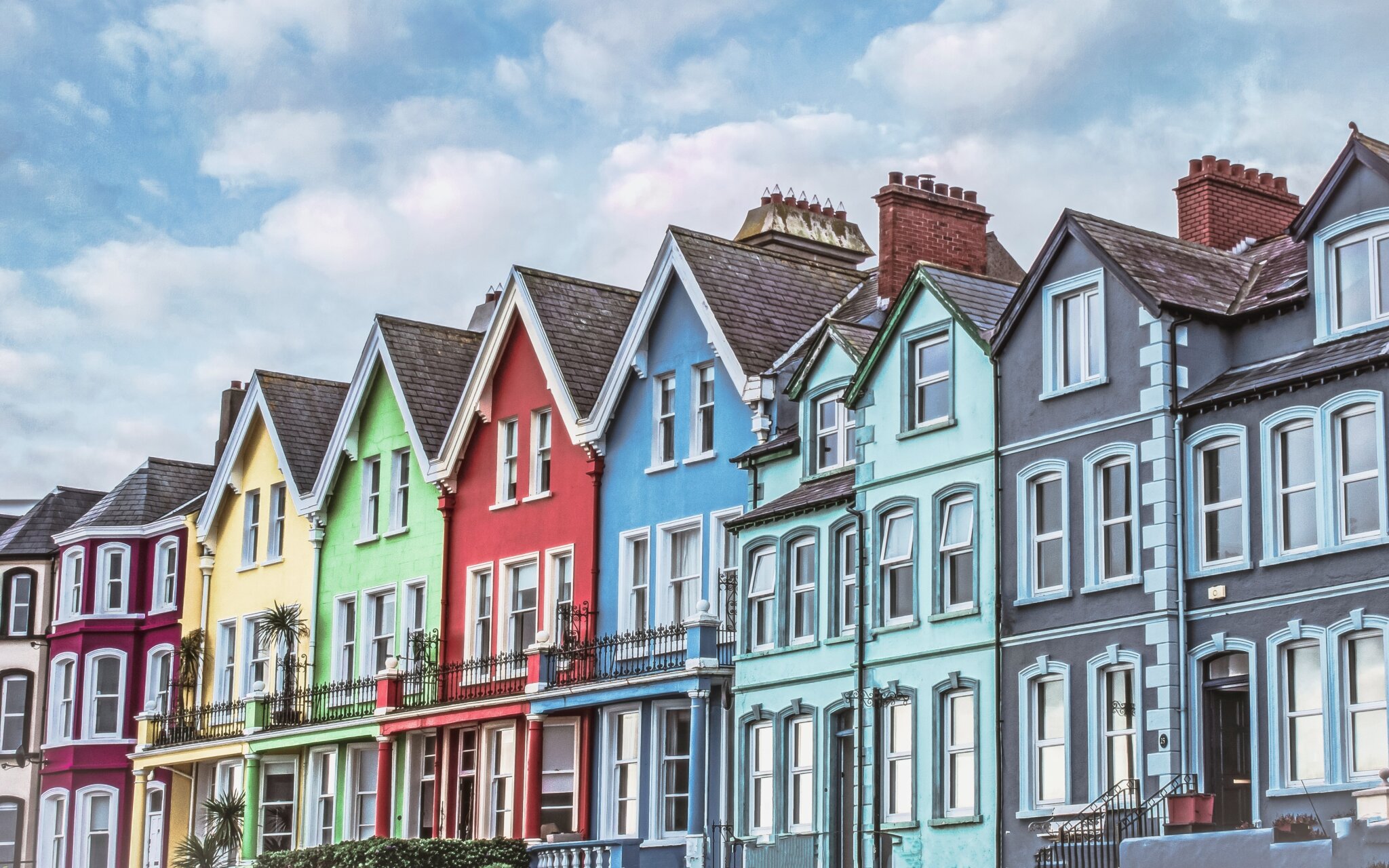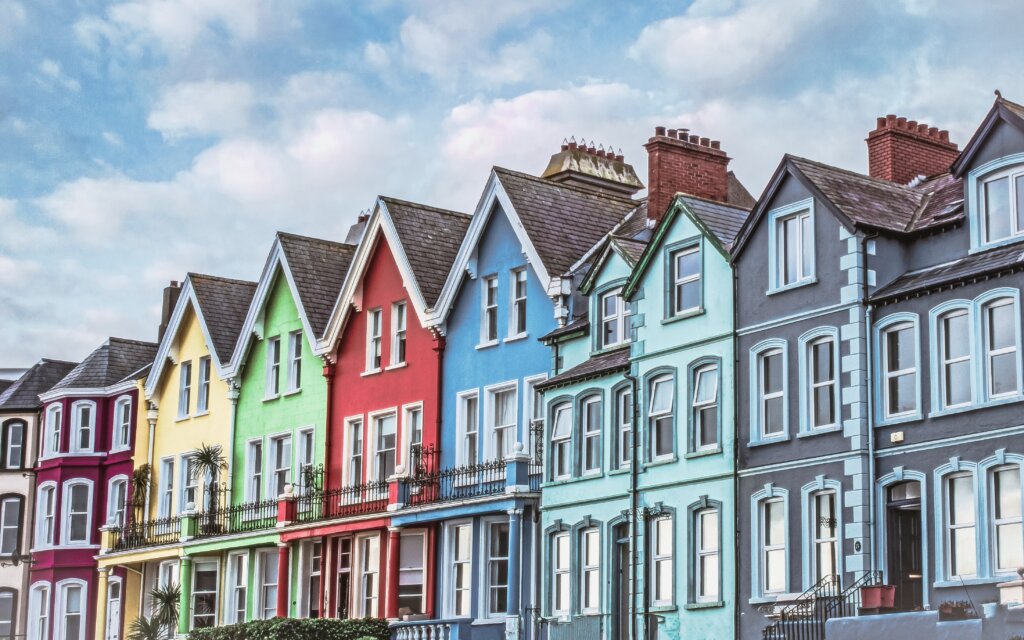 What other magical places in Northern Ireland would you recommend?
We hope you enjoyed this guide to the most magical places to visit in Northern Ireland! Are there any more you'd like to see added to the list? Let us know in the comments, and click here for more fairytale places in the Republic of Ireland. Happy geektripping!