*FYI - this post may affiliate links, which means we earn a commission (at no extra cost to you) if you purchase from them. Also, as an Amazon Associate I earn from qualifying purchases. For the full scoop on what this means, feel free to check out our Privacy Policy and Disclosure.
---
How do you impress any Harry Potter fan in the dating (or wizarding) world? Drop some Draco Malfoy-esque pick up lines, of course…
When it comes to girls, Draco is much more of a smooth-talker than Harry (that goes for the books and films)… there's a reason why DracoTok exists after all.
So, why not try a few of these Draco-worthy pick up lines on your next date, come with some on-theme gifts in hand, and maybe spritz on some of Draco's signature scent for good measure… Your company is bound to be enchanted!
PS: You might also enjoy this roundup of generic Harry Potter pickup lines too.
Save this post for later on Pinterest: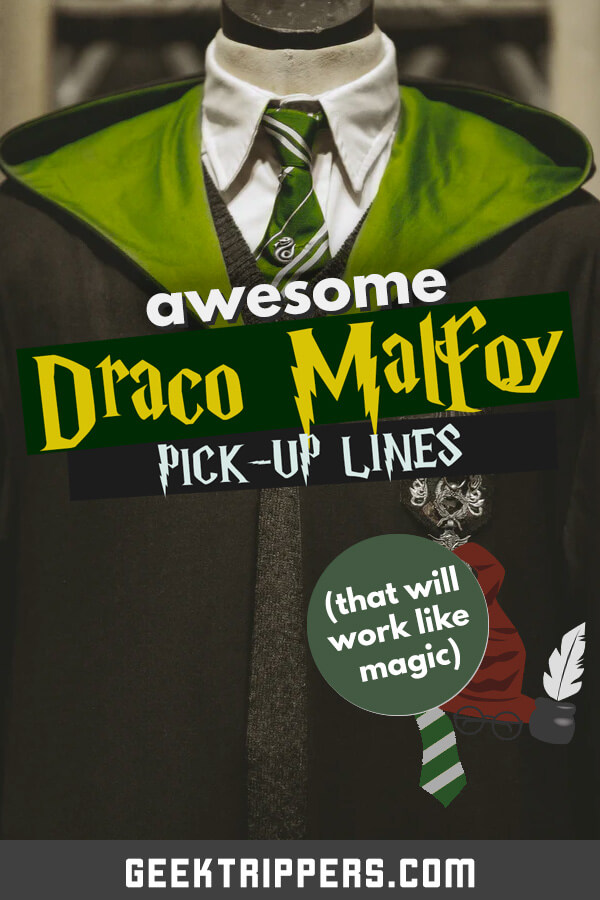 The Best Draco Malfoy Pick Up Lines
Here they are, in all their glory – the best Draco Malfoy pick up lines for you to try out on your next Tinder dates… or maybe even on Draco himself if you manage to shift?
Chug some butterbeer beforehand for maximum effects!
Oh, you're in bed already? Mind if I Slytherin?
Source: Reddit
Care to Slytherin to my arms?
Source: Reddit
You must be a Golden Snitch, because you're quite the catch.
Source: Reddit
Are you a Death Eater? 'Cuz all I've got to say is, "Azka-DAAUUUYYYMMM!"
Source: Reddit
My eternal soul is quite a price,
But for your kiss, I'd pay it twice.
Source: Reddit
You may be a Muggle, but that body is magical.
Source: Reddit
You were my Seeker, but now, you're a Keeper.
Source: Reddit
You must be a Basilisk, 'cuz the moment I looked into your eyes, I froze.
Source: Book Riot
Baby, you know you're the only one that I seek!
Source: Reddit
If you were a Dementor, I'd become a criminal just to get your kiss.
Source: Book Riot
Baby, I'm absolutely charmed by you!
Source: Reddit
Want to make some magic together? My wand is at the ready!
Source: Book Riot
Let me take you out,
And without a doubt,
I'll give you a night
My father won't hear about.
Source: Tumblr
If eyes could cast spells, yours would be Stupefy, because your eyes are stunning.
Source: Reddit
My wand has chosen you!
Source: Pick Up Line
You don't need to use Incendio to light my fire.
Source: Pick Up Line
Did you get an Outstanding in Charms class? 'Cuz you've definitely charmed me!
Source: Reddit
You must be Voldemort, since I can't seem to get you out of my head.
Source: Twitter
You know, you don't have to use Lumos to turn me on!
Source: MTV
Your smile is like Expelliarmus – it's disarming!
Source: Book Riot
Your kiss is like a Dementor's – it takes my breath away!
Source: Pick Up Line
Being without you is like being under the Cruciatus Curse.
Source: Tumblr
Are you using the Confundus charm or are you just naturally mind-blowing?
Source: Tumblr
Dirtiest Draco Pick Up Lines
It's no secret that the HP fanverse can be straight-up filthy, especially when it comes to pick up lines! Here are some X-rated pick up lines that we'd imagine Draco and his Slytherin cronies spitting out to the ladies with no problem at all:
Spend a couple nights with me, and Moaning Myrtle will need a new nickname!
Source: Tumblr
Can my Basilisk Slytherin to your Chamber of Secrets?
Source: Reddit
I have the fastest broom in the whole world! Wanna ride?
Source: MTV
I'd love to show you how I swish and flick, if you know what I mean.
Source: MTV
So you're a Quidditch player, huh? Wanna ride my broomstick?
Source: Reddit
I hear you have some Slytherin in you – want some more?
Source: Reddit
The Sorting Hat is never wrong – I belong in your house.
Source: Sporcle
Platform 9¾? Well, I can think of something else with the same measurements.
Source: Reddit
Let's manage some mischief, then!
Source: Reddit
I'll show you my Room of Requirements, but only if you solemnly swear that you're up to no good.
Source: Reddit
Did you just use Petrificus Totalus on me? 'Cuz I'm getting stiff.
Source: Reddit
You don't need to use Accio to make me come!
Source: Reddit
Slightly Overused Malfoy Pick Up Lines
Okay, we know that ALL of you have heard these before, but we're still including them for the sake of comprehensiveness! Read on for the most overused (but still good) Malfoy pick up lines, and try not to cringe your way through:
Is that a wand in your pocket, or are you just happy to see me?
Source: Reddit
Wanna head to the Shrieking Shack to do some shrieking of our own?
Source: Book Riot
Did you survive the Avada Kedavra curse? 'Cuz you're drop-dead gorgeous.
Source: Book Riot
Are you the heir of Slytherin? 'Cuz you sure know how to wake up my snake!
Source: Reddit
Draco Pick Up Line Resources for Further Enjoyment
As a little bonus, here's a collection of resources from the interwebs that showcase evidence of Tom talking about some really magical pickup lines!
A Reddit user came across this gem of a page on Imgur that features GIFs of Tom, accompanied by HP pickup lines. Oh, our hearts, be still!
Check out this interview Tom did with George Lopez back in 2010, where he references Malfoy-esque pickup lines (begins around the 09:27 mark):
Also, don't forget that Tom Felton himself actually endorsed "Mind if I Slither In?" shirts in a tweet from 2015!
For more Draco goodness, don't forget to check out our compilation of Draco Malfoy quotes (from the films and books)!
Did We Miss Any Draco Malfoy Witty Pick Up Lines?
We hope you enjoyed our painfully cheesy (yet entertaining) roundup of Draco Malfoy pick up lines! If we happened to miss any, be sure to comment below. After all, Malfoy and his cronies would surely say, "The more, the merrier!"