*FYI - this post may affiliate links, which means we earn a commission (at no extra cost to you) if you purchase from them. Also, as an Amazon Associate I earn from qualifying purchases. For the full scoop on what this means, feel free to check out our Privacy Policy and Disclosure.
---
Wondering where to find Storybrooke from ABC's hit show Once Upon a Time in real life?
Here's some good news – you can visit pretty much all of Storybrooke for yourself.
This article will tell you exactly where to find Storybrooke and how to plan your own visit!
Save this post for later on Pinterest: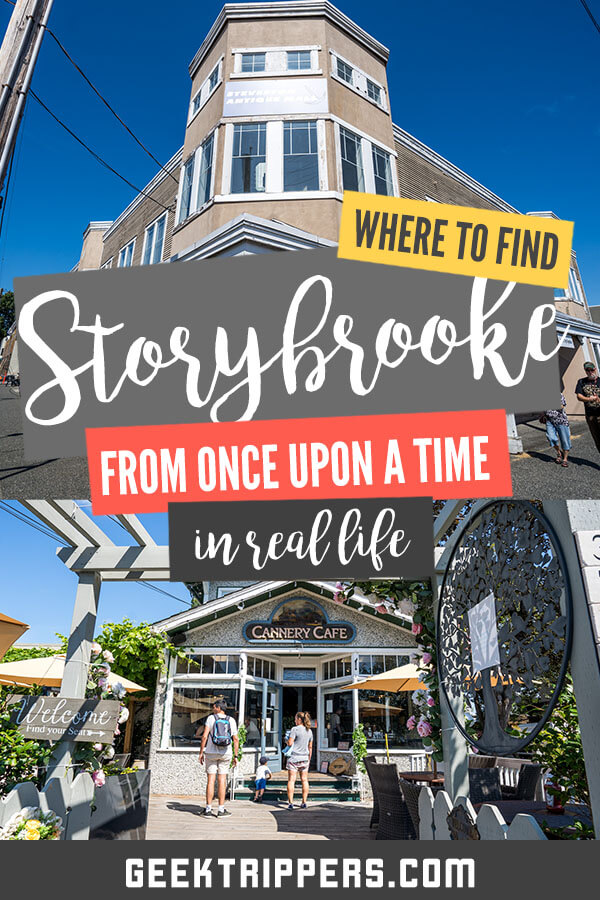 First: Is Storybrooke Real?
While Storybrooke, Maine is not a real place, the village where they filmed the show for several seasons is, and you can easily visit it for yourself.
Real Life Storybrooke is….. Steveston, BC!
British Columbia, Canada is well-known as a hotspot for TV and film production, so it's not much of a surprise that you can find the real life Storybrooke in BC!
If you're hoping to stop by Storybrooke for yourself, where you need to go is Steveston, an adorable fishing village in Richmond (a city in Metro Vancouver, and also where the Vancouver International Airport is located). This means that Storybrooke is an easy place to visit during any trip to Vancouver.
The best part? Steveston looks a LOT like Storybrooke even without all the set dressing, so you can easily appease your geektripper heart with a quick trip.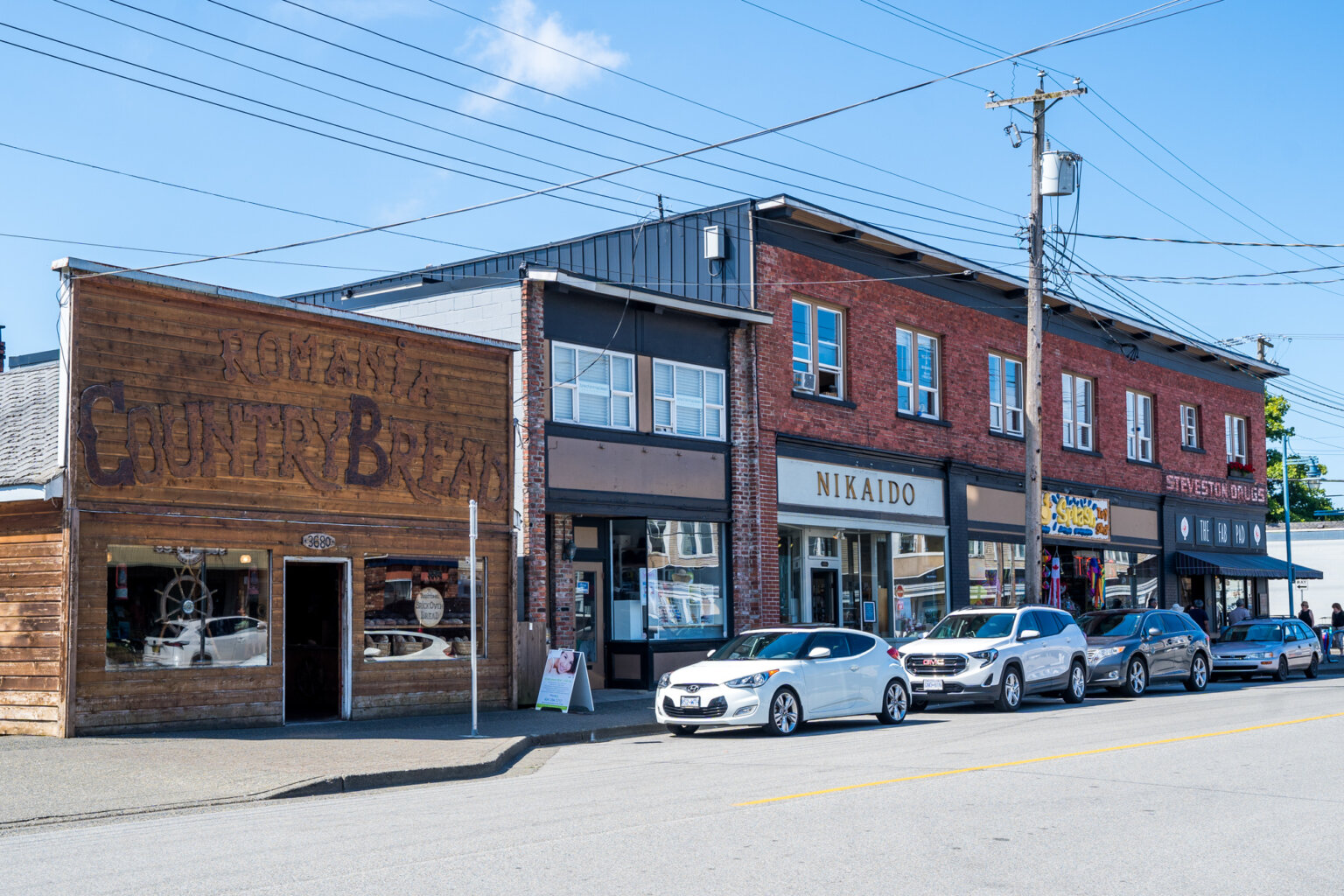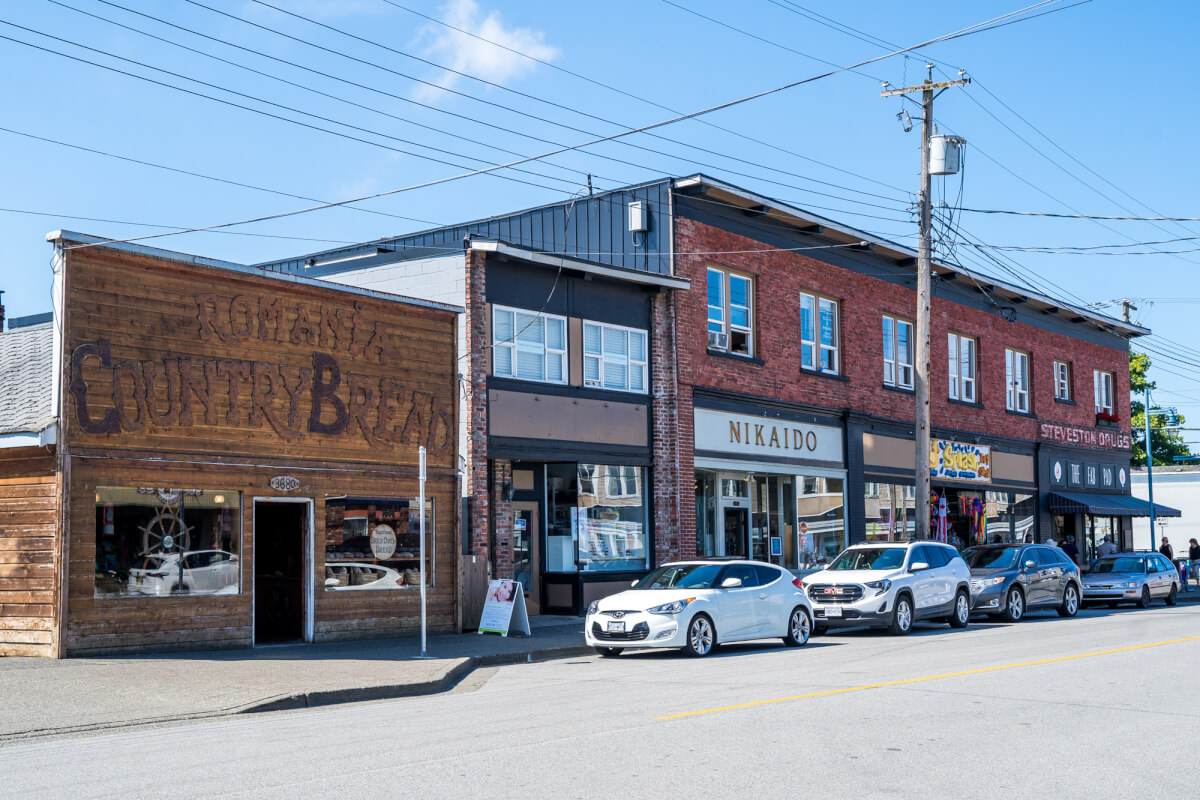 Iconic Storybrooke Places to Visit in Steveston
NOTE: If you want to immerse yourself in real-life Storybrooke, all you need to do is head to Moncton St. in Steveston and take a stroll. You'll quickly see a lot of your favourite Once Upon a Time locations!! But hey, if you want to be thorough and get some full addresses, then here are some iconic Storybrooke places (and their addresses) that you can see in Steveston.
Storybrooke Library
Address: 3551 Moncton St, Richmond, BC
While there's sadly no actual clocktower in real life, the Storybrooke Library building is still very recognizable in Steveston. These days, this iconic corner of Storybrooke is home to an antique shop and little coffee bar, but if you want to capture a classic Once Upon a Time shot, this spot is a must.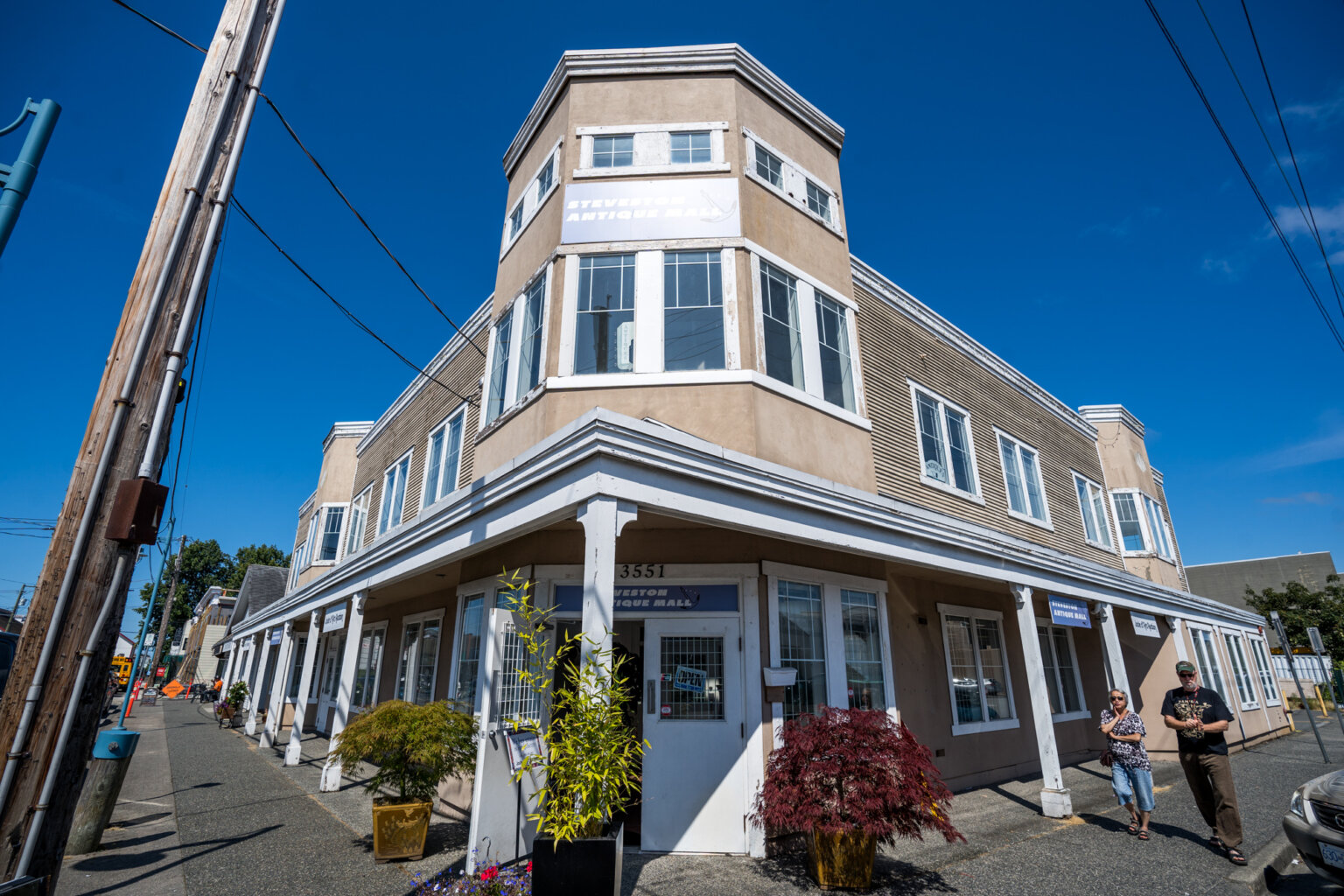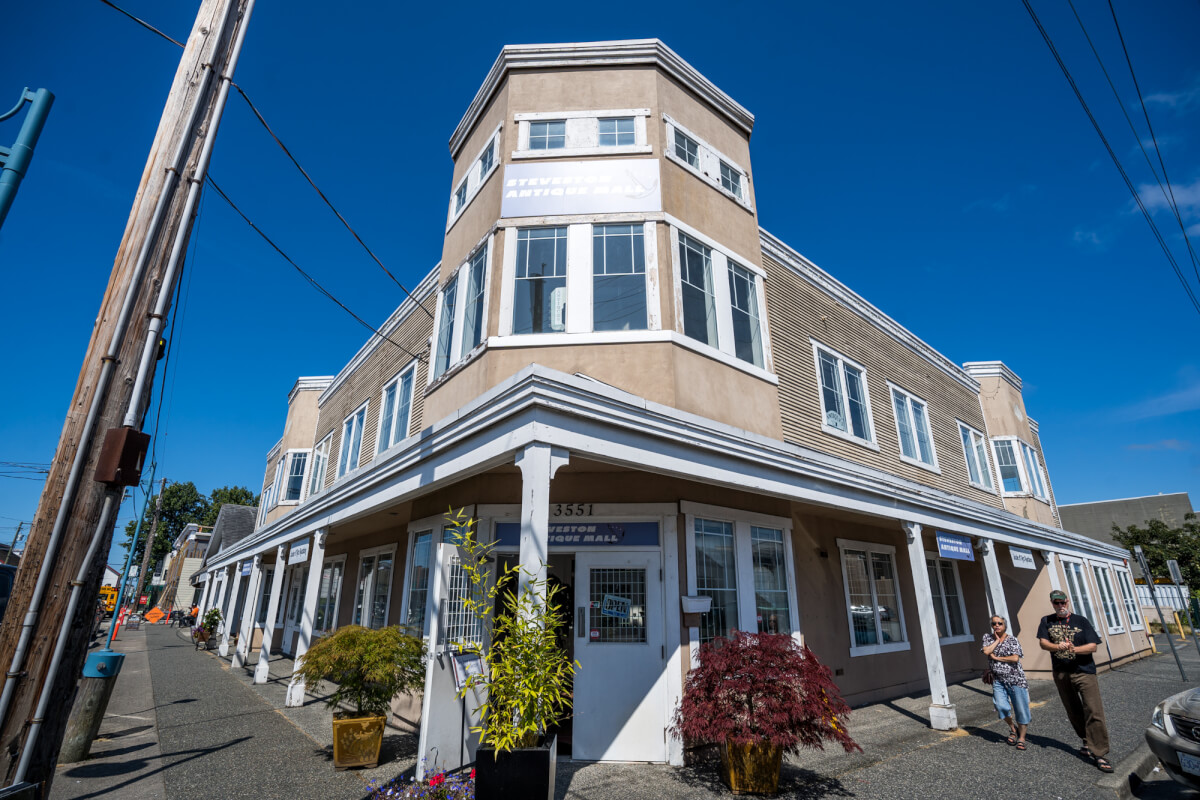 Granny's Diner
Address: 3711 Moncton St, Richmond, BC
Oh my, what a big appetite you have! If you want to grab a bite at Granny's during your DIY Once Upon a Time tour, then you're in luck – Granny's Diner is a real place that you can eat at! Its real life Steveston name is the Cannery Café, and while its interiors are different from what you see in the show, the adorable exterior is still (thankfully) very similar.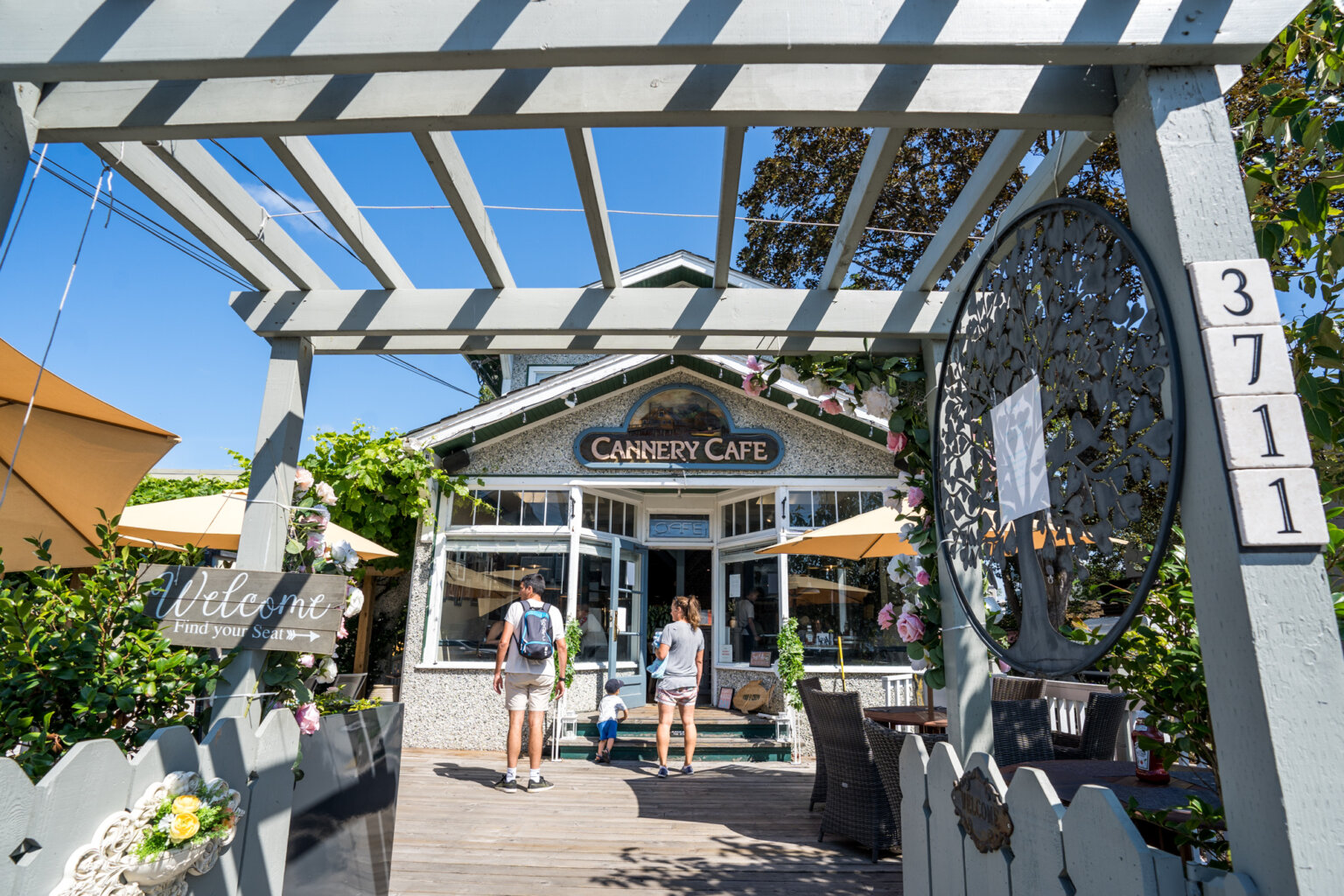 Mr. Gold's Pawn Shop
Address: 3480 Moncton St, Richmond, BC
Everything comes with a price, dearie…. but luckily for us, visiting Mr. Gold's Pawn Shop is a price that also includes gelato ; ) Yup – that's right, while this shop has changed hands over the past few years and was once a gift shop, today it is home to a gelato place whose website URL even references Mr. Gold. Needless to say, this is one must-see if you want to see a classic Storybrooke filming location… and maybe grab a treat too.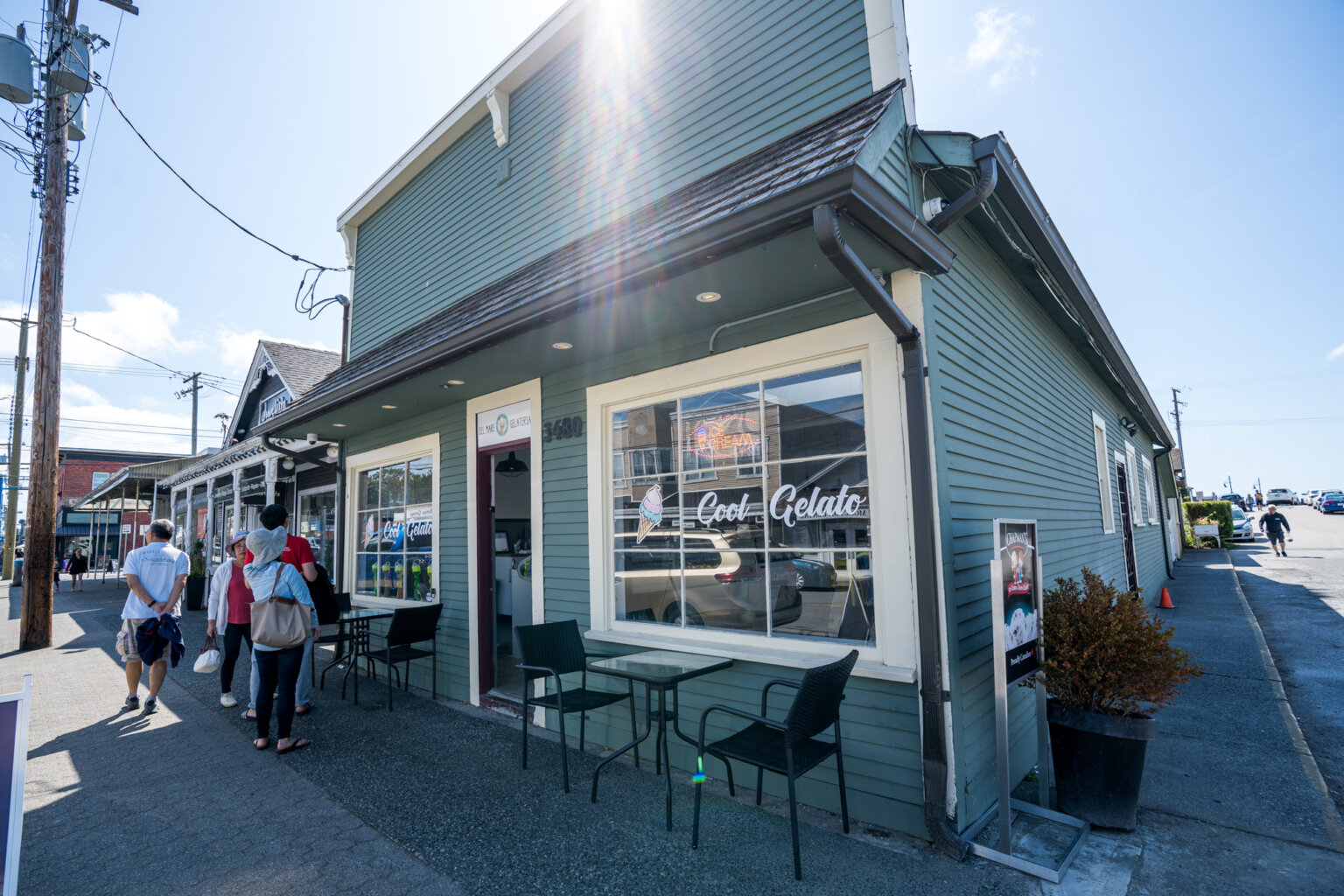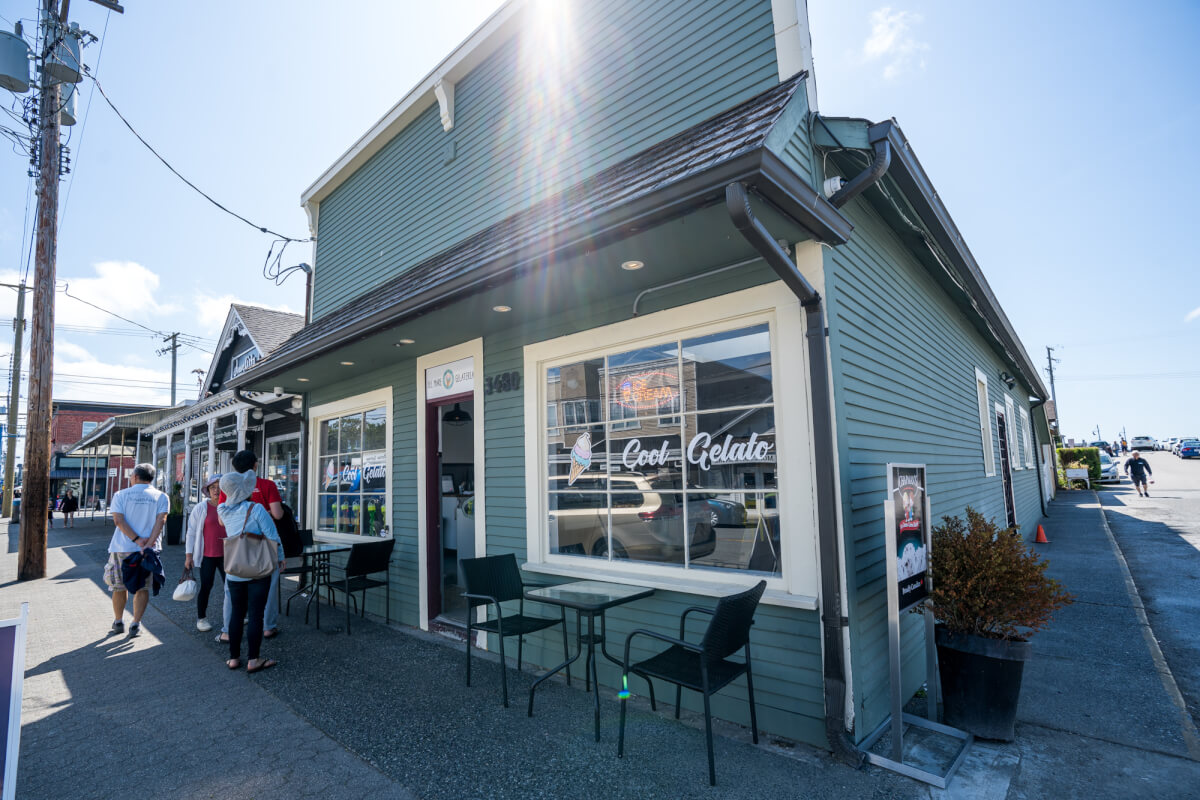 Archie's Office & the Rabbit Hole
Address: 3580 Moncton Street, Richmond, BC
The Hepworth Block of Steveston is a prominent red-brick building that dates back to 1913. In Once Upon a Time, this distinctive building is used to portray two locations: firstly, Archie's Office (where Henry has his sessions with Archie) as well as the exterior of Storybrooke's local watering hole, the Rabbit Hole.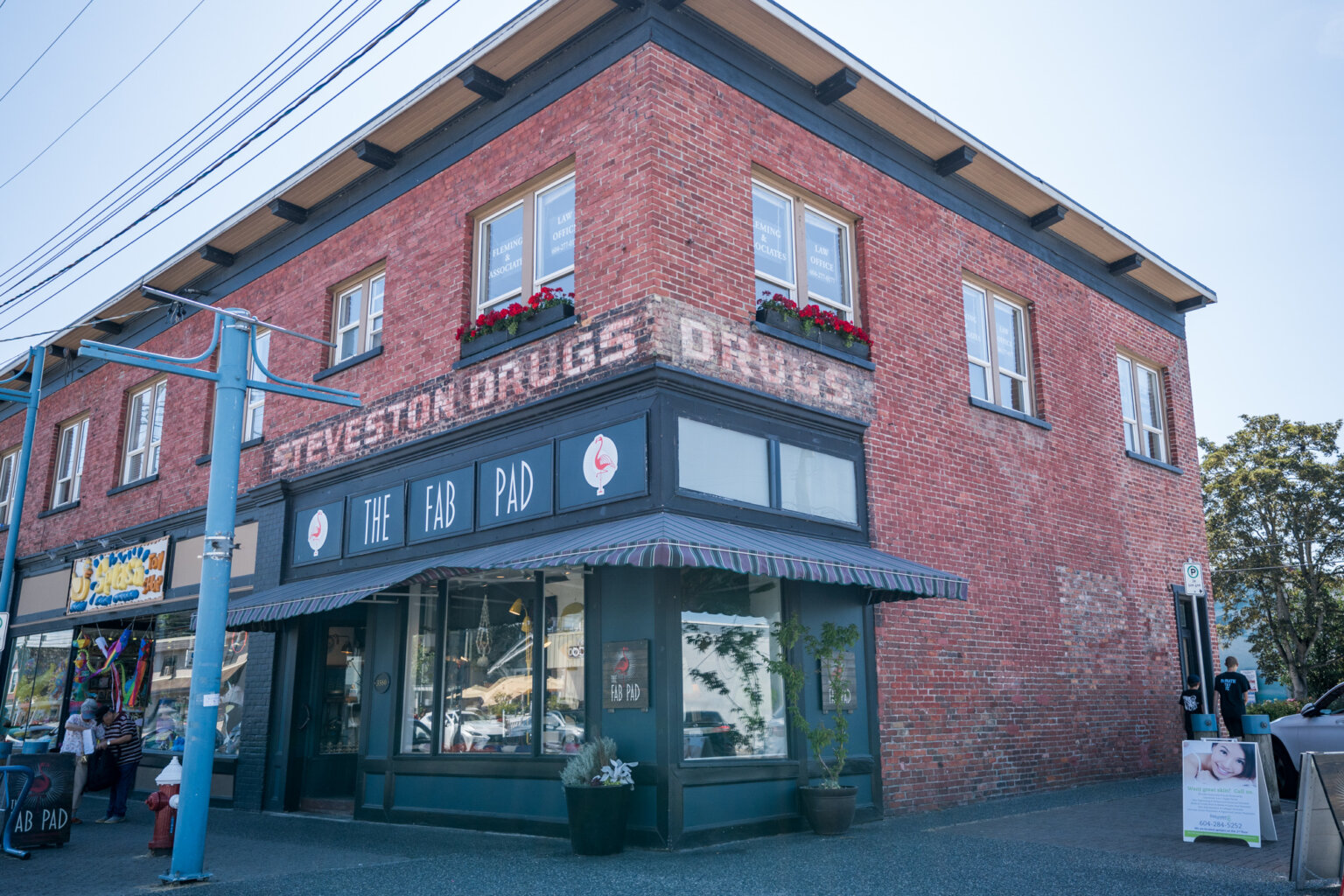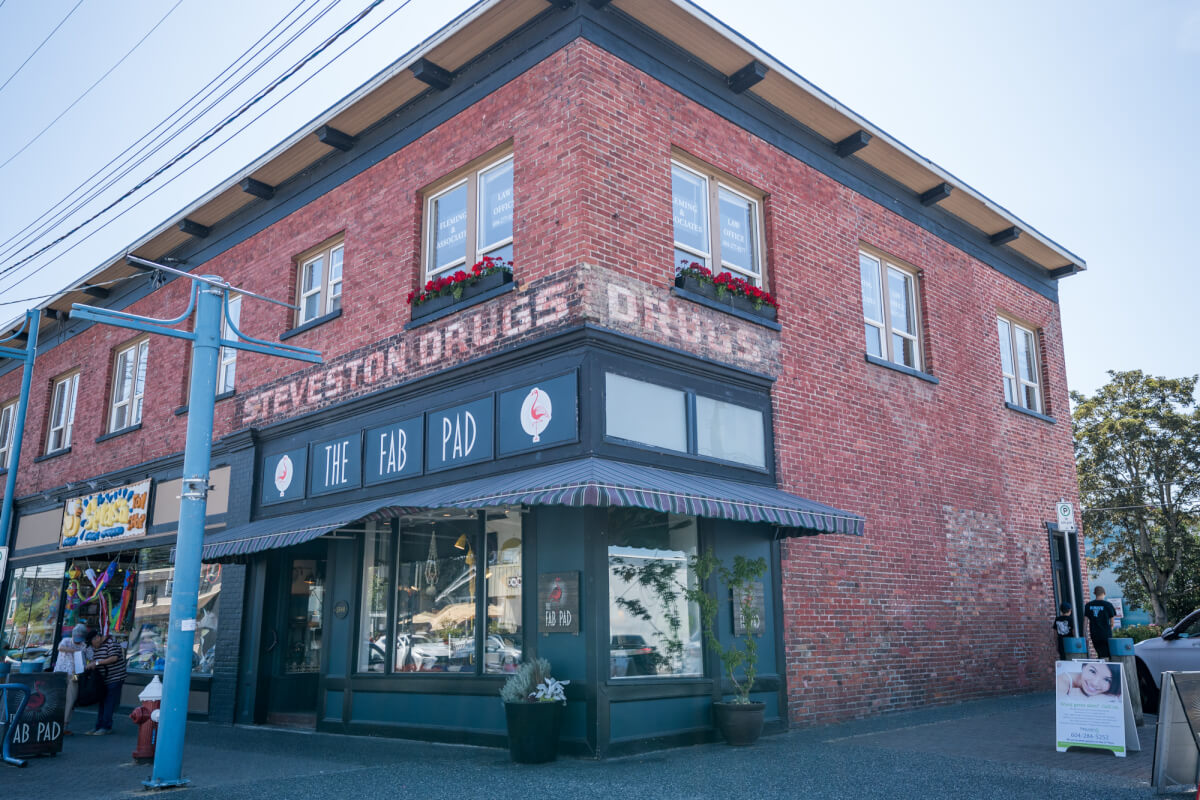 Storybrooke Park
Address: 3811 Moncton St, Richmond, BC
The cutesy white picket fence park we see several times throughout the series is actually just the garden attached to the Steveston Museum, an adorable red and yellow wooden house (well worth visiting in its own right). On our last visit, we even spotted a free library outside in this area… so cute.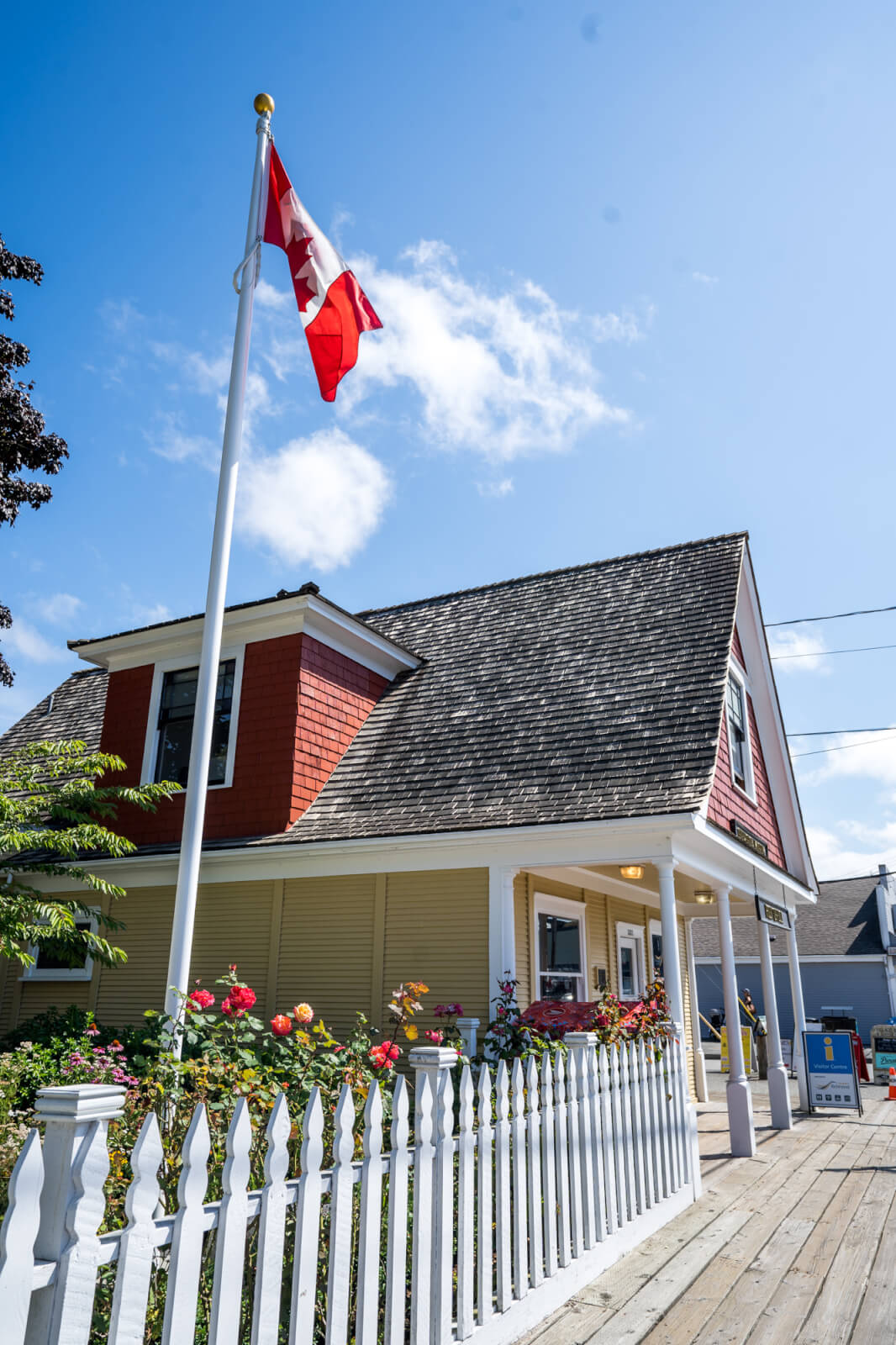 Storybrooke Playground
Address: 12011 Seventh Ave, Richmond, BC
The playground that we see a few times in Once Upon a Time (you know, where Henry likes to hang) is actually located just outside of Steveston, within walking distance at Garry Point Park. This area is especially well known for cherry blossoms in the Spring!
Storybrooke Pier
Address: 3820 Bayview St, Richmond, BC
Steveston harbour doubles as Storybrooke Pier in Once Upon a Time, which is an easy fit given Steveston's roots as a fishing village. We see this pier many times throughout the series, and in real life it's a wonderful little spot to visit thanks to its fresh fish market and abundance of great food spots around.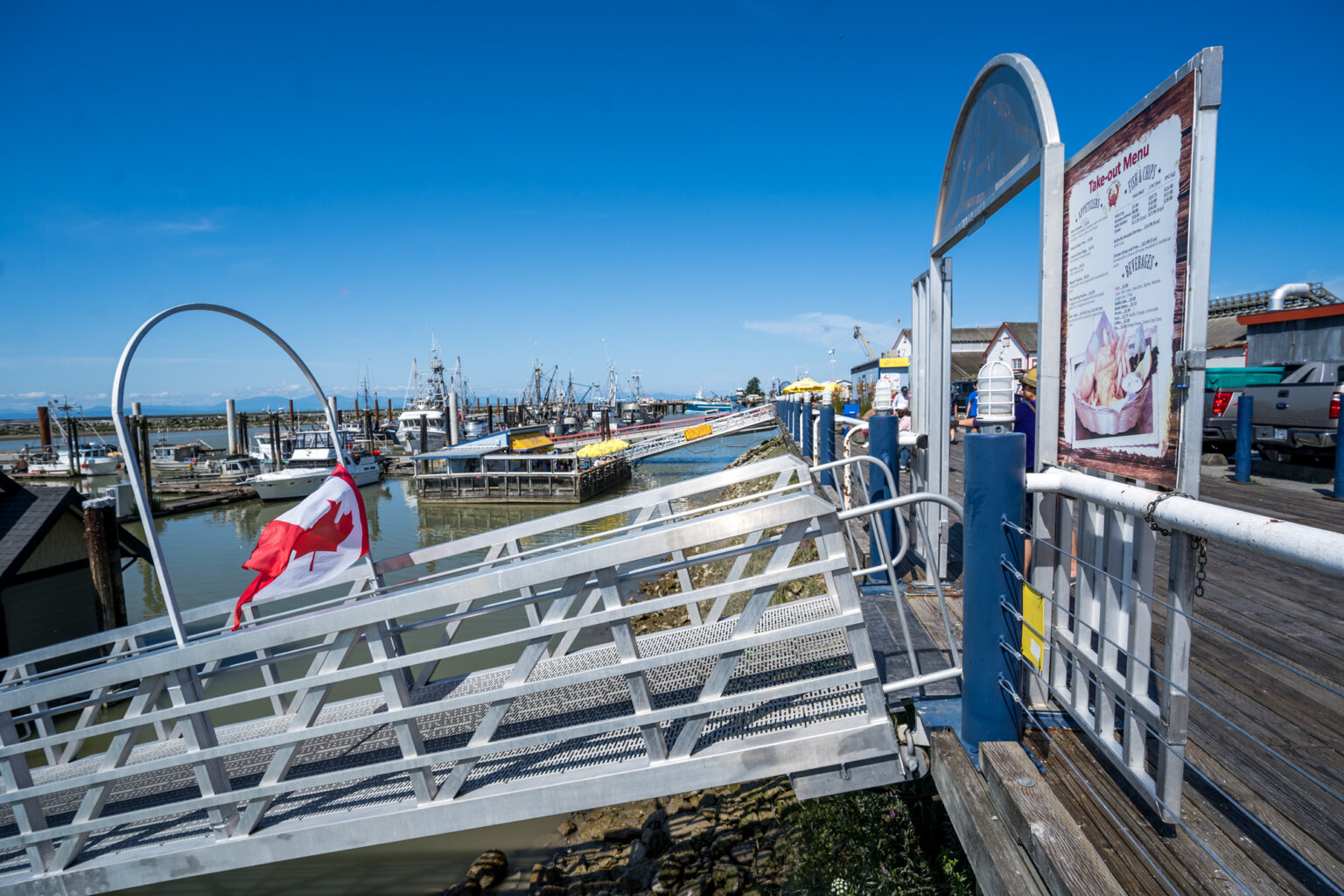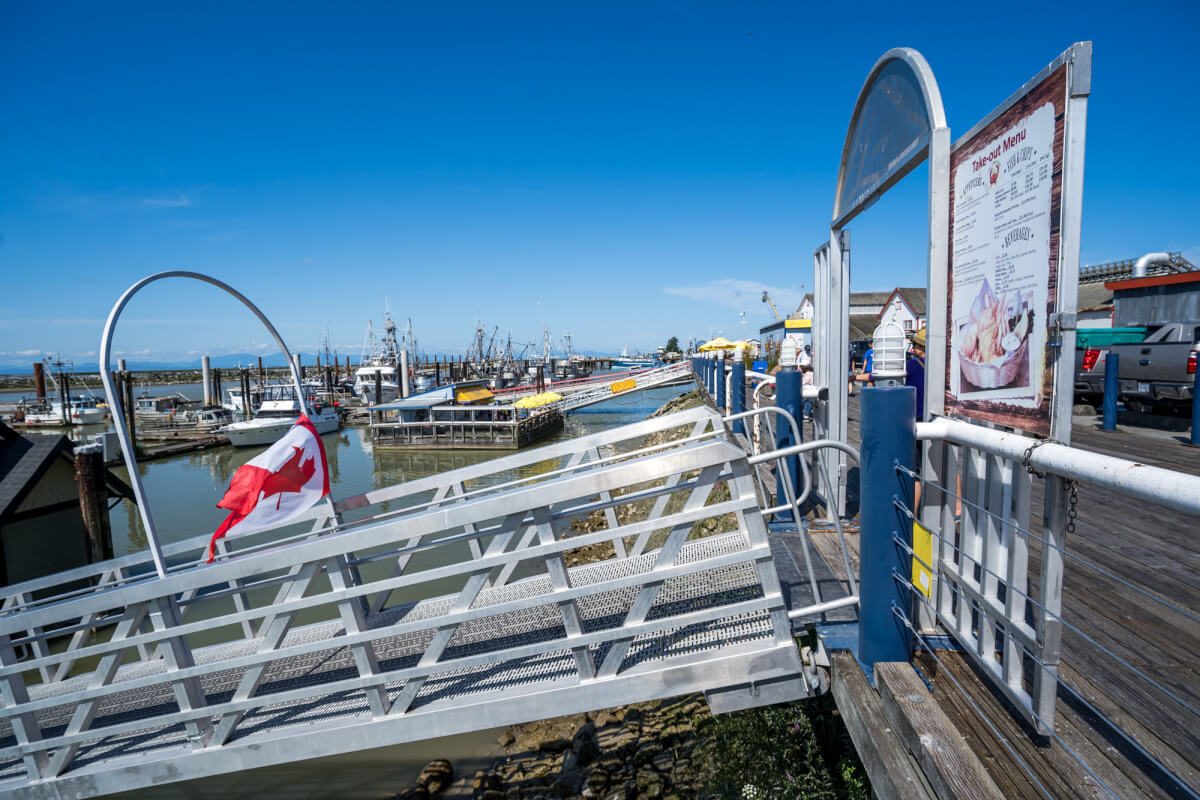 Other Storybrooke Establishments
Of course, there are plenty of other little Storybrooke establishments that have been shown on screen over the years. Here is a quick list of a few you might recognize:
Modern Fashions: 3580 Moncton Street, Richmond, BC
Storybrooke Pet Shelter: 130-3651 Moncton St, Richmond, BC (except now with yellow paint)
Storybrooke Country Bread: 3680 Moncton St, Richmond, BC (Romania Country Bread in real life)
Storybrooke Cannery Co: 12138 Fourth Ave, Richmond, BC (the Gulf of Georgia cannery in real life)
Storybrooke Shipyard: 5180 Westwater Dr, Richmond, BC (the Britannia Heritage Shipyards in real life)
Game of Thorns (Moe's Garden Store): 12311 No 1 Rd, Richmond, BC (the Prickly Pear Garden Centre)
Marine Garage: Corner of 2nd Ave and Moncton St.
Storybrooke Hardware & Paint: 3560 Moncton Street, Richmond, BC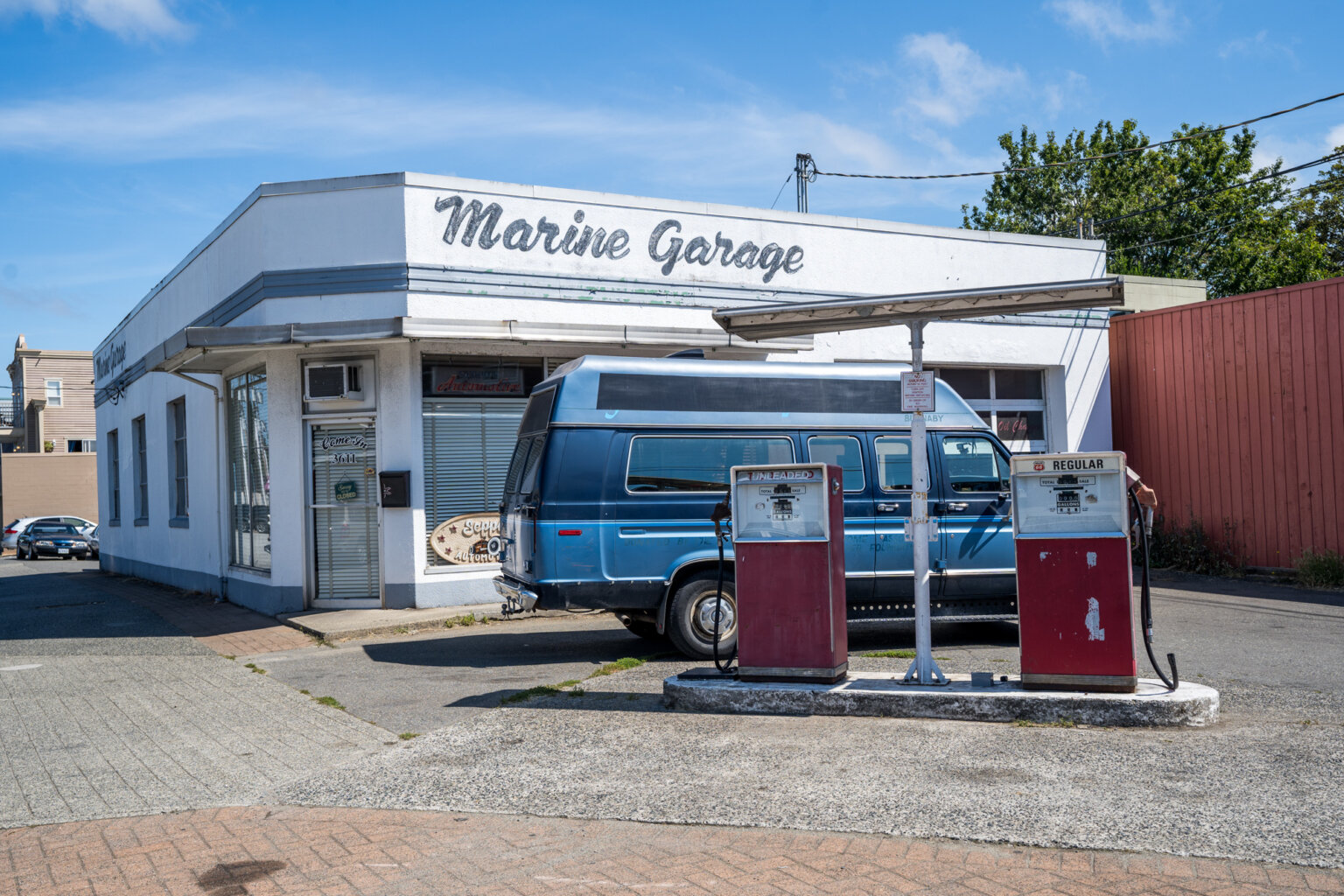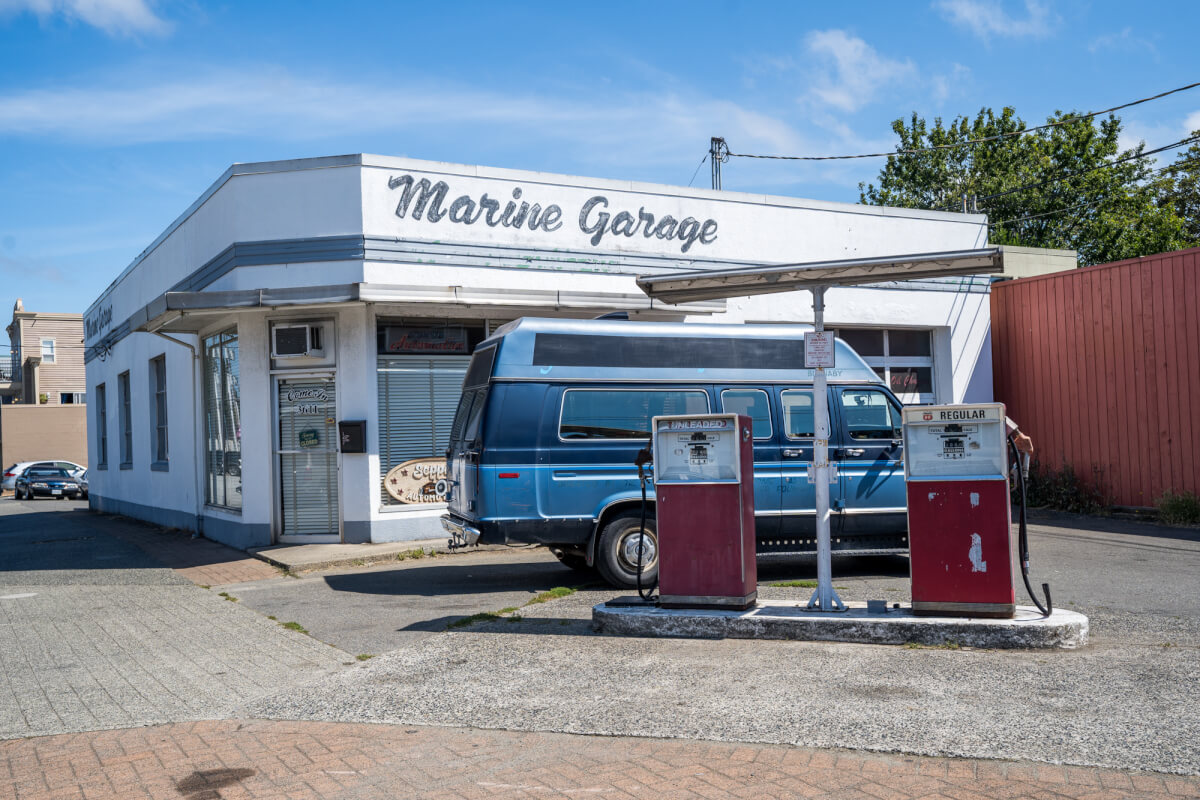 Other Storybrooke Places to Visit Around the Greater Vancouver Area
Regina's House in New Westminster
Address: 417 5 St, New Westminster, BC
Funnily enough, the mayor of Storybrooke's house isn't actually in Steveston… insead, you'll find it in New Westminster at John H. McDonald House, a colonial revival house that will give you serious crib envy. Fun fact: this house was also used to film Viola's in She's the Man.
Mr. Gold's House in New Westminster
Address: 403 St George St, New Westminster, BC
Another prominent Storybrooke home in New Westminster is the mysterious mansion of Mr. Gold, known locally as the Charles Murray Residence. Believe it or not, this beauty was built in 1890 (which is pretty old by Canadian standards!)
Granny's Bed and Breakfast in North Vancouver
Address: 910 Grand Boulevard, North Vancouver, BC
If you want to plan a stay at Granny's Bed and Breakfast in real life, unfortunately you won't be able to. That's because this North Vancouver property isn't an actual B&B, but rather a prominent heritage building known as the Haswell Residence. Dating back to 1910, this house is filmed with charm and character… although taking a peek inside is unfortunately not possible!
Storybrooke Town Hall in Fort Langley, BC
Address: 9167 Glover Rd, Langley City, BC
The distinctive and adorable yellow Storybrooke Town Hall is (in real life) an actual event space/hall that you can rent in Fort Langley, BC. TV fans might recognize this spot from a few other productions as well, including Riverdale, which films extensively in the area to capture the perfect small town vibes.
Storybrooke Cemetery in North Vancouver
Address: 1505 Lillooet Rd, North Vancouver
Lastly, if you're hunting for the cemetery where Emma sees a wolf (you'll remember this moment from Season 1), that filming location was the Boal Chapel and Memorial Gardens in North Vancouver.
Jefferson's House in Vancouver
Address: 3802 Angus Drive
Who else thinks Jefferson low-key had one of the nicest houses in the show? Anyways, believe it or not, this house is real and it's a private residence in Vancouver that can be found at 3802 Angus Drive.