*FYI - this post may affiliate links, which means we earn a commission (at no extra cost to you) if you purchase from them. Also, as an Amazon Associate I earn from qualifying purchases. For the full scoop on what this means, feel free to check out our Privacy Policy and Disclosure.
---
The latest Disney+ Marvel series is quite a departure from the previous shows and films, introducing viewers to Egyptian deities as well as the superhero Moon Knight.
Oscar Isaac does a fantastic job bringing to life two main personalities (and a third but we only see a tiny bit of that) in one person, especially with his overly stereotypical "London" accent!
The series is set in London and Egypt, although funnily enough, wasn't filmed in either location, apart from some establishing shots. If you're wondering, 'where was Moon Knight filmed, then?' don't worry, for we have the answers.
We've done a lot of online digging and perusing Google maps to find as many Moon Knight filming locations as we can so that we can share our knowledge with you.
Read on for all the Moon Knight locations we have been able to confirm, but do please also let us know of any we might have missed in the comments!
And it goes without saying but, if you haven't watched all the episodes of Moon Knight yet, there are spoilers ahead.
Moon Knight Filming Locations in Hungary
While Moon Knight takes place primarily in London and then Egypt, most of the filming was actually done on location in Hungary, particularly Budapest.
Hungary offers a profitable tax rebate for film productions that, combined with the many beautiful and historic locations available for filming, has made it a popular modern location. Budapest is even being called the "Hollywood of Europe" since so many recent blockbusters have been filmed there.
Moon Knight is just the latest in a long list of productions which have been filmed primarily in and around Budapest… so without further ado, here are Moon Knight filming locations you can actually visit in Hungary!
Origo Studies, Budapest (AKA Egypt, Steven's Apartment and More)
Address: Budapest, Felsőkert u. 9, 1151 Hungary
Many sets for Moon Knight were constructed at Origo Studios in Budapest, including all the interiors of Steven's workplace, the street in Chicago where Steven sees Marc's past and the Chamber of the Gods inside the Great Pyramid of Giza. A team of sculptors spent three months before filming began to create the giant statues of Egyptian deities on a 47,074 square-foot soundstage.
Origo Studios is very large, with 10 stages (8 soundstages, 2 VFX/multimedia stages) totaling 195,000 square feet and 10 acres of backlot. These studios have also been used in recent years for filming The Witcher, Blade Runner 2049 and Dune.
Asbóth Street, Budapest (AKA The Street Where Steven Grant Lives in London)
Address: Budapest, Asbóth u. 20, 1075 Hungary
Steven's apartment is meant to be located somewhere around Brixton in London but the scenes of him leaving or entering his apartment were actually filmed in Budapest!
If you look at the street view below, you can see the buildings that go over the street behind Steven as he departs his apartment and speaks to the broom seller. Then if you turn the camera you can see the street he walks down, before seeing his bus and racing after it. The curved row of buildings across the road definitely looks like they could be in London, but really the Hungarian signs were covered to make Asbóth Street look like a London street.
Museum of Fine Arts, Budapest (AKA The Art Gallery Where Steven Works)
Address: Budapest, Dózsa György út 41, 1146 Hungary
Steven's job in London is rather confusing, as anyone who's been to London has already commented when watching the first two episodes of Moon Knight! When we first see him entering what looks like a museum with Egyptian artefacts on display, viewers assume he works at the British Museum in London.
However, later shots of him exiting and entering the building show that it is in Trafalgar Square, which is where the National Gallery is located. The shots of the actual building facade are also NOT of the British Museum OR the National Gallery, but are, in fact, the Museum of Fine Arts in Budapest!
When Steven is fired, we can see on his superior's sweater the words National Art Gallery of London, which also isn't the name for either real-life location in London.
The museum in Budapest does slightly resemble the National Gallery in London, but it's still disconcerting to see Steven walking towards Trafalgar Square, Nelson's Column, the fountains and the lions on his way to work, when the building behind doesn't look quite right.
Additionally, the National Gallery in London only displays art, not Egyptian statues or the like, so it's very confusing why it was decided to present Steven's London workplace in such a mishmash way. Perhaps Moon Knight is supposed to be taking place in a universe that's just slightly different to ours?
Madách Imre Square, Budapest (AKA The Square Where Steven Hangs Out with A Statue Street Performer)
Address: Madách Imre tér, Budapest, Hungary
Steven often hangs out and talks to a silent street performer pretending to be a golden statue in what looks like a fairly typical London square, probably around Covent Garden.
This is another bit of sneaky trickery though, as the scenes were filmed in Budapest's Madách Imre Square, with the fountain where Steve and the statue sit being added in. The big arched building behind them is very recognisable in the daytime scenes though.
Szentendre, Hungary (AKA The German Village Where Steven Meets Arthur Harrow)
Address: Szentendre, Fő tér 5, 2000 Hungary
Steven Grant wakes up on a hillside somewhere that looks very Germanic (more on that later) and then runs into a tiny German-looking town to hide from the people chasing him, before meeting Arthur Harrow.
This pretty little town might look like it's in Germany, but the show makers actually once again changed the Hungarian signs in the cute town of Szentendre, which is located about half an hour north of Budapest.
The main town square of Fő tér is where Steven and Arthur meet, and after blacking out Steven steals a cupcake van from one of the side streets.
Cook Kapitány Söröző, Budapest (AKA The Steak Restaurant Where Steven Gets the Wrong Day for His Date)
Address: Budapest, Làzàr ú 5, 1065 Hungary
After Steven writes off his German hijinks as a bad dream, he heads to a restaurant that supposedly has the best steak in town for a date with a woman he works with. Of course, it turns out he's lost two days and shown up on the wrong day but decides to eat the best bit of the steak anyway.
According to MCU Location Scout, this restaurant scene was filmed at a café on the corner of Làzàr utca & Bajcsy-Zsilinszky köz. Set designers dressed the pub to look like a fancy restaurant in Soho.
1 Egry József Street, Budapest (AKA The Storage Facility Where Steven Finds Marc's Stuff)
Address: Egry József u.1, Budapest, 1111 Hungary
Steven starts getting suspicious and discovers the key to a storage facility. After trying a bunch, he finally arrives at the correct location, where the guy at reception recognises him.
Of course, the storage facility is supposed to be somewhere in London, but the exteriors were filmed looking at a building on Egry József Street in Budapest.
Nagykalapács Street, Budapest (AKA The Ammit Enclave)
Address: Budapest, Nagykalapács u., 1214 Hungary
Steven is taken by some fake police to the Ammit Enclave to meet Arthur Harrow, in what apparently used to be an impoverished part of London. This communal living area is supposed to be located around the Spitalfields/dockyard part of London but was actually filmed (the exterior shots anyway) in an industrial-looking area of Budapest.
When Arthur releases Steven from the handcuffs they clearly walk from the chimney stack down Nagykalapács Street where Ammit's followers are growing vegetables, keeping goats and playing soccer.
Kiscelli Museum, Budapest (AKA The Ammit Enclave Interior)
Address: Budapest, Kiscelli u. 108, 1037 Hungary
The interior of the Enclave, where Arthur gives Steven some lentil stew while other people are watching a wildlife film, was partly filmed inside Budapest's Kiscelli Museum, although the chase and fight parts were filmed on set.
In real life, the Kiscelli Museum mainly displays contemporary art, along with photos, political posters and war memorabilia from the 19th-century. While much of the museum interior features plain white walls like most museums, the main brick hall area is ideal for a vaguely Egyptian-feeling communal area.
Fun fact: this main hall was also used to bring Aretuza to life in The Witcher.
Corner of Öntő and Központi, Budapest (AKA Where Steven Fights the Jackal as Mr Knight)
Address: Budapest, Központi út 21, 1211 Hungary
When Steven finally calls the suit (and it looks different to when Marc does it) he then fights the Jackal on a side street that's just around the corner from where he entered the commune, which is nice to see for continuity's sake.
The main fight takes place on Öntő Street but then ends up on Központi, where the main building has been added to with CGI and a red London bus is placed. You can see the distinctive white framed windows in the brick building when Steven punches the jackal and yells "Wagwan" in jubilation!
Fun Fact: 'wagwan' is a slang greeting originally from Jamaica and other Caribbean countries (it means what's going on/what's up), but has also become common among south Londoners.
Vajdahunyad Castle, Budapest (AKA Where Moon Knight Impales the Jackal)
Address: Budapest, Vajdahunyad stny., 1146 Hungary
After Marc takes over he leads the jackal on a spectacular chase across London rooftops (via a lot of CGI) before jumping and managing to impale the beast on a pyramid-shaped sculpture somewhere near the Tower of London.
This scene, as well as when Marc and Steven argue in the glass pyramid's reflection, was filmed inside the grounds of Vajdahunyad Castle in Budapest. The scene was specifically filmed on the bit opposite the Jaki Chapel where there is a statue of Bela Lugosi and part of the building has blue paint.
Fun Fact: the interior of the Jaki Chapel was also used as a filming location in The Witcher!
Nádasdy Mansion, (AKA The Cairo Estate of Anton Mogart)
Address: Nádasdladány, Kastélypark 1, 8145 Hungary
In episode 3, Marc and Layla head to the Cairo estate of Anton Mogart while looking for the sarcophagus of Senfu. Anton Mogart (played by the late Gaspard Ulliel) is an antiquities collector and his estate features some very cool glass pyramids.
This 'Cairo' estate was brought to life on the grounds of Nádasdy Mansion, a neo-Gothic manor house located about an hour north-west of Budapest. While you can only see the front of the mansion on Google maps, the scenes featuring the glass pyramids and arena where Mogart was practising El-Mermah were most likely filmed at the back of the mansion.
Fun fact: the exterior of Nádasdy Mansion was also used to depict the exterior of the vampire mansion in the Underworld film series!
Hungexpo, (AKA The Sienkiewicz Psychiatric Hospital in London)
Address: Budapest, Albertirsai út 10, 1101 Hungary
In the post-credits scene of the final episode of Moon Knight, we see Arthur Harrow escorted into a limo where he is confronted by Khonshu and an aspect of Marc Spector's disassociative identity disorder who has remained mysterious until now.
While the shots appear to be in London, the Gherkin and other London buildings in the background were actually digitally added, as the scene was filmed on the grounds of the Hungexpo convention center in Budapest. You can't get a Google maps view of the exact location (Hungexpo is a pretty massive facility) but apparently, the scene was filmed in between pavilions D and E.
Moon Knight Filming Locations in the United Kingdom
While Oscar Isaac has said in an interview that he didn't actually step foot in London for the entirety of Moon Knight shooting, there were some establishing shots and other scenes which were definitely filmed in the city, but probably digitally added to shots of Oscar Isaac filmed elsewhere.
However, there are some recognisable shots from London you might like to find in real life, which we've included here.
40 Strand Steet, (AKA Where Steven Sees Khonshu in London)
Address: 40 Strand, London WC2N 5RW, United Kingdom
When Steven Grant is on a London bus on his way to work, he is shocked to see Khonshu casually standing outside on the pavement next to a NatWest bank location. While Oscar Isaac was probably filmed on a set of a London bus, the street where Khonshu is standing is The Strand, just down from Trafalgar Square.
Khonshu is standing in front of a business called Bain & Company which is wedged between both a NatWest and a Lloyds Bank branch.
Battersea, Waterloo and Embankment, (AKA Where Layla Drives Steven on Her Moped)
When Steven Grant is scared pantsless by Khonshu within the storage facility, he runs outside where Layla appears on her moped. They are then seen talking as they drive from Battersea to Waterloo and then to Embankment, with a number of recognisable shots.
However, if you look closely, whenever you see the recognisable London landmarks you only see the back of the characters, but when you see their faces close-up, it's not obvious where they are. Since Oscar Isaac said he was never in London for Moon Knight then it stands to reason body doubles were simply used for the shots of two people riding a moped through London.
See this post on MCU Location Scout for all three locations on the map.
Moon Knight Filming Locations in Germany
Only one scene was filmed in Germany, and we think it was probably just a camera team who went there to get the shots that were added later. But in case you were wondering…
Burg Eltz, (AKA The Castle by the Town Where Steven Wakes Up With the Scarab)
Address: 56294 Wierschem, Germany
When Steven wakes up on a random hillside that looks like it could be Germany or Austria, he turns around to see a castle (which didn't seem to be there at all beforehand) where some people start shooting at him.
This scene was created using on-location filming and CGI, because the castle looks very similar to Burg Eltz in Germany, although that castle is not surrounded by the landscape shown on Moon Knight.
Moon Knight Filming Locations in Slovenia
One very exciting (and weird) Moon Knight scene was filmed on location in Slovenia, on a very unique road.
Route 656, Slovenia (AKA The Road Where Steven Drives a Cupcake Van to Escape)
Address: 656, 1337 Osilnica, Slovenia
After Steven steals a cupcake van to escape Arthur's henchmen in the small German town, he ends up in a pretty epic car chase on a road with lots of switchbacks.
This crazy car chase, where Steven keeps blacking out as Marc takes over, was filmed on a winding part of Route 656 in Slovenia. We think there may have been a little CGI added to the mountains in the background, but the road is definitely real, and looks a little hair-raising for normal driving, let alone when being chased by people with guns!
Moon Knight Filming Locations in Jordan
All the scenes filmed out in the desert of Egypt were actually filmed in Jordan, probably because it's already been used for a number of films (including Star Wars and Dune, both of which Oscar Isaac appeared in) and has the infrastructure for filming.
Wadi Rum (AKA The Location of Ammit's Tomb)
Address: Wadi Rum Protected Area, Jordan
The exact filming location for Ammit's Tomb is unknown, although it's somewhere near the Wadi Rum village, as the filmmakers and actors were based there. The scene on the road where the convoy is stopped by police and Harrow demonstrates Ammit's powers was also filmed somewhere nearby, although we don't know the exact locations.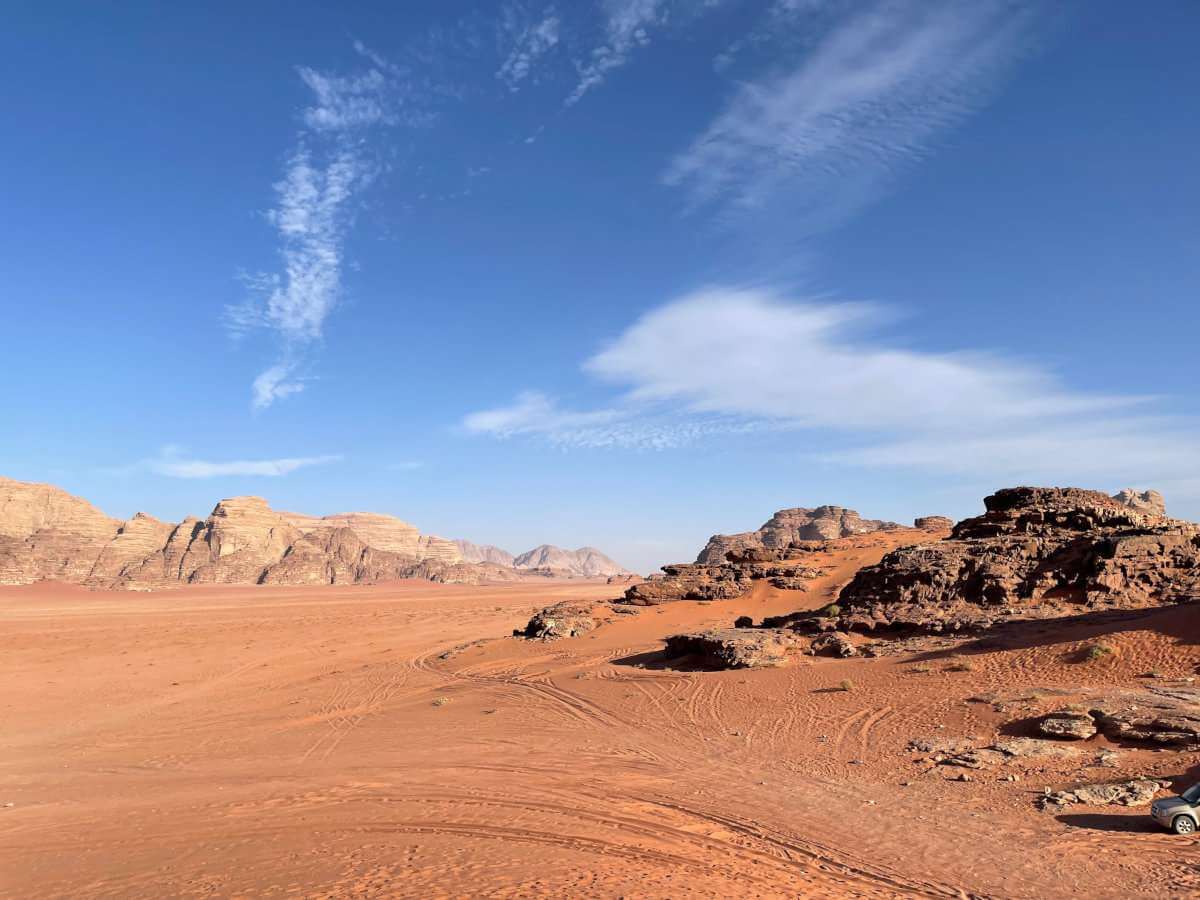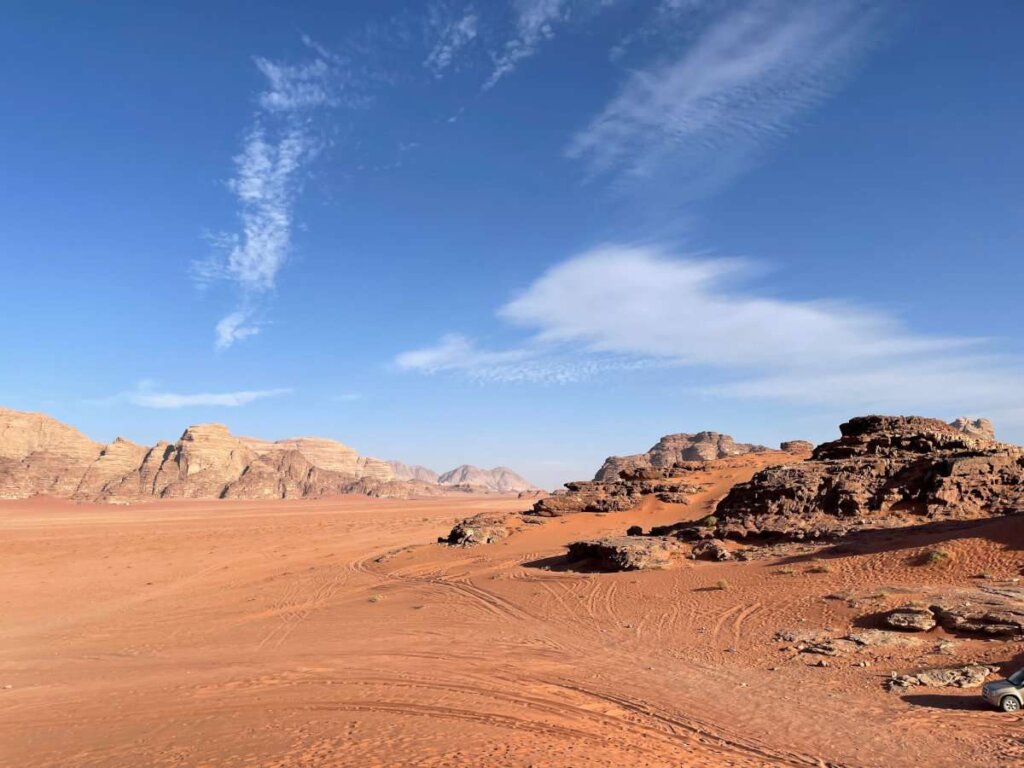 Have Any Tips on Moon Knight Filming Locations?
Let us know in the comments so we can update our guide and make it better!