*FYI - this post may affiliate links, which means we earn a commission (at no extra cost to you) if you purchase from them. Also, as an Amazon Associate I earn from qualifying purchases. For the full scoop on what this means, feel free to check out our Privacy Policy and Disclosure.
---
This is the way – the proper way – to host an epic Mandalorian watch party!
Looking for some cooking inspo to liven up your next Mando marathon with friends and/or family?
We've searched far and wide across the galaxy for the best recipes, both originally created and from the official Star Wars: Galaxy's Edge: The Official Black Spire Outpost Cookbook, in order for YOU to create some culinary masterpieces from the comforts of your own home.
We've separated dishes into a few categories (appetizers, desserts, main courses, drinks, and Galaxy's Edge-specific recipes) for readability, but we hope you'll give more than one a go.
Whether you're cooking for just one Bounty Hunter or all of Mandalore, these recipes are sure to tickle your fancy! Throw on your Baby Yoda onesie, and let's get straight to the good stuff.
Want to refresh your Mando knowledge? Click here to read our roundup of the best Mando quotes and sayings!
Save this post for later on Pinterest: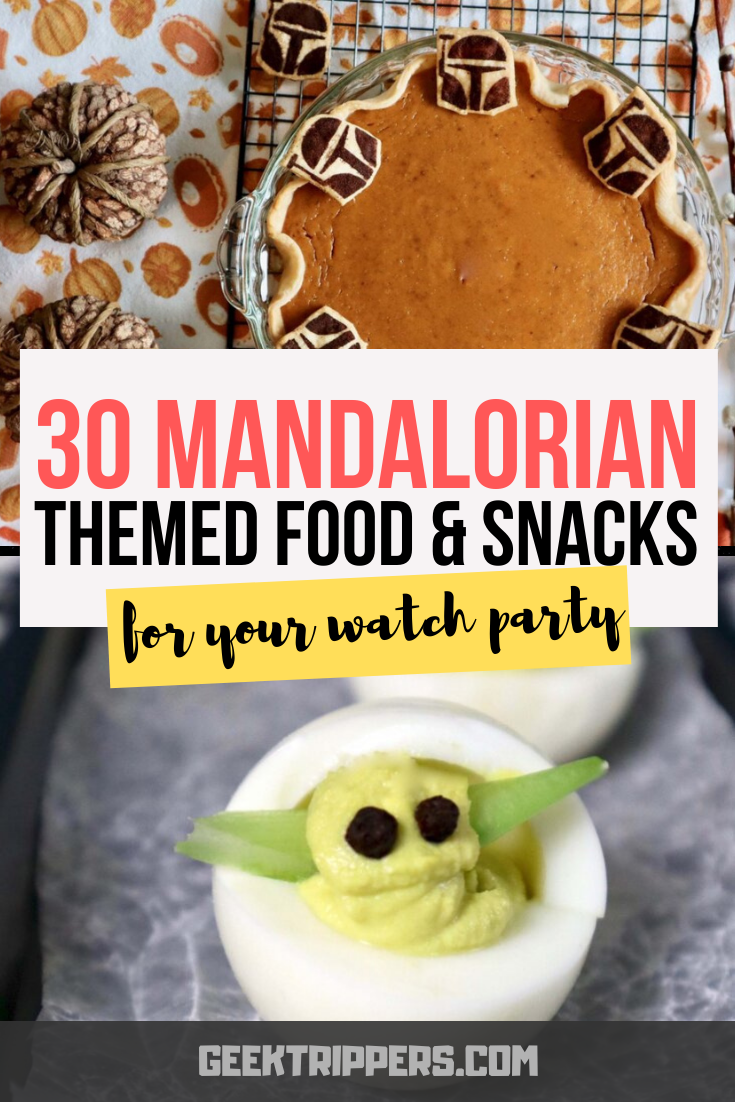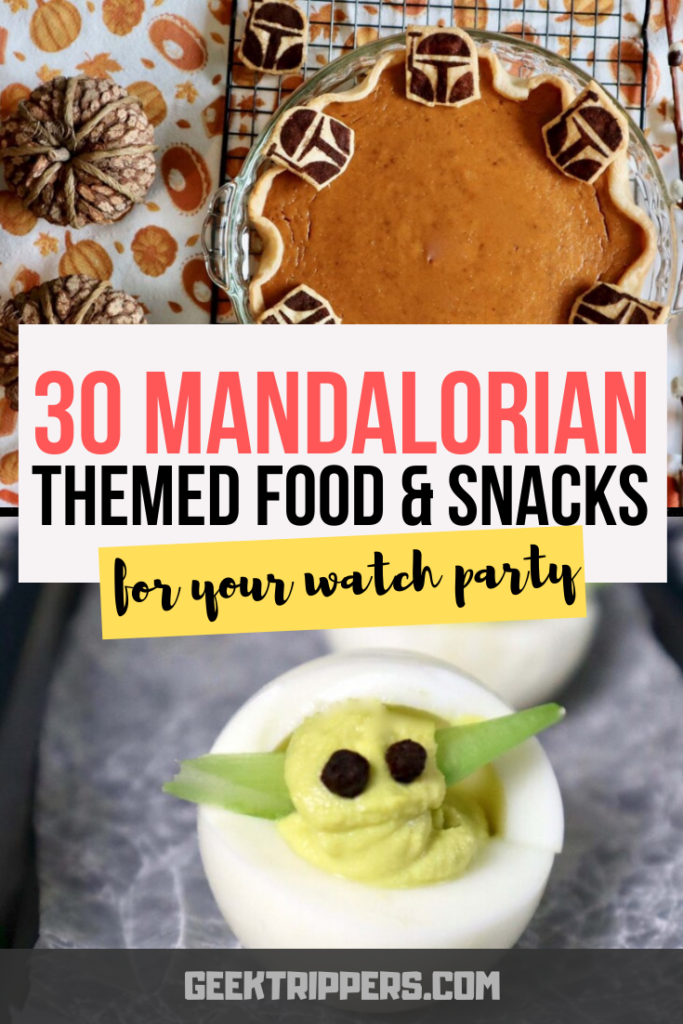 Mandalorian Appetizers
Whether you're planning on hosting a party that features light hors d'oeuvres OR an entire full course spread, these appetizers are bound to amaze your guests. These are some of our fave Mando starters that are the perfect size for light nibbling!
1. Baby Yoda Deviled Eggs with Avocado
Want a healthy, geeky snack for your Mando watching? These Baby Yoda deviled eggs are the perfect solution!
The best part is that you might have all the ingredients you need to make these cuties; everything required is a kitchen staple. The avocado-yolk filling is also perfect for representing The Child!
Click here for the recipe from Popcorner Reviews.
You can also watch the video tutorial here:
2. Baby Yoda Nachos
These are 'nacho' average snacks! This is an entire spread of nachos, complete with guacamole, onions, peppers, and olives to round out Baby Yoda's figure.
It's the simplest snack for Mando viewing that doesn't even require baking!
Click here for the recipe from Little House Big Alaska.
We gave it a shot ourselves before binging some Mando content: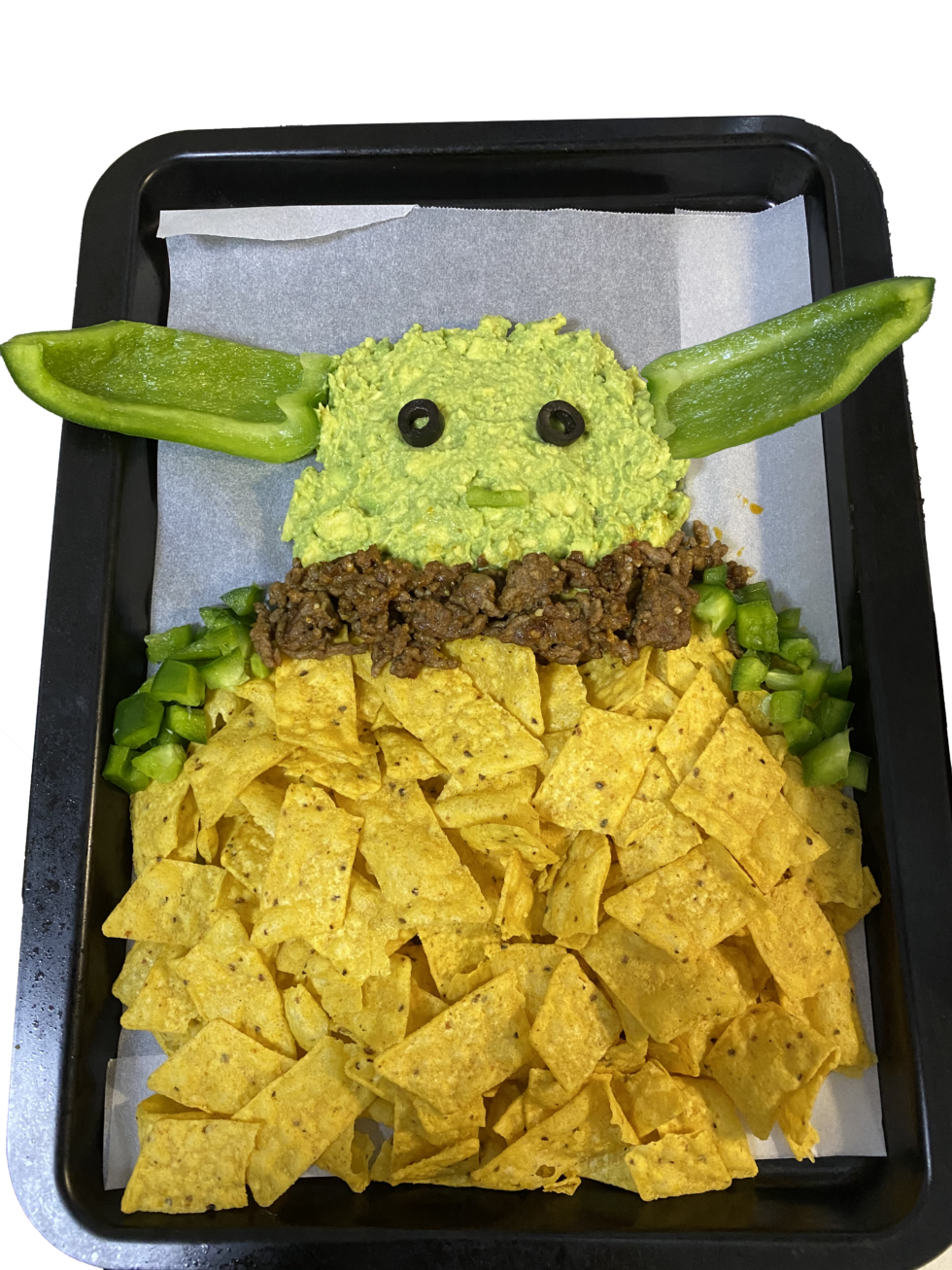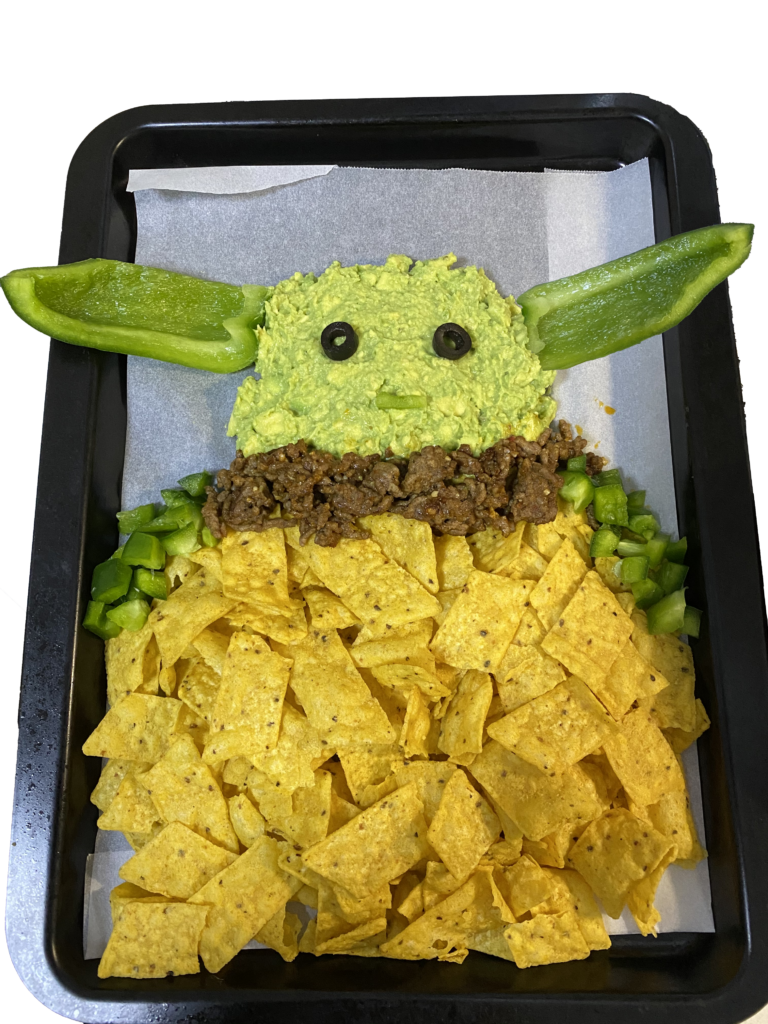 3. Baby Yoda Rice Krispie Treats
These Rice Krispie treats get an instant cute factor addition when you plunk on Baby Yoda's jumbo candy eyes! Plus, they're the perfect size for popping into your mouth whole while you watch a helping of Mando.
Watch the video tutorial for the recipe below, via Mz Hollywood:
4. Baby Yoda Spinach and Artichoke Bites
These Baby Yoda spinach and artichoke bites are unbe'leaf'ably delicious! Plus, have you ever seen something cuter?!
They're shaped in the exact same form as Baby Yoda's head, and they're the perfect size to pop into your mouth for some delectable bites while glued to the TV.
Click here for the recipe from Popcorner Reviews.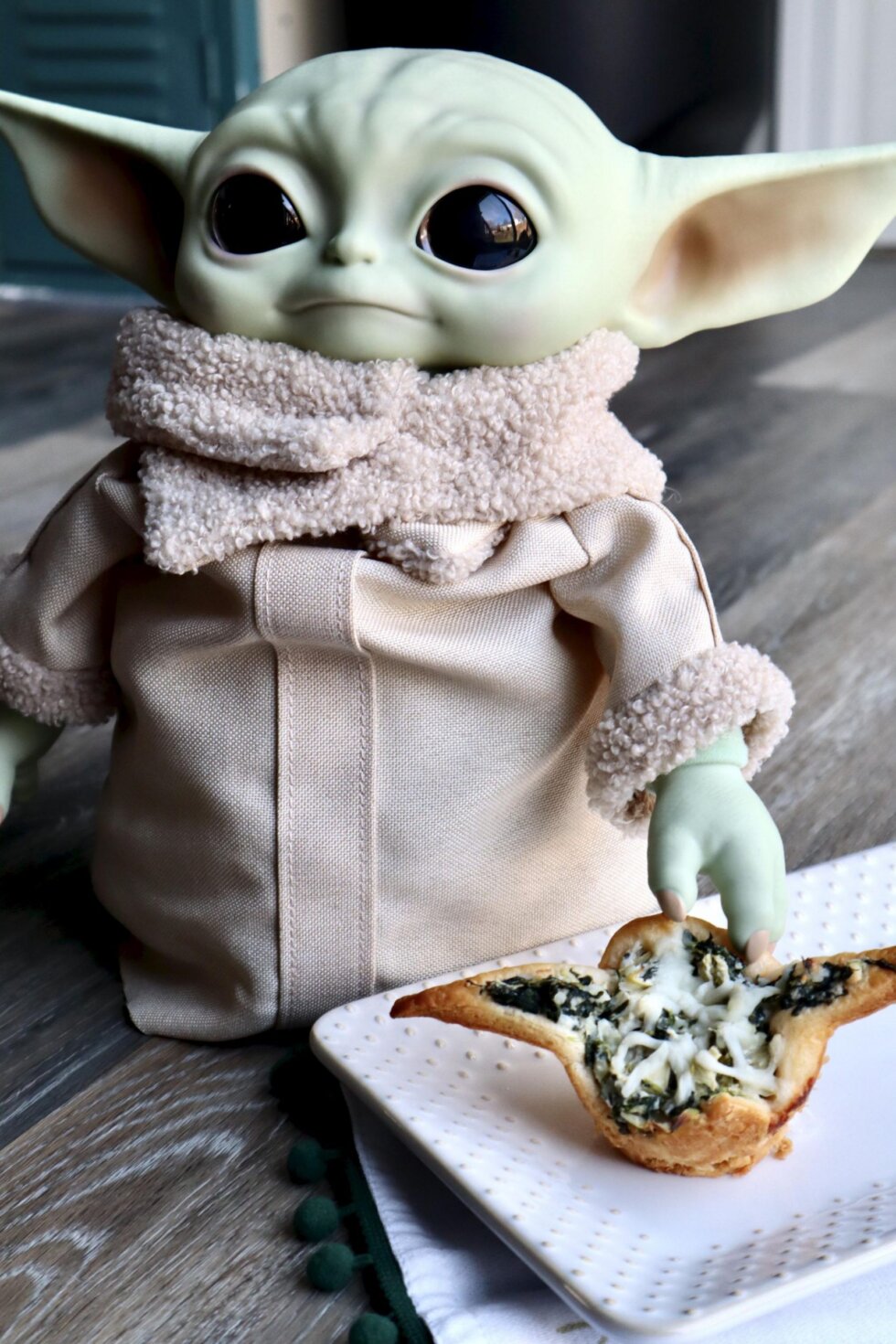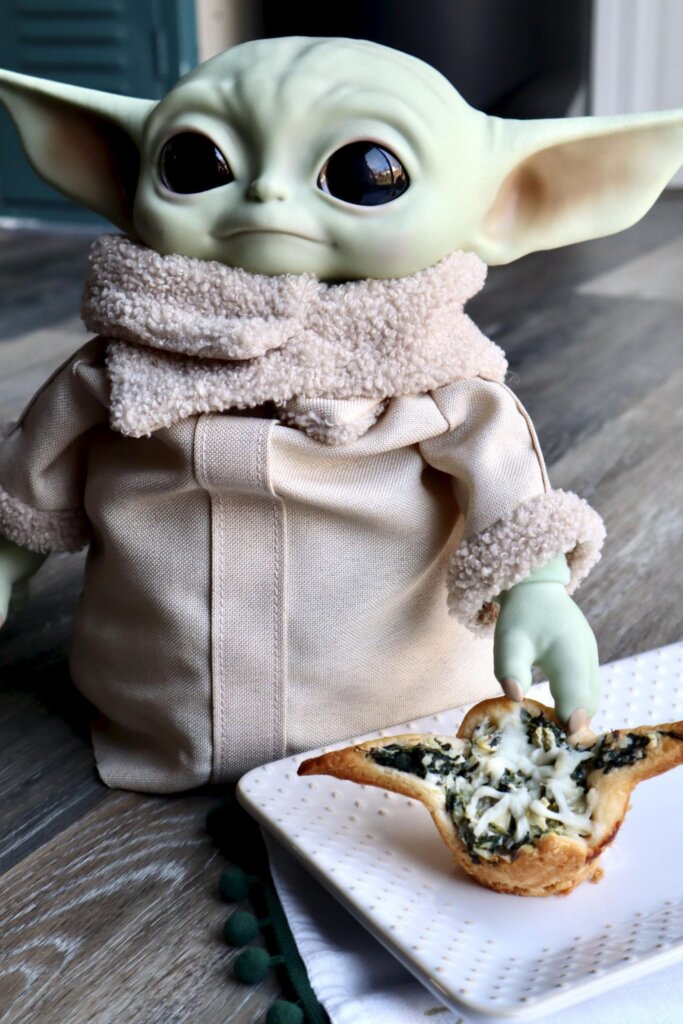 Mandalorian Desserts
These recipes will surely make your Mando watching even more of a sweet experience. We've included the most clever, simple, and of course, DELICIOUS recipes for Mando-themed desserts that you can bake.
Be warned, though – if you whip these up for your Mando marathon, chances are, you'll be asked to host every Star Wars party from here until eternity. These recipes are bomb!
5. Mandalorian Pumpkin Pie
Pumpkin pie – but make it MANDO! This beautifully unique spin on pumpkin pie is absolutely delicious (and also subtle enough to bring to Thanksgiving and Christmas shindigs).
Popcorner Reviews turns a classic recipe into something that you'll wholesomely enjoy for dessert, while being engrossed in everything Mando.
Click here for the recipe from Popcorner Reviews.
6. Baby Yoda Macarons
If you love bite-sized, adorable treats, these Baby Yoda macarons are perfect for you!
They're so cute, you might end up just giving them as a gift because you won't have the heart to eat them yourself.
Watch the video tutorial of the recipe, via Binging with Babish below (and Jon Favreau even makes an appearance!):
BONUS: If you've seen Season 2 (Chapter 12), you'll recognize these "Baby Yoda space macarons" that have taken the world by storm.
Or, if you want to take the easy (but pricey) route, you can purchase official Mandalorian macarons from William-Sonoma. Click here for the link.
These were inspired by that precious scene when a young Nevarro student didn't want to share his noms with Baby Yoda. Thus, these "space macarons" were born, each coming with a delicious bite full of vanilla-almond filling.
7. Baby Yoda Cookies
These Baby Yoda cookies are the cutest delicacies in the galaxy! They're so adorable, you might have a tough time nomming them up.
They're essentially cute twists on sugar cookies that can be easily made right before any Mando party.
Click here for the recipe from Popcorner Reviews.
For another take on Baby Yoda cookies, watch this video tutorial below from Cookielicious NZ:
If you're vegan, never fear – watch the video tutorial below from iHasCupquake to make VEGAN Baby Yoda cookies:
And lastly, if you can't bake to save your life (like me), you can use Nutter Butters and make these adorable no-bake Baby Yoda cookies. Click here for the recipe from The Savvy Mama Lifestyle.
8. Baby Yoda Cupcakes
These Baby Yoda cupcakes are the cutest tiny desserts that don't require TOO much work. Plus, once you're done decorating them, they're the perfect subjects for your 'Gram – just sit back in awe of your adorable creations!
Watch the video tutorial for the recipe below from Cakes by Tori Elizabeth:
9. Baby Yoda Cake Pops
Everyone loves cake pops, right? For your Mando watching party, whip up these cutie pies – everyone will love nomming one or two (or all of them)!
These also make the absolute PERFECT gifts for that Mando-obsessed friend. Watch the video tutorial for the recipe below from Craftologia:
10. Bantha Cookies
These Bantha cookies are irresistibly adorable (so much, that you might not even want to eat them). For those who have seen Season 2 (Chapter 9), you'll know that Banthas play a crucial role.
Thus, it's only honorable to make these cookies to showcase your love for these hairy, slow-moving creatures!
Click here for the recipe from Popcorner Reviews.
Check out Monica's video tutorial for making the bantha cookies below:
11. Mando Helmet Cake
Alas, how can you watch Mando without making his ENTIRE helmet in his honor? This video shows you all the steps from start to finish to make your cake-making process a breeze.
Click here for the video tutorial from The Robyn's Nest:
12. Baby Yoda Cake
Want to try making a 3D Baby Yoda cake? This innovative recipe is sure to be worth all the time and effort!
Watch the video tutorial for the recipe from Koalipops:
If you want to learn how to make a Baby Yoda cake (in his crib), watch the video from The Lovely Baker below:
Sidenote: If you search "Baby Yoda cake" on YouTube, you'll get HUNDREDS of results!
13. Mando Ice Cream Sandos
No need for the Mando code when you whip these up! These tasty Mando ice cream sandwiches are cool enough to make in the wee hours leading up to another season.
Plus, it's like triple the treat – your fave ice cream flavor wedged between two sugar cookies! Mm mm.
Click here for the recipe from the official Star Wars blog.
Mandalorian Main Dishes
Alright, let's cut to the hearty stuff! The following Mandalorian themed recipes will not only make you drool with delight, but they'll leave you feeling extra full and satisfied.
Plus, they're all made with subtle (or very obvious) Mando touches, which makes these the best possible main dishes you can serve up for a Mandalorian watch party.
14. Bone Broth
Want to try the same soup that Baby Yoda was sipping in his infamous mug? Here's your chance!
With this detailed recipe and walkthrough, you'll be able to follow along and serve up some piping hot bone broth that Mando would even be envious of.
Watch the video tutorial below, via Babish Culinary Universe:
15. Baby Yoda Ramen
Quite possibly the best recipe on this list (but I'm not biased – or am I?), this Baby Yoda ramen recipe is unique, creative, AND fun.
The video's creator mentioned that the original was on Reddit (find that post here), but his recreation of this recipe was spot-on and absolute perfection. And how GOOD is that coloring of Baby Yoda's head?!
Watch the video tutorial below, via Kojimochi:
16. Spicy Mandalorian Stew
Try your hand at making this delicious spicy Mando stew! It's flavorful, full of nutrients, and isn't difficult to cook up at all.
Note: This recipe is from "Star Wars: Galaxy's Edge: The Official Black Spire Outpost Cookbook," by Chelsea Monroe-Cassel. You can find the official cookbook here.
Watch the video tutorial for the recipe below, via Fantasy Kitchen:
17. Baby Yoda Sandwich
For an ideal main course, try making this Baby Yoda sandwich! And yes, it DOES include fried frog legs – authentic to some of Beb Yoda's staple foods!
Watch the video tutorial for the recipe below, via Sauced Up! Foods:
18. Mandalorian Casserole (Tiingilar)
Did you know that Tiingilar is an extremely spicy casserole made by members of the Mando culture? It uses various meats, veggies, and spices –some of which are so pungent, they're enough to burn one's nasal passages?!
Regardless, this dish is prized by Mandalorians, being one of four qualities sought after in the code of Mando cooking. It's a must-cook if you're interested in the way of the Mando!
Watch the video tutorial for the recipe below, via The Science Kitchen:
Misc. Mandalorian Treats
Looking for other Mando goodies that you don't need to make yourself? Thanks to the goodness of online shopping, you'll find plenty of Mando treats available at the click of your button. Here's a few of our faves:
19. Mandalorian Cereal
Yes, Mandalorian-themed cereal exists!
Thanks to General Mills, you can indulge in this fruity-flavored cereal with marshmallows (filled with plenty of vitamins and minerals).
Buy it here from Amazon:
20. Baby Yoda Toy & Candy Set
If you're looking for something to cuddle WHILE you eat, this Baby Yoda plush and candy set is the answer to your prayers.
Plus, the candy is filled with fruit snacks… in the shape of Baby Yoda. But let's be real, we're all buying this mainly because of how cute the plush is!
Buy it here from Amazon:
21. Mandalorian Fruit Snacks
These Mandalorian fruit snacks are the ones you've been looking for!
They're a slightly healthier alternative to all of the other sugary treats we've listed – and they come in the cutest shapes imaginable.
They're especially great for young Padawans who may be watching Mando with you!
Buy it here from Amazon:
22. Mandalorian Advent Calendar with Chocolate
This Mandalorian-themed advent calendar is the cutest gift for the holidays – and 24 various milk chocolate candies are behind each door! We especially love the front cover, featuring a snowman Stormtrooper that says, "Up to snow good."
Buy it from Amazon here:
23. Mando Helmet Waffles
If the breakfast Force is strong with you, you'll definitely need to whip up these wonderful waffles in the shape of Mando's helmet.
Plus, this handy appliance does everything for you – just pour in the batter, and the magic cooks up in mere minutes!
Click here to buy the waffle maker.
There's also a Baby Yoda waffle maker that you can purchase here.
Mandalorian Drinks
Ya can't have a fun-filled Mando watch party without the DRINKS, now, can ya?!
Here are a few adult beverages (and some kid-friendly ones as well) that perfectly complement all of the delicious recipes we've just discussed.
24. "The Child" Cocktail
If you love Trader Sams Enchanted Tiki Bar (located on the grounds of Disneyland Hotel in Anaheim), you'll love this recipe for The Child cocktail. It's a secret menu item (shhhh), but you can recreate it at home while watching Mando!
Fun fact: The whole Baby Yoda/"The Child" naming dispute over the cocktail was actually due to Lucasfilm Ltd. (read the reasoning in the video description below).
Watch the video tutorial for the cocktail from The Educated Barfly:
25. Hyperdrive Drink
Also from the Holy Grail of Star Wars recipes (the Galaxy's Edge cookbook), this hyperdrink drink recipe is an easy, non-alcoholic, refreshing way to counter all the food you've been delighting in.
All you need is white cranberry (or white grape juice), any blue sports drink, lemon-lime soda, and black cherry puree. The result is an ombre look of pure beauty!
Watch the video tutorial from Nate Tiki:
26. Blue & Green Milk
You'll either love or hate blue/green milk, but why not give it a whirl at home?
This is a close replica of the official recipe from the parks, and even though Mando and Baby Yoda are never seen drinking it, we'd assume it was definitely around in their time.
Watch the video tutorial below from Rosanna Pansino:
If you live in a Hoth-like climate all the time, why not make BLUE MILK HOT CHOCOLATE? Check out this creative recipe from Always Believe with this detailed video tutorial here!
Star Wars Galaxy's Edge Recipes
While none of these recipes are directly from the Mando galaxy per se, they're all official recipes from the Galaxy's Edge cookbook. We thought we'd include a few to inspire your geeky cooking skills even further!
27. Ronto Wraps
These are some of the hottest sellers in Batuu (in the parks, that is), especially with their resemblance to Oktoberfest-like bratwurst (by the way, if you're drooling for some actual Oktoberfest recipes now, click here).
Watch the video tutorial of the recipe below, from Fantasy Kitchen:
We even made our own Ronto Wraps via this recipe, so this is what all the ingredients looked like laid out before we assembled everything together (we opted to only use sausage rather than additional pork chops).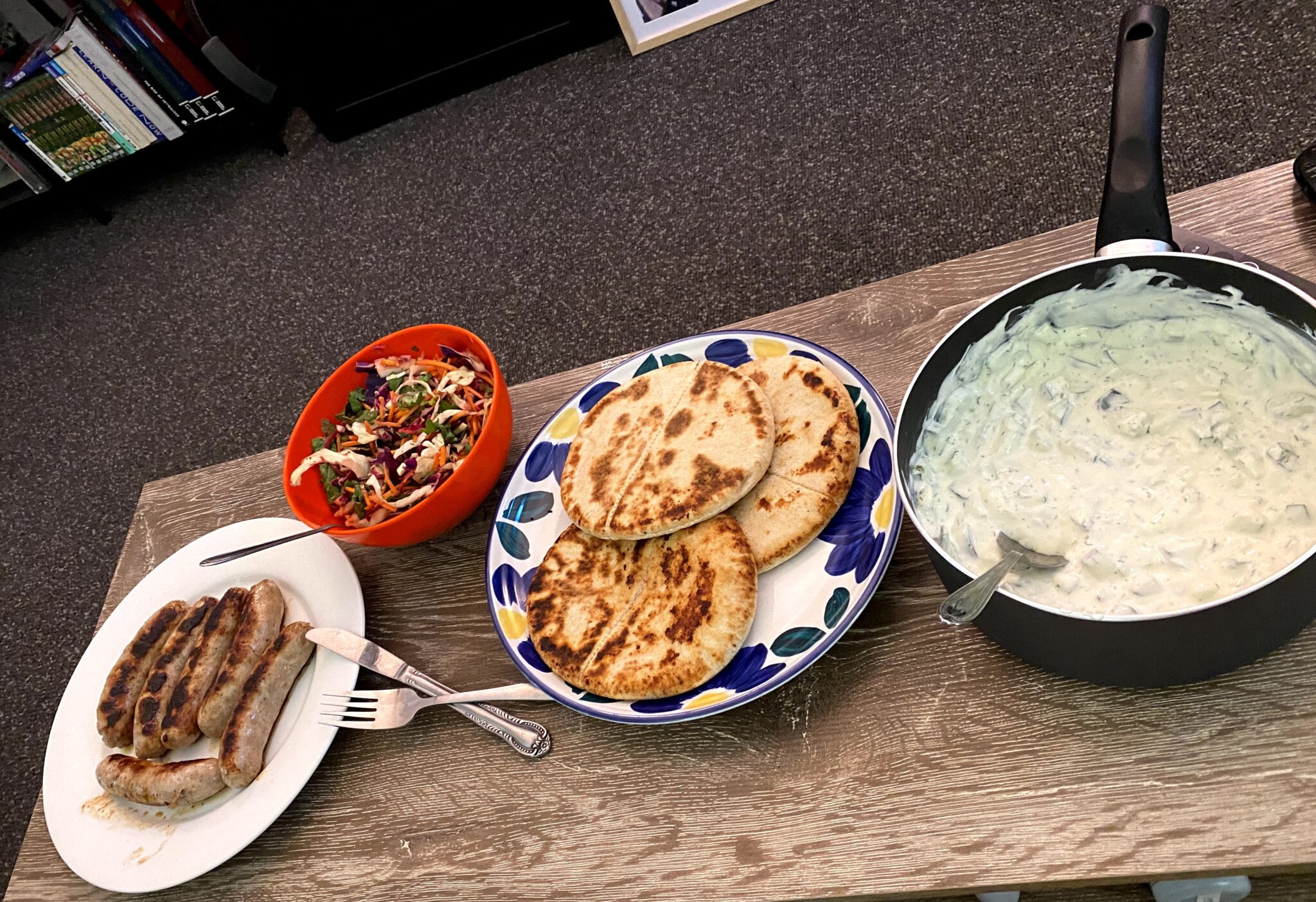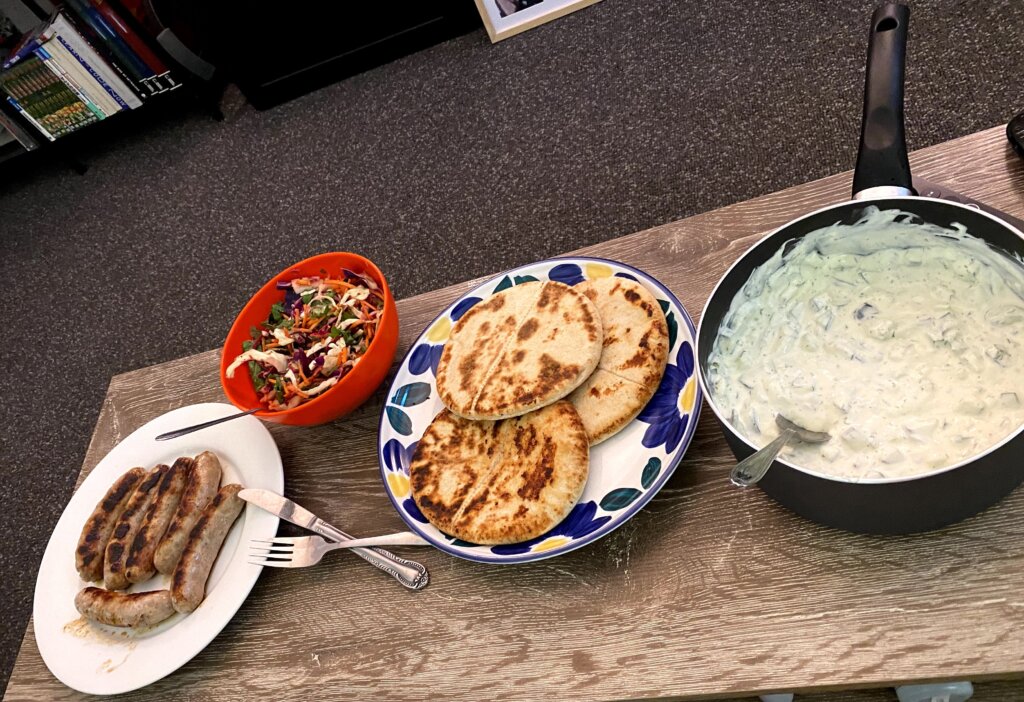 28. Gormaanda's Glowblue Noodles
Try saying THIS recipe in a tongue twister! Despite its fairly complex name, these noodles are the perfect blend of cheesy and cherry tomatoey-refreshing.
And don't worry – the rice noodles are just turned blue with the blue pea tea bags. The flavor is still out of this world!
Watch the video tutorial of the recipe below, from Fantasy Kitchen:
29. Huttese Slime Pods
Don't let the disgusting appearance of these slime pods fool you – they're actually quite tasty! If you're a gnocchi fan, this is a must-cook recipe that is perfect for Mando watching.
Watch the video tutorial of the recipe below, via Fantasy Kitchen:
30. Fried Endorian Tip-Yip
This recipe also includes mashed chokeroot and is PACKED with flavors. If you're looking for a hearty meal to cook up for your Mando marathons, this is the dish to make!
Watch the video tutorial of the recipe below, via Fantasy Kitchen:
31. Nerf Kebabs
If you want to make some delicious food for your "scruffy-looking nerf-herder" partner, this recipe is sure to delight. It's essentially just meat on a stick, but anything with a Star Wars twist always has our approval.
Watch the video tutorial of the recipe from vaultgirl145:
32. Gruuvan Shaal Kebab
This is your chance to make kebabs with a Star Wars twist! Learn how to make these simple kebabs, and your whole family will feel like they're living on Mandalore with Baby Yoda and co.
Watch the video tutorial below from Fantasy Kitchen:
Looking for more Star Wars-related recipes? Click here for some recipes from the official Star Wars blog!
BONUS: If you're really extreme and want to eat like Baby Yoda for a day, you can always emulate YouTube user nickkingofearth, who did just that. Watch the video below:
We Hope You Enjoyed Our Roundup of Mando Recipes!
Do you have a Mando or Baby Yoda-related recipe that you've tested and want to share with us? Let us know in the comments! Happy Mando watching, and we hope that your appetites are satiated after all of this recipe-making!