*FYI - this post may affiliate links, which means we earn a commission (at no extra cost to you) if you purchase from them. Also, as an Amazon Associate I earn from qualifying purchases. For the full scoop on what this means, feel free to check out our Privacy Policy and Disclosure.
---
What do Game of Thrones, Popeye and Assassins' Creed all have in common? Well, Geektripper – they were all filmed in the glorious country of Malta, a dreamy haven filled with magical sights that you truly won't believe exist.
And well, since we at Geektrippers, are so obsessed with covering the most magical destinations around the world, we figured we would share with you today some of the most magical sights that you can find in the underrrated gem that is Malta.
So, whether you're in the mood for poppin' in Popeye Village or wallowing in the most magically blue water you've ever seen in your life, here are ten unmissable sights in Malta that truly are…. pure magic.
Save this post for later on Pinterest: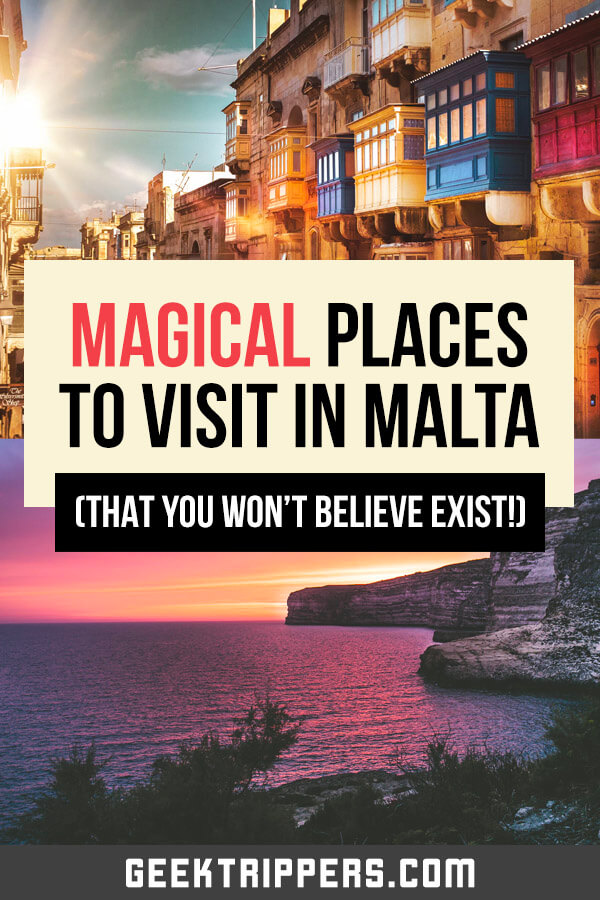 1. Popeye Village
We'll start our list with a magical real life film set so beloved, it was preserved and converted into an amusement park!
That's right – the Popeye Village in Malta really is the village seen in the 1980 adaptation of Popeye starring Robin Williams (his first major film role). Built in the late 70s to depict Sweethaven for the movie, it was subsequently converted into an amusement park that is now one of the most well-known tourist attractions in Malta.
Whether or not you're a fan of Popeye though, there's no denying that this this colourful surprise built around the turquoise shores of Anchor Bay is one photogenic beauty: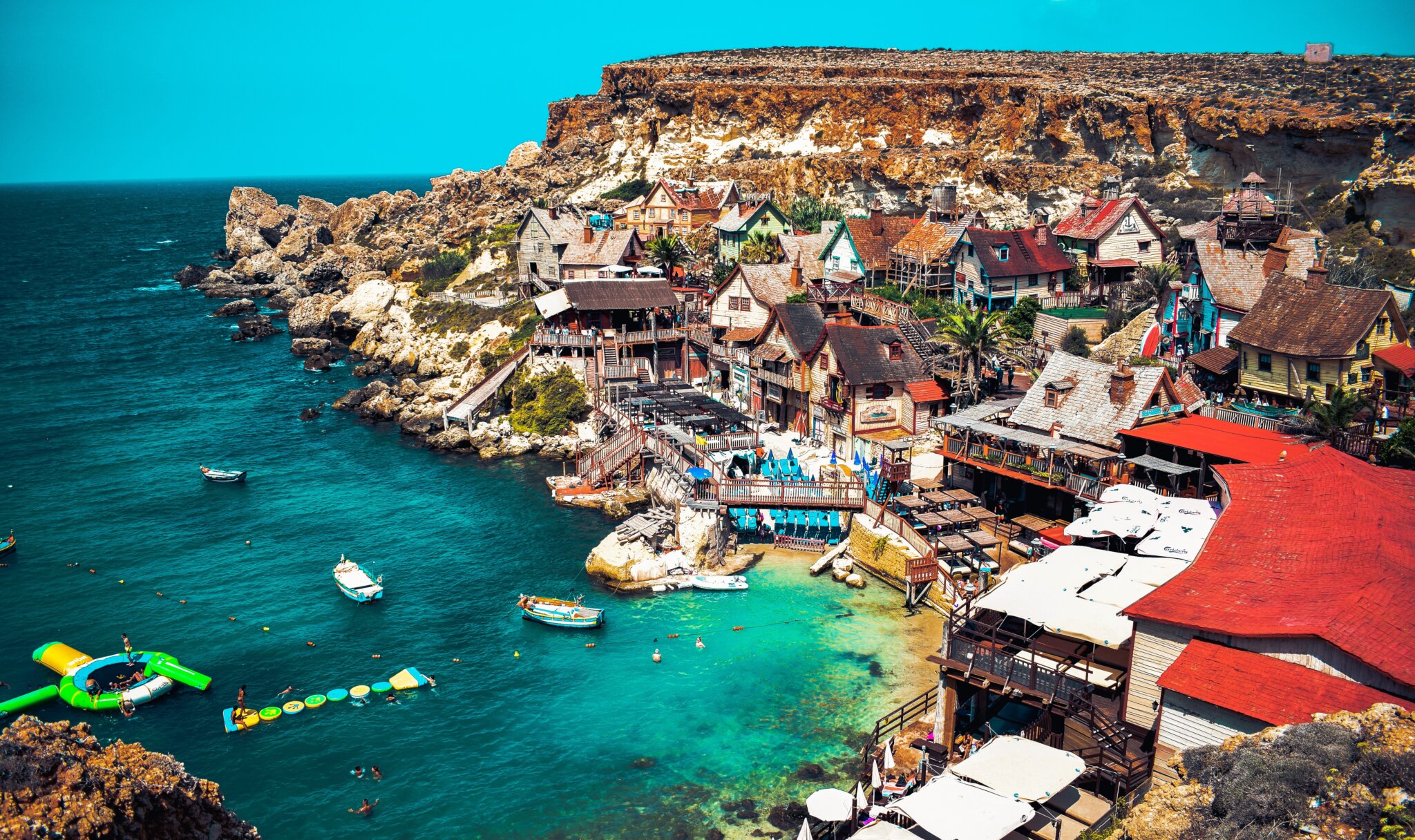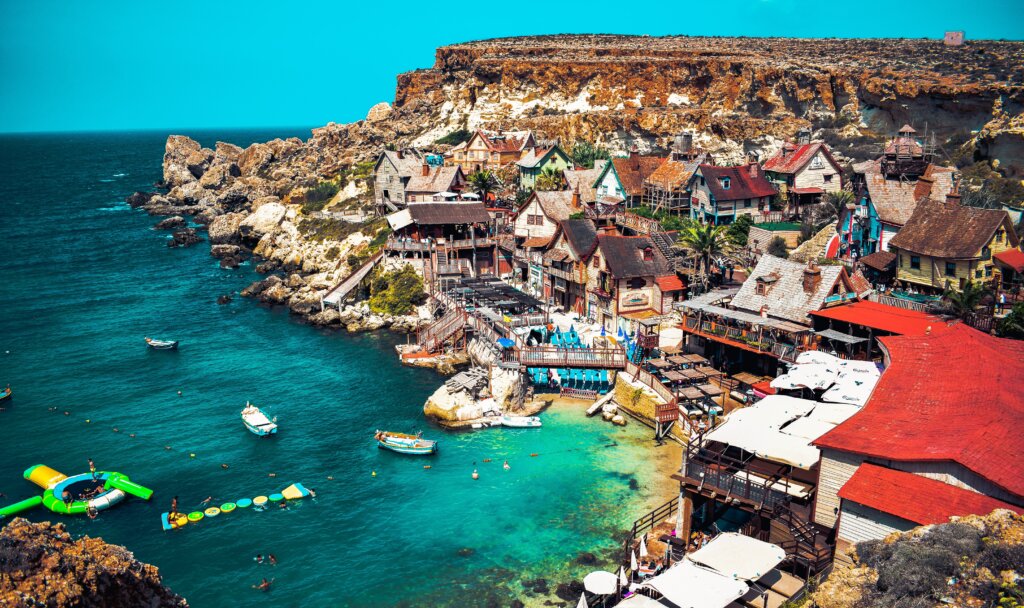 2. Mdina
The Silent City of Mdina is a golden walled city found in northern Malta. Once the island's capital, today the city retains its ancient charm thanks to its strict no-car rule, which makes a step here feel like taking a step back in time.
Of course, Mdina feels like a movie set too because it has been one, time and time again. Most notably, Mdina played a starring role in Season 1 of Game of Thrones. You can learn more about the different GoT filming locations in Mdina here.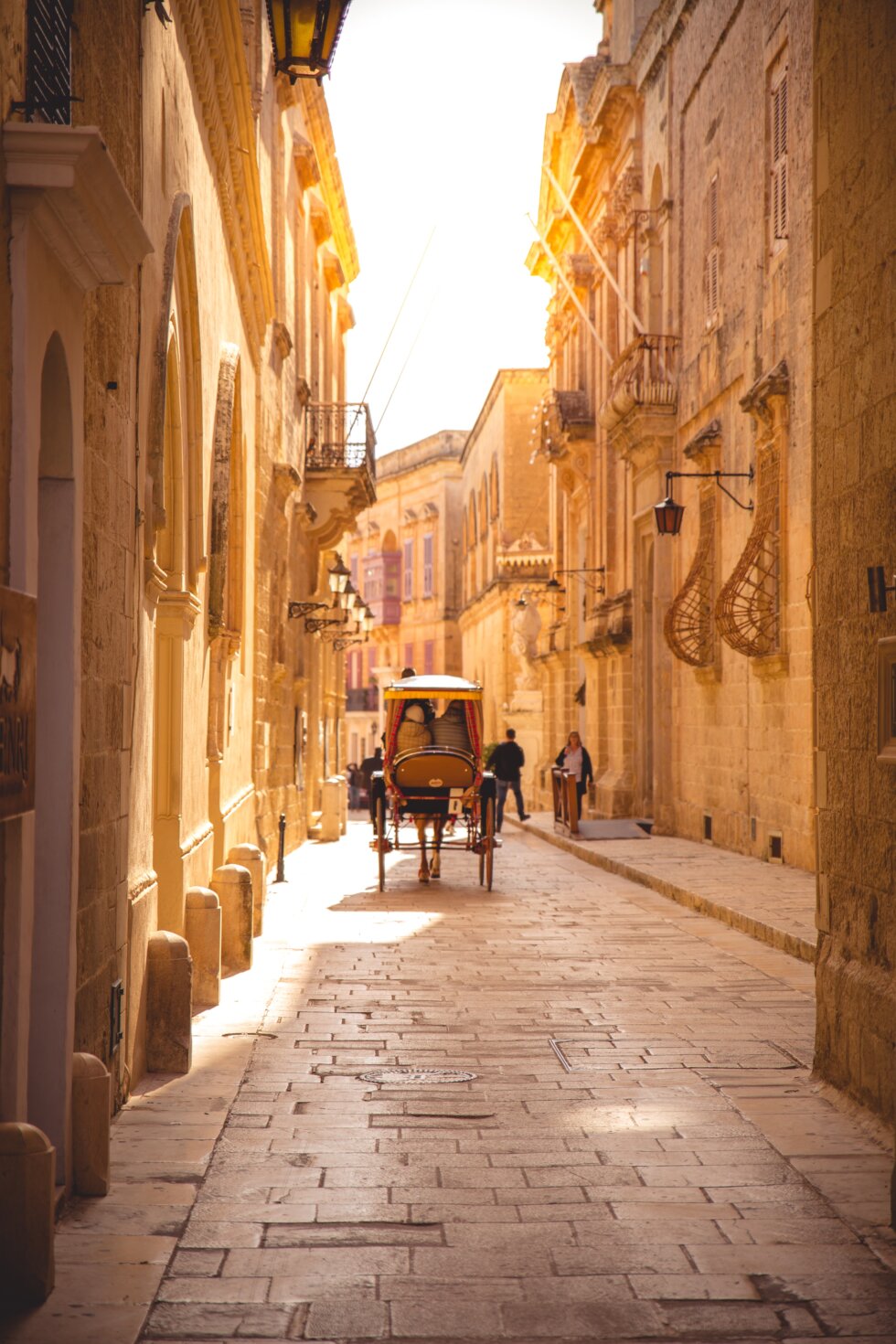 3. Valletta
For another stunning Maltese city that will transport you straight into a film set, look no further than the country's current capital: Valletta.
Here, you'll find picturesque streets lined with golden limestone buildings, along with the distinctive colour pop of the city's famous vibrant balconies.
From jawdropping attractions like the St John's Co-Cathedral and the lush Upper/Lower Barakka Gardens to stunning views across the water to Malta's Three Cities, there is plenty to do here to keep you occupied… and feeling like you're in a film set of your own!
PS: You'd be in good company too, since major blockbusters including Assassin's Creed and Murder on the Orient Express have both filmed here.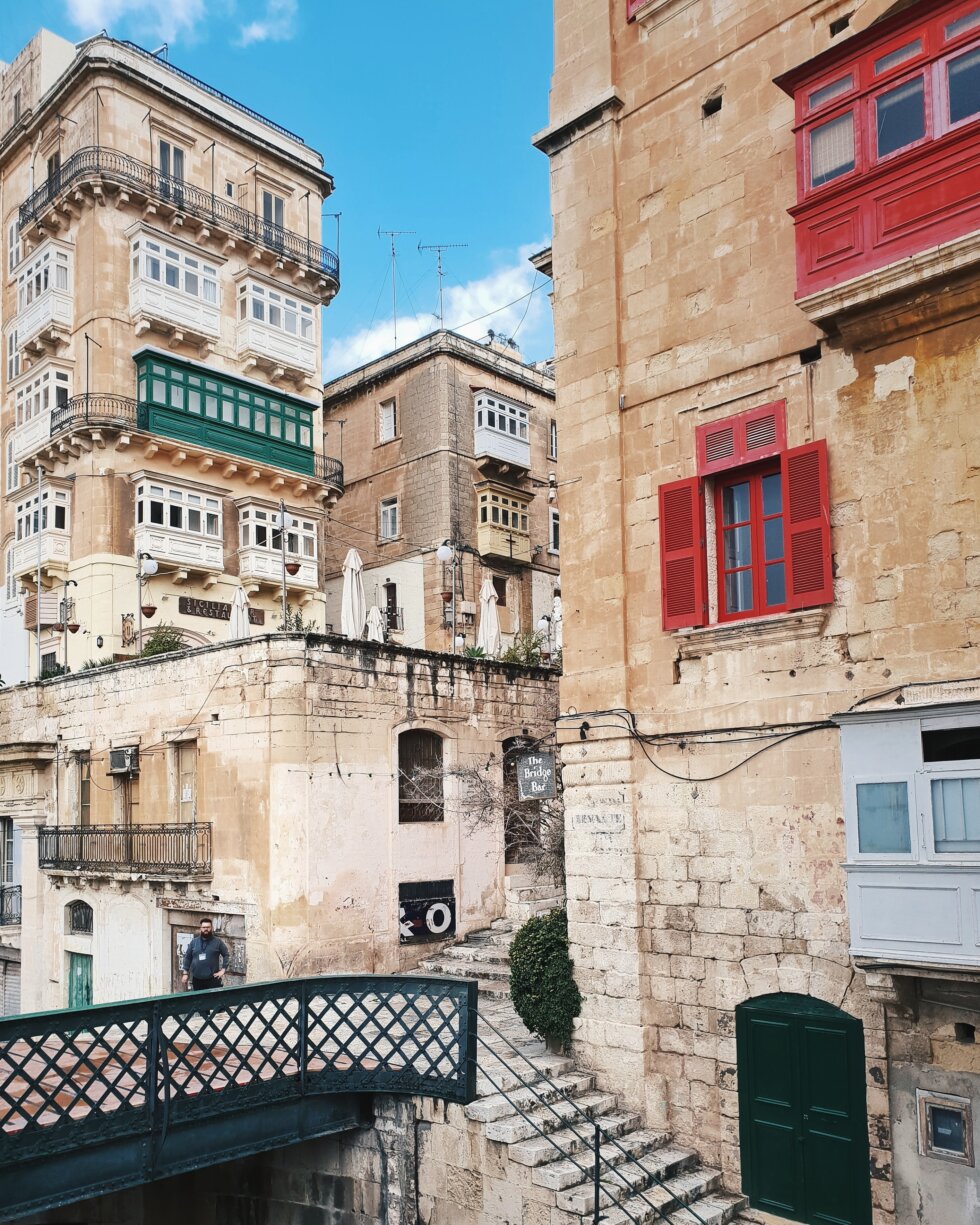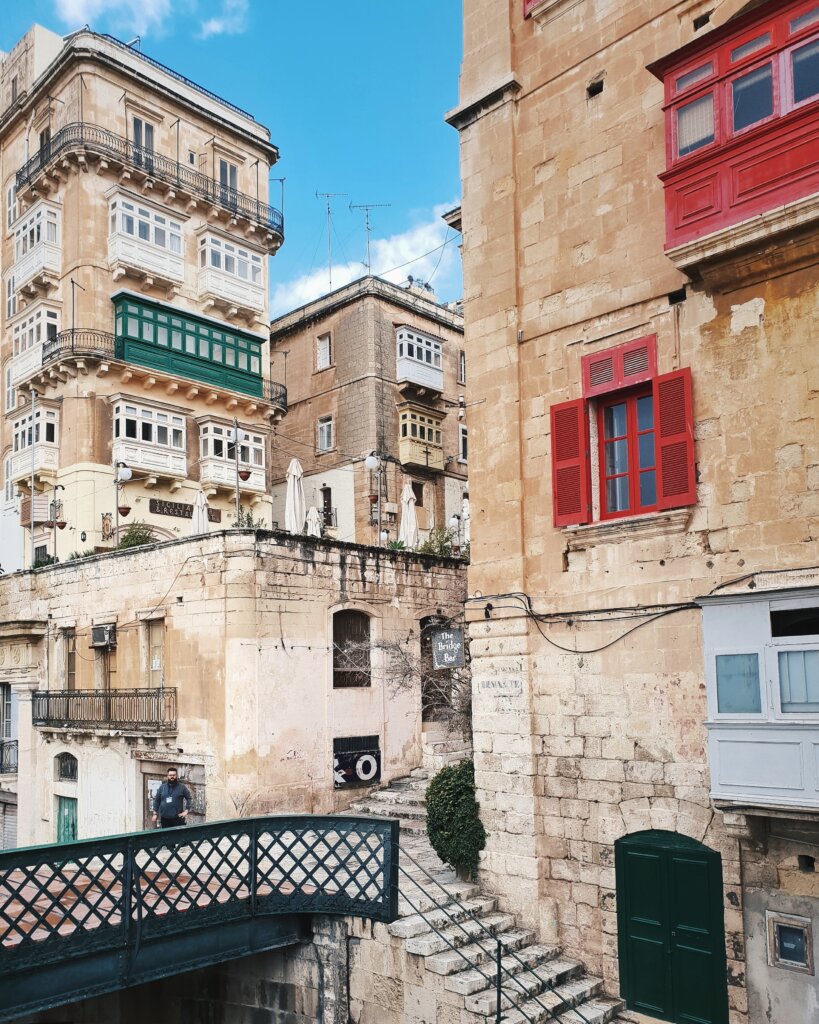 4. Saint Agatha's Tower Mellieha
We couldn't possibly publish a roundup of magical sights in Malta without including Mellieha's own pink fairytale castle – Saint Agatha's Tower, AKA the Red Tower, a 17th century watchtower known for its distinctive pale pink hue.
This fort was the last of its kind to be built in Malta, and after decades of disrepair, it has been lovingly restored and re-opened to the public for visits. And while it's pretty must-see any time of day, it's at sunset that this gem really shows off: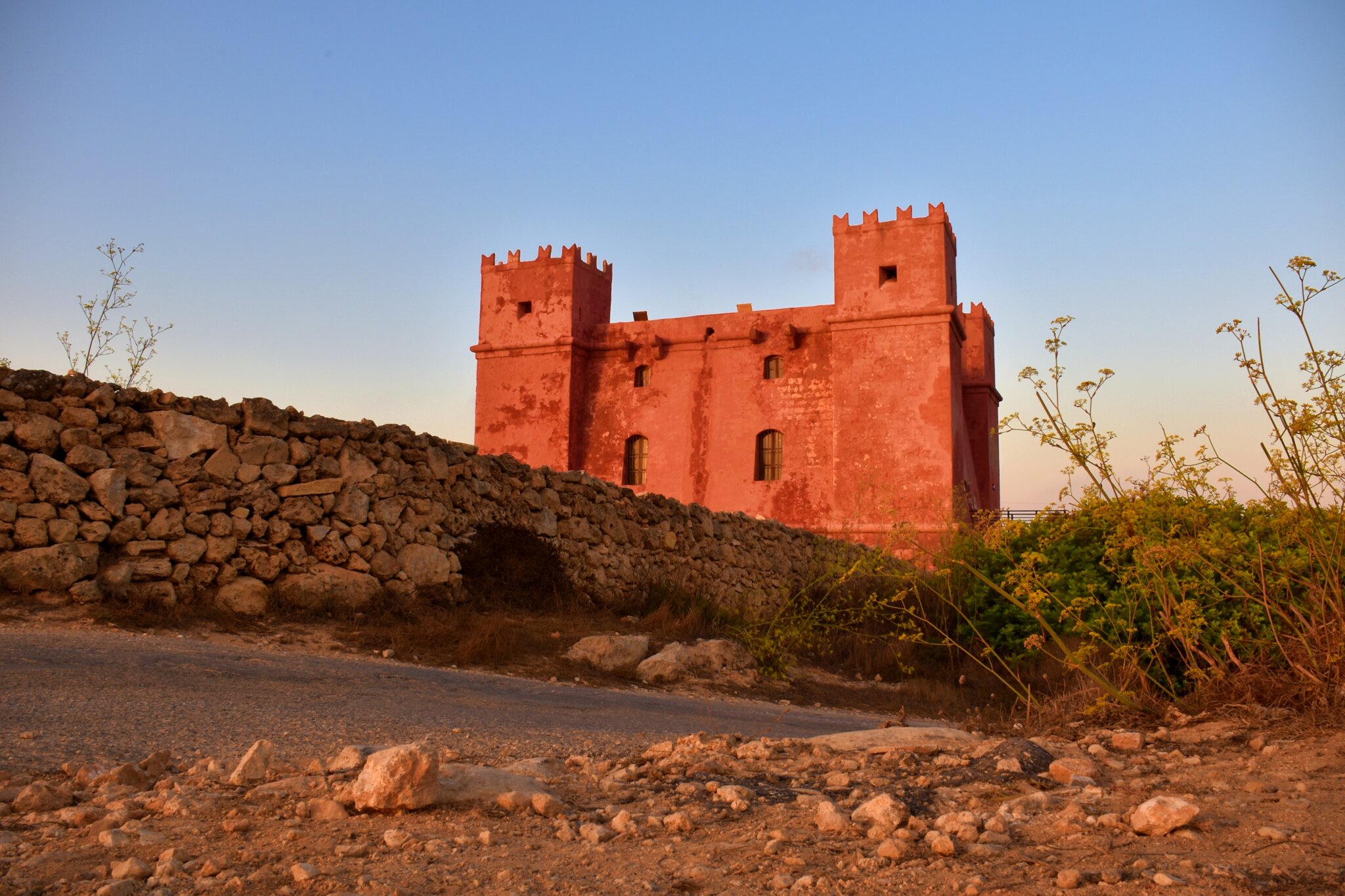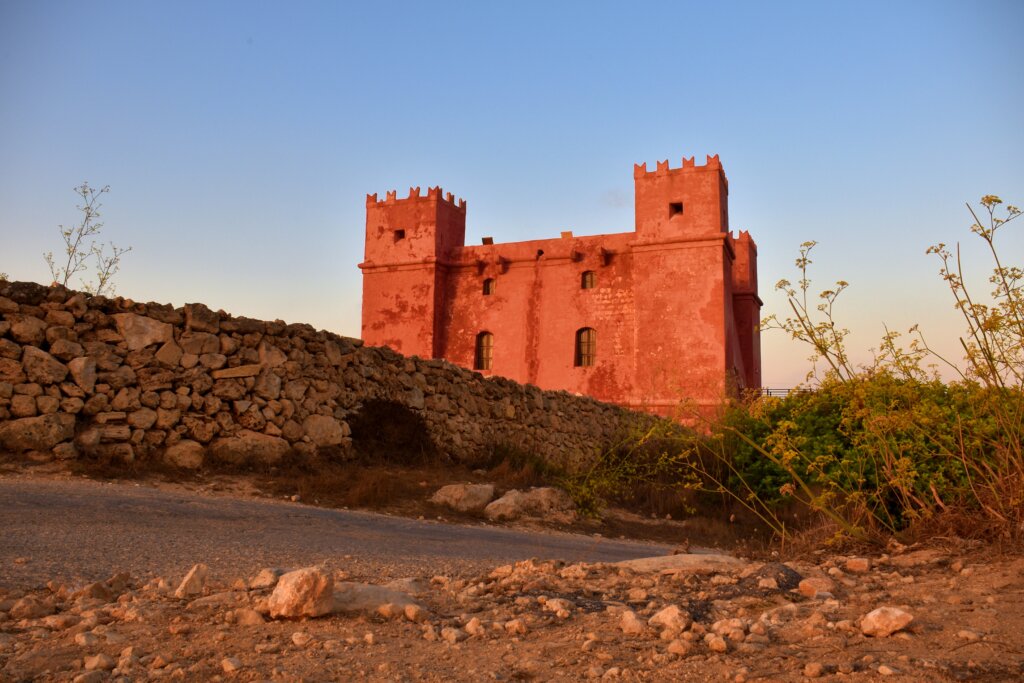 5. The Blue Grotto
Of course, being a Mediterranean island has its perks, and Malta boasts an abundance of stunning sea views to placate any sea-lover.
One of the most jawdropping of these sights? The Blue Grotto, a glittering attraction found on the southeast coast of Malta. Easily explorable via boat , this grotto is a network of different sea caverns that boast crystal clear waters glowing all kinds of vibrant shades of blue.
No doubt, this is one natural wonder you must see when you're in Malta!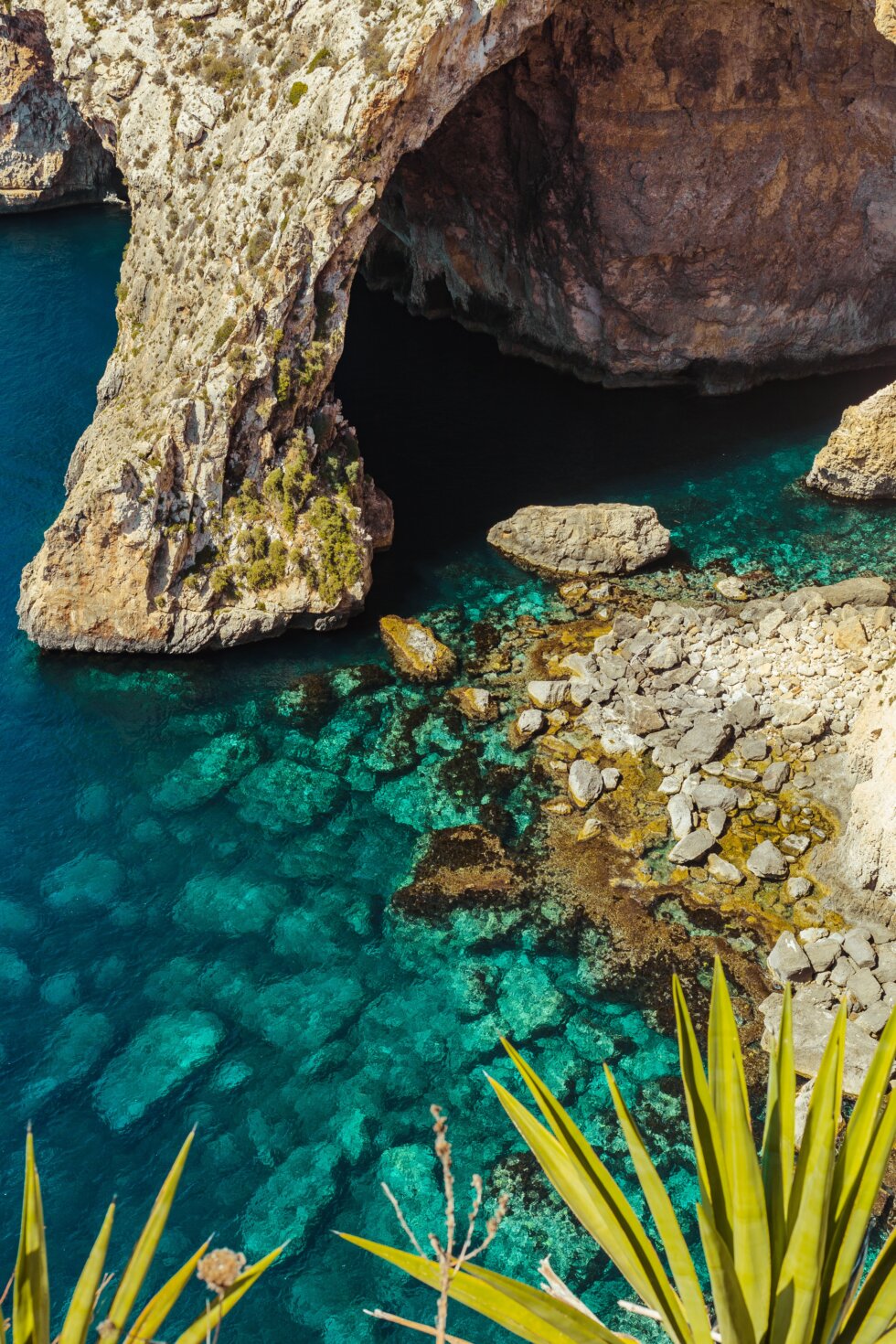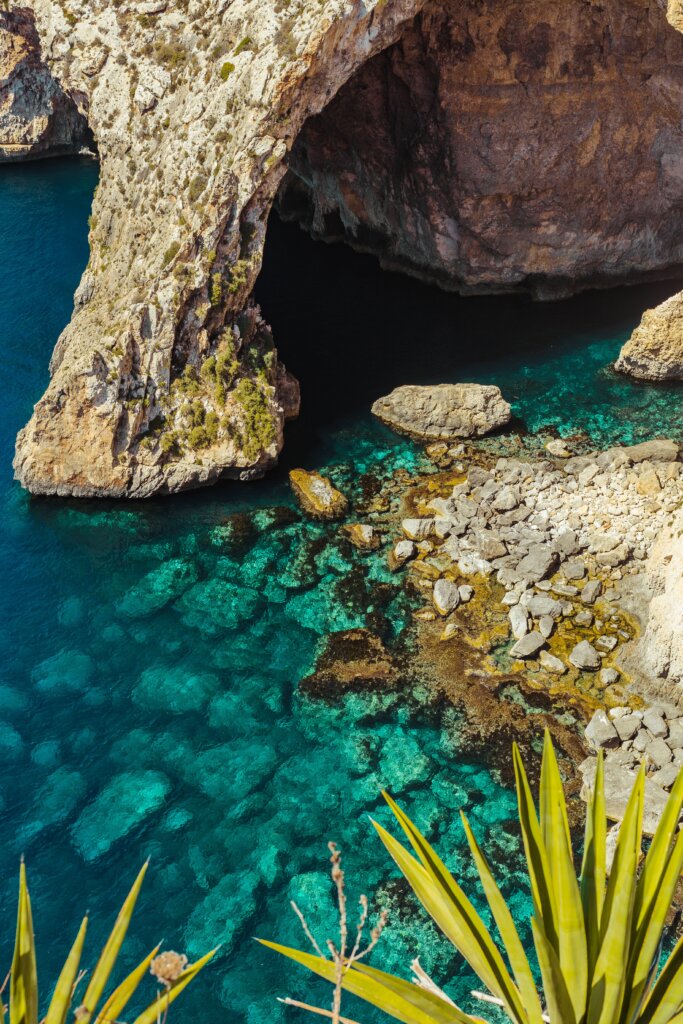 6. Comino & its Blue Lagoon
Speaking of stunning blue water, another truly magical spot to visit in Malta is the world-famous Blue Lagoon, a veritable slice of paradise located on the west coast of Comino Island.
This micro-island located between Malta and Gozo spans only 3.5 square kilometres, and boasts an even tinier population of only three people, but don't let those stats fool you… Comino is one magical gem that gets beyond busy during peak season. Still, you can't deny the appeal of that stunning blue water, can you?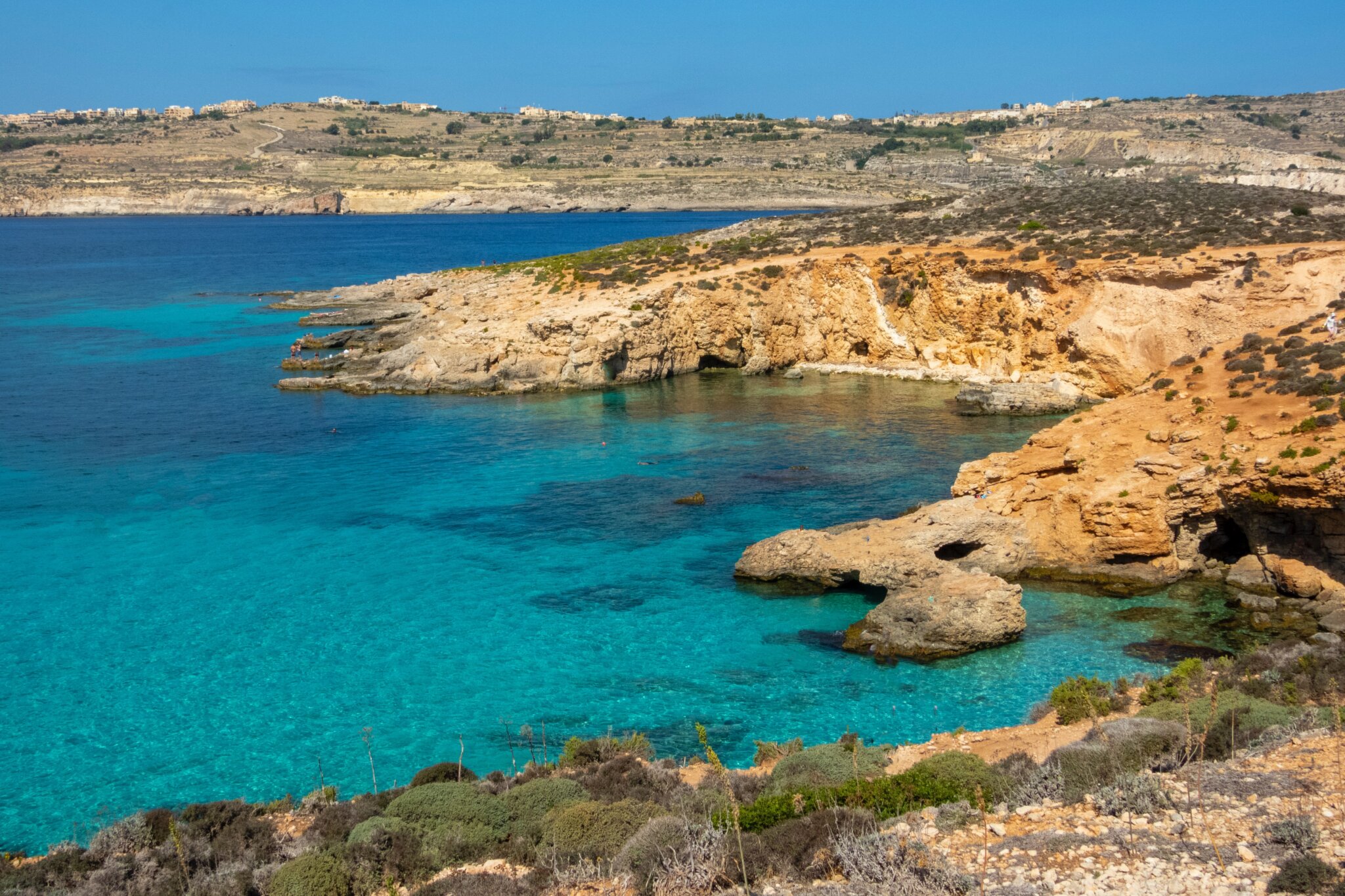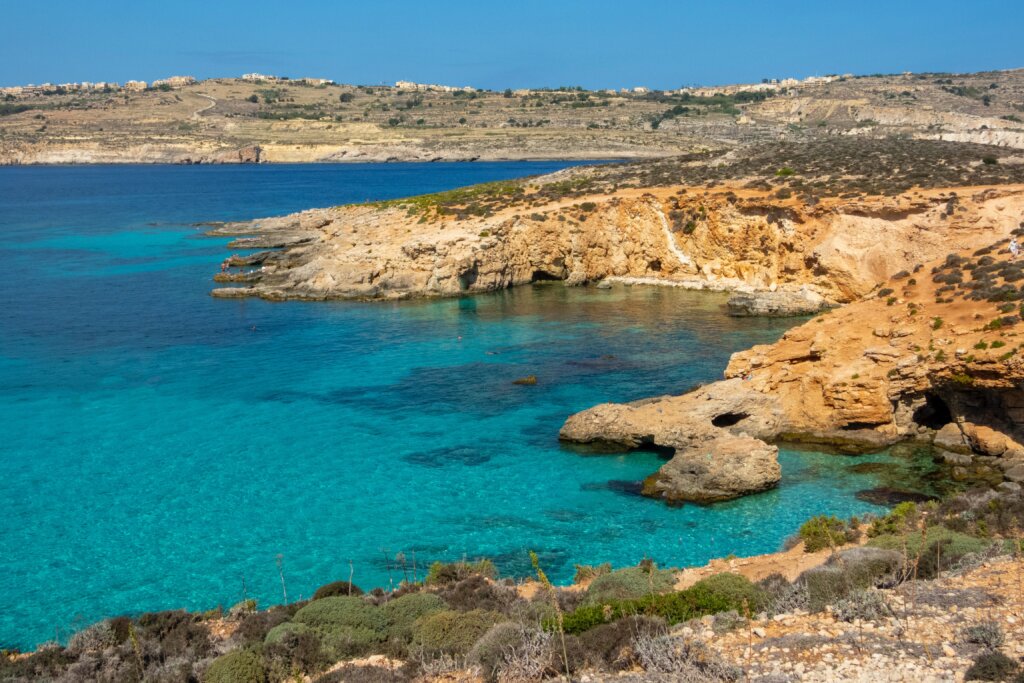 7. The Salt Pans of Gozo
While Gozo (the second largest island in the Maltese Archipelago) is filled with a multitude of magical sights to explore, we've selected one specific gem for our list: the island's stunningly satisfying salt pans, arranged in checkerboard patterns along the crashing waves of the sea.
These salt pans can be found in the north of Gozo, where they have (for hundreds of years) acted as a precious source of income for locals, who use the pans to extract salt from the water. These mystical formations do therefore serve an important purpose besides being good-looking, but hey, you have to admit they're pretty cool to stare at: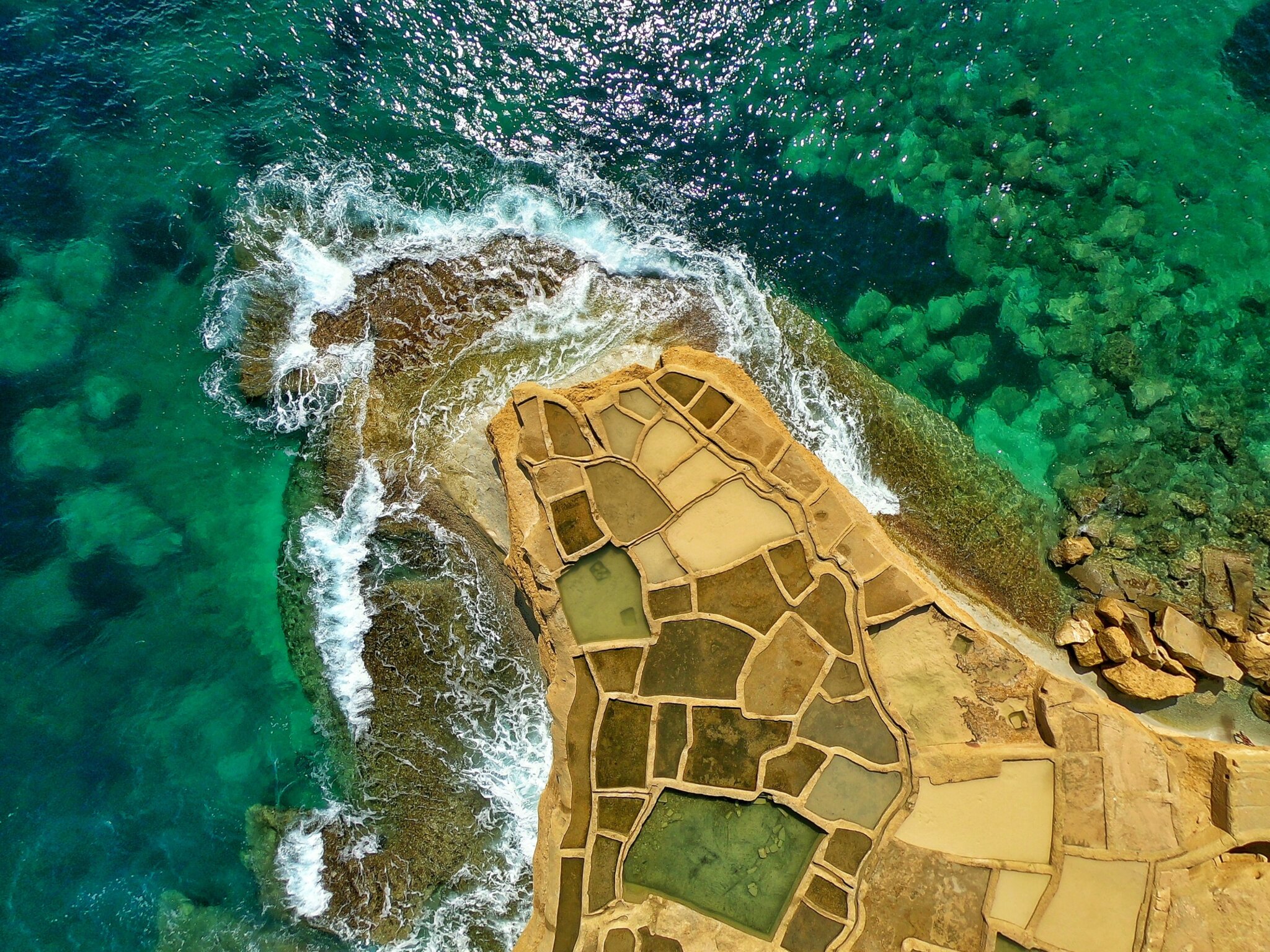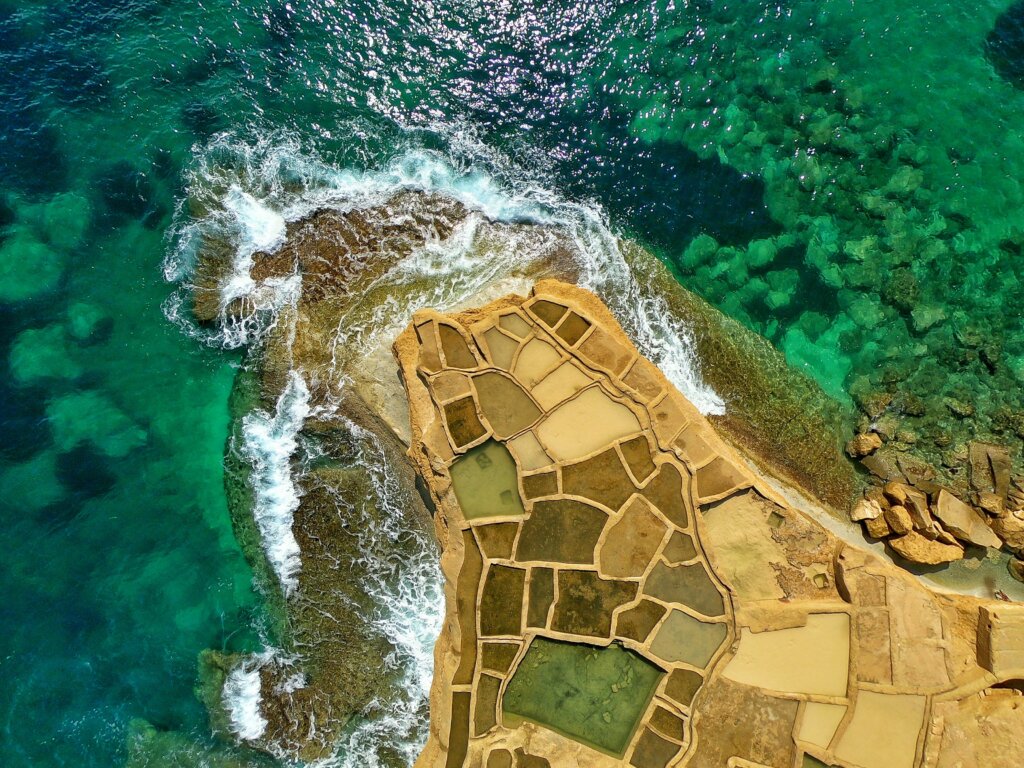 8. Il-Majjistral Nature & History Park
Malta's first natural national park is next on our list. Found in the northwestern part of Malta, Il-Majjistral Nature & History Park offers a little bit of everything, from surreal fairytale landscapes and long stretches of unspoiled coastline to a variety of fascinating archaeological sites to explore.
Have we mentioned it also looks like this?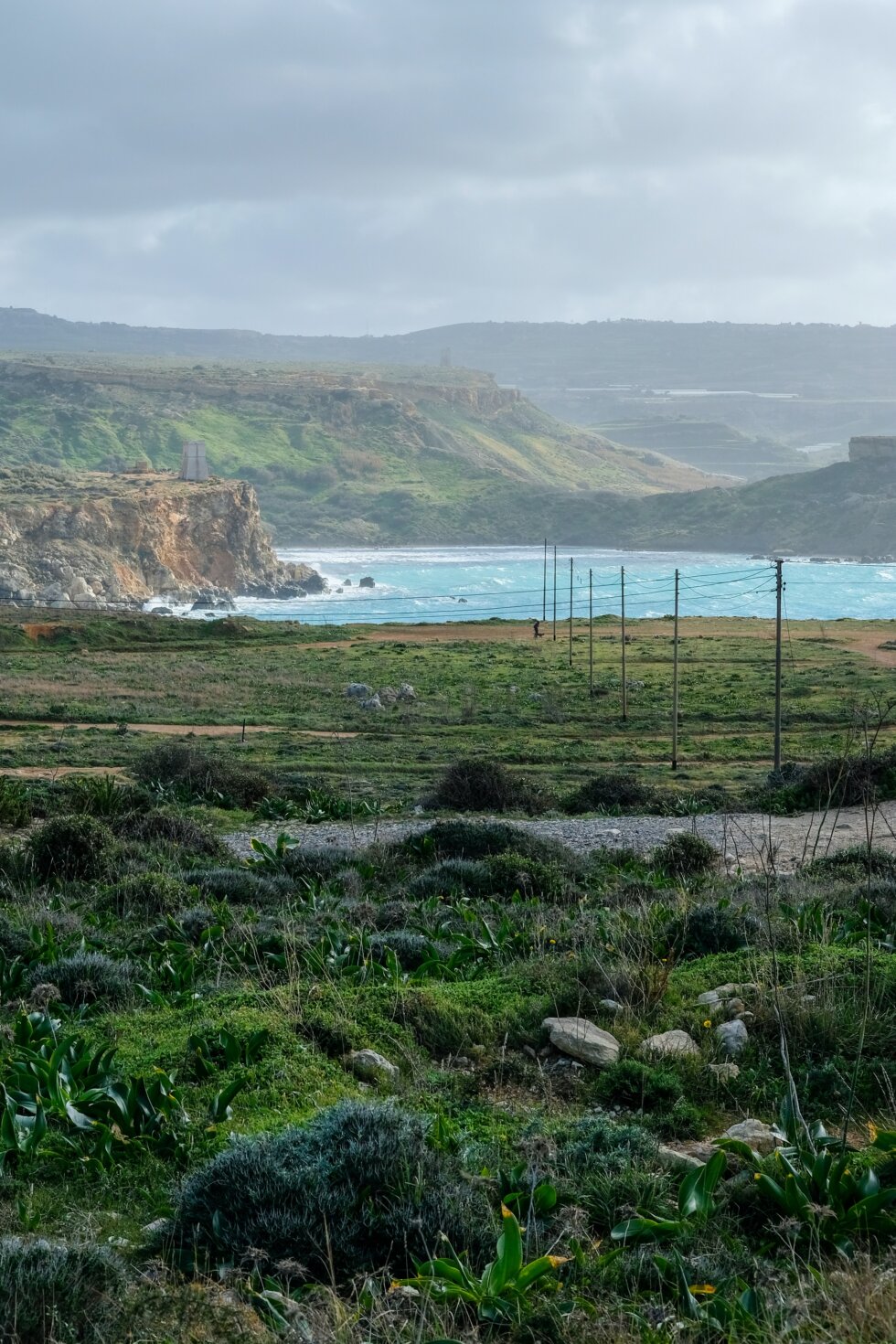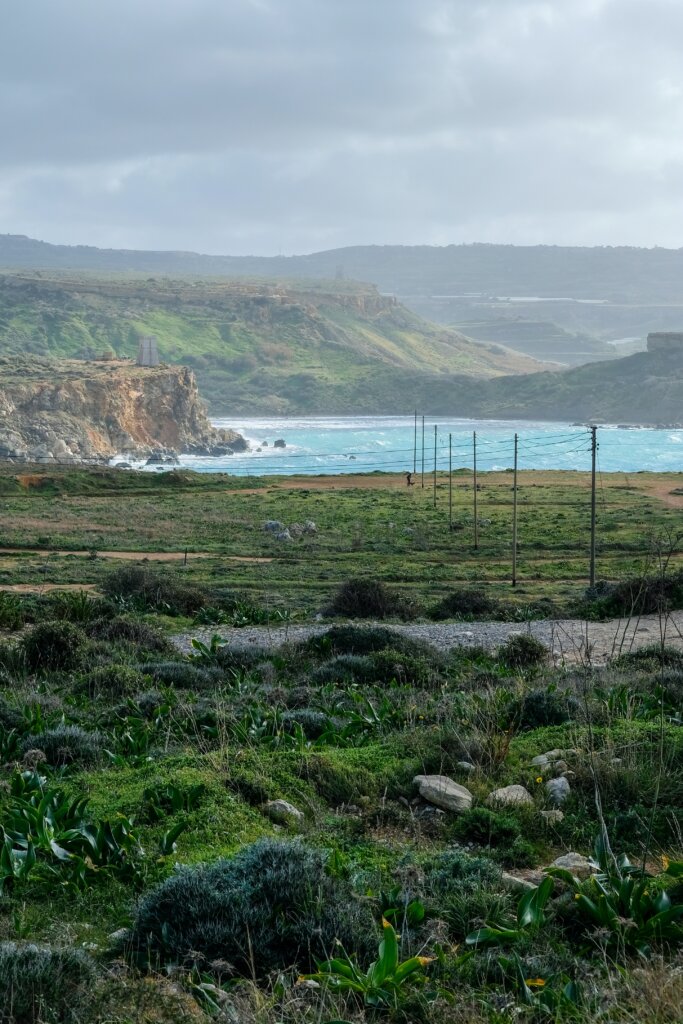 9. Marsaxlokk
The adorable fishing village of Marsaxlokk is a sight ripped straight from a colourful storybook, with whimsical blue and yellow boats bobbing in the water, a lively promenade buzzing with fresh seafood restaurants, and of course, peaceful sea views all around.
Found in Southeastern Malta, this picturesque little village is famous for its daily fish market, and wonderfully laidback vibes… Of course, the glorious seafood you can gorge on doesn't hurt either.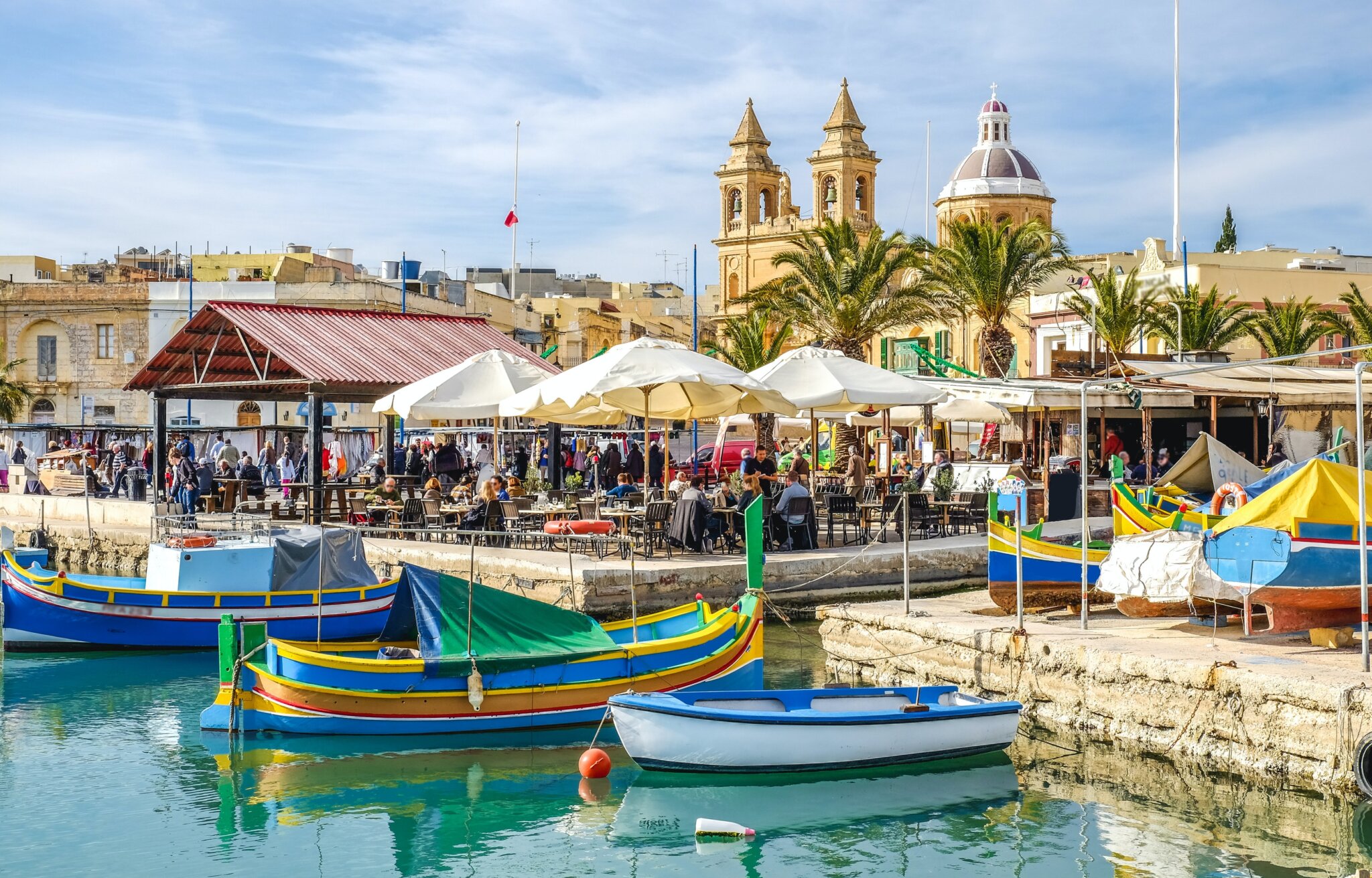 10. The Dingli Cliffs
Last but not least, we have the majestic Dingli Cliffs, found along Malta's western coast which (as you might have guessed) means they're the perfect perch for admiring sunset.
Beyond being a scenic piece of utter magic, these cliffs also represent the highest point of Malta (at 253m above sea level). With beautiful trails to walk and glorious views at every step, this is definitely one of those magical places in Malta that you need to see to believe.


What other magical places in Malta would you recommend?
We hope you enjoyed this guide to the most magical places to visit in Malta! Are there any more you'd like to see added to the list? Let us know in the comments. Happy geektripping!