*FYI - this post may affiliate links, which means we earn a commission (at no extra cost to you) if you purchase from them. Also, as an Amazon Associate I earn from qualifying purchases. For the full scoop on what this means, feel free to check out our Privacy Policy and Disclosure.
---
The incomparable beauty of Canada's Banff National Park is certainly no secret, but as a team obsessed with finding the most magical spots on Earth, we knew we needed to devote an entire article to Canada's most beloved natural fairytale.
Boasting an endless parade of turquoise glacial lakes to rocky, snow-speckled mountains, this glorious national park is not only Canada's oldest, but arguably its most stunning. Choosing a favourite viewpoint here is nearly impossible, with natural marvels lurking around every corner, waiting to be discovered and drooled over.
So, what are some of the best, most magical places to visit in Banff National Park? Here are some of our top ten picks…
Save this post for later on Pinterest: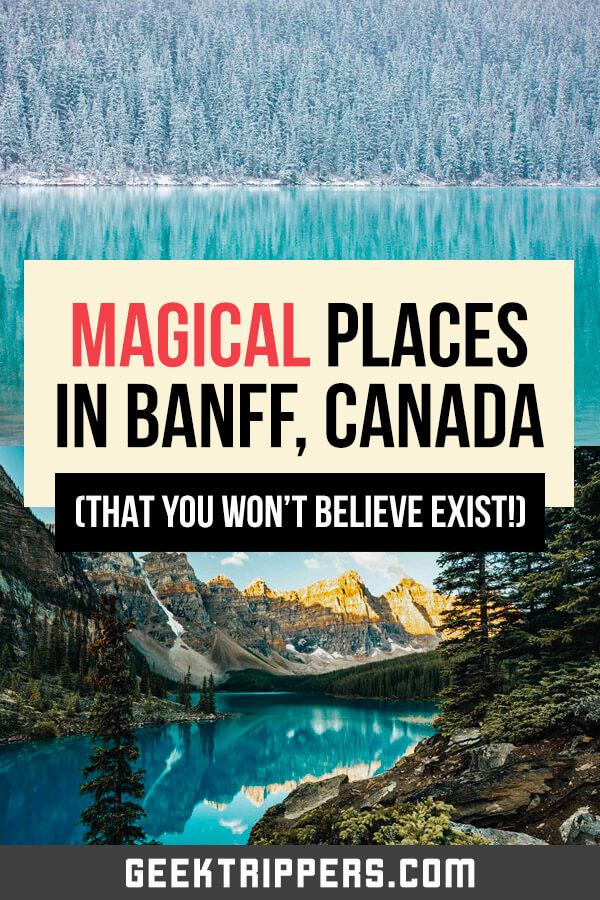 1. Moraine Lake
We'll begin with one of the of the most famous sights in Canada, a spot so iconic it was in fact once pictured on the Canadian $20 bill, and even printed on a toonie. We are of course talking about Moraine Lake.
Nestled in the iconic Valley of the Ten Peaks, Moraine Lake is a stunning glacial lake that glows a mystical bright blue, leaving visitors in equal parts disbelief and wonder.
This photogenic beauty is also an ideal jumping point for various hikes and even water sports like canoeing. One thing's for sure though – whether you stop by quickly for a peek or spend hours on the water, the views here are sure to leave a lasting impression.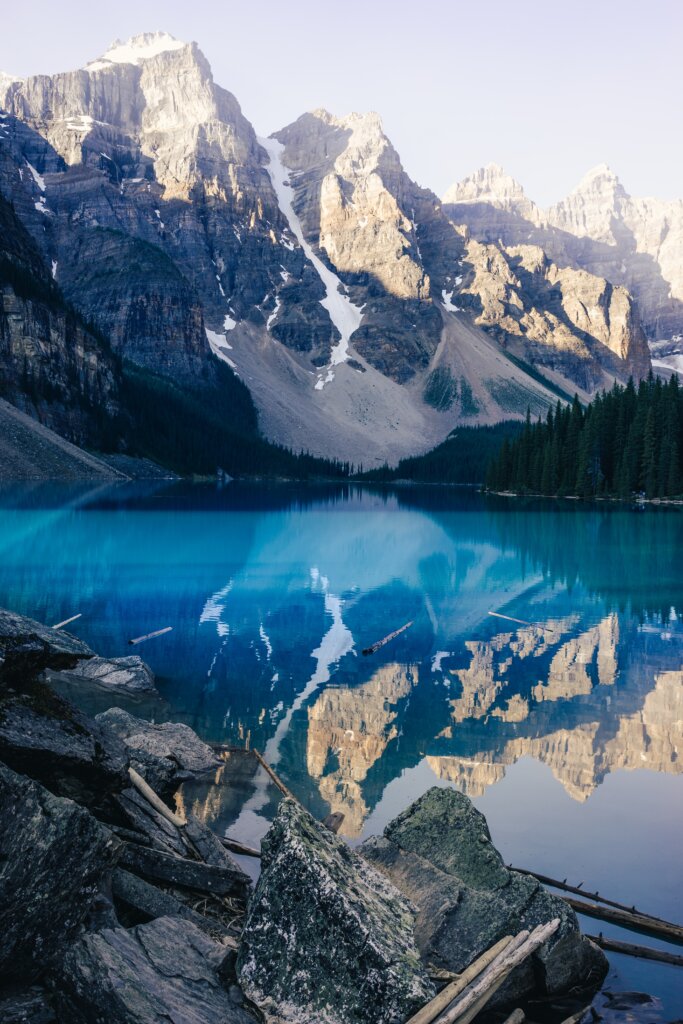 2. Lake Louise
A short drive away from Moraine Lake, you'll find another beloved icon of Banff National Park – the illustrious Lake Louise, named after Princess Louise Caroline Alberta, Queen Victoria's fourth daughter.
This magical turquoise beauty, much like Moraine Lake, owes its vibrant hue to rock flour that is carried into the lake by nearby melting glaciers.
The cherry on top of this glorious photogenic sundae? This lake has its own little castle to welcome guests – the luxurious Chateau Lake Louise, offering lake-view rooms and world-class service for those happy to splurge.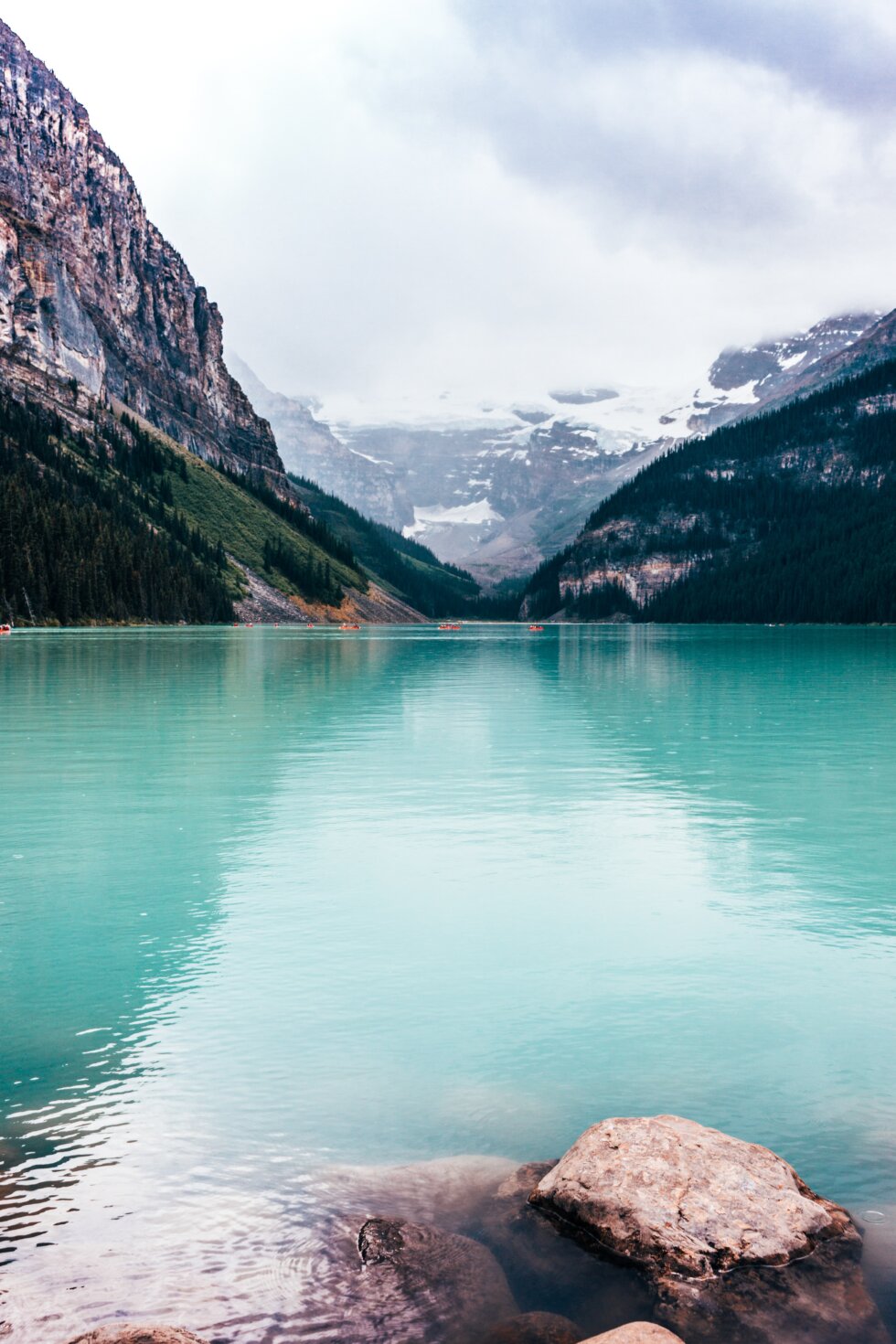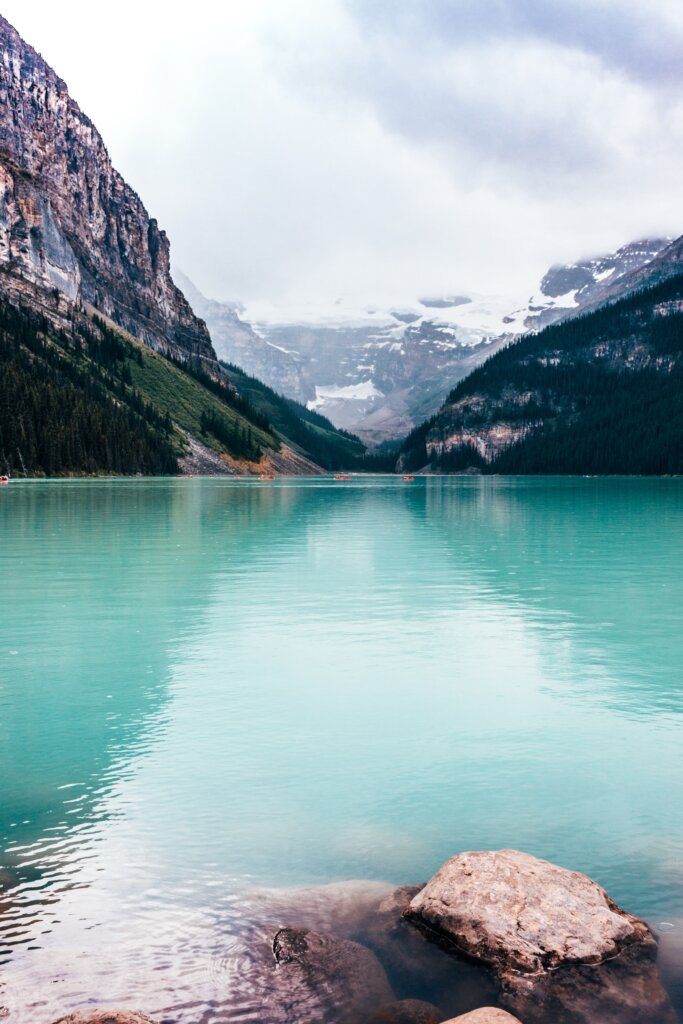 3. Bow Lake
Beautifully perched along the scenic Icefields Parkway is Bow Lake, one of the largest lakes in Banff National Park. Beyond its stunning bright turquoise colour, another major perk of this lake is its accessibility: roadside parking allows for an easy stop, making it ideal for picnicking or simply soaking in the views.
And for those looking to squeeze in a bit more adventure, this lake is the starting point for a wonderful (and easy!) hike to the hidden gem of Bow Glacier Falls… another magical must-see if your schedule allows!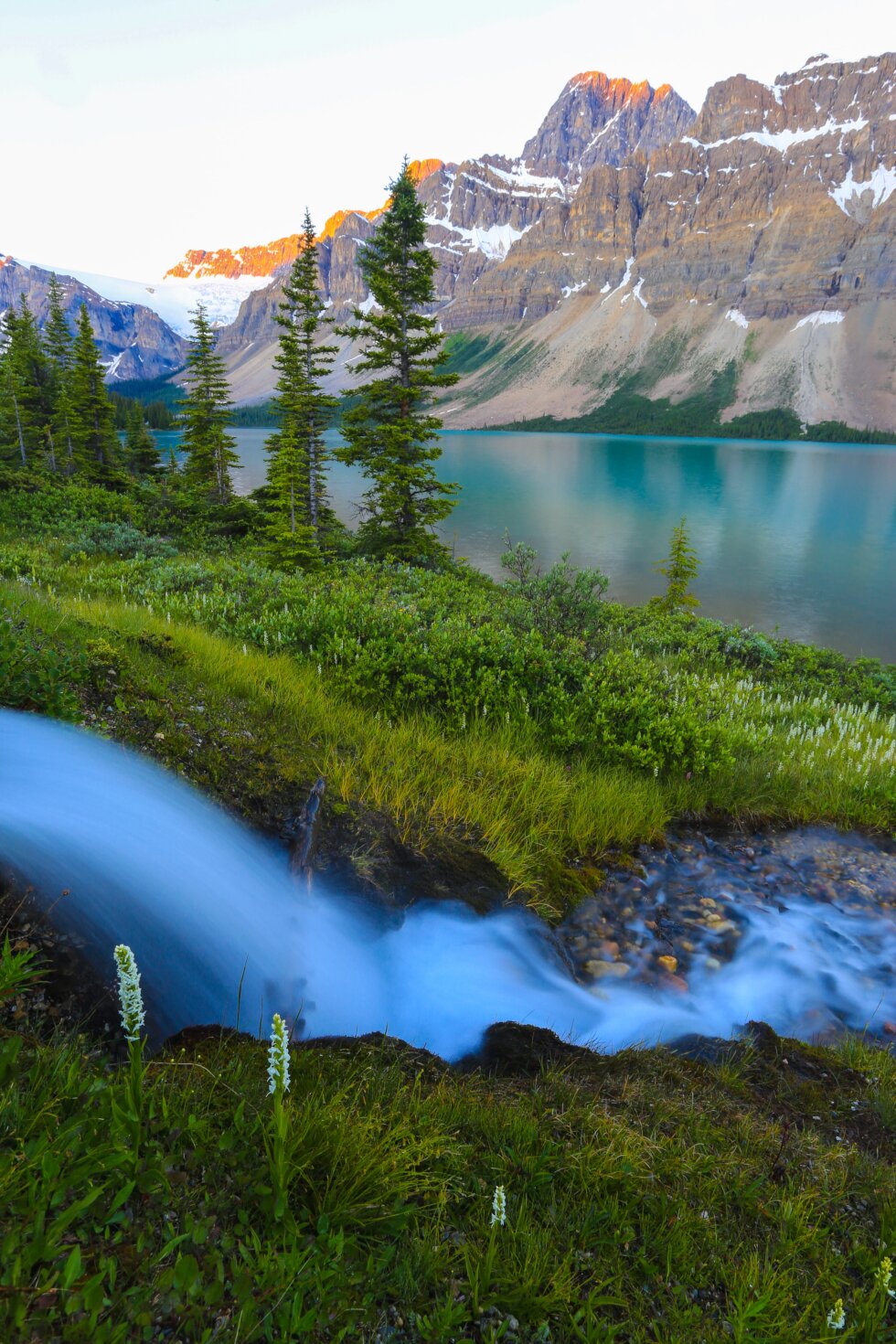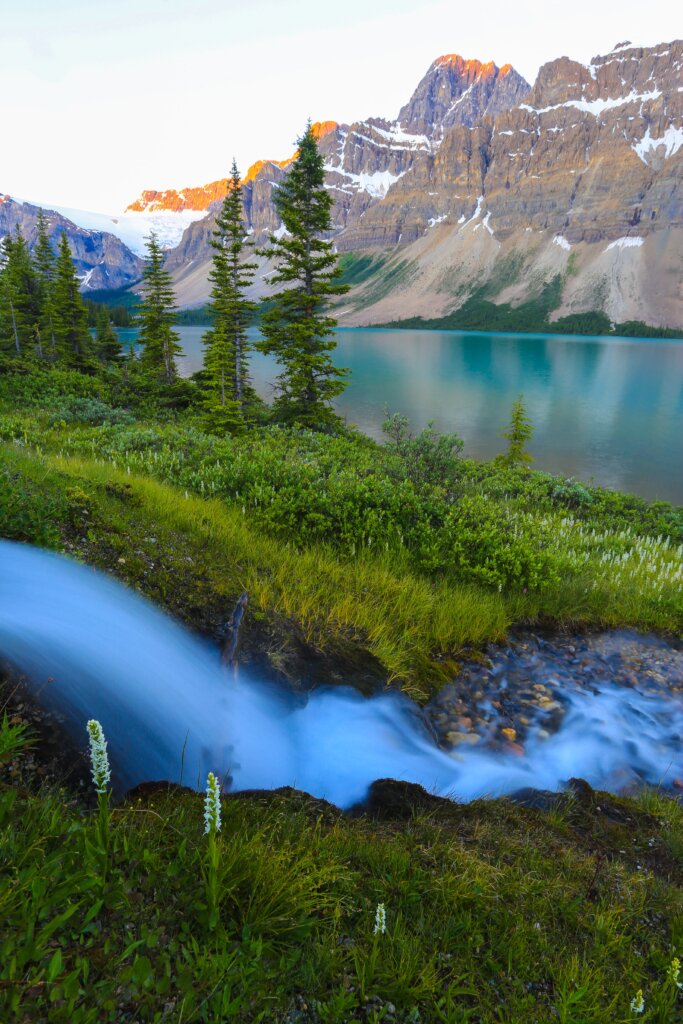 4. Fairmont Banff Springs (& Banff Town!)
With the entirety of Banff National Park drenched in magical appeal, it's unsurprising that it also has its own fairytale castle…
The Fairmont Banff Springs, much like its luxurious Lake Louise counterpart, is a Fairmont property famed for its elegant facade and spectacular location.
Modelled after the famous chateaux of the Loire Valley (known for having inspired Disney animators!), with elements of Scottish baronial architecture thrown in for good measure, this is one irresistibly fairytalesque place to rest your head after a day of adventures.
Of course, when in Banff, a walk through the adorable historic town center is a must, if even just to just nosh on a sweet, world-famous Beavertail.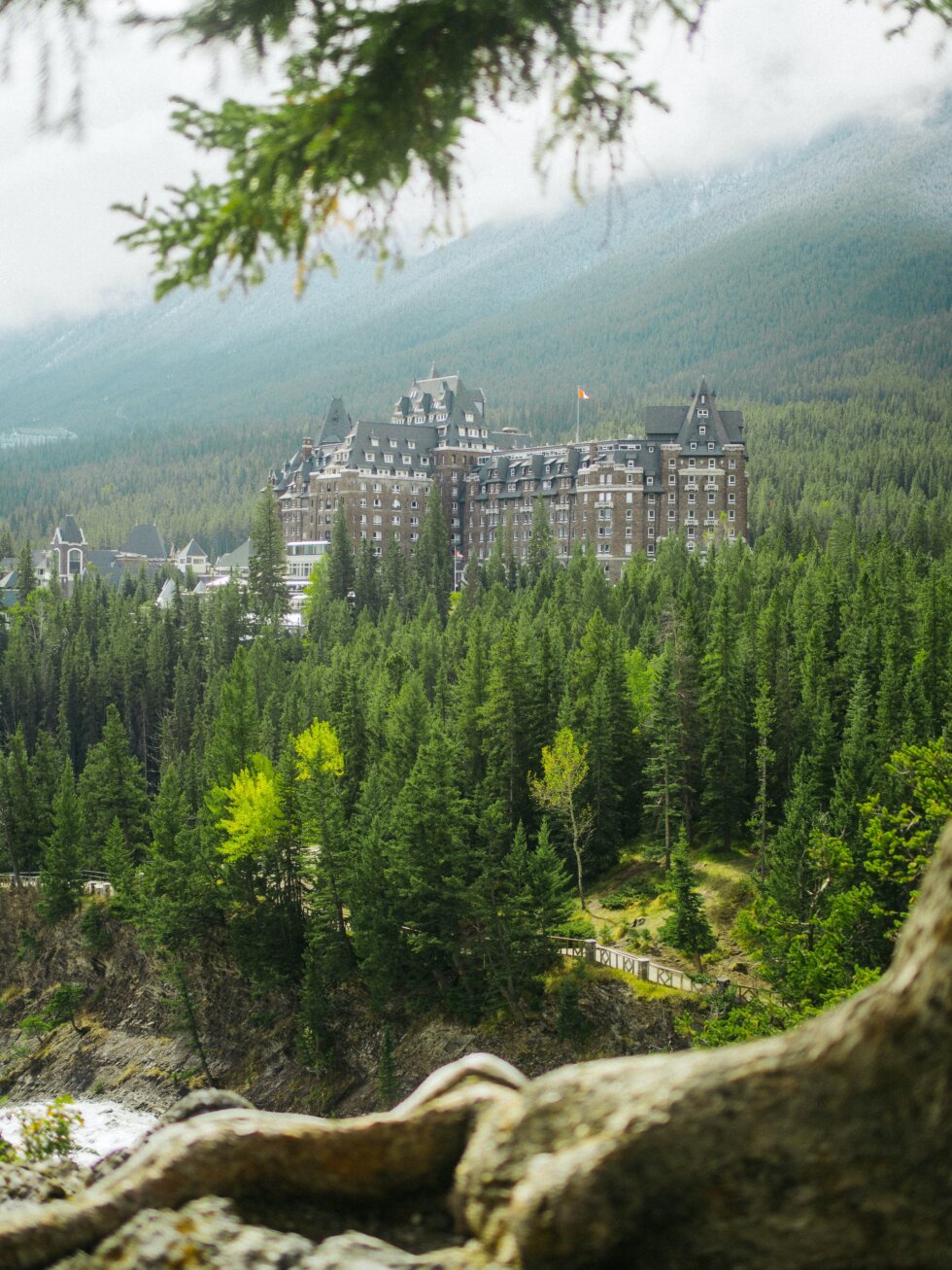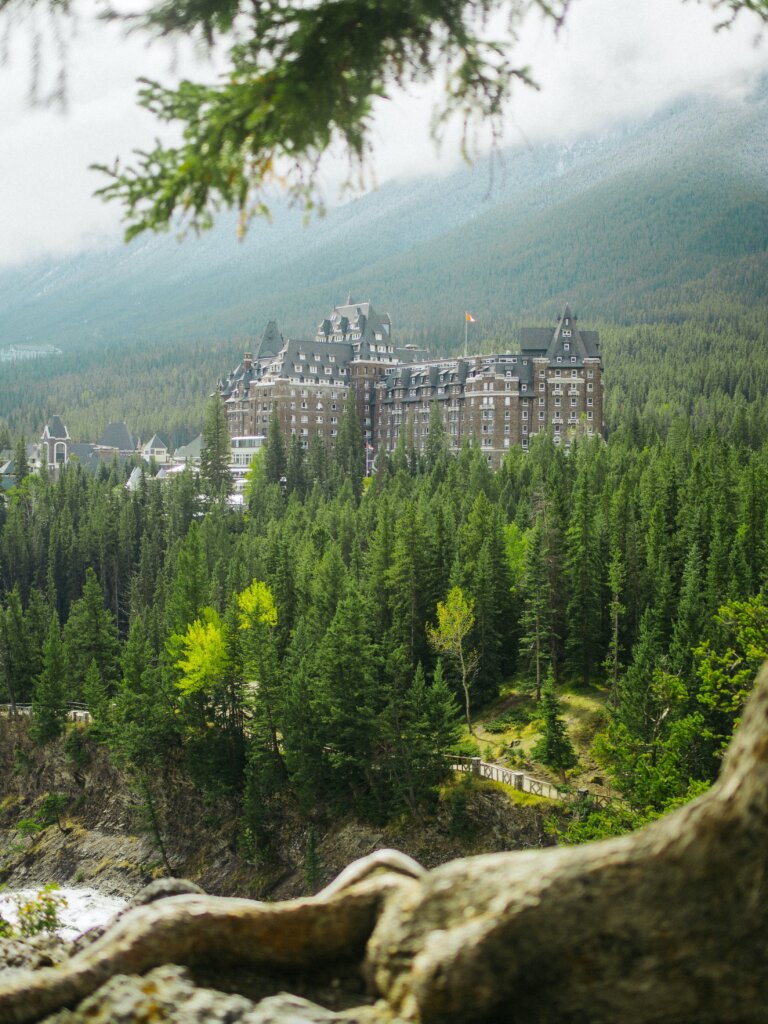 5. Johnston Canyon
To experience serene nature at its finest, be sure to stop by the stunning Johnston Canyon, an accessible marvel of nature that will leave you in awe of Banff's neverending wonders.
Here, you'll be immersed in an ethereal world of waterfalls, lush greenery and walls of towering limestone… all of which will make you feel oh so small. Stunning in all seasons, this canyon is accessible via a series of easy trails that transport you from one scenic viewpoint to the next. The only question is whether you'd ever want to leave!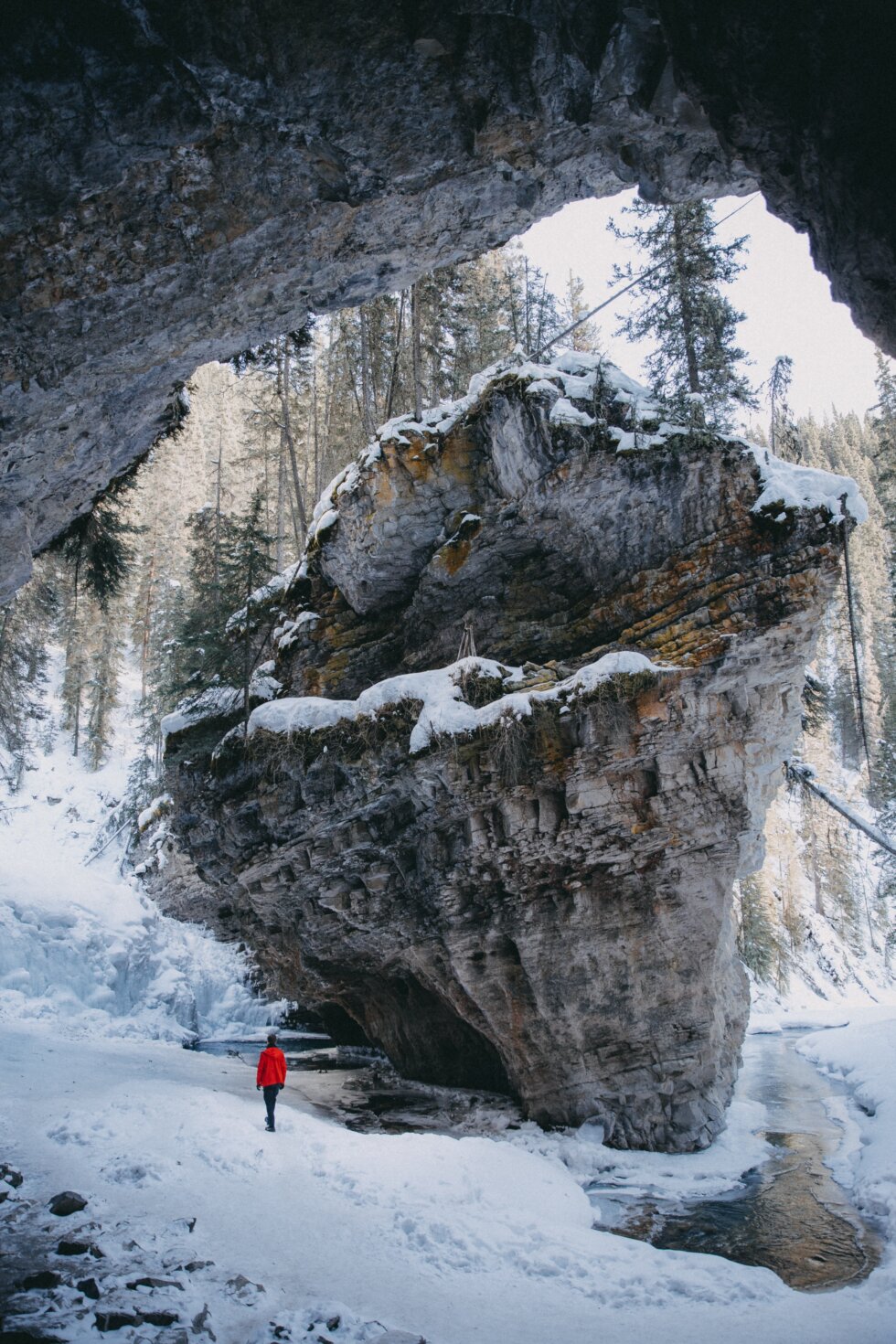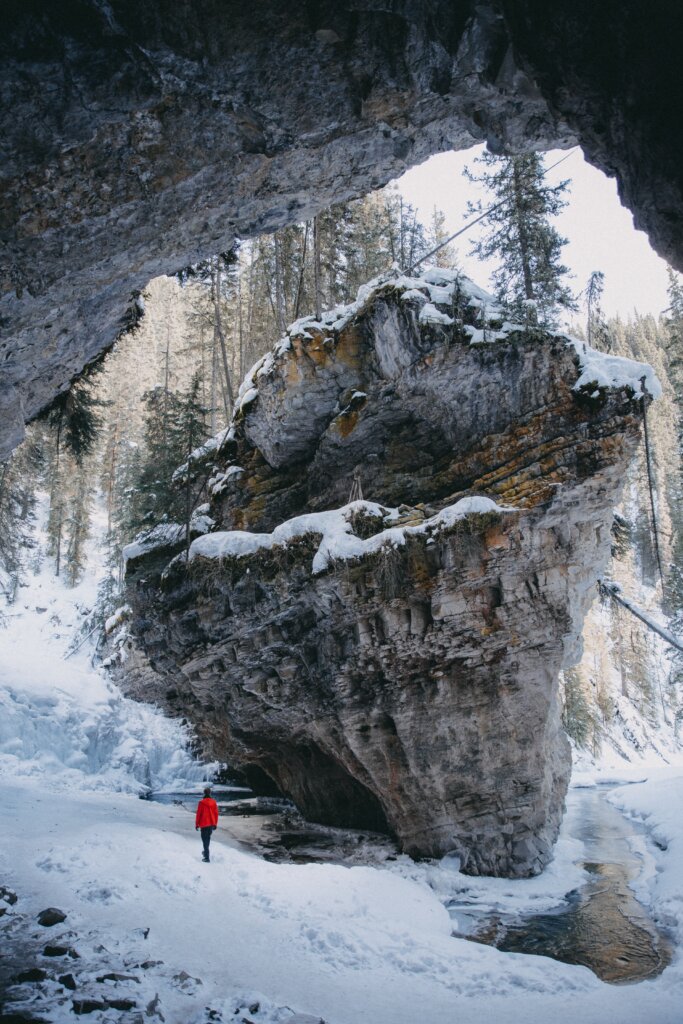 6. Cave and Basin Historical Site
For a trip to where it truly all began, make sure you stop by the glorious Cave and Basin Historical Site. This quiet mountain cave is in fact where everything began for Banff National Park in 1883, when three railway workers stumbled upon its steamy mineral waters, setting into motion the creation of Canada's entire National Parks system.
Besides being a valuable historical site however, it is also a stunning little natural wonder to admire too. After all, this is what it looks like: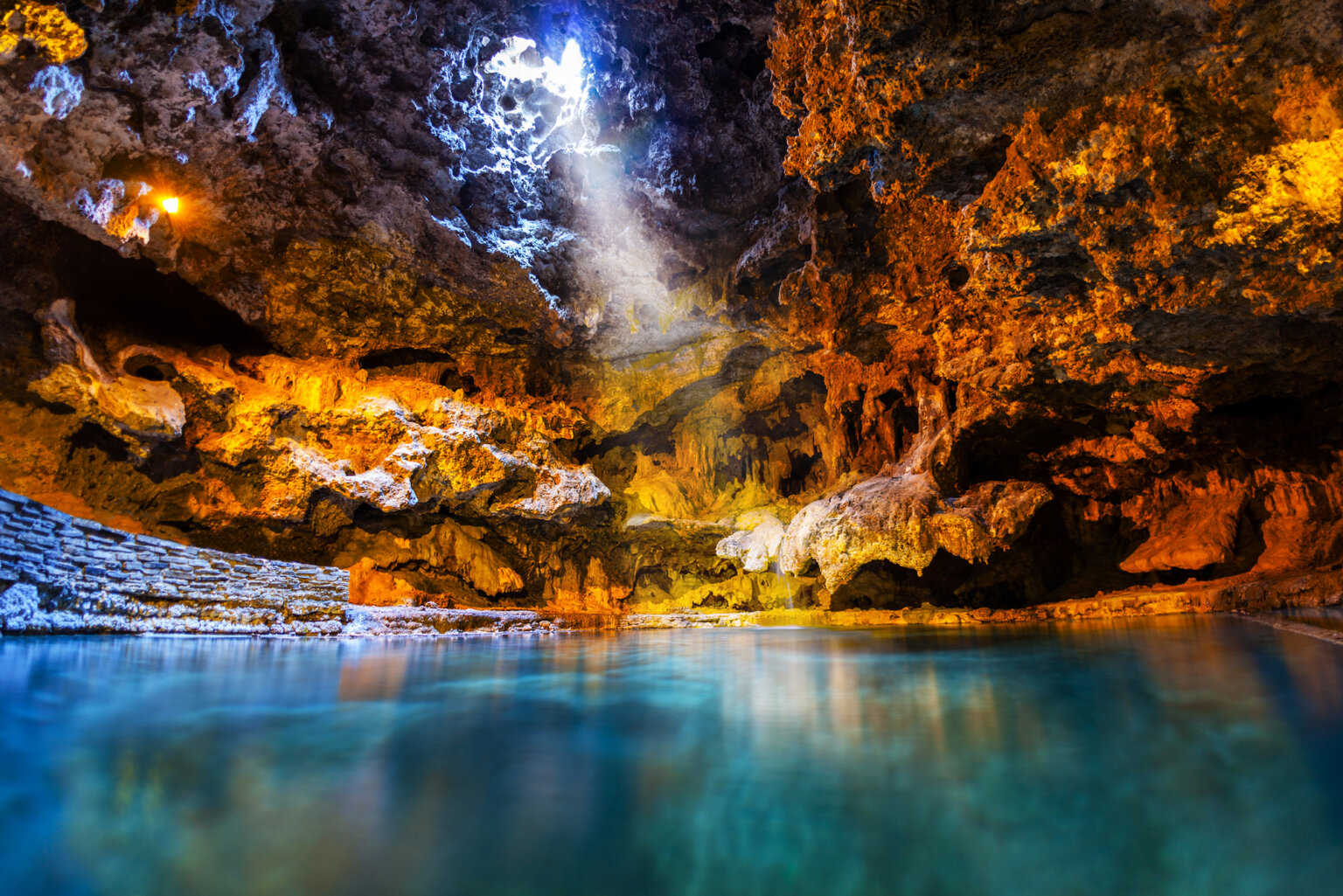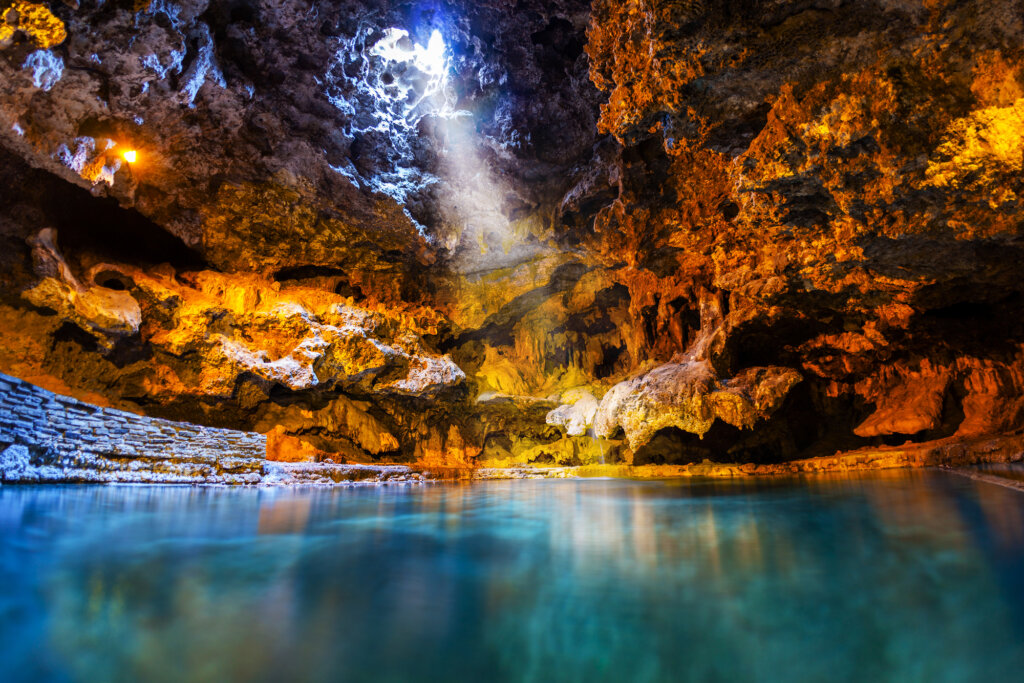 7. Lake Minnewanka
Another must-see lake in Banff National Park is Lake Minnewanka, an alluring hub of activity that attracts hikers, picnickers, cyclists and scuba divers alike.
The reason we wanted to spotlight this lake in particular though (in addition to its beautiful views) is its little-known underwater secret. That's right – lurking 18m below the surface of Lake Minnewanka is a fully submerged ghost town, where divers can explore the bygone cottages and buildings of Minnewanka Landing, a buzzing resort town that once thrived in the area in the 1800s. Learn more about this intriguing secret here.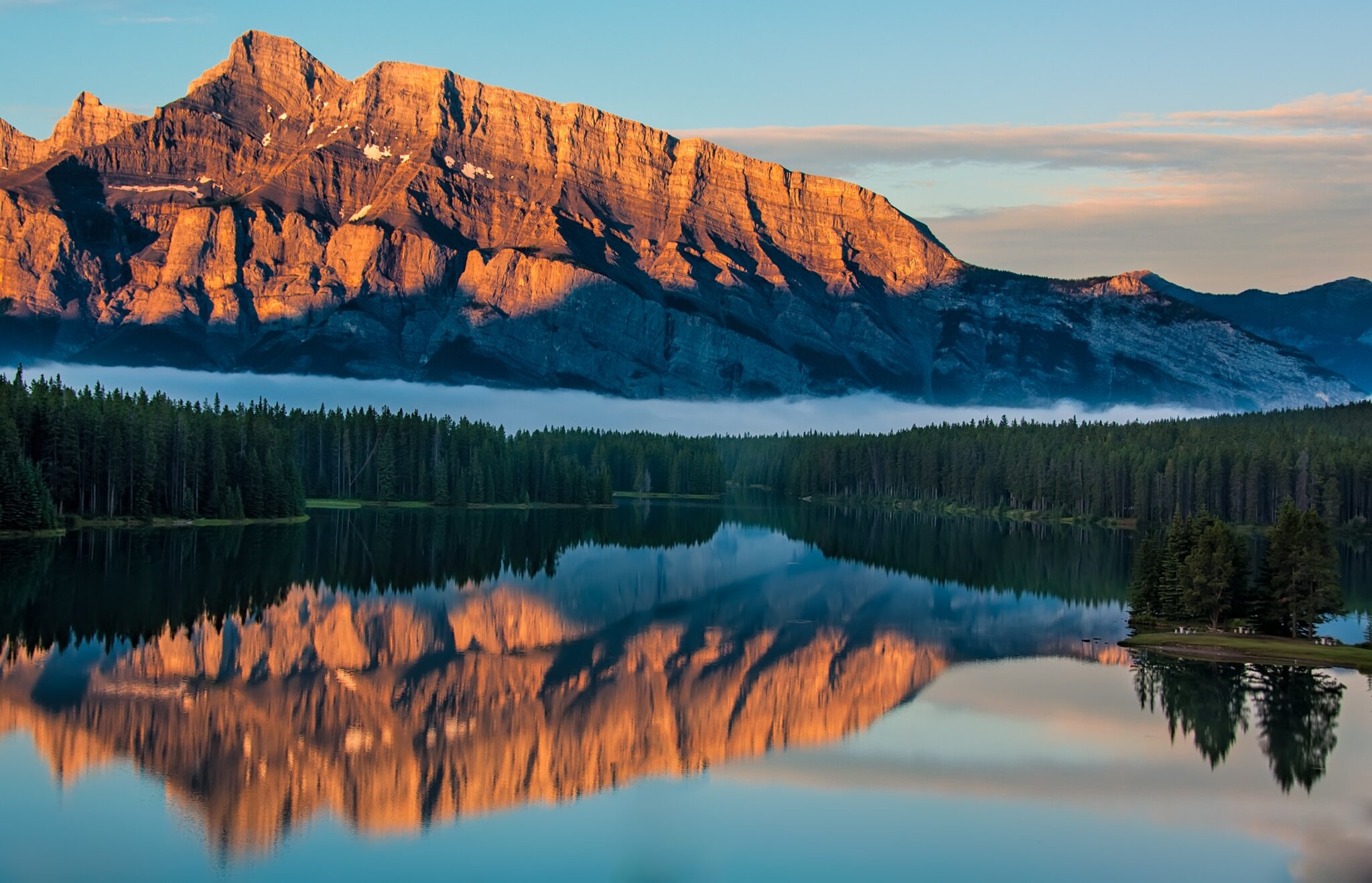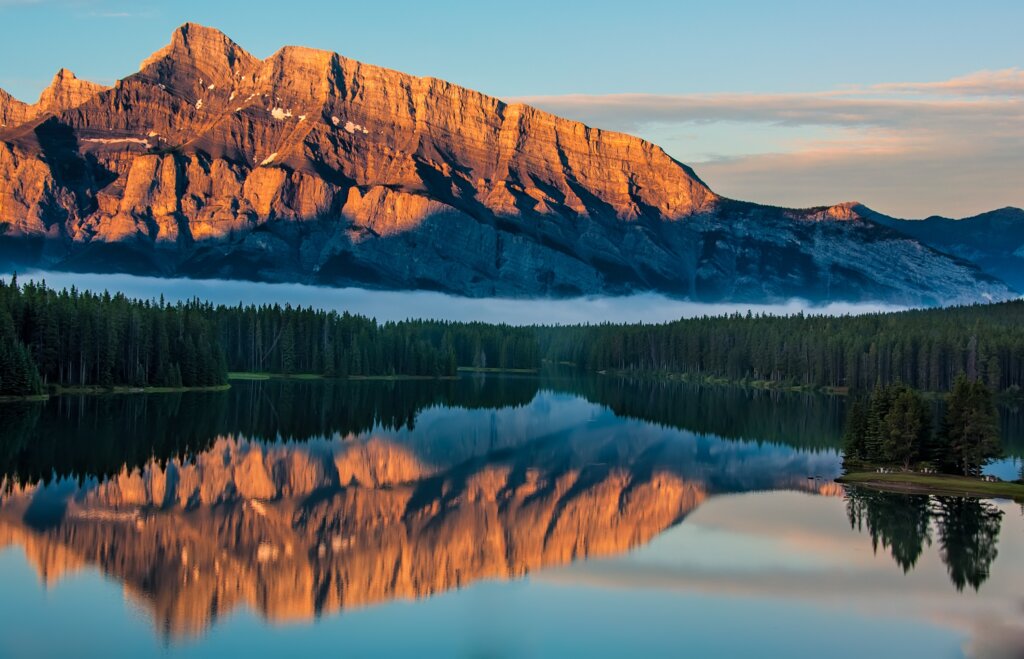 8. Peyto Lake
The impossibly turquoise waters of Peyto Lake are another must-visit attraction in Banff National Park. The lake's striking blue colour comes from sunlight hitting the glacial silt of the lake, creating a bewitching blue that dazzles thousands of visitors every year.
Coupled with the lake's unique shape and glorious mountain backdrop, and you have a true Canadian dreamscape.
The best part? These postcard-perfect views (which one might assume take hours to reach on foot) are easily accessible through a short 15 minute walk from the parking lot, making it probably one of the best value "hikes" in the entire country.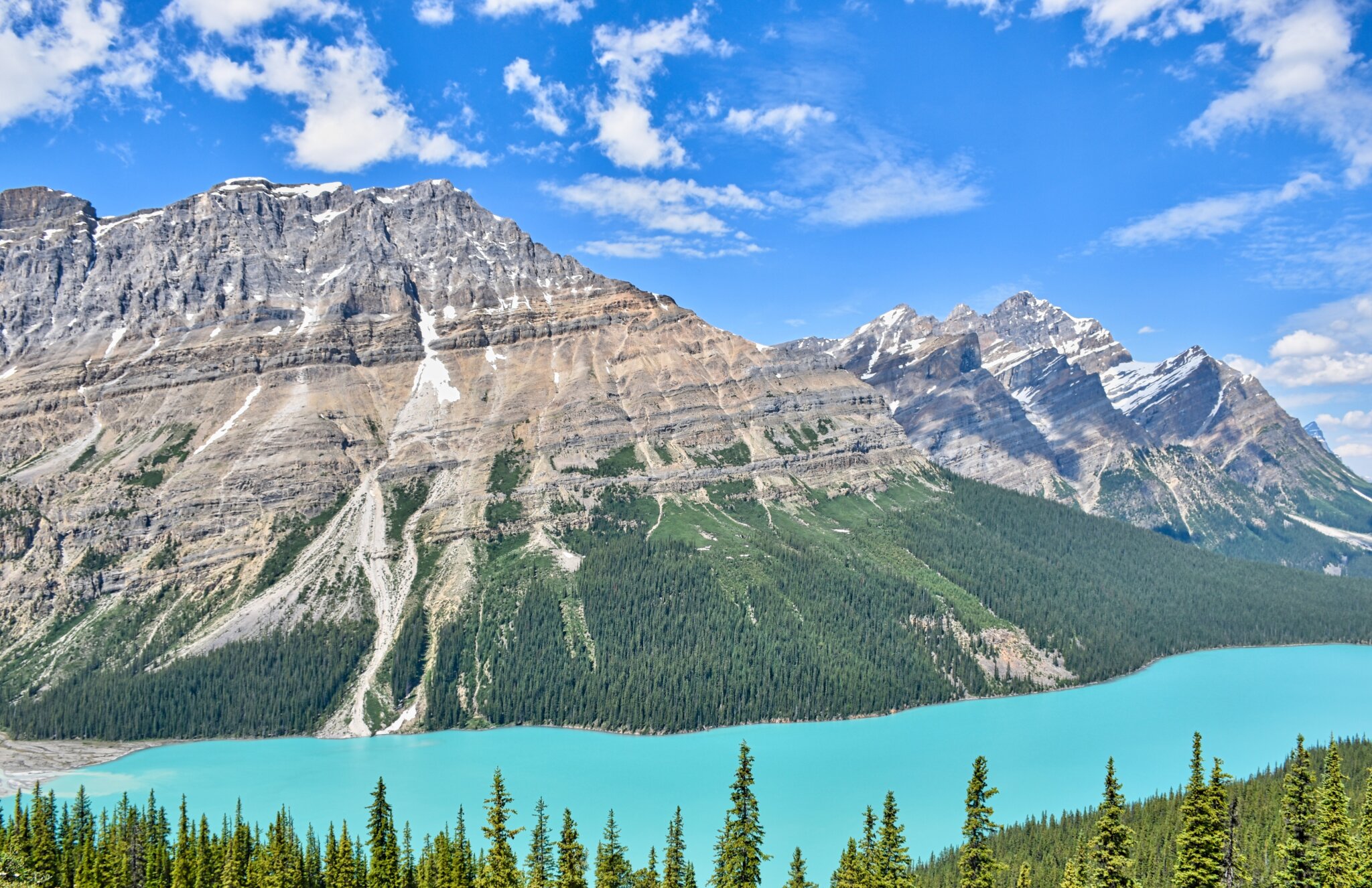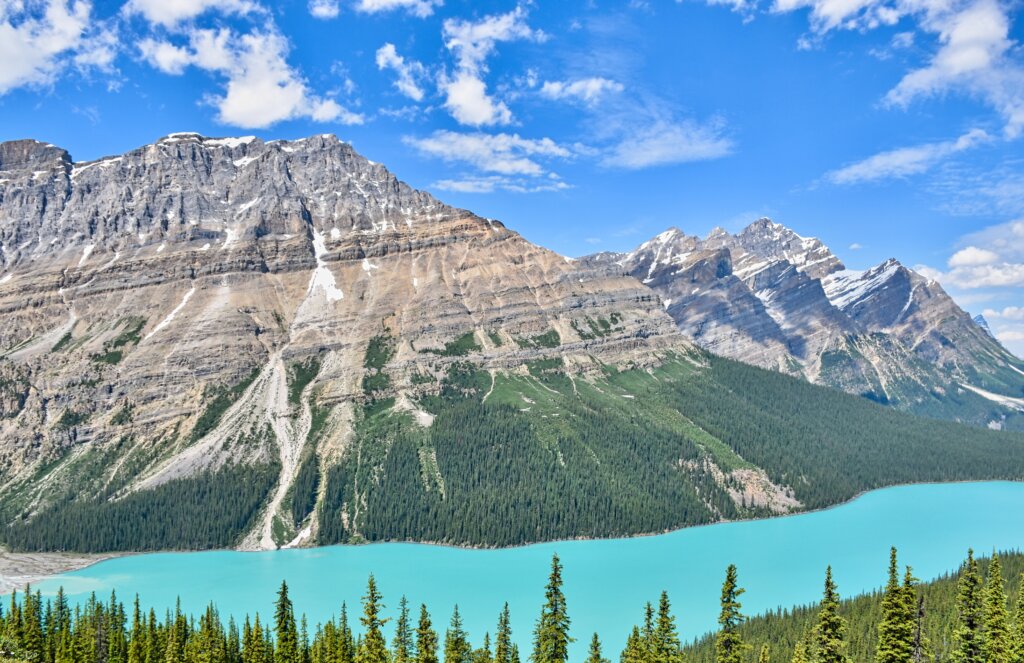 9. Banff's Frozen Ice Bubbles
Less of a place to visit and more of a phenomenon to observe, but nonetheless, one of the most magical things to see in Banff National Park are the mystical frozen ice bubbles that appear suspended in the park's frozen lakes come winter time.
These tiny methane pockets, which appear almost like polka dot clusters or the insides of a lava lamp, are a natural phenomenon created by the waterborne bacteria feasting on organic matter in the lakes, who release gas bubbles that get "trapped" under the ice. In Banff National Park, Abraham Lake, Lake Minnewanka, and the Vermillion Lakes are spots especially well known for bubble spotting.
And while "gas bubbles" sound like a peculiar sight to actively seek out, one look at a photo and you'll see why you need to put this gorgeous view on your bucket list: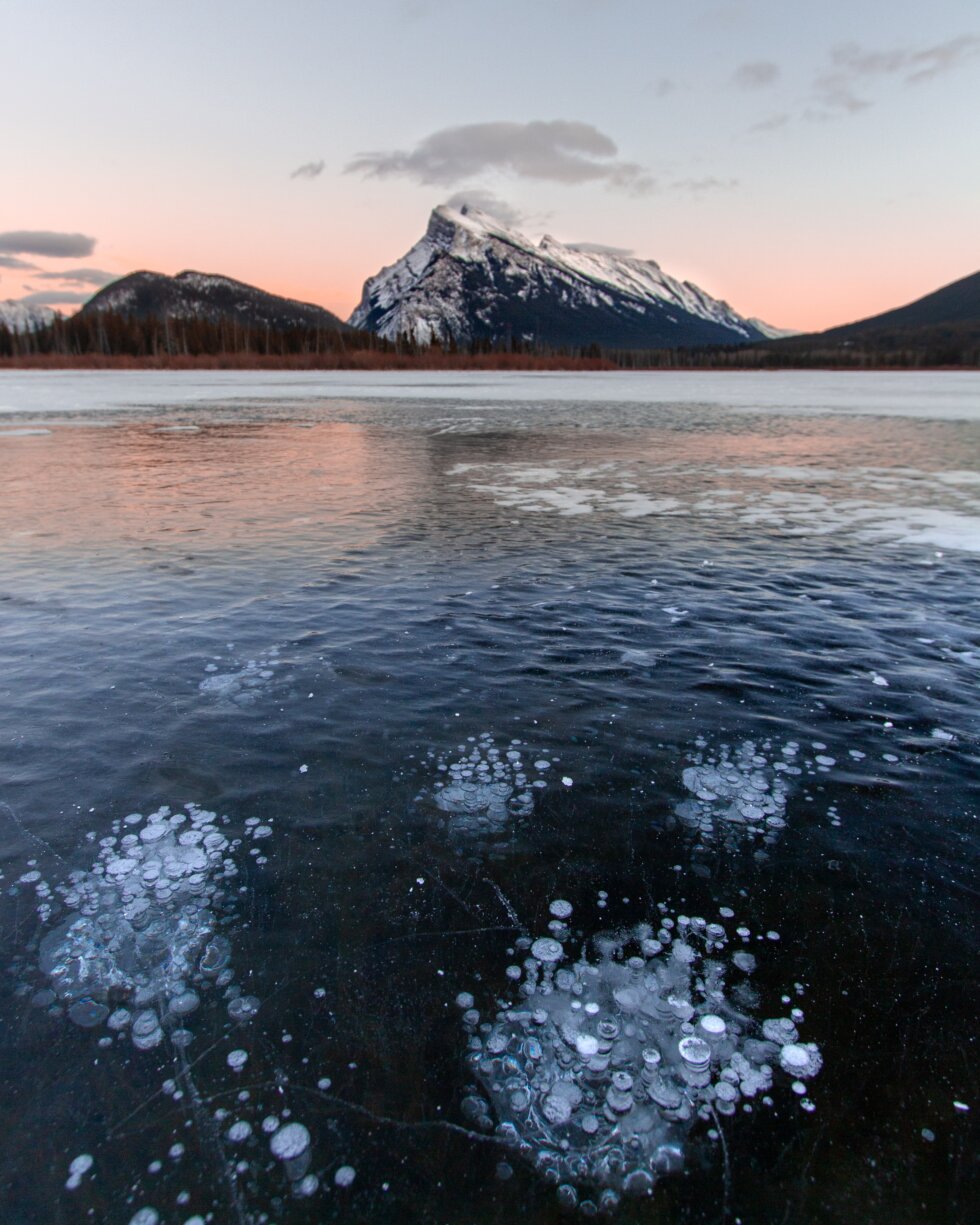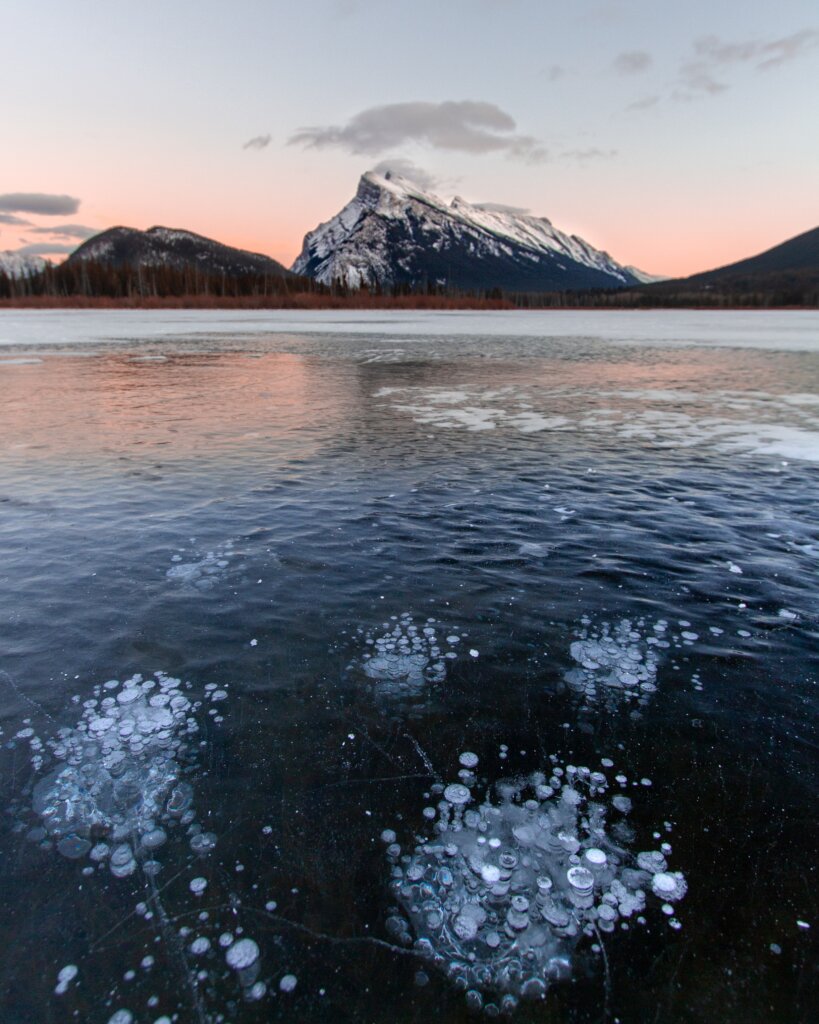 Banff Upper Hot Springs
Last but not least, for the ultimate pampering experience, look no further than the oh-so-rejuvenating Banff Upper Hot Springs, where you can soak in soothing mineral-rich waters with stunning valley views.
Fun fact: At 5200ft elevation, this magical little piece of Banff is the highest hot spring in Canada.
What other magical places in Banff National Park would you recommend?
We know there is always more to add to this list, so let us know in the comments if you have other beautiful places in Banff National Park that we should check out! Thanks for reading, and happy Geektripping!