*FYI - this post may affiliate links, which means we earn a commission (at no extra cost to you) if you purchase from them. Also, as an Amazon Associate I earn from qualifying purchases. For the full scoop on what this means, feel free to check out our Privacy Policy and Disclosure.
---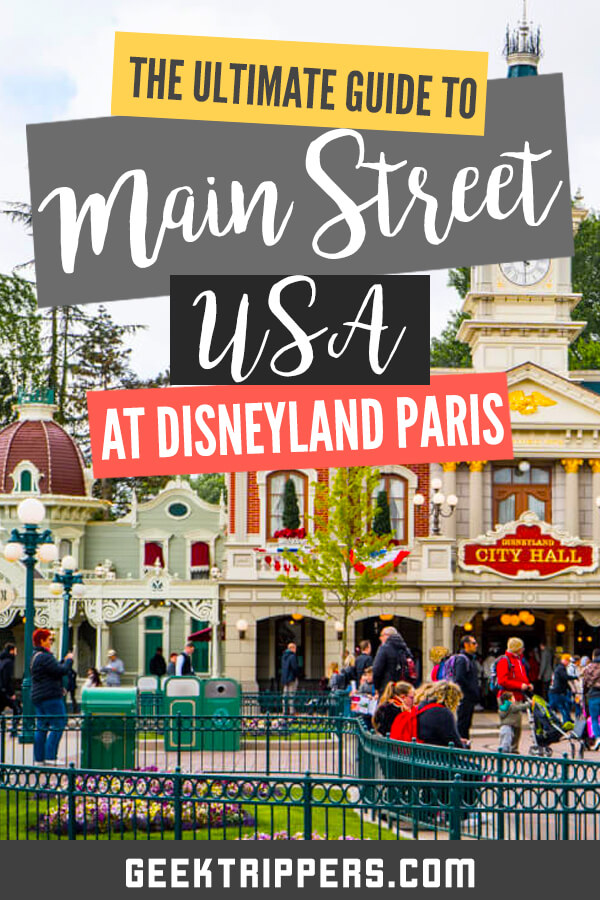 Disneyland Paris' Main Street USA is hands down one of the highlights (not to mention everyone's first impression!) of wonderful Disneyland Park. In this detailed guide, we'll be running through everything you need to know about the Main Street USA in Disneyland Paris so you can make the most of your visit!
What can you expect to read in this guide? Well, we'll be covering all the different attractions and things to do on Main Street USA, where to shop and eat, along with some hidden gems and even a brief history.
So, what are you waiting for? Toss on those Mickey ears and let's get going!
A Brief History of Disneyland Paris' Main Street USA
The Main Street USA that you see at Disneyland Paris was actually the third one to ever open, delighting crowds ever since the opening of (then) Euro Disney on April 12, 1992.
While today, Paris' Main Street USA bears a striking resemblance to its counterpart in Florida, it should be noted that original plans from Imagineers looked quite different.
It's said that the original theme of the entire area was meant to be the 1920s, with trams as transport in lieu of the conventional horse-drawn trolleys seen today. These plans never came to fruition though, supposedly due to the questionable family-friendliness of the 1920s (*cough* gangsters, anyone?).
Regardless of the original theme/design, today's Main Street USA is a delight to visit at Disneyland Paris, with a variety of wonderful hidden gems and historical architecture to peruse.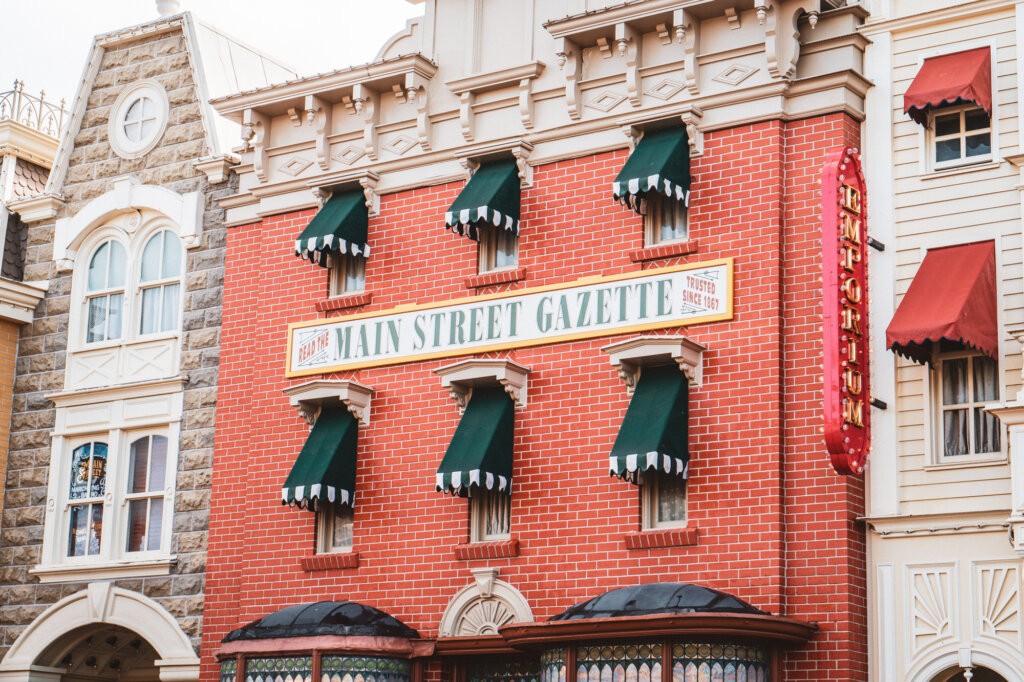 Things to do on Main Street USA in Disneyland Paris
Let's start with the attractions… what is there to see and do on Disneyland Paris' Main Street USA? Here are some ideas for you:
1. Go shopping for all sorts of wonderful Disney goodies
Hands down, one of the best activities you can enjoy on Main Street USA is shopping! We feature a list of all the best shopping on Main Street USA below, but just know that this is one area you want to budget plenty of time (and moola) for. From glitzy crystals and real tiaras to books and every kind of candy you can imagine, there's a shop for everyone here, so be sure to duck into all the different shops to take a look!
2. Keep an eye (and ear) open for all the hidden easter eggs
One thing that must be said about Disneyland Paris is its rich attention to detail, and Main Street USA is one place where you can witness this glorious richness first-hand. Again, we have a full section dedicated to hidden gems below, but be sure to listen carefully to the soundscape here. You'll never know what wonderful things you might hear!
We'll share one with you now: while passing by Victoria's Home Style Restaurant, make sure to look up above and listen for the man brushing his teeth and fiddling with his taps!
3. Take a walk down Discovery Arcade and Liberty Arcade
One unique feature of Paris' Disneyland USA is its covered passageways that flank both sides of the strip – Discovery Arcade and Liberty Arcade, concocted by Imagineers to combat Paris' notoriously cold and moody weather.
Discovery Arcade is themed around inventions, with plenty of cool models and motifs devoted to revolutionary inventions from the 19th century. This celebration of innovation features gas-lit lamps, display cases stuffed with gadgets and large beautiful poster art – don't miss it!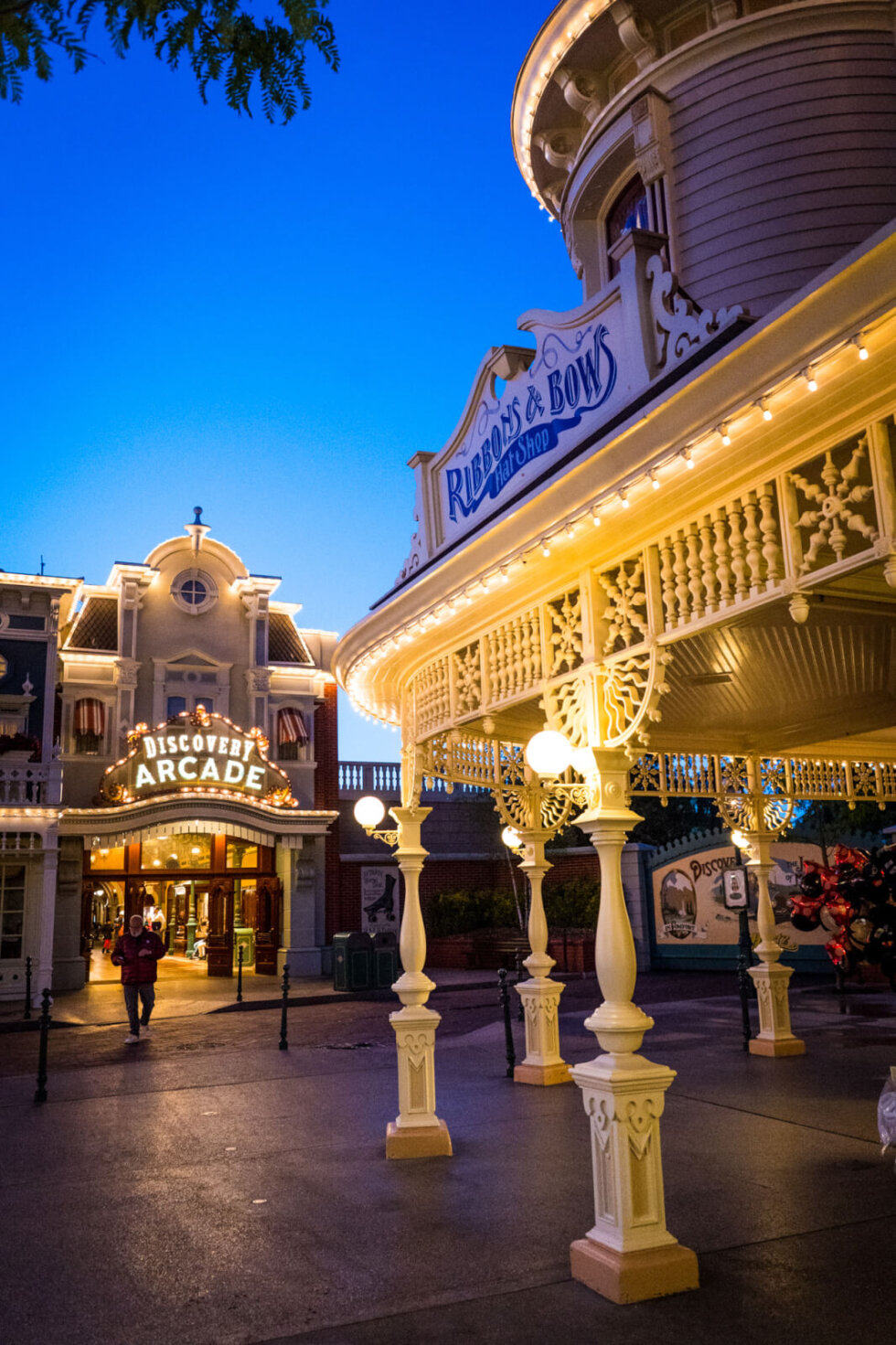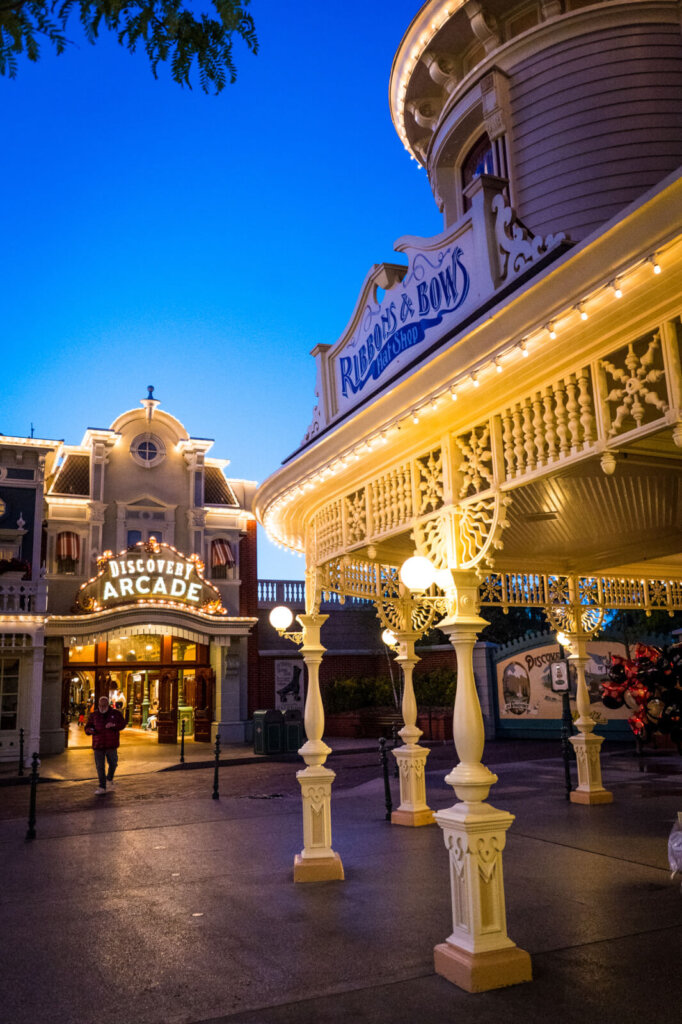 Liberty Arcade has a similar aesthetic to the Discovery Arcade, with beautiful ironwork and gas lanterns lining the walls .The difference? The theme here is none other than the Statue of Liberty herself! A stroll down this arcade is a stroll down memory lane, with historic artwork and photographs dedicated to the Statue of Liberty, a symbol of the friendship between France and the US. PS: Don't miss the Statue of Liberty tableau which is neatly concealed behind some red velvet curtains! A lot of people walk right past it.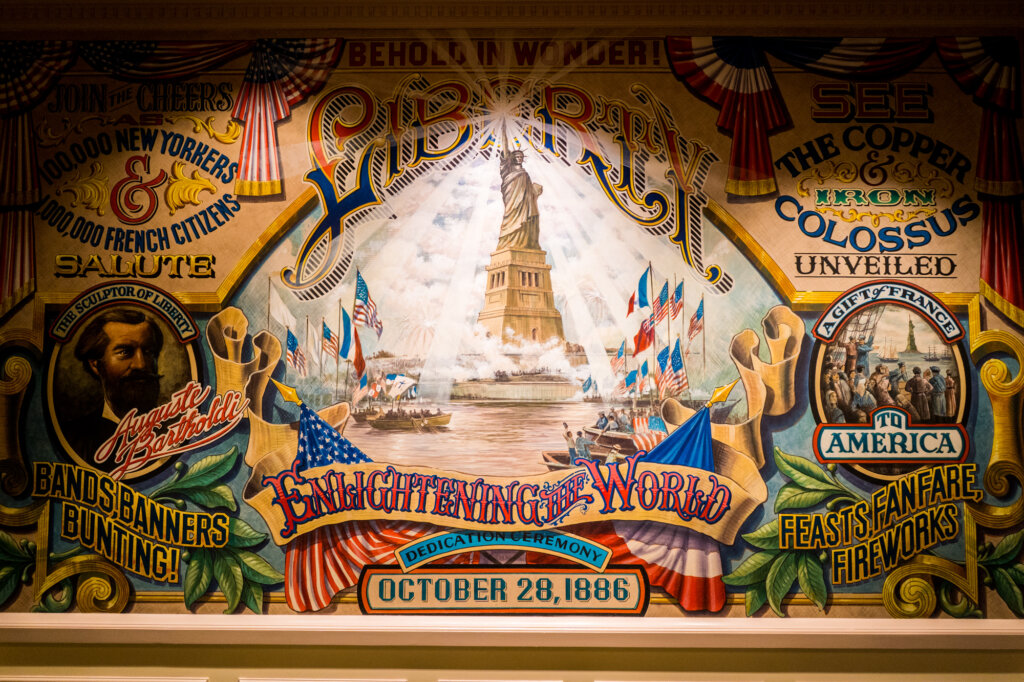 4. Meet some characters
Main Street USA is a great place to meet characters and get some perfect photos as a souvenir! Be sure to keep an eye out for character meet times on your Disneyland app, or just keep your eyes open… you never know who you might spot!
5. Hop on a ride along the Disneyland Railroad!
It's a well-known fact that Walt Disney himself had a penchant for trains, so unsurprisingly, Disneyland Paris also has a wonderful railroad of its own.
Main Street USA is a great place to hop on (other stops include Frontierland, Fantasyland and Discoveryland). The full Grand Circle Tour takes about 20 minutes, making it the perfect chance to sit down and relax for a bit… or walk a little bit less to the next land!
Fun fact: there are four narrow-gauge trains in operation at Disneyland Paris all named after famous American legends:
The W.F. Cody (AKA Buffalo Bill) – Features passenger cars named after famous Western cities: Silverton, Durango, Denver, Wichita and Cheyenne
The C.K. Holliday (who built the Santa Fe railway) – Features passenger cars named after world-famous resort areas: Coney Island, Atlantic City, Chesapeake, Long Island and Niagara Falls.
The G. Washington (the USA's first president of course!) – Features passenger cars named after places famously linked to his life: Mt. Vernon, Boston, Philadelphia, Yorktown and Valley Forge. NOTE: This train is easy to spot because of its red, white, and blue theme!
The Eureka (a word popularized in the Gold Rush when miners discovered gold) – Features passenger cars named after famous Californian cities: San Francisco, Los Angeles, Monterey, San Diego and Sacramento.
6. Ride down Main Street USA on a horse-drawn streetcars
If it's a splash of style you're looking for on your commute from Town Square to Central Plaza, why not let a horse do all the hard work? The horse-drawn street cars going up and down Main Street USA are a staple of Disneyland Paris, so be sure to climb on for a comfortable and relaxing ride.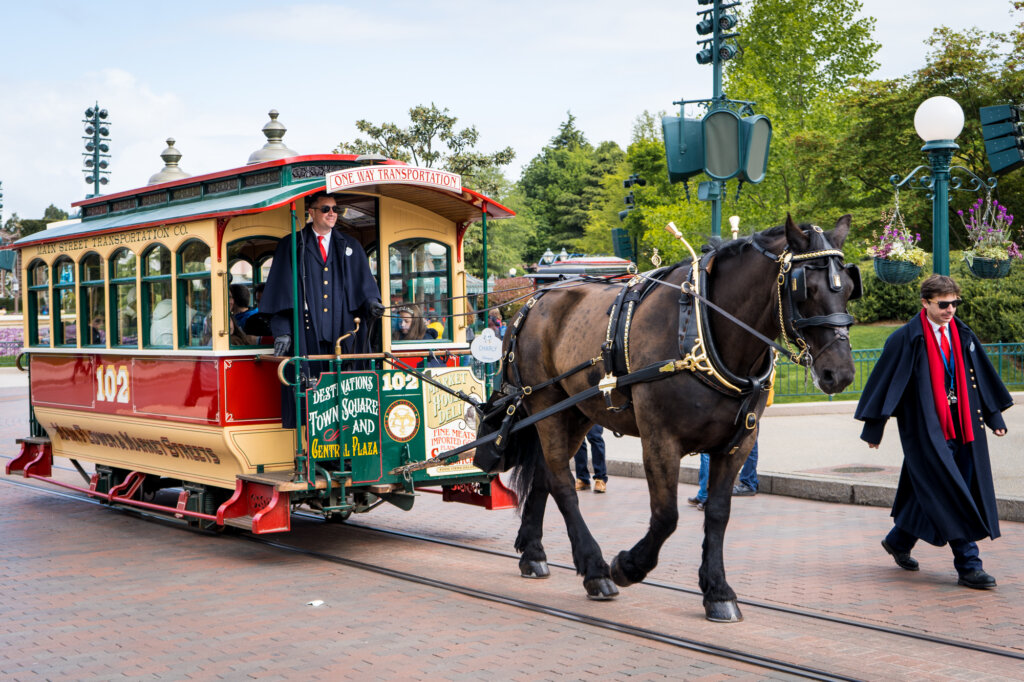 7. Or hop one of the famous Main Street Vehicles
If vintage vehicles are more your thing, be sure to check out the famous Main Street vehicles, which are a treat to ride and offer a unique way to enjoy Main Street USA.
There are stops in both Town Square and Central Plaza. Depending on your visit date and time, here are some of the cars you might be able to ride:
Fire Engine: A bright bronze and red powerhouse that offers an open-top ride
Omnibus: A cute double decker bus offering lovely unique perspectives over the park
Limousine: A luxurious option! Pretty self-explanatory
Mercer: A cute cream-coloured open-top ride
Paddy Wagon: An old timey police van with classic charm
8. Grab a bite to eat
Last but not least, Main Street USA is a great place to sit down for a bite to eat, with a variety of unique eateries all over. Of course, we have a special section dedicated to that so see below for a list of available places to eat along Main Street USA:
Where to Eat on Disneyland Paris' Main Street USA
Now onto the good stuff! Looking for your fix of bakeries, restaurants and even hot dog shops along Main Street USA? The good news is you'll be spoiled for choice… the bad news is you'll be bursting at the seams by the end of your visit. Here are some food options for you scattered around this part of Disneyland Paris Park.
Cable Car Bake Shop
Baked goodies await at the charming little Cable Car Bake Shop, a quaint little bakery that will transport you straight to a vintage San Francisco. Of course, we're still in Disneyland Paris, so you can expect to find a variety of French classics here despite the clear American theme, with croissants and pains au chocolat both on offer.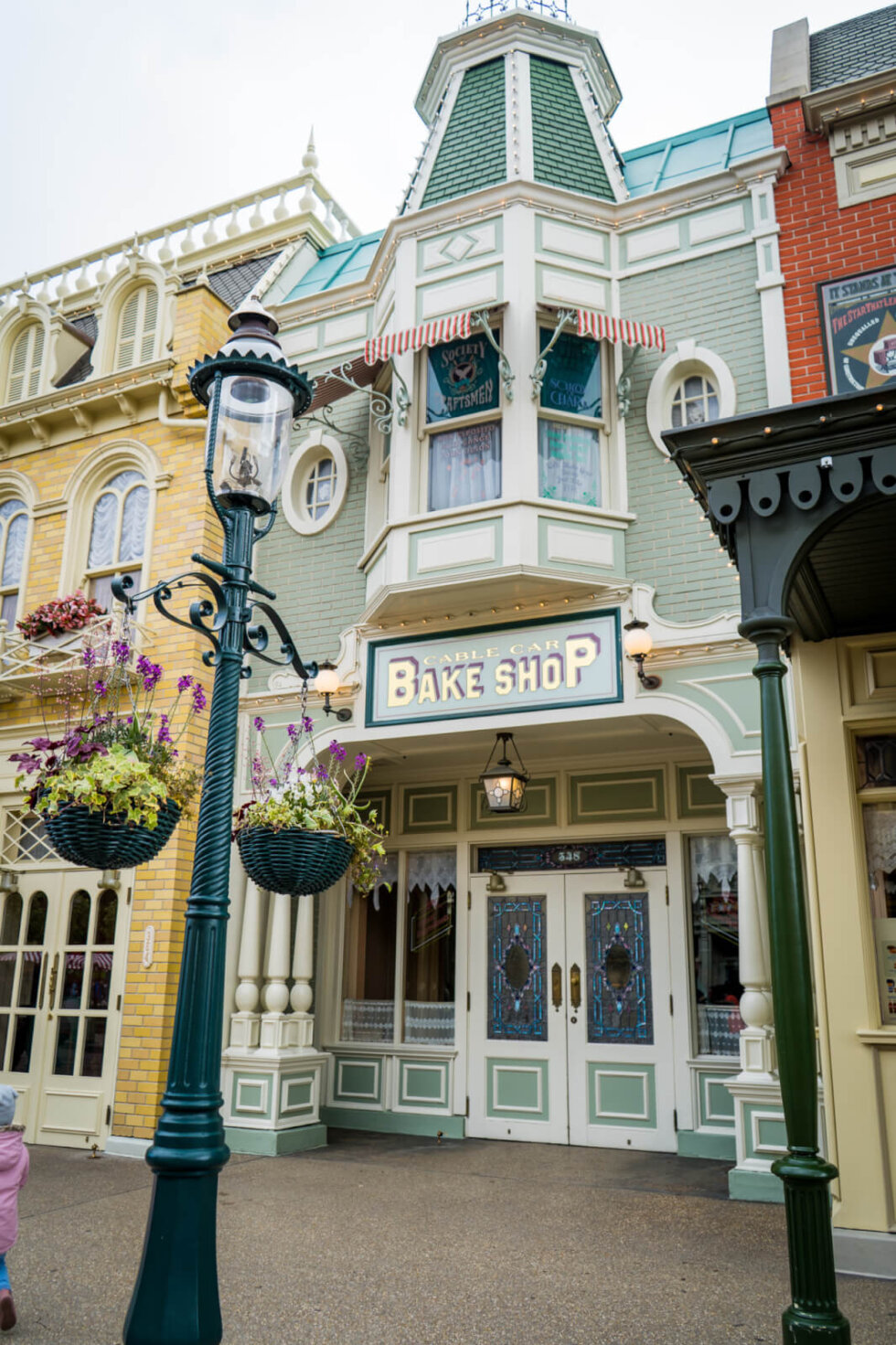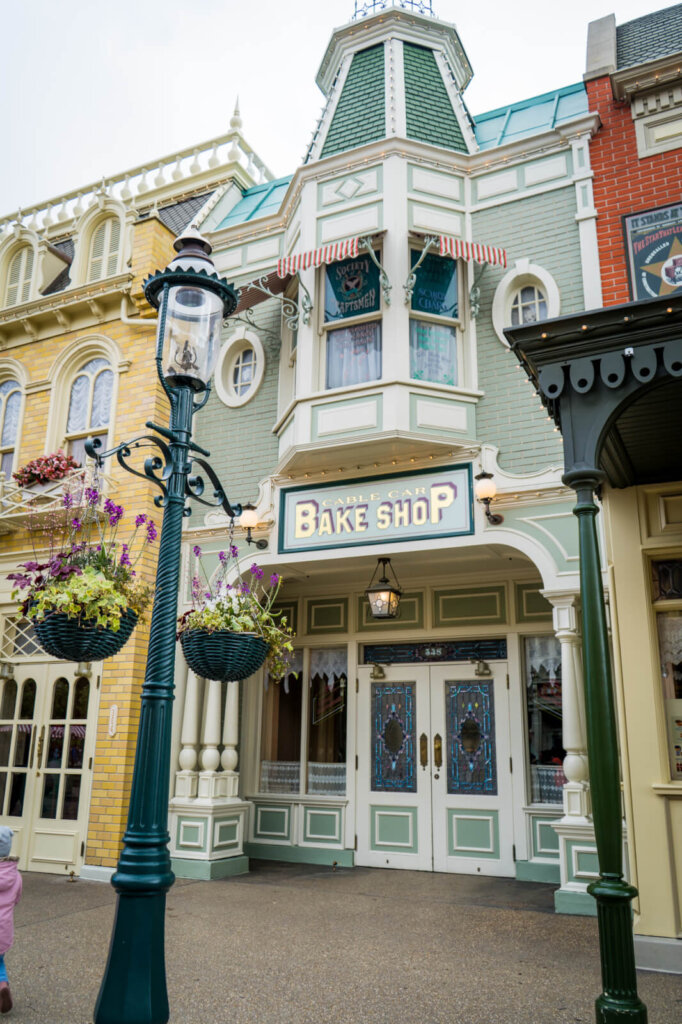 Casey's Corner
Craving hot dogs? Casey's Corner is a baseball themed eatery where you can stuff your face with American classics like fries, hot dogs and soda, all of course with a side of ragtime music and baseball memorabilia all over. This counter-service joint has a variety of hot dogs to purchase (and salad for a lighter choice).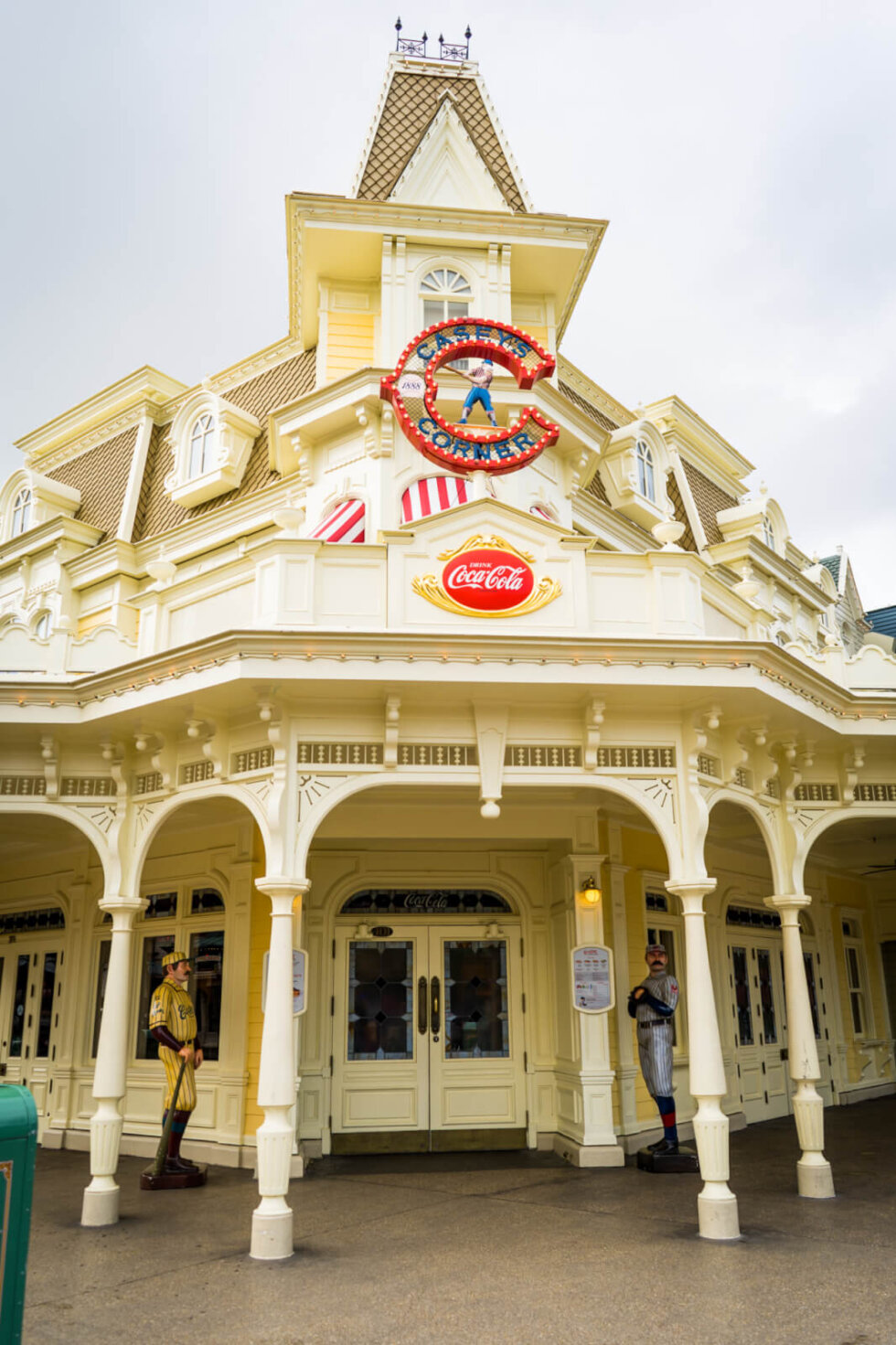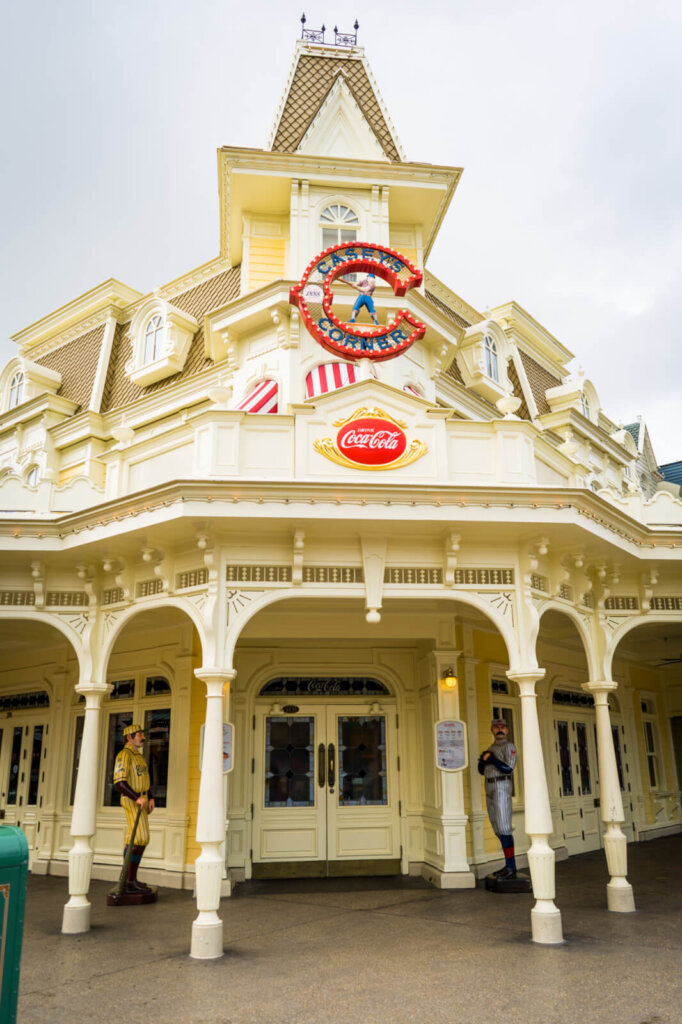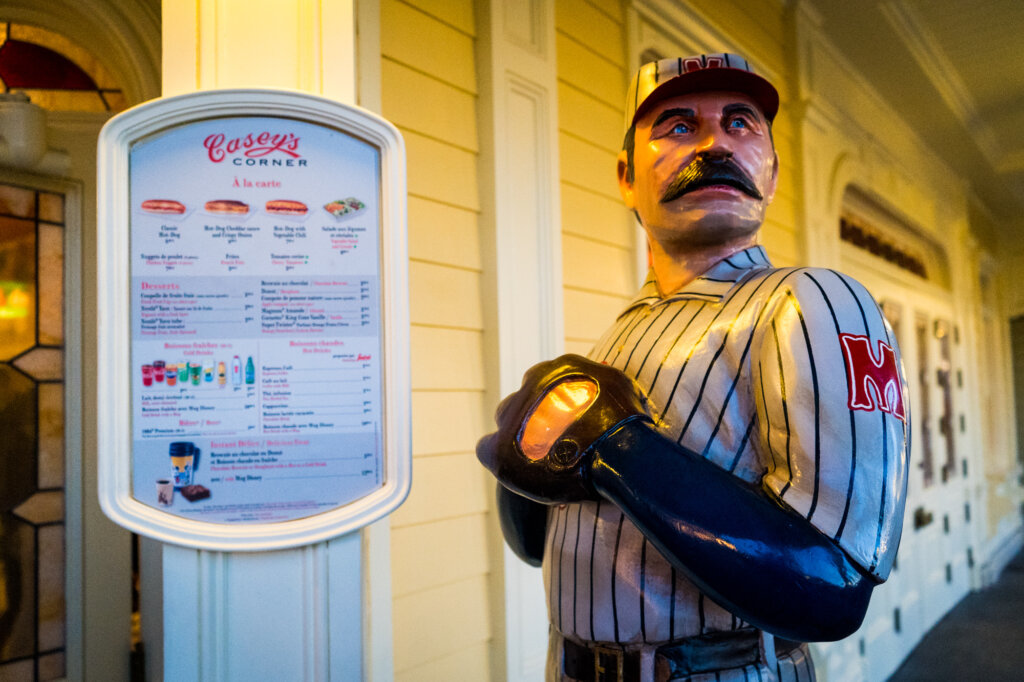 Cookie Kitchen
For more sweet treats, don't forget the wonderful Cookie Kitchen, where you'll be able to find freshly baked cookies that will satisfy even the hangriest of cookie monsters.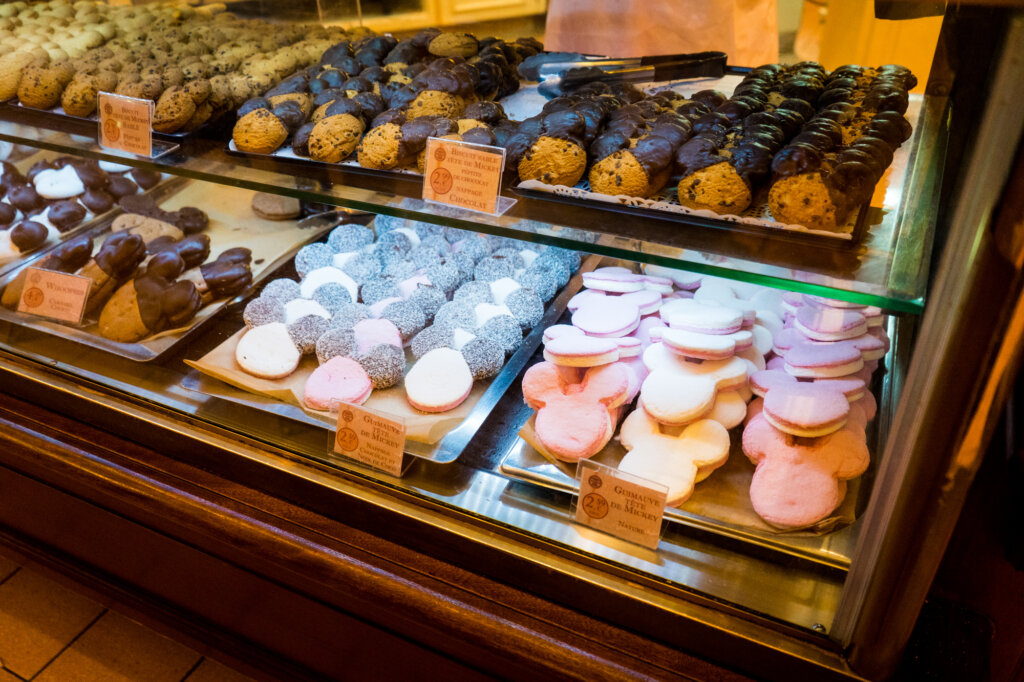 Market House Deli
For a quick trip to New York, duck into the Market House Deli for a NYC-style deli that will transport you back to the early 20th century. Subs, wraps and salads are here to satisfy your hunger… and of course a croque monsieur option too because we're still in Paris after all!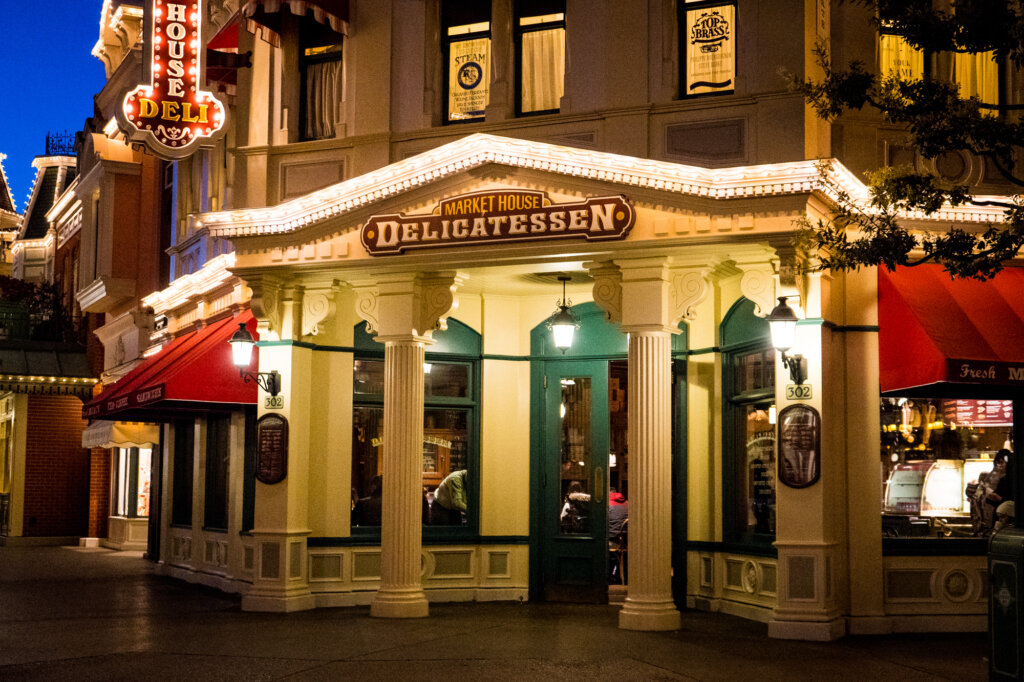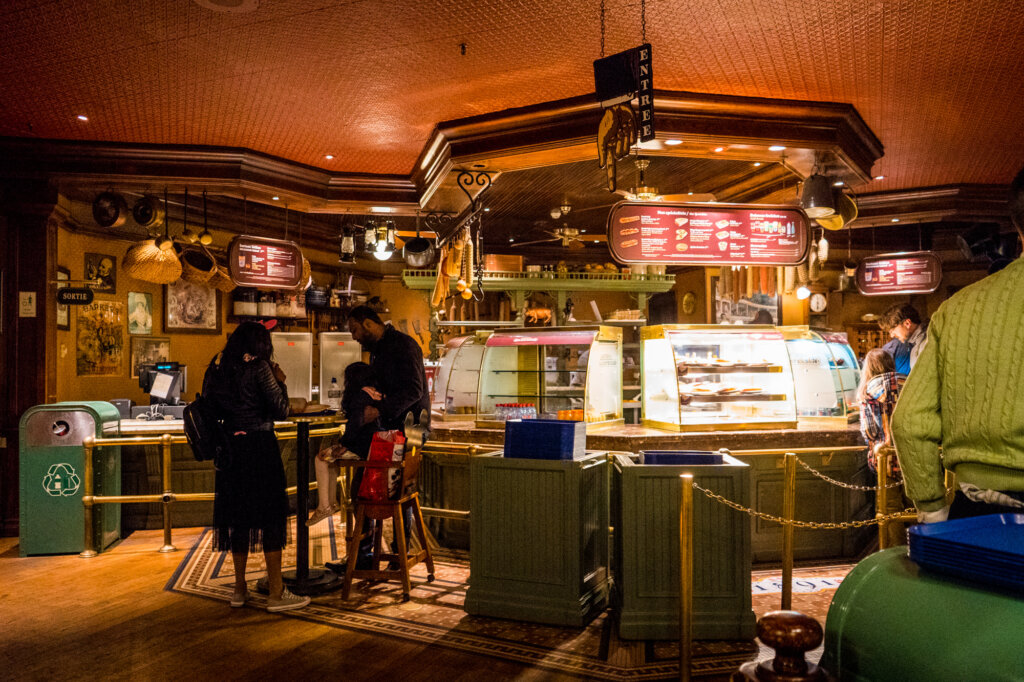 Plaza Gardens Restaurant
This elegant restaurant is one of Disneyland Paris' finest, offering a sumptuous buffet in a Victorian dreamhouse. This is actually Main Street USA's oldest building, so you can expect lovely decor including antique furniture and beautiful velvet curtains. PS: This is (of course) where you can also enjoy a Character Breakfast if you book in advance!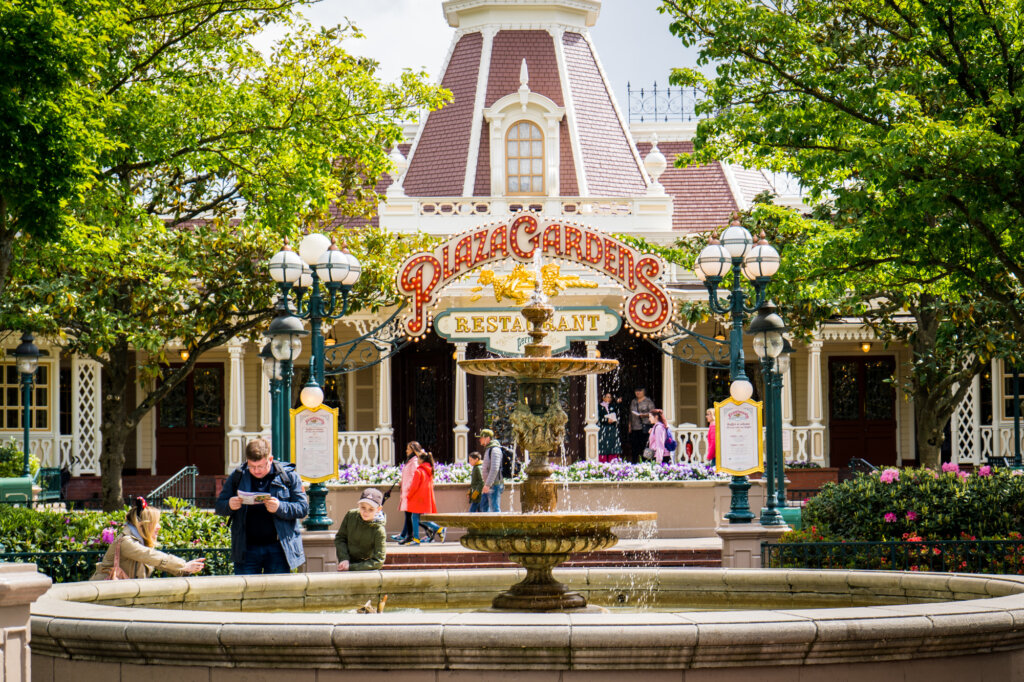 The Coffee Grinder
If it's quick sugar and caffeine fix you want, head to the Coffee Grinder for a fast treat that will fuel you up enough for another round of sightseeing. You'll find conventional coffee shop fare here, with plenty of muffins, pastries and hot drinks to choose from.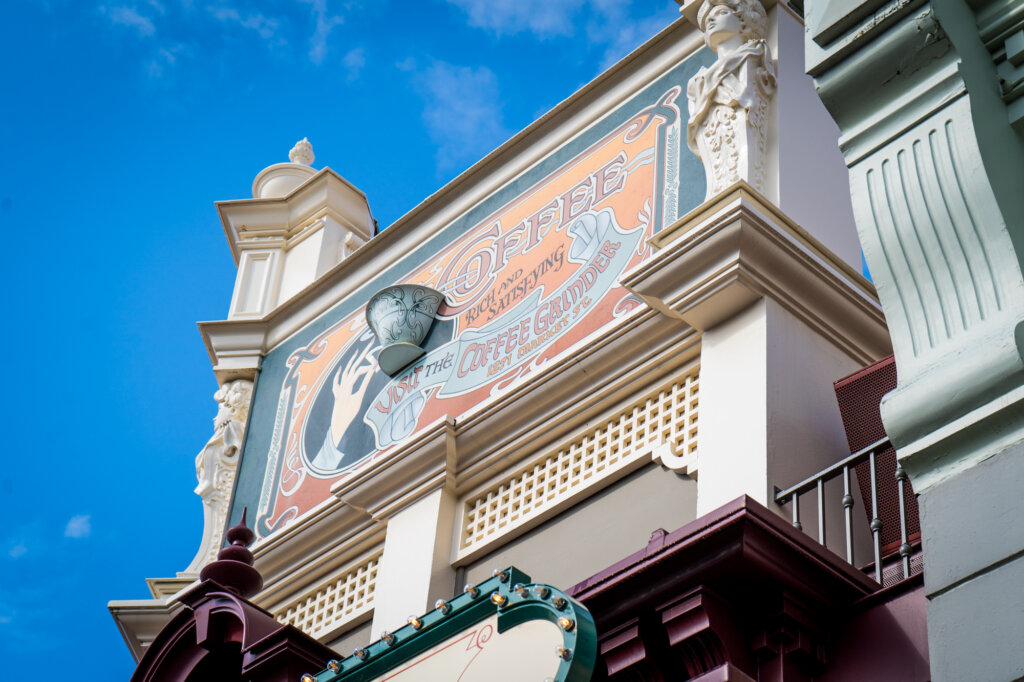 The Gibson Girl Ice Cream Parlour
This charming ice cream parlour is one of the most iconic facades on Disneyland Paris' Main Street USA. Here, you can feast on classic Ben and Jerry's flavours from mint chocolate chip to chocolate fudge brownie!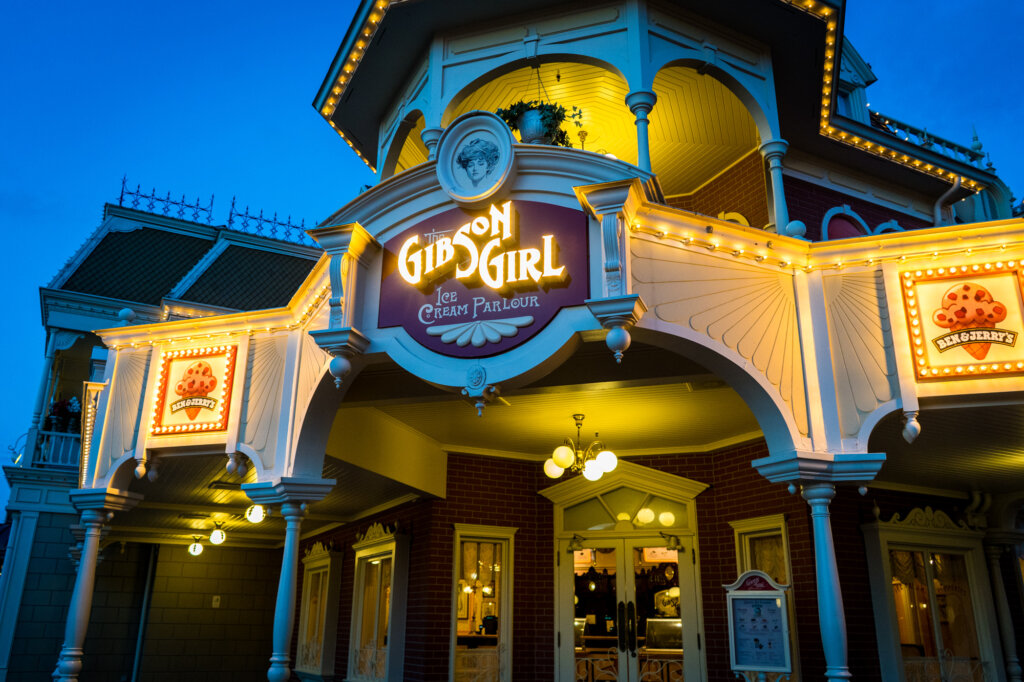 The Ice Cream Company
If you'd rather snack on a sundae, then head over to the Ice Cream Company instead. They do build your own sundaes here, along with deliciously sweet waffles!
Walt's – an American restaurant
For a more sophisticated sit-down meal, be sure to book at able at Walt's, a beautiful restaurant along Main Street USA dedicated to Walt Disney himself. Every room here is themed according to the different lands of Disneyland Park, with unique decor that will appease any superfan.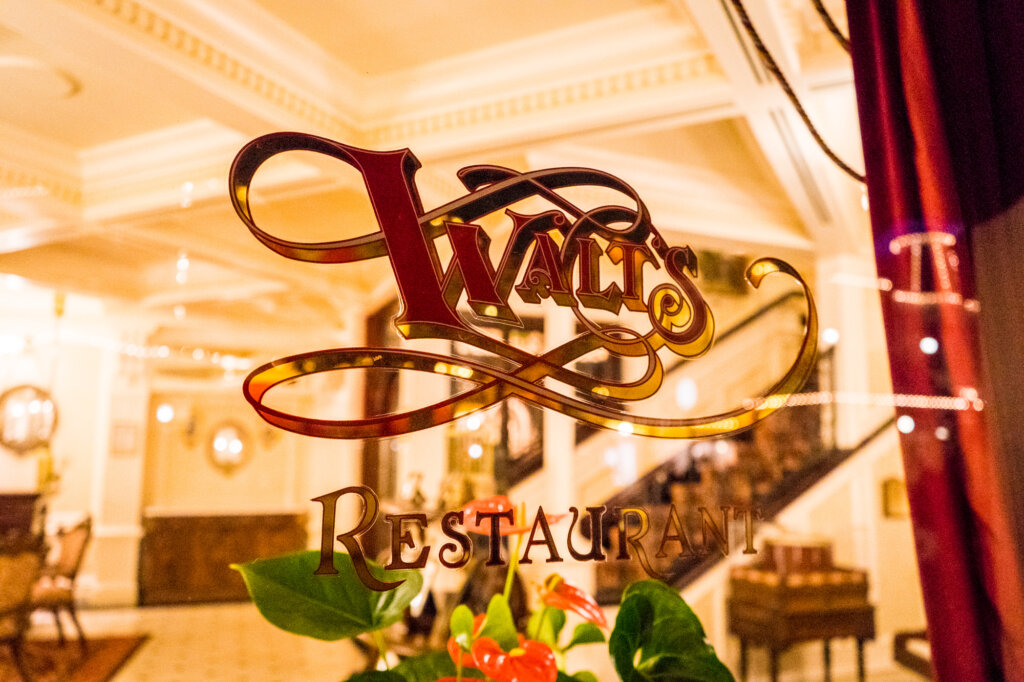 Where to Shop on Main Street USA in Disneyland Paris
After filling your bellies with food, it's time to fill your bags with stuff!! And Main Street USA is the perfect place to do it. The shops here are fabulous – some of the best and most detailed in the entire park. Here are some of the lovely shops you should check out:
Disney & Co.
If your goal is to squeal endlessly with delight, make sure you pop into Disney & Co for its amazing selection of toys and goodies. Here, you can stock up on merch featuring your favourite characters.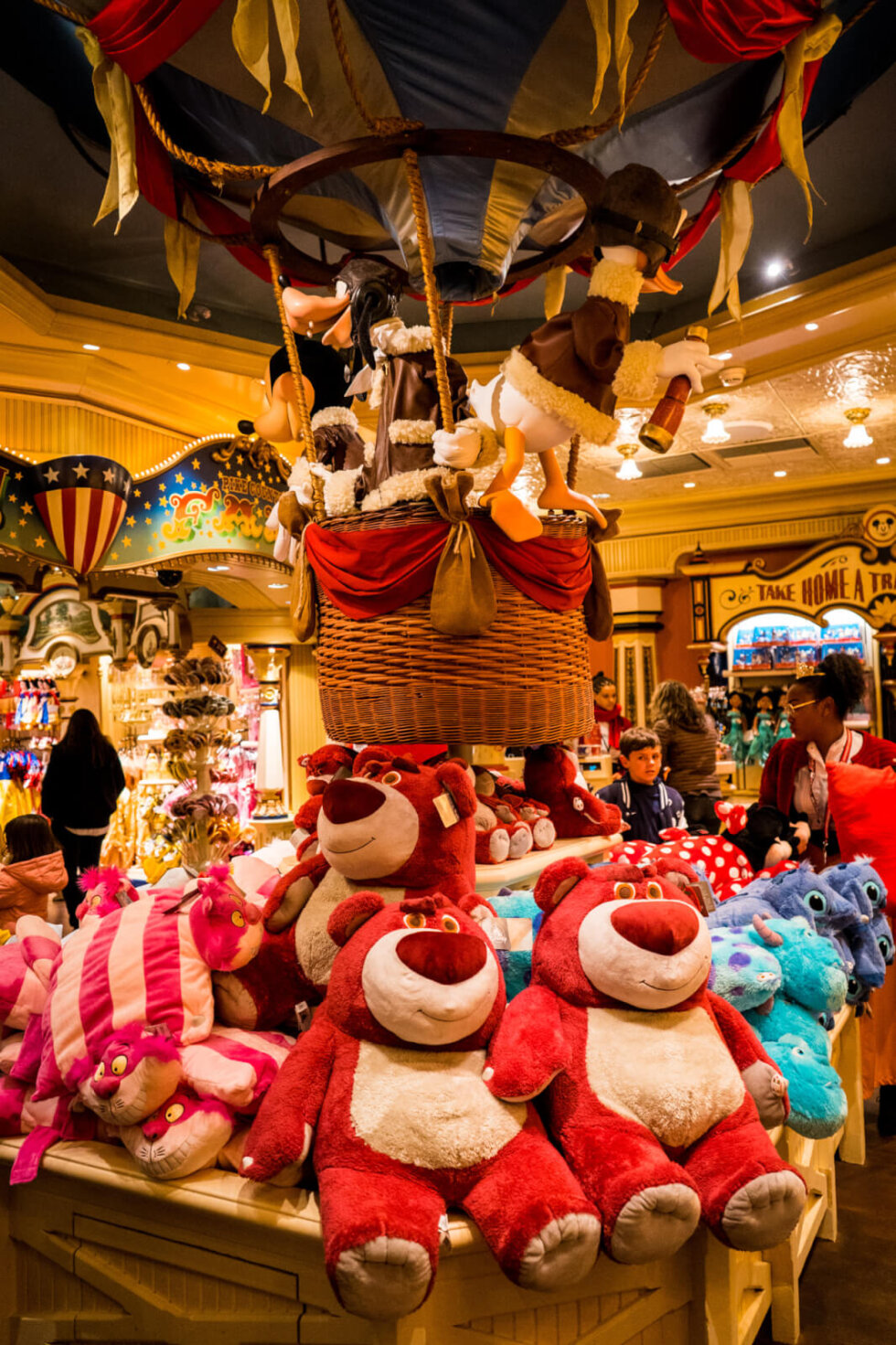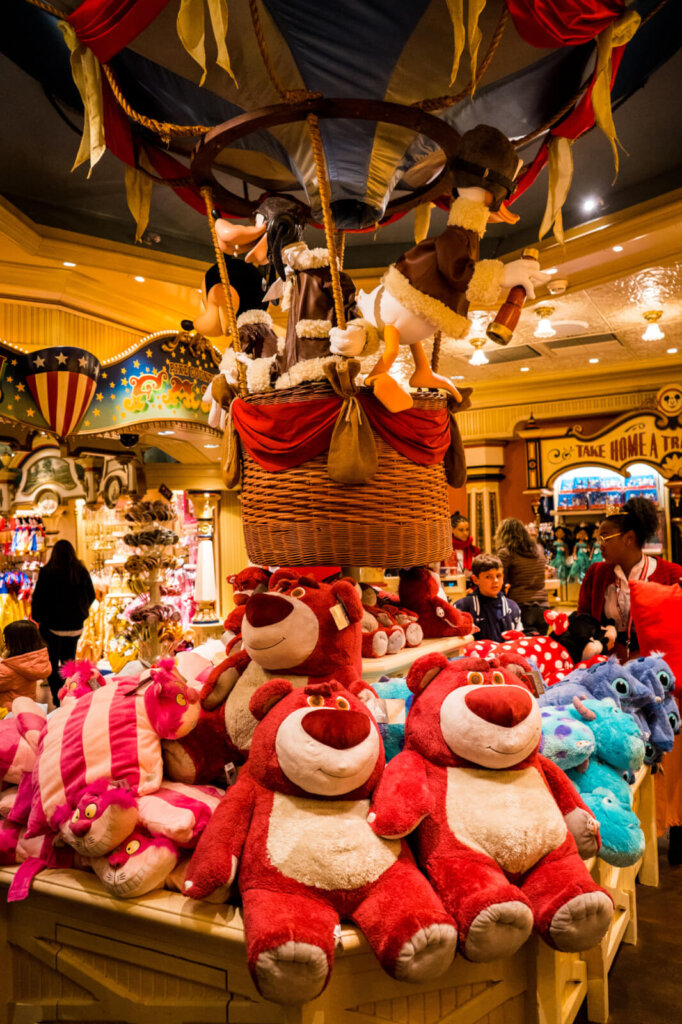 Bixby Babies
If it's cool clothes (even baby clothes!) you're after, be sure to pop into Bixby Babies for a lovely selection of accessories, clothes, and plush toys.
Boardwalk Candy Palace
This wonderful old timey sweet shop is guaranteed to blow you away with its fun decor and variety of tasty sweet treats… sweet tooths need to make sure they come here!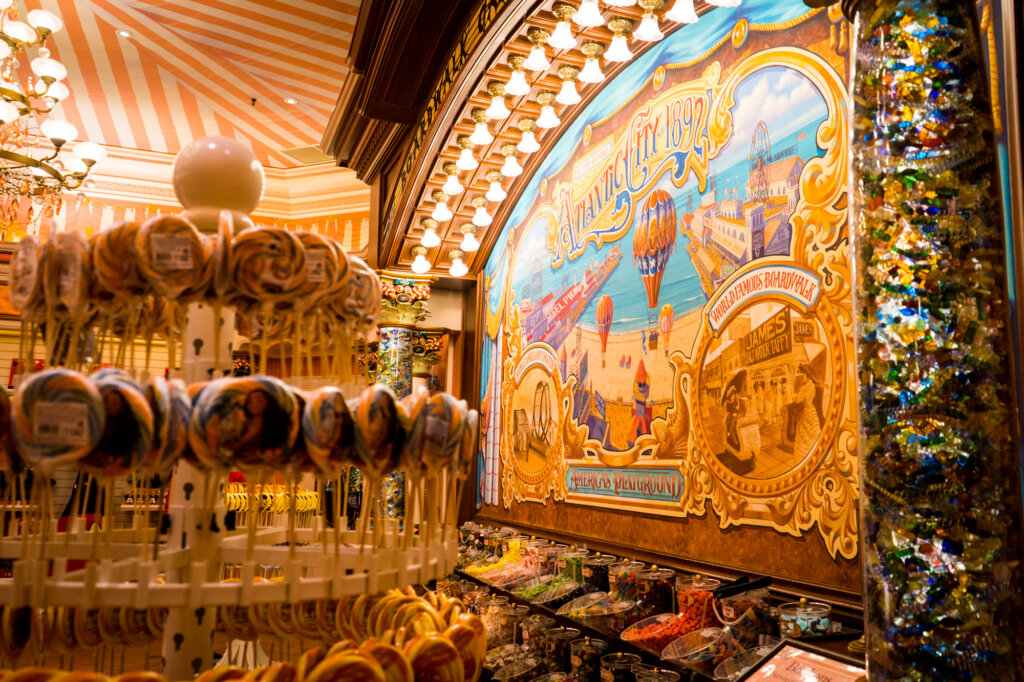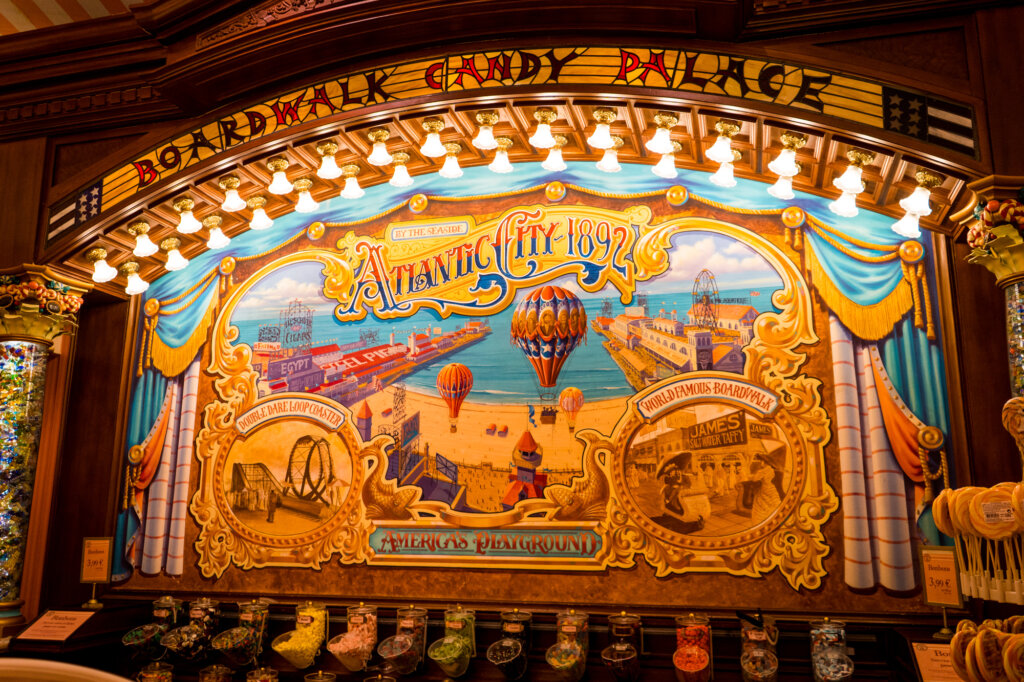 Disney Clothiers, Ltd.
If you're looking to pick up a new outfit (or five) while shopping around Main Street USA, make sure you head inside Disney Clothiers Ltd. – there is loads here for all ages!
Emporium
From costumes and dolls to toys and clothes of all sizes, Emporium has everything you need! This beautiful shop hearkens back to the glory days of grand department stores, so be sure to pop in for some shopping.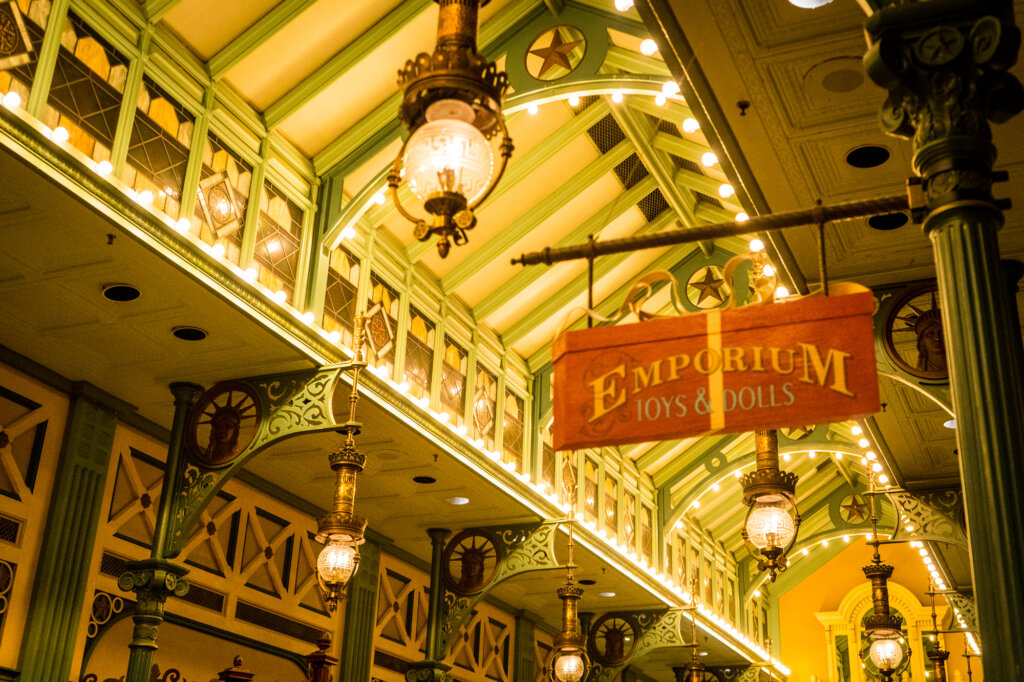 Harrington's Fine China & Porcelains
The architecture of this fancy ornate shop is worth a visit alone, but if you have the budget for it, be sure to take a look at the beautiful collection of gifts available here, including fine art prints, crystal sculptures and more.
NOTE: Within this shop is Disneyana Collectibles where you can find wonderful gifts that can even be personalized.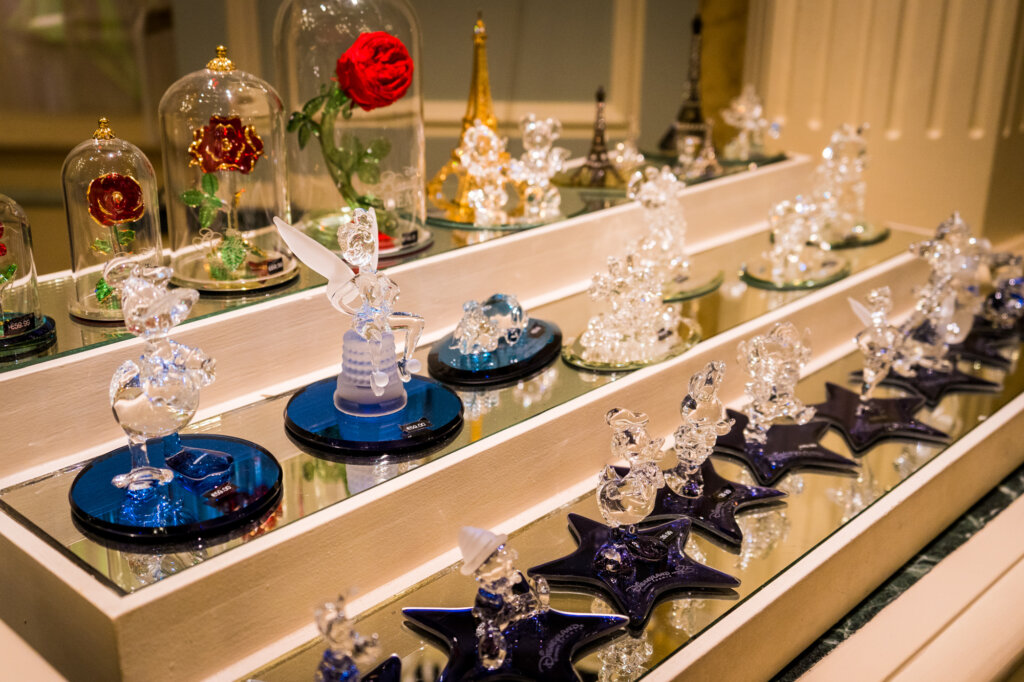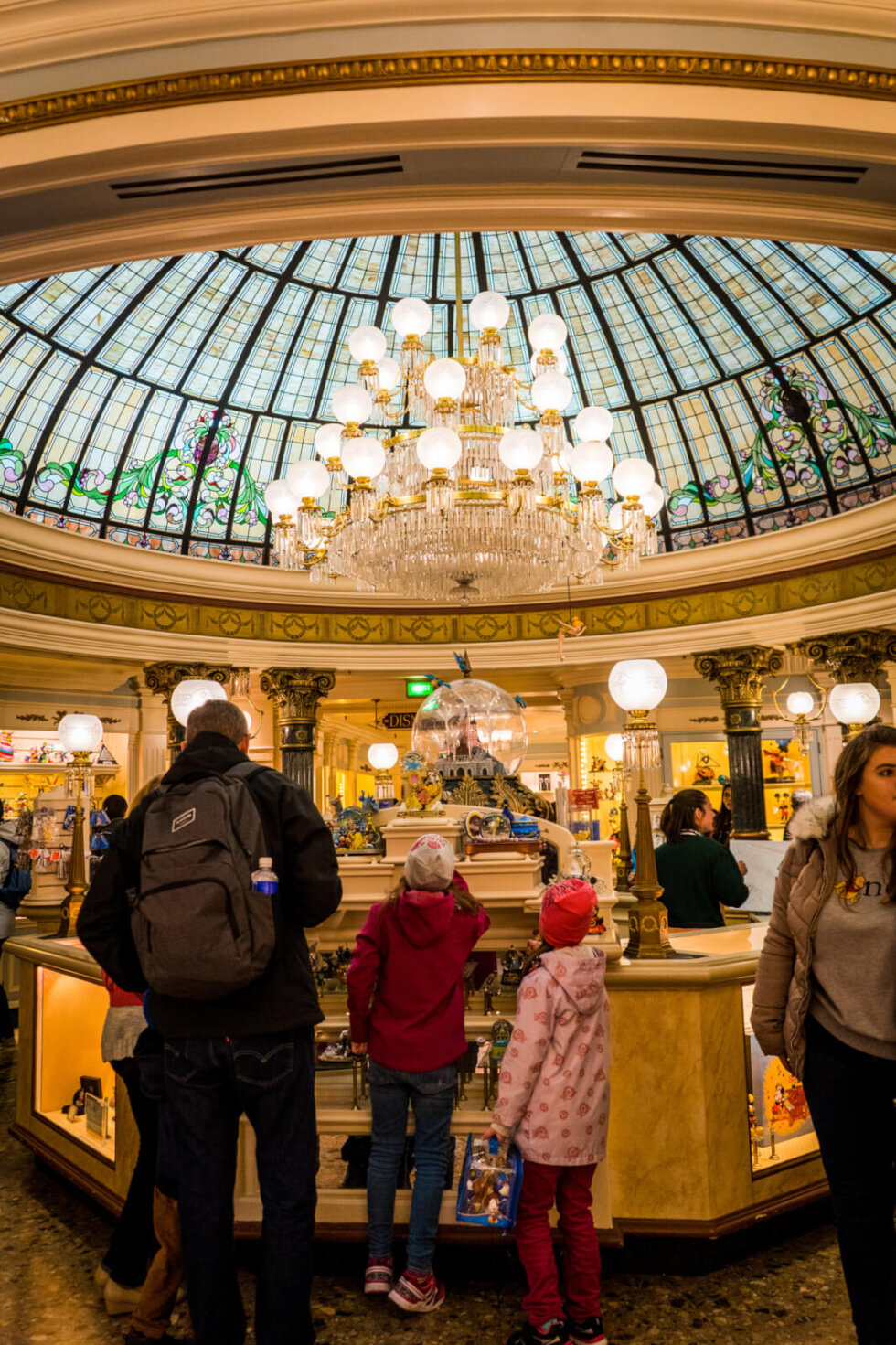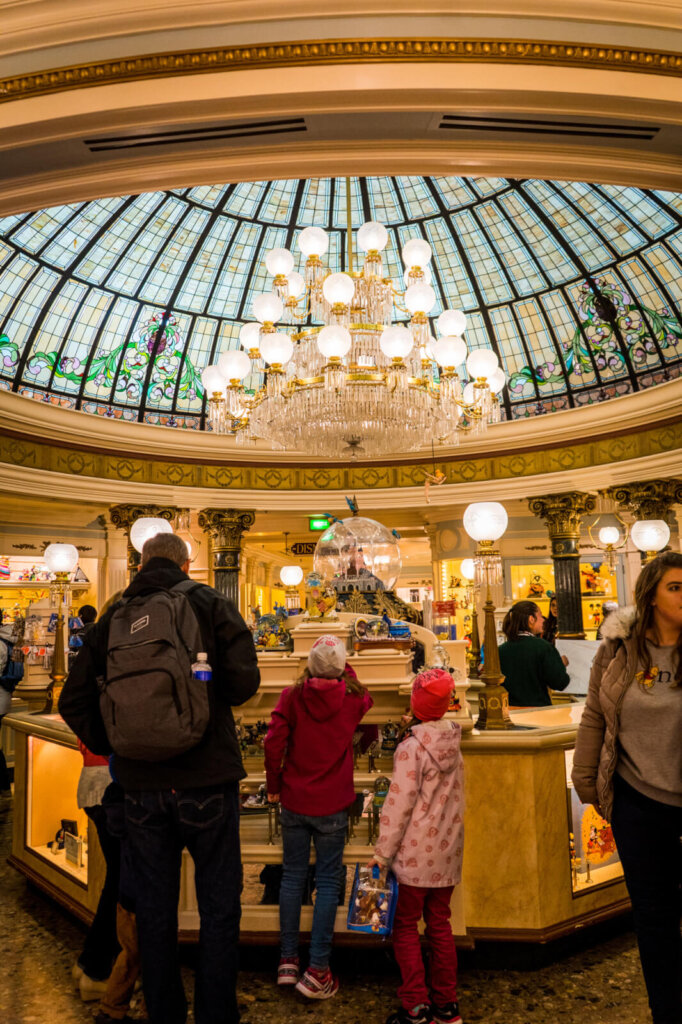 Lilly's Boutique
If you want some unique homeware or cookware, then Lilly's Boutique is a must. This is one of our favourite shops on Main Street USA! There's a fantastic mug collection, beautiful frames and all sorts of home goods like candle holders that you'll be wanting to bring home ASAP.
Main Street Motors
Despite its name, Main Street Motors is actually a fashion and accessory shop, and a great one at that! There is a great selection of unique clothing items here to buy, so be sure to carve out some time in your Main Street USA itinerary to browse.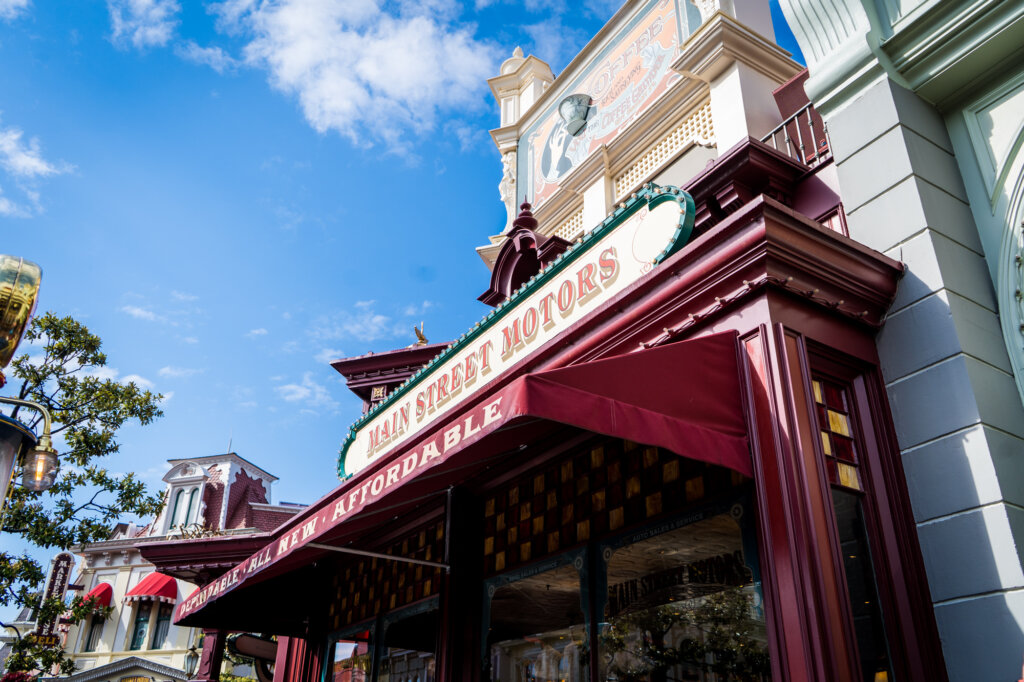 New Century Notions Flora's Unique Boutique
This gorgeous photography shop is a beautiful one to visit, featuring stunning Victorian details like stained glass and ornately carved wood. This is where you can purchase prints, frames and get Photopass+ business sorted.
Plaza East Boutique
This beautiful boutique (lit with old timey chandeliers no less!) is a stylish spot to stock up on souvenirs, toys and accessories.
The Storybook Store
Lastly, one of the most underrated shops in the Main Street USA area of Disneyland Paris – the Storybook Store! Here you'll find a lot of wonderful books, stationary items and a collection of films/CDs that cater to an international clientele.
Even if not for shopping, you should make sure you visit this shop… Keep reading to discover two hidden gems that are tucked away inside!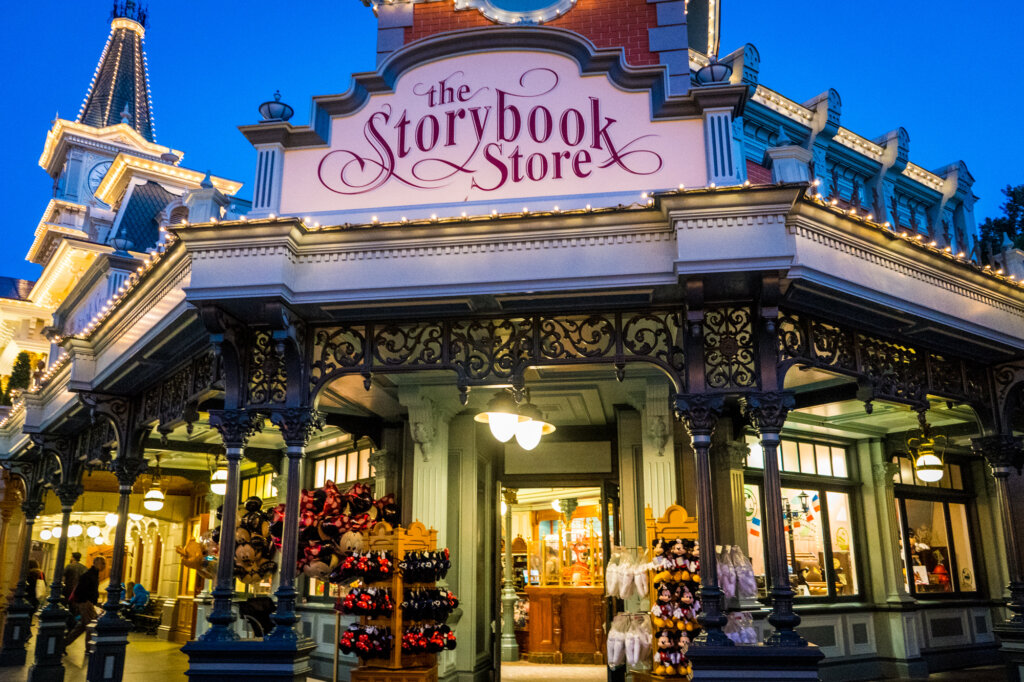 Hidden Gems on Disneyland Paris' Main Street USA
Lastly, it wouldn't be a Disneyland Paris guide without a nod to some wonderful hidden gems right? Click here for a full list, but in the meantime, here are some cool gems to enjoy on Main Street USA.
Secrets of the Disneyland Paris City Hall
Commonly missed by visitors is the Disneyland Paris City Hall, a go-to place to deal with admin details of your trip but not necessarily for sightseeing. Well, this would be a mistake!! Step inside and you'll find all sorts of hidden gems including Walt Disney's Legion of Honour medal and original concept art for Disneyland Paris.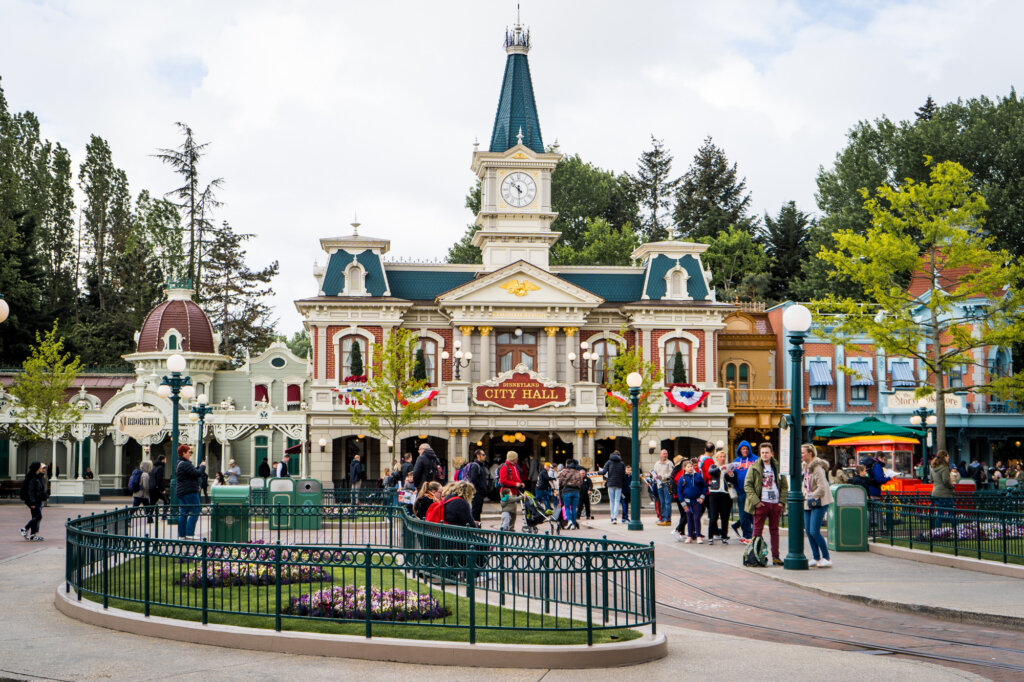 The old Tigger Audio Animatronic inside the Storybook Store
If you want to see Tigger in retirement, head to the lovely Storybook Store to see an old Tigger audio animatronic behind the counter. This fun little hidden gem is missed by most visitors, so be sure to pop into this shop for a quick look… and be sure to look up too – more surprises await ; )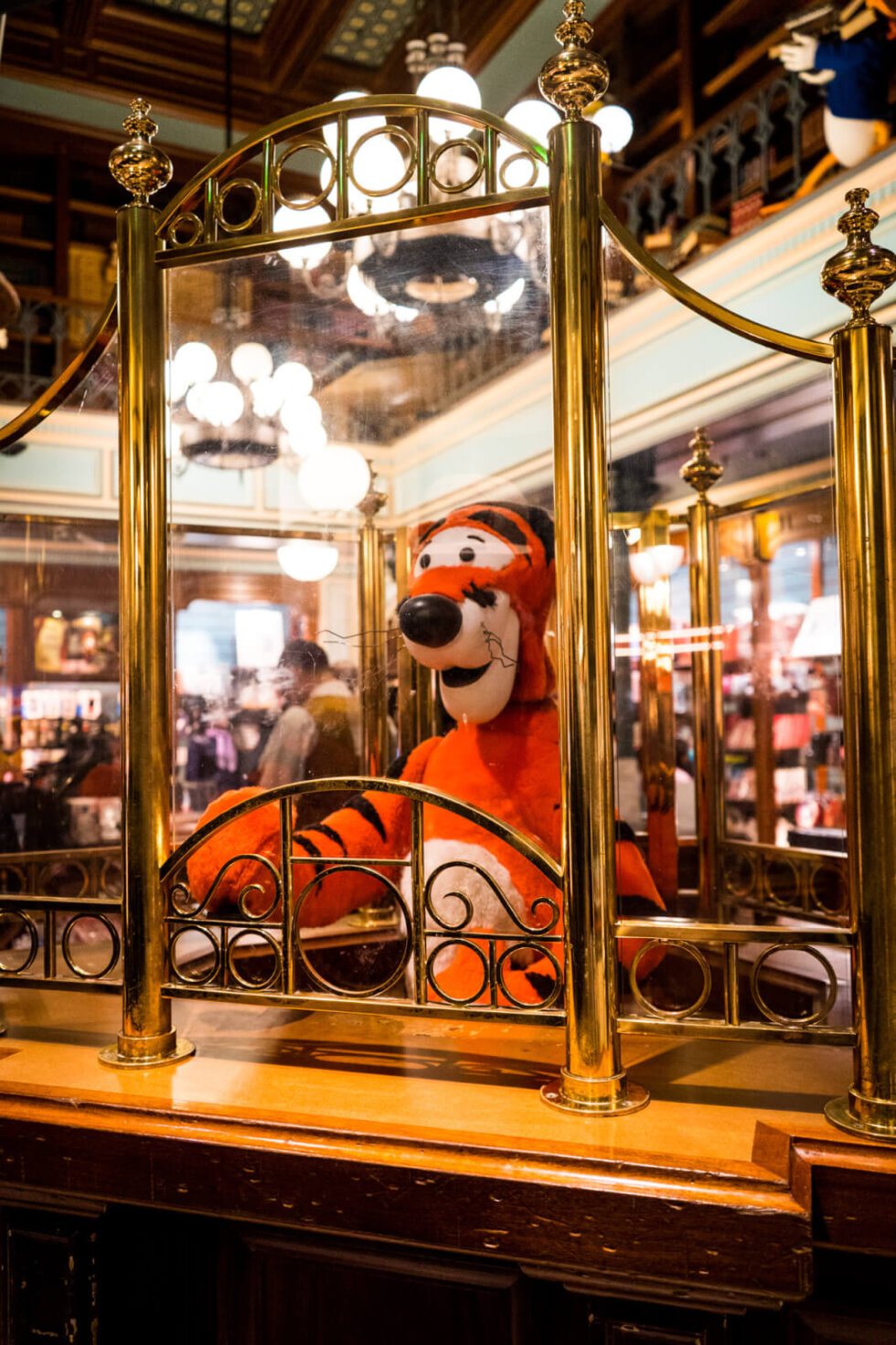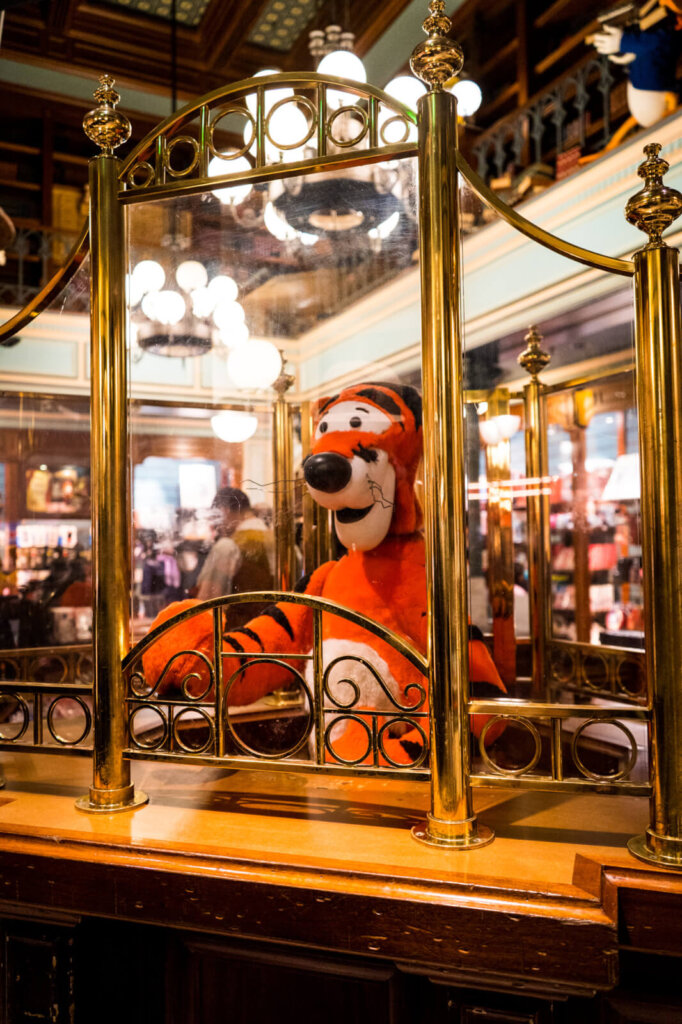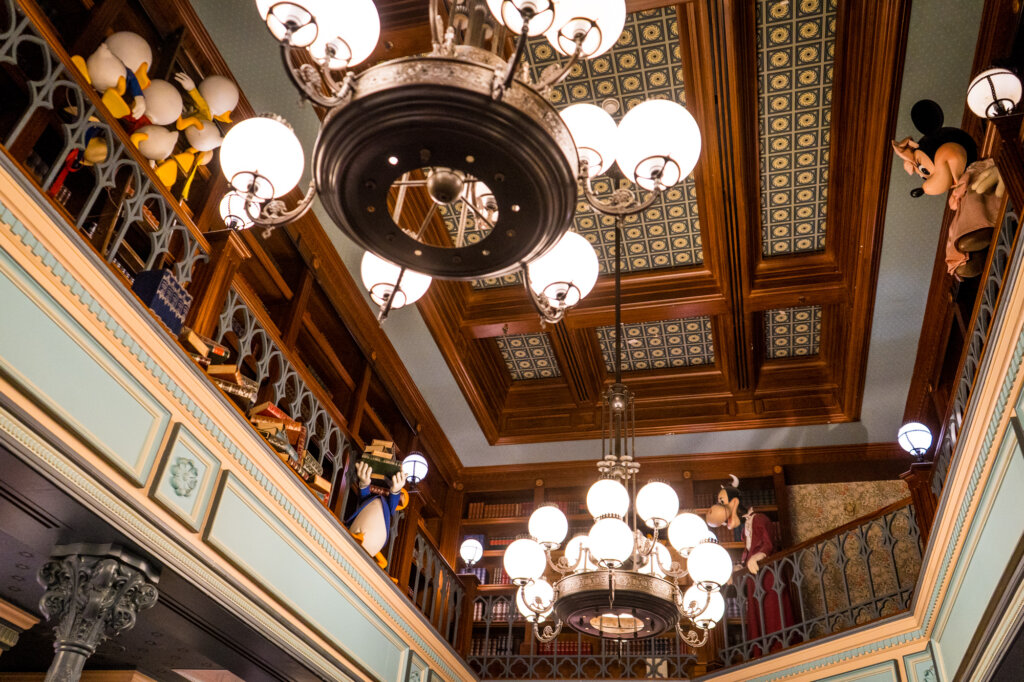 The vintage 90s Disneyland Paris map
Before you leave the Storybook Store, be sure to also take a peek by the employee door, where you'll find a framed map from the park's Euro Disney days. Can you see how much the park has changed? (Honestly, not a lot!)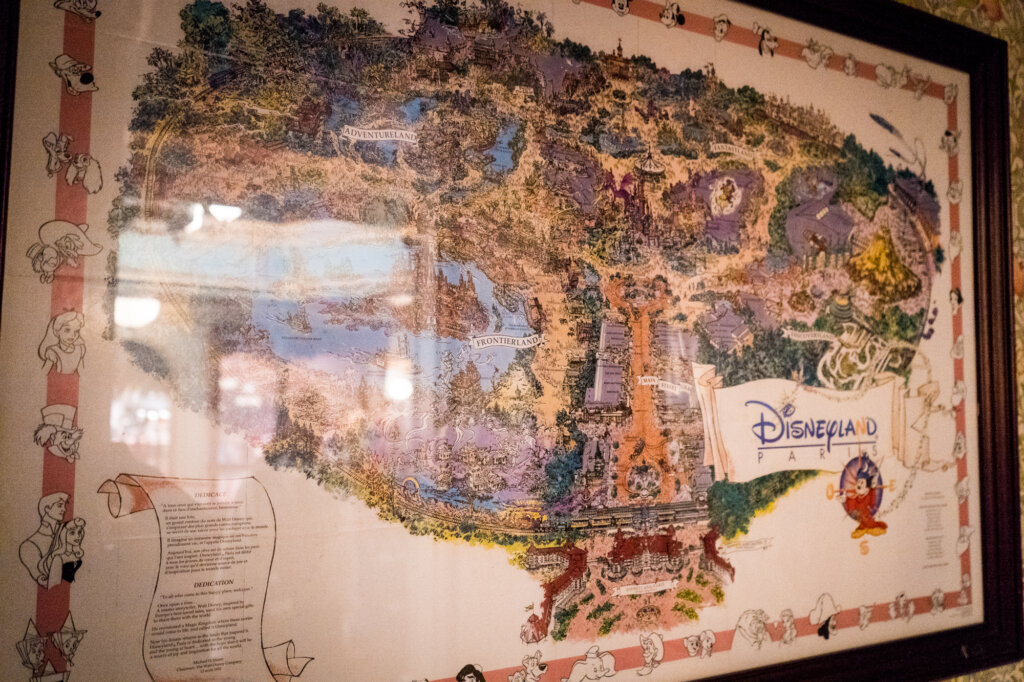 The wonderful hidden easter eggs of the Main Street USA soundscape
As previously mentioned above, one of the loveliest hidden gems of Disneyland Paris' Main Street USA is its soundscape, filled with little details you'll continue to discover even after your 10th visit!
Here are some examples to keep an ear out for:
Victoria's Home Style Restaurant: Above it, you can hear a man brushing his teeth and fiddling around with his taps!
Piano Lessons sign: Listen up for the sound of someone playing!
Next to the Discovery Arcade: Listen for the sound of drills near the neighbourhood dentist! 
The hidden Christmas shop
Most will already know about the Disneyland Paris castle's Christmas shop (La Boutique du Château), but actually there's a second place where you can stock up on festive goods! Head to the Discovery Arcade and look for the Ribbons and Bows Hat Shop (or the Bixby Brothers Shop) and enjoy the Christmassy wonders that await.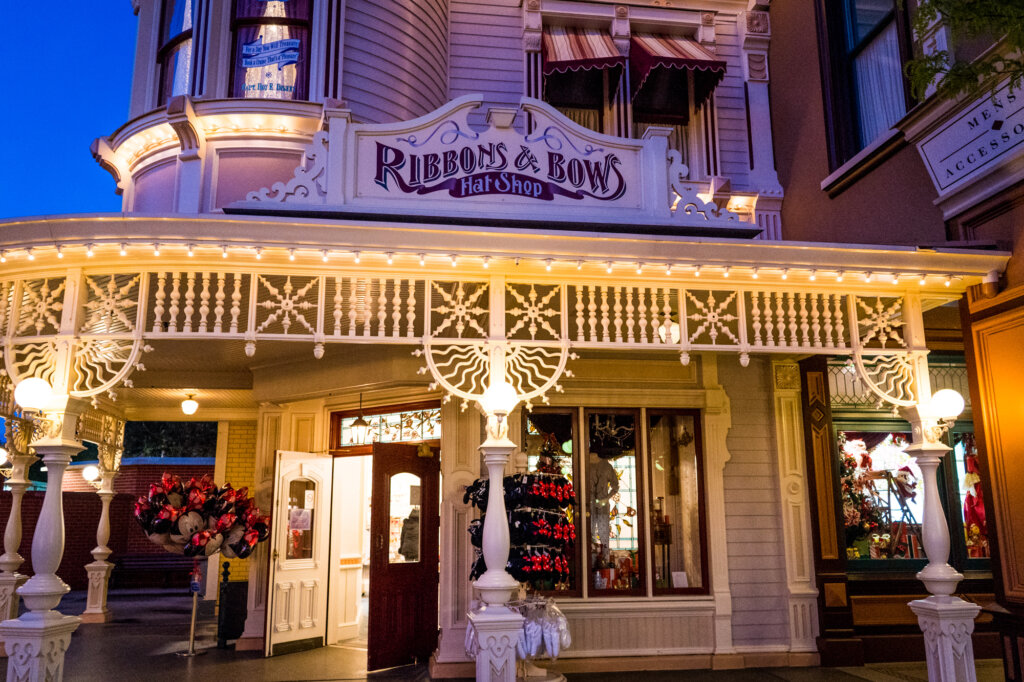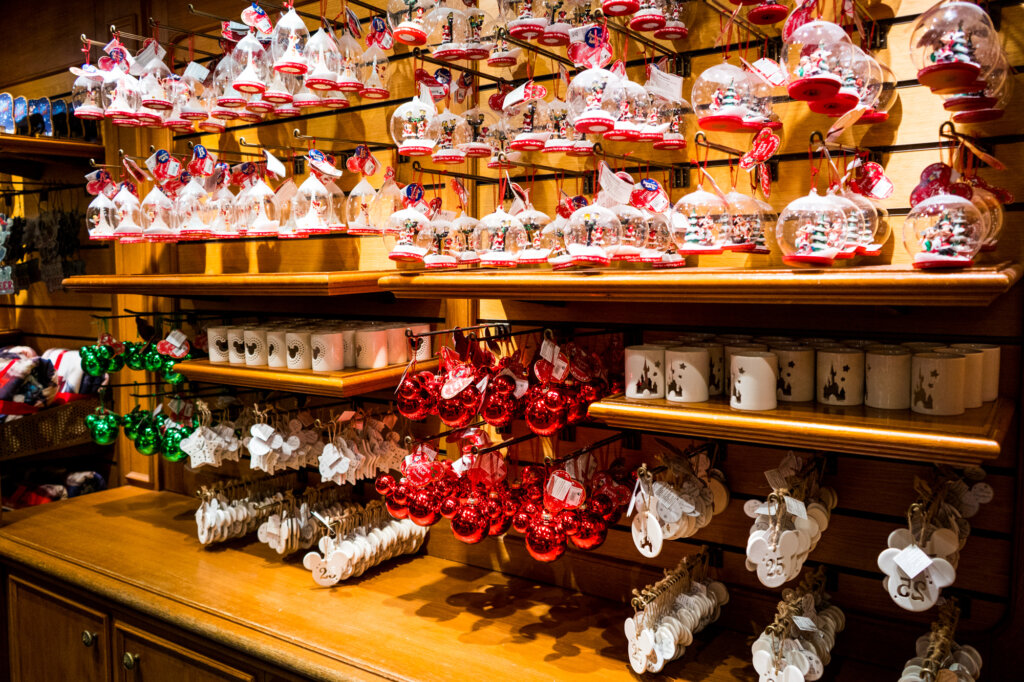 The Disney & Co fun mirrors
As if you needed any more reason to head straight to Disney & Co, they have some fun mirrors that you can play with in addition to its endless stock of wonderful toys and merch.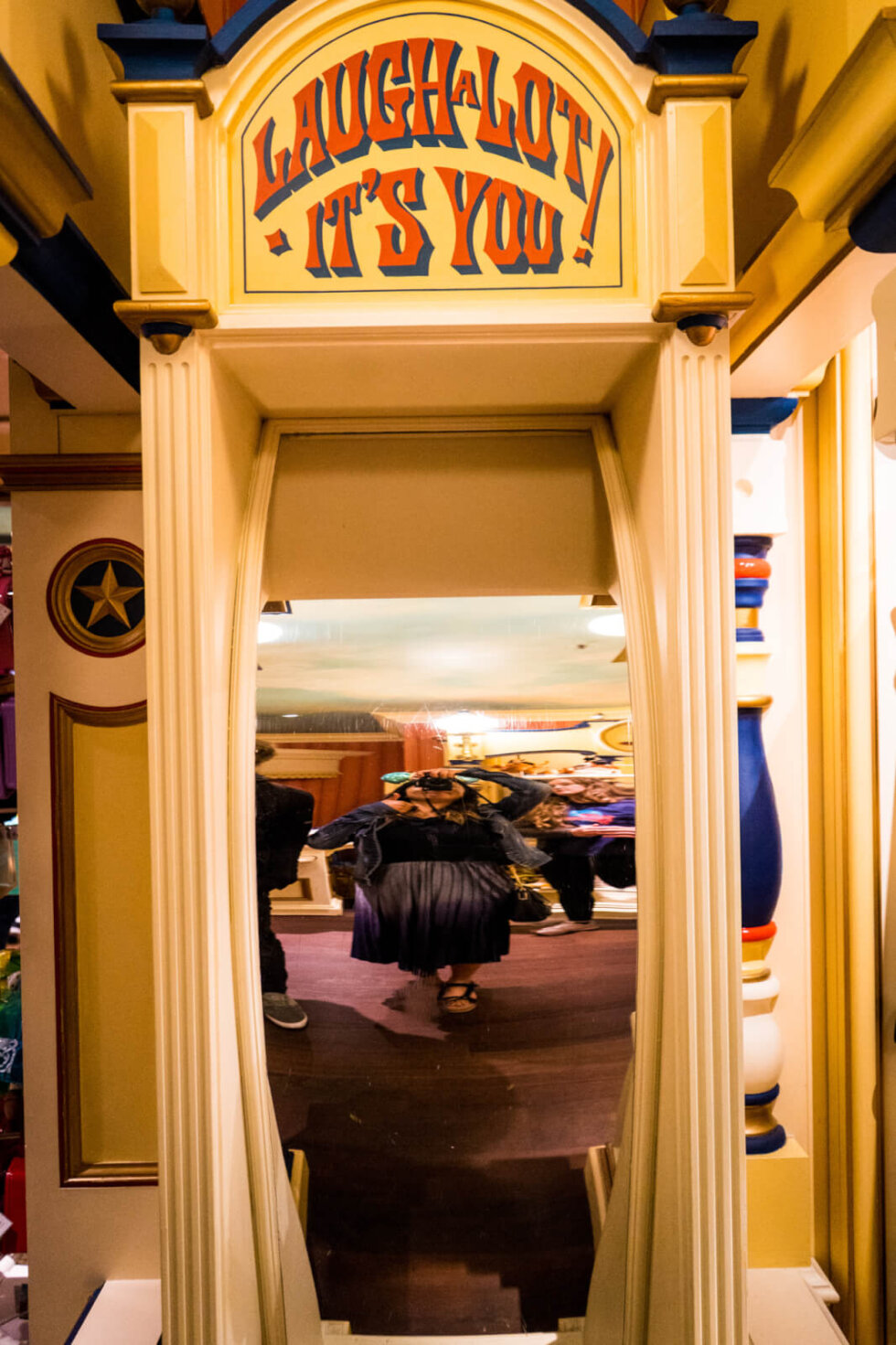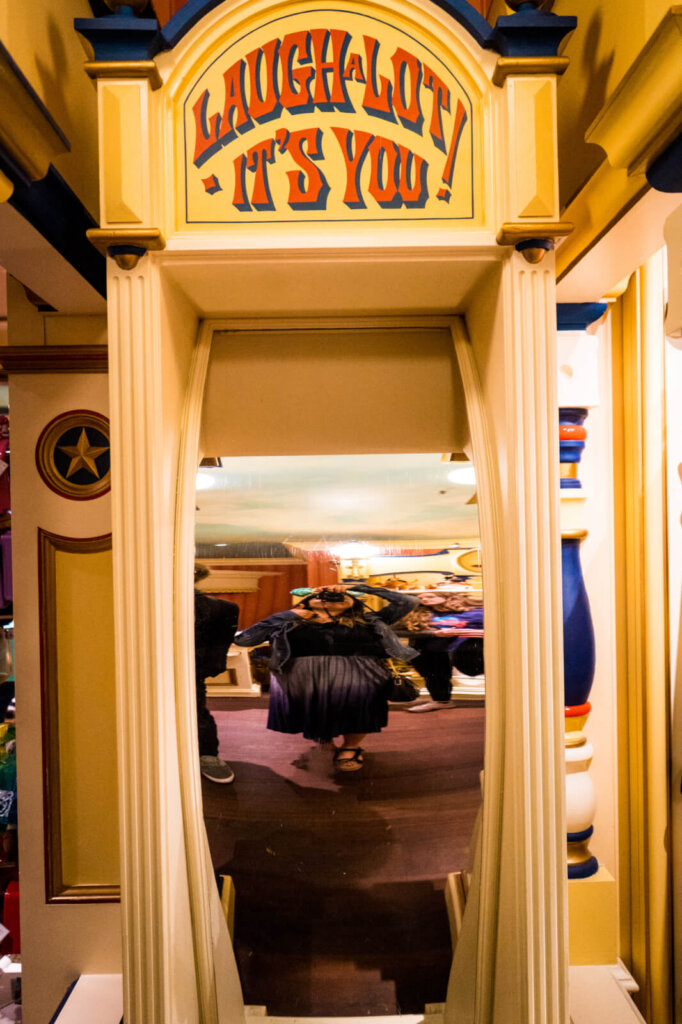 The Harrington's dome
Harrington's Fine China and Porcelains holds a wonderful little secret of its own – a stunning glass dome ceiling! It is said that two people standing at opposite ends of the dome can hear each other whispering from across. Who would like to test that theory?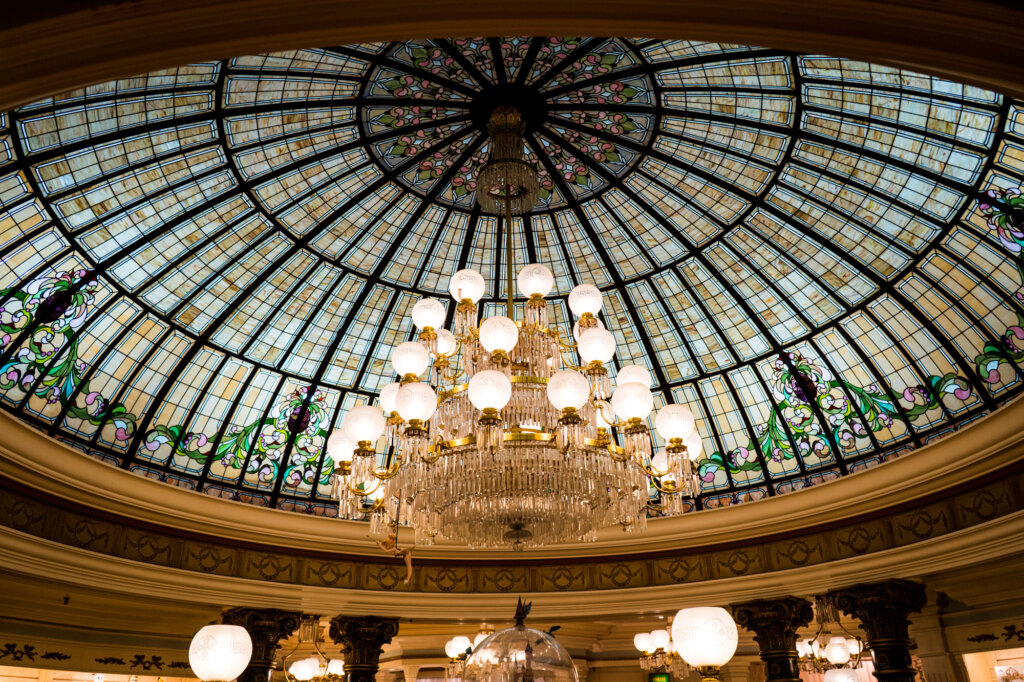 The inventor-themed dome of the Emporium
Speaking of domes, don't miss the lovely stained glass dome of the Emporium which is decorated with faces of famous inventors like Nikola Tesla, Alexander Graham Bell and Henry Ford.
Dapper Dan's Hair Cuts
Okay, so even if you don't plan on getting your hair cut at Disneyland Paris (why not though?), Dapper Dan's is a quirky (fully functional) barber shop you should take a peek at! This shop is a nod to Walt Disney's dad, who was a barber. This classic shop is sure to dazzle you with its charming decor and details.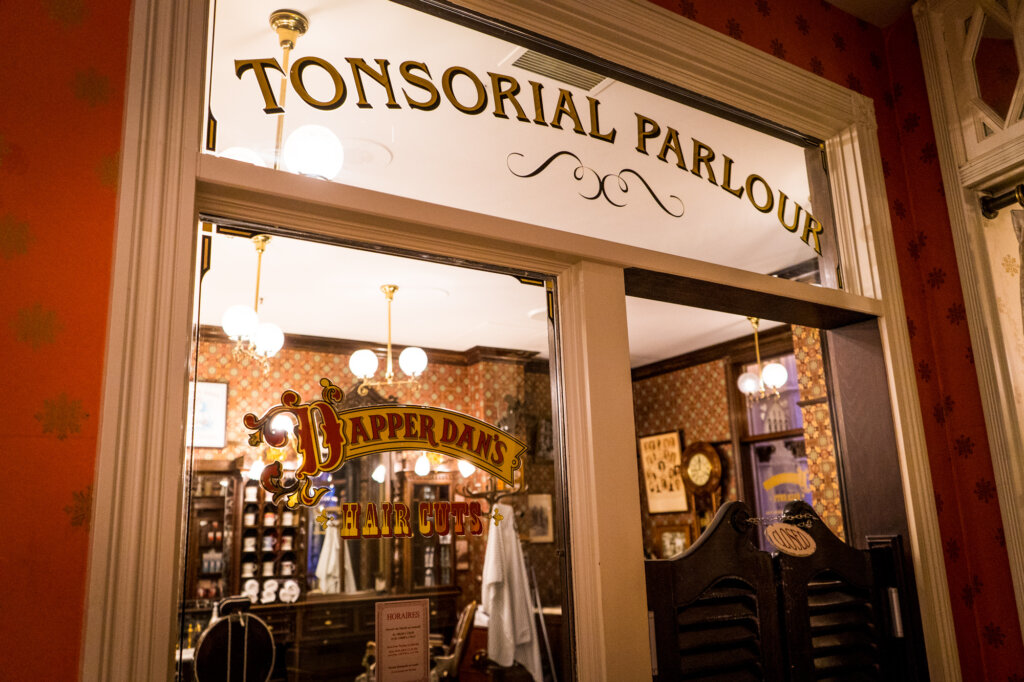 The Statue of Liberty Tableau
Last but not least, as previously mentioned, any visitors to the Liberty Arcade should make sure they step inside the Statue of Liberty tableau, hidden behind red curtains in a dark passage…. it's a small thing to see, but a very cool one many miss!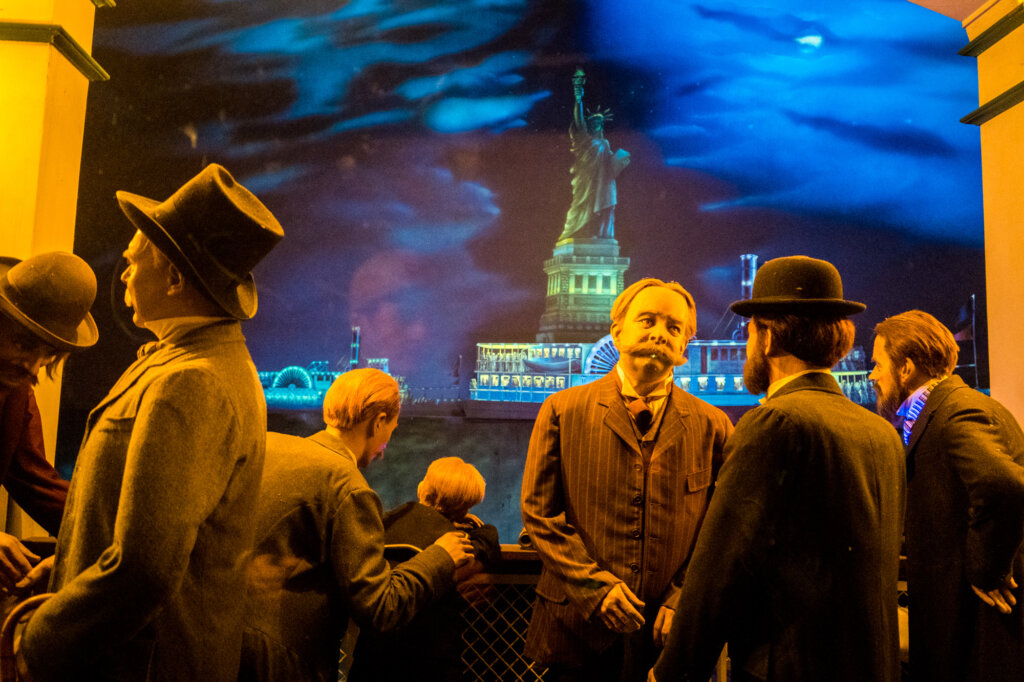 Any more questions about the Main Street USA in Disneyland Paris?
We hope you enjoyed this thorough guide to the Main Street USA in Disneyland Paris! Let us know in the comments if you have any more questions! Have a magical trip!