*FYI - this post may affiliate links, which means we earn a commission (at no extra cost to you) if you purchase from them. Also, as an Amazon Associate I earn from qualifying purchases. For the full scoop on what this means, feel free to check out our Privacy Policy and Disclosure.
---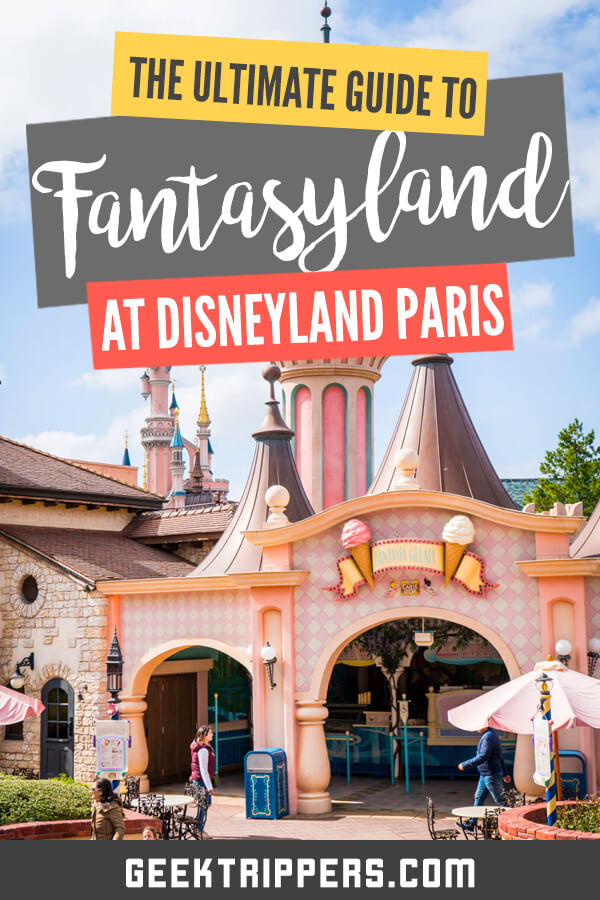 Disneyland Paris' Fantasyland is by far one of the most magical parts of any visit to DLP.
I mean, there's the Sleeping Beauty Castle, the It's a Small World Ride, Mickey's House, the Princess Pavilion, and yes, even THE spinning tea cup ride.
I mean… *foams at the mouth*
It's true – some of the most wonderful things that make Disneyland Paris such a special place to visit can be found right here in Fantasyland.
So, do you want an insider scoop on what to expect?
In this guide, we'll be walking you through all the wonderful things there are for you to do, eat, and see in Fantasyland, with plenty of tips to help you find hidden gems and have the most magical day ever!
Things to do in Fantasyland in Disneyland Paris
Let's start with all the amazing attractions and rides you'll find in this part of Disneyland Park.
1. Marvel at the Sleeping Beauty Castle and enjoy La Galerie de la Belle au Bois Dormant (the Gallery of Sleeping Beauty)
The majestic Sleeping Beauty Castle is one of the highlights of any Disneyland Paris visit. This grand pink & blue castle (just like Aurora's dresses!) is a delight to behold, and one of the best things to do in Fantasyland is drool all over it.
Done?
Okay – now after you've sufficiently drooled all over it, be sure to step inside and enjoy the interior, which is gorgeously decorated with stained glass windows, Gothic style ceilings and beautifully illustrated books and tapestries from Sleeping Beauty. There are a number of wonderful Easter eggs hidden in this part of the park as well, but we'll be discussing those later in our hidden gems section below!
2. Visit the only Disney castle dragon in the world at La Tanière du Dragon
Another thing that makes the Disneyland Paris castle special? It's the only Disney castle in the world with its own DRAGON!
Yup – that's right… its own… dragon.
This animatronic is scarily lifelike and is housed in a dark dungeon lurking under the castle itself. Be sure to follow signs for "La Tanière du Dragon" to the left of the main entrance of the castle (going from Main Street USA into Fantasyland).
3. Ride the quintessentially Disney "It's a Small World" Ride
I mean – have you even gone to Disney if you don't ride "It's a Small World"?
This 10 minute ride usually has a long lineup, but it goes by quickly and soon you'll find yourself on your own little boat on a journey around the world, with cute dolls representing all corners of the globe with exquisite backdrops, dances and glitter to boot… all singing THAT song that I'm sure you won't get out of your head for months.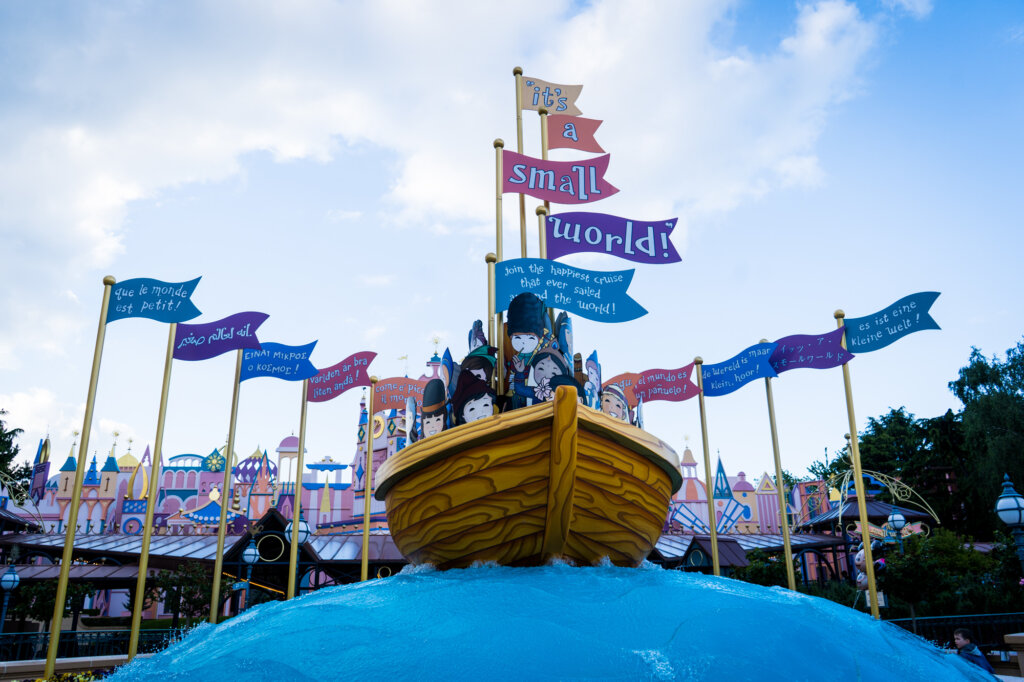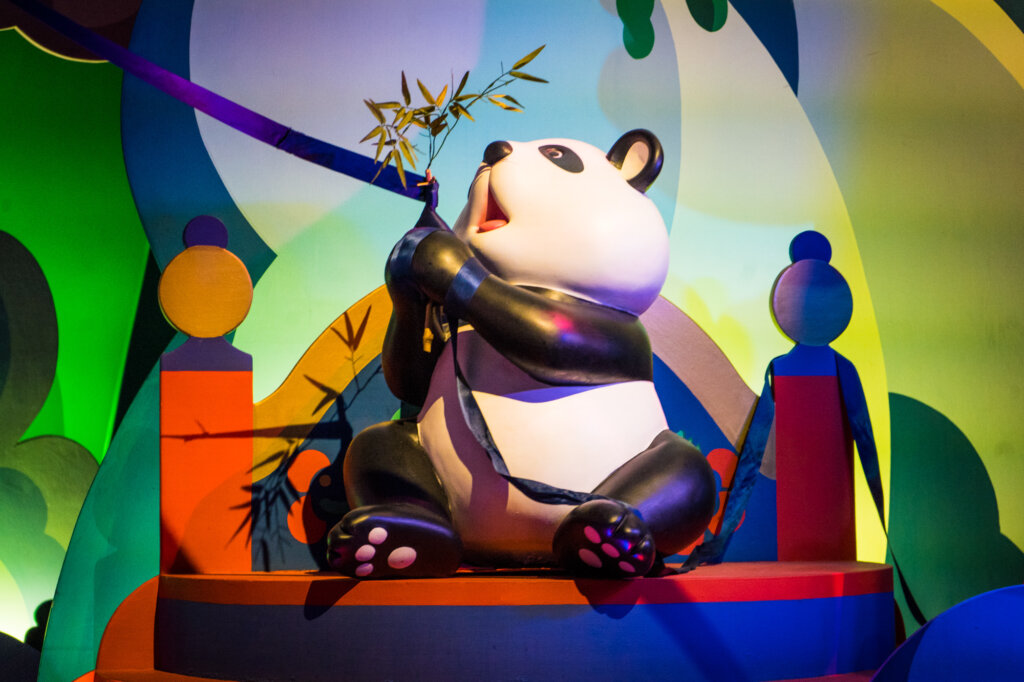 4. Go for a spin on the Mad Hatter's Tea Cups
Another Fantasyland experience that is quintessentially Disney is taking a spin on the world-famous tea cup ride, AKA the Mad Hatter's Tea Cups in Disneyland Paris! The line-up here always goes by really quick because of how many people can ride at once, so don't be put off by a long wait. The whimsical lantern decor also makes it a must-see by night!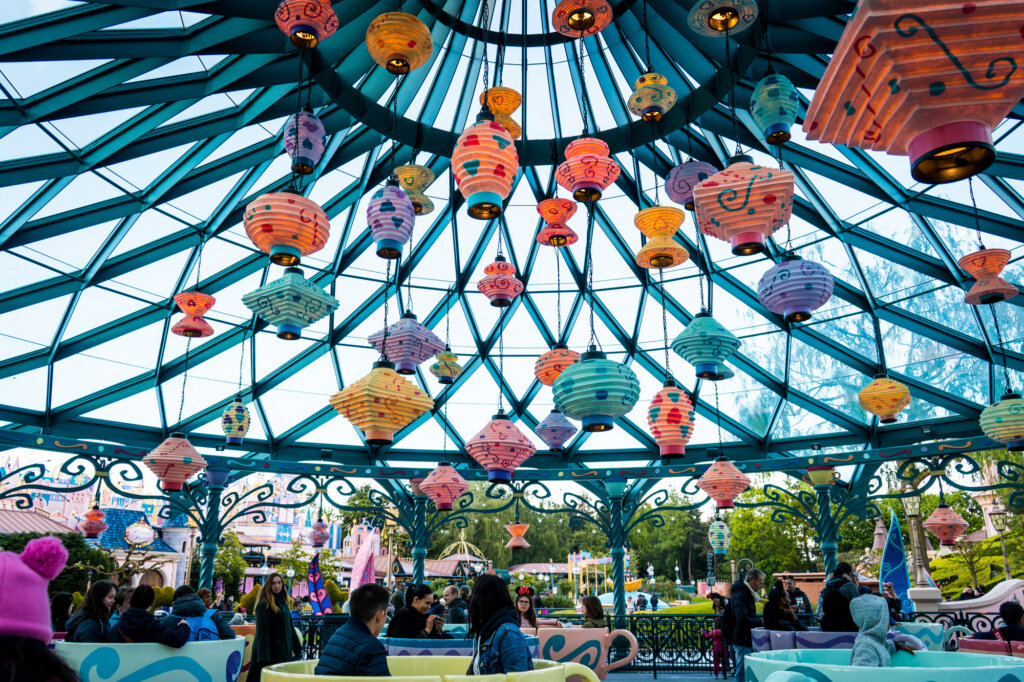 5. Meet Mickey himself!
One of the most highly coveted character meets at Disneyland Paris is with the big Mouse himself, Mickey Mouse! This experience is really fun because (while the wait is long), meeting Mickey happens in his dressing room, which makes the experience feel extra special and intimate. Again, you should expect a long line-up for this Fantasyland experience, but along the way you get to marvel at different props and costumes from Magician Mickey.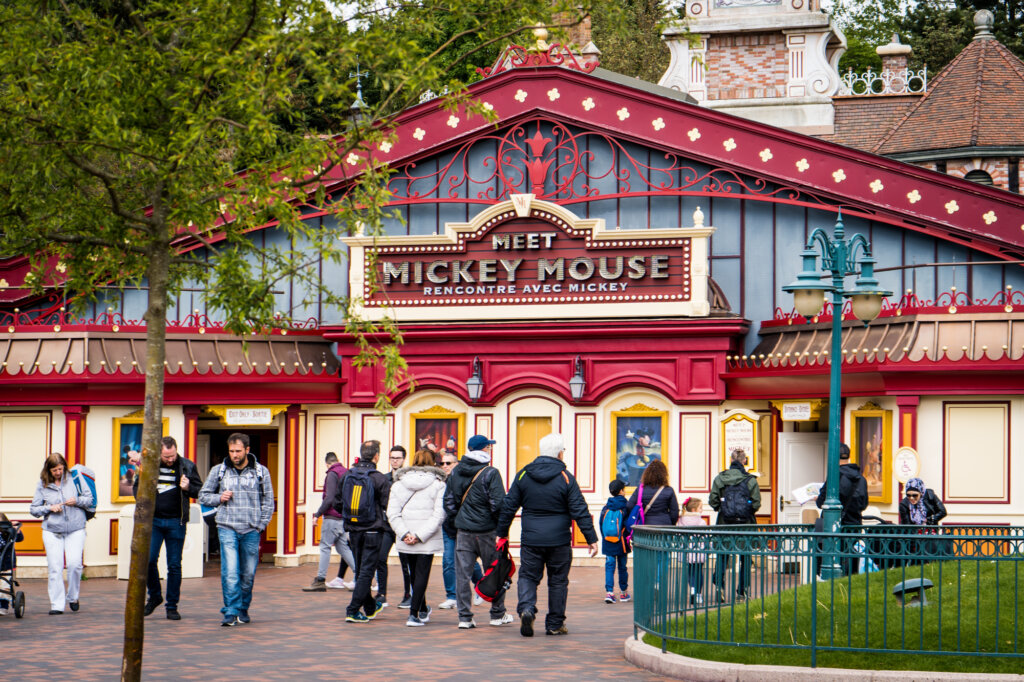 5. Get lost in Alice's Curious Labyrinth
If you want to test your navigational skills, be sure to step into Alice's Curious Labryinth and try to weave your way to the Queen of Heart's Castle. Of course, you'll encounter plenty of whimsical creatures along the way, including the Cheshire Cat himself. This maze is definitely worth it too if you have a wonderful view over Fantasyland!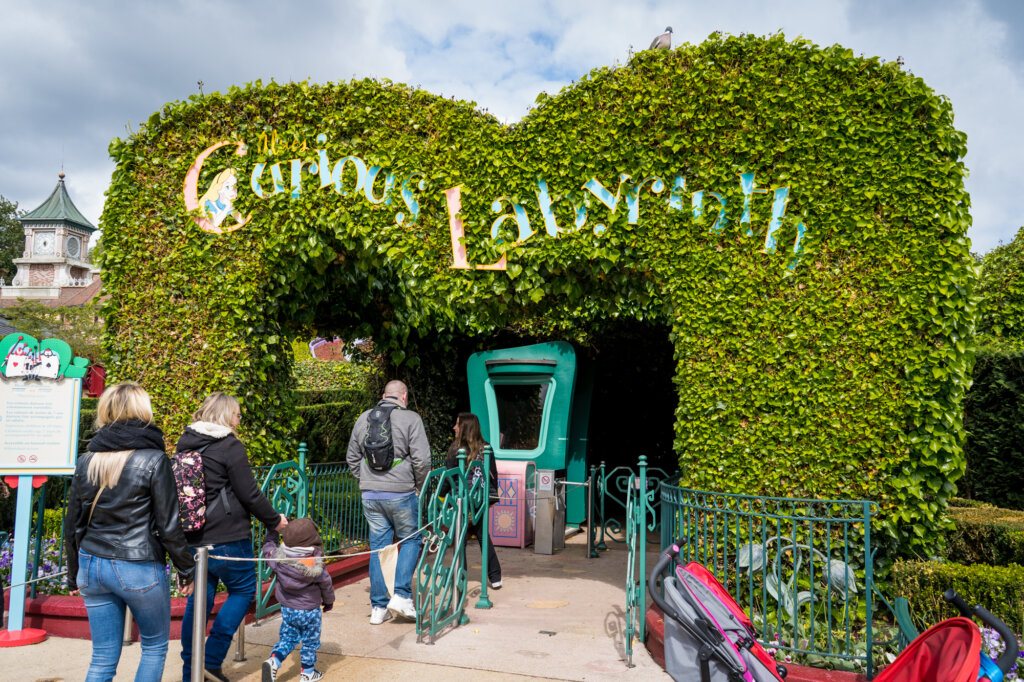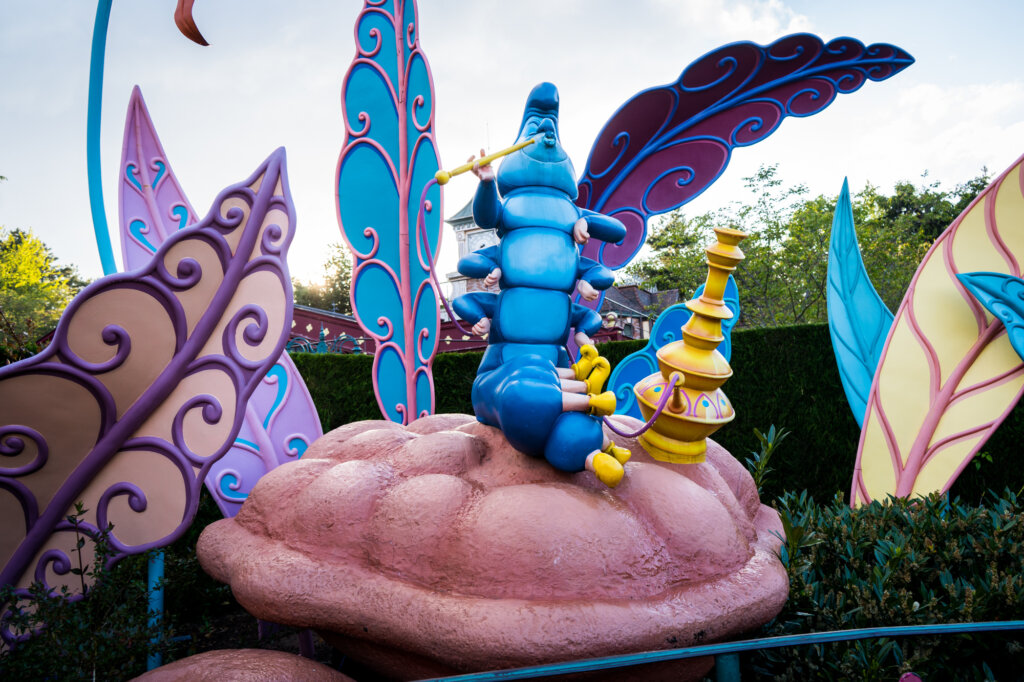 6. Step into the land of Blanche-Neige et les Sept Nains (Snow White and the Seven Dwarfs)
Snow White fans can't miss this immersive walk-through experience during which you get to live out the tale of Snow White and her beloved Seven Dwarves! While it's not the most thrilling of all the things to do in Fantasyland, it's a great little stop especially if you have young ones in tow… although beware of any poisoned apples!
7. Hop on Casey Jr. – Le Petit Train du Cirque
Big fan of Casey Jr, the lovable train from Dumbo? Well, be sure to check out the Casey Jr ride then, which is actually a gentle little rollercoaster (definitely more meant for young kids) that takes you through Storybook land and all its miniature wonders . You can get some really nice views on this ride of a variety of familiar sights, including the mines/house from Snow White and even Beast's castle! Again, this is a "rollercoaster" but not a super thrilling one, so don't expect too much of an adrenaline rush.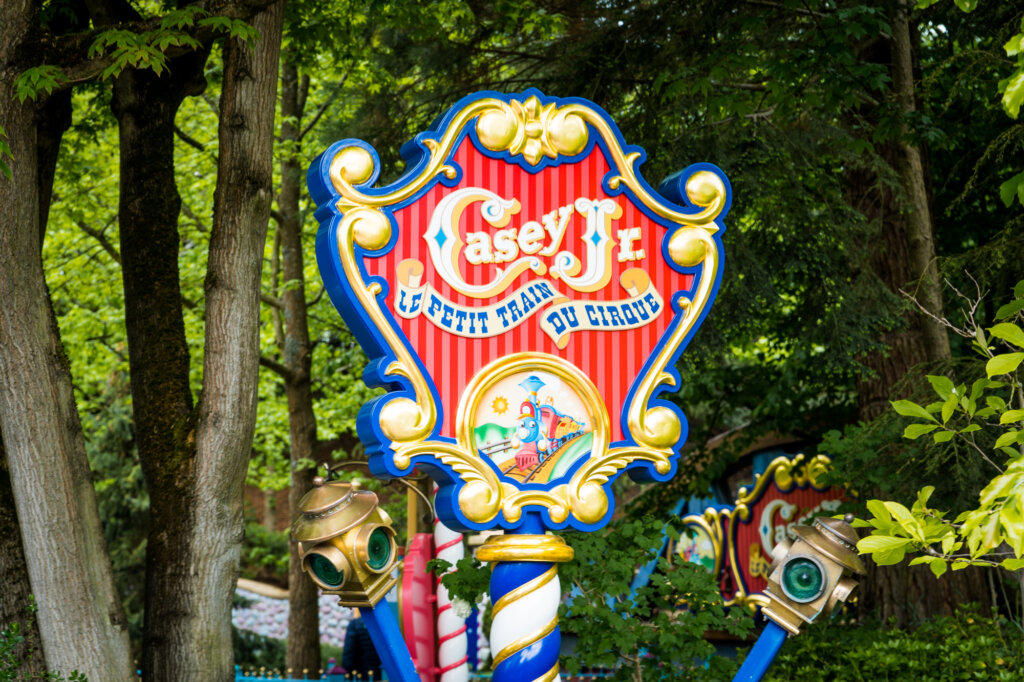 8. Then go on a ride with Dumbo the Flying Elephant
Another little ride perfect for little ones is the Dumbo ride, which sends you soaring above the ground in a roundabout ride where you control the height! This ride will give you some nice views over Disneyland Park, and the interactive element makes it quite fun for riders too.
9. Enjoy a boat cruise along Le Pays des Contes de Fées
If a relaxing boat ride is more your speed, then this Fantasyland experience is a must. This is basically the same scenery as the Casey Jr rollercoaster but from the calm perspective of the water instead. Delightful views of cute houses and Disney moments await!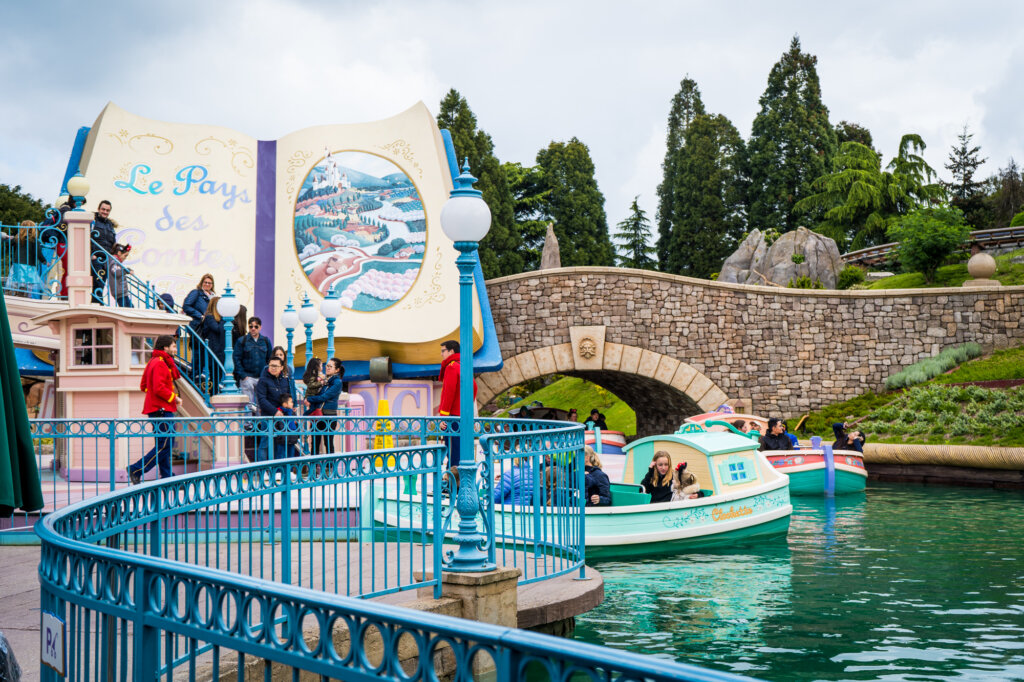 10. See Pinocchio on Les Voyages de Pinocchio
This classic dark ride is an ode to all things Pinocchio, but we warn you, it can be a bit scary for the little ones. Hopping into a wooden car, you're transported into the world of Pinocchio's story, starting at Stromboli's Marionette show, then following his journey to becoming a real boy.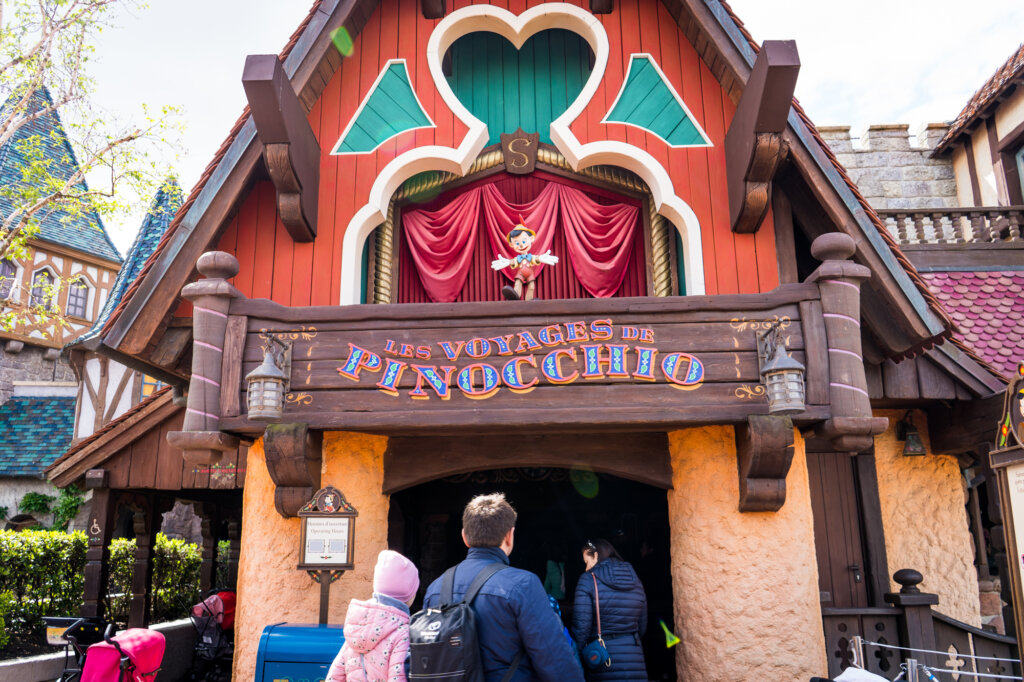 11. Whirl around on Peter Pan's Flight
This magical little ride takes you on board a galleon for a whimsical adventure through iconic scenes from Peter Pan. Through this short ride (though usually with a long line-up!), you'll get to soar over London by night, see the glittery waterfalls of Neverland, glide past Skull Rock, and even witness a duel between Peter and Captain Hook himself!
This is a very popular ride, so be sure to budget time for lining up, or head here early when visiting Fantasyland.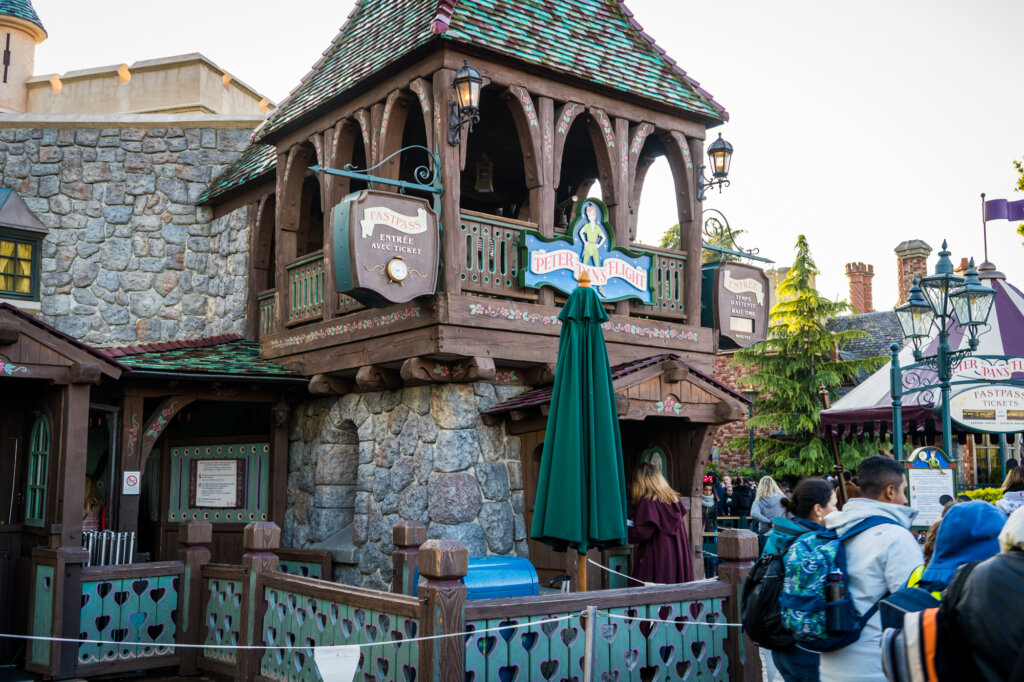 12. Meet some princesses at the Princess Pavilion
Last but not least, one of the best things to do in Fantasyland is meet a Disney princess of your own. Heading over to Princess Pavilion, you get to meet a princess in a beautiful royal setting, perfect for a souvenir photo from your time at Disneyland Paris.
Where to Eat in Disneyland Paris' Fantasyland
Feeling peckish after all that magical exploration? Here are some of the food options that you can enjoy in Fantasyland:
Au Chalet de la Marionnette
This cute little counter-service restaurant has a wonderful Alpine-village theme with a hearty German menu to boot. Here, you can snack on juicy bratwursts, savoury roasted chicken, sandwiches with pretzel buns, and even hot apple strudel! If it's German fare you're after, this is one place in Fantasyland where you can get it.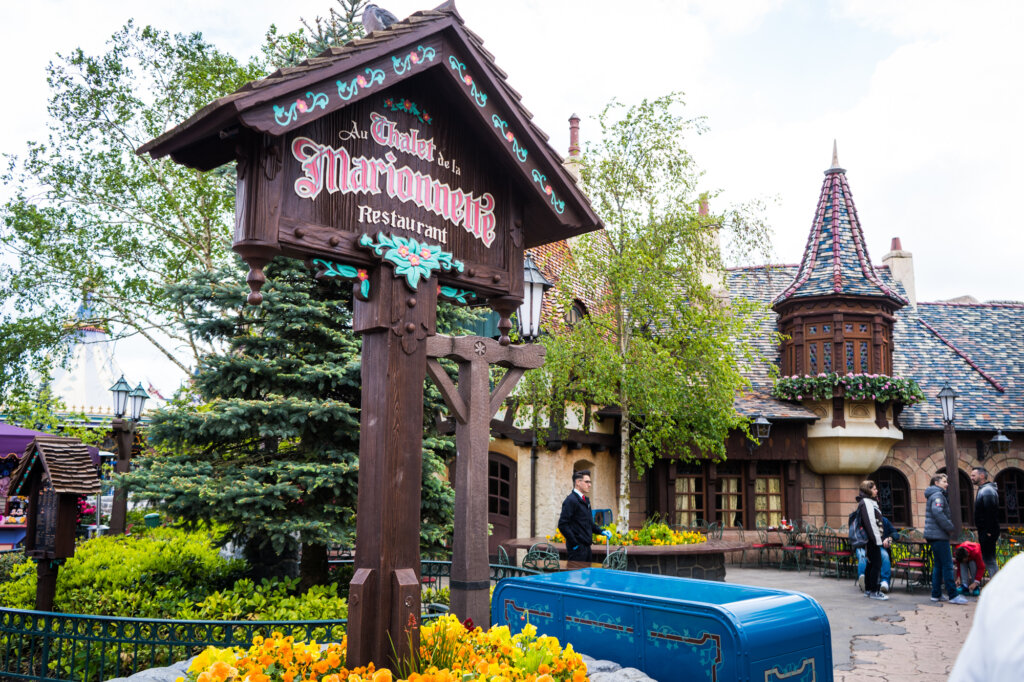 Auberge de Cendrillon
This swanky little table service restaurant is the perfect place for a royal treat, offering refined French cuisine in a lovely banquet hall complete with stained glass windows and stone archways. They offer three course menus here that are about 77 euros per person, but also do a lovely character breakfast as well that is massively popular with Disneyland Paris visitors.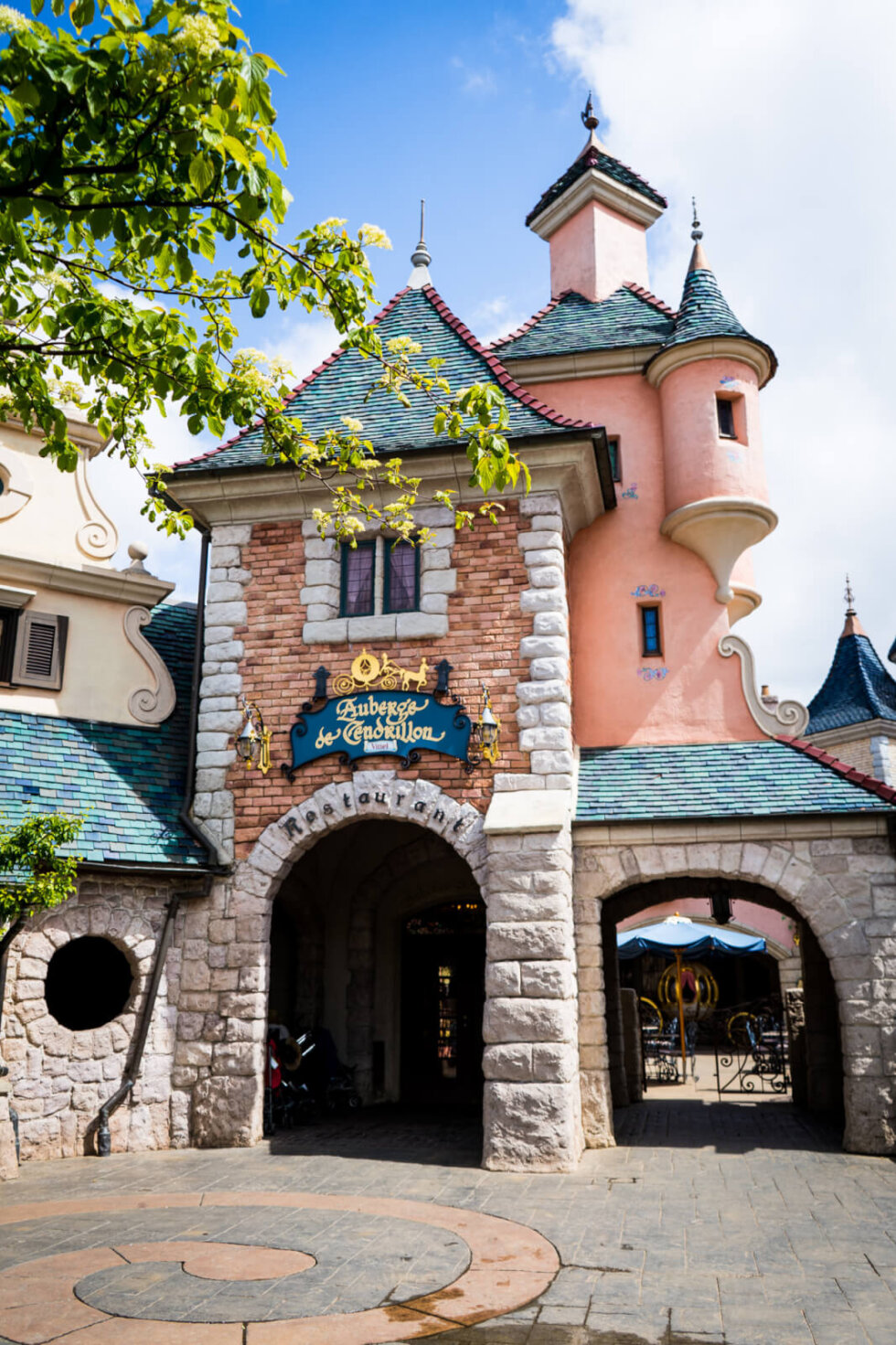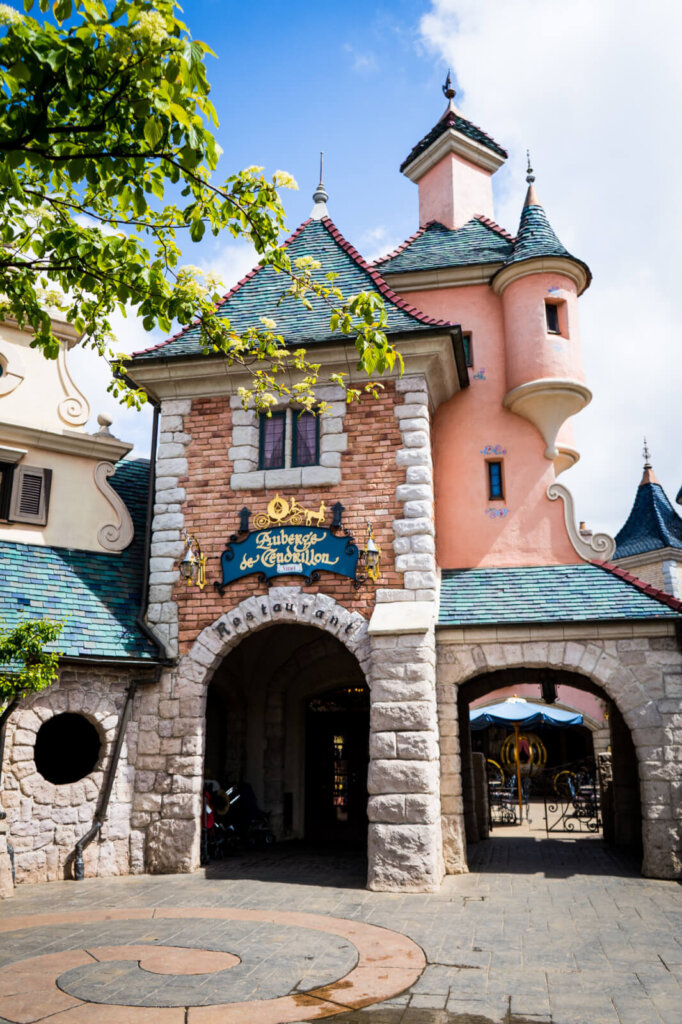 Pizzeria Bella Notte
For counter service Italian food, head over to Pizzeria Bella Notte for classic Italian dishes such as rigatoni, lasagne and yes, even Lady and the Tramp spaghetti and meatballs!
Fantasia Gelati
Sweet treats await at this charming little gelato shop inspired by Fantasia, where you can get a variety of ice creams and sorbets, along with crepes and hot/cold drinks.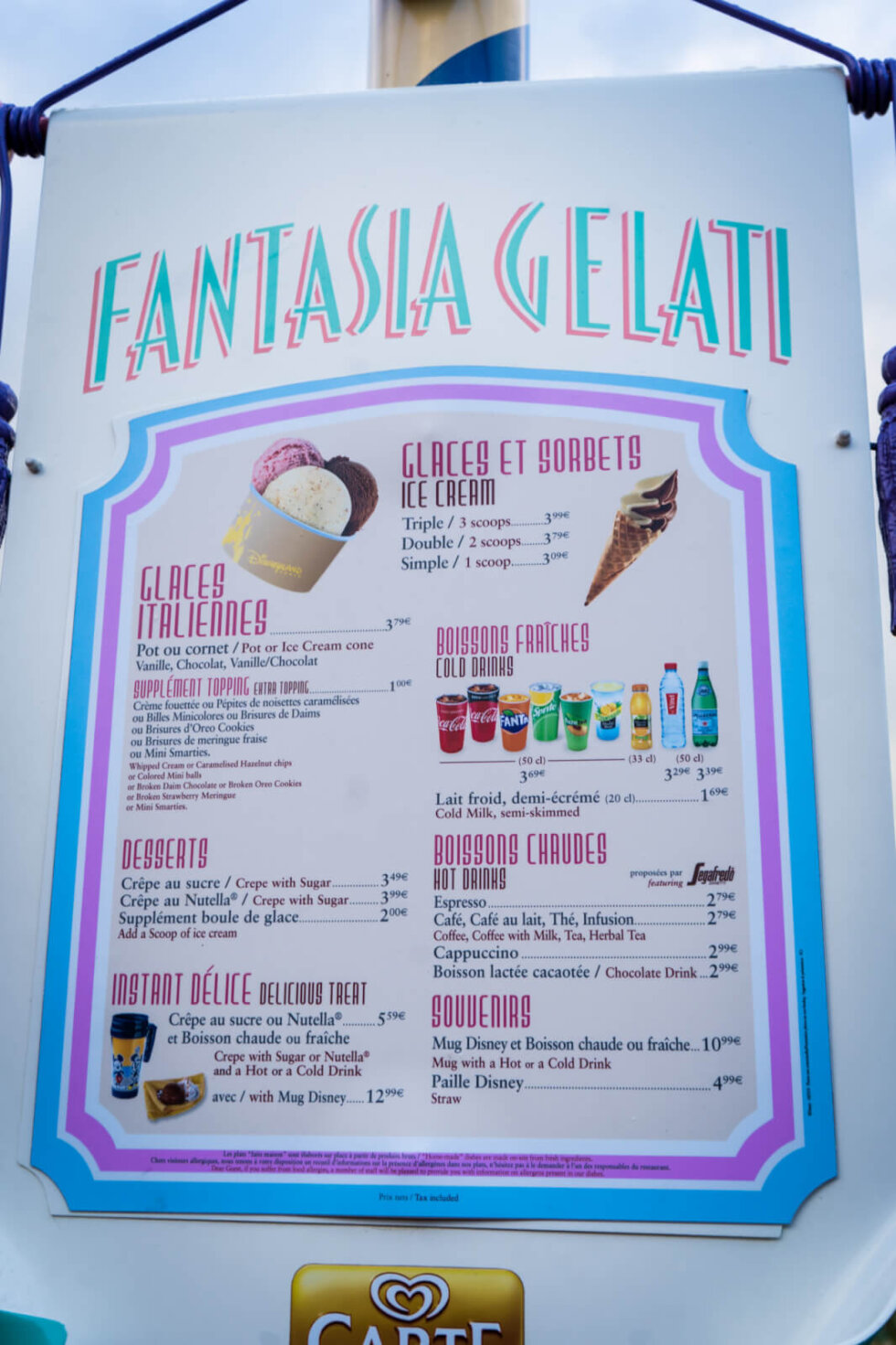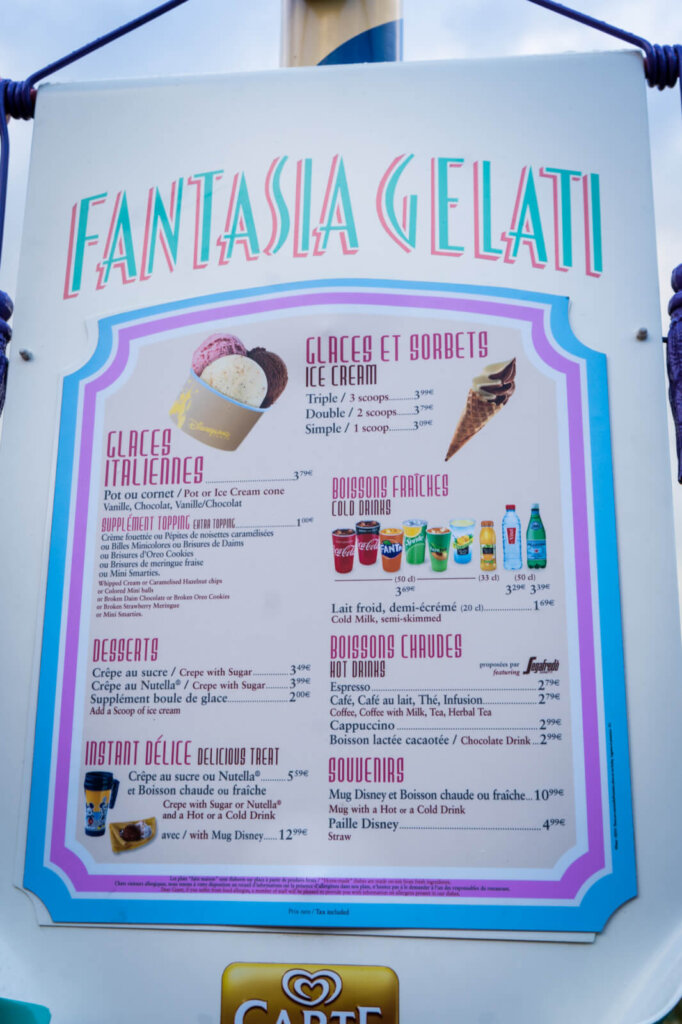 Toad Hall Restaurant
Lastly, the oh so English Toad Hall restaurant offers classic British dishes (think fish and chips and beef stew pie) all in an elegant stately home, fit for a toad.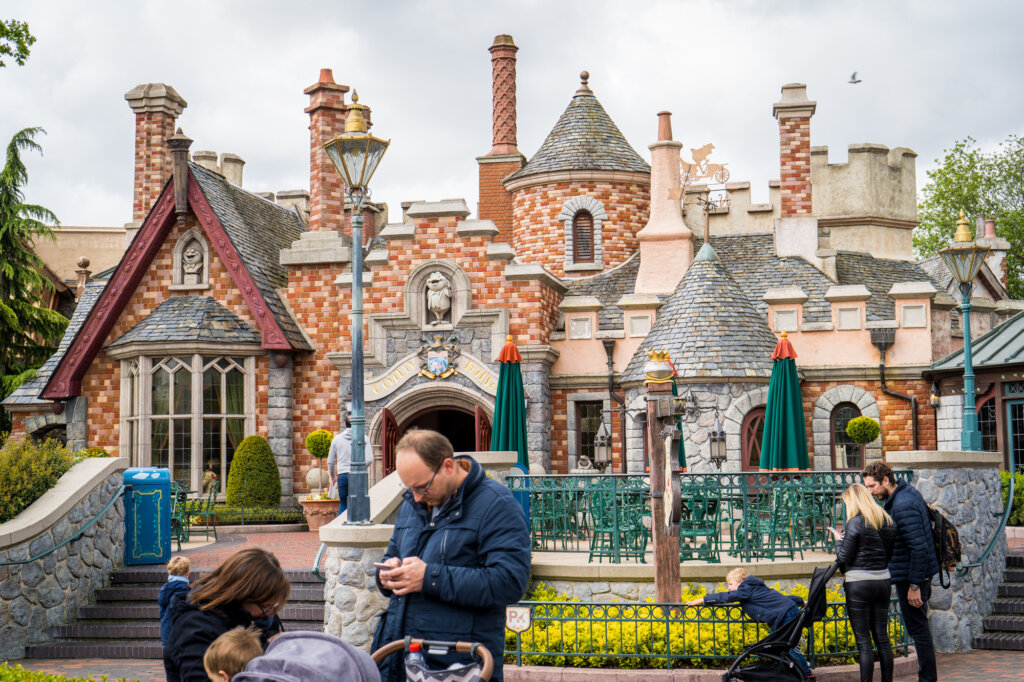 Where to Shop in Fantasyland in Disneyland Paris
Looking for the perfect souvenir or memento to buy in Fantasyland? Here are the different shops in this land that you can visit!
Merlin l'Enchanteur
This epic cave shop is a Disneyland Paris fan favourite, with a truly gorgeous collection of collectibles and art, with display cases filled with glitzy jewelry, intricate crystal gifts, glassware, and more. If you want something truly special to remember your Disneyland Paris visit, then this would be a great place to get it (or to simply window shop and drool over all the cool goods).
La Bottega di Geppetto
Inspired by Pinocchio, this charming little wooden cottage offers a variety of toys for younger kids, including stuffed plushies of all your Disney favourites.
La Boutique du Château
Ahhh the famous Christmas shop at Disneyland Paris! Tucked away in the Sleeping Beauty castle, this special little shop houses all sorts of wonderful Christmassy delights and perfect gifts year-round. You'll find it in the back end of the castle (after passing through coming from the Main Street USA direction).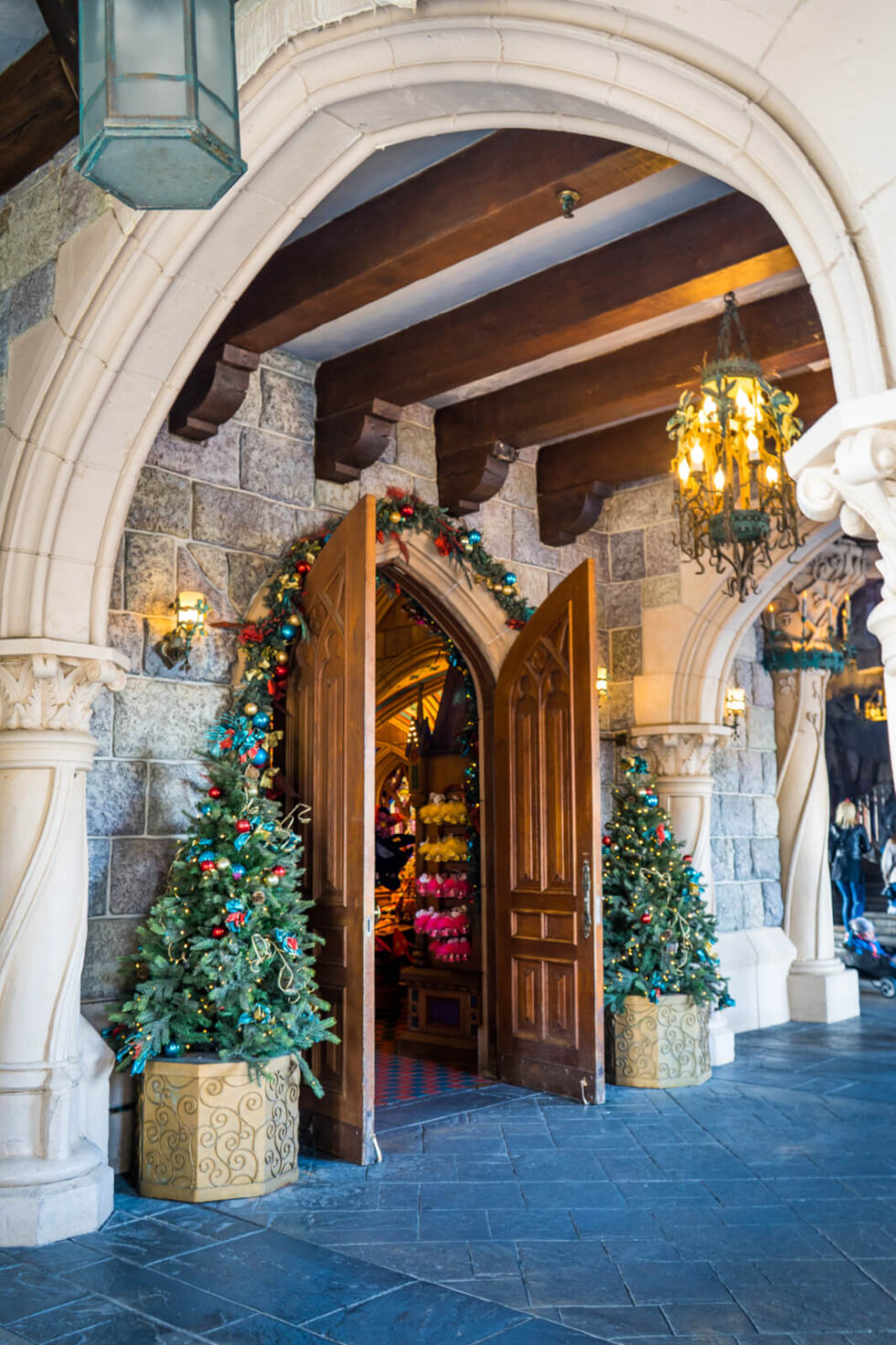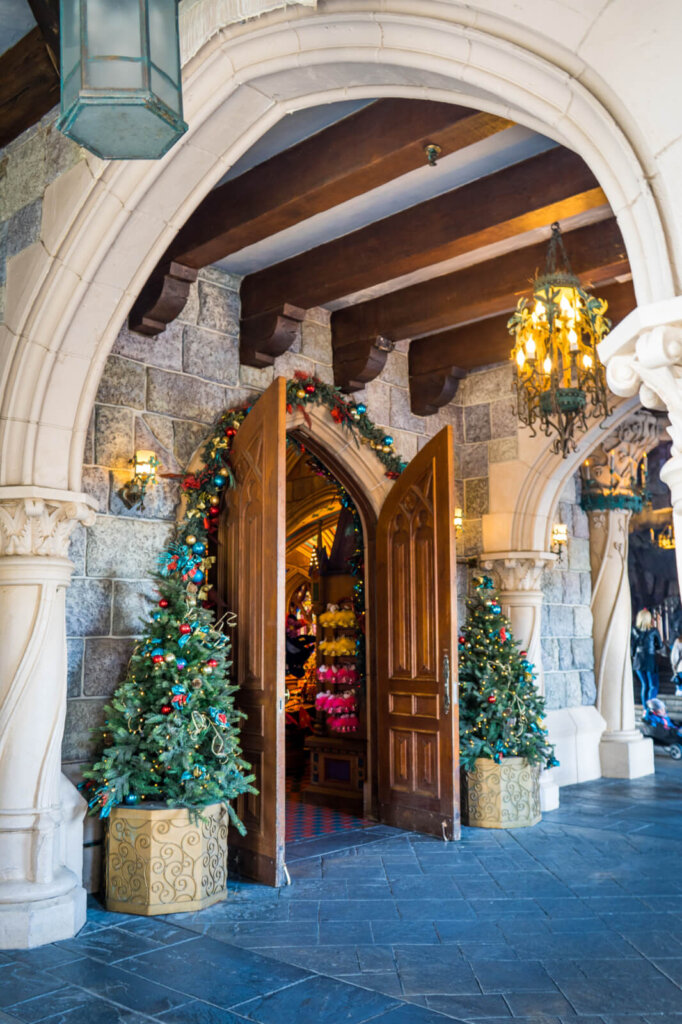 La Chaumière des Sept Nains
The princess theme is alive and well in this cute little boutique, which sells a variety of different costumes, clothing and (naturally) toys in a a cool medieval setting.
La Confiserie des Trois Fées
This darling candy shop with a fairy godmother twist is a treasure trove of yummy sweets and chocolate. Even if you're not feeling particularly for a treat (which, let's be honest, would never happen!), this shop is still worth taking a look inside thanks to its very cool tree trunk-laden interior and stained glass windows.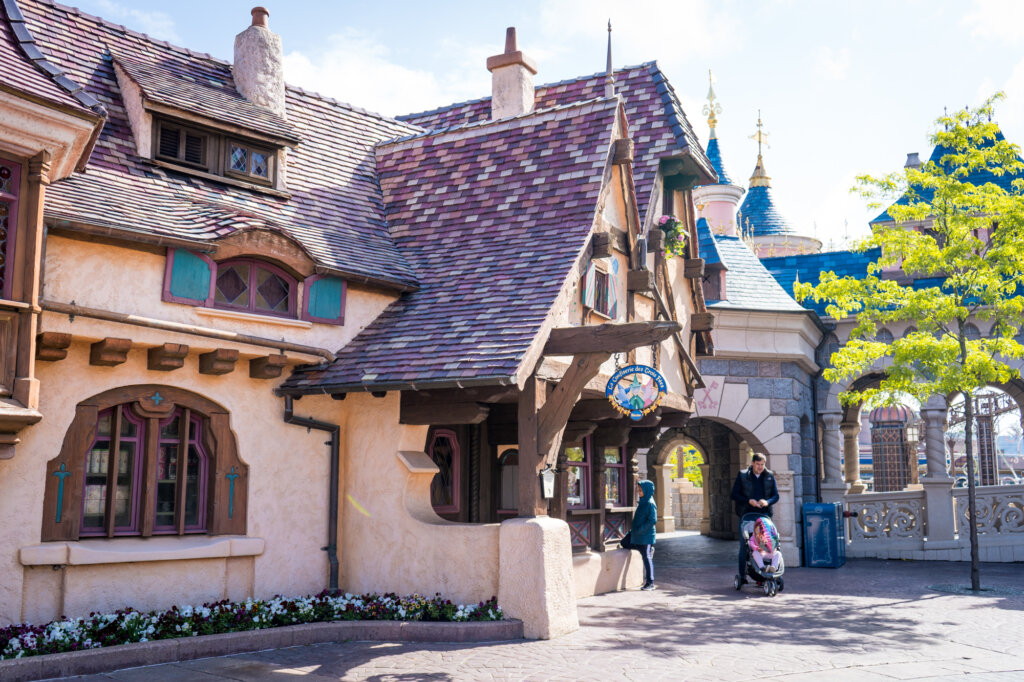 Sir Mickey's Boutique
This classic Disney shop is filled to the brim with awesome Disney stuffed toys, accessories and more, all within the whimsical setting of a medieval festival tent. This is one merch stop you don't want to miss because the interior is really adorable!
Hidden Gems in Disneyland Paris' Fantasyland
Last but not least, it's important before your Disneyland Paris visit to know that there are LOADS of cool hidden gems in this land to discover. Here are a few to put on your list:
The sleepy guards at Sleeping Beauty Castle
The famous Sleeping Beauty castle at Disneyland Paris has a wonderful assortment of hidden easter eggs, one of which is that if you listen closely enough, you'll catch the guards snoozing underneath their armour!
Golden snails along the castle
Keep an eye on the glitzy golden spires of the Sleeping Beauty castle when you visit Fantasyland – you might spot a few golden snails crawling up!
The 'It's a Small World' Hidden Mickey
Hidden Mickeys are a staple of any Disneyland visit, but did you know there's one hidden at the entrance of the It's a Small World ride in Fantasyland? See if you can spot it: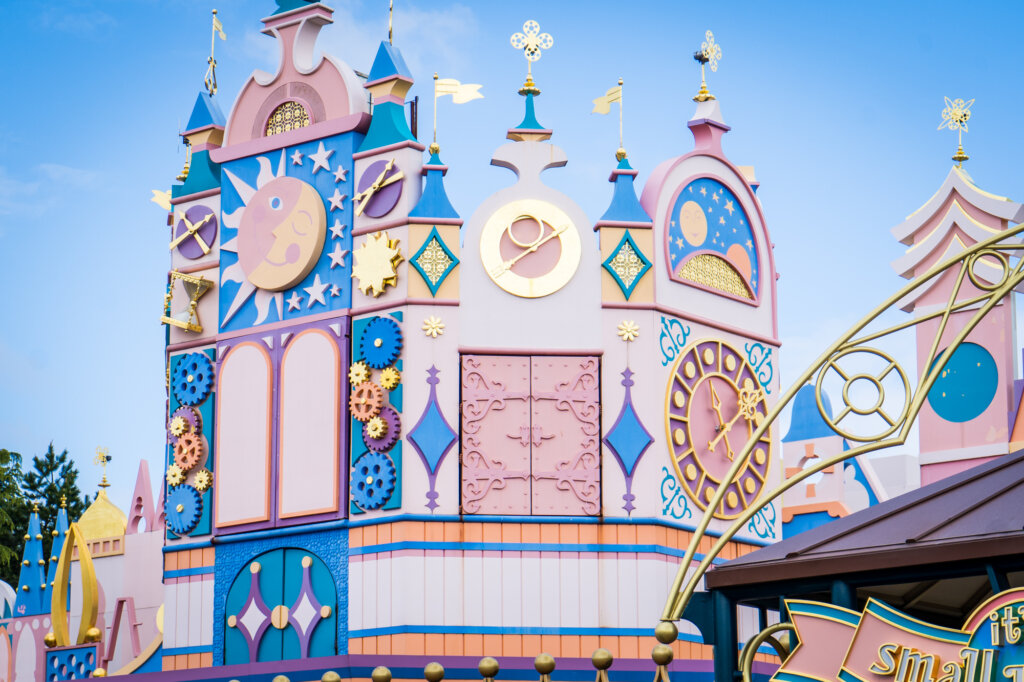 The hidden princess-spotting area
Want an easier way to spot cast members than braving long line-ups? Walk through the castle into Fantasyland and turn right. After passing a gate (and Cinderella's carriage), you'll see a little gate commonly used by cast members to enter/leave the park. This is how we spotted Snow White a few years ago!
The many portraits of Mr Toad
There's more to enjoy at the Toad Hall restaurant than just fish and chips! Step inside to marvel at the various portraits of Mr Toad dressed as famous figures like Van Gogh and Mona Lisa.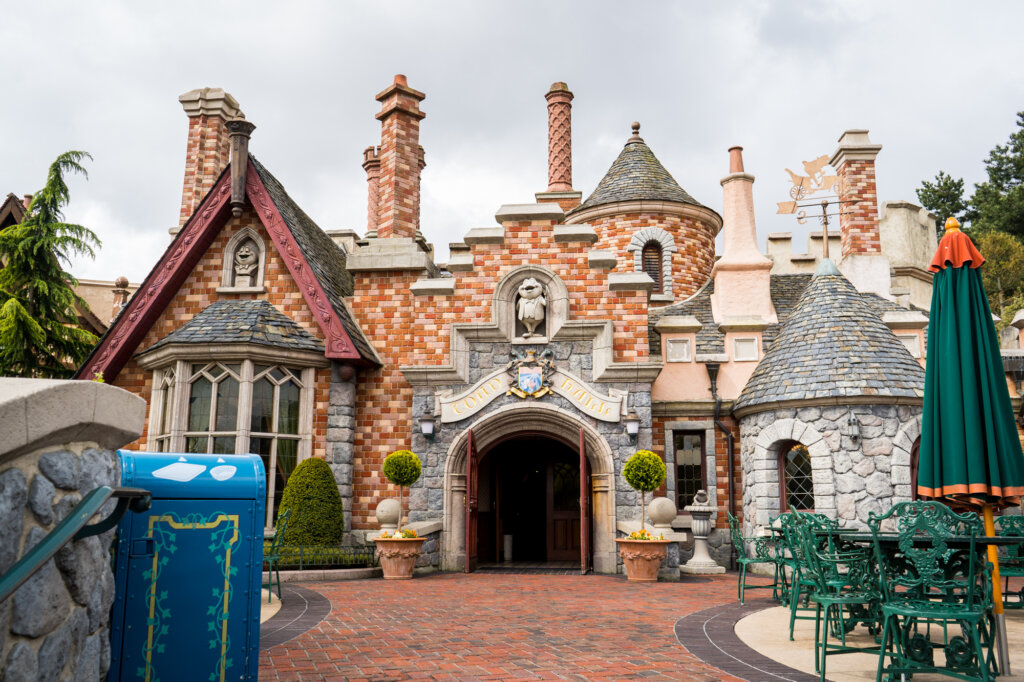 Any more questions about the Fantasyland in Disneyland Paris?
We hope you enjoyed this thorough guide to the Fantasyland in Disneyland Paris! Let us know in the comments if you have any more questions, and have a magical trip.