*FYI - this post may affiliate links, which means we earn a commission (at no extra cost to you) if you purchase from them. Also, as an Amazon Associate I earn from qualifying purchases. For the full scoop on what this means, feel free to check out our Privacy Policy and Disclosure.
---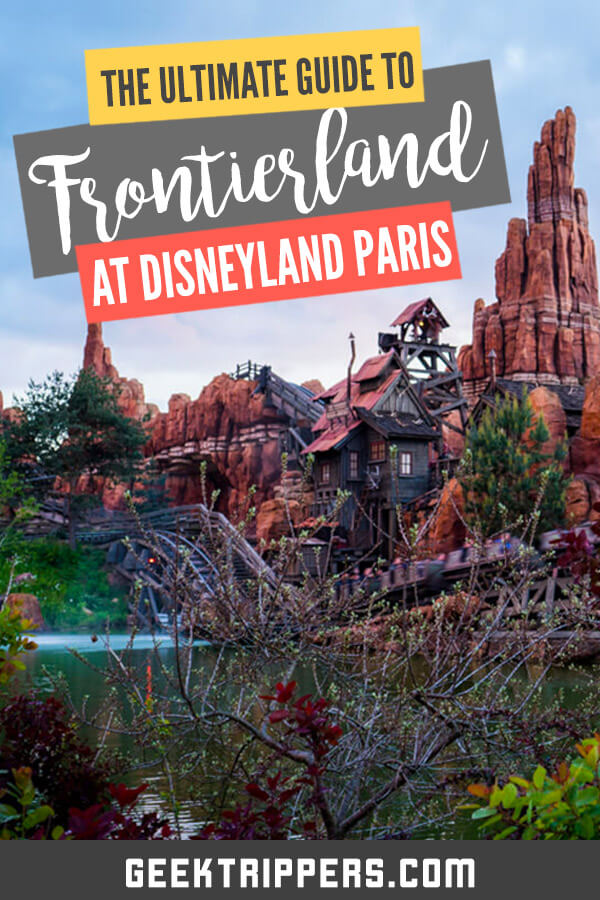 For any Disney park fan, a visit to Disneyland Paris' Frontierland is a must, thanks to its cohesive backstory, attention to detail and of course, its awesome set of attractions which include the iconic Phantom Manor and Big Thunder Mountain.
If you're wondering what kind of experiences await at Frontierland in Disneyland Paris, keep reading. This guide will walk you through everything you need to know, from a brief history of the land to the different attractions, shops, and rides that you can find here.
We hope you enjoy it!
A Brief History of Disneyland Paris' Frontierland
Frontierland is one of several themed lands that you can find at Disneyland Park (one of the two parks available at Disneyland Paris). It opened in 1992 alongside the grand opening of the park, and has been delighting eager visitors ever since.
With its Victorian Phantom Manor, island-perched Big Thunder Mountain, and beautifully detailed Western landscape, this is one of our favourite lands to explore at Disneyland Paris… no less thanks to its elaborate backstory, which gives the land some interesting context.
As the fictional history story of Frontierland goes, once upon a time, the thriving gold rush town of Thunder Mesa was founded in the American West by a guy named Henry Ravenswood. The most important landmark of this town? The gorgeous Big Thunder Mountain, home to a variety of rich minerals and gold, which led to the creation of the Big Thunder Mining Company (established of course by Ravenswood himself).
The riches of this company allowed Ravenswood to build his own fancy manor, and business in the town began to thrive, with new shops and restaurants popping up, including Frontierland staples like the Silver Spur Steakhouse and the Lucky Nugget Saloon.
And all was well! Ravenswood lived it up with his family in his gorgeous mansion. His daughter Melanie in particular grew up to be a beautiful young woman with many suitors, soon becoming engaged… Henry hated the fiancé, but nonetheless the lovebirds were intent on getting married.
But tragedy would strike before then. You see, according to legend, Big Thunder Mountain itself had a protector, a deity known today as the Thunderbird, who would protect his precious mountain at all costs. And so, perhaps thanks to this deity, a large earthquake struck Thunder Mesa in 1860, killing both Henry Ravenswood and his wife, leaving poor Melanie on her own. Luckily, her fiancé survived, and so the wedding could go on.
But, as legend would have it, her fiancé never showed up for the wedding. Melanie waited, waited, and waited, as days, weeks and years passed, still wearing her delicate dress, grieving the loss of her parents and fiancé, but still holding onto hope that he would return. Unbeknownst to Melanie though, a phantom had appeared in the manor on the day of her wedding, killing her fiancé and forever haunting the house's halls. Some say it was the ghost of Henry Ravenswood himself who did the deed, which all ties into the storyline of the Phantom Manor. Oooooooh.
So, with all that historical context out of the way for this cool land, you are now equipped to pick up on unique details and easter eggs that allude to this backstory throughout the land!
Things to do in Frontierland in Disneyland Paris
So what are the big attractions and rides that you can't miss in Frontierland? Here are our recommendations:
1. Go for a ride on Big Thunder Mountain
Hop in a runaway mine cart and enjoy a jittery adventure around this iconic mountain, said to be haunted by the Great Thunderbird himself! This is a fun family-friendly rollercoaster that offers a good mix of thrill and epic scenery to take in… if you dare open your eyes of course! Beware that this is quite a rattly ride with quite a few dips and sharp turns, even in the dark, so keep that in mind.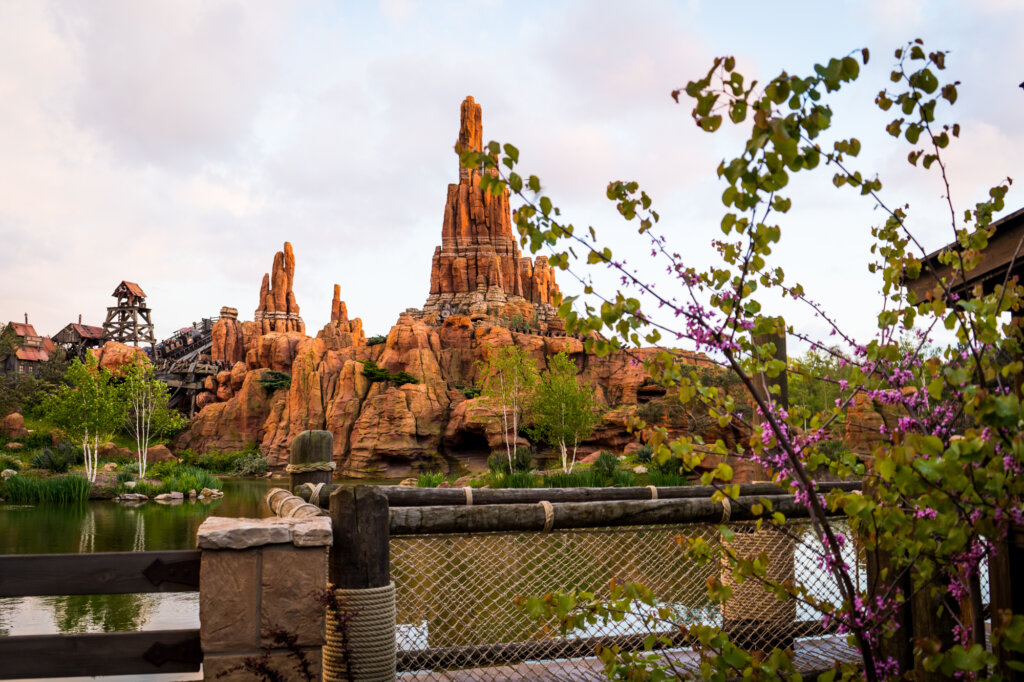 2. Chase the ghosts of Phantom Manor
Overlooking the splendid scenery of Thunder Mesa is the imposing Phantom Manor, a creepy Victorian house hiding terrible secrets, and a place that is, quite literally, haunted by the ghosts of its past, in particular Henry Ravenswood, the town's founder and former owner of the manor. It is said that the spirit of Ravenswood is the killer behind the mysterious death(s) of his daughter Melanie's suitors….. but of course, the truth is for you to discover through this creepy little dark ride.
PS: After being thoroughly spooked during your Phantom Manor visit, be sure to add in a visit to the Boot Hill Cemetery right next door. Here, you'll find a lot of chuckle-worthy grave names and epitaphs, along with a mysterious heartbeat. Can you hear it?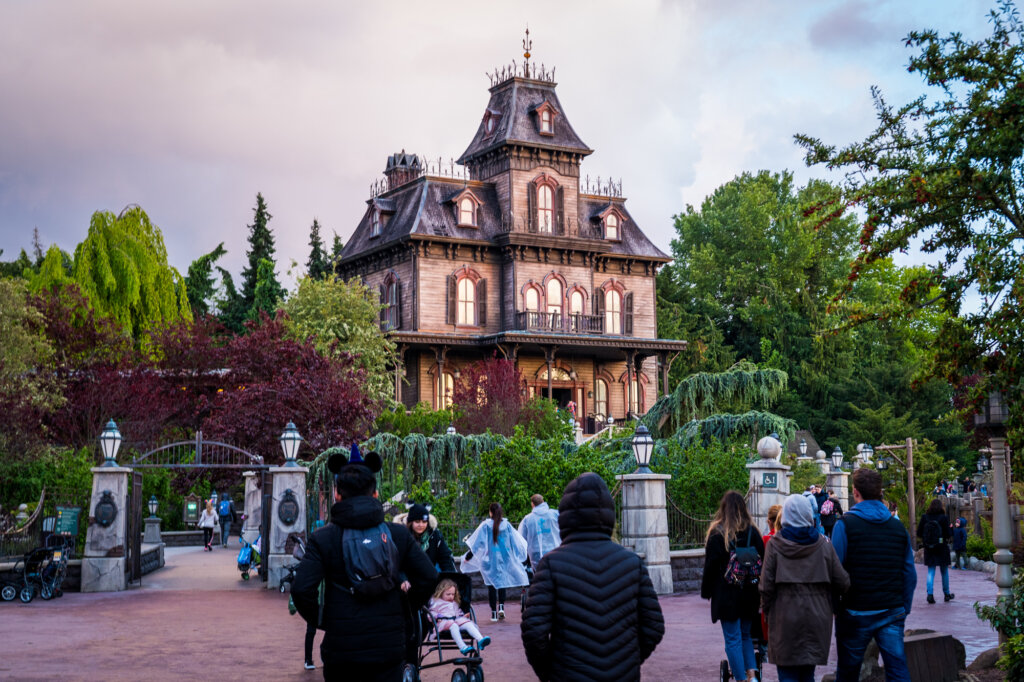 3. Hop on a paddleboat at Thunder Mesa Riverboat Landing
For a more relaxing experience in Frontierland, why not hop on one of the land's two gorgeous paddleboats? Named after Mark Twain and Molly Brown, this journey will take you along some of the best views in Thunder Mesa, including unique perspectives over Big Thunder Mountain and Wilderness Island.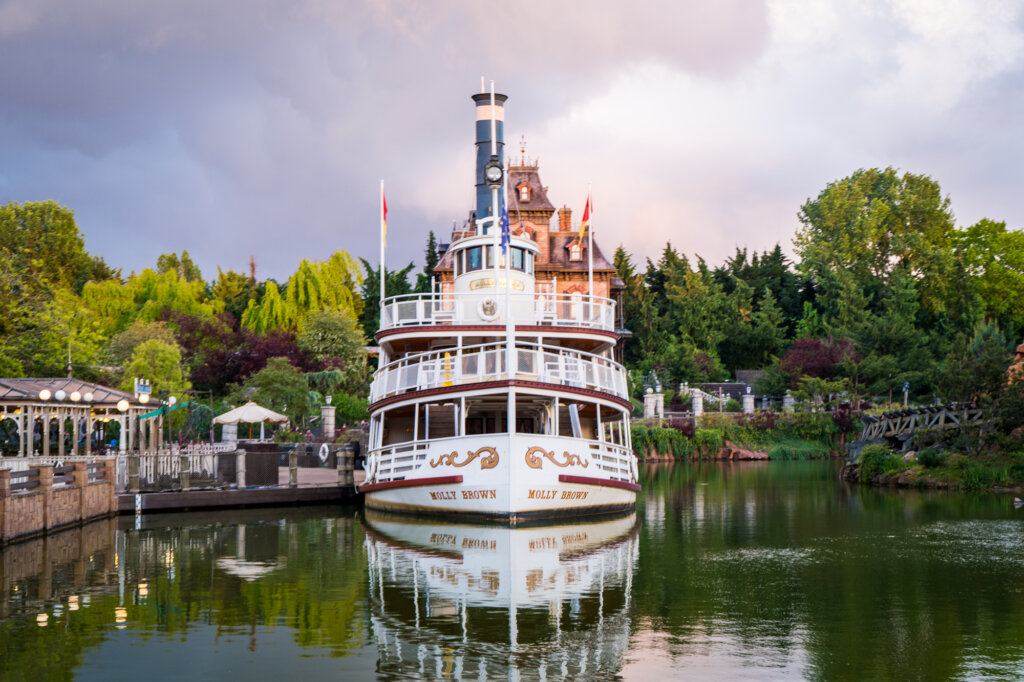 4. Shoot your shot at the Rustler Roundup Shootin' Gallery
While there's an additional charge for this attraction, if you want to test your shooting skills with some fun moving targets, then be sure to check out the Rustler Roundup Shootin' Gallery, which is sure to make you feel like you've teleported to the Wild West yourself.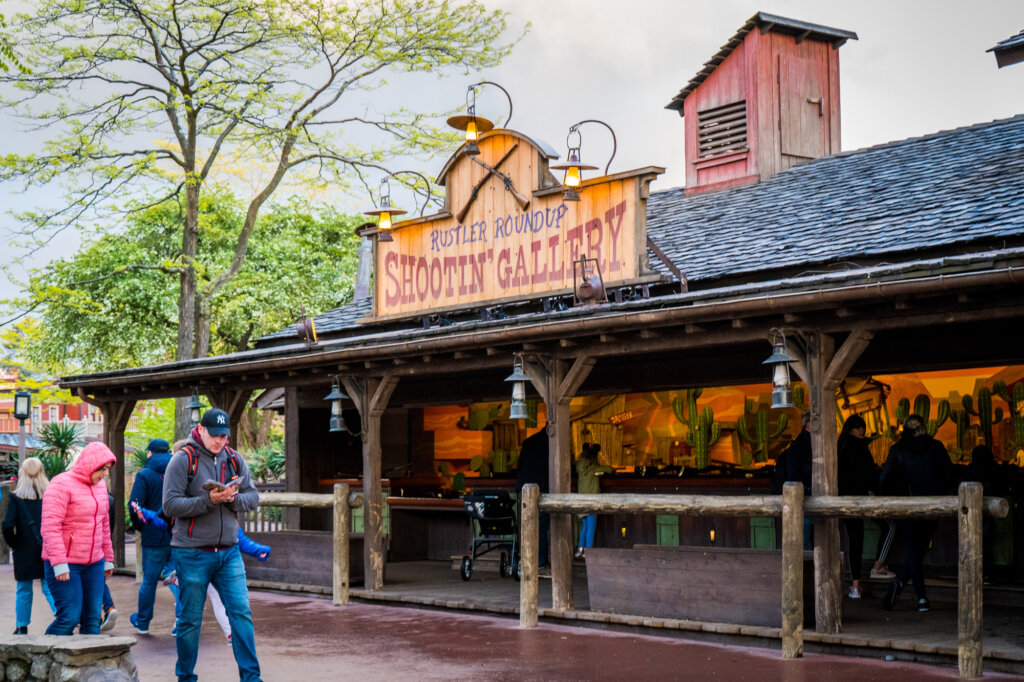 5. Take the kids to Frontierland Playground
And lastly, if you need a place to just let the kids run loose, you can bring them over to the Frontierland playground where you'll find wooden horses, teepees and canoe-shaped slides.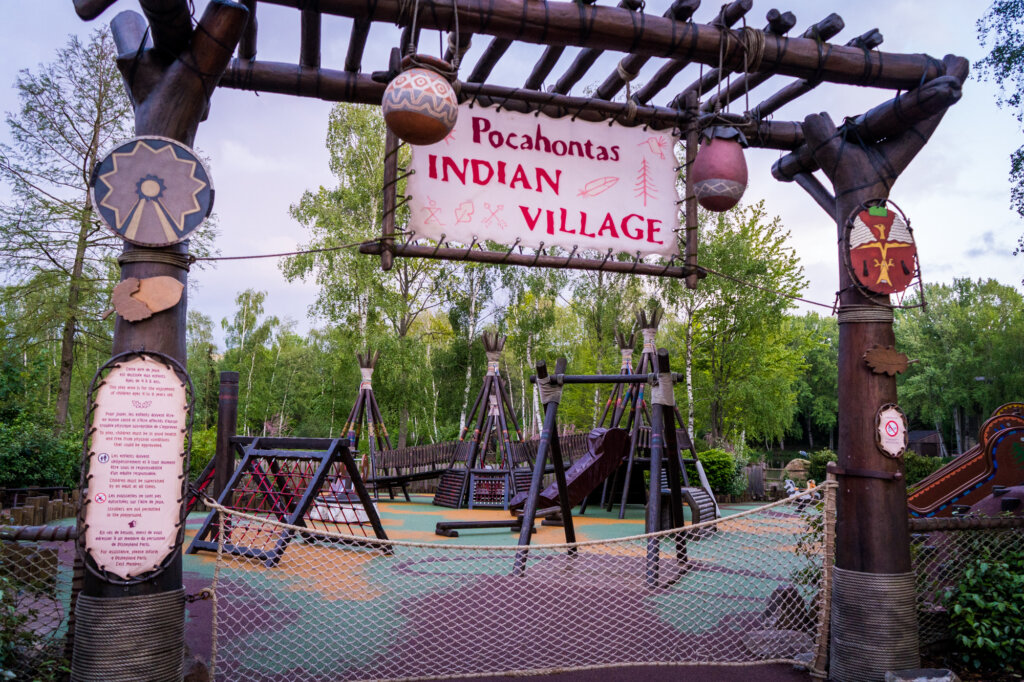 Where to Eat in Disneyland Paris' Frontierland
If hunger strikes after your foray in the Wild West, then there are a great deal of restaurants and food options to choose from in Frontierland. Here are some of the different options!
Fuente del Oro Restaurante
If it's a little Tex-Mex you're craving, the Fuente del Oro restaurante is the perfect place to grab a bite. This counter service restaurant offers a few classics like chicken fajitas and beef burritos, all in a fun little cantina atmosphere. Plus, they have churros!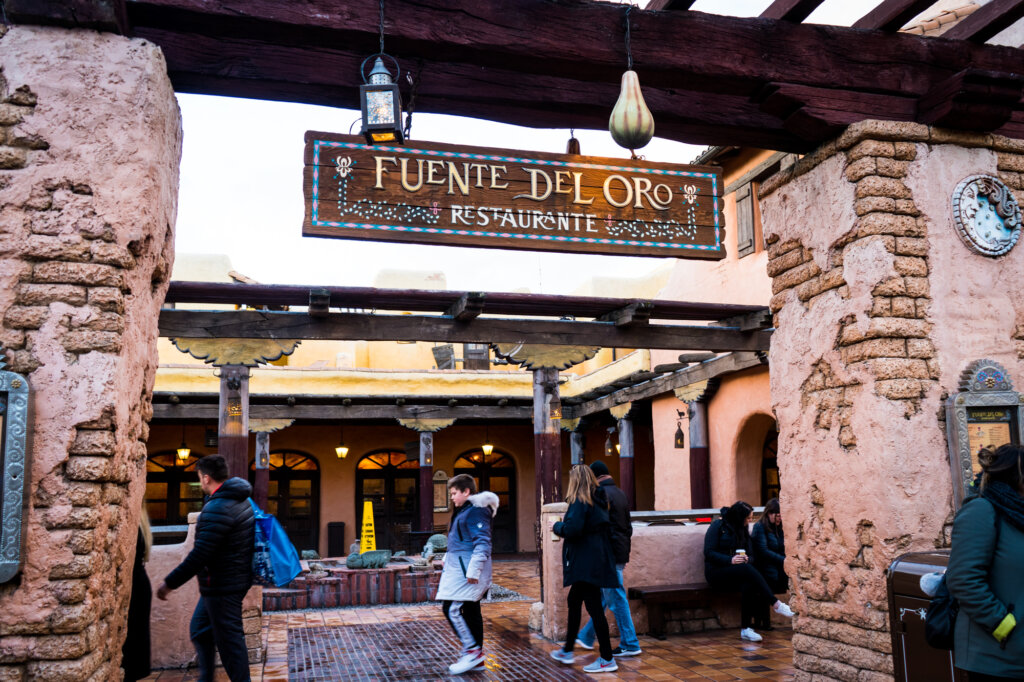 Last Chance Cafe
Despite its ominous name, the Last Chance cafe offers some quick service bites that are both hearty and homey. You'll find mostly fried foods here, like deep fried chicken wings, fries, and nuggets, although we've heard great things about their vegan chili! This is a great place for a fast fuel-up before hopping back into the wildness of the park.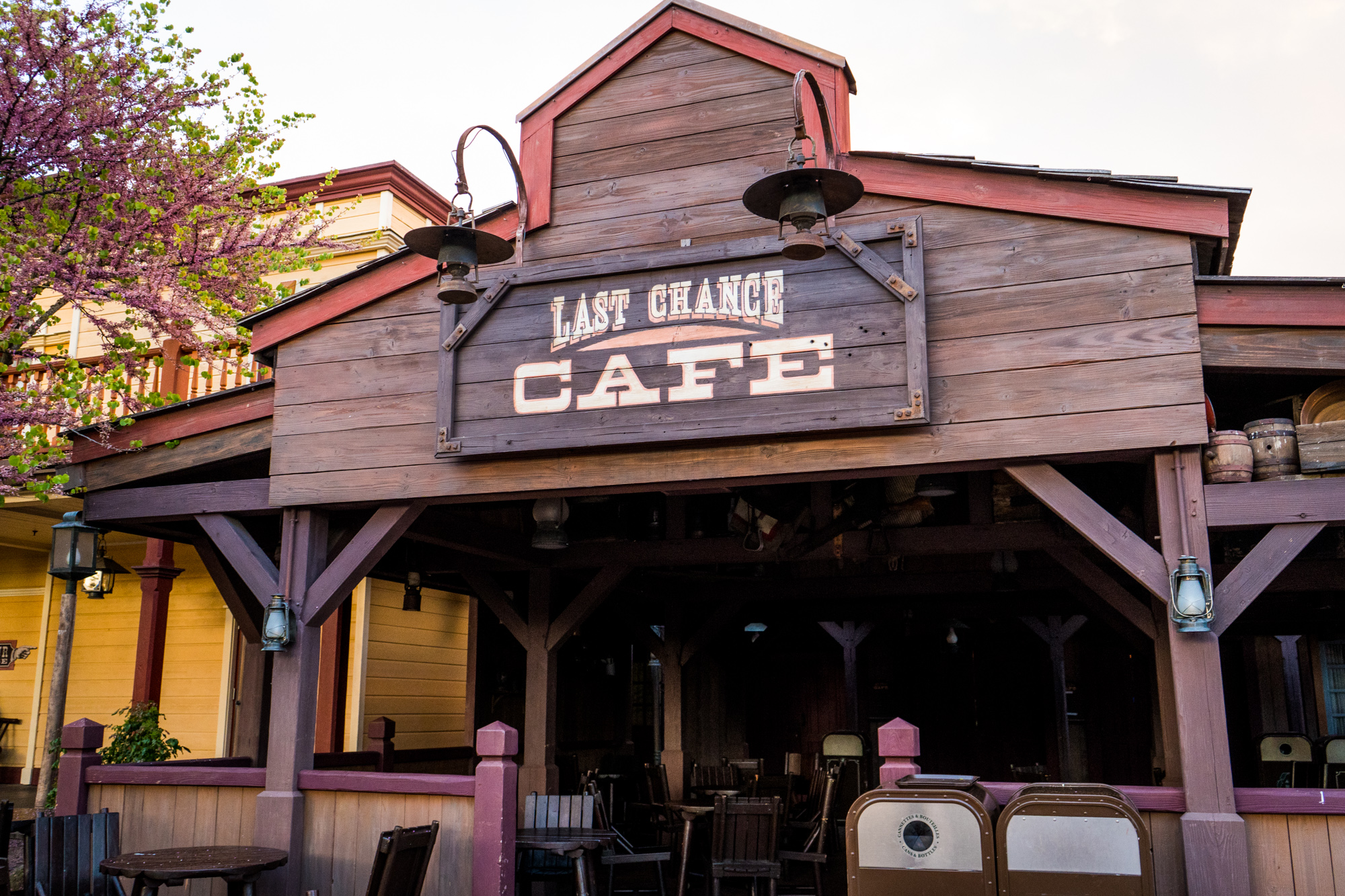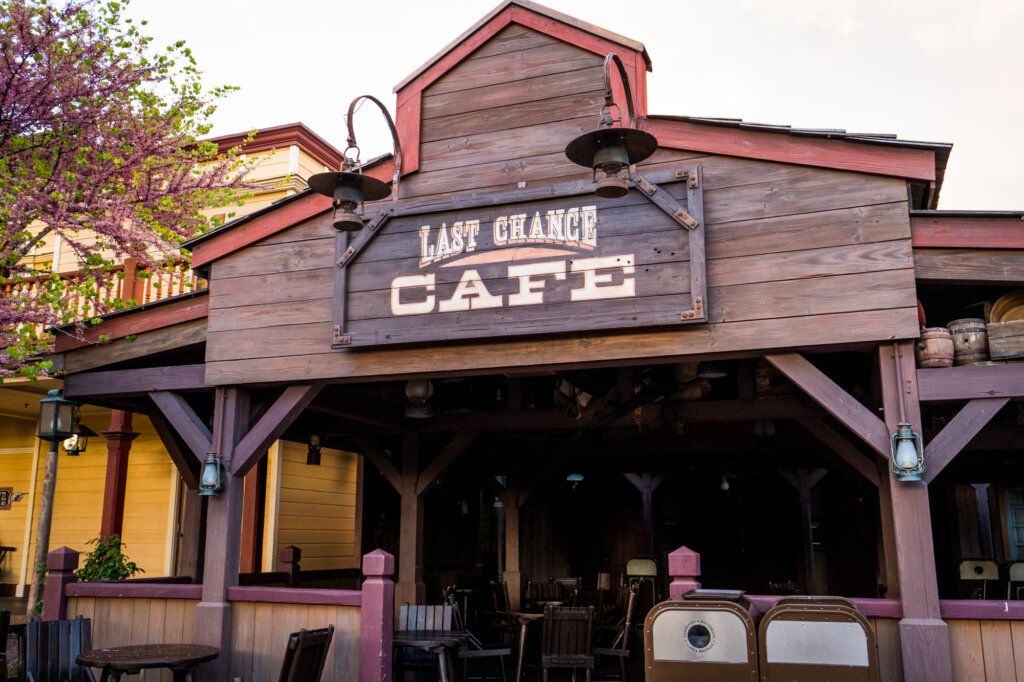 The Lucky Nugget Saloon
For a table service restaurant with American classics like cheeseburgers, ribs, and ice cream sundaes, check out the Lucky Nugget Saloon for the optimal Western experience. Of course, a main draw here is not just the food, but the cool atmosphere of this saloon, said to be built by Miss 'Diamond' Lil who discovered a giant bread-sized golden nugget, which she used to build this very spot.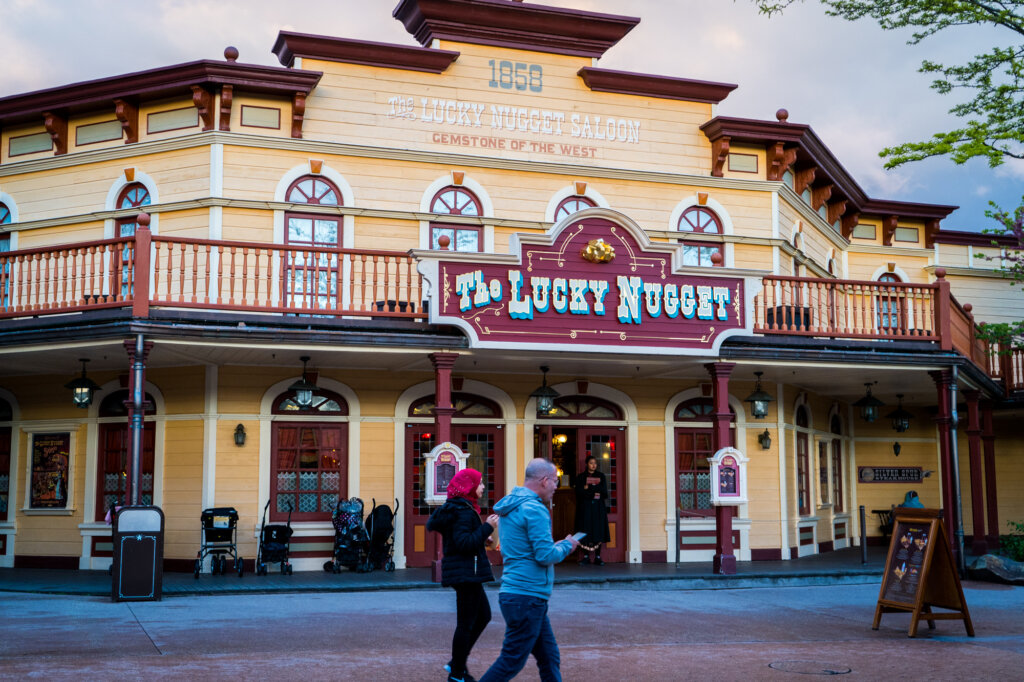 Cowboy Cookout Barbecue
Ready for a hoedown? The Cowboy Cookout Barbecue is one of the largest restaurants in the entire Disneyland Paris complex, nestled in a tranquil location along the outskirts of Frontierland. This is one giant barn where you should go if you're down for a good old fashioned foot-stomping party. Grilled features are of course the star here, with a menu including smoked chicken, grilled salmon and more.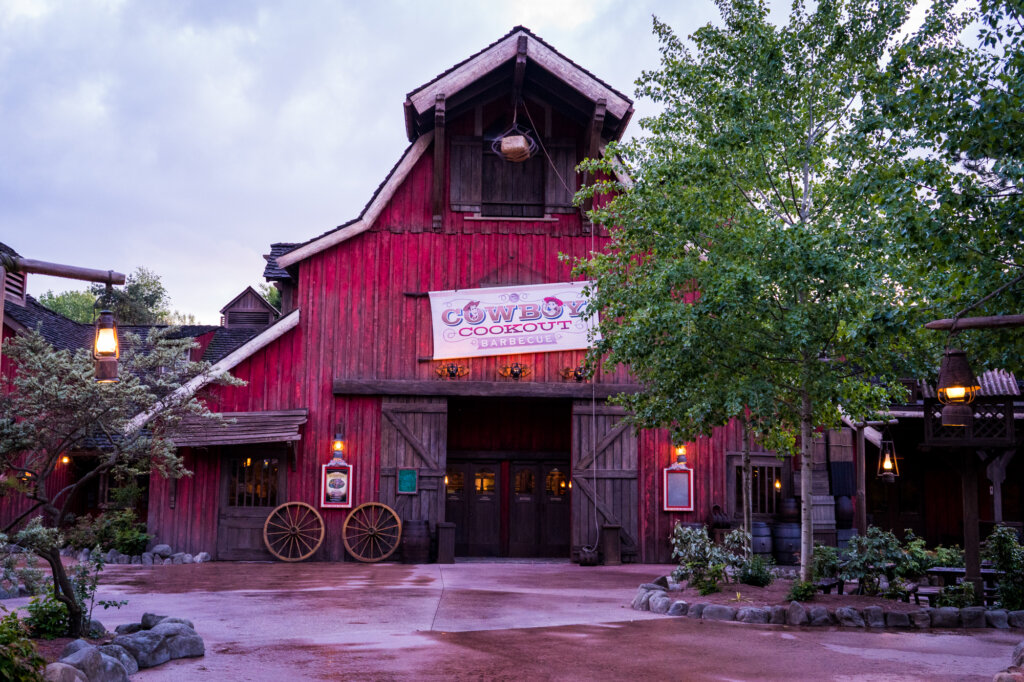 Silver Spur Steakhouse
Lastly, for a real treat and refined sit-down experience, be sure to check out the Silver Spur Steakhouse, where you'll find a lengthy menu of gourmet goodness, including of course, juicy steaks grilled to perfection. Among the grilled goodies, you'll also find a range of soups, salads, carpaccio and yummy 3 course menus for the perfect filling meal.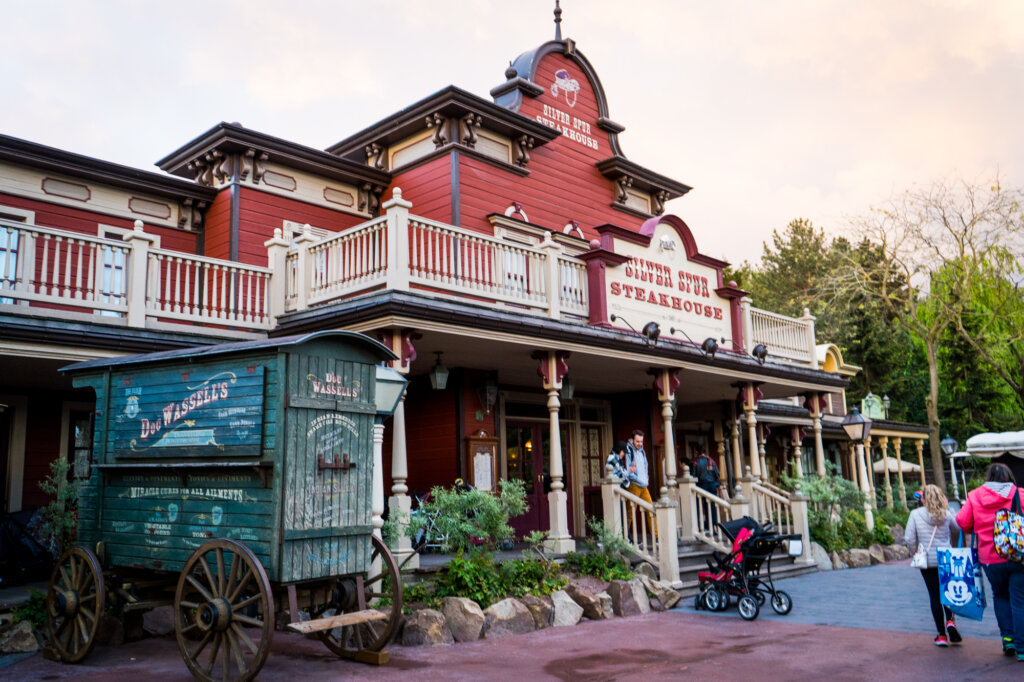 Where to Shop in Frontierland in Disneyland Paris
Shopping for goodies while enjoying Frontierland? Here's where to go!
Thunder Mesa Mercantile Building
In need of supplies? Head over to the Thunder Mesa Mercantile Building where you'll find all sorts of great supplies and souvenirs from your Frontierland visit, including old-style sweets and frontier-inspired toys.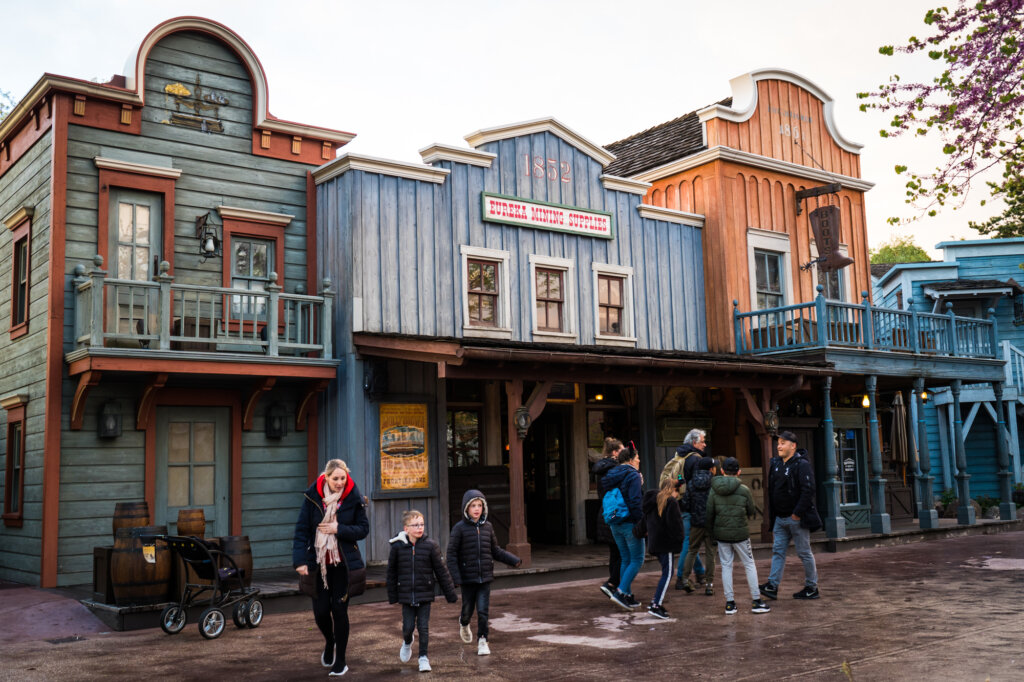 Any more questions about the Frontierland in Disneyland Paris?
We hope you enjoyed this thorough guide to the Frontierland in Disneyland Paris! Let us know in the comments if you have any more questions!