*FYI - this post may affiliate links, which means we earn a commission (at no extra cost to you) if you purchase from them. Also, as an Amazon Associate I earn from qualifying purchases. For the full scoop on what this means, feel free to check out our Privacy Policy and Disclosure.
---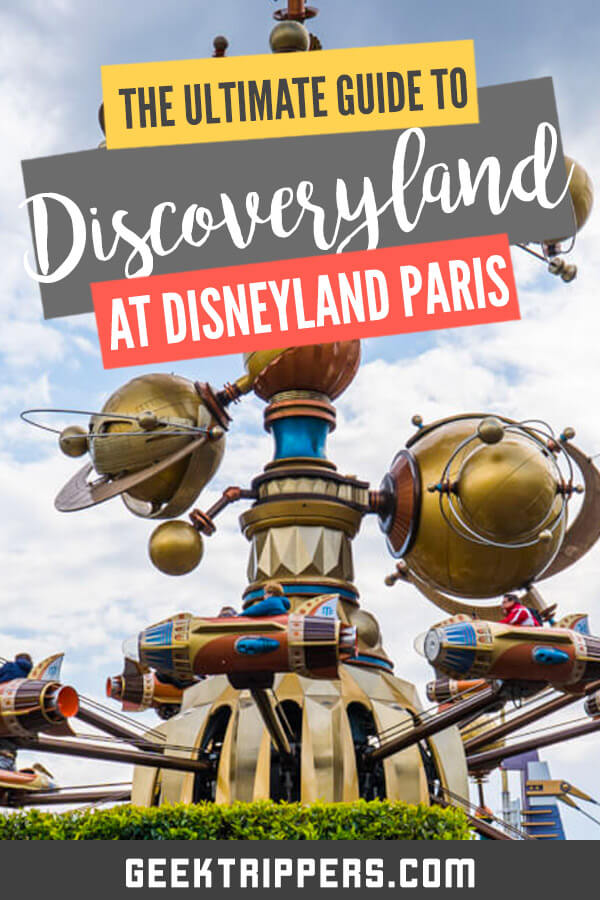 While it's tough to play favourites, we have to say that Discoveryland at Disneyland Paris has always been one of our favourite parts of Disneyland Park, especially with the new Star Wars additions… pew pew!
So today's guide will be 100% dedicated to this wonderful land!
In case you're not familiar with it yet, Discoveryland is basically the Parisian counterpart of the famous Tomorrowland from other parks, with a Steampunky twist. This glorious little land is dedicated to inventions, and perhaps more importantly these days, it's the place where all the Disneyland Paris Star Wars stuff goes to hang out!
I mean, some of the most important attractions in all of Disneyland Paris can be found here, including Star Wars Hyperspace Mountain, Buzz Lightyear Laser Blast and the gorgeous retro Orbitron, inspired by European inventor-artist extraordinaire, Leonardo da Vinci.
So are you ready to…. *pause* DISCOVER the best of Discoveryland?
Here's a rundown on the best things to do in Discoveryland, where to eat, where to shop and where to find awesome hidden gems along the way!
A Brief History of Disneyland Paris' Discoveryland
So while Tomorrowland is a signature land of Disney parks around the world, Discoveryland puts a kind of unique twist on that, with a different look and feel, namely with a Steampunk influence and all sorts of wonderful Jules Verne inspired goodness.
According to this excellent article about Discoveryland's architecture, when Imagineers were working on the design for Discoveryland, they wanted to veer away from the (already) outdated 'futuristic' white aesthetic of Tomorrowlands elsewhere in the world. With a goal of creating something different and a bit more timeless, they settled on a heavily Jules Verne-inspired vision of the future, with plenty of bronze, neon and what we would nowadays consider Steampunk elements.
In the book Disneyland Paris: From Sketch to Reality, show producer for Discoveryland Tim Delaney states that his goal was "to develop a place outside of time" and "one that would encompass several versions of the future as well as a past in which people feel at ease". The amalgamation of different futuristic visions in Discoveryland created a unique land where you could immediately sense the influence of a variety of sci-fi greats, including Jules Verne, H.G. Wells, Leonardo Da Vinci, and even George Lucas.
Incorporating elements of design from the Discovery Bay addition to Disneyland Resort that never transpired, this land is like a peek into an alternate Disney universe. While things have changed a bit over the years, one fact has remained constnat: Disneyland Paris is one of the coolest lands in the entire park! Well, we absolutely love this design anyway… how about you?
Things to do in Discoveryland in Disneyland Paris
So, what are the best rides and attractions in Discoveryland? Here are our top picks:
1. Hop on a ride at Star Wars Hyperspace Mountain
The signature attraction of Discoveryland is no doubt the Star Wars Hyperspace Mountain ride, which puts a Star Wars twist on the Disneyland classic, Space Mountain. This jittery and thrilling ride is a fun foray into the world of Star Wars, where you get to enlist in the Rebel Alliance and even get orders from THE Admiral Ackbar himself…. Is it a trap? Take a ride to find out.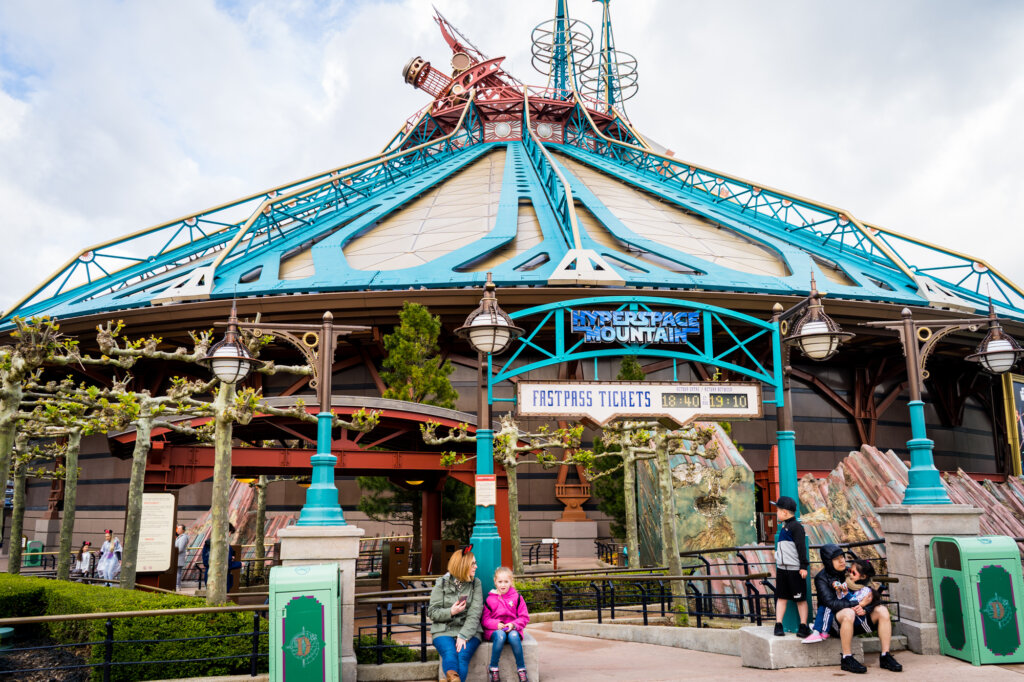 2. Try to get a high score in Buzz Lightyear's Laser Blast
If there's one addictive attraction in Discoveryland that you NEED to enjoy, it's the Buzz Lightyear Laser Blast. For those who are extra-competitive among us, this dark ride/shooting game is a must. Riders can hop into their own spaceship, grab their own laser guns and shoot away to defeat Evil Emperor Zug. This ride is a must for any Toy Story lover, with plenty of Aliens ooohing and ahhing you along the way.
We warn you, this ride gets COMPETITIVE!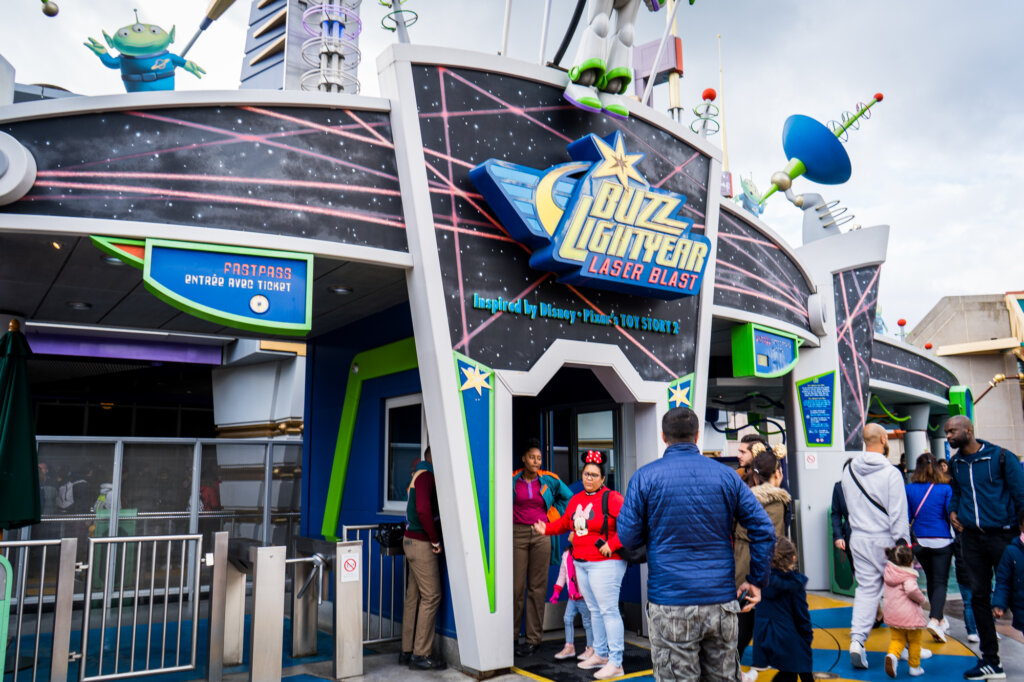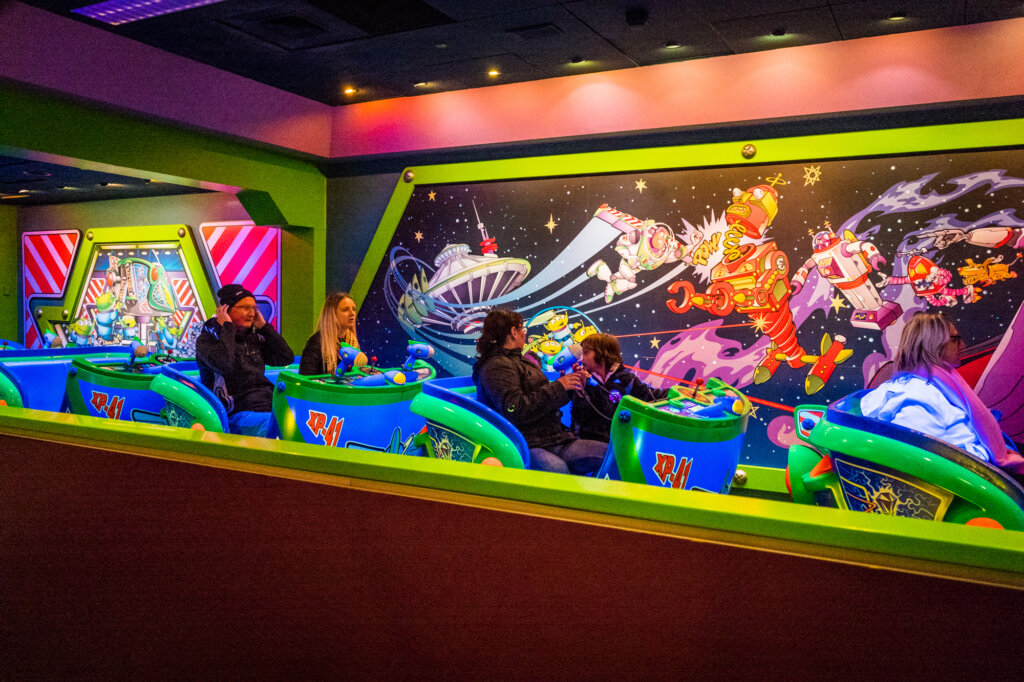 3. Whizz through space with Star Tours
If you like motion simulators, be sure to hop on Star Tours The Adventures Continue, which whisks rebels away on an epic adventure on board their own space ship, with a 3D experience that feels surprisingly real. This ride has dozens of mission combinations so it doesn't get dull with repeat rides, plus the waiting area is filled with awesome easter eggs for Star Wars fans.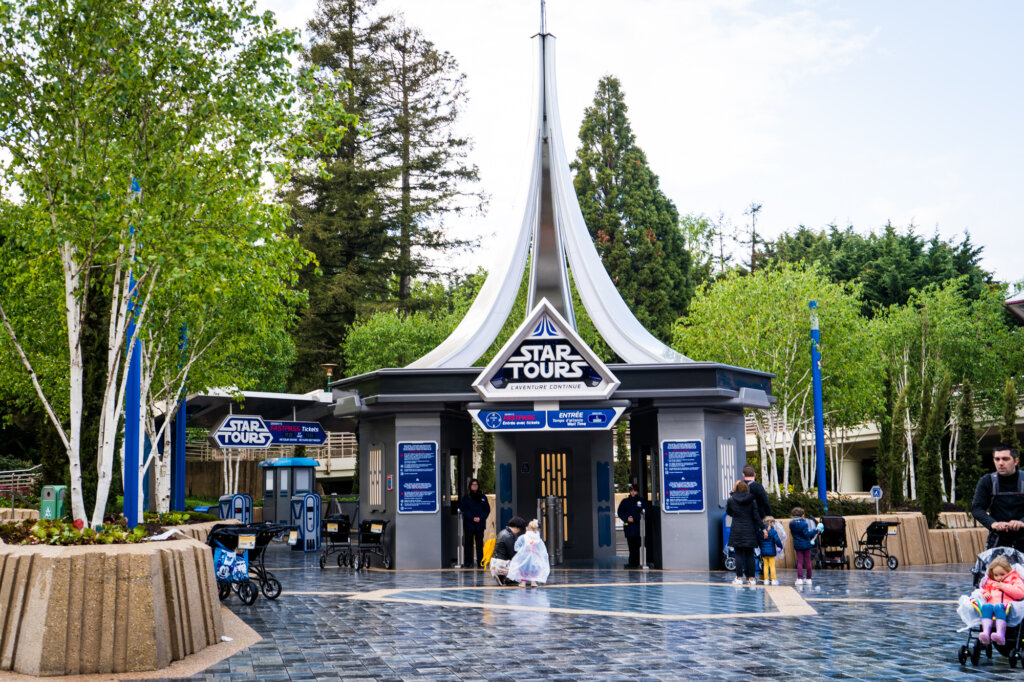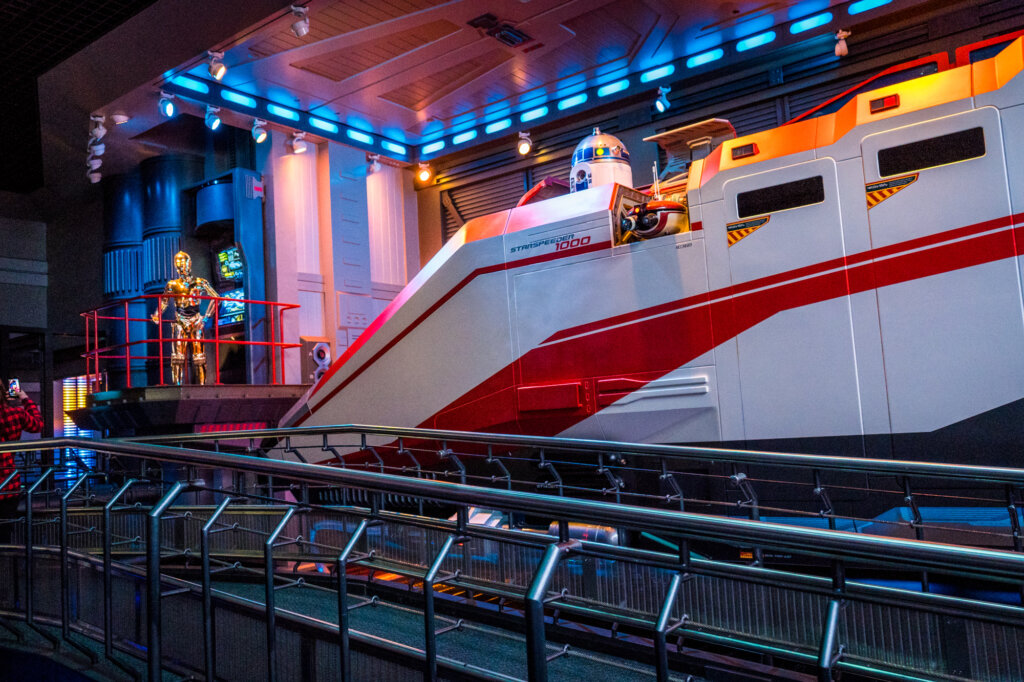 4. Meet your favourite Star Wars character at Starport
For an out of this world character meet experience, be sure to stop by Starport, which is where you'll get the chance to meet some of the galaxy's most famous figures, including the Dark Lord of the Sith himself, Darth Vader!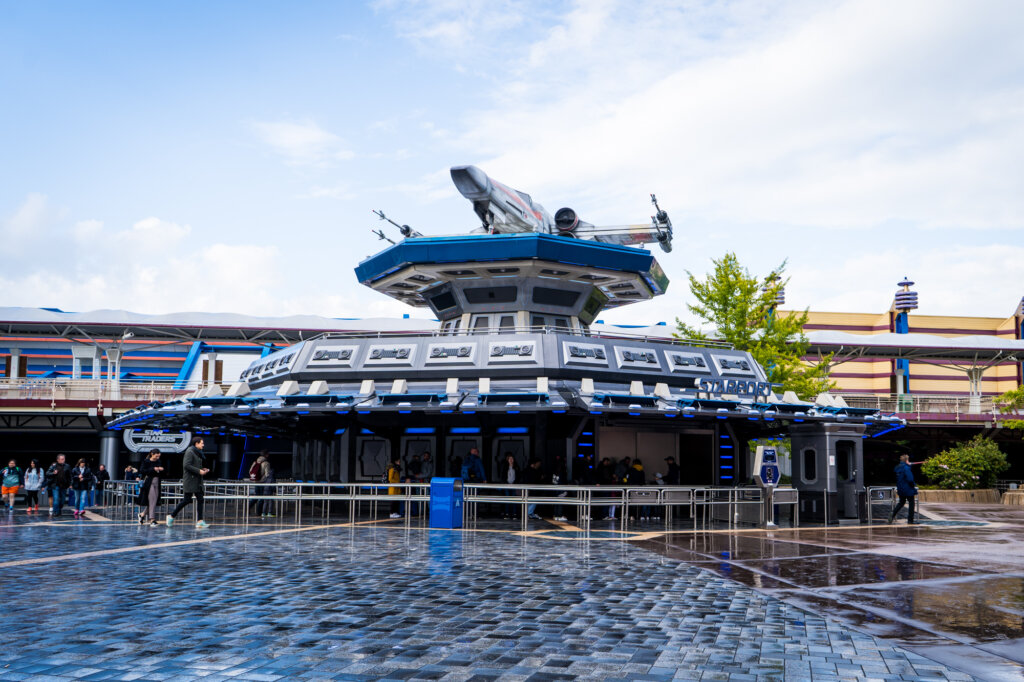 5. Hop on (or simply marvel at) the Orbitron®
One of the most iconic sights in Discoveryland is of course the Da Vinci inspired Orbitron, a space ride based on Da Vinci's original drawings of the solar system. It makes sense that this spacetacular ride will take you out to space as well (well, if you use your imagination). While not the most thrilling of rides to be enjoyed, hopping on the Orbitron is a nice way to get cool unique view over Discoveryland!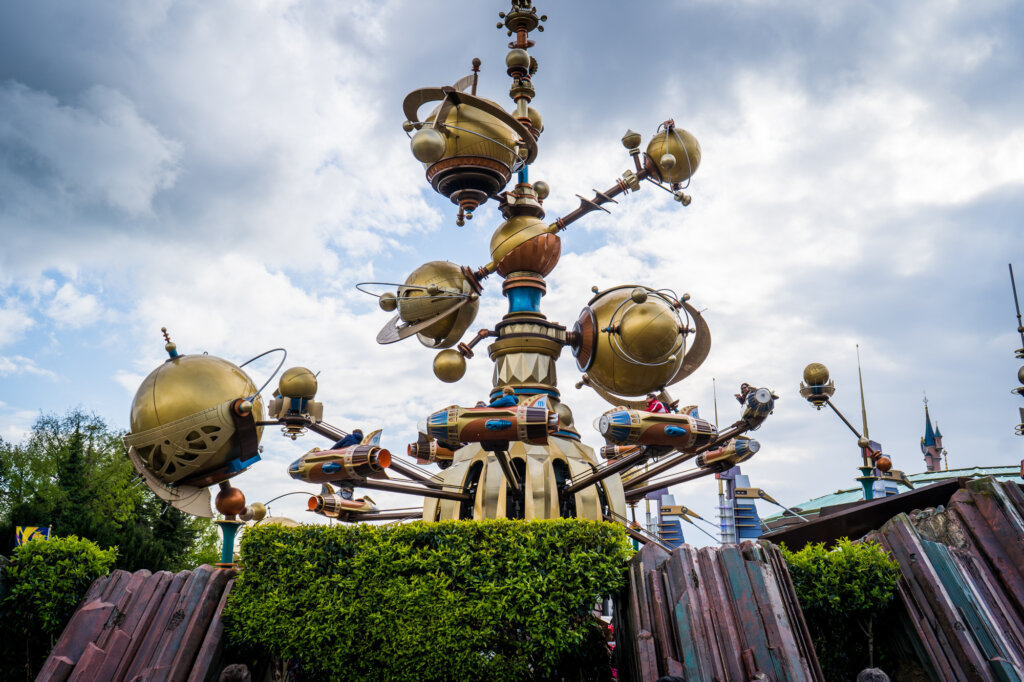 6. Explore a submarine at les Mystères du Nautilus
For Jules Verne fans, a stop at the Mystères du Nautilus walkthrough attraction is a fun little stop. Based on Verne's 20,000 Leagues Under the Sea, this stop takes you on board Captain Nemo's submarine where you'll get to see the inner workings of his spectacular vessel and of course, a surprise or two…. no spoilers!
7. Ride your own futuristic car at Autopia
Looking for a more interactive experience that allows you to take the wheel (literally)? This recently refurbished joy ride allows riders to hop in their own car and drive around a specially designed track around the future… decked of course with plenty of LED lights! This is a very popular ride so make sure to get here early.
8. Experience Mickey's PhilharMagic
Lastly, if you want to rest your feet for a bit and enjoy a lovely little show, Mickey's PhilharMagic might be a great place to relax for a bit. This 4D experience features a tour through some of Disney's most beloved songs, including fan favourites like Part of Your World and Be Our Guest… plus other wonderful surprises.
Where to Eat in Disneyland Paris' Discoveryland
This is going to be an easy pick if you're hoping to grab food in Discoveryland, because apart from a few small food carts here and there, your one choice is…
Café Hyperion
Admittedly, the most attractive part of Café Hyperion is its design (and ample seating space). Serving American fast food classics like burgers, fries, and onion rings, the food here isn't often raved about as far as Disneyland Paris food options go, with many saying this is among the worst of the resort's food offerings… BUT it costs nothing to take a look inside – the design is really cool!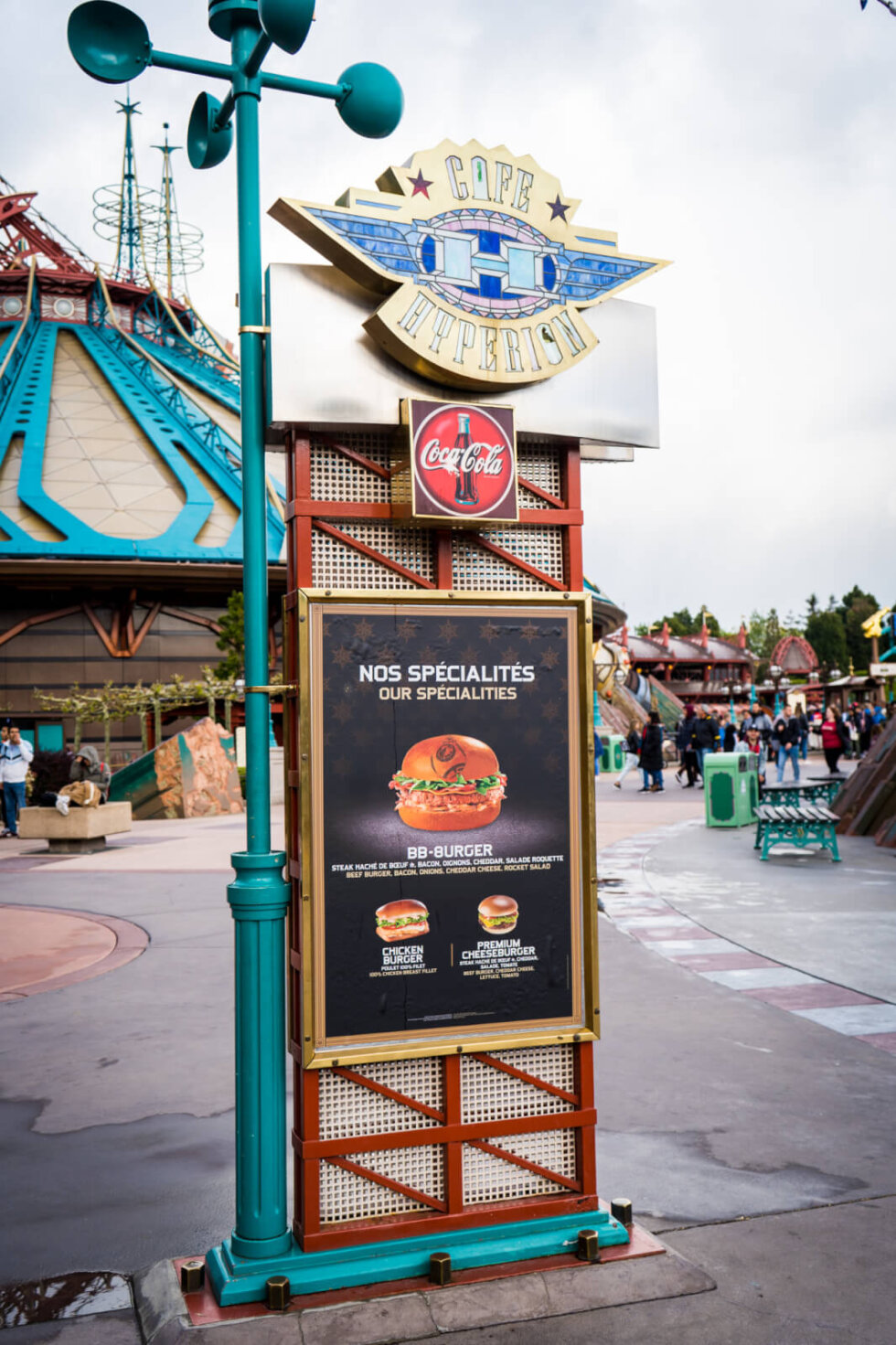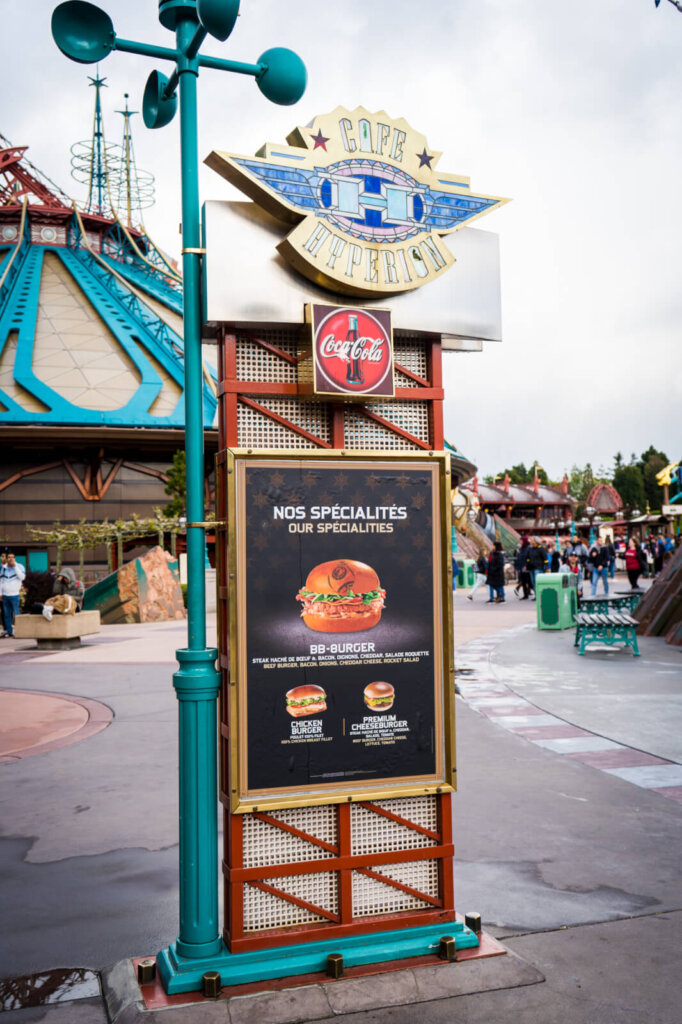 Little Snack Carts
If you just want a quick snack though, there are a few small stands in Discoveryland selling wonderful themed goodies like these: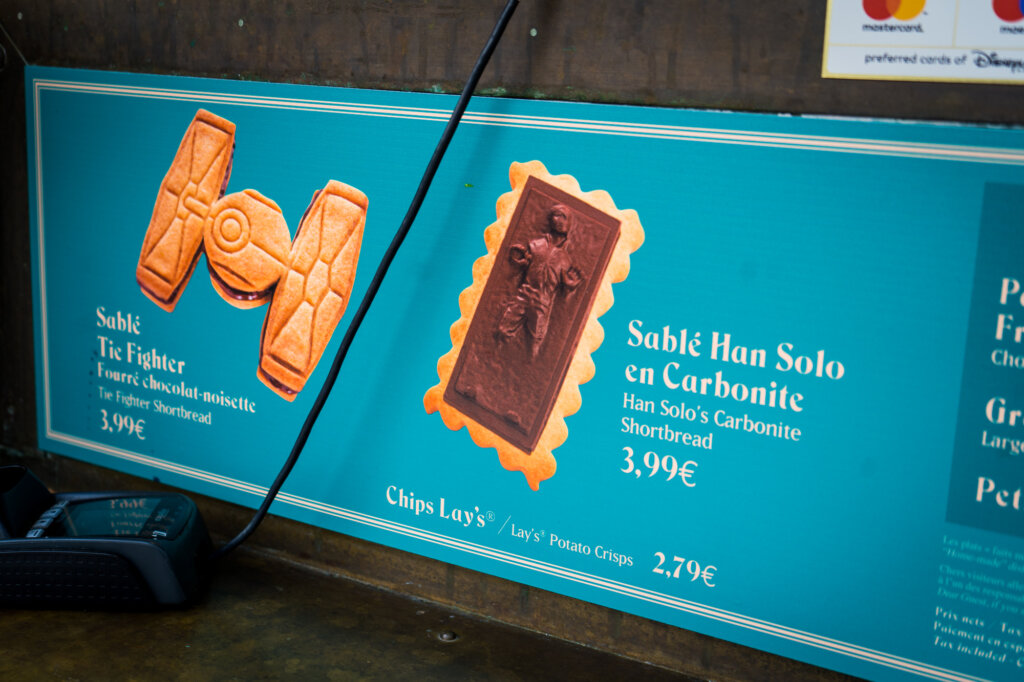 Where to Shop in Adventureland in Discoveryland
Looking to stock up on Discoveryland souvenirs and goodies? Here are some of the places you can shop in this land:
Constellations
This space-themed gift shop near Buzz Lightyear's Laser Blast features plenty of fun space gifts (Toy Story related and otherwise). Of course, you can expect plenty of aliens here… sadly no claw to rescue them from though!
Star Traders
Fans of Star Wars can't miss the Star Traders gift shop where you can find a (space) mountain of wonderful galactic souvenirs including Star Wars apparel, light sabers and even build your own droids!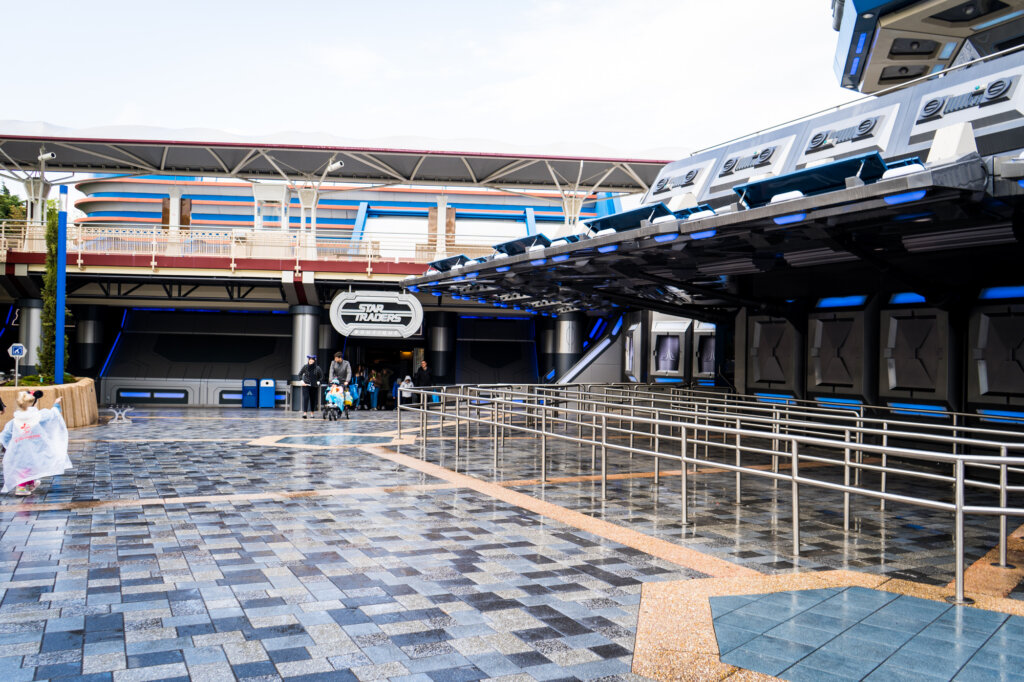 Hidden Gems in Disneyland Paris' Discoveryland
Of course, as with any land in the Disneyverse, there are plenty of little hidden gems to be found in Discoveryland. Here are a few:
WALL-E and EVE
Just outside of Videopolis, you'll find an often-missed dedication to precious Wall-E and EVE! Be sure to stop by and give these lovebirds some love.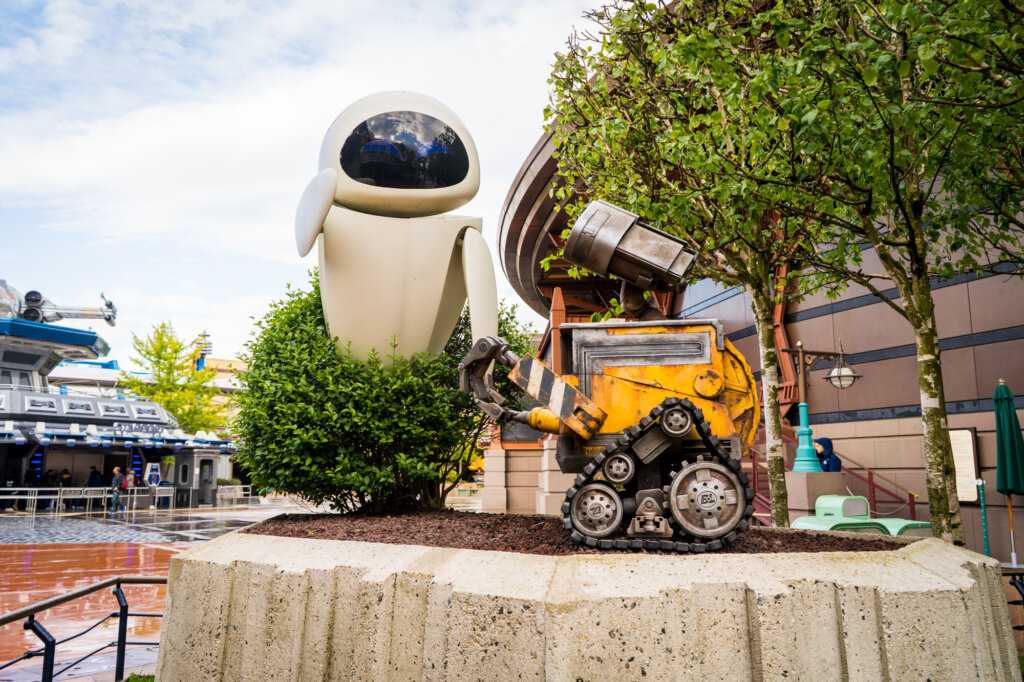 Star Tours Easter Eggs
Star Wars fans NEED to make sure their eyes are peeled during the Star Tours line-ups, because the attention to detail here is awesome. The entire queue-up area is filled with fun little easter eggs for fans, but be sure to look up all the time, lest you miss the fun Mon Calamari up in the control room.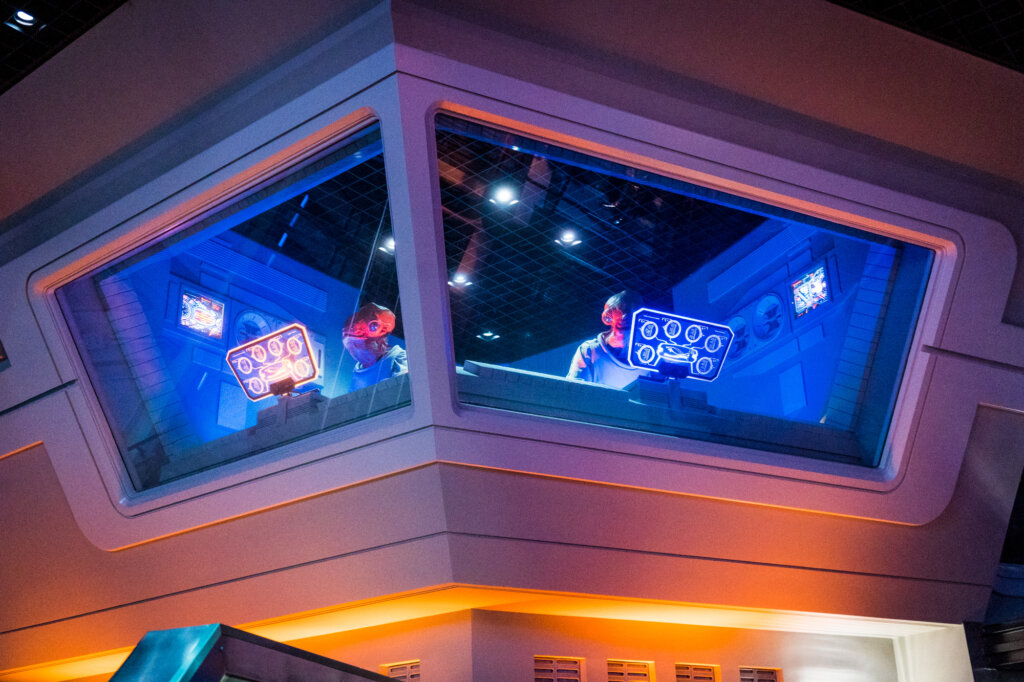 Build your own droid/lightsaber
While not completely hidden, this is a gem that many park visitors miss when they don't purposefully venture into Star Traders… remember, if you love Star Wars, don't miss the cool customizable souvenir opportunities in Discoveryland that are Star Wars themed, like the "Droid Factory" and the build your own lightsaber station.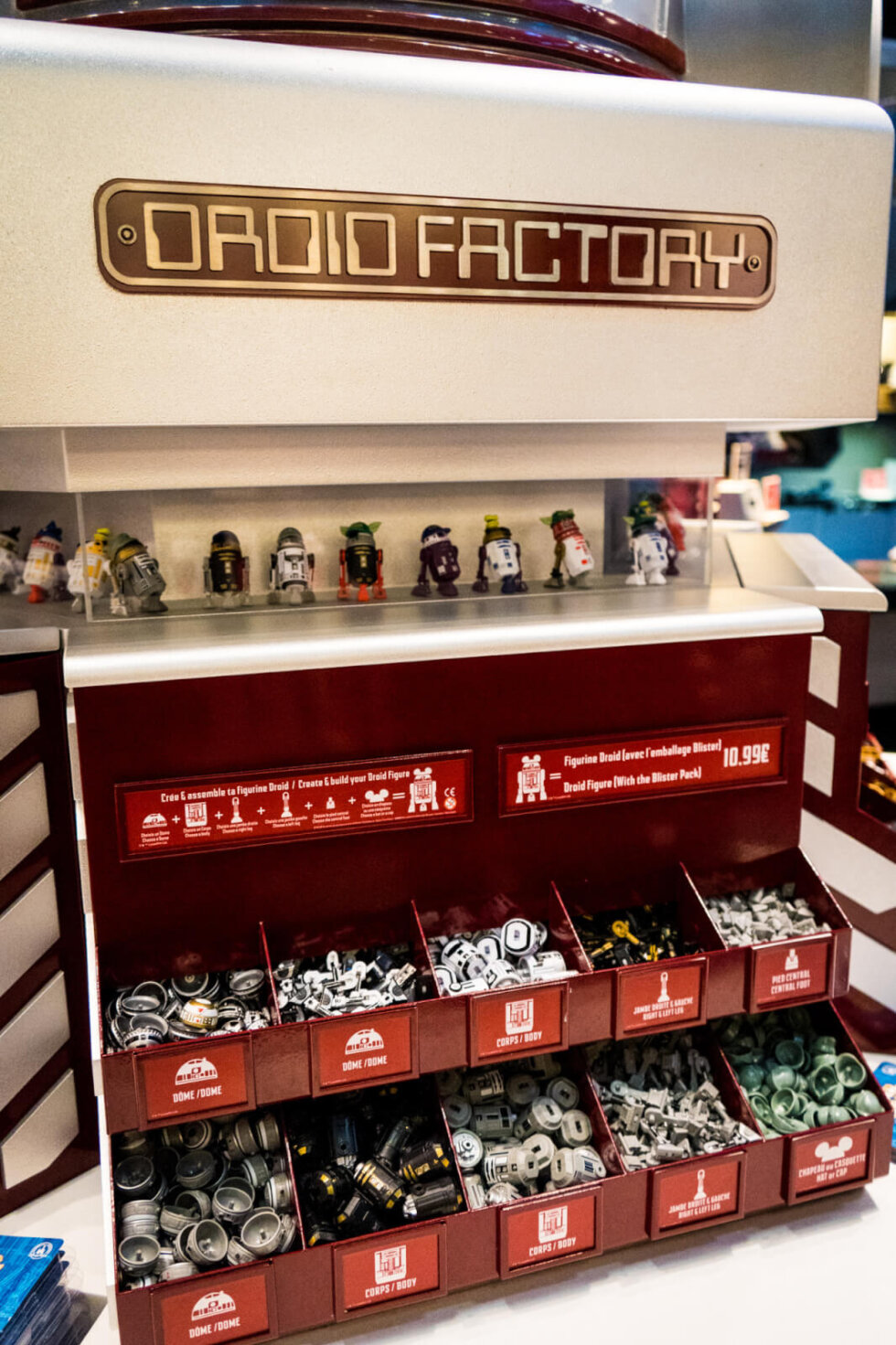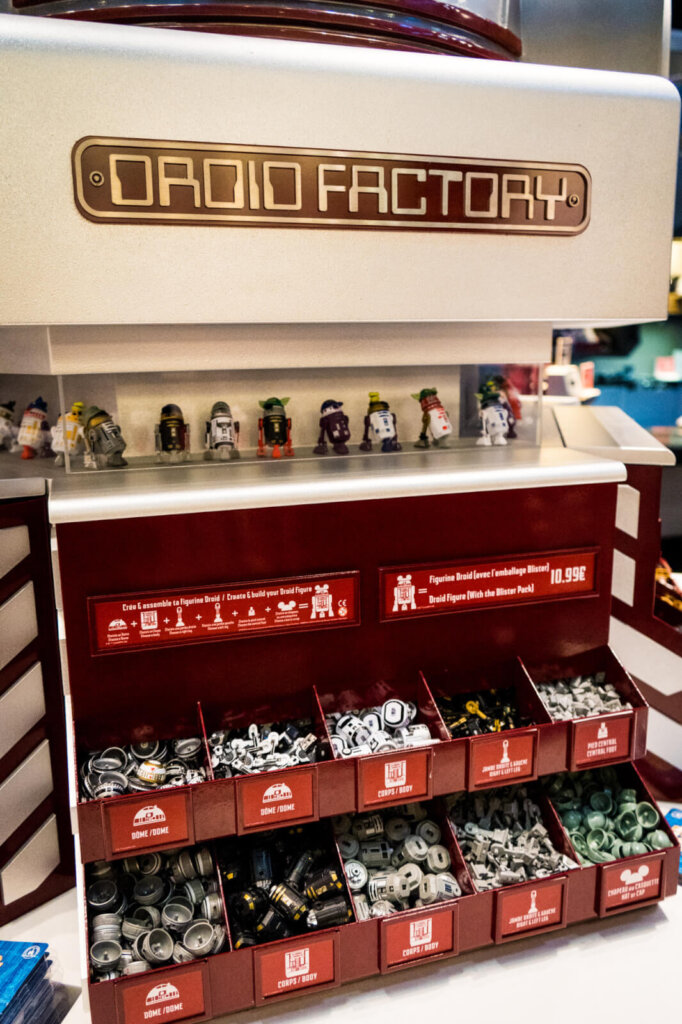 Videopolis Vending Machine
Lastly, even if you don't plan to eat at Cafe Hyperion or visit the Videopolis, at least stop inside to see this delightful on-theme vending machine. Jules Verne would approve, don't you think?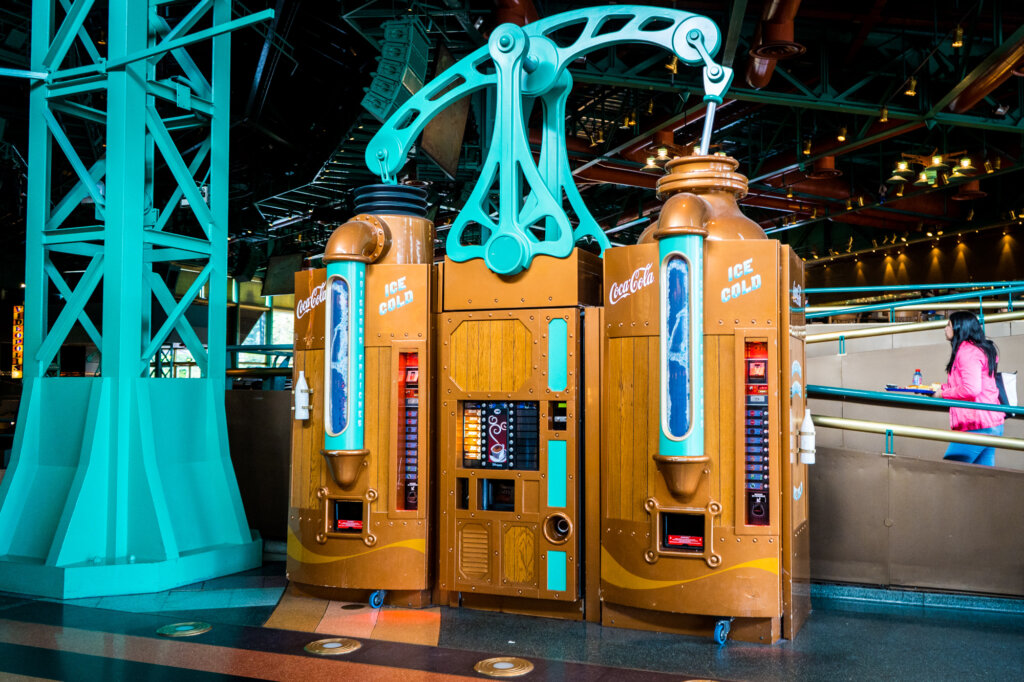 Any more questions about the Discoveryland in Disneyland Paris?
We hope you enjoyed this thorough guide to the Discoveryland in Disneyland Paris! Let us know in the comments if you have any more questions!