*FYI - this post may affiliate links, which means we earn a commission (at no extra cost to you) if you purchase from them. Also, as an Amazon Associate I earn from qualifying purchases. For the full scoop on what this means, feel free to check out our Privacy Policy and Disclosure.
---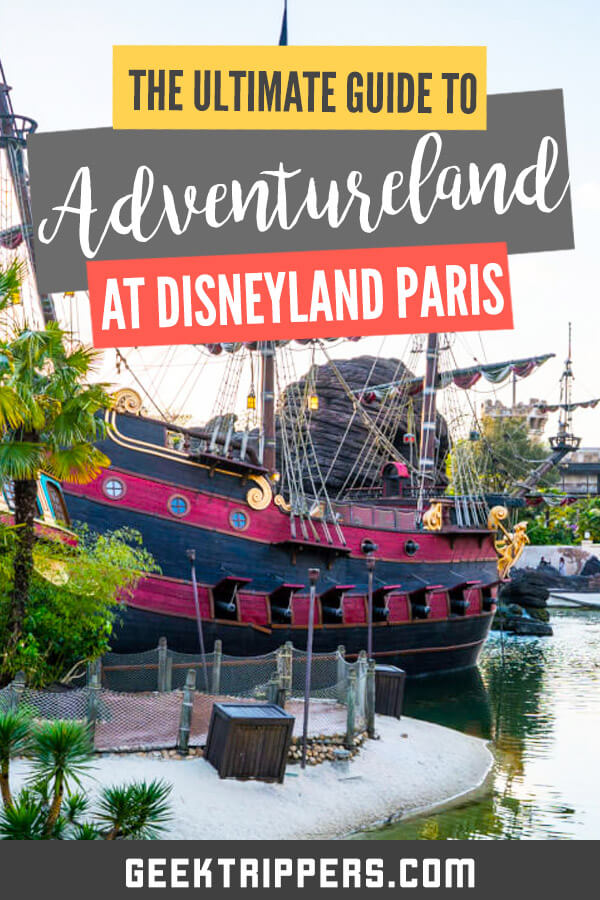 If your goal is to feel transported to magical far away lands, no place in Disneyland Paris quite satisfies this itch more than exciting Adventureland. With a variety of diverse influences, hidden gems and plenty of room for exploration, this is probably one of the most interactive lands in the park, and one well worth a proper wander. 
In fact, some of the most iconic Disney attractions can be found here, from the Pirates of the Caribbean ride to the Swiss Family Robinson treehouse. So, what is there to do in Adventureland? This guide is here to spill the beans on what to do, where to go, what to eat, where to shop, and most importantly, where to find those wonderful little details that make Disneyland so special!
A Brief History of Disneyland Paris' Adventureland
While Adventureland is a staple land in Disney parks around the world, the Adventureland in Disneyland Paris is especially unique for its global influences, with touches from Morocco to the Caribbean.
According to the book Disneyland Paris: From Sketch to Reality, while designing the vision for Adventureland, realism was never the goal for Imagineers. Rather, the aim was to create a place "where dreams, reality, and adventure mingle together", all with ample creative license.
Today, Adventureland can be separated into a few distinct parts: the Adventureland Bazaar (inspired heavily by 1001 Arabian Nights), an African section (comprised primarily of various food spots and shops), an Asian jungle (where exploration was a key theme), and of course a Caribbean section (with plenty of interactive areas like Adventure Isle and the Swiss Family Treehouse).
But with big dreams comes big challenges. In fact, creating this expansive land was a lengthy process with many tough considerations, like how to recreate a tropical jungle in a place like the Paris region. The ingenious solution was to plant a thick bamboo forest in Adventureland that would create a microclimate suitable for the growth of warm-weather plants, including palm trees and the like.
While this land remains a standout attraction of Disneyland Paris today, in its early years, it was considered fairly groundbreaking. In fact, according to  Disneyland Paris: From Sketch to Reality, the Indiana Jones and the Temple of Peril rollercoaster was the first Disney attraction ever to include a 360 loop! Truly, this piece of Disneyland Paris is living proof that "adventure is out there!"
Things to do in Adventureland in Disneyland Paris
So, what kind of adventures can you enjoy in Adventureland? Here are some of the top activities and attractions you can take advantage of!
1. Enjoy the arrrrtistry of Pirates of the Caribbean
Dead men may tell no tales, but this iconic Disneyland attraction will leave you with plenty of tales to tell. We don't want to spoil anything for you, but this recently updated ride brings together fan favourites like Captain Jack Sparrow, Captain Barbossa, and a familiar crew of rowdy pirates for a unique journey back in time and through haunted realms. If you love other Pirates attractions at other parks, you'll definitely need to put this one on your list!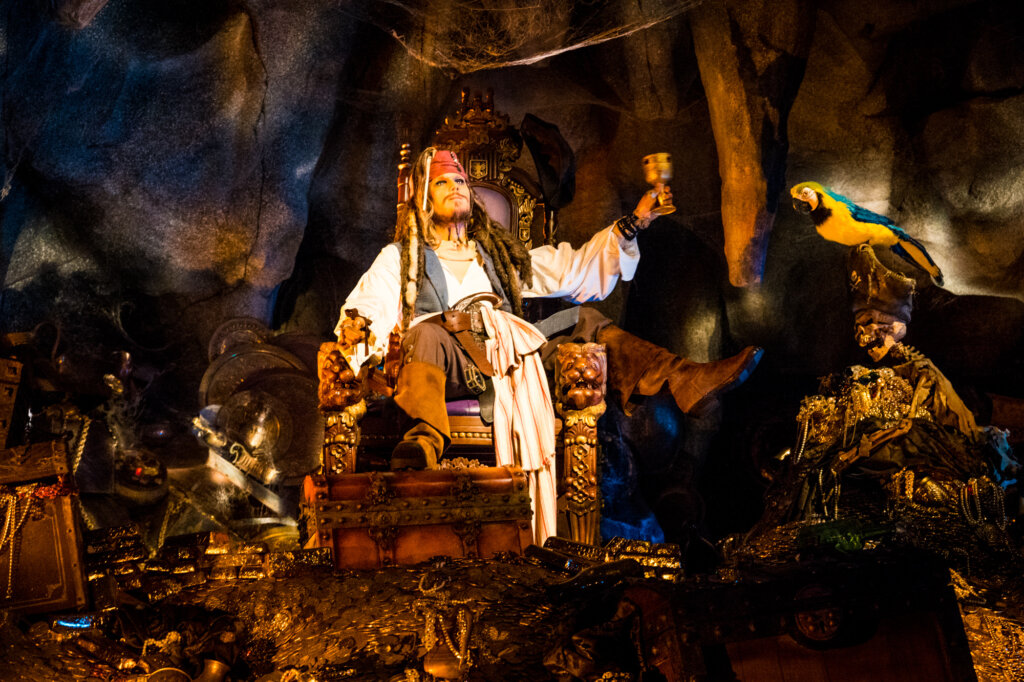 2. Enjoy the treasures of Adventure Isle
Of course, there's plenty more to do for Pirates fans besides just the ride itself. One of the wonderful things about Adventureland is its glorious attention to detail and hidden easter eggs. One of our favourite areas to explore in Adventureland is Adventure Isle, where you can weave your way through dark caves, traverse rickety suspension bridges and even explore Davy Jones' Locker. Who knows – you might even find some precious treasure of your own?
PS: Young Pirates fans should ensure they pay a visit to Pirates' Beach, where there's not one, but TWO pirate-themed playgrounds to hop around on…….. and a plank to walk for those who misbehave!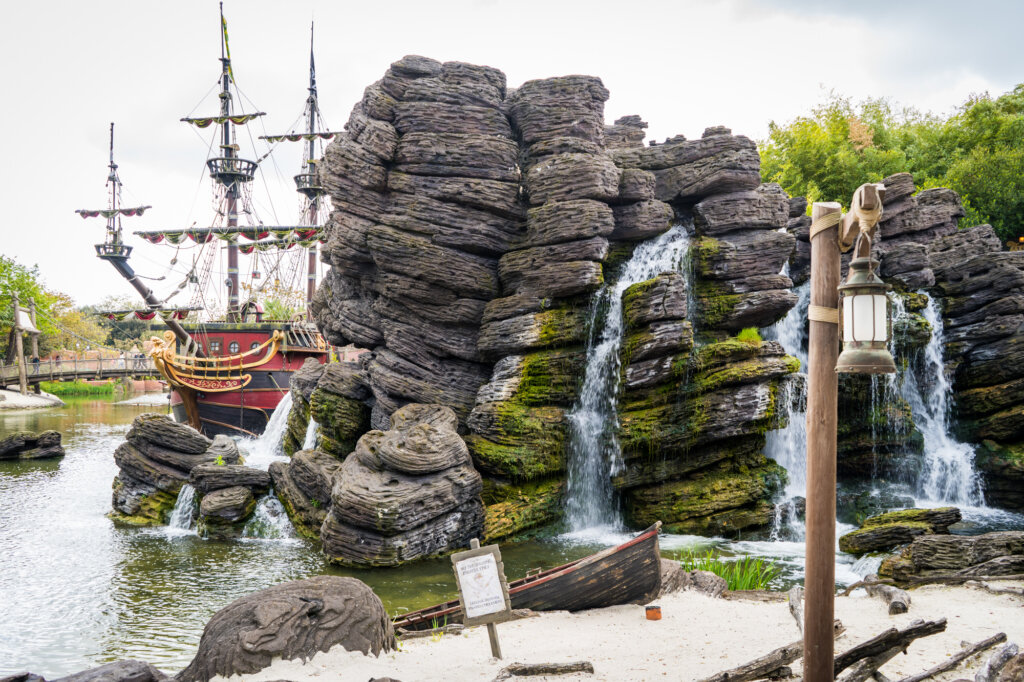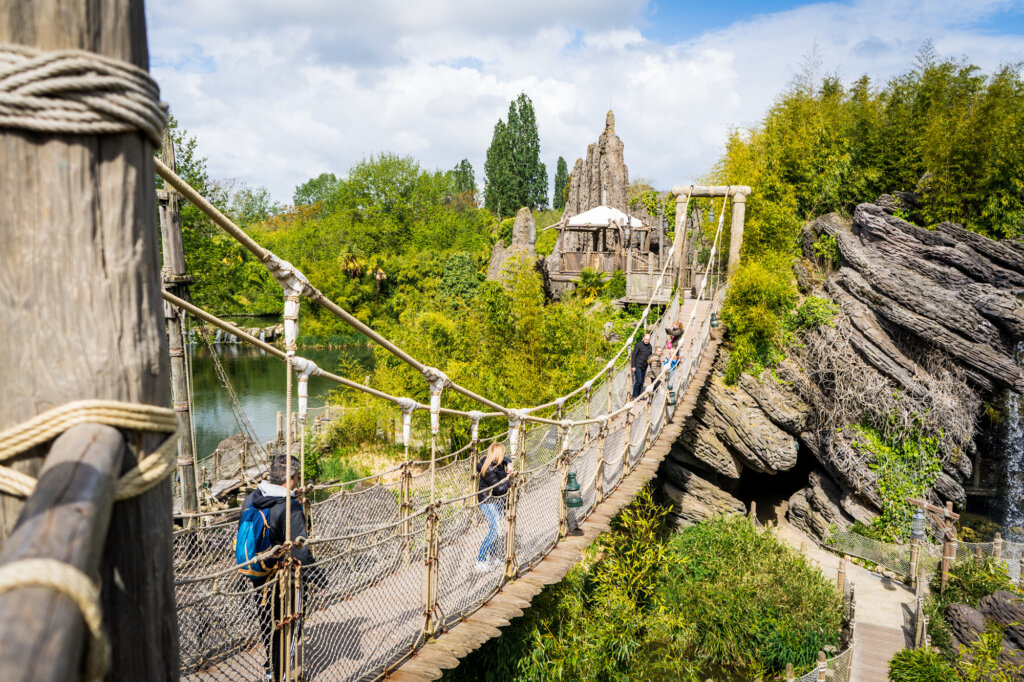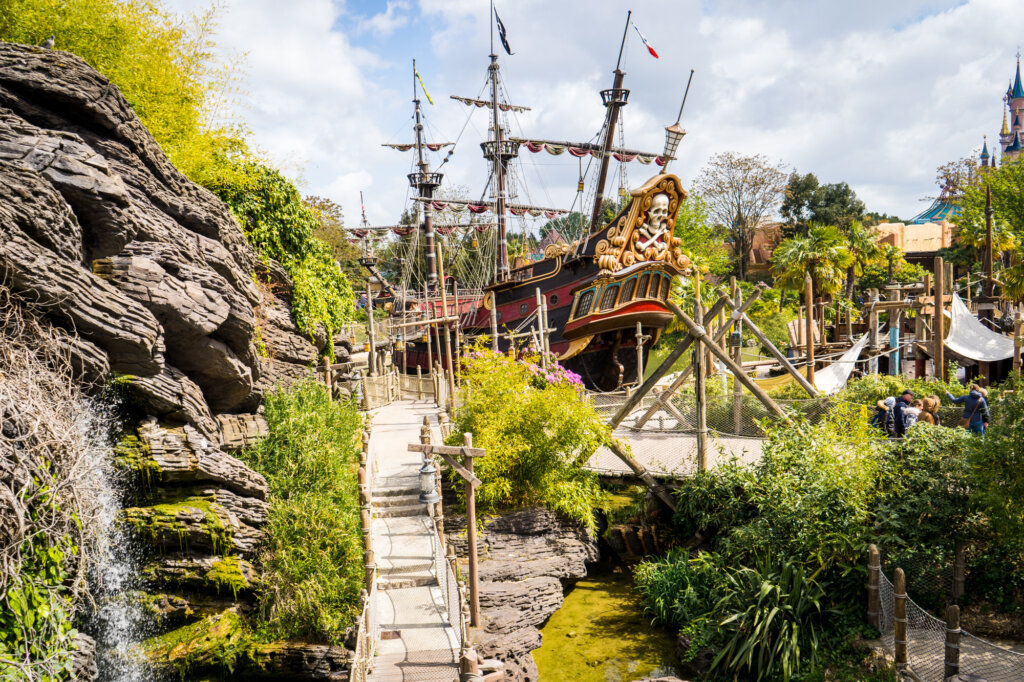 3. Snoop around the famous Cabane des Robinson
The Swiss Family Robinson treehouse is a Disney park classic, and the Disneyland Paris version (la Cabane des Robinson) is a fun attraction you should make sure to visit while in Adventureland! What's glamorous about visiting the home of a shipwrecked family you ask? Well, this may be the most epic tree house you've ever seen, with amazing views to boot! Want to admire beautifully detailed island decor that is as lovely as it is whimsical? Be sure to give this Adventureland hotspot a visit.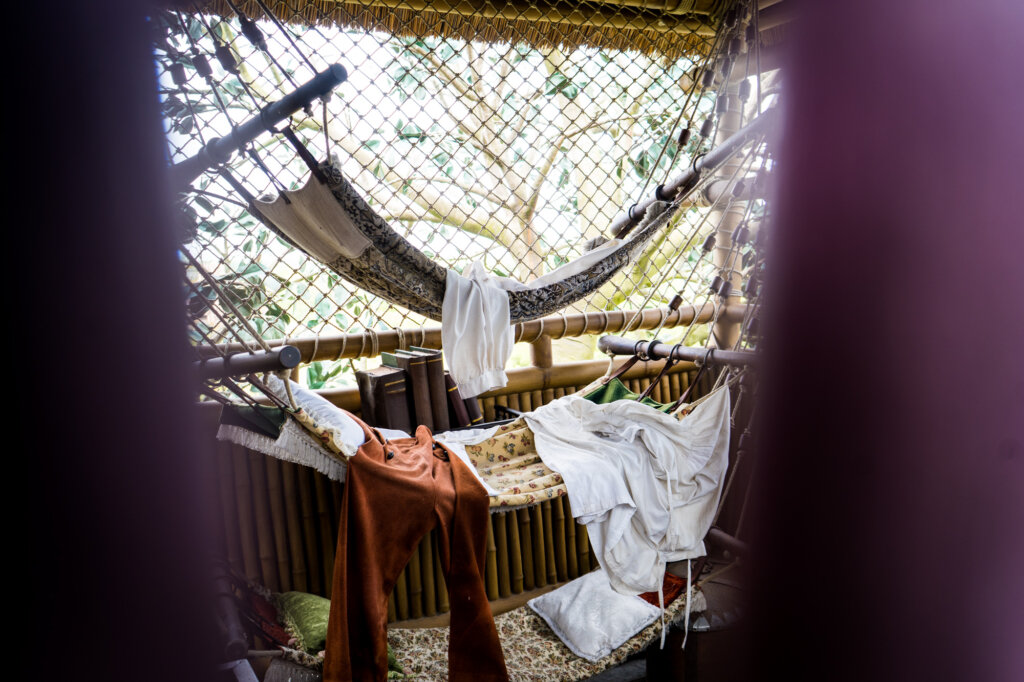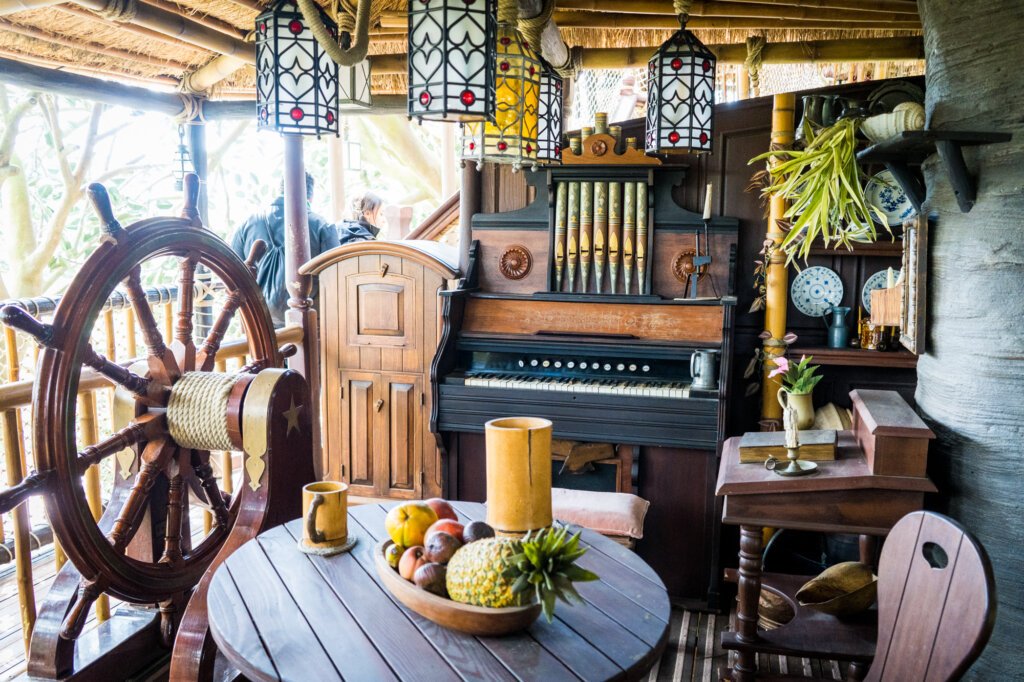 4. Experience the story of Aladdin in Le Passage Enchanté d'Aladdin
One walkthrough attraction that's often missed in Adventureland is the mysterious Passage Enchanté d'Aladdin (Enchanted Passage of Aladdin). This small trail, which brings you past several beautiful recreations of famous Aladdin scenes, is a must for any Aladdin fan!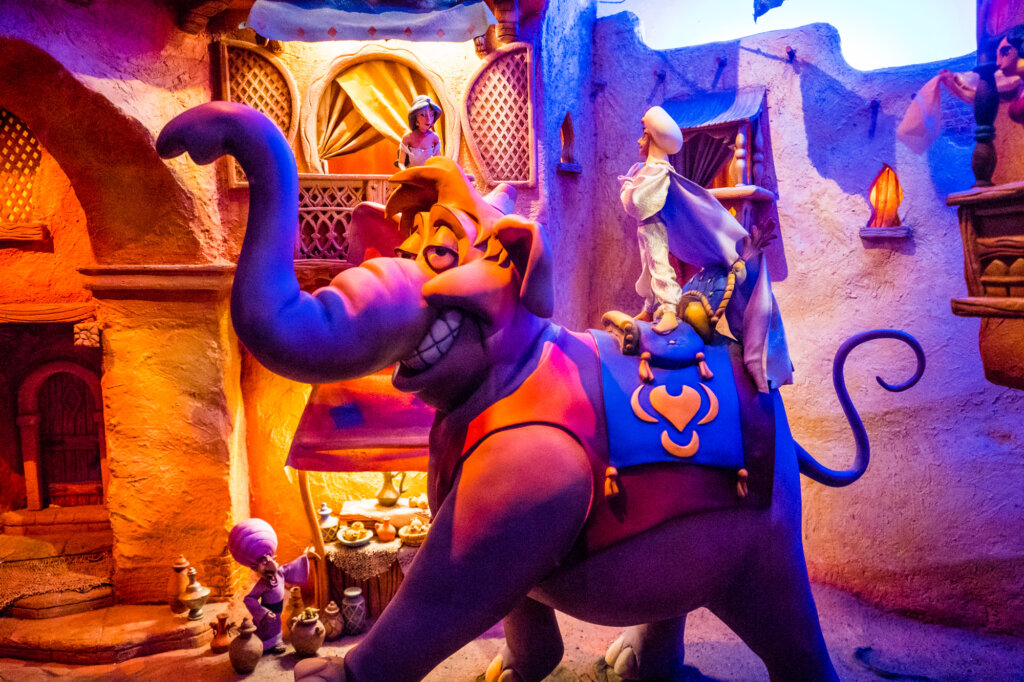 5. Hop on Indy's coaster
Last but most certainly not least, we have Adventureland's most thrilling ride – Indiana Jones and the Temple of Peril, which, as you might recall, was the first Disney attraction to feature a 360 loop! Without spoiling too much, this ride whisks you away on a runaway mining cart on a journey to the Temple of Peril. Of course, as with many things, not everything goes according to plan, but it's all about the journey, not the destination, right? ; )
Where to Eat in Disneyland Paris' Adventureland
Alright, after exploring all the wonderful nooks and crannies of Adventureland, you must be starving! Luckily for you, there are a lot of different food options to choose from. Here they are:
Captain Jack's – Restaurant des Pirates
For an atmospheric sit-down meal, Captain Jack's is hard to beat. This table service restaurant is actually integrated with the Pirates of the Caribbean ride, so you'll most likely catch a glimpse of it while waiting for and starting the ride. Plenty of time to work up that appetite! The food here focuses on seafood and Creole cuisine, with mouthwatering options from marinated prawns and cod fritters to tuna ceviche and Mahi Mahi fish steak. It's definitely not the most budget-friendly restaurant available, but if it's seafood you're craving, this is where you should go!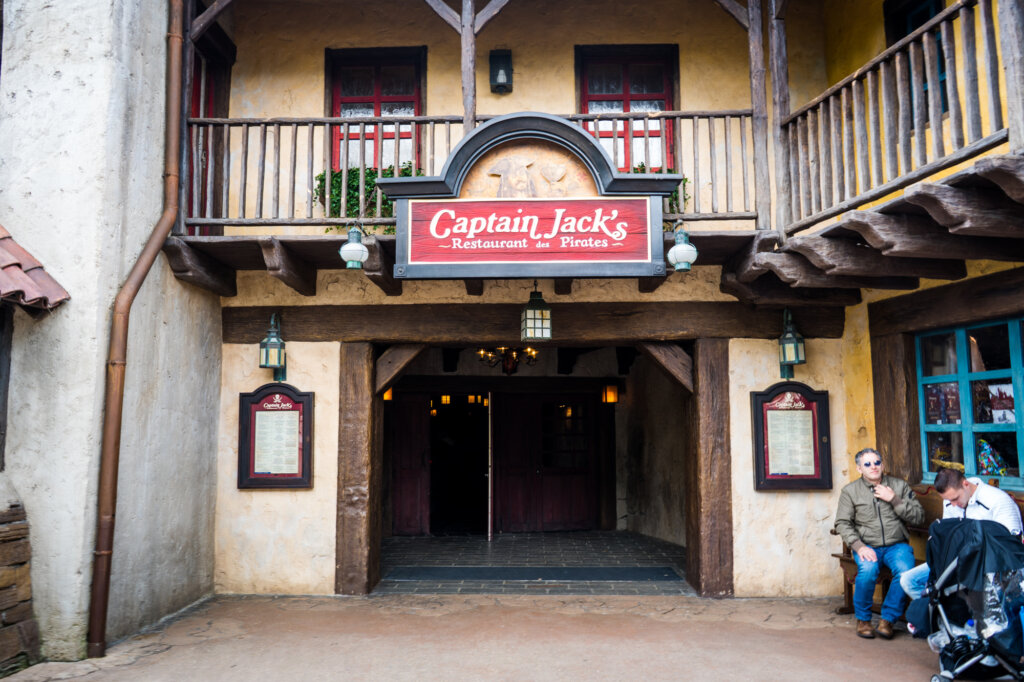 Restaurant Agrabah Café
For a buffet option in Adventureland, Restaurant Agrabah Café offers a large selection of different Middle Eastern/Moroccan foods served in an all you can eat manner, which means great value for big eaters! The atmosphere in this restaurant is gorgeous too – you'll feel as if you've been transported to an old bazaar, decorated with enchanting lamps, textiles and oh, who knows – maybe even a magic carpet or two?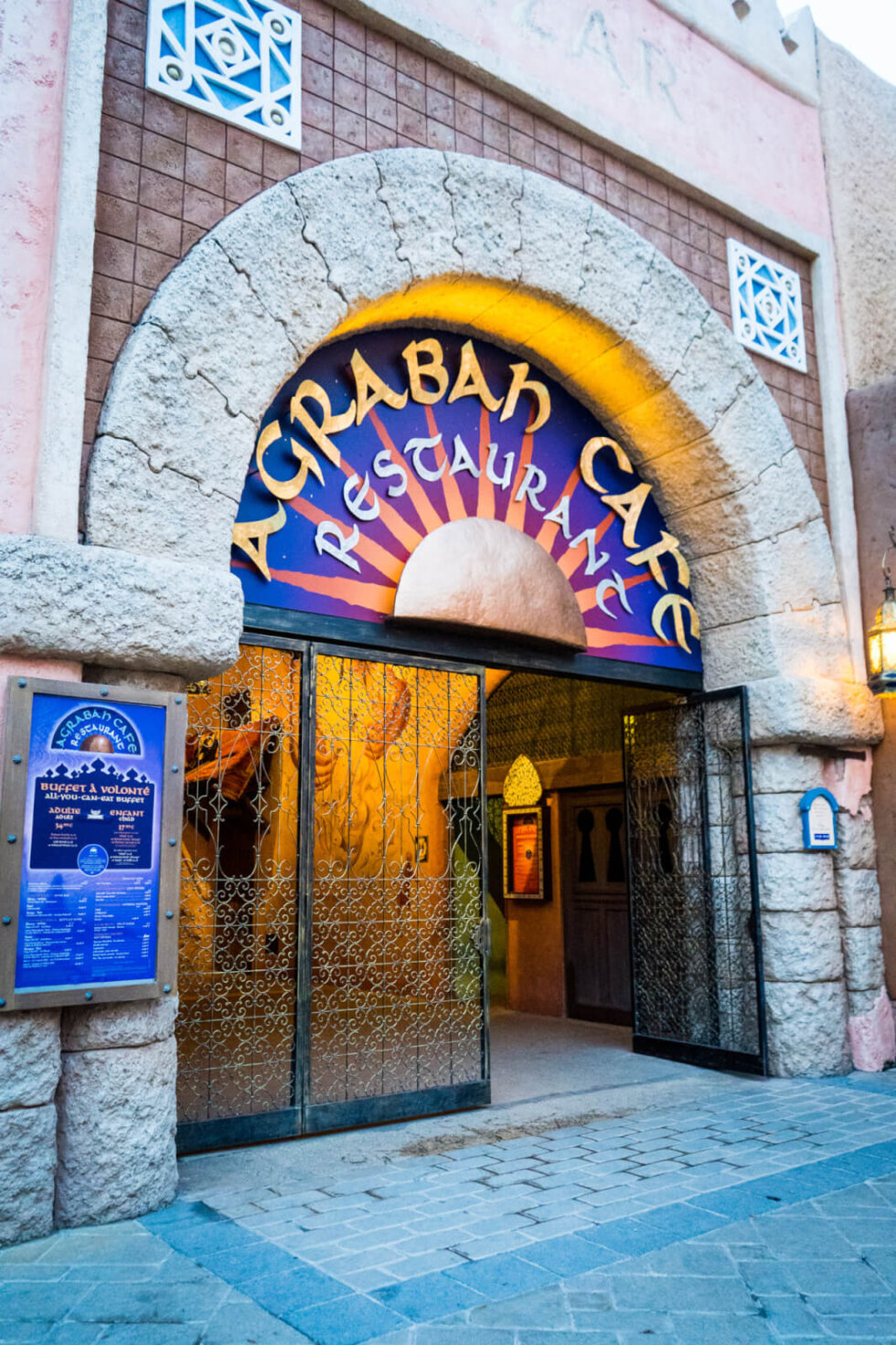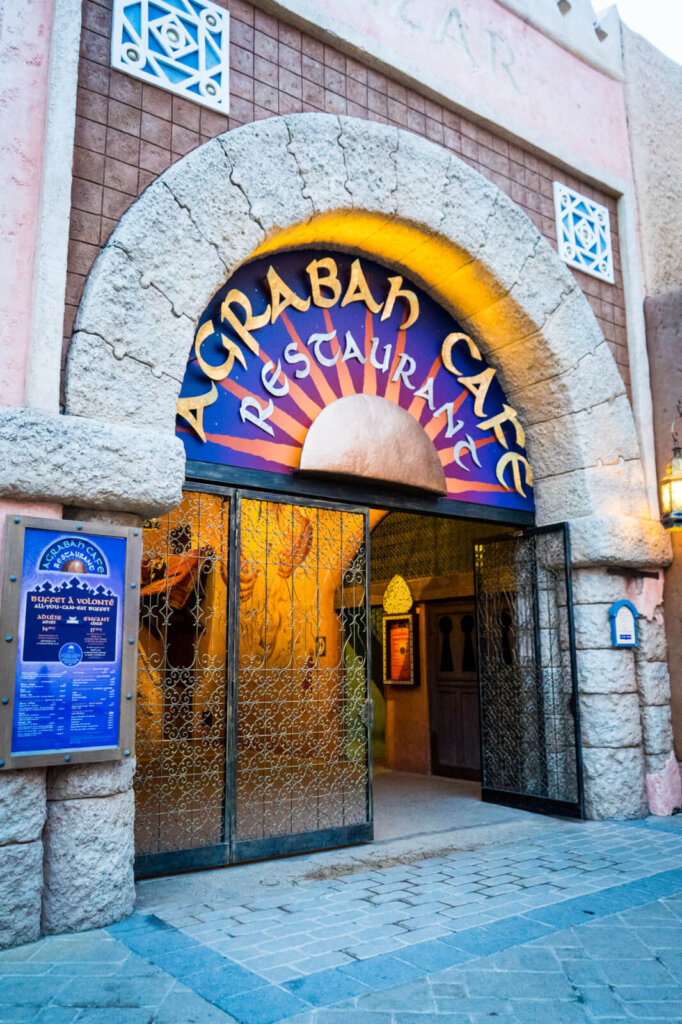 Restaurant Hakuna Matata
For something quicker and more budget-friendly, the adorable Lion King themed Hakuna Matata restaurant offers quick-service dishes like Yassa Chicken and vegetables, tomatoey beef meatballs and a tried and true classic: Hakuna Chicken Strips! After a good feed here, you'll definitely feel as if you have no worriesl.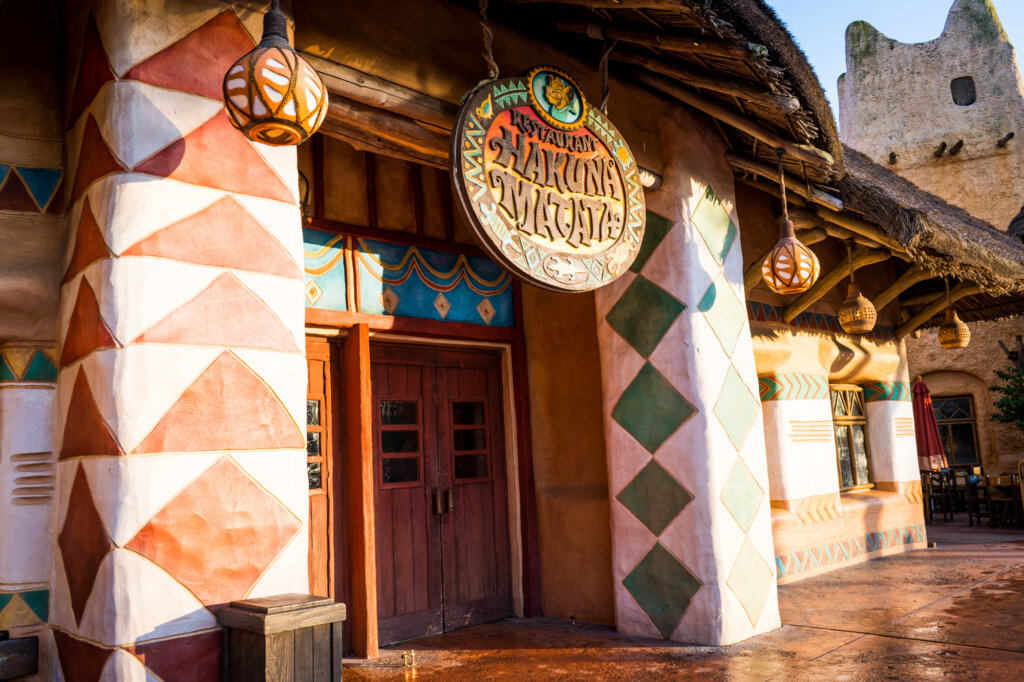 Colonel Hathi's Pizza Outpost
For some Italian grub in Adventureland, head out to Colonel Hathi's Pizza Outpost, where you'll find a Jungle Book themed eatery with plenty of pastas and pizzas to choose from.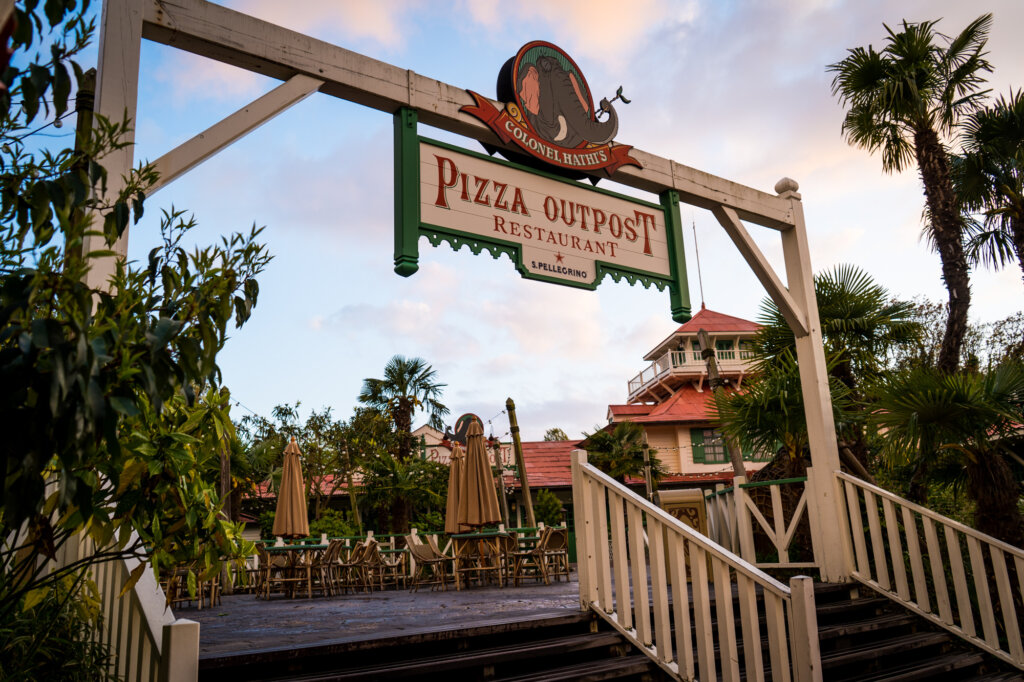 Where to Shop in Adventureland in Disneyland Paris
Now, onto the next important question… where can you get some awesome Adventureland souvenirs? Here are some spots to shop in this awesome land:
Indiana Jones Adventure Outpost
Modelled after the trading posts often seen in Indiana Jones' mysterious far flung destinations, this awesome outpost offers plenty of souvenirs for adventurous visitors, including different plushies, clothing, and of course, all sorts of Indie-inspired merch.
La Girafe Curieuse
One of the most peculiar looking shops in Adventureland is the curious-sounding Girafe Curieuse (the Curious Giraffe), housed in a tall stone house filled with fun jungle-themed goodies, from clothing and merchandise to a fun new friend to bring home.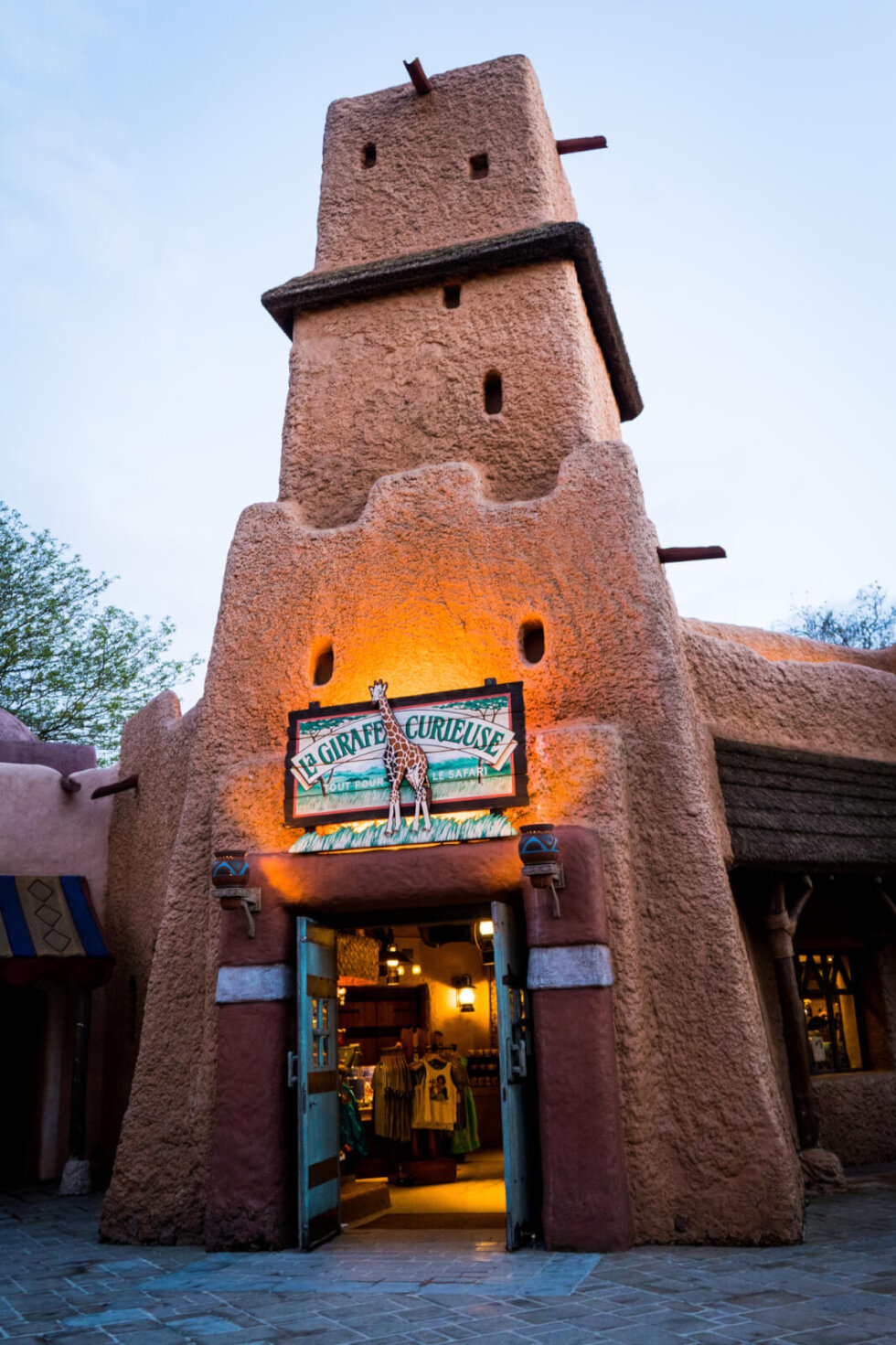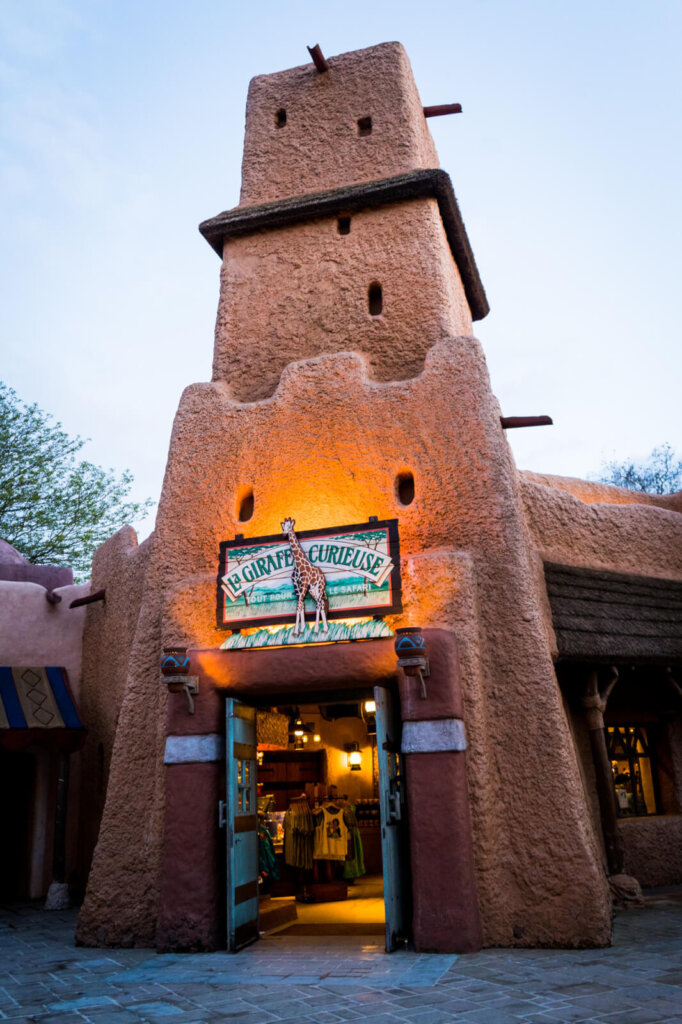 Le Coffre du Capitaine
For pirate-themed merch, a visit to Le Coffre du Capitaine is a must.
Avast there, ye pirates! If ye be looking for treasure ye've come to the right place. Walk the timber decks of this fine ship and marvel at the seafaring stores, nautical supplies and rich booty. But beware, the parrot is watching you.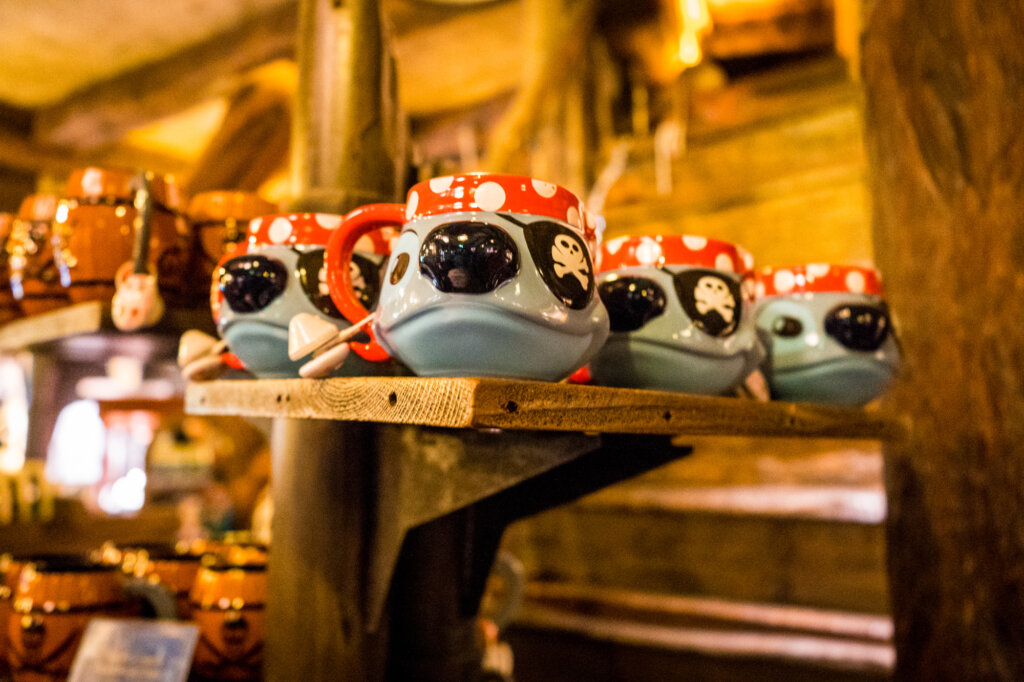 Les Trésors de Schéhérazade
This gorgeous bazaar in Adventureland is a must-visit even if you don't feel like shopping, thanks to its cool decor featuring an epic camel. You'll find standard Disney goodies here, including costumes and apparel, along with a small selection of other unique Arabian-inspired goods.
Temple Traders Boutique
Last but not least, there's the bite-sized Temple Traders Boutique, which has a tidy little collection of apparel, plushies, and even little snacks!
Hidden Gems in Disneyland Paris' Adventureland
Last but not least, there are some hidden gems in Adventureland that we need to cover before you go! Here are some neat little easter eggs to keep an eye out for:
Up's beloved Russell and Mr. Fredricksen
As they often say, "Adventure is out there!" and nowhere does this feel more true than Adventureland… it makes sense then that there's a little nod to Up in this section of the park, who can be found enjoying some peace and quiet by the water in Adventure Isle. You can easily spot them with the binoculars at the Cabane des Robinson treehouse.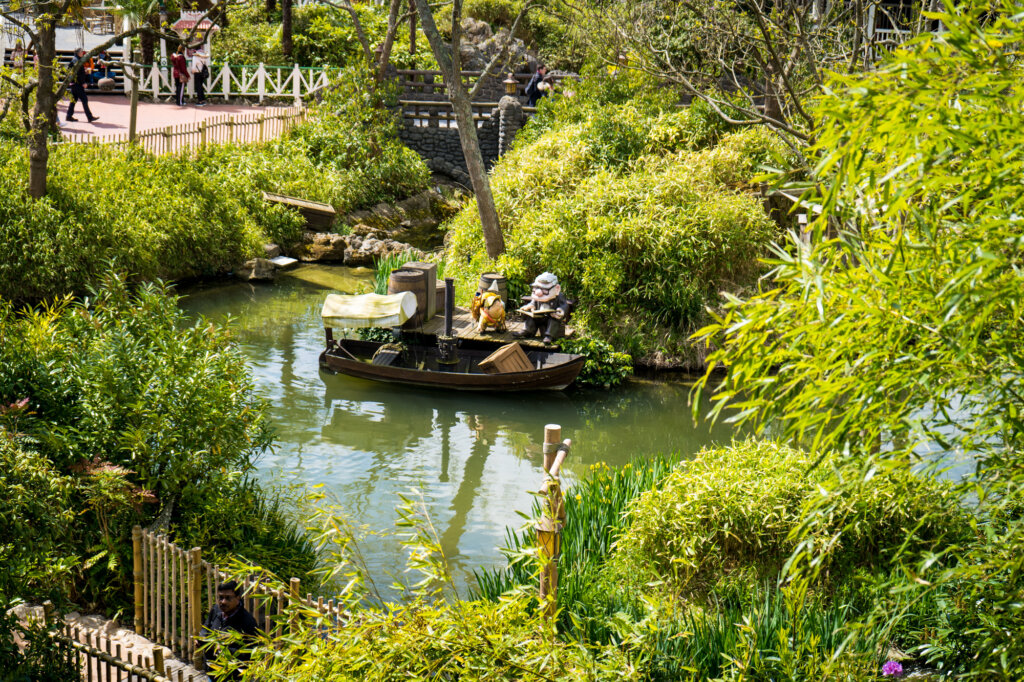 Hidden Views in Adventure Isle
The Cabane des Robinson is certainly best admired from above, but if you explore long enough around the labyrinth of tree roots and tunnels in Adventure Isle, you might catch this unique perspective in "Le Ventre de la Terre":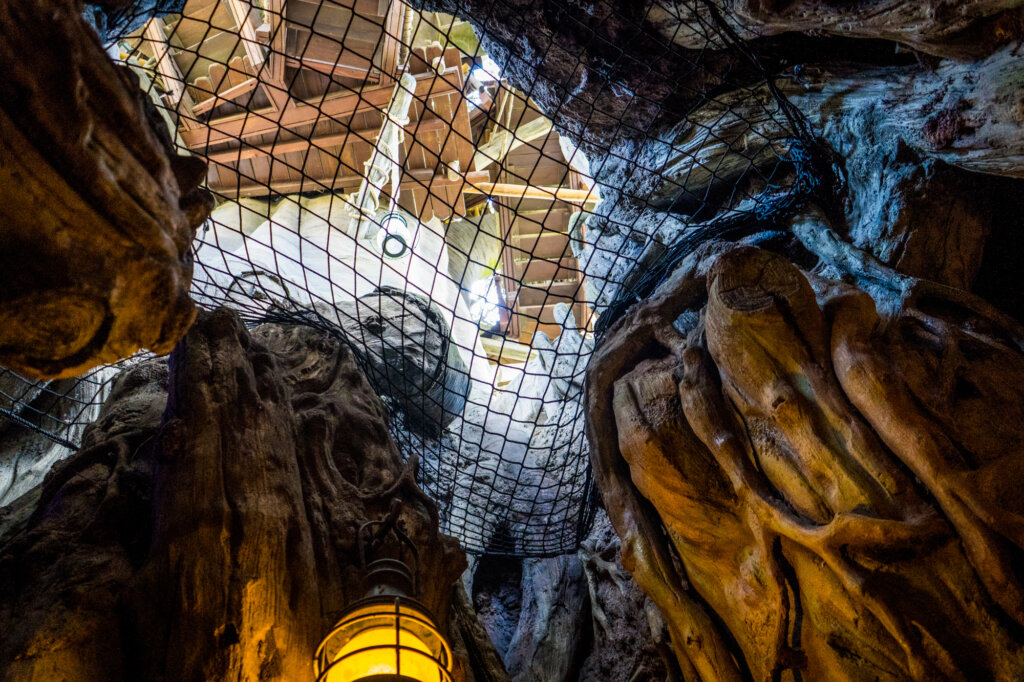 Hidden treasure in Adventure Isle
Last but not least, if you want to leave Disneyland Paris richer than you entered (which, let's be honest, is not a realistic situation in any case), be sure to explore the caverns of Adventure Isle thoroughly to find the mystical hidden treasure.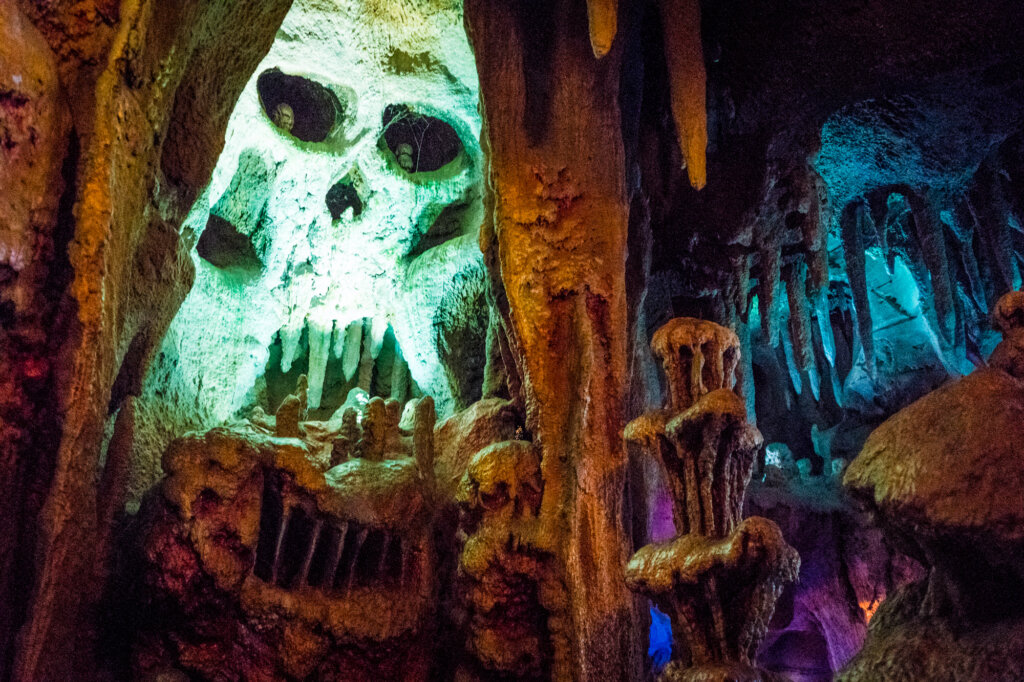 Any more questions about the Adventureland in Disneyland Paris?
We hope you enjoyed this thorough guide to the Adventureland in Disneyland Paris! Let us know in the comments if you have any more questions!