*FYI - this post may affiliate links, which means we earn a commission (at no extra cost to you) if you purchase from them. Also, as an Amazon Associate I earn from qualifying purchases. For the full scoop on what this means, feel free to check out our Privacy Policy and Disclosure.
---
If you're looking for a way to satisfy all your Disneyland Resort cravings from home – have no fear, there are plenty of wonderful Disneyland recipes out there that can help you fill that sugary, caloric void in your heart. Make a few of these, blast some Disney tunes, and you're well on your way to creating a magical, indulgent afternoon.
From Dole Whip and churros to beignets and mint julep, this article covers some of the best Disneyland copycat recipes you can find online. Sure, there are a handful of official Disneyland recipes out there, but the wonderful Interwebs have also blessed us with some amazing Disney copycat recipes from talented chefs and bloggers… so why not take advantage?
NOTE: While many of the items below can be found at various Disney Parks, this post focuses specifically on well known treats and copycat recipes for Disneyland Resort in Anaheim.
Putting together this post was a real joy (and a true recipe for hunger). We hope you enjoy these tasty Disney food recipes to tide you over until your next park adventure!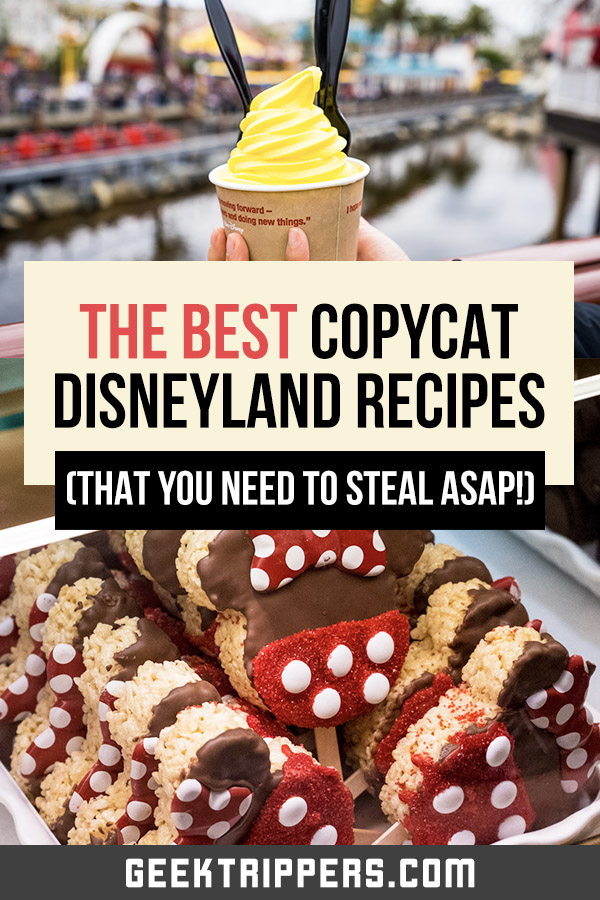 1. This Disneyland Dole Whip Recipe
Ask any Disneyland fan what their favourite treat is on a cold day, and odds are their answer will be Dole Whip. This tasty (healthy-ish? maybe?) dessert is a Disneyland staple, and one that you definitely should try to recreate at home!
While Disney posted an "official" Dole Whip recipe recently with a tantalizingly simple 3 ingredients, many have complained that (while tasty) it's not the same as the Disneyland Dole Whip which is dairy-free. For a dairy-free Dole Whip recipe that'll transport you straight to Disneyland, click here for a great three ingredient recipe courtesy of Food, Folks and Fun.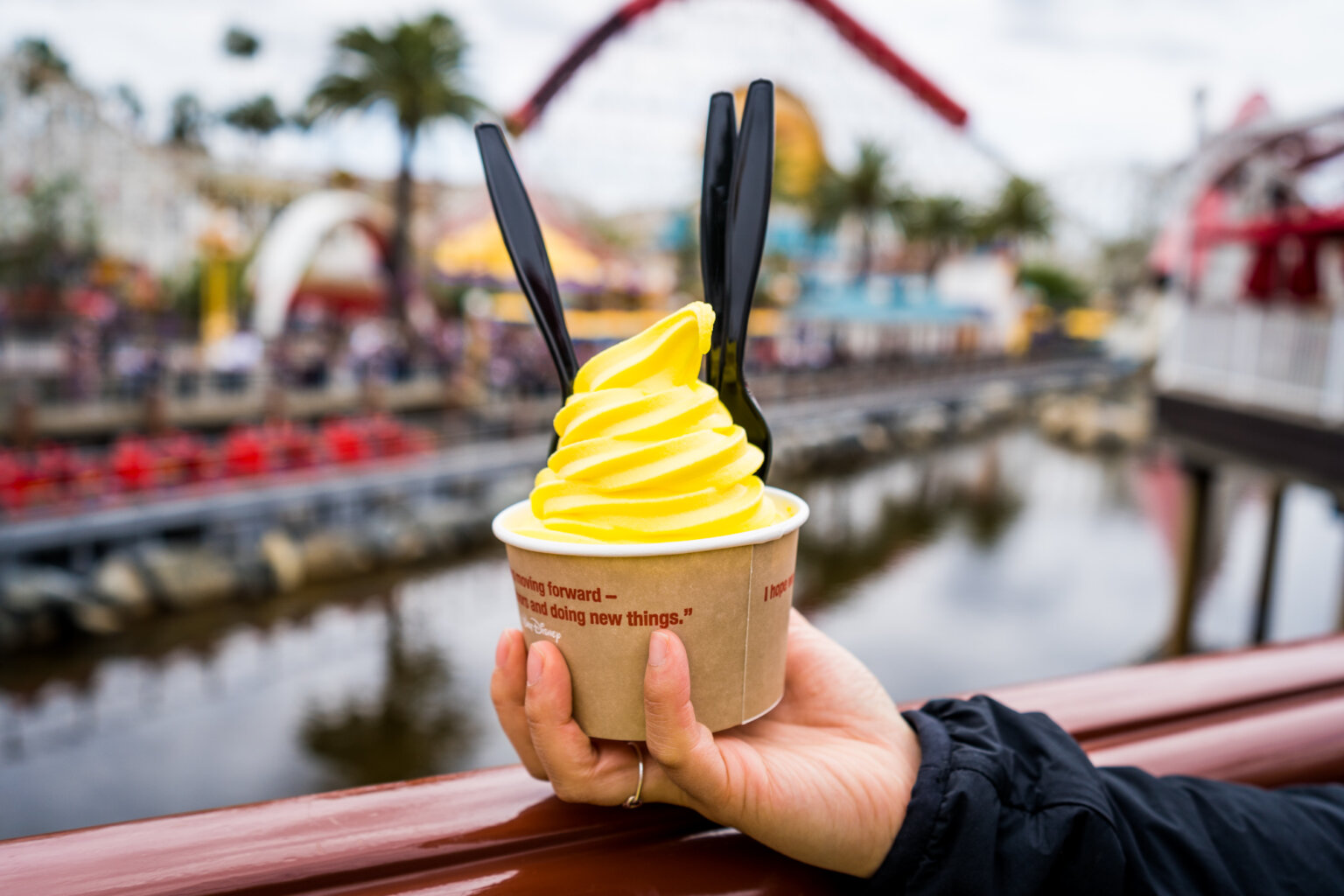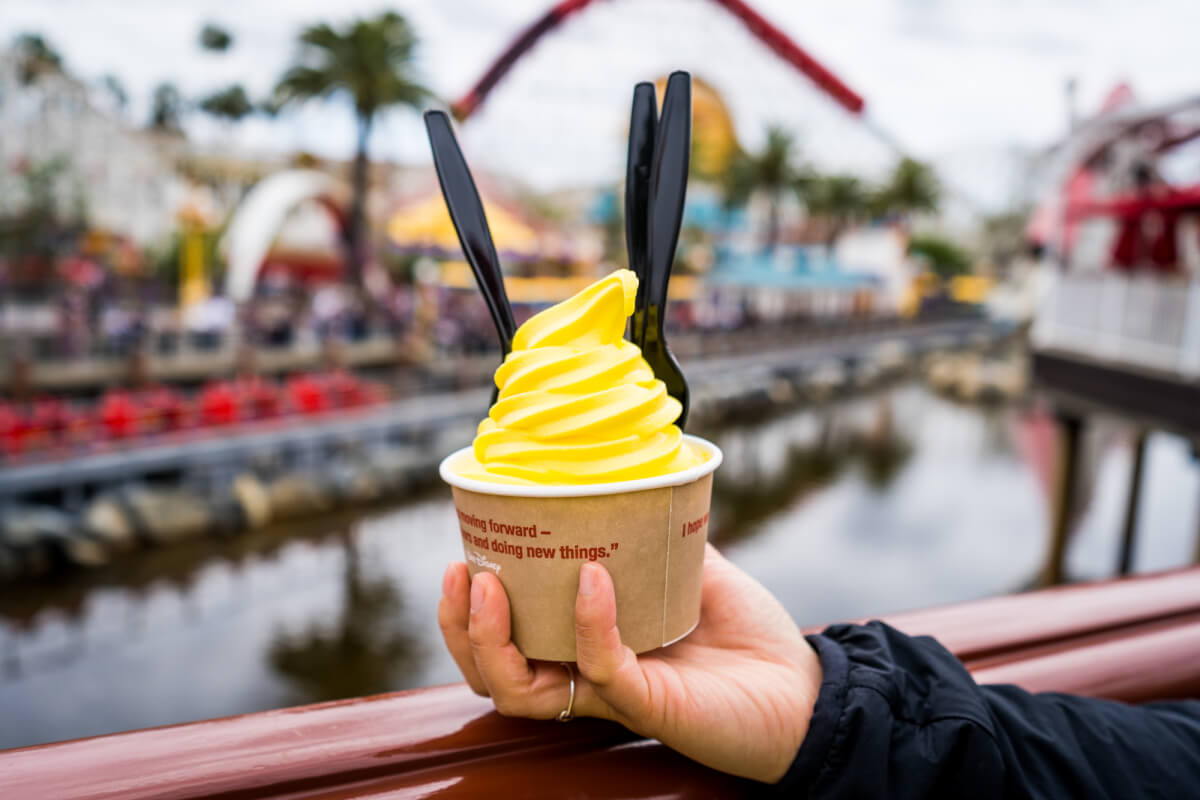 2. This Disneyland Corndog Recipe
Just looking at a photo of Corn Dog Castle can evoke the most delicious smells and memories. I mean, is it possible to smell a place just by reading it? I think so. If you're feeling for some tasty, crispy, perfect, hand-dipped corndogs à la Disneyland, then make sure you try this copycat recipe from Lil Luna.
[pin]https://www.pinterest.ca/pin/330944272622245899/[/pin]
3. This Disneyland Churro Recipe
Speaking of words you can smell, how about some crispy, cinnamon-ey Disneyland churros?! Churros have always been a guilty pleasure of mine, certainly the perfectly piped giant ones at Disneyland. If you want to brave a kitchen adventure and make some of these sugary delights at home, check out this Disneyland churro bites copycat recipe courtesy of Picky Palate.
You can also get a recipe for Churro Bites here from the official Disney Parks blog.
[pin]https://www.pinterest.ca/pin/447545281725031290/[/pin]
4. This Disneyland Mint Julep Recipe
Mmm a refreshing mint julep would certainly go down a treat right now, and what better way to enjoy one than recreating the tasty Disneyland version sipped by countless happy revellers in New Orleans Square? You can click here for a copycat Disney mint julep courtesy of A Table Full of Joy.
[pin]https://www.pinterest.ca/pin/68539225565203573/[/pin]
5. This Disneyland Monte Cristo
The famous Monte Cristo sandwich from the Blue Bayou is one of the most famous and beloved of Disneyland's wide food selection, delighting global customers since 1967. Well, consider sinking your teeth into one of your own making with this delicious-looking copycat recipe courtesy of The Kitchen Magpie.
There is also an official Disney version that has been released! Click here for the official Disney Monte Cristo recipe.
[pin]https://www.pinterest.ca/pin/507429083016534728/[/pin]
6. This Disneyland Gumbo Recipe
New Orleans Square is (unsurprisingly) a foodie hot spot at Disneyland, and another fan favourite is the oh so comforting gumbo, filled with juicy pieces of meat and mounds of flavour-soaked rice. If you want to get your gumbo on at home, here's a tasty copycat recipe from there courtesy of Six Sister's Stuff.
[pin]https://www.pinterest.ca/pin/519673244499442018/[/pin]
7. This Disneyland Corn Chowder Recipe
For those who prefer to slurp down the creamy comfort of the Creamy Corn Chowder in New Orleans Square, there are loads of great recipes you can try! This copycat chowder recipe via Simply Inspired Meals is studded with flavourful bites of corn, potato, and of course, some lovely sourdough to sop it all up. Irresistible, we say!
[pin]https://www.pinterest.ca/pin/95420085840533473/[/pin]
8. This Disneyland Beignets Recipe
And for our last copycat recipe for New Orleans Square, we've saved (possibly) the best for last: tasty beignets! These beignets of course have the bonus of being not only decadent, but adorable. The Disney Parks blog even released an official recipe that you can find here to create your own lovely little Mickey-shaped beignets at home.
View this post on Instagram
9. This Disneyland Potato Soup Recipe
Disneyland's Carnation Café is home to many luscious goodies, but none is more beloved than the incredible Loaded Potato Soup, which is (as some might describe it) a bite of true heaven itself! Creamy, hearty, and loaded with cheesy potato goodness, click here for a tasty copycat recipe via Disney Food Blog.
[pin]https://www.pinterest.ca/pin/418342252890455294/[/pin]
10. This Disneyland Cornbread Recipe
Missing the cornbread from Big Thunder BBQ? For a simple and satisfying Disneyland recipe to recreate at home, why not whip up a batch yourself? This unique copycat recipe as seen on The Disney Chef comes with a magical unexpected ingredient….. cake mix! Don't knock it til you've tried it.
[pin]https://www.pinterest.ca/pin/484488872415967603/[/pin]
11. This Disneyland Bengal Barbecue Recipe
Bengal Barbecue is always one of our go-tos for the perfect, satisfying Disneyland meal… so you best believe we're eager to get our fix at home. To recreate those amazing barbecue skewers like you can get in this famous Adventureland establishment, check out this great video tutorial via Chef Tips to get your fix!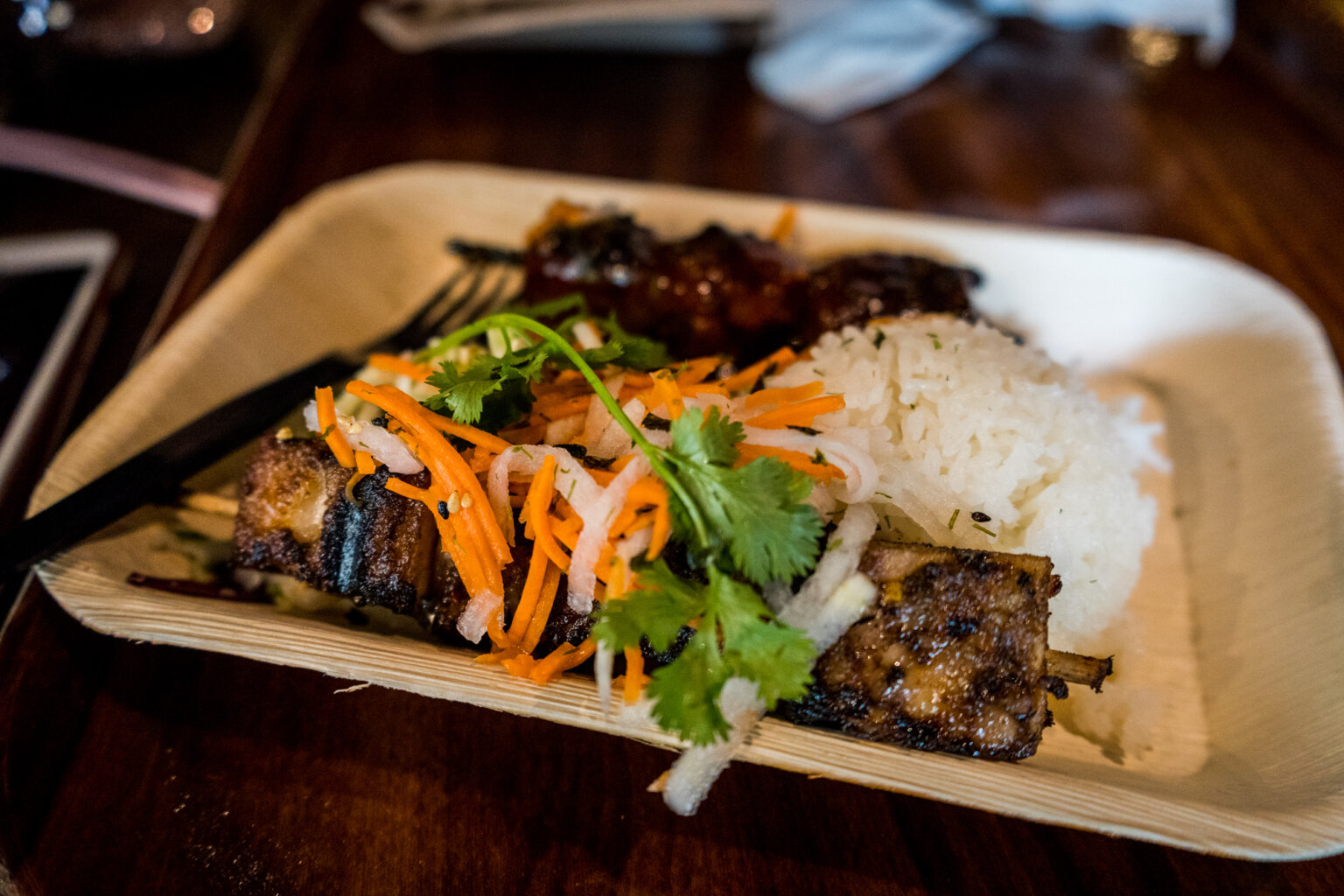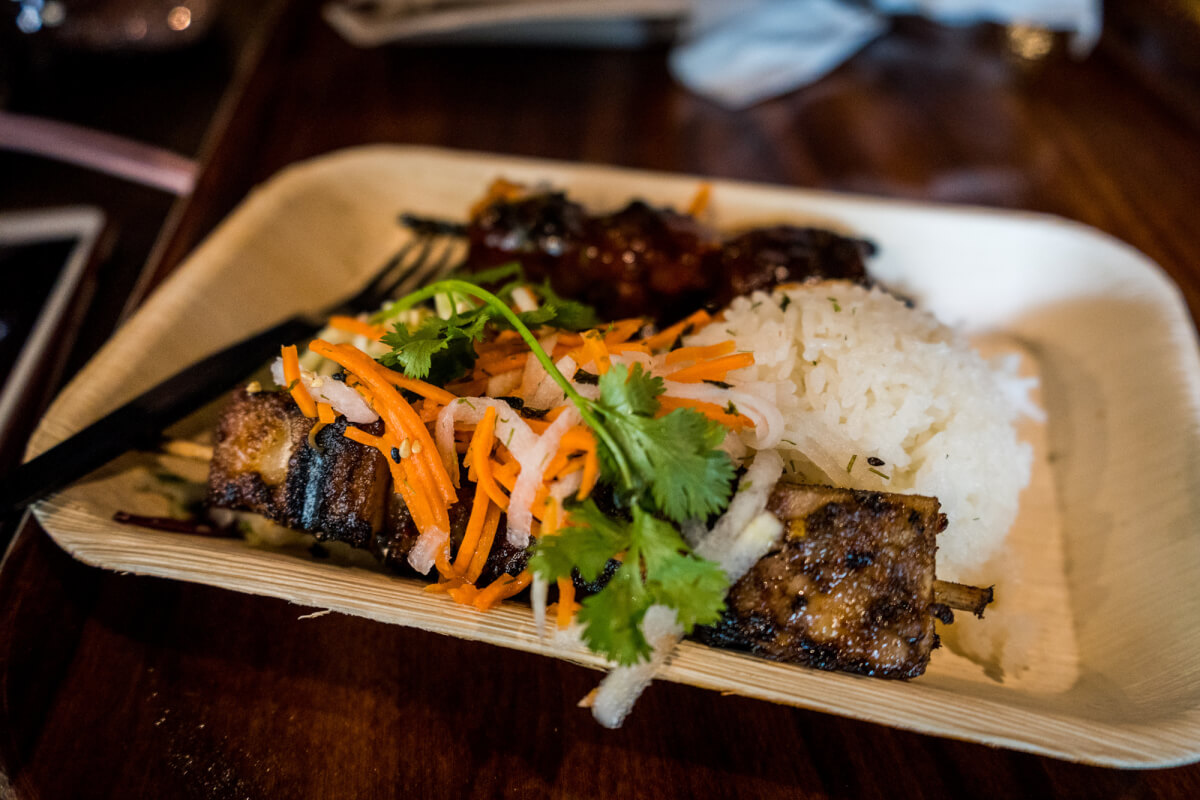 12. These Disneyland Rice Krispy Pops
Rice Krispy treats are among the easiest recipes to conquer, so if you want an impressive, satisfying, and uncomplicated Disneyland recipe to recreate at home, why not go for some yummy Mickey and Minnie shaped Rice Krispy pops? The best part about this treat is you can customize it however you want. Click here for an easy step by step tutorial courtesy of What Charlotte Baked.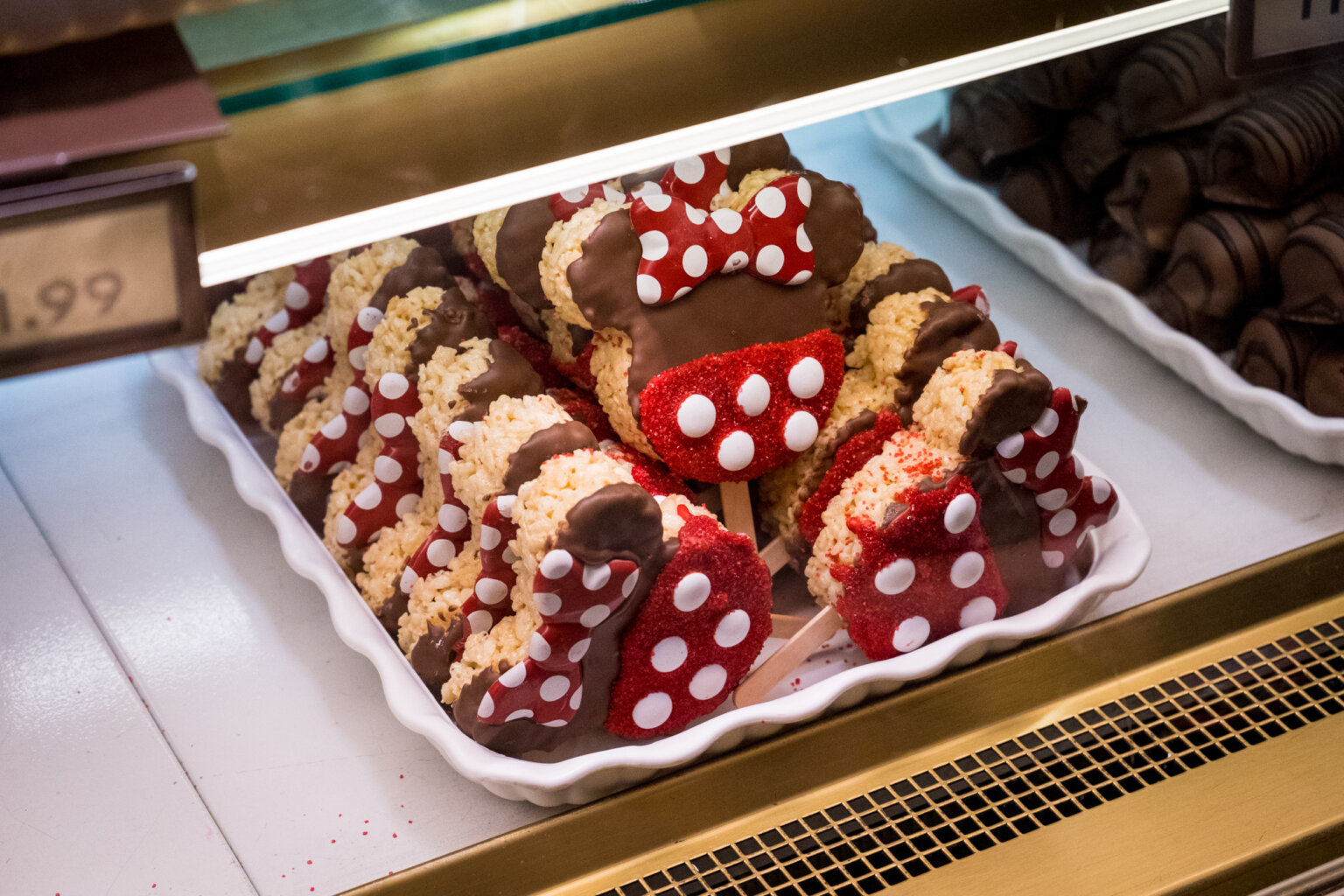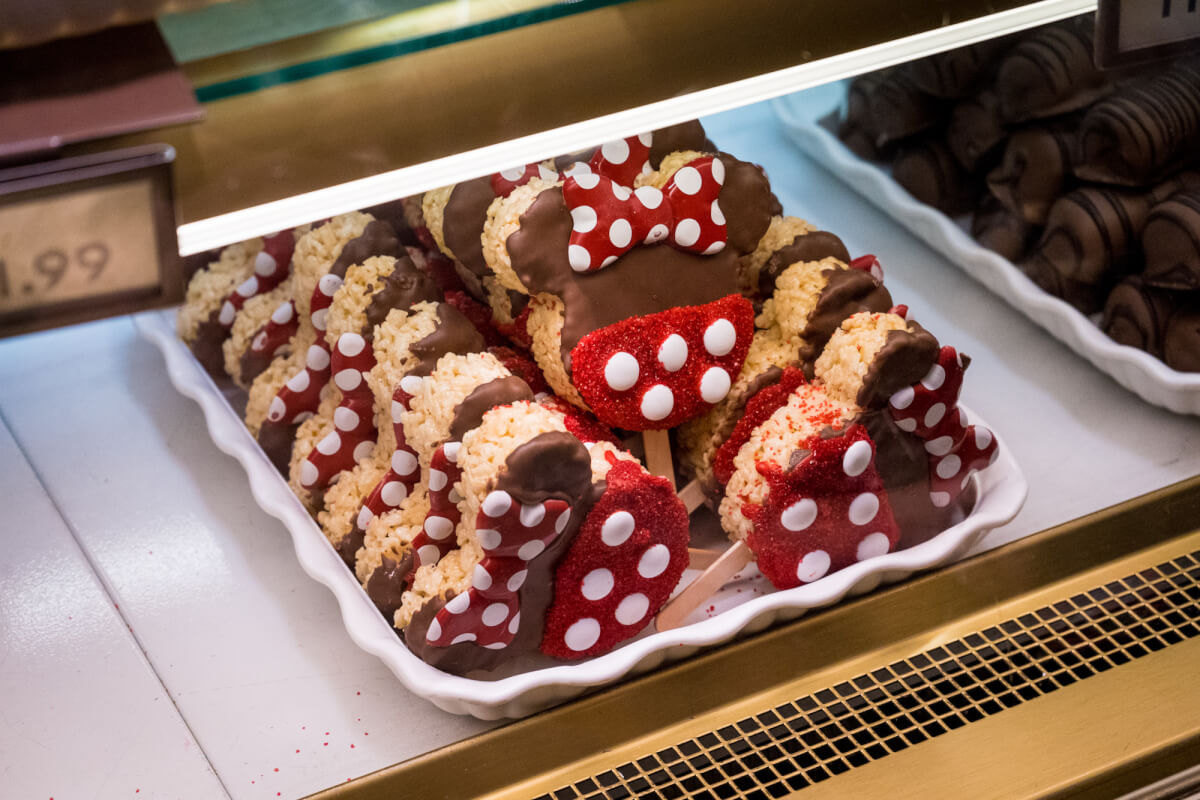 13. This Disneyland Turkey Leg Recipe
Ahhh giant turkey legs…. is there anything more quintessentially Disney than this mammoth hunk of deliciousness? If you want to treat yourself to a smoky, messy turkey leg at home, there is of course a recipe you can follow to recreate this perfect Disney experience from your own kitchen. Click here for a copycat recipe from Hey Grill Hey.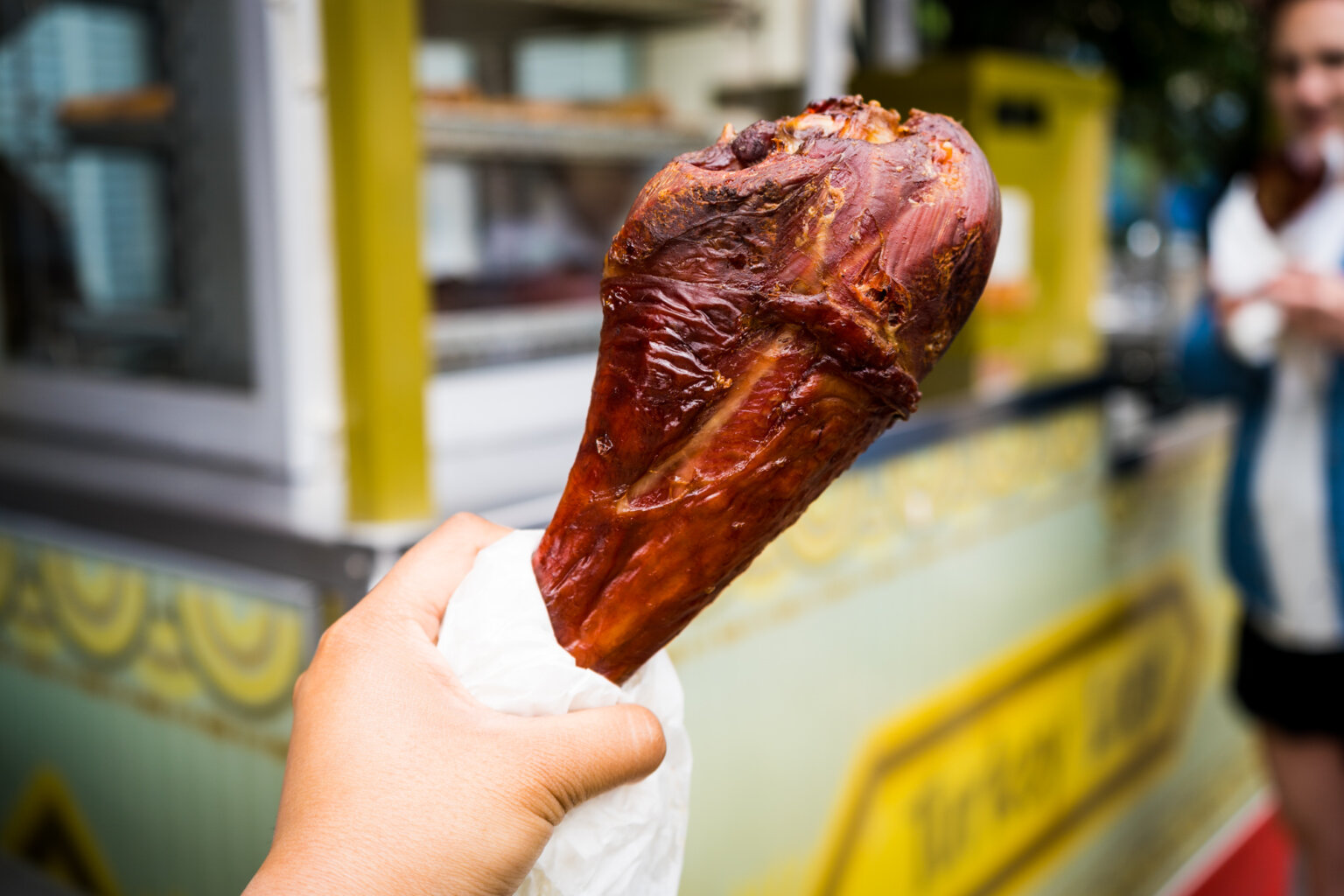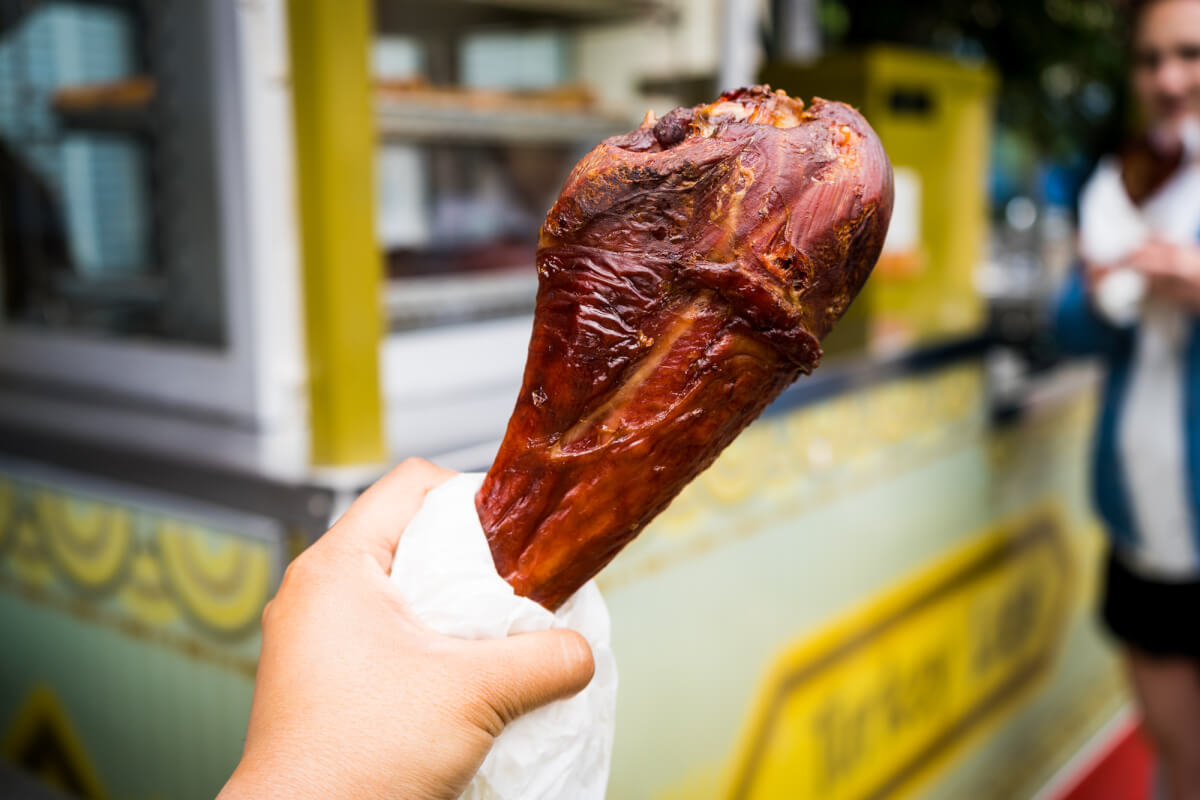 14. Lastly… This Disneyland Blue Milk
If you're looking to fulfill your cravings of the oh so Instagrammable Bantha Chai from Galaxy's Edge, then the good news is, the recipe has been revealed in an official Galaxy's Edge cookbook! This is one of those tricky recipes that is oft attempted, but never properly replicated due to its complex ingredients… but now you have the official word! Click here for THE Blue Milk from Disneyland Recipe that will fulfill all those cravings.
[pin]https://www.pinterest.ca/pin/517843657153513096/[/pin]