*FYI - this post may affiliate links, which means we earn a commission (at no extra cost to you) if you purchase from them. Also, as an Amazon Associate I earn from qualifying purchases. For the full scoop on what this means, feel free to check out our Privacy Policy and Disclosure.
---
After watching and enjoying every episode of Riverdale, it's no surprise we're just as obsessed with the companion series concerning another Archie comics character – Sabrina Spellman.
But the Sabrina of Chilling Adventures of Sabrina is nothing like her 90s TV counterpart, due in large part to how creepy this supernatural horror series is, as opposed to a teen comedy.
Part of Chilling Adventures of Sabrina's allure is the atmospheric location of Greendale; the town across the river from Riverdale where Sabrina, her aunts and her friends all live.
And just as we wondered when watching Riverdale, we found ourselves wanting to know, "where is Greendale?" and "how can we visit it ourselves?!"
So, if you've been wondering that yourself, you are in for a treat (not a trick!) as we have scoured the net to find all the filming locations for Chilling Adventures of Sabrina in this guide.
Save this post for later on Pinterest: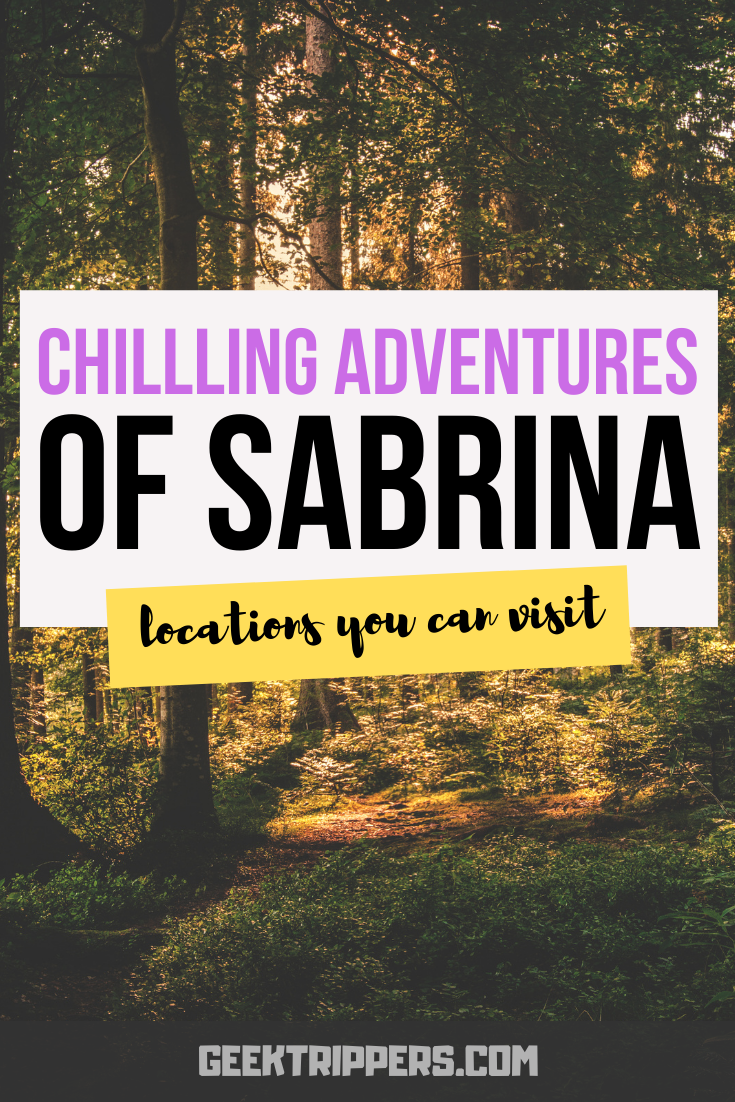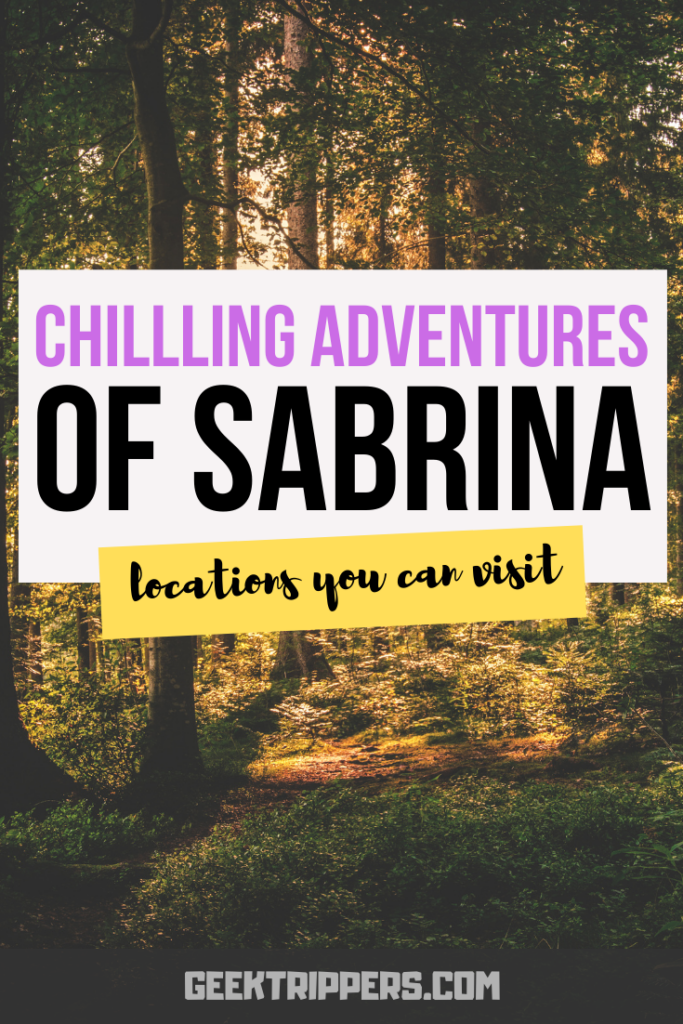 First: Is Greendale a Real Place?
Technically, yes, there is a village called Greendale in Wisconsin but this is definitely not where the television series is set or filmed.
According to numerous mentions within both the Riverdale and Chilling Adventures of Sabrina episodes, we know that in the Archie universe, Greendale is across the Sweetwater River from Riverdale.
As we surmised in our post on filming locations in Riverdale, both towns are located in New York State, which makes sense as many witches in Sabrina settled in Greendale when fleeing persecution from Salem.
Unfortunately, however, both Riverdale and Greendale are fictional, although you can visit many recognizable locations in and around Vancouver, where much of the filming takes place!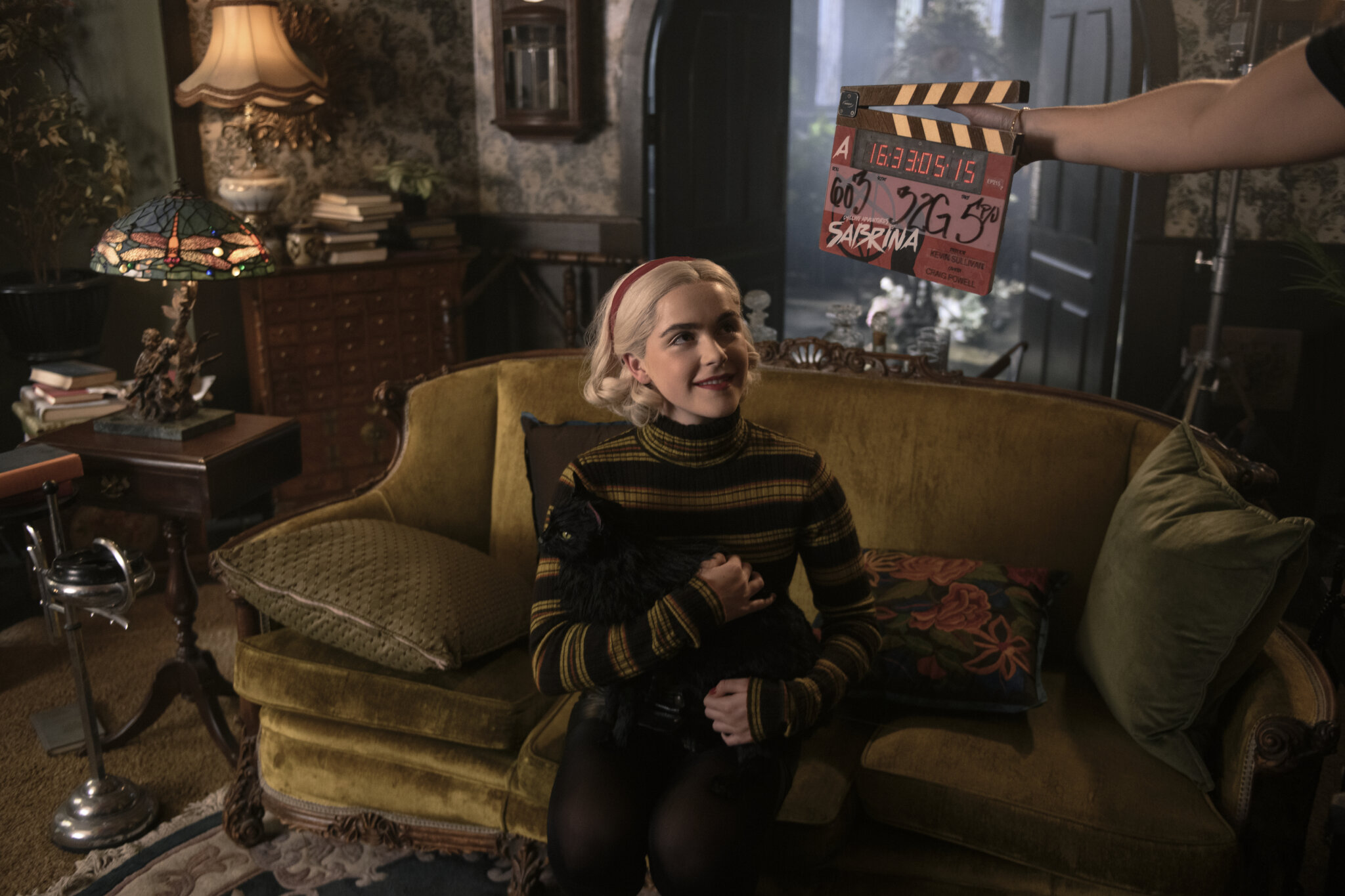 Chilling Adventures of Sabrina Filming Locations: a Full List!
Pack your bags and hop on a flight to Vancouver because, not really surprisingly, pretty much all of Chilling Adventures of Sabrina is filmed in or nearby to Vancouver in British Columbia.
Many of the filming locations are rather vague (you can thank all those creepy forest shots) or on a studio stage, but there are plenty you could actually visit yourself to pretend you're walking down the street of Greendale.
Cloverdale, BC (AKA Downtown Greendale)
Most scenes showing Sabrina and the gang in Greendale were filmed in Cloverdale, a small town in BC near Surrey.
If they're walking down the street, or you see an establishing shot of Greendale, then it was most likely filmed in Cloverdale – see Cerberus Books in a minute!
They're back BTS with Sabrina. They say that the witches are forcing merchants in Greendale to give reel good deals today!!! @sabrinanetflix @TCAOSabrinaTV @SabrinaEurope @Sabrina_Podcast @yvrshootstweets @WhatsFilming pic.twitter.com/6TvW2rpGUq

— Paul Orazietti (@Paradeguy) December 11, 2019
Paramount Gentleman's Club, New Westminster, BC (AKA Paramount Theater Exterior)
In the very first episode of Chilling Adventures we see Sabrina and the gang enjoying a scary movie, then bumping into their teacher Ms Wardwell, outside Greendale's Paramount Movie Theater.
Funnily, the exterior shots were filmed at the Paramount Gentleman's Club in New Westminster – yep, that's right, basically a strip club!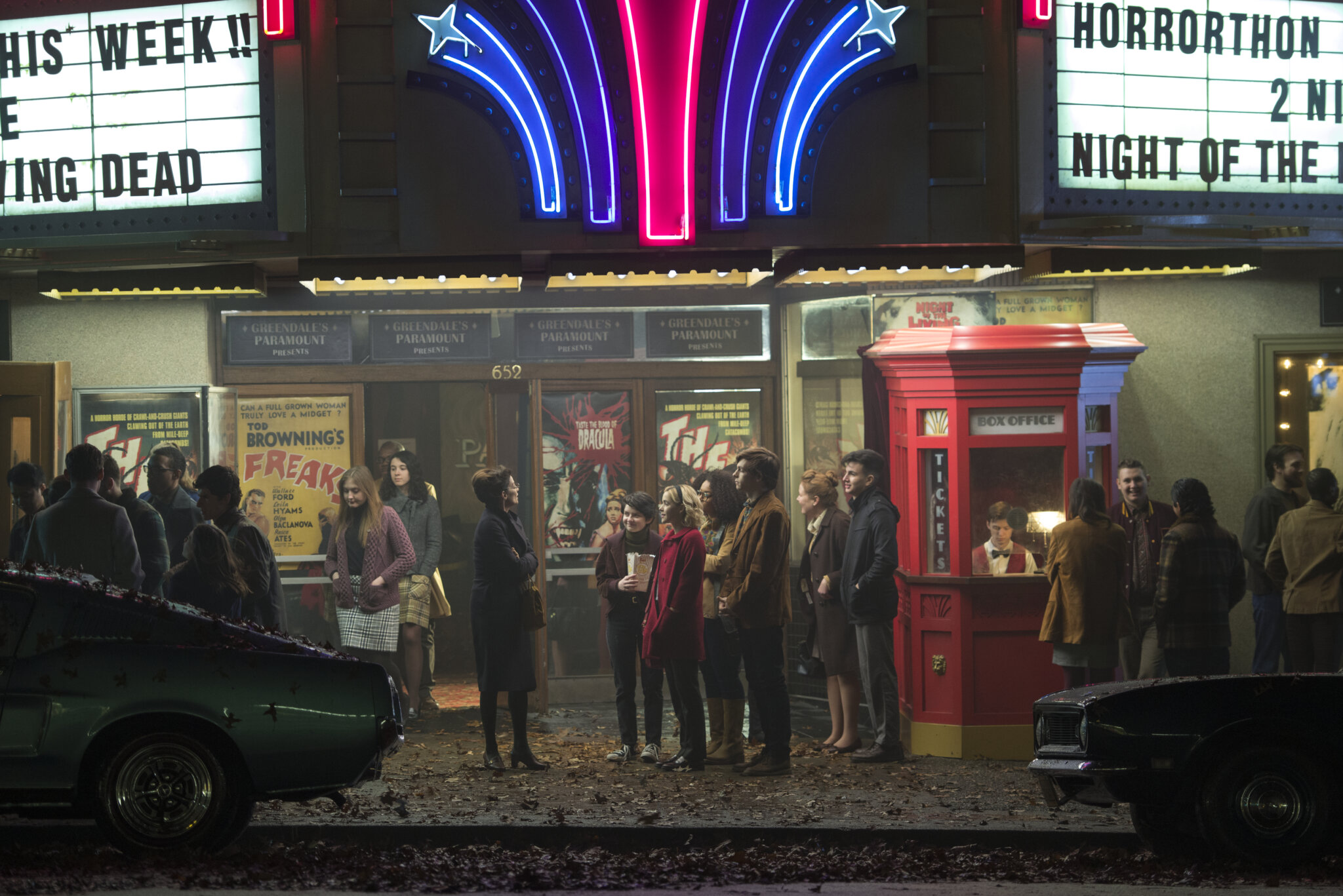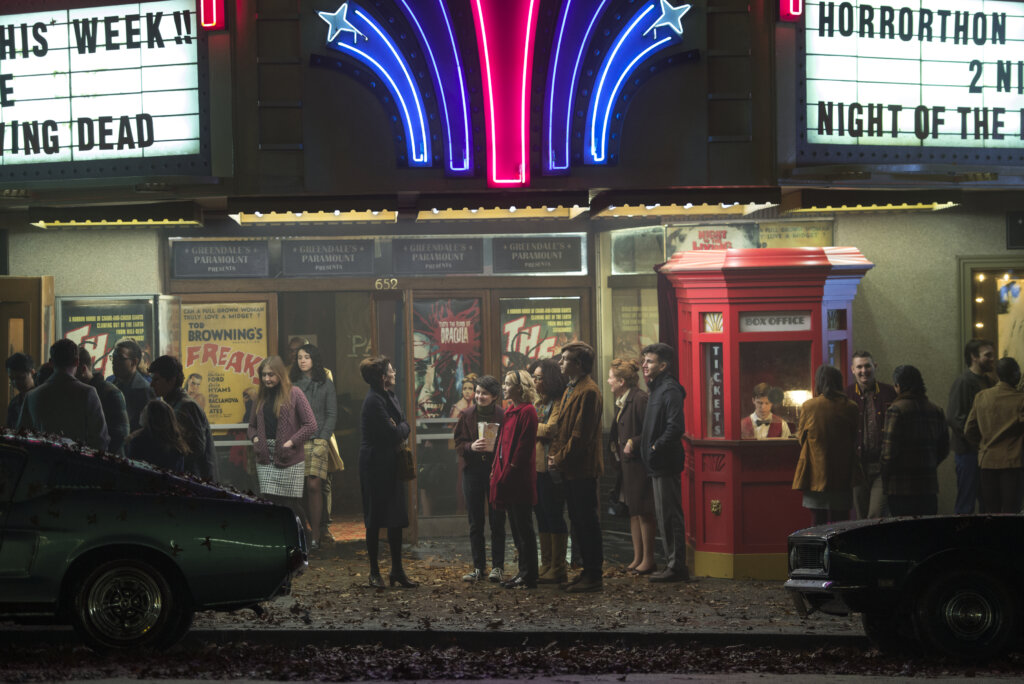 They changed the information on the sign to make it look like a family-friendly movie theater instead, but the actual building exterior is suitably retro to go with the Sabrina vibe.
Vogue Theatre, Vancouver, BC (AKA Paramount Theatre Interior)
Interior shots of the theater were filmed at an actual theater though! The art-deco Vogue Theater in the middle of Vancouver was used for the interior shots, according to the official IMDB listing for the television series.
That was probably a lot easier than building a set filled with movie seats just for the one scene!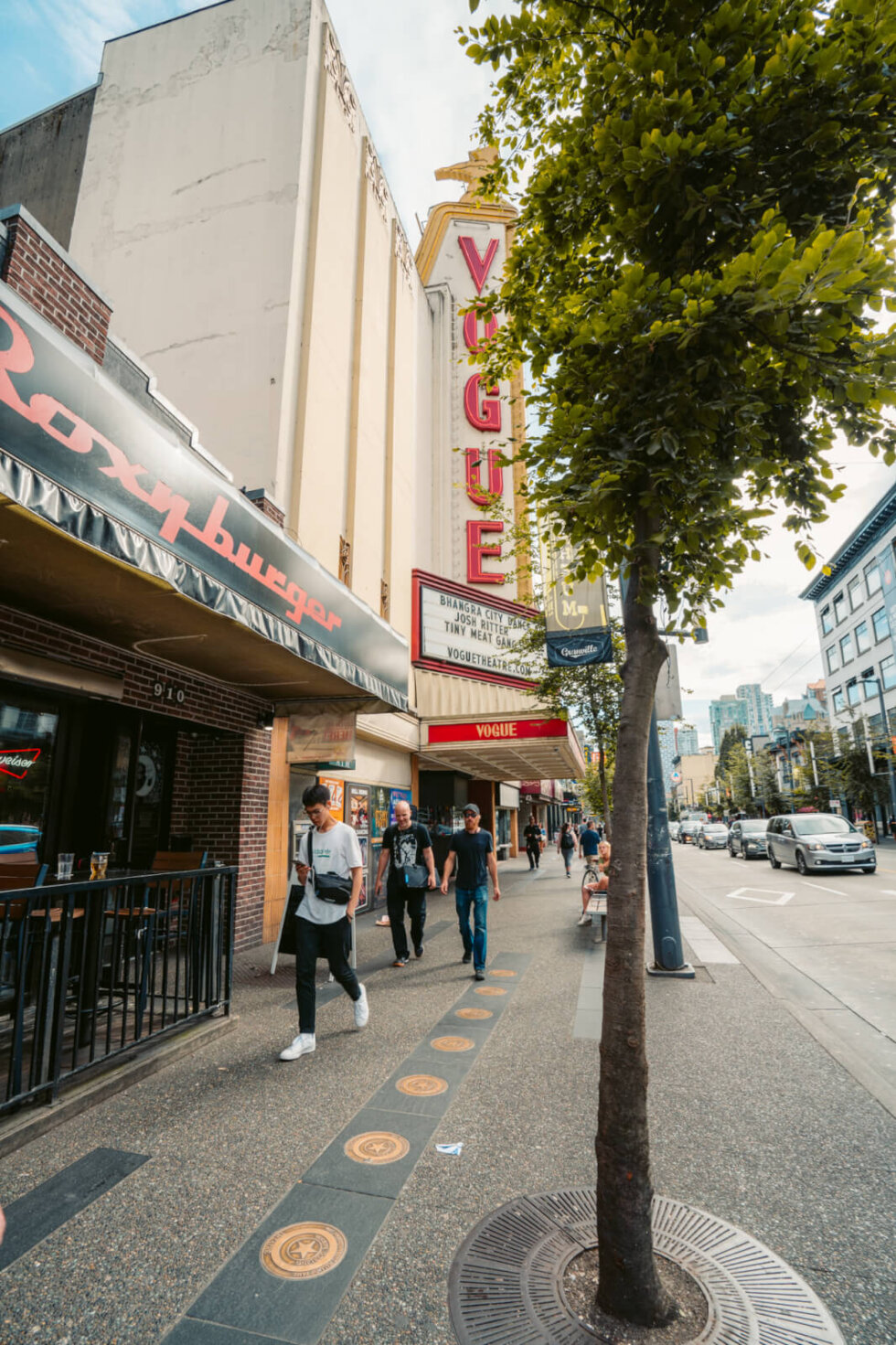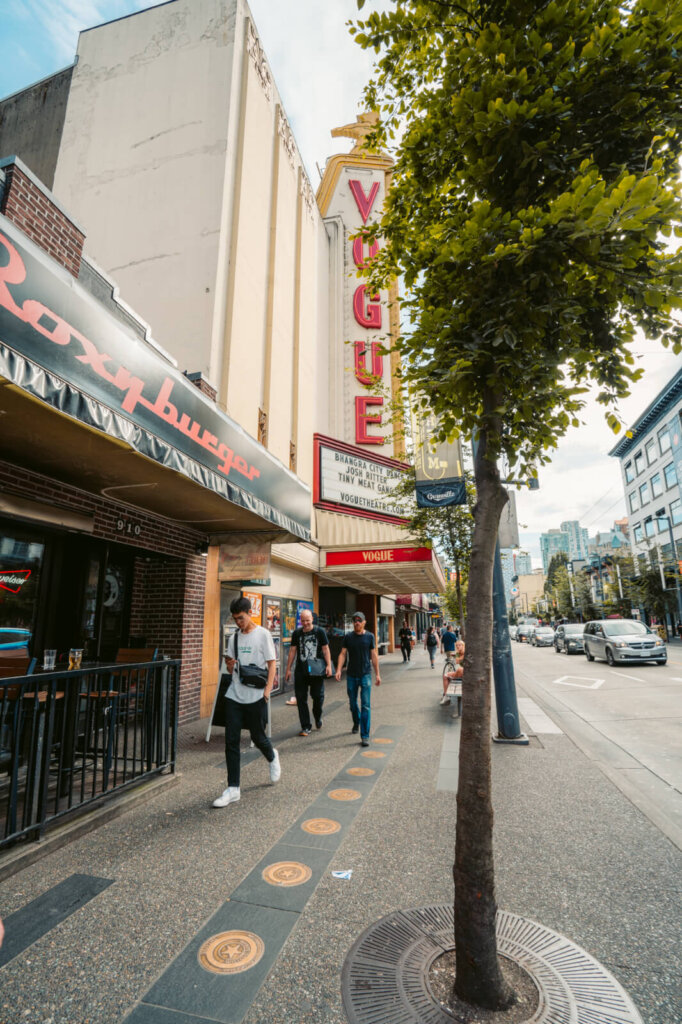 5657 176 St, Surrey, BC (AKA Cerberus Books)
As we mentioned, parts of Cloverdale are often used for filming, especially the empty building that now almost permanently houses Cerberus Books!
The building apparently used to be an electronics shop and an antique shop but since it's now empty it's usually left set up as Cerberus Books between filming, so you could definitely visit to see it from outside at least!
Our new neighbours, Cerberus Books, have transformed the building that used to be Dann's Electronics in #Cloverdale. It's all for the filming of The Chilling Adventures of Sabrina, which will be on location tomorrow evening. pic.twitter.com/D6qLIfRrg0

— Sam Anderson (@sam_andrsn) April 18, 2018
Applebarn Pumpkin Farm, Abbotsford, BC (AKA the Spellman Mortuary Exterior Shots and Apple Picking Farm)
Ok, this took some digging as there isn't a huge amount of info out there on filming locations for Sabrina. But, there were definitely scenes filmed at the Applebarn Pumpkin Farm in Abbotsford, for example, when Sabrina and Harvey head to a farm to pick apples.
The Spellman Mortuary exterior was also entirely built for filming on private land, and multiple sites have reported the Applebarn Farm as the address for Spellman Mortuary filming locations (including IMDB) so it's possible that's where the set was built as well.
Sadly, the mortuary is no longer standing, but if you head to the farm you might feel some Chilling Adventures deja vu anyway…
137 Productions Services, Langley City, BC (AKA the Spellman Mortuary and Academy of Unseen Arts Interior Shots)
Many scenes in Chilling Adventures of Sabrina were either filmed in the forest (more on that soon) or on sets at the 137 Productions studio in Langley City, which is to the east of Vancouver.
Other notable television series' that have filmed studio scenes here include Riverdale (of course!) and Supergirl.
Lord Strathcona Elementary School, Vancouver, BC (AKA Baxter High)
Sabrina's mortal high school of Baxter High doesn't look as creepy in real as it does on screen, in fact, it's not even a high school!
Lord Strathcona Elementary School in Vancouver serves as the setting for both exterior and interior shots of Sabrina and the gang at school, thanks to its rather old-school style which is easy to make atmospheric with some extra darkness.
That's a first- just got waved off by a film crew for #Sabrina shooting at Lord Strathcona school. "No pictures!" @yvrshoots @WhatsFilming #bcfilm pic.twitter.com/qUhsKZD5CB

— Simon Little (@simonplittle) September 24, 2018
Panther Paintball, Surrey, BC, Barnet Marine Park, Burnaby, BC and Belcarra Regional Park, Belcarra, BC (AKA the forest of Greendale)
There are lots of scenes in Chilling Adventures of Sabrina which take place in the forests around Greendale, which makes it harder to narrow down specific filming locations.
According to the What's Filming website, scenes have been filmed in parks in Surrey, Burnaby and Belcarra in BC, although it's difficult to say which specific scene would have been filmed where.
Redwood Park, Surrey, BC (AKA The Hanging Tree)
The only 'specific' spot we know of is that scenes taking place under The Hanging Tree were apparently filmed in Redwood Park, Surrey.
This park is almost magical in real life anyway, with a hidden fairy village of little houses within the bounds. If you visit and think you find the exact tree used for pivotal scenes in Sabrina – let us know!
Cypress Park Market, West Vancouver, BC (AKA The Parking Lot Where The Jocks Are Hanging Out)
Luckily this next location is easier to pinpoint.
When Sabrina enlists the help of the weird sisters to punish the jocks who have been bullying Susie, the girls find them hanging around outside a market, specifically, Cypress Park Market in West Vancouver.
British Columbia Electric Railway Langley Substation, Langley City, BC (AKA The Academy of Unseen Arts)
The eerie exterior of the Academy of Unseen Arts is another real location you can visit, although only outdoor shots were filmed here as the interiors for the witch school Sabrina attends would have all been created on a studio stage.
The entrance is filmed at an old substation of Vancouver's streetcar system, which is apparently now used as an art studio.
Other Greendale & Chilling Adventures of Sabrina Filming Locations
Some secondary sources claim that scenes outside the Greendale Mines were filmed at the Britannia Mine Museum in Britannia Beach, BC, but we've been unable confirm this definitively.
Anyways, we've tried our best to compile a comprehensive list of where to find Greendale in real life, but let us know in the comments if you have any tips on spots that we missed!