*FYI - this post may affiliate links, which means we earn a commission (at no extra cost to you) if you purchase from them. Also, as an Amazon Associate I earn from qualifying purchases. For the full scoop on what this means, feel free to check out our Privacy Policy and Disclosure.
---
Yoda is a total G when it comes to dishing out words of wisdom (click here for a full roundup of Yoda quotes), but have you realised how often his actual name can be used as a pun?
In the list below, we've included our favourite Yoda puns, jokes and wordplay (everything from classic to lesser-known ones), and SURPRISE – we even threw in a few Baby Yoda puns for your delight as well! Enjoy!
Classic Yoda Puns
Any classic spin on "You're the ____" is an adequate reason to insert "Yoda" in its place when you're giving something to a fellow geek. These are hailed as classic Yoda puns:
Yoda one for me!
Source: Romper
Yoda best!
Source: Romper
Wishing Yoda best birthday!
Source: Etsy
Cheesy Yoda Puns
Okay, we know. A lot of the puns out there with Yoda's name are extremely cheesy… but isn't that what strengthens their appeal? Here are two of our fave cheesy Yoda puns:
What kind of car does Yoda drive?
A To-Yoda.
Source: Thought Catalog
What is Yoda's favourite soft drink?
Yoda Soda.
Source: The Purple Patch
Obscure Yoda Puns & Jokes
Don't worry, not all of the Yoda puns out there are completely cheesy. Here are some more obscure puns that you may not have heard before:
What did Yoda say when someone criticised his grammar?
Metaphors be with you!
Source: Punpedia
Why does Yoda always carry a camera?
He loves taking Yodagraphs.
Source: Punpedia
Not a Dagobah where Yoda doesn't regret Anakin Skywalker's fall to the dark side.
Source: Punpedia
Baby Yoda Puns & Jokes
Our beloved Baby Yoda from The Mandalorian also gets a special mention, even though he never speaks in season 1. After all, anyone can be turned into a pun! Here are some cute-worthy Baby Yoda puns you can use to make anyone go, "Aww!"
Baby, Yoda best!
Source: Punpedia
What is the only haircare product brand that Baby Yoda uses?
Manda–L'Oréal (because worth it, he is!).
Source: Reddit
BONUS: Yoda Pun Personalised Mugs
If you're interested in buying adorable mugs personalised with someone's profession and a Yoda pun, check out this Etsy store!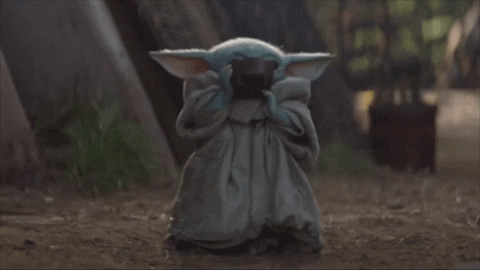 Did We Miss Any Witty Yoda Puns?
Or have one that you want to contribute? Let us know in the comments below!