*FYI - this post may affiliate links, which means we earn a commission (at no extra cost to you) if you purchase from them. Also, as an Amazon Associate I earn from qualifying purchases. For the full scoop on what this means, feel free to check out our Privacy Policy and Disclosure.
---
His Dark Materials is the name of a trilogy of novels by Philip Pullman, that have magically been brought to life by the BBC.
While there was also a film version of The Golden Compass (book one of the His Dark Materials series) in 2007, the BBC has managed to bring the whole trilogy to life to the delight of fans everywhere!
Those of us who grew up with this magical series have wanted to see armored polar bears, multiple universes and animal personifications of people's souls on the screen for years – and the BBC adaptation does not disappoint.
Of course, once you see the gorgeous locations on the screen then you also start to wonder "Where was His Dark Materials filmed?" If you have been wanting to know where the series was filmed then you're in the right place, as we also always want to know if, and how, we can visit filming locations in real life! So, we have rounded up all the filming locations for His Dark Materials in this very post.
We cover filming locations for all three seasons of the show, so if you haven't watched the whole thing yet – there are spoilers ahead!
His Dark Materials Filming Locations in the United Kingdom
Since much of the action within the books and television series of His Dark Materials takes place in England, it's not surprising that many scenes were filmed here in real life. Even some locations that appear to be in Norway were actually filmed in the UK, and of course, the city of Oxford plays a big part in the story. Here are all the His Dark Materials filming locations within the United Kingdom.
Wolf Studios, Cardiff (AKA Multiple Locations)
Address: Bldg One, Glass Ave, Cardiff CF24 5EN, United Kingdom
Wolf Studios are the main film studios for the Bad Wolf production company, which was created after Jane Tranter and Julie Gardner made the decision with showrunner Russell T. Davies to base Doctor Who in Cardiff. Since Wolf Studios were opened in a former warehouse, they have been used for filming such shows as Doctor Who, A Discovery of Witches, and His Dark Materials.
Many of the locations in His Dark Materials were actually created on sets at Wolf Studios, including the city of Cittàgazze, the submarine where a witch is tortured, the witches' forest gathering place, Lord Asriel's lab at Svalbard, interior scenes at Lord Asriel's fortress, Mary Malone's lab, Bolvangar, Iofur's Palace and many Jordan College interiors.
New College, Oxford (AKA Jordan College)
Address: Holywell St, Oxford OX1 3BN, United Kingdom
While some interior scenes of Jordan College were created on set, many of them were actually filmed on location in Oxford, as well as many of the exterior shots of the college and around the city of Oxford. Of course, there's no Jordan College in our world, but New College was largely used to stand in for Lyra's home.
In particular, the scene where the Master of Jordan College meets up with Lord Boreal was filmed inside New College's stunning chapel, Lyra and Pantalaimon walk through the real dining hall at New College and many scenes of Lyra walking (or running) in the interior grassy areas were filmed in the quadrangles of New College.
Sharpness Shipyard, Sharpness (AKA Gyptian Boat Journey)
Address: The Docks, Sharpness, Berkeley GL13 9UD, United Kingdom
The Gyptians are an ethnic group of people in Lyra's world who travel the canals, fens and rivers on river barges. Many scenes depicting these characters took place on the water and were mostly filmed at the Sharpness Shipyard (about 40 minutes north of Bristol) or on the nearby River Severn.
Pitt Rivers Museum, Oxford (AKA The Museum where Lyra meets Lord Boreal)
Address: S Parks Rd, Oxford OX1 3PP, United Kingdom
While in Will's world/our world, Lyra and Pan go into the Oxford University Museum of Natural History and walk through into the adjoining Pitt Rivers Museum. The incredible displays at the Pitt Rivers Museum are also where she meets Lord Boreal (masquerading as Charles Latrom) and they talk about trepanning. This museum is just as cool to visit in real life as it looks on the screen too!
Blavatnik School of Government, Oxford (AKA Where Jordan College isn't in Will's World)
Address: 120 Walton St, Oxford OX2 6GG, United Kingdom
There are some great shots of Will and Lyra walking through Will's Oxford, which is also the 'real' Oxford. Anyone who has been to Oxford (or seen it enough on screen) will recognise that they walk past the Radcliffe Camera and Lyra then runs under the Bridge of Sighs as she recognizes a tower that should be near Jordan College.
When she discovers that there is no Jordan College in this world, she is standing at a fence which looks out over the back of the Blavatnik School of Government in Oxford. You can see it in the distance in the below map picture, along with the Radcliffe Observatory building, which she had run through when nearly knocking into a waiter.
Magdalen College Library, Oxford (AKA St Peter's College)
Address: High St, Oxford OX1 4AU, United Kingdom
After consulting the Alethiometer in the Pitt Rivers Museum, Lyra finds out she needs to find the scientist Mary Malone at St Peter's College. This is another fictional location but the scene where she walks through a garden and into the sliding doors of that college were filmed at the Magdalen College Library. You can't see it on Google Maps unless you turn on the layers but then it's quite recognizable from above.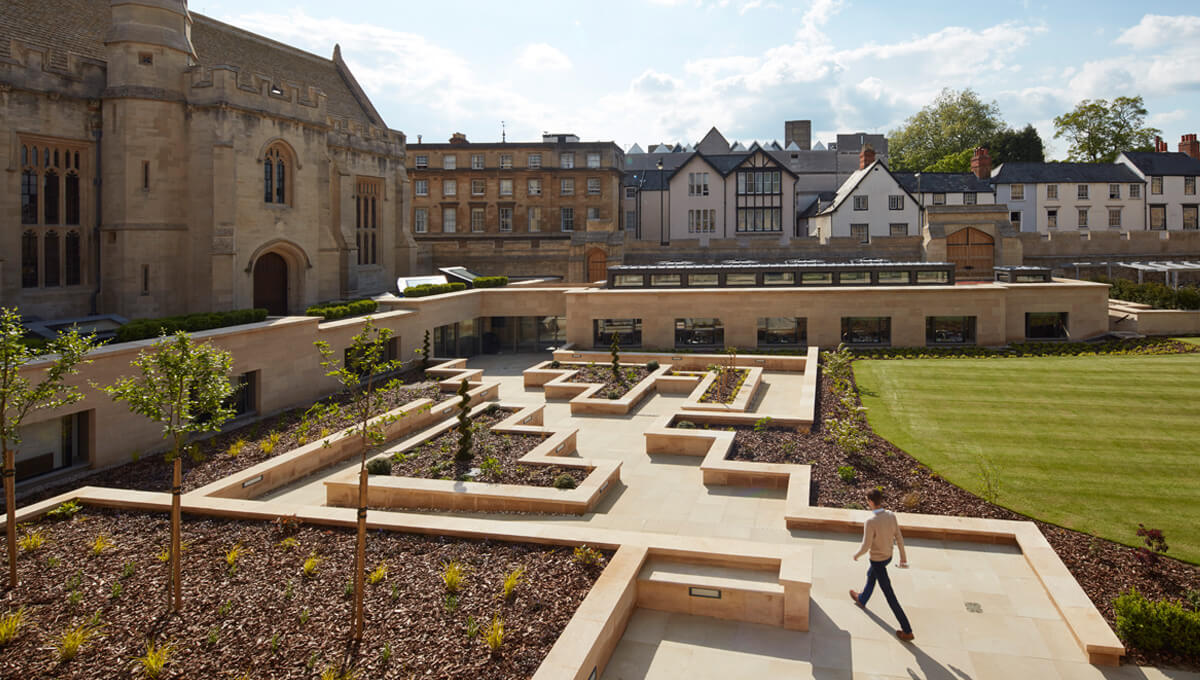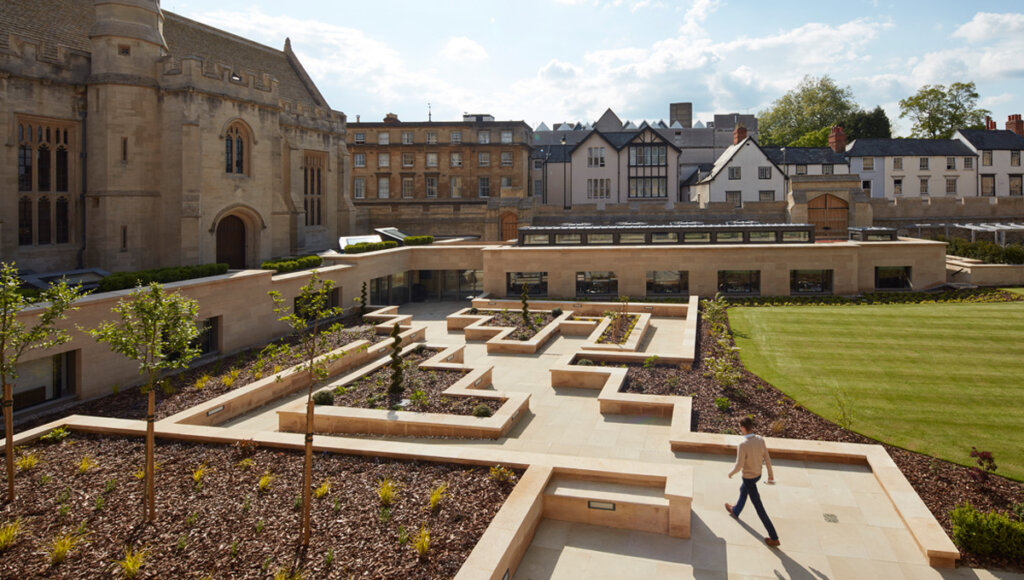 Oxford Botanic Gardens, Oxford (AKA Oxford Botanic Gardens Entrance)
Address: Rose Ln, Oxford OX1 4AZ, United Kingdom
The Oxford Botanic Gardens are a very important location in both the books and television series, although we actually only ever see the real-life entrance on screen in the BBC version. Will and Lyra meet up here after she spoke to Mary Malone but when they walk through the main entrance the interior of the gardens were actually filmed somewhere else.
This includes the famous bench, which you can actually visit at the Oxford Botanic Gardens but it won't look the same as it did on the show. Slightly confusing, but we guess the showrunners thought the Oxford Botanic Gardens weren't spectacular enough, or perhaps they couldn't film within the gardens…
Dewstow Gardens and Grottoes, Wales (AKA Oxford Botanic Gardens)
Address: Dewstow Gardens & Grottoes, Caerwent, Caldicot NP26 5AH, United Kingdom
Once Will and Lyra walk through the main entrance gate of Oxford Botanic Gardens, the beautiful gardens and pond that you see on screen is actually the Dewstow Gardens and Grottoes near Caldicot in Wales! These are stunning gardens and while you can't see the exact spot where Will and Lyra sit on their special bench on the map view, other photos that show up on Google maps confirms this filming location.
Buckingham Palace, London (AKA The Magisterium Exterior)
Address: London SW1A 1AA, United Kingdom
You only see aerial shots of Buckingham Palace (or at least, where Buckingham Palace should be) in the series, but for anyone who knows what the roads leading up to it look like, it's unmistakable. Of course, in Lyra's world, this location is actually the headquarters of the Magisterium, with a different building added into the aerial view with CGI. It's a suitably impressive location for the shadowy Magisterium to be based though!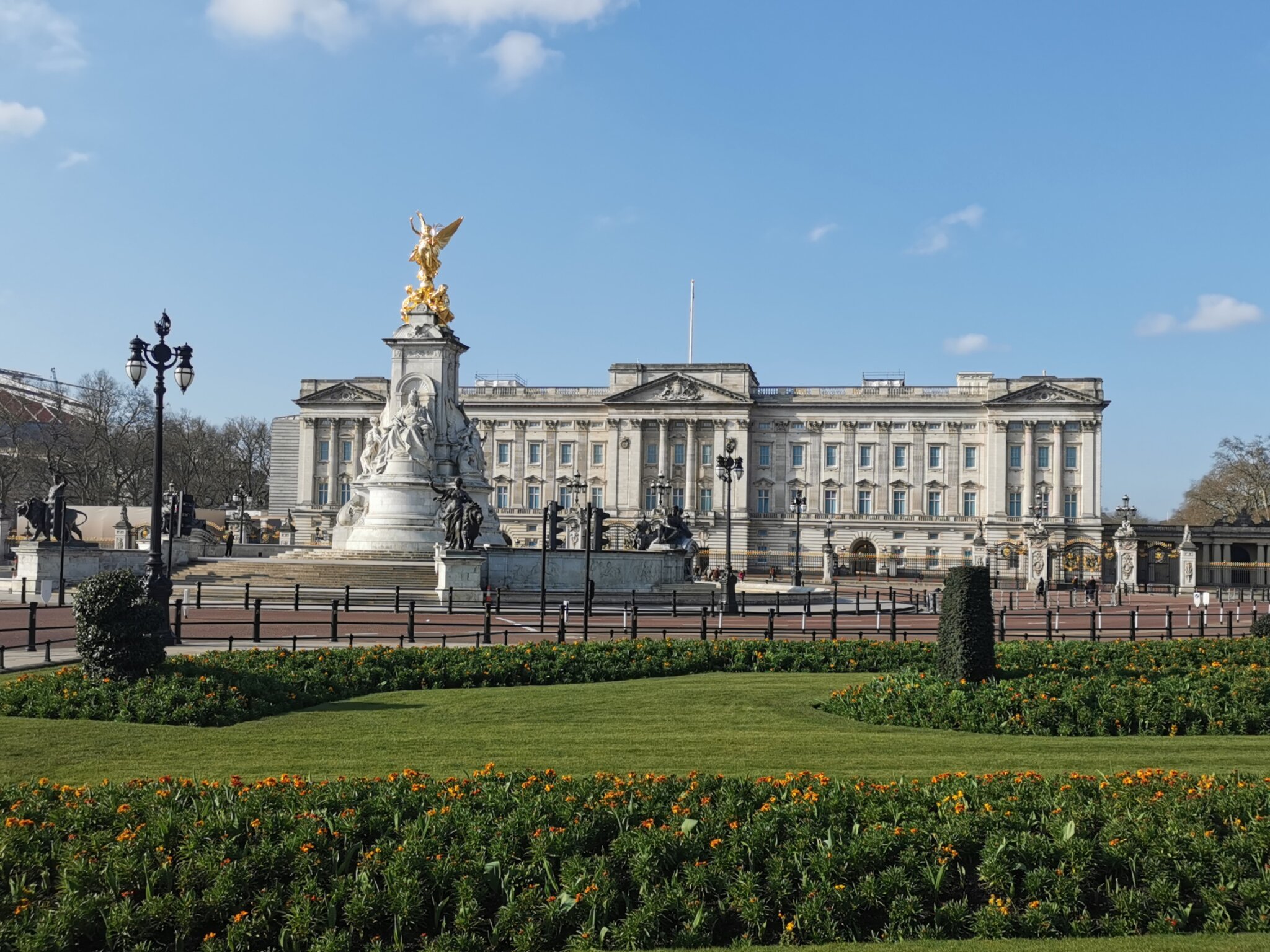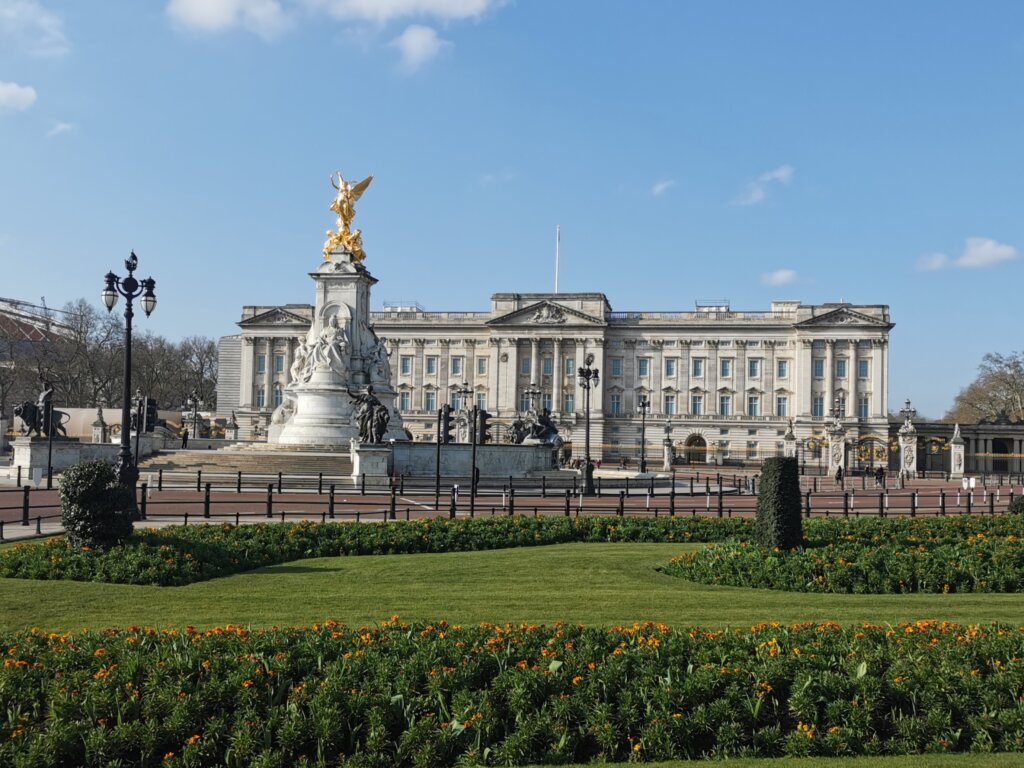 Welsh Government, Cathys Park, Wales (AKA The Magisterium Interior)
Address: King Edward VII Ave, Cardiff CF10 3NQ, United Kingdom
While the Magisterium headquarters in Lyra's world are located where Buckingham Palace is in ours, the interior scenes were shot all the way back in Wales at the Welsh Government building in Cathys Park. The brutalist interiors of this building are perfect for the scary authoritarian religious group, plus there's a rule that the Welsh Government building can only charge £1 for filming productions, which must have been a nice bonus for the showrunners.
You can't really see anything from the show from the outside, but we've included it anyway, in case you wanted to know!
Blaenonneu Quarry, Wales (AKA Trollesund)
Address: B4560, Llangynidr, Crickhowell NP8 1LN, United Kingdom
After Lyra travels with the Gyptians to Norway, they first arrive at the fictional town of Trollesund, which is where they meet Iorek Byrnison. This location wasn't actually filmed in Norway though, a disused quarry in Wales was transformed into the ramshackle town, complete with fake snow, and digital after-effects were added in later.
Plasturton Gardens, Cardiff (AKA Where the Door to Will's World Opens)
Address: Pontcanna, Cardiff, UK
There's a series of doorways between Lyra's world, Cittàgazze and Will's world, the last of which opens up into a residential Oxford neighborhood in his/our world. This particular 'doorway' is located inside a small garden that's ringed around by townhouses in Plasturton Gardens, Cardiff.
Temple of Peace, Cardiff (AKA Mrs Coulter's London apartment exterior and the Arctic Institute interior)
Address: King Edward VII Ave, Cardiff CF10 3AP, United Kingdom
The Temple of Peace in Cardiff was used when filming the main entrance of the apartment building where Mrs Coulter lives in London, although extra floors were added in with CGI. The Arctic Institute where Lyra and Mrs Coulter had lunch was also filmed inside the Temple of Peace, you can see a photo of the distinctive black columns if you scroll down a bit here.
St Govan's Chapel, Wales (AKA Where Mrs Coulter Hides Lyra)
Address: St. Govan's Head, Bosherston SA71 5DR, United Kingdom
At the beginning of season three, Mrs Coulter has hidden Lyra away from the Magisterium on a remote island off the coast of Germany. This is a big difference from the books (where she hid her in a cave in the Himalayas) but the new location looks suitably epic. The exterior scenes at this location were actually filmed at St Govan's Chapel on the southwest coast of Wales. This is definitely one filming location that's worth the trip to visit!
The Orangery at Blaise Museum, Bristol (AKA The Greenhouse Ruins in Lyra's World)
Address: Henbury Rd, Henbury, Bristol BS10 7QS, United Kingdom
When Lord Boreal travels between his (and Lyra's world) and Will's world, he does so through an old overgrown greenhouse that opens into Cittàgazze and then goes through the second doorway. The creepy ruined greenhouse was made to look like that with special effects, in reality, it's a very nice looking orangery located in the Blaise Museum/Blaise Castle Estate just outside of Bristol. You can just see it to the right of the main museum building in the picture below.
Llyn y Fan Fach, Brecon Beacons, Wales (AKA Where Lord Asriel's Fortress is located)
Address: Llangadog SA19 9UN, UK
In season three, Lord Asriel has managed to muster an army and build an encampment with a fortress in a new world, which admittedly looks very cool. While there probably weren't any actors on location there, the fortress exterior was added to shots of the mountain range next to Llyn y Fan Fach, a lake in the Brecon Beacons. The lake doesn't really appear on the show, but that epic green mountain is pretty unmistakable.
Dunraven Castle, Wales (AKA Where Will cuts through to another world to rescue Lyra)
Address: Beach Rd, Southerndown, Bridgend CF32 0RP, United Kingdom
When Will goes to rescue Lyra from her mother and the Magisterium, he cuts a doorway into a very grey world from Lyra's world in order to get close enough to slip into her room. The spot where he cuts the first door and then returns (and Iorek helps dispatch some of the soldiers hunting them) was filmed at the ruins of Dunraven Castle in Wales. You can easily recognise this bit of archway below.
His Dark Materials Filming Locations in Spain
In season three, filming actually took place outside of the United Kingdom, at least a little bit! A number of scenes in the Mulefa world where Will and Lyra find Mary Malone were filmed on location in Spain, probably because the landscape is quite different from the UK and helps to show a more exotic world.
Parque Natural Sierra de Grazalema, Cádiz (AKA The Mulefa World)
Address: 11610 Grazalema, Cádiz, Spain
The world of the Mulefa is very different from both Oxford and Cittàgazze, so the showrunners needed to film some landscapes that showed that uniqueness. When both Mary Malone and later Will and Lyra arrive in this world, they look down over wide plains where there are groves of tall trees. While the trees were added digitally, most of these establishing shots were filmed in the Sierra de Grazalema nature park, near Cádiz. The arid and rocky landscape is quite distinctive.
El Chorro, Málaga (AKA where Lyra and Will go swimming)
Address: Unnamed Road, 29550 Ardales, Málaga, Spain
After Will and Lyra are finally safe from the Magisterium forces in the Mulefa world, they go to sleep under some trees. When Lyra wakes up, looking quite dirty, to be honest, she goes for a swim in the sparkling waters nearby. This first swimming scene, when Will joins her and they talk about their daemons, was filmed somewhere near the El Chorro area of Málaga.
Barranco Blanco, Málaga (AKA where Lyra and Will go swimming and picnic)
Address: MA-3303, km 4, 29100 Coín, Málaga, Spain
There's another, very important, swimming scene in the final episode of the series, where Father Gonzalez watches Will and Lyra swimming before being confronted by Balthamos. This scene was reportedly filmed near the Barranco Blanco, a waterfall near Málaga. We can't find the exact location on Google maps but it's definitely near to the below photo.
Área Recreativa Llanos de Matagallar, Málaga (AKA the woods where Lyra and Will look for their daemons)
Address: Lugar Partido Valdeperales, 181, 29100, Málaga, Spain
When Will and Lyra first arrive in the Mulefa world they go to sleep under some pine trees, then later wander through this area while searching for their daemons. These scenes were filmed around a recreational park near Málaga.
His Dark Materials Filming Locations in Austria
Ok, there's only one filming location in Austria and it was basically just an establishing shot so no actors ever went there, but we said we were sharing all the filming locations so that is what we're going to do!
Salzburg, Austria (AKA Geneva in Lyra's world)
It's a little bit random but when they showed establishing shots of the Magisterium courts in Geneva in Lyra's world, these were actually filmed in Salzburg. No, we're not sure why they chose to use Salzburg to represent Geneva instead of just filming Geneva but whatever the case, that's what happened! The aerial shots in the show also used CGI to add the Magisterium buildings onto the hill where Fortress Hohensalzburg is located, so maybe they just thought Salzburg looked cooler than Geneva?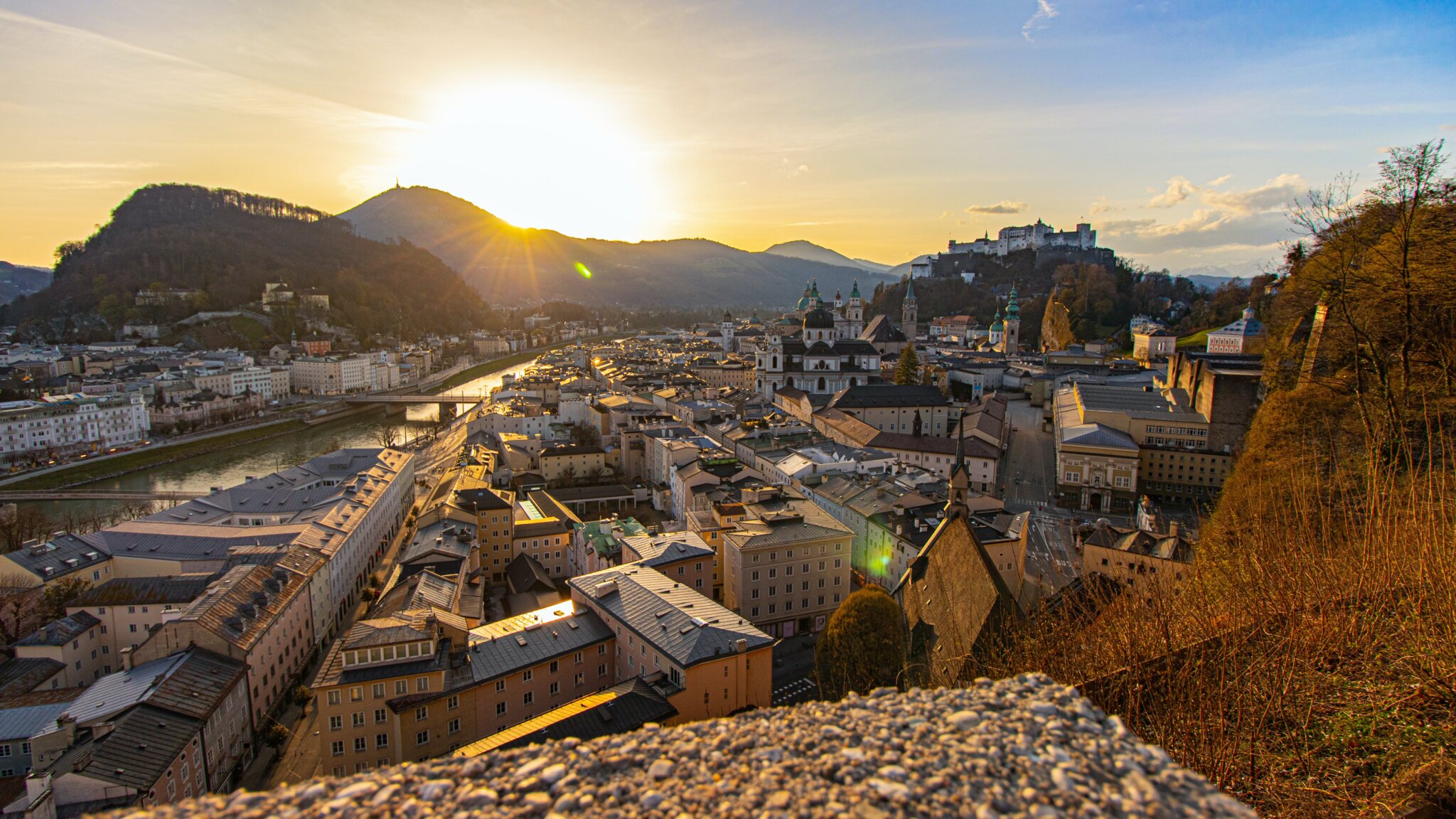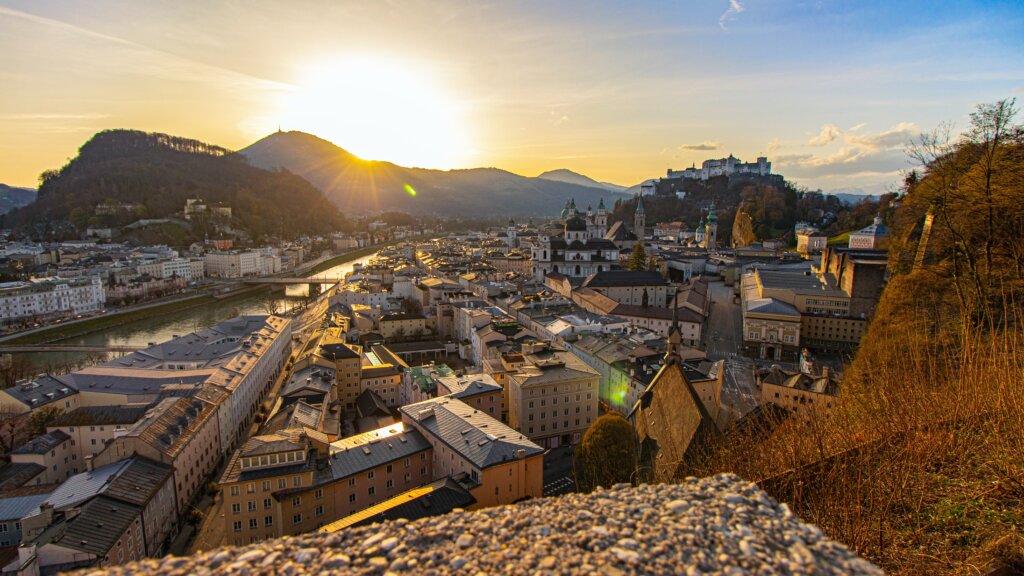 Have Any Tips on His Dark Materials Filming Locations?
Let us know in the comments so we can update our guide and make it better!
Some of the His Dark Materials filming locations we can't quite figure out are:
Residential areas of Oxford. There are a number of exterior scenes which are set in residential parts of Oxford (Will's home, his grandparents' home, his coach's house) but we haven't been able to figure out where they were filmed or if they were even actually filmed in Oxford!
Scenes with Lee Scoresby and Jopari. There are a number of scenes with Lee Scoresby and Jopari (John Parry) which we haven't been able to confirm where they were filmed. We have read that Lee Scoresby goes looking for Jopari on the Usk Reservoir in Wales and that perhaps the forest where they are being attacked by Magisterium soldiers was filmed in the Forest of Dean in England, but haven't been able to nail down any definitive info on where exactly these scenes were filmed.